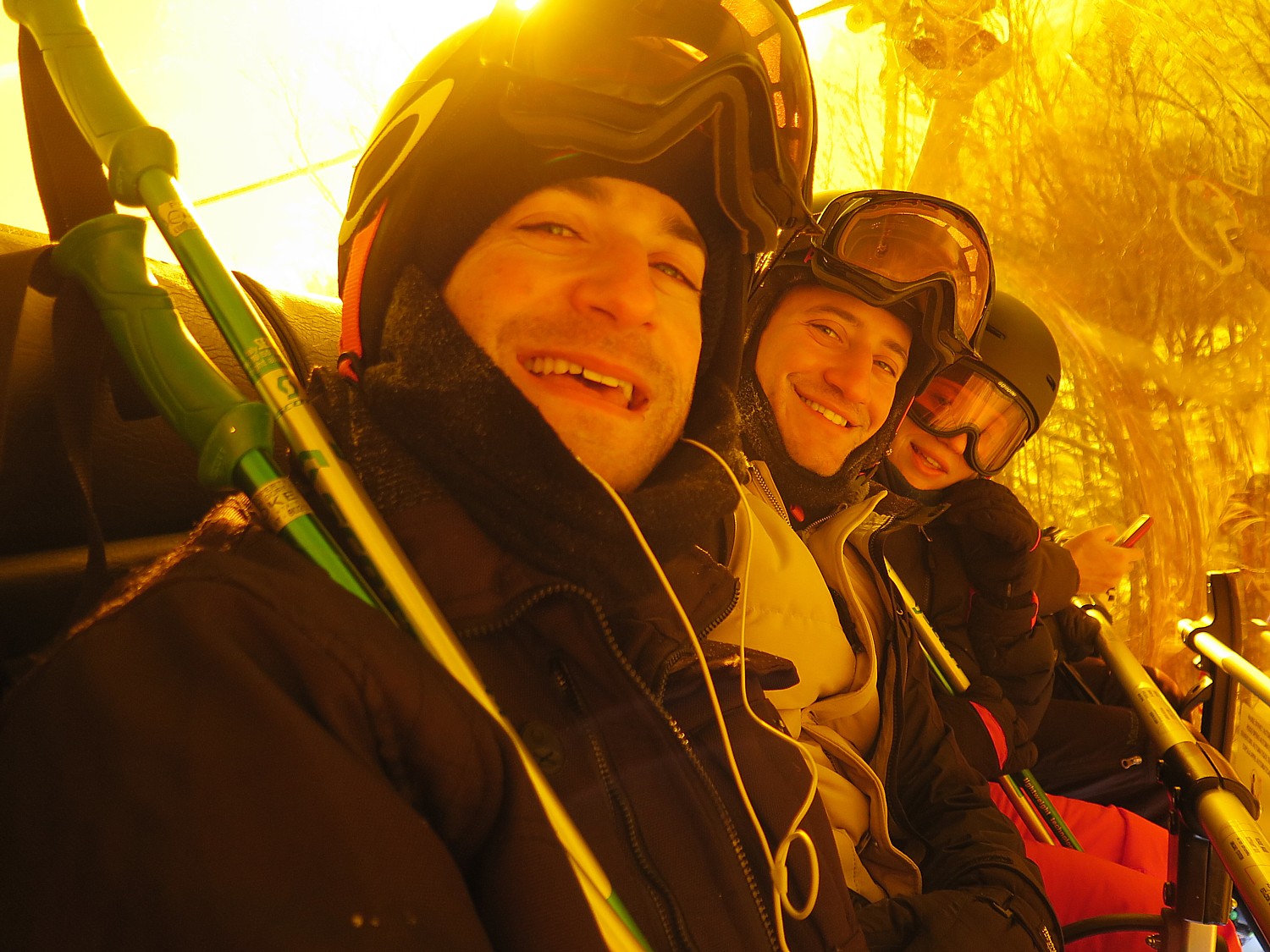 by Karen Rubin
I always bump up my skiing at Okemo Mountain Resort, in southern Vermont. This time was the first time I really felt "the flow" – the fluid motion of putting the various elements of skiing together – the bicycle pedal motion of weighting and unweighting, the pushing knees together, shoulders square, standing up.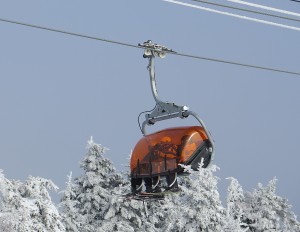 It has a lot to do with the quality of snowmaking and grooming – an art as much as a science, with a dollop of luck because of weather conditions. But it also has to do with the design of the trails, scenic to be sure with gorgeous views, but also wide enough to be forgiving, long enough to get some really good practice in before you have to get back on the lift, and relatively few crosses so you're not overwhelmed by advanced skiers and snowboarders barreling past. Also, the excellent signage and superb trail maintenance eliminate as much as possible the anxieties that accompany you as you are trying to progress in your technique. And everything is done to make skiers and snowboarders as comfortable as possible – excellent lift system, detachables (best invention in skiing, followed by shaped skis), and now, two of the major chair lifts to the top (Quantum Four, new this year, and Sunburst Six) have bubbles – an innovation that turns your chair into a capsule against the cold and precipitation (including snowmaking).
This was particularly appreciated (a godsend, really), on the day it was 3 degrees (before the wind chill factored in, making it feel like sub-zero). When we left, the temperature rose to a balmy 15 degrees (really, it felt wonderful), under Blue Bird cloudless skies. The feeling of good cheer and utter euphoria made it feel downright balmy.
Remarkably, the Okemo snowmakers opened 20 trails in just 8 days time and by the time we left, 42 trails of its 121 (18 miles worth) were open, offering amazingly great conditions.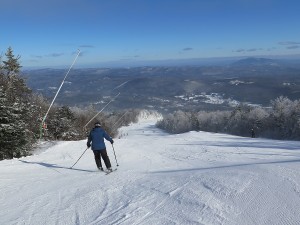 We love the trails here – especially Sapphire, a wide, scenic, well-groomed blue trail that starts from the top of Sunburst Six (a six-pack bubble chair!), linking to Upper and Lower Arrow so the trail is long enough to really practice your skiing by the time you get back to the Sunburst Six.
We also love Blue Moon, an intermediate trail which connects to Lower Limelight and into the Jackson Gore area to the Quantum Four detachable quad bubble chair.
The design of the trails affords excellent movement around the three summits. Getting back to our comfy condo at the Adams House at Jackson Gore, we took the breathtakingly beautiful (but still a green and aptly named) Sweet Solitude into Roundhouse Run to Blue Moon.
Everything at Okemo, on the mountain and off, is really guest-oriented. This is not something to be taken for granted. The experience of really being cared for starts in the rental shop – the fellows (like elves) actually measured our feet before they gave us our boots (Diabello brand is absolutely my favorite, and I have never skied so well as when the boot fits properly), and were so helpful. and if you found your boot or skis or boards not the best fit, they happily exchanged them.
This warm and welcoming atmosphere continues with the lift operators who are invariably cheery and helpful. Bubbly, even (appropriate for the bubble chairs).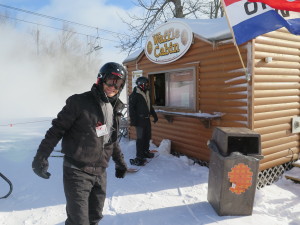 The on-mountain amenities – the lodges and eateries – are also absolutely marvelous. We love the Waffle Cabin that you come upon as you ski down Lower Arrow (there's another near the base of the Coleman Brook Express Quad chair) – Dave couldn't resist even in frigid weather. The Sugar House Lodge has an amazing Thai noodle station as well as Smokey Jo's Grille (BBQ) and more traditional fare at a cafe. Up at the top of the Sunburst Six bubble chair, we sought comfort from the frigid temperature at the Summit Lodge.
The Epic restaurant at the Solitude base is an attraction itself: on Saturday nights, they arrange to bring diners up by snowcat for a five-course gourmet dinner (there is very limited seating, at 7 and 7:30 pm, and you need to make advanced reservations, 800-228-1600
For guests at Jackson Gore Inn – a luxury ski in/out resort within the resort – the pampering goes even further – you can check your skis right at the base, or in lockers (verboten to bring them into the guest rooms).
There is every amenity imaginable at Jackson Gore, including indoor pools, fitness center and classes, hot tubs, racquetball court, children's splash features, and spa services  in the Spring House;  ice skating rink pavilion at the Ice House, fine-dining restaurant at Coleman Tavern and Siena, casual dining, indoor/outdoor pool and indoor and outdoor hot tubs and fitness center.
There we were on our first night (when it was single digits temp), in the indoor/outdoor pool (that means you enter the pool from inside, but swim outside in a really gigantic pool kept to 80 degrees; and enjoyed the steaming hot tubs. The next day, we took advantage of the hot tubs right outside our condo at Adams House at Jackson Gore, where we had a superb two-bedroom condo with completely outfitted kitchen, dining area and living room (fireplace too), massive bathrooms (3 altogether), laundry machines, three flatscreen TVs, WiFi. Simply heavenly.
And the newest attraction at Okemo, the four-season Timber Ripper Mountain Coaster – a scenic and exhilarating ride through forest and along the contours of the mountain at Jackson Gore. You ride over 4,800 feet of rollers, banking loops and a twister section at speeds up to 25 mph. It looks like a combination of theme-park roller coaster and bobsled run. Really formidable!
There is also snow tubing in a four-lane park located just off the Stargazer carpet in the courtyard of Jackson Gore, and snowcat excursions (Tuesday,Saturday and Holidays at 5 and 7 pm, $40 or $50 to ride "shotgun"). and kids' 20-minute snowmobile tours ($39).
Each year, the experience at Okemo, known for being one of the friendliest, most welcoming ski destinations anywhere, gets better and better. This year, they have introduced RFID card, replacing a lift ticket, so you just keep the card in your pocket and stand in front of the reader which opens the gate. It really moves the lift line faster. You can pre-purchase the card and keep adding to it.
This year, Okemo has also expanded SouthFace Village, its newest on-mountain community. The Sunshine Quad, a new fixed-grip Leitner-Poma chairlift, connects the Village Center at SouthFace Village to the South Face Express Quad and provides access to the new Suncatcher trail.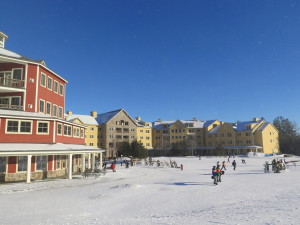 Snowmaking also gets better and better (and has been crucial this season). This year, Okemo expanded snowmaking on White Lightning and Rolling Thunder at Jackson Gore, increasing  coverage to 98 percent of its trails. Okemo also added a new Prinoth 500 horsepower grooming machine to its fleet (you can really feel the difference!). And, in partnership with Snow Park Technologies, enhanced the Tomahawk trail "for more flow and originality" with jumps and hits.
Okemo also has a variety of terrain parks. The Homeward Bound terrain park was renamed Robbins' Nest, with jumps, hips and features to recognize the contributions of Okemo's first Snowboarding Program Director Gordon Robbins.
Okemo's Penguin Playground Day Care accommodates kids from six months to four years old, and also offers Kids Night Out and Kids Night out with evening child care. Okemo, which was one of the early pioneers of cleverly themed children's learning and activity programs (Snow Stars!), accommodates children as young as 3.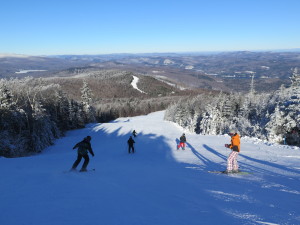 Okemo is as big as you would want a mountain to be – 667 skiable acres (46 miles worth) across five mountain areas, a vertical drop of 2,200 feet (the highest in Southern Vermont), plenty terrain parks scattered around the mountains, accommodating all levels of ability, a learning area served by magic carpet and superb ski and ride schools – and yet feels so homey. Okemo skiers are passionate about the place.
It also offers the Okemo Valley Nordic Center on its golf course, with 22 km of Nordic track and skating lanes, plus 13 km of dedicated snowshoe trails, plus tree skiing and terrain that winds through meadows and hillsides, rental equipment and lessons (802-228-1396 for info).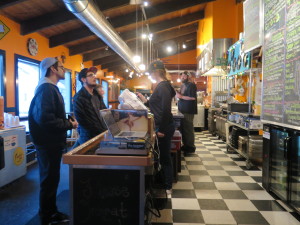 The town of Ludlow, while remaining sweetly unpretentious, now has several wonderful restaurants: Harry's Cafe, an Okemo tradition for 27 years (but recently relocated just across Rte 103 from the Jackson Gore access road), boasts "everything from scratch – handcut and homemade" and a "fusion" menu of various ethnic culinary traditions, and one of the few restaurants serving until 10 pm (reservations recommended, 802-228-2996, 68 Rte 100 North, www.harryscafe.com); The Downtown Grocery, for "casual fine dining" housed in a repurposed Victorian house and serving eclectic (even eccentric) creations (the Bangs Island Mussels and Baby Arugula salad were outstanding) by Chef Rogan Lechthaler "as creative in the kitchen as he is adept on skis", who prides himself on homemade pastas (even ketchup), fresh sourced and sustainable seafood and cures (41 South Depot, 802-228-7566, www.thedowntowngrocery.com); and MoJo Cafe, a combination Tex-Mex-New Orleans hip cafe with a distinct "Austin weird" vibe (106 Main Street, 802-228-6656, www.mojocafevt.com).
Okemo Mountain Resort, 77 Okemo Ridge Road, Ludlow, VT 05149, 800-78-OKEMO, 24-Hour SnowPhone, 802-228-5222, www.okemo.com (see deals, like 4th Night Free).
_________________________________________
© 2016 Travel Features Syndicate, a division of Workstyles, Inc. All rights reserved. Visit goingplacesfarandnear.com , www.examiner.com/eclectic-travel-in-national/karen-rubin,www.examiner.com/eclectic-traveler-in-long-island/karen-rubin, www.examiner.com/international-travel-in-national/karen-rubin and travelwritersmagazine.com/TravelFeaturesSyndicate/. Blogging at goingplacesnearandfar.wordpress.com and moralcompasstravel.info. Send comments or questions to [email protected]. Tweet @TravelFeatures. 'Like' us at facebook.com/NewsPhotoFeatures