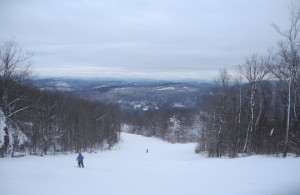 by Karen Rubin, Eric Leiberman & Dave E Leiberman
I feel I have discovered a new ski destination, even though Gore Mountain, in New York's Adirondacks  is one of the oldest in America, now in its 81st season. It doesn't have the cachet of Whiteface Mountain, an hour further north in Lake Placid, which has been around since the 1930s and has hosted two Olympics. But for purists whose focus is the best skiing and riding, Gore Mountain is a spectacular discovery. I suspect that the regulars – some who are third generation Gore Mountaineers – want to keep Gore "their mountain." That community now includes me, because Gore Mountain is a place I want to return to again and again. There is so much to explore here. And you feel such peace and clarity amid these Adirondack Mountains. In fact, skiing Gore was the closest I've had in the Northeast to feeling like I was skiing in the West – looking out from the peaks at a great expanse of pure wilderness; taking long cruisers down.
The surprises begin with how easy it is to reach Gore Mountain -up the New York Thruway, to the Northway, then about 20 miles off the highway, going through some quaint towns – about 4 1/2 hours from New York City, which is equivalent to coming into southern Vermont.
But this is the mighty Adirondacks, much more rugged than the Catskills Mountains, even more rugged than Vermont's Green Mountains.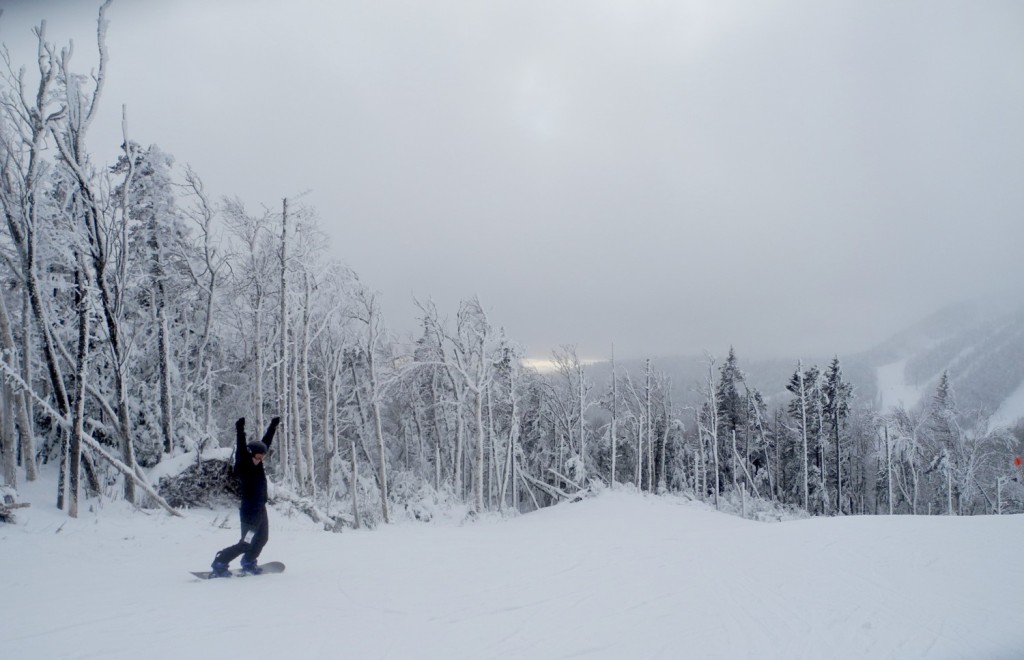 Gore, with 2537 vertical feet, offers the 6th greatest vertical in the East – a greater vertical drop than such famous mountains as Stowe (2360), Sunday River (2340), Okemo (2200), Jay Peak (2153), Mount Tremblant (2116), Loon, (2100), Mont-Sainte-Anne (2050), Mad River Glen (2037), Stratton Mountain (2003) and Mount Snow (1700).
Gore is also the biggest ski destination in New York State, with the most skiable acres (446 acres), 107 trails, 27 glades (Gore was one of the first eastern ski areas to develop gladed terrain)+, six freestyle areas. Six of its trails are longer than 1 1/2 miles, with the longest run 4.4 miles. In all, Gore offers 42 miles of skiing.
Gore is actually nine faces of four mountains, each with their own character: Gore Mountain is the highest, at 3600 ft., and biggest; Bear Mountain rises to 3200 ft., Burnt Ridge Mountain rises to 2735 ft. and Little Gore Mountain goes up to 1900.
Among them is an astonishing array of terrain, not to mention views and the fact that if conditions are not the best in one area, or are too crowded (not likely because of the way skiers are dispersed), you can simply move to another.
There is terrain to satisfy all abilities: 10% are classed as easier, or green; 50% are intermediate, or blue; and 40% are most difficult, or black trails.
It is more useful, though to divide Gore into its different areas (as the Gore people do): the Straight Brook Area on Gore Mountain is where you will find a variety of challenging terrain and glades; it is also where you will find The Rumor, rumored to be the steepest train in the East (unconfirmed). but there are also a couple of intermediate trails – like Cloud – which will connect to other blues and greens to come the whole way down. In all, this area has 10 trails, 4 glades and 54 acres accessed by a quad lift.
"The Dark Side" of Gore, known as the High Peaks Area so very popular with experts, is "Classic Adirondack" skiing. There are 12 trails, 2 glades on 30 acres, accessed by a double chair.
Bear Mountain offers the Northwoods Area, where I confess I spent most of my time most enjoyably, taking the long cruisers, accessed by the Northwoods Gondola and Gore's newest lift, a high-speed detachable quad. You can take a green trail Sunway, 2.2 miles down to the base; my personal favorite was a blue trail, Twister, which was long, wide and forgiving, and beautiful, lined with trees and with lovely views of the Adirondacks. (The gondola is marvelous, and they cleverly post these interesting historical notes in each car.) This area offers 29 trails, 3 glades,, gondola, detachable quad, double and four surface lifts on 154 acres.
The North Side is off the beaten path, and offers an array of easy-going cruisers and gorgeous views of High Peaks. It's considered the best bet for families (9 trails, 2 glades on 37 acres serviced by a quad).
Burnt Ridge area is one of Gore's four peaks of development, which is noted for its geology and great views of North Creek and the Hudson River – six trails, four glades on 70 acres, serviced by "one of the most luxurious rides" on the mountain, a high-speed quad.
North Creek Ski Bowl is where they offer night skiing as well as tubing (8 trails, 5 glades, on 47 acres, serviced by two triples. This area has its own base lodge and parking lot, plus half pipe and terrain park. That means you can drive up in the day, arrive in the late afternoon, and purchase a night-skiing ticket; or if you purchase a multi-day ticket, you purchase an add-on for night skiing (3-9 pm). Night skiing is offered Friday, Saturday and Sundays, and daily during holidays, until 9 pm.
All of this is accessed by 15 lifts, including a wonderful, high-speed eight-passenger gondola, four quads (the newest is a high-speed detachable quad with comfortable cushions, which replaced the oldest detachable quad in North America), plus three triples, two doubles, four surface lifts and a tubing tow.
Gore started off as a destination ski area – after all, it wasn't that easy to reach. But over time, especially as the New York Thruway and Northway made it so easy to reach from Albany, Saratoga Springs and Glen Falls and even Montreal, Gore became more of a day trip.
But that is changing again – and for good reason – as people are discovering what a special destination Gore is. There is so much skiing here. The Adirondack area is breathtaking, and significantly, relatively undeveloped. You also have some marvelous resorts and lodging – the grand, historic Sagamore Resort on Lake George is 45 minutes away (they offer a shuttle bus), and in North Creek, the Copperfield Inn is as intimate as an inn (only 31 rooms), but with all the services of a luxury hotel (the town offers a free shuttle bus to the mountain, less than 10 minutes away, every 20-30 minutes throughout the day, in season).
And even if Gore Mountain, itself, doesn't offer all the bells-and-whistles of apres-ski and non-snow activities of a destination resort, the area, itself offers many delights – unique natural and heritage attractions –  which demand a longer stay to properly explore and experience.
Indeed, that is Gore's major charm.
A Proud Tradition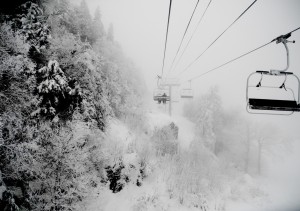 Gore Mountain is now in its 81st year – in fact one of the oldest commercial ski areas in North America.
"North Creek was a mining village – trains came up from New York City," Michael Platt, Gore's general manager, relates.
"In the 30s, 40s and 50s, enthusiasts would come by train – Saks Fifth Avenue at one point sponsored the train. They would ride up [in taxis and buses] and ski down. They would be brought up from the back side of Gore – where there is an old garnet mine (still)."
In fact, the Adirondack Branch of the railway survived the Great Depression due in part to the ski trains that ran from Schenectady and New York City in the 1930′s. Skiers flocked to North Creek and to the first downhill ski center in New York State, which was constructed at the Ski Bowl on the slopes of Gore Mountain, the North Creek Depot Museum notes.
Gore has steadily grown and improved over the years (it is allowed to add one trail a year) and you can trace the remarkable development of Gore Mountain resort over its 81 year history in posters at the food court in the base lodge.
Most recently, "Little Gore" (actually one of the first areas ever opened to skiers), was connected to the other three mountains, and today has its own base lodge, where they offer night skiing (Friday, Saturday and Sunday, and daily over holidays, 3-9 pm), a terrain park, half pipe, as well as tubing.
This year, Gore replaced the oldest high speed quad in North America with a new high-speed detachable quad, the Adirondack Express II. "A fat man's chair," Pratt jokes, offering the smoothest, most comfortable cushioned seats.
Also, Gore replaced a 1940s T-bar (in honor of which they named a trail the 46-er). Other improvements for this year include more snowmaking and four more glades.
The improvements have been spearheaded by the Olympic Regional Development Authority (ORDA), which took over operation of Gore, one of three mountain destinations owned and operated by New York State, from the state's Department of Environmental Conservation in 1984. ORDA was formed around the 1980 Olympics in Lake Placid took over management of Whiteface; it took over operations of Belleayre, Highmount, in the Catskill Mountains, just two years ago.
DEC is great at environmental conservation, but ORDA are "ski people" – they know how to operate a mountain and the improvements it brings to the mountains can be seen in the lift operations, snowmaking and lessons.
ORDA this year introduced a new learn-to-ski program, called Parallel from the Start  – an updated version of a method used at Whiteface for 20 years – that uses specially designed skis by Head which are much shorter, even for adults. The idea is that you feel more confident, are able to turn easily and keep skis parallel from the start, and then transition to longer skis.
Parallel from the Start (for skiers) and Learn to Snowboard (for snowboarders) are specifically geared toward those ages 13+ looking to get into the sport. The three-day all-inclusive programs include three days of beginner lift tickets, lessons and rentals for only $169 – a deal that can't be beat considering that you can use these three days anytime consecutively or not consecutively throughout the season. In addition, skiers and riders in the program receive a free Frequent Skier Card at the end of their third day that gives them discounts on lift tickets for the rest of the season.
Gore offers a race program with trails that are "homologated" for FIS and USSA standards for slalom,  giant slalom and Super G.
Another key advantage of the three mountain destinations – each with their own special appeal and character – being owned and operated by ORDA and New York State, in practical terms, it means that season passes and even multi-day tickets can be used at any of the three mountain resorts – Whiteface is just an hour away.
"Heritage is powerful," says Michael Pratt, Gore's general manager.
"The attractiveness of Gore is that the people who come – sometimes three generations – consider it 'their mountain'. Ownership is powerful. They find it their personal destination."
And Gore is so big – there is no way to ski the entire area in a day – and with so many faces and variety, even if you've skied here your entire life, you couldn't get bored. The serendipity of weather and snow conditions and all the other factors will change the experience each time you take a trail.
"We are returning to being a destination mountain," he says. "Our bread and butter are the families."
Gore has everything the most persnickety skier/rider would want and none of what they don't need. There aren't the bells and whistles – no posh restaurants on the mountain, no waffle shacks, or snowcat sightseeing.
The food court at the base lodge serves really excellent fresh and homemade food at very fair prices – Rosie's egg salad (fabulous), freshly made soups (chicken vegetable, cream of vegetable, clam chowder, chili, $5.50 a bowl, $2.50 more for a bread bowl, excellent). Also, the Ski Bowl Lodge at the base of North Creek Ski Bowl, offers meals and snacks from sunup through twilight to accommodate the night skiing and tubing. And the Tannery Pub & Restaurant in the upper level of the Base Lodge offers drinks and live entertainment.
These are public lands – you are in the Adirondack State Park, after all, and the area is owned by New York State – which means there is no housing, no villas or townhomes on the side of the trails, and when you look out to the mountain peaks, all you see is an amazing expanse of magnificent wilderness. Gore offers 26 glades, all at elevations in the forest with hardwoods, spruce and birch (you think  you are skiing the Rockies for the expansive views from one mountain to the next). Indeed, the Adirondacks offer that sort of rugged peaks – larger than the Catskills.
"This is America's last wilderness," Pratt says.
Gore taps the mighty Hudson River for its snowmaking water, and returns the favor when the snowmelt makes for some of the most fearsome river rafting in the country, rivaling even the Grand Canyon for its vertical drop.
The beauty of Gore is quite literally its authentic wilderness experience. Skiing and riding bring you up to these magnificent peaks.
And North Creek, the nearest village, is part of that special charm.
Five resorts partner with Gore Mountain and the website (goremountain.com) offers 86 properties for lodging. Packages include "Gore Holiday Your Way" (two nights stay, two or more days, from $179 pp); "January Jamboree (from $190pp); MLK Fireworks & Fun (3-nights lodging, 3-day lift tickets, from $263pp); weekend packages from $175 pp.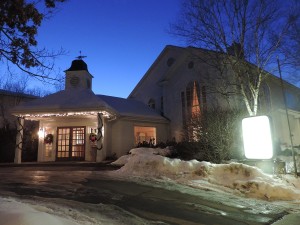 We stayed at the Copperfield Inn, just about 10 minutes up the road from Gore Mountain, on North Creek's Main Street, with all the charm of an inn and all the luxury of a fine hotel (pet friendly, too). It offers 31  spacious guest rooms & suites, Mediterranean-style selections in Lorenzo's Restaurant and hearty pub fare & entertainment at Trappers Tavern, plus health and fitness center with spa services, indoor sauna, outdoor hot tub, free WiFi, and in season, outdoor swimming pool and tennis court; 877-235-1466, www.copperfieldinn.com (see story).
North Creek is a quiet country village with many delights, including the Hudson River Trading Company store, and delightful restaurant BarVino on Main Street, and a few miles away, on Rte 28, Basil & Wicks (see story).
If you want a high life, it's easy to find it in Lake George, 30-45 minutes away. Indeed, the grand, historic Sagamore Resort at Bolton Landing on Lake George offers a shuttle bus to the mountain.
Gore Mountain is very much a four-season destination. Indeed, Gore offers mountain biking, hiking and gondola rides. There is also fly-fishing and the Hudson River offers some of the best river rafting in the country (see GoreMountain.com or GoreChamber.com for outfitters). There are also some spectacular geological formations, such as Ausable Chasm and Natural Stone Bridge & Caves, and all the delights of Lake George, even the Great Escape theme park.
More to do: Scenic train rides on the Saratoga & North Creek Railway to seven stops along the Hudson River in elevated dome cars (SNCRR.com, 877-726-7245); North Creek Depot Museum (NorthCreekDepotMuseum.org); Ski Bowl Gardens (which offers a new hike/bike trail system); Garnet Mine Tours (518-251-2706, GarnetMineTours.com); and Garnet Hill Lodge, a full-service hiking and mountain bike center offering guided history and nature hikes, 600 acres of trails (Garnet-Hill.com, 518-251-2444).
Getting here: NYS Thruway to Exit 24. Take I-87 (the Northway) to Exit 23 (Warrensburg). Follow Route 9 for 4 miles to Route 28 for 16 miles to 793 Peaceful Valley Road.
Gore Mountain, 793 Peaceful Valley Road, North Creek, NY 12853, Snow Phone 518-251-5026, 518-251-2411, www.goremountain.com.
Next: The Special Charm of Copperfield Inn and North Creek
_______________________________
© 2015 Travel Features Syndicate, a division of Workstyles, Inc. All rights reserved. Visit www.examiner.com/eclectic-travel-in-national/karen-rubin, www.examiner.com/eclectic-traveler-in-long-island/karen-rubin, www.examiner.com/international-travel-in-national/karen-rubin and travelwritersmagazine.com/TravelFeaturesSyndicate/. Blogging at goingplacesnearandfar.wordpress.com and moralcompasstravel.info. Send comments or questions to [email protected]. Tweet @TravelFeatures. 'Like' us at facebook.com/NewsPhotoFeatures.