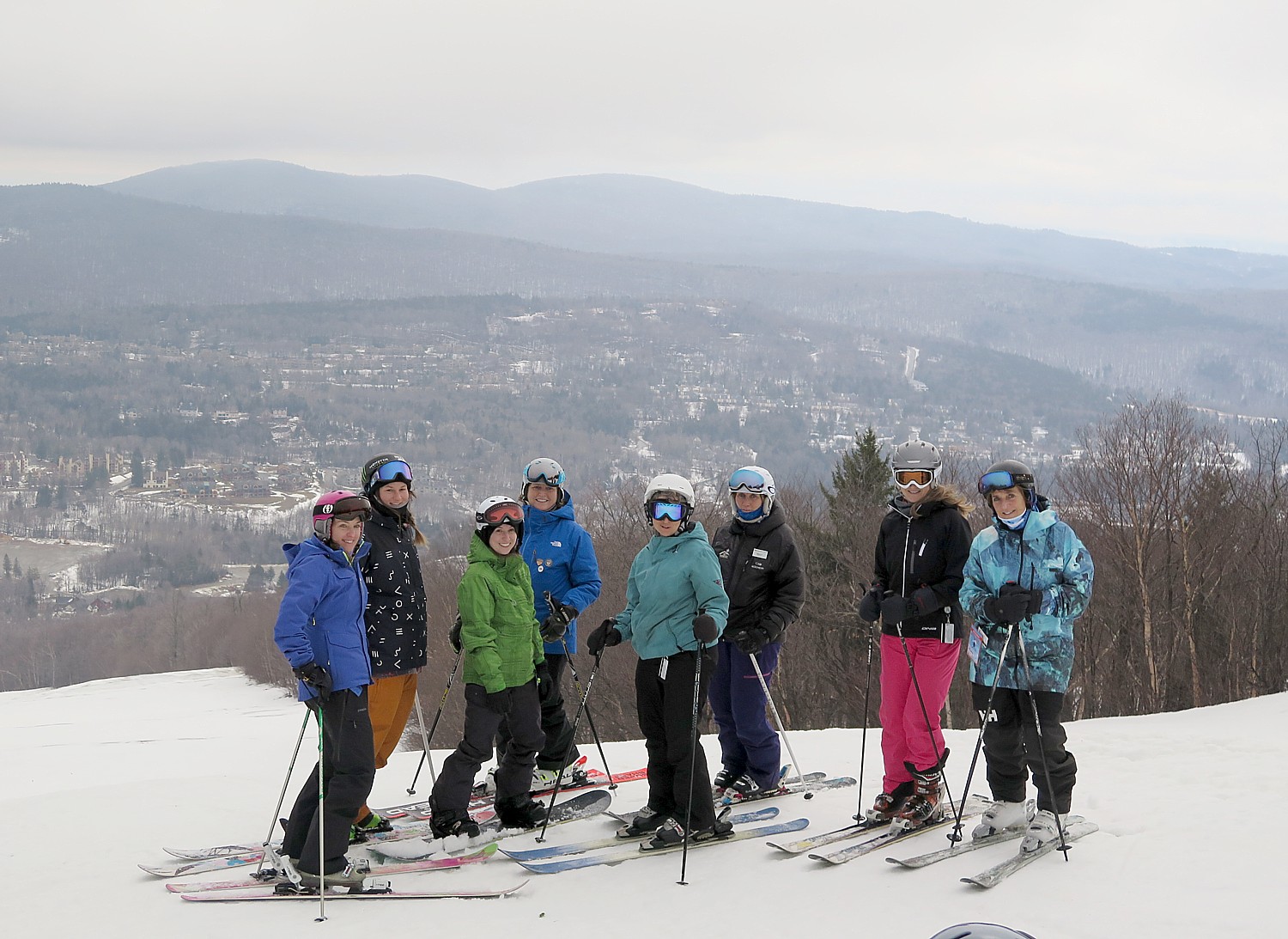 By Karen Rubin, Travel Features Syndicate, goingplacesfarandnear.com
Mount Snow resort was abuzz – Olympic freestyle skiing silver medalist and hometown hero Devin Logan was back on the mountain where she learned to ski and compete. But what may not have been so obvious was the group of women trailing along with her.
I was one of the lucky ladies who got to hang with Devin during  Mount Snow's first-ever "Devin Logan Experience," a two-day women's ski camp which Mount Snow hopes to be the model for future women's ski clinics.
What is it like to hang out with an Olympic silver medalist? Well, if it's a delightful person like Devin Logan, the freestyle skier who won her silver medal at the 2014 Olympics in Sochi and now lives in Park City, Utah, back home at Mount Snow in West Dover, Vermont, to spend Christmas with her family, it is sheer fun.
Mount Snow's first-ever Devin Logan Experience was designed as a laid-back women's ski camp – instruction from Mount Snow's top female instructors – with all the extras of a ladies' outing (fine dining, a massage at the NatureSpa at the Grand Summit Hotel, VIP access to lifts, parking, ski storage). We skied with Devin, enjoyed fantastic meals with her (at one, she brought her medal so we could hold it and pose with it if we wanted), picked up some warm-up exercise tips from her, met her Mom and boyfriend, Travis Jayner (the short track speed skater who was on the 2010 US Olympic Team in Vancouver, winning bronze in the 5000 meter relay with teammates Apolo Ohno, JR Celski, Jordan Malone and Simon Cho).
The other ladies in our intimate group were long-time Mount Snow season passholders – from Long Island, New York, Connecticut, New Jersey – whose kids and grandkids  have come through Mount Snow's various academies, training and development programs and some who have gone on to competitive skiing and professional sports as well.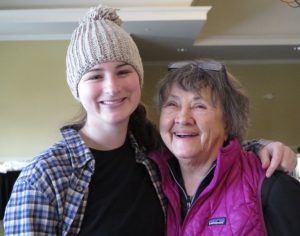 Barbara Hyde, for example, who wanted to be called "Granny," boasts three generations who have been coming to Mount Snow. Barbara says that she only learned to ski at age 21, when she met the man she would marry who was an avid skier, so she had to become one, too. But her kids and grandkids were able to start skiing at a young age and have become serious in the sports.
Her granddaughter, who joined us for some of our time, is a friend of Devin's from being in the same Mount Snow development program and competitions, but her competitive career was cut short after an injury; now she is going to school to become a sports psychologist, she tells me.
On our first morning, after checking in for the program, we all headed up the mountain to ski together  for First Tracks, before the lifts officially opened at 8 am (okay, I was rusty – this was my first time out this season while the other ladies had already had several days) for a few runs before breakfast together in the lovely ballroom of the slopeside Grand Summit Hotel.
Then we were back on the slopes for more runs, with Devin and some of Mount Snow's ski pros.
Watching Devin ski is a marvel and an inspiration. "She's like a rubber band," says "Granny" (aka Barbara Hyde).
When the group got to the Carinthia area – the East's top-ranked park and one of the largest in the East taking up a whole mountain face, 100 acres and offering 97 features (and counting, since they add new features almost daily) – Devin demonstrated a few of her tricks. It's clear that having access to such a facility set her on her path, which you can see replicated in the development program for young kids.
To Mount Snow regulars, Devin is a hometown hero – you should see the expressions on the youngest kids' faces as they were getting ready to get on the lift for their training programs, when they recognize Devin.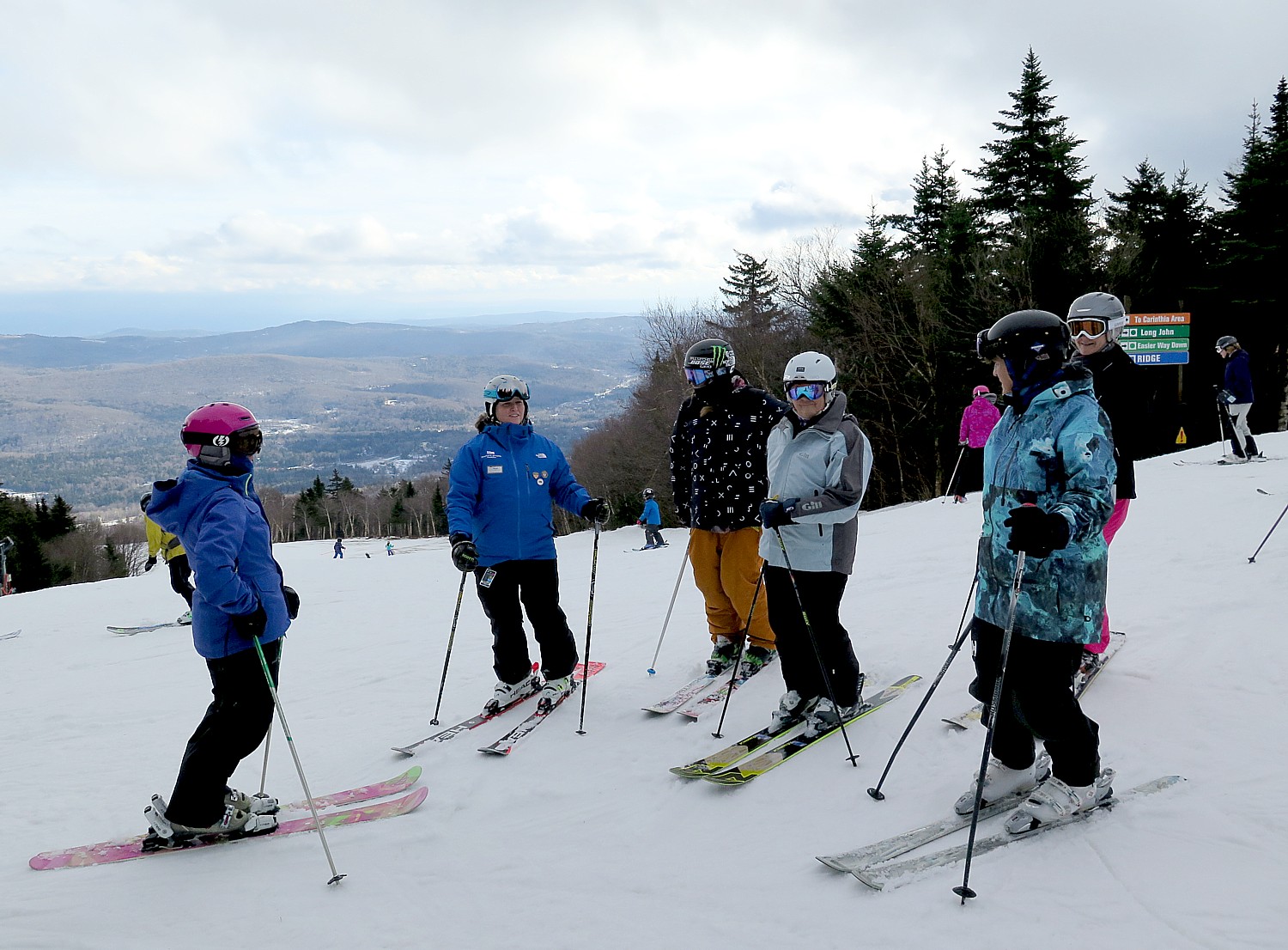 The program is designed as a Women's ski clinic, and the pro of Mount Snow's pros, Maureen Drummey, stopped periodically on the mountain to give us pointers and techniques. "Visualize your foot as part of the ski," she tells us at one point. "Visualize you have no bindings," she says at another (an excellent thought in the larger scheme of things).
Hanging With Devin
Back at lunch, it was interesting to chat about how Devin got to where she is.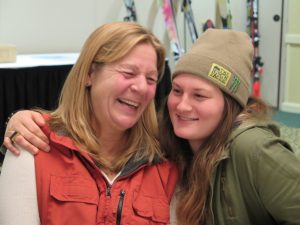 Devin is originally from Oceanside, Long Island. The youngest of five children, she started skiing at age 2, joining the Mount Snow competition program at age 6. She said that she had been traveling around to competitions with her mom to watch her two older brothers and her mom told her if she was going to watch, she might as well be competing.
"I had to keep up with my older brothers" who today are professional extreme skiers and filmmakers, she tells me.
She moved with her Mom to West Dover to train more intensively when she was 13. "I wanted to take my ski career to the next level."
She progressed through racing and moguls before moving on to big air and then halfpipe and slopestyle. She's a double-threat, competing in both halfpipe and slopestyle (she missed the halfpipe Olympic team in 2014 by one spot, the Olympics where she won her silver in slopestyle, but hopes to make both teams for 2018).
D-Lo" as her friends call her, not only has an Olympic slopestyle silver medal, but five overall AFP titles (including 2016), an X Games silver medal and dozens of times on the Dew Tour, World Cup and Grand Prix podiums.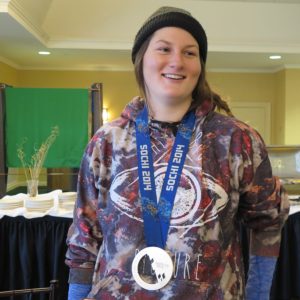 She brings her silver medal so we can hold it, pose with it (it is really bulky and heavy). Clearly she has brought it around a lot because it has a surprising number of knicks.
Just being with her piques my interest about her sport. Does she watch the other competitors and decide to throw in a different trick in order to win more points?
I learn that in slopestyle, you don't win points for specific tricks, as they do now in figure skating, where each element has a certain value (a change in scoring that was meant to overturn the extreme subjectivity of judging).
I ask if there is pressure to throw in some extra trick to get extra points, and she explains, "You are constantly innovating. There are seven features on the course – rails and jumps – different options. You can take a different route, mix and mingle, make your routine to your standard, make it unique – there are no guidelines of tricks. You do what you like but you cater to judges.  Every course is different – when you see the course, you devise your routine.
I ask how she acquires new skills. Is there is a lot of painful trial and error before you nail a new routine?
She tells us that she learns new techniques on the trampoline and water ramps. "There are steps to take to build confidence, know you can do the trick. It's about confidence and muscle memory.
There is also air-bag training on snow – where they cut the half pipe and put an air bag.
"There's no room for error on the half pipe. There's only so much room to land. It's the same take off, but you land on an air bag."
I ask whether she modifies her routine in competition after seeing other competitors, in order to score higher.
She says that unlike many of the other competitors, she likes watching the other competitors "so I know what I have to do." But they get to see each others' tricks during training so they know what they are up against.
Unlike figure skating, where each element has a point value, in freestyle, the tricks are n ot individually scored – the whole performance gets a ranking.
Devin's story follows several other Mount Snow alums, like Eliza Outtrim, an Olympic mogul skier, who has been on the US ski team for 10 years and came in 4th at Sochi.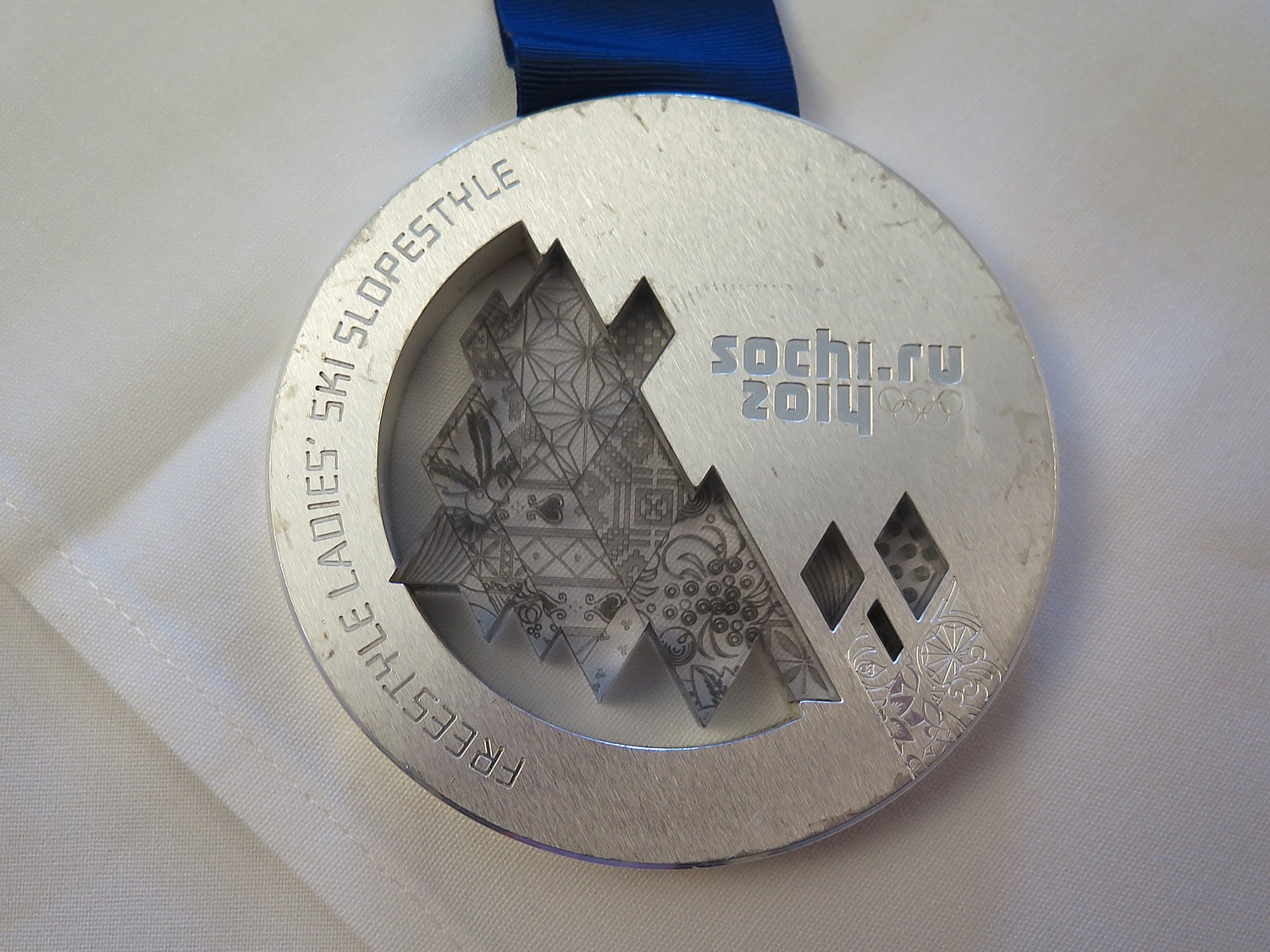 It's a credit to Mount Snow that several Olympians have emerged from the development programs here, a testament, too to the facilities.
Indeed, Carinthia, which is now the top-ranked terrain park in the East, originally was its own ski resort which Mount Snow acquired. It takes up a whole mountain face – 100 acres – with 97 features.
"The size of the park, the caliber of the park, turns out great athletes," says Jamie Storrs, Mount Snow's Communications Manager.
And this great area will be getting even better: Mount Snow just got $52 million in funding which will go toward building a new 28,000 sq. ft. lodge at Carinthia (the current one will remain open during construction of the new one), plus 120 million gallon reservoir which will provide 200% more water for snowmaking than now and enable Mount Snow to have half of its terrain open on the first day of the season.
Mount Snow supported and sponsored Devin in those early years and Carinthia continues to sponsor her. And now Devin is returning the favor – one of the reasons she is part of this experience. She has organized a Silent Auction – ski equipment and such – with the money raised going to help a young skier with their travel expenses to competitions.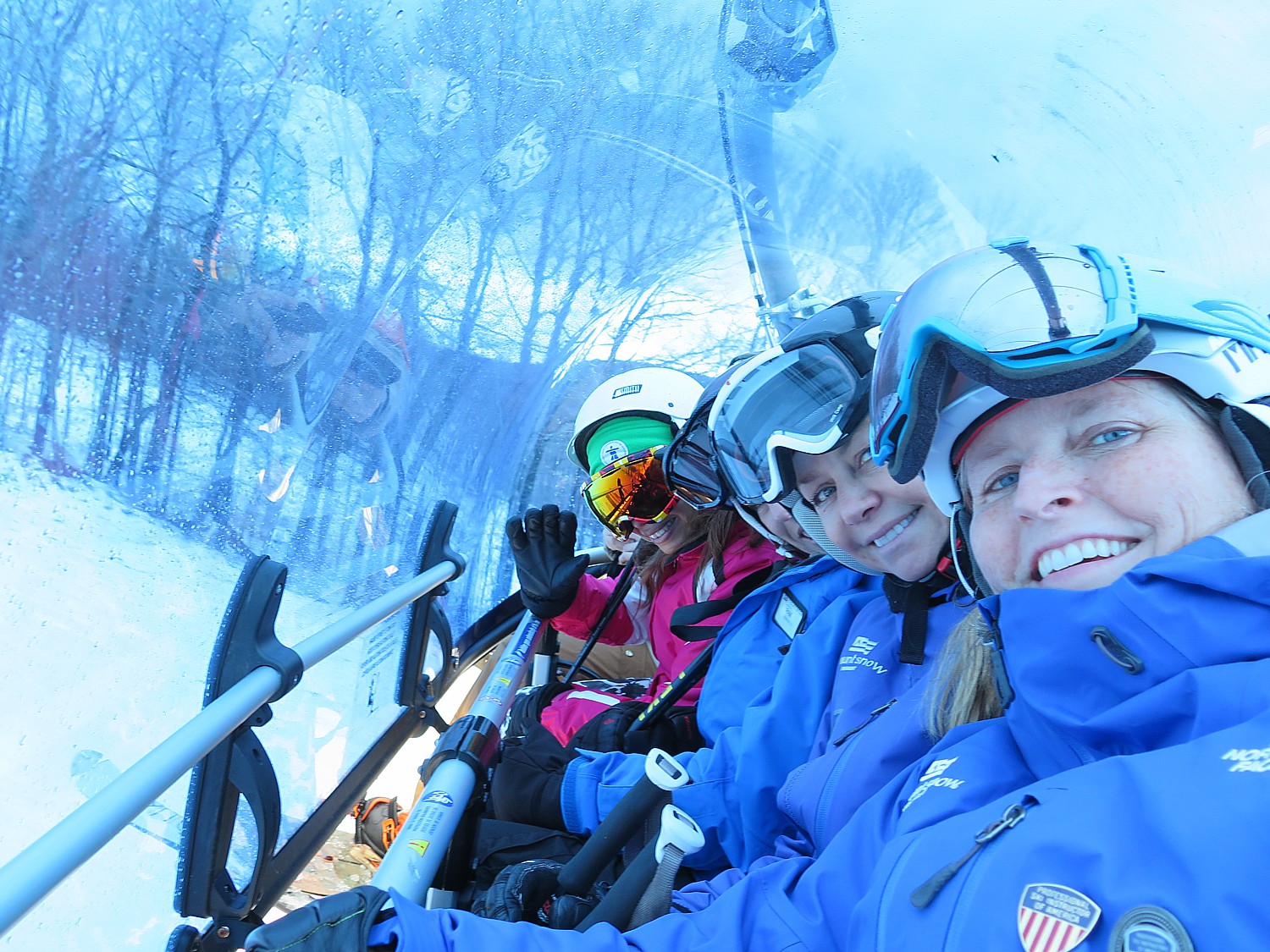 Waiting at the Bluebird Express lift, a wonderful six-pack detachable chair with a bubble covering (blue plexiglass) to protect you from the elements as you whisk up to the top of the mountain, all the kids recognize Devin. Many of them are in Mount Snow's Grommet program for 12 and under– that starts them learning how to ski freestyle and compete as early as six.
Devin was part of the program when she was growing up – winning it in 2003 and 2004. Today, there is the first of three Grommet Jams, where 100 kids, 6-12 years old from throughout the Northeast, get coaching and then compete.
Devin came by in the afternoon to meet with the Grommets, to show off her silver medal and provide inspiration and encouragement.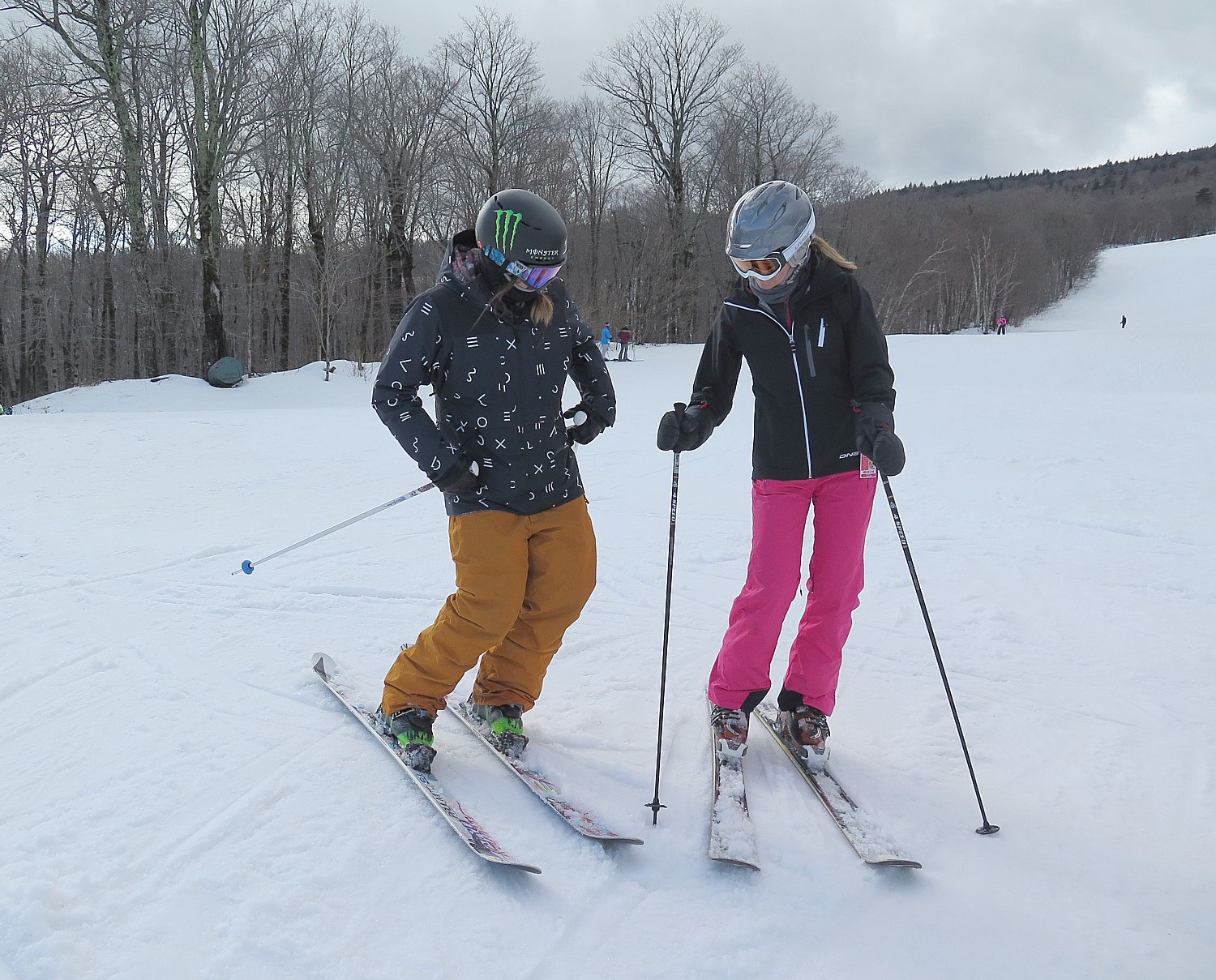 I had a chance to see how these youngsters train during my visit to Mount Snow – it is really incredible, to see kids as young as six (or younger still), in their racing bibs with their coaches.
The 15-week seasonal development program is designed for skiers and riders 6 to 18 years old. Participants are matched with a coach based on their area of interest and ability level. One coach oversees a group of kids whose skills and abilities complement each other. The same coach works with them on a weekly basis, The Development Program provides the personalized attention of working with the same coach each session and the group confidence of learning with familiar faces. The program is also an environment in which the participants are able to have fun and form lasting friendships.
Our second day, we have time to get in a couple of runs before we meet up with Devin who shares some of her warm-up fitness exercises, and then are out skiing again before we come back in for lunch.
In the afternoon, we have the opportunity to ski with Maureen Drummey to pick up more ski tips and techniques.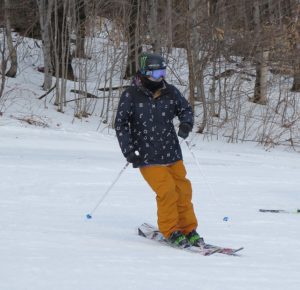 This is template for future women's clinics, possibly organized around other sports celebrities or sports figures associated with Mount Snow (several Olympians have come from here). It's not just a ski lesson, but the casual camaraderie that makes it relaxed and fun, with an entire atmosphere created around the meals. (The relaxation massage at NatureSpa at the Grand Summit helps, too.) It's an unusual turnabout for these ladies, who are more used to sending off their kids and grandkids into development programs.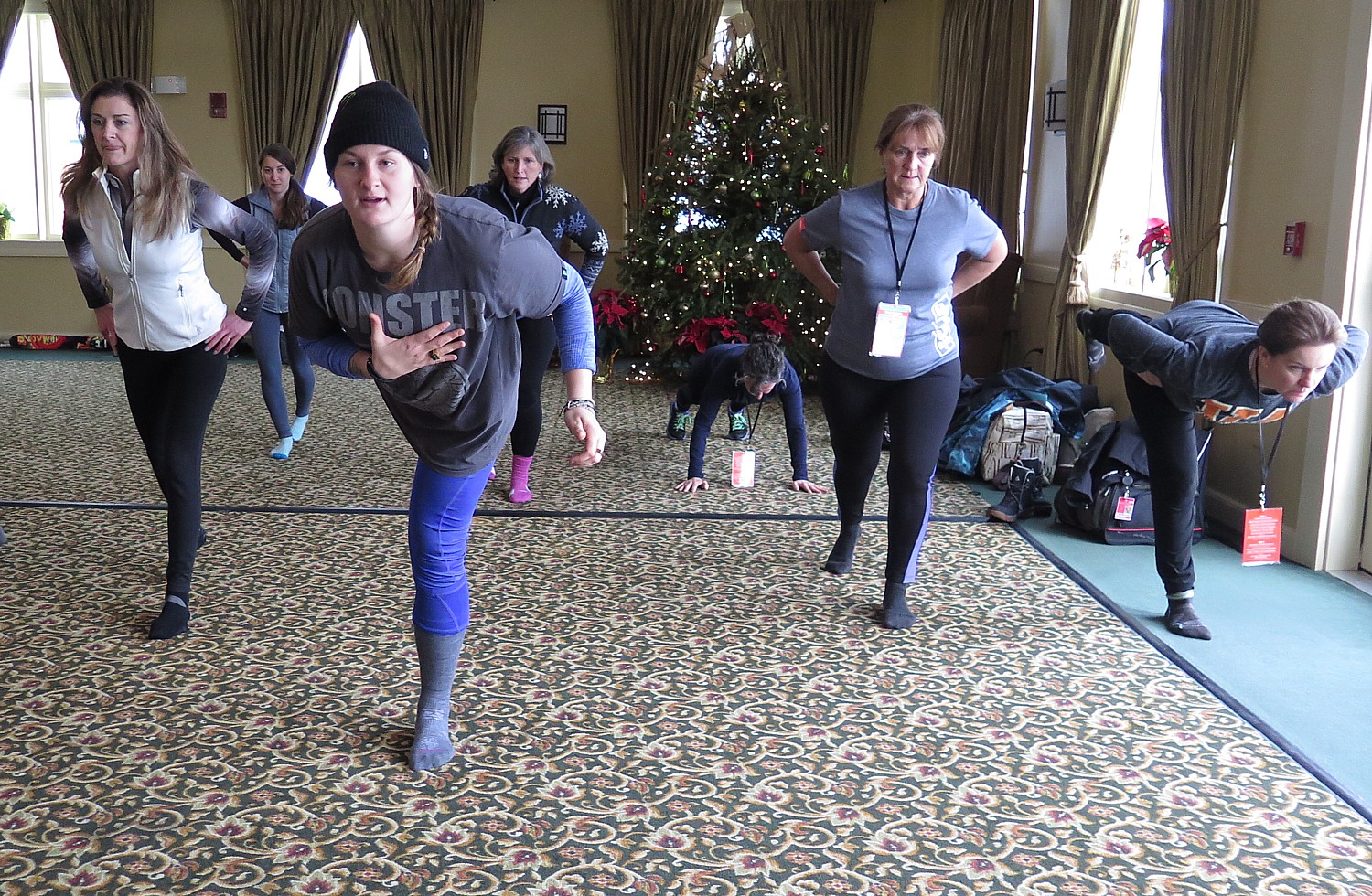 Though each of them had been coming to Mount Snow for years, they had never met before, and now were exchanging numbers to meet up to ski together.
Most Southerly Vermont Major Resort
There is a good reason why there are so many season holders for generations from Long Island, New York metro area, Connecticut, Massachusetts and New Jersey: Mount Snow, the most southerly major Vermont resort, is the closest drive, just 20 miles off I-91.
Founded in 1954 by National Ski & Snowboard Hall of Fame member, Walter Schoenknecht, today Mount Snow is owned by Peak Resorts which has invested more than $25 million in capital enhancements since the spring of 2007.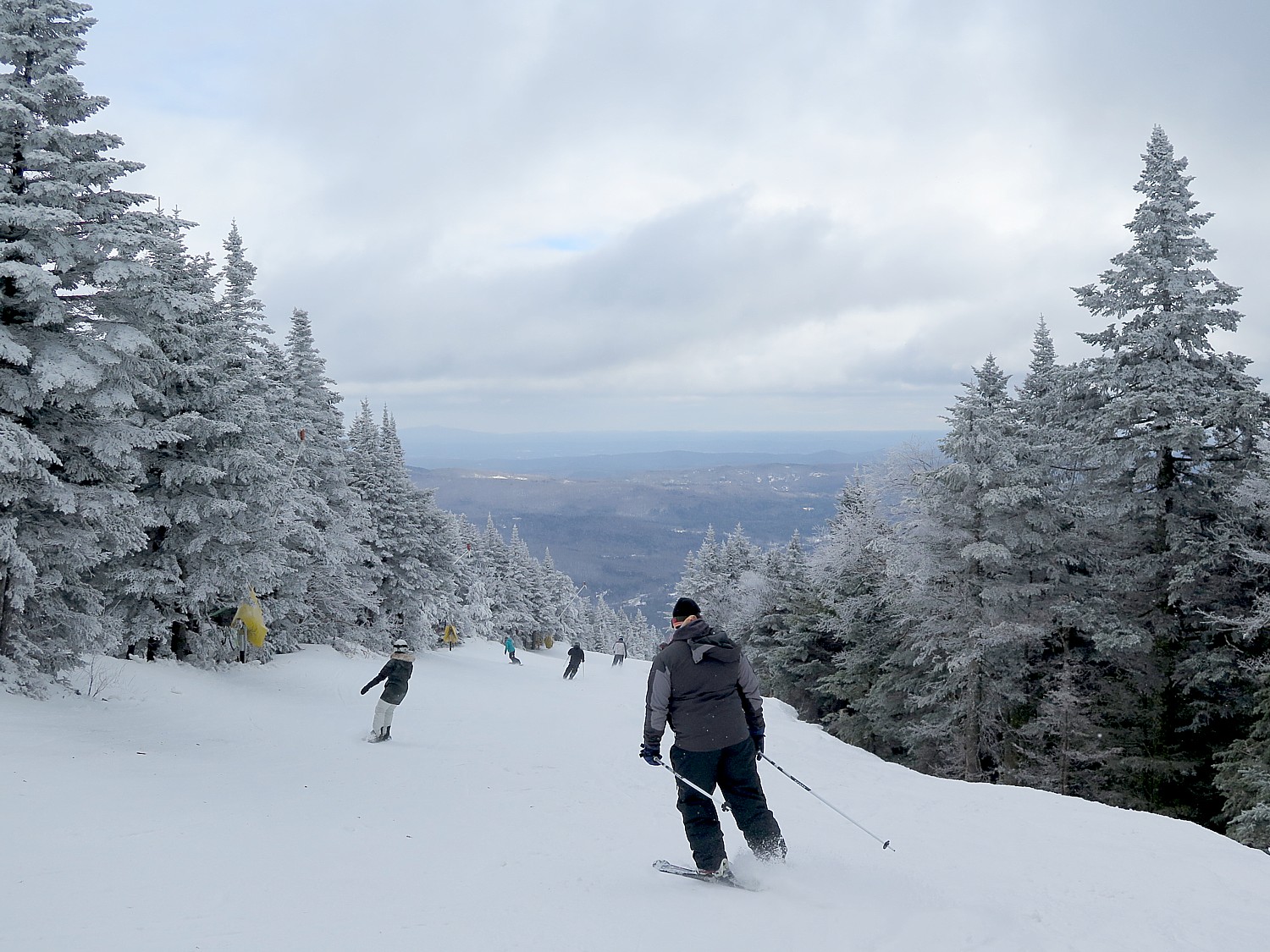 Mount Snow offers 589 skiable acres across four mountain faces, 1700' vertical drop, snowmaking on 472 acres, 85 trails of which 12 are easy (green) including long rambling greens from the top, 54 intermediate (blue) trails, and 14 advanced/expert, glades, 10 terrain parks and half pipe. It's an easy mountain to navigate (excellent signage which I appreciate) and 20 lifts.
Skiers are whisked up to the mountain top on the fast six-pack detachable Bluebird Express bubble, traveling the distance in absolute comfort no matter the weather, wind or blowing snow.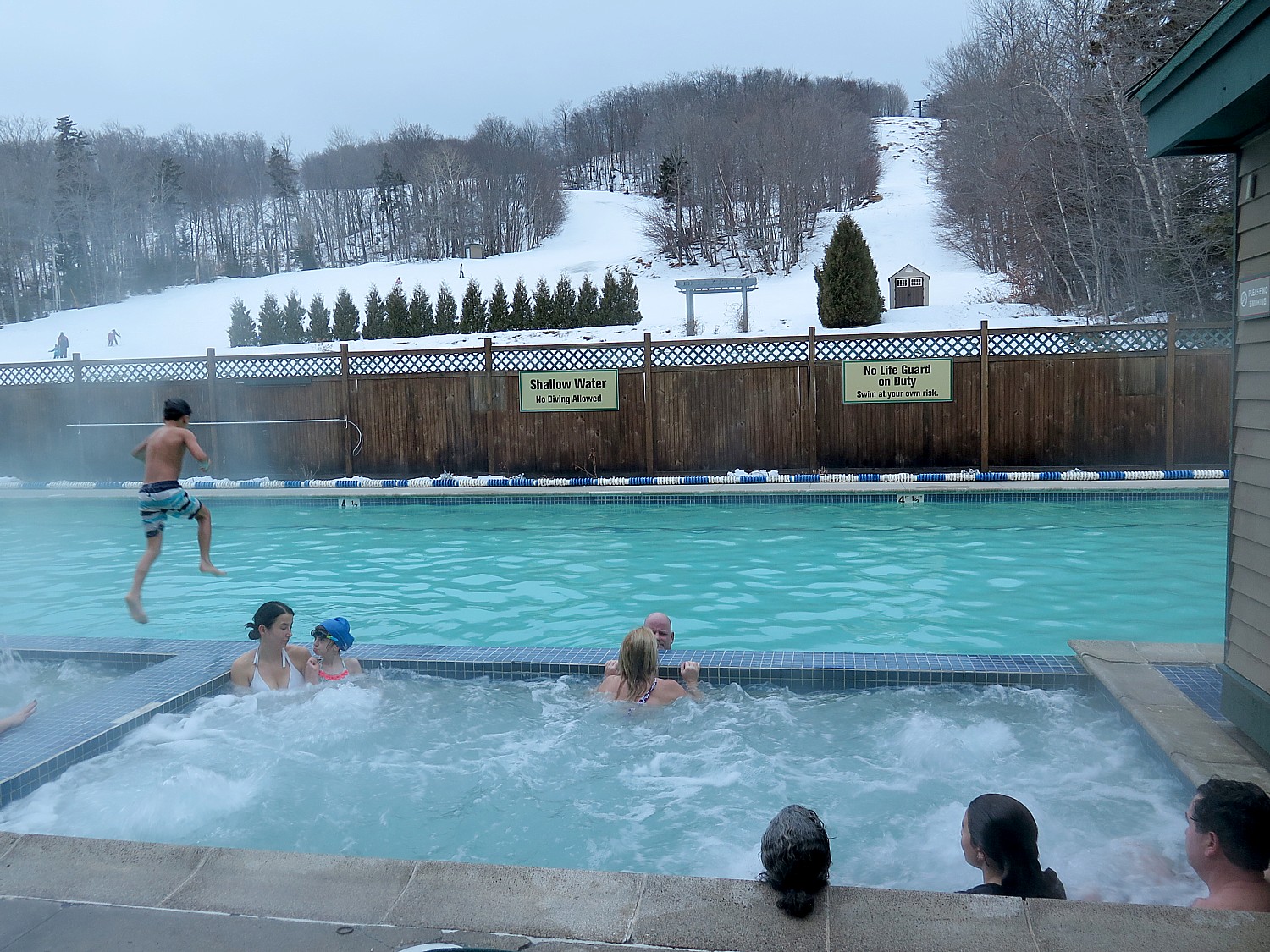 Mount Snow is designed as a self-contained resort with slopeside condos, the famous Snow Lake Lodge (a European style inn which affords incredible ski/stay value packages), and a gorgeous, slopeside luxurious Grand Summit Hotel with full-service NatureSpa, fitness center, outdoor heated, lap-sized pool (with indoor entry), two hot tubs, an arcade room, and restaurant with bar, plus ballrooms and meeting facilities, and lovely fireside sitting areas. The Grand Summit is steps away from the main base lodge and the Bluebird Express chairlift.
The Mount Snow regulars love the homey feeling.
Last season, Vermont had a dismal season for snow, so this season, Mount Snow is making up for it – slashing the price of its season pass which for the first time provides access to all six Peaks resorts that include Hunter Mountain in New York's Catskills, Attitash and Wildcat Mountain in New Hampshire, Big Boulder and Jack Frost in Pennsylvania (see www.peakresorts.com/our-resorts).
(Other ways to save: the earlier you purchase your lift ticket, the cheaper it is; you can purchase at Liftopia.com as well as online at mountsnow.com. Also, the Snow Lake Lodge has unbelievable specials, as low as $69 for a ski-and-stay package that is essentially cheaper than a lift ticket.)
And by Christmas, the resort had already had more snow than all of last season, with a major dump expected to blanket the mountain in time for New Year's.
Special Events
The Devin Logan Experience may be done for this season but Mount Snow has an ambitious schedule of special events, including January Learn to Ski specials. Also on tap:
Kid Vibe, Jan 8 – youth pay their age day (if under 18, pay whatever)
January: Learn to Ski
Feb 4-5- Season Passholder Appreciation Weekend  with fun events, giveaways.
Valentines Day – Cloud 9 Nuptials  on Cloud 9 trail where a justice of the peace is available for couples to renew vows and even get married (show up with a license).
Mar 24-26 Reggae Fest with reggae band concerts day and night; Pond Skim, Duck Tape Derby.
April 1- 9 Annual Winter Brewers Festival, followed by Glade-Iator mogul competition.
In line with these special events, there are also special pricing days: Discount on children's tickets , 6 and under $10/day, 7-17, $70/day; Valentine's Day when two lift tickets cost $59
And St. Patricks' Day, March 17 with $17 lift tickets. Also, the "Sunday Sleeper," where visitors can sleep in Sunday, ski 12-4 for $39.
More to Do 
There are regular concerts at the Snow Barn within Mount Snow as well as a lift-served snow tubing hill.
Just down the road, there are various restaurants (my favorite is The Silo, in West Dorset on Rte 100) and shops on the way to Wilmington six miles away.
And for some interesting things to do:
Husky Works Mushing Company offers dog sled adventures through scenic winter landscapes for ages 6+. (Reservations required. 9 minute drive from Mount Snow.  5189 VT-100, Wardsboro, VT 05355, 802-896-3478, www.huskyworks.com.
Adams Farm, a working 7-generation farm, has offered afternoon and evening traditional Vermont sleigh rides pulled by a team of heavy draft horses since 1980. Sleigh rides are scheduled days and evenings as well as special sleigh rides for Christmas Eve, New Years, Full Moons, and Valentine's Day. Each sleigh ride lasts approximately 1.5 hours and takes you through the Vermont countryside to an old log cabin for hot chocolate and music by the woodstove. (Reservations are required and sleigh rides are weather-permitting,12-minute drive from Mount Snow, 15 Higley Hill Rd Wilmington, Vermont 05363, 802-464-3762, www.adamsfamilyfarm.com.
Mount Snow is a premier four season resort that offers extensive downhill mountain biking, golf at the acclaimed Mount Snow Golf Club as well as flexible wedding and conference facilities.
Mount Snow, 39 Mount Snow Road, West Dover, VT 053561, 800-245-SNOW, www.mountsnow.com. 
______________
© 2017 Travel Features Syndicate, a division of Workstyles, Inc. All rights reserved. Visit goingplacesfarandnear.com and travelwritersmagazine.com/TravelFeaturesSyndicate/. Blogging at goingplacesnearandfar.wordpress.com and moralcompasstravel.info. Send comments or questions to [email protected]. Tweet @TravelFeatures. 'Like' us at facebook.com/NewsPhotoFeatures