by Dave E Leiberman, Laini Miranda, Eric Leiberman, Andrew Kessel, Maya Fayfman
Travel Features Syndicate, goingplacesfarandnear.com
Everywhere on Alta's 2,600 skiable acres feels like we're in a snow globe. What used to be a treeless mining town is now home to what we found to be one of the country's most fairytale-esque, European-feeling, lovable ski mountains in the US. This weekend, our annual adventure takes our bicoastal group of millennials to the glacier-carved Colli known as "Little Cottonwood", roughly an hour from Salt Lake City and home to Alta and Snowbird, two adjacent and amazingly complementary ski mountains. We are excited to experience Alta, a mountain that we expect will be both challenging and accessible to our group of varied skier levels.
We are lucky to be taken around the slopes our first morning by Alta's Andria Huskinson and Sarah McMath. Andria, who is also a veteran racer, has been skiing Alta for over 20 years and is still discovering new lines down the mountain. She and Sarah are the perfect duo to show us the ropes and give us a taste of that #AltaMagic that we heard about — a combination of Goldilocks snow (not too hard, not too soft, just the right density and feel!), sun-beamed vistas of encircling mountain faces, enchanting runs with tons of skiable chutes and side areas, and general good energy vibes from Alta's loyal skier community (and Alta is one of the few mountains left that are skiers-only).
One of the most enjoyable parts of the morning is meandering through the trees and around the occasional mountain home (grandfathered on the Uinta-Wasatch-Cache National Forest land) as we wrap down Cabin Hill, a run that we will attempt to revisit several times today and tomorrow, though we occasionally miss the entrance points. This run entails a relaxing, yet fun video-game like experience of skiing with wide spaces between trees and fast terrain that is not too steep.
While most of our group is busy exploring with Andria and Sarah, the most "rusty intermediate" in our group, Maya, breaks away and has the chance to take a 2-hour private lesson. They start off on some easy greens so the instructor has the opportunity to see what she's working with, while offering some simple pointers as they ski. They continue to harder and more challenging trails. While some lessons can be bagged down with frequent stops and wordy instruction, Maya really appreciates that they spend the bulk of their time skiing with occasional pointers as she goes. It isn't until they ride the chairlift that more detailed instruction is offered, as well as some other pleasant and enjoyable "get-to-know-you" conversation. As the half-day lesson comes to a close, Maya rejoins the rest of the gang with a renewed confidence and comfort for tackling all that Alta has to offer.
True to the congenial Alta way, there is also a new "Lady Shred," a supportive lady-based ski group begun by Sarah and Andria in an effort to bring more woman power to the mountain in a sport that's typically 11:1 male to female. The group is open to anyone who wants to join Saturdays at 1 pm and is promoted on their instagram @altahighgirls and #altaladyshred.
From there, we generally stay together while a few of us veer off into the various "choose-your-own-adventure" virgin-snow-covered side paths through the trees here and there. It's a perfect Bluebird Day with about a foot of fresh new snow just this week, taking the mountain to a cumulative 397.5 inches already this season. As Ski Utah's Adam Fehr points out, "high elevation, dry air, the primarily north-facing aspect, and lake-effect snowfall makes for the perfect combination".
We venture to Catherine's Area along the perimeter of Supreme, the part of the mountain with views that Sarah mentioned earlier in the day made her fall in love with Alta. The hike up to Catherine's is flanked by panoramic vistas. (Riding the Alta lifts is similarly picturesque.) There is a real backcountry feel to the mountain, though you don't have to spend an entire morning trekking (just a bit here and there, if you want to). "If you see it, you can ski it!" Andria says.
Our gourmet sit-down lunch at Rustler Lodge introduces us to such mouth-watering dishes as the Rustler Game Burger (half-pound blend of elk, bison and waygu), the Halibut Fish Tacos, the Thai Chicken Salad, and an incredible cup of white bean chili (making us wish we ordered a bowl). Our gloves and hats are warming by the wood fire in the middle of the restaurant, and the ambiance is somewhere between that of a rustic ski lodge, a modern New American restaurant, and an Ivy League dining hall (particularly if you get the large table that commands its own little alcove along the windows, for a more private party feel). We can see Eagle's Nest from our window-side table, which gives us mixed feelings about indulging in such a relaxed lunch. We of course skip dessert, briefly take in the beautiful lodge, and head back out to the slopes.
More snow begins to fall in the afternoon and we lose some of the blue skies, but the strategy of gradually moving across the mountain, starting the day at Supreme and making our way East to Collins by the end of the day, seems to give us the best conditions at every point in the day. A three-minute cut across the High Traverse, with a few sidesteps "up and over" to the other side, takes us to the sheltered and snow-swamped Gunsight. This turns out to be the perfect last run of the day, the sun gleaming through and the afternoon light glittering on the very steep entrance slot. There is an intense initial drop, and then the run eases slightly and empties into "the gulley" toward the bottom. Finally, we can either take a green run home to the Transfer Tow, or cut through the trees to the left for a final bout of mogul-ey glades. The latter enables us to truly earn the après at The "Sitz" (the iconic Sitzmark Club).
The vibe at Alta just feels different. People come to Alta, fall in love with it, and then don't go anywhere else. There is a staggeringly high rate of return among guests. One place you'll most certainly feel the warm community is at Alta's après-ski bars, especially the cozy Sitzmark Club at Alta Lodge, where we walk in and, consumed by the aroma, instantly crave a hot whiskey cider, along with their complementary homemade hummus with chips. The place is filled with skier friends who seem like they've known each other since childhood, and some of them do. As we sit talking to Andria and the team, she points out some of the Alta all-stars. "That's the guy who was basically the grandfather of ski photography."
We hang for the après ski and then the après après ski, enjoying the atmosphere, good conversation, and additional mountain trivia (e.g. Alta is one of the oldest ski mountains in the country!). Nearby, the Alta Peruvian Lodge is slightly bigger, and similarly packed to the brim with warm people. If The Peruvian's free-reign tapas run out by the time you arrive, be sure to ask for a basket of popcorn or nuts with your cold beer. Both bars are intimate rooms with that old lodge feel and Alta memorabilia adorning the walls. There are no C-list garage bands or brand sponsorships—the sound and energy comes from old and new friends enjoying each other after their awesome day of skiing.
Despite being a world-renowned ski destination (sorry, no snowboarders or "other snow-sliding equipment" allowed), Alta feels very accessible. The lines really only pick up on weekends, but even then, move surprisingly fast. We spend much of our second day going down moderate to intense trails. Alta marks all expert terrain with a single black diamond, despite the varying levels of steepness and intensity of their diamond runs. Although Alta has a reputation as a challenging mountain, we meet many families with kids just trying on skis for their first time. The ski school at Alta is world-renowned for training all levels of skiers.
Like the mountain, which can be graded with varying levels of challenge and adventure, the cuisine and lodging options on the mountain are similarly varied.
Our second day, we enjoy a cozy lunch at the Collins Grill, a European-style bistro grill right by the Collins and Wildcat lifts and nestled within Watson Shelter. We feast on decadent delights like bacon-wrapped jalapeno poppers, crab cakes, rabbit stew and lamb skewers. This hearty mountain-fare tastes all the more satisfying for two reasons. First, we're wearing the restaurant-supplied slippers instead of our ski boots. And second, we learn that all of the ingredients in the beautifully prepared food we're eating is sourced locally and sustainably whenever possible.
We learn from Maura Olivos, Alta's Sustainability Coordinator, Ecologist and founder of the mountain's Environmental Center, that locally sourced food isn't the only environmentally conscious action Alta takes. Whether it's planting trees, conducting research, educating the community or reporting their environmental impact, Alta has been at the forefront of conservation and sustainability for over 80 years (though the Environmental Center was officially formed in 2008). It's the antithesis of a man-made ski resort with premeditated and manicured trails. Instead, Alta celebrates and even improves the national forest that it leases and calls home. "You ski it as the mountain was meant to be skied," says instructor Bob who's been teaching there for 13 years.
While the fire, espresso shots and discussion of all the ways we can be better stewards of our planet is delightfully pleasant, the clouds clear and the mountain calls.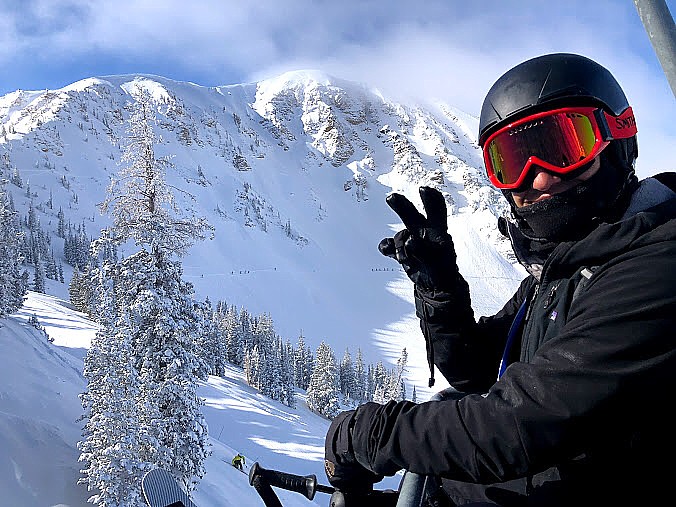 We make our way to Sunnyside to say hello to the resident porcupine, and then head up the Sugarloaf lift to hit one of the longest blue runs at Alta – The Devil's Elbow. From there, we follow the sun and head east to Ballroom and Mambo. Ballroom is a huge highlight, offering expansive and high-up intermediate powder bowl skiing, while Mambo is a fun and fast groomer at the top of Collins that funnels into the Wildcat base area.
We enjoy every second at Alta and pack in every last run until the lifts close.
As an instructor who's been teaching at Alta for over 13 years explains to us as we head up the lift for our last run, "At Alta, you ski as the mountain was meant to be skied".
Indeed, we felt a certain sort-of spiritual connection to Alta. We will most certainly be back soon.
Located just 40 minutes from the Salt Lake International Airport, Alta is one of the most accessible ski areas in North America.
Alta has a partner pass offering with the new IKON Pass and is a Mountain Collective Pass resort.
Alta Ski Area, Alta, UT 84092, 801-359-1078, www.alta.com, [email protected].
_____________________________
© 2019 Travel Features Syndicate, a division of Workstyles, Inc. All rights reserved. Visit goingplacesfarandnear.com, www.huffingtonpost.com/author/karen-rubin, and travelwritersmagazine.com/TravelFeaturesSyndicate/. Blogging at goingplacesnearandfar.wordpress.com and moralcompasstravel.info. Send comments or questions to [email protected]. Tweet @TravelFeatures. 'Like' us at facebook.com/NewsPhotoFeatures