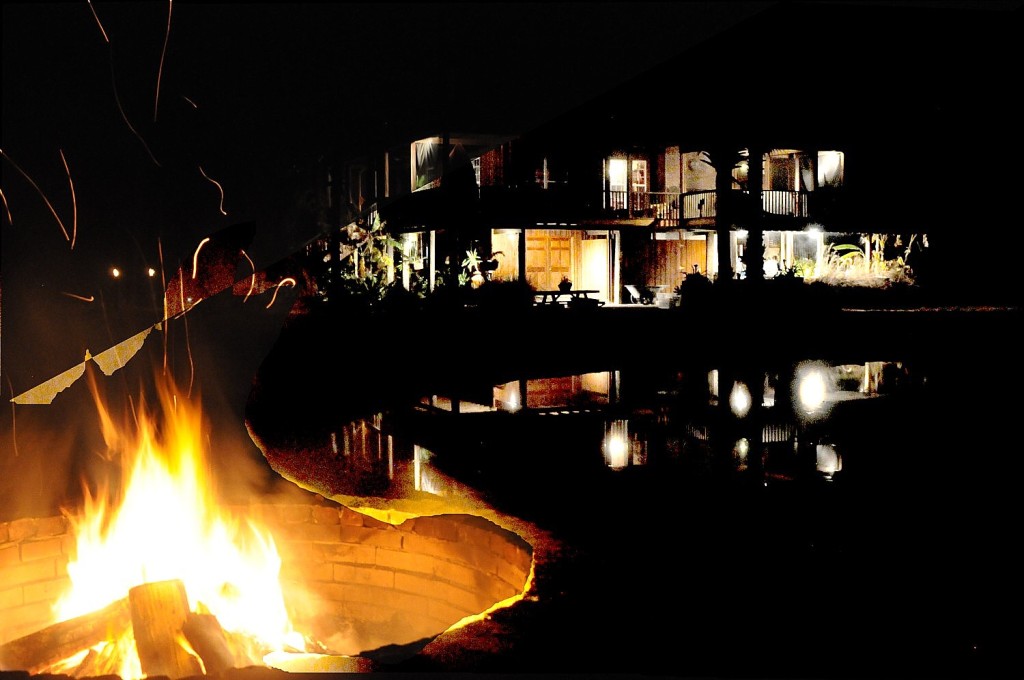 by Karen Rubin
Set among the back barrier islands of Georgia is Eagle Island, offering one of the rarest experiences on the planet: the giddy feeling of being on your own private island, separated from civilization.
An experience like this is usually reserved for the rich and famous, but rather than being out of this world in terms of price, the cost puts Eagle Island well in reach (about $2900 for six-night stay for a couple or $3300 for 3-12 people).
But what you get is priceless: time, or more precisely, Eagle Time. Time to be. Time to be together.
What happens when you put people into a place where time can be made to stand still? Where all the whirring and hustle and bustle and all the pressures of society can be held at bay and all there is, is the marsh and the flat water of a meandering river, the cacophony of calls of a dozen different types of birds, where because of the very simplicity, every small thing becomes that much more magnified, more wondrous, like the rings of a cut tree….
How exquisite. How wondrous. How precious.
"I watch people come out and three days later, their face is totally different, they are relaxed and comfortable," says Andy Hill, who owns Eagle Island and seven more barrier islands in a 2,000-acre expanse. Here, you stay together, spend time with the people you're with. That's what they say they remember most."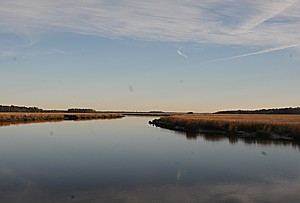 You feel it as soon as you pull away from the dock at Darien, on Captain Andy Hill's pontoon boat, and it seems the world slips away as you cruise on the meandering river, among marshes lush with birds, fish, marshes, into a place that has been hailed by the Nature Conservancy has named this area 'One of the Top 75 Last GREAT Places in the World' and for this precious time, is yours.
Eagle Island Lodge, on its own 10 acres of Eden, offers the exquisite thrill of being completely on your own, left to your own devices. This distinguishes the experience from renting a ski house or villa.
Eagle Island may well be the first (and to date the only) "Five Moons" lodge – a riff on "Five Star" – and its slogan (or motto) is "No agenda. No clocks. No deadlines."
There is every luxury and comfort, and yet it is its simplicity that is most precious of all.
The Eagle Island experience depends on who you are: romantic if you are a couple; a fantastic adventure if you are with young children; if you are with friends – with each scenario the social dynamic changes. The one constant is a unique experience.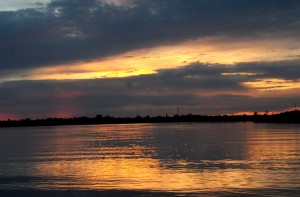 Environment, atmosphere, weather, time of year – everything changes the experience, the chance spotting of a dolphin, a manatee or an eagle.
It is a recipe for laughter, for love, for connection at a time when too many of us are too disconnected and distracted from people we are close to.
When you strip away all the distractions so you focus on each other, see clearly what is important, who is important.
It's about a 20-minute ride on Hill's pontoon boat from the dock at Darien, a quaint, historic town (Fort King George was built in 1721 and was the southernmost outpost of the British Empire in the Americas until 1727; the town was burned by the famous 54th Massachusetts during the Civil War) on the meandering Altamaha River, flanked on both sides by marsh.
During the boat ride Andy familiarizes us with the local ecology and history.
He points to ballast stone islands – islands that have formed from the ballast pitched by ships in the 1700s as they took on the timber harvested from Georgia to bring back to Europe. Over time, soil formed on the stones, then trees grew – a clear display of interplay between nature and human activity.
A successful businessman, he realized that he was running a big business, employing hundreds of people, but wasn't around people, wasn't outdoors, wasn't boating, and wasn't doing the things he is passionate about.
Ask him what he is passionate, and he doesn't hesitate: "It's the water."
He takes a slight detour to where we see an Eagle's nest – he tells us the nests can be as large as a ton. We see two eagles on a branch, protectively watching over the babies, still in the nest. He says 60% of eagles don't make it past their first attempt at flight.
Andy bought Eagle Island in 1998 and two years later, May Hall (just around the "corner" of the marsh, which Andy is restoring as a Tuscan villa) along with six other islands in a 2,000-acre enclave that he has dubbed "Private Islands of Georgia." To prove his title, he possesses the "King of England" deed to Gen Mackintosh, 1774, which covers the marsh and high ground.
He is interested in everything, as much an archeologist and anthropologist as artist who can see form and function in what others have discarded. His excitement and appreciation for all that he surveys is infectious. Indeed, he's constructed Eagle Lodge and May Hall out of salvaged and recycled materials, refashioned into stunning art with form and function.
The boat follows the meandering curves in the river and we get our first glimpse of the lodge he has built which will be our home for the next several days.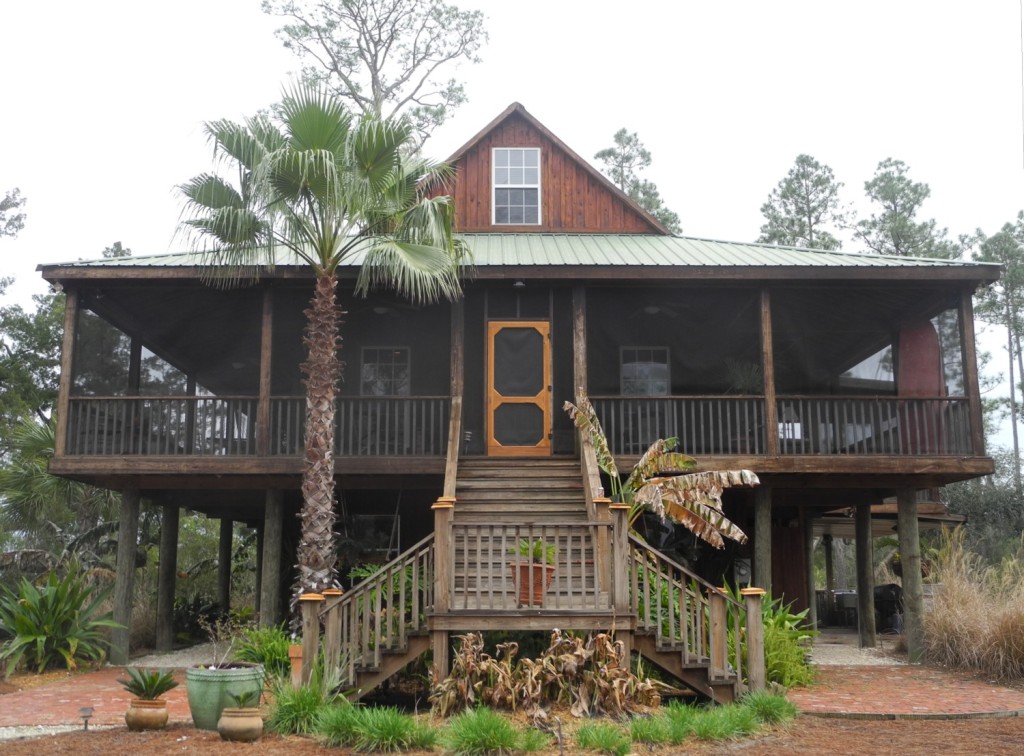 Eagle Lodge, at the center of the 10-acre private island, is his creation, designed and built largely with his own hands.
We tie up to the Eagle Island dock, climb the ramp to the pier where there is a very pleasant wood table and chairs and a hanging swing, and as you walk on the boardwalk onto the 10-acre island, you immediately sense you have come to some place special.
Andy doesn't just repurpose. He creates art. There are flowers, and not just flowers. Flowers in crab baskets converted to planters; flowers growing out of what Andy calls a "tree pot" – a dead tree planted upside down, trunk first, into the ground, so that its roots form the planter; and artful tiki torches which we will more fully appreciate at night.
At the end of a path of oyster shells is the lodge. We climb the stairs to the wrap-around porch. Inside, it is a great room, a masterpiece of wood – at once inviting and interesting.
This will do. Yes, this will do, I think to myself.
Creature comforts abound – a kitchen stocked with everything a chef would want because preparing meals and eating together is one of the most significant activities of this place.
The dining table is a focal point for conversation, for sharing.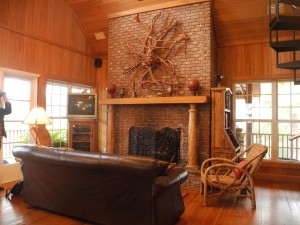 The great open room has a comfortable living room area, a working fireplace (there is plenty of wood already chopped and ready).
We quickly explore: Eagle Lodge sleeps 14 – there are two bedrooms on the main floor with bathroom; a loft, and a separated suite on the ground floor which is ideal for a family with a queen bed, two sets of bunk beds, bathroom, laundry room, and playroom, with ping pong table, dining table and chairs and of course, TV with play station. There is WiFi (so you aren't really cut off from civilization, or even totally unplugged, but you have incentive to leave it alone). There is a small library with interesting books about the area, and even binoculars.
Then, there are the nooks and crannies of pure whimsy:
A shower room (imagine this) – outside the lodge, built for two.
There are hammocks and hanging swings, a hot tub on the wrap-around verandah, with beautiful views everywhere you look, and a small pond (just for show), that at night, becomes a mirror to reflect the lights from the lodge, and the firepit. If that isn't removed enough from civilization, there is a place on the trail in the woods where you can have a campfire.
Natural and discarded objects have been repurposed into beautiful things, like a magnificent sculpture over the fireplace of Medusa fashioned from driftwood; the brick pavers on the path that came from a Civil-War era chimney from Union Island. An Adirondack boat, cut in half, becomes a cabinet.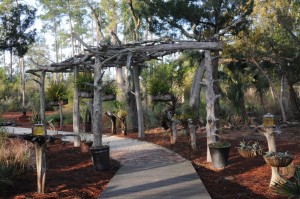 Andy Hill is like the unseen diviner who creates Kismet: I can easily imagine how different what is experienced by different people who for a time get to have their own island: a couple contemplating sharing a lifetime together; a family with young children; a multi-generational family, with grandparents who can impart their wisdom and experience of fishing, bird-watching, campfire-making, star-gazing; a family reunion; a gathering of couples or friends; each with its own particular social dynamic.
Even people who arrive as perfect strangers, in this magical environment under its spell, sitting around the table or beside a campfire and sharing their special stories, come away with a bond that would otherwise take years to form.
I think of how a writer, a painter or inventor looking seeking to remove all external distractions in order to create a masterpiece would thrive here.
Before you even arrive, there are multiple interactions as Andy Hill and his Guest Services team customize your stay, whether it is an "unplugged" family vacation, a romantic couples' getaway, a fishing trip with the guys, or a gal getaway. Typically there are three or four conversations before you come – they can arrange for a fishing trip, a guided kayaking trip with a local naturalist.
You will be cooking your own meals so he provides online access to Harris Teeter, the local grocery store, so you can select what you want and Andy arranges to pick up all your supplies for you (does not charge a premium), so you have everything with you (Andy will even pick up flowers if you are celebrating something).
Andy even provides charcoal for the grill (and there is an outdoor kitchen as well as a completely equipped main kitchen), coffee (and decaf), toiletries, fine soaps and shampoos, lush robes, paper products and even ziplock bags, two cases of bottled water iced down in a chest when you arrive.
When you arrive, you will find bottled water in ice chests; charcoal and wood chips for the grill.
Andy spends a lot of time showing us around what will be our home – how things work.
You can check in as early as like on your day of arrival, and check out as late you like on the day of departure. That's Eagle Island time.
The Luxury of Doing Nothing
When you arrive, I can almost guarantee that the first thing you will want to do is…..nothing.
You will be lured to a favorite spot on the porch – perhaps the swing, or a comfortable wicker chair, where the light and the view is most appealing for your mood, and just sit with a book. You feel yourself decompressing.
At some point, you will be lured back to the porch at the end of the boardwalk by the dock, as the sun goes lower in the sky and the light becomes more golden, then orange, then pink, and you will just gaze out to the flat water and the marshes and watch the birds sail on the wind.
Eventually, you will gather for the first activity: making a meal together.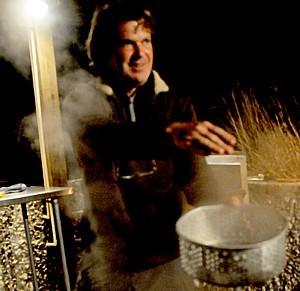 You may well try Andy Hill's own recipe for a Low Country Boil, a regional specialty (he has the recipe on his website): made with shrimp, sausage, onions, potatoes, corn and carrots, with the Private Islands of Georgia Cajun Seasoning Blend.
What makes it spectacular is the local shrimp, literally called Georgia Wild Caught Shrimp – freshly caught (you can see the shrimp boats with their expansive nets). I will have shrimp again in my life, but I will never experience shrimp like this again: succulent, sweet with a touch of salt – they get their sweetness from feasting on the Spartina grass in these marshes. Add to that the extraordinary atmosphere as we gather around in the outdoor kitchen over commercial-sized pots.
And Andy's famous Five Moon Oysters, another specialty that makes you swoon.
"You won't get this in a five-star restaurant, only a 'Five Moon'" Andy jokes. After all, the moon rises above the stars and outshines the stars. In a five star, you are looking for the manager; in a five-moon, you are the manager."
The Low Country Boil and the Five Moon Oysters are best prepared in this unique outdoor kitchen – with a commercial fryer from a Holiday Inn which closed down – on the ground level, under the porch so even in the rain (as it does this night), we are cozy and comfortable preparing the feast, eating standing up as the oysters, steamed in a skillet are finished with the melted cheese, bacon bits, scallions and jalapenos. To die for.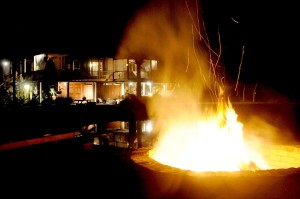 After dinner, you might make a fire in the fire pit beside the small pond and tell more stories.
You might put a DVD into the player, or play a board game, or enjoy a round of ping-pong.
In the morning, before you take your first cup of coffee, you might well take a hike on a trail that Andy has cut that rings the 10-acre island – you are only a matter of feet away from the lodge, but it seems far away.
Early in the morning, take the trail through the woods on Eagle Island cut by Andy – follows the edge of the island, looking out over the marshes, walk through the live oak dripping with Spanish moss. Enchanting…. A couple of areas have been cleared for camping – one with a fire pit where clearly there have been campfires.
Everything takes on special interest – the oyster shells that seem to be everywhere- some old and likely from the Indians who used to come to these barrier islands seasonally.
And you become immersed in the stereophonic cacophony of birds – squeak, squawk, twirp, chirp, screech, whoop, woo woo – less "birdsong" than a discordant orchestra.
This is a place for exploring.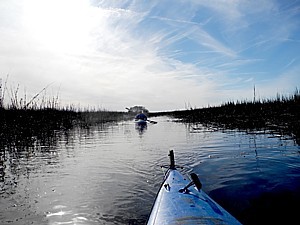 There are two kayaks provided (one is a tandem for two people), which you can use to paddle just around the bend to May Hall, Andy Hill's other island. May Hall island offers 20 acres to explore by walking trails that Andy has carved, but you walk over a 500-foot boardwalk Andy recently built to another, nine-acre island, Little May Hall; another boardwalk takes you to yet another of Andy's islands, Grassie Field, with 17 acres more to explore. There is a rookery of Great Blue Heron. (Andy's other islands are named Mick and Jagger – he is a Rolling Stones fan – and Amelia for his daughter).
You can prepare a picnic in nature (Andy hopes to build some huts on these outpost islands so people can camp out).
Andy can arrange for you to rent a boat, or better yet, bring your own boat, and the adventure just begins. The Atlantic Ocean is just beyond the trees – 15 minutes by motor boat – but there are other islands to explore.
Other activities readily at hand include fishing, birding (binoculars provided). There is also crabbing: "Blue crab: All you can catch. All you can eat," says Captain Andy – the bait and blue crab baskets are ready for you so you can catch and enjoy the sweet taste of this Coastal Georgia favorite and the guidebook Andy provides even explains how to clean the crab.
Kayaking is particularly alluring here. If you don't want to go out on your own, you can paddle the Altamaha River with a guide through Eagle's Kayak Escape Package.
That's what we did one afternoon – Danny Grissette, the guide, came with some extra kayaks, and we soon realized how easy it is to get lost if you leave the river and go into a channel.
Eagle Island is aptly named, we learn.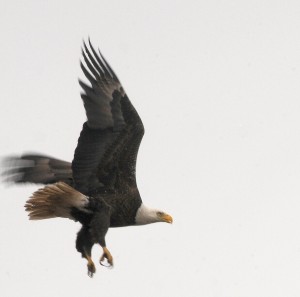 McKintosh County has largest eagle population in Georgia – 11 nesting pairs (we see one pair when we arrive and on way back home, an eagle is resting on a channel marker just next to us).
We paddle to Escape Island – a tiny spit of a thing that Andy also owns as part of his 2000 acres. He has cleared an area where can make a campfire or camp out, and may build a platform for camping.
These vast expanses of marsh grasses that separate barrier islands from mainland from one of the richest estuaries producing a profusion and diversity of fish and wildlife in one of greatest ecosystems on the planet.
This is a stopover for migratory birds (the best time is January-March); you can also see dolphin and manatee (best is April through November). There are rare and endangered sturgeon, wood stork. We spot an alligator, though in winter they tend to hibernate.
There are Interconnected waterways, inland water routes – in fact, it is easy to get lost, so we appreciate having Dan to guide us when we go off from where the river is marked.
137 miles long, the Altamaha River flows from the Oconee and Ocmulgee Rivers to the Atlantic Ocean, the third largest contributor of fresh water to the Atlantic Ocean from North America. With its tributaries, the drainage basin is about 14,000 square miles, one of the largest on the Atlantic Coast. The fact that it is undammed is why it is so rich in marine life, with one of the largest populations of sturgeon. The river has extreme tides – rising and falling 8 feet.
Here, you revel in the spectacular flat horizons which give you these glorious vistas, taking on the colors of the time of day and season – at sunset in summer, we are told, the heat produces a mist. This night, as the sun sets, it shines back on the clouds in the east setting them afire and gradually to purple. You can see why they call this area the "Golden Isles of Georgia"
I am surprised to realize that this part of the East coast is the most western inland, actually on the same longitude as Chicago, which is why they don't get hurricanes here.
Most special of all is an outing to Sapelo Island (the subject of another story).
Getting to Eagle Island:
You get to Eagle Island from Darien, a small town on the Georgia coast. We flew to Jacksonville, rented a car for the 1 1/2-hour drive; Charleston, South Carolina is a little over two hours; you can also fly to Atlanta (more than four hours drive), or connect into Brunswick, the local airport.
Private Islands of Georgia, 202 Marina Drive, St. Simons Island, GA 31522, 912-222-0801 email [email protected], www.privateislandsofgeorgia.com.
See also:
Discovering Sapelo Island, Georgia and the Gullah-Geechees of Hog Hammock
_______________________________
© 2015 Travel Features Syndicate, a division of Workstyles, Inc. All rights reserved. Visit www.examiner.com/eclectic-travel-in-national/karen-rubin, www.examiner.com/eclectic-traveler-in-long-island/karen-rubin, www.examiner.com/international-travel-in-national/karen-rubin, goingplacesfarandnear.com and travelwritersmagazine.com/TravelFeaturesSyndicate/. Blogging at goingplacesnearandfar.wordpress.com and moralcompasstravel.info. Send comments or questions to [email protected]. Tweet @TravelFeatures. 'Like' us at facebook.com/NewsPhotoFeatures.