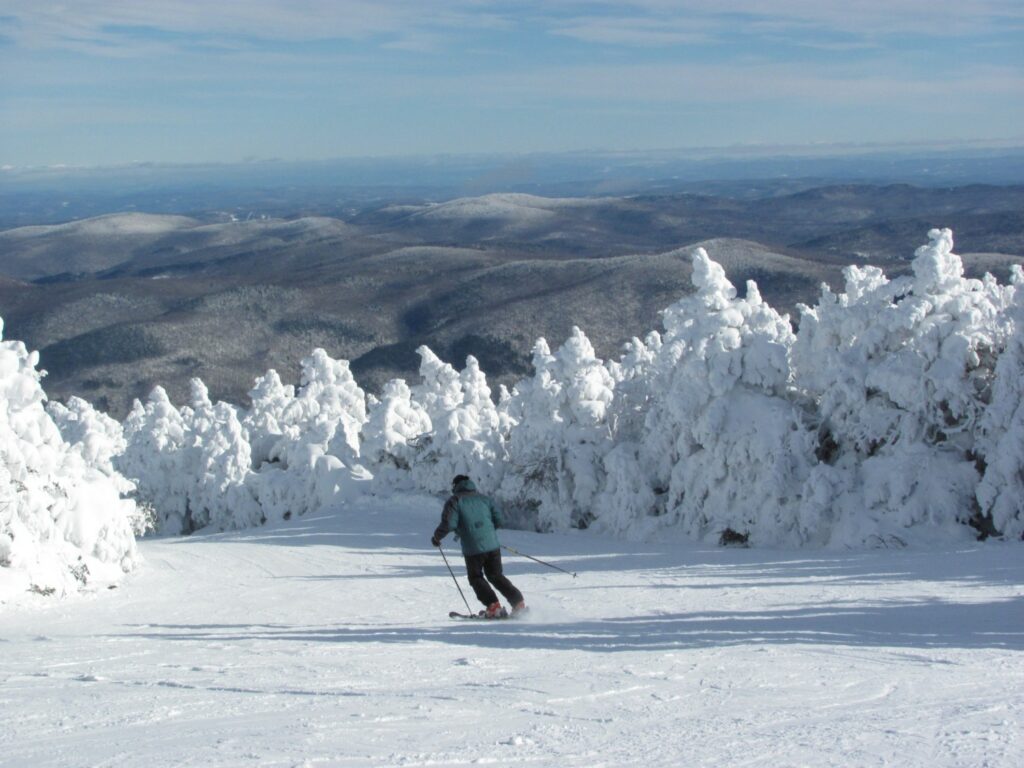 by Karen Rubin, Travel Features Syndicate, goingplacesfarandnear.com

Never content to rest on laurels, Vermont ski areas are constantly improving the guest experience. A big part of that comes via annual improvements and each year, the mountain resorts spend their off-seasons bettering everything from facilities, terrain and ticket/pass options to off-slope activities and amenities.
This year, guests from around the world will find $51 million in improvements, including snowmaking and grooming to virtually guarantee excellent conditions. The gains are throughout Vermont's ski areas, but the growing number of major resorts that have come under Vail Resorts' umbrella or Anterra Mountain, not only funnels money capital investment in infrastructure and gives the resorts a global profile, but gives resorts like Mount Snow, Okemo and Stowe (now part of Vail and Epic Pass) the ability to improve the guest experience through technology improvements as well as best practices in operating lifts, snowmaking, parking, ticketing, safety, efficiency and sustainability initiatives.
Here are the many ways in which skiing and riding in Vermont will be better than ever this upcoming season:
Mount Snow Resort
Snowmaking improvements continue to be a priority at Mount Snow, which (along with Hunter Mountain in New York and 15 other New England and Mid-Atlantic resorts became part of Vail Resorts with its acquisition of Peak Resorts (and therefore included on the Epic Pass). This winter will see improvements to the Sunbrook Face as well as Carinthia Parks. On the Sunbrook side, the resort has added 7.2 acres of snowmaking as Little Dipper will now be connected to the Northeast's most powerful snowmaking system. This change will allow Mount Snow to open this trail earlier in the season and keep it consistently covered throughout the winter. Sunbrook is a beloved part of the mountain and guests will be able to better take advantage of this area. In Carinthia, the resort is adding snowmaking to Fool's Gold, which increasing snowmaking coverage by an additional 9.8 acres and allowing the ops crew to transform it into a park with small features. Beginner and intermediate park enthusiasts will have a place for building skills before they move onto larger features.
These projects wouldn't be possible without the previous upgrades of the past three summers including the addition of West Lake, Mount Snow's 120-million-gallon snowmaking reservoir, as well as new pump houses and pipes, totaling more than $30 million invested in snowmaking. As the resort moves from 80% to 83% snowmaking coverage for this winter, Mount Snow has its sights set on 100% coverage which could be accomplished in the near future.
There is also snow tubing and snowmobiling. You can book a leisurely sunset tour to the summit of Mount Snow, or a trek across Somerset Reservoir through Snowmobile Vermont (book in advance, mountsnow.com/snowmobile). Unwind at Mount Snow's Naturespa, located in the Grand Summit Resort Hotel, offering pure, natural and organic spa treatments, guided mountain treks, holistic health, and fitness specialties. (mountsnow.com)
Stowe Mountain Resort
Stowe, which is now owned by Vail Resorts and is included on the Epic Pass, now offers Epic Mix, which enables skiers and riders to track their days and vertical feet skied,earn digital pins, share photos, race against the pros and check real-time liftline wait time using their RFID chip-embedded season pass or lift ticket.
Stowe has an inter-mountain transfer gondola connecting its two mountain peaks, Mt. Mansfield and Spruce Peak. There are new high-speed lifts on Spruce, new base facilities, gourmet restaurants. The Stowe Mountain Lodge, a 312 room hotel and spa, is recognized as one of the greenest and most luxurious mountainside lodgings anywhere. There's also a new state-of-the-art Performing Arts Center at Spruce Peak.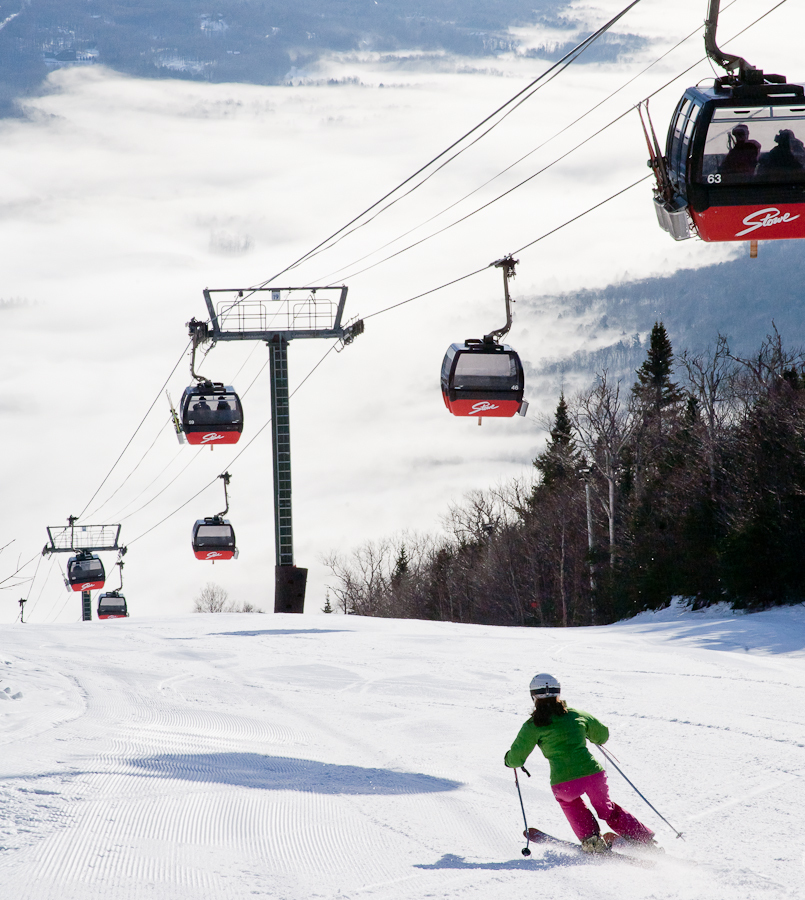 New this winter atop the Mansfield Gondola in Stowe is a resort inspired Maple Waffle Café. Located inside the Gondola summit shelter, the new waffle experience is the perfect place to warm-up with a delicious Vermont flavored snack. The new Whistle Pig Pavilion adjacent to the outdoor skating rink at Spruce Peak delights skiers in the late afternoon with gourmet tasters and whiskey toasts by the famous Vermont spirits bottler. Stop in for a surprise and stay to sample their farm-to-table small bites menu and the local beer and whiskey bar. "At Stowe, we are curating and customizing on-mountain private experiences," says Jeff Wise.
Stowe also offers an on-mountain Kids AdventureZones, well signed areas that give kids and families the opportunity to easily access gentle side-country areas and freestyle terrain purpose-built for learning progression. (www.stowe.com)
Okemo Mountain Resort
Okemo Mountain Resort, which became part of Vail Resorts (and the Epic Pass) last year, has renovated its Summit Lodge and mid-mountain Sugar House with a $2 million infusion of capital. On the slopes, Okemo has secured its reputation for consistent and reliable snow quality and surface conditions through more upgrades to its snowmaking system. Installation of 5,000 feet of pipe completed a five-year project to replace main feeds to Okemo's snowmaking system across the entire mountain. And this winter, skiers and riders will be able to experience the entire mountain in a new way with EpicMix, a free app that provides access to a variety of features from their mobile phones. They can check snow conditions and lift-wait times, view web cams and trail maps, track vert, earn digital pins, and even track Ski & Snowboard School progress and accomplishments.
Season pass introductions this winter include a new Northeast College Pass that offers unlimited, unrestricted access to Okemo and Mount Sunapee, in New Hampshire, as well as unlimited access with holiday restrictions to Stowe. Also, Vail Resorts has launched Epic Day Pass, allowing guests to ski world-class resorts for less than lift-ticket-window prices.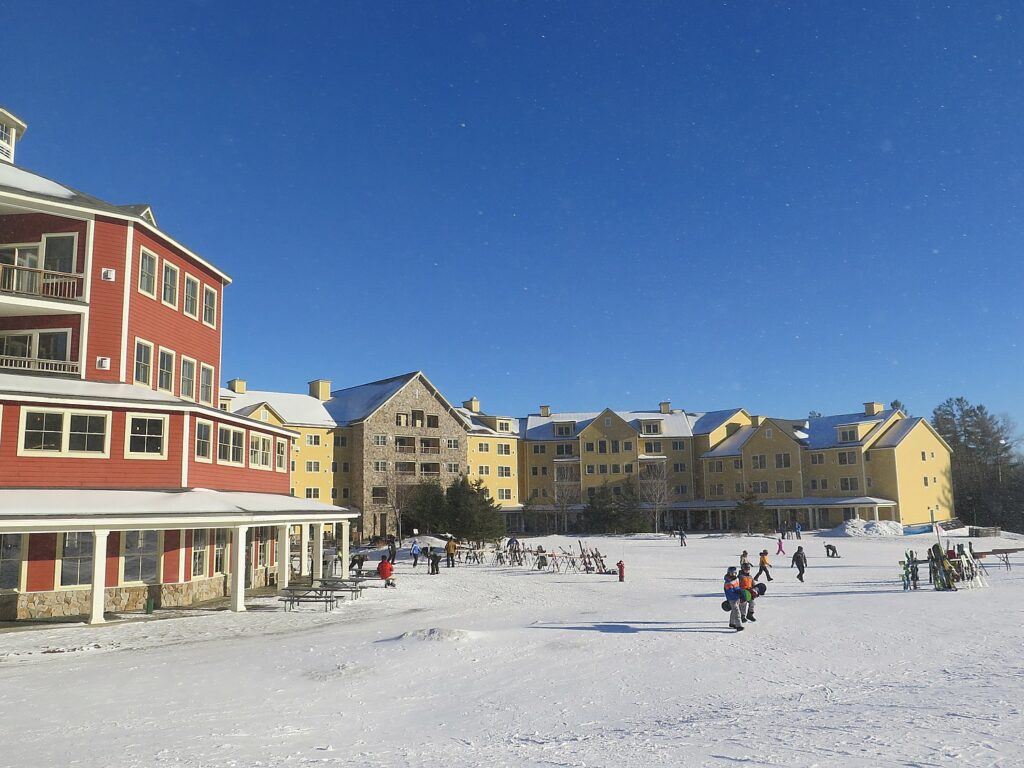 One of our favorite New England ski mountains with its long, scenic cruisers, Okemo also offers an assortment of activities for families to enjoy together. For a thrill, try Okemo's Timber Ripper Mountain Coaster or go snow tubing down a specially groomed chute in the Jackson Gore courtyard; skate at Okemo's ice skating pavilion; rent a fat bike for riding on snow; go snowshoeing; cross country skiing; work on your golf game at Okemo's indoor golf facility. Chill out with an after-hours snowcat excursion to the top of the mountain, take a swim or soak in a hot tub at Okemo's Spring House Pool & Fitness Center.. Enjoy a massage or a facial at the spa.
The Adventure Zone located in Okemo's Jackson Gore area offers year-round activities soar through the treetops on Sawyer's Sweep Zipline Tour or go off-roading on a Segway PT Tour; launch yourself into the Amp Energy Big Air Bag; climb the climbing wall; putt Cal's Miniature Golf Course or challenge yourself on the 18-hole Disc Golf course.
A wide variety of trailside and mountainside lodging options provide great ski-in/ski-out convenience, but our favorite is Jackson Gore. (okemo.com)
Killington Resort
The "Beast of the East," Killington is the biggest ski resort in New England and has the longest season. A Powdr resort, Killington and its sister resort Pico are both partnering in the IkonPass, allows 5-7 days on the pass. Killington offers the Beast 365 All-Seasons Pass gives guests access to everything at Killington, all year long. It starts in summer with unlimited lift and trail access for 30 miles of mountain biking, plus golf course greens fees and access to the Adventure Center including zipline, ropes course and a year-round downhill coaster; pass holders also get access to discounts every month, that could consist of spa or golf. Accommodations are mostly along the access road (though we adored our stay at nearby Mountaintop Inn), and now owns the legendary Wobbly Barn nightclub.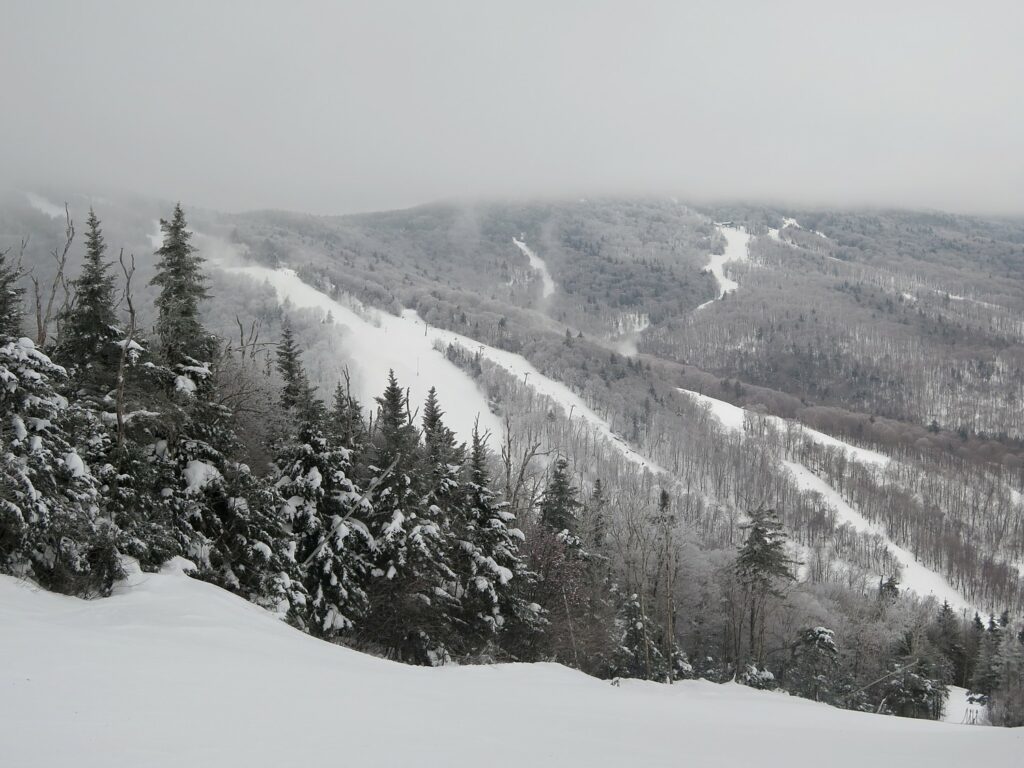 Killington offers Woodward, an experiential action sports company on a mission to inspire next generation sports experiences through intuitive programming and innovative environments. It's where the most passionate people come together to stoke new levels of growth, confidence and a lifelong love of their favorite sports. Woodward at Killington is the East Coast destination for action sports progression, providing mountain experiences built to inspire and empower youth to reach their potential and experienced athletes to take it to the next level. The Woodward experience at Killington includes Woodward Mountain Park in the winter and then, when the snow melts, the Woodward WreckTangle ninja obstacle challenge.
Killington offers seven distinct mountain areas including Killington Peak, the second highest point in the state at 4,241 feet and a vertical drop of 3,050 ft, and 212 trails and 1,977 of skiable acres including Pico. (killington.com)
Pico Mountain
Pico Mountain, which is Killington's sister mountain, is undergoing major upgrades to its snowmaking system, which means guests will experience a better, more consistent and more reliable snow surface. Pico has a very different feel from its sister resort, Killington, just next door. A self-contained resort with slopeside lodging, Pico has 57 trails serviced by seven lifts, including two high-speed detachable quads, Its more intimate scale, gentle learning terrain, smooth cruisers and classically narrow New England steeps, that all that funnel to a single base make it ideal for families. Even the most selective skiers and riders will be impressed by Pico's vertical drop of 1,967' – taller than 80% of Vermont ski areas. (picomountain.com)
Stratton Mountain Resort
Last January's Snow Bowl Express launch was a game changer, creating quick access to a blend of terrain from the legendary World Cup and tree-lined Drifter to a three-mile beginner run from the summit of southern Vermont's highest peak.  The new skier and rider is a focus this season with 12,500 feet of new snowmaking pipe, featuring the latest hydrant technology, for the learning zone. Plus, a one-acre parallel teaching area has been crafted to eliminate the fear factor as beginners build a foundation with basic skills, including stance and balance, before heading up the 550-foot covered carpet. Kids snowboarding has never been easier with the addition of a new Burton Riglet Park for 2019-20.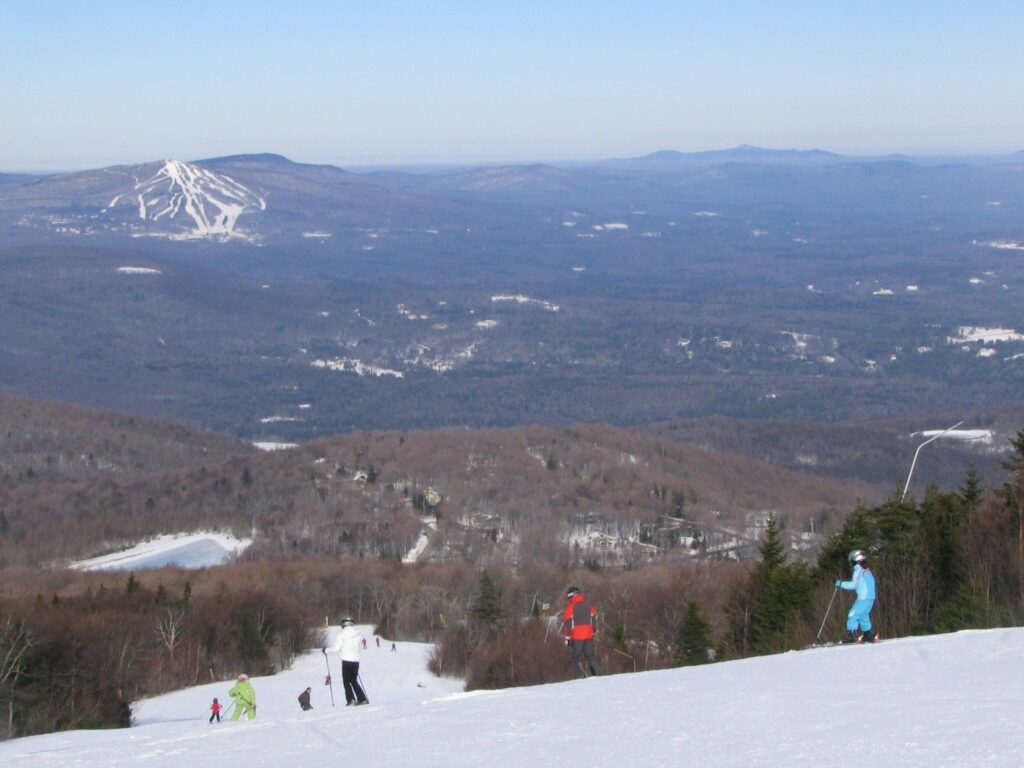 There's lift-served snow tubing, moonlight snowshoe tours, and 12 km of cross-country trails for skiing and fat biking. Unwind with a massage from the Village Day Spa or enjoy a dog sled ride through Vermont's wooded terrain. Stratton's Training and Fitness Center offers Olympic-sized, salt-water swimming pool, cardio and weight room and the Cliff Drysdale Tennis Center. Stroll through the Village to enjoy cafes and shops or venture 20 minutes down Route 100 to Manchester for shopping at 40 designer outlets.
Now part of the Alterra Mountain Company, Stratton is included on its Ikon Pass, now offering access to nearly 82,000 acres at 38 premier mountain destinations across the globe. (Stratton.com)
Sugarbush Resort
Sometimes it's the little things that add up to a whole lot of change. Sugarbush has invested in a number of smaller projects this summer to improve the guest experience heading into the ski season. The Lincoln Peak Courtyard has been rebuilt with cobblestones, firepits, gardens, and bar tops. Two new EV charging stations are getting installed at Mt. Ellen for the electric car user looking to shred Vermont's third-highest peak. Its focus on environmentalism is also demonstrated by donating 1% of restaurant receipts for Protect Our Winter, advocating for climate action, and is partnering with a Vermont business that builds solar arrays to generate 2.5 MW, enough to power Mount Ellen. Additionally, there is now snowmaking on a more opened-up Sleeper Road, and plenty of new infrastructure upgrades around the lodges and lifts.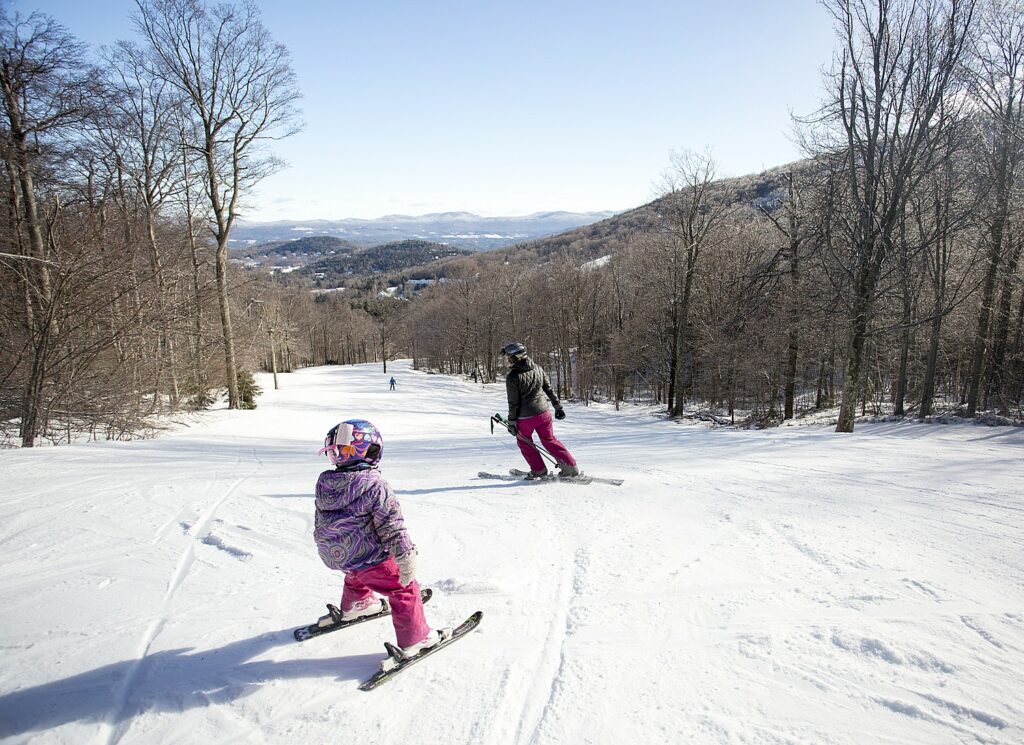 Sugarbush also actively supports the community. "We're big on the community. We have a nice base area with restaurants, but we encourage guests to go to Mad River Valley. We have shuttle bus through day til 5 or 6, and Saturday late to 2 am. We encourage people to shop, eat, patronize the artisans,
An independent resort, Sugarbush is part of the Ikon Pass and The Mountain Collective. "We can pivot faster as an independent. We do specialty passes: for 20s, for 30s, Boomers (65+) discounted Quad Pack- 4 lift tickets for $249 which are transferable.
Wynn Smith purchased Sugarbush in 2001 (unfortunately, on September 10) and between 2004-2008, he rebuilt the entire Lincoln Peak Village (Mt Ellen is old school). There is a hotel, new lodge, two ski schools (one for adults, one for kids).
"We have the largest detachable quad, the Slide Brook Express, in world – 2 miles – connecting Mt Ellen & Lincoln Peak. You can ski the back country between and use a shuttle bus or take the Slide Brook Express back," says John Blley.
Cabin Cat Adventures also offer a great way to experience the mountain, whether it's Allyn's Lodge Fireside Dining at the top of Gadd Peak, Cabin Cat First Tracks on a powder day or Sunset Groomer Rides to the top of Lincoln Peak. Other activities available in Mad River Valley include ice-skating, an Icelandic horse farm, a locally owned movie theater and cross country skiing. (sugarbush.com)
Smugglers' Notch Resort

Smugglers' Notch Resort's claim to fame is the total experience the resort offers. There is probably no other ski resort that is so focused on family togetherness, pioneering a vast array of activities families enjoy together as Smugglers Notch. Families can vary their vacation days by joining craft sessions, broomball challenges, scavenger hunts, snow cat tours, story times, and pool games (included in their Smugglers' vacation package). Smuggs has also introduced S.T.E.A.M. activities that bring fun ways to explore science, technology, engineering, arts, and math. "We've cracked the code with new family dynamics," said Michael Chait. "Kids get to see their parents play… Family programs touch on every family dynamic, from the new parent to the great grandparent."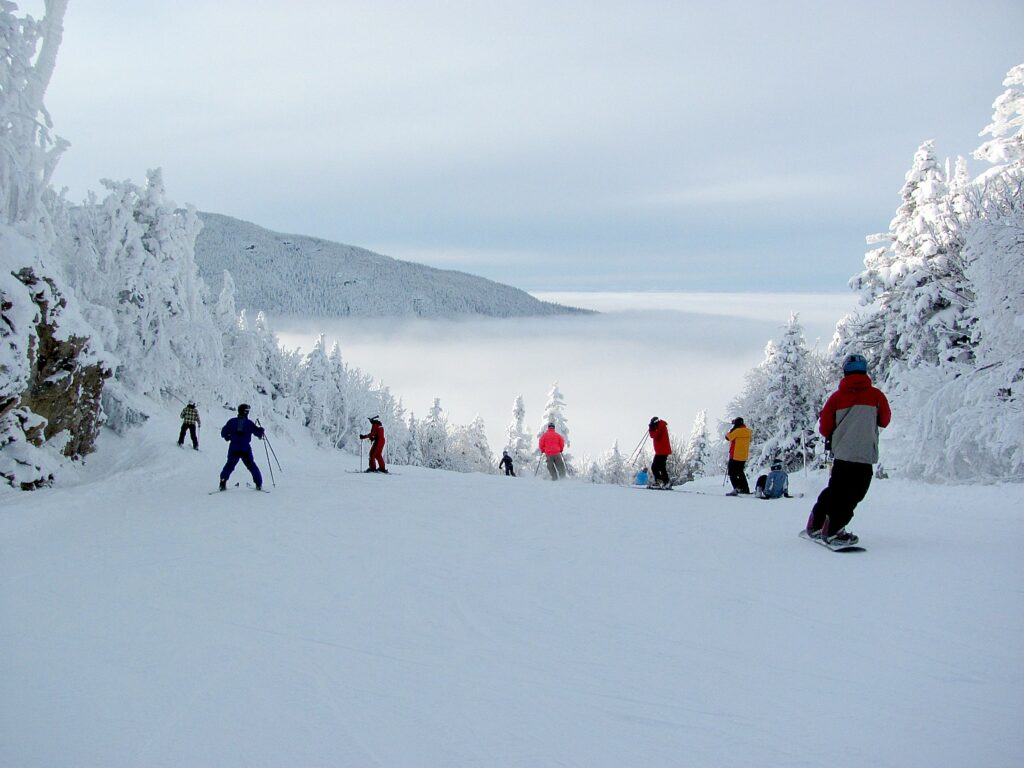 FunZone 2.0 offers 26,000 square feet of indoor fun: an adventure center (laser tag, climbing tower, giant slide), a café serving beer and wine, so parents can relax while kids play. Outdoor activities include snowmobile tours through the historic Smugglers' Notch pass, and CatTrax heated-cabin snow cat rides to the summits of Smugglers' most popular peaks.
There's so much to do, this is the ski resort you want to stay longer at – not just ski and stay – 43 pages of activities in 7-day period. Everybody has something even if they don't ski. There are even activity packages that don't include skiing.
The condo-style accommodations provide plenty of space for families to spread out, have meals and snacks in the condo (every condo has a crock pot; there is a country store on the mountain with the essentials and a grocery store 15 minutes away that you can shop at on the drive up).
Apart from its reputation as the most family-friendly ski resort anywhere, there is serious skiing to be had on three mountains: Morse (all green, so there is a natural separation of ability) while Madonna and Sterling are big, steep and deep; Sterling has a great variety of cruisers (great for intermediates) to bump up skill on short black. Madonna is the toughest, with some of the steepest trails (even a double-black) in the East, but there are also a couple of blues from top (Chilcoot and Drifter). (smuggs.com)
Vermont Adaptive Ski & Sports
Vermont Adaptive Ski & Sports serves people with physical, cognitive and emotional/behavioral disabilities from all over the world of all abilities in three Vermont ski destinations during the winter: Killington Resort and Pico Mountain in Killington; Sugarbush Resort in Warren; and Bolton Valley Ski Area in Bolton (though with enough notice, programs can be organized at other resorts as well). Summer programs are provided state-wide. Many of the programs include environmental education, wellness, and special programs designed specifically for veterans.
If a family member uses wheelchair, we can provide instruction. Scholarships are available for those for whom cost is a factor. The organization offers veterans programs all over the state – ski and snowboarding in winter, mountain biking in summer.
Vermont Adaptive is a nationally recognized organization that empowers people of all abilities through inclusive sports and recreational programming regardless of ability to pay. In addition to sports, year-round programming options integrate environmental, holistic wellness, and competitive training philosophies for people of all ages with cognitive, developmental, physical and emotional disabilities.
"We are recognized nationally for our client-centered programs and for providing access and instruction to sports and recreational activities with the belief that these things provide a physical, mental and social experience that is immeasurable in promoting self-confidence and independence in an individual," said Lexi Moore, team manager.
Vermont Adaptive offers the largest variety of program opportunities and specialized equipment. Vermont Adaptive promotes independence and furthers equality through access and instruction to sports and recreational opportunities including alpine skiing, snowboarding, and other winter sports; kayaking, canoeing, stand-up paddle boarding, sailing, cycling, hiking, rock climbing, tennis, horseback riding, environmental programs and CORE Connections wellness retreats.
With nearly 400 active volunteers, plus generous partners and sponsors, and an amazing base of clients and friends, Vermont Adaptive Ski & Sports has been at the forefront of sports and recreation for those with disabilities for more than 30 years. (vermontadaptive.org)
To information or help choosing a destination, contact Ski Vermont, 802-223-2439, [email protected], or visit skivermont.com.
_____________________________
© 2019 Travel Features Syndicate, a division of Workstyles, Inc. All rights reserved. Visit goingplacesfarandnear.com, www.huffingtonpost.com/author/karen-rubin, and travelwritersmagazine.com/TravelFeaturesSyndicate/. Blogging at goingplacesnearandfar.wordpress.com and moralcompasstravel.info. Send comments or questions to [email protected]. Tweet @TravelFeatures. 'Like' us at facebook.com/NewsPhotoFeatures