by Karen Rubin
Travel Features Syndicate, goingplacesfarandnear.com
New York's ski areas are greeting guests this season with an unprecedented $71 million in investments and improvements. More than 25 mountains and resorts have made enhancements in snowmaking, grooming, chair lift operations and guest/lodging services. Whether it is a seamless lift-ticket experience with RFID, opening new high-speed lifts, or doubling the size of the lodge/restaurant, New York ski areas have invested more capital into the 2018-19 season than any other state in the Northeast.
Most notably Windham, Hunter Mountain & Peak Resorts, Catamount and ORDA ski areas (The New York State Olympic Regional Development Authority which operate Whiteface, Gore Mountain and Belleayre) top the list with a collective $60 million invested. Energy efficiencies in power and snowmaking have been made possible by a $5,000,000 grant from NYSERDA which benefited Plattekill, Oak, Song,Thunder Ridge and Kissing Bridge
Windham Mountain Resort along with Catamount are the first resorts in New York State to implement RFID (radio-frequency identification) technology, providing guests with easy, simple lift access. ORDA property, Gore Mountain is opening a two-level addition to the Base Lodge, doubling the size of the Tannery Pub &Restaurant, seating up to 350 guests, while the lower level addition will house the new headquarters for their Mountain Adventure kids' program, and more lockers. Resorts including Greek Peak (a self-contained resort notable for its indoor water park), Holiday Valley, Bristol, Titus and Peek n' Peak have focused on infrastructure upgrades as well as optimizing their ski and stay offerings by expanding activities and creating lodging packages.
"New York ski areas have dug deep into their own pockets to make these improvements,which will allow us to expand our Learn to Ski programs- this is incredibly exciting," said Scott Brandi, President of Ski Areas of New York, Inc. "Coupled with investments to increase efficiency in snow grooming, lodge hospitality and lift upgrades, we hope to create life-long ski enthusiasts and welcome future generations of winter sport advocates." This is a state-wide effort with moxie and vision for a fantastic season around each bend, Brandi added. "With these expenditures, it is clear that New York ski areas and resorts are committed to being known as family-friendly accessible outdoor destinations, as well as offering a great experience to both the novice and advanced."
New York State has 50 ski areas–more than any other state in the country—and will welcome nearly four million skiers, riders and winter enthusiasts this season, making it fourth in the country for skier visits; the ski industry has a $1 billion economic impact in the state.
Here are highlights of what's in store for this season:
Gore Mountain Adds Snowmaking, Gets FIS Certification
Set in the Adirondacks, Gore is a big ski mountain – actually four linked mountains – with the most terrain (110) and lifts (14 including an eight-passenger Northwoods Gondola and two high-speed quads) in New York, the 6th longest vertical in the East, highest vertical drop within a four-hour drive of New York City and is closest big mountain (439 skiable acres) to New York City (a snow bus is available).
Skiers have been coming to Gore to be challenged for more than 80 years. Beginning and expert skiers will appreciate the vast improvements this season, including a 42% increase in snowmaking with 400 new snow guns, 312 of them state-of-the-art with sensors that adjust to weather changes. In addition, new grooming machines ensure a smooth experience on the nine sides of four peaks of alpine terrain. For those looking forward to après ski, the Tannery Pub and Restaurant doubled in size.
Gore offers night skiing in North Creek Ski Bowl, where 60% of the trails are intermediate; this is also where there is the Nordic skiing center and snowshoeing (also open at night).
Four of the Nordic courses at North Creek Ski Bowl have just won homologation certifications from the International Ski Federation (FIS), making Gore Mountain one of just 29 FIS venues in the United States and one of only two in New York State. The certifications are for the 2.5K Distance Course, the 3.3K Distance Course,the 1.2K Sprint Course, and the 1.6K Sprint Course. Gore Mountain recently increased its snowmaking capabilities at the Ski Bowl with the purchase of 20 HKD Phazer snow guns designed specifically for Nordic terrain.

The Gore Mountain Nordic Center is equipped with lights, snowmaking and grooming, and welcomes recreational users and athletes daily. The amphitheater style of the landscape at the North Creek Ski Bowl provides an outstanding experience for spectators, and the facilities include a lodge with rentals, restrooms, and fireplace, a food truck, a yurt, a tuning pavilion, and bleachers.
Gore has a reciprocal pass with the other two NYS Olympic Regional Development Authority ski destinations, Whiteface and Belleayre. (www.GoreMountain.com, 518-251-2411)


Gore doesn't have slopeside lodging (except for Gore Mountain Lodge which offers yurts on the access road). But the nearby village of North Creek is utterly charming (lovely shops and bistros) where we thoroughly enjoyed our stay at the Copperfield Inn (www.copperfieldinn.com, 877-235-1466). The town offers a free shuttle to the mountain.
New in North Creek for summer and fall: Revolution Rail Experience: a fast-moving "rail bike" that you propel 6 miles, roundtrip, one of the many year-round activities being developed.
Whiteface Mountain Expands Snowmaking
Whiteface Mountain (Wilmington, Essex County) is home to the greatest vertical in the east (3,430'), and the east's longest intermediate run (Wilmington Trail, 11,088 ft), with 86 trails stretching over 22 miles and encompassing three peaks, with an almost natural separation in skier ability. This season the Olympic mountain offers upgraded snowmaking capabilities on key trails while widening and expanding popular trails, and anew pump house, for a 25% increase in snowmaking capacity. The renovations to the Bear Den Base Lodge will be home to the facility's ever-growing snowsports program.
Lake Placid is a charming village that is the hub for Whiteface in the Adirondacks in upstate New York. Plenty to do, from the Olympic ice skating oval and museum downtown, to Olympic venues(you can even do bobsled, skeleton, biathalon, go up the Ski Jump towers,cross-country). Even (and especially) if there is someone in the family who doesn't ski, there is so much to enrich a trip. (Try also to fit in a hike through Ausable Chasm, incredible in winter). It's not for nothing SKI Magazine named Lake Placid #1 ski town for off-hill activities. Purchase an Olympic Sites Passport for $40 for one-time admission to the venues any time through April 30, 2019 (ages 6 and under get free admission; online purchases must be made at least 24 hours in advance.) (www.whiteface.com, 518-946-2223).
We loved our festive holiday stay at the Golden Arrow Lakeside Resort, which offers a shuttle bus up to Whiteface, but also is a hub for all that Lake Placid offers: walking distance to the Olympic Oval ice skating rink and museum or ice skate on Mirror Lake just outside the resort; lovely shops and restaurants, and the local "toboggan roller coaster." Also dog-sledding across the frozen surface of Mirror Lake and guided snowshoeing at Mt. Van Hoevenberg. (www.golden-arrow.com, 844-209-8080)
Belleayre Expands Areas 51, 15, Kidscamp
The third of New York State's ski destinations under the Olympic Regional Development Authority (ORDA), Belleayre, in the Catskills, is one of the closest major ski areas to New York and one of the best for families and beginners. Located off of State Route 28 in Highmount, just a few hours from New York City, Belleayre is set in an area that was declared "Forever Wild" by the New York State Forest Preserve in 1885 and was one of the earliest pioneers of American skiing.
Belleayre is compact: 51 trails (the longest is 12,024'), 5 glades, one terrain park, one progression park, 175 skiable acres, a vertical drop of 1,404 feet, 8 lifts,with a natural separation between beginners in the lower part of the mountain,and intermediates and advanced above. The "Catskill Thunder" gondola located next to the Discovery Lodge which opened last year, services intermediate and expert terrain and "Super Chief" detachable high-speed quad services the Intermediate/Expert Area and 4 lodges.
New for 2018-2019: Area 51 and Area 15 terrain parks are bigger and better, with new jumps, ramps, boxes, rails, pipes; expanded snowmaking capabilities with the addition of 50 low energy tower snowguns to the fleet and 4 new 1500 cfm compressors; expanded Kidscamp Learning Area with a longer 220′ magic carpet.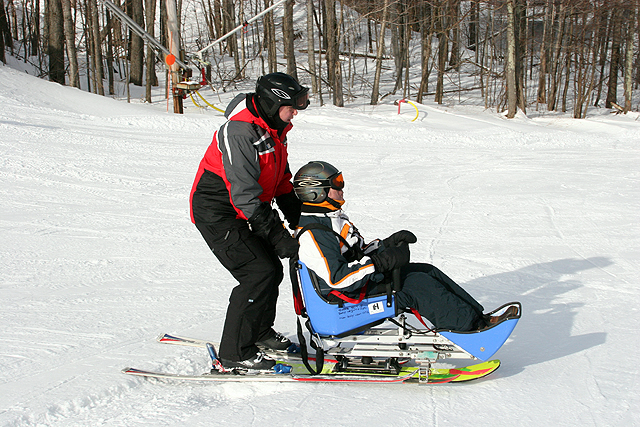 Belleayre also offers 9.2 km of cross-country trails, which free to use and are only open with natural snow.
Belleayre has become a year-round destination. In summer into fall, Belleayre Beach swimming, picnicking, horseshoe pits, volleyball, basketball, boat rentals (pedal boats and kayaks), stand-on-top paddle board rentals, fishing, hiking and great relaxation; there's mountain biking; hiking, scenic gondola rides, and festivals. (845-254-5600 or 800-942-6904, belleayre.com)
Belleayre doesn't have its own lodging, but there is plenty in the vicinity. Years ago, we thoroughly enjoyed our stay in an 1866 Queen Anne bnb with mountain views, the Margaretville Mountain Inn (845-586-3933, www.margaretvilleinn.com).
Hunter Mountain Opens Hunter North
Hunter Mountain in the Catskills is debuting five new trails, four new glades and high-speed six-person lift this season – adding nearly 80 acres (an increase in 33%) in skiable terrain, accessed with a new high-speed six-person lift. Driven by a $9 million investment by its new owners, Peak Resorts (which also owns Mount Snow in Vermont), the opening of Hunter North is the largest expansion the Northeast U.S. has seen in 15 years.
"Hunter North is a game-changer for Hunter Mountain as it dramatically expands our winter offerings and adds variety to our terrain," Russ Coloton, General Manager at Hunter Mountain, commented. "Featuring predominantly intermediate terrain serviced by the high-speed six-person chair lift, Hunter North will allow our resort to broaden its appeal and improve on-mountain traffic flows over the course of the winter season. Views from the additional terrain are spectacular."
With the addition of Hunter North, the resort offers 320 skiable acres; 67 trails, 7 gladed areas, 4 freestyle areas, 13 lifts and a vertical of 1600 ft. There's also snow tubing, cat tours, and a spa. (www.huntermtn.com, 800-486-8376)
Hunter Mountain has its own slopeside lodging with ski in/out convenience – the Kaatskill Mountain Club Lodge and condos – but the area also has most charming inns and bnbs. I thoroughly enjoyed my stay at the Fairlawn Inn, an elegant Victorian bnb, just down the street from Hunter's entrance (www.fairlawninn.com).
Windham Mountain Has New Lift, RFID
Windham Mountain (Windham, Greene County) is where small-town charm meets 21st century technology: radio-frequency identification (RFID). This new feature eliminates paper lift tickets and allows skiers to reload online, meaning shorter lines, less waste and lower prices.
But the big news is the opening this season of Windham's new high-speed six-pack detachable lift, Westside Six, which brings skiers up the mountain in less than 5 ½ minutes, for a total of 12 lifts accessing its 285 skiable acres and 54 trails, six terrain parks. The resort, which began as a private club and still has that intimate feeling,offers night-skiing, Terrain-Based Learning, beginner packages. It also offers lodging, dining options, an Adventure Park, and full-service Alpine Spa.
This year, Windham Mountain Resort and the Adaptive Sports Foundation have joined forces with the Capital Region Nordic Alliance, Inc. to offer Nordic and ParaNordic activities at Windham Country Club including cross-country skiing, snowshoeing, orienteering, and biathlon (light-based and paintball). Trail fees will be $10 for adults and $8 for youth (children ages six and under are free). An additional fee of $10 for adults and $5 for youth will be charged for orienteering or biathlon activities. Rental equipment and PSIA certified Nordic lessons are also available. Capital Region Nordic Alliance, Inc. plans to work closely with The Adaptive Sports Foundation in Windham, making these services available to children and adults with physical and cognitive disabilities and chronic illnesses.

"Last year, we offered cross-country skiing and snowshoeing at the Country Club but it was contingent on natural snow, making operations difficult. This is an exciting expansion because the orienteering and biathlon activities will be available whether there is snow on the ground or not," says Kristen Garraghan, Director of Operations at Windham Country Club. "I had the pleasure of managing Nordic operations at Windham Country Club toward the end of last winter and I'm thrilled about this new partnership," adds Russ Myer, Executive Director of the Capital Region Nordic Alliance (capitalregionnordicalliance.org).

Windham Mountain Resort is a year-round destination in the Great Northern Catskills of Greene County, in the Hudson River Valley, about two and a half hours north of New York City. In the summer months, Windham Mountain Bike Park is famous for its World Cup course, but also features a three-mile-long beginner trail. Windham Mountain Country Club is an 18-hole public golf course with a private club atmosphere. (windhammountain.com, 800-754-9463)
Windham has its own lodging but there are also several delightful inns in the vicinity.We enjoyed our stay at the Thompson House Family Resort, a six-generation historic inn, just around the corner (actually abuts Windham's golf course), thompsonhouse.com, 518-734-4510.
Greek Peak Mountain Resort
Greek Peak Mountain Resort (Cortland, Cortland County in the Finger Lakes) continues to invest in the mountain with more than $1.5 million in improvements. Under new ownership, the resort, which was founded in 1958, has added a new quad chairlift, new PB 600 groomer with Zaag attachment, new ski and board equipment in the rental shop and state of the art ski & board tuning facility and added snowmaking machines with 1,000 gallons per minute capacity. Improvements to the lodge include a gazebo, a mountain-top deck, a wedding-tent venue with new flooring, and a new 'Big Bear Activity Zone' at Cascades Indoor Waterpark, a 41,000 sq. ft. park featuring 500 ft. of slides, wavepool and hot tubs open to the public year-round.
Greek Peak Mountain Resort is the largest ski resort in central New York with 33 trails, six aerial lifts, two surface lifts, beginners' slope, and terrain parks. The four-season resort is located in New York's scenic Finger Lakes region, just off Interstate I-81.
Its "green" hotel, Hope LakeLodge, affording ski in/out convenience, features 106 luxury condominium-style suites. Arcadia Village, located next to the hotel, offers additional lodging in units that are spacious with all the comforts of home.
Amenities at the resort include three restaurants, a world-class customized spa, a fitness center, and a 41,000-square-foot indoor water park. The Resort is set within 7,000 acres of state-protected land that is accessible by all residents and guests for cross country skiing, hiking, snowshoeing, and horseback riding.Additionally, Greek Peak Mountain Resort operates an Adventure Center in New York State with a Mountain Coaster and 4 tandem zip lines operating year-round and a ten-lane winter snow-tubing center and the Cascades Indoor Waterpark (greekpeak.net, 888-353-5707).
Hop Metro North to Thunder Ridge
Closest and most convenient to New York (actually, just a hop off Metro North) an hour north of New York City, Thunder Ridge Ski Area, Patterson, NY, is an ideal area for families and beginners. The ski area offers a convenient shuttle service form the train, a "Take the Rails to the Trails" package and is open for night skiing until 9 pm (Sunday until 5 pm). Ski and snowboard lessons are available for all ages and ability levels. There are ski and stay packages, and seasonal passes are based on age (https://thunderridgeski.com/, 845-878-4100).
January is Learn to Ski Month
Events and discounted programs for skiers and riders of all skill levels are planned for this season, including:
| | |
| --- | --- |
|  January 11, 2019: | National Learn to Ski or Snowboard Day Celebration – Part of a national month-long initiative that encourages skiing and snowboarding with professional lessons offered by many ski areas |
|  January 17, 2019: | Discover NY Ski Day – Special deals and discounts by various ski areas |
|  January 26, 2019: | Central Park Winter Jam – Annual event hosted by the Ski Areas of NY, NYC Parks and the Olympic Regional Development Association that brings free skiing and snowboarding to New York City's Central Park |
|  All season: | Kids Passport Program – Third and fourth grad students learn to ski for free with a paying adult |
|  Various dates: | Ski & Stay Weekends – Deals includes ski and stay for two nights and get the third night free |
For more information on these and other winter experiences in New York State, visit iloveny.com/winter.
Connect with ISKINY online at www.iskiny.com, www.facebook.com/ISKINY,and www.instagram.com/i_ski_ny/
New York State features 11 vacation regions. Attractions encompass landmarks such as Niagara Falls, the largest park in the continental U.S. in the Adirondacks and treasures such as the Baseball Hall of Fame in Cooperstown, Women's Rights National Historic Park in Seneca Falls, the Strong Museum of Play (with its Toy Hall of Fame) in Rochester, National Comedy Center in Jamestown, Fort Stanwix National Monument in Rome, and the Erie Canal stretching across the state's mid-section. New York State offers diverse activities for all seasons, from fishing, hiking, biking and boating to year-round festivals and exploring the rich history and culture of one of the 13 original colonies. Throughout the state, visitors enjoy fine cuisine, beverage trails and farm-to-table fresh foods. Visit iloveny.com for more information.
_____________________________
© 2018Travel Features Syndicate, a division of Workstyles, Inc. All rights reserved.Visit goingplacesfarandnear.com, www.huffingtonpost.com/author/karen-rubin, and travelwritersmagazine.com/TravelFeaturesSyndicate/. Blogging at goingplacesnearandfar.wordpress.com and moralcompasstravel.info. Send comments or questions to [email protected]. Tweet@TravelFeatures. 'Like' us at facebook.com/NewsPhotoFeatures