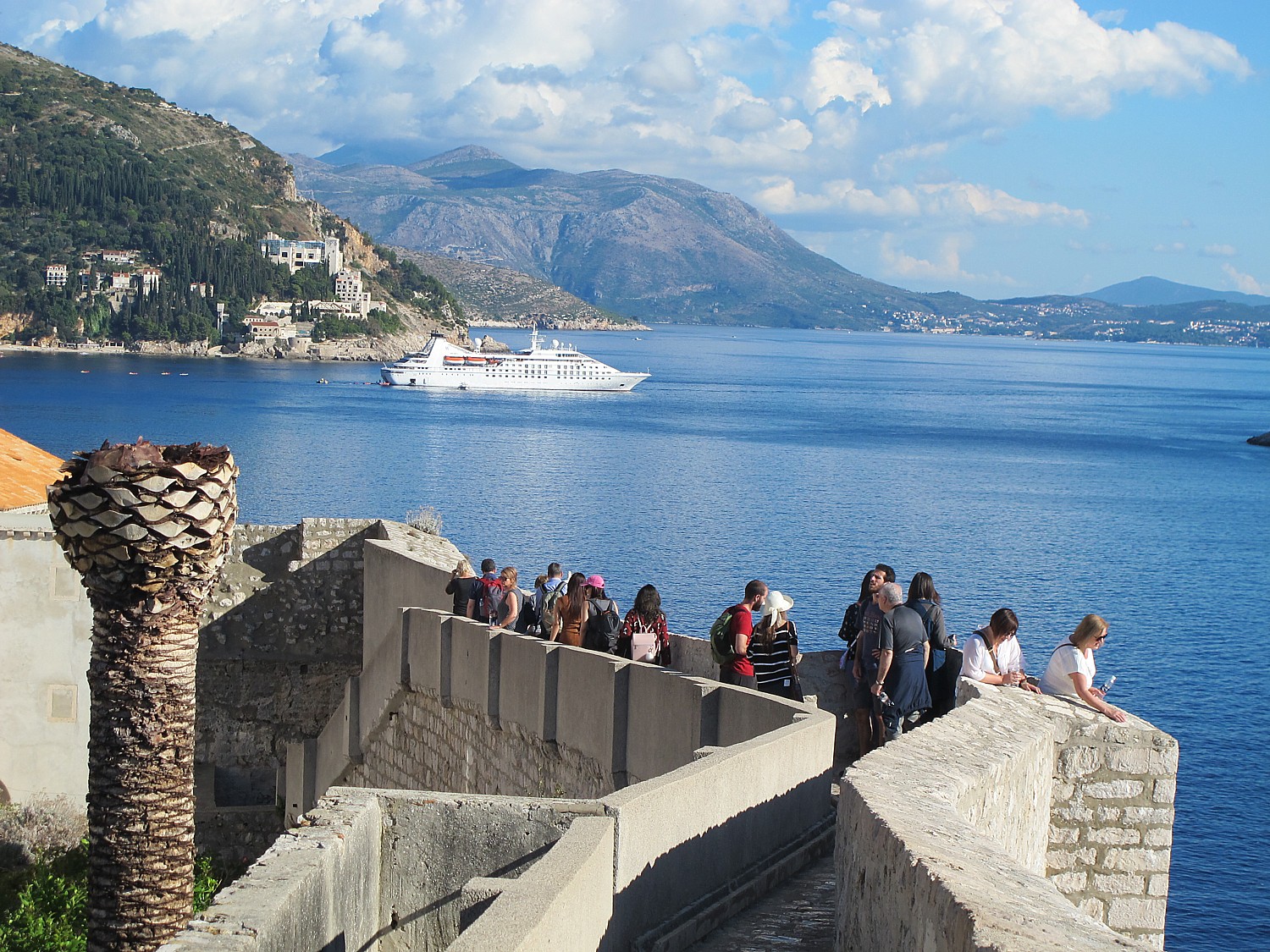 by Geri Bain
My 23-year old daughter Jenny and I have carved out two weeks to travel together, something we haven't been able to do since she graduated high school. Setting our sites on Greece and Croatia, we decide a cruise will let us see the most with our limited time—and still be relaxing. We select a ten-day sailing from Athens to Venice on Windstar Cruises' 218-passenger Star Breeze motor yacht (www.windstarcruises.com); it maximizes the time in each port, often staying on long after the larger ships depart, and goes places larger ships can't.  Plus, Windstar Cruises' partnership with James Beard Foundation promises (and delivers) gourmet cuisine.
We fly to Athens two days before the ship's departure and check into the elegant Grand Bretagne Hotel (www.grandebretagne.gr) in time for a late breakfast at its rooftop terrace restaurant, where the views of the Acropolis are as amazing as the extensive buffet spread, which even includes spanakopita.  At 11 a.m., our waitress suggests we look across the street and we catch the formal changing of the guard at the Greek Parliament building. Conveniently located on Syntagma Square, the hotel also is within walking distance of everything we want to see in Athens, and we enjoy being able to stop back "home" in between sightseeing for a cool drink in the lobby or a refreshing dip in the pool.
After settling in, we head to the Acropolis, but lines are long, so we go to the Acropolis Museum at the base of the site. The museum displays original treasures and finds from the Acropolis that were moved inside for safe-keeping. That evening, we join a free 2.5 hour walking tour (www.athensfreewalkingtour.com) with Euphrosyne, an excellent guide who is both informative and entertaining and gives us great touring tips.
Taking her advice, the next morning, we are at the side entrance of the Acropolis at opening and find virtually no line and have the site almost to ourselves for almost an hour, and on our last morning, we take her suggestion and walk up the wooded trails of Philopappu Hill for amazing views of the city. We also love strolling through Plaka, Athens' old town, especially the picturesque Anafiotika area with its steep narrow streets lined by white-washed houses with brightly painted shutters. It's especially pretty at night when strings of light twinkle about the small restaurants and shops.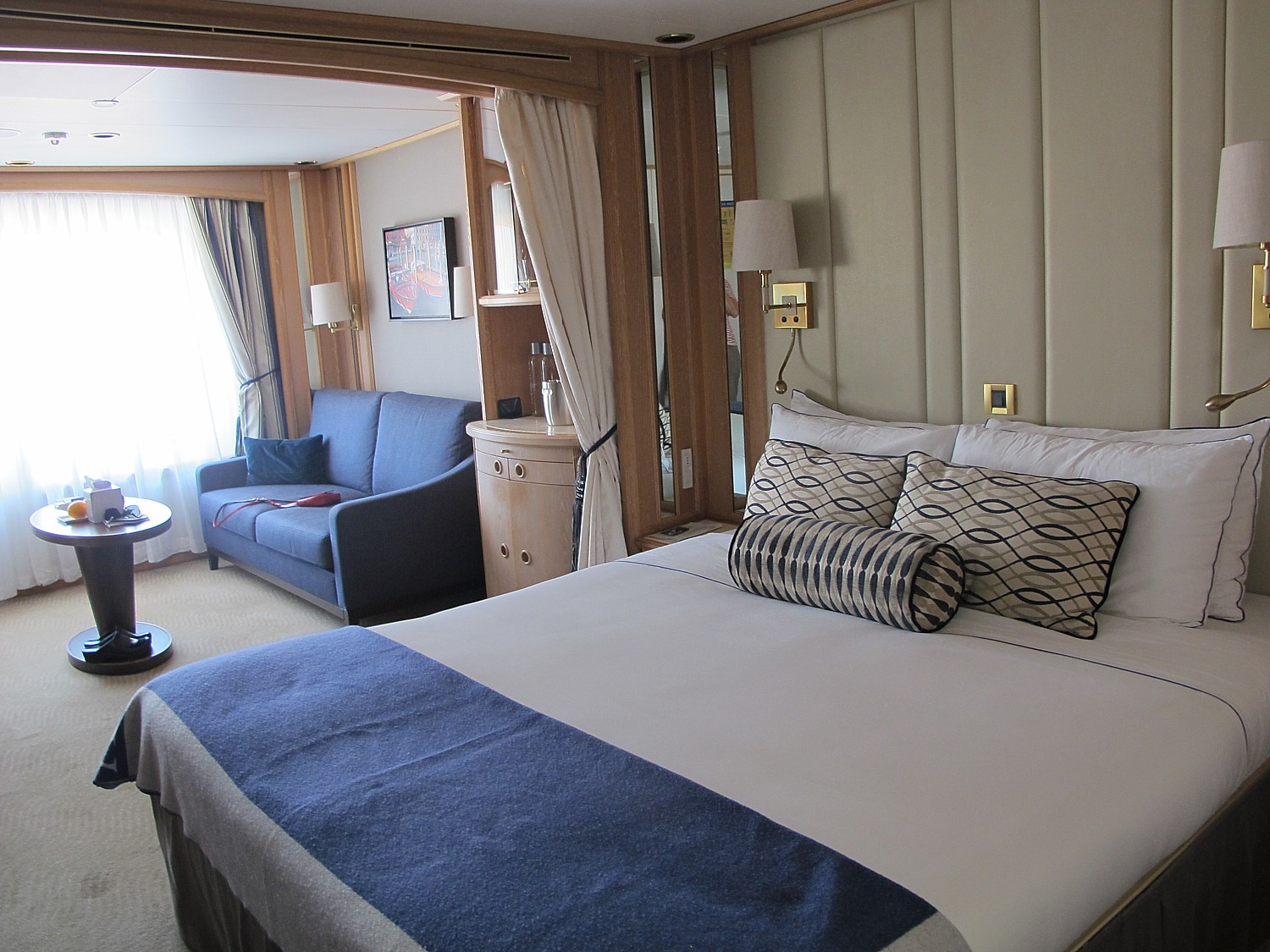 We are sad to leave Athens but excited to board our ship. Our standard cabin is much larger than we expected; there's a true walk-in closet, a marble bathroom with a full-size tub, and sleeping and living rooms that can be separated by a curtain. We also are happy to find there are no assigned dining times and tables and surprisingly, five different places to dine—plus room service. Throughout our cruise, we enjoy meeting our fellow passengers, and it seems the crew somehow learns everyone's names almost spontaneously.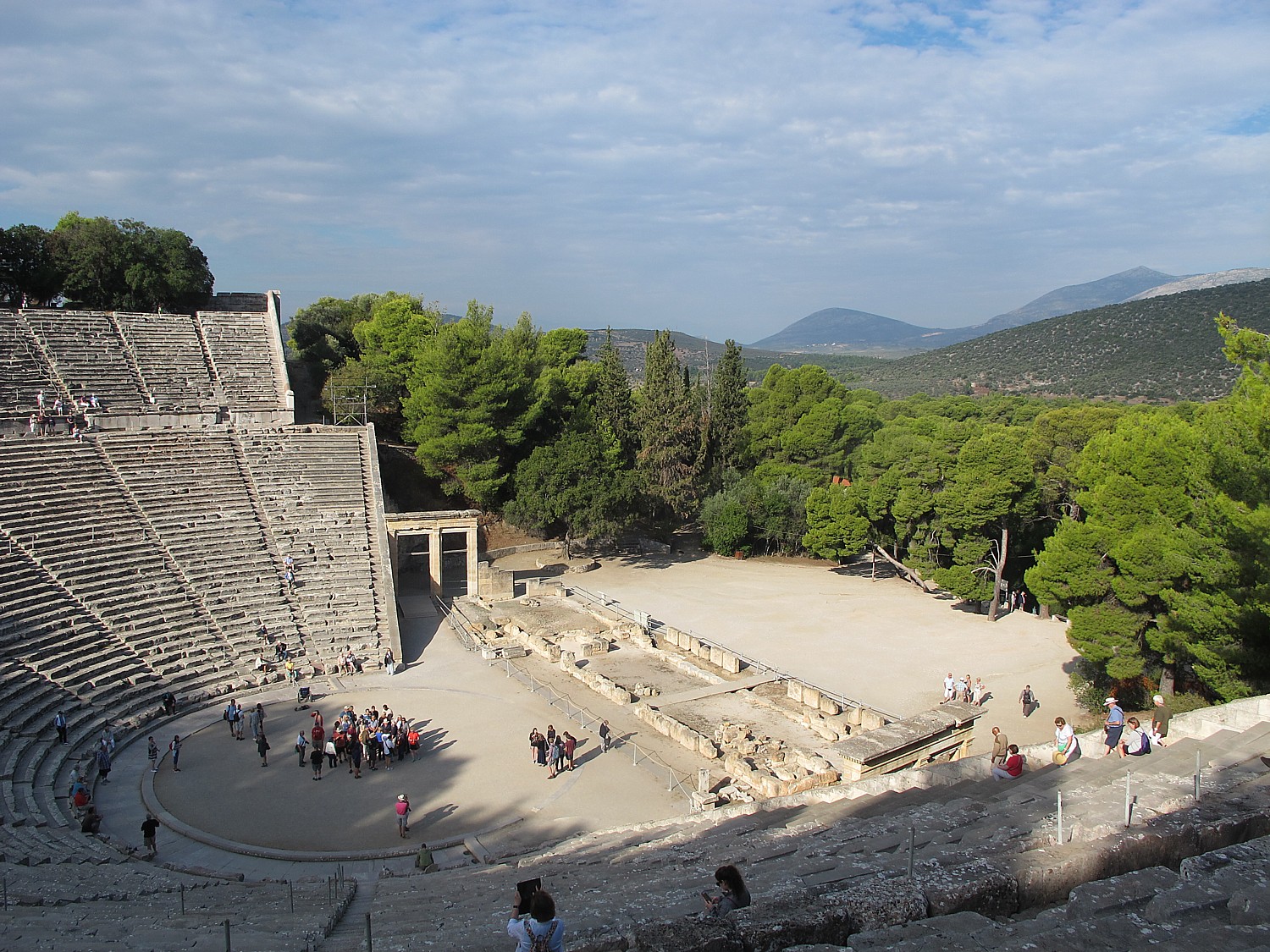 The next morning, we are excited to wake up and find our ship docked in the center of Nafplio. We will be here from 7 a.m. to 10 p.m.  We start with a pre-booked four-hour tour to ancient Epidaurus, where we learn that theater was considered integral to good health in ancient Greece–just one of the fascinating tidbits our guide Elsa shared. Most of the temples and buildings are in ruins, but the Theatre of Epidaurus, among the largest and most beautiful of the ancient theaters, is still in use today. Guides usually demonstrate the near-perfect acoustics, but we are lucky. Just when Jenny and I reach the top row of the theatre, a group of German students stand in the center of the stage and sing, their lovely harmonies reaching us loud and clear.
Back in Nafplio, we accomplish our daily workout at the Venetian-built Palamidi Fortress, which fell to Ottoman control when the architect, who the Venetians neglected to pay, got his come-uppance by showing the Ottomans the way in. The fort is accessible by bus, or via stairs from Old Town; locals tell us there are 999 steps but we lose count! We quickly realize how hard it would have been to conquer. Once scaling the nearly 800-foot outer walls, intruders would reach not one fort, but a maze of enclosures. Areas that seem like they will connect, never actually do. Many times, we follow a path that seems to link to the next area only to reach a huge chasm or high wall, forcing us to retrace our steps. Our frustration is offset by the ever-changing and stunning views of Nafplio, the Aegean Sea, and the surrounding hills.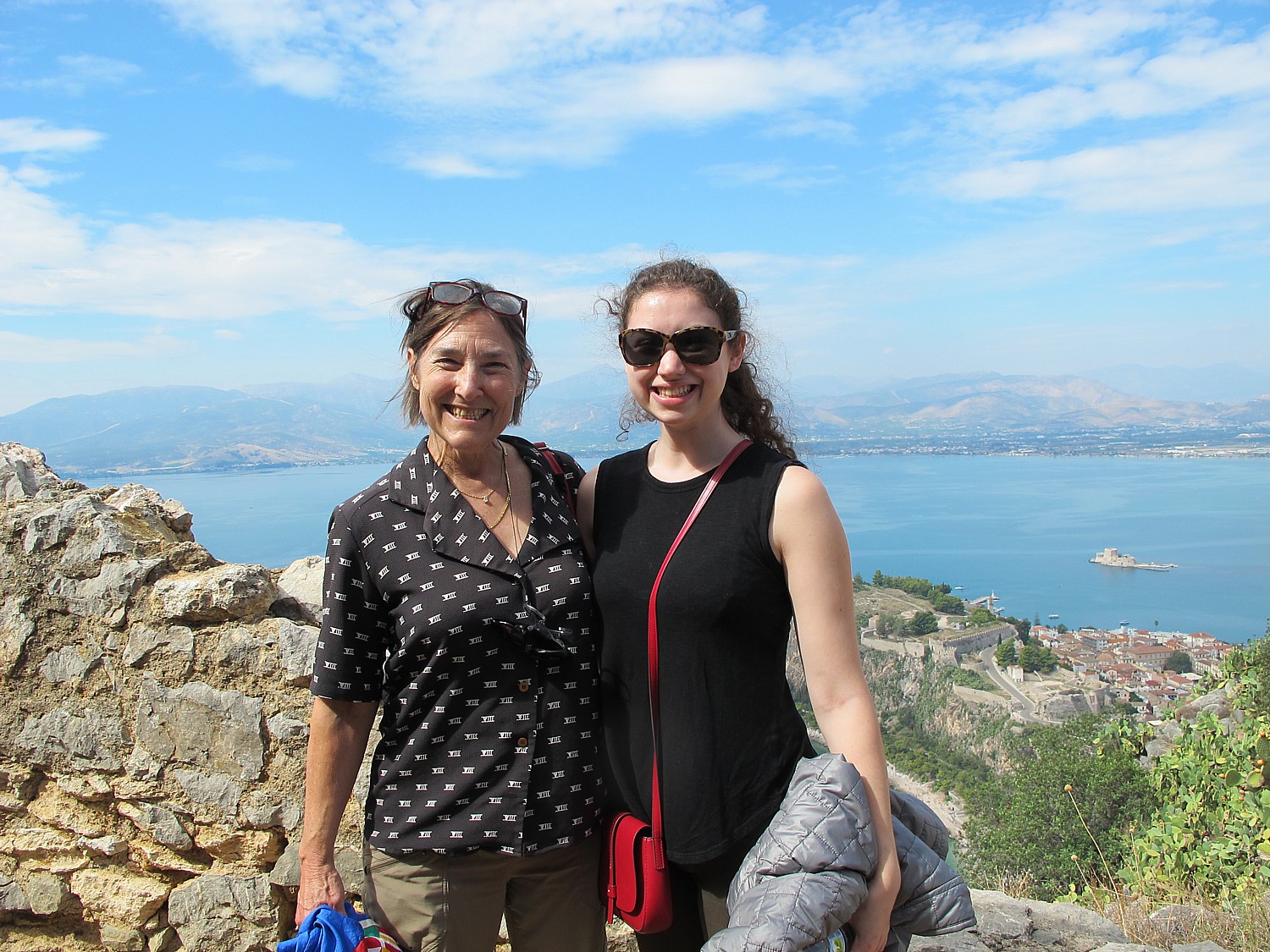 Old Nafplio, the first capital of the modern Greek state, (from 1823 until 1834, when the capital was moved to Athens) is one of our favorite ports. We visit the site of the first Greek parliament. Saint Spyridon church and the small Peloponnesian Folklore Foundation museum, but what we most enjoy is strolling amid the pretty Venetian architecture, with its characteristic red roofs and colorful windows. We dine at Kastro Karima, tucked into a back street. It has scrumptious moussaka, and at reasonable prices.
Our next two ports of call are the ancient sites of Delphi and Olympia, which served as unifying forces for the many independent city states that made up Ancient Greece. Both were places the ancients would gather to pray, make offerings to the gods and compete in Pan-Hellenic competitions. As at Epidaurus, our Windstar Cruises excursions featured knowledgeable guides who shared insights with our group (about 20) about ancient and modern Greece during bus rides as well as at the sites.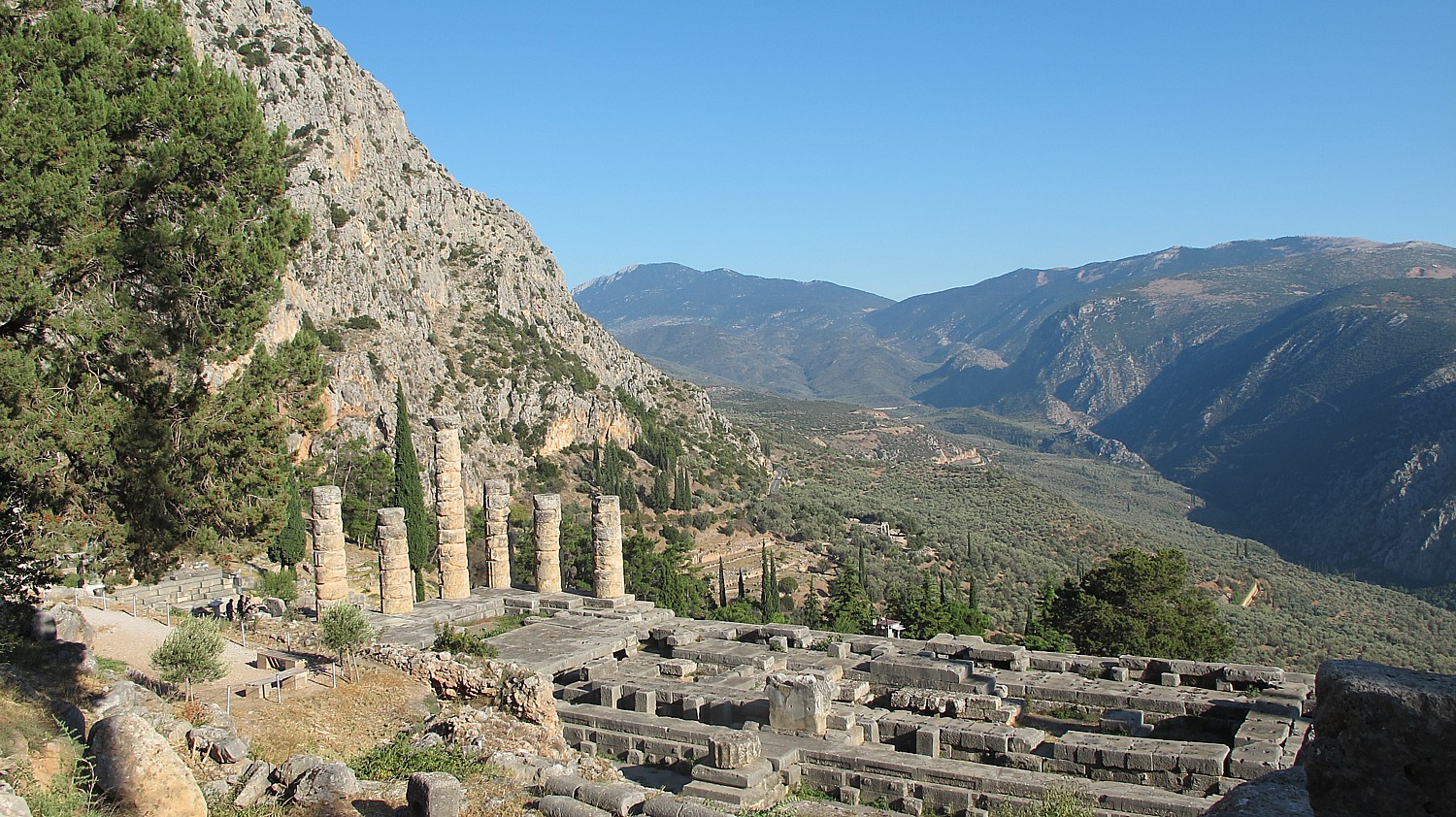 Built on a high mountain slope guarded by steep jagged cliff faces, the site of Delphi is as awe-inspiring for its natural beauty as its temples. The extensive site is best known for the Oracle of Delphi, where people came from around the ancient world seeking advice. The Oracle's messages often were cryptic and could be interpreted to provide opposing meanings, so accuracy was high.
In ancient Olympia, walking through its open-air park strewn with marble pillars, platforms and statues, our guide reconstructs the site and events of the past. We learn that ancient athletes also cheated by doping and that their traditional race attire was none (nudity) and only men could enter the athletic competitions.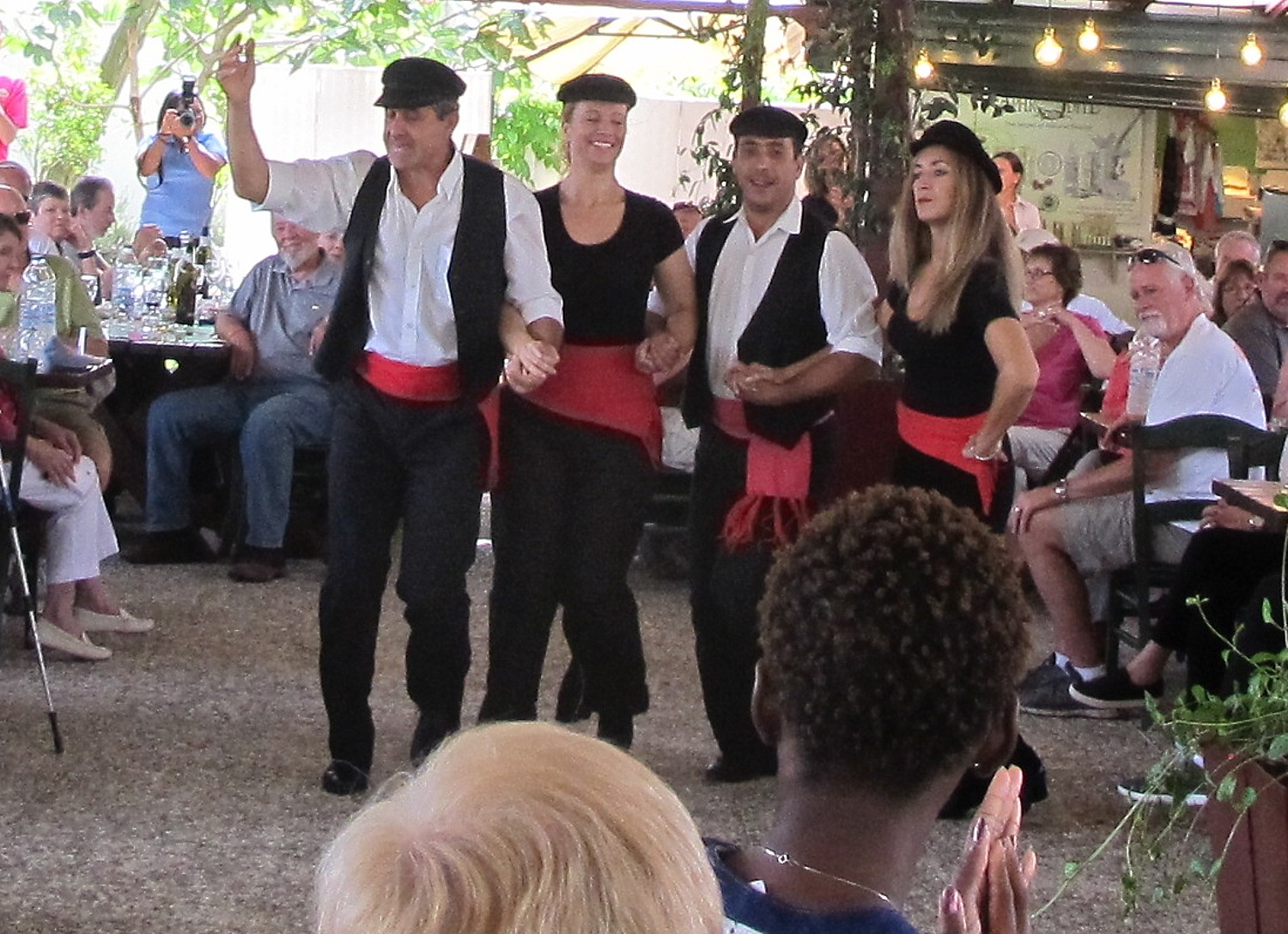 The hills surrounding ancient Olympia are striped with olive groves and vineyards. We see them up close at a complimentary all-ship lunch at Magna Grecia Farm, a family-owned operation producing olive oil and wine. We see how olive oil is produced then have a family-style feast with tastings of olive oil, wine, ouzo, wonderful local sausages, tzatziki and a zesty chicken and rice dish. After lunch, a traditional Greek dance troupe performs and then leads us all in a line dance around the room that seems right out of the movie "Zorba the Greek".
At Corfu, our last port in Greece, we hit our first bad weather on an island bus tour and walk around the beach in the rain before heading back to Corfu's Old Town, guarded by two forts. Fortunately, the rain stops as we explore Old Fort and the pretty marina at its base, and then slowly shop our way back to the ship.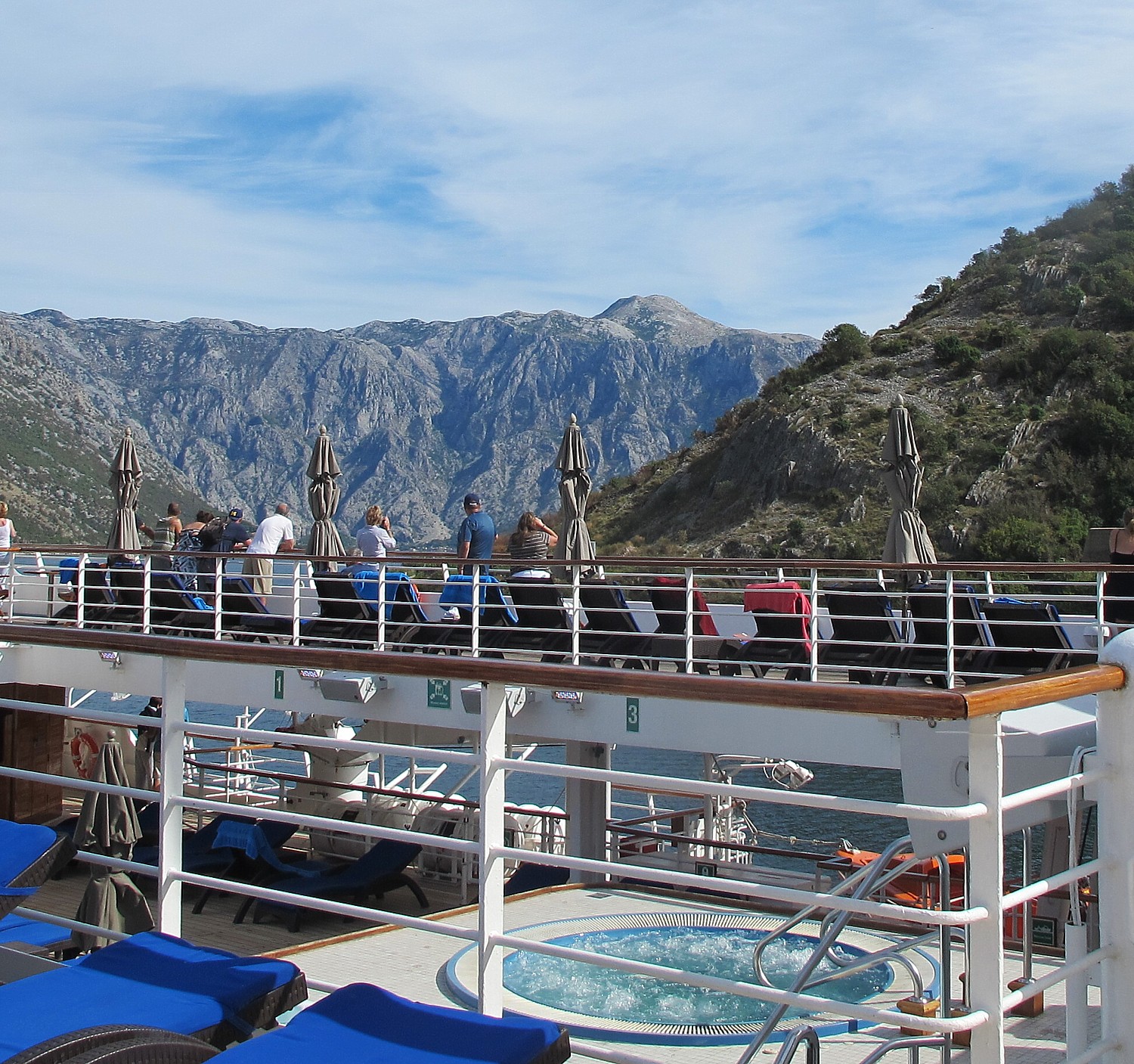 Rough seas delay our departure for Kotor, and after taking off, we hit the only rough seas of the trip. I get a bit seasick but once in bed, the rocking is no problem. The next morning is clear and the approach to Kotor through the mountain-framed "fjords" (geologically a once-submerged river-carved canyon) is thrilling. Everyone is on deck, taking photos of gleaming white cliff-top churches and small villages nestled into rocky coves backed by steep mountains.  Around a final bend is the walled city of Kotor, its ramparts rising in hairpin-turns to a mountaintop fort.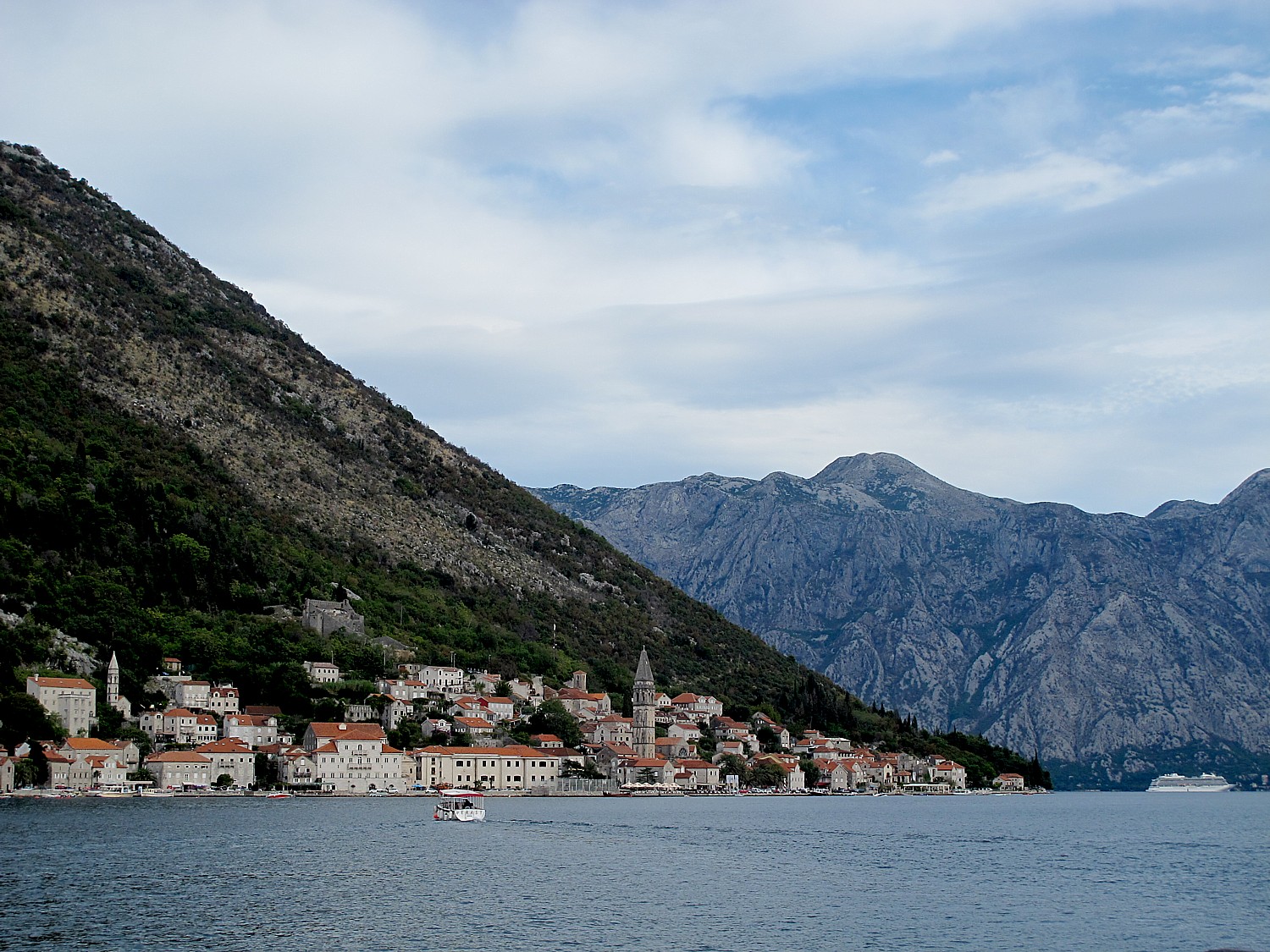 Picturesque Perast comes into view as we sail through Kotor Bay (photo by Geri Bain)
Before exploring Kotor, we head to the nearby maritime town of Perast and its famed Our Lady of the Rocks, a powder blue domed Catholic Church and museum on a man-made island a short boat ride off shore. According to legend, a lame fisherman was cured by an idol of the Virgin Mary he found at the bottom of the bay. In reverent gratitude, the town built an artificial island over the spot and to this day, sailors make offerings here and in an annual ceremony, fill their boats with rocks to add to the island.
Back in Kotor, we are happy to find that the entire walled Old City of Kotor is a pedestrian zone. Its twisting medieval streets are easy to navigate since all roads lead to the main plaza, Arms Square, with its iconic Clock Tower or the square of the Cathedral of St. Tryphon, consecrated in 1166. The town traces its history to Roman times but it was the Venetians whose influence we see and we enjoy spotting the Winged Lion of St. Mark, symbol of the Republic of Venice emblazoned around the city, especially on its Baroque and Renaissance style palaces.
For our daily workout and photo op, we climb the fortified path to the Church of Our Lady of Remedy where the views of Kotor's red-roofed Venetian homes and the fjords beyond are amazing. We'd planned to continue on to San Giovanni Castle, a bit higher above the city, but the sun is setting and we return to see the city lights reflected on its marble streets and sidewalk restaurants filling with patrons.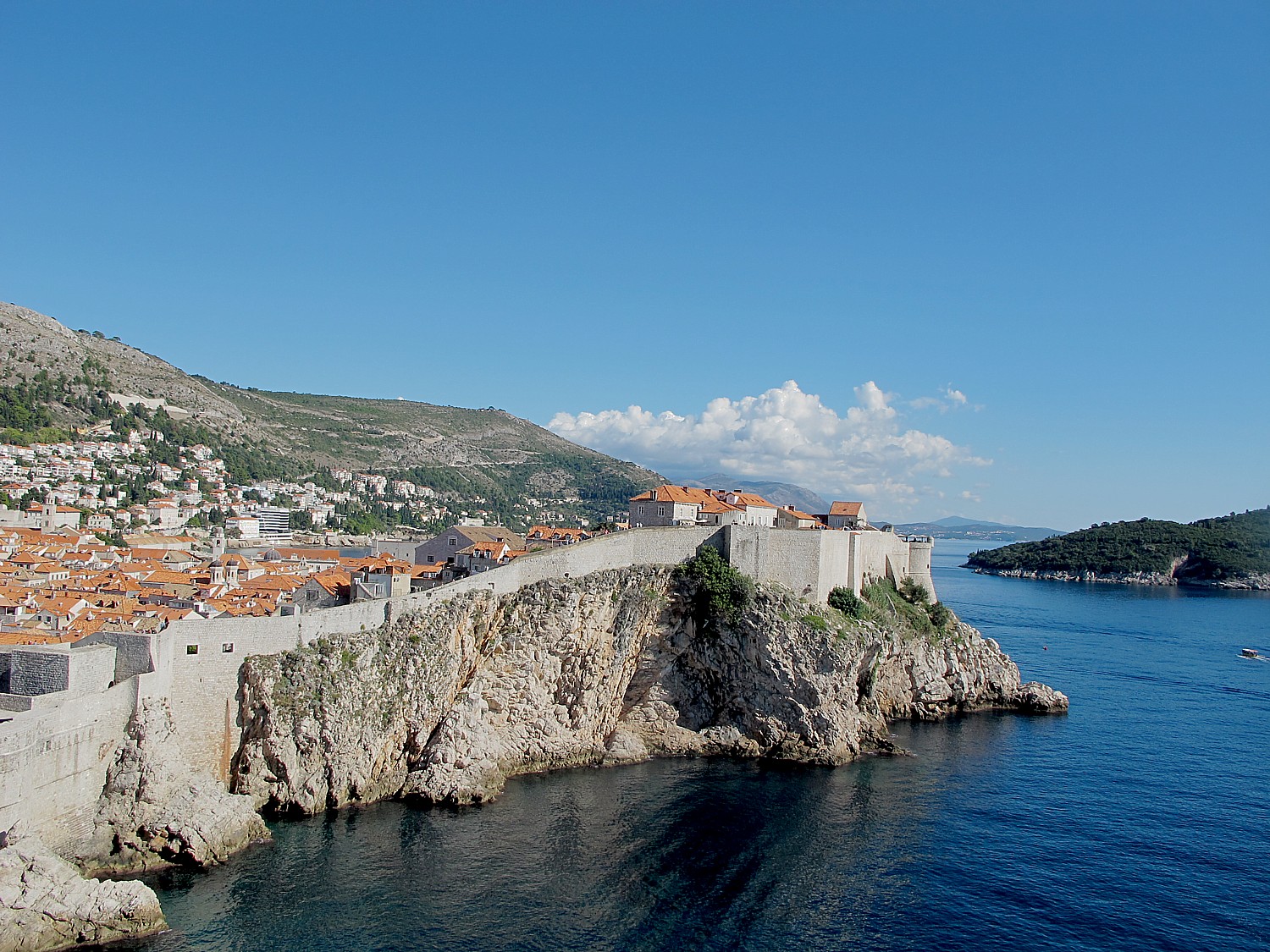 We wake up the next morning at 8 a.m. anchored just off Dubrovnik. We have 12 hours here and have decided to explore it on our own. After breakfast, a five-minute tender shuttles us to the dock right in the heart of the Old Port, where Fort St. John guards one end of the harbor and Fort Revelin, the other. A walled cliffside city, Dubrovnik is stunning for its setting as for its pretty red-roof topped buildings that climb up and down its hilly streets.
The entire Old City is a pedestrian zone and despite massive bombings by Serb and Montenegrin soldiers in 1991, Dubrovnik has rebuilt itself back into the spectacularly frozen-in-time city you see today. No wonder Dubrovnik was selected as the setting for so many famous "Game of Thrones" scenes.  We marvel that for a relatively small city, Dubrovnik packs in a lot of museums that can offer fascinating perspectives, often in bite-size 30 to 60-minute visits. Among my favorites was the Jewish Synagogue. (Note, if you plan to walk the city walls and dip in and out of museums as we did, check out the Dubrovnik pass.)
The other thing about the city is its extreme hills. I wish I'd worn a Fitbit because by day's end, we must have climbed up and down at least sixty flights of stairs following the guard's walkway around the walls of the city, climbing the stair-stepping streets of the city, and exploring St. Lawrence Fort, which defends one of the ancient harbors from a promontory facing the city walls. The walls, reinforced by towers, forts and bastions, started in the 10th century and improved right up until the 17th century, rise to over 80 feet in places and we make a point of mounting each of them. All those vantage points make for stunning vistas—one more amazing than the next—and a great workout.
Our final stop before Venice is Hvar, and we are only there from 7 a.m. to 3 p.m. so we make sure to get up and out early. Our ship anchors a short distance offshore from Hvar, a small gem with its marble streets and Venetian architecture. Despite being a trendy destination these days, it feels like a small town. We see children walking to school and locals chatting in waterfront cafes.
Of course, we have to hike up to the mountaintop Fortica Španjola (Spanish Fortress). Like the town, most of what is standing was built under Venetian rule, which lasted from the 15th to 18th centuries. Then we pick up towels and water at the Windstar launch and walk to a recommended beach, just outside town. The water is calm and refreshing and the beach is beautiful.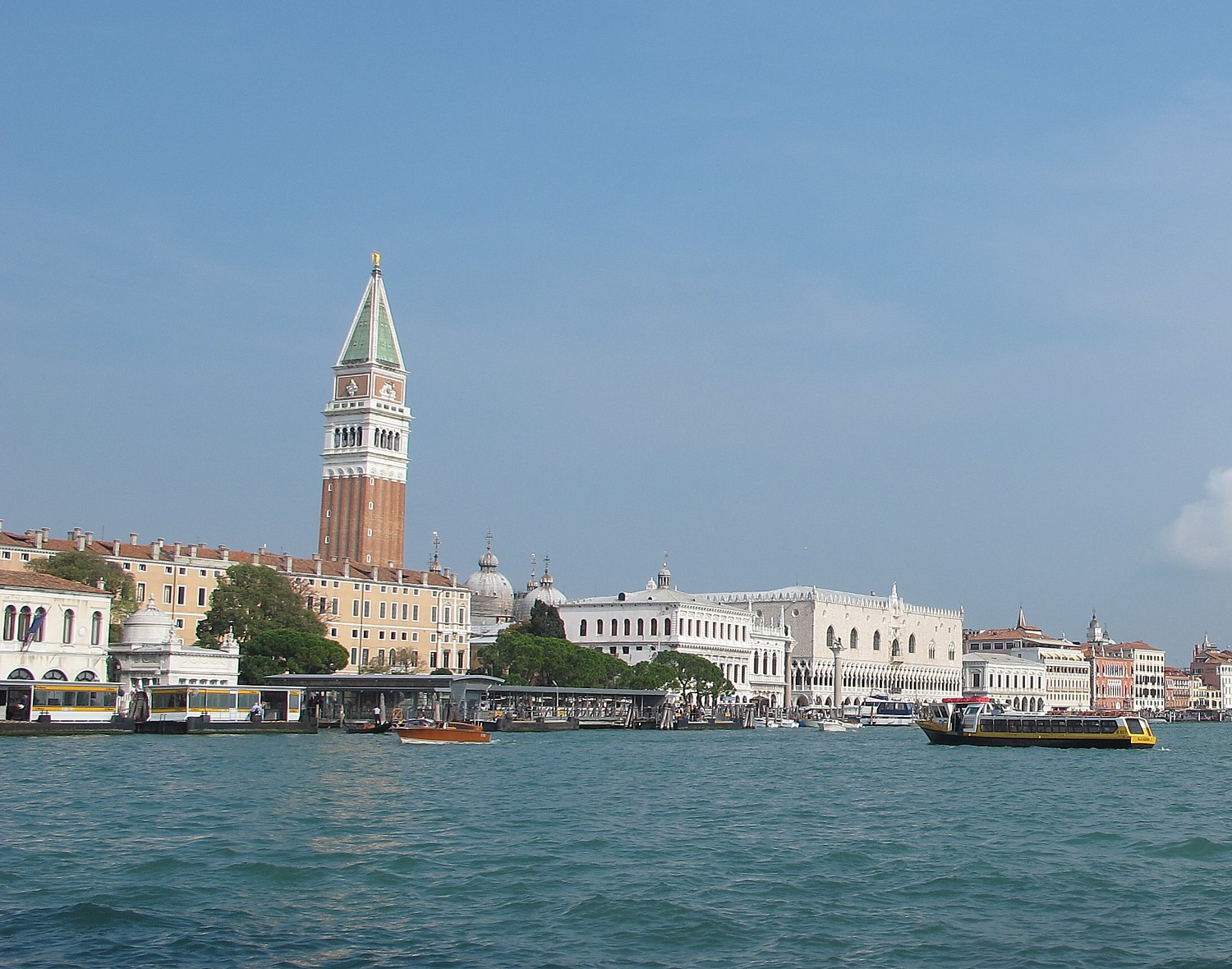 The next morning, we are up at 6:30 a.m. so we can be on deck as we cruise into the city of Venice, just as explorers and traders traveling routes like ours had done in the heyday of the Venetian Empire. We are greeted by thick fog and I feared we wouldn't get to see the sail in. I needn't have worried. Everything stops when the fog is too thick. After a leisurely breakfast, we wait. Finally, the captain announces we will be sailing into Venice shortly and soon, we are sailing past St. Mark's Square.
Nafplio, Kotor, Corfu, Dubrovnik and Hvar were all strongly influenced by the Venetian Republic for centuries and by the time we arrive in Venice, we recognize the grand buildings, richly-decorated churches and marble streets that characterize a Venetian city. Each port is stunning, but as we take in the splendor of the Doge's Palace, St. Mark's Square, and the ornate architectural details at every turn, it is obvious that Venice was the capital of the Venetian Republic in every way.
Looking back at our cruise, Jenny and I are happy with our choice of ship and itinerary and marvel that we could comfortably explore nine different ports in ten days. We never visited the small casino and apart from the well-attended, informative port talks, our favorite entertainment was the lively Crew Show. Like the ship, the show was sophisticated yet informal, mirroring much of what we enjoyed about Windstar. We also enjoyed getting to know our fellow passengers; while they tended to be more my age than Jenny's, the ship's friendly, low-key ambience was just right for a mother-daughter cruise.
For more information on Windstar Cruises, visit www.windstarcruises.com,
________________
© 2018 Travel Features Syndicate, a division of Workstyles, Inc. All rights reserved. Visit goingplacesfarandnear.com,  www.huffingtonpost.com/author/karen-rubin , and travelwritersmagazine.com/TravelFeaturesSyndicate/. Blogging at goingplacesnearandfar.wordpress.com and moralcompasstravel.info. Send comments or questions to [email protected]. Tweet @TravelFeatures. 'Like' us at facebook.com/NewsPhotoFeatures