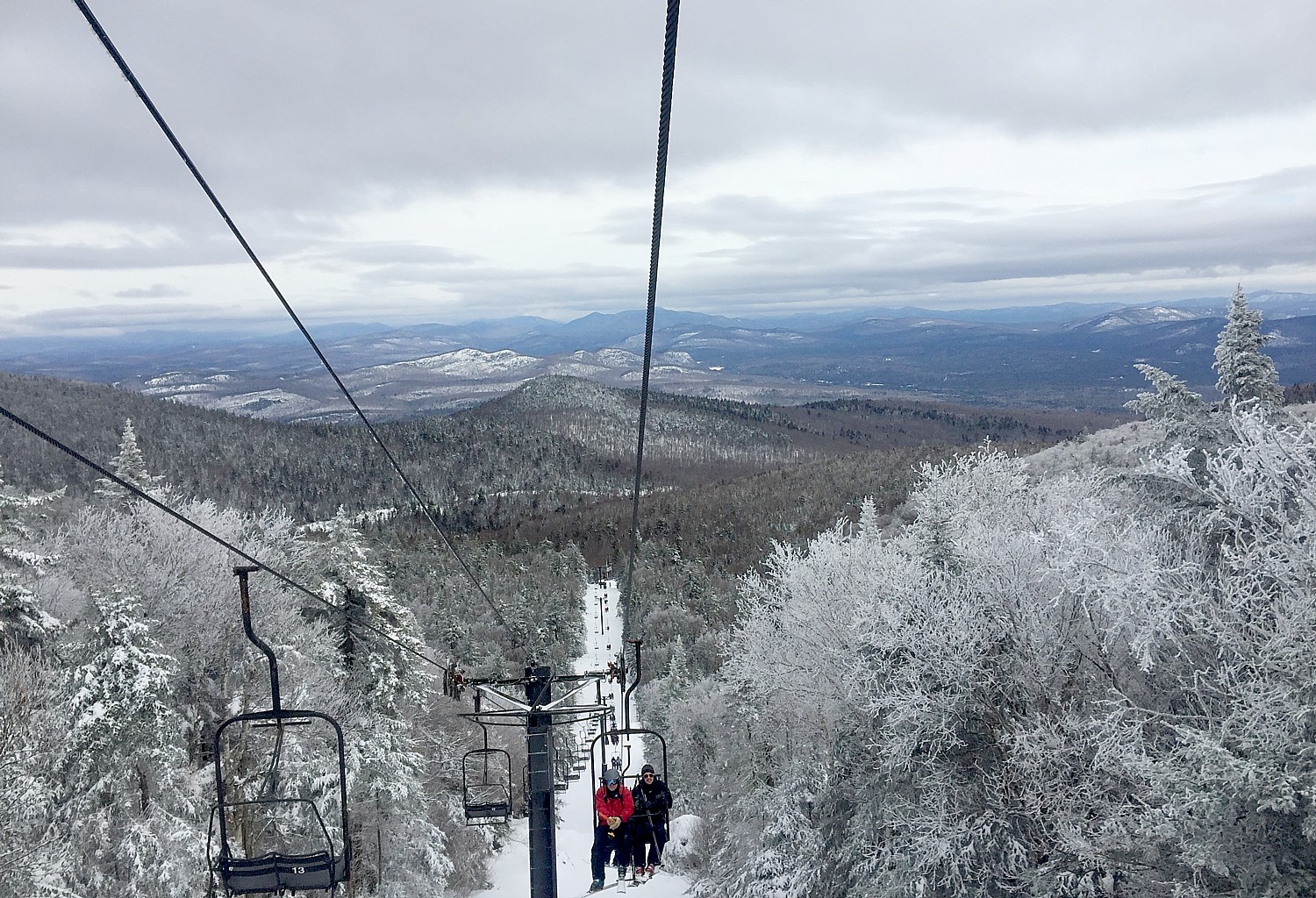 By David Leiberman and Laini Miranda
We arrive at Gore Mountain, in New York's wild and open Adirondack Mountains, park in lot E and immediately find a shuttle driver to take us to the base lodge. Three kind gentleman staffers open the door for us and greet us as we walk in. We get our ski rentals quickly and are out the door, taking the gondola to the summit.
The first thing we notice at Gore is the ease of the experience. While maintaining a deceptively small, family-friendly feel, every amenity is considered and every step of getting you out of the parking lot, through the rental shop, and up to the mountain is as smooth as can be.
On this particular Saturday when they had several inches of new powder, whenever we veered away from the gondola, it felt quiet and we experienced the sweeping panoramas of the Adirondacks without much of a crowd. At some points, the open vistas of the Adirondack Preserve let you imagine yourself skiing the Rockies.
Though Gore skiing consists of nine faces across four mountains, you can easily move between the areas, and it's simple to get back to the base lodge and food-court or the mid-mountain Saddle Lodge to grab a bite or warm up.
There are a lot of options for all types of skiers (10% of trails are classed as easier, or green; 50% are intermediate, or blue; and 40% are most difficult, or black trails). They also feature abundant glade skiing when there's sufficient snow –– more than we've seen at most of the East Coast resorts.
It is surprising to realize that Gore is the biggest ski destination in New York State (and New York has more ski areas than any other in the nation!), with the most skiable acres (446 acres), 107 trails, 27 glades (Gore was one of the first eastern ski areas to develop gladed terrain), six freestyle areas. Six of its trails are longer than 1 1/2 miles, with the longest run 4.4 miles. In all, Gore offers 42 miles of skiing, even night skiing!  With 2537 vertical feet, Gore also offers the 6th greatest vertical in the East – a greater vertical drop in fact than such famous mountains as Stowe (2360), Sunday River (2340), Okemo (2200), Jay Peak (2153), Mount Tremblant (2116), Loon, (2100), Mont-Sainte-Anne (2050), Mad River Glen (2037), Stratton Mountain (2003) and Mount Snow (1700).
Each of Gore's four mountains have their own character: Gore Mountain is the biggest and highest, at 3600 ft., Bear Mountain rises to 3200 ft., Burnt Ridge Mountain rises to 2735 ft. and Little Gore Mountain goes up to 1900 ft.
Among them is an astonishing array of terrain, not to mention views and the fact that if conditions are not the best in one area, or are too crowded (not likely because of the way skiers are dispersed), you can simply move to another.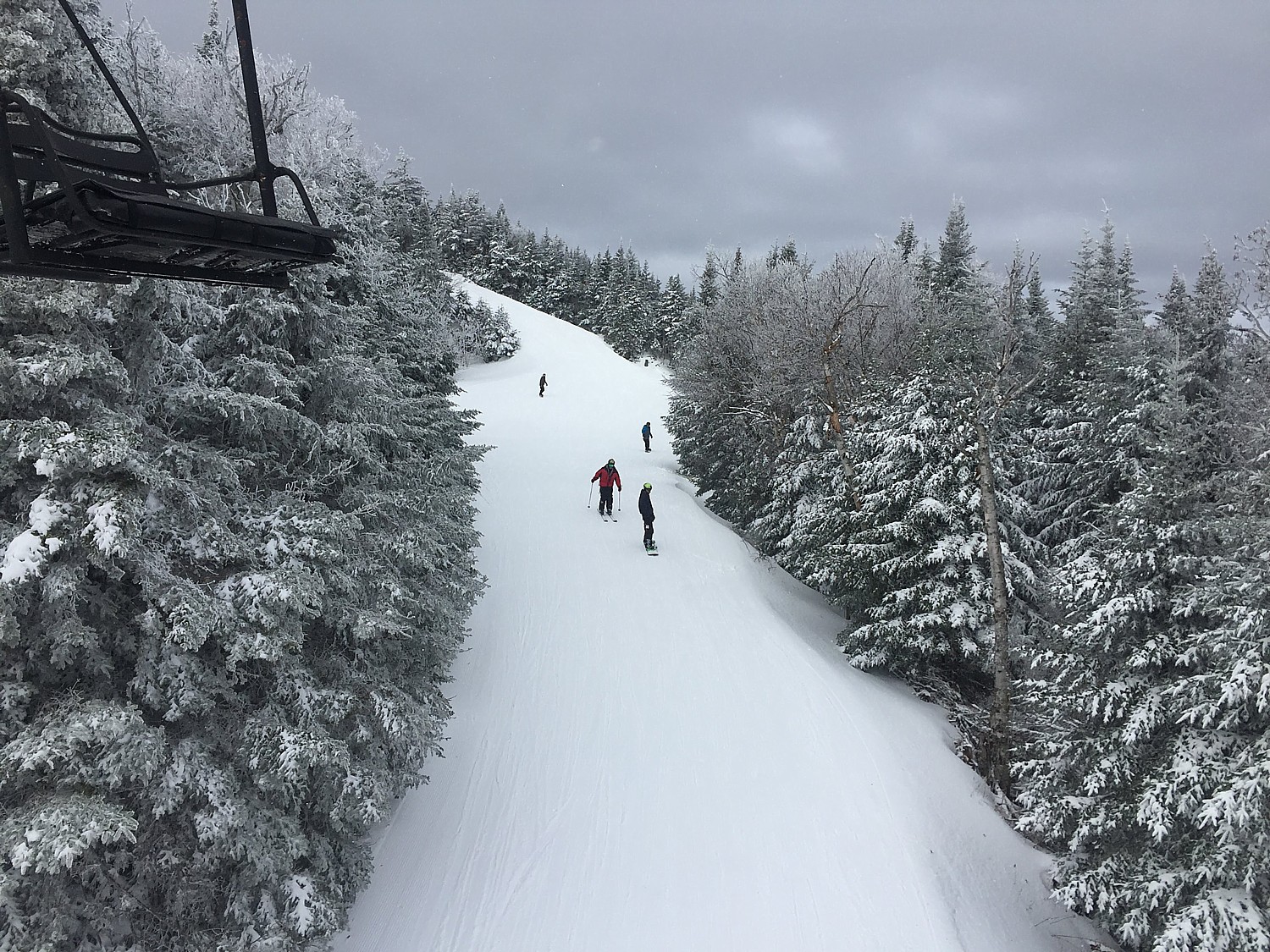 It is more useful, though, to divide Gore into its different areas: the Straight Brook Area on Gore Mountain is where you will find a variety of challenging terrain and glades; it is also where you will find the two runs, Rumors and Lies, rumored to be the steepest train in the East (unconfirmed). There are also a couple of intermediate trails – like Cloud – which connects to other blues and greens to ski the whole way down. In all, this area has 10 trails, 4 glades and 54 acres accessed by a quad lift.
"The Dark Side" of Gore known as the High Peaks Area is "Classic Adirondack" skiing and very popular with experts. There are 12 trails and 2 glades on 30 acres, accessed by a double chair.
Bear Mountain offers the Northwoods Area, accessed by the Northwoods Gondola and Gore's newest lift, a high-speed detachable quad. You can take a green trail Sunway, 2.2 miles down to the base; a blue trail, Twister, is long, wide and forgiving, and beautiful, lined with trees and with lovely views of the Adirondacks. This area offers 29 trails, 3 glades, gondola, detachable quad, double and four surface lifts on 154 acres. (The gondola is marvelous, and they cleverly post these interesting historical notes in each car.)
The North Side is off the beaten path, and offers an array of easy-going cruisers and gorgeous views of High Peaks. It's considered the best bet for families (9 trails, 2 glades on 37 acres serviced by a quad).
Burnt Ridge area is one of Gore's four peaks of development, which is noted for its geology and great views of North Creek and the Hudson River – six trails, four glades on 70 acres, serviced by "one of the most luxurious rides" on the mountain, a high-speed quad.
North Creek Ski Bowl is where they offer night skiing as well as tubing (8 trails, 5 glades, on 47 acres, serviced by two triples. This area has its own base lodge and parking lot, plus half pipe and terrain park. That means you can drive up in the day, arrive in the late afternoon, and purchase a night-skiing ticket; or if you purchase a multi-day ticket, you purchase an add-on for night skiing (3-9 pm). Night skiing is offered Friday, Saturday and Sundays, and daily during holidays, until 9 pm.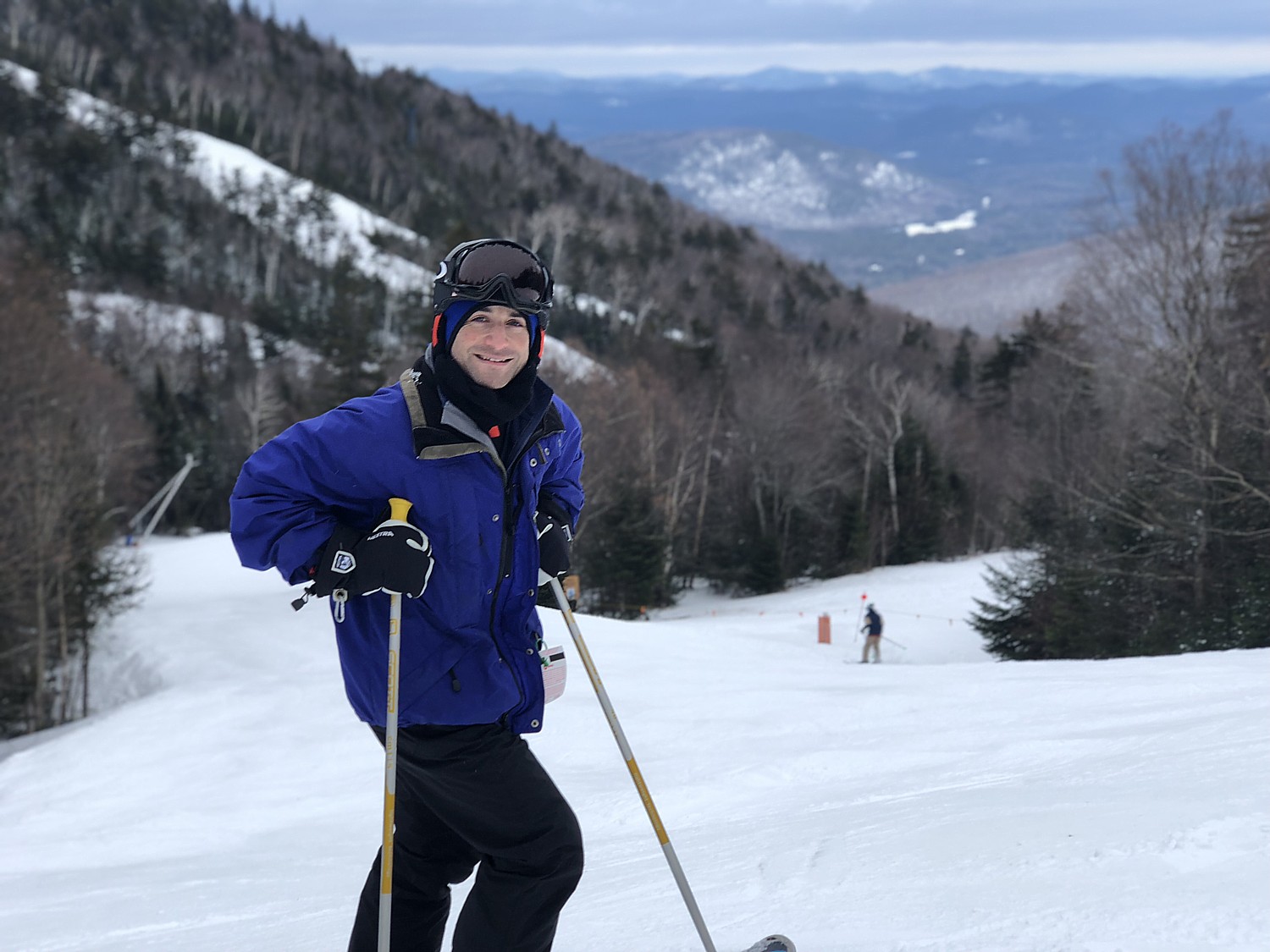 Now for the runs. Our two favorites were on opposite sides of the mountain: Chatiemac at Gore Mountain and Sagamore at Burnt Ridge Mountain. We were intrigued by Rumors and Lies on Gore, which are two of their most famous runs, but neither was open due to the lack of snow. The rest of the top of the mountain was fun to explore. The caveat about this area is they don't feature high speed lifts. On the other hand, the double High Peaks Chair lift is one of the last of its kind on the East Coast and makes for a sweet slow-paced ride between the glades.
To get to the top of the mountain you have two options, right or left: from the top of North Woods Gondola you can go right to take the windy green Ruby Run to blue Upper Wood Inn, to the High Peaks Chair. Pick up speed towards the bottom as you'll have to skate for a decent chunk at the end of that ride, and will end up at the quaint double chair lift. Or there's a pretty fast and enjoyable black called Uncas that will spit you out at the Straight Brook Quad, which will take you straight up to the top at quicker speeds.
Our other favorite was Sagamore, a long delightful black that we had virtually to ourselves. On this March day with not a ton of snow, that trail was still a pleasure top to bottom.
In general, Gore has excellent signage and interesting trivia throughout the property. Each of the gondola cabins has its own set of fun facts, including one about Gore's award winning environmental initiatives (all the finalists behind Gore were Colorado or west coast mountains). The timeline above the stalls in the food court is another sweet touch.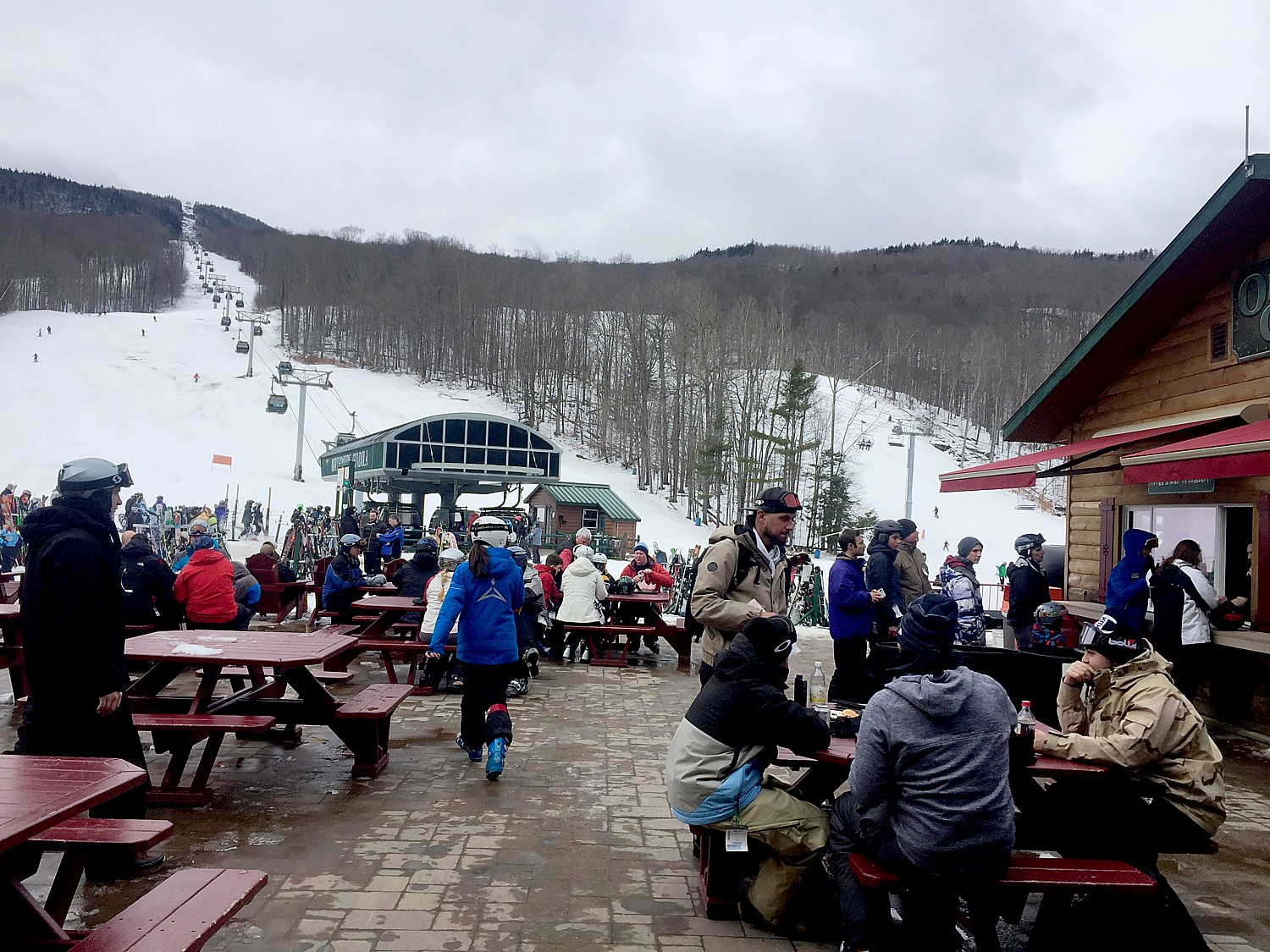 We got to experience the major renovations Gore made this season at three lodges. At the base area there are two large additions which (as we found) streamline the rental process and facilitate getting back on the mountain. Another addition that any hungry skier will appreciate is their brand new smoker and the amazing pulled pork sandwiches it produces in the outdoor Open Pit Grille by the Base Lodge Food Court. The new mid-mountain Saddle Lodge is another welcome addition featuring smoked chicken tacos and a breathtaking view.
Last season, Gore introduced Nordic skiing, turning its old tubing park into a cross-country ski area –– which has snowmaking on 3.7 km of its 5 km trails. The new area was so successful last year (even opening by Thanksgiving) that Gore hosted the New York State Nordic Championships. The Ski Bowl where the Nordic area also has a half pipe, border skier cross, and twilight skiing (until 8 pm).
On one gondola ride, we learned from a nice woman with her daughter that 3rd and 4th graders ski for free at many mountains in New York State (I Ski NY Free Passport); also, kids under 19 ski free with an adult.
The demo skis we rented were excellent: my Rossignol skis felt like they almost turned by themselves they were so smooth.
Gore started off as a destination ski area – after all, it wasn't that easy to reach. But over time, especially as the New York Thruway and Northway made it so easy to reach from Albany, Saratoga Springs and Glen Falls and even Montreal, Gore became more of a day trip.
However, if you have more than the one day, the Adirondack region has so much to offer. The landscape is breathtaking, and significantly, relatively undeveloped. You also have some marvelous resorts and lodging – the grand, historic Sagamore Resort on Lake George is 45 minutes away (they offer a shuttle bus), and in North Creek, the Copperfield Inn is as intimate as an inn (only 31 rooms), but with all the services of a luxury hotel (Copperfield Inn, 307 Main Street, North Creek, NY 12853, 518-251-9808, www.copperfieldinn.com). North Creek is a charming village with several delightful bistros and shops, and the village offers a free shuttle bus to the mountain, less than 10 minutes away, every 20-30 minutes throughout the day, in season.
This visit was an easy day trip for us, but after realizing what a special destination Gore is, we will definitely be coming back for a longer stay.
Gore Mountain, 793 Peaceful Valley Road, North Creek, NY 12853, Snow Phone: 518-251-5026, info 518-251-2411, goremountain.com.
_____________________________
© 2018 Travel Features Syndicate, a division of Workstyles, Inc. All rights reserved. Visit goingplacesfarandnear.com,  www.huffingtonpost.com/author/karen-rubin , and travelwritersmagazine.com/TravelFeaturesSyndicate/. Blogging at goingplacesnearandfar.wordpress.com and moralcompasstravel.info. Send comments or questions to [email protected]. Tweet @TravelFeatures. 'Like' us at facebook.com/NewsPhotoFeatures