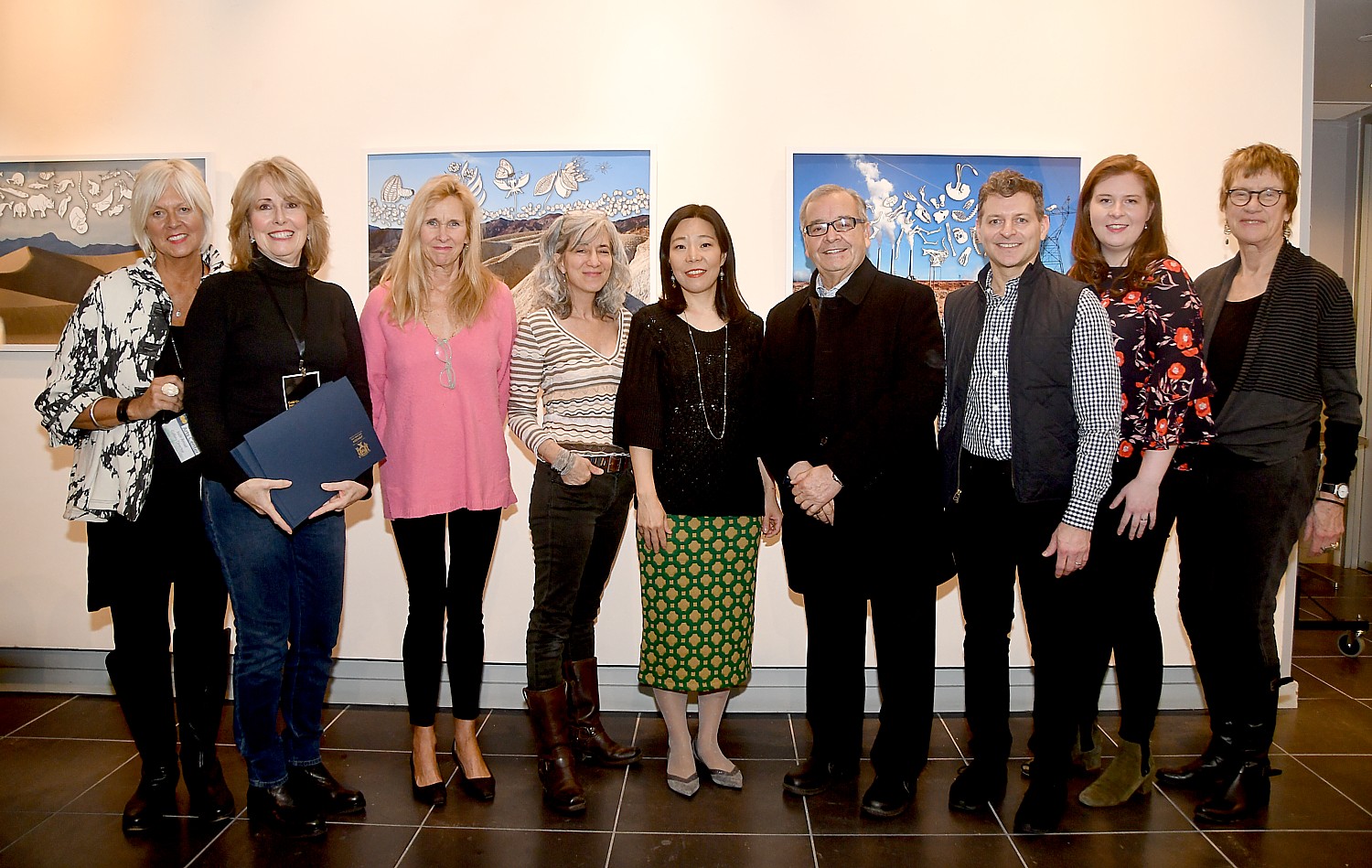 By Karen Rubin, Travel Features Syndicate, goingplacesfarandnear.com
"Nature has been inspiring artists for centuries, and its beauty has been captured in paintings, sculptures, photographs and a variety of other medium. But some artists take the relationship between art and the environment a step further, creating works from nature itself or producing artworks that make bold statements about the natural world and the imprint mankind has left on it." This is what curator Jude Amsel was looking for when she put together the exhibition, COLLECTIVE CONSCIOUSNESS, on view at the Gold Coast Arts Center Gallery in Great Neck, Long Island through April 1.
The seven artists whose works are represented "are commenting on man's relationship with our planet. These artists have the power to make environmentalism a priority and bring green initiatives to the forefront of cultural conversations," she stated.
"With all the gloom and doom, we can feel sad with what's happening in the world. But these artists bring an awareness," a literal consciousness of our role and responsibility, Amsel said at the Artists' Reception, March 4. The viewer is left with a sense of optimism that man's better impulses will rise to the fore.
Yoon Cho's work – multi-media performance art which combines video superimposed with digitized drawings – is the starkest commentary on this theme: her project was inspired by a difficult pregnancy after 10 years of marriage and the birth of her son, she and her husband traveled to barren landscapes to comment on extinction and procreation, the images of life forcing its way through.
Beth Williams Garrett created feminized Buddha head sculptures out of plastic bags.
Linda Cunningham turned the blighted industrial waterfront of the South Bronx into striking images on torn, furled canvas.
Nancy Gesimondo found solace in creating assemblages of natural materials, where mussel shells appear as butterflies, a metaphorical prayer flying to heaven; water chestnut seedpods are like flying bats, and peacock feathers are like tall grass.
Lauren Skelly Bailey re-creates the natural world of coral reefs in meticulous glazed ceramics, mimicking the surprise you have when you touch coral, which seem to be fluid and flowing to discover they are rock hard.
Charles Cohen uses realistic photography to get reduce household products to the shape and color of their plastic containers to force a different perspective.
Luba Lukova, whose graphic artistry can be seen in the New York Times, brings her timely commentary to an image of a green plant shielded by a hand as bombs fall, in her silkscreen, "Peace and Planet" (2015).
What is so interesting is to see such variety of media and approaches that come together to the essential message of human impact on the natural world: a collective consciousness of our responsibility.
Here's more from the artists about their works: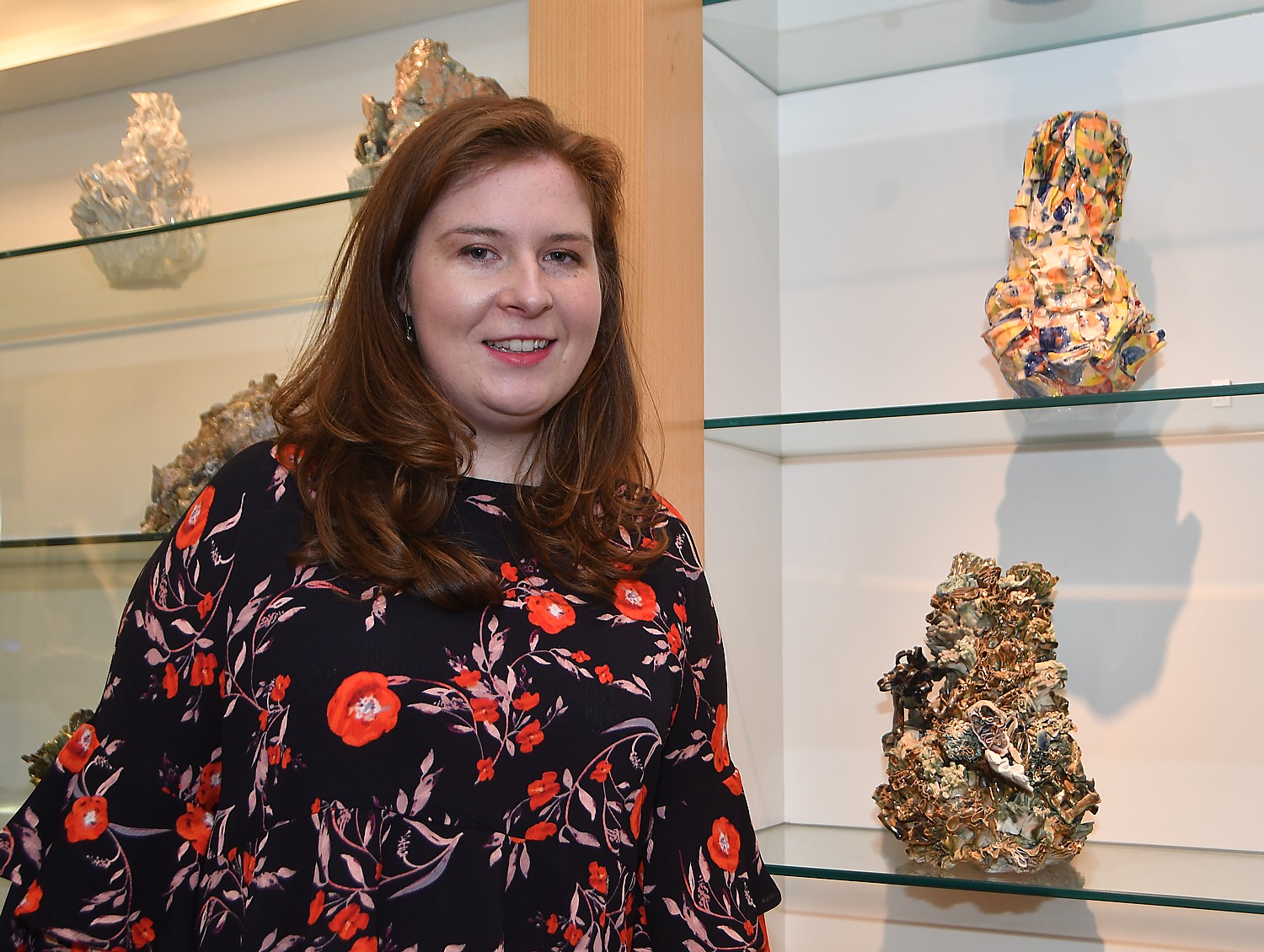 Lauren Skelly Bailey's ceramics are uncanny in the way they so realistically, meticulously yet artistically represent coral. You appreciate the beauty of nature's own design. And like nature itself which is deceptively complex (think of a wasp's nest), her work is exceptionally technical. "Stacking Up" (2016) for example, is crafted of porcelain, stoneware, slip, glaze, resin and flock – the pieces are each fired five to seven times. There are pieces gilded with real gold on the last firing.
She began her arts education studying painting and cartooning at Adelphi, graduating with a BA and MA, then went on to the Rhode Island School of Design (RISD) to earn her MFA. She produced many of these ceramics during a residency at the Museum of Arts & Design and had two grants from the NYS Council for the Arts.
"My work explores methods of making assemblage sculptures, conglomerations, installations, and figurines. There's that sensation of falling for process, the chase of finding the unexpected and learning how it occurs. From that knowledgeI make intentional decisions regarding textural surfaces, glazes, slips and clay applications, changing the context of the piece from a study to a solution. I respond to changes and observe balance in my work, seeking to push an uneasy tension between materials and form. Each new sculpture is a mo­ment, something new that has been achieved or understood, taking me further into my experience with ceramics." (laurenskellybailey.com)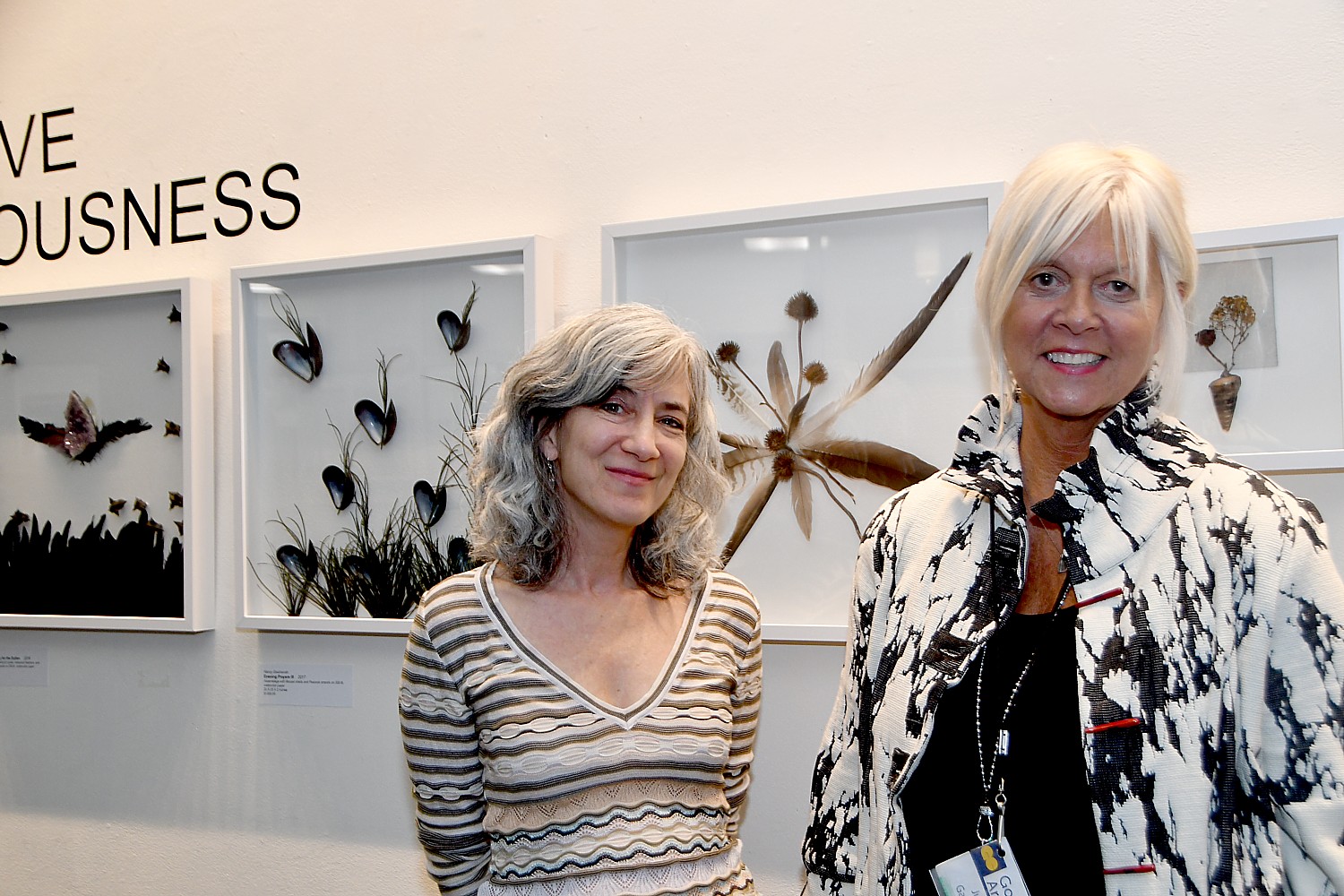 The first reaction to Nancy Gesimondo's assemblages is how they evoke Native American references. Nancy is from Sunnyside, Queens.
"My work is an exploration of ma­teriality and science that results in new visceral narratives. I create assemblages comprised of natural materials such as shells, feathers, seedpods, semi-precious stones, rocks and crystal formations.The juxtaposition of these found ele­ments results in surreal landscapes, imaginal creatures and hybrid specimens that aim to suggest the exploration and sense of mystery of an archeologist assembling vestiges of a distant past with no true refer­ence of their origin.
"My work is a reflection of my ap­preciation of nature's beauty and diversity, as well as my concern for its decline. The delicate fragments imbue the work with an ethereal quality that portends a futuristic glimpse of the place we call home."
Her assemblages draw upon natural materials she regularly collects – feathers, shells, seedpods, semi-precious stones, rocks and crystal formations. "It shows a reverence for Earth."
"I've been collecting feathers forever – they are like little signs from beyond to me."
She added, "I let the materials guide me towards the image. I very rarely see the composition in advance."
The overall feeling is of tranquility, a peacefulness, a poetic aesthetic. The natural elements are used as metaphors.
"A Winged Victory for the Sullen" (2016) is an assemblage with amethyst crystal, iridescent feathers, and water chestnut seedpods (collected at Beacon NY), that look like flying birds. It is mounted on 300 lb watercolor paper, and she explained how she had to puncture roofing nails from the back, then glue the seedpods on.
"Evening Prayers III," (2017) draws upon mussels that look like butterflies, and a strip of peacock features that look like tall grass. "It's difficult to find mussels that are still together, but after my father died, I wanted to go to the beach. I went to Long Beach where I know there are mussels, but on this day, I never saw so many whole mussels as then. I collected four bags worth. I felt it was a sign from my father, "Abundance. Don't worry."
"The shells poetically morph into butterflies. They are like prayers – wishes and wants that fly to heaven.,"
"In my work, there is always some poetry." (www.nancygesimondo.com)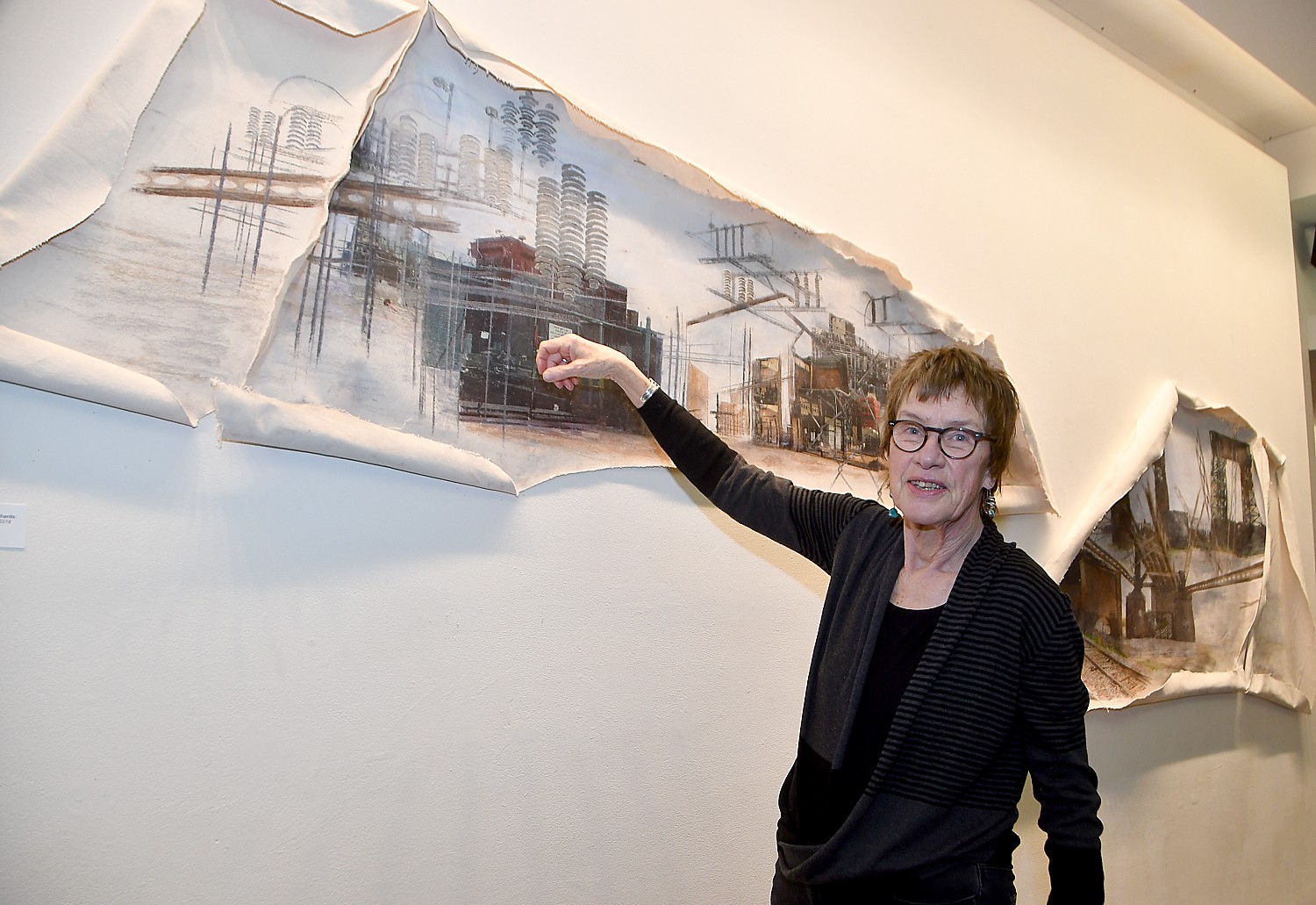 Linda Cunningham makes an artful plea on behalf of South Bronx in her series, "South Bronx Waterfront Sagas-shards: The New Vision" (2016).
"Collaged canvas with torn edges convey contradictions document­ed with photo-transferred images, layered with acrylic and pastel revealing a broken South Bronx his­tory, an urban renewal tragedy, an area once the retreat of choice for fresh air and greenery. The shards of information and vistas evoke the Port Morris harbor where barges once docked and youth swam off a pier in the East River. The beautiful open vistas are now inaccessible to the residents of the Mott Haven and Port Morris areas of the South Bronx, abandoned and dominated by deteriorating remains, rotting remnants of piers, power stations and City Waste transfer stations."
Cunningham's work centers upon time, transience, contradictions, and compelling environmental con­cerns juxtaposed against industry and urban blight.
The canvas itself is twisted and tortured in its way – not at all the neat rectangles that fit into frames.
"Life doesn't come in a convenient box – I can't work in a square (or rectangle). Life is one torn edge to another."
The irony is that she makes the South Bronx blight beautiful. (www.lindalcunningham.com)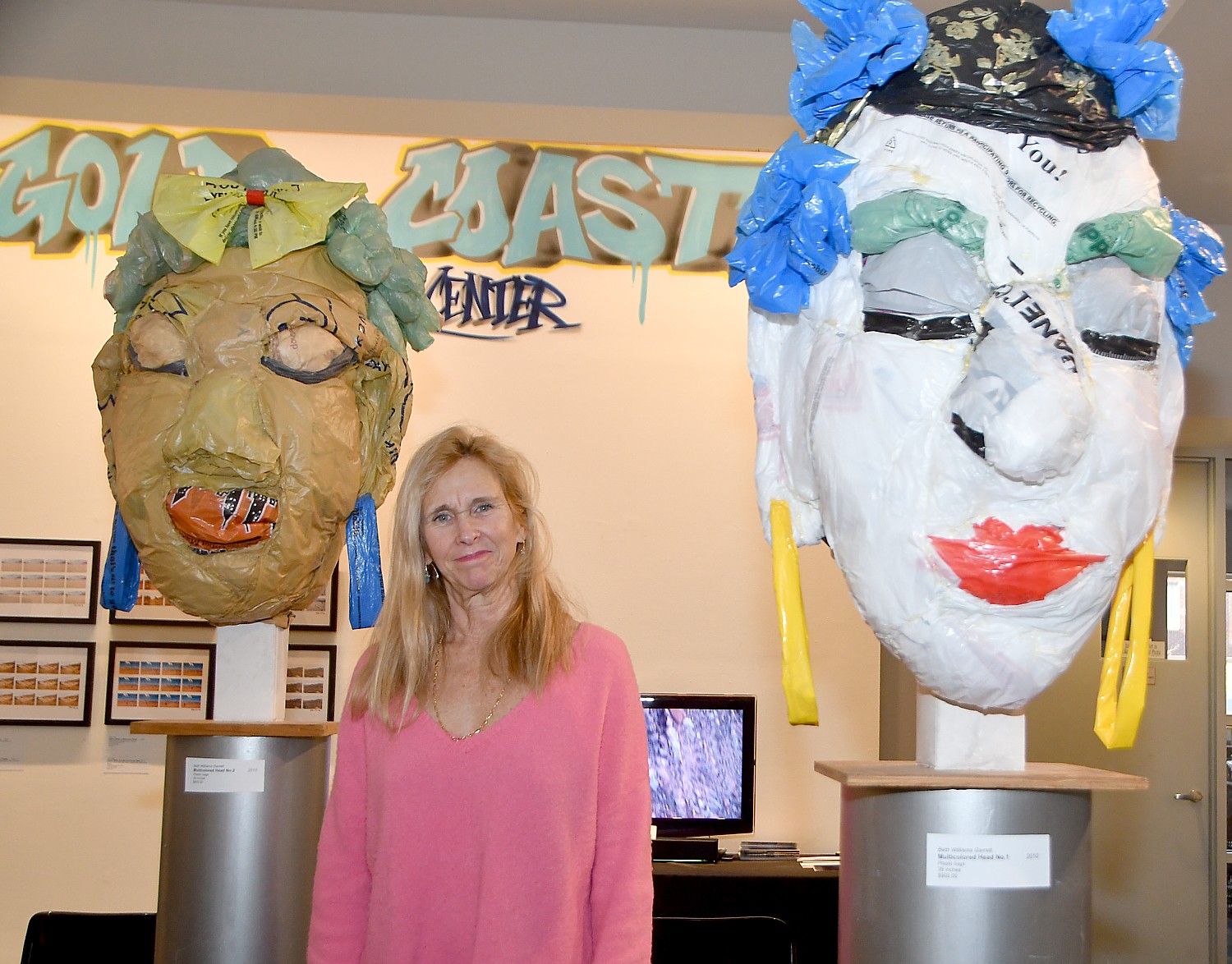 Beth Williams Garrett, who studied painting at the Rhode Island School of Design and has shown her artwork up and down the East Coast, said, "I was a painter for 30 years, until 2010, when I felt the need to make sculpture. I was searching for a suitable sculpting ma­terial, I stumbled upon using plastic bags as a medium… Plastic bags were being thrown away – that's no good for environment. They present themselves to me as a material to make sculpture with."
"The inspiration for my first sculptures came from my travels to Buddhist temples in Japan and ancient ruins in Rome."
Indeed, the sculptures fashioned of plastic bags evoke Buddha, but then there is a twist. "I have always felt my work was autobiographical, as a woman and focused on the female figure.
The result is a feminized Buddha – "girl Buddhas" she said.
Her skill as a painter comes through in the way she uses the colors and patterns in the plastic bags to great effect. One of the pieces draws on both her painting and the sculpting.
"Since then, I have been exploring what I can do with the plastic bags. My newest endeavors have been combining the 3-dimensional work with the 2-dimensional work as relief/multi media pieces and I continue making heads as I love how the plas­tic bags lend themselves to creating facial expressions."
"It happened by accident in the studio. I propped the plastic bag head on a canvas to take a picture and decided to combine the two. I usually paint bodies without a head, so it made me laugh to make plastic bag without the body. (bethwilliamsgarrettart.webs.com)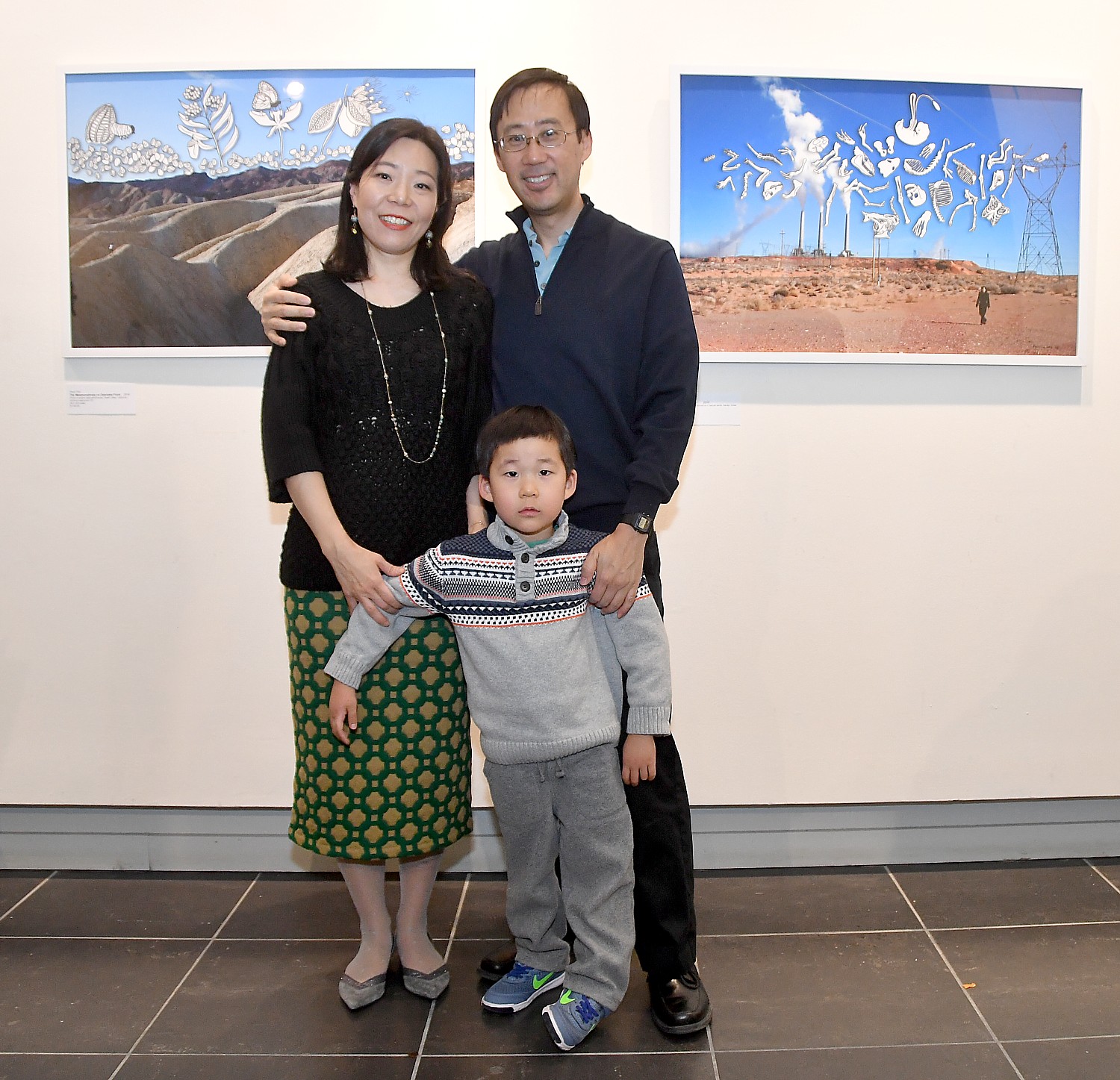 Yoon Cho's Desert Walk Photo and Video Series explores the connection with our environments by featur­ing America's diverse desert land­scapes with superimposed digital drawings of various biological life forms over the artist's walk per­formance. The silhouette graphics of biological life forms such as cells, pollen, reproductive organs, embryos, and skeletons in the sky tell a story of the cycle of life and our co-existence with the Earth.
Cho's personal journey from a difficult pregnancy to mother­hood and upbringing in a family of physicians encouraged her to examine the relationship between the biological life forms and their habitats. The Desert Walk encap­sulates beauty, destruction, and preservation of the land we live in.
The work is based on photographs from 20 different sites in four states (New Mexico, California, Nevada and Arizona). The final scene is at the Array where astronomers listen for signs of life from outer space. "That represents the future," she says.
Her work was supported by the Puffin Foundation and New York State Foundation of Arts. (www.yooncho.com)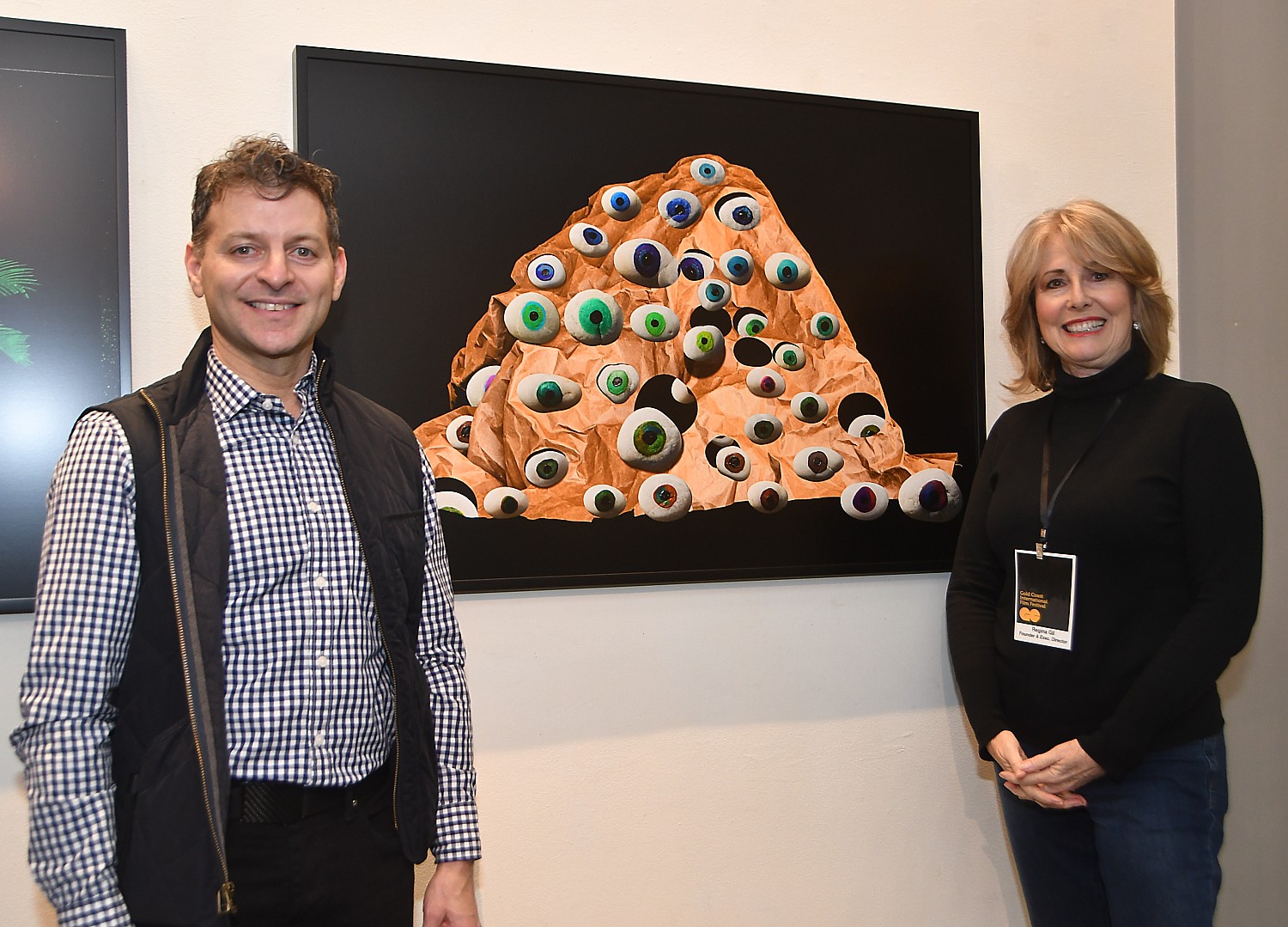 Charles Cohen uses photography to change perspective.
"From the threshold between participation and observation, I break with day to day experience. Familiar with the ethnographer's dilemma, I embrace this betwixt state as the key to being human: we act as protagonist and critic in our own lives so that we can bridge the gap between individu­al and collective.
"My work exposes reductive dual­ities and challenges the ordinary relationship between perceiv­er and perceived by provoking reflexive thought… My work explores a range of subjects, literal and figurative, in an embrace of liminality and in confrontation with a binary view. The result transforms the sub­ject/object relationship from real to metaphor and liberates a state of being—one. (www.promulgator.com)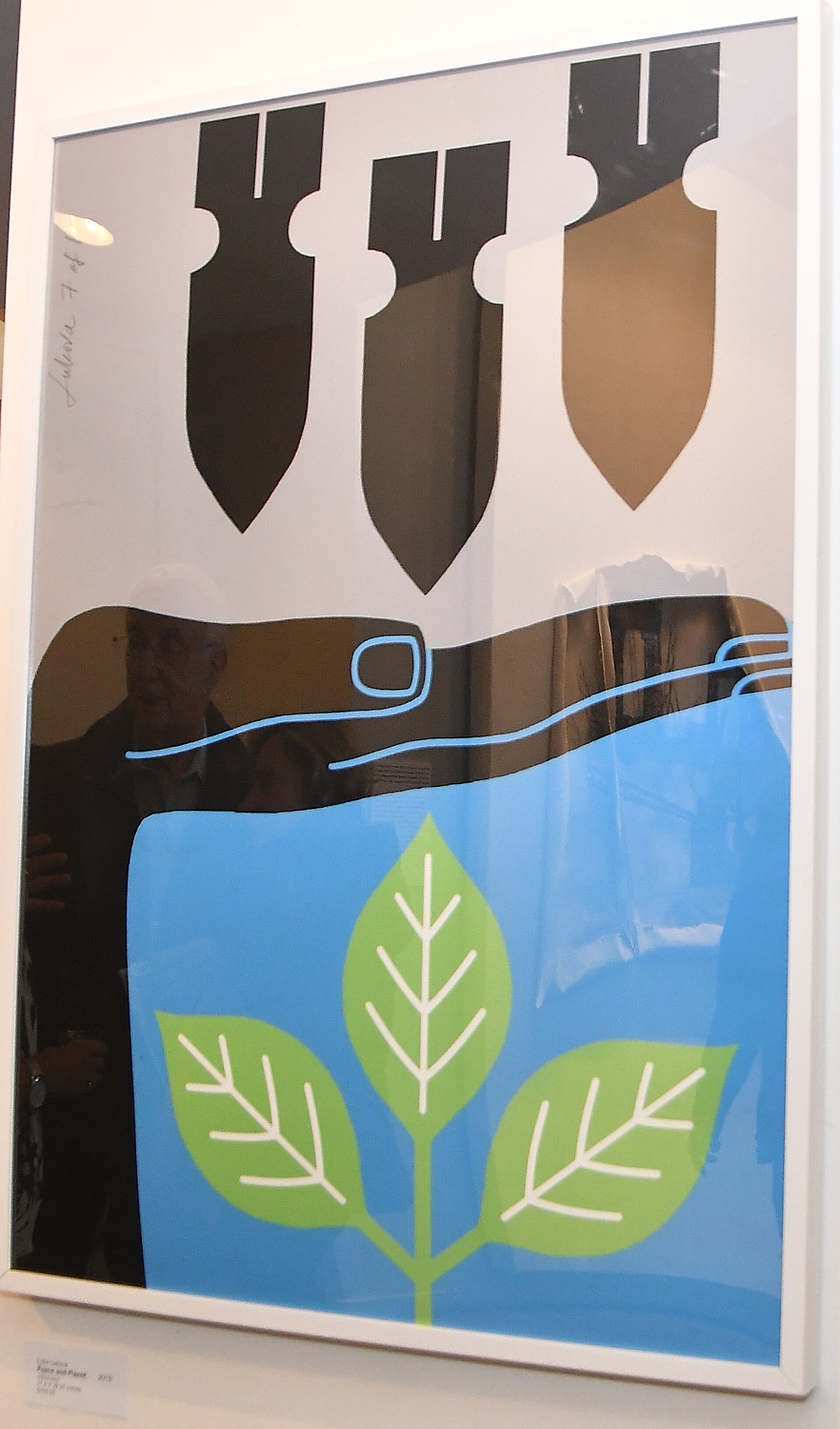 Luba Lukova creates images that she hopes will catalyze action and change the world. Her thought-pro­voking posters address essential themes of humanity and injustice worldwide. Her messages help viewers develop empathetic un­derstanding for social and cultural issues through indelible metaphors and an economy of line, color, and text. Lukova's work is included in the permanent collections of MoMa; Denver Art Museum; Biblio­thèque nationale de France; Hong Kong Heritage Museum; Centre de la Gravure et de l'Image imprimée, La Louvière, Belgium; the Library of Congress; and the World Bank, Washington, D.C. (www.lukova.net)
The Gold Coast Arts Center is a 501(c)(3) not-for-profit organization dedicated to promoting and supporting the arts through education, exhibition, performance and outreach. It offers classes for tots to seniors in art, music, dance and performance;, events, gallery, film festivals and outreach programs.
The Gold Coast Arts Center, 113 Middle Neck Rd, Great Neck, NY, 516-829-2570 or www.GoldCoastArts.org.
_____________________________
© 2018 Travel Features Syndicate, a division of Workstyles, Inc. All rights reserved. Visit goingplacesfarandnear.com,  www.huffingtonpost.com/author/karen-rubin , and travelwritersmagazine.com/TravelFeaturesSyndicate/. Blogging at goingplacesnearandfar.wordpress.com and moralcompasstravel.info. Send comments or questions to [email protected]. Tweet @TravelFeatures. 'Like' us at facebook.com/NewsPhotoFeatures