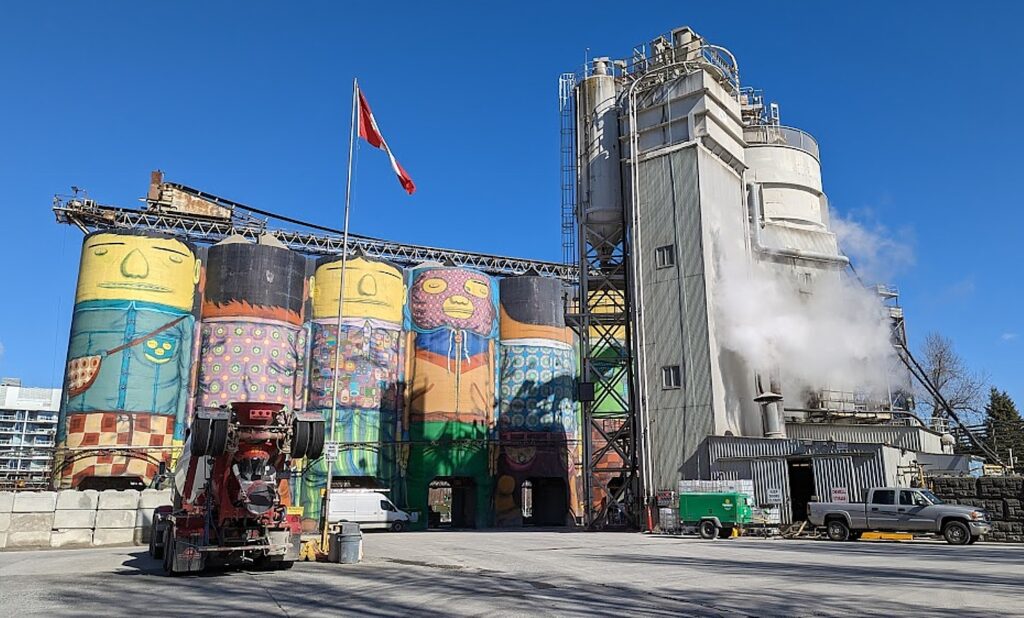 By Karen Rubin, Travel Features Syndicate, goingplacesfarandnear.com
I have cleverly arranged for a late flight from Vancouver, so I would have a whole day to continue to explore.
Indigenous Tourism BC which has arranged my itinerary has offered a number of suggestions: rent a bike and riding around the seawall at Stanley Park; visit the Vancouver Art Gallery (750 Hornby St, Vancouver); visit Museum of Vancouver (1100 Chestnut St, Vancouver) to see Indigenous micro-exhibition Spirit Journeys: Walking with Resilience, Wellbeing and Respect; visit Granville Island.
Rick, the Skwachàys Lodge manager, just the evening before, had raved about how much he loves visiting to Granville Island – it has the best public market – and was planning to go himself.
I map out a delightful 3.3 km walk from the hotel to David Lam Park where I hop the cute Aquabus ferry for the few minutes ride to Granville Island. (Aquabus, $6/roundtrip, which also offers a 40-minute ferry ride tour)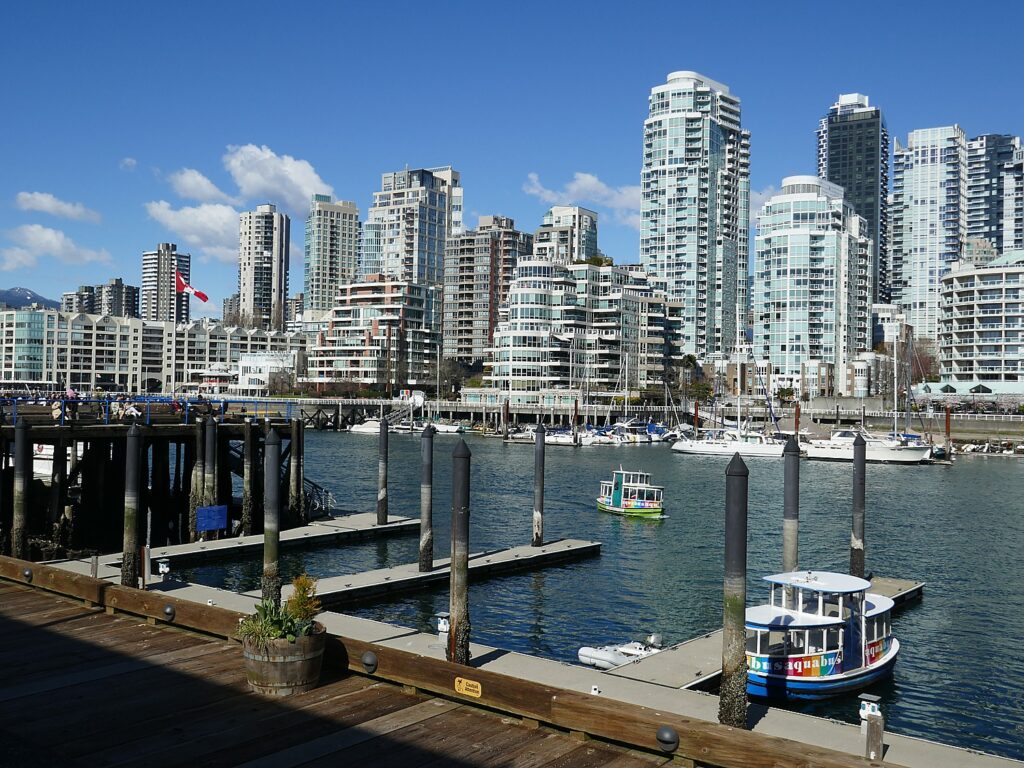 As soon as I climb the stairs from the ferry dock, I appreciate why Granville Island very properly boasts of being a "magical escape within a city." I would add: playful, whimsical, fantastical, a place of endless delight, a non-stop smile.
The charm of Granville Island lies in its unexpected mix of uses which reveal themselves as you simply wander around. People come for the most spectacular public market (open daily 9am-7pm) with 70 purveyors of all manner of fresh produce and fine foods (some famous, like Lee Donuts, where as Rick tells me to expect, there is a line outside to get in).
There is the Net Loft featuring "offbeat artisan goods" and marvelous boutiques and shops with local creations and imported crafts from Latin America, Asia and Africa like Mondo Company ("Step into our world and discover fairly traded, ethically sourced, handcrafted products from artisans around the globe", www.mondoandcompany.com); a bustling Artisan District where you see and meet artists at work in their studios and galleries; a children's district (toy stores!); and performance venues (Ballet BC coming to Granville Island), plus special events and festivals, all taking over vacated (and for a time decrepit) industrial buildings. There is even a hotel.
Art (and music) is everywhere- even the cement factory (one of the few industrial uses that remains) has painted "Giants"on its gi-normous silos (painted by Brazilian graffiti artists Gustavo and Otavio Pandolfo, known collectively as OSGEMEOS (Portuguese for THETWINS), which was commissioned in 2014 by Vancouver Biennale as part of an open-air museum, and were only expected to be up temporarily. It cost $180,000 and 1400 cans of spray paint and costs $17,000 a year to maintain. (https://www.atlasobscura.com/places/giants-on-granville-island-silos)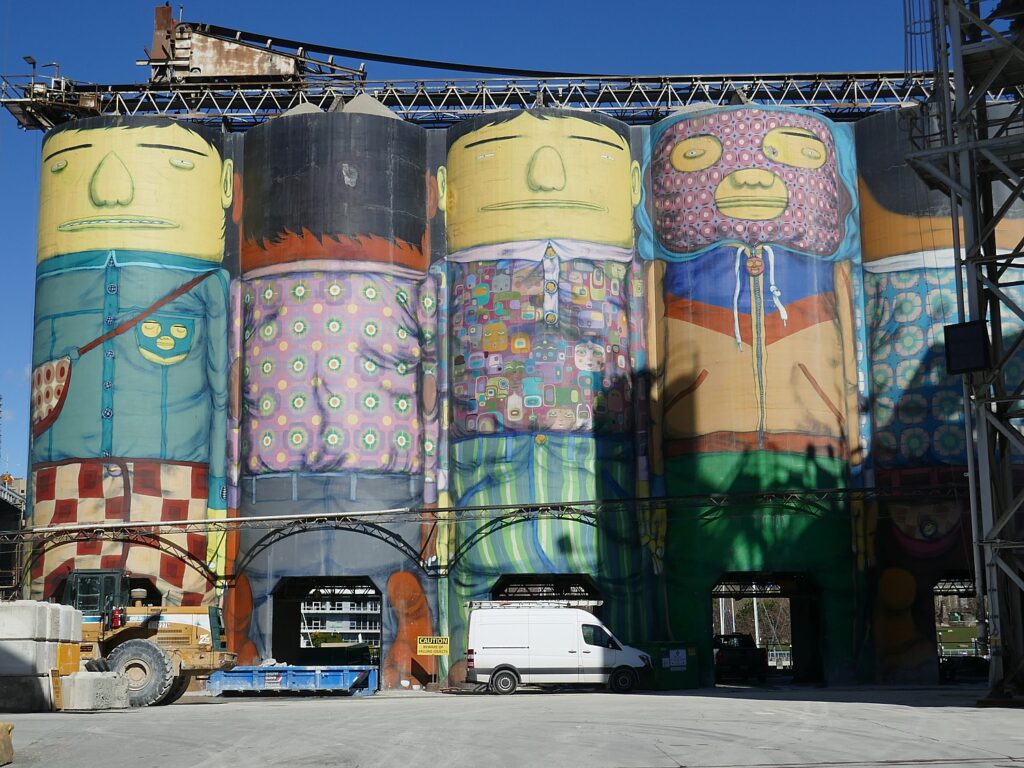 But before Granville Island was a cultural mecca, before it was an urban wasteland, before it was an industrial hub, it was the meeting place for three First Nations summer potlatch.
"The xʷməθkwəy̓əm (Musqueam), Skwxwú7mesh (Squamish) and Səl̓ílwətaʔ/Selilwitulh (Tsleil-Waututh) peoples are indigenous to the area around Vancouver and have lived on these lands for thousands of years…" Chief Janice George, Skwxwú7mesh, writes. "The Salish, the Indigenous people of the area, used a large sand bar (later filled in to become an Industrial Island, then Granville Island), and the surrounding areas for traditional purposes such as hunting, gathering, travel, and everyday living and cultural activities. The resources were so plentiful, the Salish people had a saying, 'when the tide went out, the table was set,' meaning that when the tide went out, they could walk with the tide and have enough food for their families."
As Vancouver was colonized in the 1860s, it became shipping port (there are still the railroad tracks), but as industries shuttered, it descended into a derelict industrial wasteland from 1950-60s. A few artists squirreled away, making art in studios within the Quonset huts.
A historic marker notes that Granville Island was created between 1913 and 1916 when the government of Canada and the newly created federal Vancouver Harbour Commission contracted to pump and dredge over 1 million cubic yards from the bottom of False Creek and deposit the material behind pilings ringing several sandbars and First Nation fishing weirs. "Over the next 50 years, heavy industry waxed and waned" on Granville Island. By the early 1960s it had become a squalid, seedy and derelict industrial area." For the next 10 years, while politicians debated, four entrepreneurs began buying up four buildings which they renovated into "The Creekhouse," interestingly, retaining the industrial look.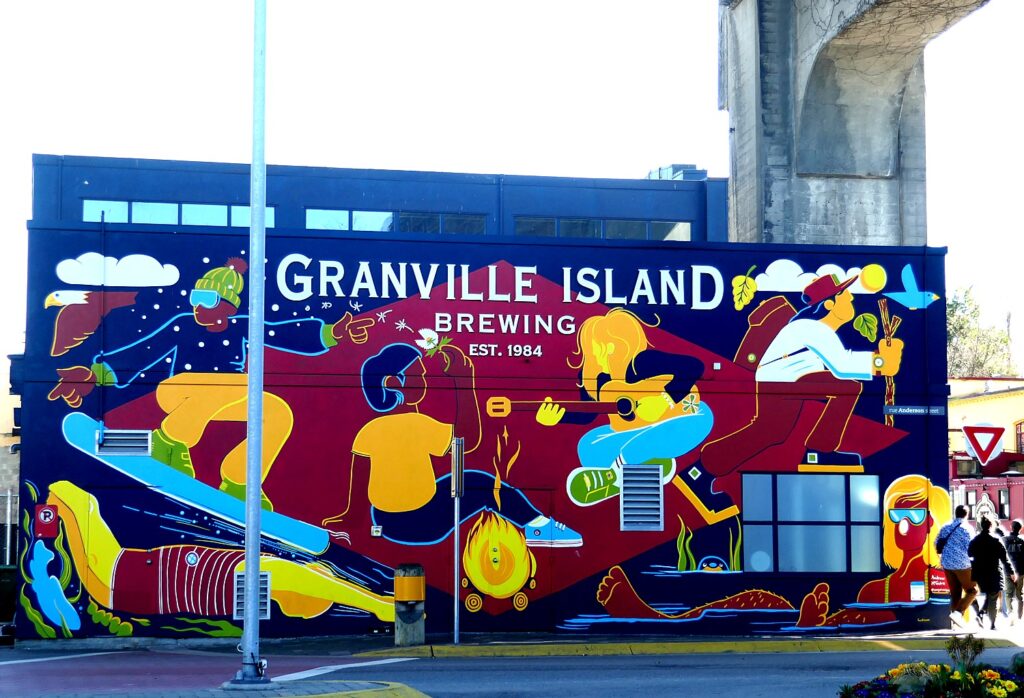 In the 1970s, MP Ron Basford arranged for the Canadian government to buy the land and experiment with public spaces and venues for food, culture, and artists. Today, Granville Island provides space for 300 businesses employing more than 3,000 people and is "an active public space showcasing Vancouver culture to locals and rest of world," a marker states.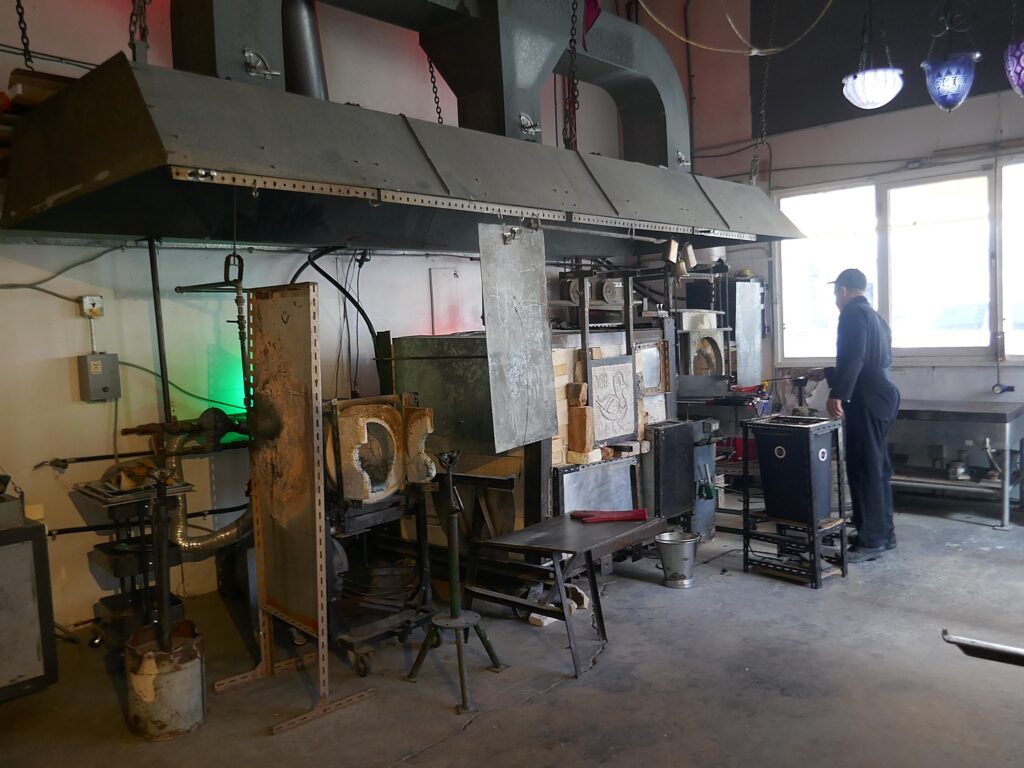 In the Artisan District, I meet artists Cheryl Hamilton and Michael Vandermere in their enormous, factory-sized studio space, ie creative artworks (her imaginative sculptures lately have been themed about climate change); BC Blacksmith Miran Elbakyan (www.bcblacksmith.com); Benjamin Kikkert who works in hot glass and mixed media sculpture; carver Todd Woffinden; silk weavers (www.silkweavingstudio.com), broommakers Mary and Sarah Schwieger (broomcompany.com). There are also indigenous art galleries.
At my last stop, I find myself in front of a gold plaque identifying this place as the site of renowned artist Bill Reid's studio, where he created the sculpture that is now at Vancouver Airport.
This is now the Nutter Studio, where glass artisan John Nutter does the etching in glass that many of the indigenous artists design. He even created the glass windows for Young Israel Synagogue in Hillcrest, Queens NY (my old neighborhood!) and seven windows for Atlantic Beach Jewish Center on Long Island (my brother's neighborhood!) Small world! (www.johnnutterglassstudio.com).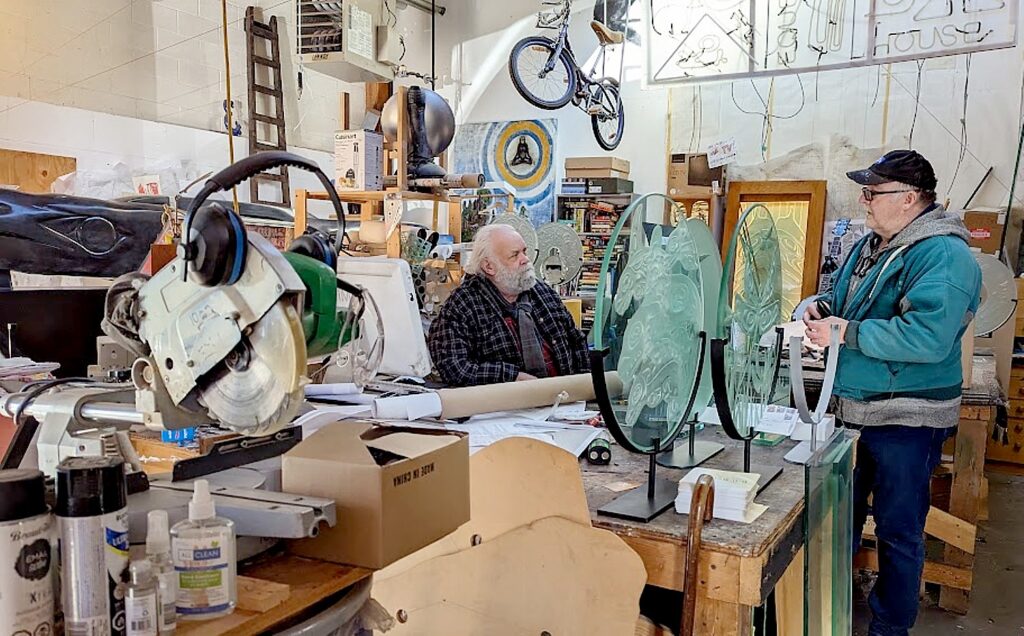 We have a vigorous discussion of art versus craft, the revival of indigenous arts (or is it crafts?) and artists who feel obligated to re-create traditional symbols, images and techniques, versus developing their own style and statement.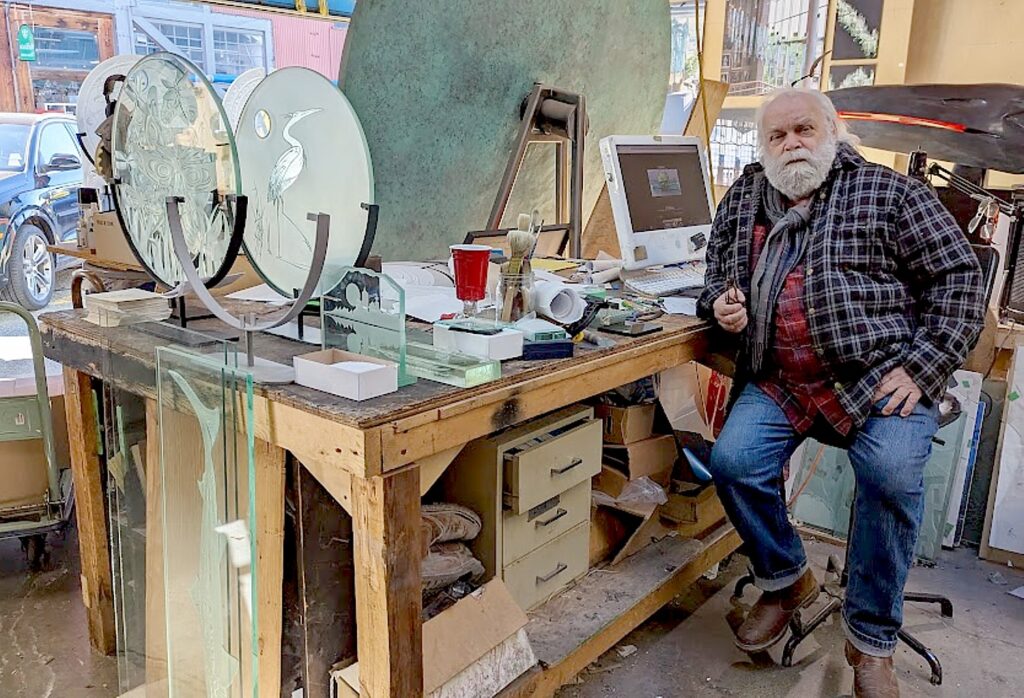 Throughout Granville Island, there are homages to its Indigenous origins, and the website offers this statement: CMHC-Granville Island would like to acknowledge that we are located on the traditional territory of the xʷməθkwəy̓əm (Musqueam), Skwxwú7mesh (Squamish) and Səl̓ílwətaʔ/Selilwitulh (Tsleil-Waututh) First Nations.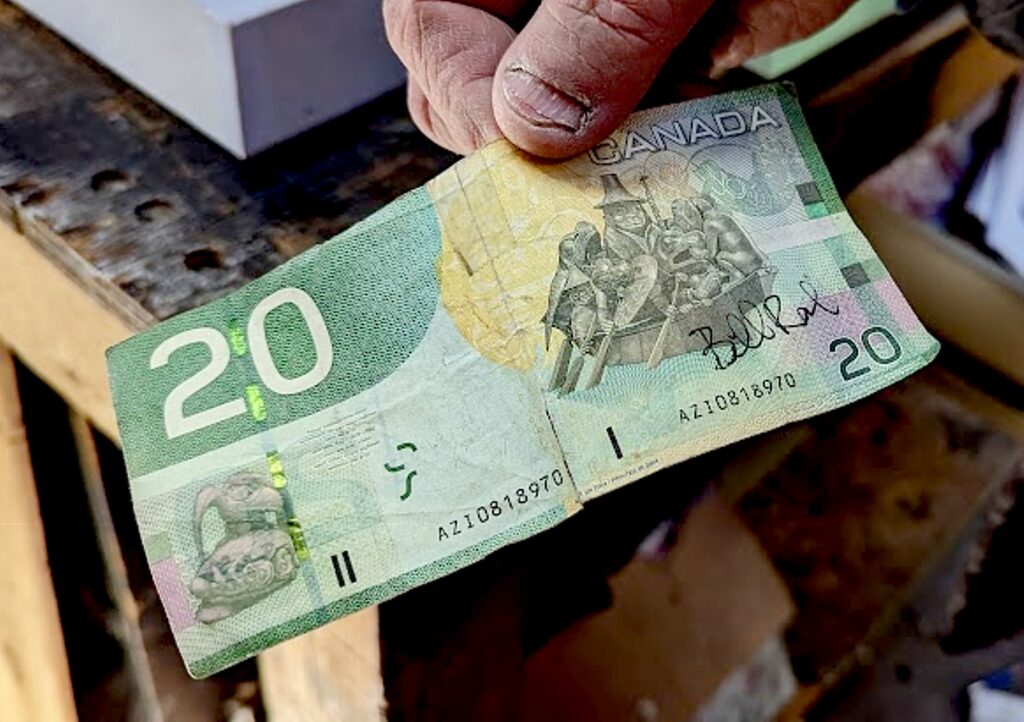 Check the Granville Island website for events (Sunset Dragonboat and Saturday Dragonboat drop in Sessions!), https://granvilleisland.com/
Skwachàys Lodge, Canada's First Aboriginal Art Hotel
Staying at the Skwachàys Lodge – Canada's first Aboriginal Art Hotel – enhances my experience in Vancouver with this immersion into local Indigenous art and culture.
Vancouver Native Housing Society (VNHS opened the Skwachàys Lodge, the Urban Aboriginal Fair-Trade Gallery, and the Artists in Residence Program in June 2012, transforming a derelict SRO hotel into a social enterprise consisting of a boutique hotel with a street-level art gallery and on-site housing and studio space for 24 Indigenous artists.
"VNHS identified the vulnerability of many urban Indigenous artists – artists in need of housing, artists who for various reasons are not able to properly represent and market themselves or their work. Often these artists are commercially exploited through a long established 'street or underground' market that takes advantage of their vulnerability. They try to live 'off their work' by selling on the street or in the bars or through the commercial dealer network that purchases original, gallery quality art for, at times, only five or ten cents on the dollar," the notes state.
"By creating a live/work supportive complex with a built-in gallery and community production space, VNHS took a lead role in addressing the social and economic inequities that Indigenous artists can face."
The Artists in Residence Program provides up to three years of affordable housing, 24/7 access to workshops, and opportunities for personal and professional development that help artists develop their craft and move into the next phase of their careers. To date, 110 Indigenous artists have participated in the program.
The Lodge, the Urban Aboriginal Fair-Trade Gallery and production space are operated as a self-sustaining social enterprise. Artists are paid a fair price for their work (30%-60% of the retail price depending on the artist's reputation and the cost that is underwritten by the gallery (framing, marketing and promotional expenses).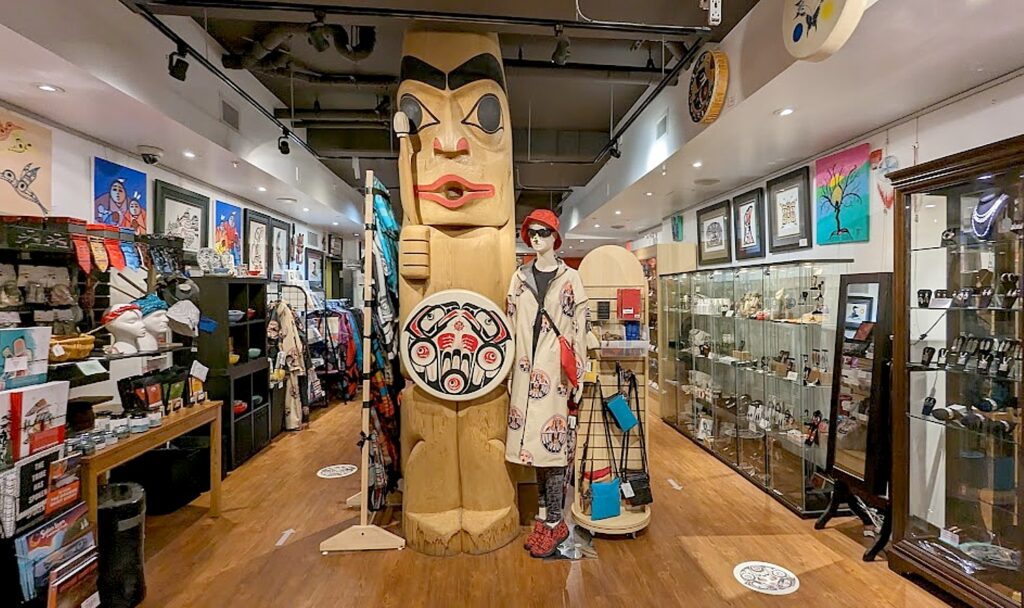 In this way, each hotel guest's travel dollars, and each purchase of art at the Skwachàys Lodge has a social impact.
"A simple purchase fights cultural misappropriation and ensures that Indigenous artists are paid fairly for their work. Cultural tourism is one of the fastest growing segments of the tourism sector and there is absolutely a place for our urban Indigenous artists to participate in this industry as a means of reclaiming their lives and independence."
Skwachàys Lodge goes way beyond living in and supporting art – there are also opportunities for guests to engage in authentic Indigenous cultural experiences
Sweat Lodge Ceremony: Skwachàys has a traditional First Nations Sweat Lodge and offers private Sweat Lodge Purification Ceremonies lead by a Sweat Lodge Keeper. The Sweat Lodge, located in the rooftop garden, is a domed structure constructed from inter-woven willow branches symbolizing Mother Nature's womb. During the ceremony, the Keeper places heated rocks –known as "grandmothers and grandfathers" – to cleanse and purify the participant's heart, soul and spirit, bringing life balance and connection to Mother Nature.
Traditional Smudge Ceremony: Skwachàys has an authentic Indigenous Smudge Room on its Raven Level. In a Smudging Ceremony, sacred plants are burned, surrounding the participants' body and senses in the aromatic smoke to purify body, spirit and home. Three different kinds of plants are used: cedar bows are burned for cleansing; sage to drive out ill feelings or influences, protecting the place of ceremony; and sweet grass, one of the most sacred plants, is burned to bring in positive influences and energies.
These ceremonies are personal and private, so arrangements must be made in advance. A minimum number of people is required. (For more information and costs, [email protected]).
Studio Visits With Artists: Visitors can also arrange studio visits with Indigenous artists in residence. Artists including jewelers, painters, carvers, sculptors work on projects in the shared Artist Studio, located in the basement throughout the year.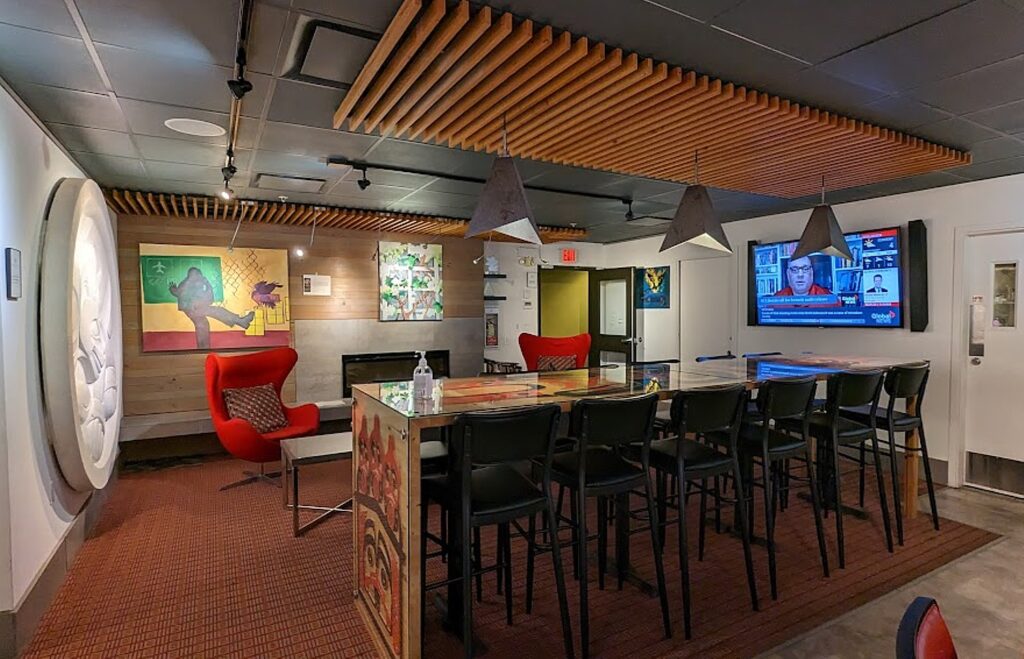 The Skwachàys Lodge has a Kayachtn Room (the Salishan word for "welcome"), a space where the Lodge community can come together to connect, create memories and share a meal – and is where breakfast is served.
"Indigenous culture rests on a communal social structure, one that values living in harmony with one another, as well as with the natural world."
Skwàchays Lodge 31 W Pender St Vancouver, BC V6B 1R3 604.687.3589, 1 888 998 0797, [email protected], https://skwachays.com/.
Indigenous Tourism BC
With 204 Indigenous communities and more than 30 Indigenous languages – about one-third of Canada's First nations population – British Columbia offer extensive authentic Indigenous experiences on reserves, in remote areas and even cities like Vancouver.
The best guide to these experiences is Indigenous British Columbia, a tourism development and promotion organization that connects visitors with Indigenous-owned, operated and staffed lodges, museums, culture centers, restaurants, wineries, hiking (indigenous guide), bear viewing, whale watching, outdoors adventures, wellness and other experiences.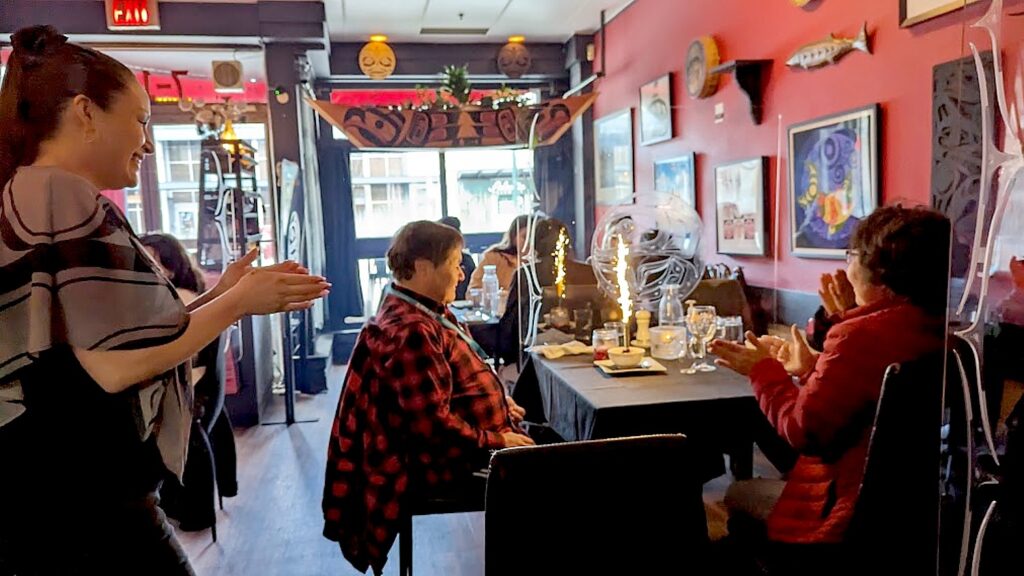 In addition to the experiences I have (the Bill Reid Gallery, Talaysay Tours, Salmon n' Bannock Bistro, Granville Island, the Skwàchays Lodge in Vancouver, and the Squamish Lil'wat Cultural Centre and the Audain Art Museum in Whistler), other entities include:
Takaya Tours: Open during summer, guests can experience an array of tours, from cultural experiences, to canoe tours and even multi-day experiences
Great River Fishing Adventures: Another great tour company where guests can learn about the history of BC, as it started in this area from the mining era. A top experience is going sturgeon fishing, and these are not normal-sized fish!
Gulf Island Seaplanes: New this spring, they have introduced scenic cultural tours which involve a flight over Vancouver, along with the history and story-telling of the land
Multi-day itineraries are available. For example, a two-day Kamloops-Chase-Barriere-Merritt itinerary features a stay at Quaaout Lodge and Spa on Little Shuswap Lake in Squilax (Chase, British Columbia), Indigenous fusion cuisine, golf and spa facilities, visit to Tsutswecw Provincial Park and a 14-km Moccasin Trails Canoe Journey from Lafarge Landing to Valleyview with a local knowledge guide, down the South Thompson River along the traditional Secwepemc water route to Tkemlups.
"Immersive Indigenous destinations and experiences are expansive and transformational. Augment your reality with an Indigenous point-of-view and see old places with new eyes. By their nature, Indigenous perspectives cannot be understood as a bystander or simple witness. Step out of ordinary time and daily routine with Indigenous hosts around BC," the tourism office says.
Indeed, the indigenous peoples' respect for Mother Earth that is so fundamental to their culture and society – that the colonizers so intentionally sought to eradicate – is being validated as human-caused climate change is wreaking disaster after disaster. It is important that this sensibility, these philosophies, this approach to living in the world be elevated and embraced in modern terms. Travel helps us see and experience and take lessons back to our own homes and communities.
Indigenous Tourism BC offers travel ideas, things to do, places to go, places to stay, and suggested itineraries. Download a trip planning app (https://www.indigenousbc.com/indigenous-bc-trip-planner-app/)
Indigenous Tourism BC, 100 Park Royal S #707, West Vancouver, BC V7T 1A2, 604-921-1070, https://www.indigenousbc.com
See also:
ON THE TRAIL TO DISCOVER VANCOUVER'S REVIVED INDIGENOUS HERITAGE
WALKING TOURS, DINING EXPERIENCES REVEAL VANCOUVER'S REVIVED INDIGENOUS HERITAGE
TRAIL TO DISCOVER BRITISH COLUMBIA'S INDIGENOUS HERITAGE WEAVES THROUGH WHISTLER-BLACKCOMB
____________________________
© 2023 Travel Features Syndicate, a division of Workstyles, Inc. All rights reserved. Visit goingplacesfarandnear.com, www.huffingtonpost.com/author/karen-rubin, and travelwritersmagazine.com/TravelFeaturesSyndicate/. Blogging at goingplacesnearandfar.wordpress.com and moralcompasstravel.info. Visit instagram.com/going_places_far_and_near and instagram.com/bigbackpacktraveler/ Send comments or questions to [email protected]. Tweet @TravelFeatures. 'Like' us at facebook.com/KarenBRubin