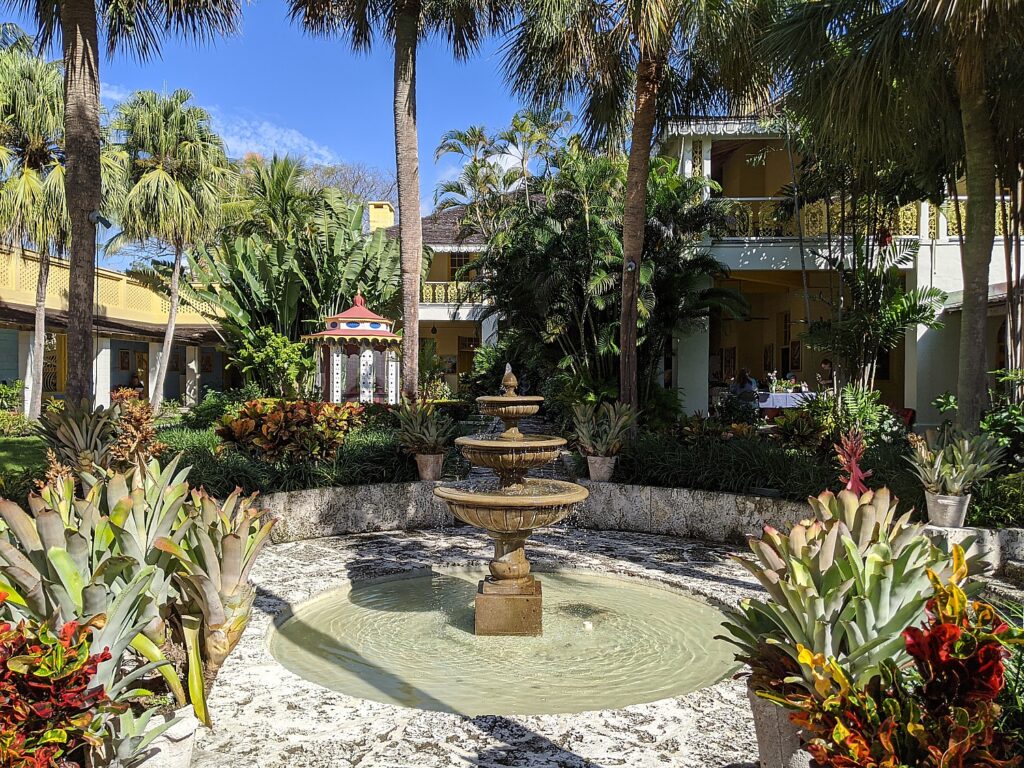 By Laurie Millman and Martin Rubin
Travel Features Syndicate, goingplacesfarandnear.com
Before sheltering-at-home took hold in NJ, we travelled to Southeastern Florida to visit family. This time, we didn't just sit around the house and go out to restaurants to eat. We found attractions and activities that were fun and most often free or accepted donations. Others were well worth the entrance fee to enjoy a very uncommon day!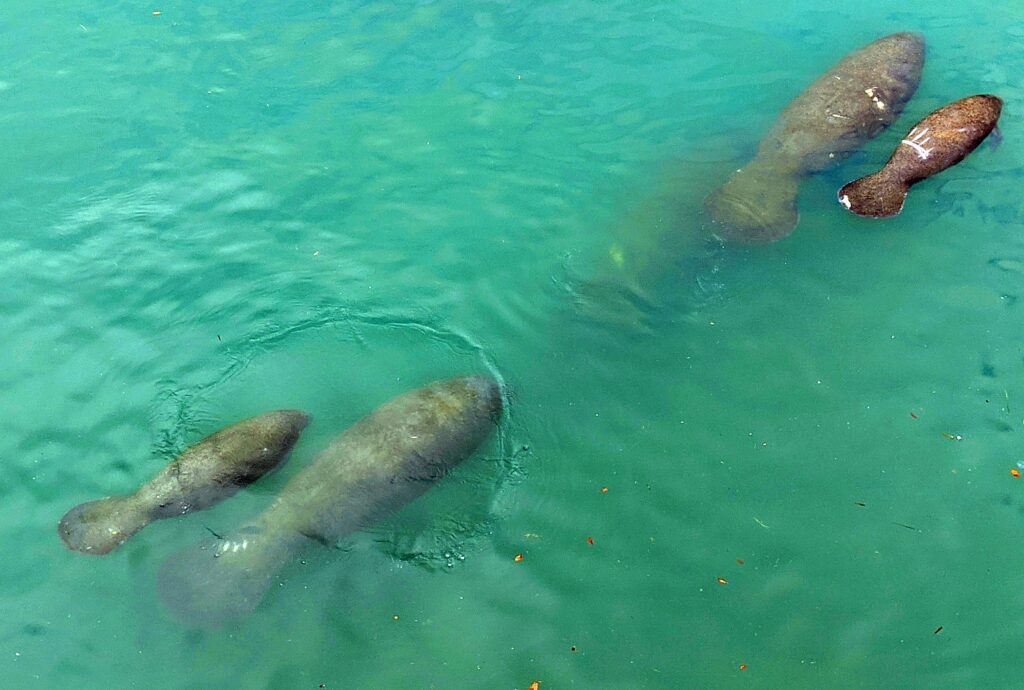 Manatee Lagoon, Riviera Beach, FL – the center's main, unique attraction, is being able to catch a view of the wild manatees as they enjoy the warm, shallow water surrounding the discovery center that is released by the Florida Power & Light Company's Next Generation Clean Energy Center. The window for this experience is rather small – usually a few days during late January, when the temperature of the deeper, manatee home waters off of Southern Florida coastline becomes cool enough for the manatees to venture into the Intracoastal shore with the Clean Energy hydroelectric plant's effluence. This eco-discovery center is usually open weekly from Tuesday – Sunday, 9AM – 4PM, and offers free admission and free parking. The main floor has a small discovery center about the local environment and manatees.

Check the web site (https://www.visitmanateelagoon.com/) for when the Center will be reopened. Manatee Lagoon is located at 6000 N Flagler Dr, West Palm Beach, FL 33407.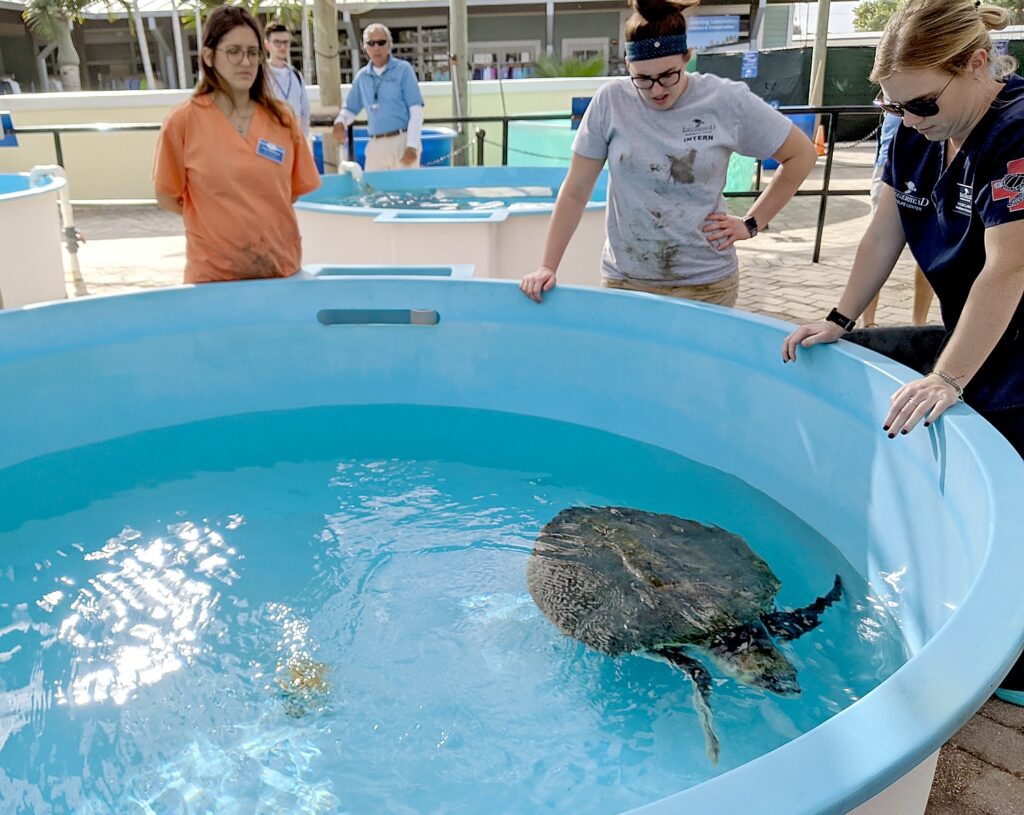 Loggerhead Marinelife Center, Juno Beach, FL – this center rehabilitates three types of sea turtles common to the Florida nesting areas: Loggerhead, Green, and Leatherback. The Center has small, outdoor recovery tanks for the turtles who are recovering primarily from dehydration and malnourishment, as well as from injuries resulting from encounters with small boats. Before hanging out with the turtles, learn about them from the indoor exhibit.

The Loggerhead Marinelife Center and the Juno Beach Pier reopened to visitors the week of May 18, 2020. The Center (14200 U.S. Hwy 1,Juno Beach, FL) is open to the public daily from 9am – 5pm; a donation of $10/person is suggested. Face coverings are required for all guests 2-years and older to enter. For more information, call 561-627-8280, or send email to [email protected].
Tips to Protect Sea Turtle Hatchlings along Florida's coastline:
In sea turtle nesting areas, reduce lighting or use lighting that concentrates it down and not out.
Always walk over nesting areas, and stay out of any flagged off area.
If you spot a turtle hatchling crawling away from the water, it can be redirected to the water, but allow the hatchling to continue on its own.
If you encounter a lethargic or stranded turtle, call Loggerhead Marinelife Center's 24-hour Sea Turtle Rescue line at: (561) 603-0211 or call Florida Fish and Wildlife Conservation Commission (FWC) immediately at: 1-888-404-3922) or dial *FWC or #FWC on your mobile phone.
Blowing Rocks Preserve, Jupiter Island – rocky trails through forests of sea grape trees lead from the narrow parking lots to this natural beach reserve. The preserve gets its name for the Anastasia limestone rocks along the shoreline — when the ocean breaks against the rocks, the force sends plumes of saltwater as high as 50 ft. through the limestone holes. The protected, low-light sandy beach is a favorite destination for nesting sea turtles, including loggerhead, green and leatherback breeds. Residents and tourists enjoy swimming, snorkeling, and even scuba diving off of the beach.

As of writing this article, the Preserve remains closed to the public. Check the Nature Conservancy's website for more information about the geology of the beach area, the visiting turtles and the conservancy's activities to rehabilitating the turtles, as well as directions, and especially, notice when this beautiful, natural preserve will be reopened: https://www.nature.org/en-us/get-involved/how-to-help/places-we-protect/blowing-rocks-preserve/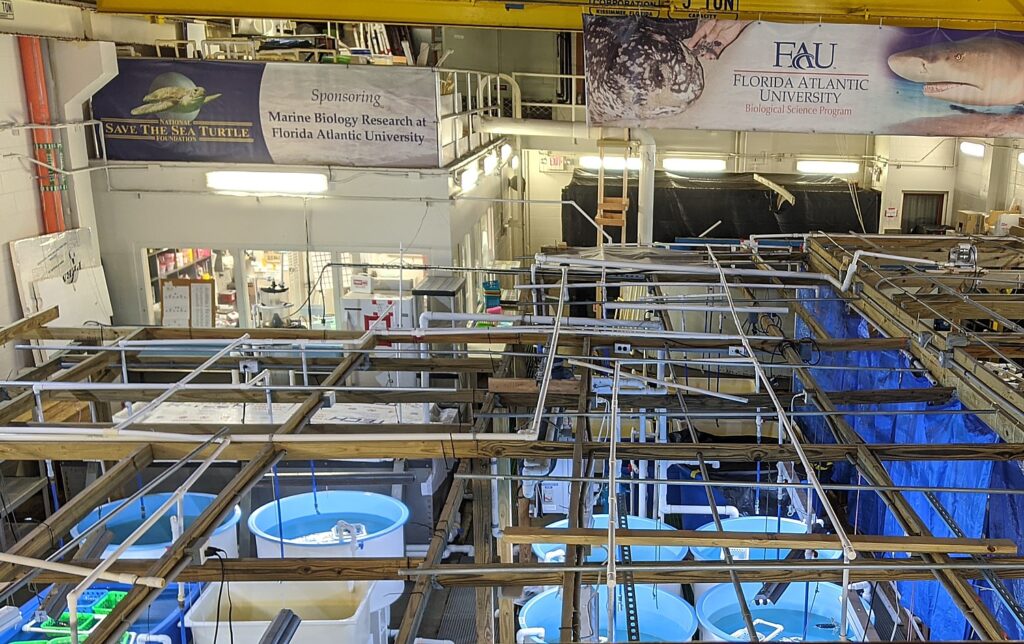 Gumbo Limbo Nature Center, Boca Raton – for a recommended $5/person donation, the center offers visitors outdoor aquariums, a research center for turtle hatchlings, and raised boardwalk trails, which thread out from the Center and lead to the Intracoastal Waterway through groves of Gumbo Limbo and mangroves trees with butterflies and mangrove crabs hanging from trunks and branches. The boardwalk trails are open until dusk, even when the center is closed. The Center (1801 North Ocean Blvd. Boca Raton, FL 33432) also maintains a butterfly garden with a path that leads to the Intracoastal. Plan your visit by learning when they will reopen the Center and the trails, at https://www.gumbolimbo.org.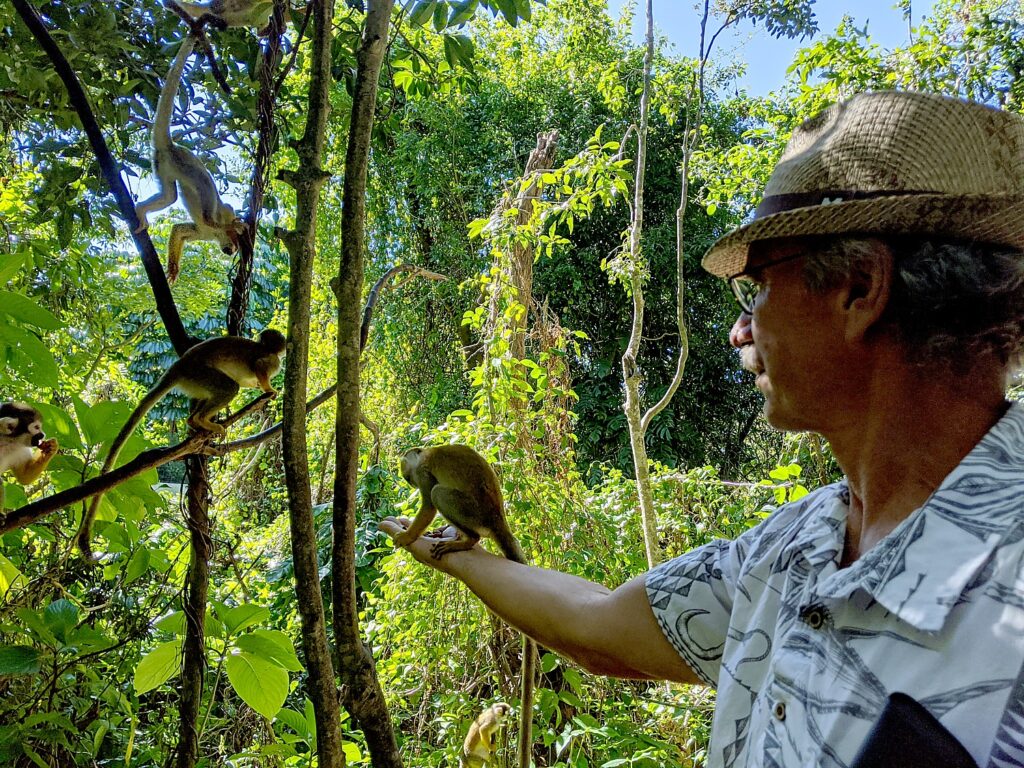 Monkey Jungle, Miami – King, a 51-year old Western Lowlands gorilla, is one of the main attractions at Monkey Jungle, where he has called home for the past 41 years. At his special show, we saw how the trainers interact with King, and learned that they provide him with a full day of companionship and interaction. To get to King, who is at the half-way mark of a one-mile loop, we visited other monkeys and birds housed along the mulched paths which run through a beautiful, tropical rainforest. As we left King's show area, we found that we walked into a caged-in path with metal cups hanging from chains at the top of the caging. We realized that we were within the large monkey habitat. The monkeys run freely around the caged tunnel, and pull up the cups with raisins or dried cranberries we were given when we paid admission. The 30-acre park (14805 SW 216 St, Miami, FL 33170) is open daily from 9:30am – 5pm. Admission is $29.95/adult, $23.95/child (3 – 9), $27.95/senior (65+), including shows that occur at least three times each day; parking is free.

Monkey Jungle also offers an immersive walk through 4 acres of the natural habitat: during the "Rainforest Adventure Tour," we encountered many of the 150 very friendly squirrel monkeys and the 5 capuchin monkeys. They came right up to our hands to gently accept the nuts and dried fruit we were holding out to them; some of them even sat on a shoulder or hat. The Tour runs three times each day at 10am, 12:15 pm, and 2:30pm. The "Rainforest Adventure Tour" is $129.95/person, which includes general admission and the special monkey food.
Check Monkey Jungle website (https://www.monkeyjungle.com/) and their social media pages for updates when they will reopen. Book the Rainforest Adventure Tour in advance of your visit, by calling 305-235-1611.
Little Havana, Miami – many Cubans came into the US in the 1990s and stayed in Miami. Little Havana district continues to offer the warm, welcoming Cuban experience, especially as we strolled along Calle Ocho: walk through Domino Park, where square tables are filled with Seniors playing dominos and chess; pop into the many cigar shops on the street and watch Cuban-trained men hand roll fresh cigars; grab some authentic Cuban food and listen to live music at one of the historic bars; end the LIttle Havana experience with artisanal gourmet ice cream or sorbets in Cuban and tropical flavors at Azucar Ice Cream Company.
We received a tour of Mister Cigars (mycigarroller.com), the newest of the cigar shops in Little Havana (742 SW 16th Ave, Miami). Since the store opened in the Fall of 2019, they hand-roll around 7000 cigars each month from 3,000 lbs of fresh leaves they receive from the Dominican Republic, Nicaragua, Ecuador, Peru, and Mexico. Mister Cigars' rollers have a combined experience of over 30 years, were trained at Havana's Cuban Cigar Manufacturing School, and worked at the famous Partagas cigar factory in Havana.

Little Havana is slowly reopening public services. Mister Cigars, along with other stores, reopened the week of May 18, 2020. In addition to the store reopening, Mister Cigars will be bringing back the "Cuban Experience" evening: a limo will pick up your party from your hotel, and take you on a tour of a cigar factory in Miami, spend an evening of delicious Cuban food and live show, and return in the limo with a generous gift package including hand-rolled cigars, humidor, and cigar preparation tools. Contact Mister Cigars' Fernando Morales at 786-493-9042 for more information, pricing, and to schedule the "Cuban Experience." Tell Fernando that Laurie Millman sent you!)

For more current and historic information about Little Havana, visit: https://www.miamiandbeaches.com/neighborhoods/little-havana.
Wynward District, Miami – explore by car or foot, the many colorful, hand-painted murals on the sides of warehouses in this Miami district; each designed and painted by local, Miami street artists. Over the last few years, some of the warehouses have been converted to eclectic, indoor art galleries, chic bars, bistros, and craft breweries. Go to https://wynwoodmiami.com/ to check out when venues will be reopening. For a virtual tour of the murals, go to https://wynwoodmiami.com/explore/street-art-grid-view/.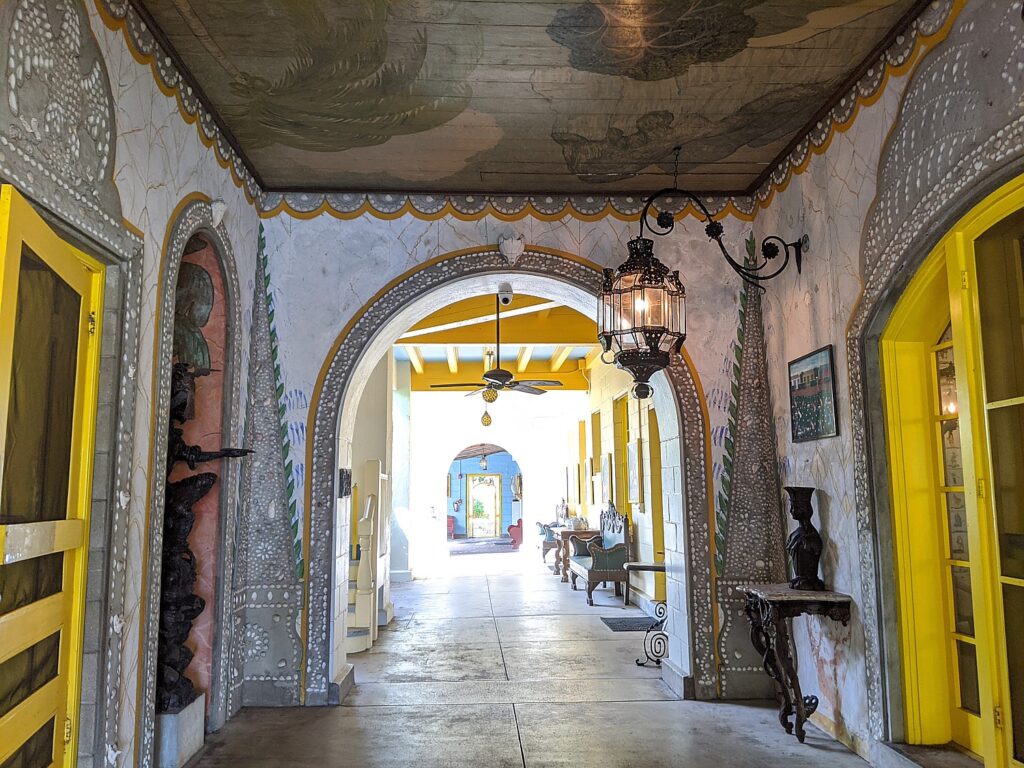 The Bonnet House Museum and Gardens, Fort Lauderdale – the estate home of post-impressionist American artists, Frederic and Helen Bartlett, continues to look as it did in the 1930s and 1940s, with the bright yellow walls, the house/museum is filled with their original furnishings, as well as the artwork by the artists. The estate is located on a barrier island bounded by the Atlantic Ocean on the east side and the Intracoastal Waterway on the west side. The tour around the beautifully landscaped grounds transports you to a tropical paradise with a natural barrier island environment, including banyan and palm trees, tropical flowering trees, and ocean breezes – no wonder this is a popular wedding venue.

Bonnet House reopened the week of May 19, 2020 for grounds tours only, between 10am and 4pm. Tour tickets are $5 for nonmembers.; free for members. Schedule the tour online at https://www.bonnethouse.org/.

For a virtual, historic tour of the house, check out: https://www.bonnethouse.org/a-virtual-and-vintage-tour-of-bonnet-house/.
Snorkel around the small, artificial reefs near West Palm Beach and Riviera Beach that make up what is called the Palm Beach Snorkeling Trail. These little islands are home to a variety of colorful tropical fish which rival many snorkeling areas around the world, especially those destinations where the humans and boating have depleted the corals and fish. As I was there in late January, we were lucky to meet a few manatees who were curious about us and hung out with us while we were snorkeling. Some of the island parks require a boat shuttle for a small charge to take a round-trip between RIviera Beach and the slightly, off-shore islands. Rent or bring your own snorkel gear, and remember to bring and use only sunscreen that is reef-safe. You can also purchase the appropriate sunscreens on the boat shuttle.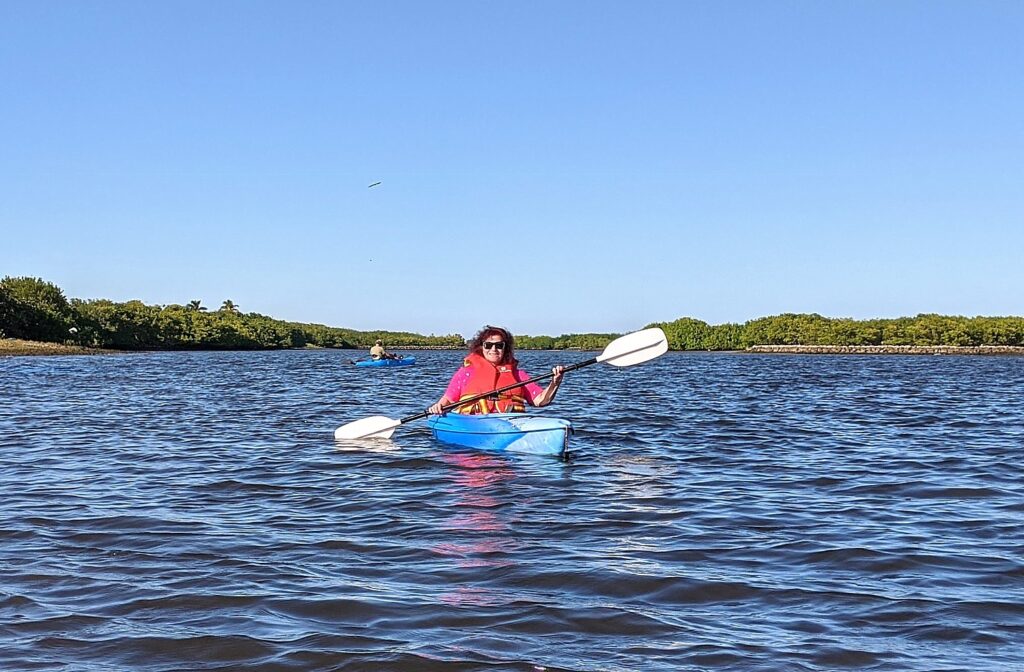 Kayak through the warm, shallow waters of the Intracoastal between Lake Worth South Beach and West Palm Beach. As you travel between the shore and the small islands, look for birds of prey, water birds, and the large green iguana colonies. If you do this activity in late January, you may also catch a glimpse of a manatee swimming alongside your kayak.
NOTE: Many Palm Beach parks are now open sunrise to sunset for one-way walking, running, biking, equestrian riding, fishing, canoeing, and kayaking, while practicing social distancing.
For more information on boat shuttles, openings, restrictions, and CDC rules, visit http://discover.pbcgov.org/parks/Lists.
Palm Beach Zoo & Conservation Society Reopens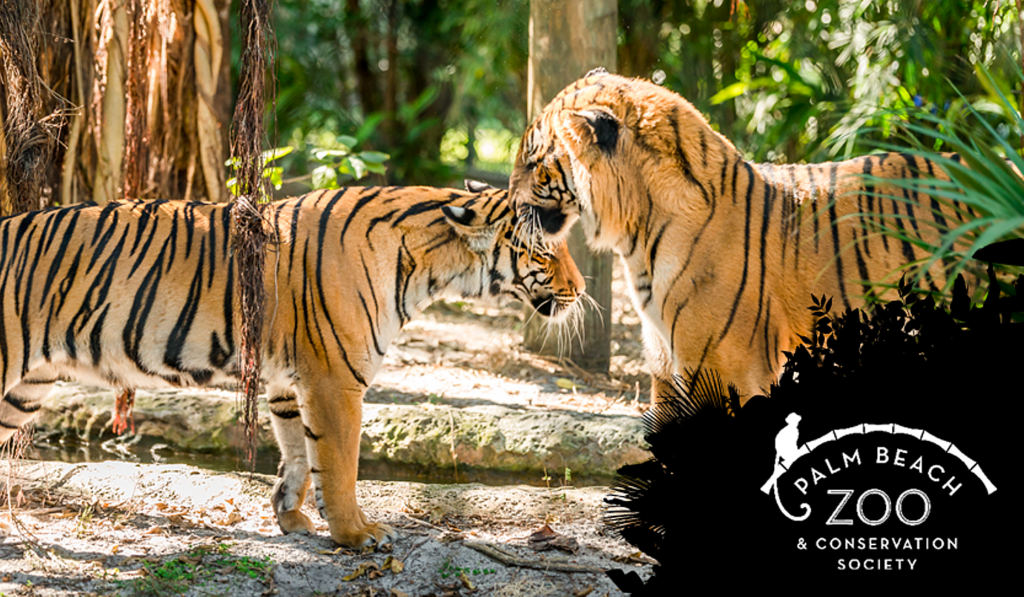 Palm Beach Zoo & Conservation Society has reopened to for visits seven days per week from 9 a.m. – 5 p.m. (last ticket sale is at 4:15 p.m.) and will be operating normally with a few notable exceptions:
Capacity will be limited and carefully monitored to allow for physical distancing.
All visitors are encouraged to purchase tickets in advance at palmbeachzoo.org.
A one-way path will be designated throughout the Zoo in the Florida Wetlands, Tropics of the Americas and The Islands.
Certain exhibits will be closed or roped off including the carousel, train, observatory, cafe, aviary, butterfly garden and bronze statues.
Food service is available at the concessions window and kiosks in Fountain Plaza.
Hand-sanitizer stations will be available throughout the Zoo.
Animal talks and animal experiences will not take place at this time.
Strollers and wheelchair rentals are not available and guests are encouraged to bring their own.
Guests to the Zoo are asked to refrain from visiting if they are in a high-risk category for COVID-19 complications, are not feeling well or have a fever. Guests are also highly encouraged to wear masks, utilize hand-sanitizing stations, and maintain a six-foot distance from other groups.
It's particularly exciting because in May, Palm Beach Zoo & Conservation Society announced that beloved Malayan tiger Api gave birth to three healthy cubs. Api and her mate Kadar, are part of the Association of Zoo and Aquarium's (AZA's) Malayan Tiger Species Survival Plan® (SSP). The SSP® is a cooperative reproduction program that serves as an important backup population for critically endangered Malayan tigers in the wild.
For more than 50 years, Palm Beach Zoo & Conservation Society has provided visitors with up-close and personal animal encounters that connect people to wildlife. Palm Beach Zoo guests explore a WILD ecosystem thriving on 23 lush, tropical acres while discovering hundreds of exotic animals. Visitors enjoy interactive animal experiences, nature and water play, and a lakeside cafe. Palm Beach Zoo participates in AZA Species Survival Plan® programs, ensuring healthy animal populations for rare and endangered species. The impact of a visit to Palm Beach Zoo extends beyond the gates, inspiring people to take action and save wildlife in wild places. For more information, visit www.palmbeachzoo.org.
_________________________
© 2020 Travel Features Syndicate, a division of Workstyles, Inc. All rights reserved. Visit goingplacesfarandnear.com, www.huffingtonpost.com/author/karen-rubin, and travelwritersmagazine.com/TravelFeaturesSyndicate/. Blogging at goingplacesnearandfar.wordpress.com and moralcompasstravel.info. Send comments or questions to [email protected] Tweet @TravelFeatures. 'Like' us at facebook.com/NewsPhotoFeatures