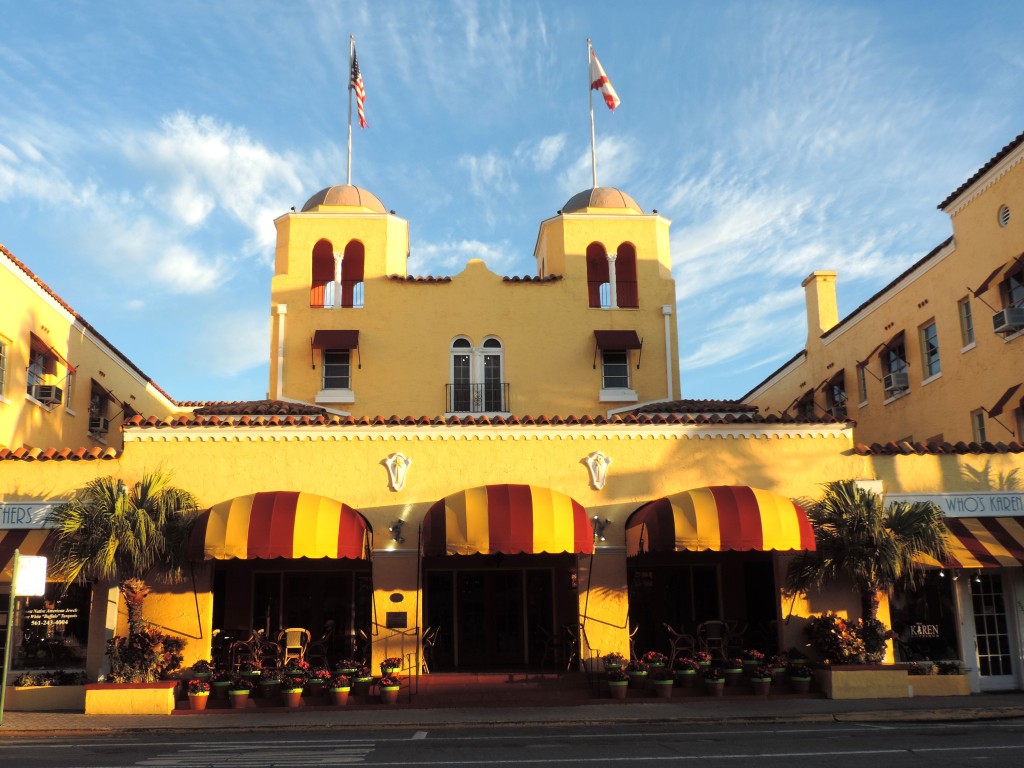 By Karen Rubin
The highest compliment that can be paid about a hotel is that you don't want to leave, and if you have to, you want to return as soon as possible. That's the way I feel about The Colony Hotel in Delray Beach, Florida.
Lots of places in Florida claim to manifest the true "Old Florida." But Delray Beach is the real thing. And it turns out that the charm, the character, the feeling you get in this most pleasant of seaside cities is due largely to The Colony Hotel, which has graced the streetscape since 1926.
You drive along Atlantic Avenue from I-95 for just about a mile and all of a sudden, the road narrows to a single lane, and like the low buildings that line the lane in early 20th century South Florida-Mediterranean style, with palm trees shading the road, you feel yourself suddenly transported into "Old Florida." You are in a small beachside village, a bustle on the charming streets, people strolling about pretty shops with awnings or perhaps walking toward the drawbridge over the Intercoastal to the prettiest white sand beach on Florida's east coast.
But before you get to the drawbridge, you see it, the prettiest confection of all: The Colony Hotel.
Lucky us, this is where we will stay during our all-too-brief visit to Delray Beach, "The Most Fun Small Town in the USA!"
Cross the threshold and you feel as if you have been suddenly transformed into wearing white linen and a straw hat.
It's delightful, it's delicious, it's de-lovely.
You feel you can hear Cole Porter.
In fact, the background music is from the 1920s, 30s and 40s.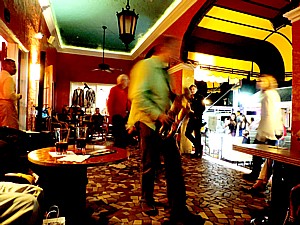 The colors that wash over you are succulent Florida tropical fruits, sherbet colors – raspberry, mango, strawberry, lime, lemon. White lattice and white wicker furniture grace the lobby in lovely sitting areas with colorful pillows.
Ceiling fans are overhead, which would set a rhythm to the afternoon, though they are still today; instead, a fire is going in the fireplace. People are lounging on white wicker loveseats decorated with colorful cushions, and milling about the lobby.
The Colony Hotel dates from 1926 – it was the first hotel in Delray Beach and the family that owns the hotel have been meticulous about retaining its original architectural features and considerable charms. And somehow, creating an atmosphere that harkens back.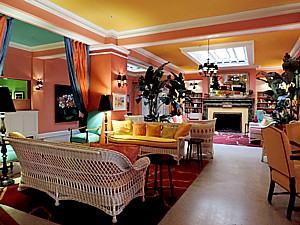 One of the special appeals of a historic hotel (and every one of the Historic Hotels of America members) is their connection to place and the people who passed through, their special character and personality, the stories. At The Colony Hotel, I don't as much picture who might have been strolling about the lobby way back when, but that time is erased, as if the past is present.
You are transported. Your pace slows, your heart races a bit, a feeling of pure joy sweeps over you. There is such a cheerful, comforting feeling here.
One of the most charming aspects it the original Otis elevator – it was the popular brand back then – and not even an elevator you operate yourself, but which has to be operated by the staff (we mostly use the stairs). There is also the original telephone switchboard.
The lobby has the original 1926 Ficks Reed wicker furniture and cushions, covered with Designers Guild Osborne & Little fabric.
Sunlight dances in from the original wood skylights.
There are the original terrazzo floors in the lobby and red oak flooring in the Music and Dining Rooms (utterly exquisite for special events, and is where there are daily yoga classes offered).
The front porch – really an outdoor bar and lounge – has the original Cuban-style 1926 tile floor; the steps decorated with lush potted plants. Elevated above the sidewalk, it is sheer delight to sit and linger and watch the street activity a few steps below, and where on Friday night, a musician, playing sax and singing to popular favorites, has the whole place rocking and dancing.
There are exotic orchids and bright fabrics throughout the hotel – really, the visual effect is breathtaking.
The hotel has free WiFi throughout so it is that much more interesting to see the original wood desks where you can easily imagine guests writing their postcards home (there is also a computer tucked in a corner there).
The Colony Hotel was originally designed and built in 1926 as the Alterep Hotel by Martin Luther Hampton, an associate of Addison Mizner. Mizner was the famous American resort architect whose Mediterranean Revival and Spanish Colonial Revival style became the signature style of South Florida (and who was the visionary behind the development of neighboring Boca Raton).
In the midst of the Great Depression, the hotel was acquired in 1935 by George Boughton and his father, Charles, and renamed The Colony Hotel.
The Colony Hotel was open for the traditional three-month Florida winter season, January 10 to April 5. George's wife, Agnes, had a dress shop in one of the hotel storefronts and his aunt Florence had a gift shop in another (there are shops there, still). During the summer, they would work in northern seasonal resorts (today, the family owns The Colony Hotel in Kennebunkport, Maine, a half mile from Walker Point, George Bush's home).
George fought in World War II as a lieutenant commander in the US Navy, and owned and operated The Colony Hotel until his death in 1986. In 1994, George and Agnes' daughter, Jestena took over the operation of both the Delray Beach and Kennebunkport Colony hotels, and turned the Delray Beach Hotel into a year-round resort in 2000. In 2003, another family member Hilary Roche joined the operation as Director Sales, Marketing & Environmental Programs for the Colony Hotel & Cabana Club.
The Colony Hotel is still one of the most important historic landmarks in Delray Beach – indeed, its Mediterranean Revival architecture served as the model for the Delray Beach Downtown Master Plan for new development and sets a delightful, warm and welcoming tone for this most charming city.
The Colony Hotel offers 70 historically renovated guest rooms including Queen and King one-bedrooms plus eight two-bedroom units. Each is uniquely appointed. They feature original furniture, tropical fabrics and bright colors, hardwood floors, Florida works of art.
What is not original, though, are the "Simply Dreamy Beds" – wonderfully comfortable, with organic cotton sheets and white all cotton matelasse bedspreads.
Each bedroom features modern amenities – flat panel TV, air conditioner, remote control cable TV, clock radio, blow dryer, iron and board, dual speaker phones with voicemail, dataport and complimentary high-speed wireless internet access.
We are taken up to our room in the original Otis elevator – the concierge has to operate it.
Our room, 233, is a superior king – spacious, with a beautifully done bathroom (I am delighted to be handed an actual key with the room number etched in). We have an air conditioner but we so prefer the ceiling fan.
A complimentary breakfast (scrambled eggs, bacon or sausage, cold and hot cereals, fresh fruits, selection of whole-grain breads, and coffee) is served buffet-style from 7 to 10 am in the Skylight lobby, where newspapers are provided for our reading pleasure.
There is an absolutely wonderful lobby bar, where you can easily imagine Hemingway or some other important literary figure holding court.
Colony's Private Beach Club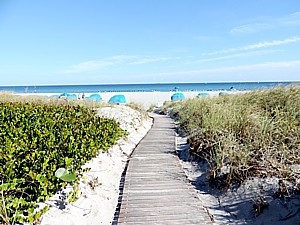 One of the truly unique and splendid features of The Colony Hotel is that it is so much more than a hotel: it offers its guests access to its private oceanfront Colony Cabana Club, located 2 miles from the hotel – lushly landscaped with Florida native plants, sea grapes, coconut palms and beach grass. A new million-dollar, saltwater, 25-meter pool was just added this season. There is also a freshwater plunge pool that is cool in summer and warmer in winter.
Here, too, the Colony colors that so cheer and delight at the hotel abound – decoratively colored beach cabanas with sitting areas, tables, chairs and umbrellas. Hand-painted tiles by a local artist decorate the pool, pavers made with recycled glass and Florida shells, couches, a clamshell fountain and delightful secluded sitting areas under trees, complete the stunning scene.
Then there is the 250 feet of private beach – the prettiest beach on Florida's east coast, I would say. Not only is the sand white and fine, but there are no high rises or buildings of any kind that intrude, only grassy dunes.
Idle away your time here, The Colony Cabana Club serves outdoor grilled specialties and salads for lunch each day.
The Colony Cabana Club also has changing rooms, showers, towels and parking (complimentary for hotel guests and club members).
The Colony provides a free shuttle service from the hotel five times during the day, from 10:45 am-5 pm (roughly every 1 1/2 hours).
We are delighted to learn that The Colony is a green hotel – the owners donate a dollar for each room night sold to the local environmental organization, and also supports local historic and cultural heritage.
It reflects in the overall atmosphere of the place – a kind of feng shui that sets in.
(I can imagine that the Colony Kennebunkport is equally marvelous. This is a 1914 resort, a recognizable landmark overlooking the Atlantic Ocean, Kennebunk River and its own private beach, that offers heated saltwater pool, 18 hole putting green, shuffleboard, bicycle rentals, Sunday afternoon tea, social entertainment and high speed wireless internet, two ocean view restaurants, pet-friendly and Maine's first "environmentally responsible hotel."
Both of The Colony Hotels are members of the National Trust for Historic Preservation Historic Hotels of America (historichotels.org).
Both are also green hotels. The owners donate a dollar for each room night sold to the local environmental organization, and also supports local historic and cultural heritage – and culture, heritage and nature abound around the Colony.
You can play tennis at the Tennis Stadium, a short walk from the hotel and the concierge can arrange for golf.
My delight in being at The Colony Hotel increases exponentially as I realize all that this historic hotel offers so much more – in fact, it is more of a resort hotel than a hotel: free parking for one thing-not a little thing either in this popular magnet of a beach town, quite deserving of its label, "The Most Fun Small Town in the USA!"
I didn't want to leave the Delray Colony and I can't wait to return.
Daily rates from May 1-November 23 start at $99, two-bedrooms from $169; winter season rates (Nov. 23-April 30) start at $149, and two-bedroom units are from $225. The Colony Hotel s family and pet-friendly.
Colony Hotel & Cabana Club, 525 East Atlantic Ave., Delray Beach, FL 33483, 800-552-2363 or 561-276-4123, [email protected], www.thecolonyhotel.com.
_______________________________
© 2015 Travel Features Syndicate, a division of Workstyles, Inc. All rights reserved. Visit www.examiner.com/eclectic-travel-in-national/karen-rubin, www.examiner.com/eclectic-traveler-in-long-island/karen-rubin, www.examiner.com/international-travel-in-national/karen-rubin and travelwritersmagazine.com/TravelFeaturesSyndicate/. Blogging at goingplacesnearandfar.wordpress.com and moralcompasstravel.info. Send comments or questions to [email protected]. Tweet @TravelFeatures. 'Like' us at facebook.com/NewsPhotoFeatures. See our newest travel site at www.tidbitts.com/karen-rubin/where-in-the-world.