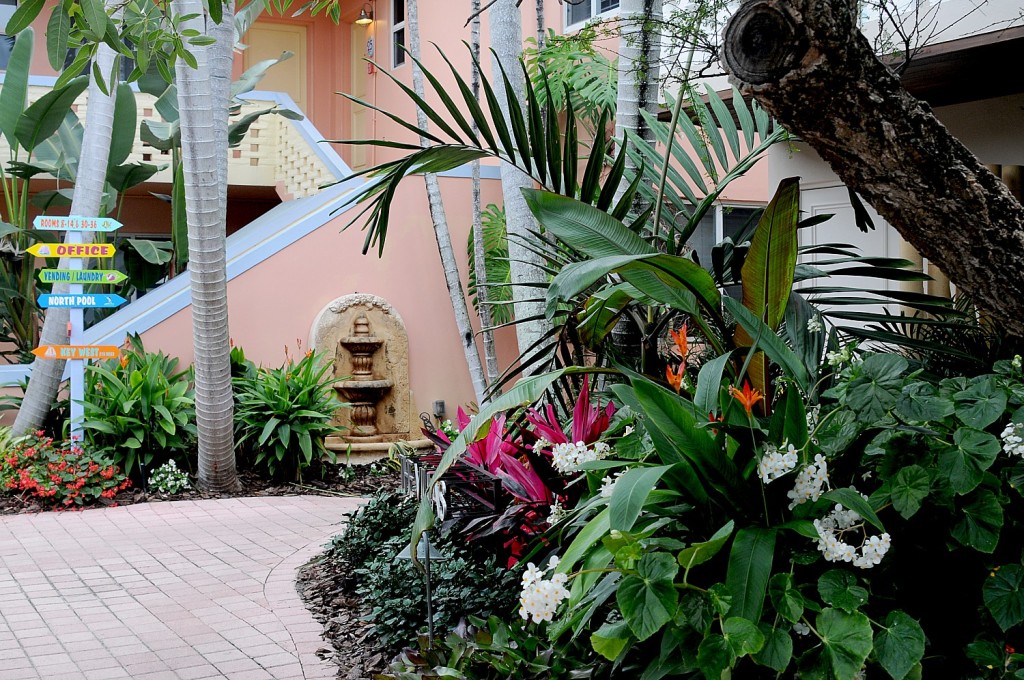 by Karen Rubin, Travel Features Syndicate
Delray Beach, amid Florida's Palm Beach coast, is its own world. You feel it as you drive in on Atlantic Avenue, coming off I-95. You drive through the drab and ordinary and all of a sudden, you seem to pass through some invisible border and immediately recognize you are in a very different place – the demarcation is the streetscape where palm trees lining the avenue are wrapped in red or white lights. Come further in – the restaurants and shops emit bright, colorful lights. The streets are crowded with people; outdoor tables are filled. There is the sound of conversation and music. There is an excitement, an energy, a vibe.
The energy and excitement picks up as you get to the central part of Atlantic Avenue, and then you go over the bridge over the Intercoastal, and there is quiet as you near the beach. This is still Delray Beach, but it is the quiet neighborhood end of the Avenue.
Just before you get to the end of the avenue, at the beach, you turn onto Gleason Avenue and soon you come to a garden oasis, another world within this world, a true hideaway.
This is Crane's BeachHouse Hotel & Tiki Bar, as perfect and special as a hotel can be within one of the most special places you can visit.
It is quite remarkable to be so near to all the activity Delray Beach offers, and yet feel so far away, in some tranquil, tropical retreat.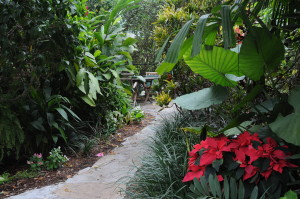 You can't really see the hotel from the street, which is hidden by a gate and tall palm trees. You can't even see the whole property when you are inside, it is so lushly landscaped, with meandering stone paths that, like a Japanese garden, make you feel the place is at once larger than it is, and yet so intimate. There are all these pleasant sitting areas nestled amid tall palms and thick bushes, colorful flowers, waterfalls and fountains with their trickling sound. It is so Zen.
But the overall atmosphere is of old Key West – laid back, cheeky, colorful, whimsical and fun. there are colorfully painted markers that tell you how many miles from here to Key West, and such; and as you walk the paths, you come upon murals and artwork wherever you look. At night, lighting creates its own atmosphere.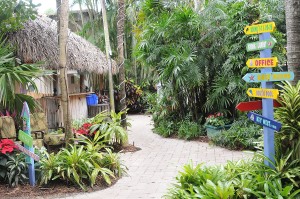 Crane's is family owned and operated by Michael and Karen Crane (the place is named for the family and not the bird, but the bird is the hotel's mascot), who took over a 1960s hotel and turned it into a garden oasis (I am quite sure it would be unrecognizable today from what it was then). Crane's is a true boutique hotel, in both size and the personable service (a concierge is available from 9 am to 9 pm). There are just 27 rooms, including a selection of suites and the newest innovation, four villas that are really complete apartments where, for the brief time you are there, you can fantasize about this being home.
The newly opened four ultra-luxurious villas – converting four one-bedroom suites – add a new dimension of luxury, elegance and sophistication to the playful, laid-back atmosphere.
My villa, Room 26, on the second floor, still has that smell of being freshly decorated, and is breathtaking when I walk in.
The Luxury Villas feature a private patio (first floor unit) or balcony (second floor unit), handcrafted furnishings and artisan materials. There is a 60 inch flat-screen Smart TV and DVD player with complimentary access to Netflix, and a second large flat-screen TV in the bedroom. There is free WiFi, private voice mail and docking and charging station for mobile devices.
The bed is exceptionally comfortable, bedecked with fine linens; plush waffle-weave cotton robes and slippers are at the ready.
The spa-inspired bathroom has a shower with river-rock floor and Cali Tarocco Sicilian Red Orange amenities.
There is a well-appointed, modern stainless-steel kitchen, completely outfitted with microwave, coffee-maker, dishwasher and all the cutlery and utensils. There is also an "honor" gourmet basket with snacks and the refrigerator is stocked with beer (extra charge).
The spacious living room has a sofa bed, so each unit sleeps four.  
Another special amenity provided to Villa guests is the complimentary use of two bikes (Crane's also has an arrangement with nearby bicycle rental place for other guests, and there are bike racks on site.) Villa guests also have access to complimentary yoga mats, and beach chairs, and designated parking spot.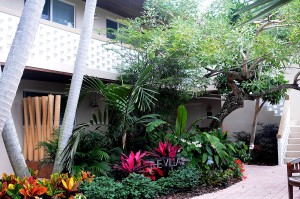 "Crane's BeachHouse Hotel is proud to partner with Carrie Leigh Designs, a full service licensed interior design firm based in Delray Beach. This dramatic conversion of four suites into four dazzling luxury villas will be the first phase of a major multi-year remodeling project that will strengthen and solidify our brand as the coolest place to stay in Delray Beach," said Cathy Balestriere, general manager.
The $500,000 renovation also included the renovation of three additional units.
Other accommodations include a luxury studio, with a queen-sized bed; and one and two-bedroom suites (children under 18 stay free in the room with parents).
Crane's serves a pleasant  continental breakfast under a Tiki hut beside one of the fountains – a selection of breads, muffins, bagels, cereals, fresh fruit and yogurt, quiches and sausage, juice, plus freshly brewed coffee – where it is delightful to meet and chat with other guests. Breakfast is served from 9 am to 11 am, but if you are an early riser, they will deliver breakfast to you the night before.
Also, the hotel serves afternoon refreshments that change seasonally. This time of year  a DIY trail mix snack bar is provided guests in the afternoon.
There are two tropical, heated saline swimming pools – one a free form with a waterfall, lounge chairs placed on sand, and a Tiki hut; the other, more suitable for lap swimming, and more lounge chairs on sand, another fountain, and Tiki bar, where there is live music Thursday, Friday and Saturday.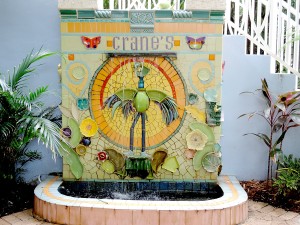 The original artwork which decorates the rooms and the property is stunning and so connected to the Delray Beach art scene.
The poolside Tiki Bar offers an array of tropical drinks, wines and domestic and imported beer, with a music-filled happy hour from 6 to 9 p.m. on Thursday, Friday and Saturday in season, and on Friday and Saturday the rest of the year.
Other features include an "outdoor living room" for private functions.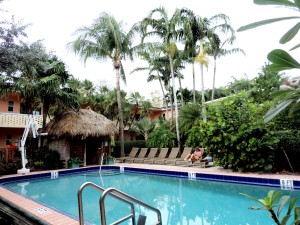 There is in-suite and poolside spa and massage services. There isn't a fitness room, but Crane's has an arrangement with nearby  gym for $15/day.
A tiny office that doubles as a gift shop is where you can also access DVD's, CD's, game units, board games, a literary library. Also, Crane's offers a repertoire of on-site entertainment, special events and activities.
Both sophisticated and playful, Crane's Beachhouse is ideal for a couples getaway, friends traveling together, a family gathering, a destination wedding.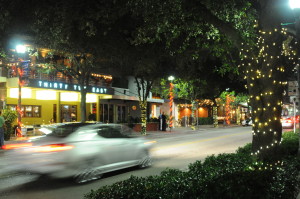 What I loved best is that it is off the bustling main street (which is what is so appealing about Delray Beach), around the corner from the hullaballoo of Atlantic Avenue, in the quieter part of Atlantic Avenue and just a block from the beach, yet still a pleasant walk over the drawbridge to the vibrant downtown where there are gorgeous galleries and shops, marvelous restaurants and live-music venues (a major advantage not having to drive; the hotel provides free parking).
A block to the east of Crane's is Delray Beach – dare I say the prettiest beach on Florida's East Coast. There aren't buildings on the beach side of the street, so it is a broad expanse.
The Bucket List Experience
In keeping with its boutique orientation and personalized service, Crane's Beachhouse offers "The Bucket List Experience" – essentially customized packages that enable guests to fulfill their wish list of experiences.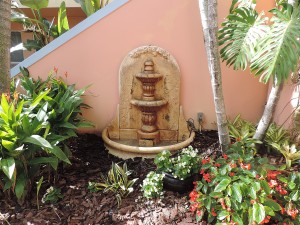 "We are providing a service that is basically a concierge, travel agent and personal assistant all rolled into one. We have researched the coolest, most thrilling, exciting, life-affirming, local attractions in South Florida and have come up with a pretty awesome list of 50+ items that should be on everyone's Bucket List," said Balestriere.
Crane's always has some interesting special or package that change throughout the year. Presently, the hotel is offering  a "Non-Refundable Hot Deal" that runs through April on select dates.
Other packages and deals are listed at the website, particularly summer offerings that include special rates for educators; a romance package; a Family Fun Package.
Pets are welcome (a fee applies and you must inform front office of any pets prior to arrival to guarantee availability of pet-friendly accommodations).
Crane's BeachHouse has received the coveted TripAdvisor® Certificate of Excellence Award 2013, and has been named to the prestigious Expedia Insiders Select List™ listing "the world's best hotels." Crane's BeachHouse Hotel is a repeated recipient of the Florida Superior Small Lodging Association's Donal A. Dermody White Glove Award for housekeeping excellence and exceptional service.
Crane's BeachHouse, 82 Gleason Street, Delray Beach, Florida 33483, 561-278-1700, 866-372-7263, cranesbeachhouse.com