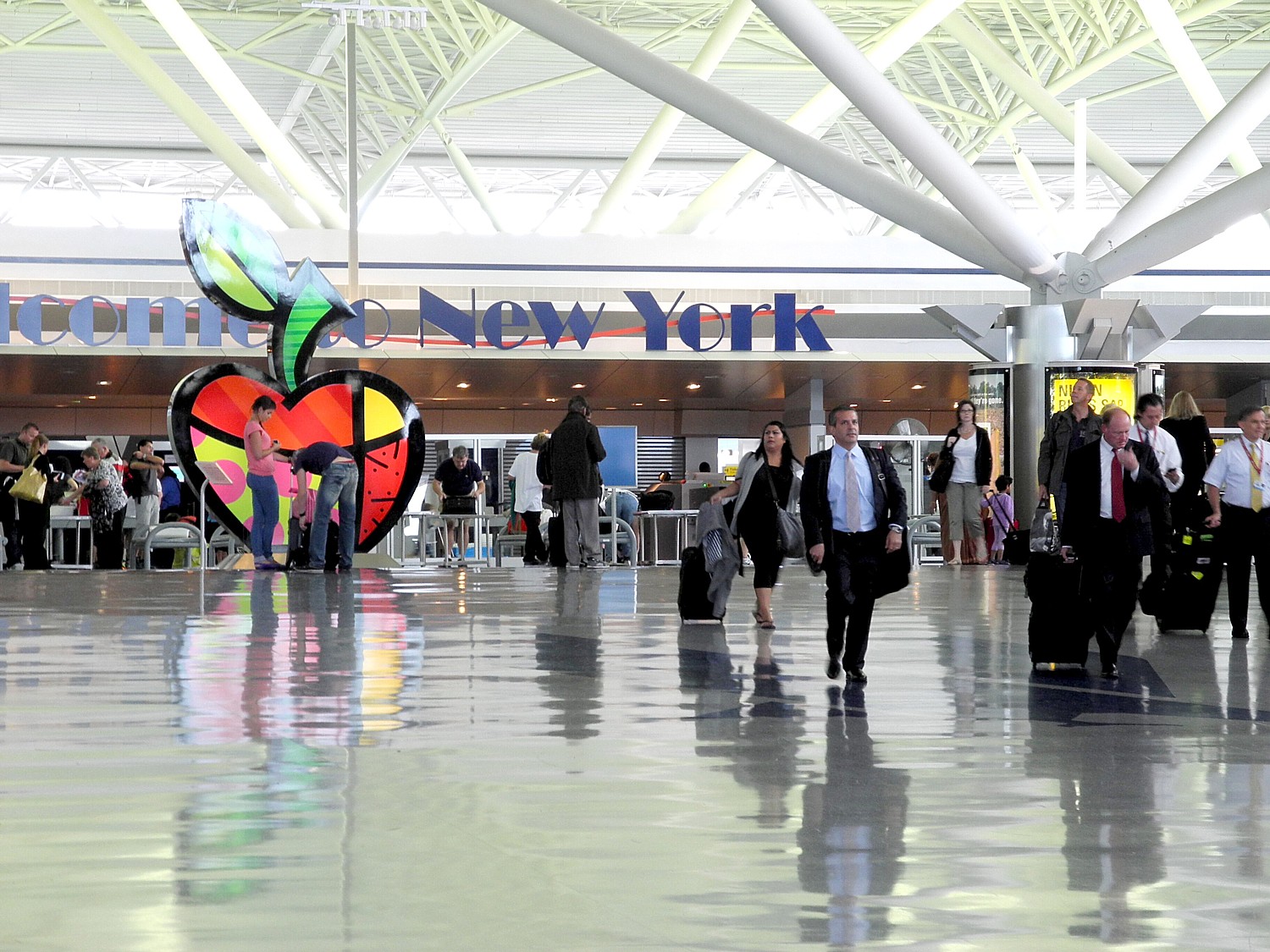 American households are reaping a boon from lower energy costs in recent months, with dramatically reduced prices at the pump expected to save the typical family roughly $750 over the course of 2015 and airfare finally starting to reflect reduced jet fuel costs, according to CardHub. That's freeing up cash to spend on travel.
But there are more ways to save money while traveling. Another important financial tailwind – historically valuable credit card rewards – have actually grown even more lucrative in the past year, according to CardHub's latest Credit Card Landscape Report, with sign-up bonuses worth up to $625 and various other perks available to people who have above-average credit standing.
In the interest of helping folks take full advantage of plastic this winter travel season, CardHub compared more than 1,000 credit card offers (some of which originate from CardHub advertising partners) in order to identify the most rewarding travel deals. You can find our best in class selections below, followed by CardHub's money-saving travel tips.
Best Initial Bonus 
Citi ThankYou® Premier CardApply Now 269 reviews
Spending $3,000 during the first 3 months you have this card will score you 50,000 bonus points, which can be redeemed for a $625 statement credit applicable to travel-related charges that post to your account. On an ongoing basis, this card provides 3 points per $1 spent on travel and gas, 2 points per $1 on dining and entertainment, and 1 point per $1 on everything else. Its $95 annual fee doesn't kick in until the second year either.
Chase Sapphire Preferred® CardApply Now 2,319 reviews
Spending at least $4,000 during the first three months your account is open will trigger a 40,000-point rewards bonus, which can be redeemed for $500 in travel accommodations booked through Chase's Ultimate Rewards Program or a $400 statement credit.
This card does not charge an annual fee during the first year ($95 thereafter) and does not assess foreign transaction fees for purchases processed abroad. For more information, check out ourfull review of the Chase Sapphire Preferred Card.
All-Around 
Barclaycard Arrival Plus™ Credit Card 2,365 reviews
Perhaps the best rewards credit card on the market, Arrival Plus offers a 40,000-mile rewards bonus – redeemable for $400 in travel expenses – in return for spending $3,000 during the first three months your account is open. You'll also earn the miles-equivalent of 2% cash back on all other purchases and receive a 5% rebate on miles redeemed for travel.
This card does not charge a foreign transaction fee and its $89 annual fee is waived for the first year. Check out our Barclaycard Arrival Plus Review to learn more.
Capital One® Venture® Rewards Credit CardApply Now 1,451 reviews
Spending $3,000 in the first 3 months will get you 40,000 bonus points, which can be redeemed for a $400 statement credit attributable to any travel-related expenses. The ongoing reward rate is 2 miles per $1 spent, with no limits or expiration dates. This card charges a $59 annual fee, beginning in the second year and does not assess foreign transaction fees for purchases processed abroad.
For a more in-depth look at this offer, check out CardHub editor's review of the Capital One Venture Card.
Airline Rewards 
Frontier Airlines Credit Card 137 reviews
Spending $500 or more with this card during the first 90 days that you have it will get you 40,000 bonus miles, which can be redeemed for 2 round-trip domestic flights.
You'll also earn 2 miles per $1 spent on FlyFrontier.com and 1 mile/$1 on all other purchases. There is a $69 annual fee.
PenFed Premium Travel Rewards American Express® Credit Card 212 reviews
In addition to a $200 initial bonus for spending at least $2,500 during the first three months, this card provides you with 5 points per $1 spent on all airfare and 1 point per $1 on everything else.
It does not have an annual fee, but you might have to pay a one-time $15 to join an eligible association, if you don't initially meet PenFed's eligibility requirements.
Hotel Rewards
Club Carlson℠ Premier Rewards Visa Signature® CardApply Now 56 reviews
You may not have heard of Club Carlson, but it represents a number well-known hotel brands such as Radisson, Park Plaza, and Country Inn & Suites. This eponymous card Club offers 50,000 bonus points with your first purchase and an additional 35,000 points for spending at least $2,500 within 90 days.
You can redeem your 85,000 total bonus points for up to 9 free hotel nights and your 40,000 annual bonus points for up to 4 more nights, depending on the category of hotel you select. There is a $75 annual fee and a 3% foreign transaction fee.
IHG® Rewards Club Select Credit CardApply Now 149 reviews
You'll get 60,000 bonus points in return for spending at least $1,000 during the first three months you have the IHG Credit Card. That bounty is redeemable for up to 12 free nights, as IHG offers rewards nights for as low as 5,000 points through its PointBreaks program.
IHG card users also receive one additional free night each year on their account anniversary and an annual 10% point rebate (up to 100,000), in addition to 5 points per $1 spent at IHG hotel chains, 2 points per $1 spent at gas stations, grocery stores and restaurants, and 1 point/$1 on everything else.
This card does not have a first-year annual fee ($49 thereafter) and does not charge a foreign transaction fee. Hotels operating under the IHG umbrella include the Holiday Inn family of hotels and Crowne Plaza.
More details about this offer can be found in our IHG Credit Card Review. You can also learn more IHG Rewards Club in general by checking out our IHG Rewards Program Review.
Hilton HHonors® Surpass℠ Credit Card 145 reviews
Charging $3,000 to this card over the first three months you have it will trigger a 60,000-point initial bonus – redeemable for up to 12 free hotel nights, depending on how your hotel of choice is classified. Unfortunately, this offer comes with a $75 annual fee as well as a 2.7% foreign transaction fee, making it best suited to domestic travel.
You can learn more about Surpass and how it compares to Hilton's other rewards cards in our in-depth HHonors card comparison. Additional details about Hilton's rewards program more generally can be found in our full HHonors Program review.
Starwood Preferred Guest® Credit Card from American ExpressApply Now 279 reviews
You'll earn a 25,000 points bonus after if you can manage to charge $3,000 to this card in the first 3 months your account is open. This bounty will score you 8 free hotel nights, depending on your hotel choice. The card has no annual fee in the first year, but will charge $95 after.
Road Trip Rewards 
PenFed Platinum Rewards Visa Signature® Credit Card 933 reviews
This Pentagon Federal Credit Union offering provides 5 points per $1 spent on gas (at any station, as long as you fill up at the pump), 3 points per $1 spent on supermarket purchases, and 1 point per $1 on everything else. Signing up for the card will get you a $100 bonus for spending $1,500 in the first 90 days the account is opened. The Platinum Rewards Card doesn't have an annual fee and no fee for foreign transactions, but you might have to pay a one-time $15 fee to join an eligible association, if you don't initially meet PenFed's eligibility requirements.
Blue Cash Preferred® from American ExpressApply Now 1,017 reviews
This Amex offers 6% cash back on groceries (up to $6,000 per year), 3% on gas and department store purchases and 1% on everything else – making it a great card for everyday spending as well as road trips.
While this card does charge a $75 annual fee and a 2.7% foreign transaction fee, you also get a $150 initial rewards bonus for spending at least $1,000 during the first three months.
Finance Travel By Reducing The Cost Of Existing Debt 
Chase Slate®Apply Now 1,571 reviews
If you have existing credit card debt (or you will after your impending winter vacation), transferring what you owe to the Slate Card could save you more than $1,000 in finance charges and help you reach debt freedom way earlier than you would otherwise. Just make sure to use our Balance Transfer Calculator to determine how much you'll need to pay each month in order to be debt free by the time Slate's 15-month 0% intro term gives way to high regular rates.
What really sets Slate apart from the balance transfer pack, however, is its lack of fees. More specifically, Slate charges neither an annual fee nor a balance transfer fee – which itself will save you hundreds. New applicants will also benefit from Slate's new credit score tracking feature.
Get the full scoop on Slate from CardHub's comprehensive review.
Finance Travel With 0% On New Purchases 
Citi® Diamond Preferred® CardApply Now 646 reviews
This card offers the longest 0% purchase APR on the market, at 21 months. So, if you won't be able to pay off the cost of your coming trip in a single month, this is a great option to consider. All you have to do is use our calculator to see what monthly payments you'll have to make in order to be balance-free by the time regular rates take effect.
It's also important to note that this card probably isn't your best bet when it comes to balance transfers, despite its near two-year interest-free term. That's because it charges a 3% balance transfer fee. For the average consumer, who owes roughly $7,350, that fee alone would amount to $220.
Money-Saving Winter Travel Tips
Picking the right credit card can go a long way to saving you a bundle of money on a winter getaway. But there's even more to vacation credit card use than applying for one of the offers listed above. There are certainly more ways to save as well. Here are some tips:
General Advice
Use Plastic Whenever Possible:Credit cards provide a lot of value through initial rewards bonuses and 0% financing deals, but they also offer $0 fraud liability guarantees, the lowest possible currency conversion rates, and complementary rental car insurance coverage. It's therefore a good idea to use plastic for the majority of your travel expenses.
Choose Your Credit Card Wisely:Consumers who are interested in a new credit card mainly for quick rewards score should obviously concentrate on initial bonus offers, while people who prize the simplicity of having the same card in their wallet for a long time will want to check out those with ongoing rewards. Folks worried about incurring finance charges will find that a 0% offer has the potential to save them far more than even a great rewards card.
Think Outside the Box:The most obvious vacation destinations and types of accommodations are naturally going to be the most popular and therefore the hardest to book on a budget. As a result, you may want to consider taking a mid-week flight, going to a small town, renting a house rather than booking rooms in an expensive hotel (especially if you're traveling with a big group), and leveraging free resources like public transportation and destinations known for natural beauty.
Mix Business with Pleasure:If you can find a way to squeeze in a few meetings around your trip, certain aspects of it may be tax deductible. While your travel must technically be "for business" and only your own business-related expenses are deductible, you're allowed to tack a few recreational days onto either end of a business trip and you can certainly brainstorm ways to include your family under the business umbrella even if they aren't employees (e.g. piling everyone into a rental car that would ordinarily be just for you).
Comparison Shop:Comparing the prices of different air carriers, hotel chains, and vacation packages will enable you to identify best possible deals. You might even be able to score a more attractive price than what's listed online by telling the sales representative that you'll book immediately if they can beat a specific competitor's offer.
Maximize Your Credit Score:All of the Best Travel Credit Cards for 2015 require above-average credit for approval and therefore clearly illustrate the value of the best possible credit score. So, if your credit standing needs some work, make sure to have an open credit card that's in good standing (look into opening a secured credit card if not), pay your monthly bill on time without fail, and you'll see positive information flow into your credit reports on a monthly basis. This will either devalue negative information already in there or fill out a currently thin file.
Tell Card Issuers You're Leaving:Credit and debit card companies may suspend your account if a bunch of transactions suddenly originate from outside your normal spending area. You can prevent the resulting hassle by simply telling your issuer where and when you'll be traveling. This is especially important if you're headed out of the country, but it could come into play for long domestic trips as well.
International Travelers
Take Advantage of the Dollar's Strength:While weaker than both the Euro and the British Pound, the U.S. Dollar currently has a considerable advantage over the Swiss Franc, the Australian Dollar and the Japanese Yen. Selectively choosing your vacation destination is thus a distinct money-saving proposition.
Use Your Credit Card for Currency Conversion:Visa and MasterCard offer exchange rates that are 3.66% lower than those offered by the average major bank and 6.90% lower than what Travelex charges, according to CardHub's Currency Exchange Study.
Avoid Foreign Transaction Fees:Around 90% of credit cards charge a premium to process transactions outside of the United States. You don't have to be physically abroad to incur such a surcharge – which is known as a foreign transaction fee and can range from 2-4%, depending on the card. Rather, they apply whenever you make a purchase through a foreign-based merchant. As long as you have a no foreign transaction fee credit card, you won't have to worry about these pesky fees.
Take a Low-Fee Debit Card:You won't be able to use a credit card for everything when abroad, so the best approach is to take a Visa or MasterCard debit card that has low fees for international ATM withdrawals so you can take out cash as needed and benefit from low card network exchange rates.
No Need To Favor Chip Cards Yet:The international community is moving increasingly toward a chip-based credit card infrastructure complete with automated machines at places like train kiosks and parking garages that may not accept U.S. magnetic stripe cards. You might take that as a reason to get one of the chip-based cards now being marketed to U.S. consumers, but most of them are chip-and-signature cards while automated machines only accept chip-and-PIN (you can read more about the differencehere). Most international merchants still accept magnetic stripe cards anyway.
Pay in the Native Currency:This doesn't apply to domestic travelers, but those of you traveling abroad should make sure to only sign receipts expressed in the local currency. Foreign merchants sometimes offer to convert prices into U.S. dollars in order to charge a high conversion rate and line their pockets.
For more travel features, visit:
www.examiner.com/eclectic-travel-in-national/karen-rubin
www.examiner.com/international-travel-in-national/karen-rubin
goingplacesfarandnear.com
goingplacesnearandfar.wordpress.com
moralcompasstravel.info
travelwritersmagazine.com/TravelFeaturesSyndicate/
'Like' us on facebook.com/NewsPhotoFeatures
Twitter: @TravelFeatures