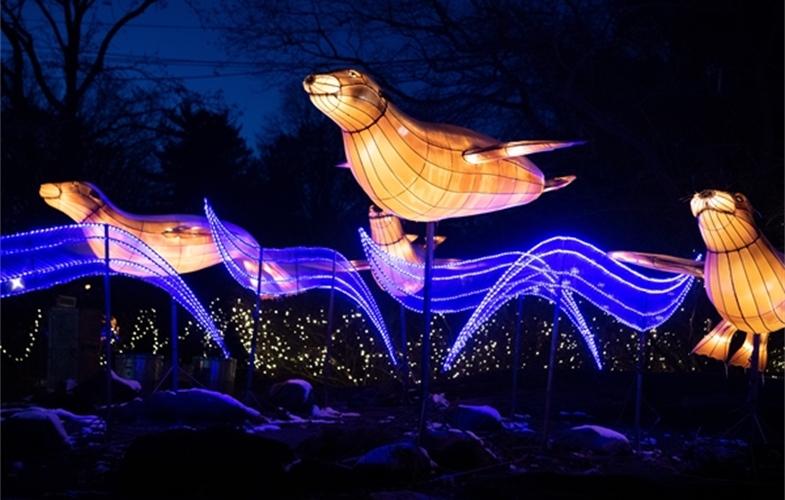 by Karen Rubin, Travel Features Syndicate, goingplacesfarandnear.com
There is special emphasis on bringing light, warmth and cheer this holiday season. Destinations that have offered lighting displays and holiday events have taken special care to adapt them to meet health protocols. Here is a sampling:
Holiday Lights Safaris at The Bronx Zoo
Bronx, NY – The Bronx Zoo has officially flipped the switch on Holiday Lights 2020 which runs on select dates through January 10, bringing New Yorkers much-needed joy for the winter season. Tickets for Holiday Lights must be purchased in advance and are now available online.
This year's experience encompasses a larger area of the zoo and be organized to accommodate social distancing. With dozens more animal lanterns than last year, the zoo has created five geographically representative lantern safaris that include species from different regions of the world.
In addition to the wildlife lantern safaris and sprawling holiday illuminations, the new Luminous Garden features larger-than-life plants and animals unlike any other garden in New York including flowers, mushrooms, butterflies and other insects.
Entertainment includes ice carving demonstrations, costumed characters, stilt walkers, souvenirs, and seasonal treats. Of course, s'mores have been so popular, there are 12 fire pits where people can make their own s'mores or try one of the contest winners.
While celebrating the holiday season, all events and activities have been modified to meet all safety guidelines as directed by the State of New York. All guests over 3 years old are required to socially distance and wear face coverings, and all tickets are date-specific and must be purchased in advance online. For a full list of COVID-19 protocols, visit the zoo's Know Before You Go page.
Visit the website for information, tickets and the full schedule of activities.
Palm Beach Zoo Lights is 'Wild' Holiday Celebration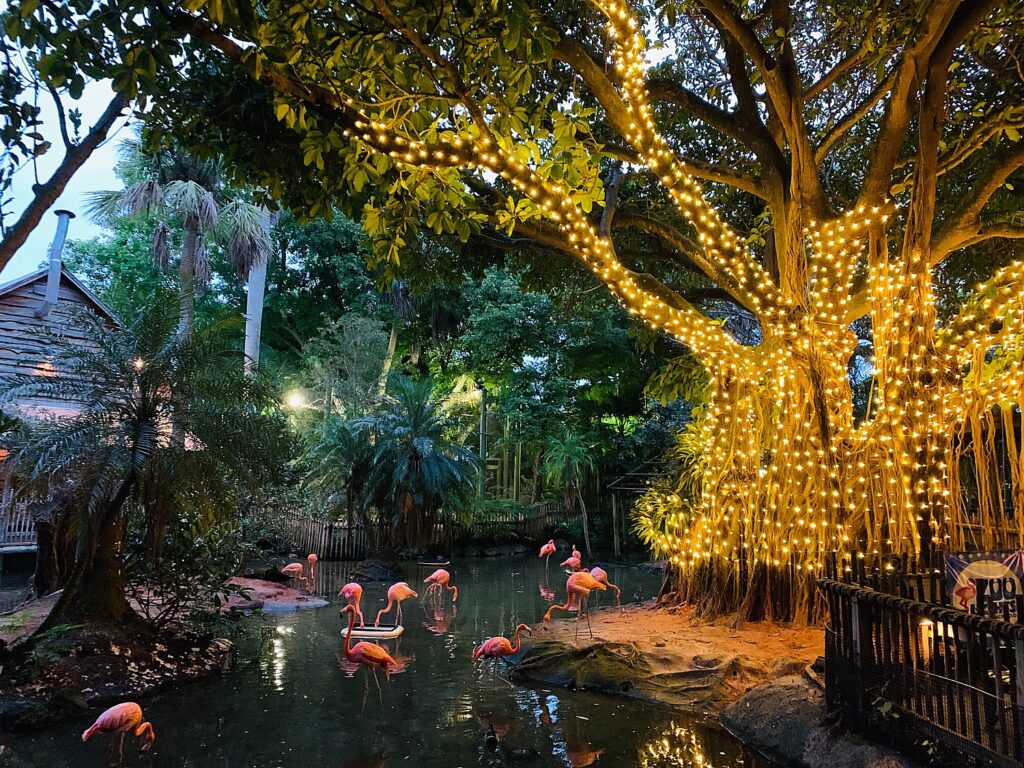 West Palm Beach, Fla. – Zoo Lights presented by FPL SolarNow, illuminates Palm Beach Zoo & Conservation Society with more than one-million eco-friendly LED lights this holiday season. Starting November 27, the Zoo is open after regular hours on select nights from 6- 9 PM for a WILD holiday celebration featuring family fun, Santa, decadent treats, music and holiday charm.
"We can all use some holiday magic to shine through this season," said Margo McKnight, president and CEO of Palm Beach Zoo. "The premiere of Zoo Lights last year was a huge holiday hit with our community. This year it is even more important to offer visitors a safe celebration where families can be outside in nature, enjoy great weather and embrace the spirit of the holidays."
Zoo Lights visitors can expect to have a safe, socially distanced and enjoyable experience including photos with Santa, a DJ playing holiday tunes, sweet treats and more including:
An evening stroll through the Zoo surrounded by one-million holiday lights and lighted displays.
A unique theme for each area of the Zoo. New for 2020, the Asia section will dazzle in golden hues as lighted animals sparkle, adding more square footage to the vast event.
The Florida Wetlands section features traditional holiday cheer and Santa's workshop. Families can have their portraits made with Santa, and children can share their holiday wishes through December 23.
The Fountain Plaza transforms into a North Pole dance floor where a DJ spins family-friendly holiday hits each evening.
While the jaguars sleep, the Mayan Plaza shines with blue lights and dripping icicles.
The Tropics Cafe features festive holiday fare, and food stations around the Zoo offer seasonal treats, beverages and cocktails, as well as a s'mores fire pit.
The gift shop offers lighted merchandise sure to be your children's favorite.
For the second consecutive year, Florida Power & Light Company (FPL) is sponsoring Zoo Lights with its FPL SolarNow program. "It's fitting for Florida Power & Light Company to illuminate the holiday season in this special way, with energy-efficient LED lights that brightens the Zoo's pathways and gives families a safe place to celebrate," said Matt Valle, vice president, FPL Development at NextEra Energy, Inc. and Zoo board member. "Having the ability to bring your family to a world-class destination that represents conservation is a benefit that many parents, such as myself, find invaluable now more than ever."
Tickets for Zoo Lights are $14.95 for adults and $12.95 for children. Palm Beach Zoo Annual Members receive special pricing. Pre-sale tickets are available at www.palmbeachzoo.org/zoolights
This year, Palm Beach Zoo & Conservation Society is the official non-profit community partner of Sandi and the City of West Palm Beach Holidays in Paradise annual downtown campaign. In addition to taking part in Zoo Lights, plan on visiting Sandi and her flamingo friend Hope as Sandi Brings Hope to West Palm Beach. Learn more at wpb.org/events
For more than 50 years, Palm Beach Zoo & Conservation Society has provided visitors with up-close and personal animal encounters that connect people to wildlife. Palm Beach Zoo guests explore a WILD ecosystem thriving on 23 lush, tropical acres while discovering hundreds of exotic animals. Visitors enjoy interactive animal experiences, nature and water play, and a lakeside cafe. Palm Beach Zoo participates in AZA Species Survival Plan® programs, ensuring healthy animal populations for rare and endangered species. The impact of a visit to Palm Beach Zoo extends beyond the gates, inspiring people to take action and save wildlife in wild places. For more information, visit www.palmbeachzoo.org.
Have a Colonial Christmas in Williamsburg, Virginia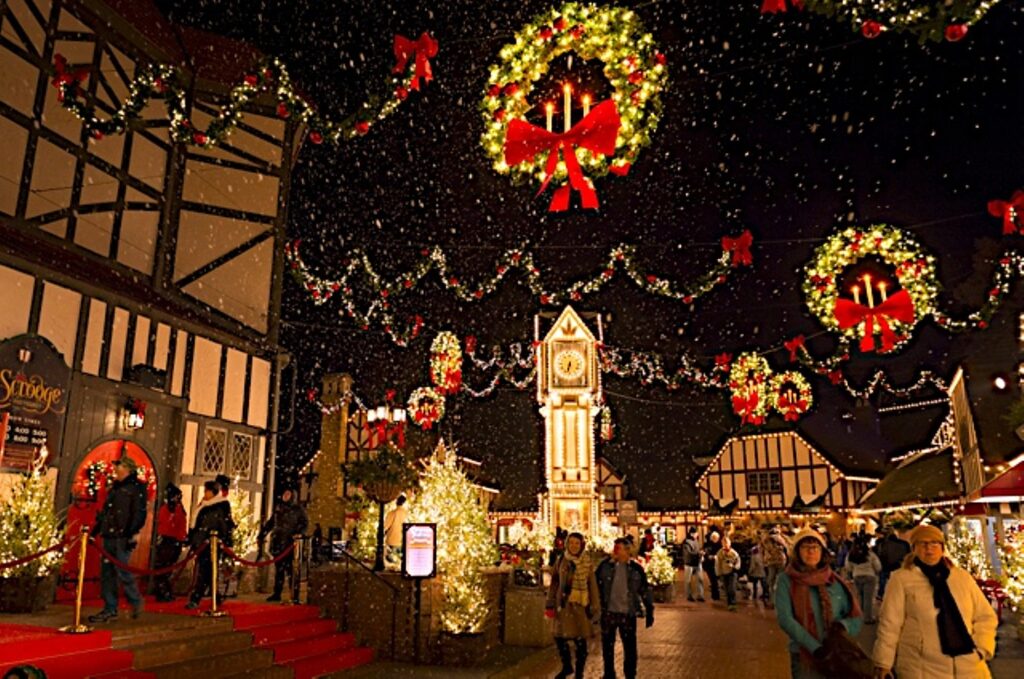 Williamsburg, VA – In Colonial Williamsburg, in addition to Grand Illumination, enjoy special holiday events throughout December include caroling at the Courthouse, walking tours highlighting colonial Christmas decorations and the galleries of the Art Museums of Colonial Williamsburg, visits with Father Christmas, ice skating at the Liberty Ice Pavilion, the community Christmas Tree lighting with special readings of "The Night Before Christmas," the Lighting of the Cressets on historic Duke of Gloucester Street with strolling musicians and tidings of good cheer Dec. 17 – 24, holiday feasts and meals, and opportunities to shop for colonial gifts such as wreaths and centerpieces. The living history attraction remains open for daily holiday programs with special health protocols in place.
Colonial Williamsburg's Historic Area is fully decorated and holiday-themed programming is being presented daily ― mostly outdoors ― through New Year's Day, along with a range of new exhibitions, seasonal programming and the famous Folk Art Christmas Tree at the Art Museums of Colonial Williamsburg, which this year completed a $41.7-million donor-funded expansion.
In Merchants Square, a variety of shopping and dining options await, along with Liberty Ice Pavilion, now open daily on Duke of Gloucester Street. A new Christmas Market opens Fridays through Sundays, Dec. 4-19, at the corner of South Boundary Street and Francis Street, hosted in partnership with the City and CultureFixVA.
Event schedules and admission information is available at colonialwilliamsburg.org/holidays. Details on Colonial Williamsburg Resorts getaways, plus tavern and contemporary dining information are available at colonialwilliamsburghotels.com.
The Busch Gardens Christmas Celebration runs on select dates through Jan. 3, featuring new village entertainment, fifteen coasters and rides, a Gingerbread Scavenger Hunt, festive holiday shopping, sweet culinary offerings, and meeting Santa in his Workshop.
In Yorktown, catch the Yorktown Christmas Tree Lighting, a community tradition that goes back to 1945, on Dec. 4. The Christmas Market on Main Street, Dec. 5-6, features 60 vendors for holiday gift shopping along with holiday music, The Fifes and Drums of Yorktown, festive food and drink, and an appearance by Santa on York County's first fire truck. On Dec. 6, enjoy Cookies with Santa at the Gallery at York Hall and learn about ancient Norse influences on modern Christmas culture at the Viking Yuletide Celebration at the Watermen's Museum. Shop for holiday gifts while enjoying chowders, soups, baked goods and other treats at the Mistletoe Market at Riverwalk Landing, Dec. 12, also featuring a live ice carving demonstration and a Toyland Parade. From Dec. 19-31, Christmastide in Virginia at Jamestown Settlement and the American Revolution Museum at Yorktown recalls 17th- and 18th-century holiday traditions through special interpretive programs and musical entertainment of the period. At the American Revolution Museum at Yorktown, hear accounts of Christmas and winter in military encampments during the American Revolution and glimpse holiday preparations on a Revolution-era farm. A Jamestown Settlement, compare and contrast English Christmas customs of the period with how the season may have been observed in the difficult early years of the Jamestown colony.
At Berkeley Plantation, enjoy Centuries of Christmas, Dec. 5 – Jan. 1, when the elegant 1726 mansion will be beautifully decorated with fresh greenery from Berkley's gardens. Highlights include costumed guides sharing four centuries of stories, tours, workshops, teas and other special events.
Holidays in the Brandywine Valley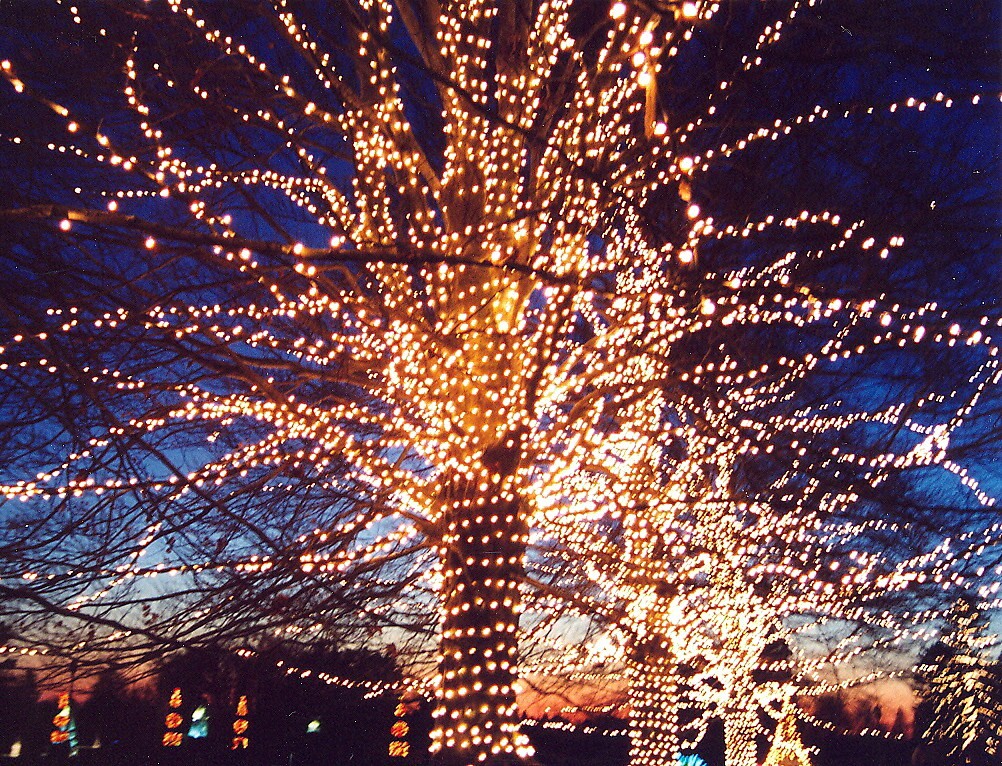 Wilmington and the Brandywine Valley is one of the most picturesque and historic places especially during the holiday season. Here are highlights:
Longwood Christmas at Longwood Gardens, one of America's most lauded holidays light displays shines brightly in the Brandywine Valley through Jan. 10, with more than 500,000 sparkling lights, dancing fountains, an illuminated light show set to yuletide music and the 100-foot tunnel of light that pulses with changing colors. spreading holiday cheer throughout the gardens every night. Walk through this winter wonderland, stop into the conservatory for a dazzling display of holiday colors in every corner. Time your visit to sing along with Christmas carols as they're played on the 10,010-pipe Aeolian organ, the largest ever constructed in a residential setting. To make a reservation and for more details, visit www.longwoodgardens.org.
Decking the halls is a full-time job for whoever decorates Henry Francis du Pont's 175-room home for Yuletide at Winterthur. This premier museum of the American decorative arts, each room on the Yuletide Tour tells a story of how Americans have celebrated the holidays, starting back in the days when our nation was still young. There are sparkling trees, magical dollhouses, visits from Dickens and a number of holiday events (like the Yuletide Brunch with Santa) that tend to sell out early.
Holiday Magic at the Brandywine River Museum of Art, through Jan. 10, is highlighted by the Brandywine Railroad O-gauge model train that travels nearly 2,000 feet of track, passing through factories, a farm, a small town, and even a carnival setting. Kids programs run all month long, including the Polar Express Read-Aloud Pajama Night and sensory-friendly mornings with the trains. Exciting new additions this season are two model train sets once owned by Nicky and Jamie Wyeth, the sons of the renowned American artist Andrew Wyeth.
Visit https://www.visitwilmingtonde.com/plan/ to find all the events, plan a stay and learn about COVID-19 safety protocols in place.
Cape May MAC's 47th Annual Christmas Candlelight House Tour Goes Virtual But Holiday Tours of Physick Estate Continue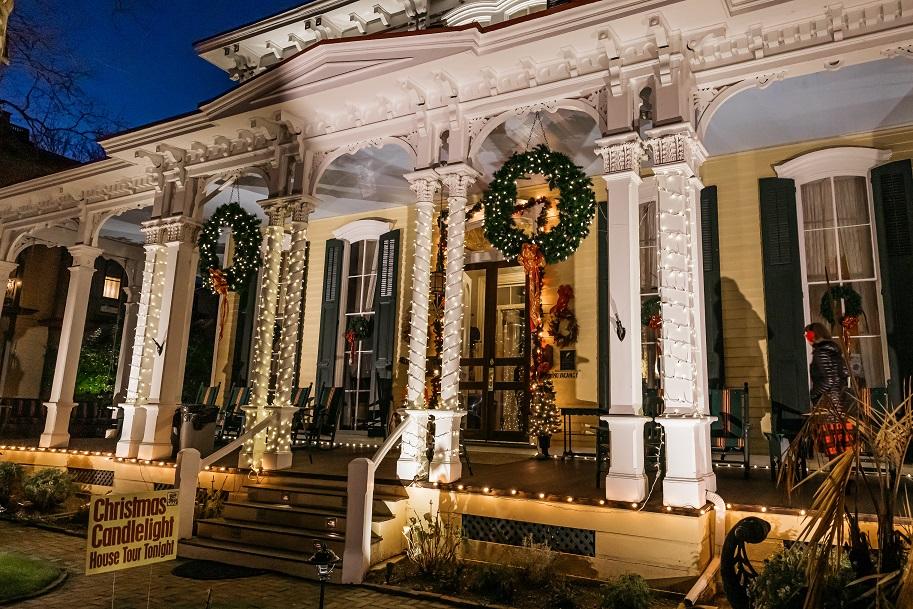 Cape May, NJ –Cape May MAC (Museums+Arts+Culture) announces its 2020 Cape May Christmas Candlelight House Tour is available for purchase to experience virtually this year, but other Cape May traditional holiday programs, focused around the historic Emlen Physick Estate, with health protocols firmly in place, continue over the six weeks of the season.
Due to COVID-19 restrictions and protocols this year, Cape May MAC made the difficult decision that these annual holiday tours, usually offered on three nights in December, must be cancelled in 2020. Cape May's Christmas Candlelight House Tours have been a beloved annual tradition for nearly half a century. Cape May MAC launched this tour in 1973 and ever since it has been a highlight of the Christmas season in Cape May, America's only National Historic Landmark City. Thousands of people on three nights in December travel to more than a dozen homes, inns, B&Bs, churches and hotels, stepping across the thresholds to take in interiors beautifully decorated for the holidays. It is one of Cape May MAC's largest fund-raisers.
"This year, it was decided to create a video that will bring the joy and excitement of these Cape May Christmas tours directly into people's homes, to continue this tradition unbroken. With enthusiastic participation from Cape May innkeepers, B&B owners and homeowners, planning began this summer and production is nearly complete."
"Of course, we look forward to when we can offer these self-guided tours in person once again, but we could not have Christmas in Cape May without them in 2020," said Cape May MAC Director and CEO Jody Alessandrine.
For the first time, the tour will be entirely virtual, via a video available for purchase through Vimeo On Demand ($30). Featured are 10 Cape May homes, B&Bs and inns decorated for the holidays including interviews with owners and innkeepers. Participating properties include: The John B. McCreary House ("The Abbey"), Angel of the Sea Bed & Breakfast, The Bedford Inn, The Cherry House, The Emlen Physick Estate, Franklin at 721, The Henry Sawyer Inn, The Mainstay Inn, The Mason Cottage and The Mission Inn.
(Watch the Trailer, https://vimeo.com/ondemand/capemaychristmastour. The video can be purchased to watch after its release on Monday, Dec. 21 at 9 a.m.)
This presentation is sponsored by Sturdy Savings Bank and Brown & Brown Insurance. Proceeds benefit Cape May MAC, a not-for-profit organization committed to promoting the preservation, interpretation and cultural enrichment of the Cape May region for its residents and visitors since 1970. Cape May MAC membership is open to all. Visit capemaymac.org/support/membership to learn more.
While the candlelight tour is virtual, the rest of Cape May's traditional holiday tours are taking place daily:
The Emlen Physick Estate is open daily (except Thanksgiving and Christmas) for holiday tours. Designed by American architect Frank Furness, the Physick House is Cape May's Victorian House Museum. Its restoration began Cape May's 50-year renaissance that continues to this day.
New in 2020! Winter Wonderwalk this season at the Physick Estate.
Open-air trolley tours are offered throughout this holiday season in Cape May. Bring a blanket!
Vintage restaurant is open during the holidays with heated, outdoor dining under the patio tent on the grounds of the Emlen Physick Estate, for both brunch and dinner.
An Old-fashioned Christmas Exhibit features a huge indoor Christmas Tree and Dept. 56 Dickens Village collection. Free admission to this popular annual display.
For information about Cape May MAC's year-round schedule of tours, festivals and special events, visit capemaymac.org. For information about historic accommodations, contact Cape May Historic Accommodations at capemaylodging.com. For information about restaurants, accommodations and shopping, call the Chamber of Commerce of Greater Cape May at 609-884-5508. For information on the city's COVID-19 response, visit capemaystrong.org.
Drive-Through Holiday Lights Display at Jones Beach State Park, Long Island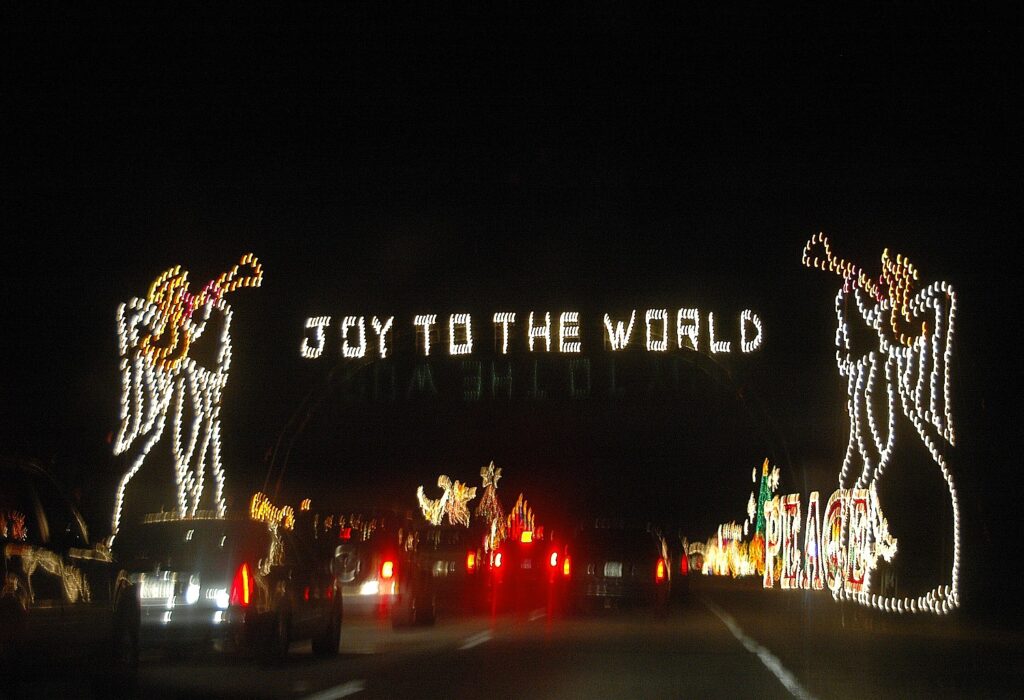 Long Island, NY – The Magic of Lights 2.5-mile long drive-through holiday display at Jones Beach State Park, presented by New York Community Bank, takes place through Jan. 2. It features themed light displays using the latest LED technology and digital animations, including the drive-through Blizzard Tunnel as well as other returning favorites including 12 Days of Christmas, Winter Wonderland and The Night Before Christmas. The popular Toyota Mega Tree Spectacular also returns this season, featuring favorite holiday programming displayed across 240 feet of LED Christmas trees.
Magic of Lights is open daily day from dusk and run through 10pm Sunday through Thursday and until 11pm on Friday and Saturday.
Limited early bird tickets are available for a reduced price of $20 with a code while supplies last at www.Ticketmaster.com. Admission is $25 per vehicle in advance and $30 at the gate on Monday through Thursday and $35 Friday through Sunday. Buy tickets in advance for a contactless experience on-site. Receive $3 off weekday admission when you bring at least two non-perishable food items benefiting Long Island food banks.
Some of the evenings are designated as charity nights. Last year Magic of Lights' philanthropy made a meaningful impact in local communities by raising more than $150,000 for local organizations in addition to collecting non-perishable food items, toys, books, coats and more for those who need it most.
For more information and a complete schedule visit www.magicoflights.com.
_____________________
© 2020 Travel Features Syndicate, a division of Workstyles, Inc. All rights reserved. Visit goingplacesfarandnear.com, www.huffingtonpost.com/author/karen-rubin, and travelwritersmagazine.com/TravelFeaturesSyndicate/. Blogging at goingplacesnearandfar.wordpress.com and moralcompasstravel.info. Send comments or questions to [email protected]. Tweet @TravelFeatures. 'Like' us at facebook.com/NewsPhotoFeatures