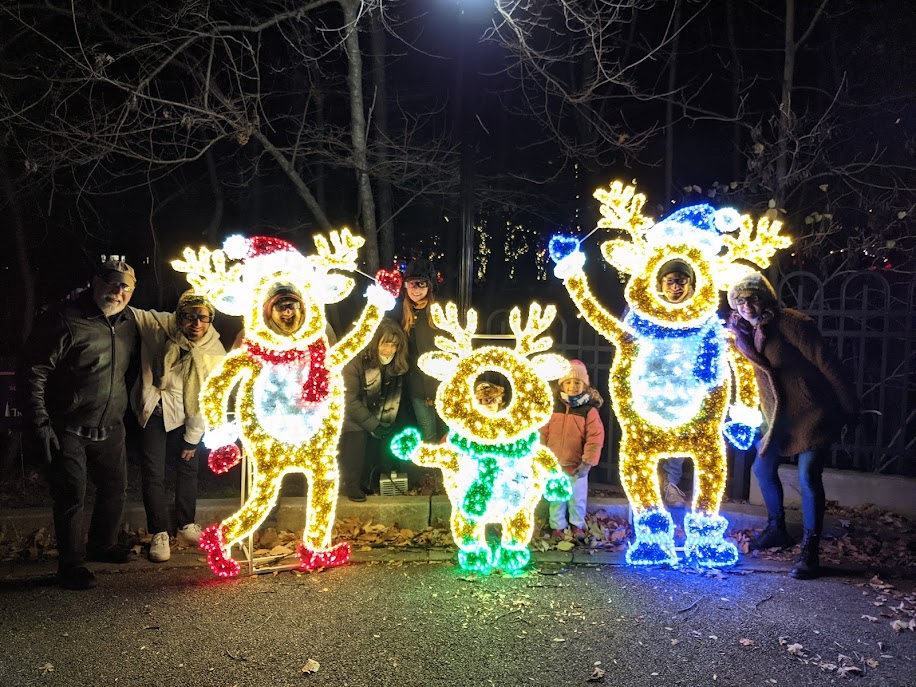 By Karen Rubin, Travel Features Syndicate, goingplacesfarandnear.com
Nothing brings a family together like sharing in the thrill, the delight, the joy of enjoying holiday attractions. It is especially fun activity for families coming together from different places for the holidays, feeling and seeing the joy and their delight through their eyes. We had this experience in Baltimore, where we enjoyed two very special holiday events, Zoo Lights at the Maryland Zoo, and "Miracle on 34th Street" in Hampden.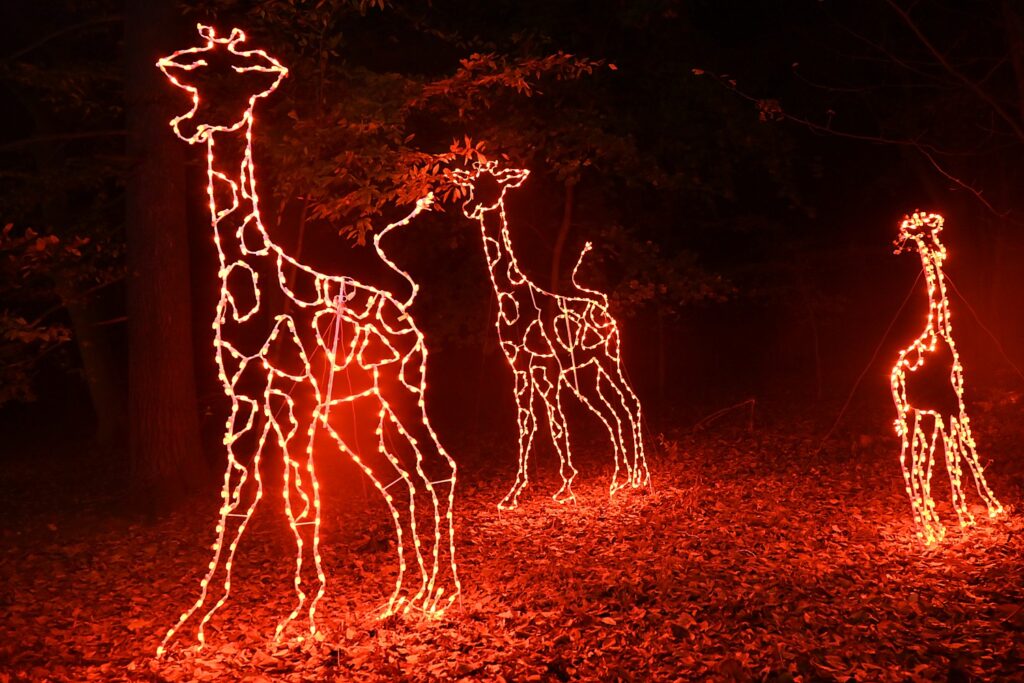 Zoo Lights, presented by Chase at the Baltimore, Maryland Zoo, is back this year with an entertaining twist: you get special glasses that bring out gingerbread men that dance before your eyes as you look at the light displays. There are 80 different light displays, collectively made of 150,000 environmentally friendly LED lights that form favorite zoo animals, some even made to simulate motion, that transform the nighttime zoo into a glimmering winter wonderland.
There are other delightful surprises: my favorite is the carousel that brings out the kid in anyone, and coming upon donkeys and llamas in the farm yard and Great White Pelicans and penguins in the Penguin Encounter section at the end of our mile-long walk (there is also a drive option on Wednesdays and Thursdays).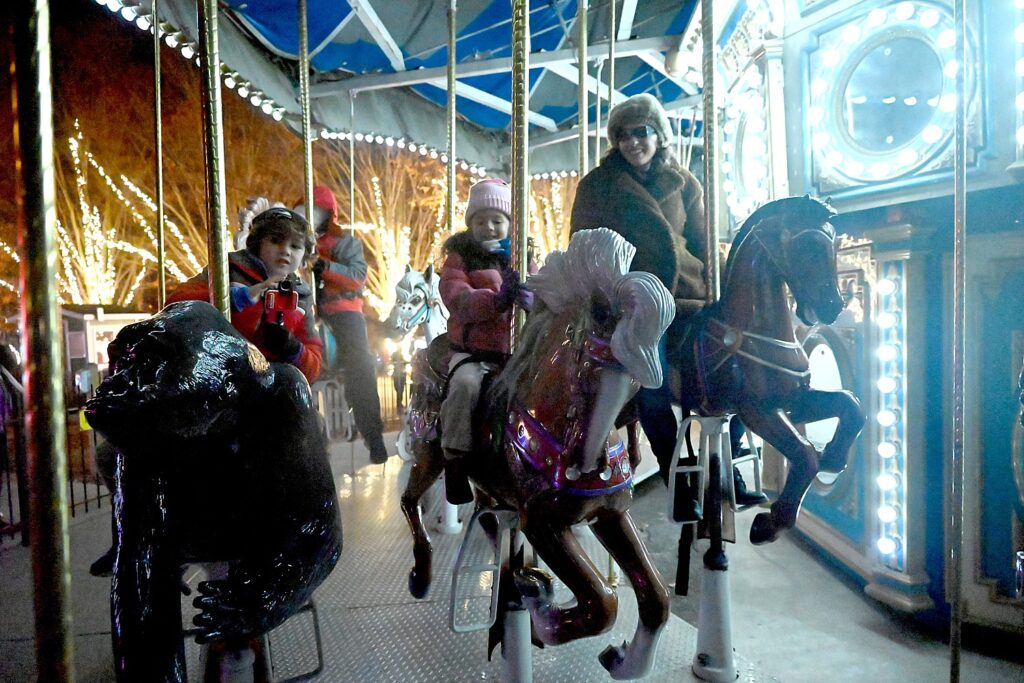 Zoo Lights is a seasonal spectacle after-hours event offered five nights a week, Wednesday-Sunday, from 5 to 8 pm, through January 2.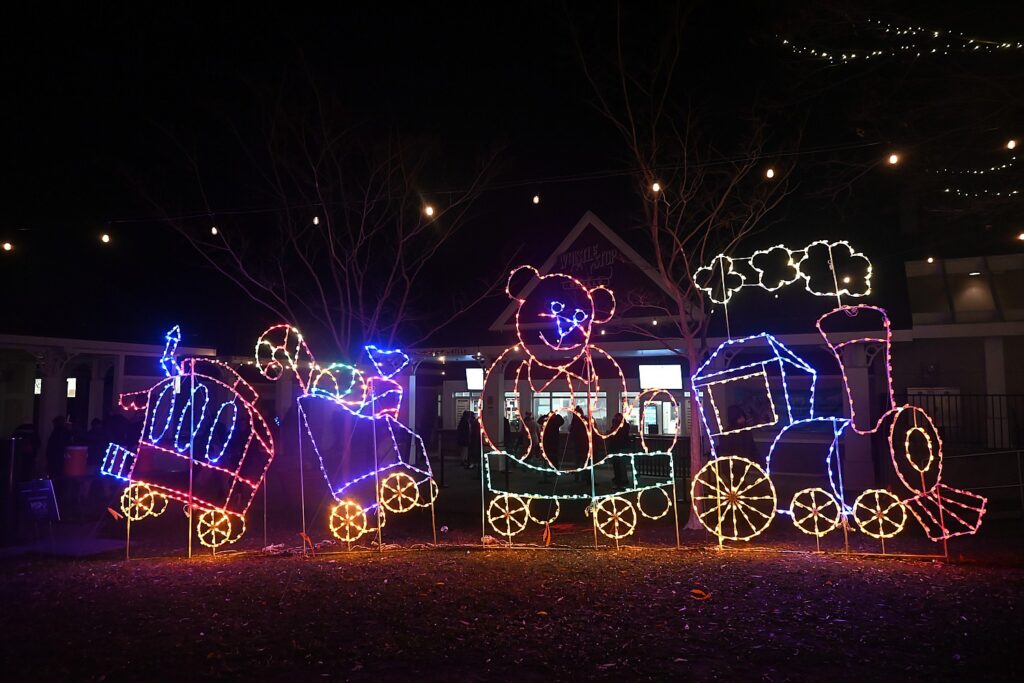 On Fridays, Saturdays and Sundays, you experience Zoo Lights on foot, walking along a beautifully lit path past dazzling displays including some favorite animals reimagined as light sculptures. The walk begins at the Main Gate, heads down Buffalo Yard Road into Zoo Central and the Farmyard where there are carousel rides, hot cocoa and maybe even a glimpse of Santa!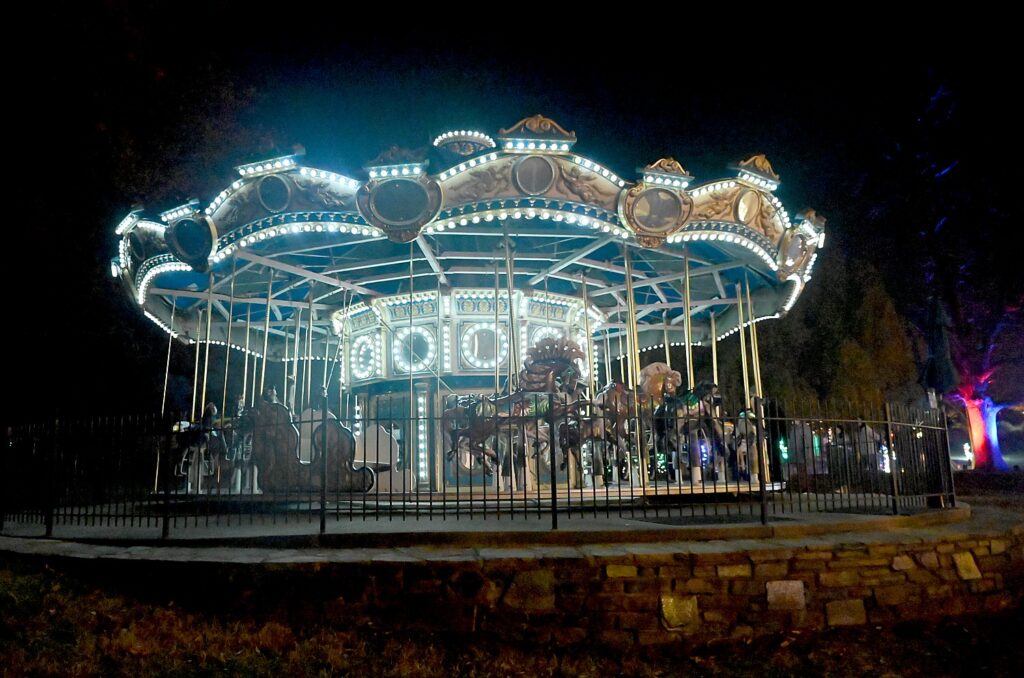 On Wednesdays and Thursdays, you can experience Zoo Lights from the comfort of your vehicle beginning at Eagle Gate and proceeding down Buffalo Yard Road. This option is ideal for those who would prefer to stay socially separated or aren't comfortable walking long distances.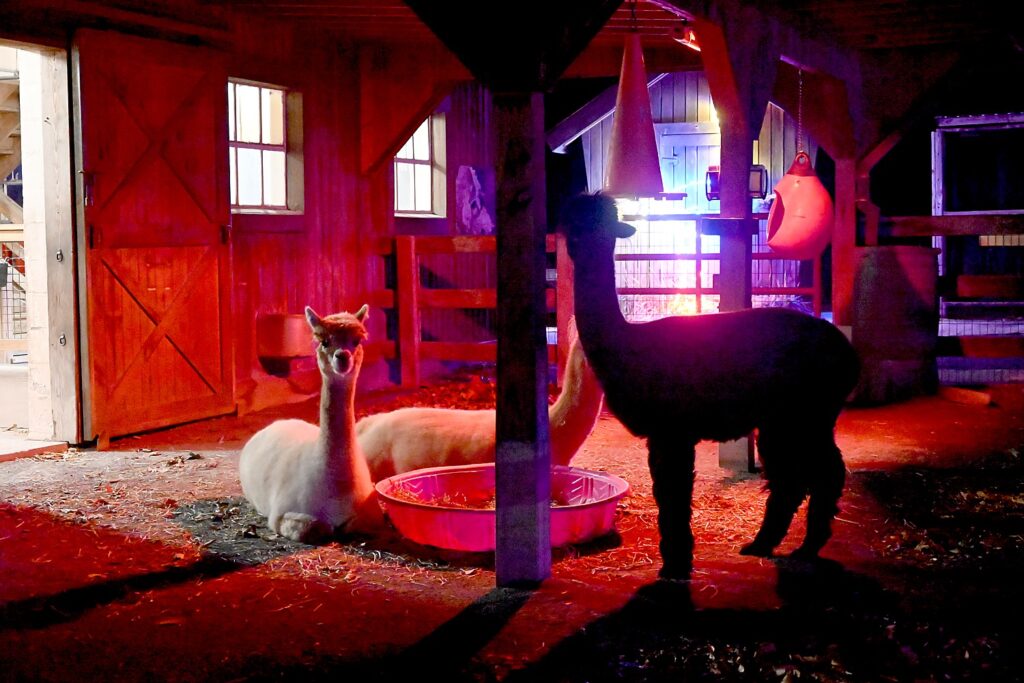 Tickets are $33 per vehicle for the drive-thru experience and $28 per person for the walk-thru experience; advanced purchase is required. (Closed on Christmas, and the event may be modified due to inclement weather). Book tickets at https://www.marylandzoo.org/special_events/zoo-lights/
The event is a major fundraiser that supports the Zoo's conservation and education activities year-round. Be sure to return in daytime to visit the animals. During winter, admission is $15 thru Feb. 28. There are loads of animals that can be visited outdoors (though weather dependent) including chimps, colobus monkeys and lemurs, prairie dogs, crowned cranes, leopards, cheetahs, zebras and flamingos to list just a few, while giraffes can be visited indoors. (See full list, https://www.marylandzoo.org/news-and-updates/2021/11/colder-weather-2021/)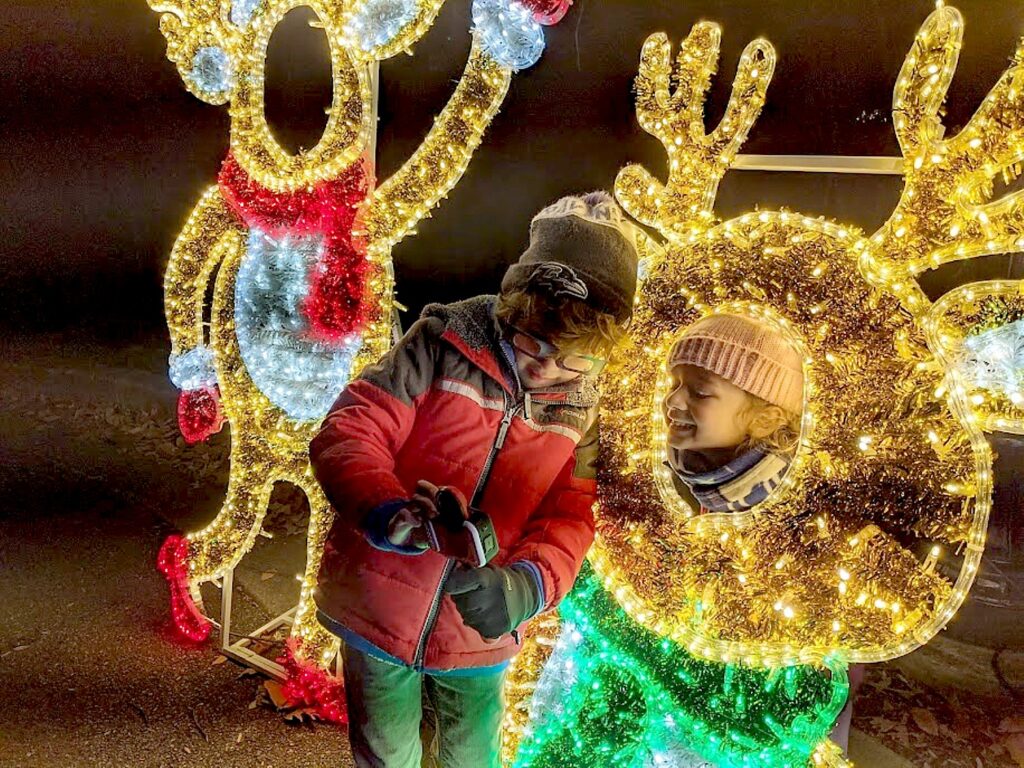 Animal experiences also are available throughout the winter, including Penguin Training, Rhino Training, and Otter Training.
Purchase tickets online, marylandzoo.org.
The Maryland Zoo in Baltimore, One Safari Place, Baltimore, MD 21217, [email protected] or call 443.992.4585, marylandzoo.org.
Hampden's Miracle on 34th St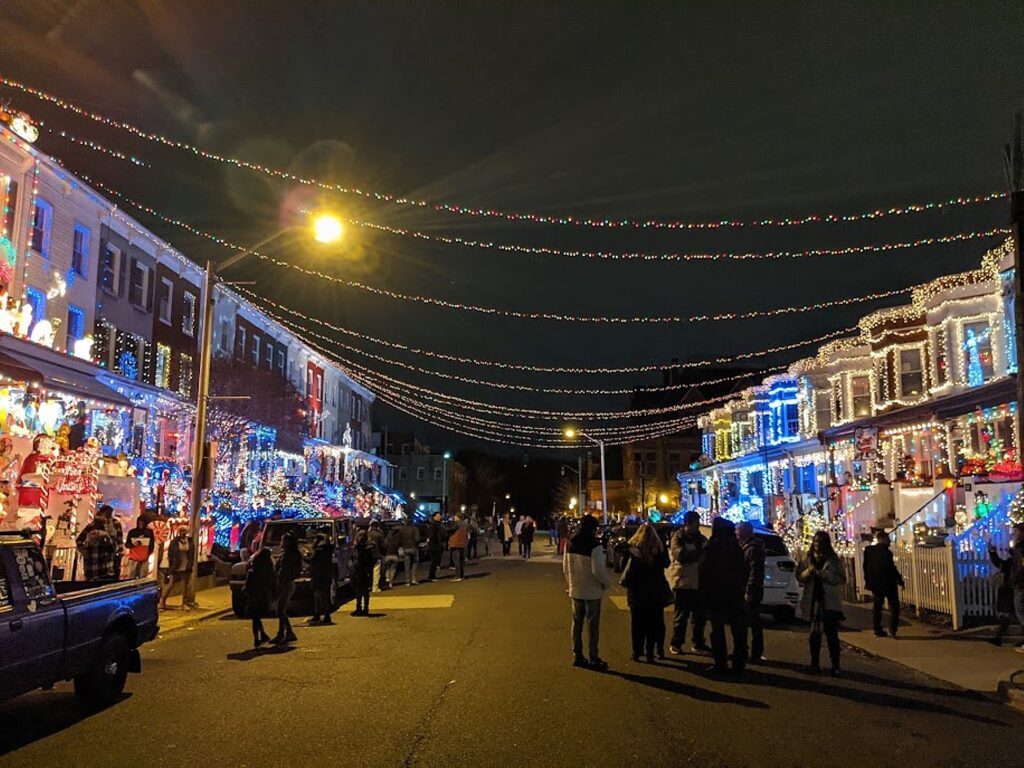 They call it "Christmas Street". It's 34th Street in the Baltimore neighborhood of Hampden, where for the 73rd year, this small block of modest attached homes goes all out with holiday lighting. It's not just joyous, festive – dare I say spectacular – as a whole dazzling scene, but the fun is to really look closely at the detail at each house to appreciate the art, the creativity and the message.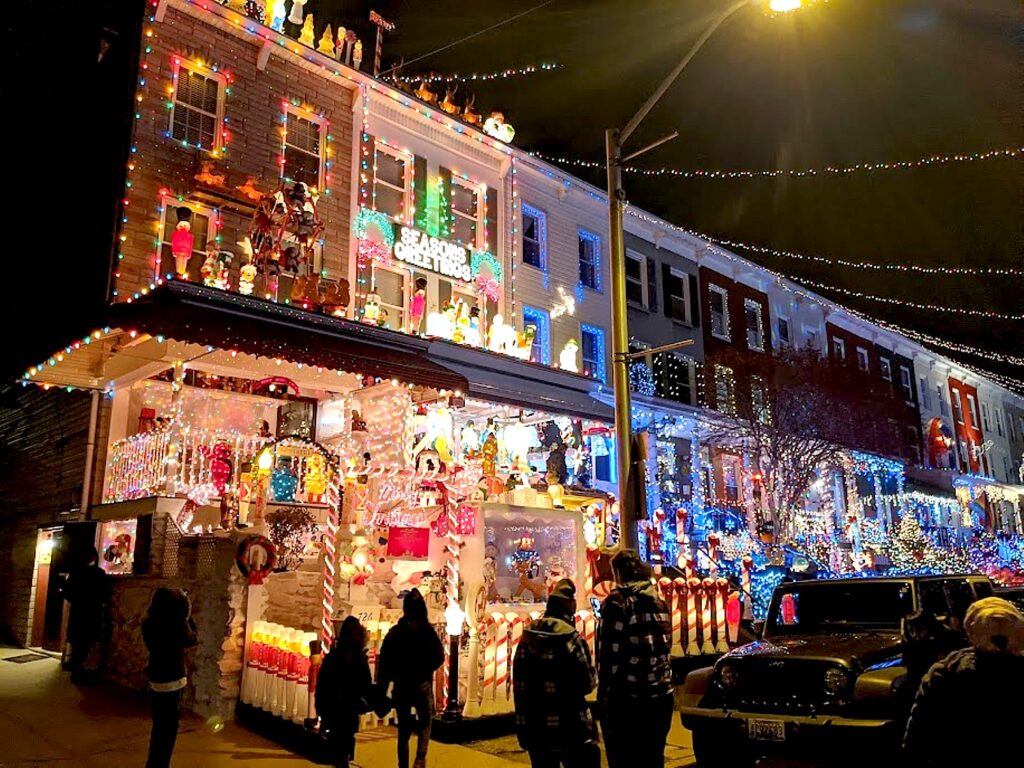 The street "captain" (for lack of a better word), has a lighted display that says this family has put up the Christmas decorations since 1942. Its display is the most traditional, the most all-out Christmas-y, jammed crammed with every major symbol of Christmas, "Seasons Greetings" in lights, even with a model train running laps (I'm told they start setting up in October).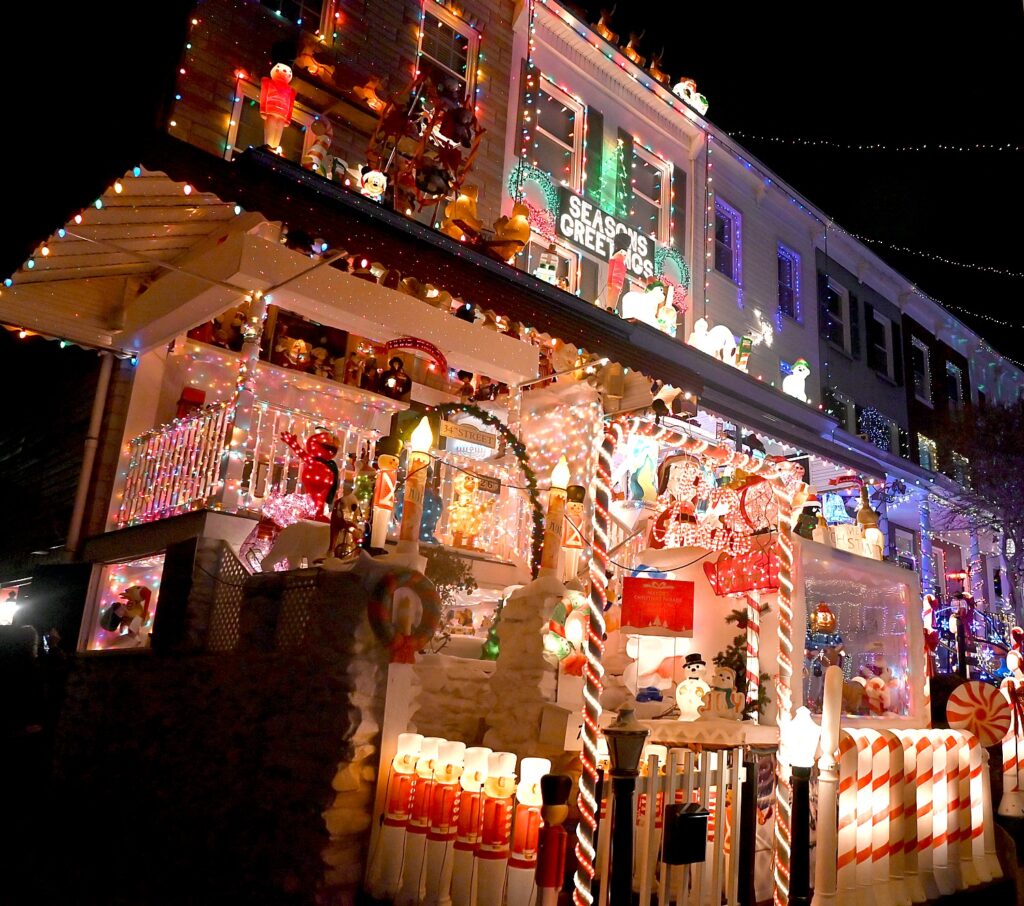 As you go down the block, you see displays with themes of Black Lives Matter, Gay Pride, even a Hanukkah house, and messages of peace and love and joy, helping animals. There are messages like "Have a magical Christmas" and of course, "Miracle on 34th Street" (especially appropriate for the Hanukkah display).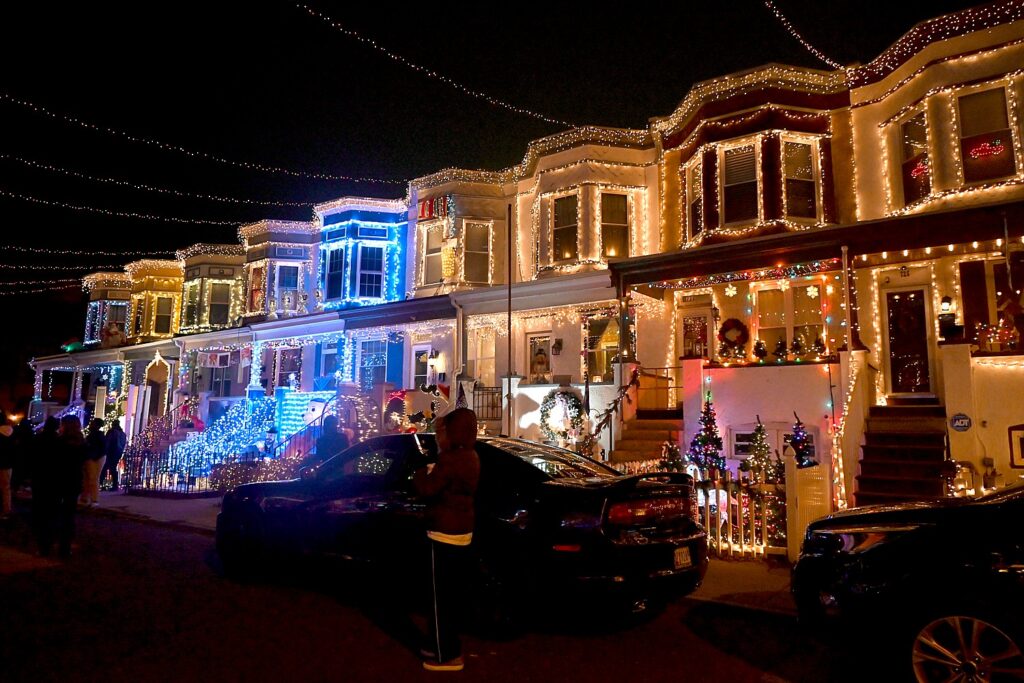 Some are so imaginative and artful: one home uses doors to represent the Nativity scene. Another is famous for its Christmas tree constructed of hubcaps and its bike rim snowmen and another for its Big Red Lighted Crab (appropriate for Baltimore).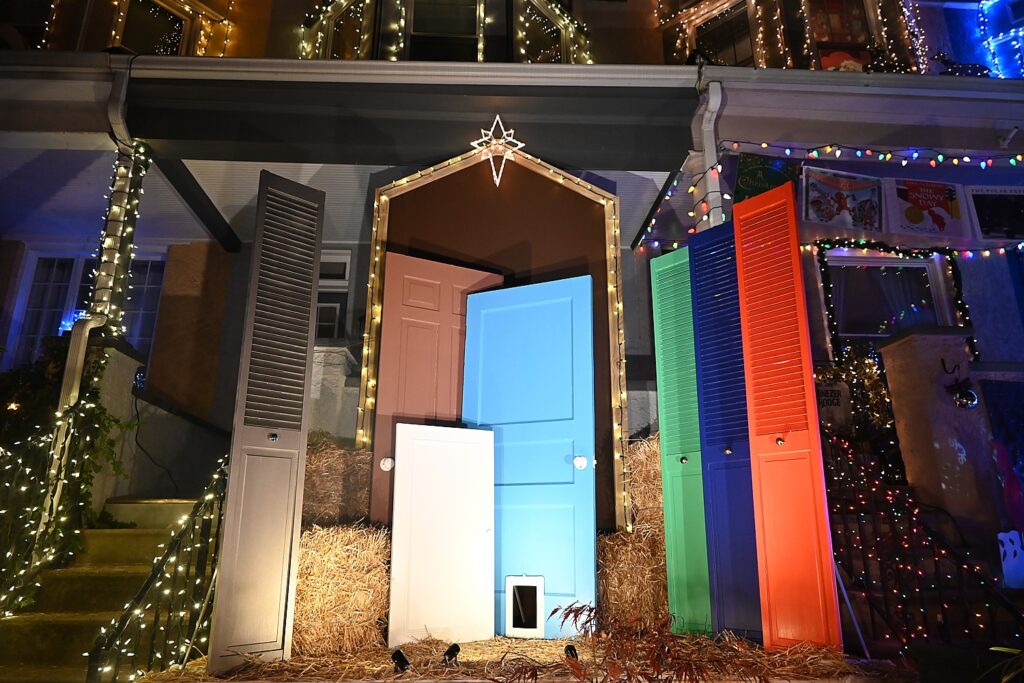 How did this get started? Well, the website (christmasstreet.com) provides "Greetings from Bob and Dar":
"I could live on a dead-end street in the desert and still do this." says Bob Hosier the 'guy who started this all'. It started back with his humble beginnings when he was a teenager and lived in Northeast Baltimore. He placed a string of lights on a tree in the family yard and the rest was history. Darlene Hughes's family also decorated her home on 34th street so it only seemed fitting that these two would meet, get married (over 25 years) and start the tradition that is what everyone now refers to as the 'Miracle on 34th Street', which by the way happens to be Darlene's favorite movie along with 'It's a Wonderful Life'."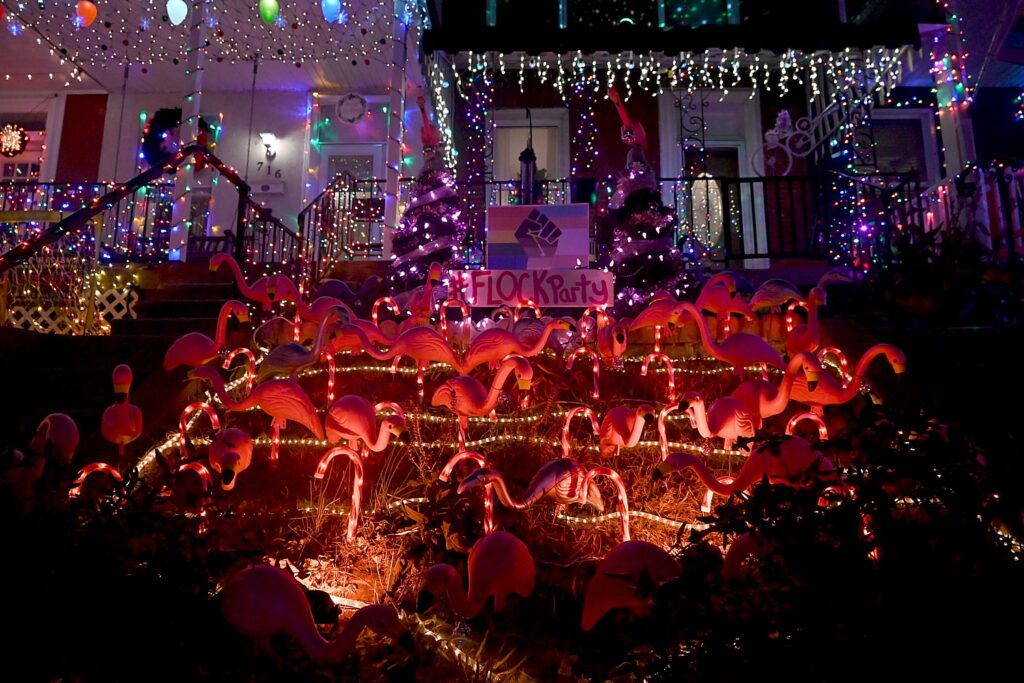 Over the years, many visitors from around the world have visited the lights on 34th street and left many messages in the books that the Hosier's leave on their porch for people to sign and share. The street has been nationally recognized by Nightline, The Travel Channel, the Maryland Lottery, and Home and Garden to name a few.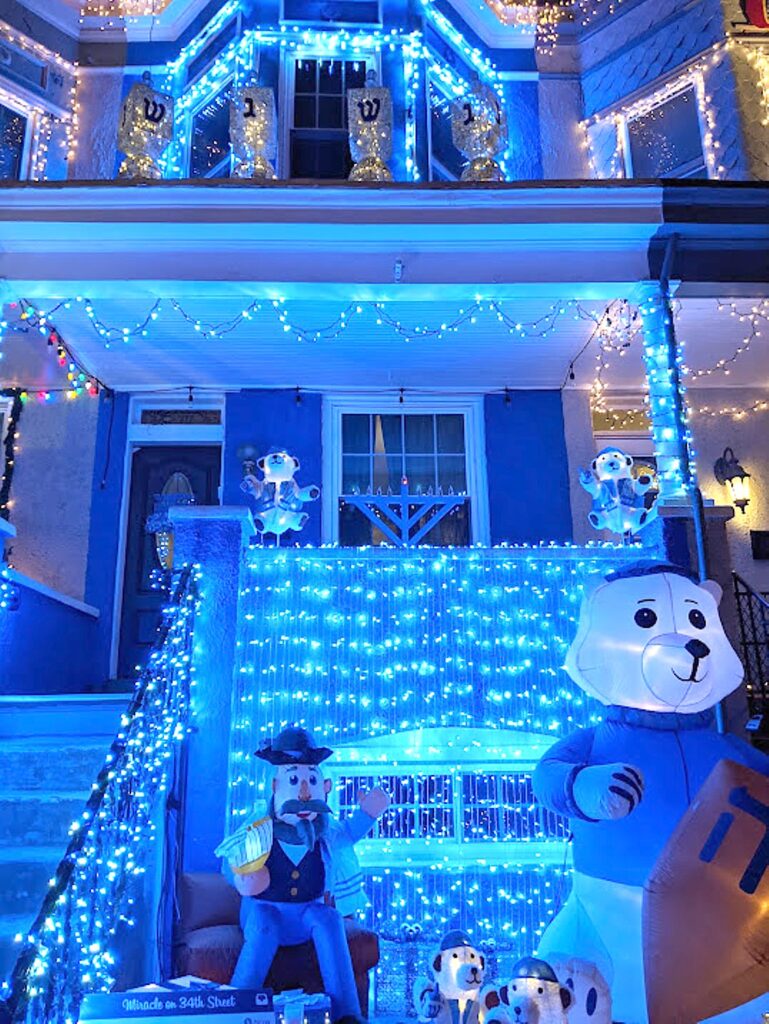 The longevity of the tradition is notable – in fact, the miracle.
Apparently, this year a new member of the city council tried to end the lights (how would that happen, actually?), but the mayor stepped in "and told us to 'LIGHT THE STREET' !!. Special thanks to Scott Davis Director of the Mayor's Office of Neighborhoods for Baltimore City for keeping the Tradition alive. We will be lighting the street Saturday after Thanksgiving at 6PM. Merry Christmas."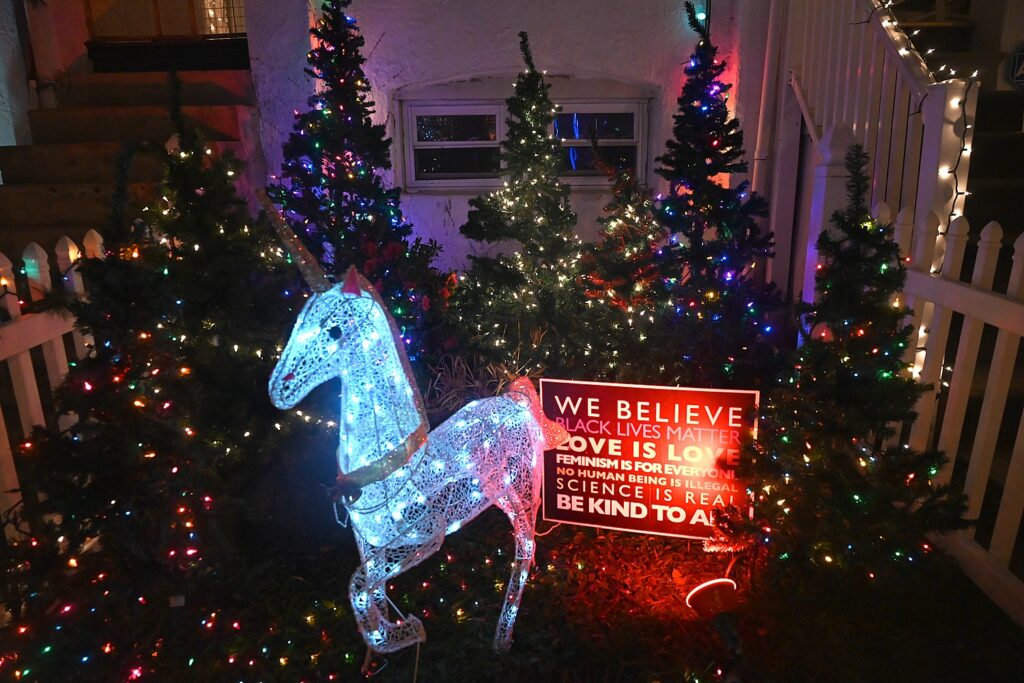 In fact, that is exactly when we arrived, totally bowled over. When I was informed by our Baltimore relatives about the 34th Street display, I assumed I would see decorated storefronts, like in Manhattan. This was so much better.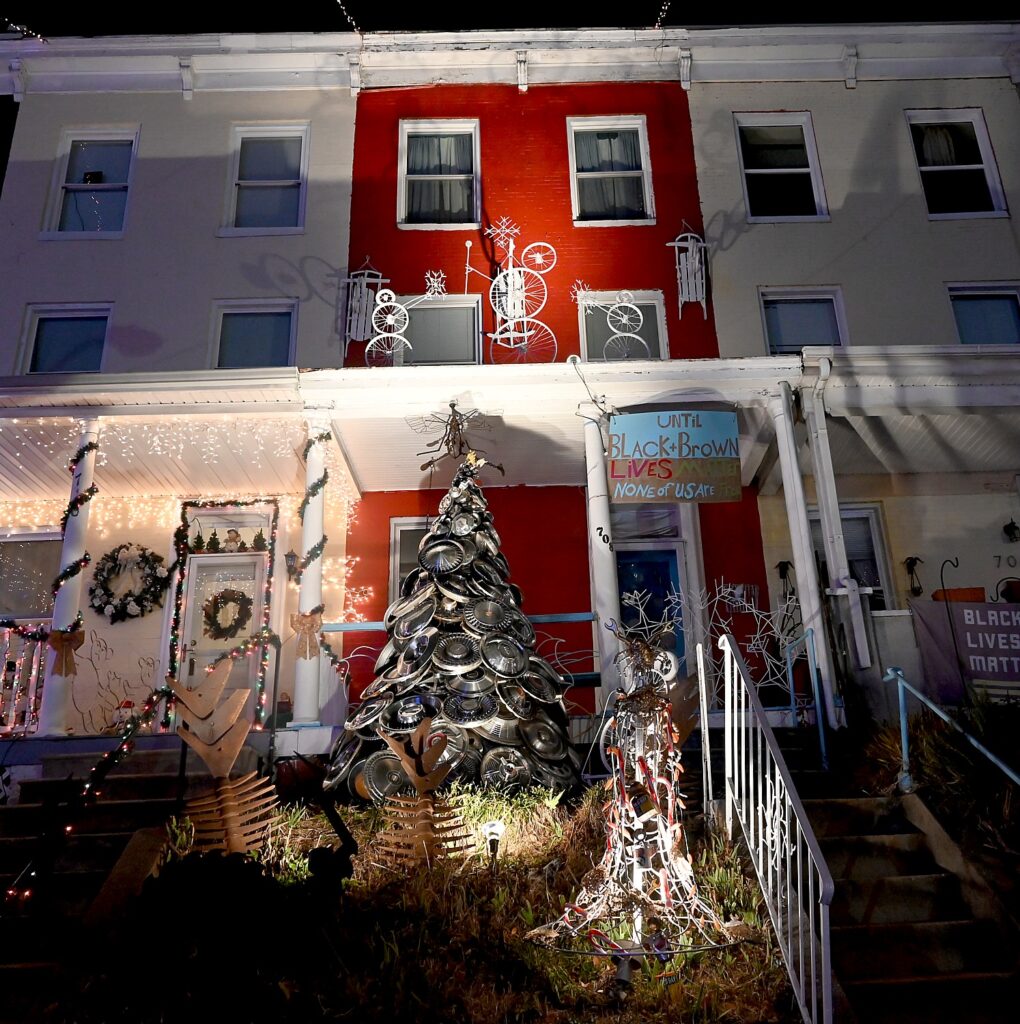 The residents keep it totally noncommercial, vendor free (you are told not to give money to street musicians who might show up).
What's most remarkable, really, is that it takes the entire community on this street to participate, to make this considerable effort, to join together, even with their own individuality and (clearly) differences and also the likely turnover over the years of residents all needing to buy in. One can only imagine the expense, along with the considerable effort and dedication.
It is the essence of the holiday spirit.
34th Street is located in the Hampden section of Baltimore City. Follow directions to 726 West 34th Street, Baltimore, Maryland 21211, christmasstreet.com.
Christmas Village and the Holiday District
Christmas Village will sail back into Baltimore's Inner Harbor in 2021. After being cancelled due to the pandemic last year, Charm City's beloved holiday tradition is ready to transform West Shore Park (501 Light Street) into a traditional indoor and outdoor German Christmas Market, from Thanksgiving Day, Thursday, November 25 through Christmas Eve, Friday, December 24, 2021.
Enjoy holiday vibes with the return of the 30 foot tall stunning Christmas Pyramid from the Ore Mountains, the 65 foot tall illuminated ferris wheel and the addition of a brand-new Christmas Village Carousel with horses and festive reindeer. Famous German ornament vendor Käthe Wohlfahrt returns to the heated festival tent along with 50+ local small businesses, makers, and international vendors. Other highlights include thousands of twinkling lights, the signature wooden huts, a large selection of Glühwein (mulled wine), the warm glow of the open-air Bratwurst Grill, an extended outdoor seating area, a new outdoor Hofbrau beer booth, photos with Santa Claus, appearances by Gingy the Gingerbread Man, and theme weekends with live entertainment. Foodies will find raclette cheese sandwiches, bacon on a stick, wine and beer tastings, all-new spirits tastings, and much more.
Christmas Village is partnering with local organizations to create the Holiday District in Inner Harbor, featuring the Village Christmas Tree at the Inner Harbor Ice Rink, nearby attractions, shopping destinations and museums including the National Aquarium and Maryland Science Center. (Located in West Shore Park, between the Maryland Science Center and the former Baltimore Visitor Center, 501 Light Street, Baltimore, MD 21230, www.baltimore-christmas.com)
______________________
© 2021 Travel Features Syndicate, a division of Workstyles, Inc. All rights reserved. Visit goingplacesfarandnear.com, www.huffingtonpost.com/author/karen-rubin, and travelwritersmagazine.com/TravelFeaturesSyndicate/. Blogging at goingplacesnearandfar.wordpress.com and moralcompasstravel.info. Send comments or questions to [email protected]. Tweet @TravelFeatures. 'Like' us at facebook.com/NewsPhotoFeatures