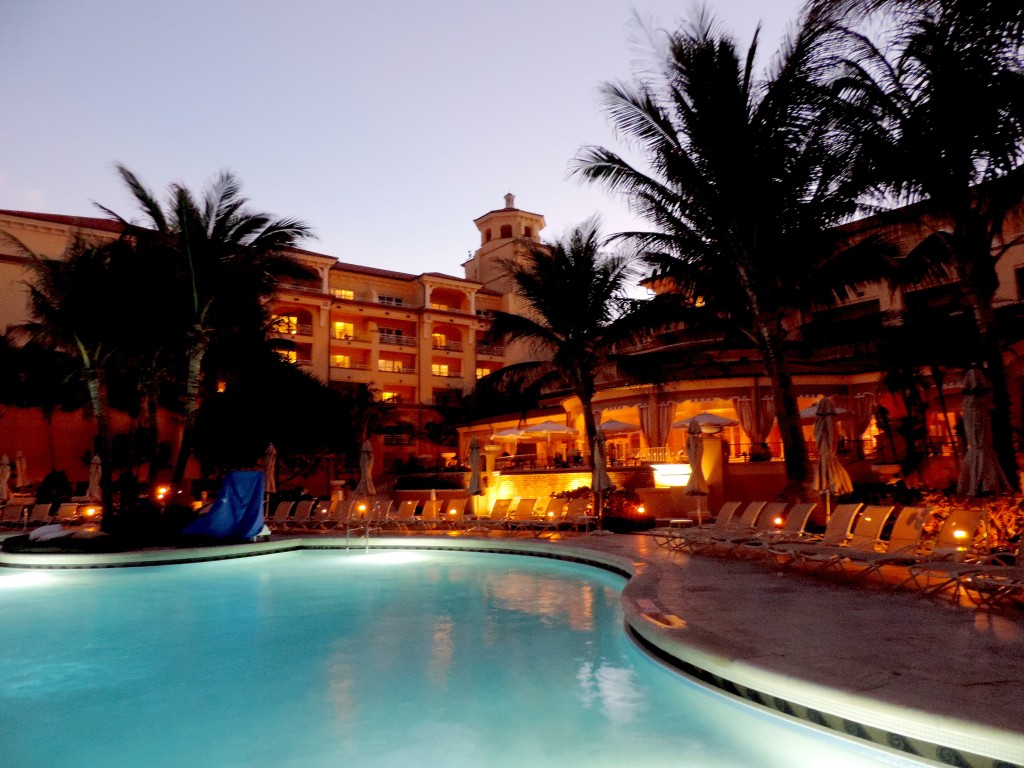 by Karen Rubin
The Eau Palm Beach Resort & Spa has gone rogue. After more than 20 years as the Ritz-Carlton Palm Beach, the owners of the Five-Star, Five-Diamond resort have decided to become independent and set their sights on creating a "new fashioned luxury" for the Palm Beach set accustomed to the highest standards of luxury.
It is about exceeding expectations even for an ultra-luxurious resort. About a new kind of elegant resort experience that revolves around playfulness, sheer delight, unabashed self-indulgence and pampering and good cheer. It's refined, but relaxed. It's about surprise.
Here are some examples: in the Eau Spa, there are Couture Cupcakes, puzzle games. A Self-Centered Garden makes you think of an Arab sheikdom, where you can swing in a basket over a reflecting pool or play life-size chess. When you arrive, you are offered a glass of champagne, a cooling towel and a beach bag. And if you have a hankering to bike along Ocean Avenue to get a gander at the opulent mansions, you only have to ask to borrow one of their specially designed beach bicycles and they will be happy to outfit you with a helmet, bike lock, basket, bottle of water and a map.
Just ask, and you are greeted with the most cheerful smile.
The entire experience at The Eau Palm Beach is an unending cascade of pleasant surprises.
You arrive at the lushly landscaped porte-cochère, designed to be an outdoor living space, and enter into a lobby that is more like a giant living room, with elegant furniture, crystal chandeliers, a fireplace, cozy sitting areas, seeing through to a breathtaking view of the sparkling aquamarine Atlantic Ocean.
What strikes me first is the refreshing fragrance of seabreezes waft up. It is the veritable olfactory picture of what you would imagine Palm Beach to be. It turns out this is a specially created fragrance that perfectly captures "Palm Beach" (the "recipe" includes ozone, fruity citrus, sea salt, amber, soft musk, and you can purchase it in a votive candle in the gift shop, so you can bring Palm Beach home).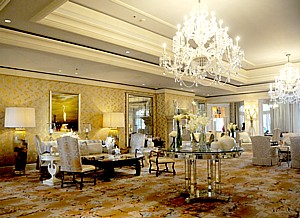 I take my champagne (fresh-squeezed lemonade is an option) over to what looks like the prettiest living room in the finest of Palm Beach homes, with furnishings in beige, peach, gold, coral and seaside themes of seabirds, shells, turtles. All around there are stunning antiques, fine paintings, just marvelous things to look at. It's refined, elegant, yet you feel comfortable enough to sit in flip flops.
I pause and feel the stresses of travel just melt away.
That is the overall feeling here – easy-going elegance, playful refinement. It is an atmosphere that is reinforced with a cheery staff. It gives new definition of "classy."
Set on seven oceanfront acres, the hotel was built as a Ritz Carlton about 25 years ago, and when it came under new ownership about 10 years ago, the hotel was closed for more than six months for a complete renovation that has produced the stunning design, new facilities like the free-form pool and the spa (which is operated by WTS International which also operates the spas at such grand resort hotels as The Woodstock Inn, Colonial Williamsburg and Loews Don Cesar).
The Eau continues under the same ownership – a British family trust which owns hotels in London and resorts outside United States, but this is their only US property. Breaking with Ritz Carlton allows them to give The Eau its own mark of distinction, style and personality.
It is establishing its own character, its own personality, its own unique style, and I predict will soon be known by that moniker that commands attention, "The" – "The Eau Palm" – as in The Breakers, and The Waldorf – that at once defines the hotel as its own destination. Unique. One of a kind.
The Eau Palm Beach Resort & Spa exceeds the highest expectations that you would have for a Five Star/Five Diamond resort hotel (one of only three Five Star/five Diamond resort hotels in all of Florida – the other two are The Acqualina Resort & Spa and The Mandarin, both in Miami, so The Eau is the only 5 Star/5 Diamond in swank Palm Beach).
There is so much about the Eau that justifiably puts it into the Five Star/Five Diamond category – the beach, the lavishly landscaped pools, the stunning design and interior decoration, the level of service that sets a new category for "luxury," the creative "inspiration" programs – but what sets The Eau Palm Beach apart is The Eau Spa.
OMG: The Eau Spa
Eau Palm Beach Resort & Spa takes its name from the award-winning 42,000 sq. ft. Eau Spa, which was created for the resort, and has been named one of the 25 best spas in the entire world.
Now, all spas are about indulgence but they at least make a representation of being about health and wellness – stress reduction after all, is medicinal.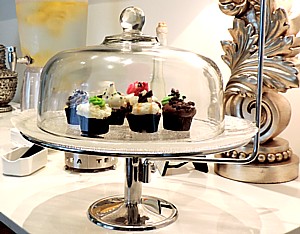 But The Eau is unabashedly about self-indulgence. Here's an example: most spas offer fresh fruit and nuts and ice water while you wait. At the Eau, they offer Couture Cupcakes, imported from Delray Beach.
When you arrive, and you walk through what looks like a Moroccan souk, you come to this exotic looking circular room, where the hostess invites you to make a wish as you float a lighted candle in a giant gleaming copper Wishing Well saying, "Your 'me time' begins now." The candles float alongside rubber duckies.
Eau Spa is equal parts sublime pampering, tranquil rejuvenation and devilish indulgence, a dazzling retreat in a distinctive setting. Here you feel enveloped in a calming wonderland.
Eau Spa features several areas for gathering and socializing, including the Bath Lounge with an oversized Jacuzzi with a column of water that falls from the ceiling like rain; cozy sitting areas where you will find puzzles like Rubrics cube, spa attendants serve refreshments off antique handheld mirrors and light bounces off a glamorous crystal chandelier made of wine glasses.
"It symbolizes Eau Spa- it's about laughs and bubbles," Teal, the hostess tells me as she escorts me through. That and the yellow rubber duckies that are the spa mascot. The Snow Room (ice cold) is decorated with snowglobes and a penguin.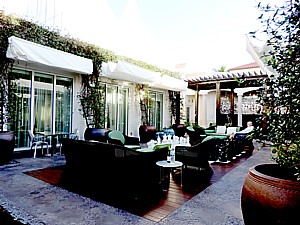 The centerpiece of the spa is the Self-Centered Garden an open-air sanctuary "where nature twines with manmade imaginings" (I wish I had come up with that phrase).
Eau Spa features 19 Spa Villas (treatment rooms), which can be customized to your preferences, reflecting your taste, desire, mood and purposes for the day. This includes color therapy through LED lighting that defines wall colors with shades outlined by ancient cultures. Twelve of the Villas have their own outdoor garden, offering a private escape. Three Couples' Spa Villas provide an intimate experience beyond treatments, with garden enclaves, over-sized tubs and outdoor rainfall showers.
I am escorted to the Scrub and Polish Bar – one of the signature elements of The Eau Spa – where I can purchase a custom blend scrub (for example, lemongrass, green tea and lavendar), which is then mixed for me personally by the mixologist, for $35 (it comes with butter and loofa scrub), that I can take to the steam shower (this is why you should come much before your treatment is scheduled; people come and spend the entire day at the spa and the Self-Centered Garden and the private lanai, and why it is so ideal for a gal getaway or bachelorette party). You can order lunch at the spa and stay until closing, 8 pm.
As I look more closely as I walk down the hall to my "villa," I notice the fanciful names: Villa Greedy…. Villa Selfish, Villa Sassy, Villa Naughty. Mine is Villa Vain.
In the treatment room, the masseuse shows me to a small table on which is a spoonful of pure honey and some ice water. The room has its own private garden with a basket swing and shower, where you can lounge if you want. She asks what color and music I would like.
During the massage, I think to myself, "The Queen of England could not be treated more royally."
Curators of Fun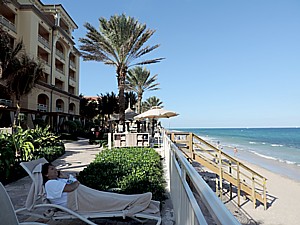 The aim of The Eau is to surprise, to exceed expectations for a clientele that comes with the highest expectations, to go beyond the staid concept of "luxury" and "pampering" and offer elements of whimsy and wish-fulfillment.
That's no mean feat for a Five-Star, Five-Diamond resort hotel – in fact, the only five star-five diamond in Palm Beach and only one of three in Florida.
The Eau gives a wink to refinement – elegant but casual. More than that, it is playful and fun.
It's so much more than just being a stunning place. The Eau means to pay a role in creating experiences, in fulfilling wishes.
My wish was to ride a bike up Ocean Avenue, beside the mind-bogglingly opulent homes to the bike path along the Intercoastal. The Eau lends you a bike from its new fleet of custom designed picnic bicycles, created just for Eau Palm Beach by Republic Bicycles, outfitted with basket, lock, helmet, bottle of water, map of bike routes (and distances), and if I want, a gourmet lunch and beach blanket. I biked 22 miles roundtrip.
They are working on an Inspiration Kit so if you see a sunset and are inspired to paint it, they will have all the supplies you need; or if you want to create a scrapbook, you only need ask and they will provide the supplies. (Check out the Now Wow schedule of weekly activities.)
This philosophy extends to the innovative children's programs.
Located just off the pool deck and steps from the ocean, Aquanuts and COAST go beyond the traditional with an exceptional array of offerings from a stuffed animal workshop, to GoPro camera rentals for the budding documentarian, "DJ Lab" for the aspiring DJ's and a full wardrobe, mini-spa and photo studio for professional-style photo shoots. Aquanuts caters to children aged 5-12, while COAST seems to have figured out how to crack the code to appeal to teens. Tweens (ages 10-12) are welcome to float between the two connected spaces, giving them independence to select their experience.
It is hard to imagine teens turning down art classes, DJ lessons, model makeup sessions, photo-shoots, video editing, music mixing, water sports, beach activities and pool games (Coast, which is like a teen center, is open daily and holds camp sessions regularly throughout the year.)
Aquanuts is underwater themed and offers discovery in nature, creativity in art, fun in the sun and other options based on the day and age of the participants. Aquanuts activities include sandcastles, underwater adventures, swimming, treasure hunts, arts and crafts, themes for the day and an always entertaining theater stage. Aquanuts kids enjoy fully supervised fun during half, full-day or evening programs, tailored to the group and the weather. Each day has a different theme, like Piratenuts.
This playful spirit permeates the resort.
The Eau Palm Beach team takes their role as "curators of fun" to a new level by setting the tone each evening with a new Lobby Turndown. As the sun sets, the lobby is lit with a hundred candles, guests are offered Champagne and invited to toast the new Palm Beach lifestyle. Other new events include the "Living Room Sessions" musical performances; Asian street food evenings; hand-rolled sushi paired with expertly mixed Sake-tinis.
These are centered in Stir, a charming bar/salon, which offers a relaxing place to enjoy the resort's atmosphere adjacent to the lobby and is where you can always get a light meal. By night, Stir becomes the focal point of evening activity and the social hub of The Eau. Stir activities include afternoon "Tea Affair" (Reservations are not required) along with evening light bites, appetizers, cocktails and coffees. And on Friday and Saturday nights, you can enjoy the Asian flavorings of local celebrity chef, Sushi Jo and his chopstick specialties, along with live music on Fridays and DJ mixes on Saturdays. (Stir lounge open until midnight every evening and 1 am on weekends).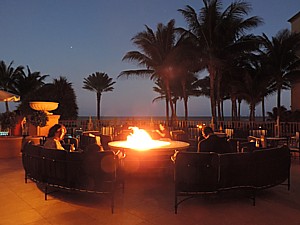 Or take your favorite libation (or s'mores) outside to gather around the firepit.
Another pleasant dining venue is Temple Orange, featuring Mediterranean-inspired dishes in an oceanfront casual setting with magnificent views of the Atlantic. This is the only breakfast venue (coffee is provided in the lobby). Lunch features a light and airy atmosphere-both indoors and on the terrace, and at night, Temple Orange transforms into an inviting and family-friendly restaurant (templeorangerestaurant.com).
Breeze, the poolside dining venue, offers gourmet burgers, seaside salads, tempting light bites and cocktails (weather permitting).
The fine dining restaurant is Angle, a contemporary, modern-American restaurant featuring locally-grown ingredients and South Florida specialties – line-caught fish, all natural, dry-aged prime beef, classic appetizers, distinctive cocktails, and an award winning wine wall. The warm and inviting space has sleek and urbane décor including chocolate velvet walls, glowing candlelight and mirrors. An onyx and amber Chef's table, dramatically lighted from below, features flights of wine, chef's plates and taste makers dinners. (Angle is open for dinner Wednesday through Sunday, 6 p.m. – 10 p.m.).
Other dining options abound: the Eau is across the street from a small shopping center where there are several restaurants, and is a short walk over the bridge to the delightful Old Key Lime House, which exudes Old Florida and dates from the 19th century (www.oldkeylimehouse.com, 561-582-1889).
Lavish Accommodations
The Eau Palm Beach offers 309 spacious guestrooms and suites in three towers, offering ocean, pool or garden views and private balconies.
Eau Club Level rooms on the fourth floor have the added amenity of the services of a private concierge, separate check-in and check-out with Champagne, and use of a private Club Lounge where there is complimentary food and beverage service four times a day, plus daily pressing service and VIP pool service. Club-level rooms offer a private balcony with views of the ocean or pool and gardens.
Eau Spa Cabana Suites are ground-level rooms with their own lanai overlooking the ocean and are just steps to the tranquility and resort pools. Cabana suites have separate bedroom and living room and two bathrooms.
My room, 573, with a glorious balcony, has the most beautiful view to the adult pool and the ocean.
I throw open the door to the balcony and enjoy listening to the pounding ocean waves.
It is beautifully furnished with a gorgeous Art Deco wood writing desk; coffee maker, free WiFi, lush linens and pillows, a stunning marble bathroom.
The bathroom offers another playful surprise: a tub-side waterproofed "Water Alive" book, soothing bath crystals, bath pillow, tray and signature candle featuring the Palm Beach breeze scent.
Resort Amenities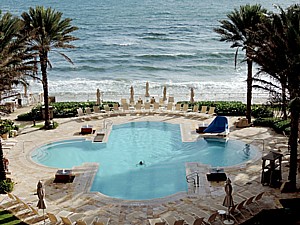 The Eau has two spectacular, oceanfront pools. The main pool is free form, lushly landscaped with palm trees, lounges that are more like sofas (even the jacuzzi has a playful swing chair). The adults-only pool has a stunning setting, and is great for lap swims.
Eau Palm Beach Resort & Spa also features a wide array of watersports including snorkeling equipment, paddle boards, wave runners.
The resort also offers three Har-tru clay tennis courts with on-site pro and guests have golf privileges at nearby courses and get special pricing as well as charge services to the hotel bill.
Its state of the art fitness center includes spinning studio and yoga studio, Pilates classes and personal trainers.
I found The Eau ideal for whatever purpose – whether it was a business or professional meeting or conference (superb meetings and business facilities), a destination wedding or honeymoon, a bachelor/bachelorette getaway, a family reunion – it lends itself superbly.
Weddings at Eau Palm can be intimate or lavish, quiet or festive, whatever you desire, but in any case, are elegant. Creative and intuitive wedding and event specialists create perfect events on any scale, from small garden weddings with flickering candlelight and an ocean view or fireworks to a gala style celebration for 1,000 guests.
At the Eau, the Business Center isn't some stifling room, but a pleasant lobby with comfortable easy chairs as well as computers and printers, available throughout the day or night.
The Eau is an ideal setting for conferences, incentive trips or chic retreats for groups from 10 to 1,000 people. The resort offers more than 30,000 square feet of meeting and event space with a variety of indoor and outdoor venues to choose from, and events can be paired and customized in more than 20 locations, including: 9,680 square-foot ballroom divisible into three equal salons; two additional ballrooms including the stunning Ocean Ballroom featuring views of the Atlantic; breakout meeting rooms including two boardrooms; poolside cabanas that bring the boardroom to the beach; outdoor event space including an oceanfront courtyard, resort lawn and pool terrace; and, of course, the Eau Spa "Self Centered" Garden with water features and private courtyard.
Hub for Palm Beach Attractions
Located in the heart of Palm Beach Island, The Eau also serves as a fabulous hub for the many marvelous attractions in Palm Beach County.
While we were there, we took advantage of the fabulous "Titanic" exhibit at the South Florida Science Museum in Dreher Park (next door to the equally fabulous Palm Beach Zoo); the exhibit is on through April 20, 2014. (Be sure to also see the special Planetarium Show) The South Florida Science Center and Aquarium, 4801 Dreher Trail North, West Palm Beach, 561-832-1988 or visit www.sfsciencecenter.org.)
Other attractions in the vicinity include:Raymond F. Kravis Center for the Performing Arts; Norton Museum of Art; Morikami Museum and Japanese Gardens; PGA National Golf Club; International Polo Club; Flagler Museum; Palm Beach Zoo at Dreher Park; CityPlace Shopping Center; and McCarthy's Wildlife Sanctuary..
Since breaking with Ritz Carlton, The Eau has affiliated with Chicago-based Preferred Hotels & Resorts' group of more than 250 independent upscale hotels and resorts. That means that Eau Palm guests can tap into iPrefer, a loyalty program that awards points redeemable for services at other Preferred properties.
The Eau is pet friendly – and is working on creating special amenities and experiences for four-footed guests.
Check the website for specials and packaged deals.
Eau Palm Beach Resort & Spa, 100 South Ocean Boulevard , Manalapan, FL 33462, 800-EAU-0170, 561-533-6000, www.eaupalmbeach.com.
____________________
© 2015 Travel Features Syndicate, a division of Workstyles, Inc. All rights reserved. Visit www.examiner.com/eclectic-travel-in-national/karen-rubin, www.examiner.com/eclectic-traveler-in-long-island/karen-rubin, www.examiner.com/international-travel-in-national/karen-rubin and travelwritersmagazine.com/TravelFeaturesSyndicate/. Blogging at goingplacesnearandfar.wordpress.com and moralcompasstravel.info. Send comments or questions to [email protected]. Tweet @TravelFeatures. 'Like' us at facebook.com/NewsPhotoFeatures.