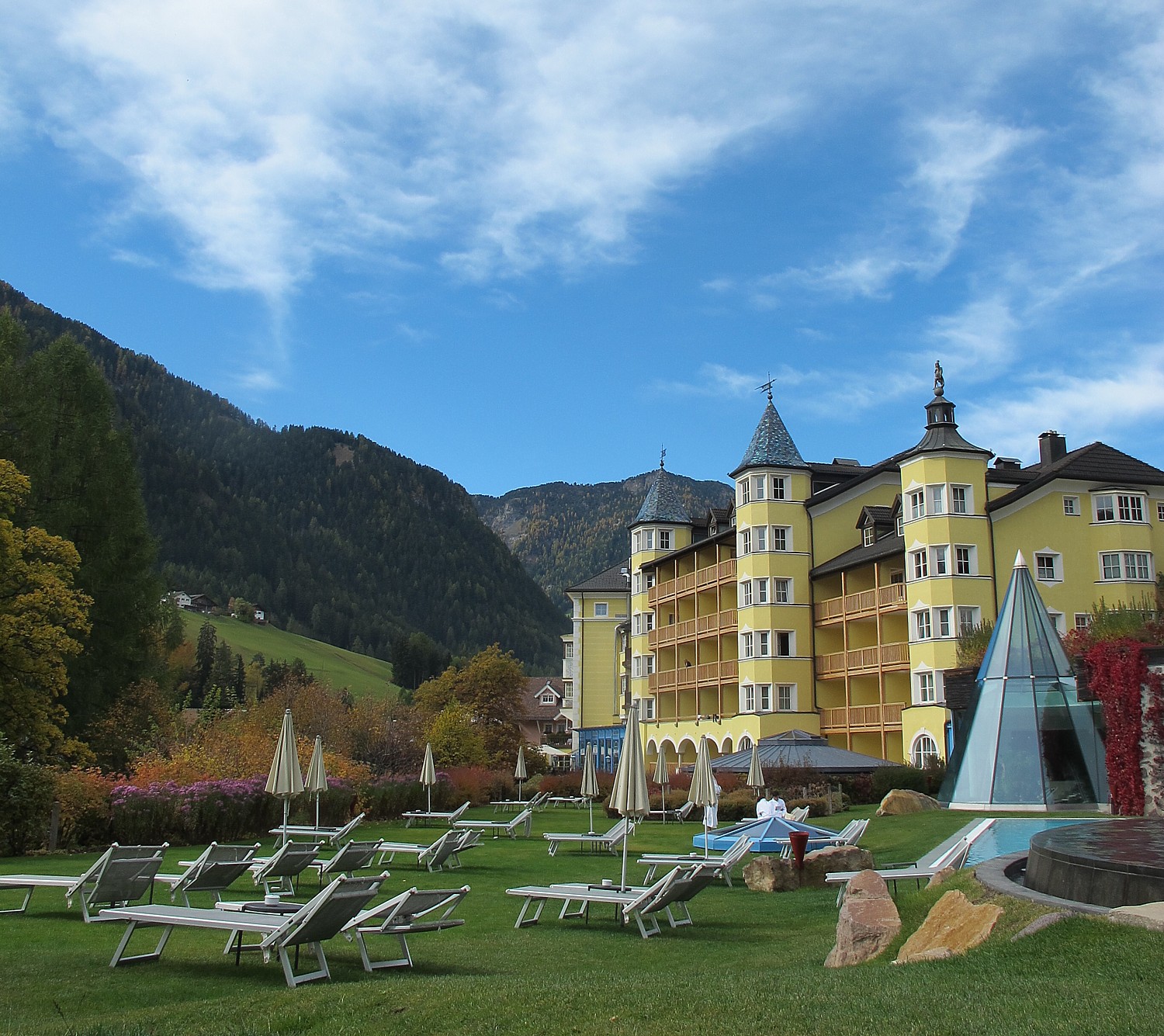 By Geri Bain
"Those snow-capped mountains are Austria," says our guide as my 23-year daughter Jenny and I pose beside our e-bikes. The effort-boosting electric bikes had make it possible for a non-marathoner to pedal up amazingly steep slopes to Alpe di Siusi (a.k.a. Seiser Alm), a 2,000-meter high alpine meadow. This is just one of many guided hiking and e-biking options offered for varying fitness levels at no charge to Adler Dolomiti Spa and Sport Resort guests. In winter, these include ski and snowshoe safaris. Alpine skiers can tap into Dolomiti Superski, among the world's biggest interconnected ski areas. Here, a single ski pass provides access to 14 kilometers of interconnecting trails and lifts, including Saslong, host to two annual FIS World Cup ski races.
About a 1.5 hour's drive from Innsbruck and roughly three hours from either Munich or Venice, the resort is set in Italy's Dolomite Mountains. Part of the Tyrolean Alps, the region feels as much Austrian as Italian, and for good reason. It was part of the Austro-Hungarian Empire until the end of World War I. German and Italian are two of the official languages in the region. The third is Ladin, whose roots go back to days when this land was part of the Roman Empire; it is still spoken in a number of formerly-isolated valleys.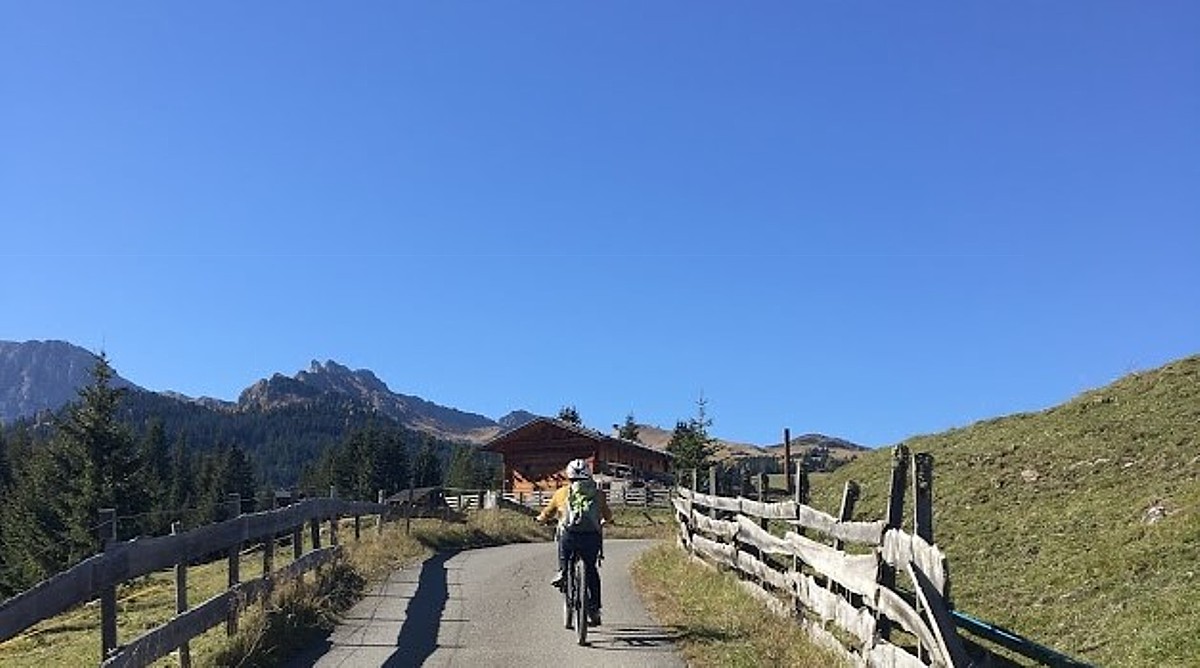 This a region of wild beauty, with 18 peaks over 3,000 meters and expansive high meadows. Nestled along its deep river valleys are small villages with flower-box adorned chalets and ancient churches. No wonder this region was named a UNESCO World Natural Heritage Site in 2009. It offers nature at its most accessible thanks to a system of interconnecting lifts and bus routes, with free tickets provided by local hotels, and well-laid out, sign-posted routes for hiking, e-biking, skiing and other outdoor activities.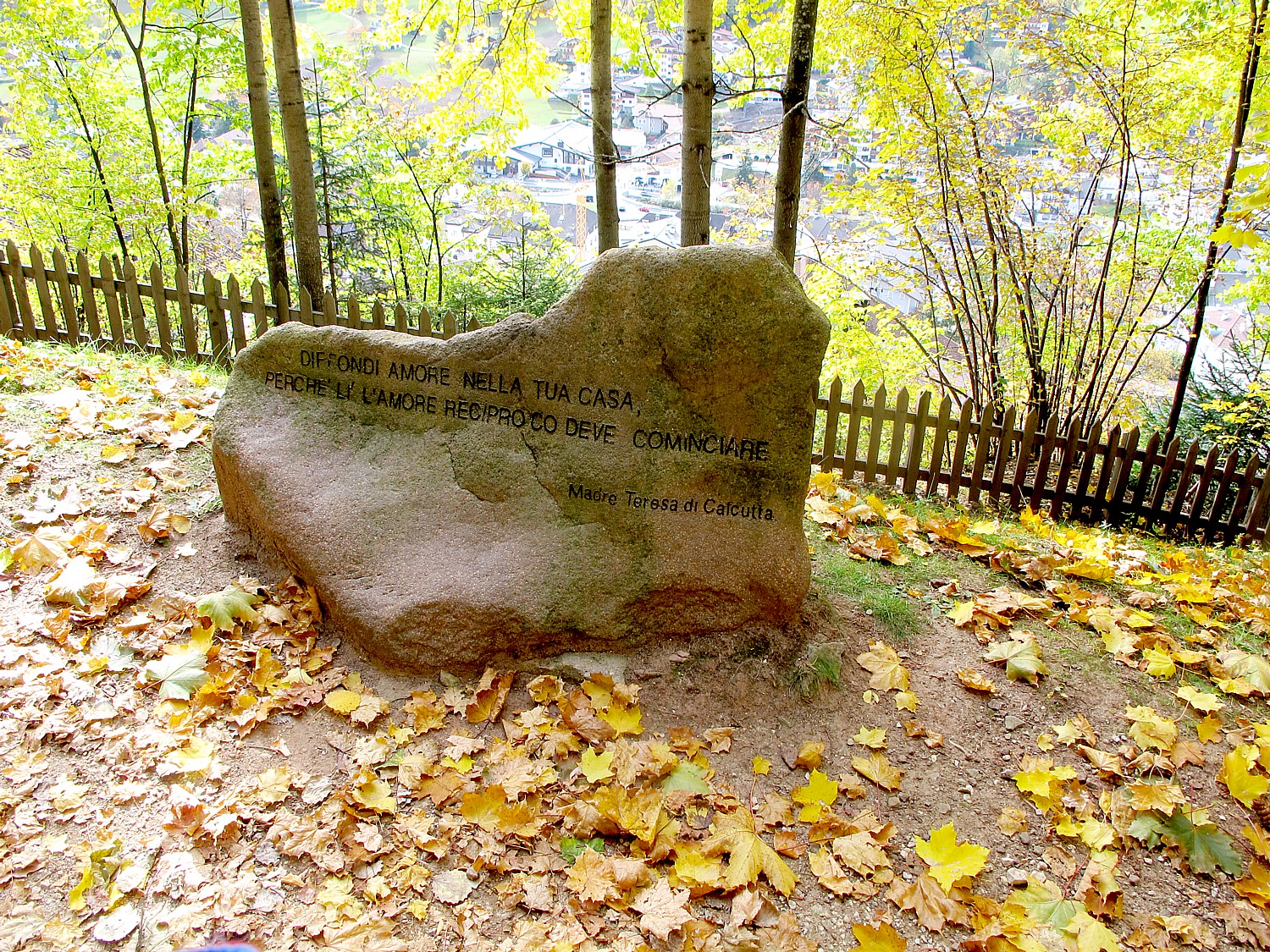 In addition to the resort's guided expeditions, we go off on several of our own hikes—armed with maps and directions from the hotel staff. One day we take the "Dialogue Walk" up the mountain behind our resort. The walk features quotes from Mother Teresa, a Cherokee, and others, carved into paving stones and rocks along the way, designed to prompt meditation (and for us, the first step is to translate them into English).
Another day, we follow the Val Gardena Railway trail, which has tri-lingual explanations of the region's history. It runs the length of the valley, past small towns, pastures and pretty pocket playgrounds, and through steep stretches of forest. Our steepest climb is up the pilgrimage trail to St. Jacob's Church, which surprises us with gaily painted story boards along the way and rewards us with awesome views.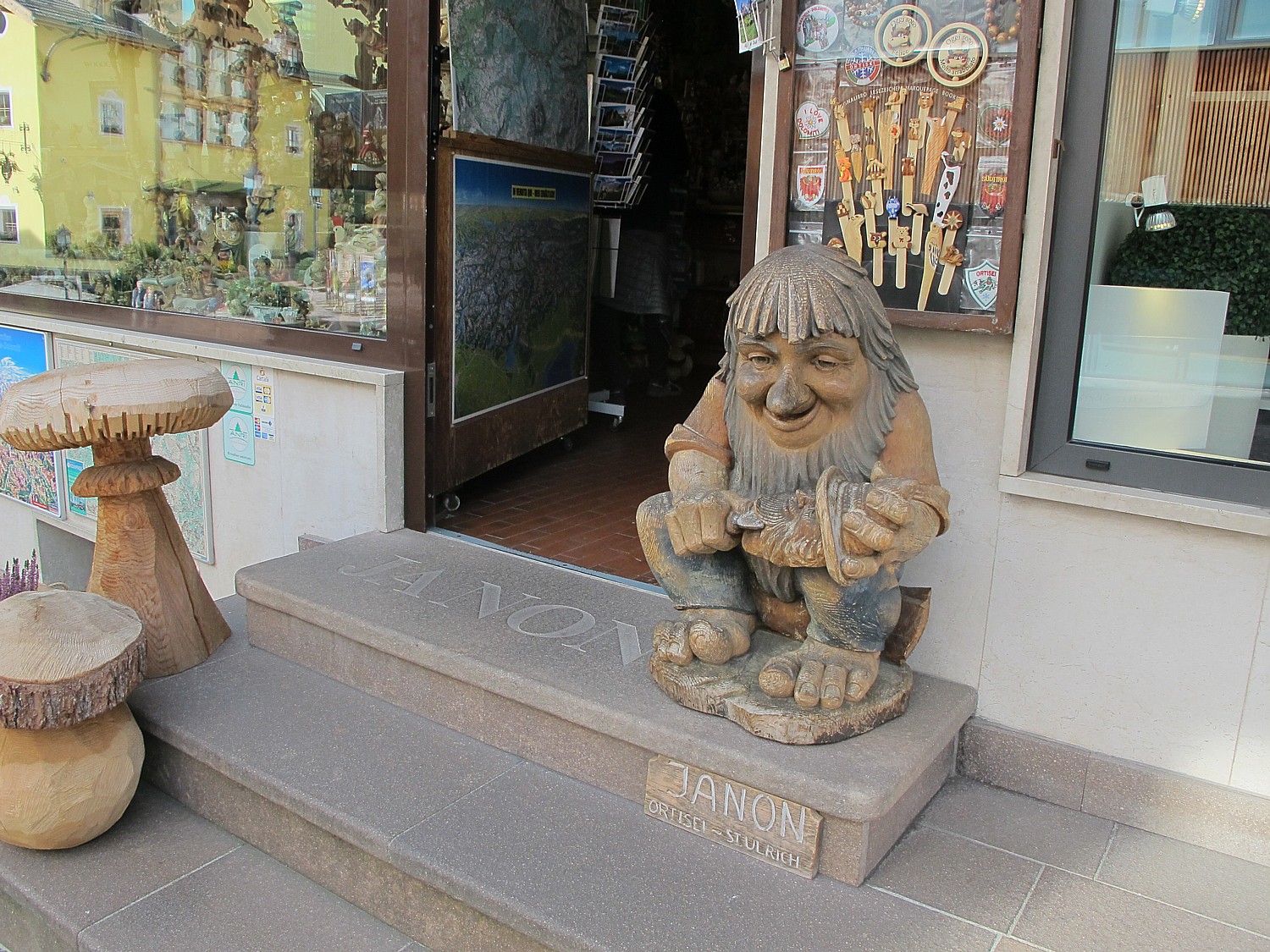 Our home base, the Alder Dolomiti Spa Hotel & Resort, is in the center of the picturesque, pedestrian-only center of Ortisei, a picturesque village in the Val Gardena (Garden Valley). Here, the region's three cultures are evident. The Alpine art of woodcarving is displayed in traditional and modern forms in shops, adorning homes and churches and in the Museum Gherdeina, which showcases Ladin culture. Restaurants, both at the resort and around town, feature local cheeses, German-style sausages and regional varieties of mushrooms in creative Italian pasta dishes.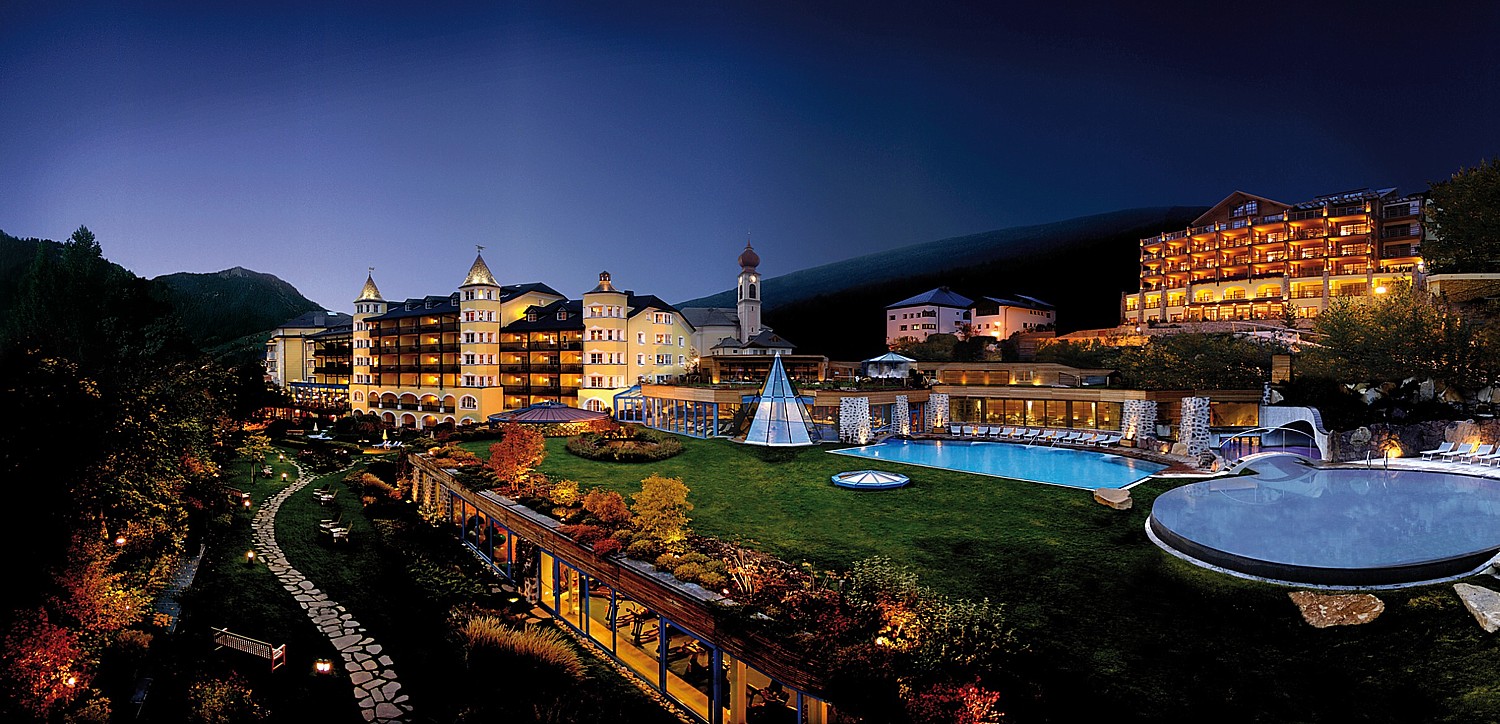 The Adler Dolomiti has been a family-run property since its opening in 1810, when the area first became known as a center for mountaineering and skiing. It has its own tiny museum with artifacts from the early days of the hotel and the region. We chose to stay here based on a stay at its sister property in Tuscany (Hotel Adler Thermae),where we had enjoyed its combination of complimentary guided outings, thermal pools, themed saunas and farm-to-table dining, and it is a great choice here as well. While each resort's architecture, activities and cuisine reflect its region, the basic style of stay is similar.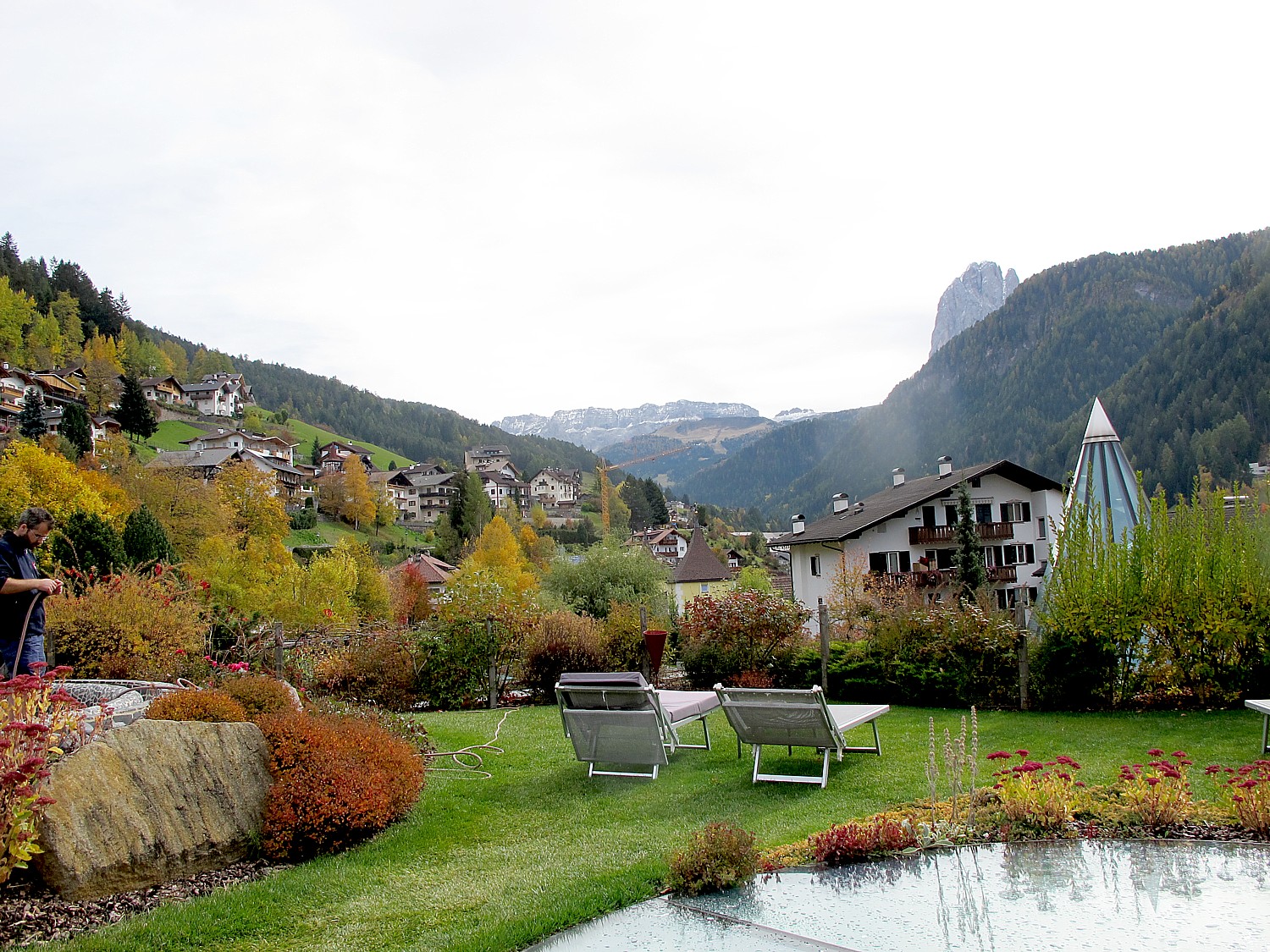 At the Dolomites resort, cozy fireplaces and lodge-style decor combine with excellent free Wi-Fi and huge window walls to create a welcome blend of the traditional and modern. Our standard room feels like a suite, with a separate seating area and patio and spacious modern bathroom. The half-board plan we are on includes a daily expansive daily breakfast buffet and multi-course dinner as well as a teatime buffet and guided excursions including equipment. There's even a complimentary kid's program. During our stay, we set out after breakfast each day either on one of the hotel's tours or one of their suggested self-guided hikes for which they provide maps, suggestions on places to eat, and a packed picnic lunch, if desired. Each day we return to a welcoming teatime spread of cheeses, meats, breads and other goodies.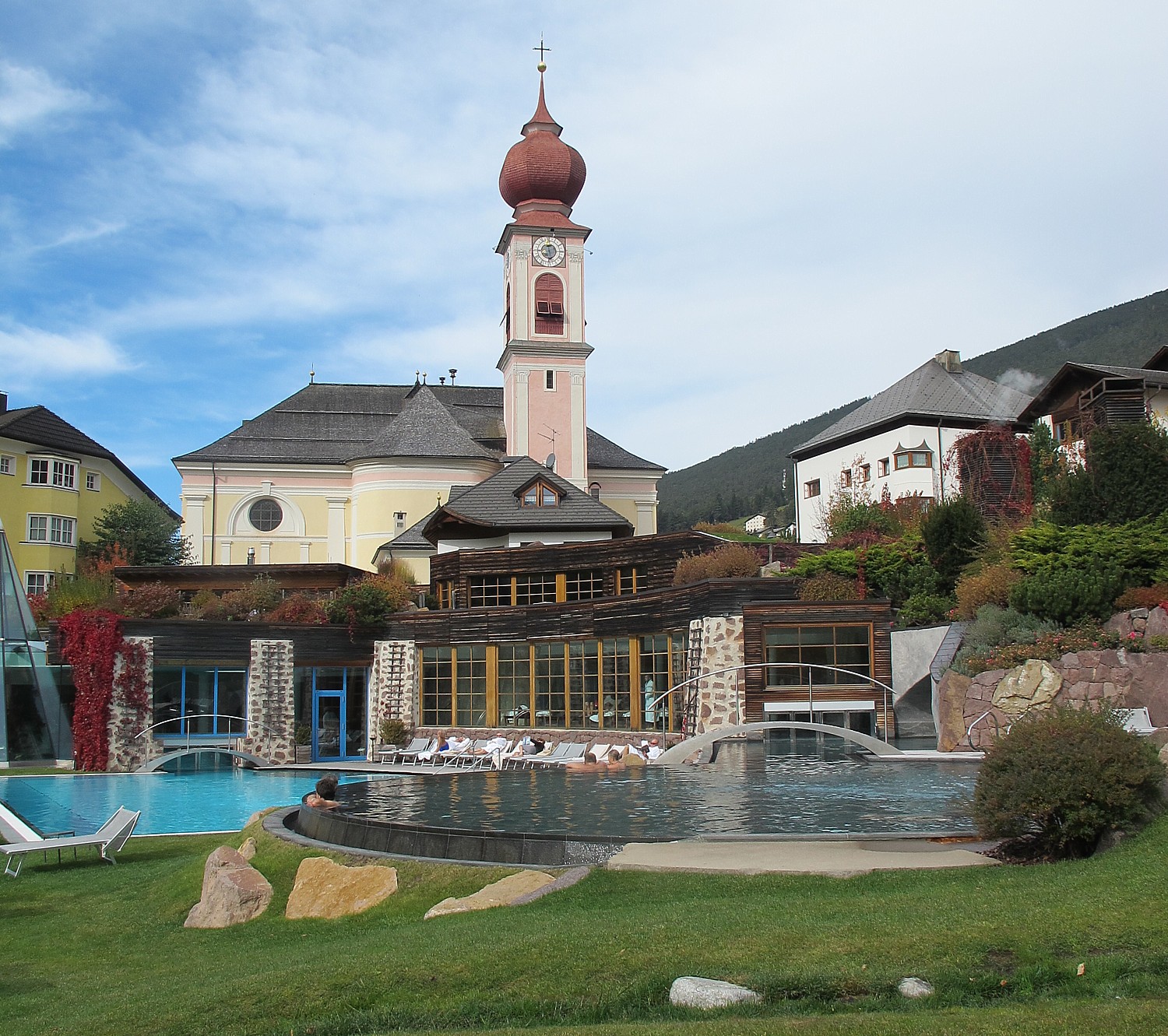 Before dinner each day, we make sure to allow time to enjoy the resort's Water & Wellness World," a park-like expanse of relaxation rooms, hot tubs, and indoor and outdoor hot tubs and pools with tucked away waterfalls and massaging jets and themed saunas and steam baths, each infused with distinctive scents such as organic hay, floral blossoms and lavender and lime—all available at no charge. We are surprised to learn while bathing suits are worn in pools and hot tubs, for health reasons, in the saunas, towels, but no swimsuits are permitted, and except in for a women-only spa area, all are co-ed.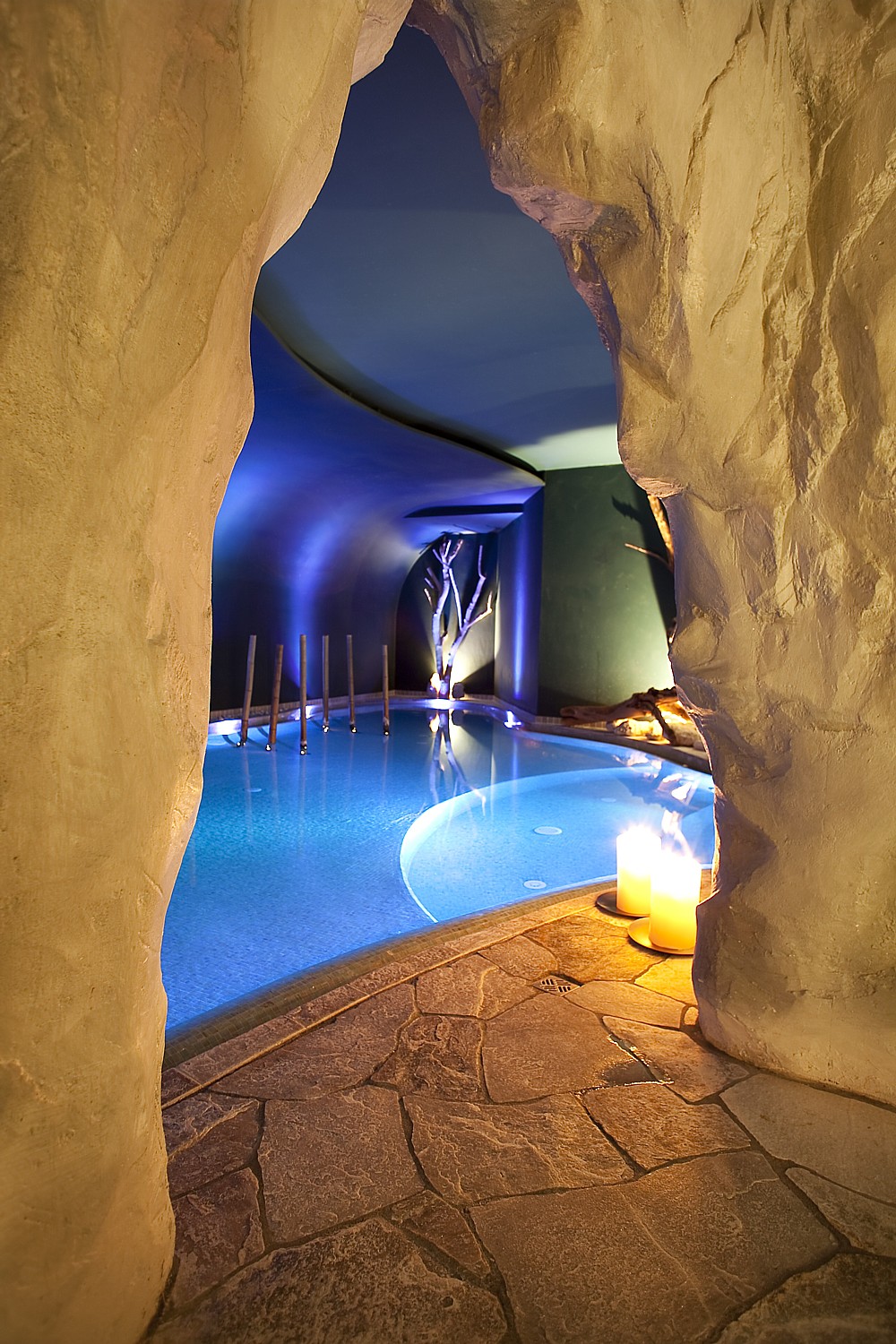 We especially love the outdoor hot tub, where we enjoy meeting fellow guests as we take in the mountain views, and find the underground salt pool and grotto magical, and worth the nominal entry fee. There are also free yoga, Pilates and other classes and a fitness center with cardio and strength training equipment at the gym; with more time, we might sample them, but we do carve out time to indulge in several of the spa's excellent and reasonably priced massages, wraps, facials and other treatments, many featuring local ingredients.

Local ingredients also take center stage in the dining room. We love the expansive buffets, always complemented by waiter-service menus. The diverse cultures and local bounty are reflected in everything from fresh-baked dark and light breads to apple strudel. Each evening brings a new set of delectable surprises, with the chance to try regional dishes such as venison with lingonberries, spaetzli, dumplings with a local smoked ham called speck, and creative pasta dishes.
The resort shares facilities with an adjoining, 30-room adults-only sister property, Adler Balance, a medical/holistic health center focused on preventive medicine and anti-aging. There's also a small sister lodge tucked into the Alpe di Suissa, for those looking for a total escape into nature.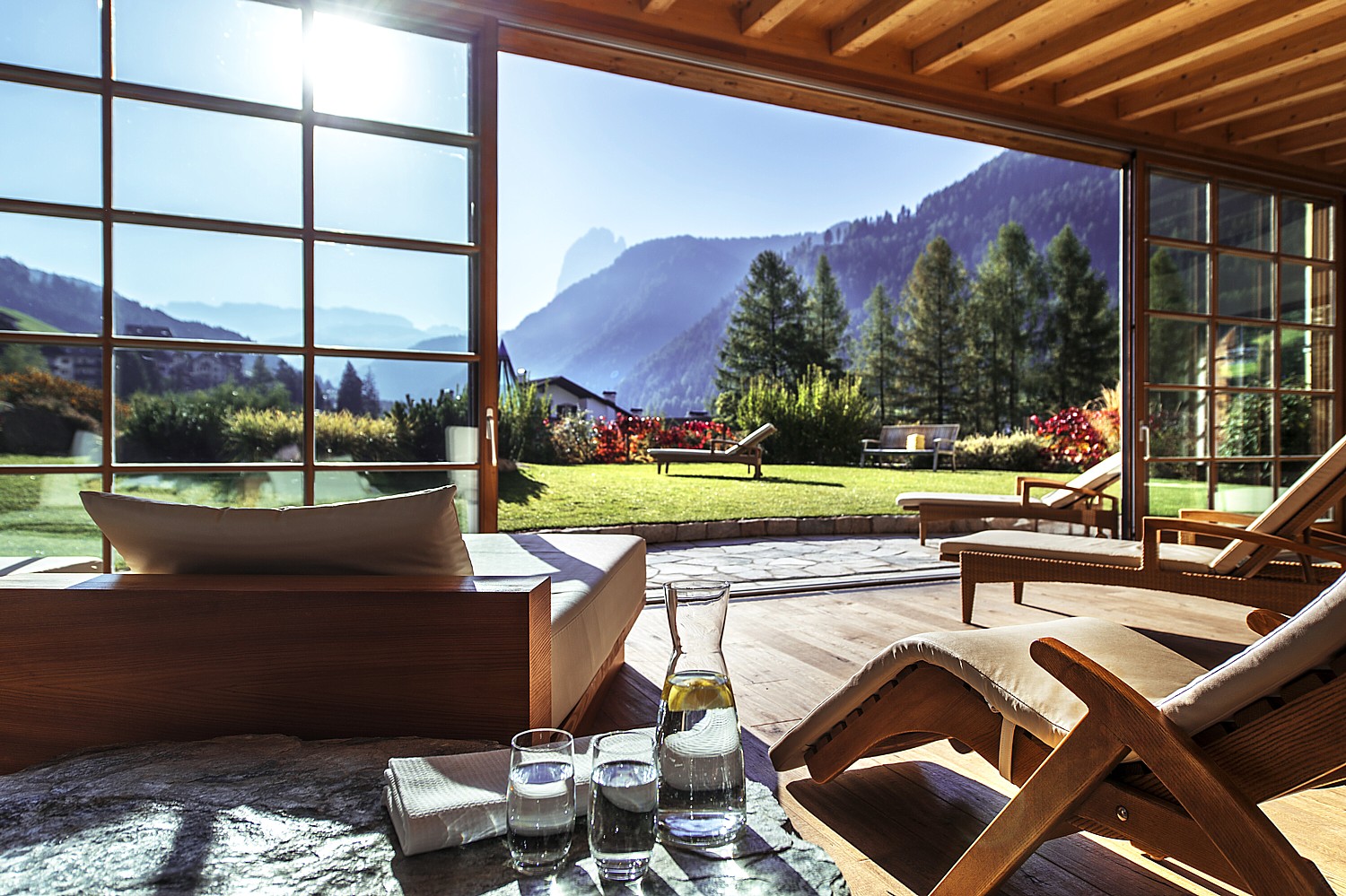 With all its pools, saunas and other facilities and its landscaped gardens, we are surprised to learn that Adler Dolomiti only has 130 rooms. Perhaps that's why it never feels crowded and the service is personal. It's also nice that fellow guests quickly begin to look familiar. We are told that the resort caters to families with children's programs and some family-friendly accommodations, yet we are here during a school holiday and only see about a dozen kids.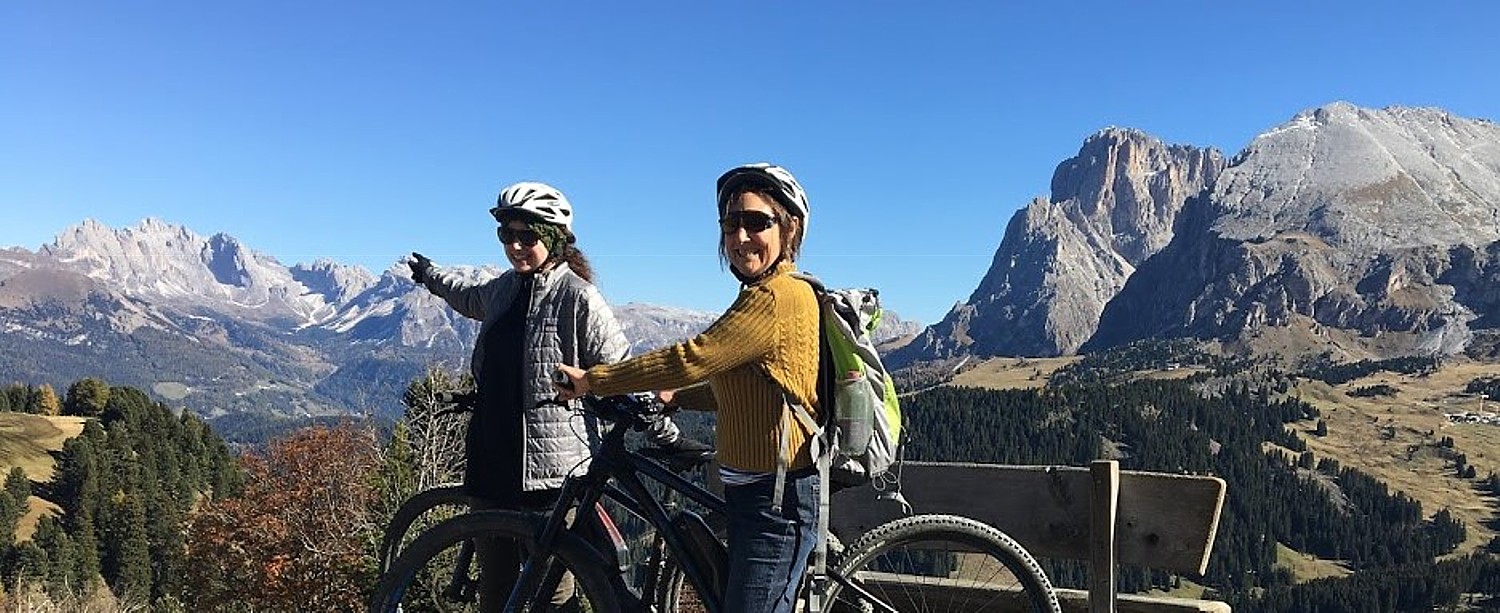 Speaking with fellow guests, we meet people from as far away as Australia, along with England, the U.S. and France. Understandably, most come from Italy and Germany, and we speak with a number of couples and families who come here several times a year. We agree that if this were within driving distance of our home, we would too! 
Daily breakfast, multi-course dinner, teatime buffet, spa juices and snacks, and guided excursions on foot and e-bikes (and in winter, on skis and snowshoes) were all included in our half-board plan. And for families, a kid's program is also included in the rates. For more information, visit www.adler-dolomiti.com/en.   
_____________________________
© 2018 Travel Features Syndicate, a division of Workstyles, Inc. All rights reserved. Visit goingplacesfarandnear.com,  www.huffingtonpost.com/author/karen-rubin , and travelwritersmagazine.com/TravelFeaturesSyndicate/. Blogging at goingplacesnearandfar.wordpress.com and moralcompasstravel.info. Send comments or questions to [email protected]. Tweet @TravelFeatures. 'Like' us at facebook.com/NewsPhotoFeatures