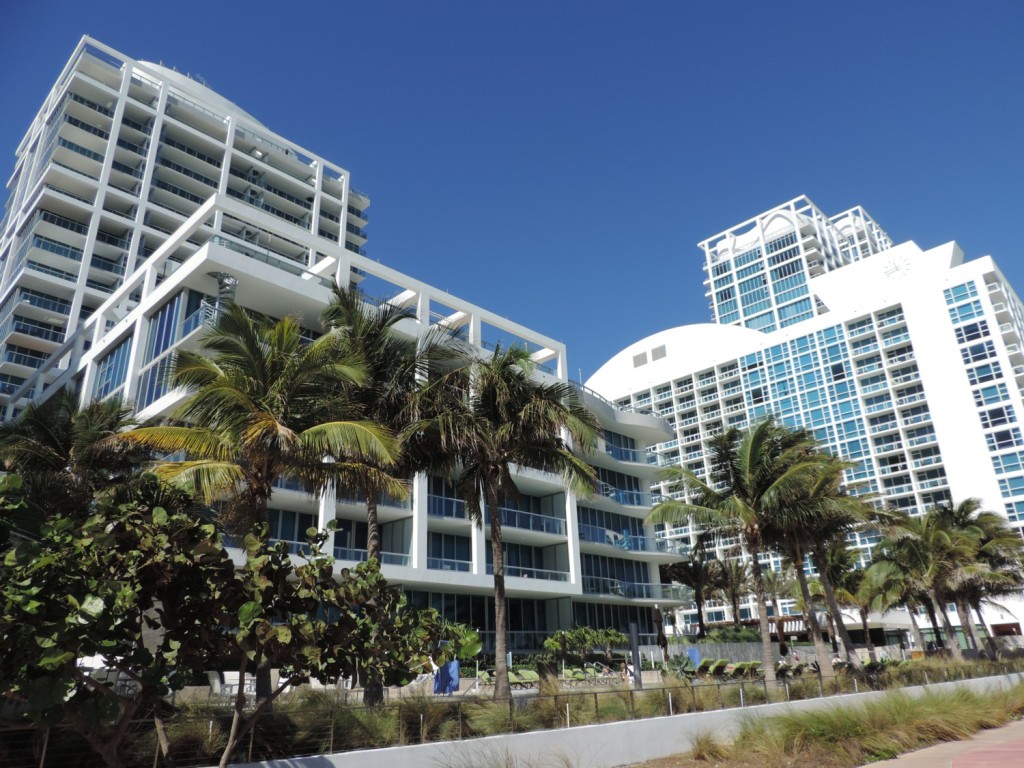 by Karen Rubin
As I pull away from the Canyon Ranch Miami Beach, I think to myself, "I really do feel rejuvenated, more flexible than I've been in some time, better energy and self-confidence. I'm proud of the way I handled the exercise classes and I really did learn things that I will be able to apply. This is so much more than a R&R vacation, a brief sojourn in paradise."
It's just been just two days and I feel a spring to my step, flexibility I haven't had in a while, I am conscious of my breath and posture, I feel empowered, self-confident, strong, satisfied. I've reached a higher state of self-knowledge and knowing.
Really.
Canyon Ranch really invented the American health and wellness retreat, going back to 1979.
Before that, those in pursuit of health and wellness through the mind-body-spiritual connection traveled to exotic locales – to ashrams and yoga retreats in India and Thailand, where you lived the ascetic life in order to ascend to some higher spiritual consciousness.
Or, there were "fat farms" – such as the one that Canyon Ranch founder Mel Zuckerman visited when he was dangerously overweight, sedentary, afflicted with a host of ailments but where he was the only man among a sea of ladies in leotards. They tended to be torturous affairs that did little to encourage people to make the underlying lifestyle changes – diet, exercise, the mind-body-spiritual connection – necessary for long-term health and wellness benefit.
At the age of 50, Zuckerman, a home developer, says he had an "aha" moment and decided to build an actual health and wellness retreat. He opened Canyon Ranch Tucson and a decade later, another health-and-wellness destination in Lenox, Massachusetts.
"We built Canyon Ranch to be the perfect place to put things in perspective, reset priorities and contemplate new opportunities," he writes in his inspirational story. "Everything you need is here, and the same philosophy that enabled me to change my life can help you change yours."
He also incorporated health and wellness spas into vacations – opening SpaClubs onboard Cunard's Queen Mary 2, Oceania Cruises, and Regent Seven Seas Cruises, as well as in the Venetian Hotel in Las Vegas.
Located on fashionable Collins Avenue, Canyon Ranch Miami Beach, which opened in 2008, is a first for the brand – an actual resort., or more accurately, a hybrid of a resort and a wellness retreat, bookended by Canyon Ranch Living – Miami Beach, "the first healthy living community of its kind".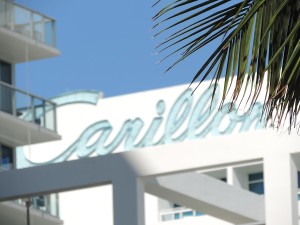 The once-glamorous Carillon Hotel property which in its heyday hosted the likes of the Rat Pack and Barbra Streisand, was owned by Eric Sheppard, who had a similar "aha" moment as Mel Zuckerman when he visited Canyon Ranch in Tucson at the suggestion of his business partner and Canyon Ranch devotee, Phillip Wolman. Zealous converts to the Canyon Ranch lifestyle, Sheppard and Wolman convinced Zuckerman to join with them in restoring, converting and expanding the Carillon – which had fallen on hard times and had been empty for more than 10 years – into an exciting new hybrid expression of Canyon Ranch: a six-acre healthy living condominium community and à la carte hotel wrapped around a state-of-the-art Wellness Spa. Canyon Ranch and WSG became development partners for the project.
(In an interesting turn of events, the property was owned by Lehman Brothers, which was ordered to divest in the 2008 bankruptcy; Canyon Ranch is the operator and expects whoever the new property owners are to continue the Canyon Ranch operation since that was the basis for the homeowners to come in).
There are delightful homages to the Carillon – the name in neon is still atop the original hotel building, along with its famous clock; the entrance has the same abalone shell terrazzo floor and a clock incorporated into the concierge section, and a wrought iron spiral staircase now is part of a sculpture that greets you as you pull up to the portico. But the most important legacy of the Carillon is that it sits on prime beachfront, with 750 feet of pristine beach.
The original hotel rooms have been gutted and turned into 110 spacious suites – apartments, really – with magnificent oceanfront views, beachfront dining (one of only three Miami Beach restaurants that actually has beachfront dining), easy access to the vibrant nightlife of Miami and South Beach, and drop-off and pick-up service for shopping at Bal Harbour.
The portico is a full level above the street – intended to lift you away from the city, and uplift you.
The centerpiece of Canyon Ranch is the 70,000 square foot Spa and Wellness facility, the largest of its kind in Florida. Indeed, there is a mind-boggling menu of offerings here, from exercise classes, treatments, and lectures to diagnostics utilizing sophisticated medical technology and a complement of experts who come up with "prescriptions" in the form of exercise and nutritional programs.
The interior design – the lobby, suites, 54 treatment rooms and Canyon Ranch Grill were designed by David Rockwell. Rich in greens, browns, stone and wood, natural imagery and materials (even wormwood becomes a lighted column), coral-stone walls, four-story mangrove sculpture, teakwood ceilings and abalone shell terrazzo floors – advances the connection with the natural world.
I am escorted up to my hotel suite – an apartment really (all the units are apartments) – and it takes my breath away – picture windows open out to the beach and ocean, and look out over the outdoor lounge and one of the four pools. I have two balconies. Two flat-screen TVs which double as wireless computers (free WiFi). The bathroom – marble, with a stunning mosaic in the floor – is to die for – spacious, a deep tub with a wood tray, a shower, vanity, and separate WC.
I have a well-equipped kitchen (there is a fabulous Publix grocery store across the street where you can stock up on supplies, and even a class where you visit with a Nutritionist to learn how to shop healthfully).
Emphasis on Lifestyle, not Escape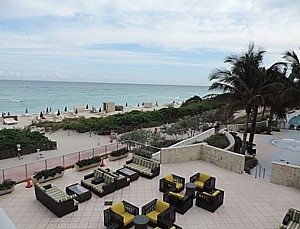 A hybrid of a luxury resort and wellness retreat, Canyon Ranch is still foremost a health and wellness destination that happens to be a luxury resort, rather than a resort that happens to have a topnotch, world-class spa.
Being here is about lifestyle, not escape, living not luxuriating.
So while Canyon Ranch Miami Beach gets many of the same resort goers that Miami Beach gets, including families, there is a different atmosphere from the more casual, transient resorts that are focused more on self-indulgence, rest-and-relaxation and a serendipitous casual flow to the day.
Here, a vast number of the people you will meet at classes, in the spa, at lectures are residents who own their own Canyon Ranch condos that grace two towers, and Canyon Ranch regulars who have been to Tucson, Lenox and Miami Beach multiple times some returning every 6 months or so, and health-and-wellness seekers (the regulars appreciate being able to go "off campus"). People tend to come for longer stays than typical resorts.
There is a different atmosphere from the more casual, transient resorts that are focused more on self-indulgence, rest-and-relaxation and a serendipitous casual flow to the day.
Most people come to Canyon Ranch with intention.
Some come to lose weight. Some to stop smoking. Some to develop an exercise regimen to prevent osteoporosis, to strengthen the heart, to lessen pain, to build muscle, to reduce stress, to come up with a better life management strategy to handle a major life transition, to live more healthfully, to stave off illness. Some come to revitalize their sex life.
Some come to try to reverse the course of grave illness like cancer, when it is often too late. "Health care should prevent illness, not merely treat disease."
In fact, that is what my massage therapist, Heidi Kublich, asks when I arrive for my treatment: "What is your intention?" She brings me to a bowl of polished stones and crystals and asks me to pick one. I pull out a rose quartz that happens to be shaped like a heart. A good sign, apparently. Rose quartz is a symbol of love and it is a particularly good omen that it is shaped like a heart.
My massage treatment was prearranged – in fact, every guest gets a personal phone call from a concierge weeks before they arrive who patiently asks what is your intention for your stay, and explains what is available (a mind-boggling array of choices, so pay attention). She asks me what I want from my massage. I mention the stiffness in my neck and joint pain, and she recommends a particular massage therapist, skilled in neuro-skeletal treatment. (There are also spa coordinators on site in the spa and in the lobby who can help organize and make arrangements.)
When I arrive though, I change my mind, and Heidi accommodates me on the spot, suggesting an aromatherapy massage in which she also taps into her vast array of skills in other therapies, including reflexology.
Heidi points out that the Encyclopedia of Massage is three-inches thick – that's how many different techniques there are. Canyon Ranch offers quite a selection: stone massage, aromatherapy treatment, deep tissue thermal therapy, deep tissue massage. Other specialized touch therapies include Ashiatsu (Japanese deep barefoot massage); craniosacral therapy, neuromuscular therapy, reflexology, and Shiatsu.
A popular treatment is "Muscle Melt for Road Warriors," a technique that uses warm herbal pouches firmly pressed into muscles and traditional Thai massage with lemongrass oil.
Canyon Ranch also offers various body rituals, like the Euphoria Ritual (music and a candlelit environment); de-stress Chakra ritual, Japanese bathing ritual, Miami rejuvenating spice, Native American Dreamtime, Rasul Ceremony, Traditional Thai detoxifying ritual, Turkish Hammam bath ritual and Tatra which is a "sensory journey" that begins with a natural rice scrub, then a soak in rose-scented, salt-infused bath with color therapy, and a massage on a neuro-auditory sound table where specially selected music vibrates through your body.
Aquavana Experience
Definitely arrive early for your massage – even an hour or more – in order to properly experience Aquavana, a complete suite of European-inspired advanced therapeutic crya (cold) and therma (hot) cabins, tubs and pools, which draw upon the concept that water movement and temperature variation can relieve muscle and joint problems and create a higher sense of relaxation, with a twist that incorporates light and atmosphere.
Aquavana has such novelties as a Crystal Steam Room which has a large natural crystal and uses optical effects that promote a meditative focus as you soak up steam enhanced with essential oils; Igloo, which blows cool air and a choice of Arctic Mist experiences (menthol, mint or eucalyptus) enhanced by twinkling fiber optics; experiential rain showers (you can choose Polar Mist, Atlantic Storm or Caribbean Monsoon with thunder and lightning effects); and Atlantic Spa, a rooftop hydrospa enhanced by ocean views and beach pebbles. Also, Herbal Laconium (a warm, misty ceramic-tiled room with heated individual seating thrones and color-changing fiber-optic ceiling); Hydrospa; thermal heated Loungers; and the classic, wood-lined, dry-heat Finnish sauna.
You can spend an hour or a day here (they offer tips on how to best take advantage of Aquavana, and three different "circuits" depending upon what you want to achieve: Roman Experience (relieves sore muscles); Finnish Experience (increases circulation); Canyon Ranch Experience (relieves stress).
Aquavana Experience is part of the complimentary services that also include the fitness classes and walks and the strength and cardio training studio, pools, lectures that fill and enrich the day.
But that's just the first 11 pages of a 58-page catalog of services.
Health & Wellness
Indeed. many people come for the more comprehensive services, which is where Canyon Ranch Miami Beach diverges from being merely a luxury resort or even a spa.
Canyon Ranch Miami Beach has a complete Health & Wellness Department which looks and functions like a medical office. There are physicians specializing in integrative medicine, life management professionals, healing energy practitioners, exercise physiologists, nutritionists, acupuncturists, physical therapists, in addition to massage therapists and fitness instructors.
You can undertake diagnostic testing (not cheap, it costs between $750 and $1500), like Biophysical Core, which assesses the blood to provide a comprehensive view of your biochemistry.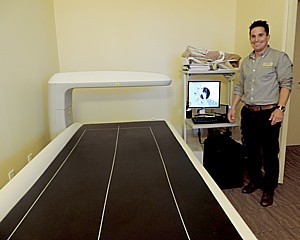 Another diagnostic is the DEXA Body Composition, a machine that uses low-level radiation in an eight-minute scan that evaluates bone density, body mass and fat distribution. You take the scan and then an exercise physiologist designs an exercise program, whether it is to use weight training to improve bone density and stave off osteoporosis, or get rid of fat.
"If you really want to get healthy, you need honest truth. You have to be ready to face facts," says Katie Riguzzi, Canyon Ranch marketing manager.
Other diagnostics include cardiac stress test; cardio-metabolic stress test; genomics testing and evaluation; heart-rate variability testing; and hormone testing.
There's also healing energy programs – techniques that come from Asia – including Chinese Medicine and Acupuncture consultation.
One of the systems available is Acutonics – sound healing – that uses the power of vibration. Tuning forks are applied to acupuncture points, chakras and trigger points.
Other therapies including healing energy, Reiki, and Craniosacral therapy.
Another big area is Life Management. For example, you can get a 30-minute Healthy Lifestyle consultation and a personal action plan in such areas as anger management, body image, caregiving, coping with illness, grief and loss, parenting or self-esteem.
There is a whole area devoted to Sexuality, Intimacy & Passion, where you can work with a licensed therapist on such concerns as sexual satisfaction, decreased libido, coping with disabilities, menopause and inhibitions – clearly more substantive than the Poconos prescription for romance.
Other Life Management programs focus on stress management, navigating transitions, relationship building, meditation and relaxation.
Nutrition is a big topic area – addressing not just weight loss but prevention and healing. You can have a Chinese medicine nutrition consultation; explore "digestive wellness," get tested to determine food sensitivity, learn about healing foods, detox your diet, learn how to prepare food and design healthy menus, or nutrition strategies for energy, exercise, feeling a family, travel, or vegetarianism.
Canyon Ranch Experience
As a resort, Canyon Ranch Miami Beach has a lot more families and there are even programs geared to families (rock climbing, yoga for families, treatments geared to teens 14-17), but there is no supervised children's activity program, so parents would have to take turns watching their child in order to take classes or else take advantage of the Nanny Service.
People tend to stay longer here – many even live here – and you don't see many people lying around on the beach.
The look on people's faces is different. It is inward. Most are either coming from a class or a treatment or going to one, and there is some contemplation going on about that.
People are very friendly though – at all the classes there is a broad spectrum of regulars, people who are experienced in the techniques along with neophytes and the less adept.
When you arrive and get passed the breath-taking beauty of the room – with picture windows that overlook the ocean – this is one place where you should listen to the hotel orientation on the TV (which doubles as a wireless computer with Internet access).
What caught my attention was gyrokinesis – I had never heard of it before (though I understand it's been around for 7 years or so) but it sounded interesting, so I saw when the class was being given the next day and showed up. Fabulous. This is a flowing form that draws on movements from ballet, yoga, pilates – no stress or pain.
I have time this afternoon before my spa treatment so I explore the property and the magnificent beach.
This turns out to be a mistake, since I should have spent the time in the Aquavana. Resolved not to make such a mistake again and get the most out of my time here, I study the weekly calendar to plan my day. Each hour of the day there are about 3 different classes, programs or lectures. Some of the more unusual classes include sand building (ideal for team building), and full moon yoga at 6:30 pm.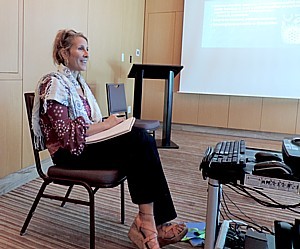 On my first full day, I take classes in Gyrokinesis, Pilates Mat, Core Training (in the Ocean Studio, my favorite, where you can smell the seabreezes and see the ocean), walk on the beach and attend a lecture on Women's Well Being turns out to be a weekly "conversation" with Canyon Ranch medical director Dr. Karen Koffler.
On my second full day, I take the 8 am Meditation & Breathing class, Pilates with Props, and Core Training.
There are all sorts of classes involving weight training, spinning, muscle conditioning, Zumba!, yoga, aqua strength and H2O Power (having to do with water), boxer's workout, and on and on. I don't think there is a more comprehensive offering anywhere – and that's only the beginning.
Exercise classes, massage therapy are only two of the dimensions of this total health and wellness destination.
You can arrange for private lessons – even swimming – and if want to continue training in a certain exercise regimen when you return home, they can provide referrals to local practitioners.
The approach at Canyon Ranch is that "health care should prevent illness, not just cure disease." They employ these diagnostic tools, and then specialists come together as a team to treat you as whole person – lifestyle, nutrition, fitness, medical history, stress levels and more – to devise a program. You leave with lifestyle prescription for optimal health, performance.
A Luxury Resort
Because Canyon Ranch is a resort, it has amenities and attributes that the other wellness retreats do not have (that is to say, less fanatical, more live-and-let-live). A bar, for example. this is the only Canyon Ranch with a bar (the Carillon Bar), where the liquor is organic (you can order food there, too).
I was also surprised to be able to get bacon or sausage at breakfast in the Canyon Ranch Grill (though you have to ask for salt).
The Canyon Ranch Grill is stunning, and the only real clue that it is associated with "health and wellness" is that the menu lists calories and nutrition of every item. But behind the scenes, Chef Giovanni Ariaz, who just won the Healthy Chef of Year 2013 award by Cooking light Magazine, shows amazing imagination and cooks in a way to be flavorful as well as healthful. You won't find a deep fryer here. He uses seasonal ingredients, locally sourced so the menu changes regularly for what is best in season. For example, he only orders salmon when in its cycle, it will be highest Omega 3s.
It is a magnificent looking room, with gorgeous views overlooking the beach and ocean, as well as outdoor dining. In fact, owing to the Carillon's legacy, it is one of only 3 restaurants in Miami Beach with oceanfront dining (Smith & Wolinsky and Ritz Carlton are the other two).
And the beachfront is spectacular. You can order food from the beach as well as the Cabana Pool.
Canyon Ranch has four temperature-controlled pools, each with a hot tub. Each pool is positioned so there is always a pool with access to sun – after 3 pm, no sun on the beach because of the high towers, but the North Tower is the sunset pool The Atlantic Pool, with magnificent view of the ocean, is the adult-only lap pool where there are private and group H2O Power classes.
The gym (fitness center) is massive, two-stories high, never crowded, immaculately clean, fresh smelling with a wall of windows. (You can use your key card to track calories burned, distance.)
Even if you don't have the 'aha' moment, the epiphany that changes your life, stay here makes available to you the knowledge and the fundamentals to make lifestyle changes that will impact the quality of your life.
The concierge can prearrange spa treatments, consultations, as well as Restaurant Recommendations and Reservations;   Tickets to concerts and special events;   Car rental service (to be delivered to you at the hotel) or private car transportation;   Nanny service; and Birthday, Anniversary and other special celebration requests.
Check in time is 3:00pm and check out time is noon, but you can arrive early or leave late and still have full access to the spa and classes (you need to get your card key activated).
The website, www.canyonranchmiamibeach.com also serves as an excellent resource on amenities, services and more information and you contact Program Advisers for information on Health & Wellness services as well as Spa at [email protected], or 1-866-276-2226.
Canyon Ranch has been named the "Healthiest Spa in America" by Health magazine as well as the "Best Spa for Food" by Gourmet magazine. Additionally, Canyon Ranch is a 13-time winner of Travel + Leisure's Best Spa Award and the only 11-time recipient of the Condé Nast Traveler Best Destination Spa Award.
For an insider look at Canyon Ranch Hotel & Spa Miami Beach, follow CanyonRanchMiamiBeach on Facebook and CanyonRanchMiam on Twitter.
Canyon Ranch Hotel & Spa Miami Beach, 6801 Collins Avenue, Miami Beach, Fla. 33141, 800-742-9000, 305-514-7000, canyonranch.com/miamibeach.
_____________________
© 2015 Travel Features Syndicate, a division of Workstyles, Inc. All rights reserved. Visit www.examiner.com/eclectic-travel-in-national/karen-rubin, www.examiner.com/eclectic-traveler-in-long-island/karen-rubin, www.examiner.com/international-travel-in-national/karen-rubin and travelwritersmagazine.com/TravelFeaturesSyndicate/. Blogging at goingplacesnearandfar.wordpress.com and moralcompasstravel.info. Send comments or questions to [email protected]. Tweet @TravelFeatures. 'Like' us at facebook.com/NewsPhotoFeatures.