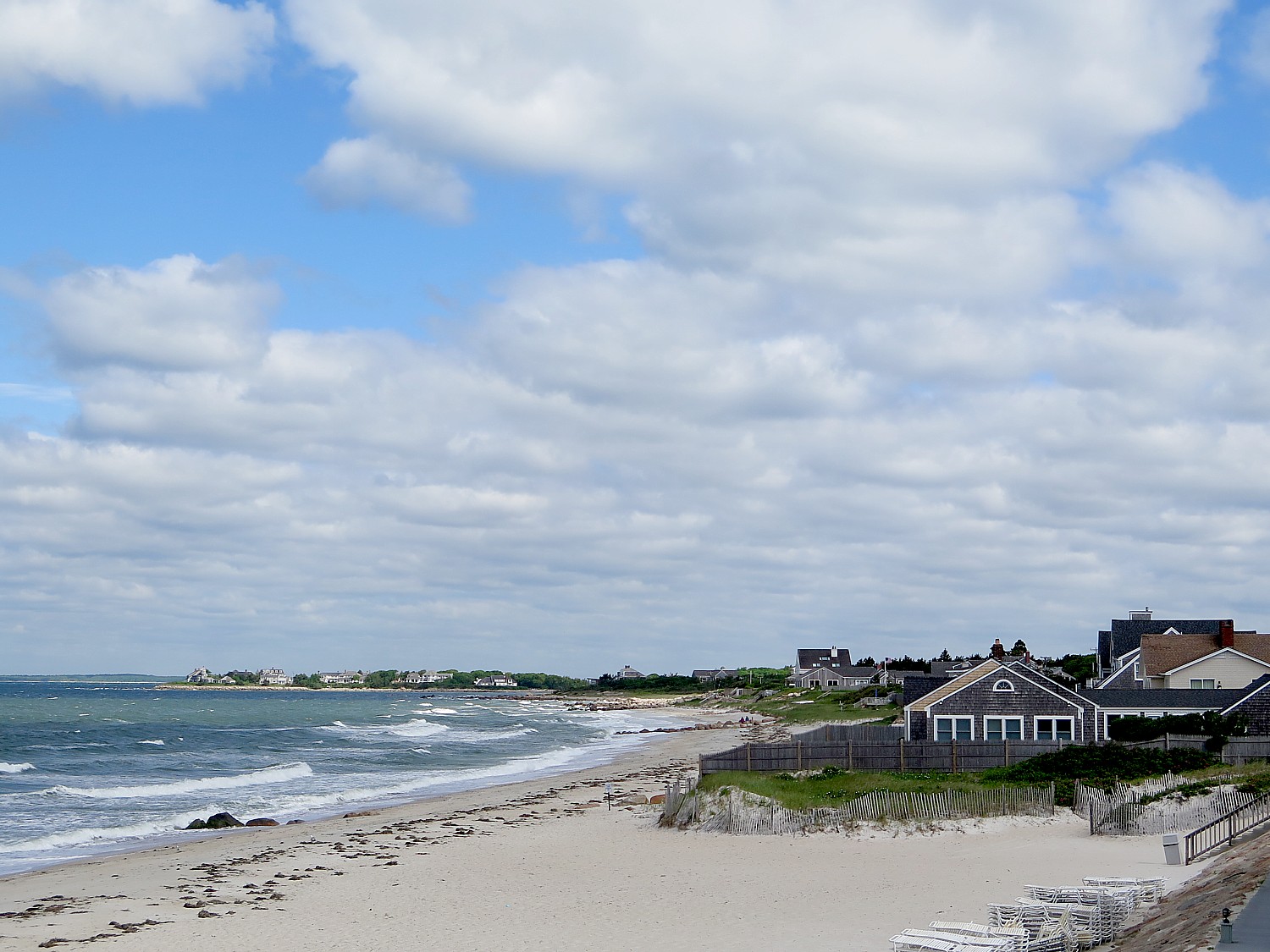 By Karen Rubin, Travel Features Syndicate
Normally, it would be extremely difficult to pull yourself away from Sea Crest Beach Hotel's substantial private section of on Cape Cod's Old Silver Beach on Buzzard Bay, wonderfully set with a west-ward facing view (perfect for watching the sunset). But on this day, unusually strong winds and chilly temps (but still clear, sunny skies) make it an ideal day to bike the Shining Sea Trail.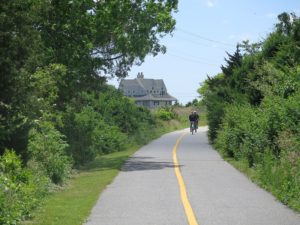 Cape Cod is one of the best destinations anywhere to bike – there is the Cape Cod Rail Trail that goes for miles throughout the interior; the Cape Cod Canal trail that stretches more than six miles on both sides, and the Shining Sea Trail which for its variety and scenery and points of interest is my favorite of all.
Sea Crest now has a bike rental program (as well as a biking package, new this year), and is just about a half-mile from an entrance to the Shining Sea trail at the 9.5 mile mark – almost to the very end of the 10.1 mile long bikeway. The trail is named for Katharine Lee Bates, most famous for writing the lyrics to "America the Beautiful…. From Sea to Shining Sea" (whose home you can visit in Falmouth, along the way).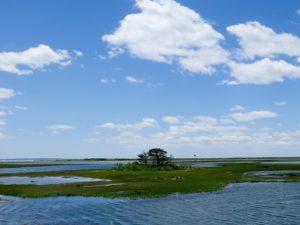 This is one of my favorite dedicated biking trails anywhere. The Shining Sea Bike Trail hugs the shoreline from Falmouth to Woods Hole.  It offers the best of Cape Cod: for a time you are in woods, but can see the charming Cape Cod homes; you ride past the historic Bourne Farm (stop to visit if you have time), passed cranberry bogs, through Falmouth Center (definitely visit Katharine Lee Bates' house which is now a museum and learn more about this fascinating pioneering woman), and along the beach, into Woods Hole, where the trail ends at the ferry (if you have time, you can take your bike onto the ferry for a 45 minute trip (about $25 r/t) to Martha's Vineyard, where there is a 25-mile bike loop.  On our return ride from Wood's Hole, we take a slight detour in order to ride past the picturesque and historic Nobska Lighthouse.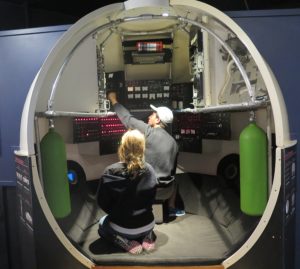 It's lunch time when we ride into Woods Hole, which is a charming seaside village that has become a research center, with the Marine Research Laboratories, National Oceanic and Atmospheric Administration (NOAA), where you can visit the Aquarium, and Woods Hole Oceanographic Institute (WHOI), where you can tour a superb exhibit featuring ALVIN, the submersible that helped find and salvage the Titanic (as Eric was at the controls, pretending to captain ALVIN,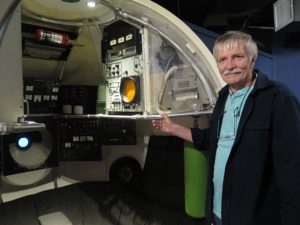 a man looked on bemused, Barry Walden, turned out to be ALVIN's actual expedition leader who spoke with us about how ALVIN was used in expeditions) and learn about ocean research.
(Starting at $174 per night (based on a two night minimum), the Shining Sea Bike Package includes an overnight stay for two at Sea Crest Beach Hotel, one day's bike rental for two, bottled waters and a map of the Shining Sea Bike Trail. For reservations or for more information on Sea Crest Beach Hotel, visit www.seacrestbeachhotel.com or call 800-225-3110.)
Colorful History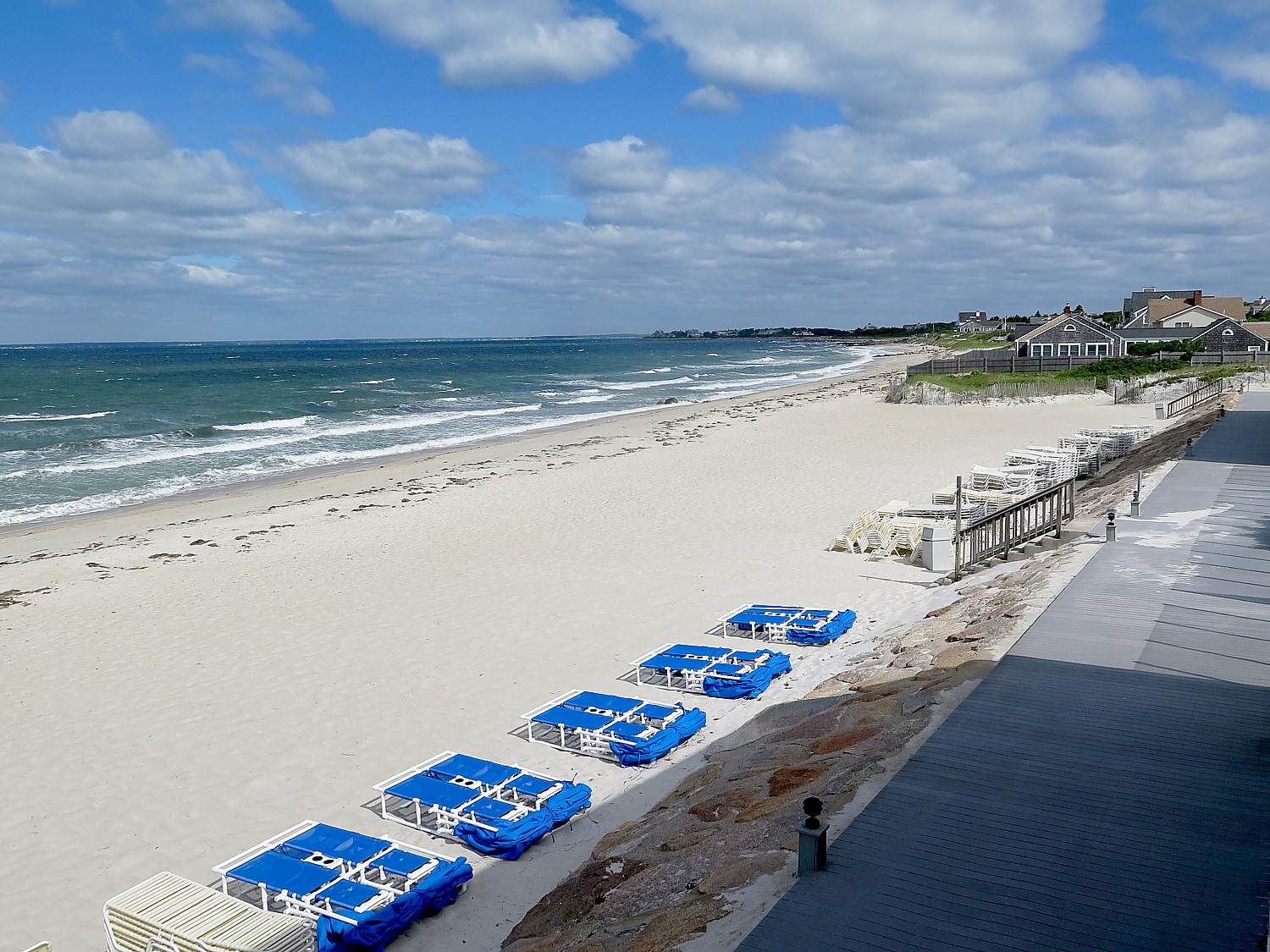 Sea Crest Beach Resort has such a contemporary appearance and ambiance – owing to a recent $15 million renovation – I am surprised to learn that it has been a fixture on Cape Cod for generations.
The Sea Crest Beach Hotel has a colorful history, populated with fascinating people including Henry Fonda, Latin Quarter owner Lou Walters ((father of broadcast journalist Barbara Walters) and Boston Celtics' coach Red Auerbach.
Its story begins in 1927, when The University Players Guild (among them a young Henry Fonda, Margaret Sullivan, James Stewart and Barbara O'Neill), created a summer playhouse and tea room on Old Silver Beach, where the hotel stands today.  After the playhouse was damaged in a fire in1936, it was replaced and reopened as the Old Silver Beach Club, a Prohibition-era speakeasy. But this structure also was destroyed just two years later in the hurricane of 1938. The Latin Quarter, a club managed by Lou Walters, opened on the site in 1942. After a brief hiatus in World War II, the property reopened as a summer resort.
Red Auerbach, the famed Boston Celtics President, coach, and GM, along with partners Kenneth Battles and Steve Hill, purchased Sea Crest in 1963 and converted it from a summer destination to a multi-season hotel in 1971. After another change of ownership, Scout Hotels, which also owns or manages the Harborview and the Kelly House in Edgartown on Martha's Vineyard, the Harborview on Nantucket, and Plantation on Crystal River on Florida's Nature Coast, as well as manages the Cape Wind (also in Falmouth on Cape Cod), acquired the Sea Crest  in February 2010, launching a new era for the family resort.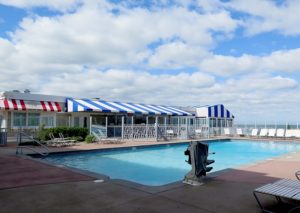 Committed to preserving its heritage and appeal as a family-friendly destination resort while adding amenities and improvements ideal for contemporary guests, Scout Hotels invested $15 million in renovations. Completed in 2013, the renovations transformed the hotel into a full-fledged resort, including Red's Restaurant and Lounge, the whimsical, nautical décor in the guestrooms and throughout the hotel, upgraded indoor and outdoor swimming pools, and the largest meeting and events space on the Cape, the Nauset Center. 
A Full-Service Beach Resort
The Sea Crest Beach Hotel occupies an expansive, 700-foot long private section of Old Silver Beach along Buzzards Bay in what is otherwise a residential neighborhood  distinguished by the shingle-styled architecture of traditional New England cottages
There are 264 guestrooms housed in eight low-rise buildings, each named for a winning boat from the Buzzard's Bay Regatta. Woven sea-grass headboards and a color scheme of crisp whites and sea-glass blues and greens reflect the hotel's beachfront setting, while thoughtfully placed sea shells and objects d'art add touches of whimsy.
The hotel's 264 guest rooms and suites, some with fireplaces and many with water view private balconies, makes it appealing   for families who seek a beachfront setting, couples drawn by the romance of the Cape, and meeting or wedding planners seeking expansive function space combined with superb dining and warm, personalized service. And the resort's proximity to Cape Cod's attractions makes it a great hub for longer stays.
There is also a three-bedroom/three bathroom cottage that sleeps up to eight and provides plenty of indoor and outdoor space for entertaining. it features a spacious living room, open kitchenette, washer and dryer, expansive deck, and a private backyard.
The hotel is loaded with amenities –the 700-foot private, white-sand beach; outdoor saline pool shielded from the wind, with pool deck and poolside bar (live entertainment, too); beautiful indoor, heated saline pool, kiddie pool and indoor/outdoor Jacuzzis; fitness center and a Pilates/Yoga room; Tween Room; outdoor movies on the hotel's 16-foot screen during the summer months; Windsurfing lessons and water sports rentals; Beach volleyball; Bike rentals; Video arcade. In addition, tee times can be arranged at five 18-hole nearby golf courses.
Sea Crest Beach Hotel offers a variety of new and renovated dining environments: Red's Restaurant & Lounge, a casual eatery named for former Sea Crest Beach Hotel owner Red Auerbach, the legendary Boston Celtics president and coach, showcases fresh takes on American Cape cuisine in seven distinct indoor and outdoor dining spaces, ranging from a family-friendly Main Dining Room to RED'S Room, filled with Red Auerbach memorabilia, for private events. It also includes a breezy Three Seasons Porch with wicker seating; outdoor seating for beachwear-friendly dining; a New England neighborhood-style indoor bar with television screens; and an outdoor poolside bar. Red's Take Out provides guests the option of ordering selections to enjoy in their guestrooms; Ocean View Room, a more formal room, takes full advantage of the spectacular views through its wraparound windows; I-Café serves up fresh-brewed coffee and treats along with wireless Internet access and cable news.
Sea Crest offers a festive Shore Dinner Series where hotel guests and local residents alike can dig into traditional Cape favorites Tuesday nights at 6 p.m. through Sept. 6. Priced at $65 per person, the Shore Dinner includes: a 1 ½ pound Maine lobster; ½ pound of local steamer clams; ½ pound of East Coast mussels; Chorizo sausage; and native sweet corn on the cob with poached baby potatoes served with drawn butter, lemon and hot sauce. For $45 per person and $25 for children ages 12 and under, the meal includes a menu option without lobster and shellfish and features fresh-baked corn bread, Cape clam chowder, Angus burgers and jumbo beef hot dogs with all the fixings, garden salads and BBQ-roasted free-range chicken. Sliced summer fruit platters and warm just-baked cookies will follow the meal, and iced tea and lemonade will be served throughout the evening. Guests can end the experience by watching the most spectacular sunset on Cape Cod.  A full bar is available at an additional cost. Prices include tax and gratuity. Reservations are required and include a full-day parking pass. Reservations are available at Shore Dinner Tickets online, by calling 508-356-2111 or via email at [email protected].
This year, the Sea Crest debuted a new "toes-in-the-sand" dining experience, Jamaican BBQ Night, for guests looking for a Caribbean-inspired night out. Every Thursday from through Aug. 25, guests can dive into a Jamaican-inspired buffet accompanied by Caribbean-themed live music. Priced at $35 per person and $18 for children ages 12 and under, the buffet selections include Jamaica's national dish of ackee and saltfish, as well as island slaw, jerk chicken, jerk pork and traditional red beans and rice. Ice-cold tropical fruit punch and ginger beer fried plantains, banana pudding and sweet potato pudding will be available for dessert. A full bar will be available at an additional cost. Prices include tax, gratuity and a full-day parking pass. (Reservations are required. Visit Jamaican Night Tickets online or call 508-540-9400.)
Both weekly events feature the Cape's freshest finds prepared by Executive Chef Glenn MacNayr.
Cape Cod's Largest Event Space
With more than 30,000 square feet of event space, Sea Crest Beach Hotel boasts the largest conference facilities under one roof on Cape Cod. All feature sophisticated audio-visual technology, high-speed Internet access, complimentary Wi-Fi, and a full range of business services. Function spaces include:
Nauset Conference Center, an 11,800-square-foot, newly renovated meeting space that accommodates up to 650 guests and divides into five flexible rooms. The space has been completely redesigned to incorporate its waterfront surroundings, including updated breakout rooms and bathrooms, earth-toned carpeting, wall coverings with driftwood accents and air walls, lighting including unique "wave" chandeliers, upgraded audio/visual capabilities, new banquet chairs and group check-in desk, and new catering and dining options for event participants.
Sea Crest Ballroom is a newly renovated, this 6,450-square-foot space that accommodates up to 800 guests. It can be divided into three separate rooms and connects to the adjacent Ocean View Room and its outdoor deck.
Courtyard accommodates al fresco meeting breaks and cocktail receptions, as well as banquets for up to 150.
Sea Crest Beach Hotel offers superb settings for weddings, from barefoot-on-the-beach affairs to more formal ceremonies in the Sea Crest Ballroom. There are indoor and outdoor venues ideal for receptions, rehearsal dinners and bridal luncheons. Menus range from gourmet fare to New England clambakes and barbeques.
Sea Crest Beach Hotel is within an easy drive of the region's largest cities: New York, Boston, and Providence. Boston's Logan International Airport and Providence's T.F. Green International Airport are both just over an hour's drive away.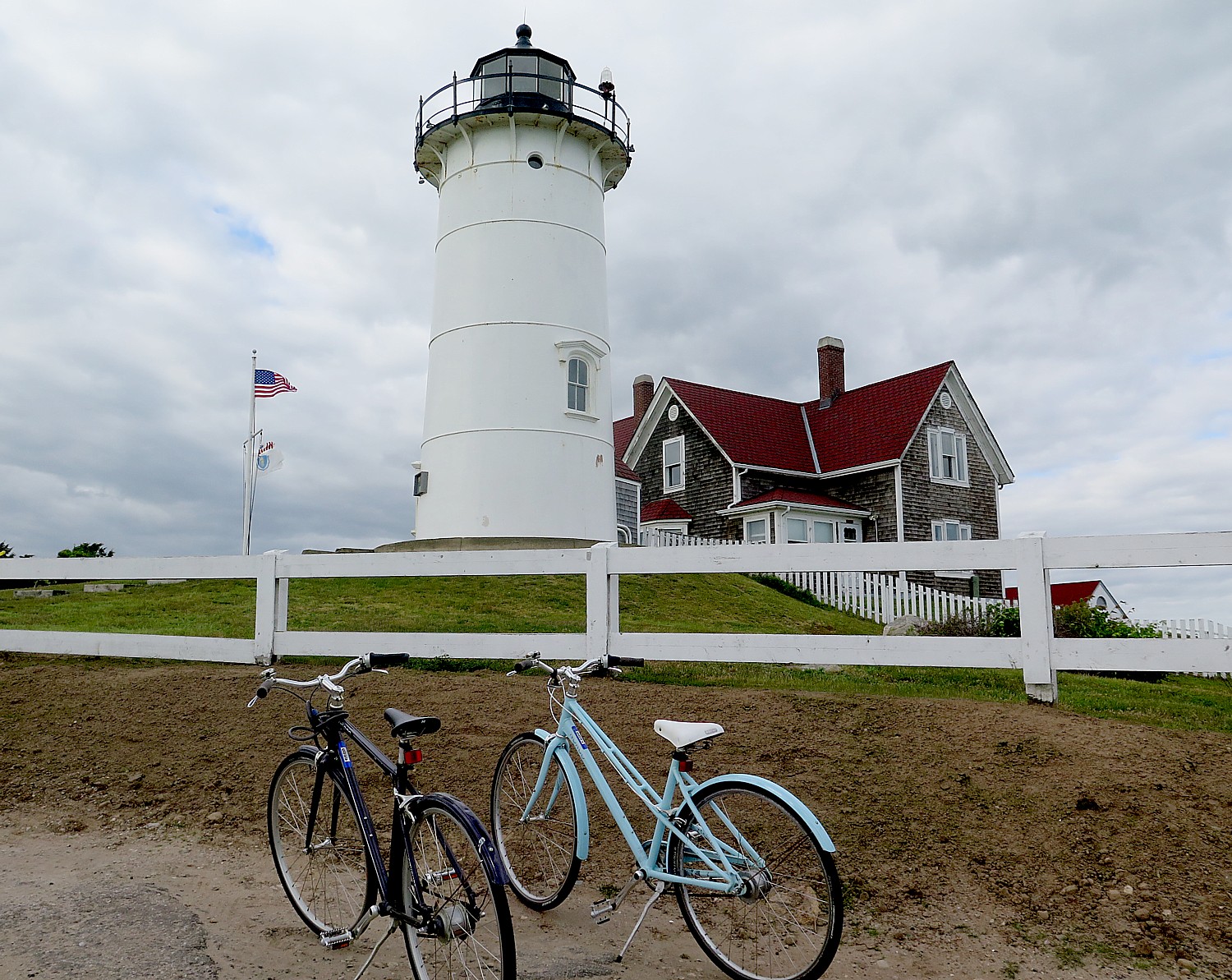 For more information or reservations visit www.seacrestbeachhotel.com or call 800-225-3110.
For more information and trip planning, Falmouth Chamber of Commerce
20 Academy Lane, Falmouth, MA, 02540, 508-548-8500, info@falmouthchamber.com, www.famouthchamber.com.
____________________
© 2016 Travel Features Syndicate, a division of Workstyles, Inc. All rights reserved. Visit goingplacesfarandnear.com, www.examiner.com/eclectic-travel-in-national/karen-rubin,www.examiner.com/eclectic-traveler-in-long-island/karen-rubin, www.examiner.com/international-travel-in-national/karen-rubin  and travelwritersmagazine.com/TravelFeaturesSyndicate/. Blogging at goingplacesnearandfar.wordpress.com and moralcompasstravel.info. Send comments or questions to [email protected]. Tweet @TravelFeatures. 'Like' us at facebook.com/NewsPhotoFeatures