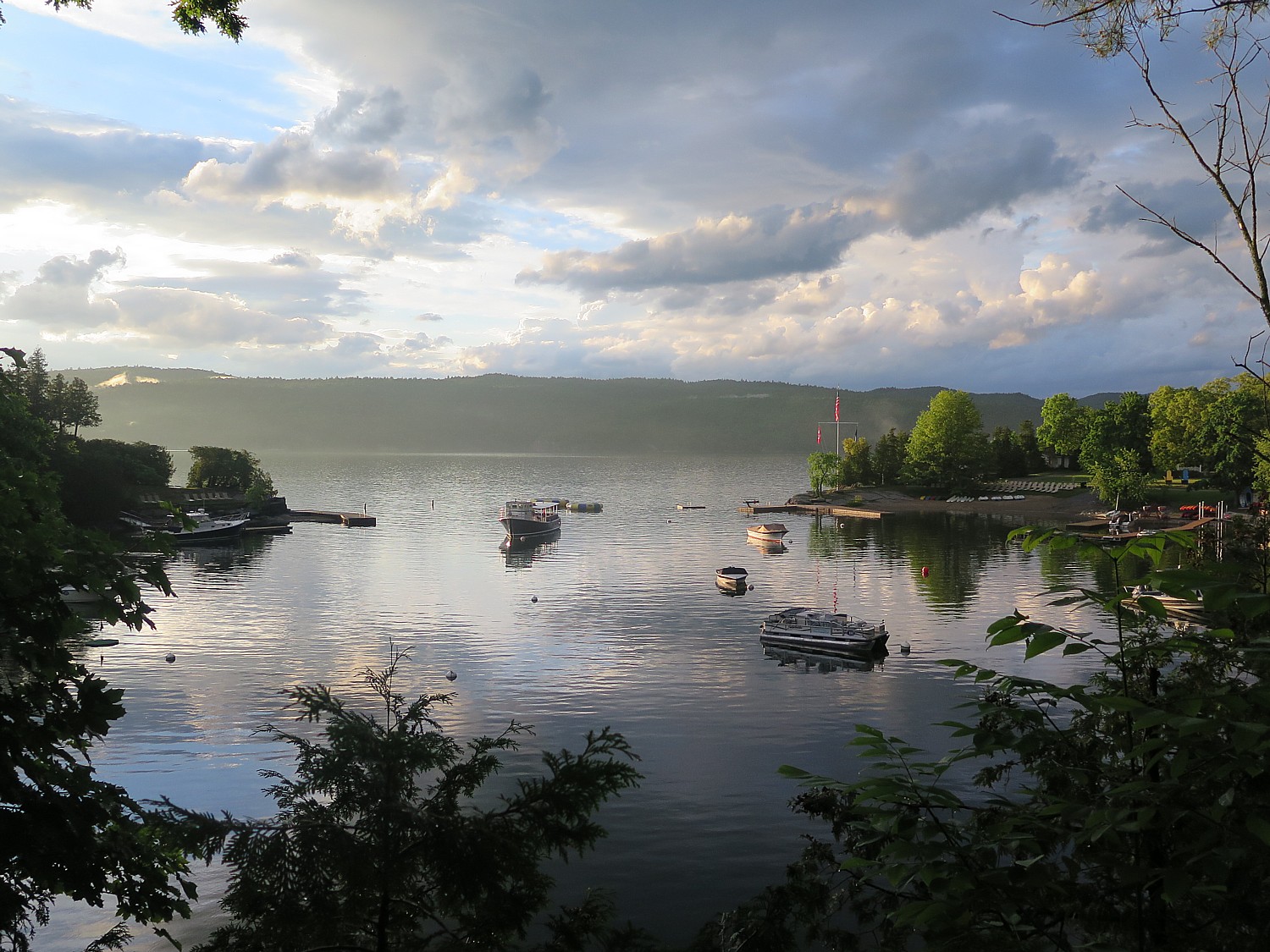 by Karen Rubin, Travel Features Syndicate
We come to the Basin Harbor Club by driving down a four-mile Vermont country road lined with classically picturesque farms. As we enter the grounds, we are overcome by the breath-taking beauty of the landscape and the surprising realization of just how enormous this place is – spanning 700 acres along Lake Champlain, with its own harbor and marina and beaches. Basin Harbor Club is more of a vacation village, a compound, than a mere resort.
Then there is the absolute sense of peace and serenity that rushes over us when we enter our very own cottage, Sunny Pines, which bears the date 1938 etched in stone, set in the woods on a cliff, from which we can gaze out over Lake Champlain from the balcony and through the French windows from the living room. A master bedroom and second room on the first floor, and a spiral staircase down to another sprawling room with two queen beds. Perfect for our multi-generational family.
Basin Harbor Club has been greeting guests for 130 years. A seasonal resort open from May through October, Basin Harbor Club offers 77 individual cottages and another 47 guest rooms in a gracious manor house – accommodations for about 350 people at one time.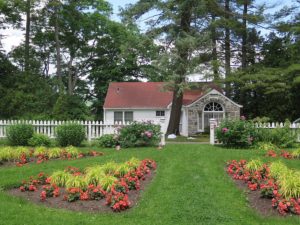 Each of the 77 cottages are different – built in the 1920s and 1930s according to the specifications provided by the original families who were invited to Basin Harbor Club by the Beach family and came back each summer to escape city heat.  In those early days, the first cottages were rustic – the equivalent of today's glamping – wood with canvas roofs on a concrete slab. But today, the cottages are luxurious, each with its own history and sense of style, exuding grace and charm, most have fireplaces and decks or screened porches and are equipped with complimentary WiFi; refrigerators and coffeemakers (just don't look for a TV).
I must confess that I had always imagined Basin Harbor Club, which is a member of the prestigious Historic Hotels of America (historichotels.org, 800-678-8946), as more rustic – more like a camp than a resort village. Instead, Basin Harbor Club manifests gentility, refinement, class, yet it is relaxed, casual, comfortable and completely unstuffy. You instantly feel you belong here. For the precious time you are at Basin Harbor, you feel less like a guest and more like you are at your summer home. All the activities they offer may make you feel you are in an adult camp, but the service, facilities, dining experiences make you feel like a country squire.
Guests, many who come year after year, generation after generation, are treated to a first class experience from top to bottom – from the exquisite, immaculately maintained grounds, to the impeccable service, to the top quality equipment and facilities.
I can't list all the instances where we were greeted so warmly – like Ryan Baker who helps us get sunfish and kayaks into the water and sets us up with bikes, and Jamie McCatherin who leads us on a 2-mile hike on the opposite shore in the Adirondack State Park, Glenn Spence of Vermont who greets us warmly as we are deciding what to take from the buffet for breakfast; and the fellow working to ready the pool who runs to the front desk when I  ask what time the Escape cruise departs.
The cheery attitude starts with Bob Beach who I chance to meet not long after we arrive, as I explore the property. He is walking along to the marina with his two golden retrievers and engages in pleasant conversation. I find him again chatting with my kids playing shuffleboard. Later he tells me this is one of the ways he constantly gauges what might need adjustment, improvement or what services to add.
It is hard to imagine anything that should be added – everything you could want for a vacation retreat is already here.
In addition to the big things – a wonderful, walkable 18-hole, par-72 golf course that is sufficiently challenging but not frustrating, where you actually feel good about your game after your round ("It's one of the most enjoyable courses in the state," Herb Kessel, a regular, tells me. "You don't get beaten up. It's one of my favorite courses in Vermont."); driving range (PGA instructor as well as electric carts available); outdoor lap pool heated to a perfect temperature; tennis courts; a marina with kayaks, canoes, sunfishes, paddleboards, waterskiing and tubing; diving board and two trampolines in the lake; plus bikes (top quality mountain and hybrid), and the Escape which takes people out on hour-long narrated cruises as well as special sunset cruises for groups) – there are also the pleasant diversions you happen upon, such as disc golf, badminton, croquet, ping pong. And while there isn't an elaborate full-service spa, there are massage services available.
And that's not even half of it. Basin Harbor spans 700 acres along the shores of Lake Champlain – one of the largest lakes in the country, which, because of where Basin Harbor is positioned, only a ½ miles across at this point, utterly stunning views of the Adirondack State Park on the New York Side. Just as you come to the entrance, you see the Lake Champlain Maritime Museum, founded by Bob Beach and is a substantial and important museum, with among other things, a perfect working replica of the 1776 gunboat Philadelphia (the original, razed from where it was sunk in Lake Champlain, is in the Smithsonian Institution in Washington DC).
Basin Harbor even has its own air strip – people come in their private planes just for lunch or a round of golf, and one family used to fly in their DC-10. (New England Aero Club has a fly-in with 200 planes and do aerial acrobatics.)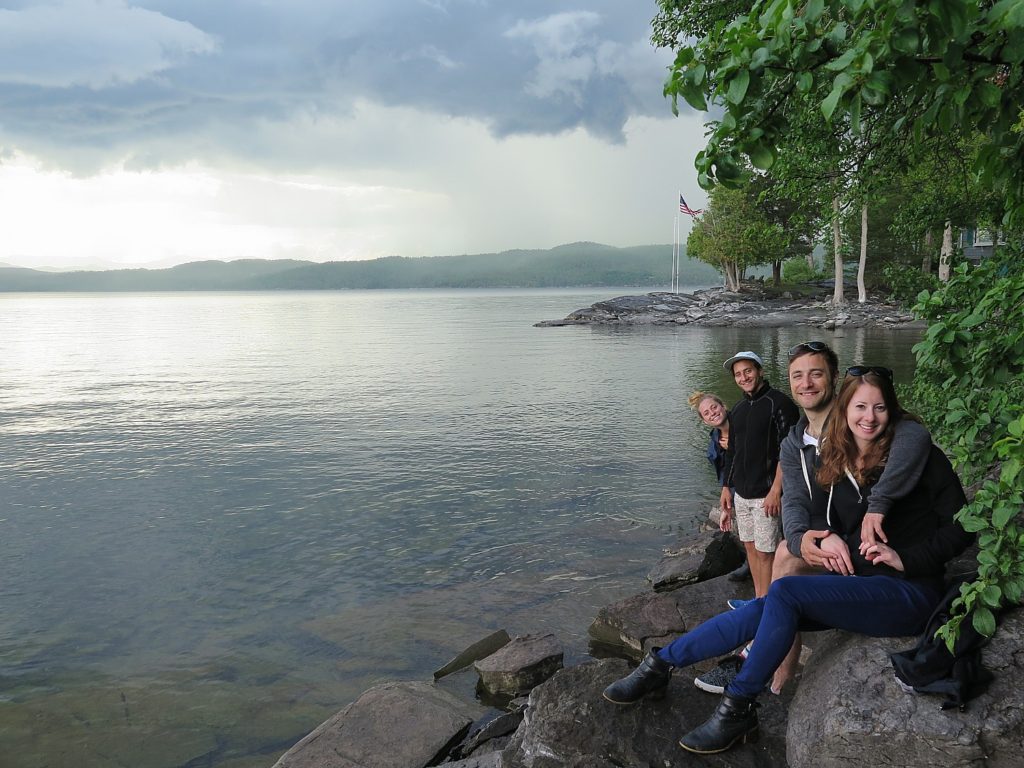 The resort abuts Button Bay State Park, adding a whole other dimension to the stay. You can connect with hiking trails or bike into the park (though you are supposed to go in through the entrance off the Basin Harbor Road and pay the entrance fee). Bob Beach suggests going there (about 2 miles from the resort) for the sunset.
The hiking along the lake is utterly gorgeous – especially when the weather turns stormy and we watch the rain descend from clouds at first far away, over the Adirondacks to the east and Green Mountains to the north, and then closer and closer until we are caught in quite a deluge. No matter. It is tremendous fun. We find the gravel road from the Nature Center, and soon are on a scenic country road made all the more dramatic because of the breaks in the rolling clouds, the brilliant colors of the wet grass and soil, the blue mountains in the distance. Once out on the Basin Harbor Road, there are classic looking farms making the scenes even more picturesque.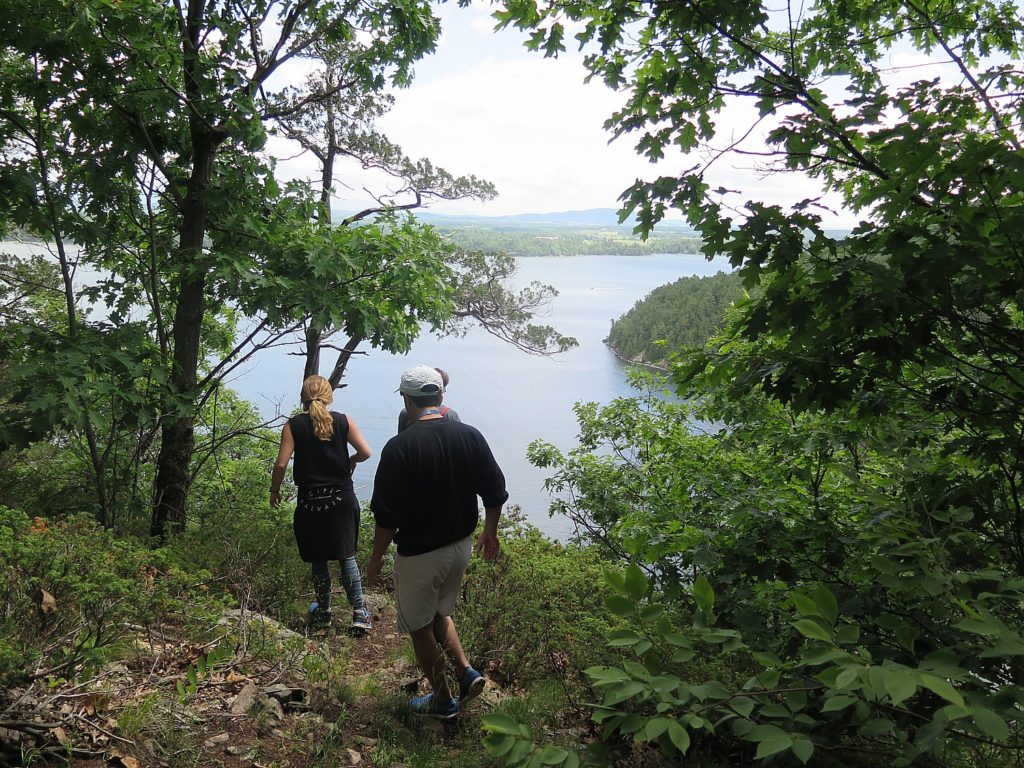 You can be even more ambitious: kayaking 1 1/2 miles across Lake Champlain to the New York State side where Basin Harbor owns a tiny portion of the Adirondack State Park, where you can beach the kayak while you hike to a wonderful rocky promontory (locals jump into the water from here, about 75 feet up, but it is really dangerous). Or, you can take advantage of the guided hike Basin Harbor offers, where they take you over by motorboat and you hike two miles through the woods to another cove (hiking a small spur to an overlook from which you can peer into an eagle's nest).
As for biking, you can do a four-mile loop from Basin Harbor, or go out to the Champlain Bikeway – really a designated portion on the road (Basin Harbor has excellent hybrid and mountain bikes for rent).
Basin Harbor Club offers all of these wonderful activities and amusements, but what it is best at is simply offering the space, ambiance, not to mention time just to be together. There are quaint sitting areas positioned to take advantage of the best views –with colorful Adirondack chairs, including some giant ones that make you feel like a small child, and child-sized ones. There are gorgeous gardens and colorful, whimsical mobile art all around that makes you smile, makes you feel peaceful, and places where you can light a campfire.
Space, ambiance and time are a powerful formula for forging bonds of family and friendship. Many Basin Harbor guests are regulars who return year after year, same week, same cottage each year.
In fact, this September, a couple who met at Basin Harbor Club as 10 year olds – one family from Massachusetts and the other from New Jersey – and came back the same week each year, then came back as counselors and became engaged here last July 4, will be married here.
Weddings here are idyllic –the setting is absolute exquisite on a vast lawn with views of Lake Champlain, lovely gardens (there's always an indoor site in case the weather doesn't cooperate). A wedding coordinator is available who can arrange for florist, photographer and such, as well as organize special activities – like bringing the bride and groom into the wedding on vintage Chris Craft boats, the rehearsal dinner followed by a hayride and bonfire (a sample itinerary is on the website), and arrange such novel activities as hot air ballooning or even sky diving.. "Our wedding planner assists with all the wedding details, whether it's a traditional ceremony, elopement or our shotgun wedding."
The facilities, the space, the setting and activities make Basin Harbor ideal for multigenerational family getaways, reunions, executive retreats, team-building programs (they can arrange for a ropes course), for incentive programs and corporate meetings, and especially think tanks. Self-contained with lots of activities so never bored, but also not distracted. As much or as little, as busy or as lazy as you like. Indeed, Basin Harbor strikes you as an adult summer camp, but actually, children have their own camp.
Children's Programs 
Lots of resorts say they have a "kids camp" but here at Basin Harbor, it quite literally is a camp – each of five age groups has its own bunkhouse or headquarters. The 3-5s have the larger playhouse and playground; the 9-12s (preteens) have a building away from the other siblings (near the Red Mill Restaurant). Teenagers have their own "den" but because they tend to be "unpredictable", Basin Harbor hosts a mocktail reception on Sunday when counselors meet so the teens can plan their own activities for the week together – kayaking, hiking and such.
Kids Camp is available for five different age groups, from 9:30am-1:30pm and/or 5:00-9:00pm (so there is also time for families to be together). The program runs daily from mid-June through Labor Day and on select weekends in spring and fall. Activities include arts and crafts, fishing, sports, games and educational hikes. The program is included for guests on the FAP (Full American meal plan) and the MAP (breakfast and dinner plan).
Activities Galore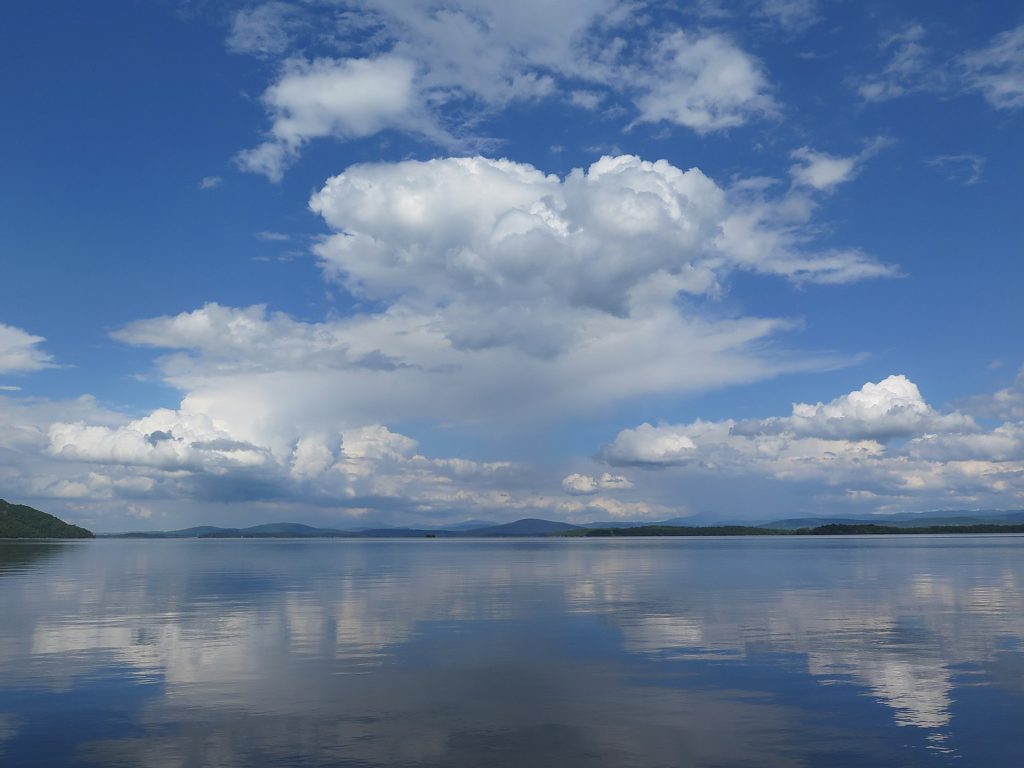 In classic resort style, there are all sorts of organized activities – bird-watching, geocaching, a ga-ga ball pit, night golf, barn dances, narrated lake cruises, art classes, wellness classes, property tours, history talks, dogs walks, and so much more.
Jamie McCatherin, whose title is Entertainment Ambassador, hosts guided hikes, special events, brewery tours, pool parties, arts and crafts programs and such.
"We tell the activities director not to take it personally if people don't participate," Beach says. That's because there are so many things to do, to explore, to discover."
Beach calls it "Active tranquility – do as much as you want to do. We offer a lot to do. It doesn't matter if people don't show up."
Choices for Dining 
Basin Harbor is a classic resort where most guests still take advantage of a meal plan (MAP, which is breakfast and dinner, FAP, which is breakfast, lunch and dinner, or bed-and-breakfast). Led by Executive Chef Christian Kruse, the formal dining experience in the lakeside Main Dining Room has been enjoyed by generations.
During the summer months, the tradition of jacket and tie is maintained for gentleman over the age of 12. Outdoor dinners are enjoyed three times weekly and the Red Mill Restaurant offers casual, bistro style dining overlooking the grass airstrip.
Nearby Vergennes also offers several charming restaurants, cafes and eateries, including Antidote, Black Sheep Bistro and 3 Squares Café.
Five Generations of Beach Family History
Basin Harbor Club is celebrating its 130th anniversary this season – a mind-boggling reality. That puts Basin Harbor Club at the very beginning of tourism in America, coinciding with a rising middle class born of the Industrial Revolution and rise of American cities.
At a time when Gilded Age monied elites had their cottages in Newport and Bar Harbor, their "camps" in the Adirondacks and Cape Cod and private retreats on Jekyll Island, the first and second generation at Basin Harbor pioneered a new sort of tourism that catered to the rising middle class.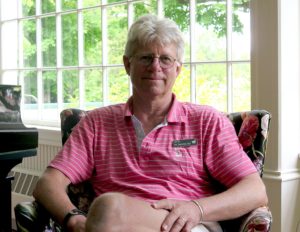 The 4th and 5th generations run the Basin Harbor Club now –Bob Beach and sister Pennie Beech and her daughter, Sarah Morris, who is the director of sales. They can be seen about. During the course of our all-too brief stay, I meet Bob with his 2 golden retrievers, his wife and daughter. Indeed, some 120 of the 240 employees at Basin Harbor live on the grounds.
I sit down with Bob Beach who tells me the history of Basin Harbor Club, which is also his family history:
Basin Harbor was a working farm when Beach's great great aunt Ardelia Beach purchased it in 1886. She began offering rooms to city folk looking to get away and experience farm work in exchange for food. Her nephew, Allen Penfield Beach, came to work in the 1920s and eventually took over. While attending the University of Vermont he implemented changes, including giving up farming altogether and transforming the property into a full service resort with stables, golf course, airstrip and cottages built from guest sketches.
The history of tourism is also manifested in Basin Harbor's golf course: in 1916, Basin Harbor had 3 holes of golf on what was a sheep meadow; then in 1927, they built a nine-hole course; in 1955, they added the back nine. The course, 6,500 yards long, was redesigned by famed designer Jeffrey Cornish. Now, a new superintendent has been making changes to make Basin Harbor a "noteworthy" golf destination. Part of this involves making the course faster – making the greens putt at 11 mph ("people like fast greens") and cutting the fairways to less than 3/8 inch for faster play. There are practice greens, PGA certified instructors and electric carts are available. The BHC Golf Program is ideal for all levels of play. Daily clinics are open to men, women and junior golfers.
Bob Beach speaks of the challenge of being 4th and 5th generation hosts, maintaining a 130-year old institution. "Travelers are different today. Each generation brings new things. We have never been opposed to making changes, but we don't make changes just for the sake of change. We have a certain tradition we continue. It's a sense of stewardship."
There is history all around: one of the larger stone buildings was the oldest operating inn on Lake Champlain when Ardela bought her farm; and in a small garden just below the shuffleboard courts, there is a stone marker, "Site of Naval Shipyard, 1804-1812. Erected 1938"
Beach tells me of a shipwreck right in the cove, and once a week (on Monday), the hour-long narrated cruise on the Escape, turns into an expedition, using a ROV camera to view the wreck.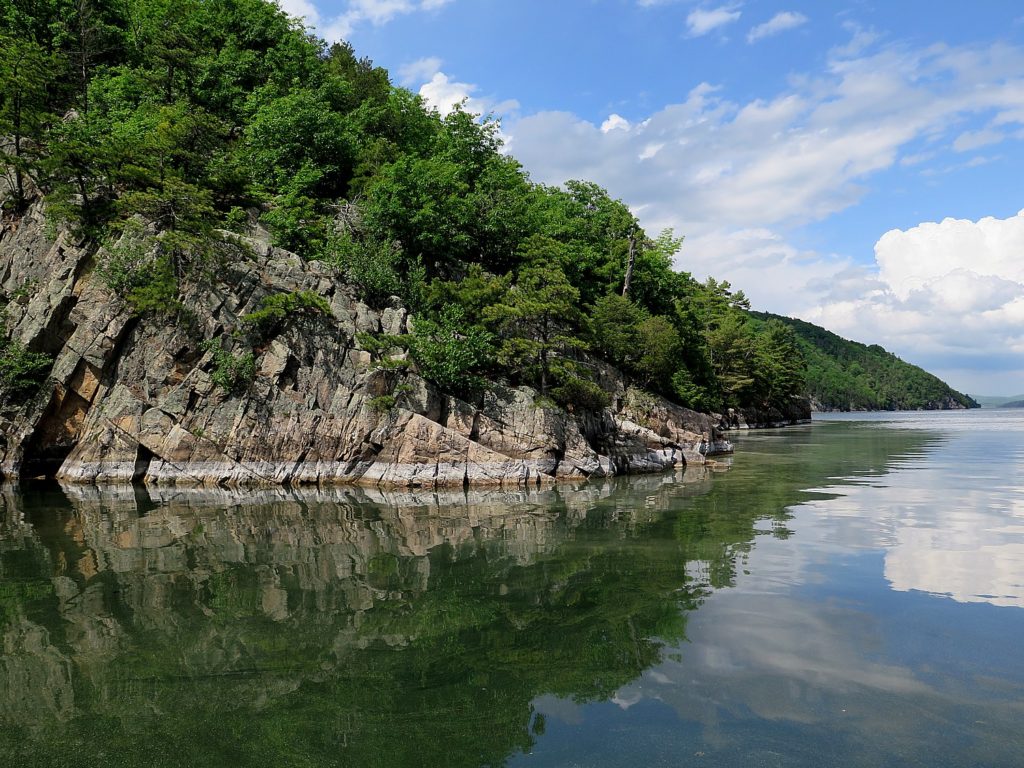 That afternoon, we get to take the 1 ¼ hour narrated cruise on the Escape (daily at 2:30 pm) is not only really interesting but also wonderfully scenic, as we come close to the dramatic stone cliffs on the New York State side where the captain points out an eagles nest and where an eagle is sitting in a tree, pass small private islands, see the vast Swift Gilded-Age mansion and 450-acre estate, and get a view of the gunboat Philadelphia II docked at the Lake Champlain Maritime Museum. The views are breathtaking.
Lake Champlain, we learn, is the largest lake in the US after the Finger Lakes and played an important role in colonial times, Revolutionary War period, and economic development of the region. Great steamships used to ply the waters, and even before the Erie Canal, a 60-mile long canal was built in 1823 to connect the Lake with the Hudson River, which created a waterway extending up to Canada.
Pet-Friendly: Basin Harbor Club is also the most pet-friendly place you can imagine. I meet a man walking his cat who comes every year – the cat is particular – it wants to stay in the room they had the year before.
For a daily fee of $15 per dog, BHC offers a resort vacation for your pets with activities and amenities including: biscuits made in Vermont, games of Pick Up Mitts, hundreds of acres available for playing and Fanny's Beach — their own swimming area.  
Seasonal Events: Rocktoberfest (Bacon & Beer Festival), Festival of Fidos, Barbeque Bonanza, American Girl Teas, Harborween; and regular daily programming also offers guests a wide variety of entertainment.
Meeting Space: Over 9,000 square feet of meeting space provides an ideal setting for traditional board meetings, as well as multi-day retreats featuring activities like lake cruises and lobster bakes, team building, golf tournaments and banquets. You can arrange a small party or reserve the entire resort, with lakeside parties, beach bonfires and cocktail cruises.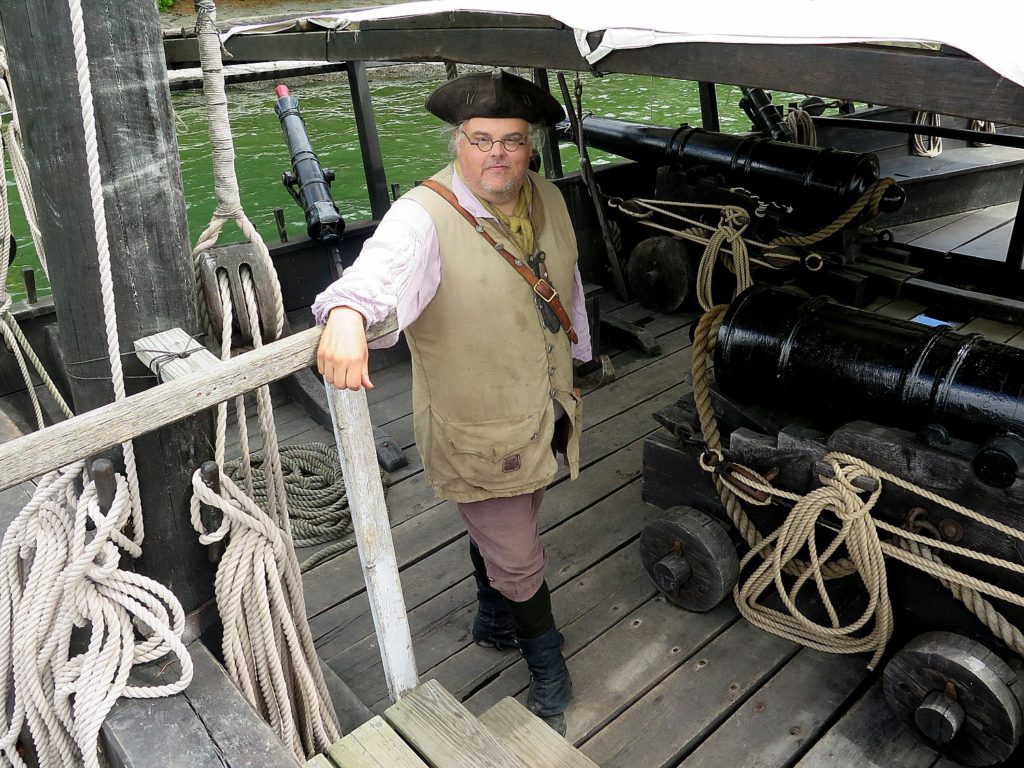 So much to do! In addition to the Lake Champlain Maritime Museum right at Basin Harbor Club, nearby attractions include: Dar John Strong Mansion Museum; Crown Point State Historic Site; Fort Ticonderoga; Mount Defiance; Carillion Cruises; Mount Independence State Historic Site; Chimney Point State Historic Site. Other sightseeing attractions: the Shelburne Museum, the Vermont Teddy Bear Factory, Ben & Jerry's ice cream factory. Basin Harbor also has created biking routes; wine & beer routes; local cheeses; and historic drives 
Access: Set on the shores of Lake Champlain, surrounding a private harbor, the resort is just 45-minutes from Burlington International (BTV), Vermont's largest commercial airport. BTV serves major commuter airlines, with connections from most cities in the Northeast. The resort is also accessible by private aircraft — Basin Harbor's own 3,200-foot grass airstrip is one of the best in New England — as well as by boat. Greyhound and Megabus lines serve the Vergennes/Burlington area; transportation to Basin Harbor is available at a nominal fee. Basin Harbor Club is five hours from New York City metro; and 2 ½ hours from the Albany area.
Basin Harbor is a place you don't want to leave and can't wait to return.
Basin Harbor Club, 4800 Basin Harbor Road, Vergennes, VT 06490, 800.622.4000 or 802.475.2311, www.basinharbor.com
See next: Lake Champlain Maritime Museum
____________________
© 2016 Travel Features Syndicate, a division of Workstyles, Inc. All rights reserved. Visit goingplacesfarandnear.com, www.examiner.com/eclectic-travel-in-national/karen-rubin,www.examiner.com/eclectic-traveler-in-long-island/karen-rubin, www.examiner.com/international-travel-in-national/karen-rubin  and travelwritersmagazine.com/TravelFeaturesSyndicate/. Blogging at goingplacesnearandfar.wordpress.com and moralcompasstravel.info. Send comments or questions to FamTravL[email protected]. Tweet @TravelFeatures. 'Like' us at facebook.com/NewsPhotoFeatures