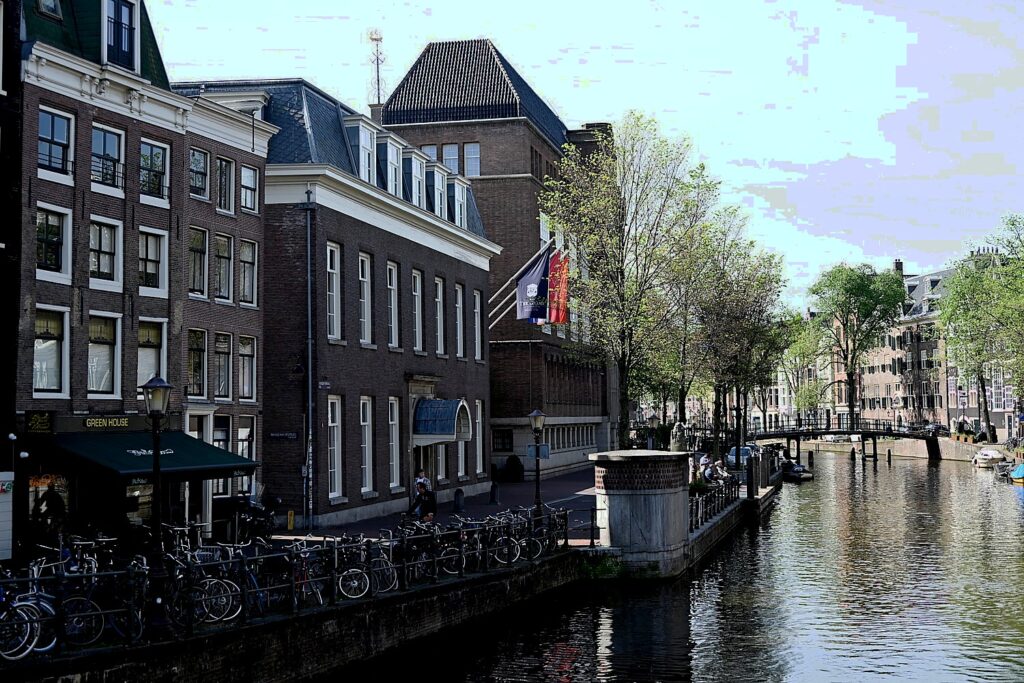 By Karen Rubin, Travel Features Syndicate, goingplacesfarandnear.com
I march myself from the Princesse Royal, the ship that has been my floating hotel for the eight-day BoatBikeTours' Bruges to Amsterdam bike trip the few steps from where we are docked to the free ferry to Amsterdam's Central Station and into Amsterdam's historic city center and on to the hotel Sofitel Legend The Grand Amsterdam.
The level of service, luxury and elegance in this five-star hotel makes you feel you are staying in a palace, and frankly, it was, as I soon learn on the hotel's daily tour.
I always seek out historic hotels when I travel because they tend to be so much more interesting, so connected to place, so full of personality, character and yes, authenticity, but rarely have I stayed in a hotel that played such an integral role in a nation's history.
A hotel only since 1992, the original buildings and tower that have been repurposed  for The Grand were built in 1411 and actually were two convents – one on the northern side and one on the southern side, with canals on both.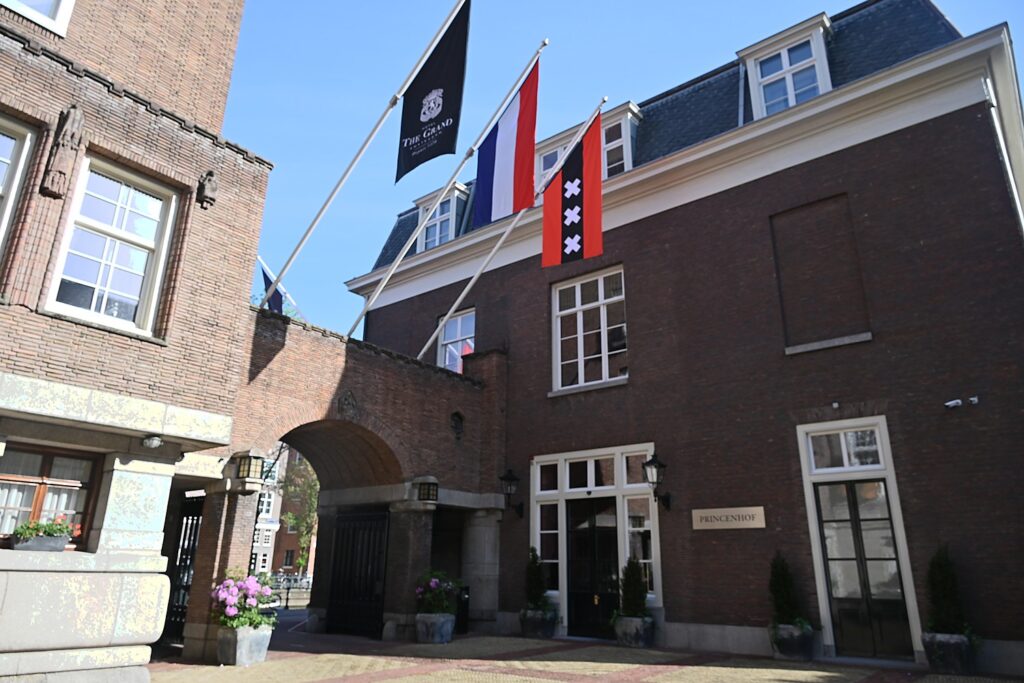 In 1578, with the success of William of Orange's revolt against Catholic Spain, Protestantism swept the Netherlands and Amsterdam. The two convents were given to the city.  The northern side was empty for a time, but the southern building became the Royal residence – The Princenhof (still the name). The Maria de' Medici, Queen of France, and William of Orange himself stayed here at some point.
In 1652, after a fire at Dam Square destroyed the building where the Council met, they moved into the northern part of the building, which served as the Council Chamber for three years until Dam Square was renovated (the room is still set up as a Council Chamber).
In 1655, the powerful Dutch East India Trading Company made this their headquarters. The company, which set up trade, exploration and colonization around the globe, functioned as a military power, government, and even agricultural producer and helped make this small nation a global power, from 1602 to 1800. (A little research reveals the Dutch had an advantage in resources because they were on the cutting edge of capitalism. The Dutch East India Company had a more successful strategy because of sound money, an efficient tax system and a system of public debt by which the government could borrow from its citizens at low interest rates. See https://www.theindiaforum.in/article/what-made-east-india-company-so-successful)
In 1808, the French took over and Napoleon installed his brother, Louis Napoleon, as King of Netherlands. He wanted Dam Square for his palace, so the Council came back to this building for the next 108 years (until as recently as 1988, which explains why the room is still set up as a Council chamber.)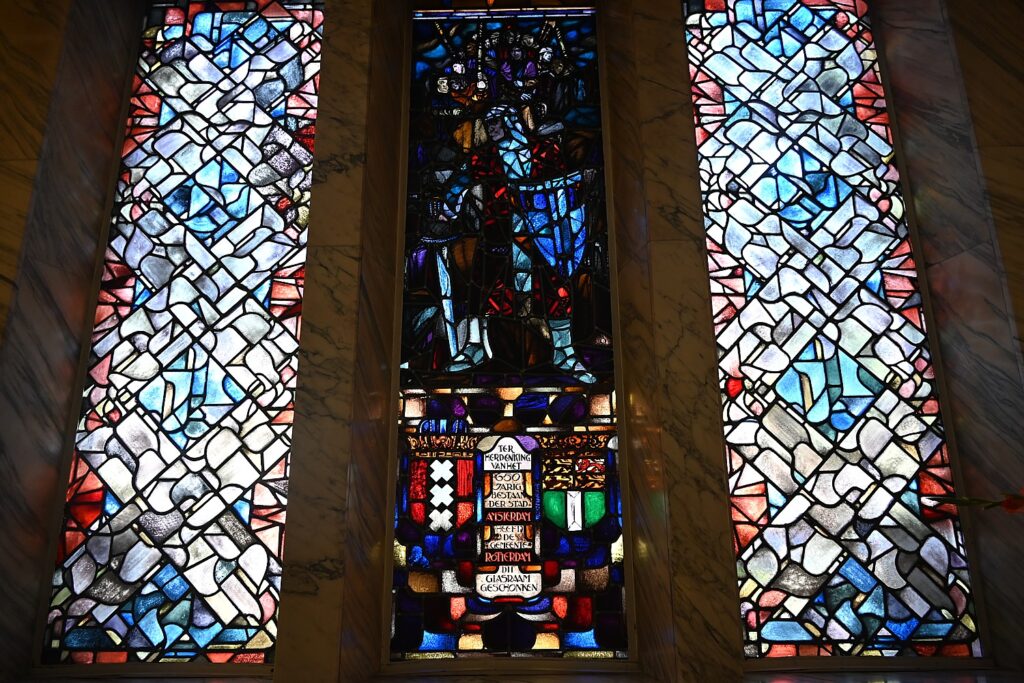 We see an astonishing five-story high wall of stained glass by Roland Holst (1868-1938), given to the city of Amsterdam in 1925 by the city of Rotterdam on the occasion of the capital's 650th anniversary. The first nine stained windows present the founder of Amsterdam, Gijsbrecht van Amstel. The others depict dike constructors, fishermen, floral patterns, symbols of trade, education and jurisdiction. There are three crosses of Amsterdam symbolizing fire (a lot of fires afflicted the city); water (the city is below sea level) and plague (to show respect for people).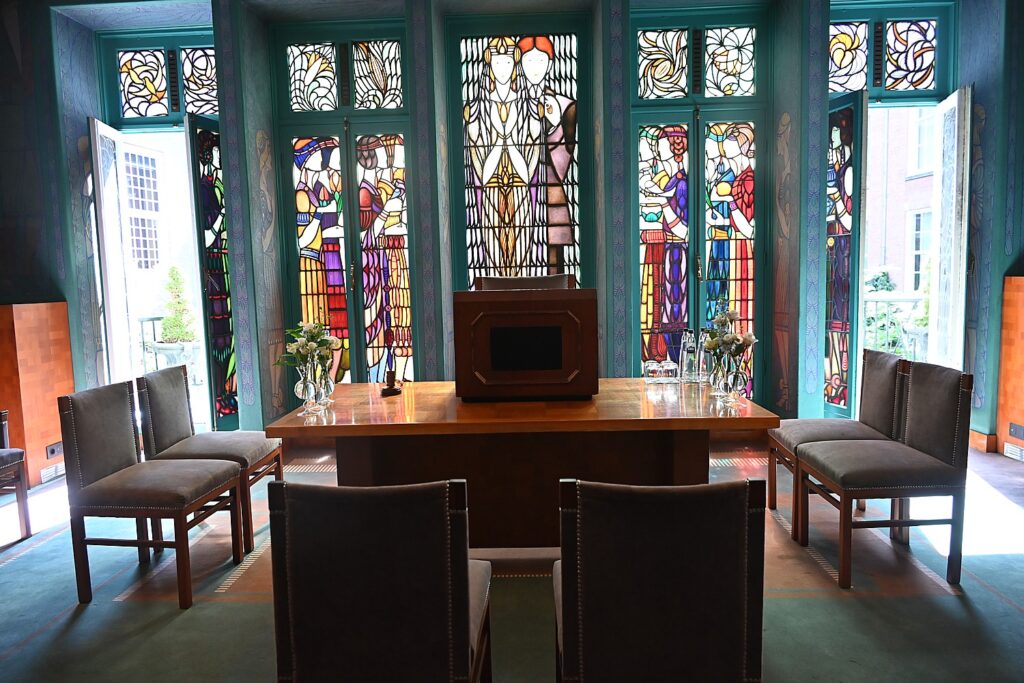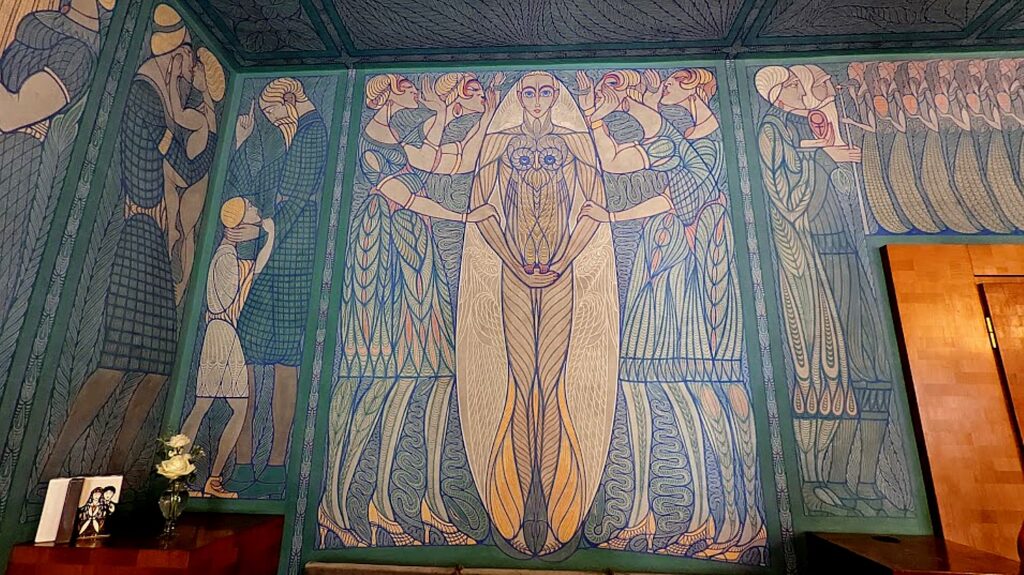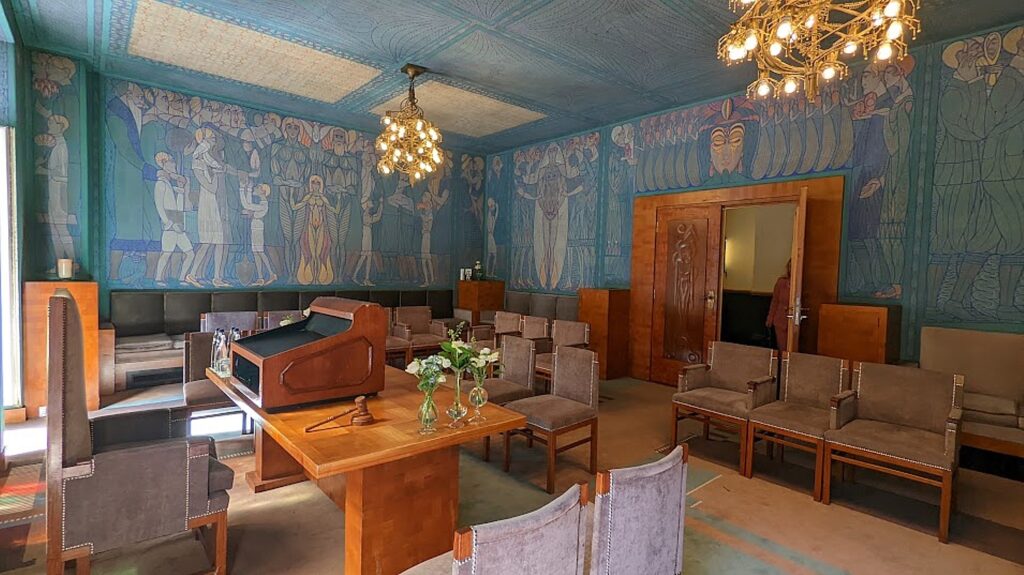 In 1925, the Wedding Chamber was painted with a most magnificent Art Deco series of murals that our guide, Donna van der Heul, of guest relations, relates, tell the story of a couple who meets, are seduced in a sneaky way (symbolized by a snake), stay true, meet each other (there is a little flame between their legs), become engaged (the flame becomes bigger), a wedding showing the happy couple. Another panel shows the couple with a child with a flame of her own, and another panel shows them as an old couple, still together. (We have to rush through the chamber because a wedding is getting underway shortly).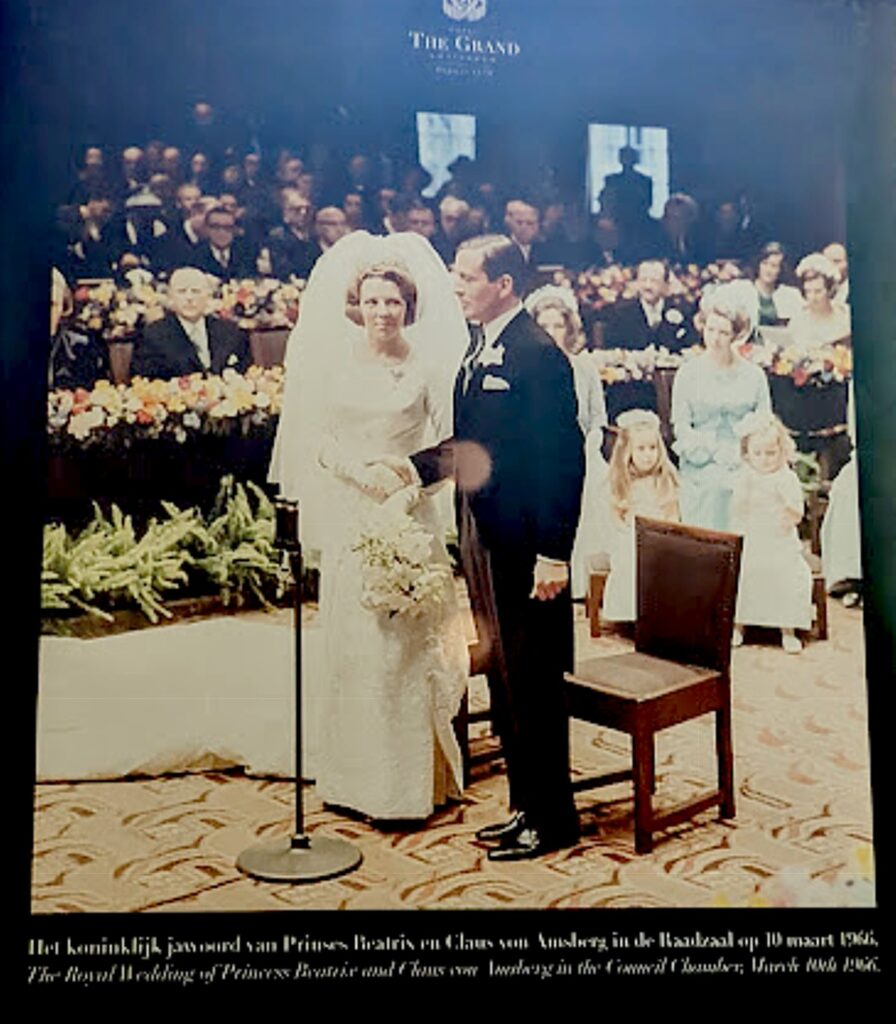 We visit the Council Chamber (which looks like parliament). Princess Beatrix and Prince Klaus  (the present king's parents) in 1966 and you can see a photo of their wedding .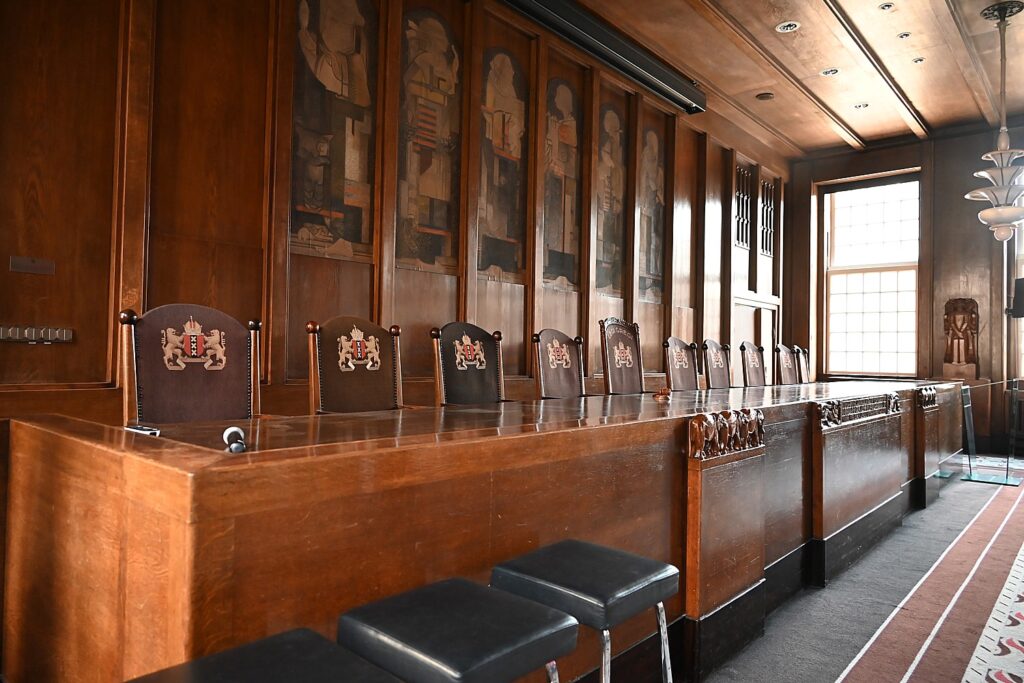 We visit the beautifully decorated Oriole Garden Bistro where there is a mural that was painted in 1949 when the building was City Hall. Titled, "Inquisitive Children," by artist Karel Appel,  it depicts begging, crying children, with sad eyes, in the aftermath of World War II's human destruction.  "The Council Staff thought it would make people feel uncomfortable so they put it behind a wall. But when the building became a hotel and the painting was found, the artist, Karel Appel, had by then become a famous painter. They had Appel sign it and repair the painting.  Now it is behind glass and doesn't look sad," our guide relates.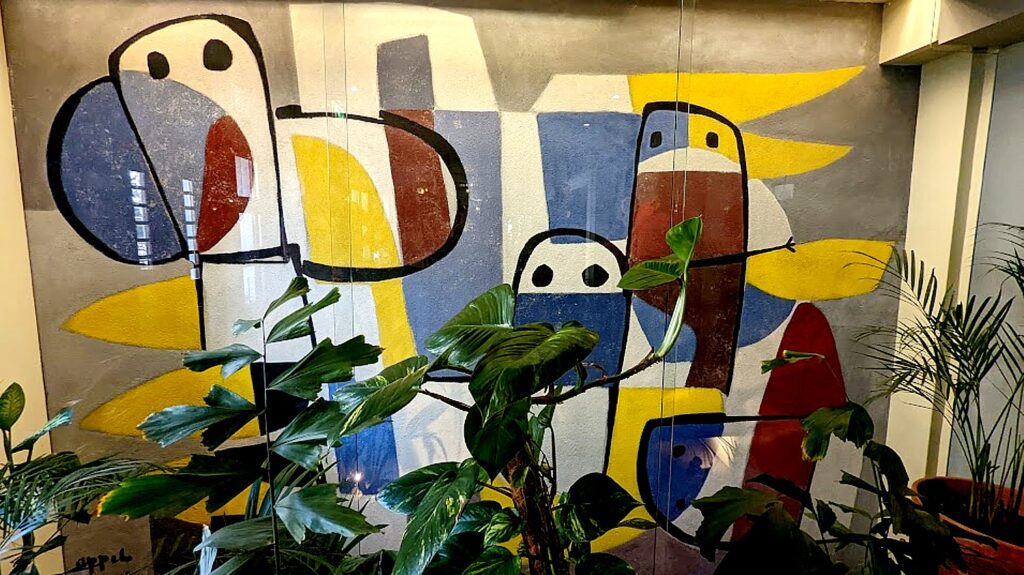 She also points out the marble floor with pieces that are arranged with a "book marking" design that form a butterfly, so the butterfly images and theme is around hotel .
The Princenhof – once the royal residence – is used for meetings. Obviously an immensely popular venue for weddings, the hotel has its own florist and wedding planner.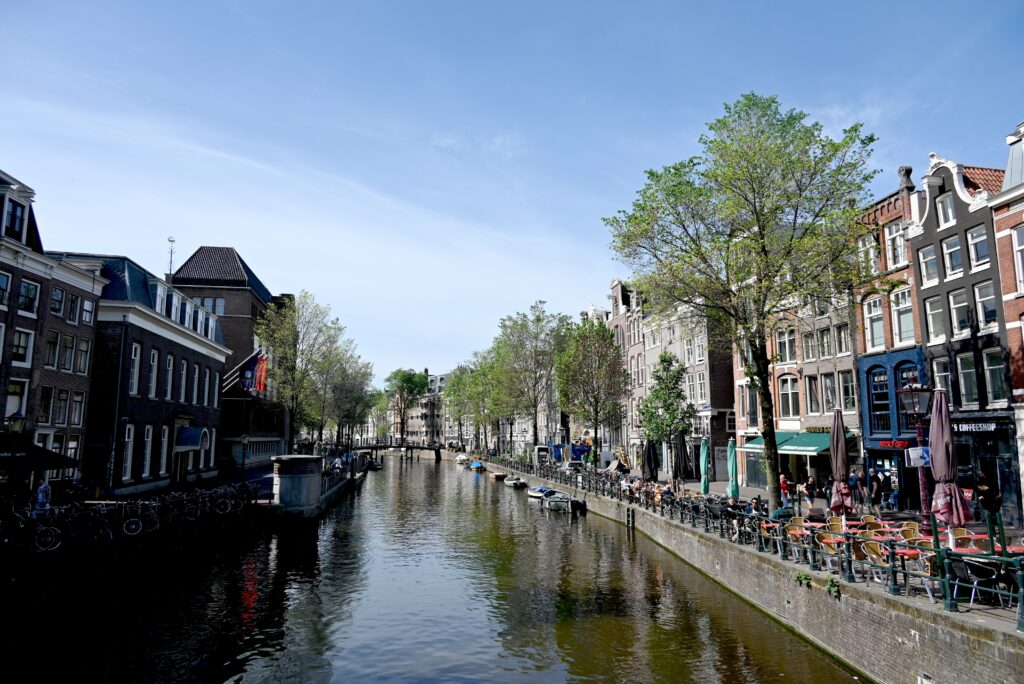 Located between two historical canals in the heart of the historic city, the hotel Sofitel Legend the Grand Amsterdam has turned its pedigree from a 15th century convent to royal residence to Dutch admiralty headquarters to Amsterdam's city hall, into a five-star luxury hotel with a particular "Amsterdam" ambiance, French elegance and grandeur. You feel the five-star luxury in every aspect of the hotel, from the moment you check in. The lordly complex became a hotel in 1992.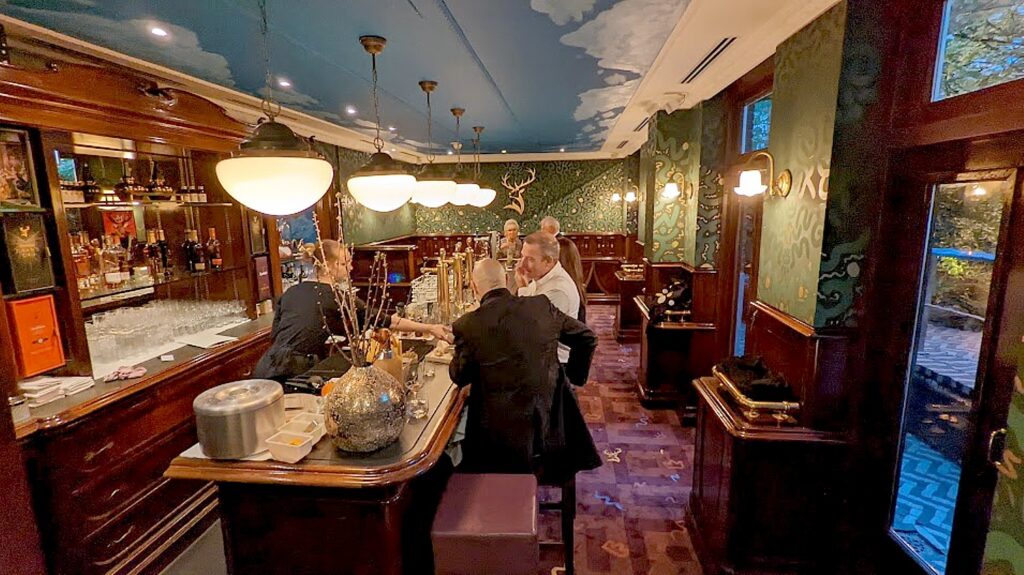 It offers the restaurant Bridges, the Oriole Garden Bistro serving Mediterranean-style cuisine, the Garden Terrace within an inner garden, the Library 'Or' where Grand Afternoon Tea is served, and the Flying Deer pop-up bar and a spa.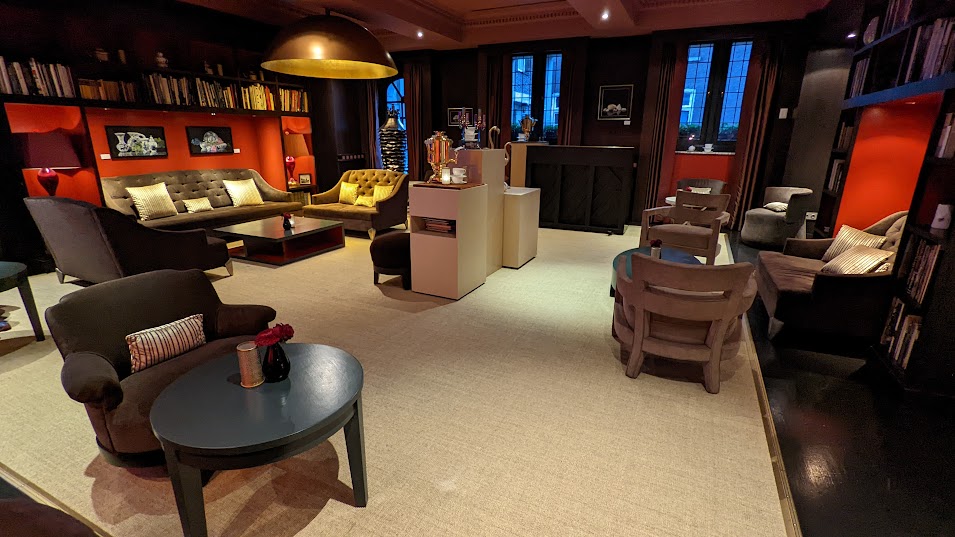 The Sofitel SPA offers a heated indoor pool, sauna, hammam (Turkish steam bath) and fitness area where you can also order from a spa menu.
The Grand is one of the Sofitel Legend's collection of stately heritage hotels and palaces found in iconic cities around the world, "exclusive hotels in legendary places, offering world-class service, stunning décor and inspiring culinary experiences. Step into a timeless story that's still unfolding to this day at Sofitel Legend The Grand Amsterdam."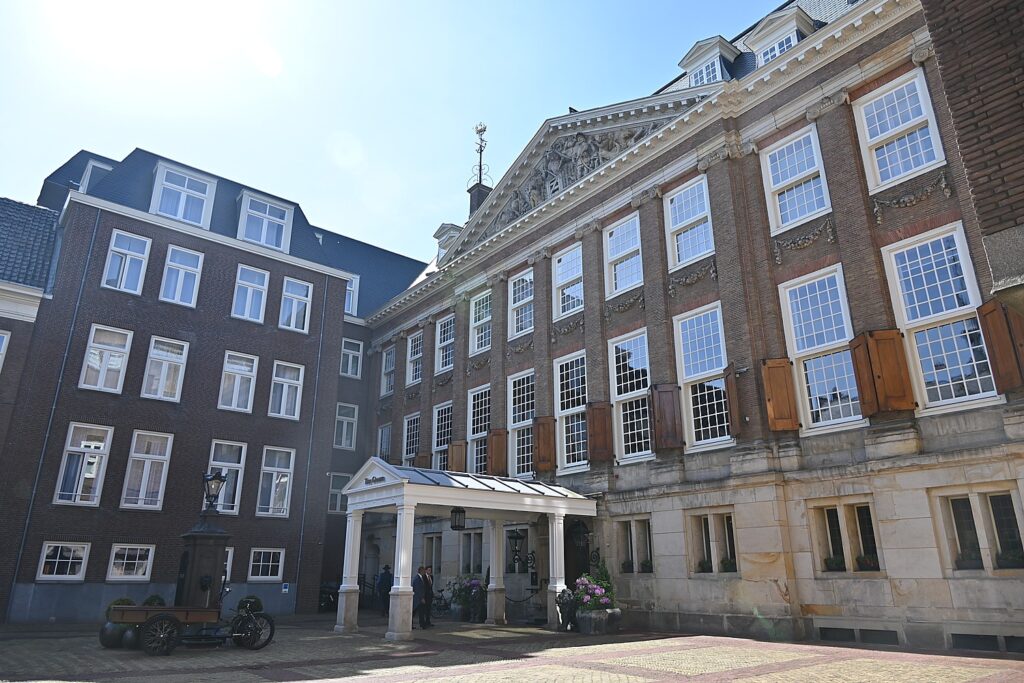 The Grand features 178 guest rooms of which 52 are luxury suites. Throughout, you see a harmonious blend of traditional and contemporary French design and typical Dutch style elements. The rich heritage of the structure has been carefully preserved, while ensuring that the accommodations are updated with the amenities and advanced technology travelers today savor. (I can testify to the exemplary service.)
Guests who stay in the suites are provided an extra layer of luxury: Butler Service, with exclusive benefits, such as "personalized rooming" – (un)packing of suitcases and presenting the "pillow menus" and "bath rituals".
Sofitel Legend Grand Amsterdam, Oudezijds Voorburgwal 197, 1012 EX Amsterdam, The Netherlands, www.sofitel-legend.com, www.sofitel-legend-thegrand.com.
Historic Hotels Worldwide
Sofitel Legend The Grand Amsterdam is a member of Historic Hotels Worldwide®, an official program of the National Trust for Historic Preservation in the USA, and an international companion to Historic Hotels of America (historichotels.org). Historic Hotels Worldwide is a prestigious collection of 360 historic treasures that include historic hotels, castles, chateaus, palaces, academies, haciendas, villas, monasteries, and other historic lodging spanning ten centuries and more than 45 countries in Europe, Africa, Asia, and the Americas.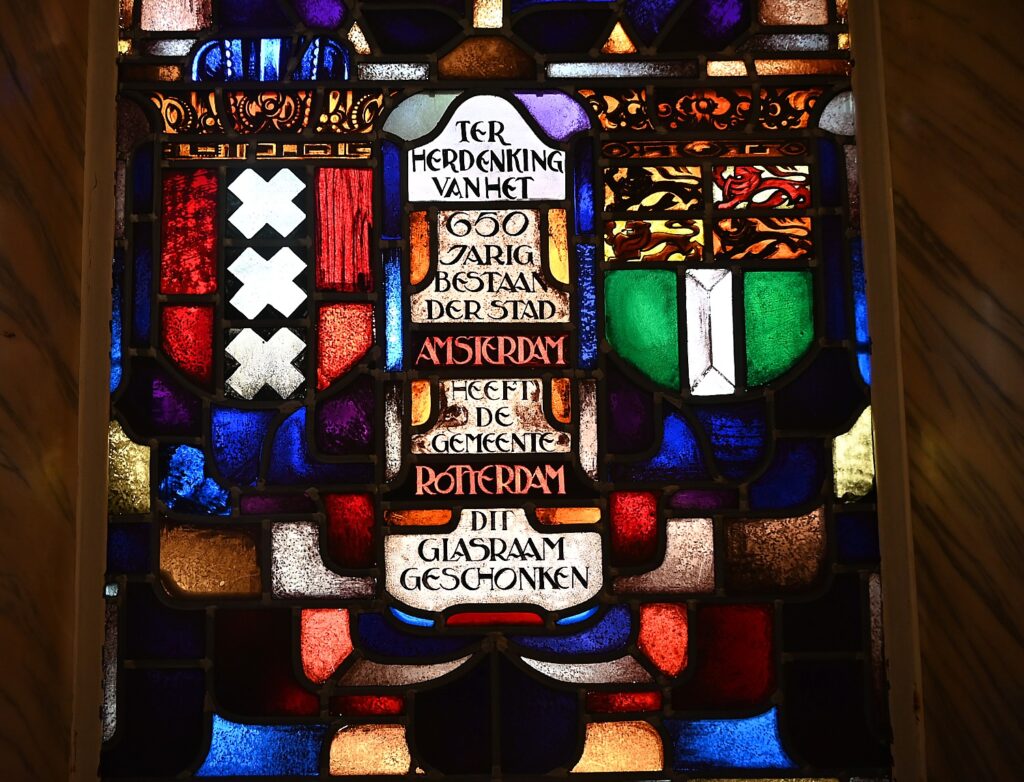 The Sofitel Legend exemplifies the mission and criteria of the membership. Hotels inducted into Historic Hotels Worldwide® are authentic historic treasures, demonstrate historic preservation, and celebrate historic significance. With a growing global collection of hotels that have faithfully maintained their authenticity, sense of place, and architectural integrity, Historic Hotels Worldwide® membership is comprised of the world's finest hospitality brands, chains, collections, and independently owned and operated properties.
Historic Hotels Worldwide® is dedicated to promoting heritage and cultural travel to these prestigious historic treasures. Membership in Historic Hotels Worldwide® encourages revitalization and enhances preservation of magnificent architectural and cultural legacies.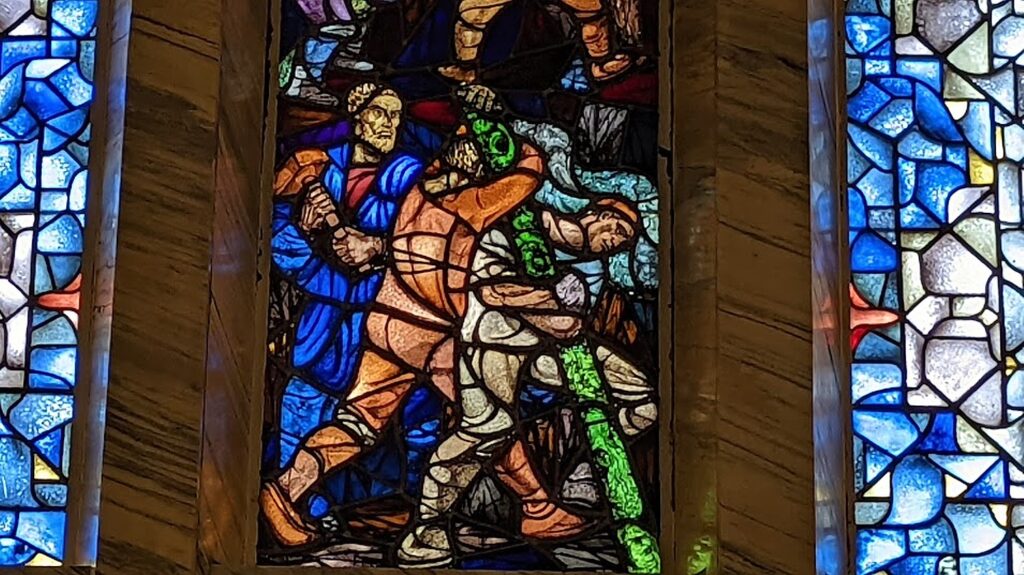 To participate in Historic Hotels Worldwide, historical lodging properties must be at least 75 years old; utilize historic accommodations; serve as the former home or be located on the grounds of the former home of famous persons or a significant location for an event in history; be located in or within walking distance to a historic district, historically significant landmark, place of historic event, or historic city center; be recognized by local preservation organization or national trust; and display historic memorabilia, artwork, photography, and other examples of its historic significance. Hotels located in the United States must be a current member of Historic Hotels of America to qualify for participation in Historic Hotels Worldwide.
Hotels are in diverse cultural settings, ranging from a 12th-century castle set among the rolling hills, prehistoric monuments, and Celtic landmarks of Ireland's Ancient Eastin, (Kilkea Castle, Castledermot Ireland, circa 1180) to a medieval village nestled in the Tuscan countryside that dates back to the 11th century (La Bagnaia Golf & Spa Resort Siena, Curio Collection by Hilton, Siena, Italy circa 1081).
Travelers can find and book these historic hotels them at HistoricHotels.org, which since 2012 has served as a global travel website, or call 1-800-678-8946. The Annual Directory can be found by visiting HistoricHotels.org/Directory.
See also:
Sofitel Legend The Grand Amsterdam: Historic Hotel that Played Major Role in History
36 Hours in Amsterdam: Time-Traveling in the Jewish Quarter
36 Hours in Amsterdam: Time-Traveling Through Amsterdam's Jewish Quarter
__________________
© 2022 Travel Features Syndicate, a division of Workstyles, Inc. All rights reserved. Visit goingplacesfarandnear.com, www.huffingtonpost.com/author/karen-rubin, and travelwritersmagazine.com/TravelFeaturesSyndicate/. Blogging at goingplacesnearandfar.wordpress.com and moralcompasstravel.info. Visit instagram.com/going_places_far_and_near and instagram.com/bigbackpacktraveler/ Send comments or questions to [email protected]. Tweet @TravelFeatures. 'Like' us at facebook.com/NewsPhotoFeatures