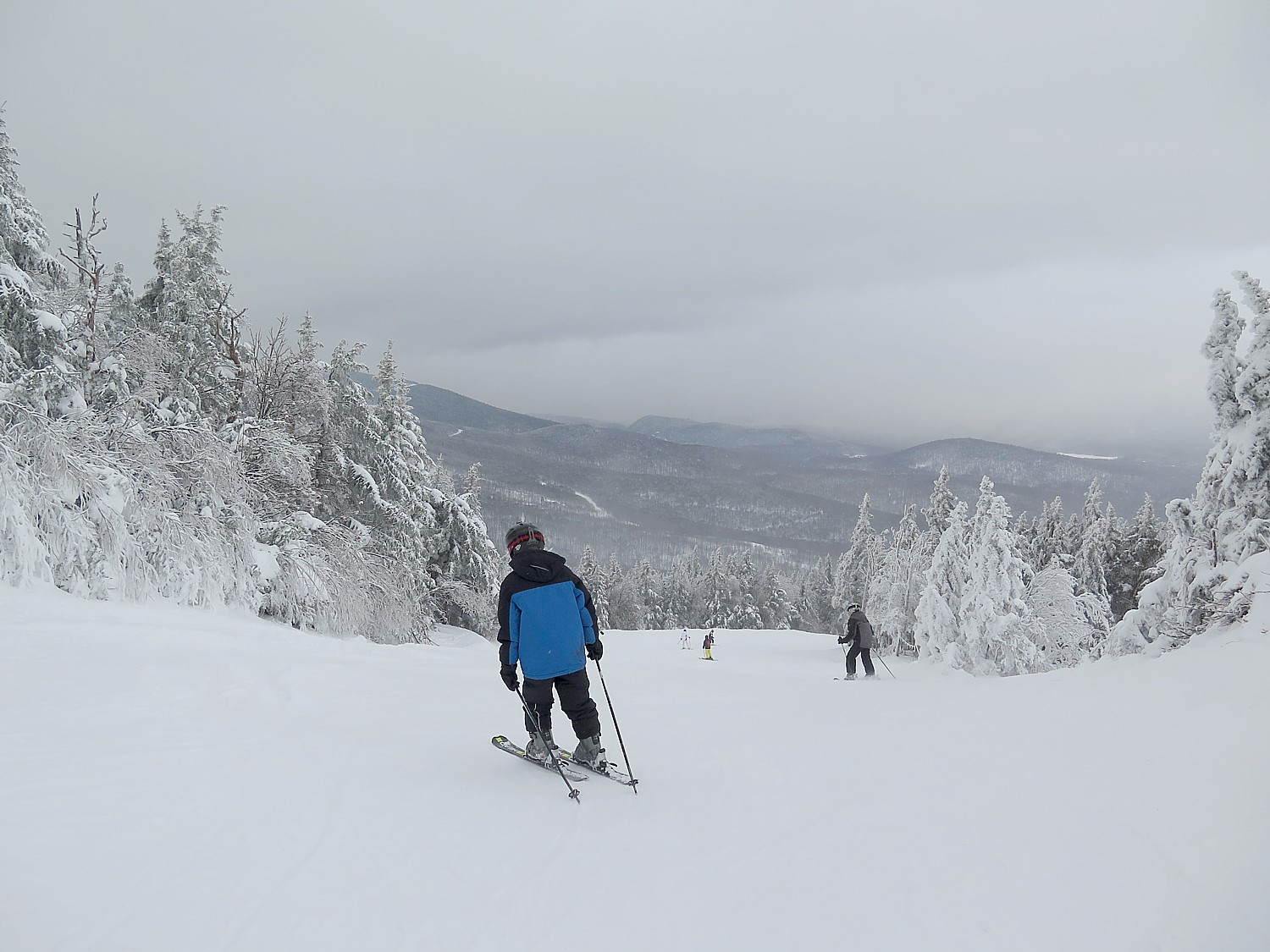 By Karen Rubin, Dave E. Leiberman & Laini Miranda
Travel Features Syndicate, goingplacesfarandnear.com
Whoa, what a Christmas present: December has been very kind to Killington which already had a decent base when we arrived just before Christmas, then had nearly two feet more of powder by the end of Christmas Day, much to the delight of skiers and snowboarders who clearly raced away from opening gifts to enjoy the acres and acres of fresh powder snow.  With Killington's elevation and a 3,000 ft. vertical drop, the powder made you feel you were skiing the Rockies.
Killington, known as the "Beast of the East," is the largest ski area in New England – sprawling across six-mountain peaks, the highest at 4,241' elevation, affording 1,509 skiable acres, 155 trails totaling 73 miles. Of the 21 lifts, three are gondolas, and of the nine quads, five are high-speed express.  (Pico Mountain, Killington's sister resort (Killington's ticket is valid there), is its 7th peak; it is not connected by lift but there is shuttle service between the resorts.)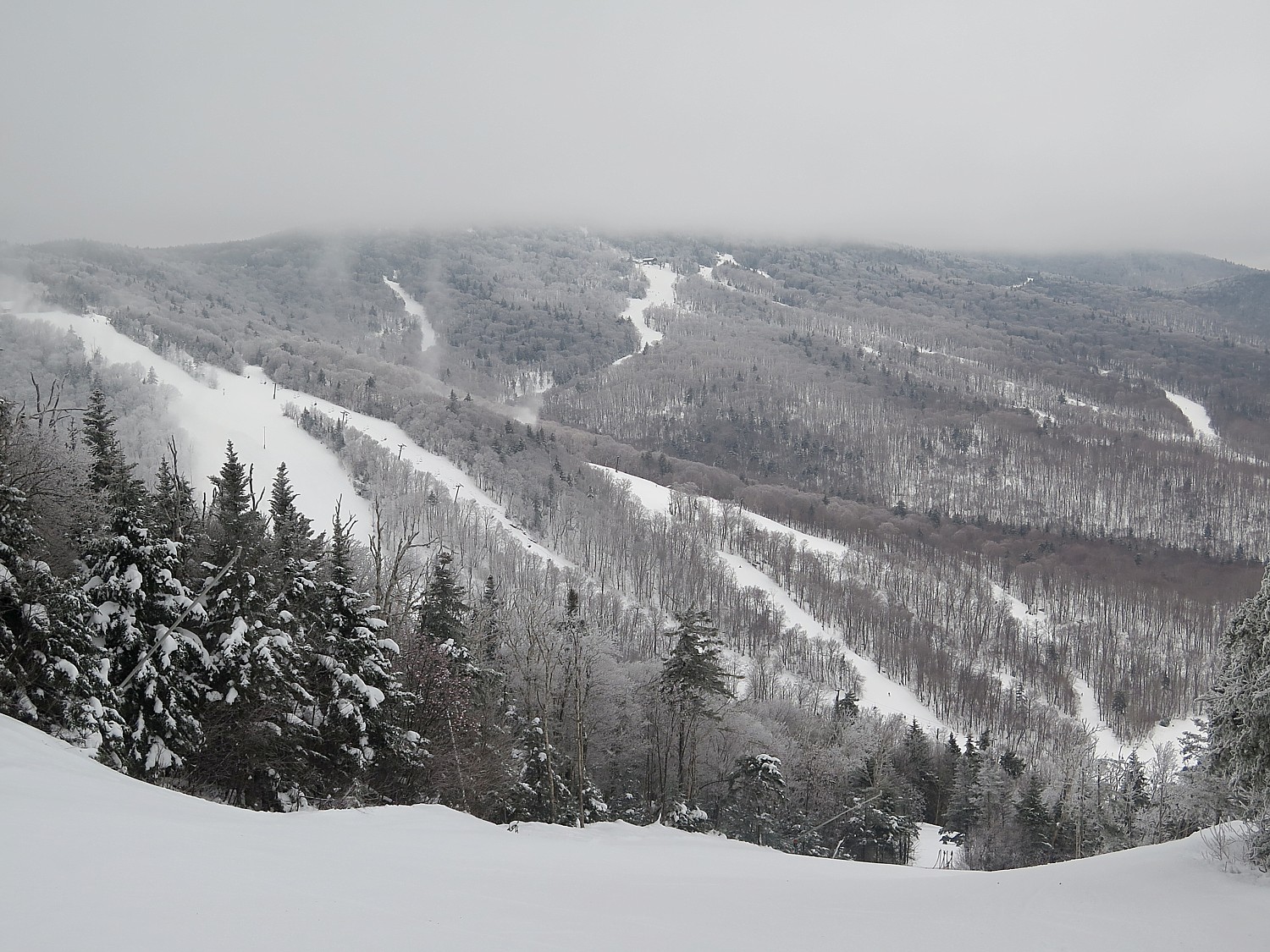 The resort offers multiple terrain features for snowboarders and freeskiers in six terrain parks including The Stash, an all-natural inspired terrain park with more than 65 features, and NeffLand, an outer-space themed terrain park with rocket and planet style jibs, as well as two pipes.
Killington is absolutely phenomenal for black-diamond skiers and skiers who are comfortable regardless of terrain – you can just go and explore and not really care what you wind up on.
Bear Mountain is great for double-black diamond skiers, and is where you will find Outer Limits and Centerpiece (glades).
A fun narrow trail in the trees for daring intermediate (don't have to be advanced tree skier, but should be comfortable intermediate, slightly more adventurous): Roundabout (rated a black diamond, really fun, narrow, tree experience, don't have to be a glade skier), shoots out to a long green, Bear Cub, long easy, on the perimeter.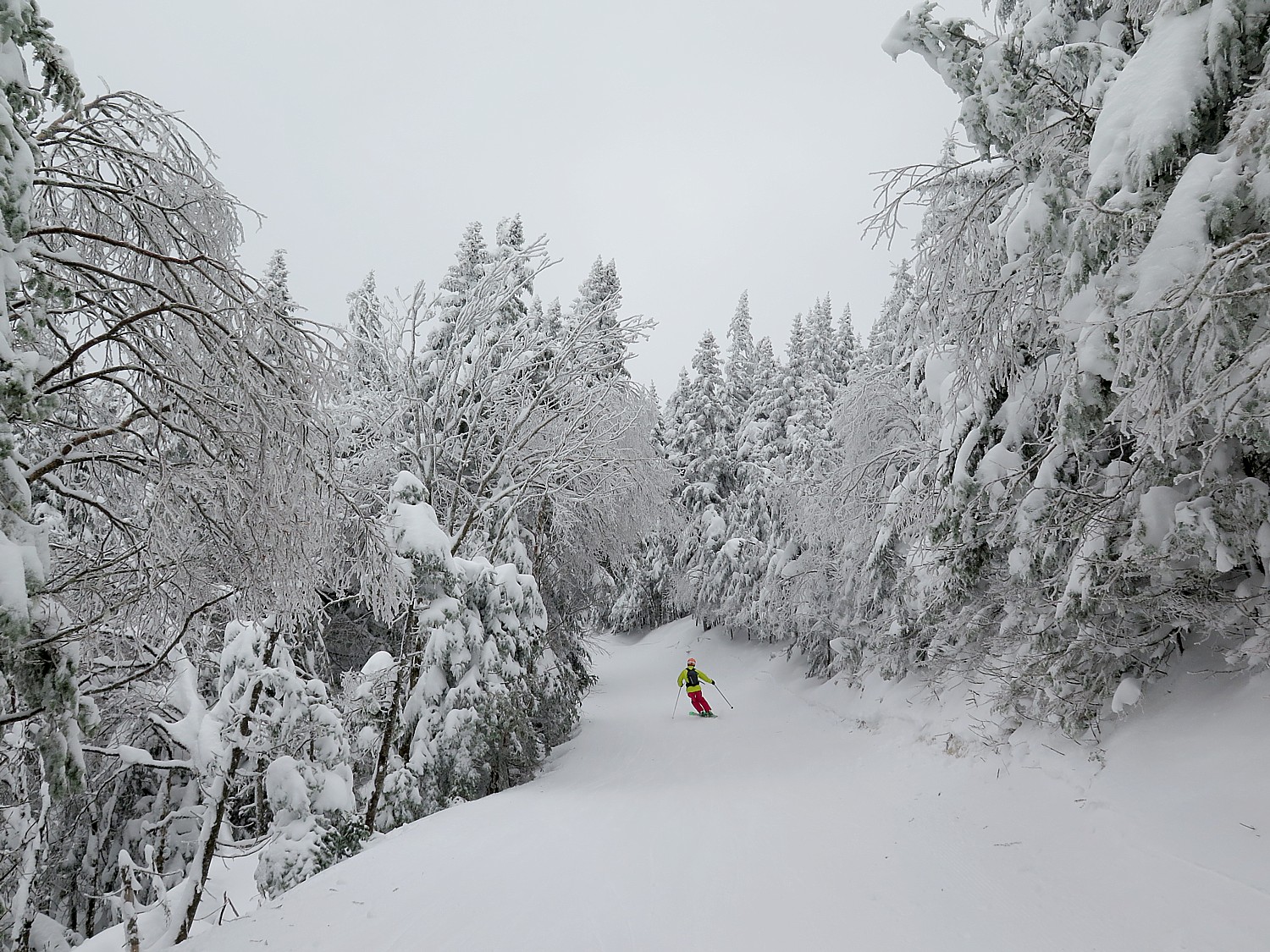 Intermediate skiers will need to plot out their route. One combination that I particularly enjoyed was riding K-1 to the summit and taking Blue Heaven to Bear Trax to Launch Pad (which has a particularly scenic stretch flanked on both sides by trees to Bitter Sweet where you will find a few, short steeps.
I also enjoyed taking the Skyship Gondola up to Great Eastern, a green, (I chickened out of taking the blue trail, Skylark, normally a long fun blue run,  because it had a caution, "Advanced skiers only" and I wasn't in the mood to be challenged), to connect to Cruise Control, a very pleasant blue. From there, you can ride up the Northbrook Quad back up to the Snowshed slope.  Skyship tends not to be as crowded and is particularly a good place in the afternoon when it is less likely for the trails to be skied off.
There are great blues at Rams Head but this is also the area that is used for ski school and clinics, so tends to be crowded.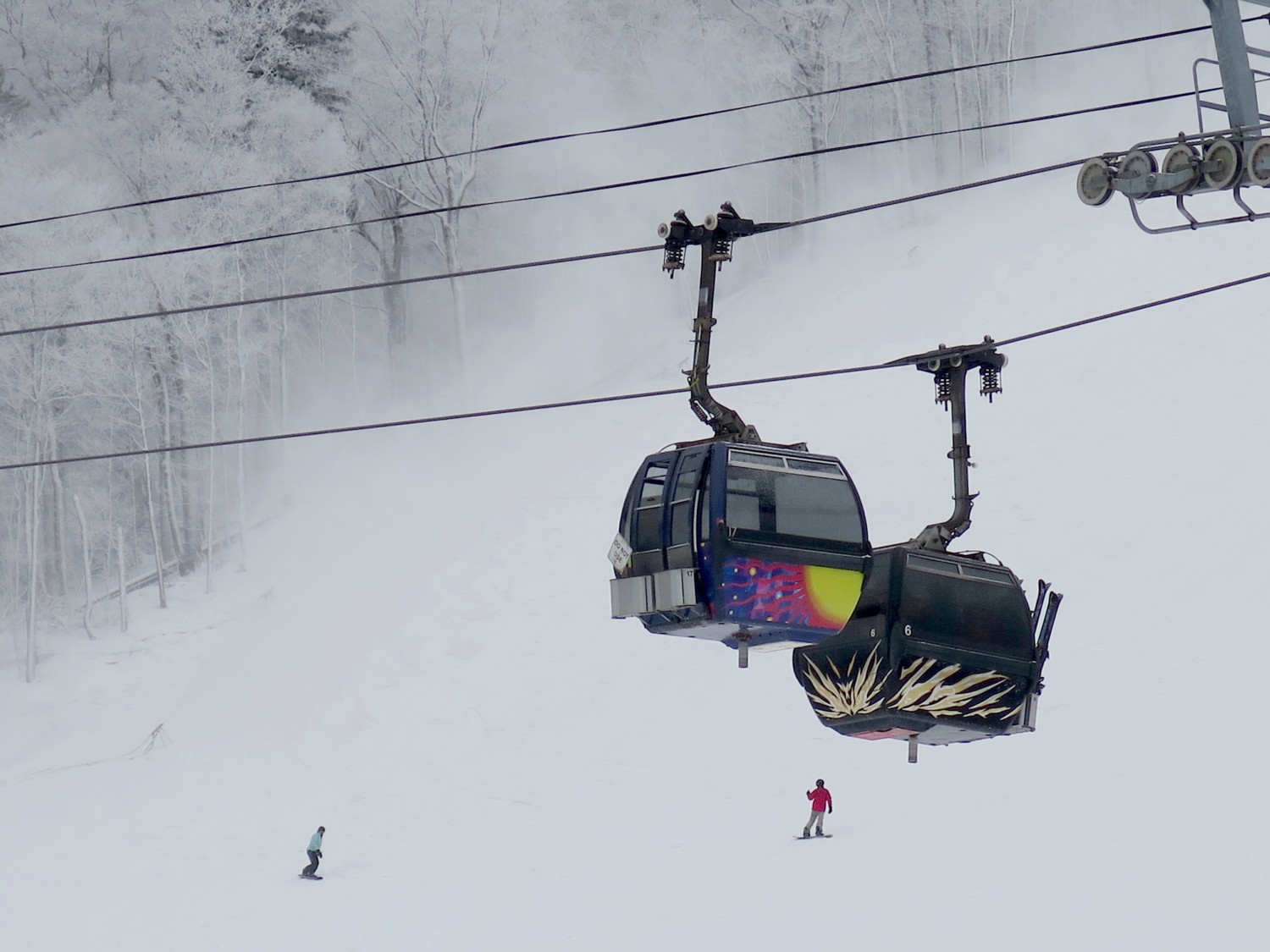 Green trail skiers are more restricted – the Great Eastern is a long trail but you have to watch carefully when it crosses over black and blue trails. Snowshed offers great opportunities on gentle terrain to fine-tune your form, so I didn't mind riding the chair five minutes for the five-minute run because I enjoyed my skiing there so much. At Rams Head there is another long green trail, Easy Street.
Killington's Discovery programs utilize Terrain Based Learning, the latest innovation in snow sports education, coupled with the promise of free equipment for skiers and snowboarders at the end of a four-lesson series.
Novel Ways to Enjoy Killington
Snowshed, indeed, is the place for novel mountain activities.
This year, you can rent a ski bike (also known as snow-bike); lessons are available as well. Killington ski bikes operates Friday through Sunday 9 am to 4 pm and daily during holidays, and rentals are offered at the Snowshed base area. Ski biking is permitted on the Snowshed and Ramshead mountain areas which provide optimal beginner to intermediate conditions. Pricing starts at $88 for a half-day rental and includes an access ticket.
It's also where you will find The Beast Mountain Coaster, a 4,800-foot-long alpine coaster that twists and turns through the woods with 360-degree corkscrews. It hadn't yet started operation for the season (Dec. 26, 2017-April 1, 2018), but operates 1-4 pm weekend and peak days (operations are weather dependent; check Resort Services Report for updates in real-time. Book with a Ski & Stay Package prior to arrival and save; call 800-621-6867 for reservations.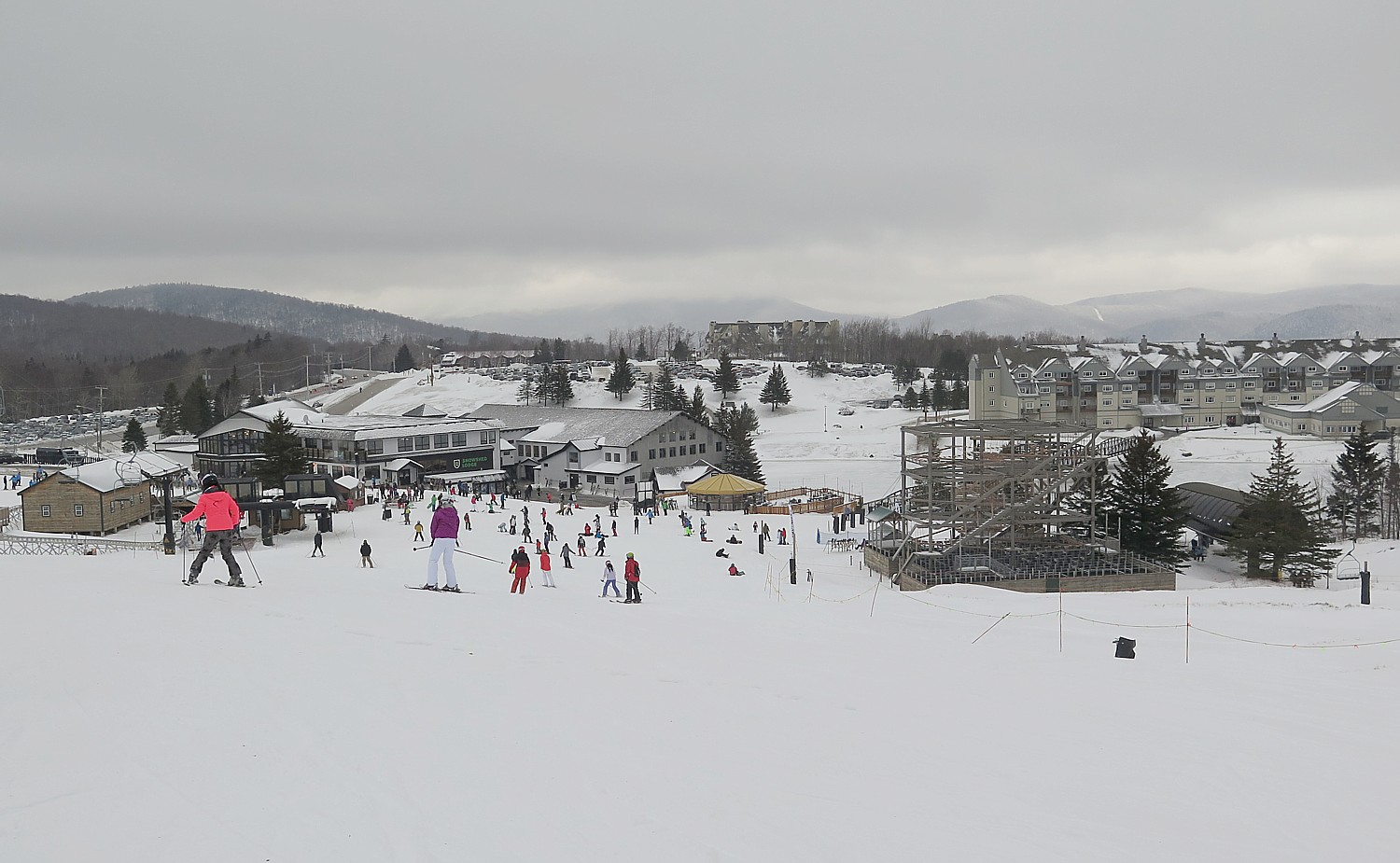 New attractions include the four-story Skye Ropes Course, Skyeride (seated zip line ride), 5,000 square foot Terra Maze, Roaring Brook Mining for the youngest adventurers, plus motorized mountain tours by Segway and All Terrain Vehicle.
Killington and Pico are catering to increasing popularity of "uphill travel" with guests choosing to reach the peaks of Bear Mountain, Snowdon, Ramshead and Pico via human vs. machine power with designated routes for each mountain area and 24/7 access (when designed routes are open).
Experiential Dining
Killington also has Vermont's highest elevation structure: the Peak Lodge from where, on a clear day,  you can actually catch views of five states plus Canada. The Peak Lodge is the most sustainable building at Killington, with forward thinking approaches to electricity (Cow Power), lighting, recycling, grey water, and refrigeration (Freeaire).
All food at the Peak Lodge is made to order, and ingredients are sourced from local farms to ensure the freshness of all dishes. Fresh local craft beer is also available from the full-service bar with views of gondola cabins cresting the head wall and arriving at the terminal.
At the Bear Mountain lodge, the chef very kindly prepared a gluten-free sandwich.
Also fun: the Waffle Haus at the bottom of Snowshed.
The Long Trail Pub at Snowshed is a great place to finish the day or wind down. The windows open up to see the skiers as they come down.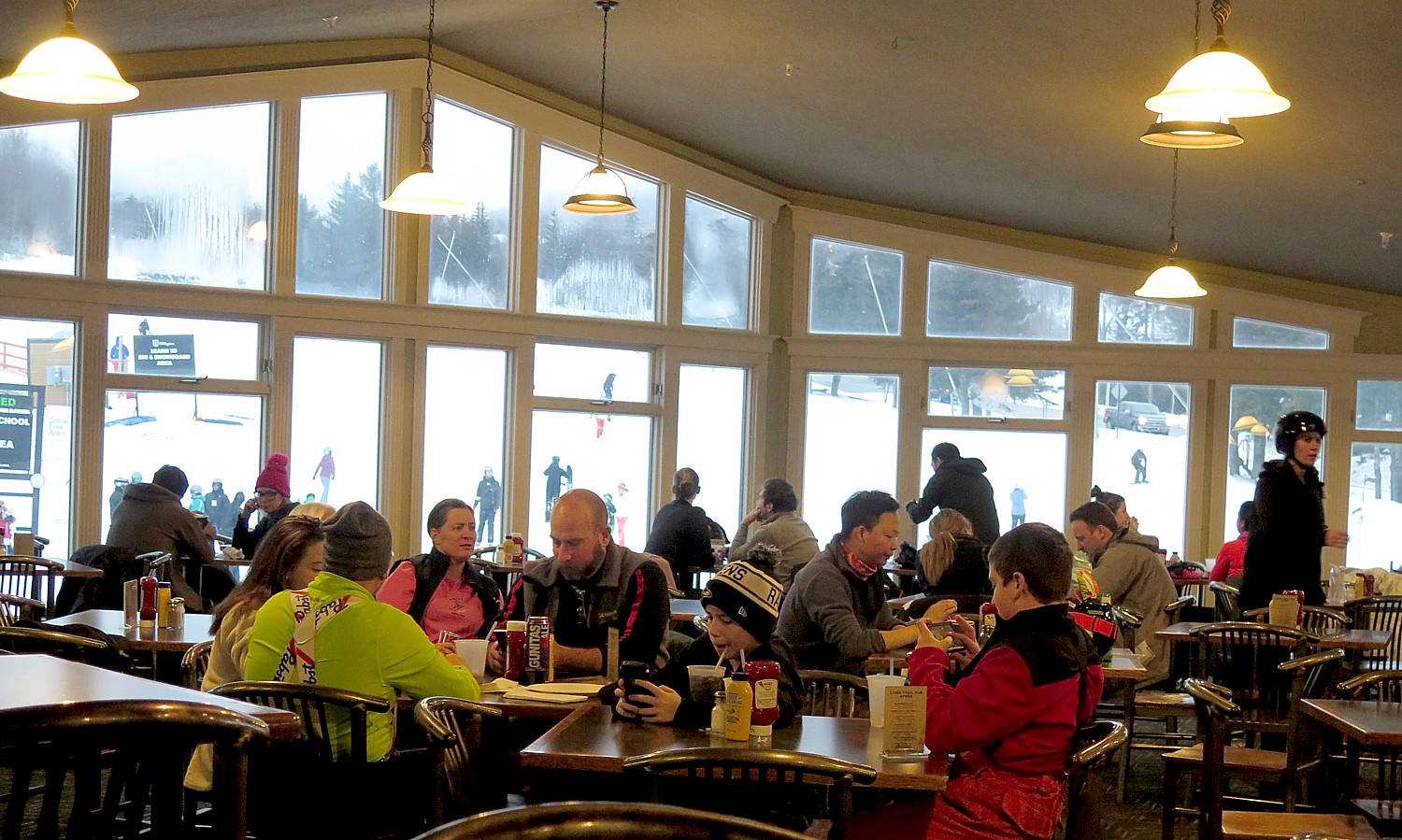 Experiential dining at Killington ranges from fresh-made fare at the Peak Lodge to snowcat-drawn sleigh rides to the Ledgewood Yurt, a ski-in-ski-out hidden gem during the day that transforms to a cozy, candlelit slice of paradise after hours.
The Motor Room Bar, located in a retired lift tower at the top of Bear Mountain overlooking two of Killington's most feared double-black diamond runs, is reserved by single parties for an unforgettable apres – complete with private cabin-cat transportation, libations and small bites.
While Killington doesn't have an actual village, the Killington Access road is as famous for dining institutions like the 50 year old Wobbly Barn steakhouse as it is for high energy nightlife, and the Liquid Art Café .
Casey's Caboose is Back!
The little toy train runs again! And you can still sit up in the caboose cab, or in a snowplow. All the fun and whimsy has returned, but with seriously improved food for an altogether outstanding dining experience on Killington Road: Casey's Caboose is back.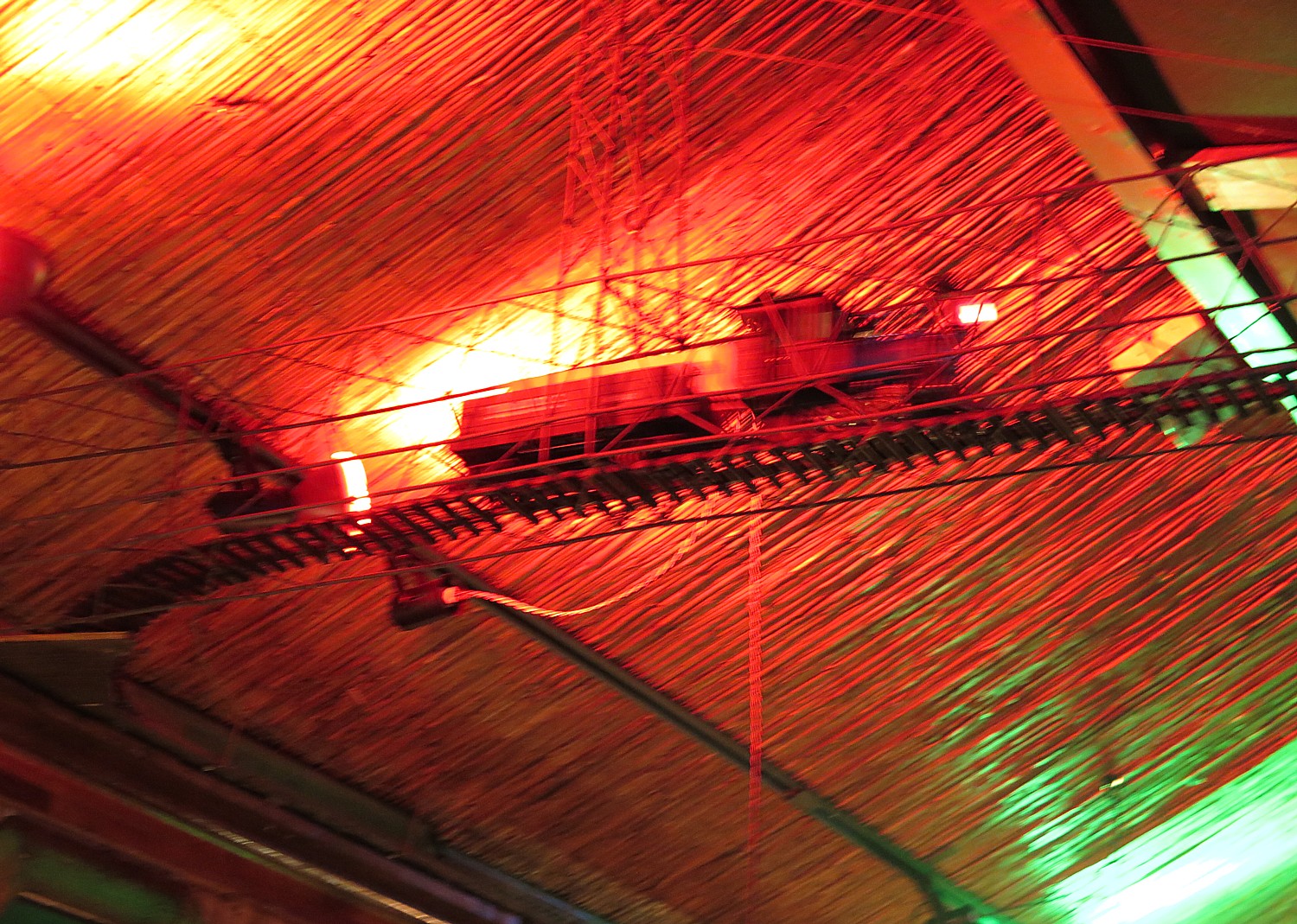 It is back with the color, the lights, the spirit, the toy train that runs around the room (it launches when someone hits Goofy with a quarter), and with an outstanding menu all guided by new owners who loved the Killington tradition too much to let it die. The restaurant reopened this past July after being closed for three years.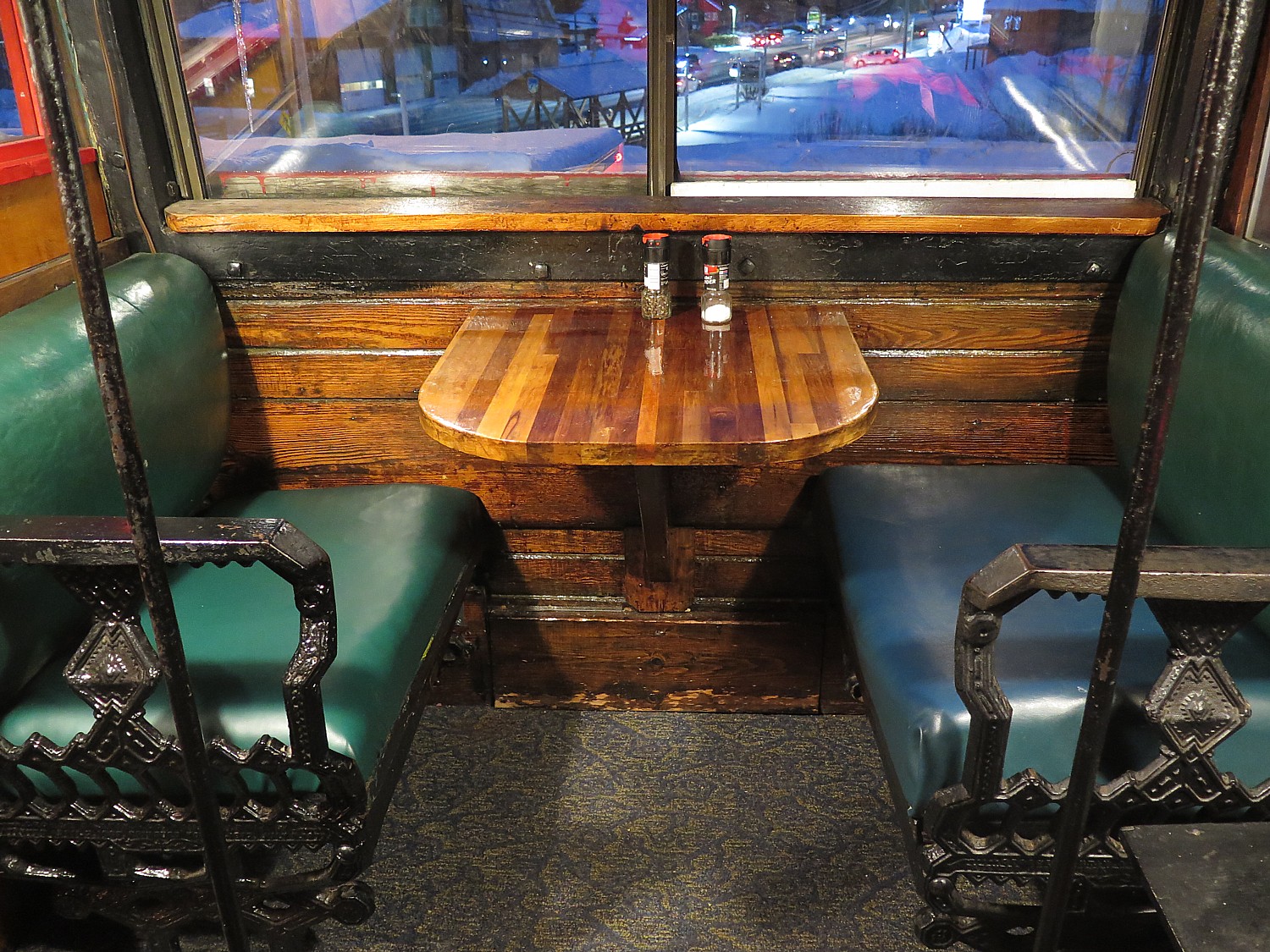 Built around an 1876 railroad caboose and a 1910 railroad snowplow, fans (like us) will be delighted to see the fun, whimsical interior, with its toy train that still runs around the room and colorful neon lights, its tiny sitting area in the caboose cab (you have to climb up a ladder and step across a space), are even better than we remembered. But the food! That is entirely new.  Everything is homemade. The menu has a few nods to one of the new owners, a British gentleman who couldn't bear to see the restaurant close, with fish and chips that are outstanding (the cod is really flavorful and fresh). The burger selections are out of this world. Who could imagine a New York Deli version, with fresh, homemade pastrami combined with the beef? Or a burger with lobster! Even so, Marco had them make his own version: a burger with egg and jalapenos. My Meat & Mushroom burger (prepared with Portobello mushroom and gruyere cheese) was perfectly prepared and one of the best ever (and served on a warm, not cold bun!). They were extremely accommodating to our requests: gluten free for Daniella; spicy for Marco. Everything is freshly made and beautifully presented. And the prices are still modest. The dessert that had everyone's eyes popping was like a combination of every edible fantasy: chocolate, pumpkin pie and cheesecake. They also offer 21 draft beers and cider (including Long Trail), a gin kitchen with a surreal selection of gins, tonics and botanicals.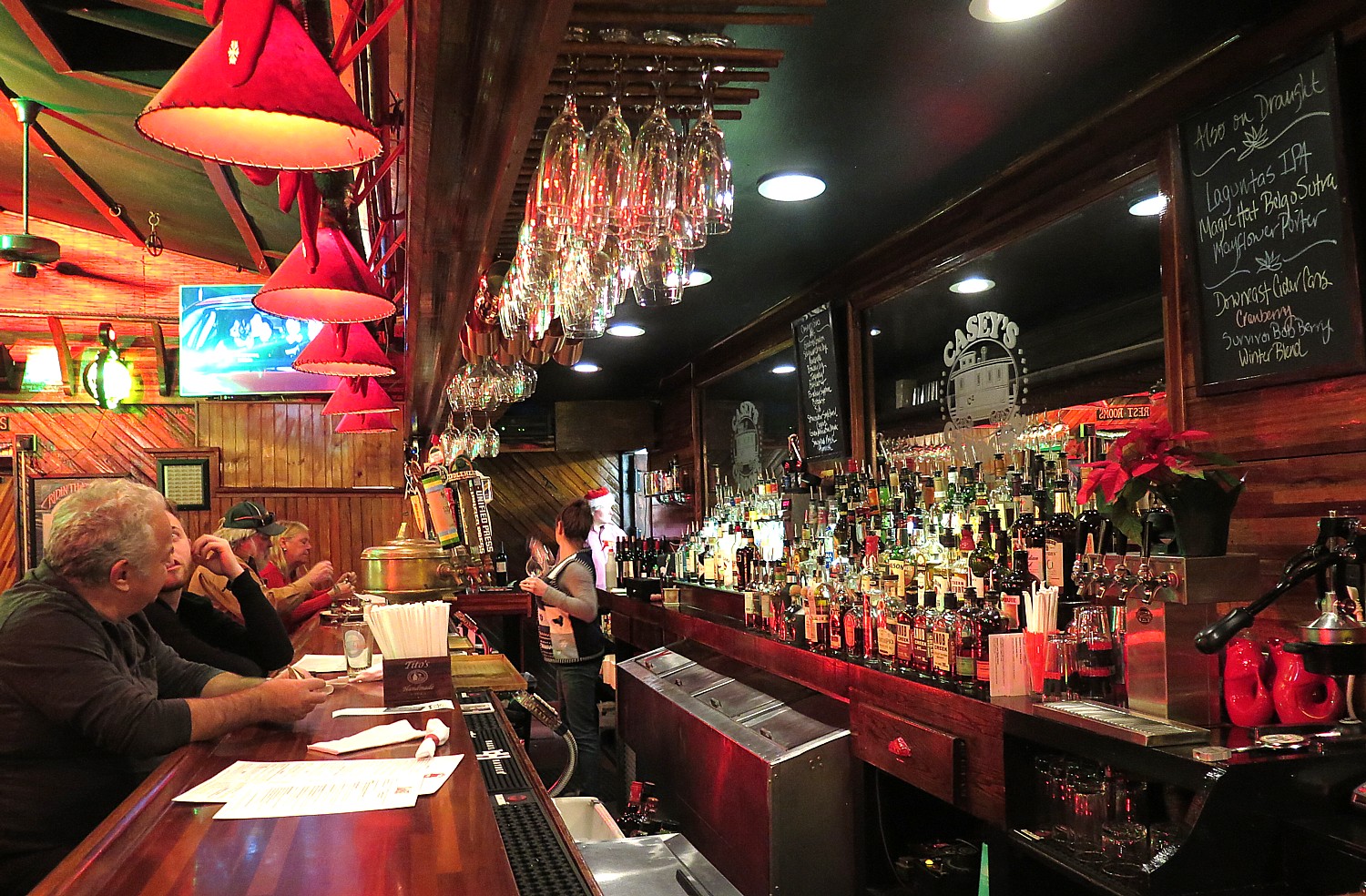 Fun fact: Casey's Caboose was named after Jonathan Luther "John" "Casey" Jones the great American railroad engineer who died in April 30 1900 saving the passengers on his train. His mother, Mrs Jones is said to have lived near Killington in her youth.
(Opens daily at 3 pm, 1930 Killington Road, 802-422-3795, caseyscaboose.com.)
Ski Rentals
The skis we rented from Peak Performance, just about a half-mile below Snowshed (2808 Killington Road) were fantastic. The Everyone is specifically measured and fitted for boots (Salomon brand). The skis (Fisher) were brand new and after each use are run through the shop's tuning machine, one of three on the mountain (you have to see it; like a car wash for skis and snowboards) and performed amazingly. Even the poles, Scott brand, were top quality. Reserve online in advance and you get a 15% discount on the already really reasonable rates if you reserve on line – basically just filling out the rental form, you don't even give a credit card. The website is extremely easy to use. When you arrive, they are ready for you. It is no wonder the shop has been rated the best in New England.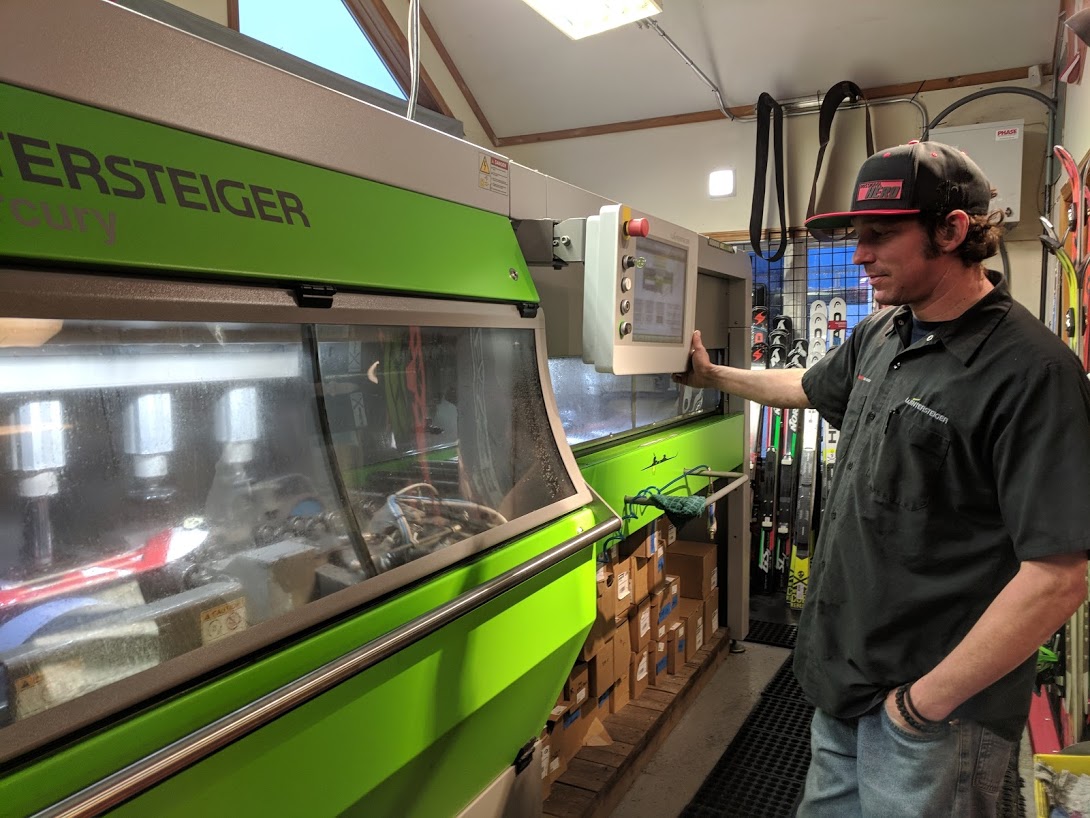 It is surprising to learn that they are also the biggest race ski center in the country, selling more racing skis than anyone, even more than Colorado. Returning was equally easy and stress-free. Peak Performance has been in business for 27 years, and the shop, owned by Fred & Denise Coriell, clearly reflects pure love of the sport. (Peak Performance, 2808 Killington Road, 802-422-9447, [email protected], www.peakskishop.com.)
Lodging
There are loads of lodging choices, including several that are managed by Killington such as the Killington Grand Hotel, right at the base.
We absolutely loved our stay at the Mountaintop Inn & Resort, a 30 minutes scenic drive away in Chittenden (the hotel offers a daily shuttle to Killington), as well as its own major cross-country ski center. (Mountain Top Inn & Resort, Chittenden, VT, 802.483.2311, www.mountaintopinn.com).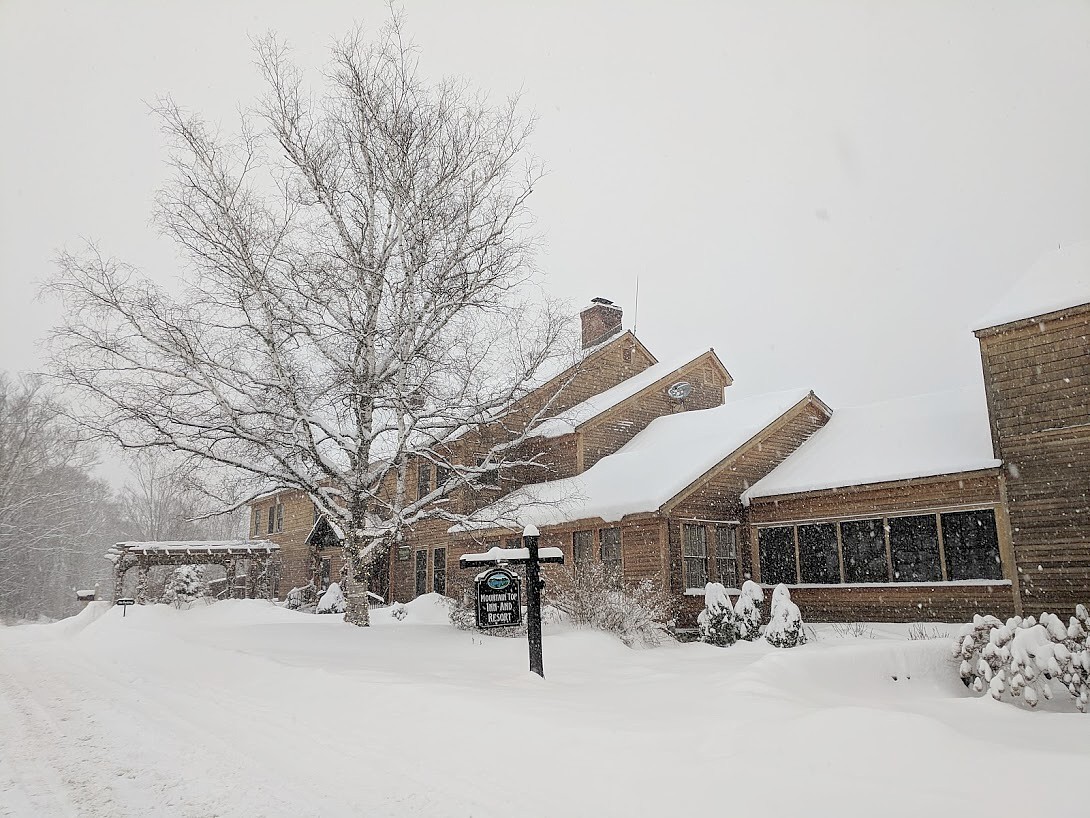 Killington Resort is a four-season destination set on 3,000 acres in the heart of Central Vermont's Green Mountains. After the snow melts, Killington features an 18-hole championship golf course, the family-friendly Snowshed Adventure Center, 30 miles of mountain biking trails with expansion underway with Gravity Logic, plus 15 miles of hiking trails. The range of après (snowmobiling, snowshoe tours, sleigh rides, tubing), dining, and lodging options have made Killington a world-class destination for skiers and riders for over 55 years. Killington is part of the POWDR portfolio and participates in the M.A.X. program. Check the website for packages and specials.
You can check ski conditions at killington.com/conditions. For information, 800-621- 6867, www.killington.com.
_______________________
© 2017 Travel Features Syndicate, a division of Workstyles, Inc. All rights reserved. Visit goingplacesfarandnear.com,  www.huffingtonpost.com/author/karen-rubin , and travelwritersmagazine.com/TravelFeaturesSyndicate/. Blogging at goingplacesnearandfar.wordpress.com and moralcompasstravel.info. Send comments or questions to [email protected]. Tweet @TravelFeatures. 'Like' us at facebook.com/NewsPhotoFeatures