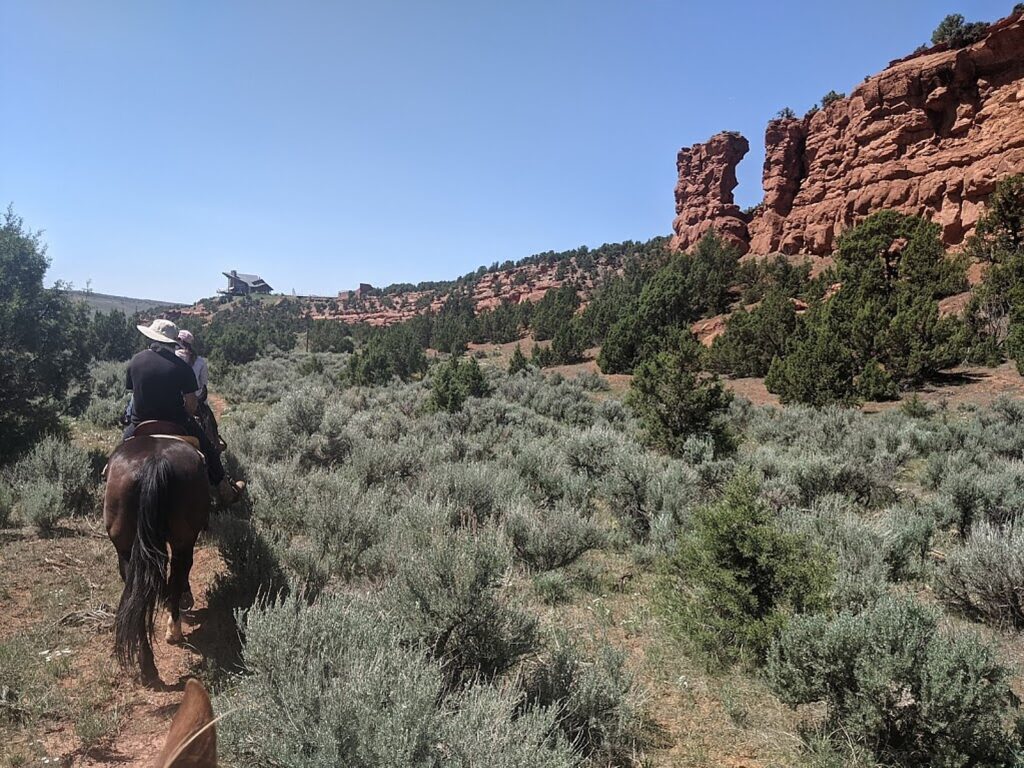 By Karen Rubin, Eric Leiberman, David Leiberman & Laini Miranda
All the things that brought such delight when you were a kid – what theme parks and adventure parks try to emulate –are right outside our doorstep. But the real thing. This is the Red Reflet Guest Ranch, in Ten Sleep, Wyoming.
And what a doorstep! Our chalet is nestled amid red rock bluffs, overlooking a pond and green pasture and designed with windows to bring the breathtaking outside scenery inside. Every luxury and convenience to make you feel comfortable. At home. Even the breakfast fixings of fresh eggs from the chicken coop, pancake mix, tastiest bacon ever, freshly baked bread.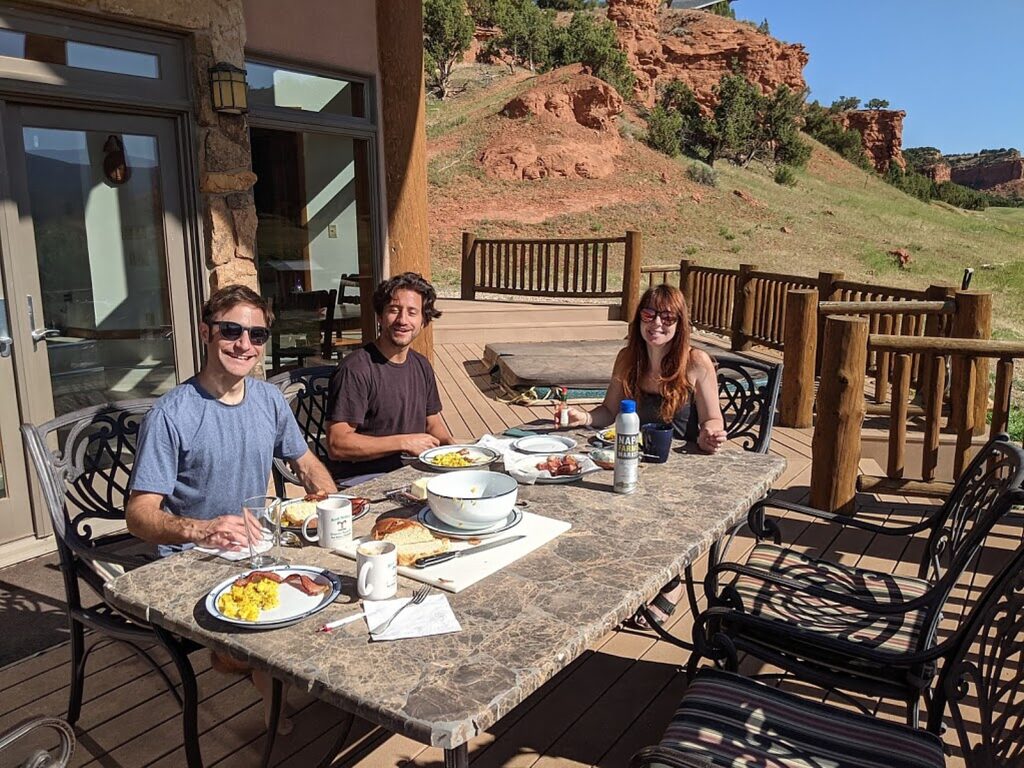 Red Reflet Ranch is the perfect antidote for families separated over the past year, a perfect place to come together, play together, share new experiences, as our family did, coming from opposite coasts.
Red Reflet is most certainly not a "dude" ranch, which connotes some rustic cowboy fantasy. When Bob and Laurence Kaplan bought the 28,000-acre cattle ranch 20 years ago and decided to welcome guests into their home five years later, Bob deliberately set it up so that every guest would feel personally invited, and have the opportunity to merge into their ranch life. It's a Western-version of being invited to someone's country estate.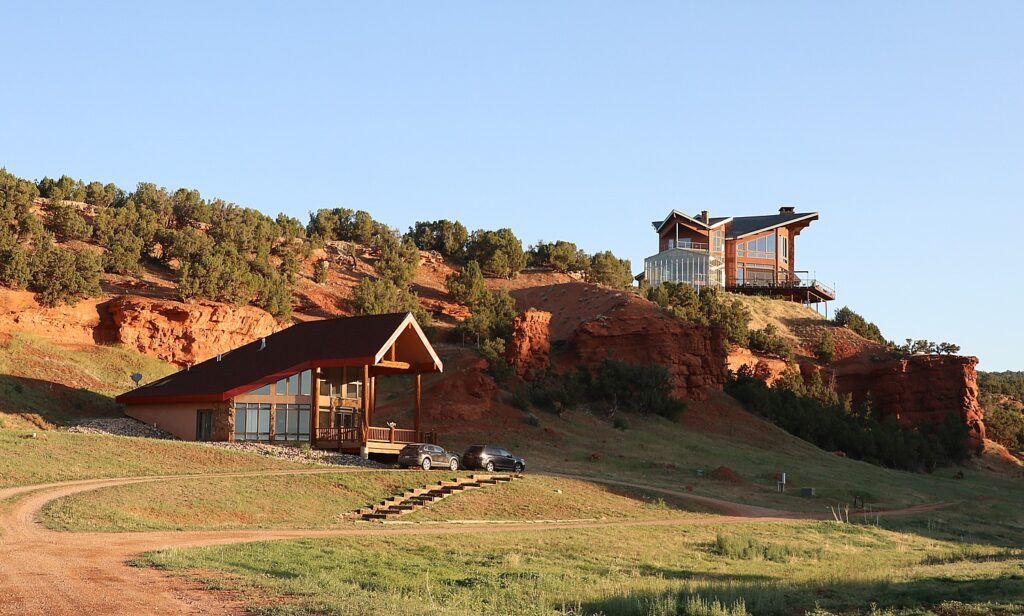 With only four guest chalets available, for a maximum of some 28 guests at one time, the main purpose of the ranch, I suspect, was to provide a constant stream of new people to entertain, share life stories with.
"It was a personal decision, never a business decision, to open the guest ranch," Bob says. "If it was, we would have 50 guests. I never visited a guest ranch – I knew what I wanted."
What Bob wanted was for guests never to be nickled-and-dimed, but for all the amenities and activities of the ranch (the list goes on and on, and when you book they send you the list so they can be prepared to offer you the activities you select) to be included. This includes horseback riding (best riding program I have ever experienced on any guest ranch) – even riding clinics for those who might want to learn roping or barrel racing – plus activities you would never expect, like each of us having an ATV to drive around the ranch for the length of our stay as well as the use of mountain e-bikes to explore 100 miles of trails, and zip-lining.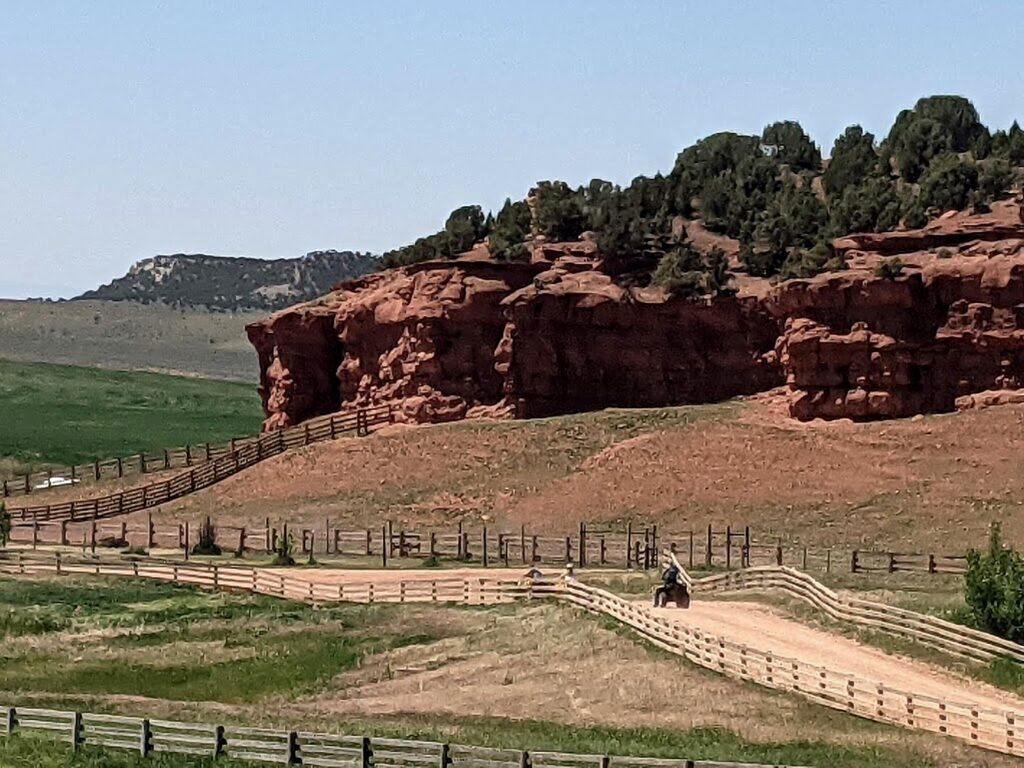 I never imagined myself driving an ATV (I got on the back to ride with Eric on the nail biting trails up to the cliff ridge); Laini had her first experience zip-lining and David and Eric had their first experience riding e-bikes up mountain trails. We all found new self-confidence and satisfaction in being able to take that "leap of faith" to try new things and conquer other challenges, and in the process, had these extraordinary experiences to share and enjoy together.
Bob shows us to his substantial wine collection, explaining his coding system (all the wines he buys are rated 90 or higher by Wine Spectator) – just help yourself. Beer is kept in a cooler and served in frosted mugs.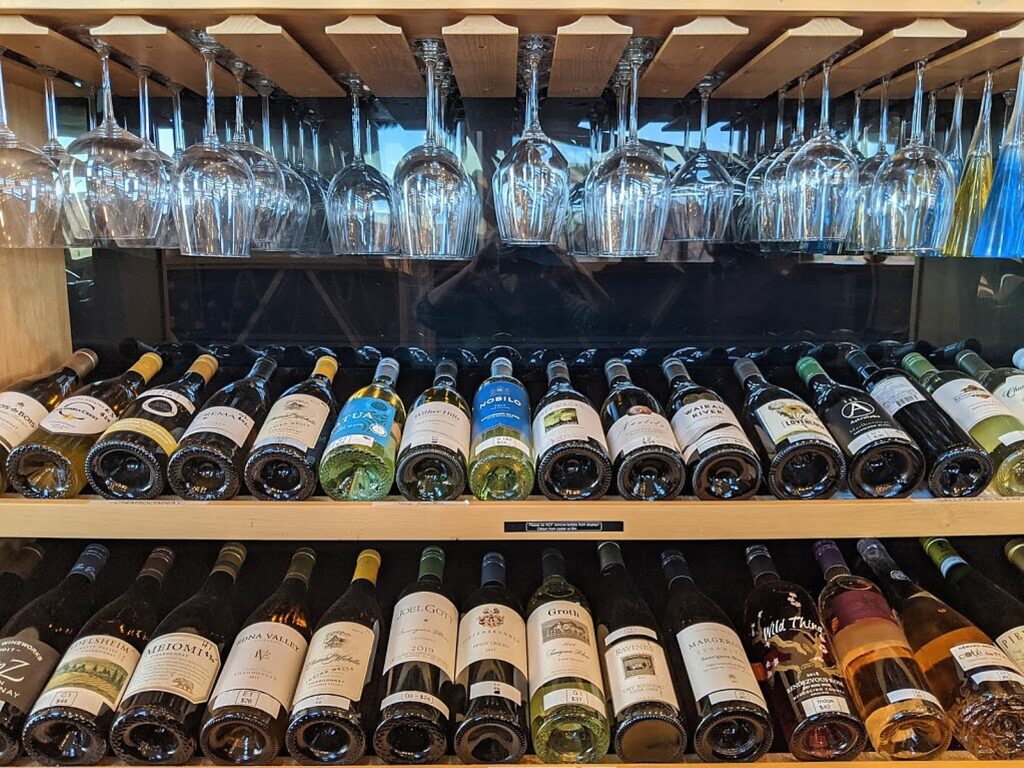 The invigorating feeling is about place to be sure – the red-rocks and green pastures dotted with horses or cattle, not to mention 5,000-feet altitude, are breathtaking – but even more, it is about experience – the things you do and share. The Red Reflet Ranch is about creating opportunities to engage, immerse.
And not just with each other, but learning about the lives of the other guests and, of course, the ranch's staff, like Nate Smith, the executive chef, a fifth-generation Wyomingite, born near Yellowstone Park who grew up hunting, fishing, working on the farm, and eating off the land by necessity, whose father is a butcher who runs a roadhouse, bar and restaurant called Cassie's in their hometown of Cody; Penny Ready, the general manager who oversees the horses and riding program and relates how her great grandfather homesteaded here; and Bryley, who works with the horses and just graduated high school and bought her first horse.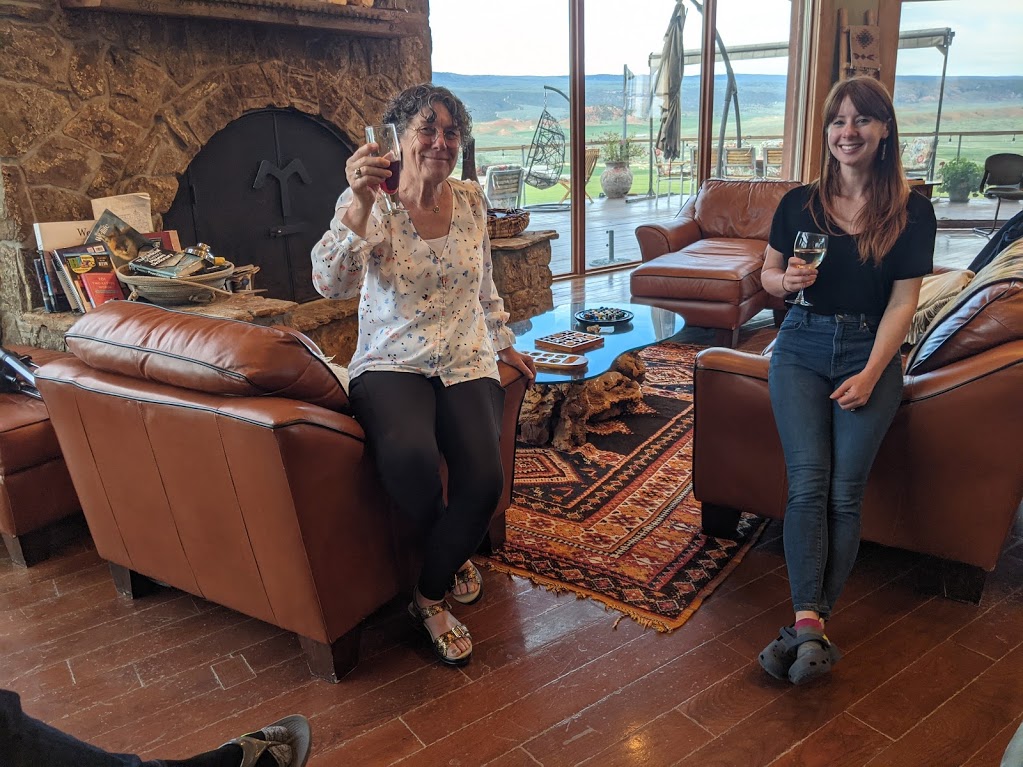 It's a guest ranch – emphasis on guest –with an extraordinary level of luxury and hospitality, of warmth and welcome. Everything from the design, accommodations and amenities in these magnificent chalets, to the exquisite dining and stellar culinary creations. But while everything is topnotch, sophisticated quality, there is no pretention, the atmosphere is completely relaxed.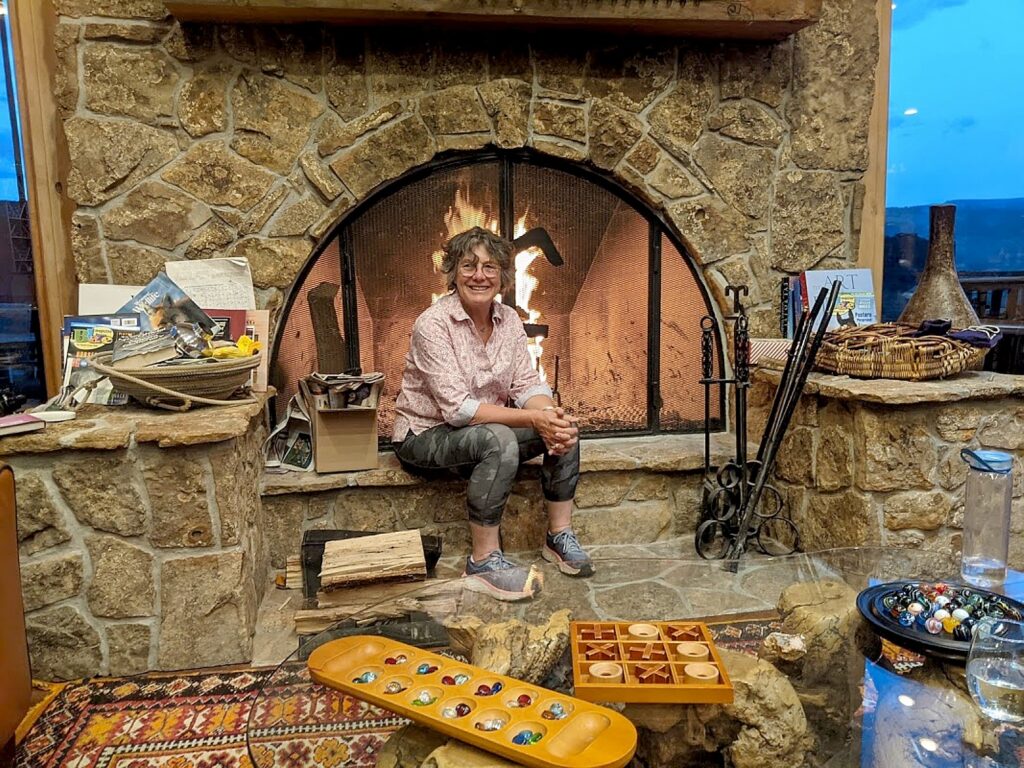 The style reflects owners Laurence and Bob Kaplan's zest for life. Both are jet pilots (they fly their Cessna 500 from the Ranch's airport, WY00), have traveled the world, speak multiple languages, and are philanthropists. After successful careers in business, they made the ranch their full-time home opening a new chapter in their lives and a place to welcome the world.
We feel it as soon as we arrive – welcomed in the lodge commanding the most spectacular view through a wall of windows, to have cocktails together before an elegant dinner (not your cliched ranch fare) served family style, with Bob and Laurence at the table in the magnificent dining room in a lodge perched with the best view of the red-rock canyon.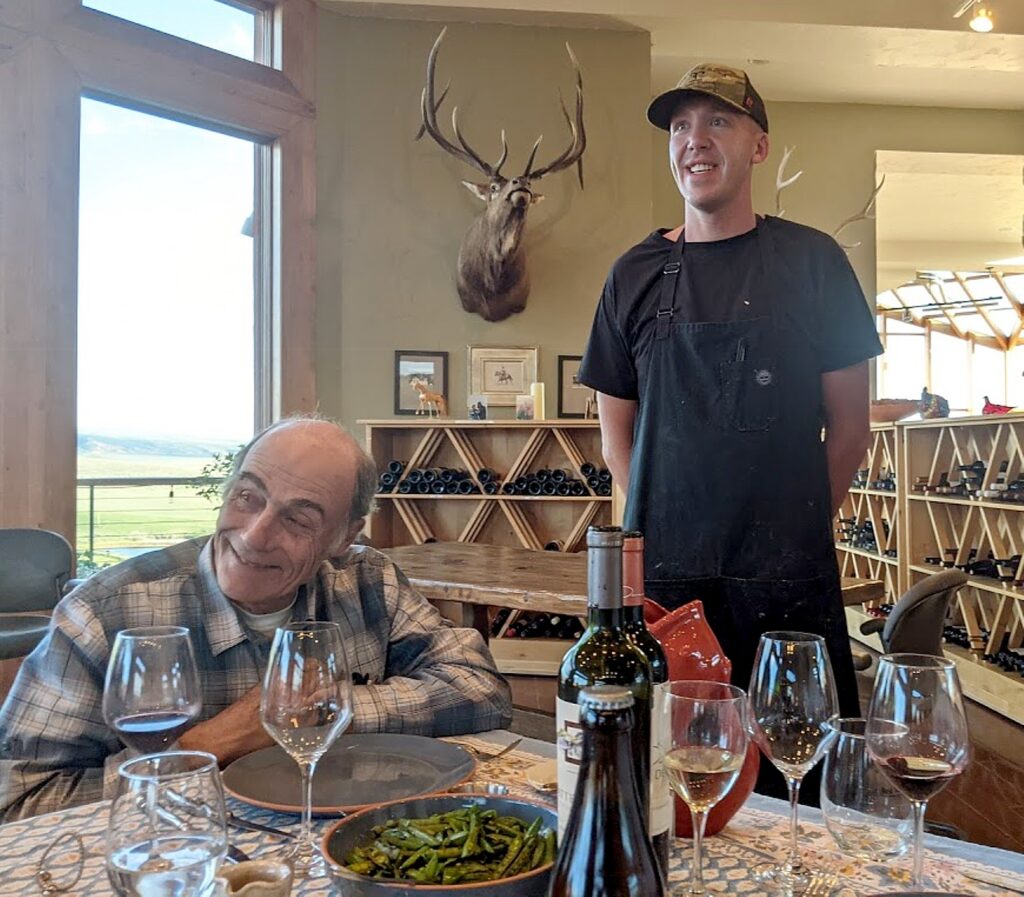 Executive Chef Nate Singer presents each course, each prepared with farm-to-table ingredients and delectable flavor pairings – as much as possible sourced from the ranch or locally, but also flown in from friends' farms and other places.
It's early in the season for Laurence to harvest what she grows on the ranch, so tonight's asparagus was flown in from Bob's friend in Michigan, the lettuce homegrown in Ohio. The watercress, though, was foraged from the creek bottom.
"We've never had this meal served tonight before," Bob tells us, admiring Nate's creativity. "We don't have same meal all summer."
During the course of our all-too-brief stay, we have elk (seared, sauted, tenderized) served with shitake mushrooms (Bob explains how he bow-hunts elk in September); rabbit ragout, marinated in red wine and served with homemade egg-yolk pasta, which Nate says is an old-world Italian recipe from one of the chefs he studied with, and the most delectable rib eye ever.
The desserts, prepared by pastry chef Deth Dijon Kaiaphonr, feature a scrumptious chocolate mousse concoction, Deth by Chocolate; a Yuzu tart with Chantilly cream; a Basque cheesecake with white chocolate and black cherry compote, all presented with exquisite flare.
Lunches are light yet so satisfying. Executive Sous Chef David Oulette prepares a chicken with wild mushroom soup, salad with walnuts, black grapes, balsamic vinegrette.
After dinner, Bob shows us to our chalet, The Ponds, pointing out our breakfast fixings (and how to prepare the grocery list) and all the aspects of this exquisite vacation home.
Our first morning, we are scheduled for a 10 am horseback ride – horseback riding is a stellar feature of the ranch. It's been literally decades since any of us have ridden. Penny Ready, who manages the riding program as well as serves as general manager of the ranch, shows us the indoor riding arena (great in winter) and fits us for cowboy boots that we get to keep with us for our stay, then matches us to horses (they have 40) that will give us the best riding experience based on their personality and our experience.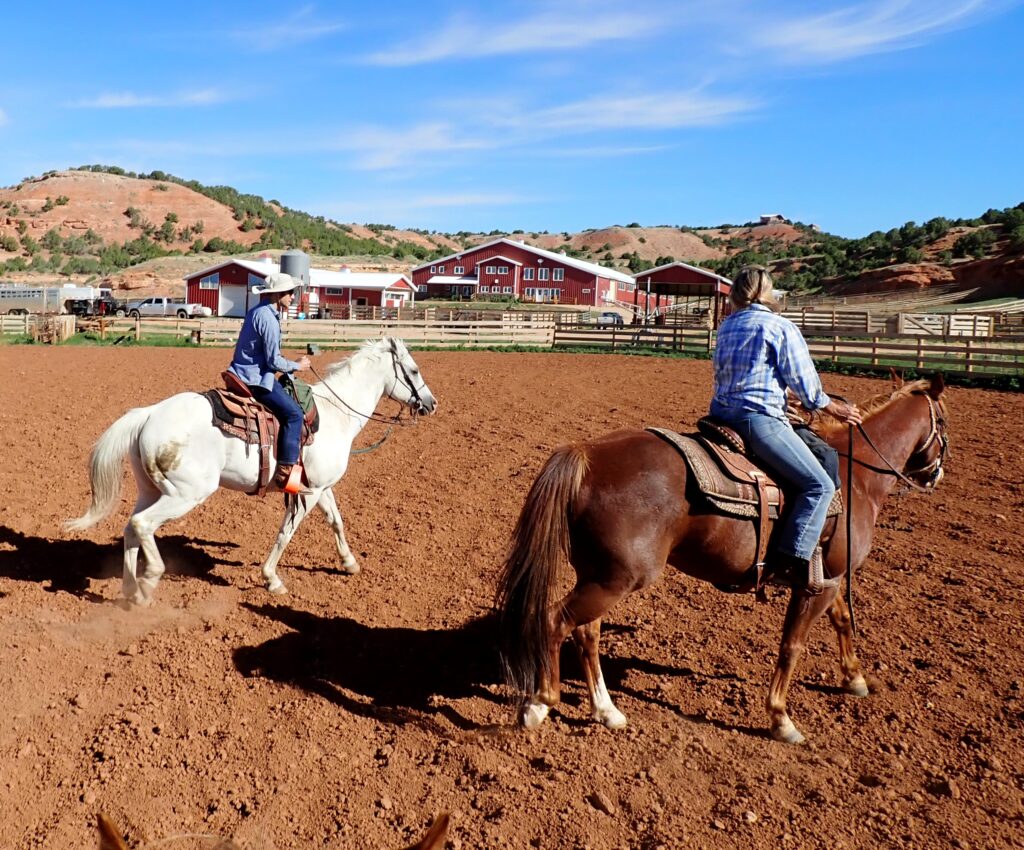 We get familiar with our horse in the corral and get tips on holding the reins properly, the correct way to have our feet in the stirrups, and how to control the horse. David, who hasn't ridden in years and years, looks like he was born on a ranch, and soon is trotting, cantering, loping around the ring, with Penny fine-tuning his technique. We go out for our first trail ride, swooning amid the scenery of the red rocks and grey-green sagebrush.
Our next ride is even more sensational and more extensive – the absolute prettiest trail and most fun ride ever – that takes us much further onto the ranch amid the cattle (probably the most contented Angus anywhere).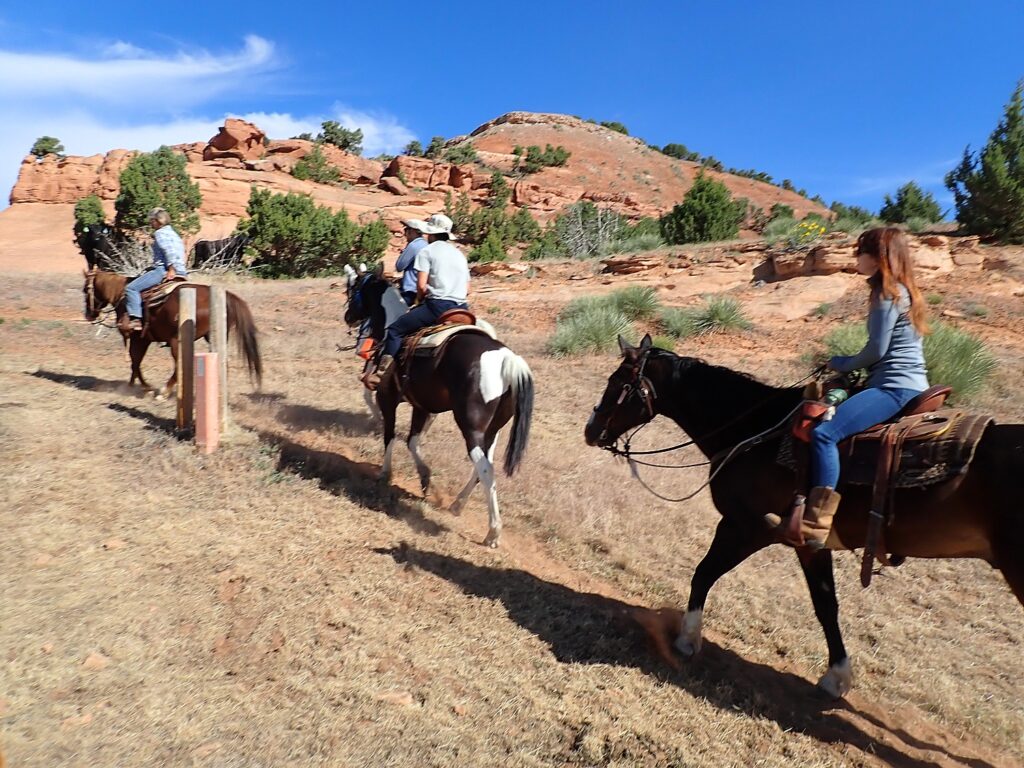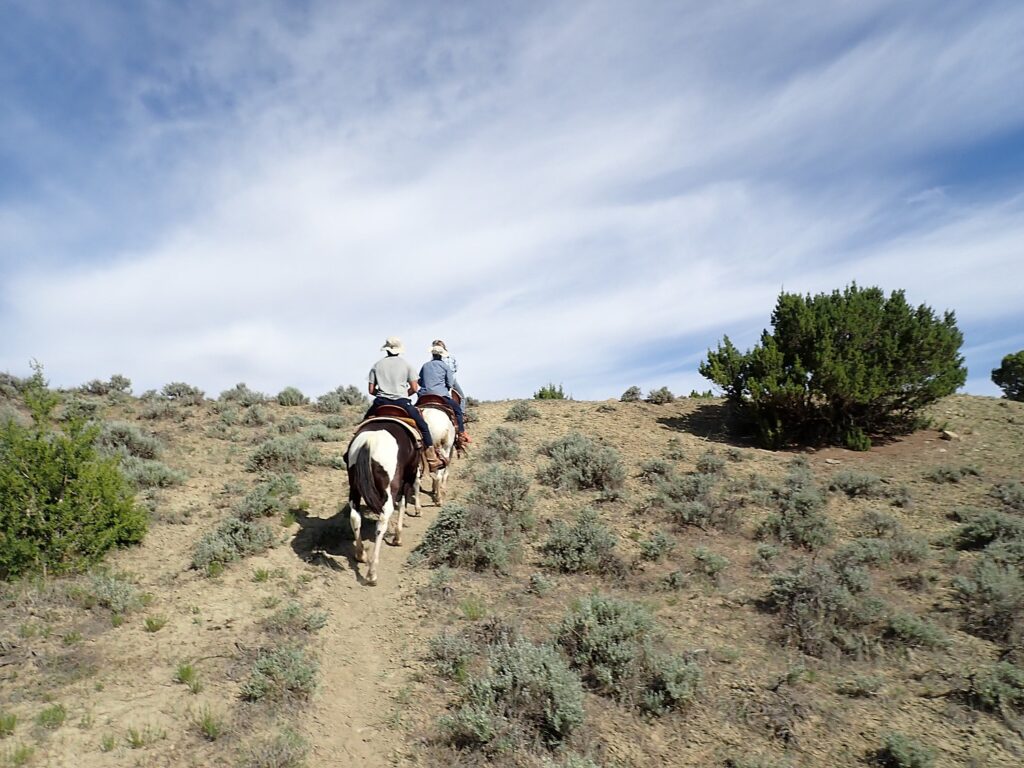 If you are inclined, when there is cow work to be done, you can "cowboy" the herd – ride with the wranglers to look over the herd, moving them as needed. From cattle drives to branding and gathering, they offer opportunities to experience what real ranching is about. In spring this might include branding, checking newborns and giving inoculations, sorting and pairing cattle.
After our first ride, we walk over to pick up our own ATV to use to get around the ranch and explore their trails into the hills (100 miles of trails for ATVs, mountain biking, hiking on property; guided tours are available). There have a fleet ATV's and Side-by-Sides (SBS's), even two kiddy ATVs.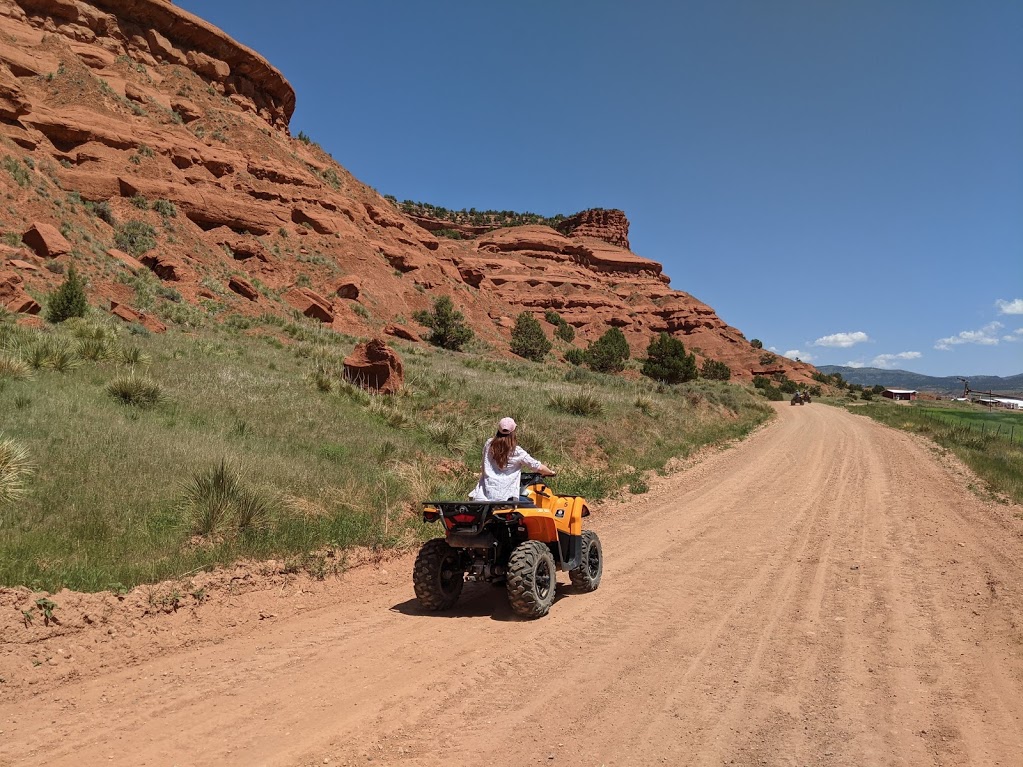 Our second morning, Laurence has organized zip-lining for all of us – which requires the assistance of several staff. She shows us in how to use the system, sets us up, then flies down herself showing off masterful techniques with a twinkle in her eye and a mischievous smile (like flipping upside down). There are four ziplines in the course which the ranch installed a few years ago and is ideal for team-building and family bond-building – and also affords the most amazing views of the ranch.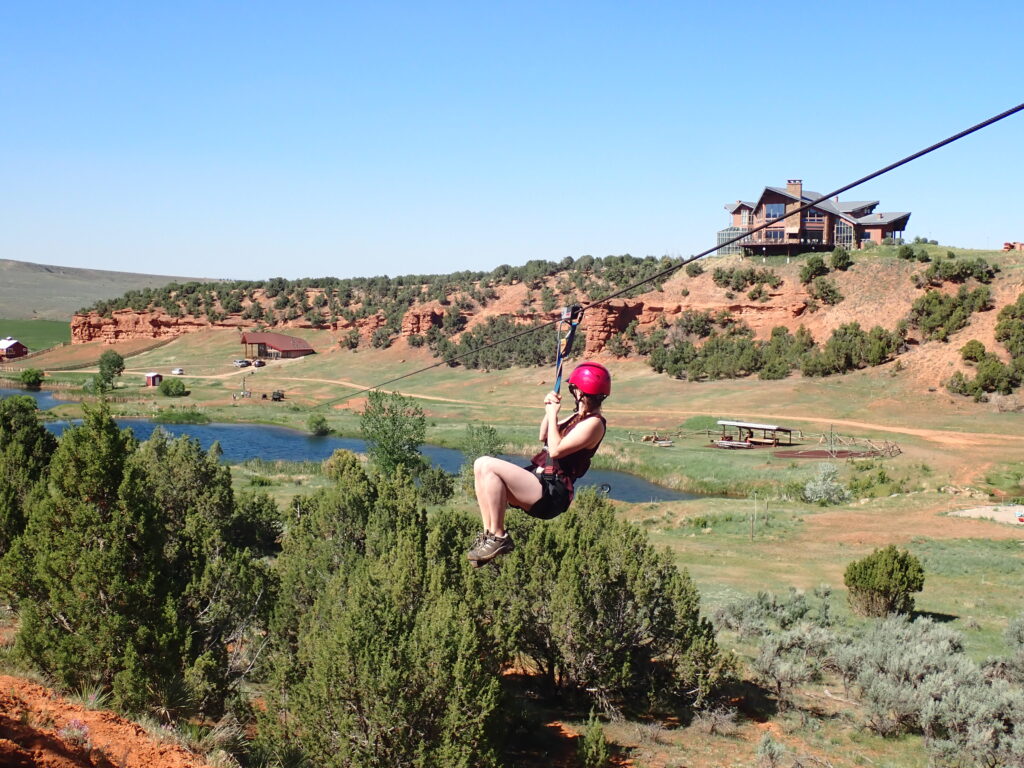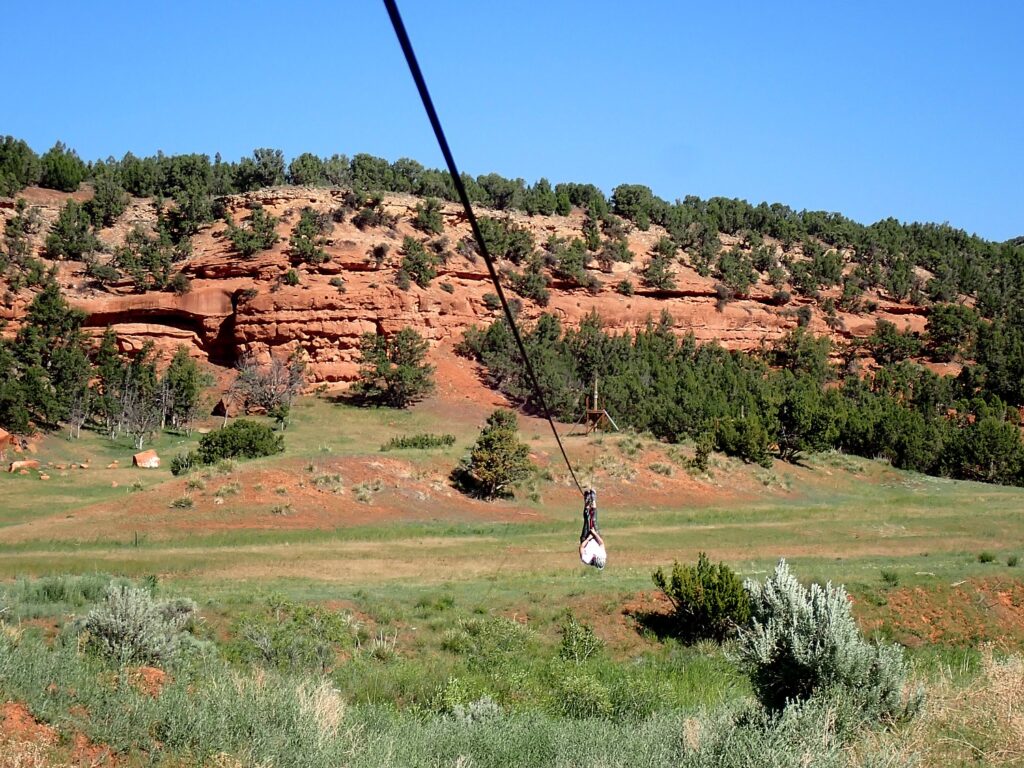 The ranch affords any number of opportunities for simple relaxation. Our favorite is the natural "Cowboy Waterpark"– a great swimming hole fed by a 3,000-foot deep Artesian well, which constantly refreshes the water at a natural 76-degrees temperature. There is a suspension bridge to a small island (we dubbed "Peter Pan island"), giant rope swings, zip line into the water, paddle boards, kayaks, a water slide and canoe and a sand beach and beach chairs – as ideal for team building as for giggling sibling bonding.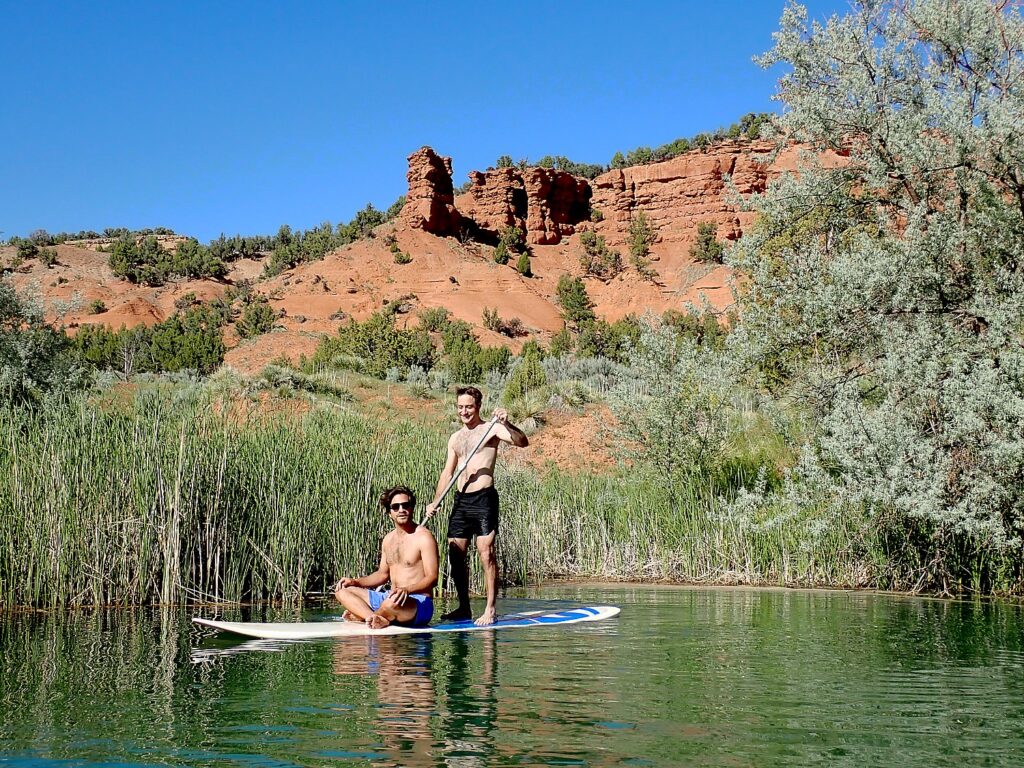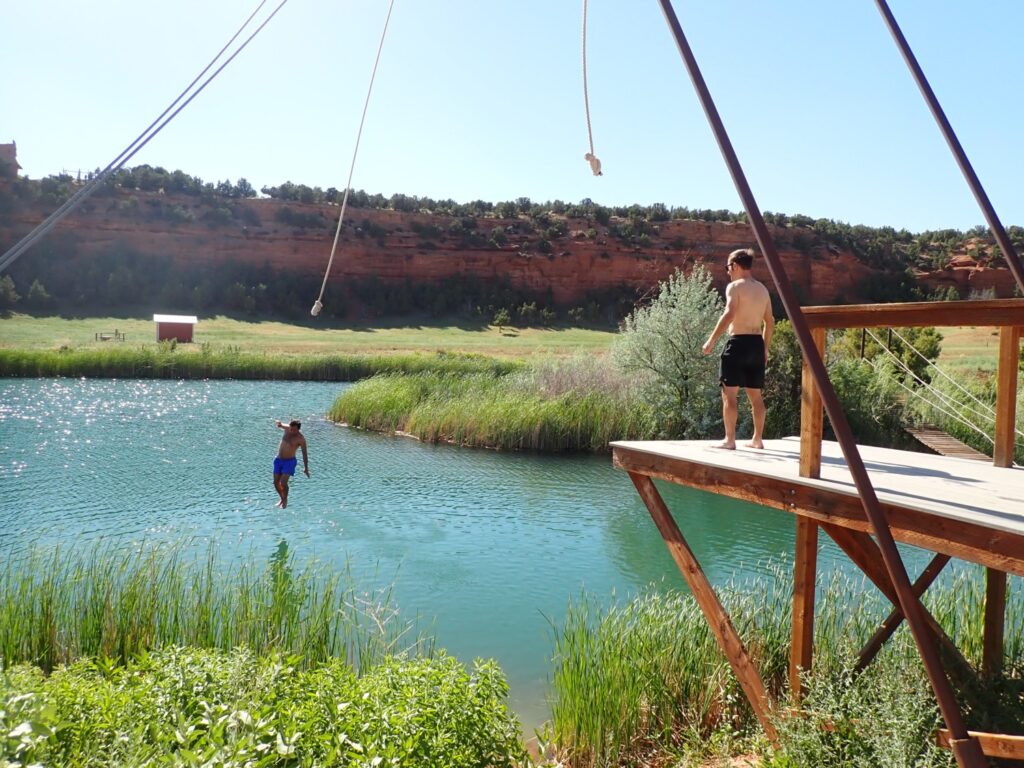 We make time to swim in the gorgeous pool with the most spectacular view and the tennis court (rackets and balls are available) and check out the well-equipped fitness center, climbing wall, playground and basketball hoop – all atop this stunning bluff. You can also do riflery on the shooting range and archery.
Bob invites me to accompany him to the far reaches of the ranch where he built a Mountain Cabin, as he collects memory cards from motion-operated cameras that photograph when a black bear comes by (!), elk and other animals.
And I get to learn more about ranching – the intricacies of growing alfalfa, irrigation, water rights, and what's involved in leasing pasture for cattle. It brings me back to my most meaningful college course, Ecological Anthropology (I wrote my final paper on how raising rabbits could solve poverty in Appalachia and at the ranch I get my first taste of cooked rabbit).
Driving from the lodge, we see the stunning changes in topography – from the rolling red hills to rolling grey-green sage hills, to a landscape dotted with Aspens (best for wildlife, the leaves are highly nutritious, Bob explains) and Lodge Pole Pine. It's wildflower season and the hills explode with color of Spring Beauty, Lupines, Buckwheat, Yellow Bell, Columbines, Alpine Wallflowers, Balsam Roots, Black-eyed Susans, Larkspur, Showy Fleabane and Blanket Flower. Bob says he has to wait for the Larkspur, a brilliant purple flower, to wilt before cattle can be brought here because the flower is poisonous.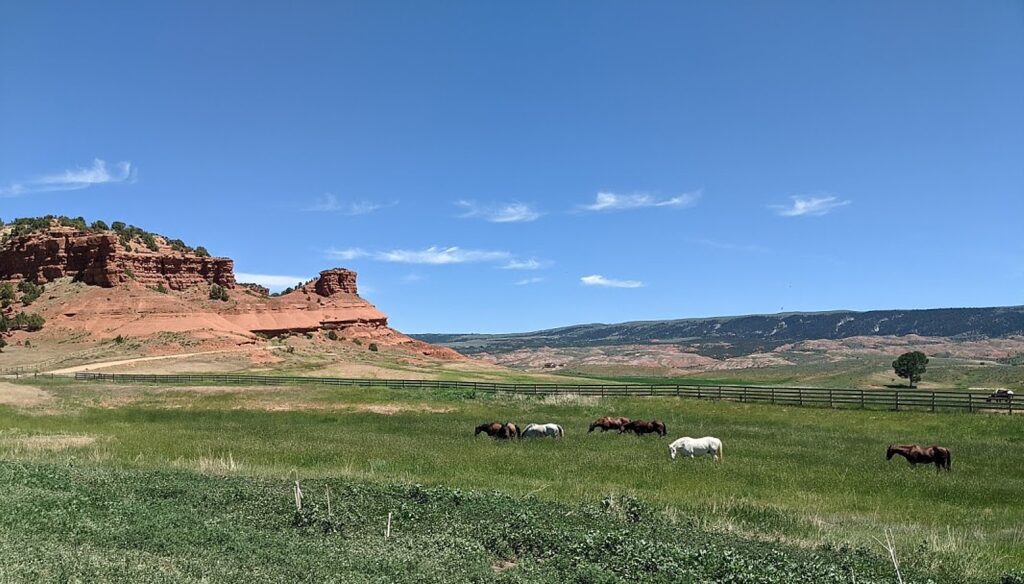 We arrive at the mountain cabin, at some 3,000-feet altitude higher than the ranch, which is lovely, and powered by solar panels and a propane-fueled generator. It is used as a 'rest stop' for hikes, horseback rides, and ATV adventures by Ranch guests.
We switch to the side-by-side vehicle to travel around this pristine wilderness. I see what remains of the devastation of a tornado with 130 mph force that felled 5,000 trees. I get a glimpse of a 10-day old antelope running after its mother.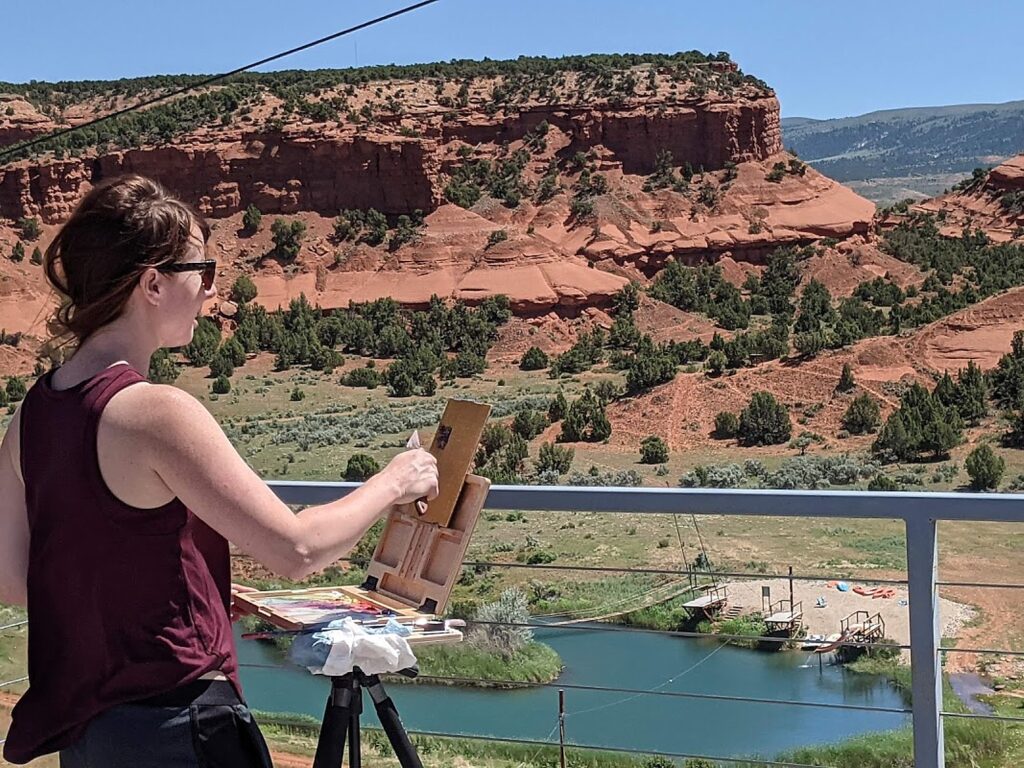 Meanwhile, David and Eric have taken mountain e-bikes to explore trails while Laini paints. We come together to swim and play tennis before dinner.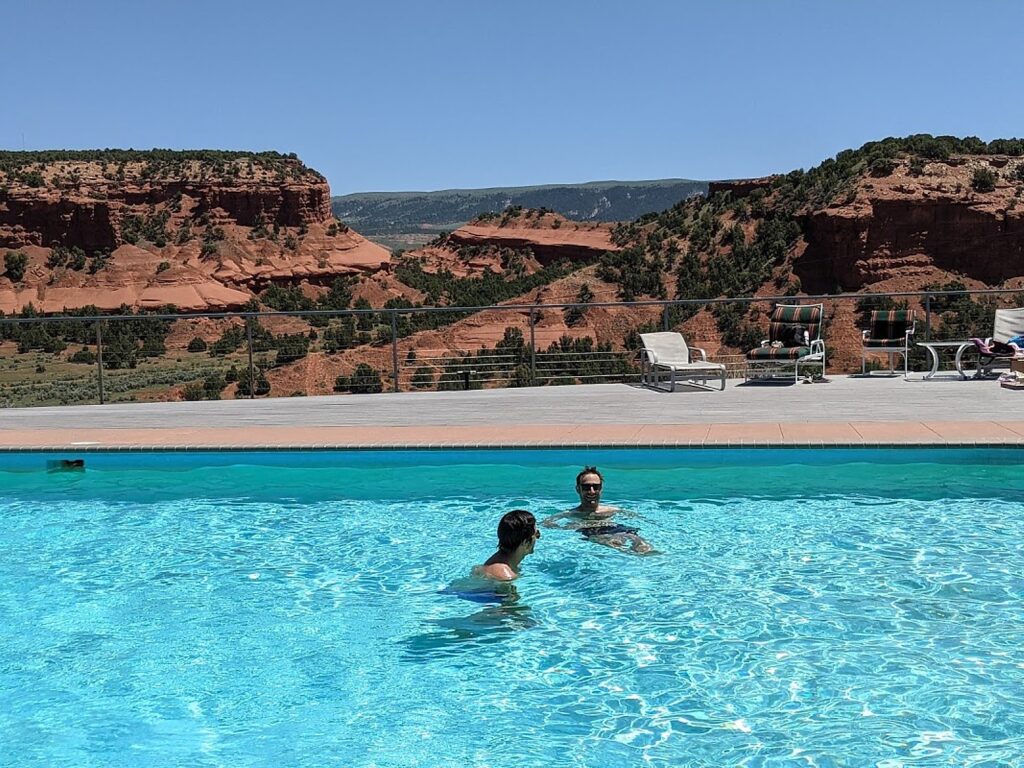 In the night, I get up to do another of the ranch's signature activities: star gazing. I just have to walk out onto the porch and see stars so striking, you feel you can pluck them with your hand. The Milky Way is laid out before your eyes. Serious star-gazers, can use the Meade Telescope set up in the lodge.
On our last day, after the most magnificent horseback ride, we take our ATVs back onto the trail that goes along the red rock rim. I am terrified to drive myself so I ride with Eric to have this amazing adventure.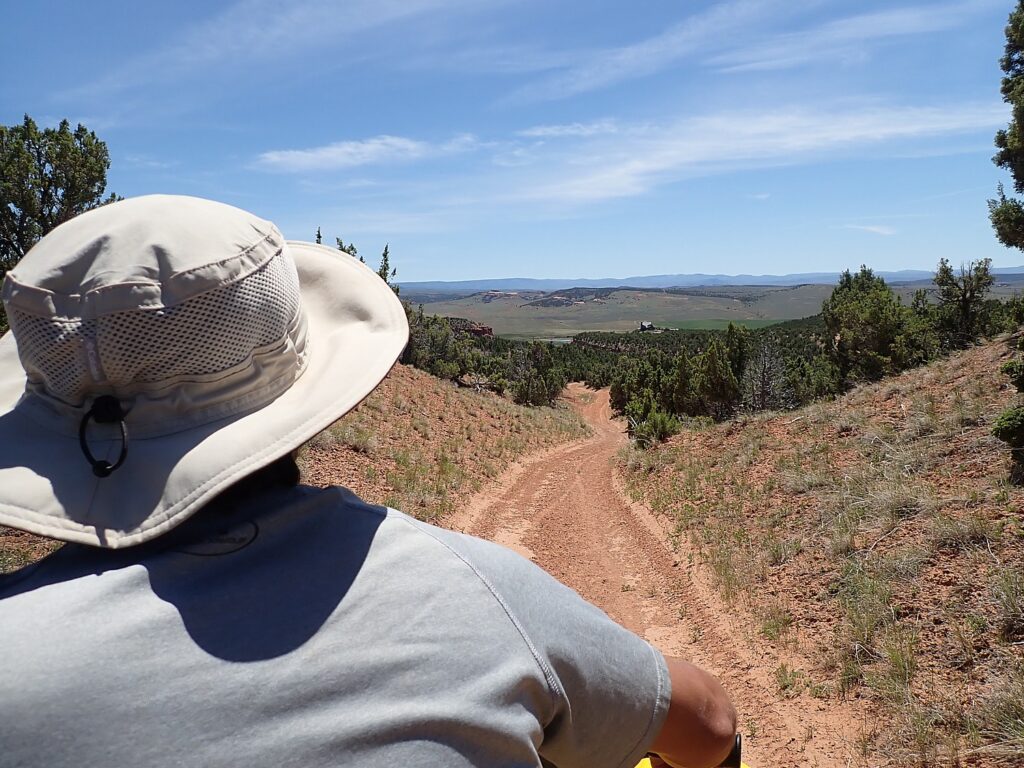 There is so much to do on the ranch that we don't get to take advantage of some marvelous attractions nearby (in Wyoming terms), so I have on my list for when we return:
This is an area that dinosaurs roamed – in fact, a nearby ranch was the site of a dozen complete dinosaurs that were excavated, and there is paleontology ongoing in the area (the ranch hosted paleontologists from the American Museum of Natural History). One ongoing excavation is at Dana Quarry, part of the Morrison Formation near Ten Sleep, where, weather and scheduling provided, you can view a live dinosaur dig where paleontologists are unearthing bones that date back 150 million years.
Castle Gardens which has an outcropping of sandstone which the wind has eroded into fanciful shapes – hoodoos – resembling the turrets and towers of castle. This unusual formation has been luring visitors for thousands of years, and many of them left their mark in the soft sandstone–the area holds a treasure of Native American rock art, or petroglyphs. The site is managed by the Bureau of Land Management (Castle Gardens Petroglyph Site, Wyoming – Recreation.gov)
The Nature Conservancy Preserve of Ten Sleep, an 8,500-acre sanctuary for protected wildlife (open Thursday-Sunday, it was formerly owned by a Pepsi bottler and used for a Girl Scout camp) abuts the ranch.
There are scenic wonders – mountain ranges, canyons, pure mountain streams and lakes – all around the ranch, including the 1,115,000-acre Big Horn National Forest and 200,000-acre Cloud Peak Wilderness.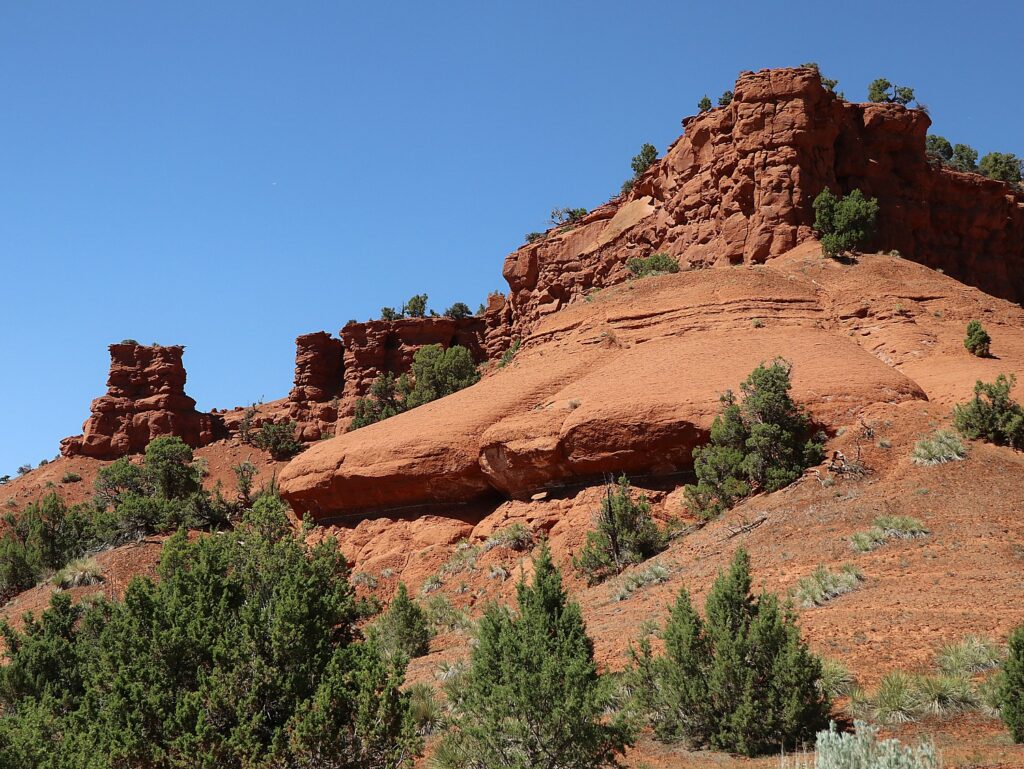 We are also reminded that this land was once the home Indian tribes. The name of the town, Ten Sleep, refers to the number of "sleeps" to travel between two Indian camps on their trade route. The area is loaded with history, as I learn. Local museums include:
Ten Sleep Pioneer Museum has exhibits that show everyday life of pioneer families, tools, clothing used to carve out a life in the rugged Old West. A special exhibit recreates the Spring Creek Raid that took place on the Red Reflet Ranch which marked a turning point in the rivalry between sheepmen and cattlemen.
Washakie Museum, Worland, tells how early settlers came to Wyoming and created lives for themselves with little knowledge of what to expect; it offers a major historical photograph collection, exhibits made for children to 'touch', art exhibits and learning programs focused on the geology, paleontology and archaeology of the region.
Also, The Buffalo Bill Historical Center , in Cody.
The chalets are luxuriously outfitted and decorated. Bob designed each to bring the stunning views inside with big picture windows. The amenities don't stop: a steam shower in the master bedroom, fireplace, full kitchen, laundry facilities, TV, even walkie-talkies (some parts of the ranch don't get telephone reception), the refrigerator stocked with all the breakfast fittings anyone could want – farm fresh eggs from their own chicken coup, pancake mix, bacon (best ever), fresh marmalade, snacks, freshly baked bread (and they send us home from dinner with fresh pastries).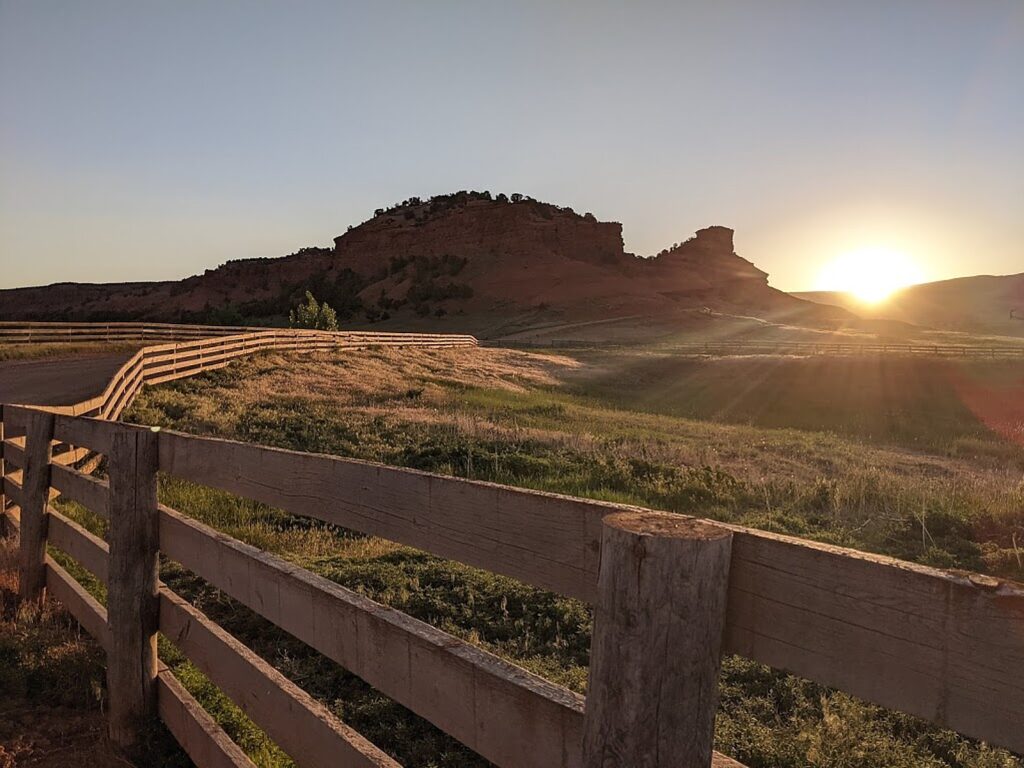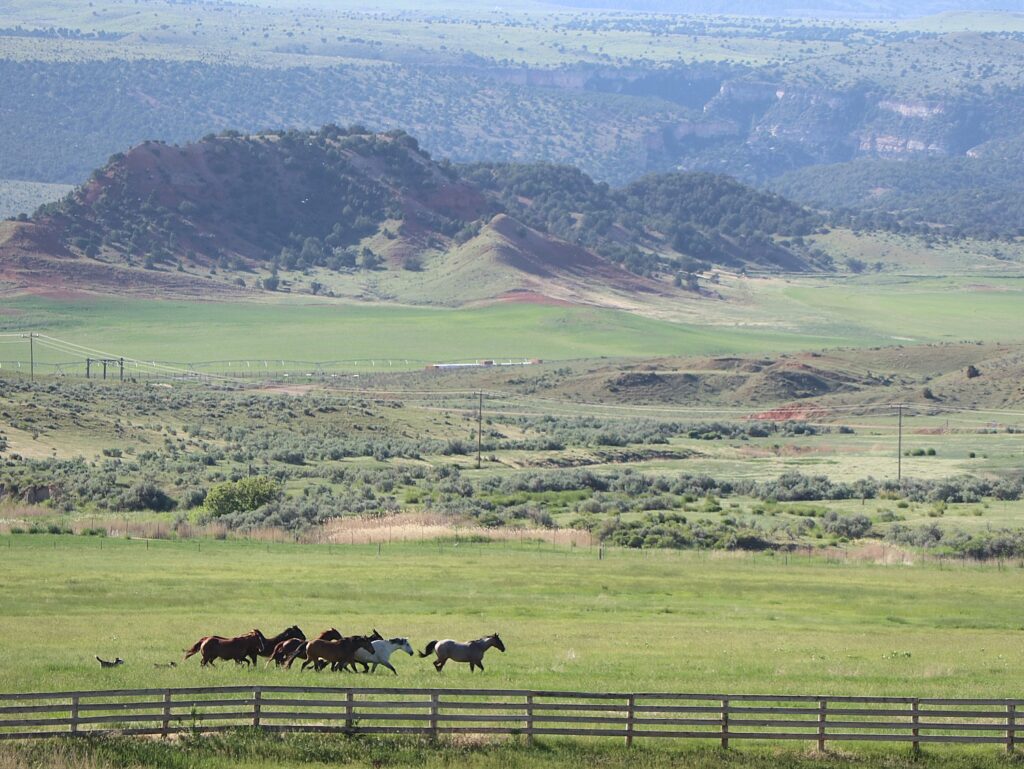 The Ponds Chalet, where we stay, is located at the entrance of the red rim canyon. It is 1,620 square feet with 3 bedrooms, 2.5 bathrooms and accommodates up to six guests.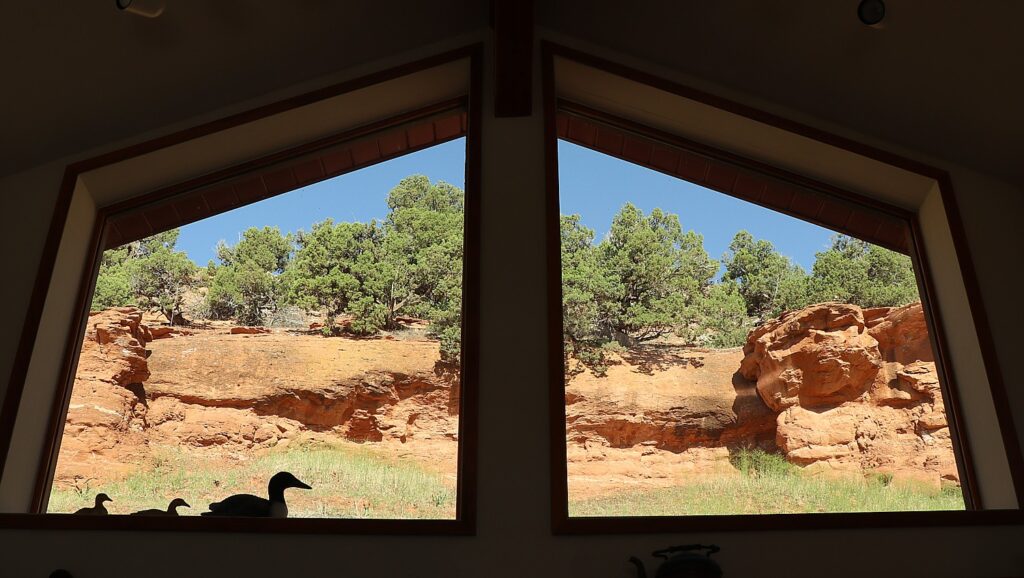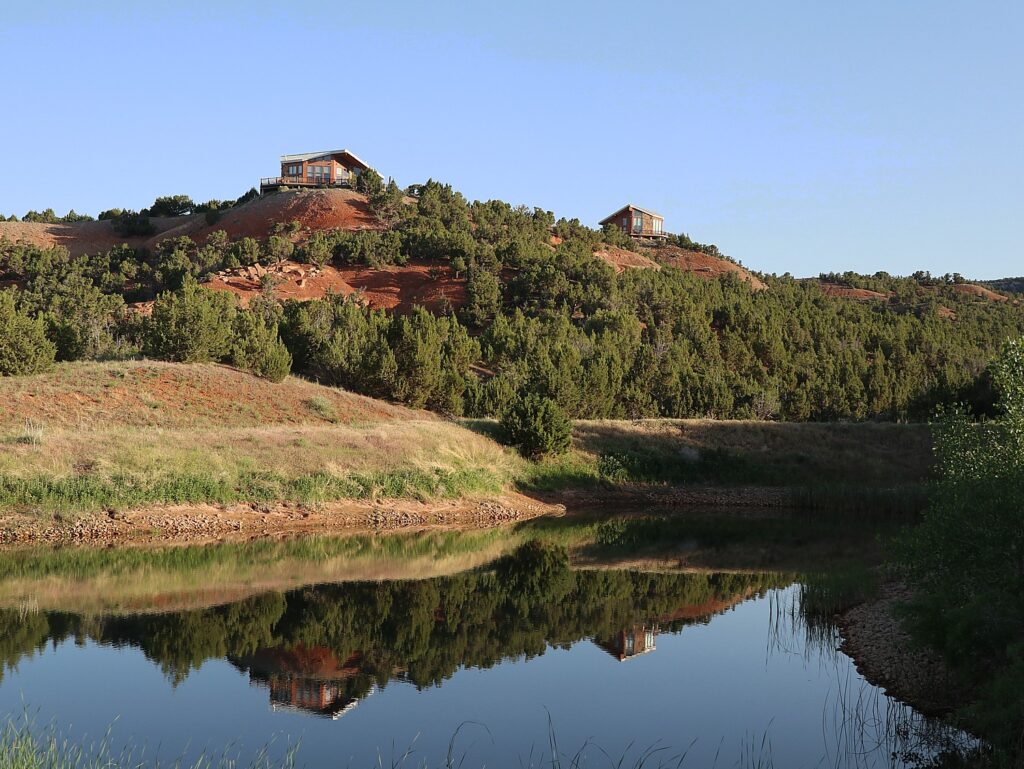 The Panorama Chalet sleeps 6 and is 1,856 square feet, commands the most amazing views of sunrise and sunset, canyon vistas and views of the Big Horn, Jim Bridger, Owl Creek, and Absoroka Mountain Ranges.
On the same perch as the Panorama Chalet, the Couple's Chalet, a 1,400 square feet and sleeps up to 4, is designed around a Great Room with large windows from which to regale the red rock canyon.
The Ranch House sleeps up to 14 and is ideal for large families or groups. It has a large yard, a pond and a tree house in the yard, and is near the greenhouse, garden and chicken coop, a favorite place for young guests who want to help gather fresh eggs.
The ranch is open year-round – I can imagine how magical it is in winter, when activities like tobogganing, sledding, snowmobiling are available as well as horseback riding and snowshoeing.
Red Reflet Ranch is a ideal for a family gathering, reunion, multi-generational getaway, destination wedding (!), corporate retreat, team-building, incentive travel program. It has the best combination of authentic, genuine experience and, yes, luxurious comfort.
The rate puts Red Reflet Ranch into the luxury category, but it is the sort of special vacation experience that is worth saving for.
Red Reflet Ranch, 10 Lodge Road, Ten Sleep WY 82442, 307-366-2340, 866-766-2340, www.red-reflet-ranch.net.
______________________
© 2021 Travel Features Syndicate, a division of Workstyles, Inc. All rights reserved. Visit goingplacesfarandnear.com, www.huffingtonpost.com/author/karen-rubin, and travelwritersmagazine.com/TravelFeaturesSyndicate/. Blogging at goingplacesnearandfar.wordpress.com and moralcompasstravel.info. Send comments or questions to [email protected]. Tweet @TravelFeatures. 'Like' us at facebook.com/NewsPhotoFeatures