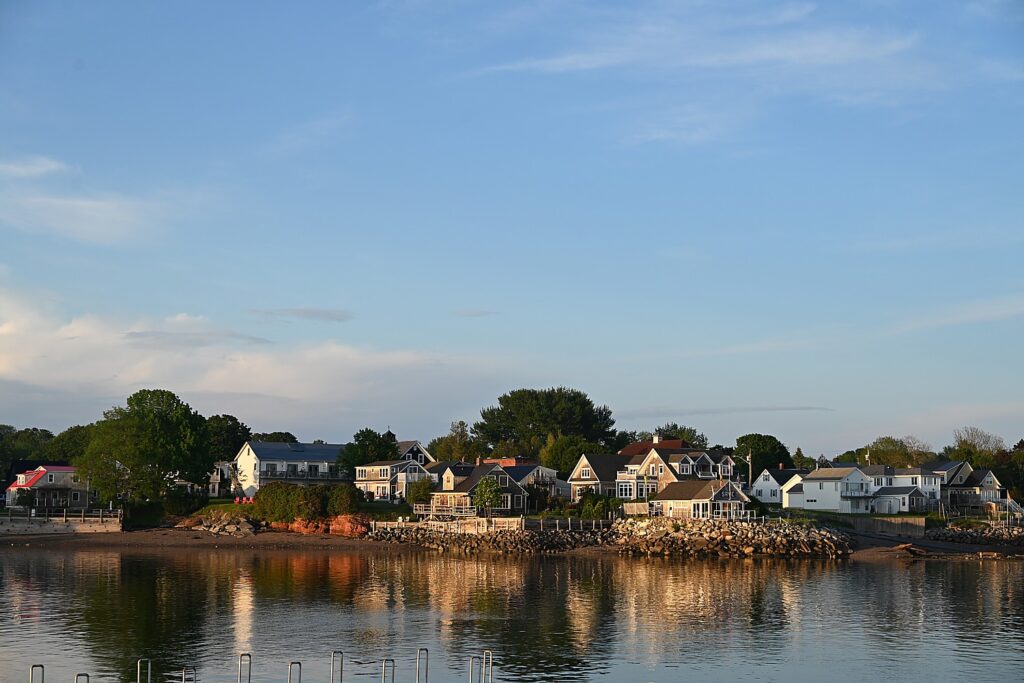 By Karen Rubin, with Dave E. Leiberman, Laini Miranda & Eric Leiberman
Travel Features Syndicate, www.goingplacesfarandnear.com
Perhaps the most defining feature of New Brunswick, Canada is that it has the highest tides in the world. But unless you see it, stand in it, walk on the ocean floor one hour and kayak through rock openings the next, it is hard to wrap your head around what it means to say the Bay of Fundy has the "highest tides" in the world.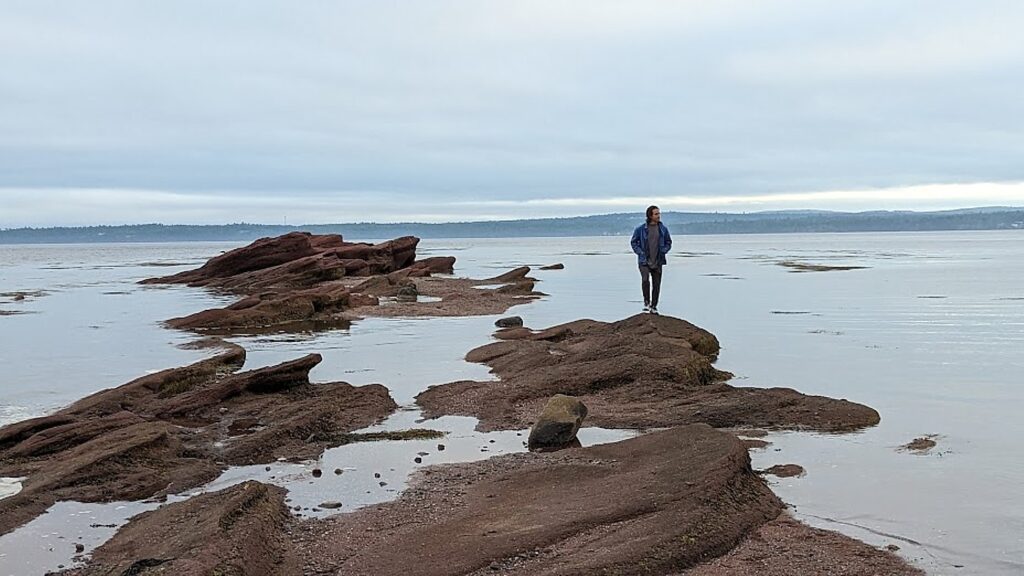 Seeing, experiencing this phenomenon for ourselves is just one of the reasons that brought us to New Brunswick, one of Canada's Atlantic Maritime provinces and the only one of its 11 provinces that is officially bilingual (English and French). Other unique aspects were also intriguing – like seeing the vestiges of Pangea, primordial earth before the continents split apart, in one of the world's first and most expansive UNESCO Geoparks; fossils 3.5 billion years old; and the intriguing phenomenon of Reversing Falls (one of only two places in the world).
We are also really excited to sample a new bike trail, 375 miles around the coast, that let us tour its (very French) Acadian Peninsula, going through small villages where the flag most prominently waved is that of Acadia, not New Brunswick or Canada. And then there are the bonus surprises where you can see living history of the First Nations and a colonial Acadian Village.
New Brunswick also is surprisingly easy to reach, located adjacent to Maine (there are 17 border crossings), yet so delightfully foreign and exotic because it is relatively unknown and unexplored beyond New Englanders.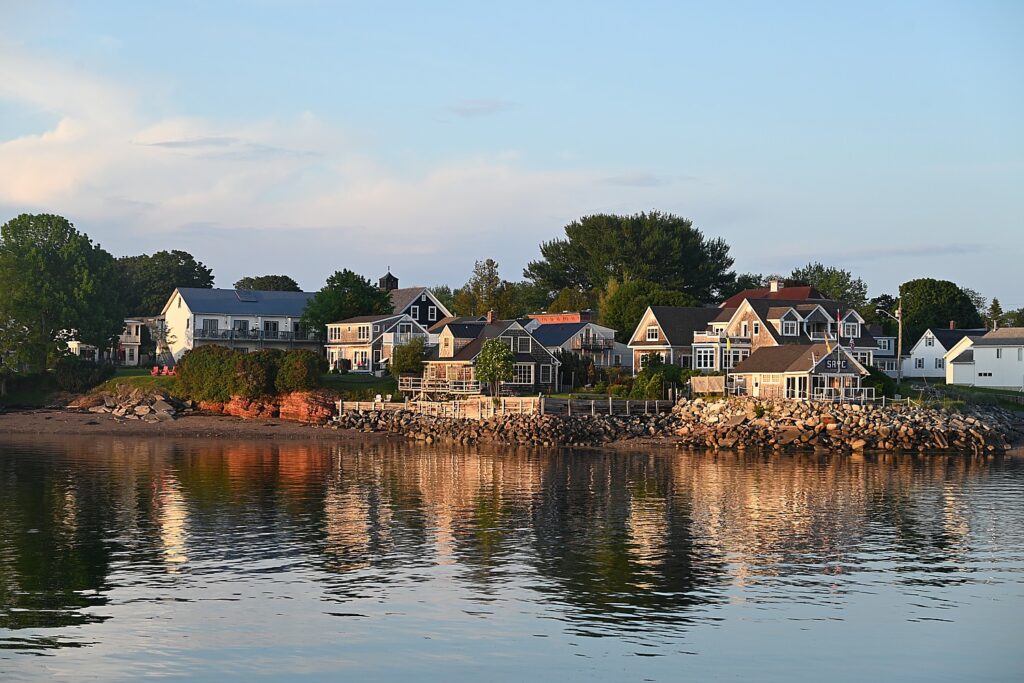 We start our New Brunswick exploration in St. Andrews, one of Canada's most popular seaside resort towns – wonderfully picturesque, with a surprising amount of things to do.
It is also where we will launch our 10-day trip that will take us on the scenic 286-mile Fundy Coastal Drive (St. Andrews, Saint John, St. Martins, Fundy Trail Parkway, Alma, Cape Enrage and Hopewell Rocks), and on to Miramichi and the Acadian Peninsula, where we will cycle the new Acadian Peninsula Veloroute from Tracadie to Shippagan, Miscou Island and Caraquet. (We are grateful to Tourism New Brunswick for creating our itinerary.)
St. Andrews, designated a National Historic Site of Canada, is a charming community with many of the town's buildings still reflecting its founding by the United Empire Loyalists fleeing the American Revolution, especially as we walk along Water Street.
Kingsbrae Garden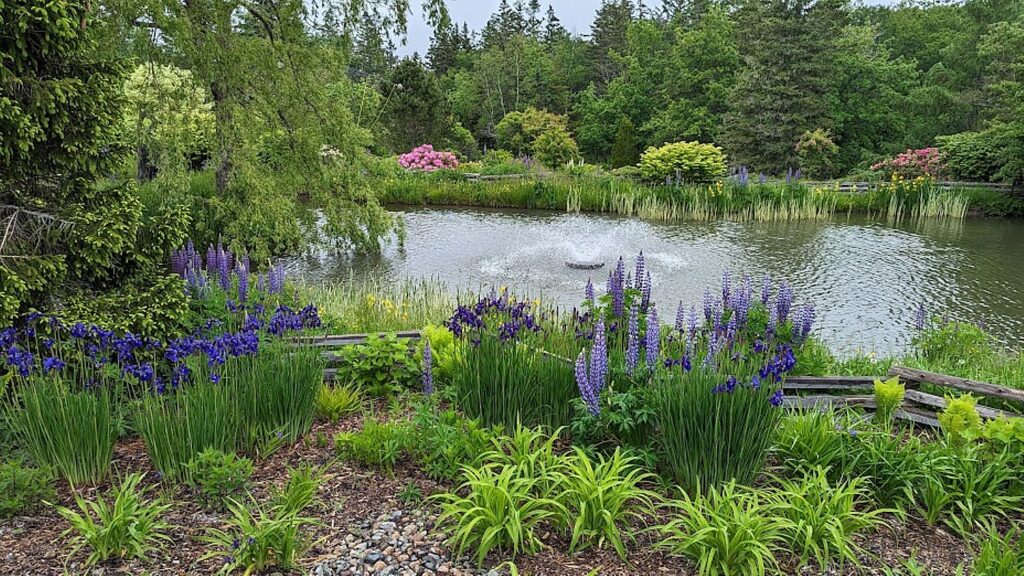 Our first morning, we explore an absolute treasure of St. Andrews: Kingsbrae Garden, set on 27 acres donated by John and Lucinda Flemer. This was her family's summer home – she tells stories of taking the train from their Montreal home and hiding in the century-old hedges which we walk through today. In fact, at 93 years old, Lucinda still lives here, walks the grounds most days (making sure everything is up to snuff), Daniel Schmids, director of operations, relates as he guides us around.
In 1996, Mrs. Flemer wanted to do something to benefit the community. She originally thought to create a school to train guide dogs, but the tourism office suggested that a garden would benefit the community more, Lucinda was not a garden hobbyist, botanist nor landscape architect. Nor was Geoff Slater, the artist she chose to design her garden (we see his murals on Water Street). She laid out her vision for the Garden one evening sitting at her kitchen table with Slater over a bottle of wine, and Kingsbrae Garden opened two years later.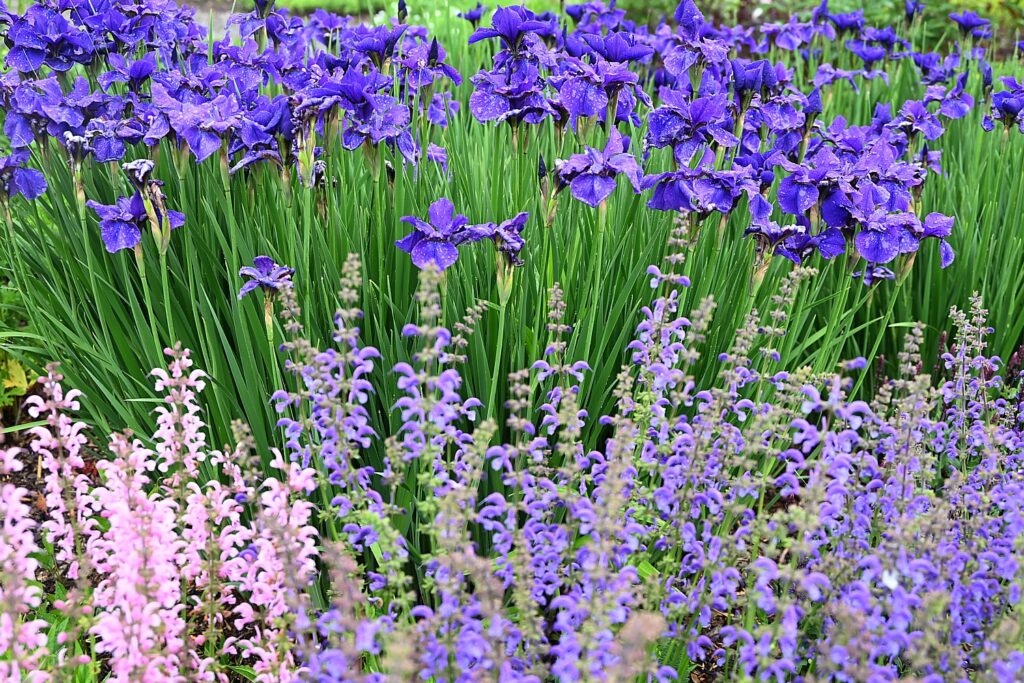 The gardens are gorgeous – works of art, really – but they are so much more. You feel the heart, the compassion, that went into their creation and design. You feel as nurtured and protected as the flowers. I have never been so simultaneously excited and serene at the same time.
Kingsbrae pays tribute to some of the great garden traditions such as the White, Rose, Knot Garden, Perennial and Cottage gardens.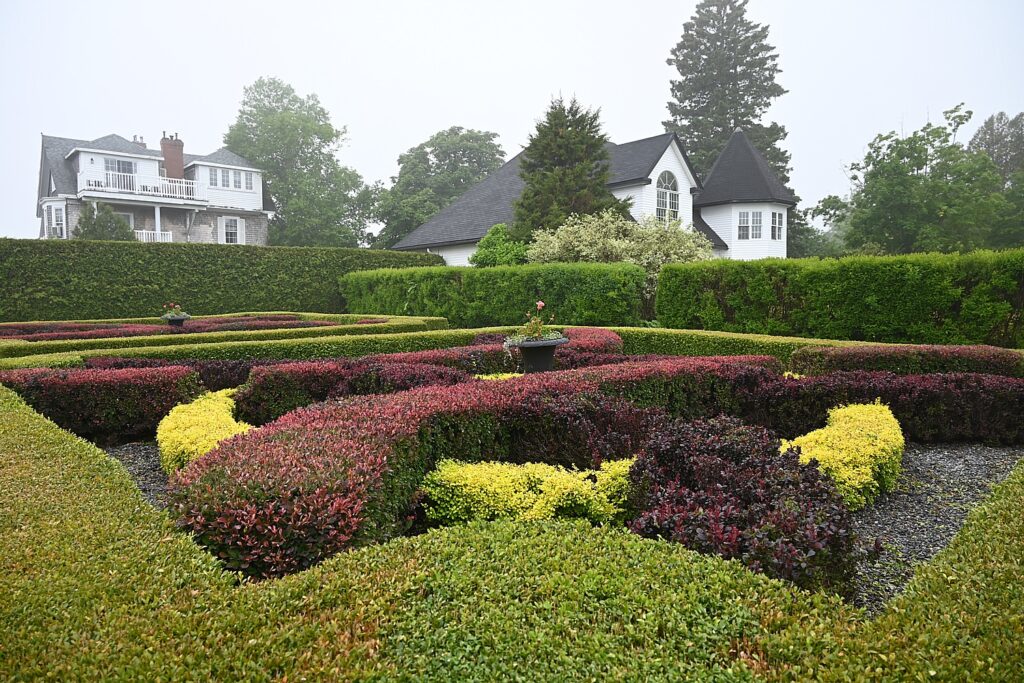 There are also experimental gardens where new and old styles and plant materials are used to preserve and promote home gardening, like the Container Garden (to give apartment dwellers ideas, inspired by her time living in England). Display gardens showcase various collections of plant species and their uses – Rhododendron, Heath & Heather, Ornamental Shrub, Dwarf Conifer, Herb, Hydrangea and Gravel gardens. But Kingsbrae goes far beyond horticulture.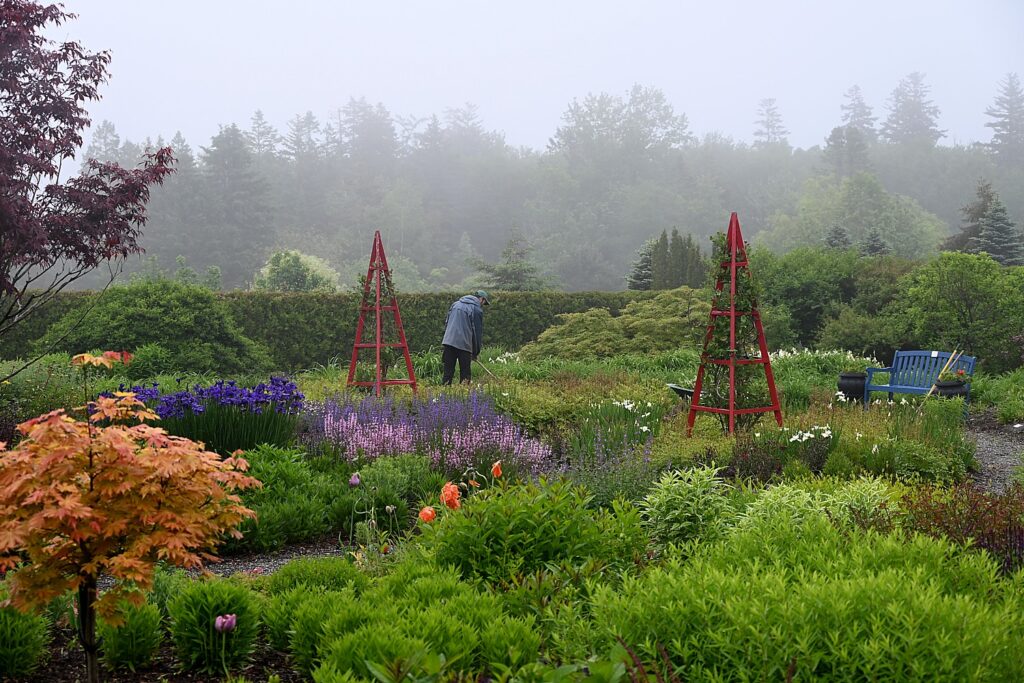 There is a Labyrinth & Maze, a Bee Garden (the bees essential to pollinate the flowers), a Monarch Garden (a certified Monarch butterfly way station providing not only the milkweed that Monarchs require but a protected place for the egg larvae to develop), a Secret Garden, and Memory Lane (a row of special trees planted in memory of someone).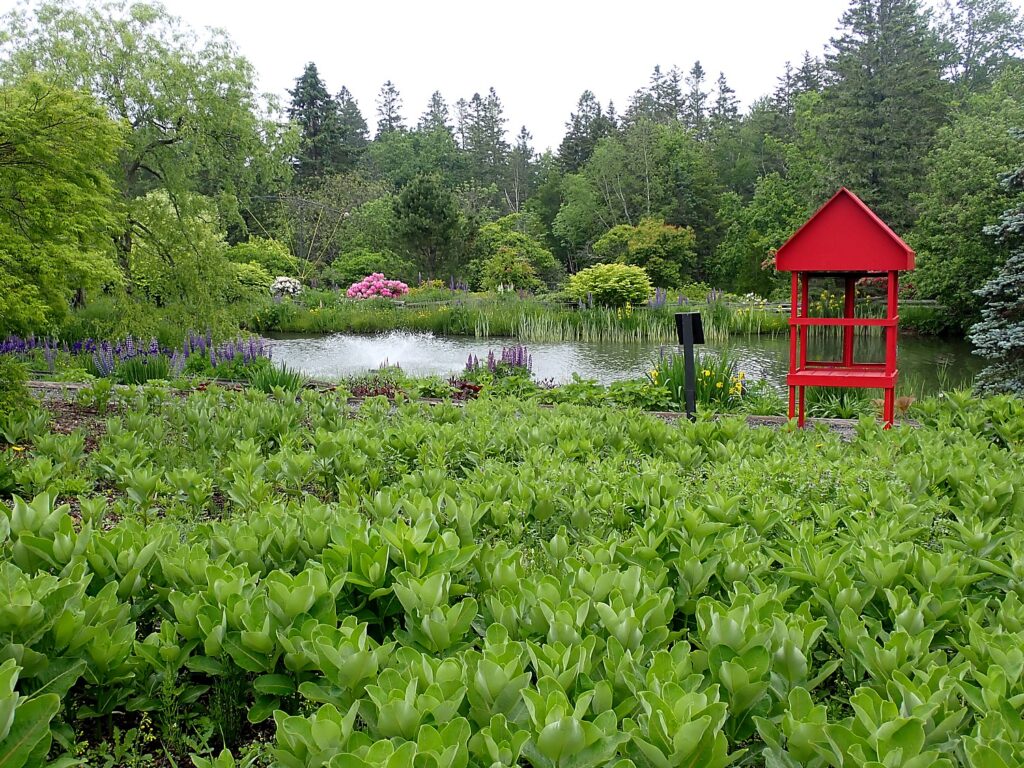 There is a Peace Garden and Afghanistan Memorial to honor and give comfort to war dead and veterans (military people get free admission); a therapy garden (the gardens work with Wounded Warriors to use gardening to relieve stress); a Scents and Sensitivity garden that invites you to identify the plant by smell or touch (the accompanying sculpture of a guide dog pays homage to Lucinda's original idea). There is an orchard containing heirloom varieties of apple trees. An Edible Garden showcases edible plants, native and exotic fruits and berries (where the Garden Café chef makes a daily collection for his culinary creations before visitors arrive).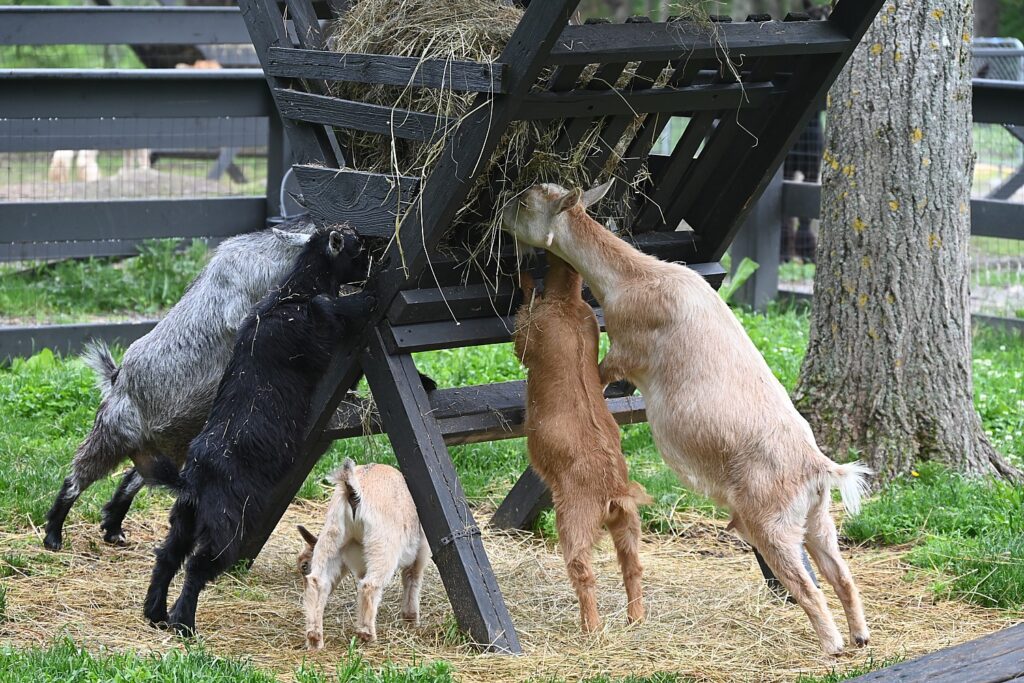 Favorites are the Children's Garden and a Fantasy Garden that provide outdoor environments for play and learning, with tiny cottages and animals including goats, alpacas and rabbits. The children's garden is bordered by a "living fence" of 100 criss-crossing apple trees that have grown together over the past 10 years.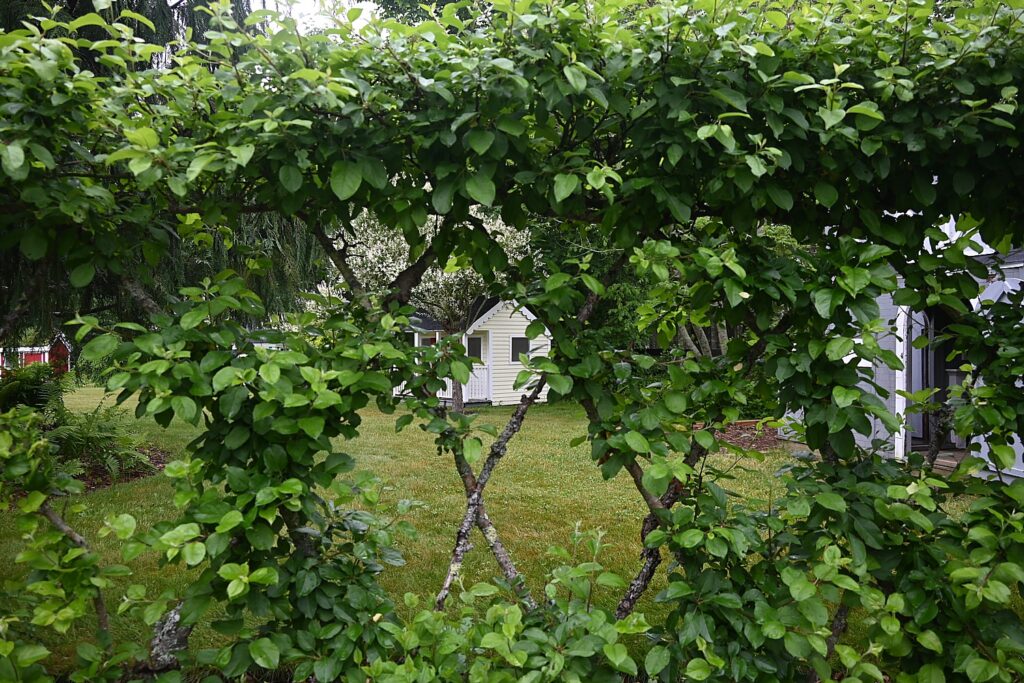 Possibly the most extraordinary sight is the Wollemi Pine (Wollemia nobilis), a 200 million year old species thought to be extinct but re-discovered by a hiker in Australia; some were auctioned and a St. Andrews man won one and gifted it to Kingsbrae, now protected within a cage.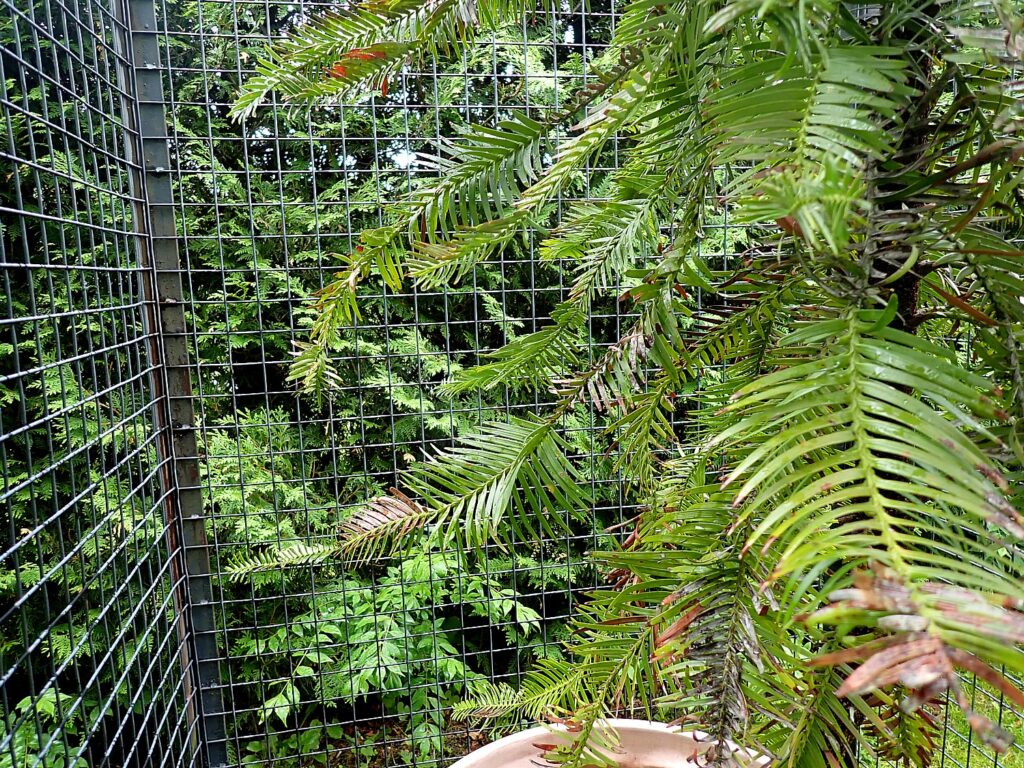 "Since dinosaurs roamed the earth to the present electronic era, a few Wollemi pines have patiently survived with their gene pool pure and unchanged, in the Blue Mountains of Australia. What was likely a tasty treat Cretaceous dinosaurs munched on for lunch is a botanical story of the century."
One of the most magnificent displays is the working Dutch windmill, built to one-third scale. Mrs. Flemer's husband, John, who was Dutch, had it built as an anniversary gift in 1997 (he passed 6 years ago).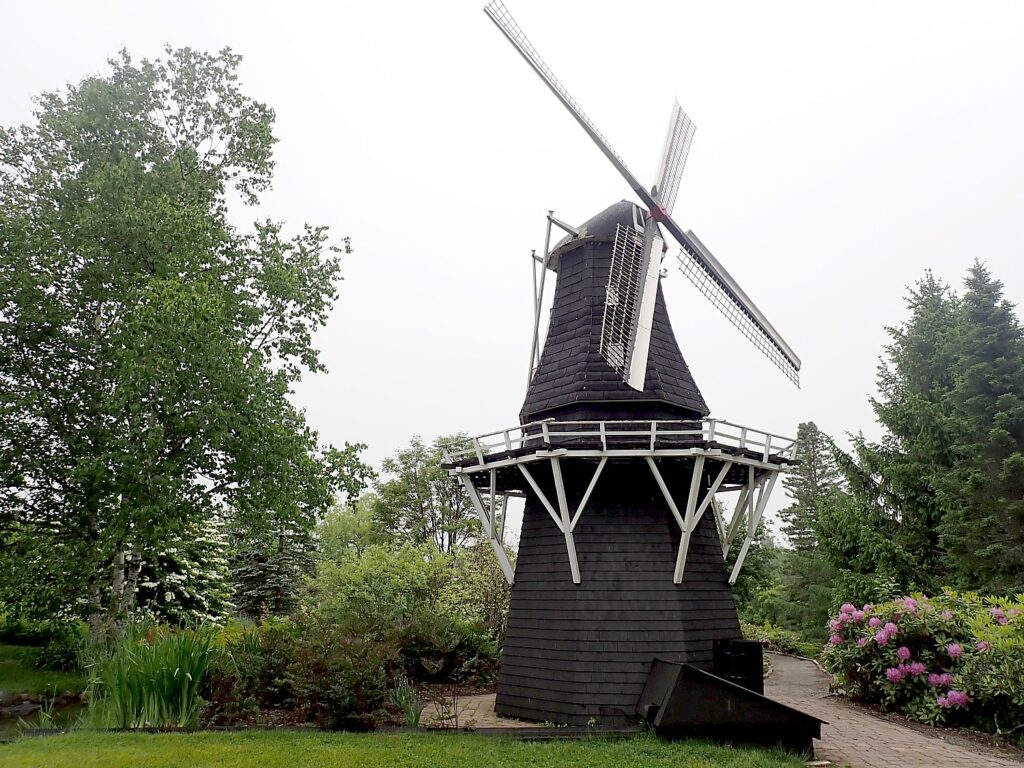 You can explore a kilometer-long groomed trail through the Acadian forest and an Audubon-certified bird sanctuary, which she created after a visit to India.
Lucinda Flemer had not been a gardening person, but was art-oriented and wanted to create Kingsbrae for "the eye of artist".
The Gardens even offers an art residency for six artists a year, housed in a historic 1908 building she purchased.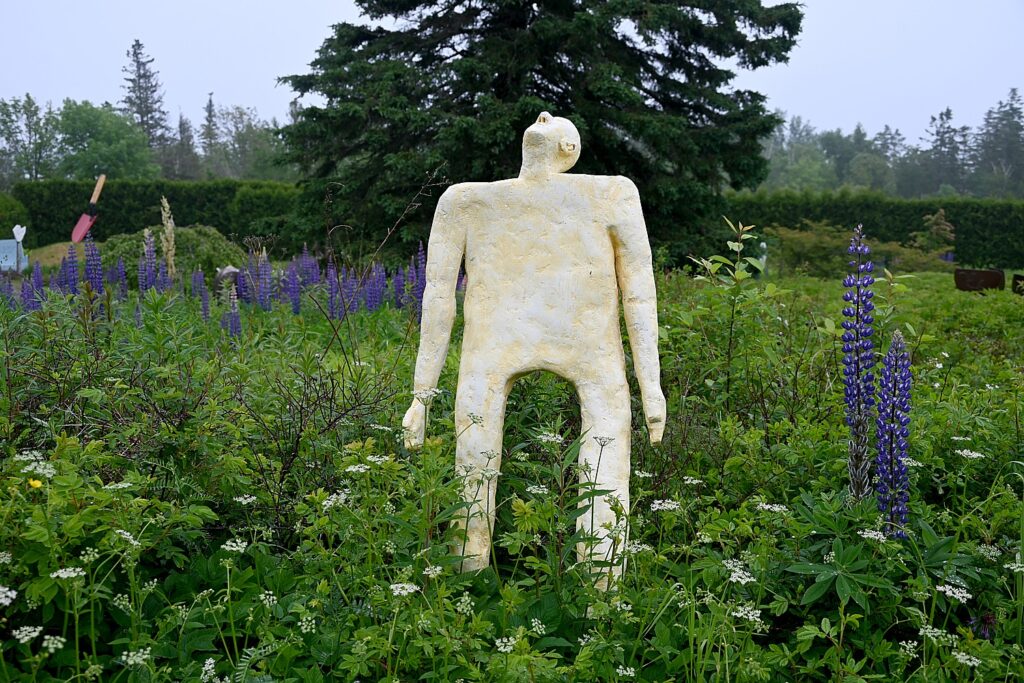 And all the way through, tucked here and there, are sculptures that convey a theme or message or are just whimsical (like an apple core you can sit on), as well as a Sculpture Garden. Indeed, Kingsbrae Garden is Canada's largest private sculpture collection. For many years Lucinda sponsored a sculpture competition, purchasing the top prize winners for the Garden. Now she commissions works. We see the most recent acquisition, a tribute to Queen Elizabeth II, appropriately in the Heath and Heather Garden.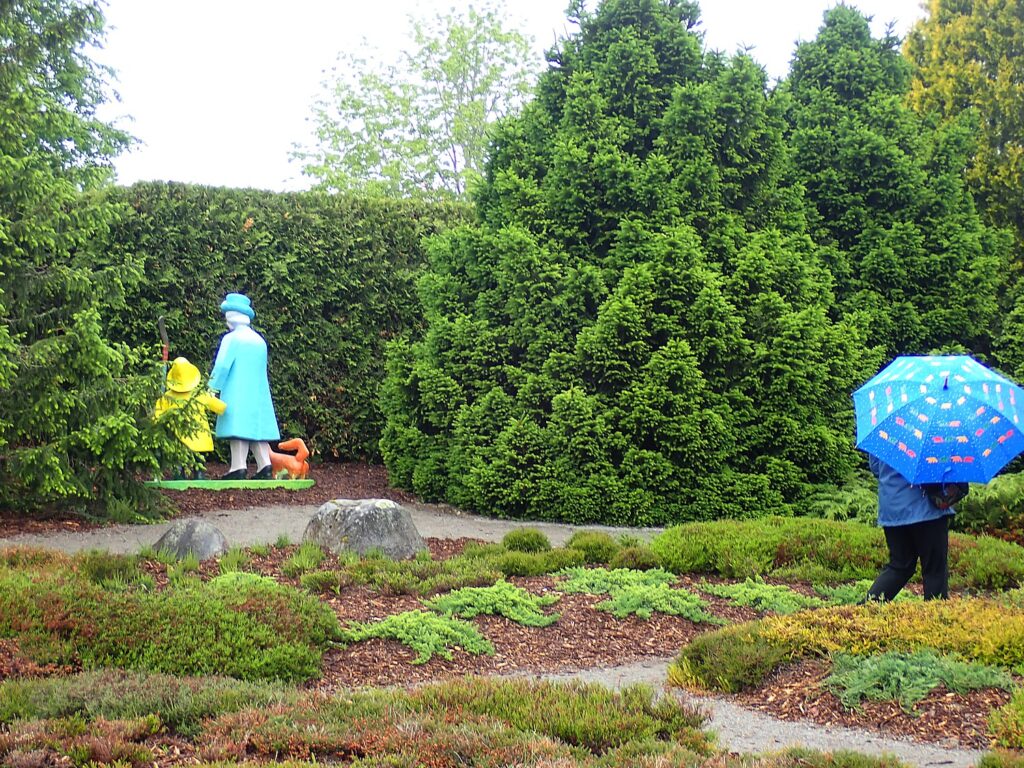 Everywhere you look there is some delightful surprise.
Lucinda Flemer built the garden and then decided to build an 1100-seat amphitheater – in a town of 2500 people! "People laughed. But she thought, 'Build it and they will come,'" Daniel tells us. And they did. The amphitheater hosts 8 to 10 events a year including Broadway productions (a local actor was Broadway's "Come From Away" and "Rock of Ages," and his wife is a casting director), in 2022, one event filled the amphitheater twice.
"She was inspired by what was done well, so she brought here to show people what they otherwise wouldn't see – the same with art residency. People get to experience different culture."
Seniors who live in a residence next door come in for free through a special gate. In July and August, there are special mobility tours by golf cart.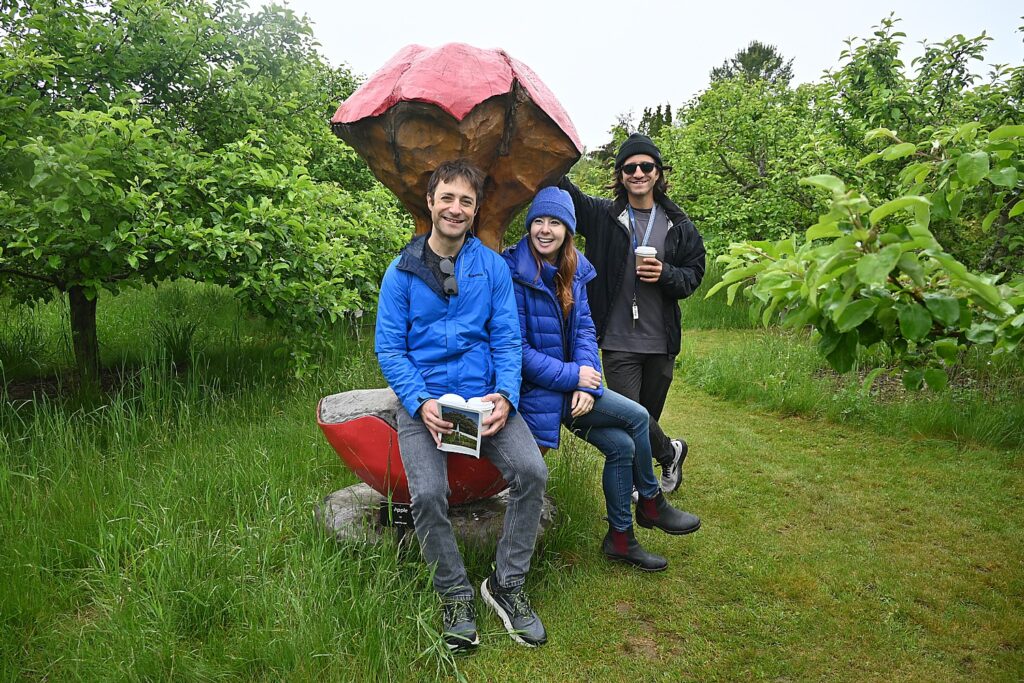 We have the most delectable lunch at the Garden's Café, with items enhanced by the freshly picked produce from the garden, which also houses an Art Gallery. On view are paintings created by the artist who designed Kingsbrae, Geoff Slater (he's known for paintings out of a single line in changing colors) who also painted the murals on Water Street.
Café executive chef Alex Haun, grew up in St Andrews, started working at Kingsbrae at15 years old as a dishwasher (his father managed the garden). Haun went to Canadian Culinary Institute, competed in International Culinary Olympics, winning multiple gold medals. He probably could have gone anywhere in the world but returned to Kingsbrae. His Signature 12-course "Savor" dinner menu, offered three times a year, sells out immediately.
Kingsbrae Garden, 220 King Street, St. Andrews, 506-529-3335, www.kingsbraegarden.com (Open May-October).
Whale Watching
Dave and I have to rush away from this delectable lunch to get to the dock for a whale watching tour with Jolly Breeze Whale Adventures.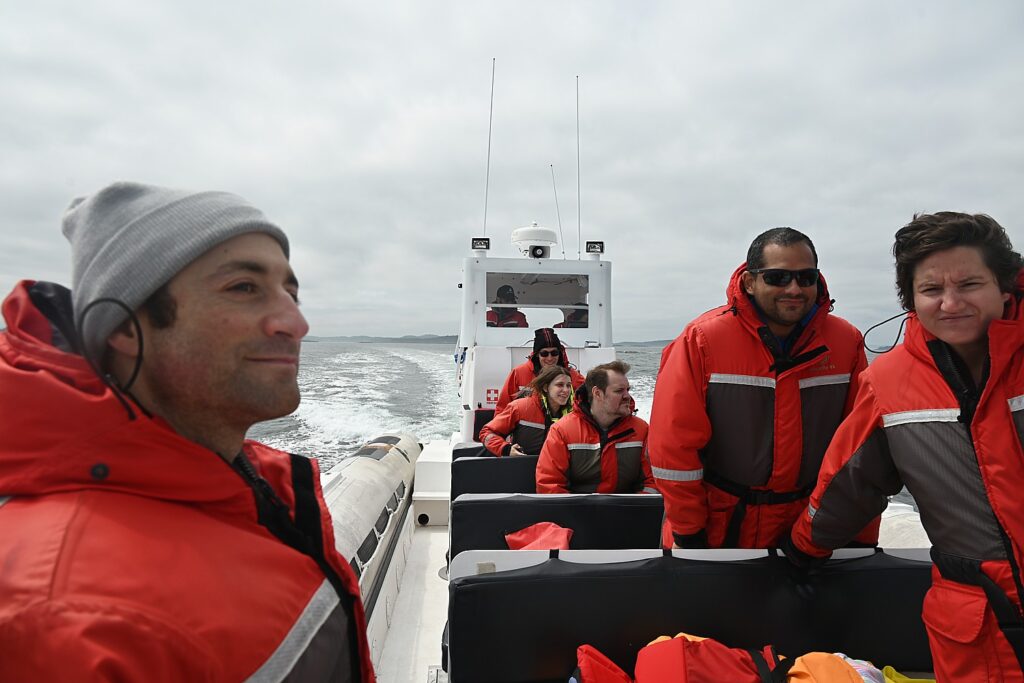 Whale watching is very popular in St. Andrews and there are many different companies. I am thrilled to be taking Jolly Breeze's 12-passenger Zodiac – extremely comfortable, low to the water, very flexible so you are unlikely to get sea sick, and the Captain can maneuver more easily to get closer to a whale (keeping an appropriate distance).
It is very early in the season and it is really by virtue of Captain Randy's experience (he started working on the boats when he was 13), knowing whale behavior and pattern and skill that toward the end of the 2 ½ hour cruise, we spot a Minke whale.
But even if we didn't get to spot a whale, the cruise is really fun on the Zodiac.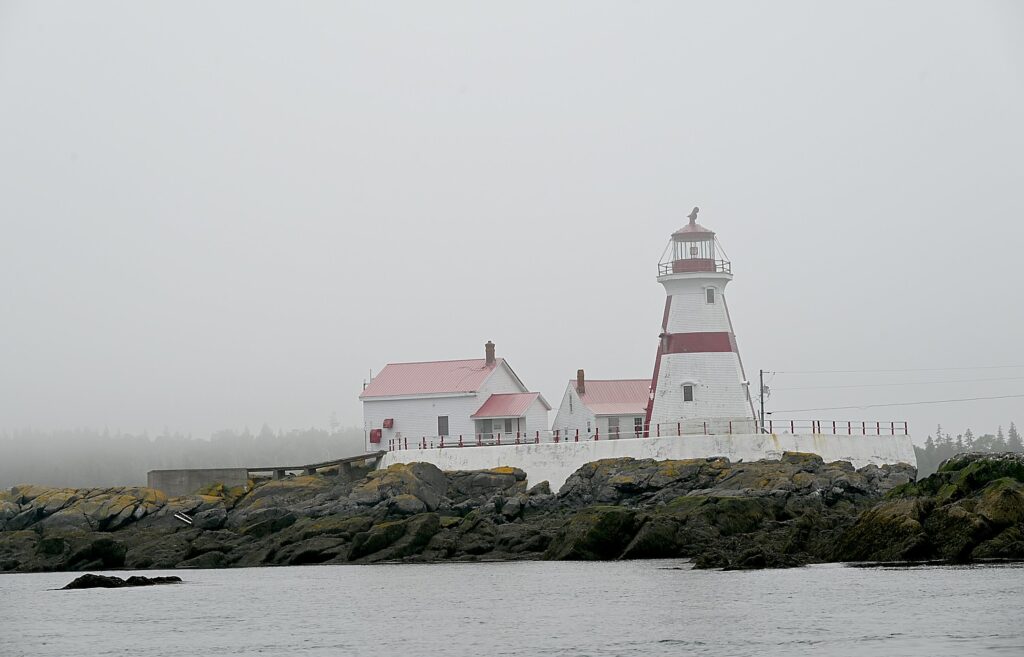 They dress us in gear that looks like we are off to explore the Arctic, so we are absolutely comfortable on the Zodiac. We get to see the picturesque East Quoddy Lighthouse, built in 1829 on a small, rocky islet located off the northern tip of Campobello Island (was frequented by President Franklin D. Roosevelt and today is the world's only national park, shared by two countries, Canada and the USA), as well as puffin and seals.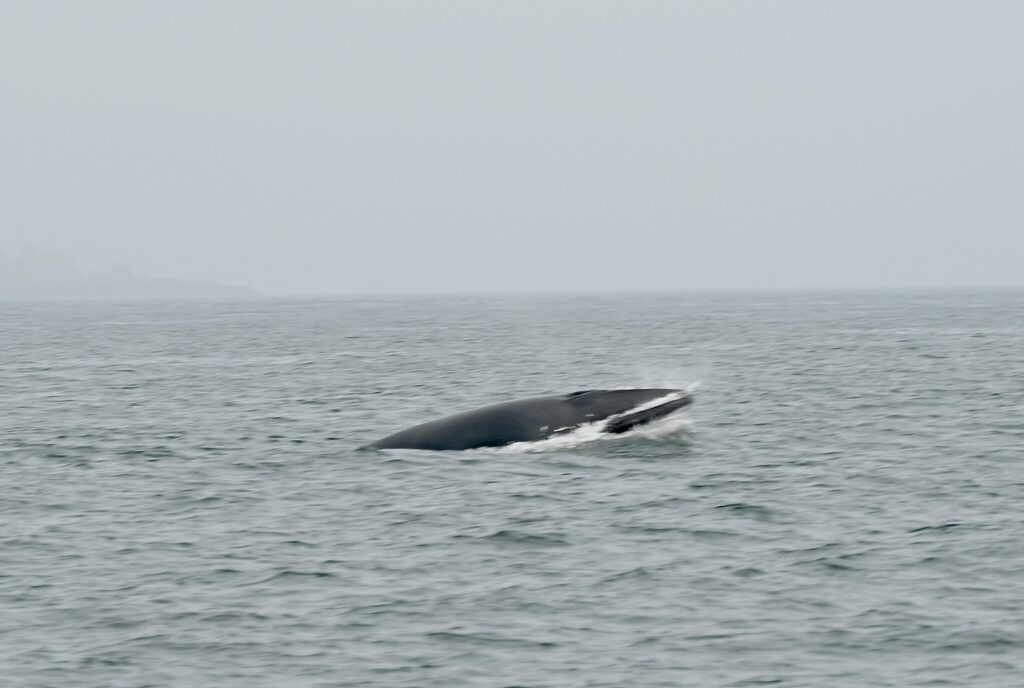 If it had been a little more into the season we might have seen as many as four different whale species that frequent this area at different times in the season. One of the regulars is an Orca they call "Old Tom."
There is not much splash on the Zodiac, so you can bring a good camera with long lens and a dry bag is available on request.
Jolly Breeze Whale Adventures on the wharf at 4 King Street. 506-529-8116, https://jollybreeze.com.
Ministers Island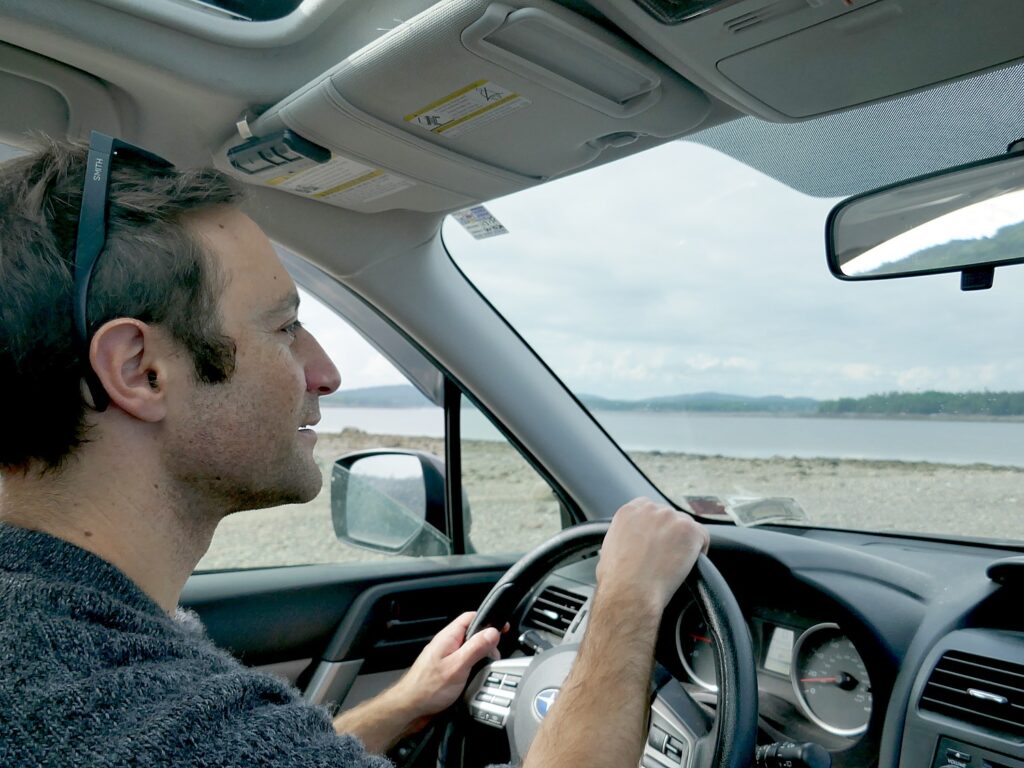 We need to pull ourselves away from wandering St. Andrews' charming downtown by 5 pm, in order to visit Ministers Island, Canada's largest tidal island and a National Historic Site. Since you have to drive across a sand road (Bar Road) that is quickly overrun at high tide, covered by 15 feet of water (when it becomes an island), we have to mind the time. We will have to be off at 7 pm when the tide quickly envelops the road (rangers round up any stragglers). Each day, there are two windows of opportunity to travel to the island depending on the tide schedule.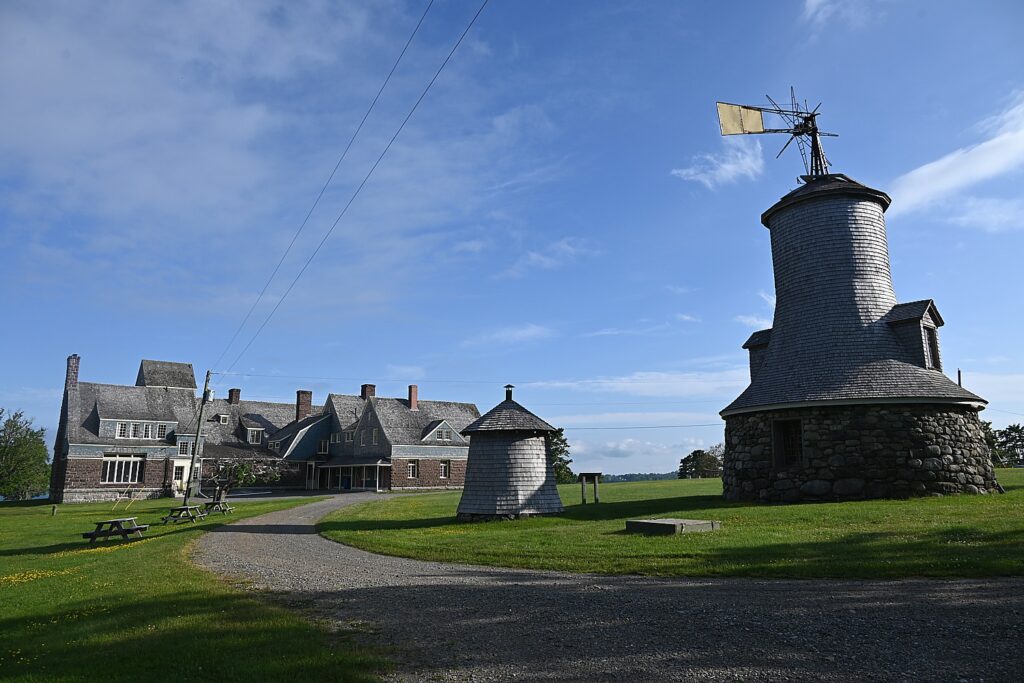 Ministers Island is a 500 acre island, 2 miles by 1 mile, located in Passamaquoddy Bay, where Sir William Van Horne built his summer home, Covenhoven, in 1890 – a 50-room mansion, with 17 bedrooms, 11 fireplaces, 11 bathrooms – and the only place still standing that is associated with this significant historic figure.
Sir William Cornelius Van Horne was an American recruited to build Canada's 2,900 mile-long transcontinental railroad system, finishing a year ahead of schedule (earning a $1 million bonus).
The mansion remained in the Van Horne family until 1961 when it was sold to two Americans, our guide, Susan Goertzen, relates. By 1977, they wanted to auction it off and sold off most of furnishings and artifacts. But three days into the auction, the Province of New Brunswick stopped the sale and bought it. The mansion was closed from 1977 until 1992.
In 2004, a local group took over the operation and put out a call to get back some of the original furnishings and artifacts. It is furnished today with original and period pieces. Most interesting are the paintings that Van Horne painted, the portraits and photographs, the travel posters, the original ice box and stove, his billiards table and game room.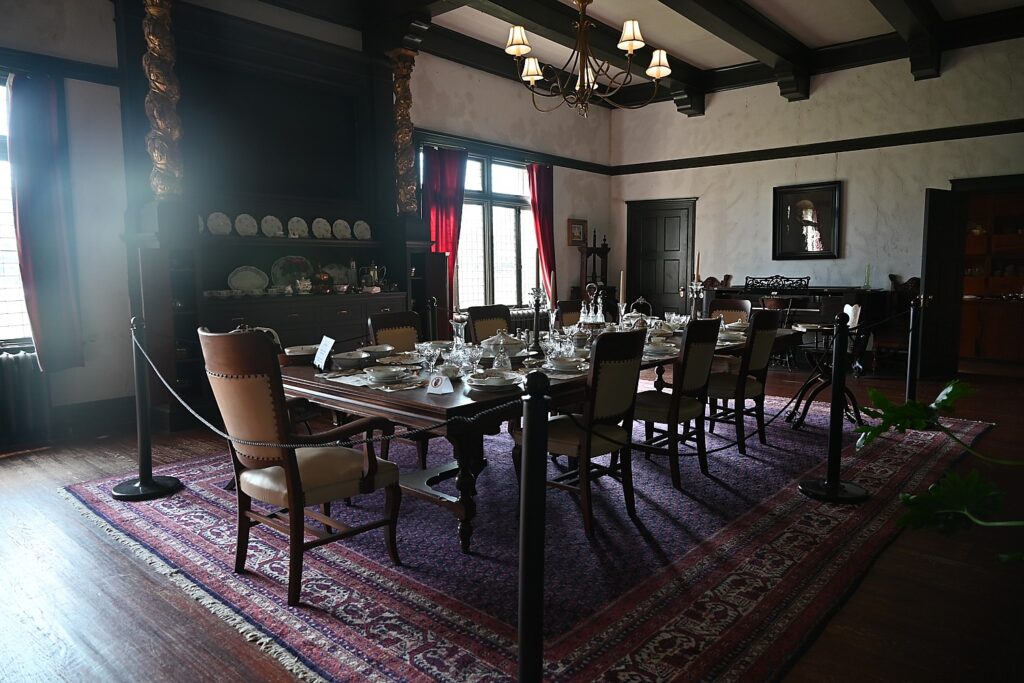 In the "Canadian Pacific Room" you learn a lot about Van Horne – an inventor, an amateur geologist who collected fossils (his collection was given to the University of Chicago), an artist and a major art collector. It is said he only slept four hours a night.
Truly a self-made man, Van Horne, was born in Illinois in 1843, and had to quit school at age 14 when his father died to go to work as a telegraph operator for the Illinois Central Railroad. By 1880 he was general superintendent of the Chicago, Milwaukee and St. Paul Railroad system. In 1881, he was recruited to become general manager of the Canadian Pacific Railway and by 1885, had completed the transcontinental railway system.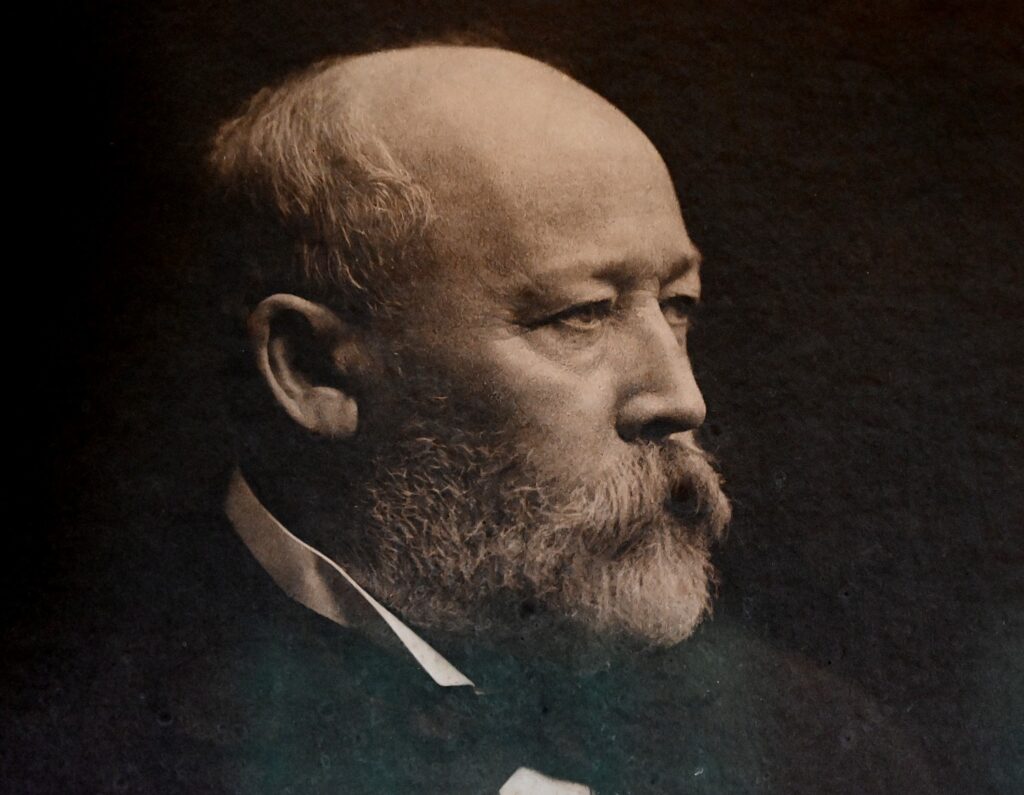 Van Horne was not only the architect of Canada's transcontinental railroad, he was the progenitor of its tourism industry, designing and building a network of Canadian Pacific Hotels. One of the original hotels was the Algonquin here in St. Andrews, where we get to stay; another was the famous Banff Springs Hotel.
We visit the windmill he built to pump water from a 10,000 gallon holding tank (actually a railway water car) 127 feet below ground into the house for running water.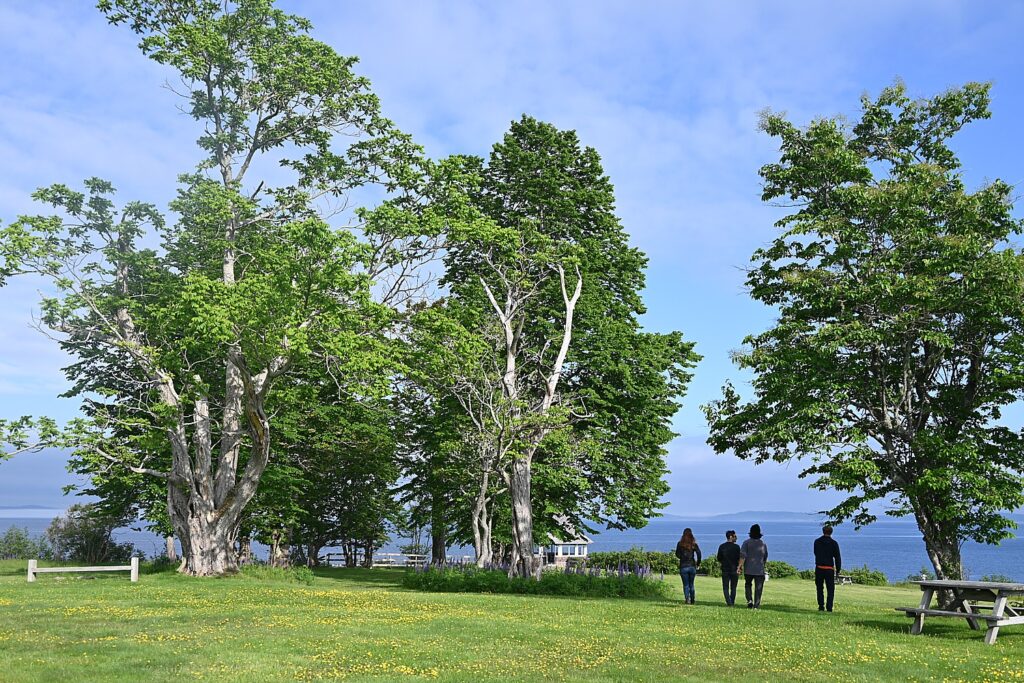 You also can see the carriage house (a gorgeous carriage inside) and an amazing barn which features antique cars, and the magnificent 1911 bath house that overlooks a "natural" swimming pool cut from the rock just below. The setting is absolutely stunning, and can also be enjoyed picnicking and hiking on several marked trails.
There is much to explore on Ministers Island: a shell midden archaeological site, and the 1790 home of Loyalist and Anglican minister Samuel Andrews, a creamery, a livestock barn, a boarding house, an automobile garage, a horse stable, and a greenhouse.
But the tide will soon come in and we have to hurry back. Dave and Eric opt to run down from the hilltop mansion along the trail over the sand bridge (we are only a little concerned about them making it before the tide overwhelms the road again), back into St. Andrews, where we meet for dinner.
Ministers Island, 506-529-5081 https://www.ministersisland.net/ (Open May-October, Admission, $17/adults).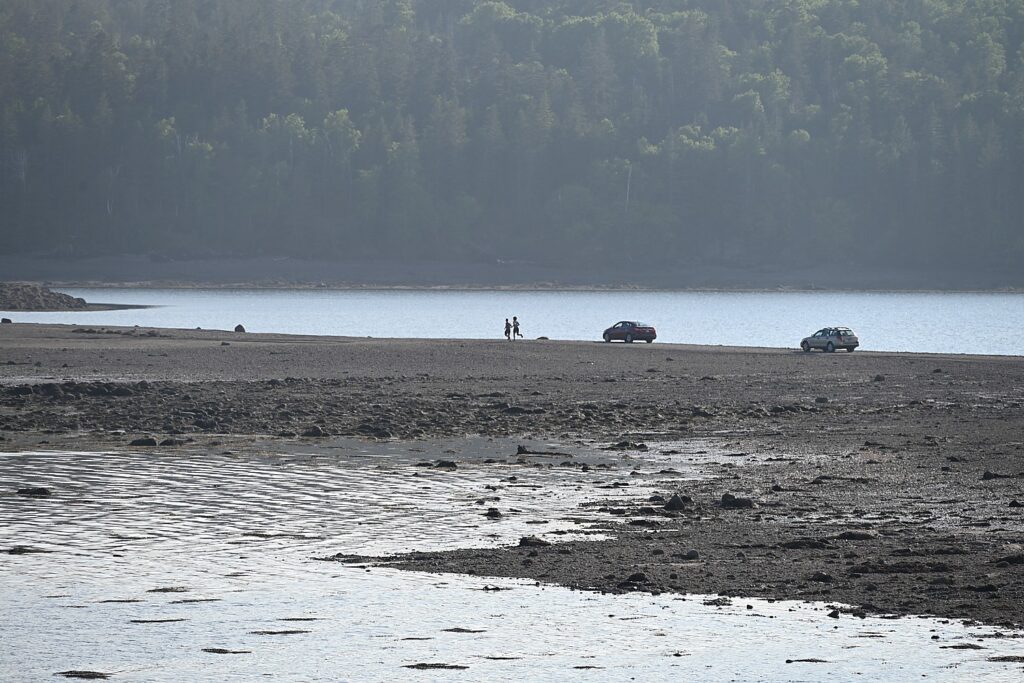 Where to Stay, Dine
There are so many charming restaurants and cafes along Water Street.
The previous day we sampled some of the town's marvelous restaurants and sights.
The Niger Reef Tea House (1 Joes Point Rd, St. Andrews, 506-529-8005, nigerreefteahouse.com) is a real find, offering the most marvelous ambiance and distinctive cuisine. It's where the locals go for an elegant, sophisticated dinner in a homey, casual, comfortable but classy atmosphere. It looks like a Japanese teahouse – in fact, the magnificent murals painted by Lucille Davenport in the 19th century were uncovered when the residence was converted to the tea house in 1926.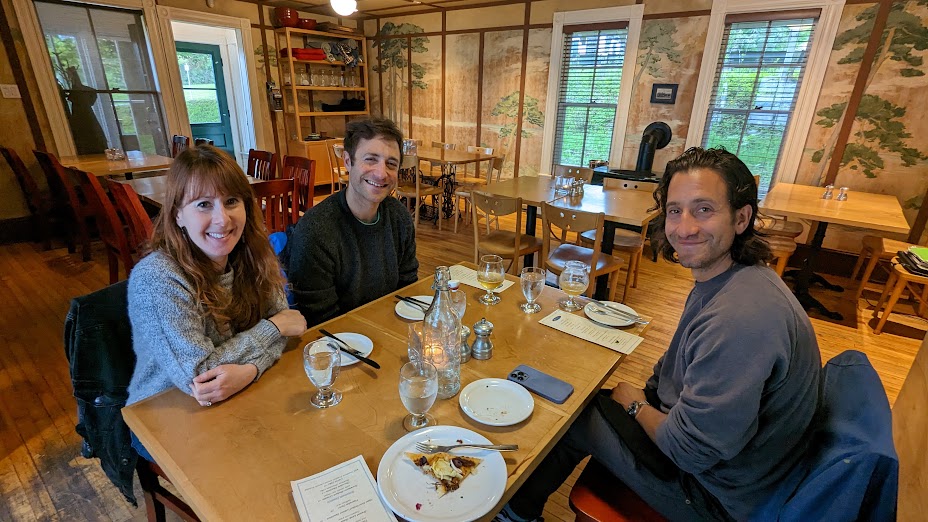 We start with the oysters served on kelp that chef Anthony Davidson has dashed out to the Bay to gather, enjoy the jerk chicken and pesto pizza, and finish with the delectable strawberry rhubarb crumble (the rhubarb is growing in the garden).
The setting – a sprawling lawn that goes down to the Bay – also lets us explore The Blockhouse, the town's last remaining wooden defensive structure from the War of 1812 (great for picnicking and view of harbor).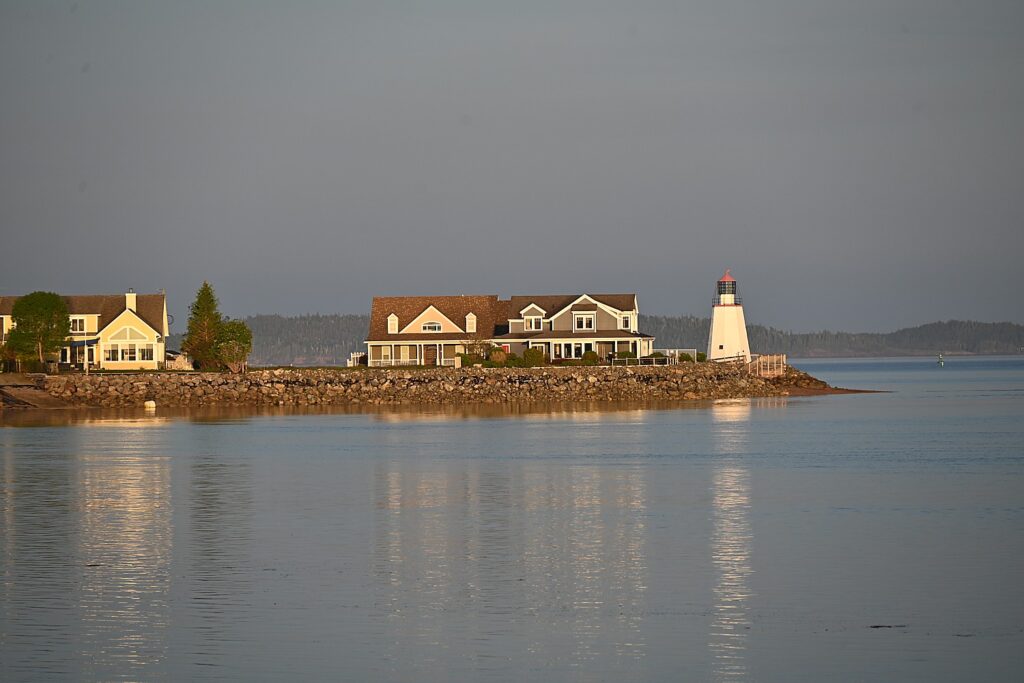 This evening, we find a delightful deck to enjoy the view of the wharf and sunset at Saint Andrews Brewing Company (201 Water St., 506-529-2337) set in what was the Customs House, which serves snacks but invites you to order in the rest of the meal. We order from a delightful restaurant just across the plaza, The Red Herring Pub, (211 Water St., 506-529-8455 – they even delivered!) and just revel in the scenery.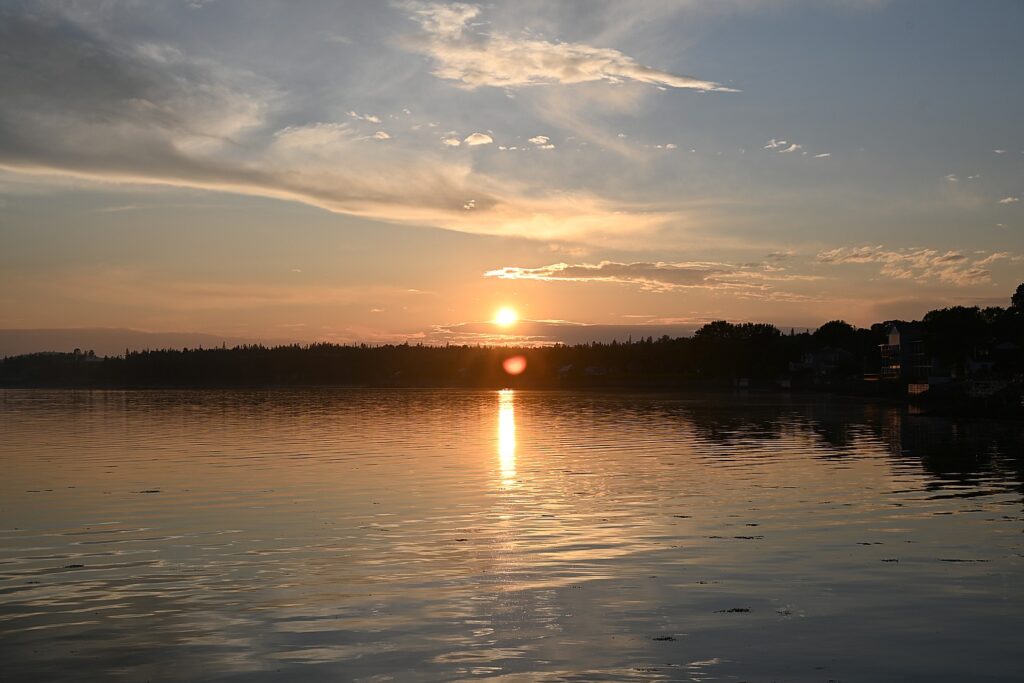 We go down to the wharf to take in a magnificent sunset, but I rush away to get to our hotel, the grand, historic Algonquin Resort, in time for the 9 pm Ghost Tour.
The Algonquin Resort is reputed to be haunted and is said to be the inspiration for Stephen King's horror story, The Shining. (Bangor, Maine, where King lives, is a two-hour drive from St. Andrews.)
The Ghost Tour is a fun way to see parts of the resort you would otherwise never see. We creep through the underground passageway (the staff wasn't allowed to be seen by the guests in their street clothes) as our guide tells the story of the tunnel being haunted by a 'night watchman' (people hear his keys rattling). There is a haunted piano (one of only two items from the original 1889 hotel that was saved from a fire that destroyed it in 1914; Van Horne had it rebuilt and reopened just six months later) which people claim to hear play even though it is locked shut with a key that cannot be replaced; he tells about a boy named Benjamin who people claim they hear bouncing a ball.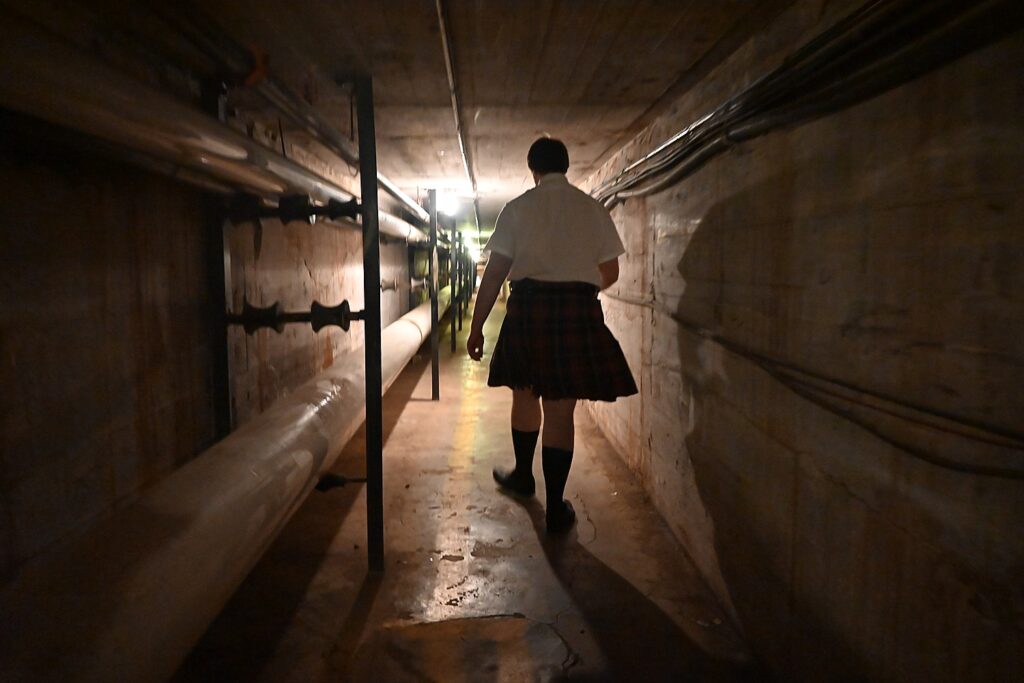 I finish the ghost tour in time to take in the wonderful ambiance of the resort and enjoy the Algonquin's indoor pool and water slide.
One of the original Canadian Pacific Hotels (another ingenious Van Horne idea to promote travel on the railroad) and now part of the Marriott Autograph Collection, the Algonquin lets you drift back into that grand era as soon as you step across the threshold.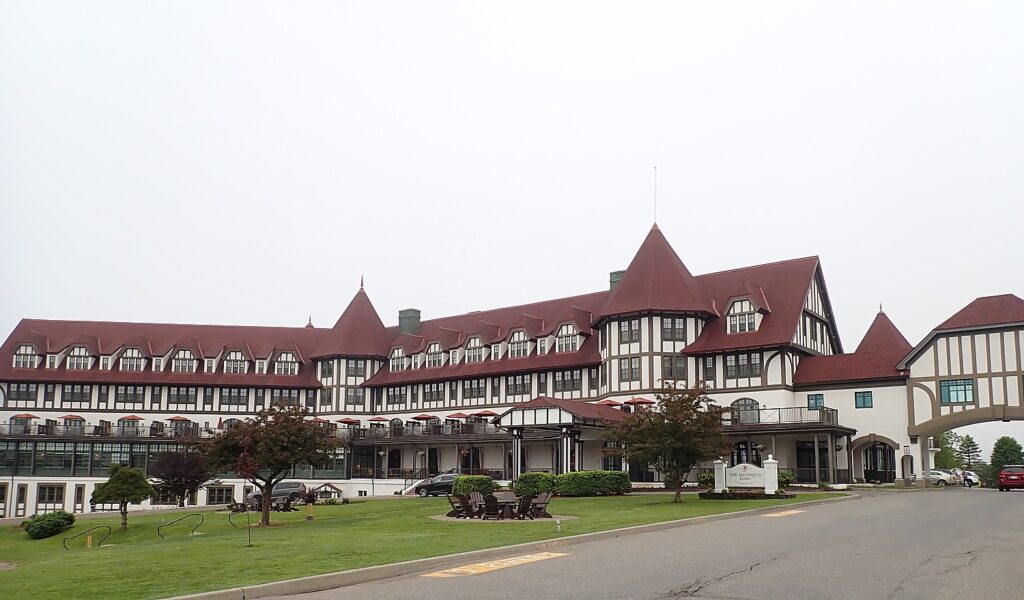 Set on a hilltop overlooking the town (and just next to Kingsbrae Gardens), The Algonquin has the most magnificent outdoor pool complex, an indoor pool with a water slide, tennis courts, 18-hole golf course. It also has a fleet bicycles available just for the asking to bike over the beautiful Van Horne Trail, built on what had been the train tracks. We wake up early to take advantage before we have to tear ourselves away (you really want to stay) to continue on to our next New Brunswick adventure, in the historic city of St. John.
Algonquin Resort, 184 Adolphus Street, St. Andrews, 506-529-8823, https://www.marriott.com/en-gb/en-gb/hotels/travel/ysjak-the-algonquin-resort-st-andrews-by-the-sea-autograph-collection/
For planning help, visit Tourism New Brunswick, 800-561-0123, www.tourismnewbrunswick.ca
Next: New Brunswick Roadtrip: Saint John, a City of Oldests, Firsts, Amazements
____________________________
© 2023 Travel Features Syndicate, a division of Workstyles, Inc. All rights reserved. Visit goingplacesfarandnear.com, www.huffingtonpost.com/author/karen-rubin, and travelwritersmagazine.com/TravelFeaturesSyndicate/. Blogging at goingplacesnearandfar.wordpress.com and moralcompasstravel.info. Visit instagram.com/going_places_far_and_near and instagram.com/bigbackpacktraveler/ Send comments or questions to [email protected]. Tweet @TravelFeatures. 'Like' us at facebook.com/KarenBRubin