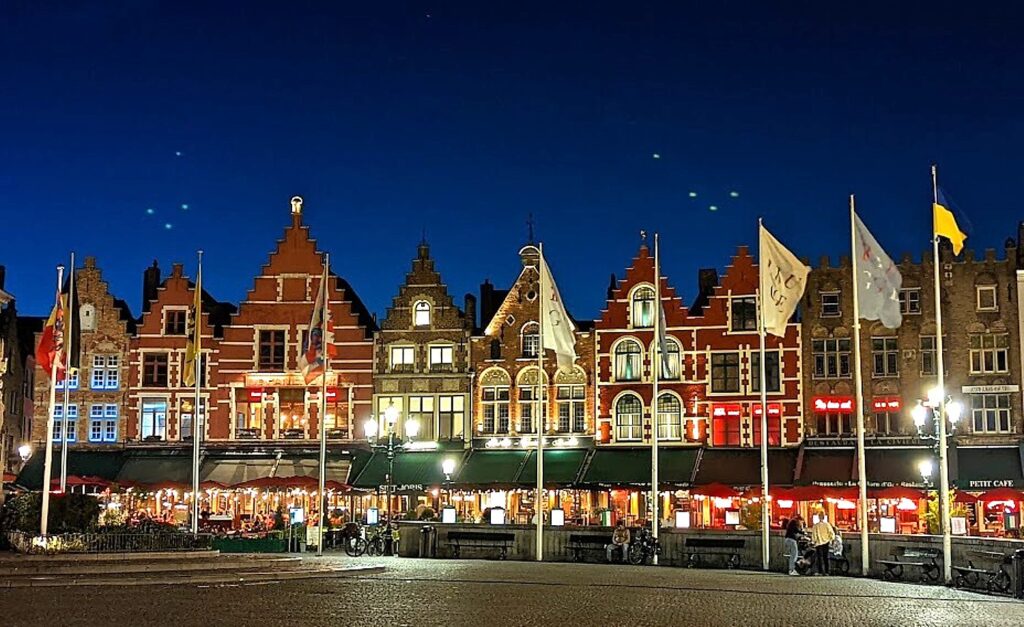 By Karen Rubin, Travel Features Syndicate, goingplacesfarandnear.com
Bruges, Belgium's UNESCO World Heritage city, is impossibly beautiful. Walking around, you almost feel like you are in Busch Gardens Colonial Williamsburg themepark or a movie set – it is that perfect, that fantastical, almost unreal in its perfection. The sheer beauty of this extraordinarily picturesque place, gives you such a sense of peace. I walk every route multiple times, entranced.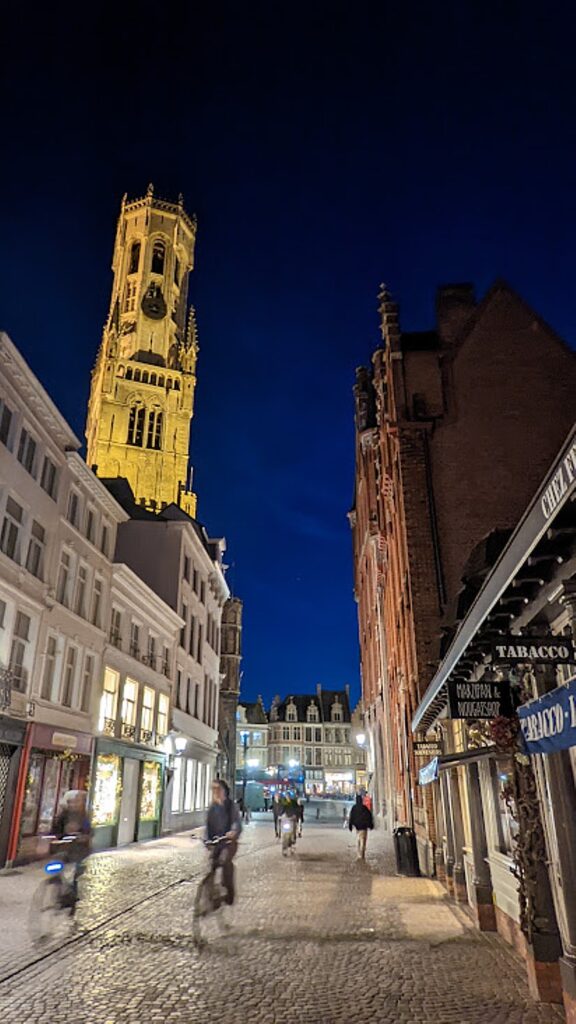 I feel sorry for the day-trippers who flood into Bruges but leave before they can experience how magic descends in the late afternoon glow, the evening light, the reflected lights on cobblestone streets at night, and the early morning stillness when only the occasional swan makes a ripple in the canal – it's as if the fairies wait for the people to leave the forest before they come out. I am so grateful to be staying overnight, having come a day early for my eight-day BoatBikeTours' Bruges-Amsterdam bike trip.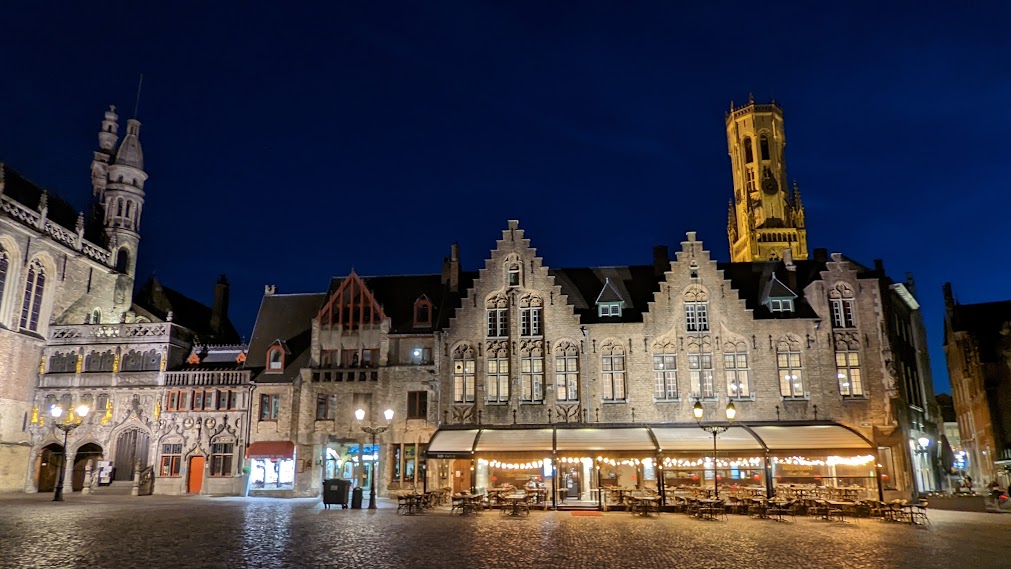 I stay in the Flanders Hotel, a four-star boutique hotel and a member of Historic Hotels of Europe – beautifully renovated and updated for modern tastes, and within the historic district.
The hotel provides the perfect ambiance in which to appreciate and immerse myself in Bruges.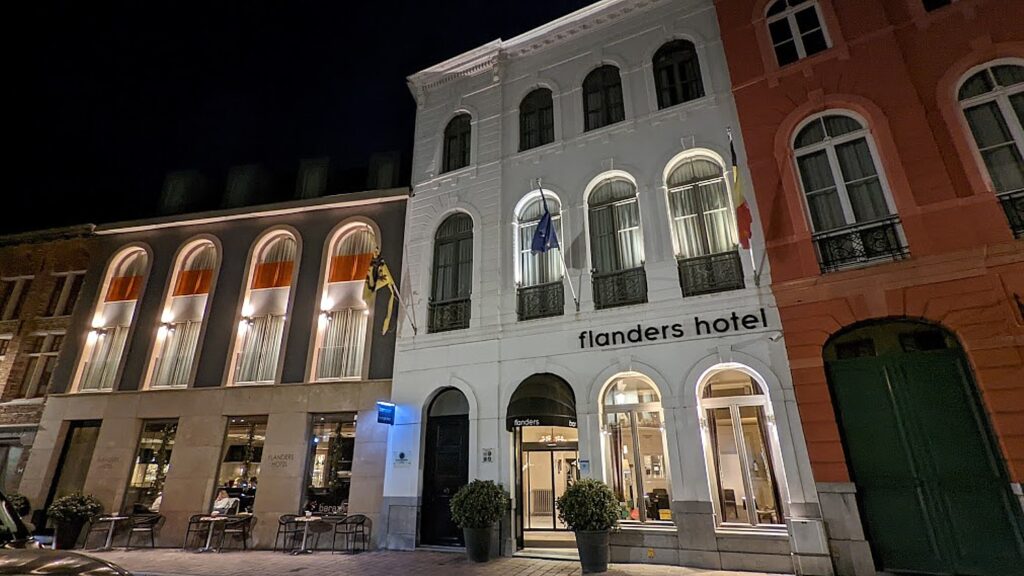 I always seek out historic hotels – they typically are perfectly situated (location, location, location!), have charm and character and embody the stories and heritage of the people – in effect, they offer an "authenticity" and a sense of place. The owners and managers invariably see themselves as stewards, as guardians of that heritage and are fierce protectors, and it shows in the loving care they bring.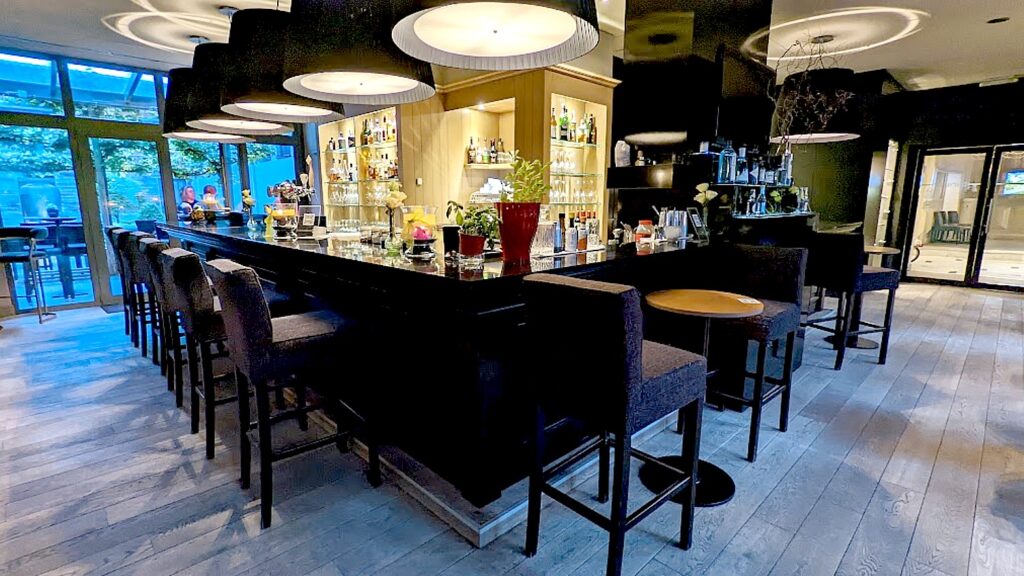 Designed by one of Bruges' foremost architects of the 19th century, the Flanders Hotel building stands where the former Grand Hotel Verriest once served travelers from all over the world. The structure includes a Gothic room, which once was part of a Dominican Monastery dating from 1304.
The Flanders Hotel puts you right in the historic district, and within a short (exceedingly pleasant) walk of all major sights in the historic inner city as well as offering amenities that make the stay here an absolute delight– there is actually a beautiful indoor pool, a stunning lounge-bar connected to an outdoor terrace, gardens with a picturesque pond and a lovely parlor. Much of the hotel has been recently renovated. Inside it's actually hip.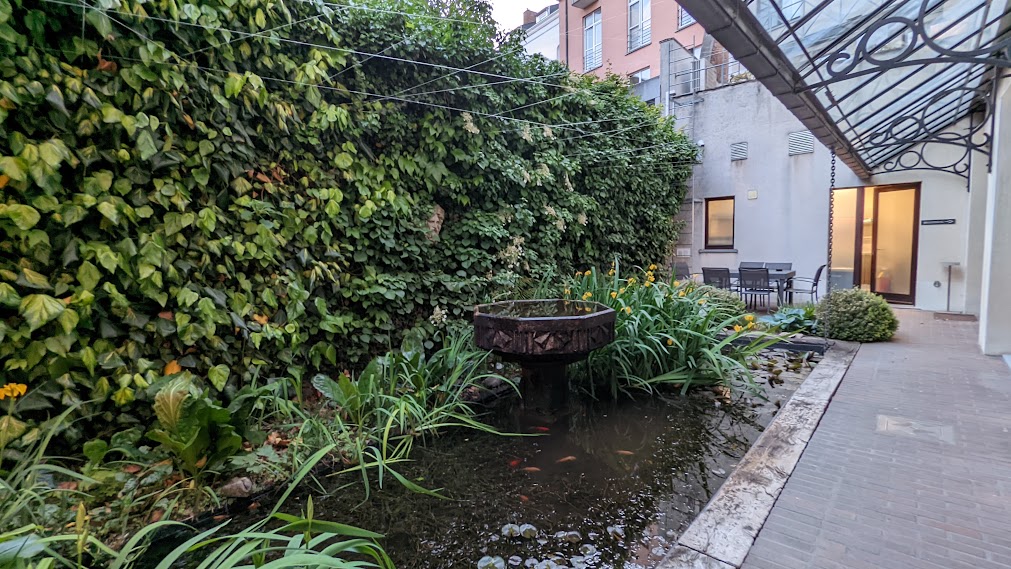 The Flanders Hotel offers 50 rooms: the classic room type mostly face the garden and pond; spacious club rooms; extra large Grand Double which has a canopy bed and mezzanine bathroom; and Triple and Family rooms set up to accommodate three to five persons, and offer excellent value.
A breakfast buffet is served from 8 to 10:30 am (weekdays) and until 11 am on weekends in its charming restaurant that looks out to the garden and pond.
Its lounge-bar ('barazar') is stunning, serving fine wines, cocktails and local specialty beers, as well as other beverages and finger food, daily from 4 pm to 1 am.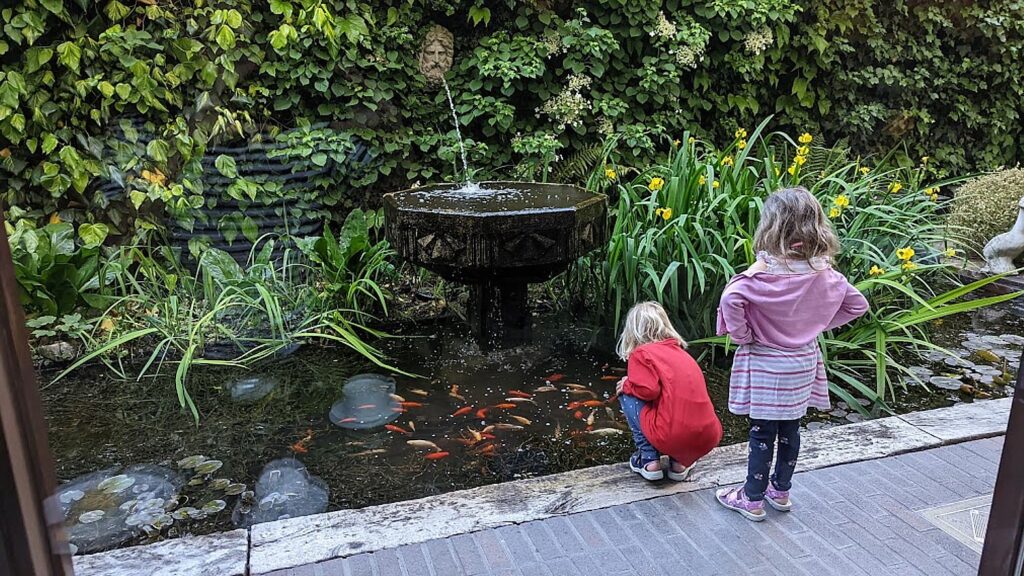 I am also impressed by the personal service with attention to detail, as well as online tools that have everything prepared for my stay before I arrive, and arrange for a taxi to bring me to the boat that will be my floating hotel to Amsterdam at the end of my stay.
The hotel is surrounded by loads of restaurants and eateries of all kinds, from Michelin star gourmet cuisine to local specialties and international dishes.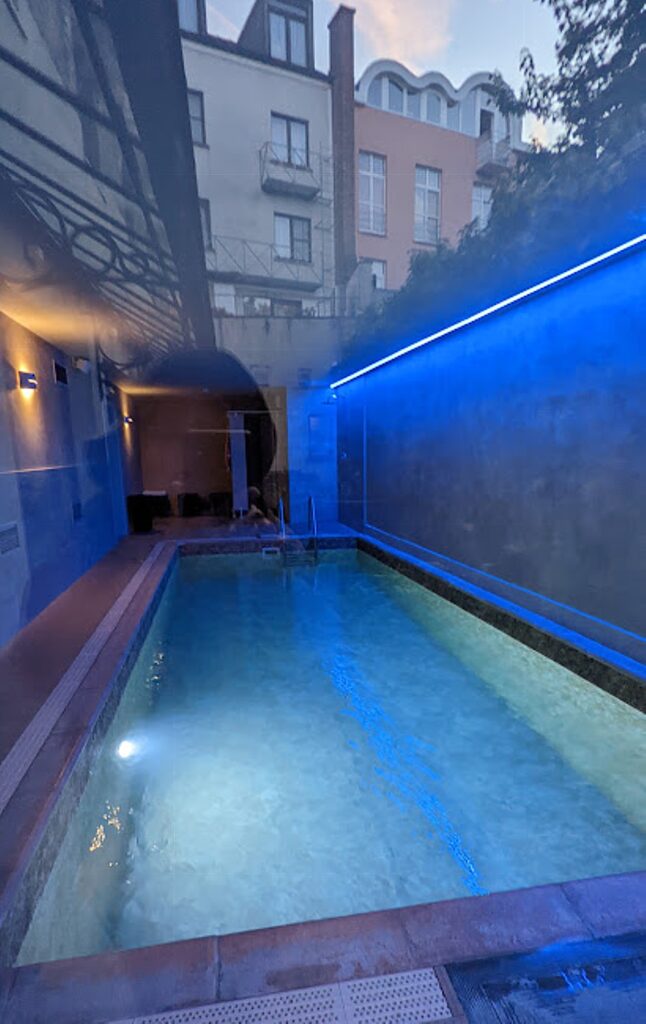 I am delighted with the accommodations, and love that just walking out of the front door, I am immersed in the city's charm. It's a very short and picturesque walk to Bruges' key sites including the Burg and Markt (Town Square).
I quickly discover why it is said that Markt Square is Bruges' heart and Burg is its soul.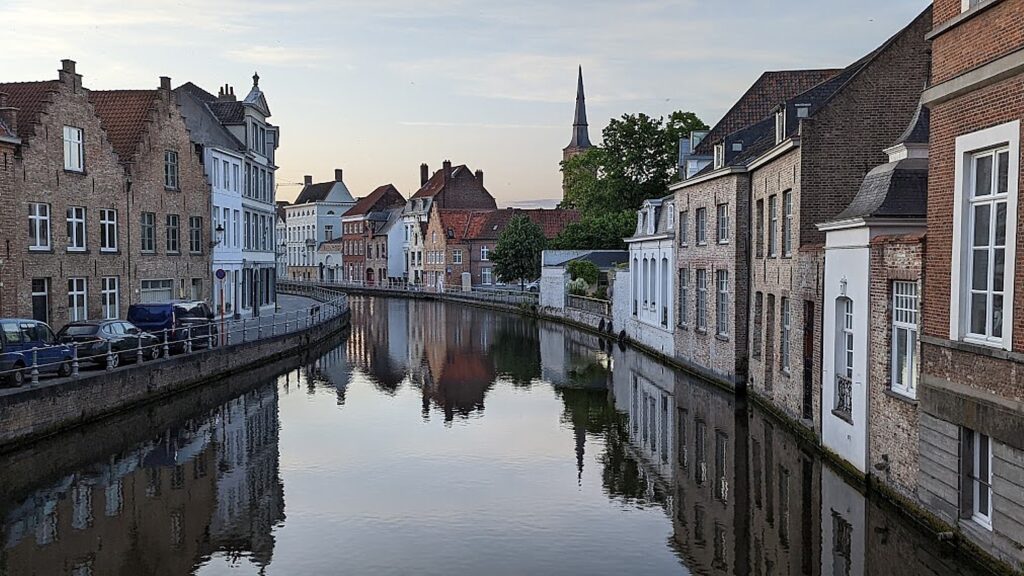 The Markt Square, the beating heart of Bruges, is dominated by the Belfry, 83 meters high and the city's most prominent building (you can climb to the top for a breath-taking panorama). In the Market Square itself, I marvel at the imposing Provincial Court and a line of buildings with colorful stepped gables. Horse-drawn carriages complete this exquisitely picturesque scene. Here on my first evening I come upon one of the nightly concerts – this one of Flemish music going back 300 years that is coordinated with the bells ringing from the famous Belfry tower.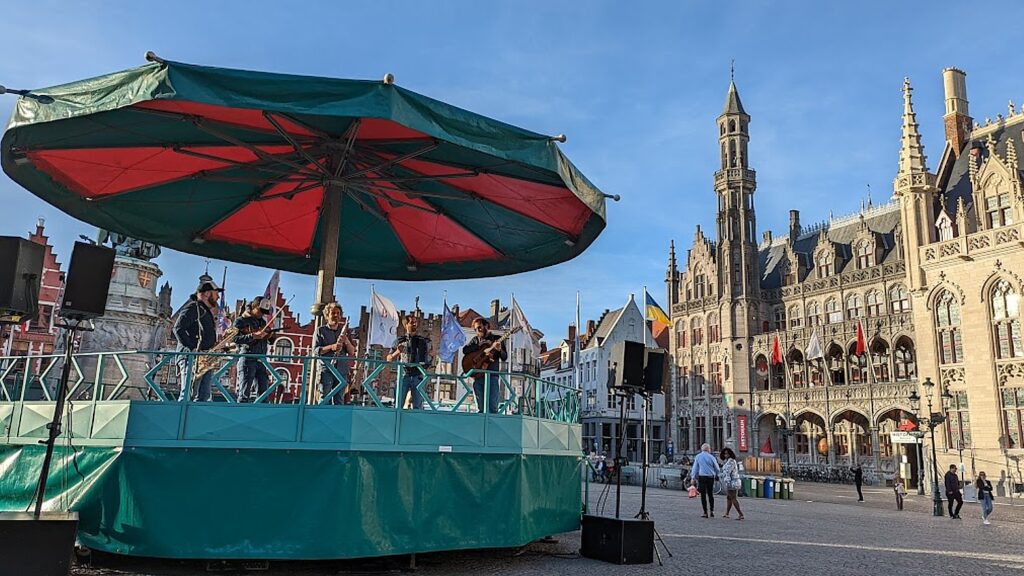 The Markt Square is the heart of Bruges, but the Burg Square is considered its soul. For centuries this has been the center of power in the city, and Bruges' city administration still occupies the 14th century Gothic Town Hall. This grand, majestic square is lined with monumental landmark buildings built over the centuries and reflect the building style of their age. They include two palaces of justice, the Liberty of Bruges to the Deanery, and the renowned Basilica of the Holy Blood.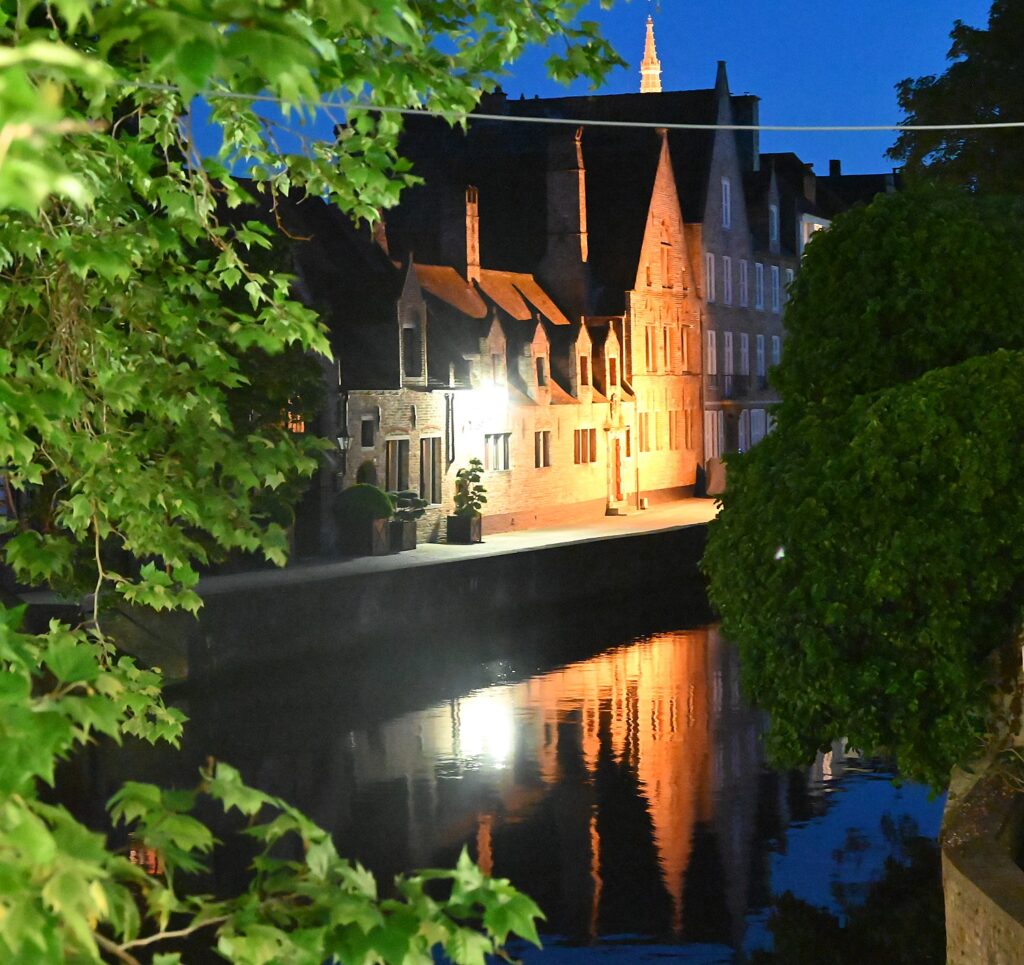 Wandering down a street of shops – chocolate, waffles and such – I come upon a street festival where I mingle with locals.
It says something of the neighborhood that the Flanders Hotel is mere steps away from what is today the Grand Hotel Casselbergh Brugesbut from 1656 to 1659, served as the Royal Palace of England, Scotland and Ireland, where King Charles II held court.
"King Charles II lived here with his brothers James, Duke of York, and Henry, Duke of Gloucester until the restoration of the monarchy," a marker outside states. King Charles II "loved Flanders and Bruges in particular. In 1662, the grateful Monarch wrote, 'The Flemings are the most honest and true-hearted race of people I have met with.'"
Flanders Hotel Bruges, Langestraat 38, 8000 Bruges, [email protected], call  +32 (0)50 338889, https://www.hotelflanders.com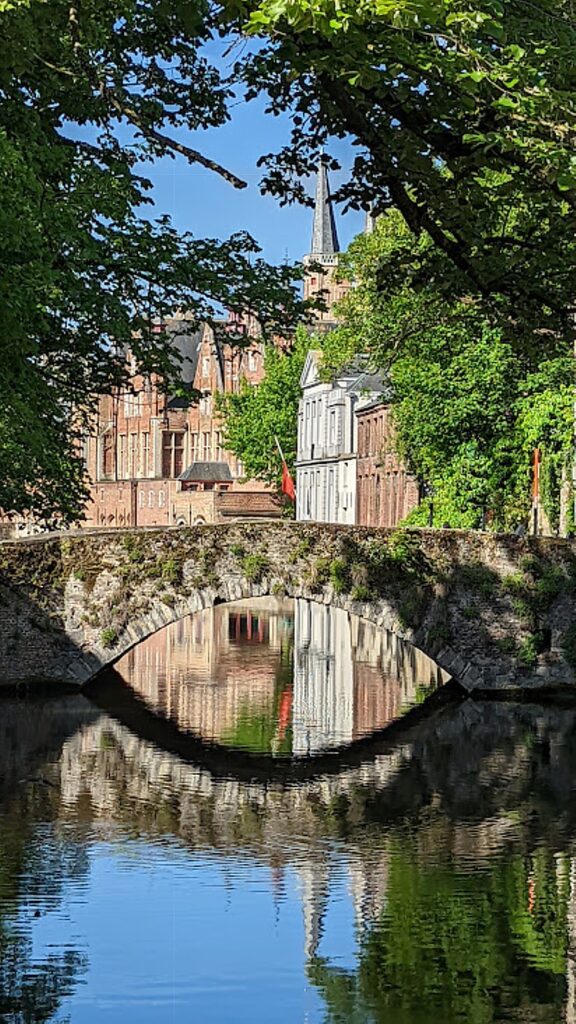 Historic Hotels of Europe: A Notable Collection
The Flanders Hotel is a member of Historic Hotels of Europe, an exclusive collection of independent and unique hotels, castles, palaces, country houses and other properties of historic importance throughout Europe.
Each property has been handpicked for its historical authenticity, quality and unique story. The owners see themselves as guardians of heritage, with a responsibility to cherish each property as a historic national treasure. Accommodating guests provides the economic support to preserve, sustain and improve each property and keep their stories alive.
You can click on Austria, Belgium, Czech Republic, Croatia, Estonia, France, Germany, Greece, Ireland, Italy, Latvia, Montenagro, Netherlands, Norway, Poland, Portugal, Romania, Slovakia, Slovenia, Sweden, Switzerland and Wales to find historic hotels, castles and manors.
You can also search by themed itinerary (cultural routes; gastronomic road trips; wine-lover's trails, fairytale castles; rooms with the best views) and bookmark an Itinerary Inspiration guide; or search by collections, wedding ideas, experiences. You can also arrange for gift vouchers.
And you can search by 2022 winners of the Historic Hotels of Europe Awards (https://www.historichotelsofeurope.com/award.html):
There were ten categories for this eighth edition of the awards to vote in this year, including two new categories – the Historic Hotel Sustainability Award and New Entry Historic Hotel Award:
Historic "A Story To Share" Award 2022: Known as "the hotel from fairytales," Dalen Hotel in Norway snagged this year's "Story To Share" award, no doubt because of its "floating" spa, jaw-dropping architecture and exciting common areas that include a terrace and gallery. (Silver Award Winner: Schloss Hertefeld in Germany; Bronze Award Winner: Suter Palace Heritage Hotel in Romania)
Historic Castle Hotel Award: Chateau Liblice in the Czech Republic has perfected the art of blending the old with the new, and combines a classic atmosphere with contemporary comforts, restaurant and spa. (Silver Award Winner: Castello di Gargonza in Italy; Bronze Award Winner: Barberstown Castle in Ireland)
Historic Hotel City Award: Hotel Stefanie has swept the accolade of best historic city hotel for the second time (having won this category in 2020). Having operated since the year 1600, it's the oldest hotel in Vienna, Austria, and has clearly lost none of its charm or first-rate hospitality over the centuries. (Silver Award Winner: Hotel Britania in Portugal; Bronze Award Winner: Hotel Cattaro in Montenegro)
Historic Hotel Wedding Experience Award: The Slovakian gem Hotel Gino Park Palace, has been named the best place in the Collection to say "I do". (Silver Award Winner: Villa Bergzauber in Austria; Bronze Award Winner: Villa Cipriani in Italy)
Historic Natural Setting Hotel Award: Overlooking Bantry Bay and Garinish Island on the Eccles Hotel is situated in one of the most enviable places in all of Ireland, the famous Wild Atlantic Way coastline. (Silver Award Winner: Kyrimai Hotel in Greece; Bronze Award Winner: Renvyle House Hotel in Ireland)
Historic Romantic Hideaway Hotel Award: Greece's island of Santorini has long-been called one of the most romantic places to travel to in Europe… especially if you stay at Esperas Santorini, according to this year's voters. This pearlescent property contains 17 Greek-style studios complete with such perks as jacuzzis, luxurious beds and bathroom amenities. (Silver Award Winner: Manowce Palace in Poland; Bronze Award Winner: Hotel Villa Schuler in Italy)
Historic Top Hotel Restaurant Award: Foodies are never more delighted than when settling down at a table at Ghan House. This Irish hotel's restaurant has won numerous awards over the years and is loved by tourists and locals alike for its gourmet dishes. (Silver Award Winner: Twr y Felin Hotel in Wales; Bronze Award Winner: Castel Rundegg in Italy)
Historic Spa & Wellness Hotel Award: The spa and wellness services at Italy's Relais San Biagio are inspired by the age-old traditions of the property and the monks who once lived there. It's the place to boost your mind, body and spirit before exploring beautiful Perugia. (Silver Award Winner: Le Bouclier d´Or Hotel & Spa in France; Bronze Award Winner: The Ice House in Ireland)
Historic Hotel Sustainability Award: Schloss Wartegg in Switzerland is Historic Hotels of Europe's first to be dubbed the best sustainable hotel. Along with its strong focus on cycling and bike tours, the property prizes organic ingredients and makes the most of its extraordinary locale on the shores of Lake Constance, a remarkable slice of Swiss nature. (Silver Award Winner: Hotel Schwarzer Bock in Germany; Bronze Award Winner: Allegory Boutique Hotel in Greece)
New Entry Historic Hotel Award: The peaceful Komierowo Palace in Poland is a wonderful recent addition to the Collection. Not only does the building boast a sauna and jacuzzi house, 16 hectares of enchanting parkland and gorgeously-furnished rooms festooned with Art Deco elements, it has a fascinating history populated with knights, royalty and noble families. (Silver Award Winner: Blue Haven Hotel in Ireland; Bronze Award Winner: Hotel Chesa Grischuna in Switzerland)

More information at www.historichotelsofeurope.com
__________________
© 2022 Travel Features Syndicate, a division of Workstyles, Inc. All rights reserved. Visit goingplacesfarandnear.com, www.huffingtonpost.com/author/karen-rubin, and travelwritersmagazine.com/TravelFeaturesSyndicate/. Blogging at goingplacesnearandfar.wordpress.com and moralcompasstravel.info. Visit instagram.com/going_places_far_and_near and instagram.com/bigbackpacktraveler/ Send comments or questions to [email protected]. Tweet @TravelFeatures. 'Like' us at facebook.com/NewsPhotoFeatures