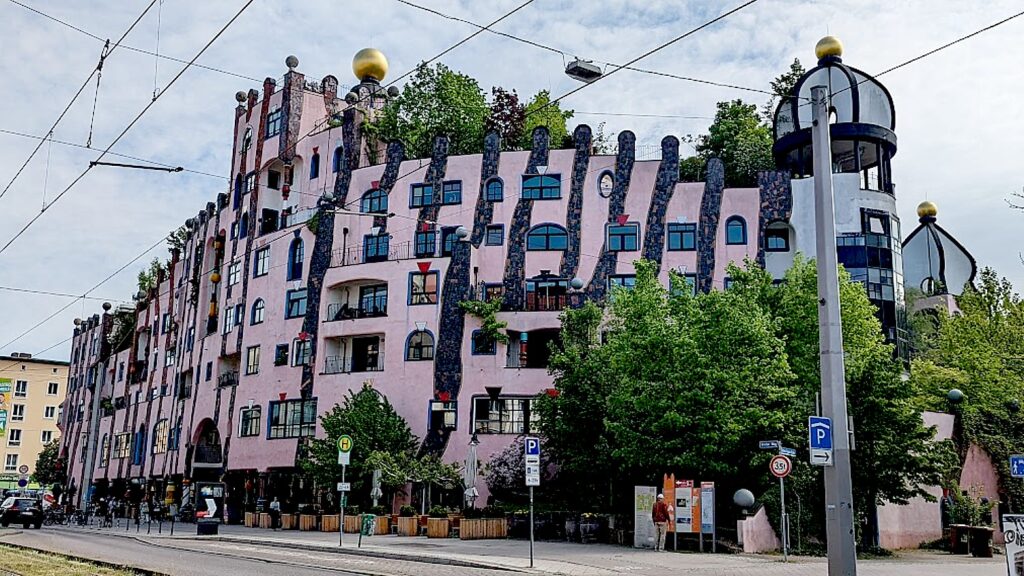 By Karen Rubin, Travel Features Syndicate, goingplacesfarandnear.com
I must confess to never having heard of Magdeburg before we were bussed from our ship, the MS Elbe Princesse, on the morning of Day 7 of our CroisiEurope river cruise, but, as in the case with the best travel experiences, it turns out to be marvelous to discover.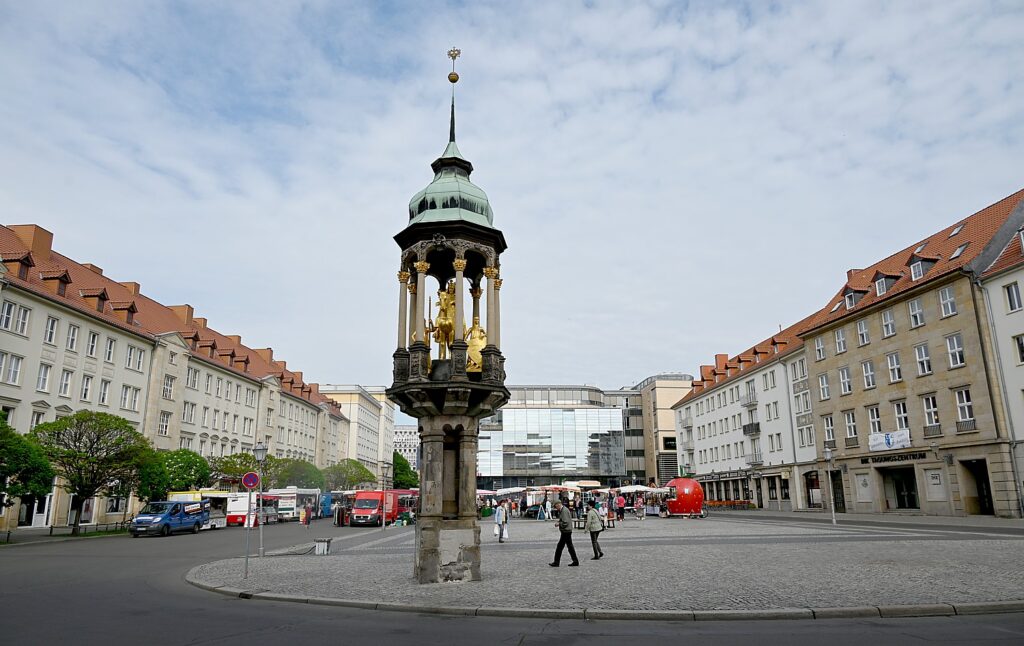 Our tour starts in the Market Square, renowned for its architecture and a City Hall with bronze doors that relate the city's history – its 1,200 years is one of the longest in Germany – in 14 panels. Our guide also points out the golden "Magdeburg Horseman," which dates from 1240 and is believed to be the first equestrian statue north of the Alps.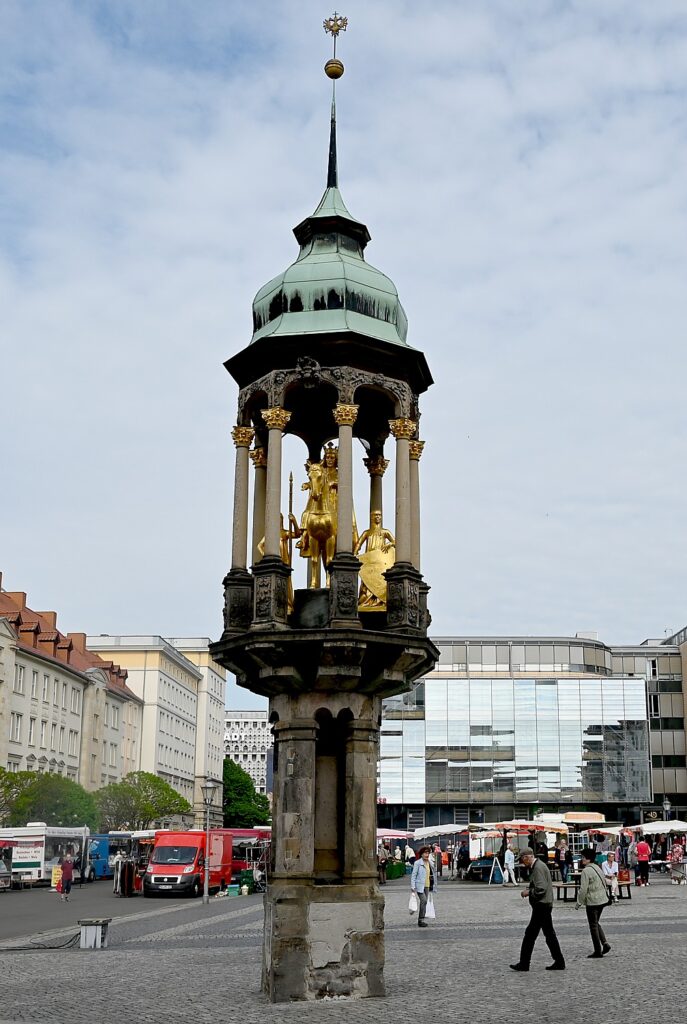 After visiting so many churches, the St. Mauritius and St. Katherine Cathedral is an absolute surprise – and not because of lavish gilded decoration (it is relatively simple) but more because of what it contains. Built from 1209-1520, it was the first cathedral to be built in the Gothic style in Germany, it is the largest church in East Germany, and its towers the highest. It was destroyed twice – in 1631 during the Thirty Years War, and in World War II, when 90 percent of Magdeburg's buildings were bombed. And oh, yes, the church for some reason was used as a horse stable by the French during Napoleonic War.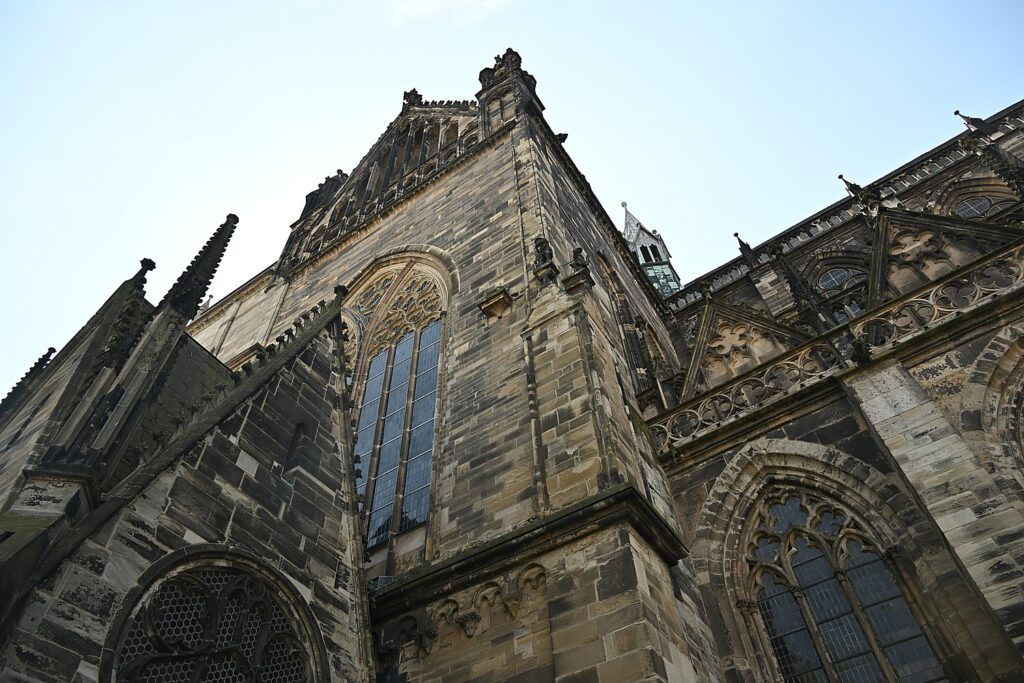 We see where Germany's famous son and Holy Roman Emperor, Otto the Great, and that of his first wife are interred inside the cathedral.
But what is immediately clear is the revolutionary spirit at the heart of this place – and Magdeburg.
Here we see a wooden chest with locks that was used to collect Indulgences – a symbol of its transition to a Protestant church. Indeed Magdeburg's wholesale conversion to the Protestant faith was one of Luther's greatest victories. (It is more impressive having just come from Luther's House in Wittenberg the day before.)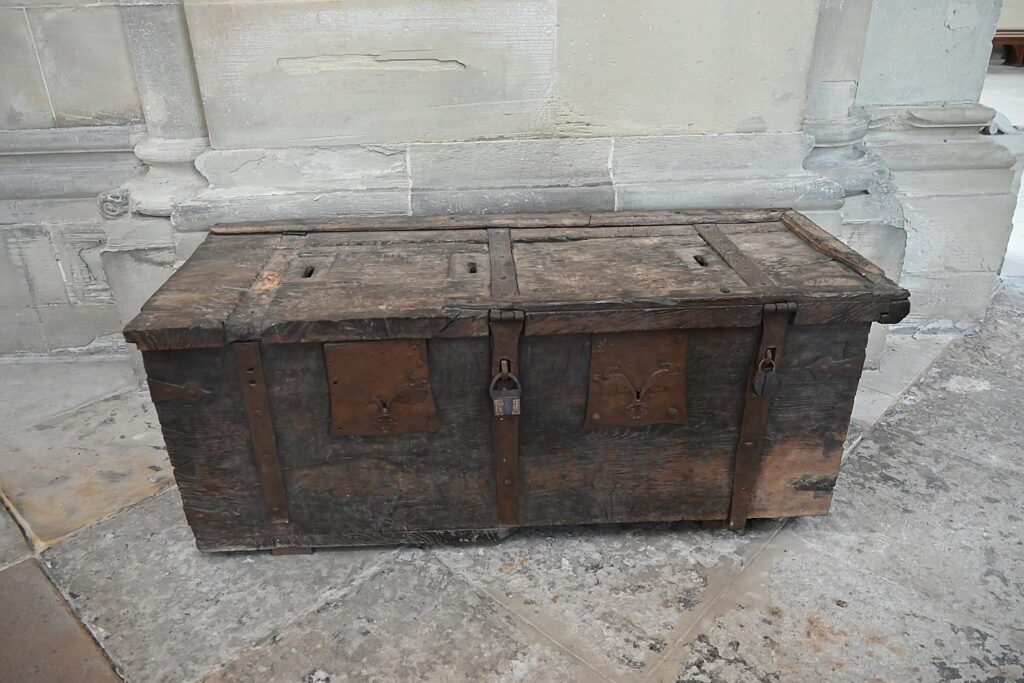 A memorial in front of nearby St. John's Church (which can be visited) erected by the renowned sculptor Emil Hundrieser in 1886 serves as a reminder of Luther's influence on this historic city. Martin Luther attended boarding school here for a year when he was 13; he returned to the city on June 26, 1524 to give a sermon at St. John's Church about "true and false righteousness" that was so powerful, it inspired almost every church in Magdeburg to convert to Protestantism in a matter of days. From this point onward, Magdeburg became a leader in the Reformation and a forerunner in school reform. Our guide tells us suggests that Magdeburg was fairly liberal and its law was adopted in other places.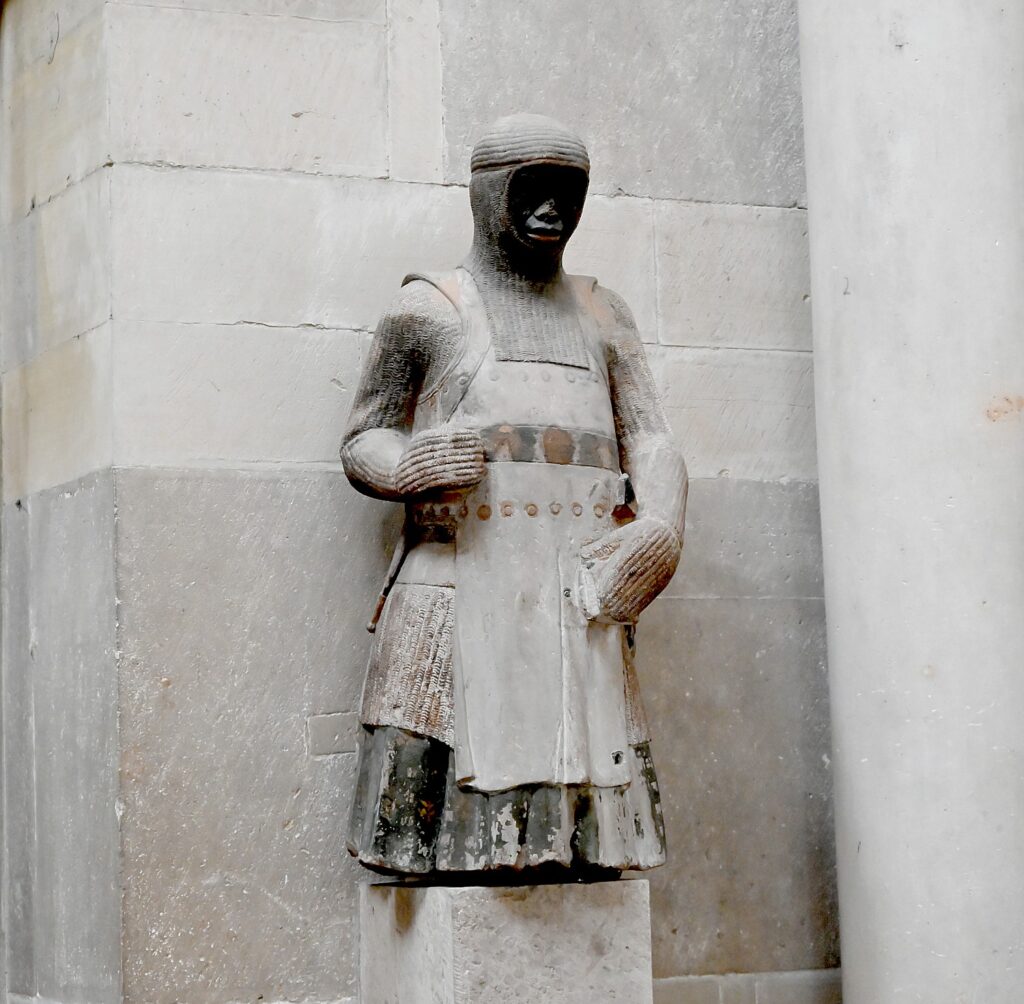 This cathedral is adorned with gorgeous sculptures and wood carvings that strike me as unusual. For one, I notice the statue of St. Morris, a black saint from Namibia who was officer in Roman army, became Christian and refused to take part in pagan ceremony.
To my eye, the Church is ecumenical – it has Hebrew and Greek letters, doors from Greece that seem to depict Dionysus, and I see a fund-raising brochure from the congregation to help raise money to replace the synagogue destroyed by the Nazis (the cornerstone has just been laid). Our guide informs us there were 3000 Jews here before the Holocaust; today there are 600.) And in the pavement is a memorial to the Holocaust.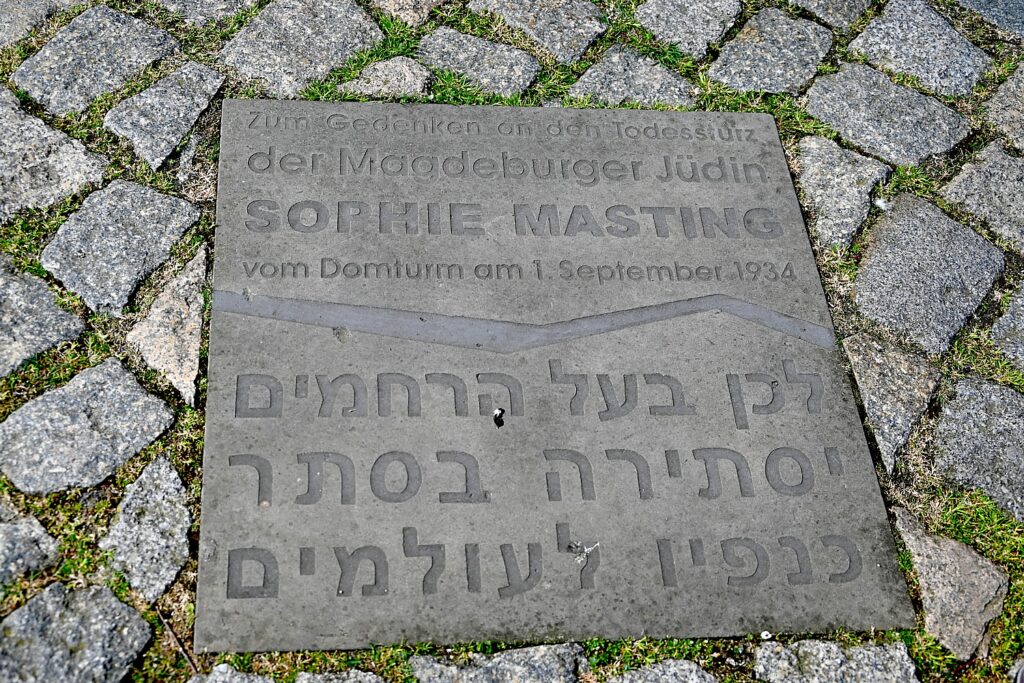 We see a beautiful World War I memorial, which dates from1929. When the Nazis came, they had to take it away. The statue was returned to artist's family and then returned to church 1955.
We also visit the Unser Lieben Frauen monastery which has a sculpture park that was created in 1989, and is the venue for concerts. The monastery, the oldest building in Magdeburg, was constructed in two phases – the east section and nave were built in the second half of the 11th century; the western section between 1129 and 1160.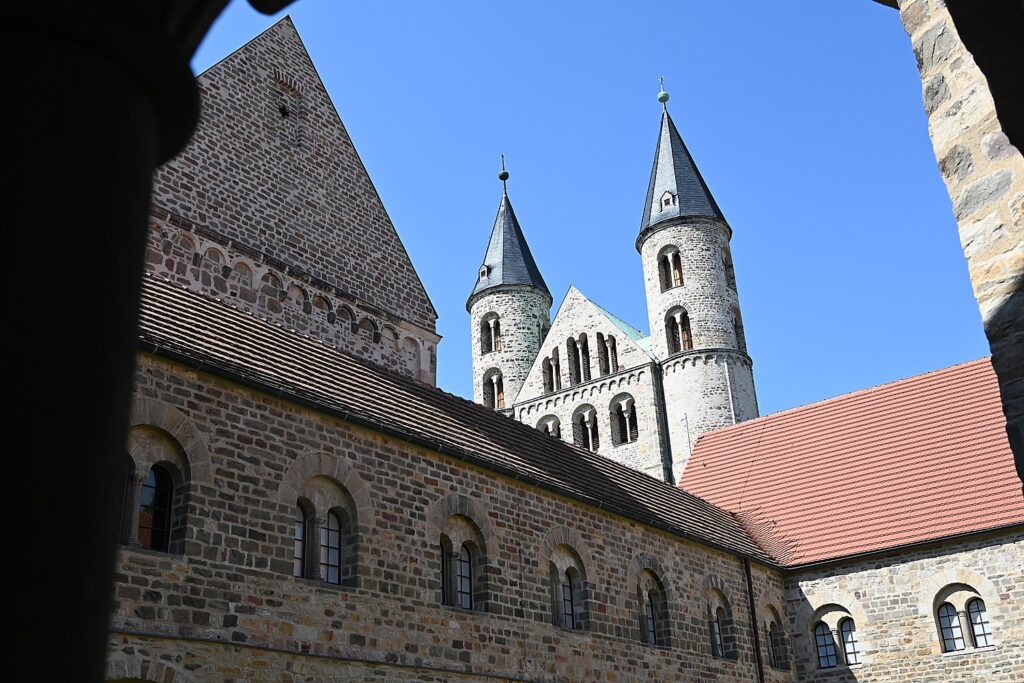 But most remarkable to me is the Green Citadel of Magdeburg, an apartment building that is literally a work of art and (amazingly) also a model for new urban design.
I can't take my eyes off of it. We wander around this fascinating and magnificent structure, so colorful, whimsical. It exudes happiness and optimism, a Dr. Seuss-like quality and playful spirit. It is literally green – greenery grows from the roof, down the walls – none of which have straight angles. It is an "ensemble' of buildings taking up a full square block, and is in such stark contrast to the other buildings in the vicinity, which range from Gothic to steel-and-glass modern.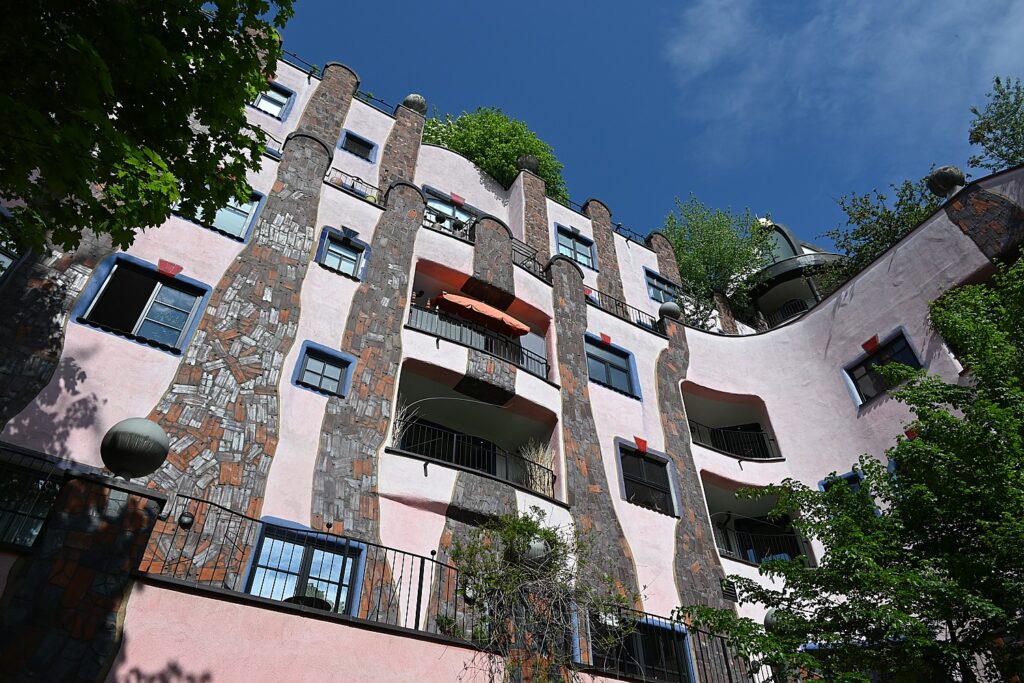 The Green Citadel was designed by architect and artist, Friedensreich Hundertwasser (born Friedrich Stowasser in Vienna , he adopted Friedensreich, meaning peace, freedom, and Hundertwasser, meaning "100 Waters"), who died in 2000.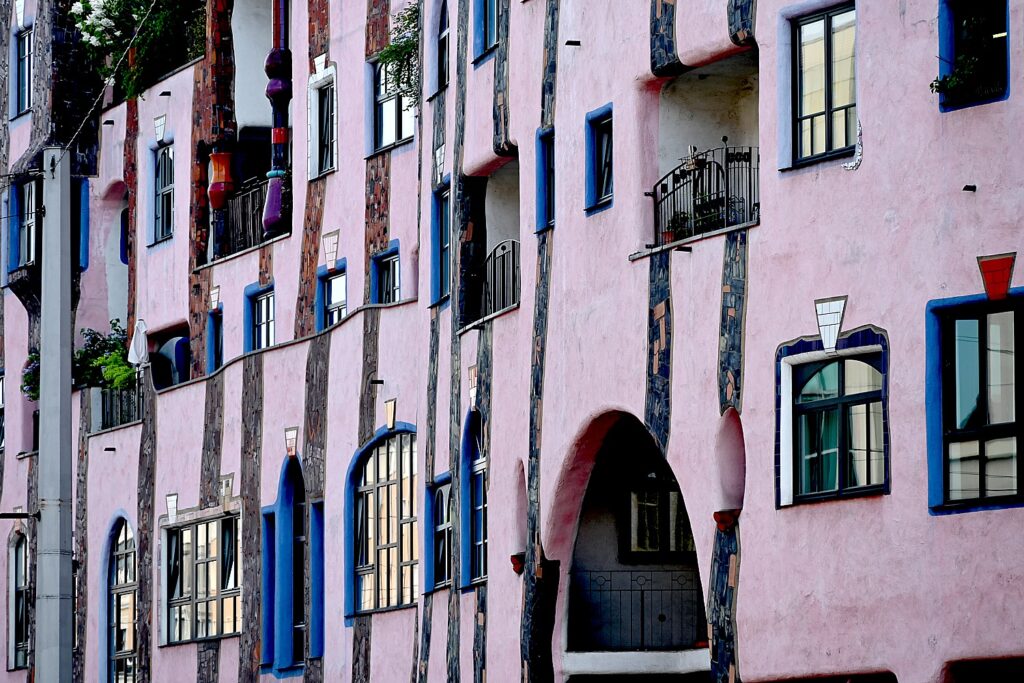 The Catholic Church underwrote the cost of building the building (27.1 million Euros) and it is now owned by a Swiss investor. It contains 55 rental apartments (the rental fee is based on the square meter, 10-12E/sq meter, which is cheap), a 200-seat theater, parking garage, day care center, and a 41-room Art Hotel (that's what it's called).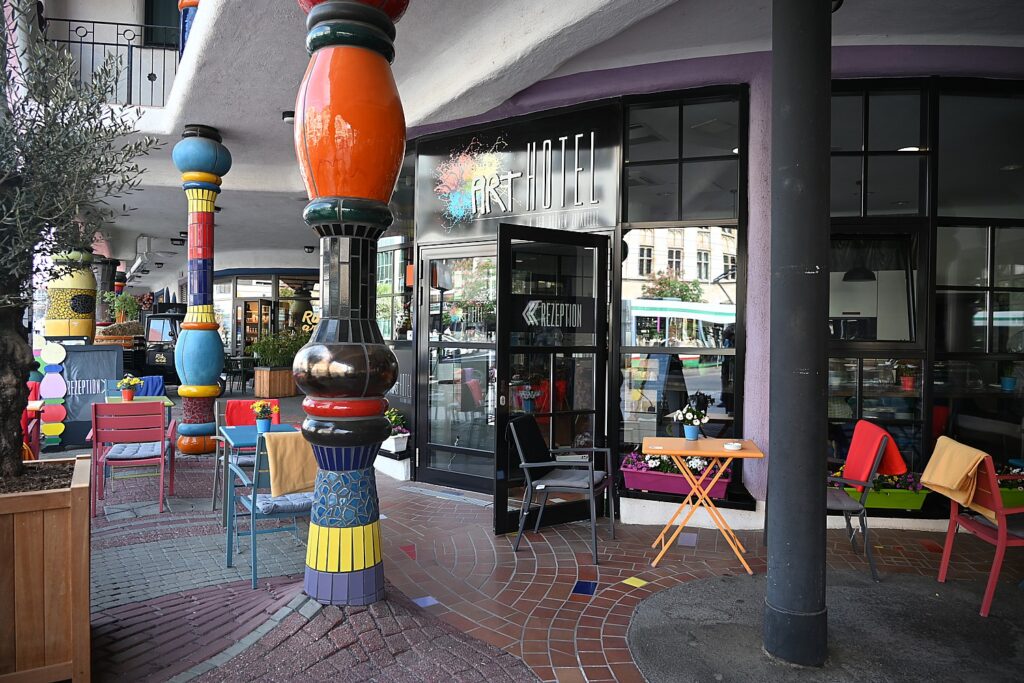 You walk into this breathtakingly beautiful courtyard and there are bird houses of all different shapes and colors (a Guinness record? Not sure). Within the courtyard are cafes and delightful shops (I can't resist). The tower is 32 meters high, constructed as a spiral – a symbol of life – with a walkway all the way up to the top.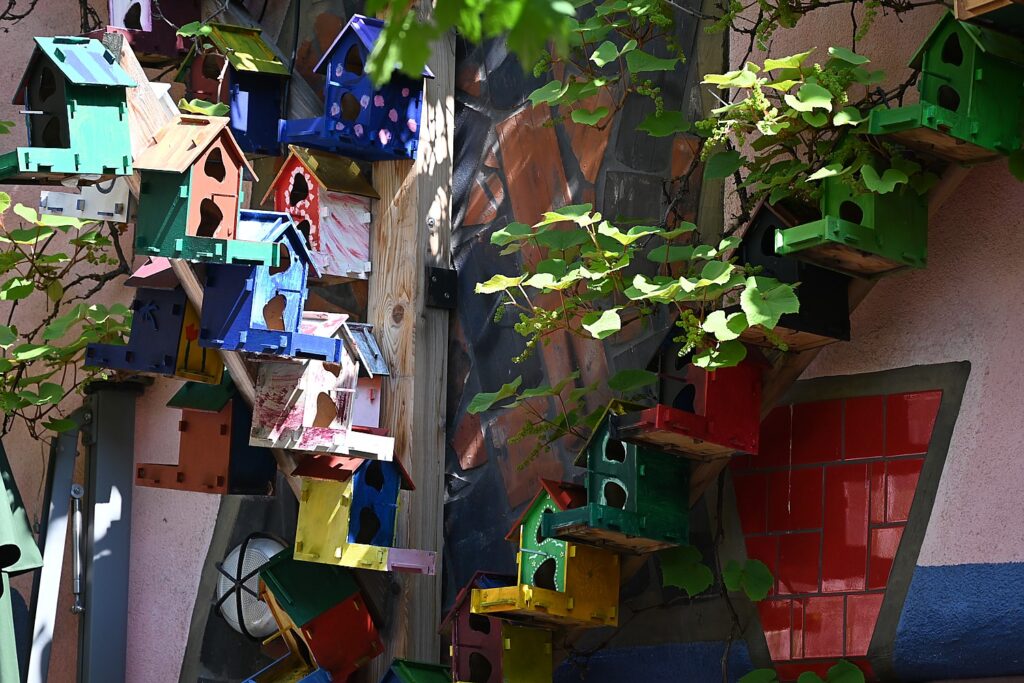 The structure exemplifies Hundertwasser's "commitment to a more human architecture in harmony with nature and his visionary ecological commitment developed from his belief in the power of nature and individual creativity," the The Hundertwasser foundation writes. "Since the 1980s, he has been realizing architectural projects in which there is the window right and tree tenants, the uneven floor, forests on the roof and spontaneous vegetation. His buildings testify to his commitment to diversity instead of monotony, for romanticism, for the organic and for unregulated irregularities, for spontaneous vegetation and for living in harmony with nature.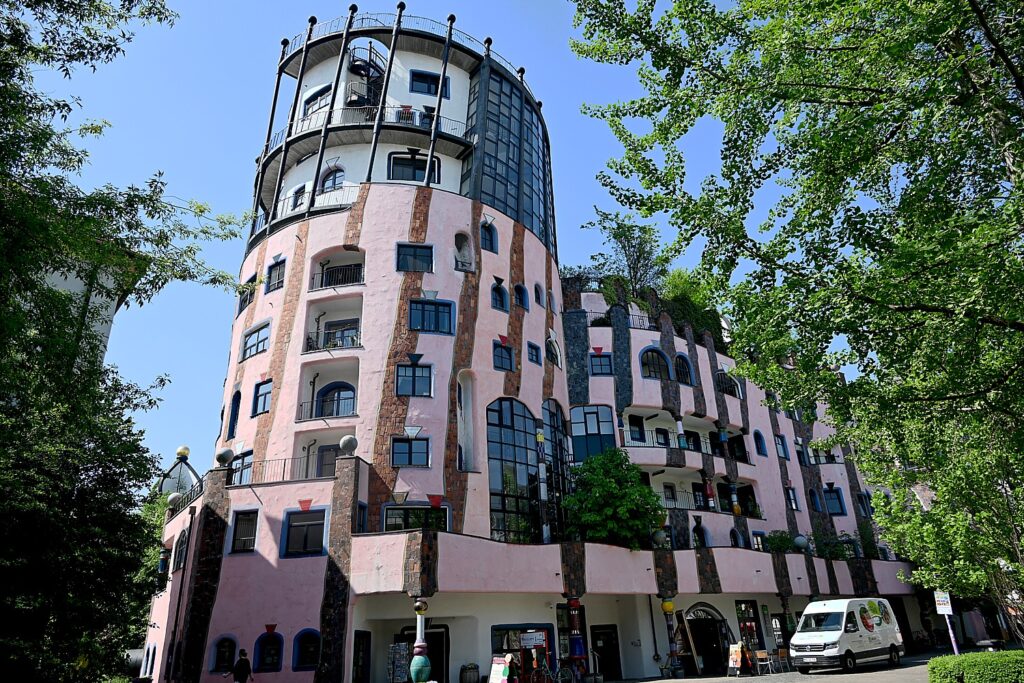 "At the center of his ecological activities were tree planting and greening campaigns, the restoration of natural cycles, the protection of water and the fight for a waste-free society. He disseminated his socio-critical and ecological positions with manifestos, letters, speeches and public demonstrations in which he criticized the pure functionality of all areas of life, the uninhibited growth doctrine and the adaptation to social conformism." (https://hundertwasser.com/en).
It's interesting to learn that key industries here include the manufacture of wind turbines and small generators. Just saying.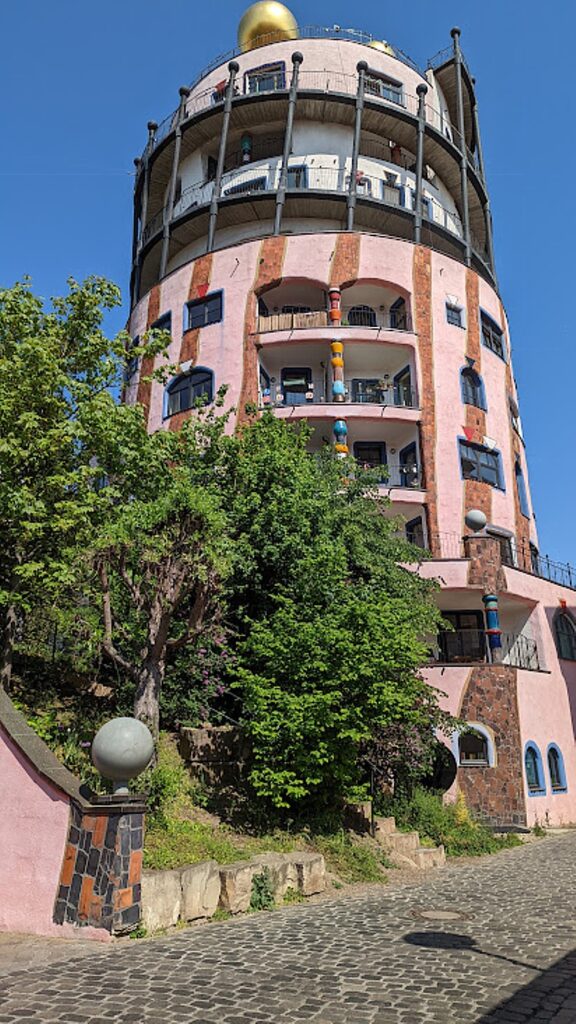 Magdeburg was a fortress town and one of its favorite sons, memorialized with a statue, was Steuben, who helped the Americans win the Revolution. We are told that he also was the originator of "OK" –"He couldn't speak English well, and this was his way of signing off 'all correct'". (Another famous son of Magdeburg, I learn, is the composer Georg Philipp Telemann).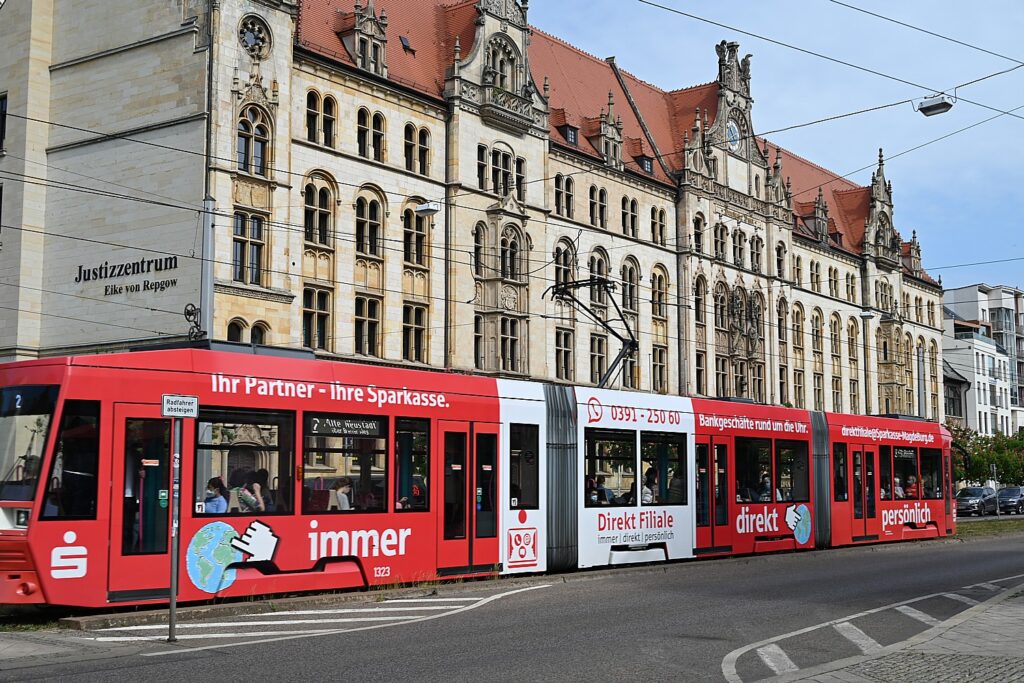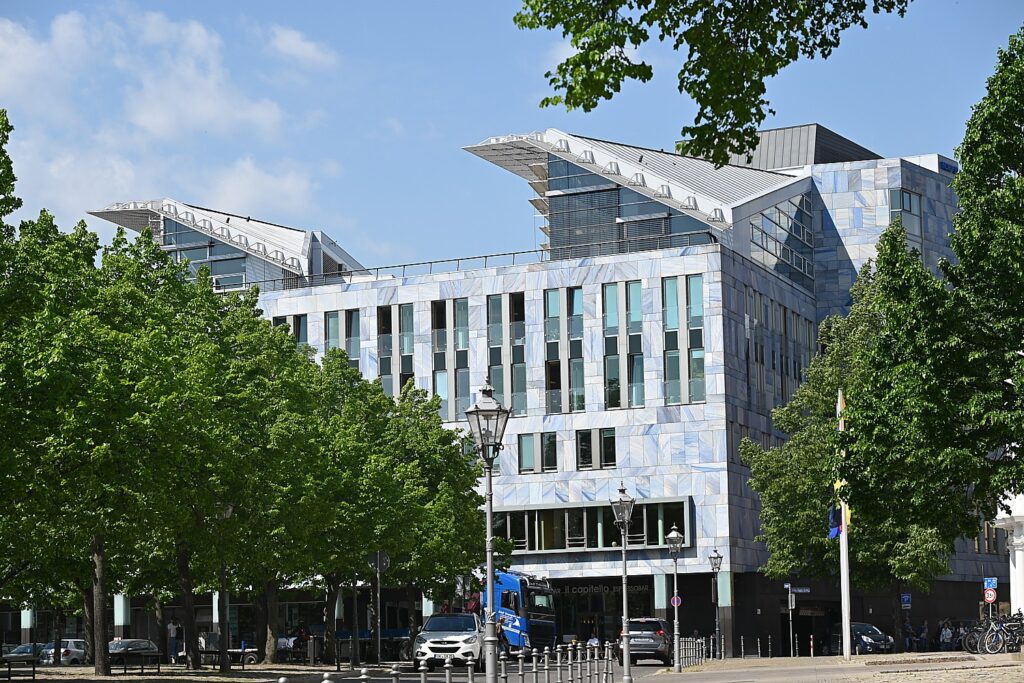 That evening, as we sail to Berlin, our final port, we have a gala dinner, and it really is – cream of cauliflower soup; foie gras; veal; cheese in puffed pastry, and for dessert, dramatically served Baked Alaska flaming with Grand Marnier, accompanied by special wines selected by the chef. All the cuisine has been so flavorful, rich but not too rich, with gorgeous presentations.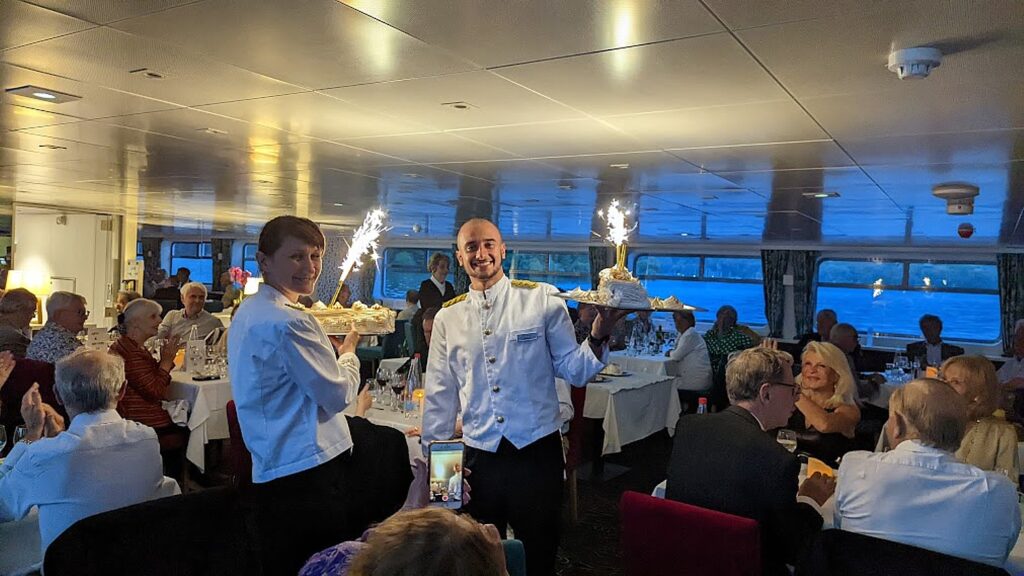 We have asked for a tour of the kitchen, and they have complied – so we get to walk through. It is remarkably unbusy, unhectic, uncluttered. In the evening, we also are invited to tour the wheelhouse (I am told there is no auto pilot, which makes me think it is easier to "fly" to the international space station than to navigate the river because of the changing depth, hazards, currents.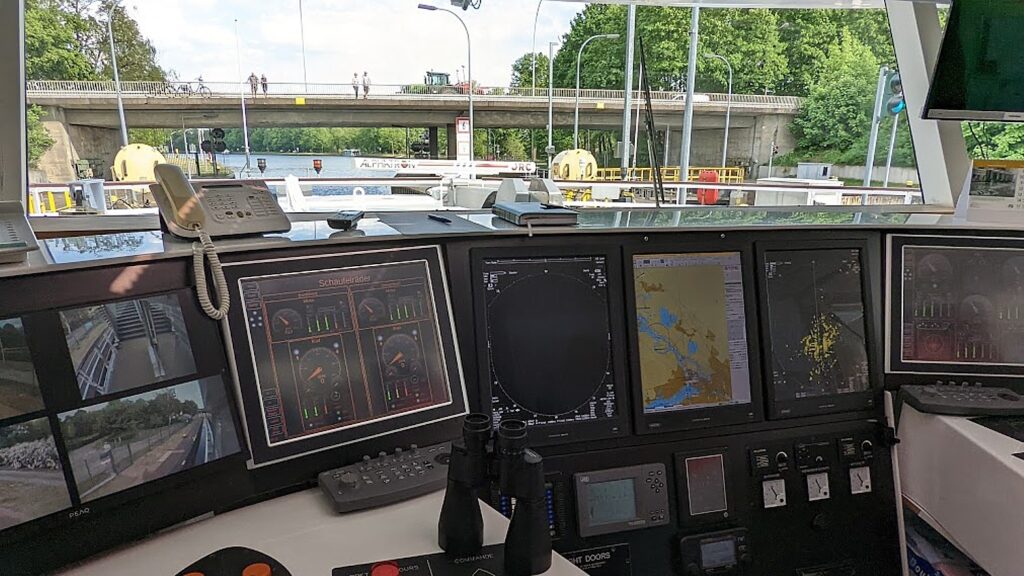 We arrive in Berlin, overnighting at a dock in a neighborhood park.
CroisiEurope, 800-768-7232, [email protected], www.CroisiEuropeRiverCruises.com
See also:
CroisiEurope Brings True Value, Quality to River Cruising Across the Globe
CroisiEurope's Elbe Princess Prague-Berlin Rivercruise: Konigstein Fortress: Dramatic and Impregnable
CroisiEurope's Elbe Princess Prague-Berlin Rivercruise: Dresden Rises Like a Phoenix; Meissen Preserves World Famous Brand
River Cruising on CroisiEurope's Elbe Princesse, Prague-Berlin: Martin Luther, The Reformation and Wittenberg
CroisiEurope's Elbe Princesse Prague-Berlin Rivercruise: Magdeburg, Long History, Surprising Heritage
CroisiEurope's Elbe Princesse Rivercruise: Berlin, a Cultural Capital Again
___________________
© 2022 Travel Features Syndicate, a division of Workstyles, Inc. All rights reserved. Visit goingplacesfarandnear.com, www.huffingtonpost.com/author/karen-rubin, and travelwritersmagazine.com/TravelFeaturesSyndicate/. Blogging at goingplacesnearandfar.wordpress.com and moralcompasstravel.info. Visit instagram.com/going_places_far_and_near and instagram.com/bigbackpacktraveler/ Send comments or questions to [email protected] Tweet @TravelFeatures. 'Like' us at facebook.com/NewsPhotoFeatures