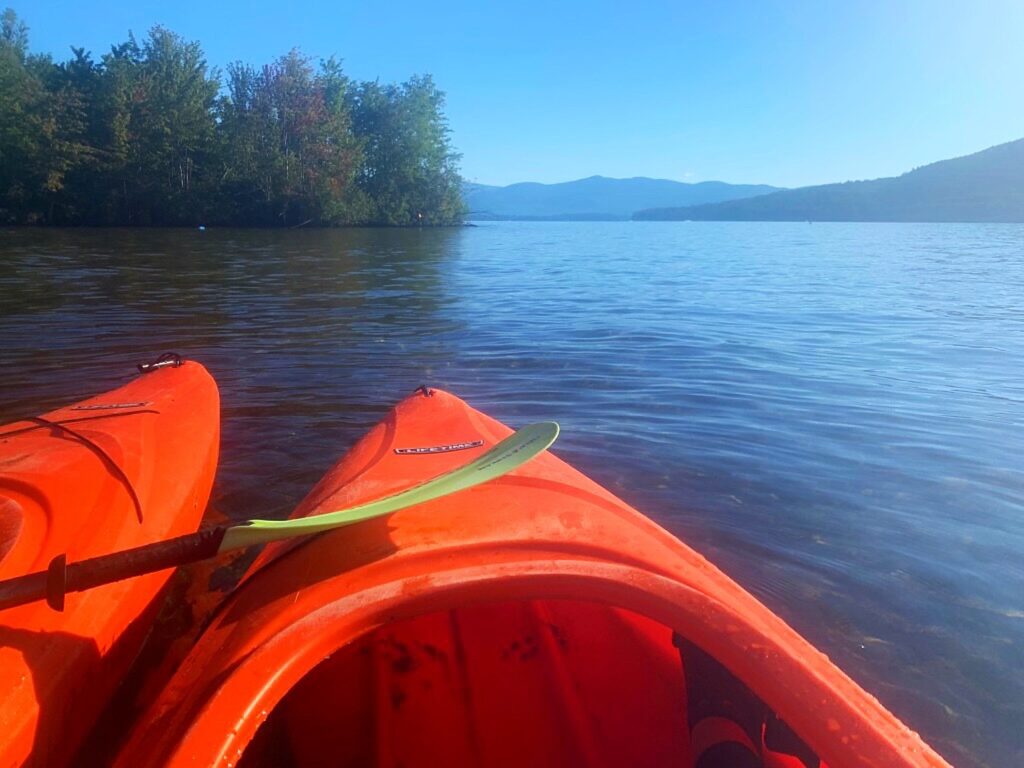 By Evan Rubin & Samantha Mazzia-Rubin
Travel Features Syndicate, goingplacesfarandnear.com
Our 2020 intimate July destination wedding and honeymoon in Maui were coming together perfectly by March, until our plans were completely squashed due to COVID-19 limitations. Every potential reception venue that was on our list closed abruptly. Since March, our fears filled our heads – not just with the stress any normal bride and groom would have months prior to the wedding, but now this deadly virus was spreading throughout the whole world!
July 22nd 2020 was our 10th anniversary of dating so getting married on that day was something we would not let be postponed. After having a little ceremony with the immediate family in our backyard (the rabbi on Zoom!), we decided to take a getaway honeymoon during the pandemic. Our focus was finding a place where we could discover beautiful and romantic scenery, night life, a cute town to walk around and to be near the water.
With a large lake surrounded by gorgeous views of the Adirondack Mountains, we found the perfect destination in Lake George Village and the Adirondack State Park, New York. Lake George is huge! It is 32 miles long with over 170 islands and home to 13 communities. 148 islands are state-owned and accessible by the public, with reserved camping allowed. This was our first visit to the Adirondack State Park region, as well as our first venture out after sheltering at home for months. With such a wide variety of attractions and activities to experience in the State Park, one trip did not give us enough time to do it all – we're already planning future return visits.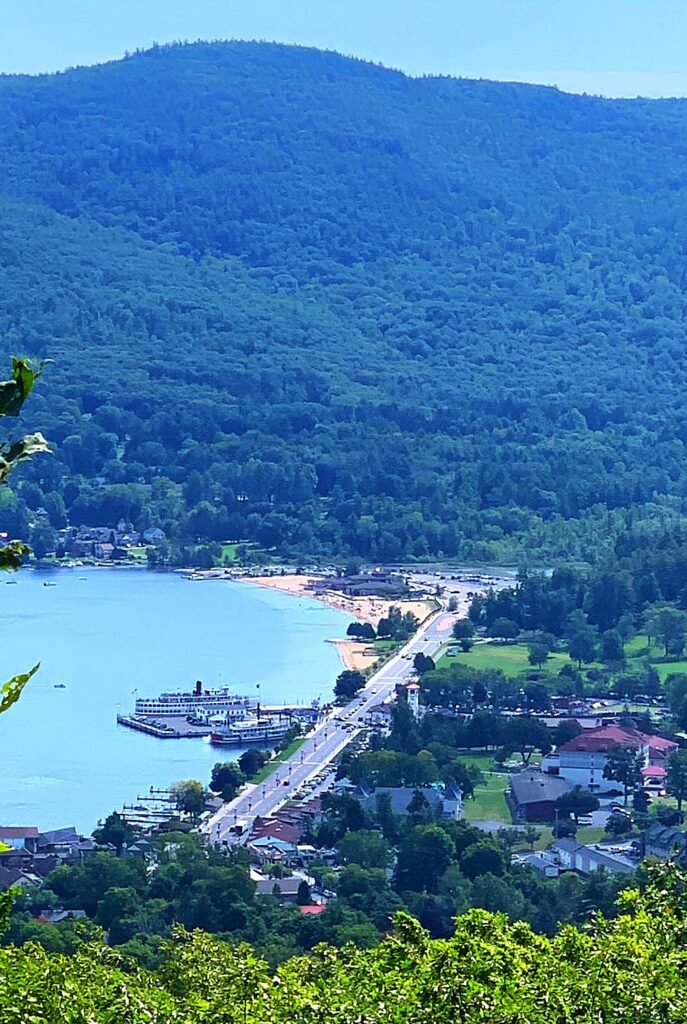 We knew we could stay busy while remaining socially distant. Businesses in Lake George Village and in other Adirondack State Park hamlets are mandated to follow the state's strict COVID-19 requirements: all customers and staff must wear masks when not eating or drinking, and enforce social distancing by spacing apart sitting areas and limiting the number of occupants. As we walked around town, we saw visitors, businesses and venue staff adhering to the COVID guidelines. So we felt safe, too.
Lake George Village is expecting to be very active in 2021, primarily from April through October. Contact the Lake George Chamber of Commerce at 518-668–5755 or email them at [email protected] for directions, maps, and customized itineraries and recommendations.
—————————————
Check out how we explored The Village of Lake George:
1. Kayak or paddle board along the southern lake shore. Bring your own equipment, or reserve and rent equipment from local operators. Some of the hotels have private beaches and also offer equipment rentals.
On the private beach of the "Shore Meadows Lodge", we rented kayaks from "Kayak Lake George". Kayak Lake George offers hourly rentals for one- and two-person kayaks and paddle boards. Since this was our first time kayaking, the staff assisted us by giving us a demonstration. This short demo gave us the confidence to navigate along the bank of Lake George by ourselves without a guide. Kayak Lake George is in an ideal spot, the dock's location allows you to either go one direction and explore the active village docks, or go another direction to find a more peaceful setting and travel around a small island. For Spring 2021 pricing and to reserve your kayaks, go to http://www.kayaklakegeorge.com or call 518-302-6005.
Some hotels and resorts around the lake also offer guests lake amenities including lake equipment rentals. Surfside On The Lake Hotel & Suites where we stayed has kayak and pedal boat rentals as well as an outdoor pool and private sandy beach, perfect for launching kayaks.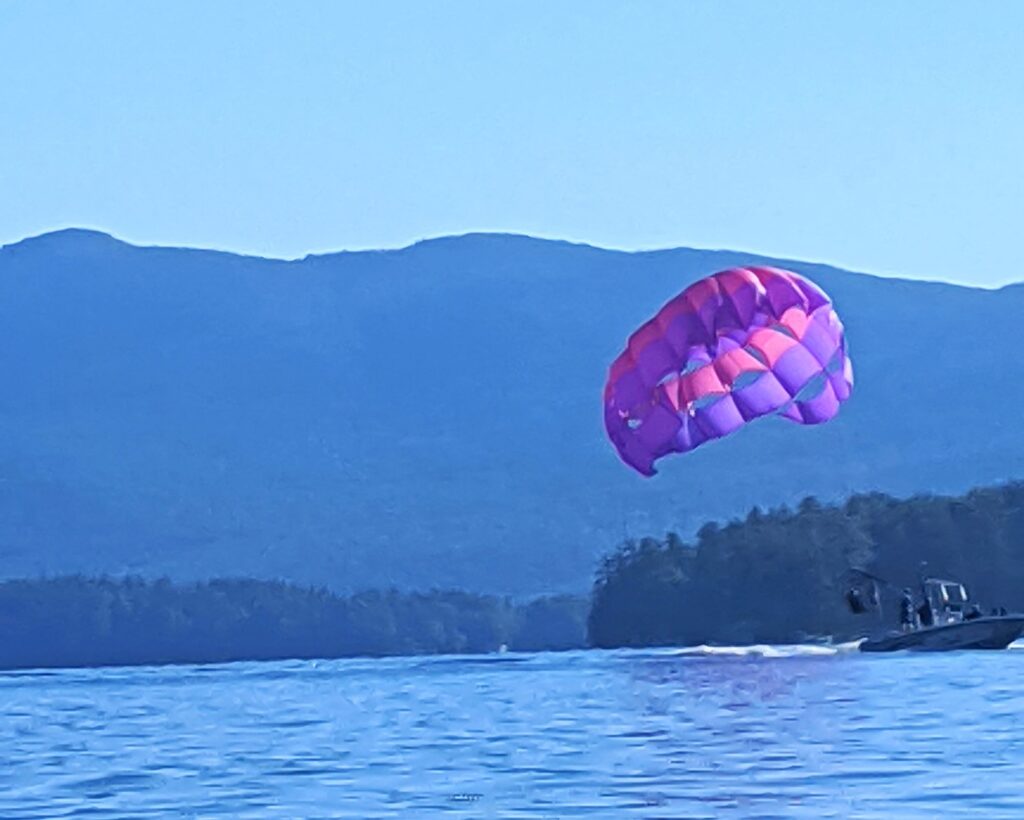 2. Parasail over the Lake – contact family-owned, local operators such as Parasail Joe's (518-668-4013; https://parasailjoes.com/; 204 Canada St., Lake George) to reserve a 1-3 person parasail flight. Wear a bathing suit or casual comfortable clothes because you have the option to get dipped into the water. Parasailing is a thrill! Sailing up to 350 feet in the air, you have spectacular views of the lake. Parasail Joe's operates annually from June through September, reservations are required. A regular parasail ride costs $80/person (5 years old and up; inquire about weight limits, and ask about daily specials).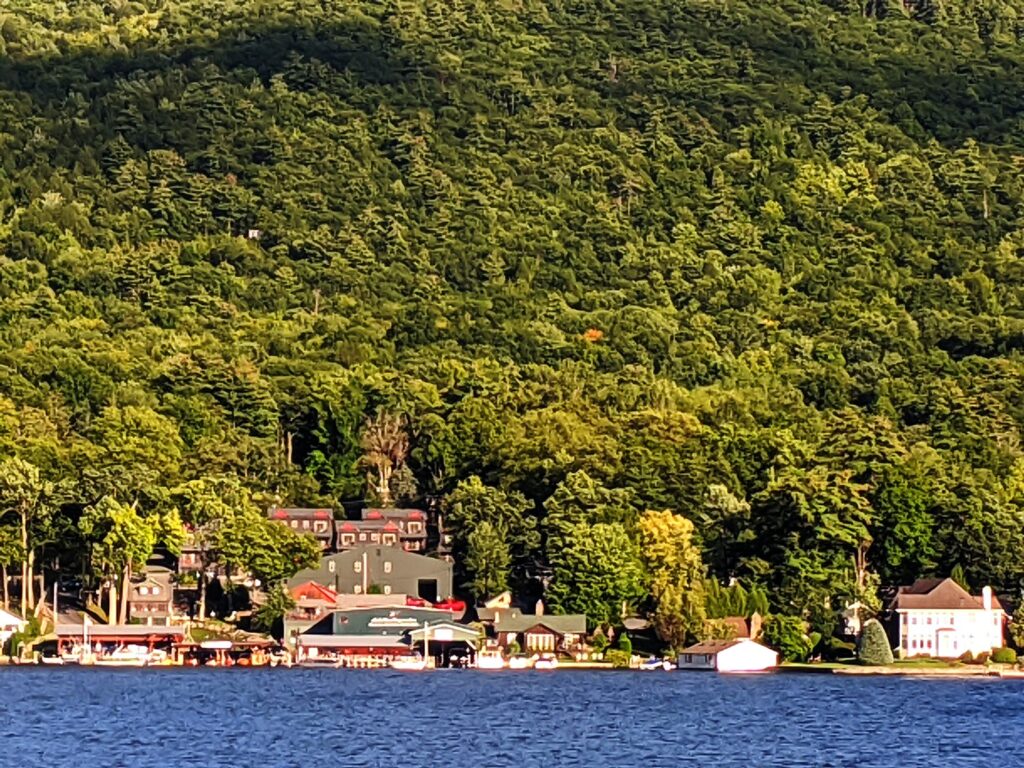 3. Cruise the Lake – there are many opportunities for enjoying a cruise around the lake while following Covid-19 guidelines. Short day and evening cruising run from early Spring through the end of October.
Lake George Steamboat Co. has three ships in their fleet for a wide variety of midday and sunset cruising options available to adults only or for families. The ships follow the beautiful shorelines of the lake, starting in the southern section from the docks in the Village of Lake George. During the summer months and for October fall foliage viewing, the ships offer themed, family-oriented dinner cruises, such as a pirate cruise or a pasta dinner. Cruise times range for 1-2 hours for historic narratives with or without food and drinks, to six hours of full-lake sightseeing. Cruises with itineraries longer than one hour offer opportunities to see some of the 170 islands scattered across the large lake. Check online or call for available dates, pricing, and to reserve space: https://lakegeorgesteamboat.com/; 518-668-5777, ext.4.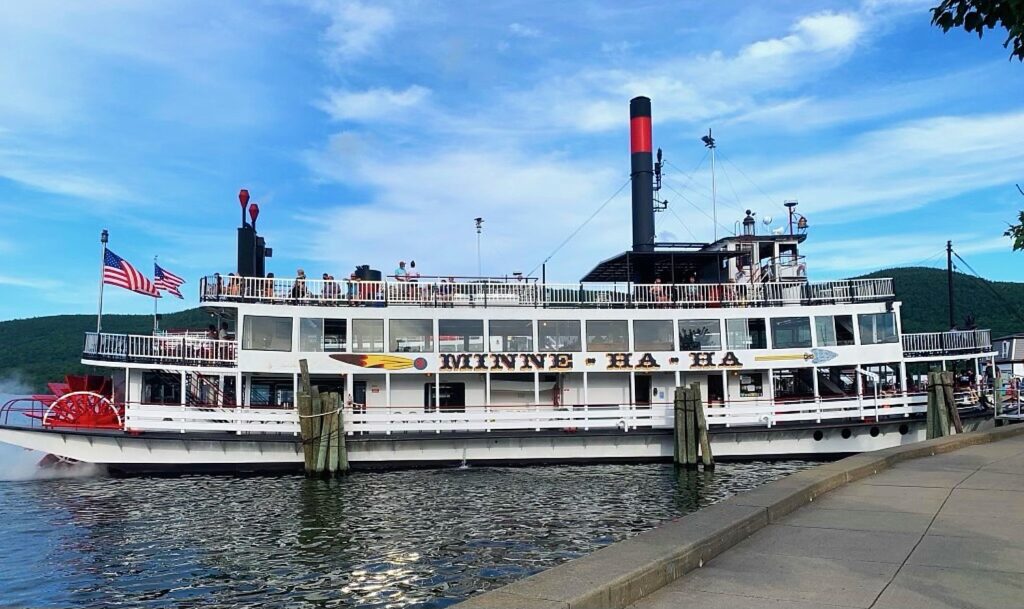 Lake George Shoreline Cruises – We gathered for an hour-long sunset cruise which offered two complimentary drinks (beer, wine, soda). Coffee, tea, liquors and light snacks were also available to purchase. It is highly recommended to make reservations. Everyone was masked and maintained a social distance as we lined up to set sail for our 6 pm departure. Once boarded, you are free to sit wherever you want, and during the ride, you are free to walk around the boat and sightsee from any of the three levels. You are not bound to a seat, so grab a drink and enjoy the lake from different perspectives. This is a great way to get the night started! Once you return, you are right in the middle of town with a boardwalk area. Walk along the docks and restaurants that lead to the main Village streets featuring many stores, museums, parks and stunning views. Keep your Shoreline cruise ticket, as it offers a 10% discount for an entrée at the Lake George Shoreline Restaurant, across the parking lot from the dock. Call or check online for available cruise dates, pricing, and to reserve space: 518-668-4644; https://lakegeorgeshoreline.com. During peak season, you may also purchase and pick up tickets directly from the kiosk in front of the two ship's docks at 2 Kurosaka Ln, Lake George.
4. Eat a hearty meal overlooking the lake at one of the Village's upscale, yet casual restaurants. Restaurants you can't miss: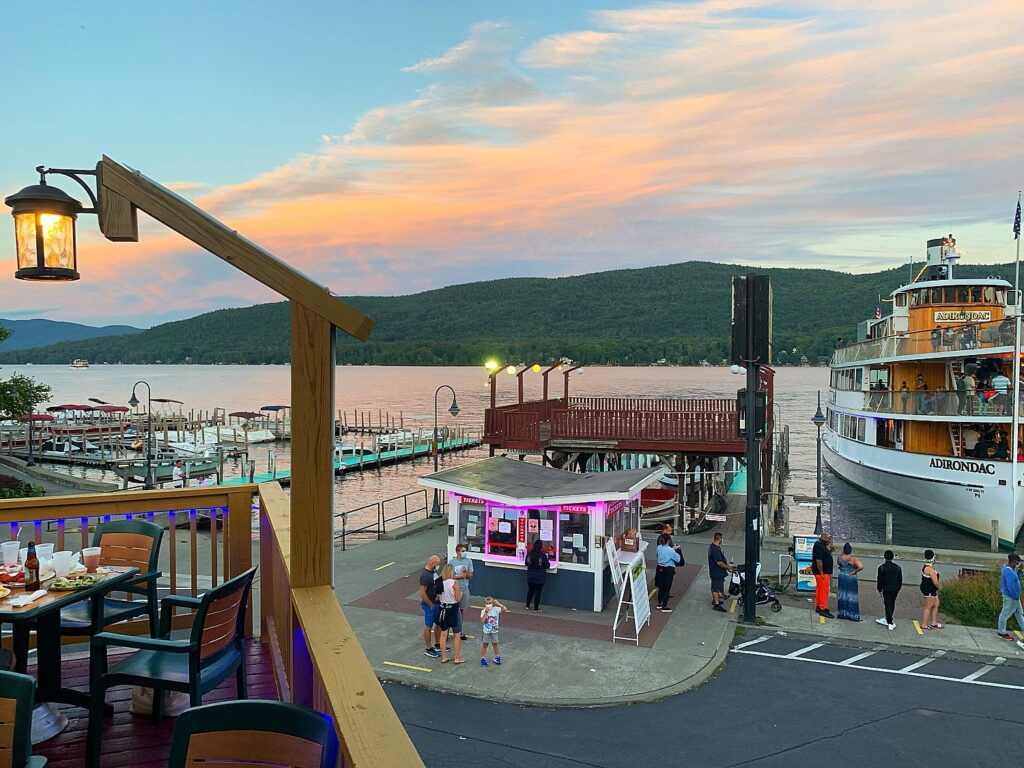 Lake George Shoreline Restaurant (4 Kurosaka Ln, Lake George; (518) 668-2875) – a casual, surf and turf restaurant with a covered deck that provides a view of the dock where the Shoreline cruise boats come in and out. The restaurant has a wide variety of food that is freshly cooked with distinctive flavors. We shared mussels, corn and crab chowder, the restaurant's famous burger and pasta primavera. Remember to show your cruise ticket to receive a discount on an entrée.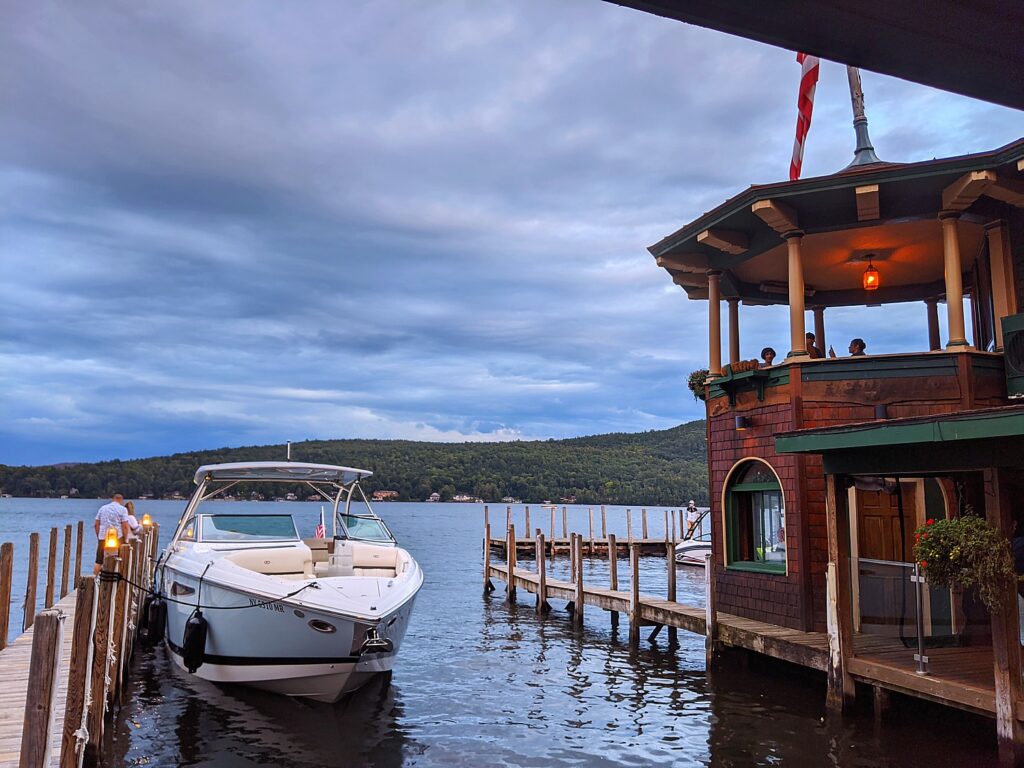 The Boathouse Restaurant at The Lodges at Cresthaven (800-853-1632; 3210 Lake Shore Drive, Lake George). The restaurant opens in early Spring. We experienced superb service while sitting at a window table that was literally at the lake's edge. The staff was warm and friendly, and many of them being locals who grew up in town, were very knowledgeable of the area. They were forthcoming to welcome tourists to explore all Lake George has to offer. They recommended their favorite local activities and tips on how to make our honeymoon memorable!
Our compliments to Chef Paul — the portions of both appetizers (Margarita grilled shrimp, warm rolls, clam chowder filled with fresh clams), and our entrées (chicken parmigiana, a huge Tomahawk steak with homemade steak sauce and lobster tails) were all cooked to perfection, with generous servings! We also ordered flavorful mixed drinks and what became our new favorite locally brewed beer on tap, Adirondack Bear Naked Amber Ale..Check out the restaurant's Facebook page for photos and current hours of operation: https://www.facebook.com/lakegeorgeboathouse/about.
Pizza Jerks (518-668-4411; 59 Iroquois St., Lake George, NY) – choose from over 25 specialty pizzas, including gluten-free crust, or build your own. Order hot or cold subs and wraps, and add an order or two of their garlic knots. Their motto is "awesome food for awesome people"– we're vouching for that. Make sure you order the Jamaican Jerk and Sesame Teriyaki chicken wings (just two of over 14 flavors). Pizza Jerks is open year-round for delivery and pickup.

The Lagoon Bar & Grill (518-685-5009; lagoonlakegeorge.com; 204 Canada St., Lake George). This fun little establishment is all about over-the-top comfort food, such as the "Loaded Mac Grilled Cheese Sandwich" – sourdough grilled cheese stuffed with pulled pork and macaroni and cheese. The 8-oz. "French Mountain" Burger is piled with provolone cheese, grilled onions, mushrooms, and topped with bourbon glaze.

Adirondack Pub & Brewery (518-668-0002; adkbrewery.com; 33 Canada St, Lake George, NY). Hand-crafted lagers and ales using local, Adirondack ingredients are brewed and bottled on-site in this Lake George rustic, log-style building. The restaurant boasts a large, covered deck for outdoor seating. Menu options combine regular pub appetizers, with some rather interesting ones, such as: eggplant fries, East-ender fish and chips; Black and Blue burger with homemade gorgonzola horseradish creme sauce; and even craft-made, locally brewed root beer. Ask for their S'mores dessert! You can also enjoy their signature and seasonal beer at other restaurants around town and on the lake cruises.
5. Play a round of mini-golf at one of the many themed, outdoor golf parks. Surrounded by lush landscaped waterfalls, streams, and structures representing an 18th-century town overrun by pirates, the 18-hole Pirate's Cove Adventure Golf is a favorite activity for playing during the day or late into the evening (518-668-0493, 2115 U.S. 9, Lake George, https://www.piratescove.net/locations/new-york/lake-george/). Open daily from mid-April through late October, a round of golf costs $8.95/adult, $8.50/child 4-12 (kids 3 and under play for free).
6. Stroll or drive around the center of Lake George Village – with wide, clean sidewalks! The large town center offers many lively bars, restaurants and shops geared towards visitors. Each has its own unique souvenirs, clothes, antiques, novelties, and specialty treats like fudge, chocolates, local wines, even cotton candy and soft serve ice cream.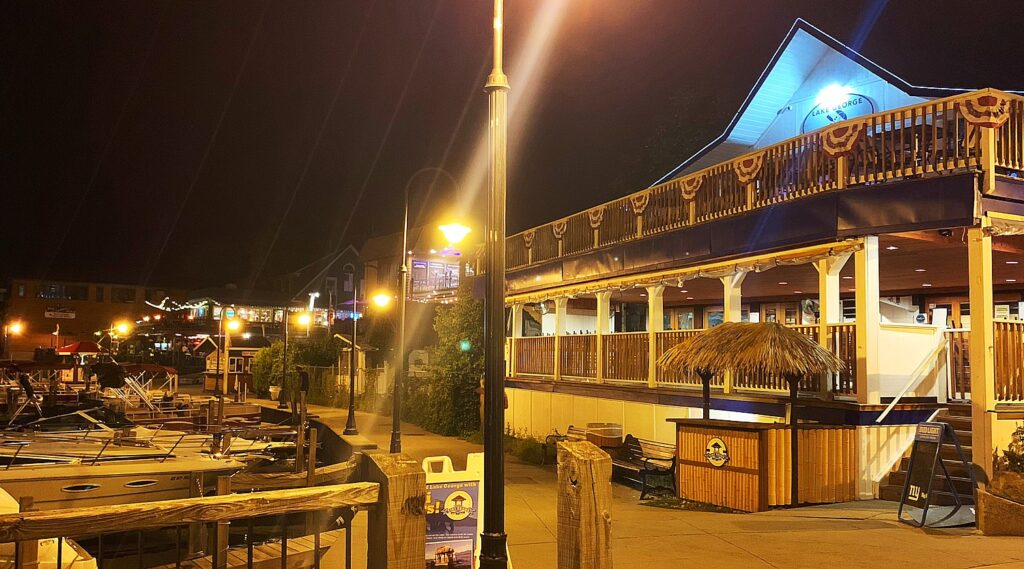 Walk along the southern Lake George boardwalk and docks – the concrete paths wind alongside bars, restaurants, and pristine waterfront parks. At night, the paths around the docks are brightly lit and visitors can walk around enjoying the nightlife on the lake.
Visit "The House of Frankenstein" Wax Museum (518-668-3377; 213 Canada Street, Lake George, NY). The two-story attraction houses rooms with animated wax figures that portray historic and literary scenes of horror and torture. We recommend it for kids and adults who can handle walking along darkened hallways and fake gore. General admission is $10.75/adult; $9.81/student 13-17; $6.07/kids (6-12). This attraction is open daily from April through early November. Check the hours of operation in 2021 from the museum's website (https://frankensteinwaxmuseum.com/tickets/).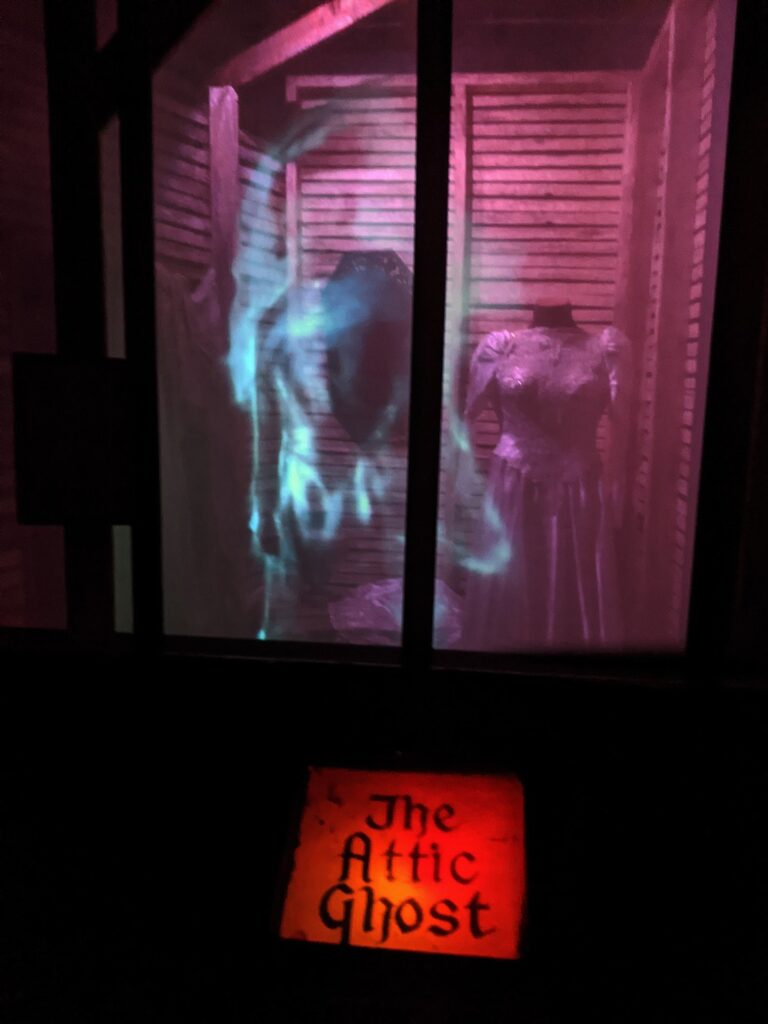 Travel back in time to the middle of the French and Indian War during the 1750s at Fort William Henry Museum (518-964-6649; https://www.fwhmuseum.com; 48 Canada Street, Lake George). Take a self-guided tour to hear about the role of the fort during this pre-revolutionary period, or learn from a military guide dressed in 18th-century period uniform. Demonstrations of musket and cannon firing are scheduled throughout the day. It is strongly recommended to call or go online to reserve when you will visit as well as to purchase tickets in advance. Plan to come for the fort's special events. General admission (and for ghost tours) is $19.95+NYS tax/adult; $15.95+NYS tax/Senior; $9+NYS tax/child (5-15; under 5 free); Military/Veterans are free with a valid ID.

Picnic on the grassy hills of the Lake George Battlefield near the Fort. Battlefield Park has a few interpretive signs, historic statues, and monuments. Enjoy a self-guided tour following the Tour Lake George Battlefield Brochure (PDF).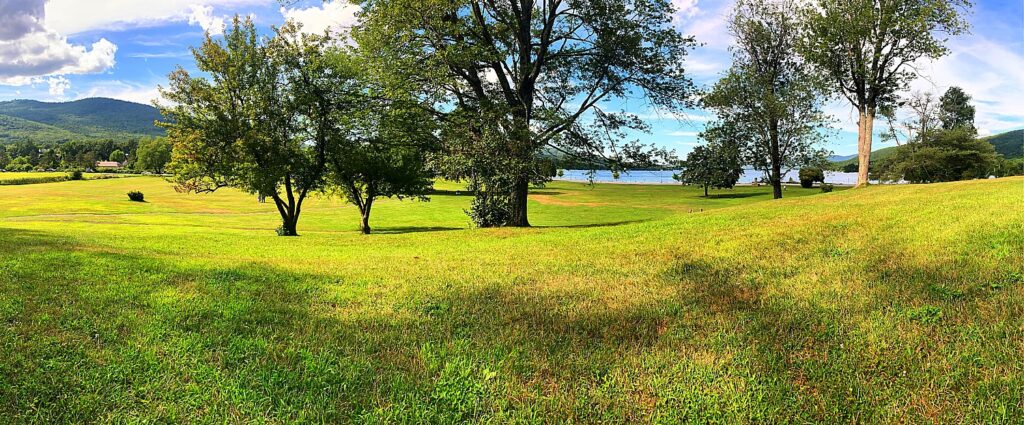 7. Explore the Adirondack State Park mountain roads above Lake George Village. One of our favorite drives is up the five-mile Prospect Mountain Veterans Memorial Highway which has a few overlooks to view the Village, the Lake George islands, and the beautiful, tree-lined mountains. Follow the road all the way up to the last overlook and park your car so you can walk up a rather steep but short hill to be 2,030 feet at the mountain's summit. Here, you can view both local scenery of The Narrows, Lake George, and The Eagle's Eye. Far in the distance on a clear day, you can also see mountain ranges in Vermont, New Hampshire and Canada – totally worth the trek up the mountain! Prospect Mountain Veterans Memorial Highway is open from May through Veterans' Day, weather permitting.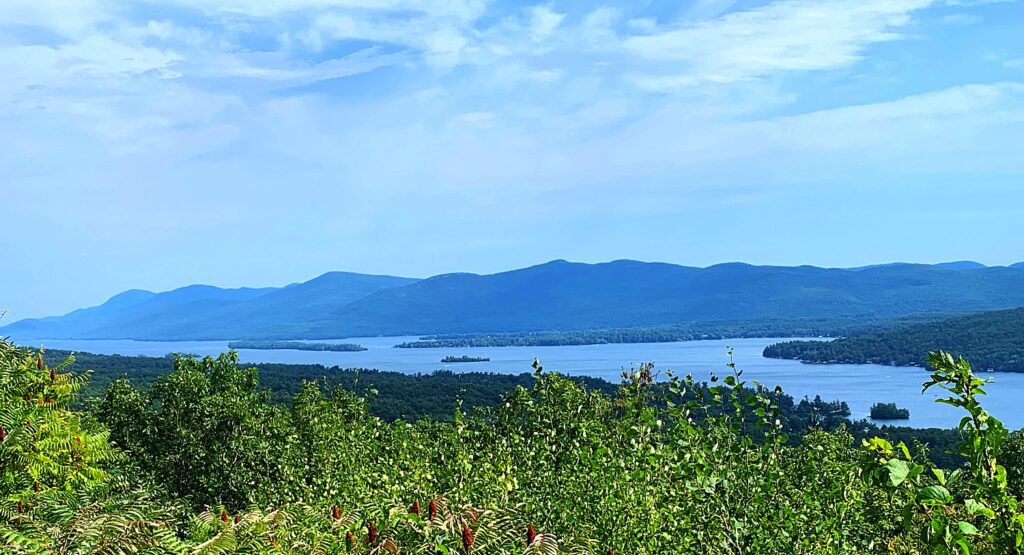 8. Book a campsite or reserve your own private island in Lake George by visiting https://www.lakegeorge.com/camping/reservations/. There are plenty of ways to camp in the Adirondack State Park around Lake George, from tent camping, glamping, RV-rentals, or sleeping on a small docked boat! Kayak or boat to your private campsite on your very own island. Use the online resource, Lake George Camping Guide for tips, contact information and other ways to reserve these unique stays! Although we did not have the opportunity to stay at our own private island, we look forward to planning them for one of our future trips.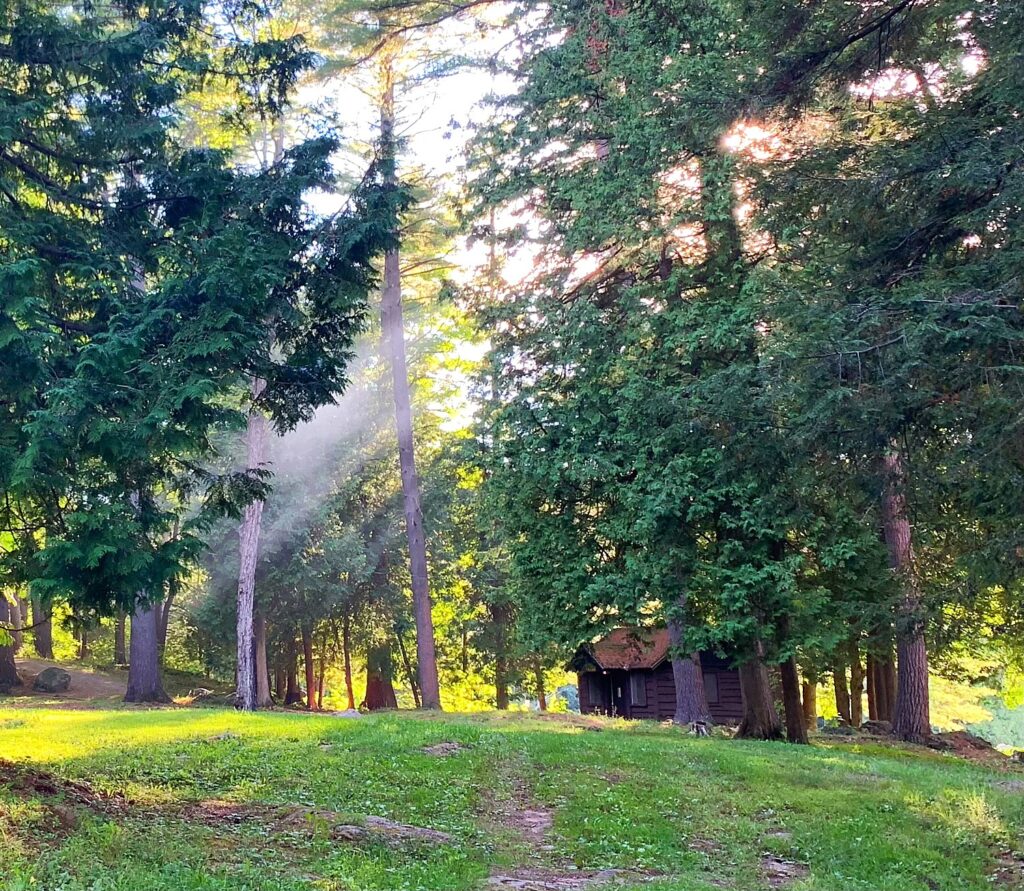 9. Rent a private boat for the day; Even if you do not own your own boat, you can still enjoy the day on the water! There are tons of vehicles you can rent while staying on the lake. Many boat marinas allow you to use rentals during spring months through fall. You need to be 21 years or older with a valid driver's license in order to rent and drive a boat in New York. Visit https://www.visitlakegeorge.com/water/boat-rentals for more information on where to book your very own boat rental!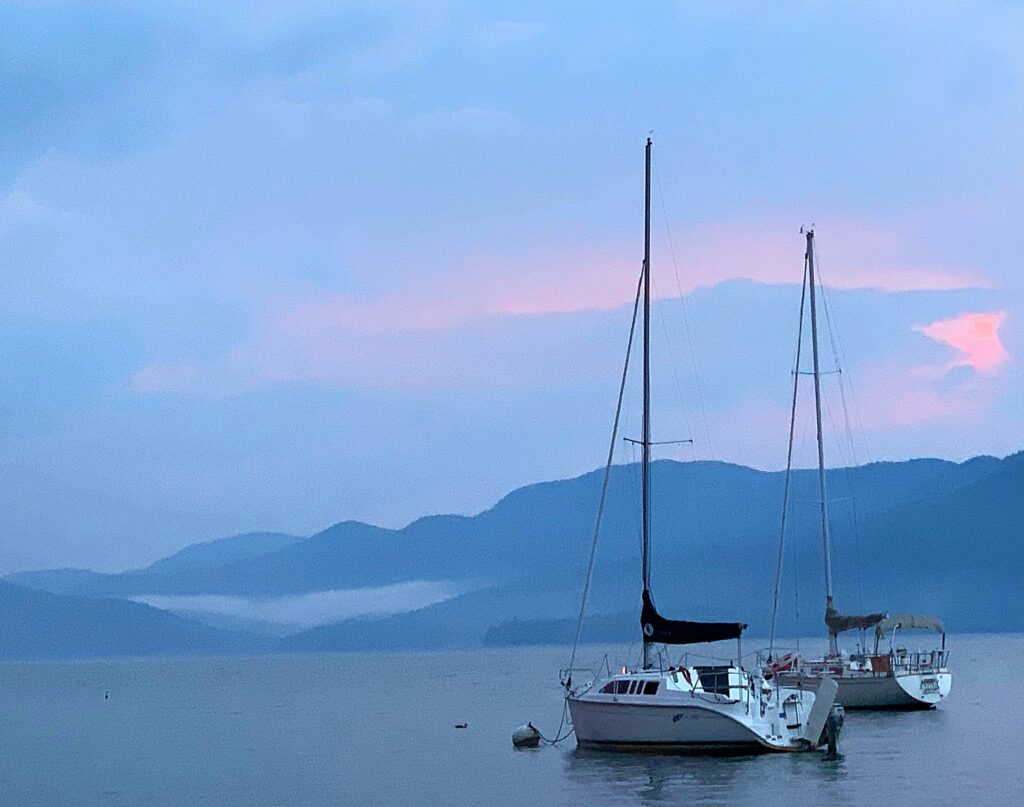 ______________________
© 2020 Travel Features Syndicate, a division of Workstyles, Inc. All rights reserved. Visit goingplacesfarandnear.com, www.huffingtonpost.com/author/karen-rubin, and travelwritersmagazine.com/TravelFeaturesSyndicate/. Blogging at goingplacesnearandfar.wordpress.com and moralcompasstravel.info. Send comments or questions to [email protected]. Tweet @TravelFeatures. 'Like' us at facebook.com/NewsPhotoFeatures