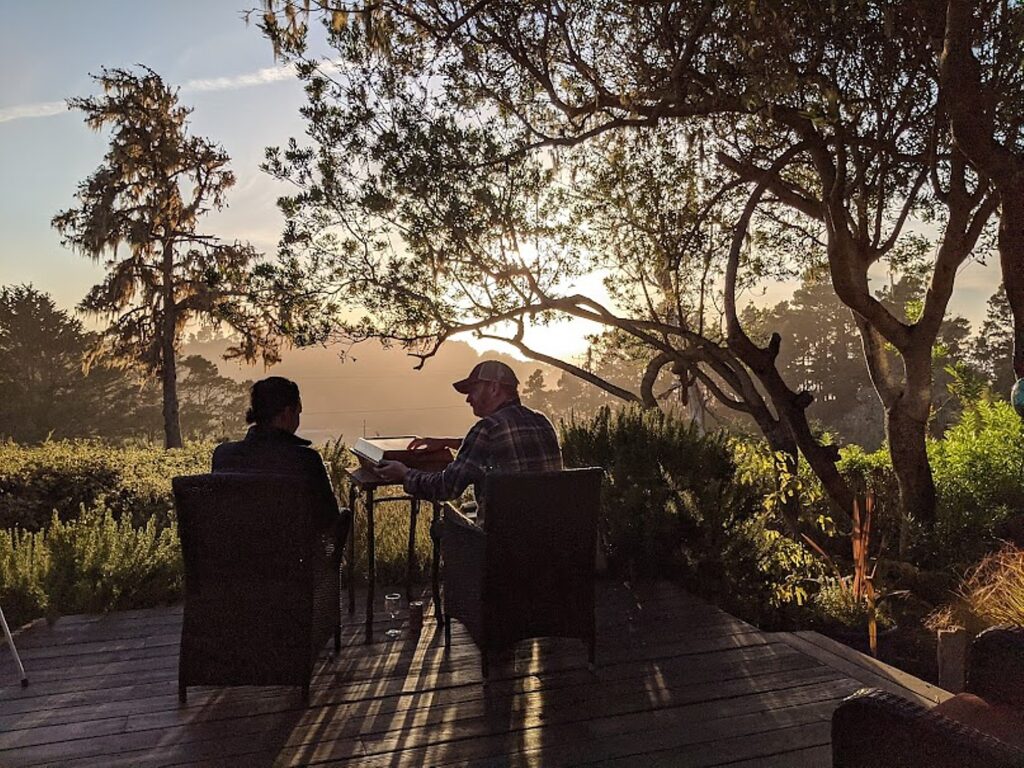 By Karen Rubin, Eric Leiberman & Sarah Falter
Travel Features Syndicate, goingplacesfarandnear.com
To get to Mendocino, you drive through Anderson Valley with its picturesque vineyards, wineries, and farms, take a twisty road that winds around hills, and go through the Navarro Redwood Forest (a magical experience) and finally, along the Pacific coast. You are already feeling the calm sweep over you by the time you reach Brewery Gulch Inn, set on a hillside with a sweeping view of a cove and the ocean. And then you fully exhale and feel all stress and worldly concerns slip away. Time seems to slow down.
Brewery Gulch Inn
With Mendocino itself just around the bend, we head directly to the Brewery Gulch Inn, a marvelously quiet, intimate inn (just 10 rooms) which sits just above the coastal highway, nestled amid trees and lush landscaping.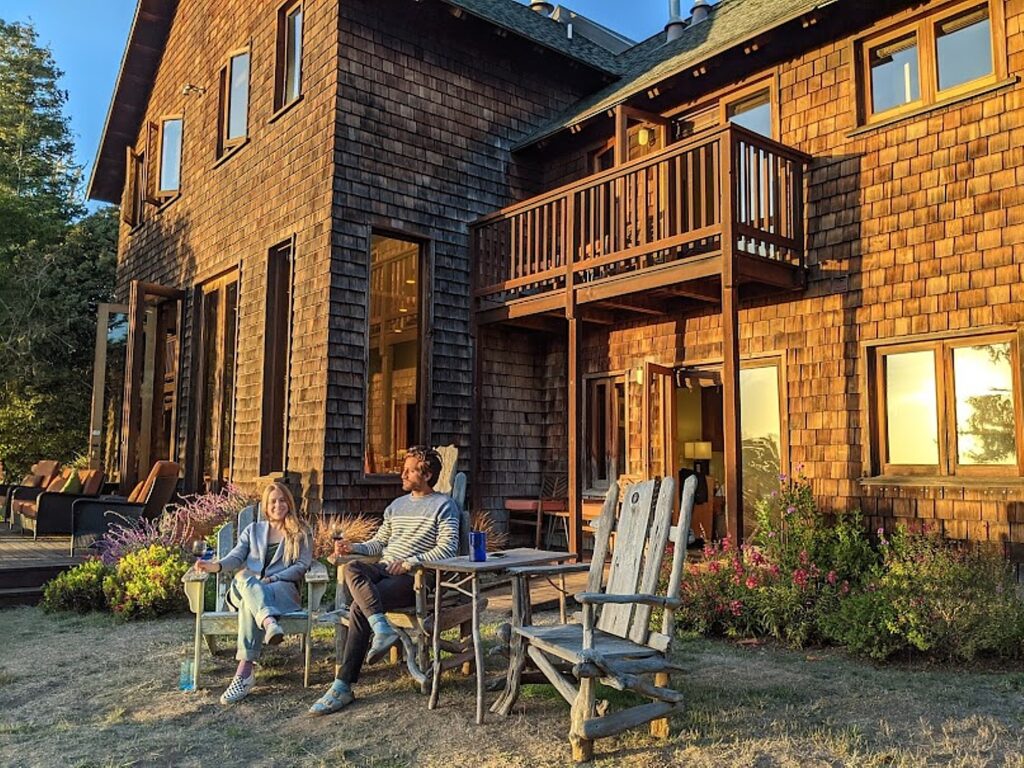 We arrive just in time for the 5:30-6:30 pm wine hour – a delightful tasting that accompanies a delicious artfully prepared light dinner. There are many modifications due to COVID-consciousness – so many actually being very pleasant adaptations that have become popular with guests. So, instead of serving the inn's signature dinner as a buffet, we are given our own bento box, accessed with our room key (late arrivals will find it in their room).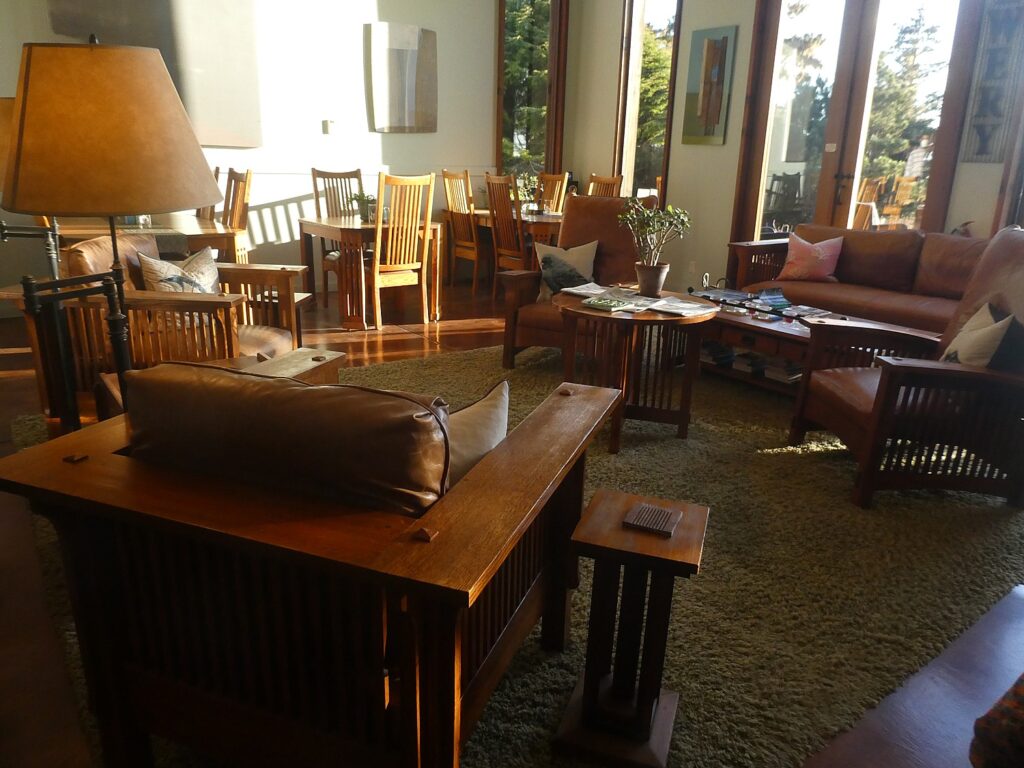 We can sit in the Great Room – a combination living room and dining room (with well spaced tables) set around a fireplace, that opens out to the outdoor patio, or we can sit outside on the patio or lawn. We opt for the outdoors, bathing in the golden light of the setting sun as it falls into the ocean, watching waves hit against rocks in the intriguingly named Smuggler's Cove, and hummingbirds chase each other. The feeling of well-being – pure contentment – washes over us. It is perfection.
Each day, Executive Chef Stephen Smith prepares artful, imaginative dinner selections that are a feast for the eyes as well as the palette, featuring organic produce accompanied by local wines and beers (included in the stay).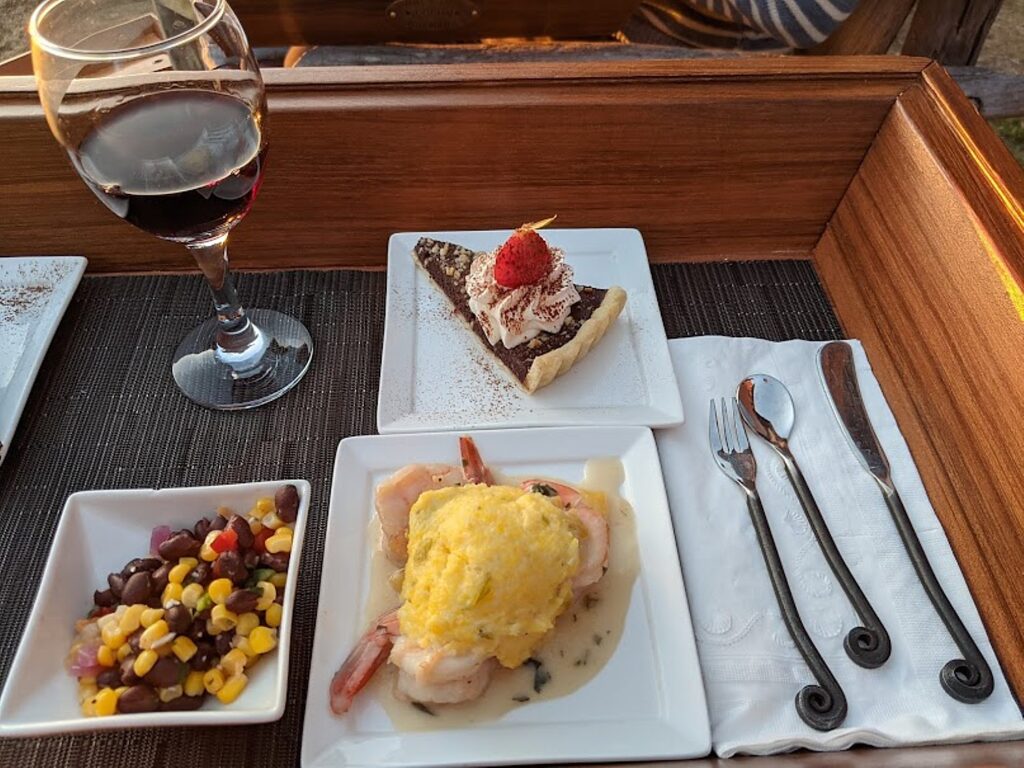 This evening's menu features Pina Colada prawns; creamy green chili and parmesan cheese polenta; chilled black bean and corn salad; chocolate-raspberry truffle tart. The menu changes daily: the night before we arrived, dinner consisted of Cajun chicken fingers with Creole remoulade and pickled zucchini; maple-whipped sweet potatoes; orange chiffon cake with cream cheese frosting and crème Anglaise. On another night: crispy duck breast with rosemary Dijon & cranberry-ginger gastrique, blue corn polenta crackers, fennel-smoked tomato stuffing, House-pickled vegetables and Gran Marnier chocolate mousse.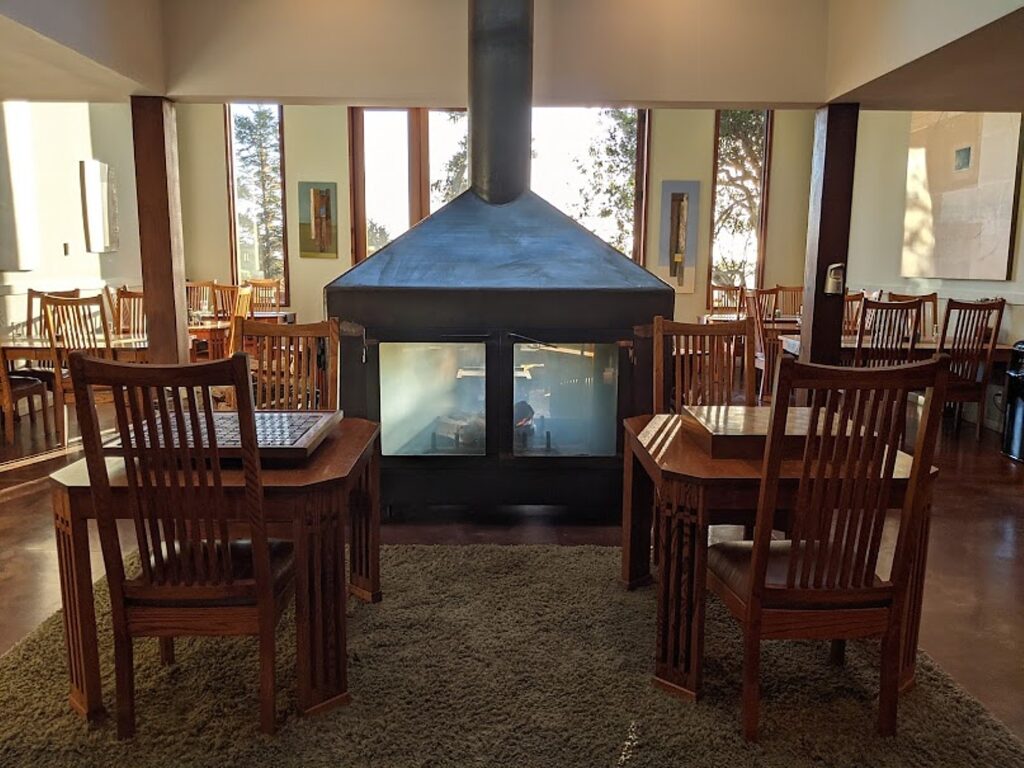 Every detail is carefully arranged: the dinner is served in "Mendo-style" bento boxes created by local woodworker, John Myers, from the same eco-salvaged redwood used to construct the Inn. The boxes are labeled with the name of each room (ours is Osprey and is decorated with Osprey images) so that guests can be sure the box prepared for their room will accommodate their dietary restrictions. "We are hoping the portability provided by these boxes will make it easier for you to dine outside, in our Great Room, or in the privacy of your room."
(If you arrive after the concierge leaves, the bento box is sent into the room. They ask that you inform them by 10 am if you won't be dining at the inn for the evening, to avoid food waste.)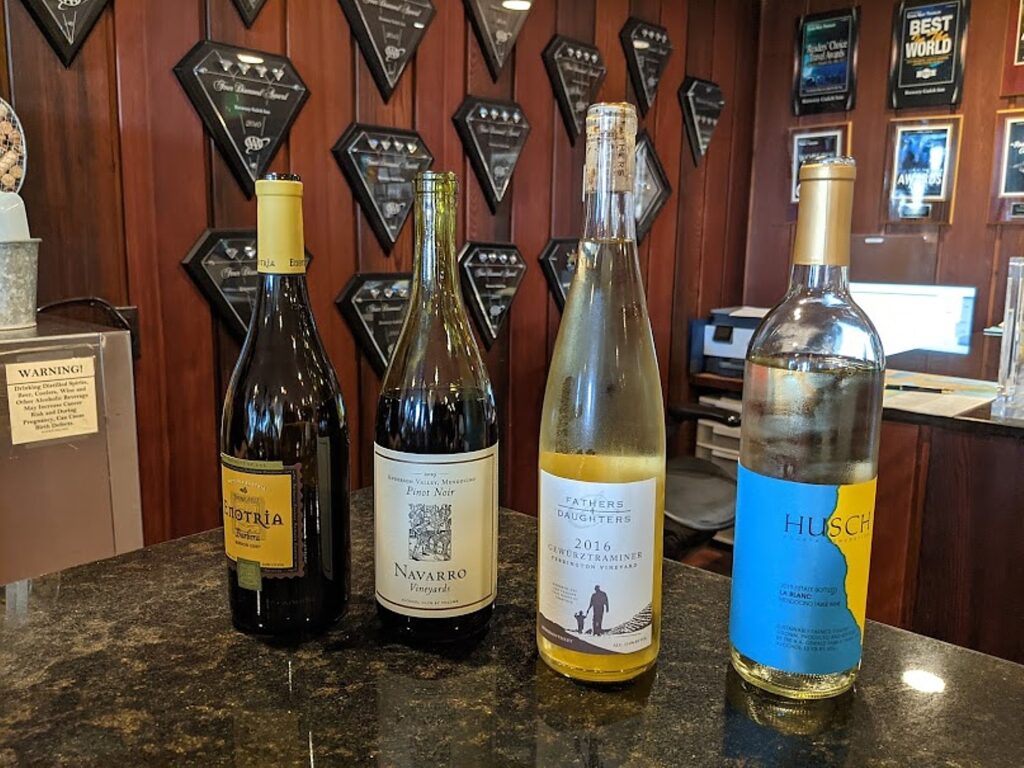 Every possible guest comfort is integrated into the experience. The Great room is loaded with games (even the furniture becomes a game board) and a huge selection of DVDs (just help yourself); there are bird books and a spotter scope on the patio; fresh coffee, fresh fruit and fruit-infused iced water set out, as well as a refrigerator that we guests can use – and the sweet, patient help of the concierge.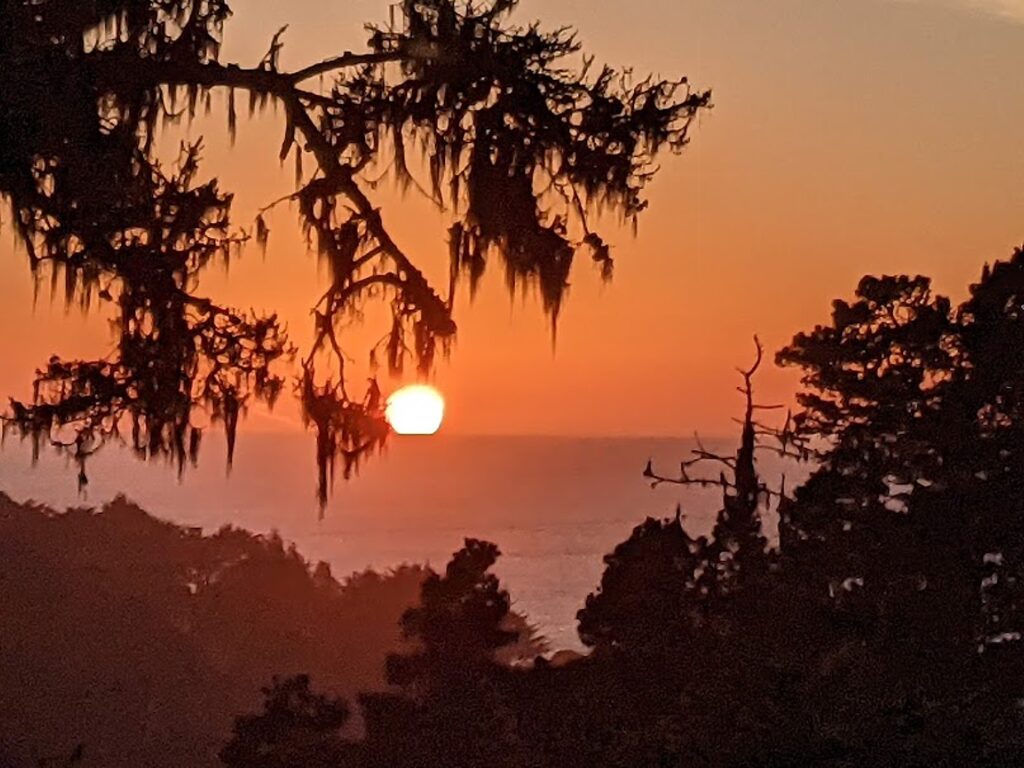 The interior design, furnishings and art are exquisite. And the ambiance and services are also very in tune with the environment – there are several EV charging stations (you are asked to reserve time).
The effect is to be a place of serenity and peace.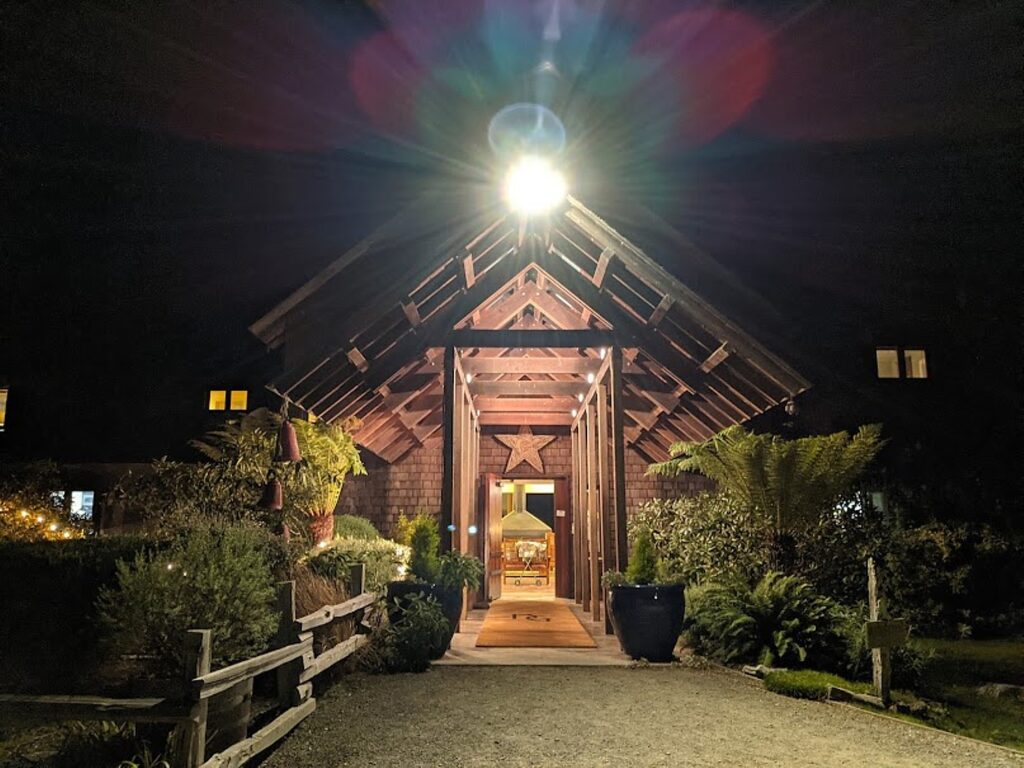 We loved the personal notes from Guy Pacurar, Proprietor, Sarah Rowe, Guest Services and Manager, Laura Hockett in advance of our stay that ask about dietary restrictions, and offer driving directions with suggestions of places to stop along the route and activities to pre-book.
The inn's website offers marvelous suggestions of what to do in the area, especially what might be pre-booked. Under Pre-Arrival Concierge, there are various services and activities, including massages, wine tours and tastings such as in Anderson Valley, horseback rides, chocolates, wines, restaurant reservations, that the inn can arrange for you prior to your arrival.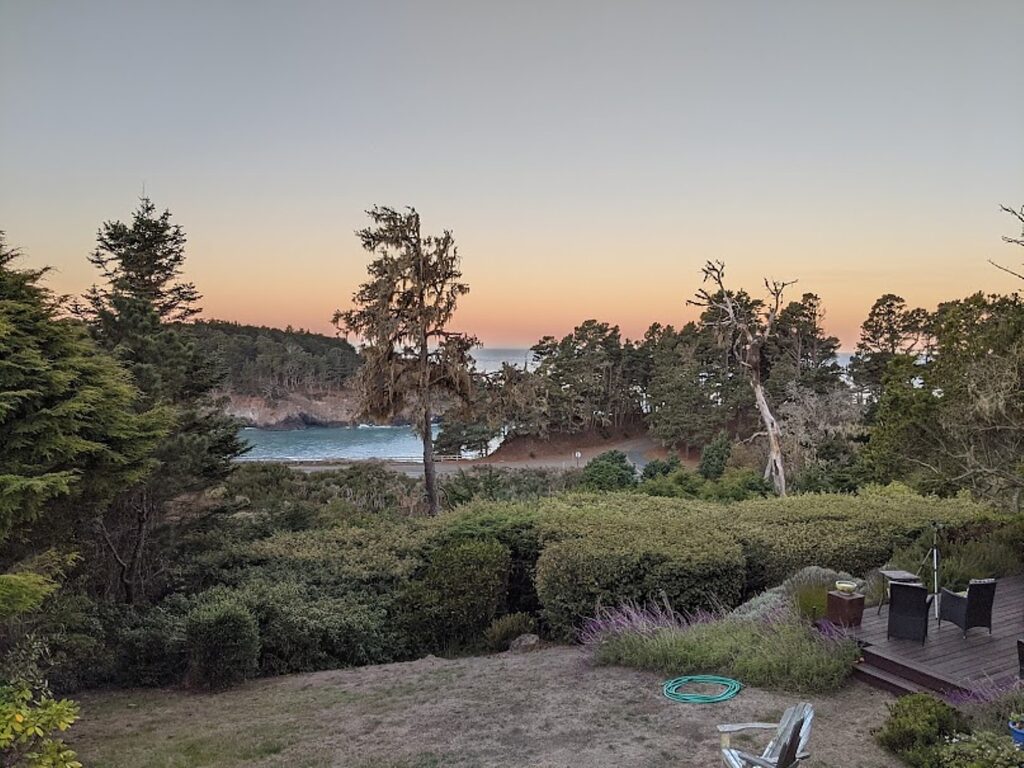 In the morning, there we find muffins and coffee laid out and we enjoy a marvelous cooked-to-order breakfast in the Great Room (we could also have asked it to be served in our guest room). I have a delectable salmon scramble.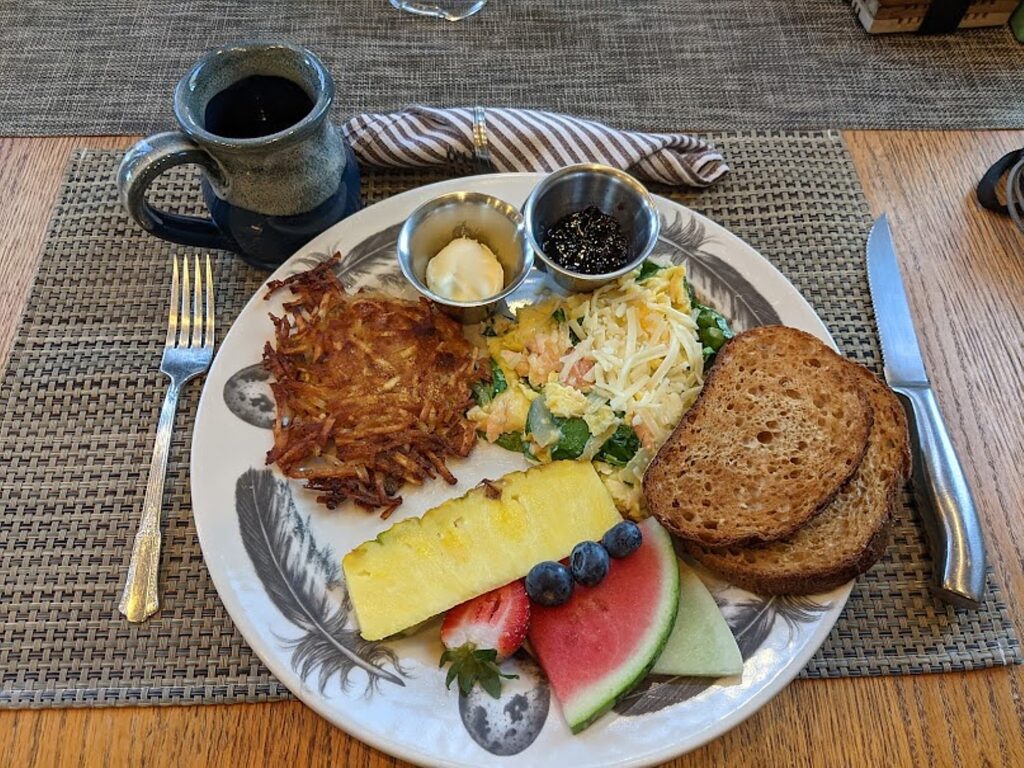 Considering what is included in the experience – the wine tasting, light dinner accompanied by local wines and beers, lavish cooked-to-order breakfast from a seasonal menu (in the Great Room or served in your guest room), WiFi – this is an intimate inn (just 10 rooms) which provides the experience of a luxury hotel that is also a value proposition.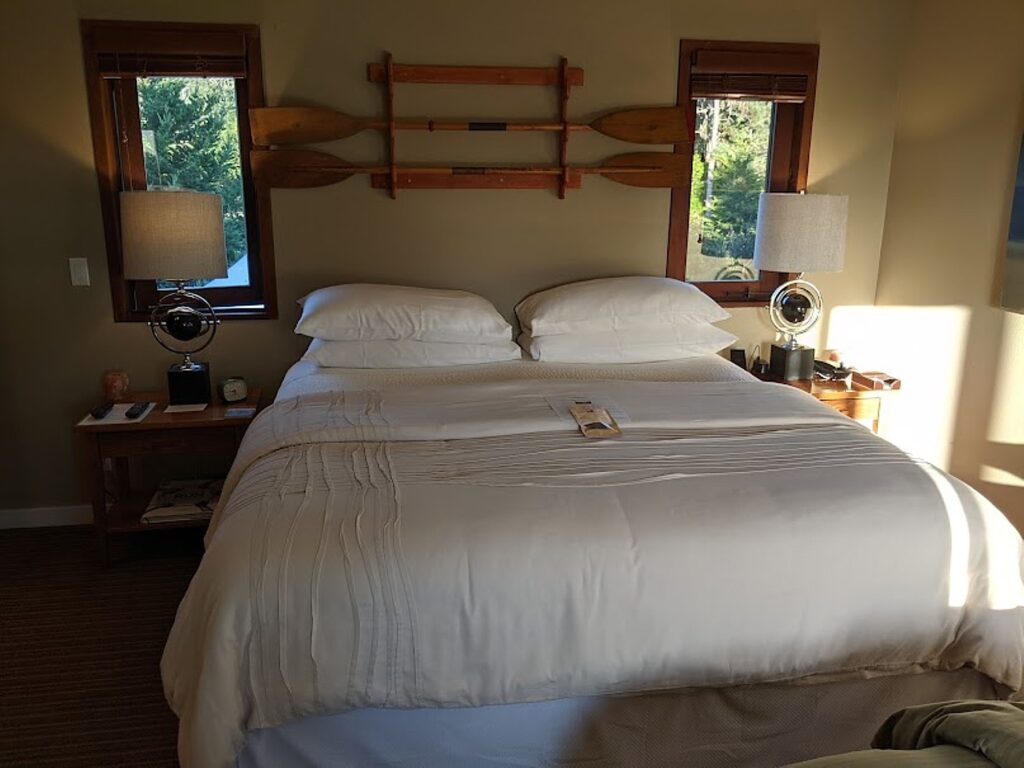 It is no wonder Brewery Gulch Inn consistently merits awards and accolades: named to Conde Nast Traveler's 2021 Readers' Choice for Best Hotels-Northern California, its seventh time on Conde Nast Travelers' list of best lodging properties in the US; Travel & Leisure's Top 15 Resorts in California (2021) and a six-time winner of Travel & Leisure's World's Best Lodging Awards.
In the morning, aided by the suggestions of Brewery Gulch's concierge (Glass Beach, Noyo Harbor for lunch, Headlands Coastal Trail for a hike), we head out to explore. First stop, the famous, historic Skunk Train and its novel "railbike" experience in Fort Bragg, just 20 minutes up the coastal road.
Brewery Gulch Inn, 9401 North Highway One, Mendocino, CA, 95460, 800-578-4454, brewerygulchinn.com.
For excellent planning help: Visit Mendocino County, 866-466-3636, 707-964-9010, www.visitmendocino.com.
______________________
© 2021 Travel Features Syndicate, a division of Workstyles, Inc. All rights reserved. Visit goingplacesfarandnear.com, www.huffingtonpost.com/author/karen-rubin, and travelwritersmagazine.com/TravelFeaturesSyndicate/. Blogging at goingplacesnearandfar.wordpress.com and moralcompasstravel.info. Send comments or questions to [email protected]. Tweet @TravelFeatures. 'Like' us at facebook.com/NewsPhotoFeatures