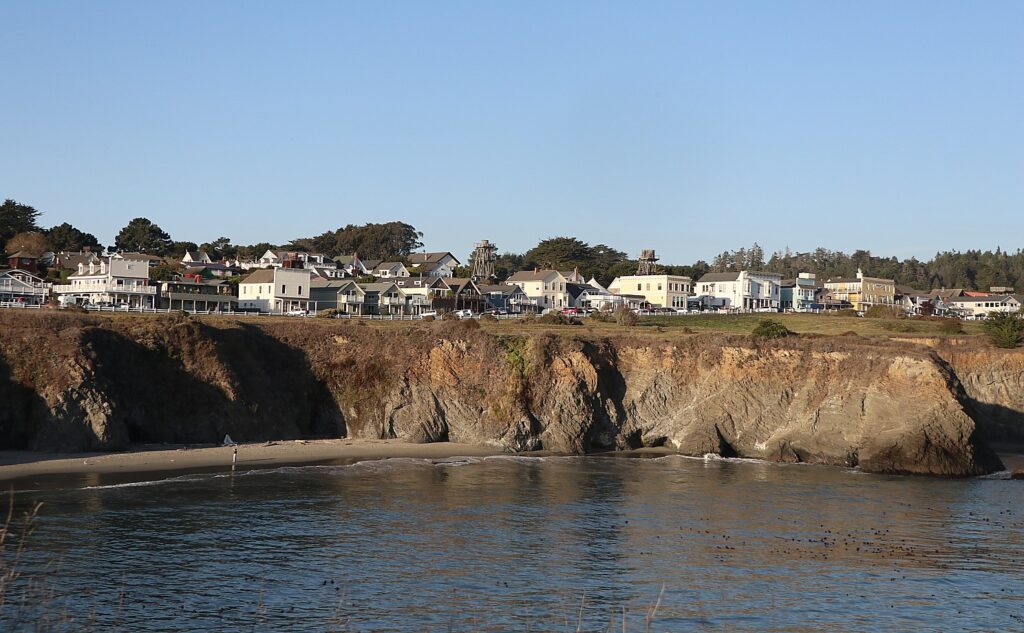 By Karen Rubin, Eric Leiberman & Sarah Falter
Travel Features Syndicate, goingplacesfarandnear.com
At first blush, Mendocino on California's northern coast is reminiscent of Cape Cod's coastal towns but with a definite Western twist, like the wooden water towers (we wondered if they are still used, considering Mendocino's water crisis), some repurposed into shops, like one that houses a Spells shop. This is expressed also in the charming architecture, much of it Victorian and the natural setting – high cliffs than drop into the Pacific Ocean – dramatic and spectacular.
Indeed, Mendocino seems to epitomize today's California in
values and culture – the northern part, at least. The boutique shops,
restaurants and markets are high end, high quality but not pretentious –  they are artful and earthy. There are any number of holistic, New Age-y, naturalist services and organic food markets.  Mendocino is more "Coastal Elite" than "49er."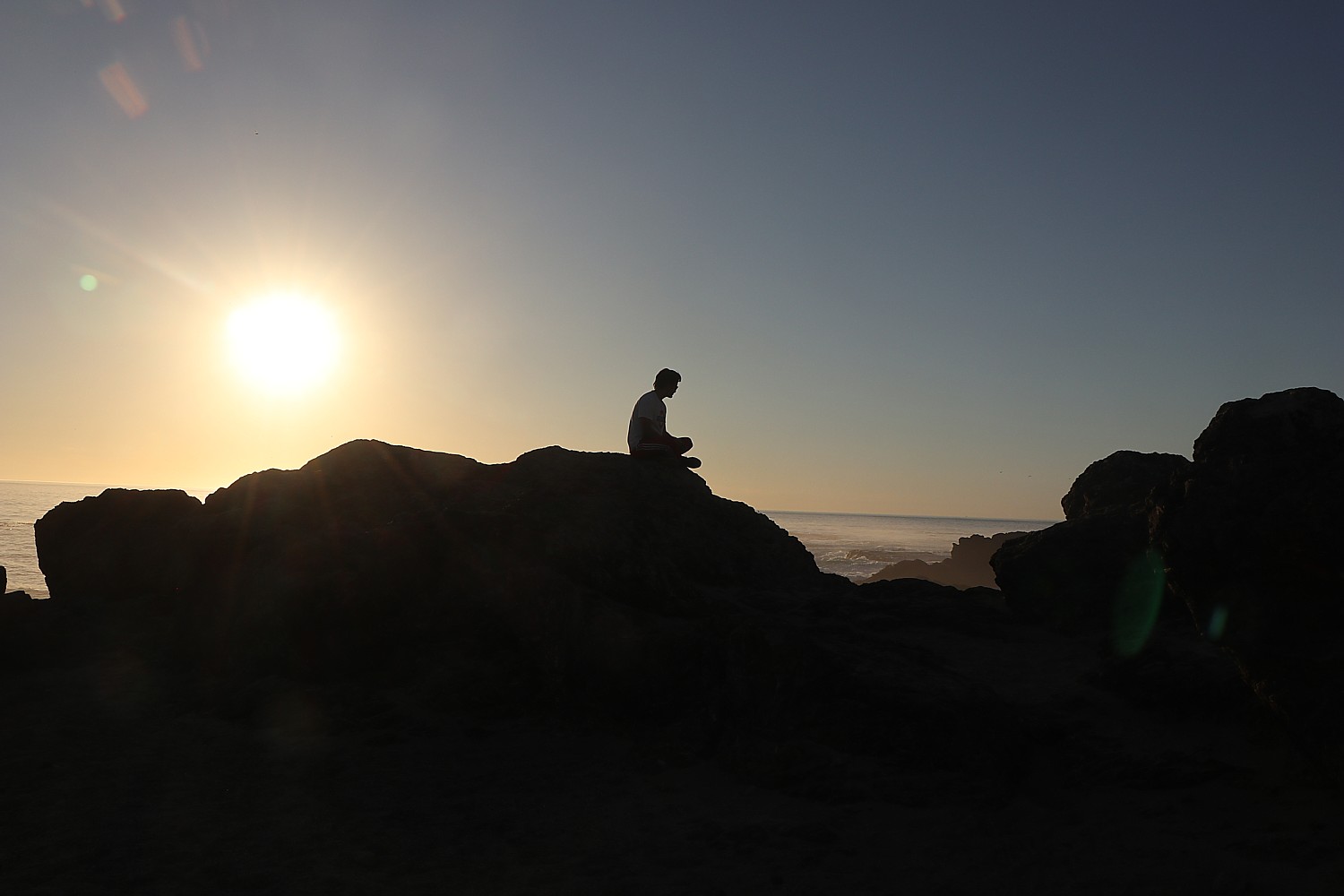 Headlands Coastal Trail. Menodocino is more "coastal elite" than "49er" © Karen Rubin/goingplacesfarandnear.com
The town itself hugs the rocky coast, providing a stunning scene from the coastal cliff walk, Headlands Coastal Trail, that snakes around and turns on itself for two miles. There is constant drama as waves rise out of green, aquamarine ocean crash against rocks, rush through rock tunnels with a roar and then spit up through a rocky blowhole.
Despite COVID and despite a drought so severe the town has
to truck in water, Mendocino is charming, welcoming, and exudes tranquility (and resiliency) – all is right with the world in this slice of heaven.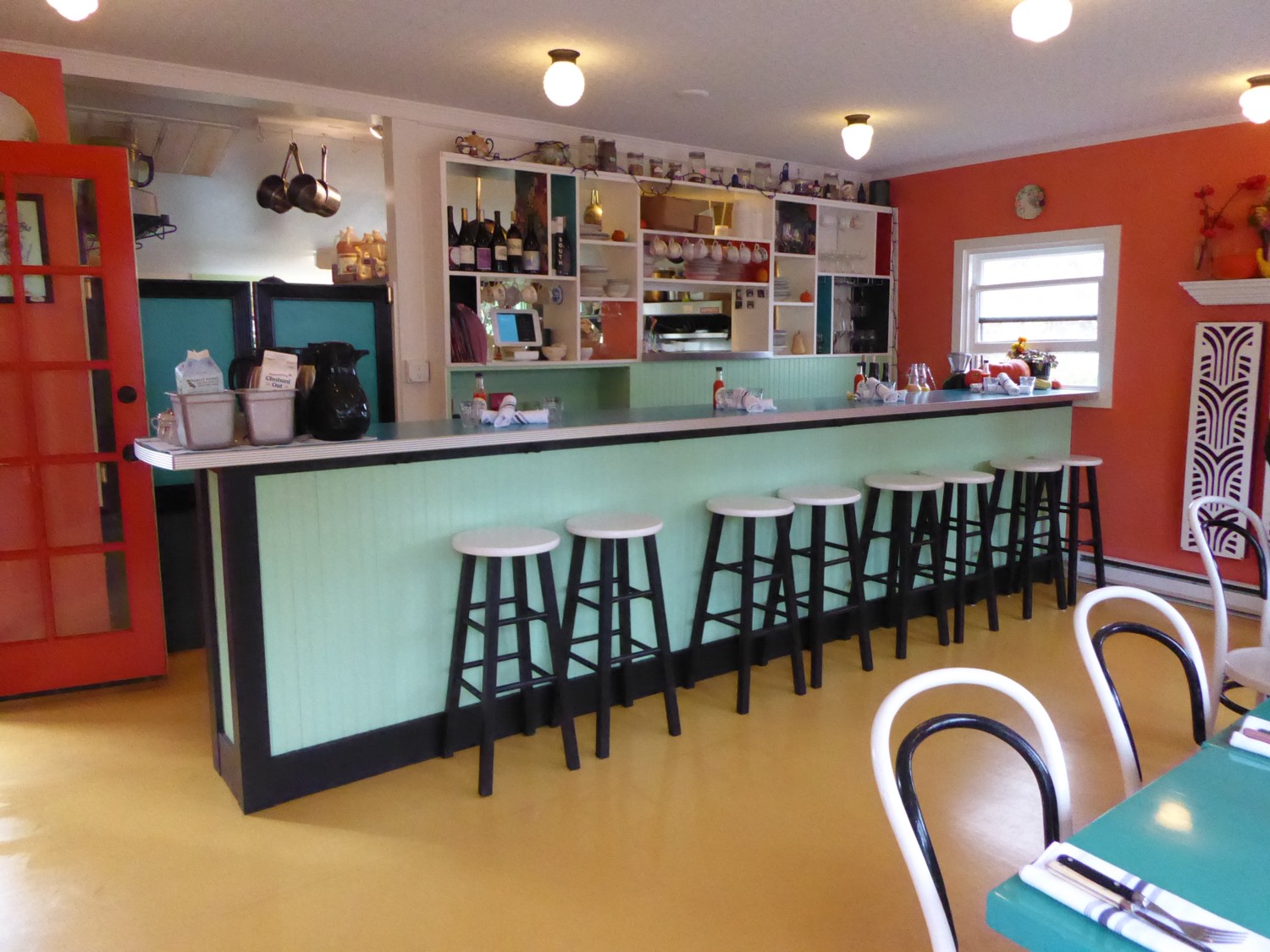 Fog Eater Cafe, Mendocino © Karen Rubin/goingplacesfarandnear.com
After a pleasant, relaxing morning at Little River Inn, we head to a delightful Sunday brunch at Fog Eater Cafe. Indeed, we join a line
that has formed before the quaint restaurant with a 1940s/50s diner vibe for indoor dining and a gorgeous garden for outdoor dining, even opens. The hearty menu is a vegetarian fusion of Deep South/New Orleans and NorCal (if you can imagine that), big on comfort food, served on gorgeous, random antique China with silver utensils.  It's a hoot, a feast for the eyes. You didn't imagine Southern food could be vegan? The whole menu is vegan except for poached eggs and the preparations make you forget you're not eating meat.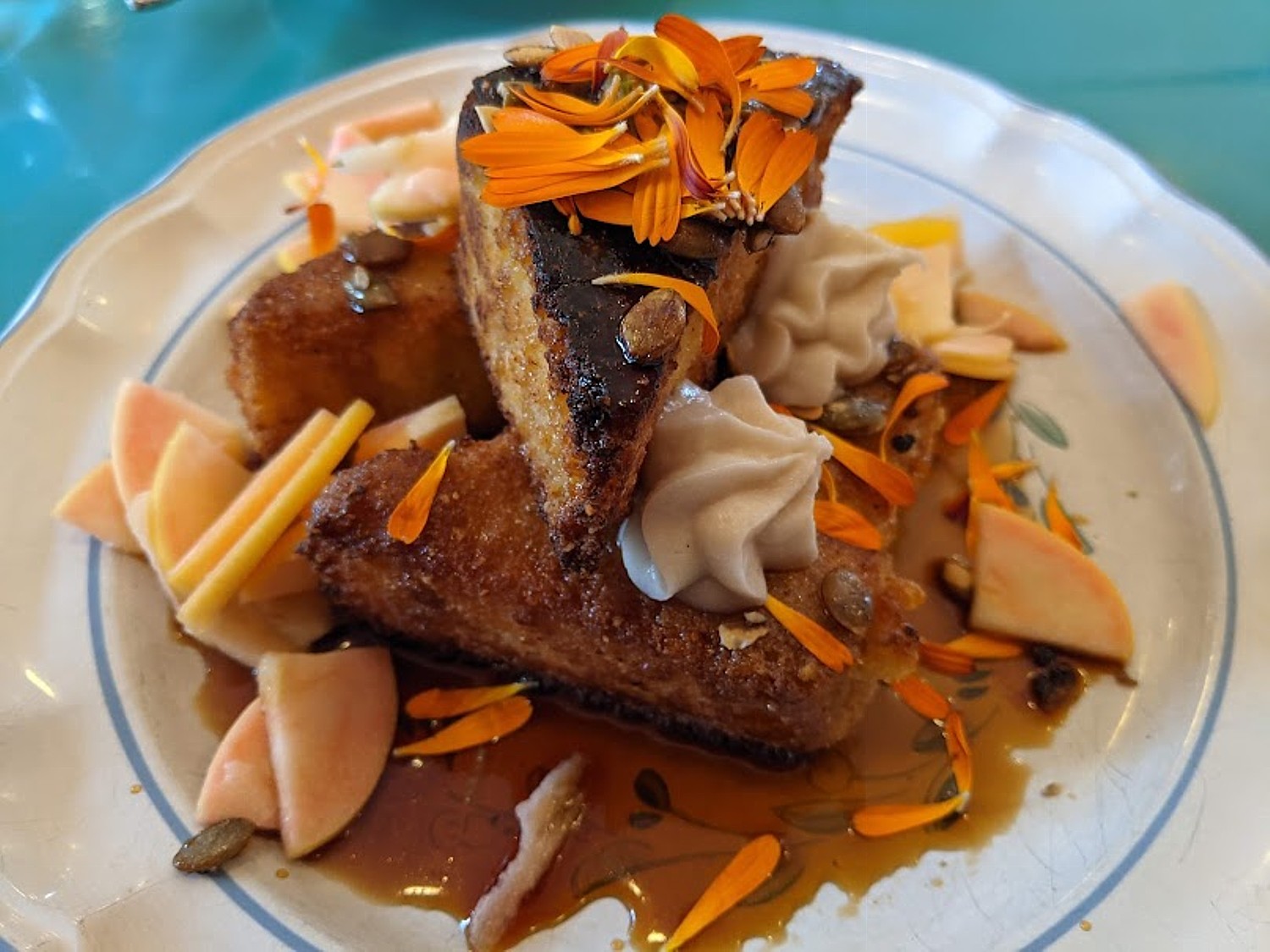 Sunday brunch at Fog Eater Cafe, Mendocino: corn bread French toast © Karen Rubin/goingplacesfarandnear.com
I get the corn bread French toast with apple, soaked in syrup. There's fried cauli+ waffles (fried cauliflower and green onion sorghum waffle with pepper jelly and spicy sorghum syrup); pimento cheese and
black-eyed pea sausage biscuit sandwich; savory oatmeal with local tempeh bacon, roasted carrots, braised greens with either poached egg or tofu. Fog Eater Café is open for Sunday brunch, happy hour, and dinner when menu items might include Cheesy Pumpkin Grits, Fried Blue Oyster Mushrooms, fried green tomato biscuit sliders and a Southern Plate featuring mac 'n cheese. The beignets come with a rhubarb jam. Natural wine, local beer and wine-based cocktails are also served. (Outdoor dining available for all; indoor dining for fully vaccinated guests; also take out; no reservations, 45104 Main St., Mendocino, CA 95460).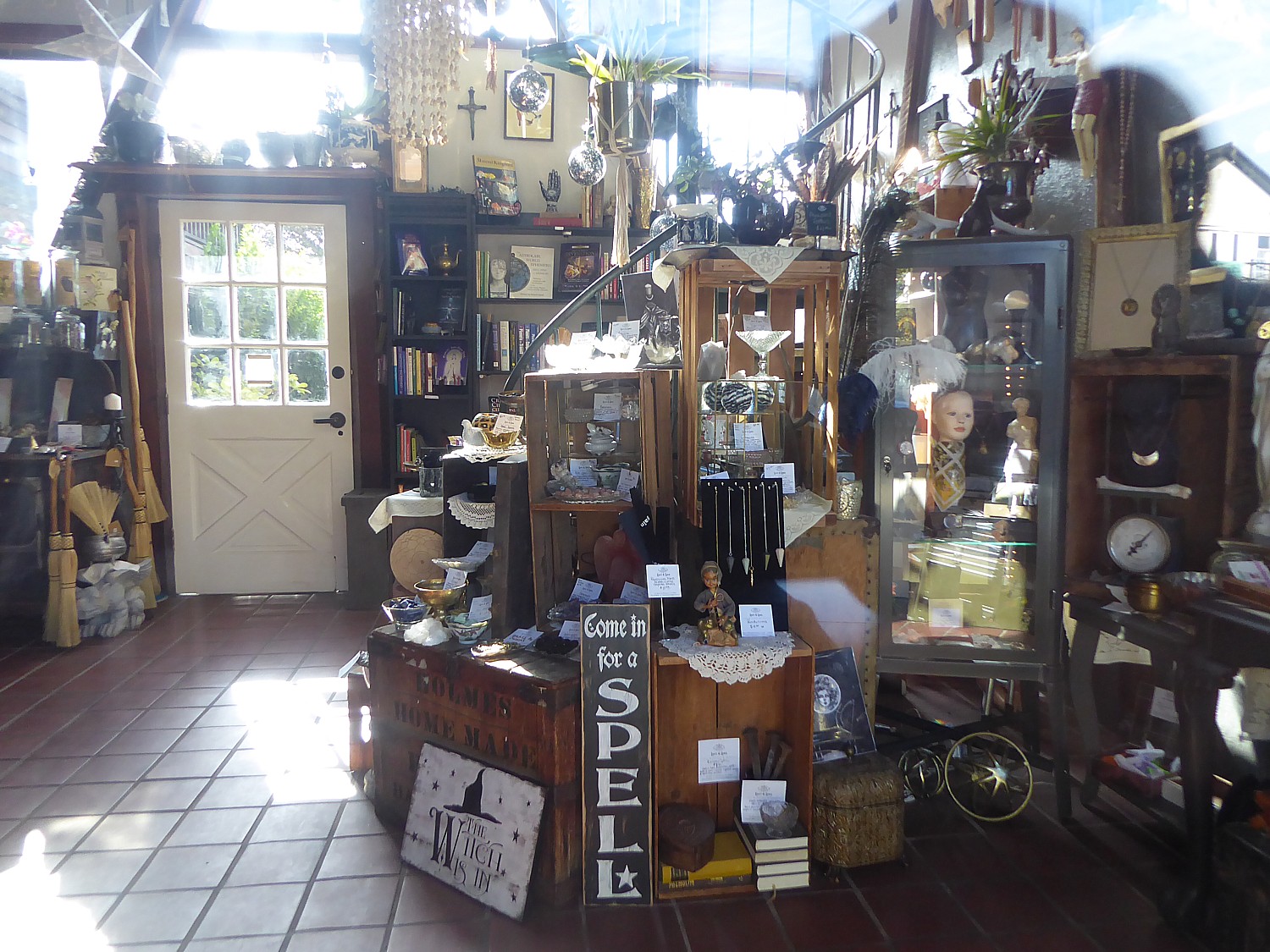 "Come in for a spell" at Loot and Lore, Mendocino © Karen Rubin/goingplacesfarandnear.com
With great delight, we walk each street to explore the lovely shops and galleries in Mendocino (the village's scale is perfect) – coming upon such special places as the Mendocino James & Preserves, Moore Used Books and Big River Trading Company on Main Street; the Artists Co-op of Mendocino, My Chic Farmhouse, and Icons on Albion Street; Mendocino Country Store on Ukiah; Mendocino Chocolate Company, Déjà Vu, on Lansing Street. Most intriguing is Loot and Lore, a wicca supplies shop on Albion, housed in a former water tower, where the sign that greets you is "Come in for a spell." (We peek in through the window because it was closed when we visit.)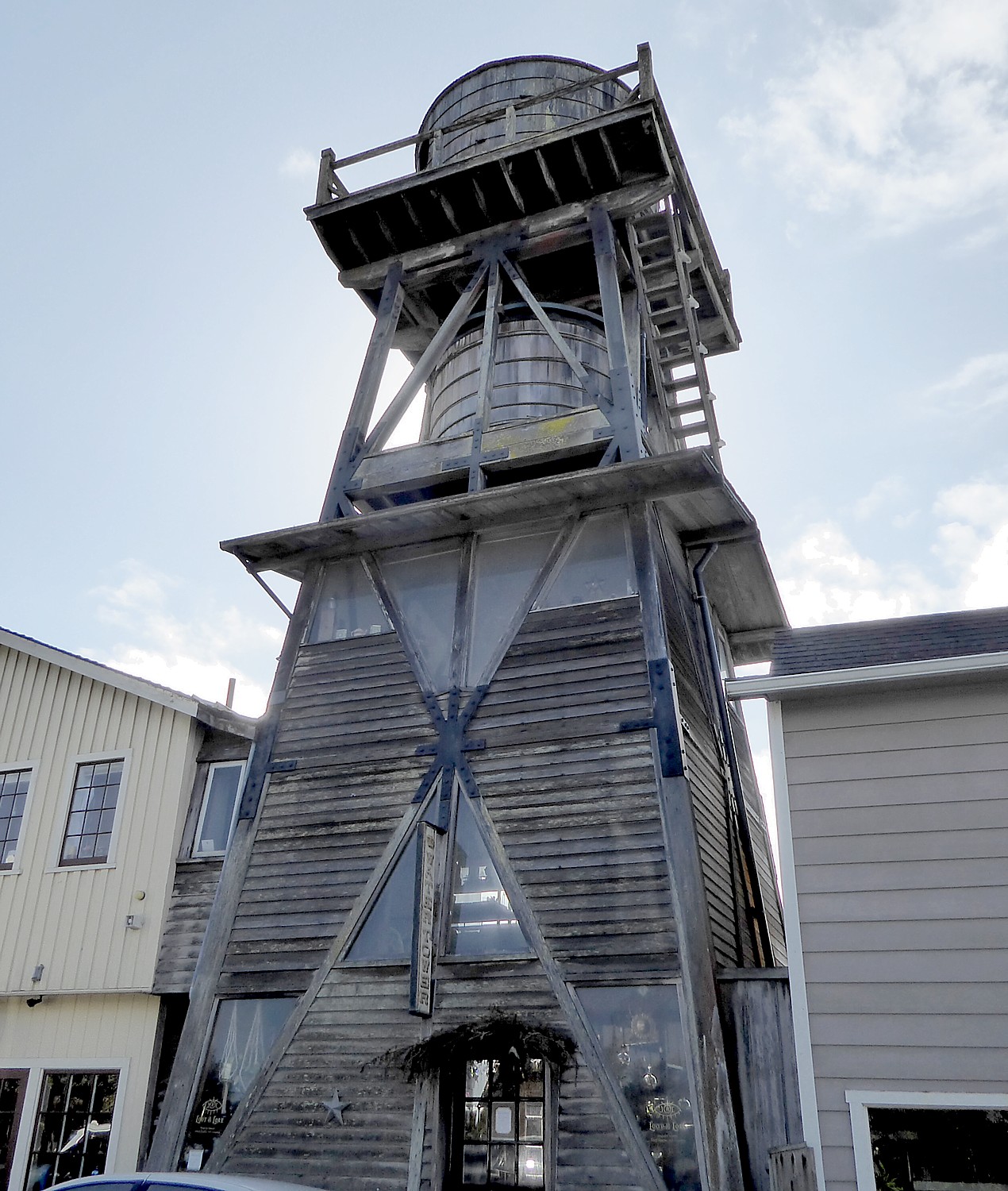 Water tower houses Loot and Lore, Mendocino © Karen Rubin/goingplacesfarandnear.com
We particularly loved Compass Rose (613 Albion Street), featuring American Crafts – the oldest family-run business in Mendocino, established 50 years ago; the father makes the leather items; there are also stunning objects in glass. Also, Rainsong offering exquisite contemporary clothing, accessories – you could imagine a millionaire coming to Mendocino for a weekend, buying a house and furnishing it and their wardrobe in one spot – the quality and designs are spectacular (10470 Lansing Street).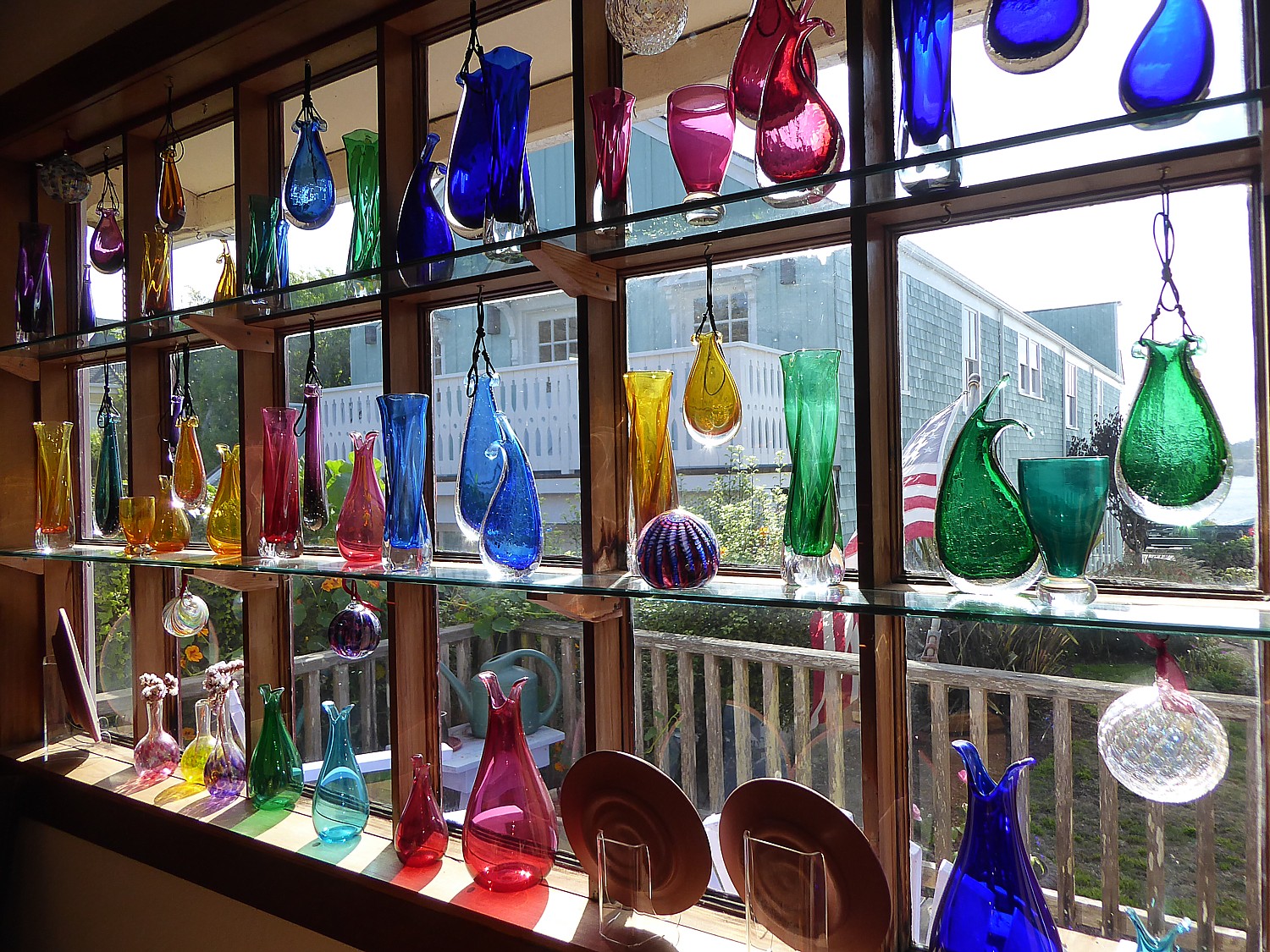 Compass Rose, Mendocino © Karen Rubin/goingplacesfarandnear.com
The galleries are marvelous – you never know what you will discover. I am enthralled coming upon the wildlife and nature photography of Jon Klein at the Lansing Street Gallery, which accurately describes itself as  "a hub for coastal and Bay Area artists, representing a diverse, vibrant and creative community" in the best fashion (lansingstreetgallery.com)
I especially love Mendocino's rich heritage – mixed or repurposed but preserved – like the water towers that once supplied the homes (and may well again, considering the drought). Besides the historic Ford House that now serves as the Visitor Center for Mendocino Headlands state park, the Kelly House Museum serves as the town's historical society and offers docent-led walking tours ($20 pp) as well as self-guided audio tours (707-937-5791, www.kelleyhousemuseum.org).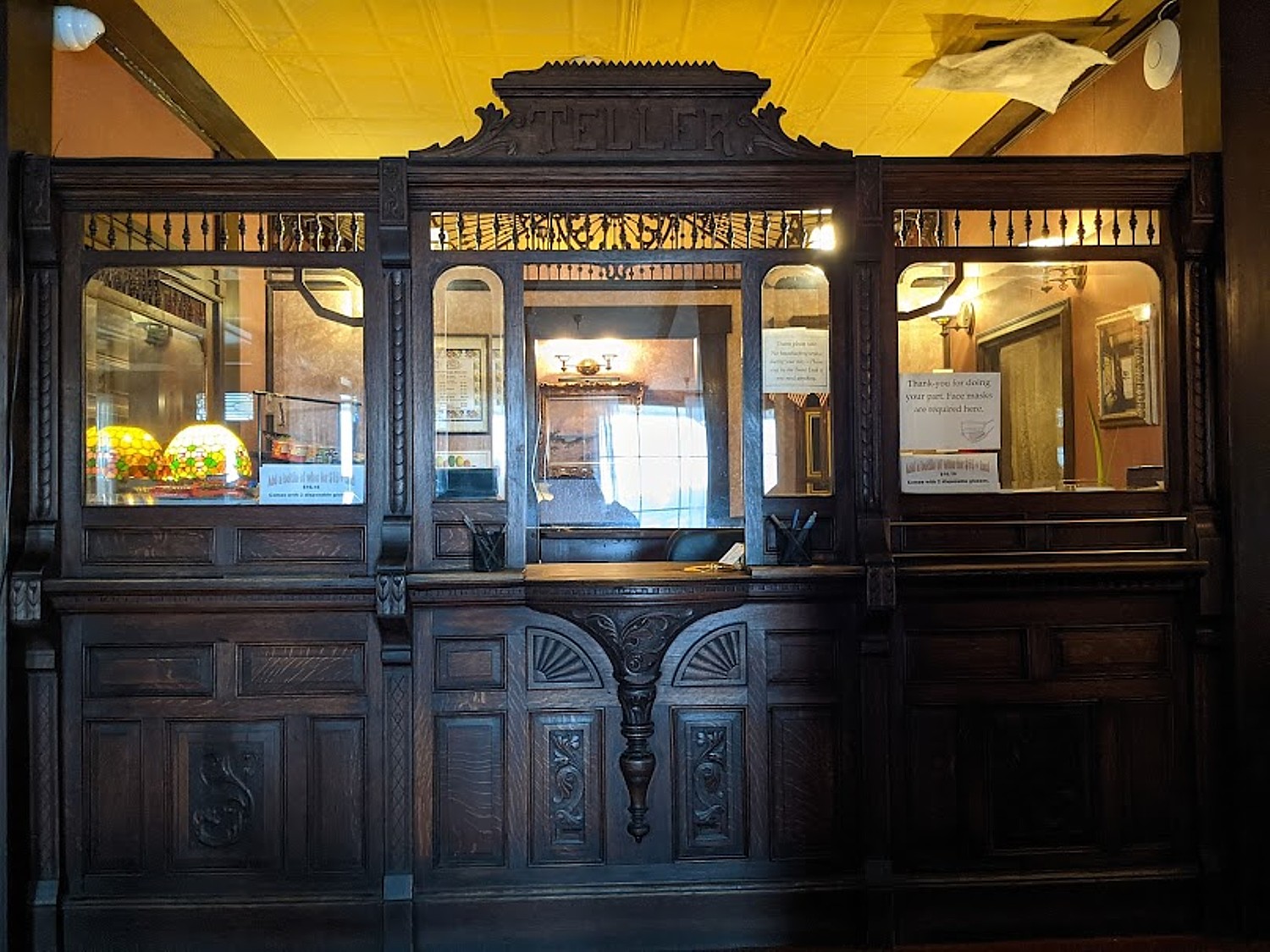 Historic Mendocino Hotel © Karen Rubin/goingplacesfarandnear.com
We loved wandering into the historic Mendocino Hotel, established 1878 – as you walk through the door with its etched glass into the Victorian lobby, you feel you have crossed through a time portal.
But what most transfixes me is the sculpture atop the Masonic Hall, dating from 1873, "Time and the Maiden," which has become Mendocino's iconic landmark.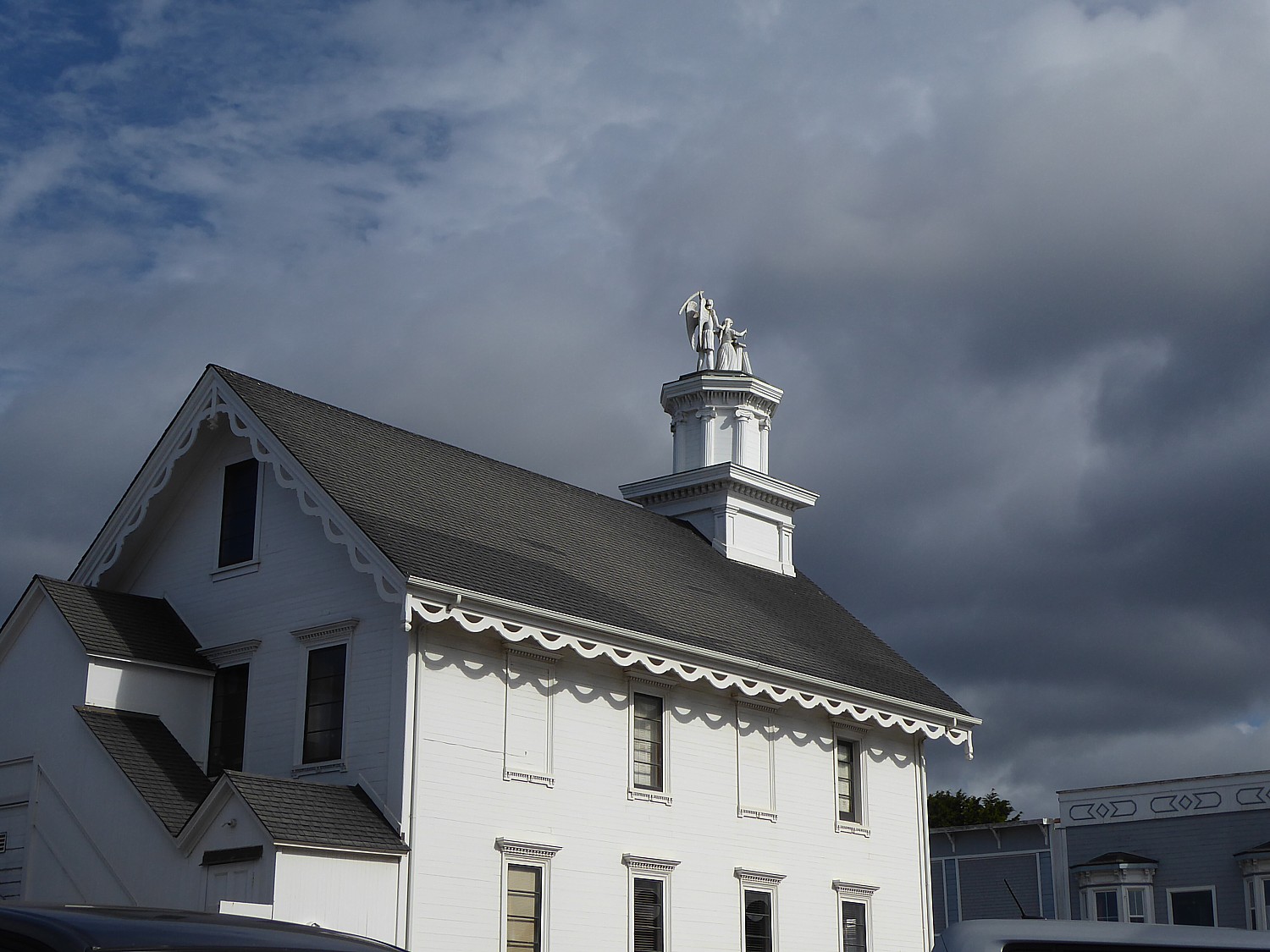 "Time and the Maiden" atop the Masonic Hall has become Mendocino's iconic landmark © Karen Rubin/goingplacesfarandnear.com
I later learn that this exquisite sculpture by Erick Albertson, "the first Worshipful Master" of the Masonic Hall, was hand-carved "out of a single virgin redwood trunk", is over 10 feet high and wasn't specifically commissioned for the hall. Albertson, who undertook construction of the hall in 1866, "created the statue as a personal exercise of craftsmanship" but the Masonic members wanted it for the hall, so had a cupola built to support it.
Also known as 'Father Time and the Weeping Maiden," the haunting scene depicts a weeping girl reading from a book that rests on a broken column, an hourglass at its base; she holds an urn in her left hand and a sprig of acacia in her right, as Father Time, depicted as an angel with wings and carrying a scythe, stands behind her, tenderly braiding her hair.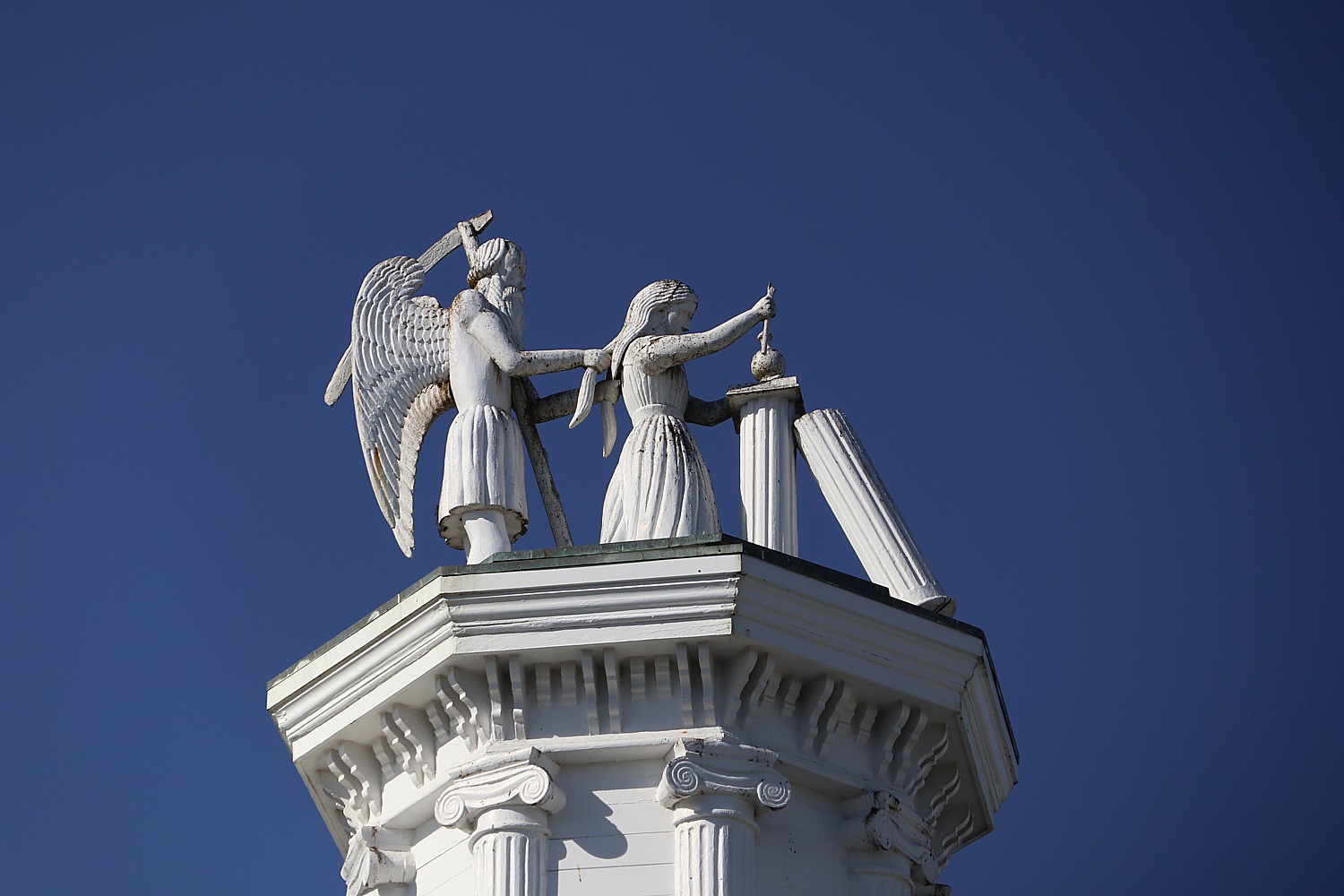 "Time and the Maiden" atop the Masonic Hall has become Mendocino's iconic landmark © Karen Rubin/goingplacesfarandnear.com
According to Wikipedia, the hour glass symbolizes the brevity of human life; the scythe and the urn foreshadow its end; the broken column symbolizes a life cut short prematurely, the weeping maiden represents those who mourn; the open book represents the enduring record of accomplishments. Acacia was the wood is specified in the Book of Exodus to use to build the Ark of the Covenant, and is also an evergreen known for its resistance to fire and decay, signifying the immortality of the human spirit. The symbols are drawn from history or mythology, and are used in Masonic rituals and rites. 
The masons have their own understanding of the symbols which boil down to "time, patience and perseverance will accomplish all things." 
But to me, the girl symbolizes lives cut short – so common in Albertson's day. Father Time is also the Angel of Death but his scythe remains in its sheath. He is taking his time, tenderly braiding her hair. Perhaps she is telling him she has not yet had the opportunity to fill the pages of that book. Perhaps we are witnessing a negotiation. Has the hour glass run out for her?
The Masonic Hall was added to the National Register of Historic Places in 1971, and though sold to a savings bank in 1977 which operates on the first floor, the Masons continue to hold their meetings there on the second floor.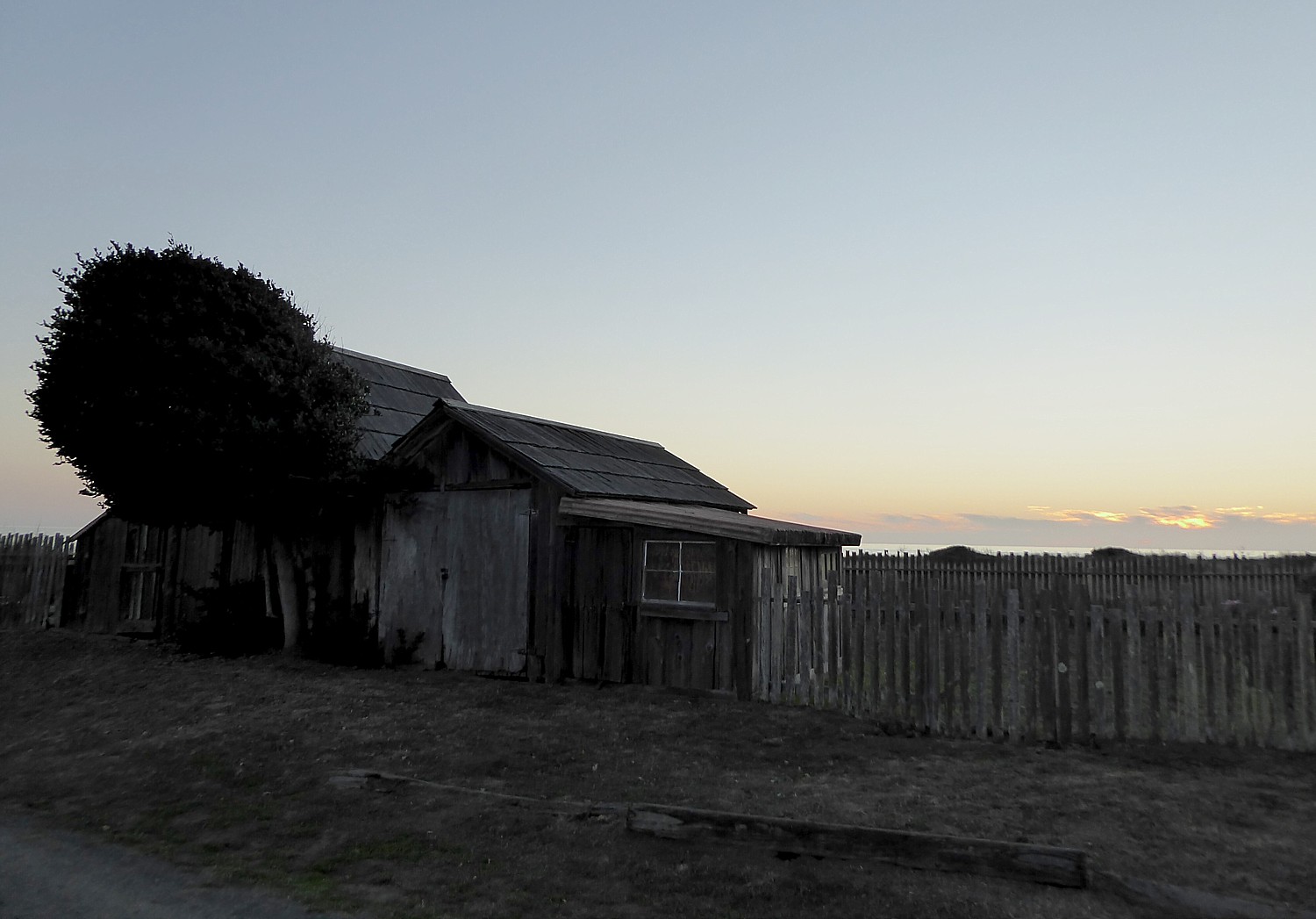 Mendocino cherishes its heritage © Karen Rubin/goingplacesfarandnear.com
Mendocino was the first of several north coast towns founded between 1851 and 1920 – the heyday of the lumber industry. German immigrant William Kasten was bound for gold country in 1850 when his ship ran aground off Mendocino coast; in 1851 he filed papers claiming the land. San Francisco engineer Harry Meiggs built a sawmill at Big River in 1852 and Little River was founded in 1854 as a mill town supplying the lumber that built San Francisco.
In 1854 Jerome B. Ford, superintendent of the first sawmill and founder of the town, built a home overlooking the Pacific. Today, the Ford House serves as the visitor center for Mendocino Headlands State Park and houses various exhibits.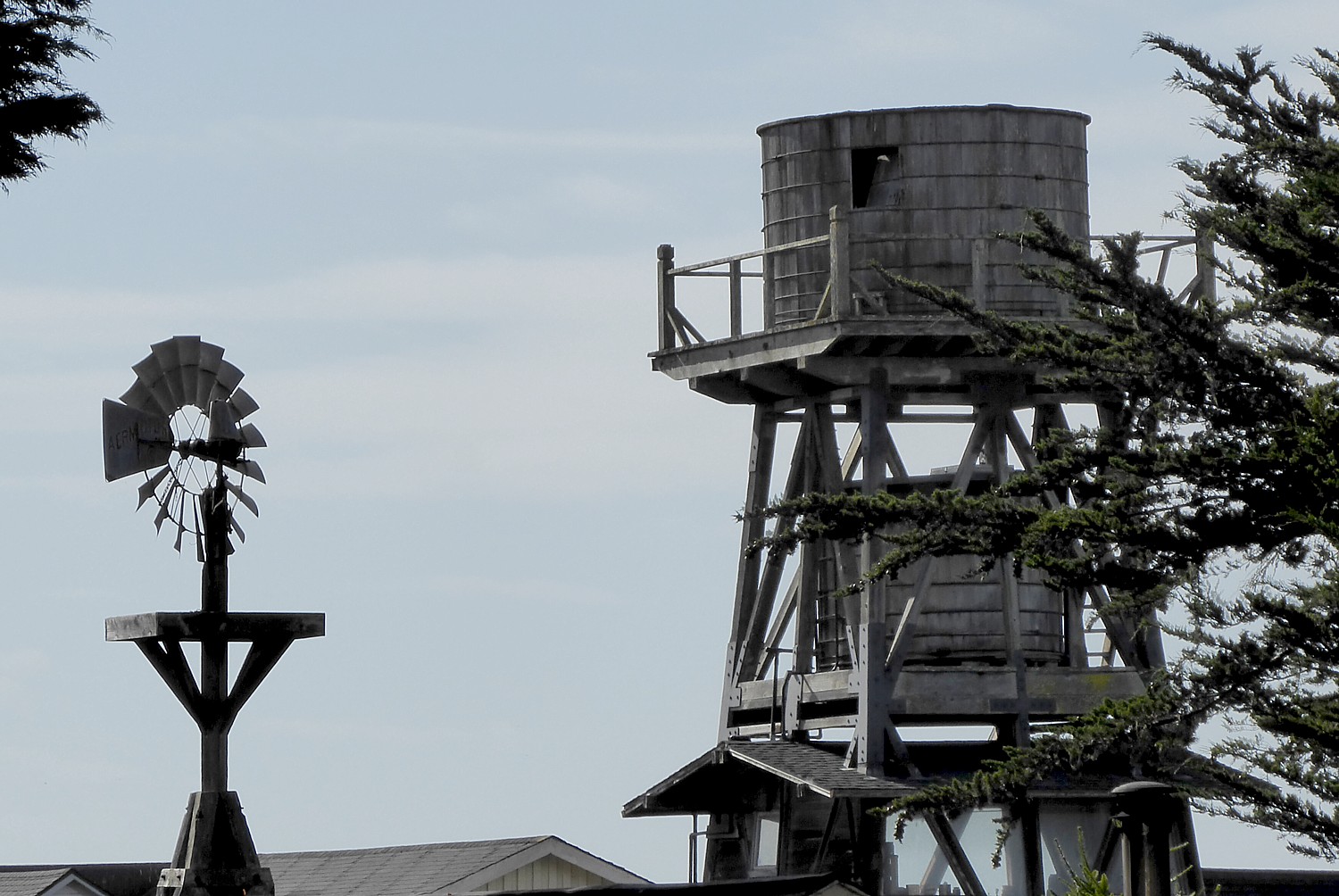 Mendocino cherishes its heritage and what's old can be new again © Karen Rubin/goingplacesfarandnear.com
Many who found their fortune not in California's gold but in lumber built these magnificent Victorian buildings. But over-logging resulted in depletion of the forests and led to businesses and the school being abandoned – until new enterprises, like the vineyards and tourism, repurposed and repopulated the area. (We stay at Little River Inn, opened by Ole Hervilla, a pioneer of Mendocino's tourism, who converted his 1857 house into the inn in 1939).
We can't leave Mendocino without returning for a brief walk on a favorite section of the Headlands trail, just before it starts to rain. Considering the drought, I expect to see people rushing out and dancing.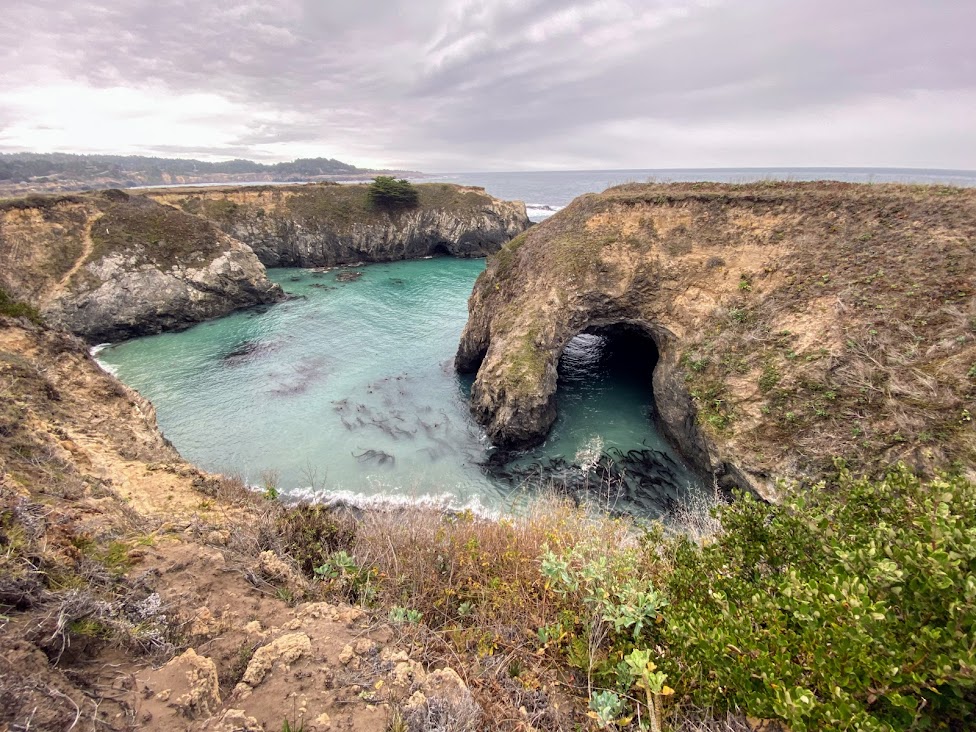 Headlands Coastal Trail, Mendocino © Eric Leiberman/goingplacesfarandnear.com
During our all-too brief but oh so perfect weekend in Mendocino, every moment is filled with something special, and yet so unhurried and relaxed. We are able to enjoy the Skunk Train, Glass Beach, Noyo Harbor and Headlands Coastal Trail, as well as exploring Mendocino's lovely shops, boutiques, markets and eateries. But there are scores of other places and experiences – so many with enchanting names and providence (Glass Beach, Pygmy Forest, Fairy Trail) – and we can't wait to return.
On our list (with help of the Brewery Gulch Inn and Little River Inn):  
Beaches
Van Damme State Beach (the Little River Inn has its own trail down to the beach directly below). Among the activities, this is the launching point for sea cave tours by kayak (Kayak Mendocino, www.kayakmendocino.com, 707-813-7117)
Caspar Beach on Point Cabrillo Drive off Highway One. "Good rock and tide pooling during low tide"
Big River Beach just north of the bridge in Mendocino, where the redwoods meet the sea, is reached from the Presbyterian Church on Main Street to a staircase to the beach. "The most popular beach with lots of activity- surfers, volleyball, etc. Soft sand, river side is often warmer, currents can be dangerous"
Hikes:
The Haul Road at Big River – "Flat and straight, easy walk into the redwoods with a stroller"
Van Damme Pygmy Forest: Fern canyon and ecological staircase walk."Wooden walkway has educational signage about the pygmy forest. Both walkway and trail are easy for shorter legs and strollers."
The Fairy Trail – inside the Botanical Gardens in Fort Bragg. "Discover fairy dwellings and other surprises. The Gardens are hilly, so bring stroller or prepare to carry little ones."
Jug Handle State Preserve – just north of Caspar on Highway One, which is recommended by a couple we meet at the Fog Eater. "Best example of an Ecological Staircase in the Western Hemisphere."Hike through six different ecological zones – a five million year old ecological staircase with ancient marine terraces – wander through tall pygmy forests along a creek canyon. "Great educational science hike for older kids. Be sure to pick up the guide in the parking lot that explains everything."
Montgomery Woods – first-growth redwood groves (there is an uphill half-mile hike to the virgin redwood groves)
MacKerricher State Park – scenic boardwalk along the ocean to tide pools and seal observation points or walk around the lake.
Ten-Mile Beach – dunes and miles of deserted beach, just north of Fort Bragg past the railroad trestle. – good for walking and biking.
Activities/Attractions
Mendocino Coast Botanical Gardens – 47 acres overlooking the Pacific
The Point Cabrillo Light House – (Schedule of events at PointCabrillo.org)
Bryan Preserve – in Point Arena: Preserve and breeding of endangered African hoof animals (Weekends, by appointment only). "The 2-hour Jeep tour better for older children"
CV Starr Aquatic Center, Fort Bragg: Water park with lazy river, water slide (must be 48"), and fountains.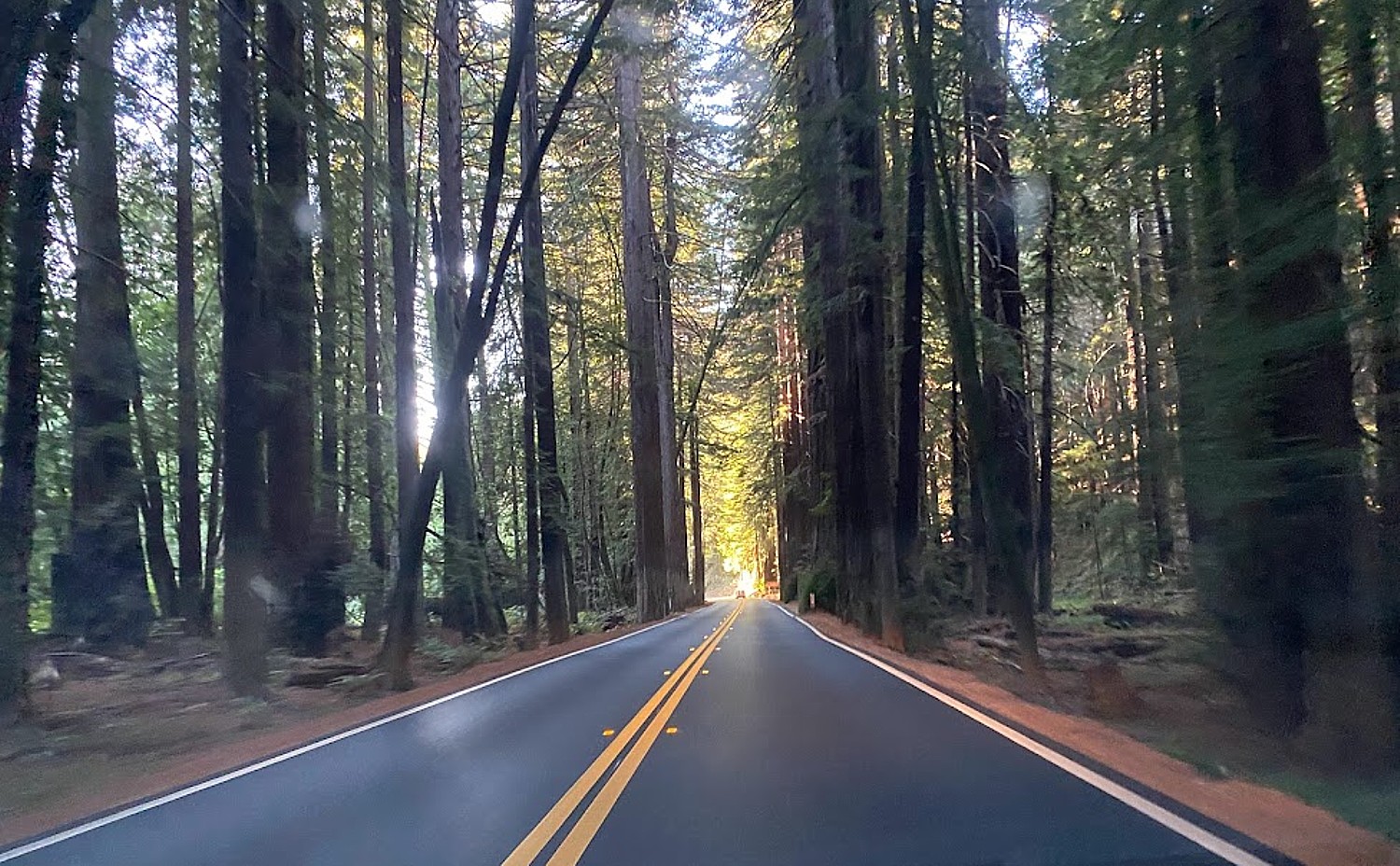 Driving 128 through the Navarro Redwoods Forest © Eric Leiberman/goingplacesfarandnear.com
The drive back to Sonoma along Route 128 is gorgeous – taking you through the Navarro Redwoods Forest and Anderson Valley wine region where we stop off at Husch Winery for a wine tasting (we enjoyed the wine at both the Brewery Gulch Inn and Little River Inn). It is very picturesque setting for wine tasting amidst the 21-acre vineyard of Pinot Noir (the vineyard was the first to grow Pinot here), Chardonnay and Gewurztraminer grapes (they require a warmer climate). Husch, founded in 1968, was one of the pioneering vineyards in the Anderson Valley and has used sustainable farming techniques since the 1960s (owl boxes help with gopher control, no till farming, sheep as mowers, insectory, cover crops, fish friendly farm).  In 1971 Husch made history by becoming the first bonded winery in the Anderson Valley. H.A. Oswald (neighboring grape growers) purchased the winery from Tony and Gretchen Husch in 1979; today the Oswald grandchildren run the day-to-day. (Husch Vineyards, 4400 Highway 128, Philo, CA 95466, 800-554-8724, huschvineyards.com)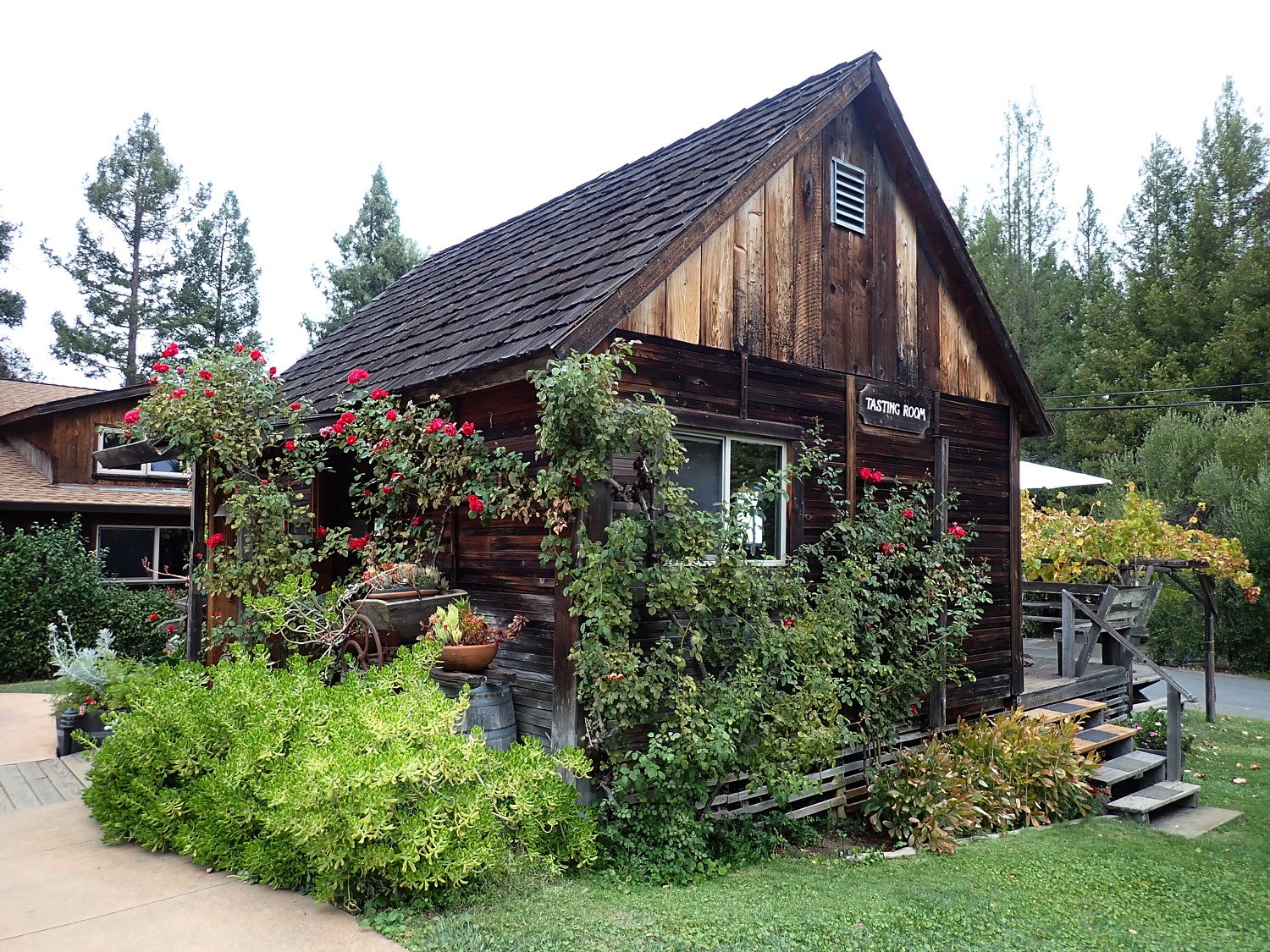 Husch Vineyards © Karen Rubin/goingplacesfarandnear.com
We also stop at the PennyRoyal farm in Boonville, famous for its cheese and wine, happy to show off its 23 acres of vineyards, sustainable farming practices and traditional winemaking methods. The rain now coming down heavily (and you need a reservation for a tasting or tour), we stop just long enough to buy delectable cheese produced from their sheep and goats (www.pennyroyalfarm.com).
For excellent planning help: Visit Mendocino County, 866-466-3636, 707-964-9010, www.visitmendocino.com.
See also:
WEEKEND GETAWAY IN MENDOCINO: BREWERY GULCH INN
WEEKEND IN MENDOCINO: HISTORIC SKUNK TRAIN INTRODUCES A NOVEL RAILBIKE EXPERIENCE
WEEKEND GETAWAY IN MENDOCINO: LITTLE RIVER INN
______________________
© 2021 Travel Features Syndicate, a division of Workstyles, Inc. All rights
reserved. Visit goingplacesfarandnear.com, www.huffingtonpost.com/author/karen-rubin, and travelwritersmagazine.com/TravelFeaturesSyndicate/. Blogging at
goingplacesnearandfar.wordpress.com and moralcompasstravel.info. Send comments or questions to [email protected]. Tweet @TravelFeatures. 'Like' us at facebook.com/NewsPhotoFeatures