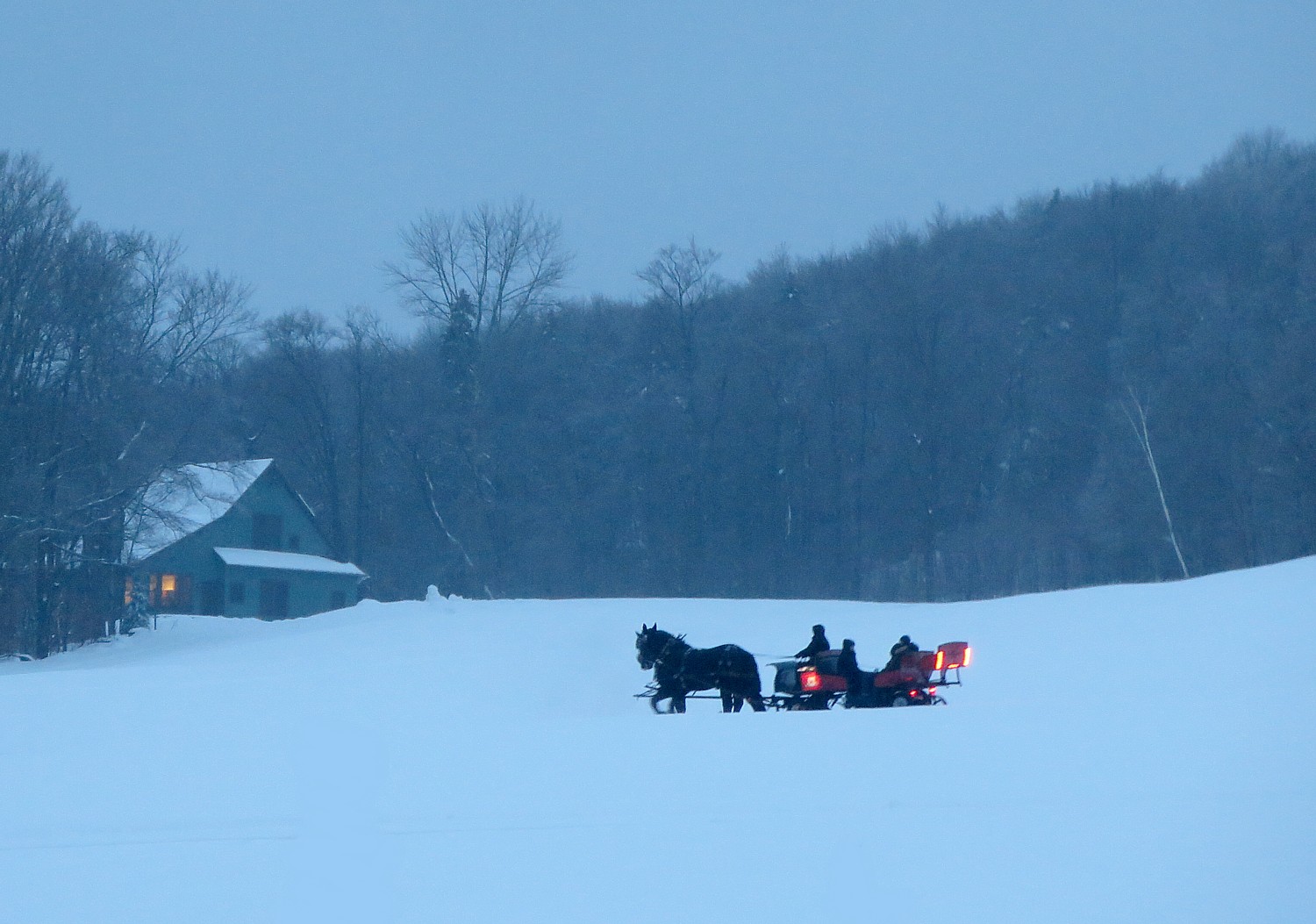 by Karen Rubin, Dave E. Leiberman & Laini Miranda
Travel Features Syndicate, goingplacesfarandnear.com
There are subtle things. Little surprises. Like shortly after our arrival at the Mountain Top Inn & Resort, I peek outside to see the horse-drawn sleigh gliding across the field. It is a signature experience at the inn, a class Vermont scene, but when you see it, you are overwhelmed.
It's a place that organically brings people together. The low ceilings, the cozy sitting areas (I estimate probably one for each family grouping can be found), fire places, the fire pit with a supply of s'mores.
Even getting there along the narrow winding Vermont country roads to Chittenden, brings you through a Currier & Ives landscape.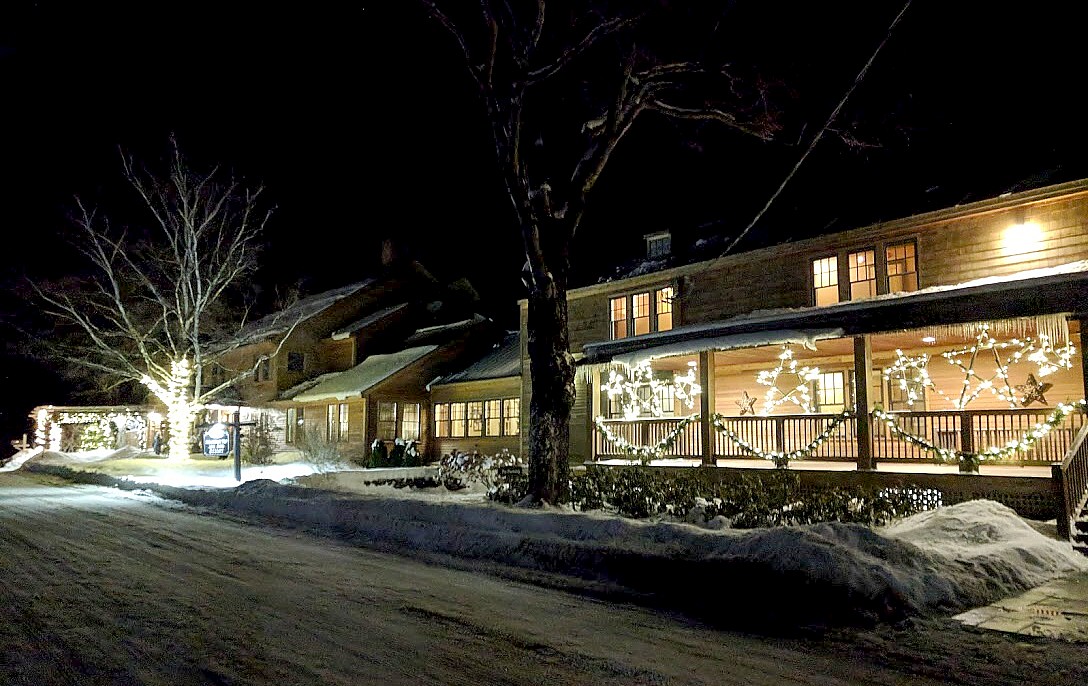 Mountain Top Inn & Resort has all the charm, the warmth, the cozy, intimate hospitality of a country inn, and all the luxury, amenities, activities and quality dining of a resort. It is both small and big in the ways you want.
It's the sort of place that you instantly feel at home, exquisitely at peace. You don't want to leave. Even the memory of having been there, fills you with longing to return.
The setting is breathtaking – 350 acres surrounded by open fields, a 740-acre lake and mountains beyond, and the Green Mountain National Forest. Indeed, Mountain Top's name comes from the fact that at nearly 1,800 ft in altitude, the inn may well be the highest non-alpine resort in Vermont.
It is no wonder Mountain Top is so popular for weddings (elopements too!) – it exudes romance (two weddings were scheduled during the holidays). But any family gathering is special here.
I take note of the many, many cozy sitting areas – almost as many as there might have been families staying. The low ceilings and soft lighting, the fire in the fireplace, much more of a living room than a lobby, more of a den than a lounge.
We are here at the holidays and the inn has decorated Christmas trees and lights, fires going in the fireplaces; there is hot coffee, tea and hot chocolate set up in the afternoon.
Mountain Top Inn offers 32 rooms in the main lodge (classic, luxury and luxury suite), four king-bedroom cabins and more than 20 guest houses, each individually decorated, affording stunning views of the Vermont Countryside.
Our Lago Vista Suite is breathtaking – a kind of Colonial Spanish feel with a gas-operated double-sided fireplace separating the sleeping area from a living room area with plush easy chairs, a flat-screen TV, kitchenette. A stunning bathroom done with decorative terra cotta tile. All incredibly warm, like a big blanket enveloping you. And the view! Windows all across the wall out to the open field and the reservoir and mountains beyond. The bedding is so plush, it is a struggle to get out of bed in the morning.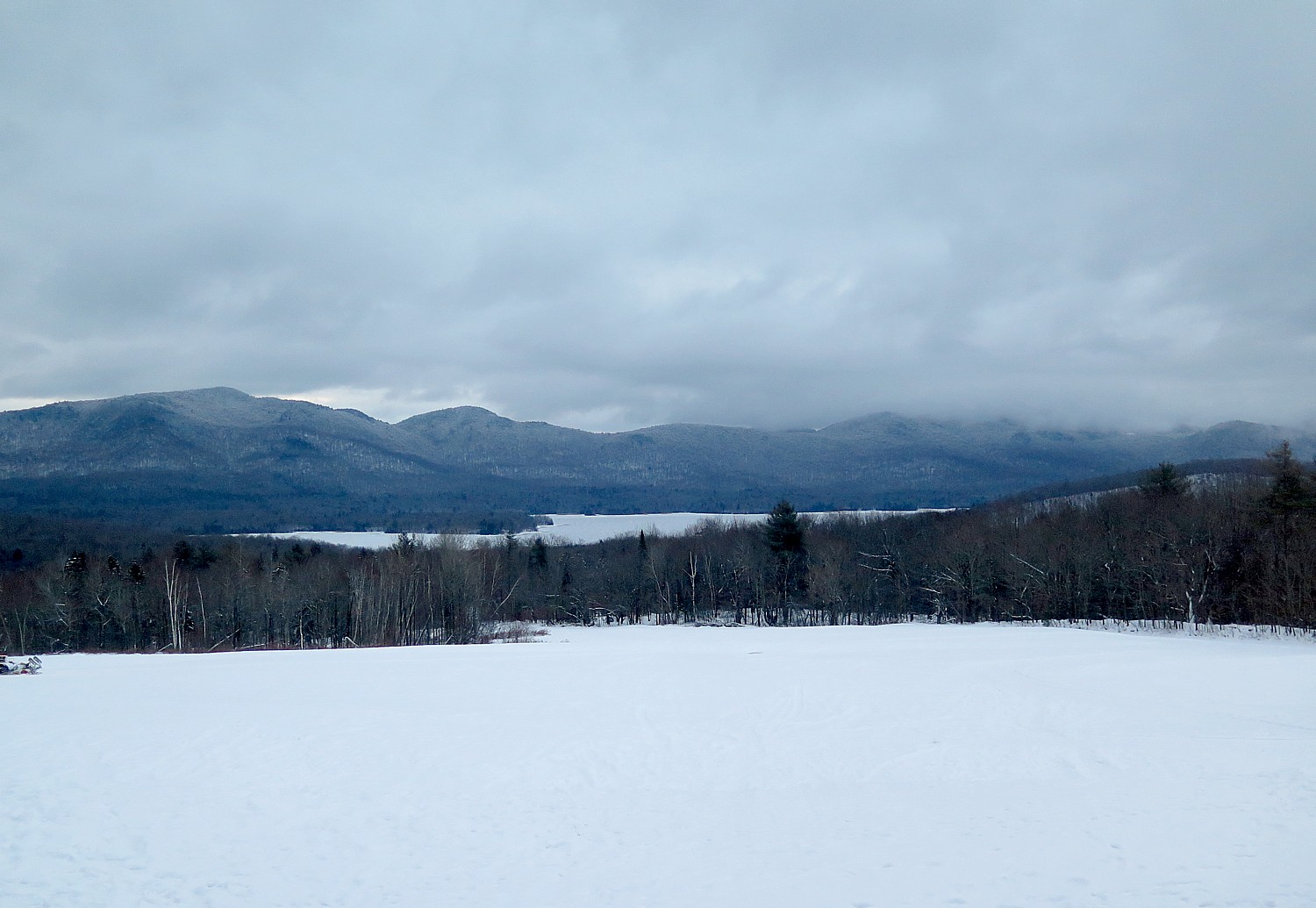 Other suites are notable: The High Meadow Suite, popular as a bridal suite, has 8 windows with views to the lake and mountains, a luxurious bathroom, double-sided fireplace visible from the living room and bedroom, a large kitchenette.
Of these, Ike's View, on the southern corner of the second floor, is particularly noteworthy.  Rich in history, it is named for President Dwight Eisenhower who stayed at the inn during a fly fishing expedition in 1955. Ike's View can be combined with the adjoining suite, Mamie's Retreat, to create an expansive two-bedroom/two bath wing with living room, kitchenette and fireplace. Presidential, indeed.
During the holidays, the guests are provided their own s'mores kit (and each evening, a tray of s'mores fixings are left by the fire pit).
The resort also features four newly built luxuriously appointed cabins, which are open-plan, king accommodation living space -inviting and cozy,  a perfect mountain retreat for two. Each with its own unique design, and within easy access to all resort amenities. The cabins are located across a quiet country road from the Main Lodge and adjacent Event Barn.
Accommodations also include hearty Vermont buffet breakfast – complete with eggs, bacon, sausage, yogurts and cereals, breads and pastries, fresh juices and coffee.
The Main Lodge rooms and suites are not pet-friendly, but some of the inn's luxury cabins and guest houses are (and some of the snowshoeing trails also are pet-friendly).
Dining Inn
The inn on this winter day we arrive after a five-hour drive is fairly isolated and we are content to enjoy dinner in its traditional mountain lodge atmosphere. We opt to dine in the nicely appointed Tavern at a table right in front of the fireplace (there is also a dining room, and you can order from either menu).  In warmer seasons, you can also dine on the outdoor terrace. In or out, you still have gorgeous views of the mountains, lake and meadow.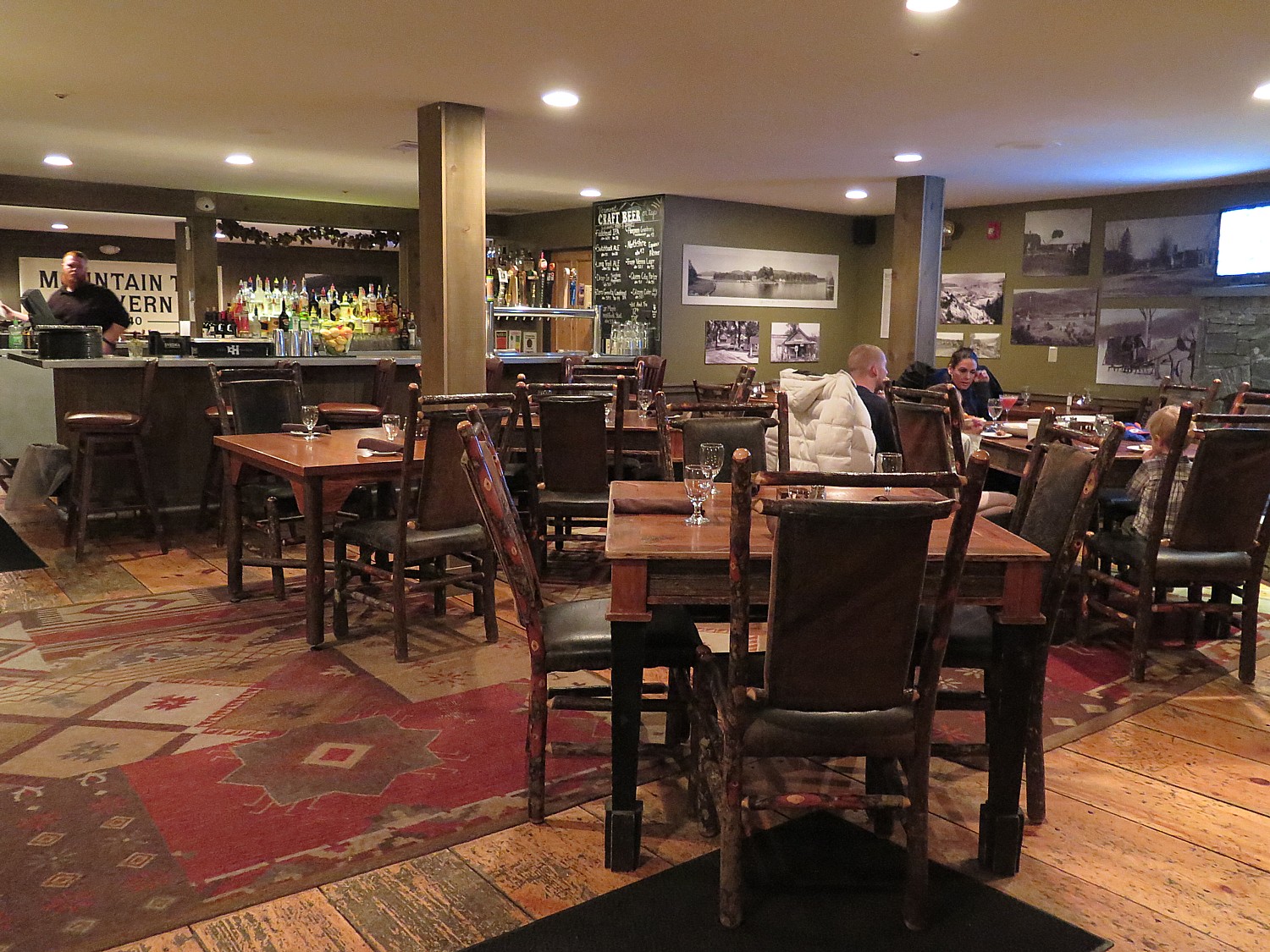 The menu and preparations are superb – artfully crafted selections featuring locally sourced ingredients wherever possible. The tavern has an extensive selection of locally crafted Vermont brews on tap. (Reservations are recommended, especially during the holidays, 802-483-2311).
The inn also can prepare picnic lunches – which would be really a good idea for a day cross-country skiing or snowshoeing or hiking.
The Baked Brie, featuring  12 Blythedale Farms Brie in a puff pastry, orange marmalade, blackberry jam, and grilled baguette, was out of this world.
The truffle fries, prepared with Parmesan cheese and truffle aioli was superb.
The Grilled Caesar was prepared with grilled Romaine hearts, capers, croutons, Parmigiano-Reggiano, roasted garlic and house-made Caesar dressing.
The French Onion soup, with Spanish onion, red onion shallots, croutons and baked Swiss cheese, was perfect.
We also enjoyed perfectly prepared burger and short ribs.
The restaurant did a fantastic job of accommodating our gluten free requests and promptly provided delicious gluten free rolls for both dinner and breakfast. The restaurant will also accommodate special dietary needs, including vegetarian, with advance notice.
The dining room serves breakfast and dinner; a children's menu is available.
During the holidays, there is live music playing.
Staying in one of the guest houses? Special arrangements can be made for one of the chefs to prepare a private dinner in the home. (Advance notice required, pricing based on items chosen.)
So Much to Do!
Inn guests have access to daily afternoon refreshments in the Main Lodge lobby, use of the hot tub, sauna and fitness room, free WiFi, as well as access to seasonal activities. In winter, these include a access to the inn's 60 km cross-country ski trail network (rentals, lessons available), snowshoe trails, ice skating rink (a small, cleared area on the meadow that is flooded; skate rentals available, $10). Warm weather activities include heated outdoor pool, tennis court, lake-front beach where there are kayks, canoes, paddleboards for guests, disc golf.
We get to enjoy the hot tub on evening – you can see the stars from the outdoor hot tub. When the mist would dissipate, it would open up to a view if the sky.  It's a 15-second walk from the hotel Tavern (wear shoes).  It takes a minute to adjust to the temperature of the hot tub (very hot! then it's perfect). You can call ahead and request that they fire up the tub for you.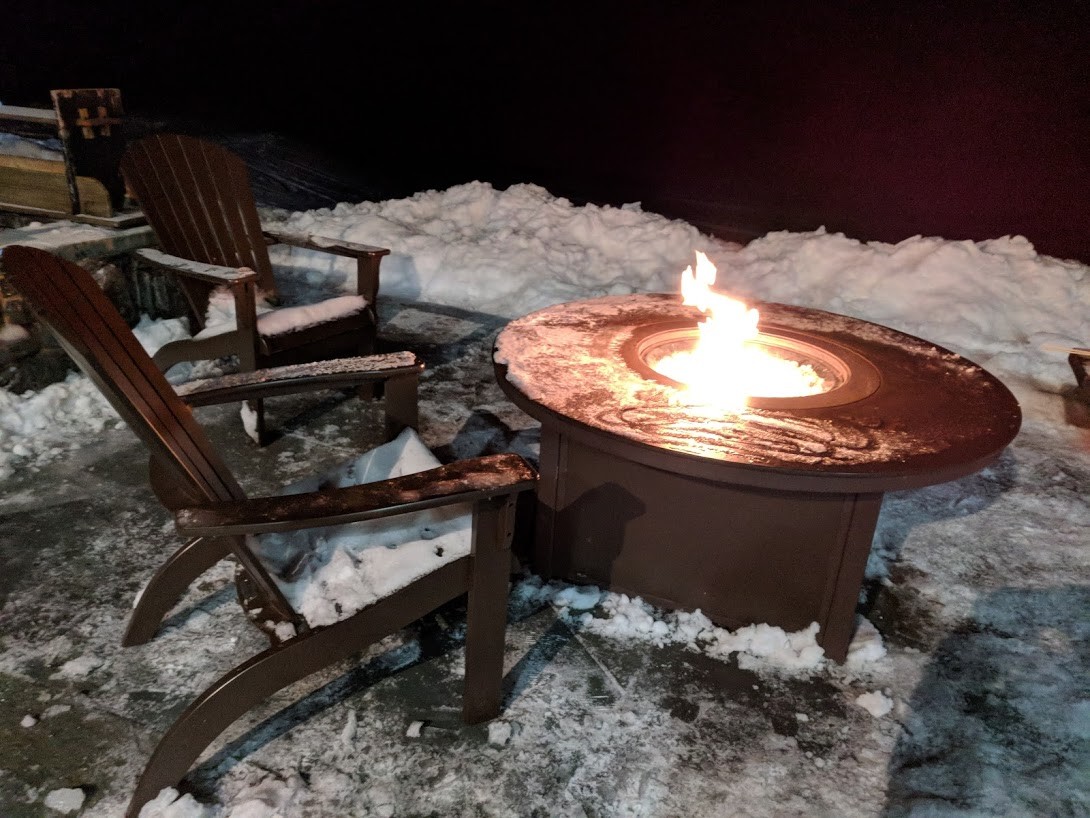 With 350 private acres perched at the top of a quiet mountain road, a 740 acre lake, miles of trails, expansive meadows, the Green Mountain National Forest and a full host of activities, there is no shortage of things to do right at the resort.
Nordic Skiing at Mountain Top has been a favorite past-time since 1964, with 60 km of trails plus the meadows, offering varied terrain and sweeping views.  Through over 50 years of continuous operation, Olympic Athletes, Vermonters and XC Skiers from all over the country have come to Mountain Top. You can get Nordic ski lesson; learn to ski package; rent equipment.  Trails are open 8 am to 4 pm.
Snowshoeing: Whether you've been doing it for years, or this is your first try, snowshoeing (one of the easiest new sports to acquire, you just walk) is a wonderful way to explore the woods and meadows and get that cardio going! The team at the Activities Center will provide a trail map and the inn's chefs can pack you a lunch.  There are pet-friendly trails. There are twilight group snowshoeing tours (lamps provided).
Horse drawn sleigh rides, the quintessential Vermont thing to do, are offered mid-December through March (weather permitting); reservations are required for the 30-minute tours; private rides and packages are available (maximum 9 adults & children per ride; $40 adult/ $20/child call 802-483-6089).  A Sleigh Ride & Dinner Package (includes sleigh ride, 3-course dinner for two & taxes , can be scheduled ( $150, gratuity & alcohol not included).
Snowmobiling: Hit the VAST trails or tour Mountain Top's property. You can take a guided 30 minute Snowmobile Tour through the meadows and along some of the trails at the Mountain Top Resort, or stop by for a bite to eat (or overnight stay) as you journey along the VAST Trail System –the Inn is  located right on the trail ($60 pp as a driver; $15 as passenger for 30 minutes).
Spa & Salon: Mountain Top's spa is located on the ground level of The Mountain Top Barn adjacent to the pool and hot tub. With features such as barn board wall paneling, hammered copper pedicure basins, a spacious cedar sauna, custom soapstone sinks, rich leather and wood furniture and views to the mountains and lake –  the spa & salon is a perfect example of 'rustic luxe' design in a wholly relaxing space.  The Spa offers several signature treatments; services include a wide variety of massages, scrubs and wraps, facials, manicures, pedicures and professional hair and make-up for wedding parties. The spa & salon operates seasonal hours – please contact us for a current schedule (Available for special events upon request). (For reservations, call 802.483.2311 ext 404 or spa@Mountain Topinn.com).
The fitness center  is equipped with state-of-the-art treadmills, elliptical machines, stationary bicycles and a cable weight system and take a dip in the hot tub, or relax in our sauna, after your workout. (Guests under 18 yrs must be accompanied by an adult; open 7:30am – 9pm).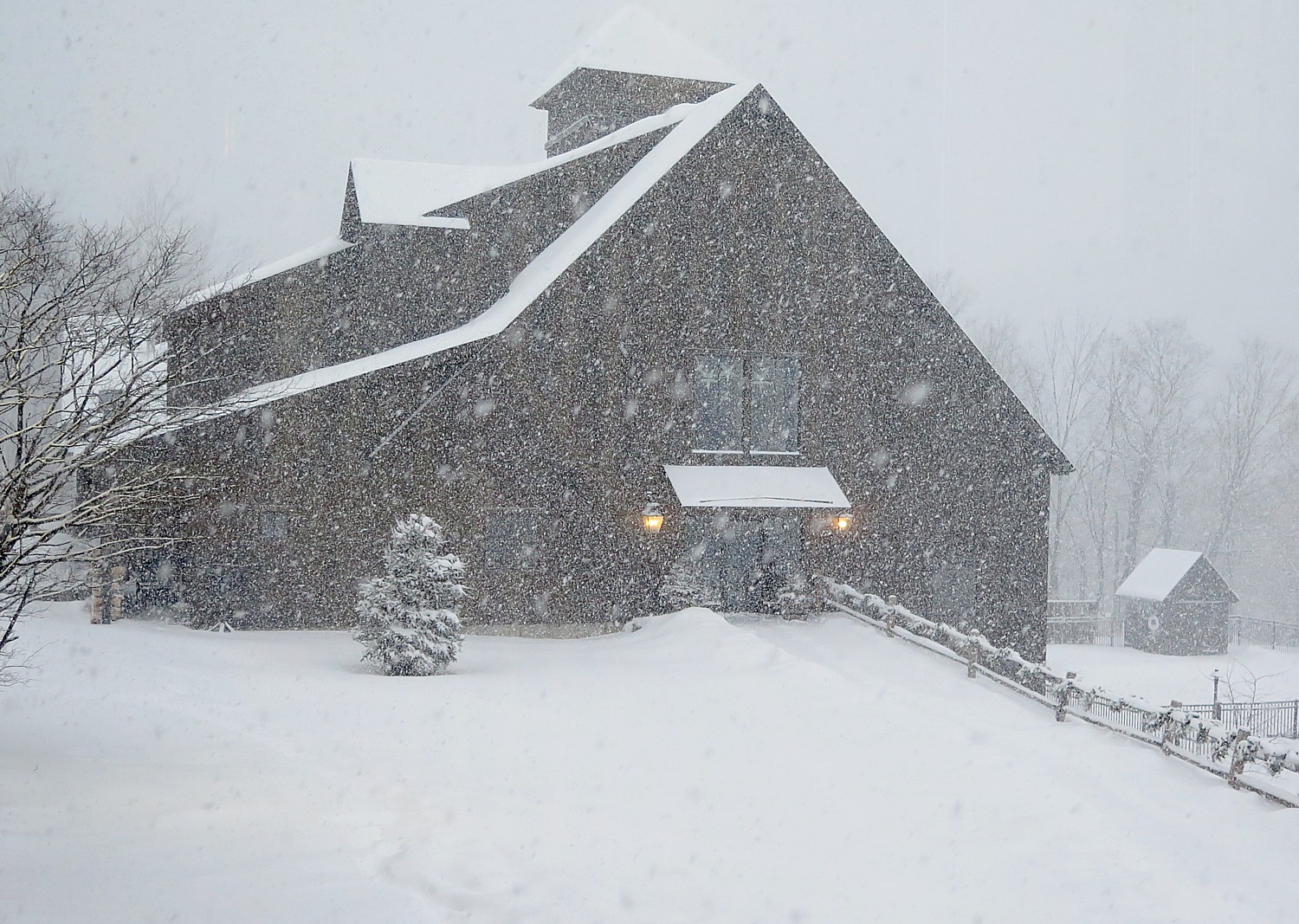 Warm weather activities include:
Activities available for guests at no charge include tennis (you can borrow a racket; the court is available on first-come, first-serve basis); Disc Golf on the inn's newly designed 9-hole disc golf course which takes advantage of the open meadow space, adjacent woods, spectacular views and finishes just a few steps from the Mountain Top Tavern and terrace (discs can be borrowed from the front desk, and discs and greens fees are included in your stay);  heated outdoor swimming pool open (weather permitting) from June into September; the  pool-side hot tub is open year-round; 40 miles of hiking trails; sand volleyball.
Private Beach: Less than ¾ mile walk down a private lane from the main lodge, Mountain Top's exclusive beach is situated on a quiet cove within a 740 acre lake. Available spring through late fall, you can enjoy boating, swim or simply relax on lounge chairs. Kayaks, canoes and paddleboards are available (no charge for guests; lifejackets provided). A beach towel is available from the front desk. You can arrange to take a picnic lunch. (Available spring through late fall.
Guided hour-long pontoon boat rides touring the entire lake are offered daily (weather permitting, through October; reservations are required).
Also available:
Equestrian Center: Mountain Top Inn is the only Vermont resort, and one of only a handful of properties in New England, to offer a full equestrian program, accommodating neophytes and experienced riders. The Equestrian Center is open May through October.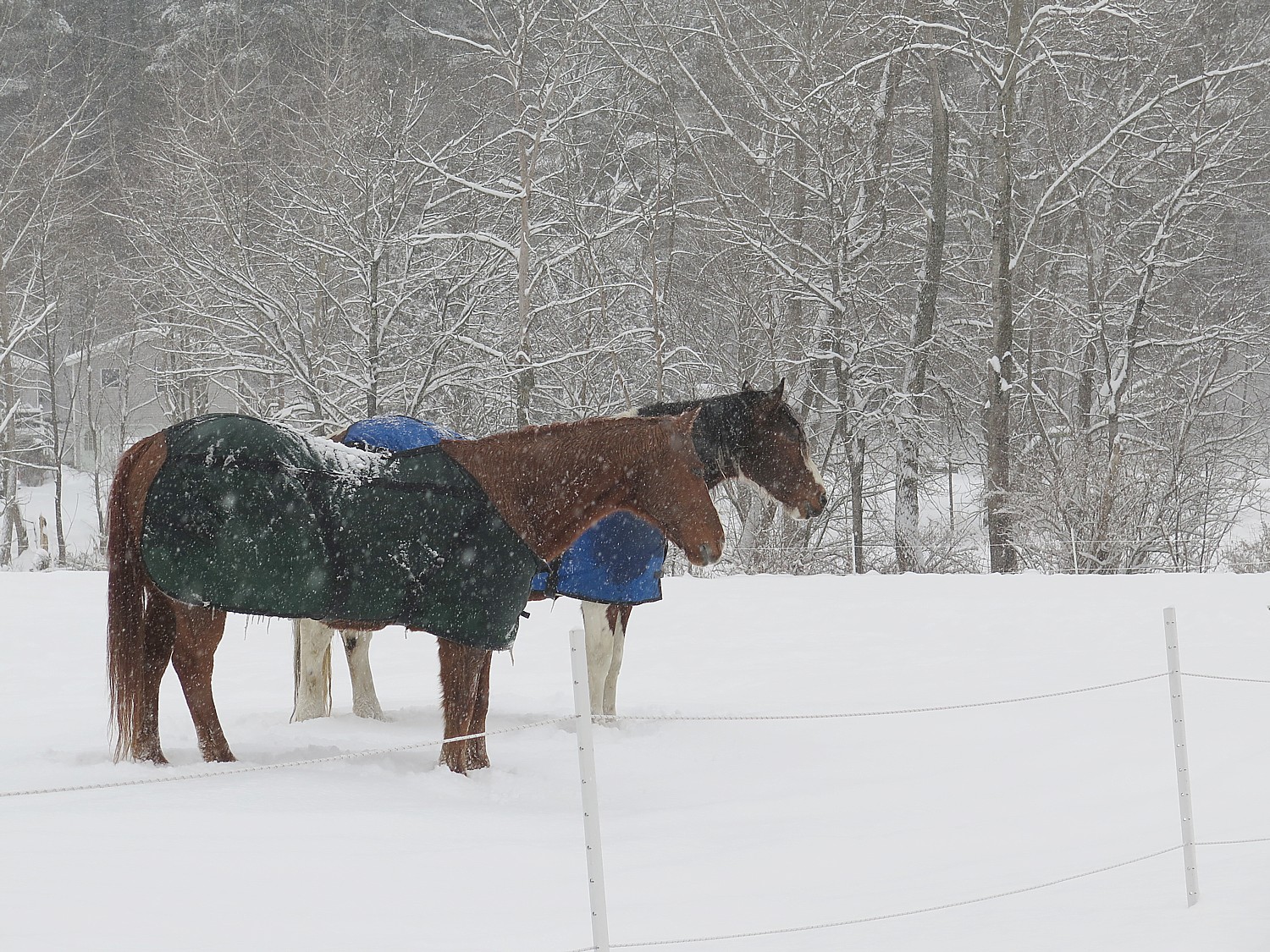 Children's Adventure Camp is open July through August 14, for children 6-13 years old; the program is offered 9:30 to 3 pm weekdays (minimum 3 children). (802-483-6089).
Fishing: Go fishing for Largemouth Bass, Smallmouth Bass, Walleye, Yellow Perch and Sunfish on the 740 acre lake: you can rent a small fishing boat with electric trolling motor, seating up to four people.
Clay Bird Shooting: Lessons are offered daily by our experienced staff from spring through fall (weather permitting). For safety reasons, we have a maximum allotment of six people per time slot.  The minimum age to participate is 15 years old and reservations are required. ($40 per person for 20 shots with instruction).
Golf:  Mountain Top Inn & Resort, has several challenging yet fun courses near-by (including Rutland Country Club, Green Mountain National Golf Course, Killington Golf Course and Neshobe Golf Club – all of which are accessible to the public).  
Destination Weddings, Elopements, Retreats
For all the reasons – the setting, ambiance, facilities and activities, it is easy to see why Mountain Top is a favorite wedding destination.
Mountain Top Inn can accommodate up to 250 guests in the events Barn and the majority do tend to stay on property –it makes for less travel for guests and everything being pretty much within walking distance and gives family and friends that much more opportunity to be together and share experiences.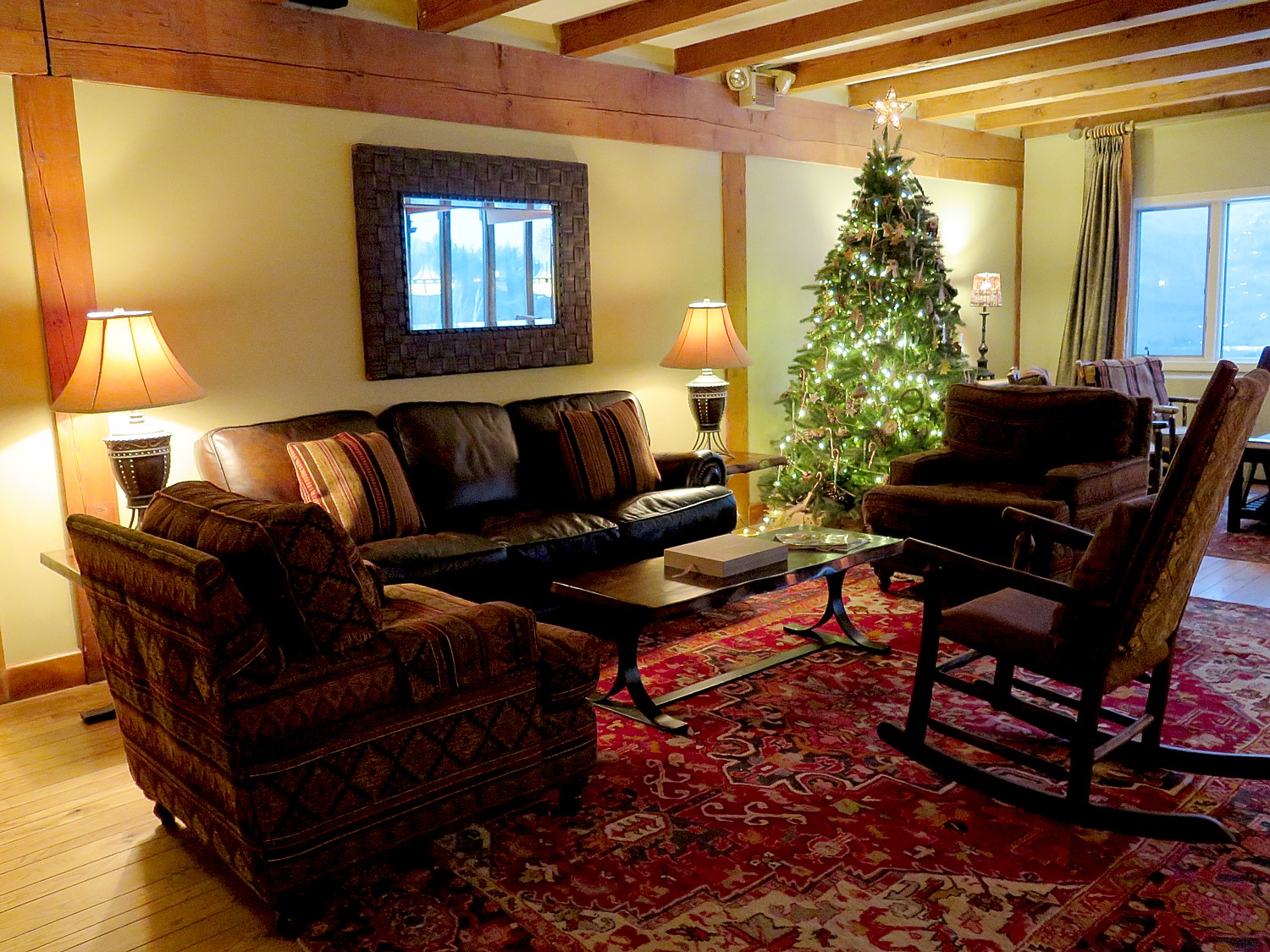 The inn also has more intimate spaces on property such as the beach pavilion for rehearsal dinners and events of fewer  than 100 guests (where the barn can feel a bit large) and for even more intimate events (an elopement, or corporate dinner) the larger guest houses are ideal.
The houses make for a great option for the weddings because family groups can stay together in one house and have common living space to share amongst themselves.  As well as bridal parties or just groups of friends who want to stay together and not have to head back to separate accommodations at night. They can hang out in their pj's! (With the spa, the inn is also ideal for bachelorette getaways.)
The popular wedding ceremony site in the spring, summer, fall is the knoll up above the lodge (an amazing view). And in winter it's the terrace outside the tavern (with a similar, but not as high altitude) view. For both, the 'weather' ceremony location is the loft in the barn which has lovely floor to ceiling windows that still provide that view.  In the warmer months, weddings are also held at the houses and on the beach.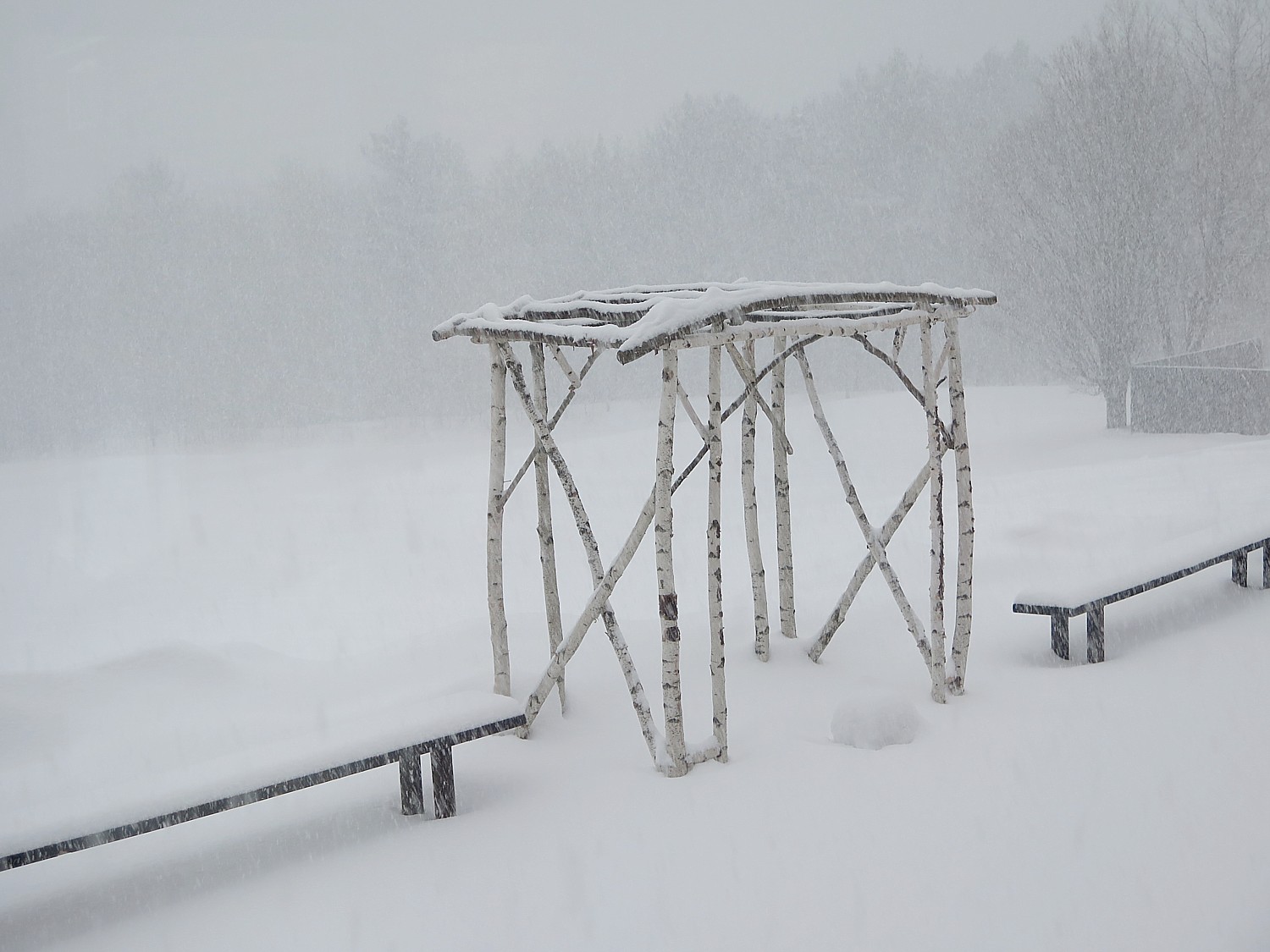 Overcome with the romantic ambiance and want to elope?
The Mountain Top Inn & Resort is the ideal setting for an elopement or intimate wedding. The inn has a dedicated staff of wedding coordinators. And because some elopements are planned with limited lead-time, or are truly a surprise, the inn has a special package which includes many of the elements the couple will need, or can be customized.
The Mountain Top Elopement Package includes two nights lodging; three course candlelit dinner for two; full breakfast each morning; scenic pontoon boat ride (summer) or horse-drawn sleigh ride (winter); one hour massage for both; Champagne and Truffles; bouquet and boutonniere; petite wedding cake ($1550 in classic lodge room; $1775 in luxury lodge room; $1975 for a suite; $200 more for peak dates and holidays).
The Inn is also ideal for corporate retreats, functions and events – having a place that brings people together in a close setting, plus has many activities to engage, dining and meeting venues. Mid-week November through April is when availability is the best. Various venues are used for meeting space including the yoga studio, the barn loft, the beach pavilion (in summer), living areas in larger guest houses for smaller meetings. The barn can seat upwards of 250 for larger conferences and functions.
Hometown Connection: A Distinguished History
The Mountain Top Inn has a marvelous history, and as it turns out, a connection to our Long Island home town.
As we were driving up the country lanes that lead to the Mountain Top Inn, I spotted a library named for Frederic Duclos Barstow, and recognized the name from our Great Neck, Long Island community: he was the son of William S. Barstow (1866-1942) and Frangoise Duclos Barslow (1876-1958) – he was the first mayor of Kings Point and his mansion is now the Merchant Marine Museum on the grounds of the US Merchant Marine Academy. Barstow, who was an important electrical engineer and a partner of Thomas Edison, made a fortune establishing utility companies (including the one in Chittenden) and even electrifying the Brooklyn Bridge. Their only child, Frederic Duclos Barstow, born in 1895, was exposed to poison gas during War War I, and suffered lung damage and from shell shock. He moved to Chittenden, Vermont, believing the clean air would be more healthful to him, but died in 1931, at the age of 35. The Barstows built the Barstow Memorial School in his memory.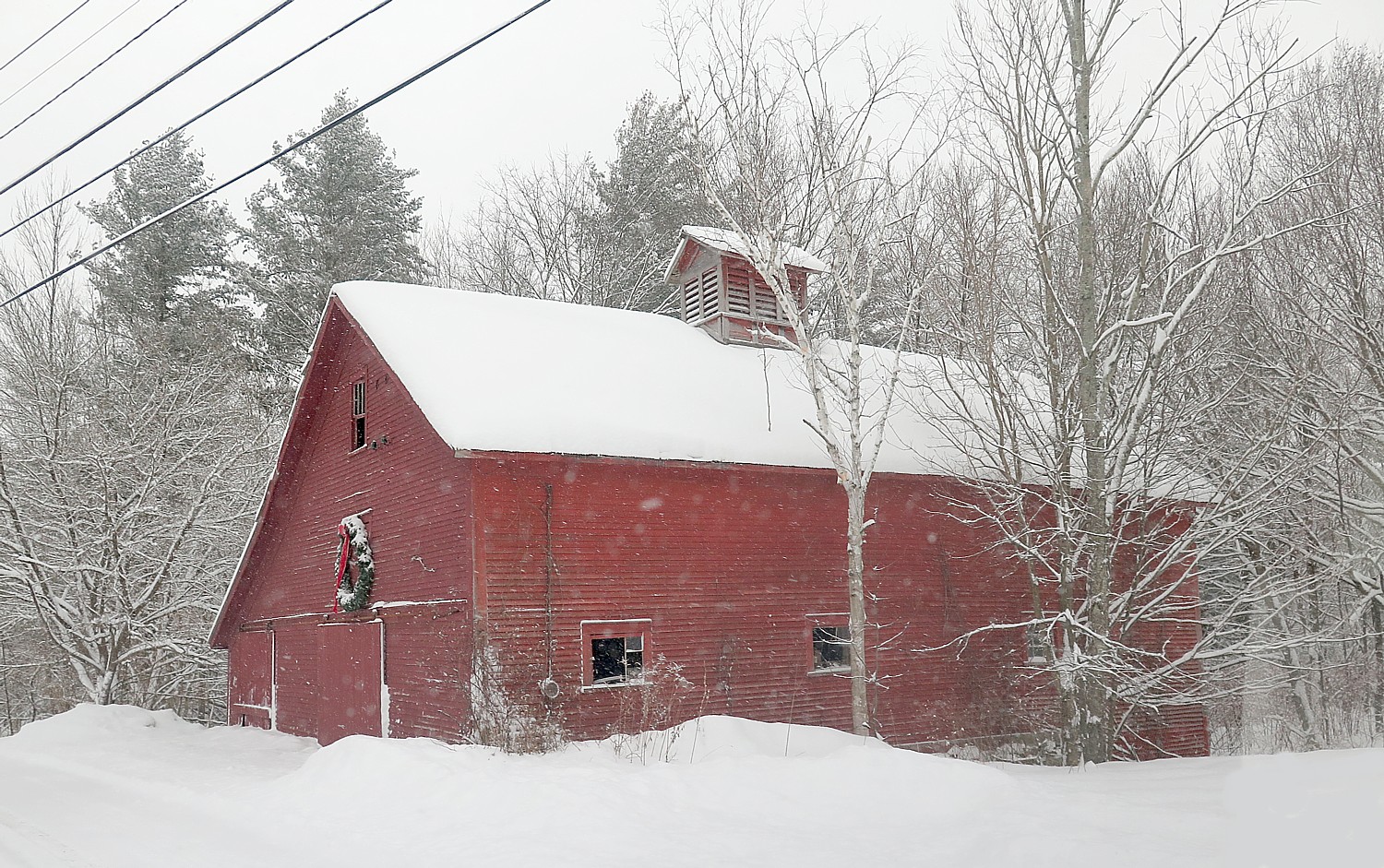 William Barstow purchased a farmhouse in Chittenden on his son's property to serve as a hunting camp (what is now Fox Creek Inn on Dam Road). Here he entertained such notable figures as Thomas Edison, Henry Ford and Harvey Firestone.
In 1939, Francoise Barstow bought the Henry Long Turnip farm, dating from the 1870s, which overlooked the Chittenden Reservoir, renovating the barn as an additional place to entertain her many friends – this is the property that became Mountain Top Inn.
Throughout the ensuing years, improvements and additions to the original barn building were made to accommodate the growing number of visiting friends and family – eventually evolving into a full service Inn & Tavern.  While Barstow, an associate of Thomas Edison, was a forward thinker, the couple maintained the integrity of property's Yankee origins and protected the beauty and ecology of its natural surroundings. Barstow died in 1942.
In 1945, William and Margery Wolfe purchased the Mountain Top Inn. They continued improvements to the property and in 1955 put the Inn on the map when they hosted President Eisenhower and his entourage during a fishing expedition. Photos of the expedition are still displayed in the Main Lodge Lobby.  Ike's View, a luxury room in the Main Lodge in which the President stayed, is named for him and the adjoining room is named for his wife, Mamie's Retreat.
In 1964, realizing the natural terrain was ideal for winter sports, the Wolfes began to develop a cross country ski center and trail system. Today, one of the oldest in the country, the resort boasts 60 kilometers of trails.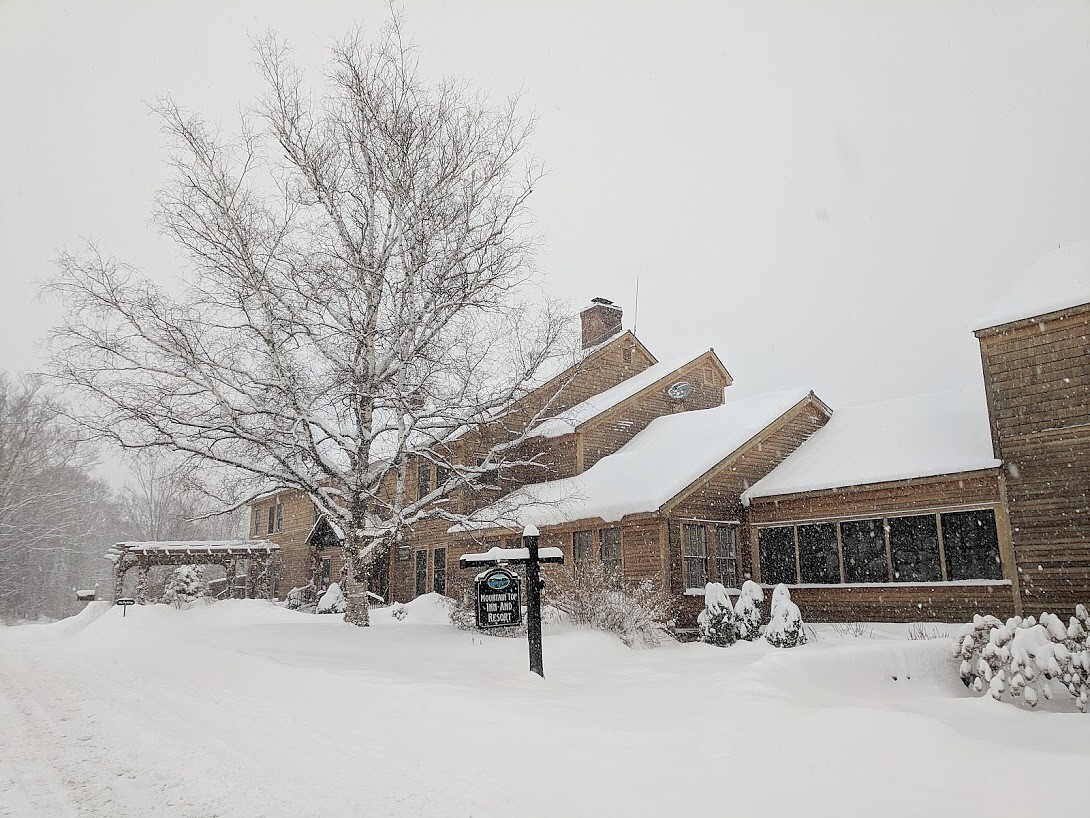 A fire in 1977 destroyed most of the original Inn's structure. Undeterred, the Wolfes rebuilt the Inn using traditional post and beam construction.  Large Douglas fir beams span the lobby and lend warmth and charm to the Main Lodge.  Rows of windows and a signature glass "silo" staircase offers the perfect vantage point for stunning views.
This is what accounts for the feeling you get of the Mountain Top Inn, that is both old and new – it is the faithful preservation of the traditional inn, with the modern amenities and materials.
With an appreciation and love for the property and its history, in the early 2000s a small group of investors purchased the Mountain Top Inn & Resort and have carefully nurtured its evolution from small country inn to a premier Mountain Lodge and destination resort.
Winter Family Wonderland package is available for non-holiday periods, and includes three nights accommodation;  Vermont country breakfast each morning;  horse-drawn sleigh ride for your group; one hour "family" cross country ski lesson with rentals (must be 6 years of age or older to take this lesson; one parent must participate); trail passes; use of resort facilities; tax and resort charge ($1260 for quad occupancy in classic lodge room, $1620 for luxury room; two-bedroom guest houses also available at $1670).
The website is really complete and easy to use to get information, but you need to call 802-483-2311 to book the packages (https://MountainTopInn.com/specials-packages/winter-spring-packages/)
Mountain Top Inn & Resort is also located a short distance (about 20-30 minutes drive) to Killington Mountain for downhill skiing; the inn provides shuttle transportation (8:30 am, returning 4:30 pm); reserve in advance.
Mountain Top Inn & Resort, 195 Mountain Top Road, Chittenden, Vermont 05737, 802-483-2311, www.MountainTopInn.com.
See also:
Killington, 'Beast of the East,' is Roaring into 2018 With Powder Snow
_______________________
© 2017 Travel Features Syndicate, a division of Workstyles, Inc. All rights reserved. Visit goingplacesfarandnear.com,  www.huffingtonpost.com/author/karen-rubin , and travelwritersmagazine.com/TravelFeaturesSyndicate/. Blogging at goingplacesnearandfar.wordpress.com and moralcompasstravel.info. Send comments or questions to [email protected]. Tweet @TravelFeatures. 'Like' us at facebook.com/NewsPhotoFeatures