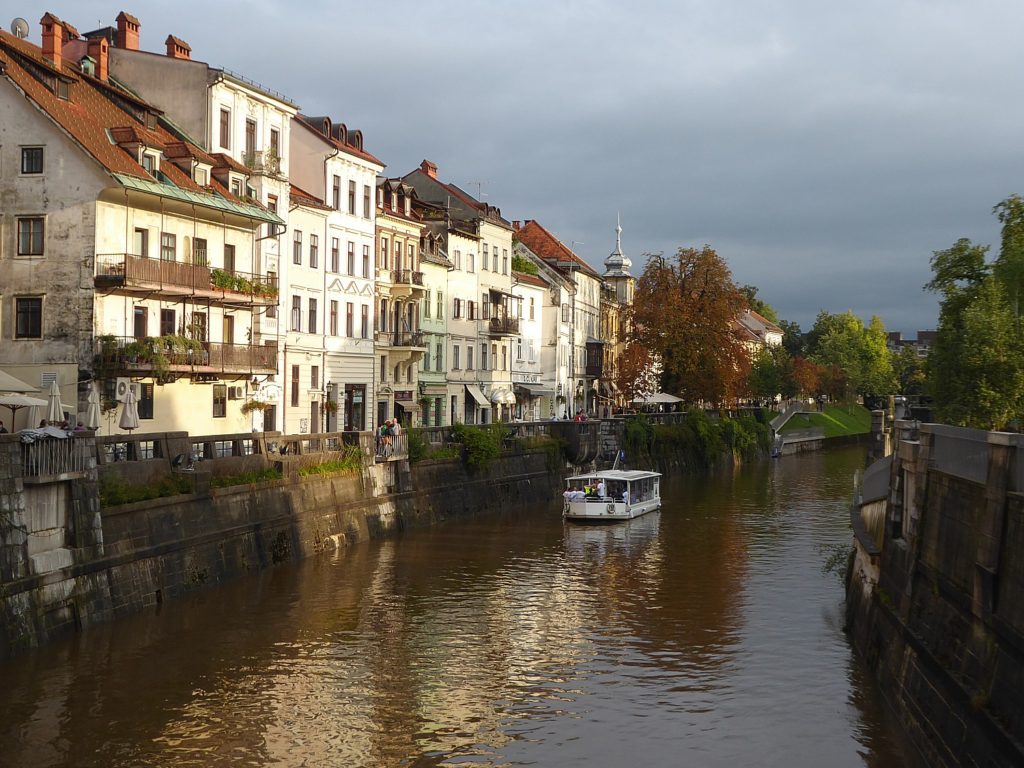 By Karen Rubin, Travel Features Syndicate, goingplacesfarandnear.com
When I signed up for Biketours.com's guided eight-day bike tour of Slovenia, I was expecting sprawling landscapes and quaint villages. What I wasn't expecting was to be surprised each day by some unique attraction – the most mind-boggling caves I have ever seen (and most thrilling train ride ever!), a castle built into the face of a mountain with a cave as a secret back door, the horse farm where the original Leipzaners we associate with Vienna were bred and trained, as well as the surprises we chanced upon, like getting a tour of a centuries old water mill by the family. I wasn't expecting to find myself at the intersection of a multiplicity of cultures (flowers hoisted high on a pole to announce a wedding), or thrown back into history. The picturesque landscapes were like icing on a fabulously rich cake.
This actually was the second week of my Biketours.com European biking experience. I had decided to fly into Marco Polo International Airport in Venice to meet up with this guided tour that started in Slovenia's capital city, Ljubljana, so I thought, it's a far way to go for only eight-days, so why not stop in Venice? And then I thought, Why not see if Biketours.com offers another biking trip that I can link together?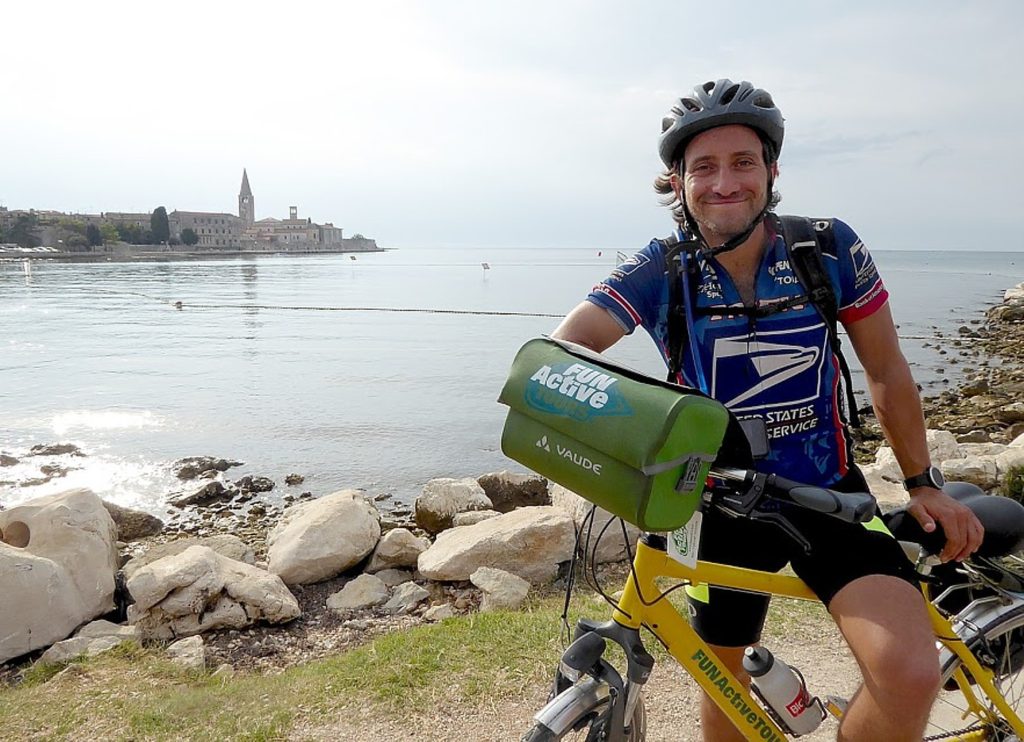 I found a Venice-Trieste-Istria itinerary, operated by FunActiv, that ended on the day this "Emerald Tour of Slovenia's Gems", operated by another local operator, Helia, would start, but it was self-guided. I thought about doing it on my own, but sent out an invitation and successfully recruited my son to join me. (Thank goodness, because I think I would have been lost and still wandering around the wilderness if I had to do it on my own.) The Venice bike trip ended in Istria, in Croatia, and, after a search on Rome2Rio.com, I found a bus (Flixbus.com) that would take me into Ljubljana right on time for the start of the second tour (and then from Piran, where that trip ended, back to Marco Polo International Airport in Venice).
It is very interesting to compare the experience of a self-guided tour, with the guided tour.
In the first place, the guided tour of Slovenia averages 26 miles a day and each day; our self-guided trip averages 50 miles a day (though we could have shortened the daily rides by taking train or ferry), so there is more time for sightseeing on the guided trip which is organized around sightseeing – that is, getting to sites in a timely way (our leader, Vlasta, our wonderful guide, also takes votes to see whether we want to detour to take in some attraction, whether we want her to make dinner reservations for us at a restaurant).
On our self-guided trip, we are able to set out from the hotel after a leisurely breakfast and stop for lunch when we want and spend as much time lingering in a village but when we come to a cave in time for a 5 pm English-language tour with still an hour to ride before reaching our destination, we don't take the chance and so miss an opportunity. We also miss out on visiting the castle of Miramare high above the Bay of Grignano just outside of Trieste (which has a Manet exhibit) because we didn't know better.
On this Slovenia bike tour, we ride as a group – Vlasta says we ride only as fast as the slowest, that one of us will be the "sweep" riding at the back. We don't even have our own maps or cue sheets, but follow the leader. I am only a little frustrated because I have to ask to stop every time I want to take a photo, but it all works out.
We are informed in advance that the terrain is flat and downhill from Ljubljana to Postojna, from where it gets a bit hilly (Vlasta says it is "Slovenia flat – rolling hills. From Stanjel, the cycling is downhill on the way to the coast.
Most of the ride is on quiet roads, 25% on roads shared with traffic, 3% on dirt or gravel roads and 2% on dedicated bicycle paths. The tour is appropriate for hybrid and road bikes.
Day 1: Arrival to Ljubljana
It is pouring rain as I make my way from the Porec Hotel in Porec, Croatia, where my eight-day, self-guided Venice-Trieste-Istria bike trip has ended, to the bus station directly behind it, and I am grateful that it is not a day I would be biking. I am pretty proud of myself for having figured out the Flixbus connection – convenient and inexpensive (after having looked online at Rome2Rio.com for how to get between the two cities).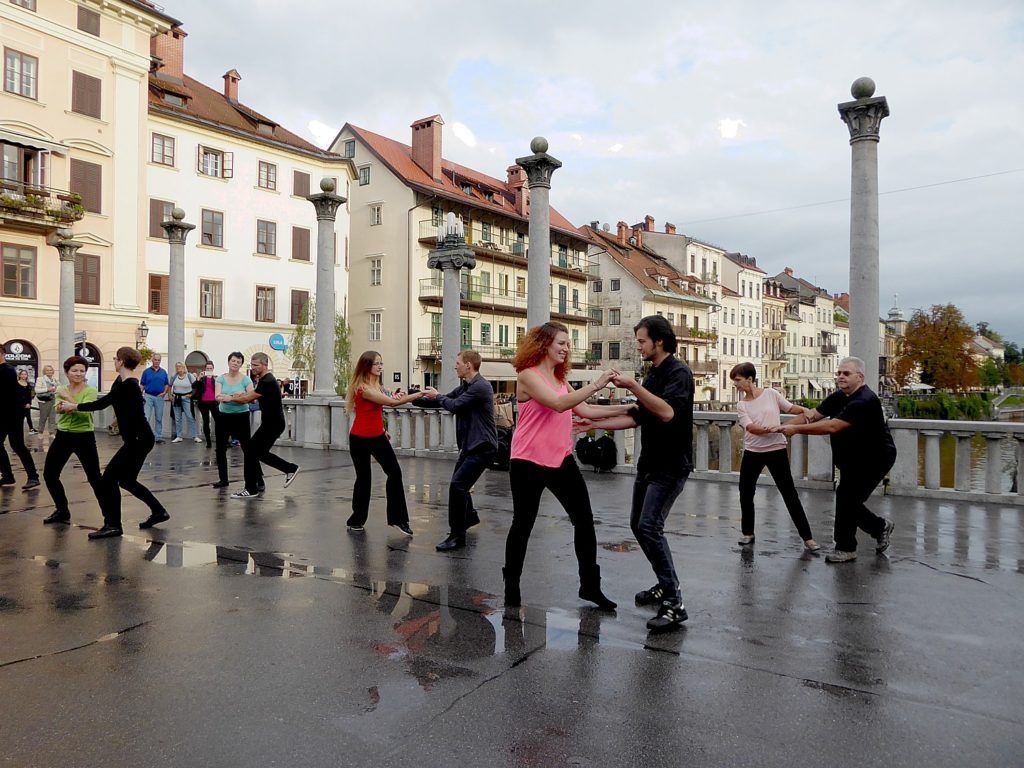 At the bus station in Ljubljana, Slovenia's capital, I use my GPS to figure out what public bus to take to get to my hotel in the old city, and after wasting time waiting on the wrong side of the street, hop on the bus. The driver doesn't understand me but a fellow on the bus helps me figure out where my stop is in the Old City, and I find the hotel just a short walk from the bus.
I have the afternoon to explore Ljubljana, and miraculously, the rain clears and sun begins to shine as I begin to explore. I come upon a flash mob dance on a small bridge – one of the most scenic spots in the city – and roam the narrow, cobblestone streets of the old town center with its "fin de siècle" mansions.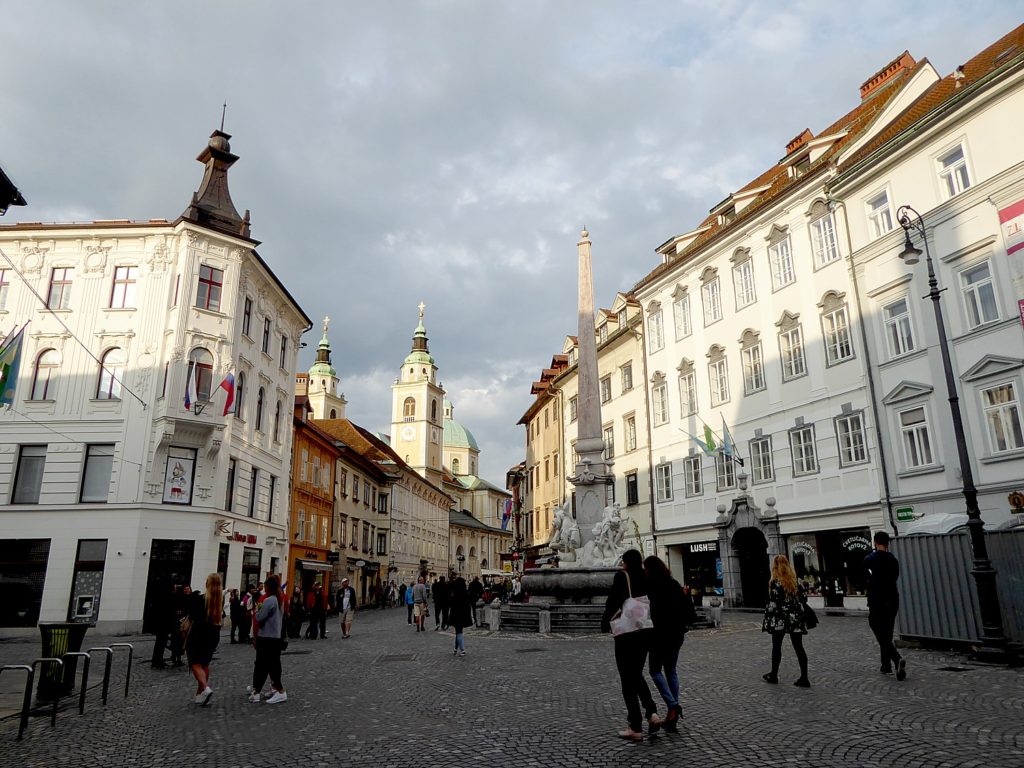 The Old City is dominated by a mighty fortress on the highest hill, so of course, that's where I head, along with others who realize it is the best place to watch the sun set.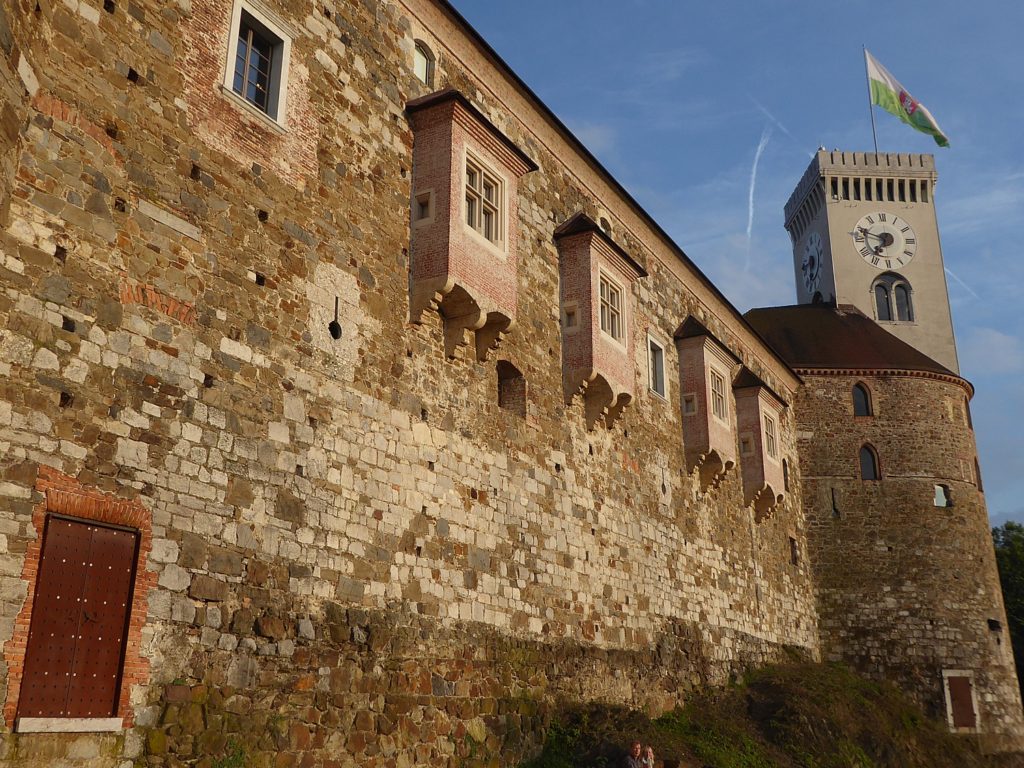 The castle has a museum inside, open until 9 pm, though you don't need a ticket to walk around.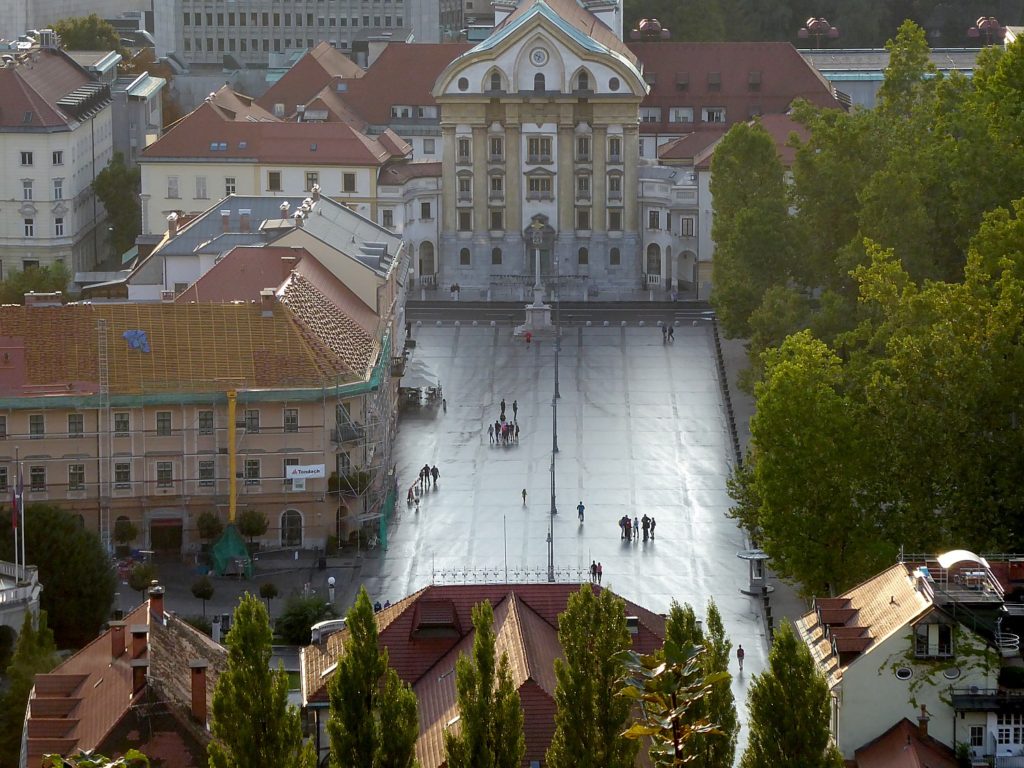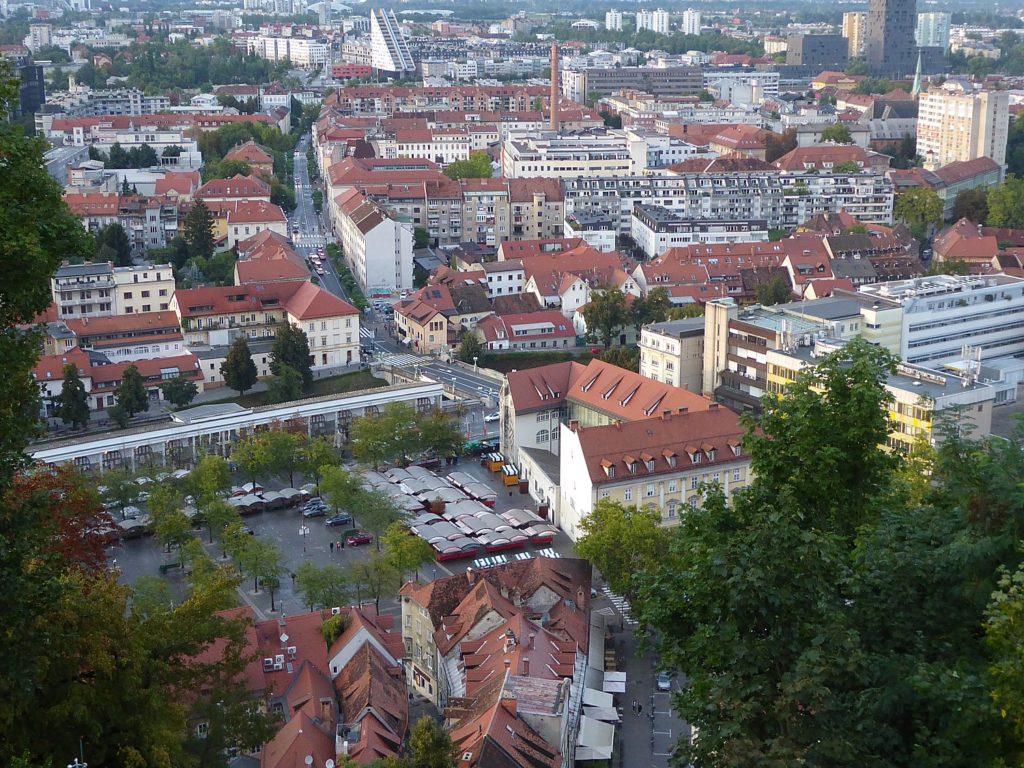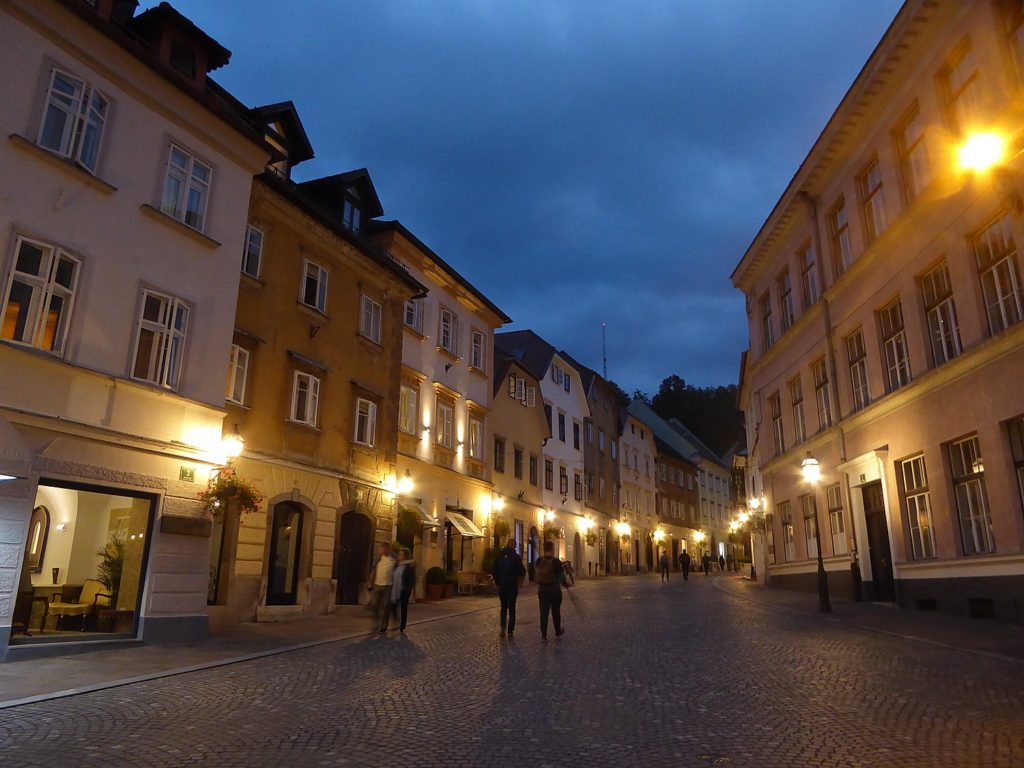 Day 2: Ljubljana – Vrhnika (24 miles/39 km or 36 miles/57 km with side trip)
Our group meets together for the first time after breakfast at the hotel and our guide, Vlasta, orients us to how the trip is organized. It turns out we are English-speakers from three continents: a couple from England, a couple and their friend from New Zealand, a couple from Denver and me, a New Yorker.
We are fitted to our bicycles, load our luggage into the van that accompanies us, and are off.
Vlasta has organized an easy (flat) first day of biking (notably, her rule is that we bike only as fast as the slowest person), but generally 15-20 km/h or 30 km/hr downhill.
Interestingly, we are not given any maps or cue sheets, and the alphabet is not pronounceable and signs are not readable, nor do many people speak English; we are completely dependent upon following the leader. But this is not a problem.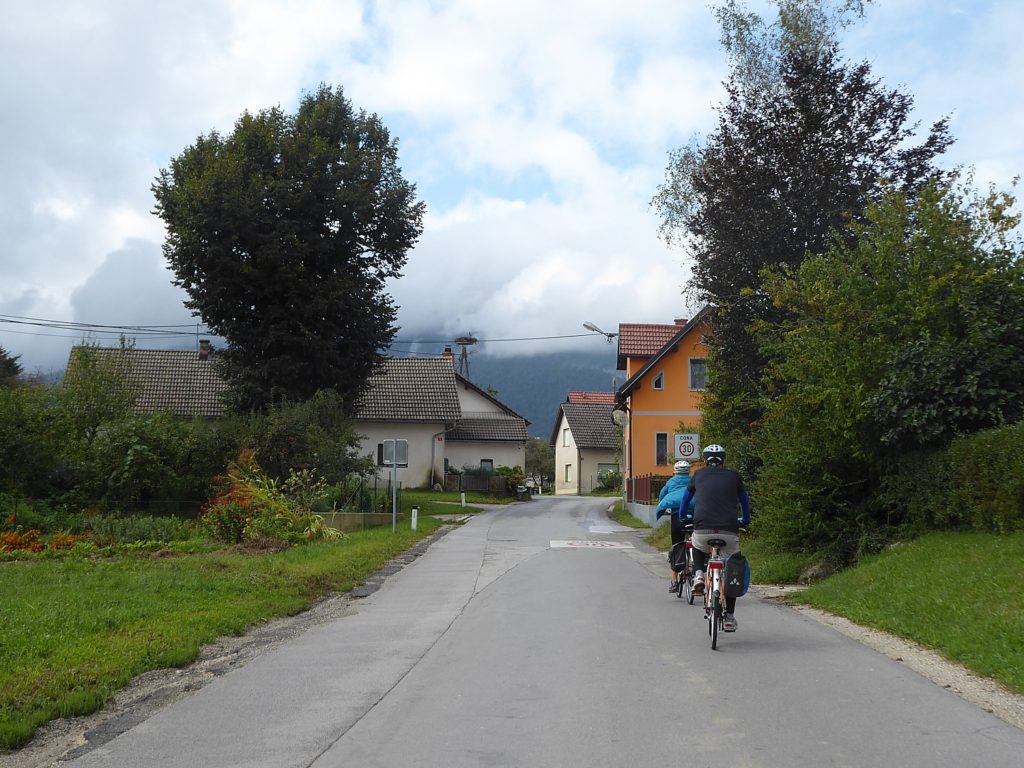 We ride across the historic plains surrounding the capital, a flat, easy first day. The immense 160-square kilometer marshy plain, the Ljubljansko Barje, was once a great lake until it dried up 6000 years ago, leaving behind landscape that, we are told, is now home to some of Europe's rarest forms of bird, plant and insect life.
We stop at the picturesque Iški Vintgar Gorge Nature Reserve, carved deep into a stunning limestone dolomite plateau, and visit the remnants of the world's highest railway viaduct in Borovnica.
The highlight of the day's ride – as is so often the case –is one of those serendipitous happenings:
As we are riding back from visiting the Gorge, I stop to take photos of a picturesque water wheel.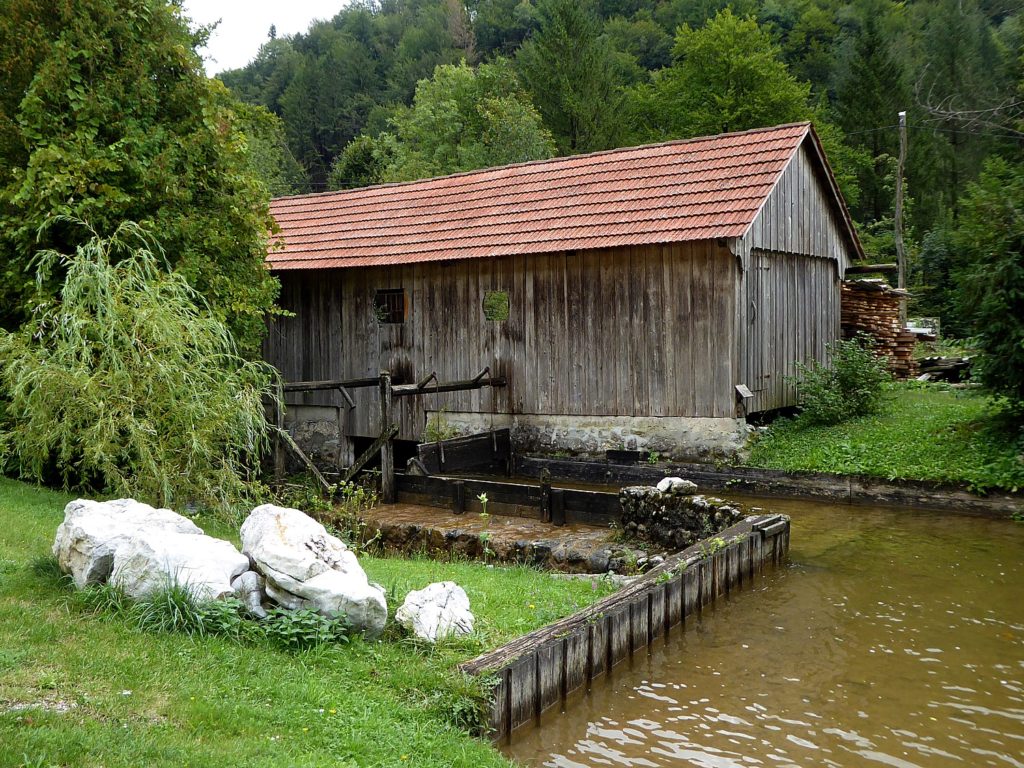 A young man comes out and offers to take us inside to see how this ancient mill works. He is soon followed by his father who explains that it is one of only two left in Slovenia, and has been in their family for 380 years. There used to be 9 mills on the river, now he keeps this one running to preserve the heritage. It is private, not even a designated historic landmark. I admire an old carriage, and the older man says it was his mother's dowry 65 years ago.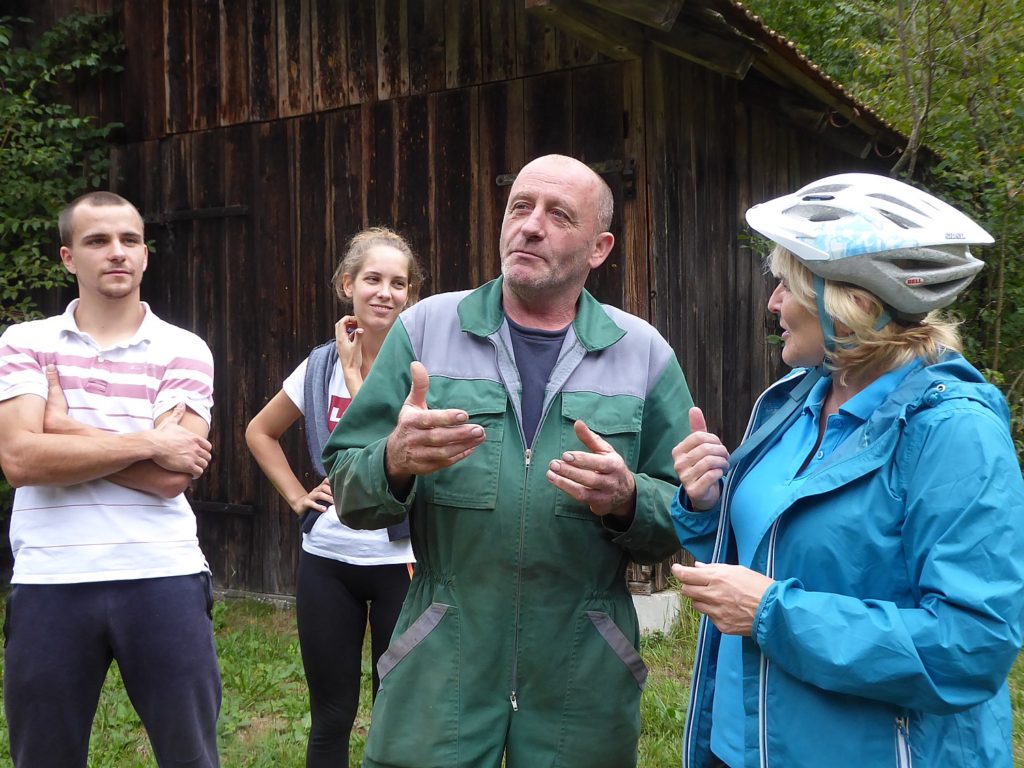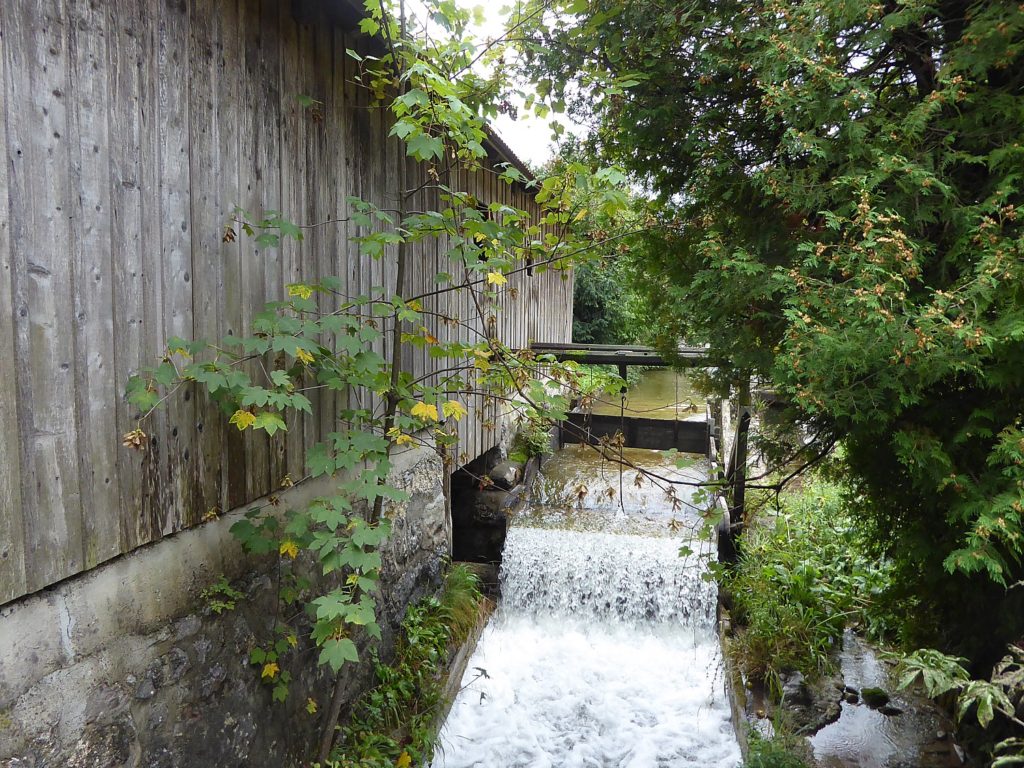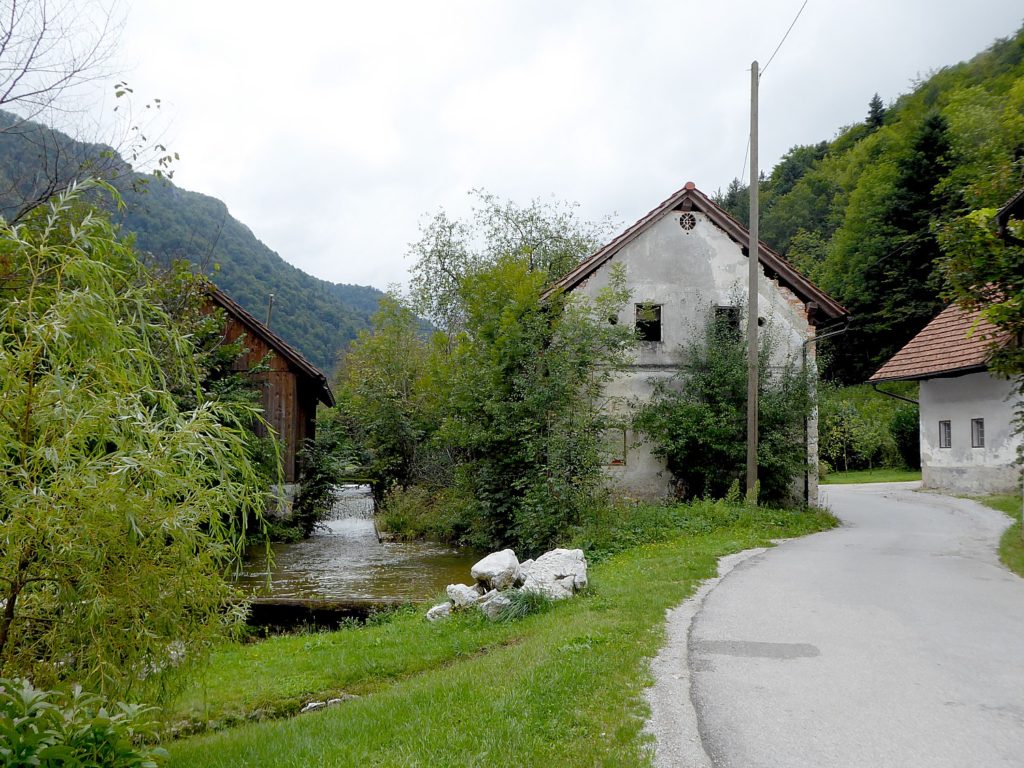 We continue on, and stop at a charming restaurant alongside a pond for lunch.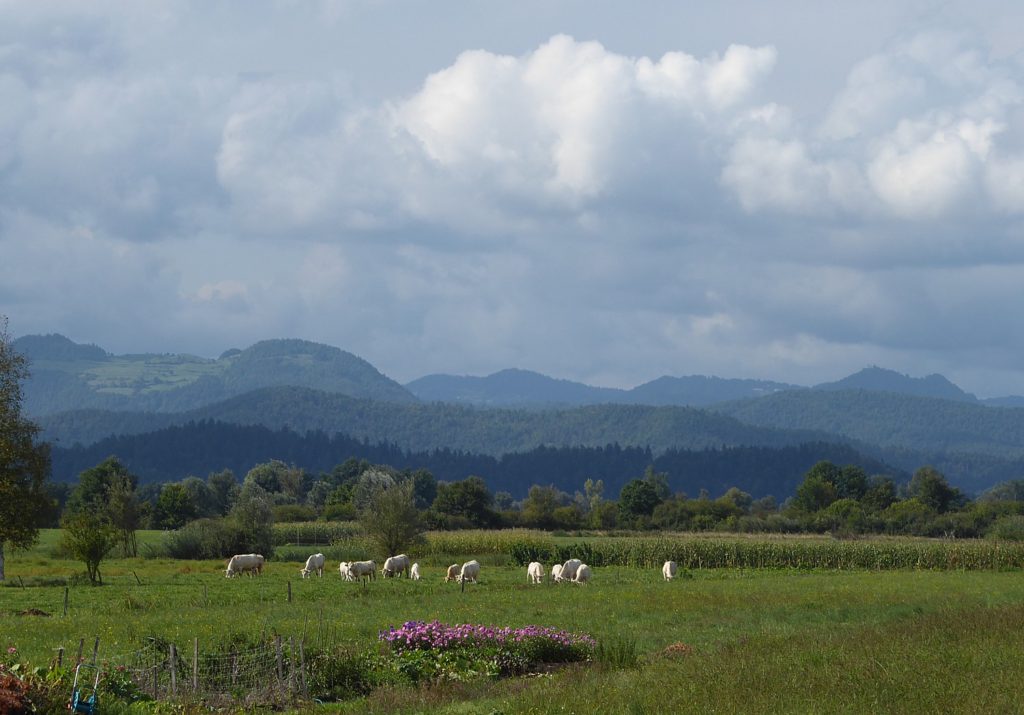 Just before arriving in Vrhnika, where we overnight, we visit the Technical Museum of the Republic of Slovenia (actually a science and technical museum), housed in Bistra Castle (later a monastery). The castle (technology museum) is like a maze inside and it is tremendous fun to explore.
It provides a different perspective on "technology". Hunting, for example, includes the dogs used for hunting and the birds and animals that were hunted.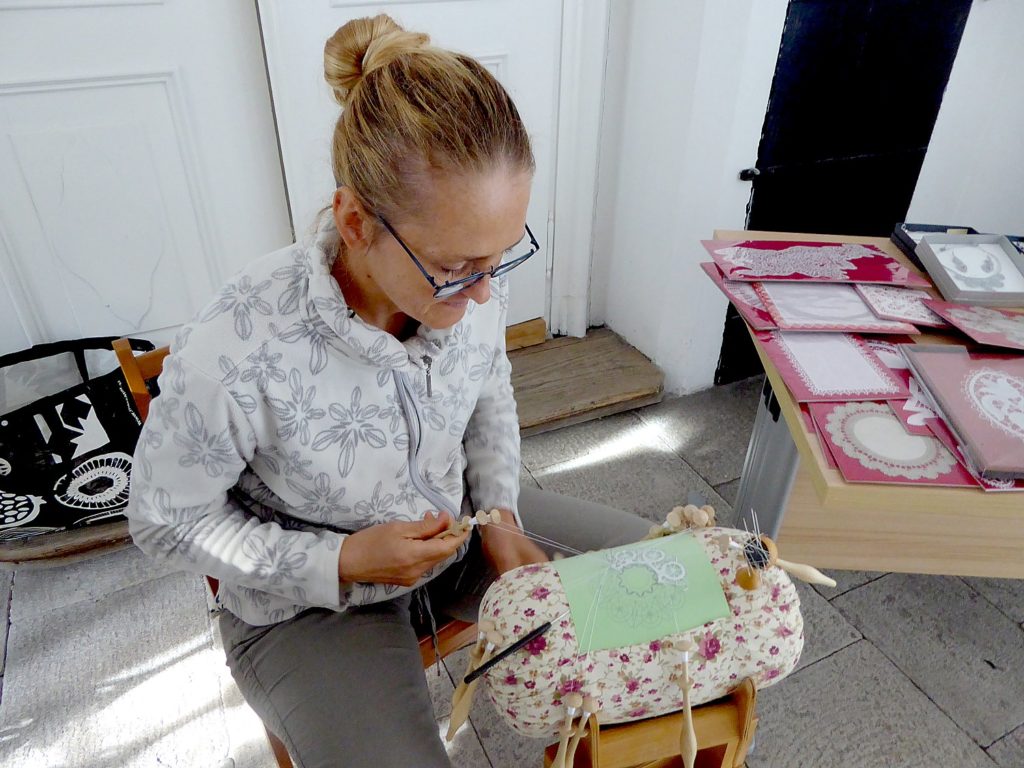 A woman demonstrates how she makes lace using a century-old pattern.
Here, we first encounter Joseph Broz Tito, who served in Yugoslavia's government from 1943-1980 and was the dictator for much of that (apparently, he was considered a benevolent dictator).
I find my way to this wonderful collection of Tito's cars: his Rolls Royce (against the backdrop of a giant photo), a Tatra from1898, a 1923 Chrysler, a Piccolo which was manufactured from 1904-1912.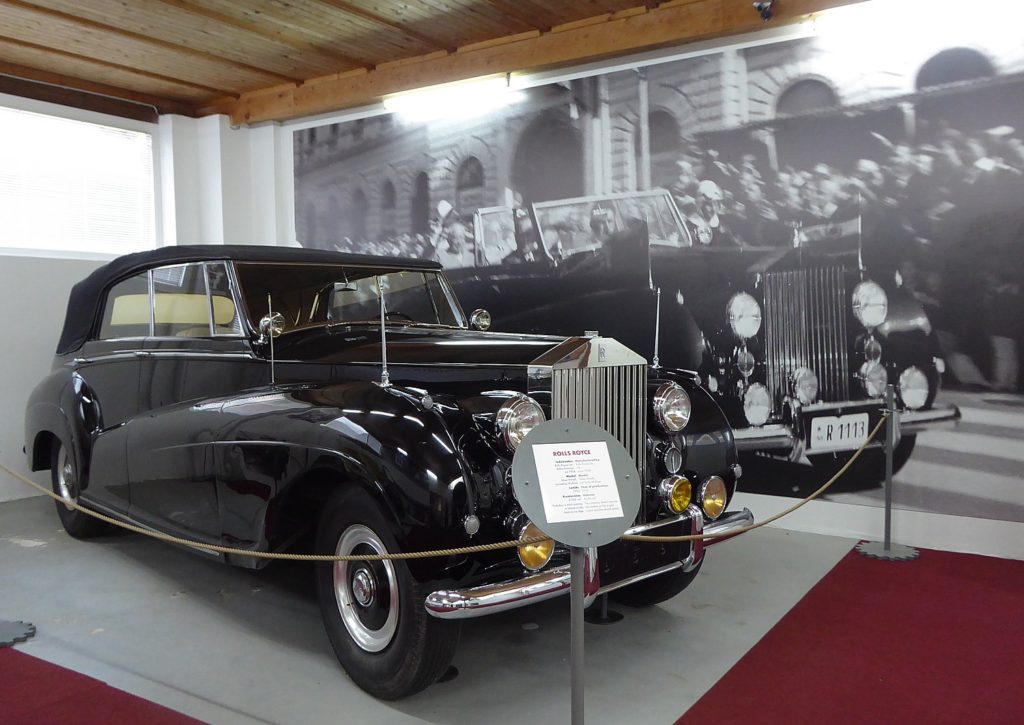 There are all modes of transportation on display – cars, trucks, bicycles, bus, tractors – and agricultural tools and machines. It evokes 1960s Communist-era vibe.
Today's ride, 57 km, all flat on roads (not dedicated bike trails), is easy cycling today, the weather cool and comfortable for biking.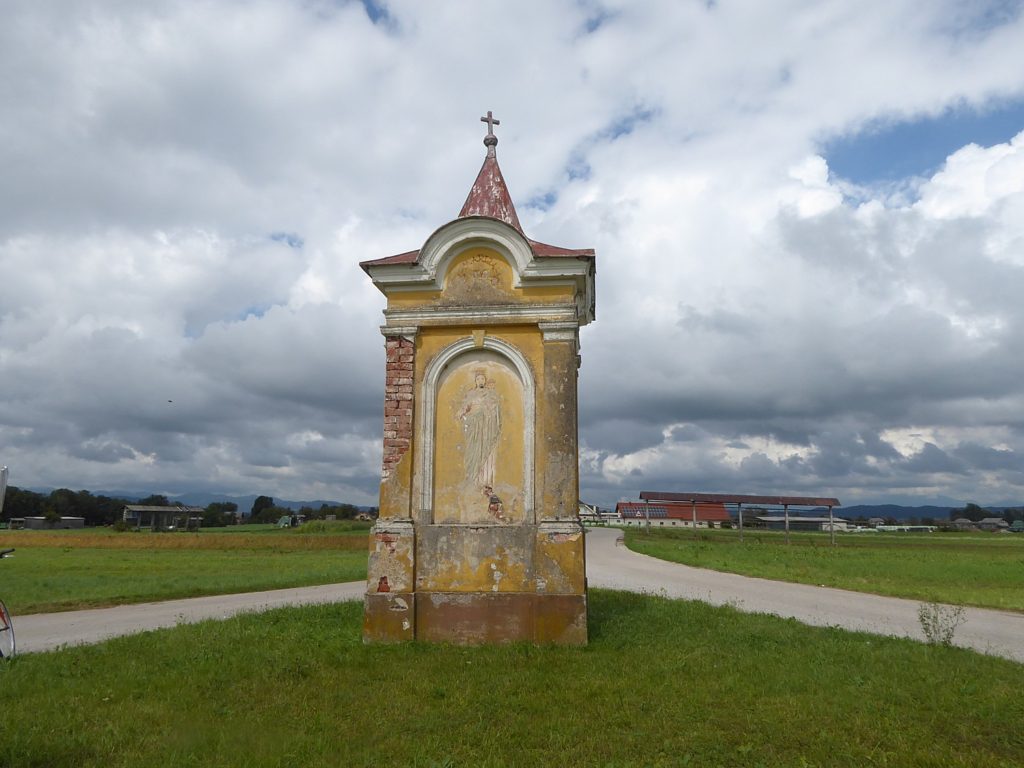 This was just the warm up. The best is yet to come.
(I booked this 8-day "Emerald Tour of Slovenia's Gems" guided bike tour through BikeTours.com, a broker which has an excellent catalog of well-priced guided and self-guided bike and bike/boat trips, mostly in Europe, and has very attentive counselors. Biketours.com, 1222 Tremont Street, Chattanooga, TN 37405, 423-756-8907, 877-462-2423, www.biketours.com, [email protected])
See also:
Setting Out on 8-Day Self-Guided #BikeTour from Venice Bound for Croatia
Following Whim and Whimsy in Venice
A Night Visit to the Doge Palace, Venice
Discovering Ancient Christian Site of Aquilea, Roman City of Grado and Trieste on Self-Guided Biketour
Discovering Portorose, Slovenia and Porec, Croatia at End of 8-day Self-Guided BikeTour from Venice
_____________________________
© 2019 Travel Features Syndicate, a division of Workstyles, Inc. All rights reserved. Visit goingplacesfarandnear.com, www.huffingtonpost.com/author/karen-rubin, and travelwritersmagazine.com/TravelFeaturesSyndicate/. Blogging at goingplacesnearandfar.wordpress.com and moralcompasstravel.info. Send comments or questions to [email protected]. Tweet @TravelFeatures. 'Like' us at facebook.com/NewsPhotoFeatures