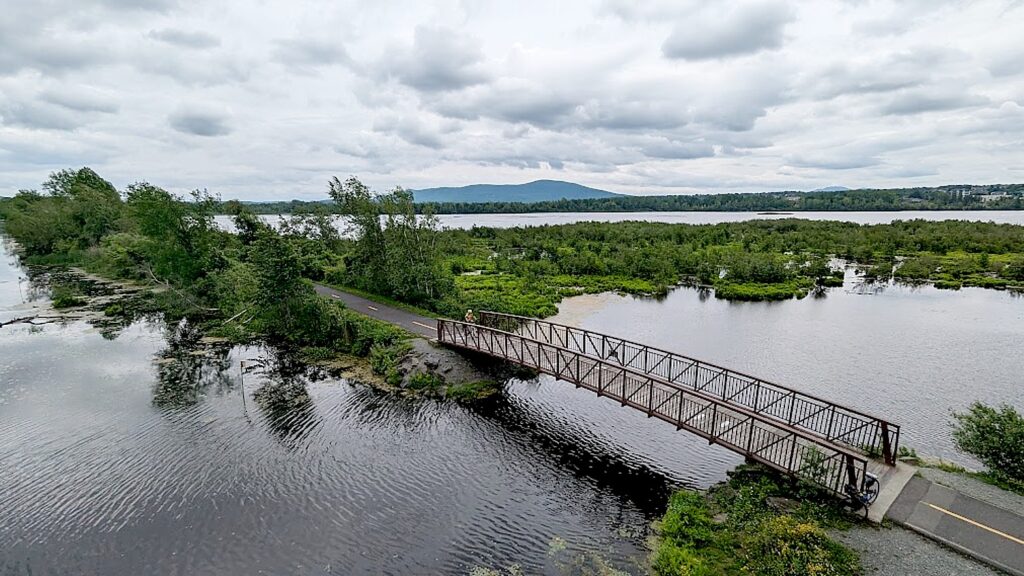 By Karen Rubin, Travel Features Syndicate, goingplacesfarandnear.com
Day 3: "Scenic Routes & Chocolate"
Our second day of biking (Day 3 of Discovery Bicycle Tours Quebec Eastern Townships trip) is labeled "Scenic Routes & Chocolate". It's 38.3 miles (which we can shorten to 25 or extend to 43) on terrain described as easier to intermediate. The main ride has three long climbs (1,746 ft. elevation) and two descents.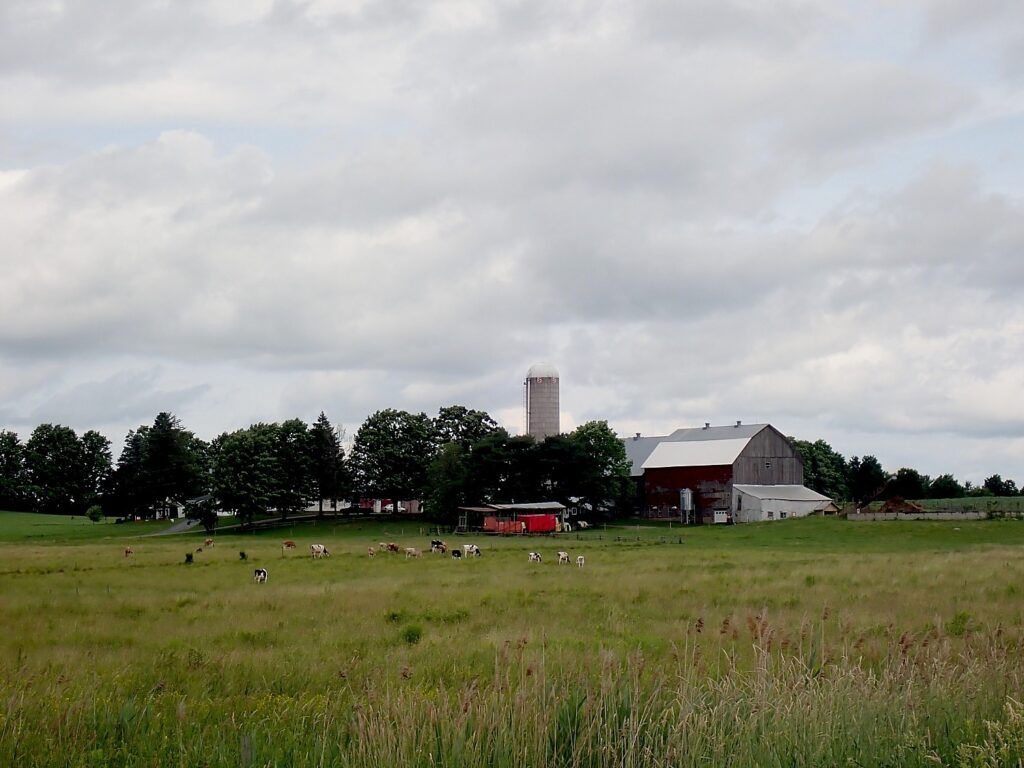 Pulling ourselves away from the delightful Auberge & Spa West Brome, we backtrack a bit, passing again the gorgeous farms and the round barn, and skirt the town of Cowansville, stopping to visit some covered bridges on our way north. We pose in front of the 1870 Freeport red covered bridge.
We ride a scenic route along Chemin Gaspé with lovely views and the equestrian center that was used in the 1976 Olympics. At mile 23, we ride into the pretty village of Bromont, where we are on our own for lunch and have as much time as we like to explore its charming shops and eateries. A highlight is the Musée de Chocolat, which in addition to having a lovely café and chocolate shop, is an actual museum – it traces the development of chocolate from Cortez' meeting with Montezuma (1519) (it didn't go well for Montezuma).
I'm so impressed by how this small village cherishes its history. As you walk down the main street, many of the buildings have historic markers that not only have historic photos and describe the architecture and history but tell the back-story of the owner or builder.
This place is almost ground zero for cycling – not only is it a hub for an extraordinary network of bike trails and paths, but it has a newly (re-)built Velodrome (actually the facility was moved from the Atlanta Olympics, opening in 2022). It is now a hugely popular training center and hopes to displace Calgary as Canada's national cycling training center (it even offers a sports hotel).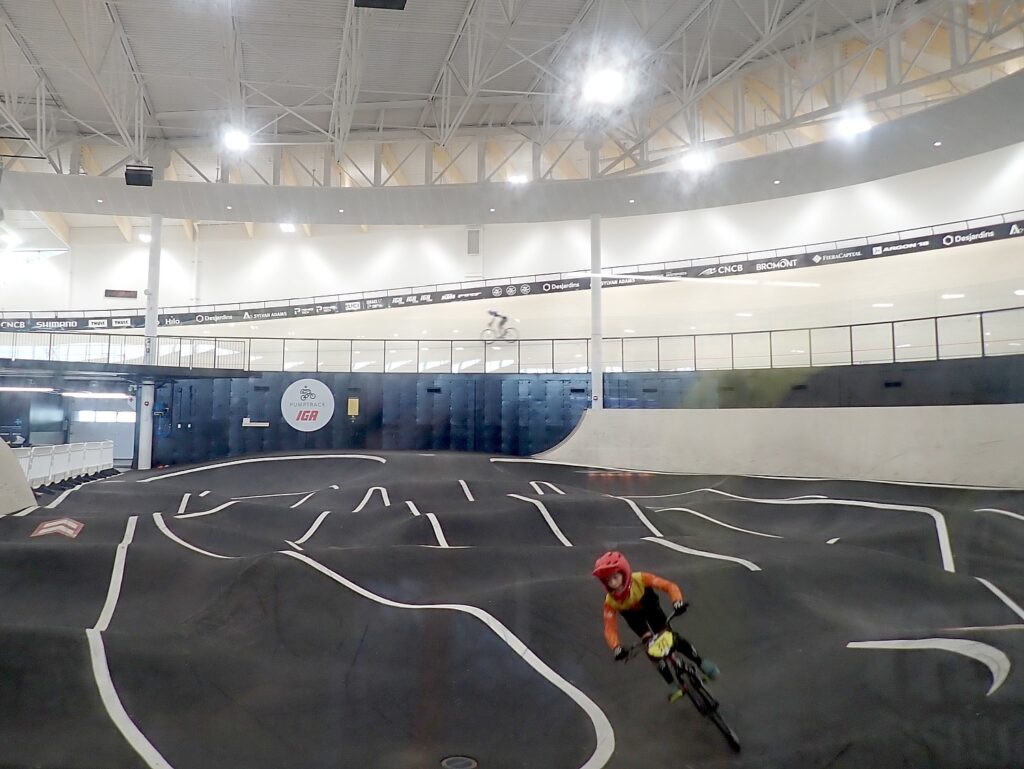 Our guide, Jacques Hebert, who knows all the back-stories, takes me in for a tour. We watch a young fellow practicing on an indoor pump track (the only one in Quebec), while above, ringing the facility, a cyclist rides a track like rings of Saturn, marveling at how uses centrifugal force to defy gravity. Outside, we see "campers" practicing on 20 acres of outdoor tracks and facilities. The multi-sport facility also offers volleyball, badminton, basketball, pickleball and soccer.  (400 Shefford Street, Bromont, Quebec, J2L 3E7, 450 534-3333, [email protected], https://centrenationalbromont.com/)
We have several options from here: bike five miles or the two-mile "shortcut" to the hotel, or continue to ride 16 miles that ends at a winery (total of 38 miles), where we can either bike to the hotel (two more miles, but apparently, it is up a killer hill) or take the van back.
I head out with Jacques to complete the 38 miles to the winery, but spying the steep road ahead, suggest we take the bike path through the woods instead. (He assures me he knows the way.) I love the ride but I suspect it didn't actually save me from the high climb, because when we get out of the woods, there it is: a long climb up to the winery, set on a picturesque hilltop. But it feels so good when you stop, and what a view!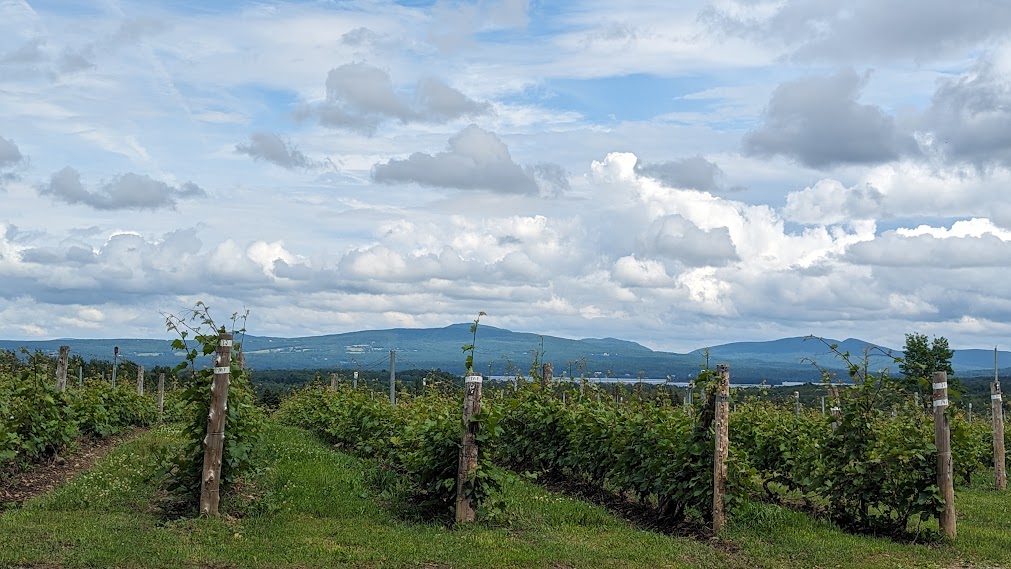 Jacques and I get to the winery, Domaine Les Brome/Leon Courville, before anybody else, and have time just to sit back in the Adirondack chairs and gaze out over the vineyards to the lake and mountains beyond. He tells me he headed the Administration for Federation of Quebec Municipalities and had a lot to do with helping localities get funding for sustainable, green and transformative projects. (I'm wondering if these extraordinary bike paths were part of it). I also learn that he is descended from the first French family to settle in Quebec.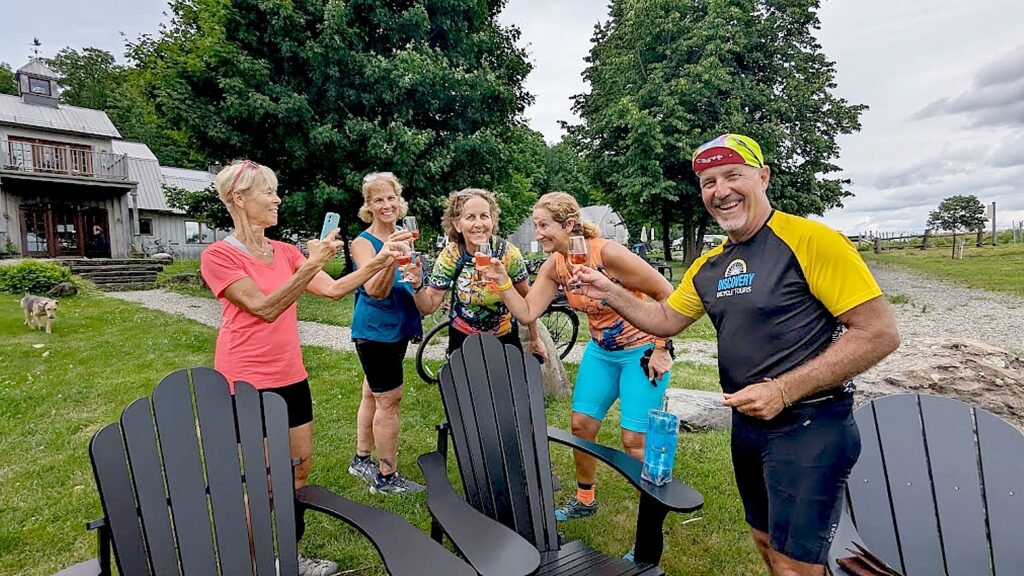 The others arrive and we sit around enjoying a bottle of wine. Hearing about the killer-half-mile uphill to get to the Chateau Bromont and seeing a change in weather, we all ride the van rather than bike to the Chateau Bromont.
I have time to enjoy the Chateau's gorgeous pool (it also has four slope-side hot tubs with a commanding view of the ski mountain) before we gather for dinner at the hotel – a sensational meal (we order off the regular menu- several of us order the lamb).
(We're at the Chateau Bromont for two nights, so we have more time in the morning.)
Day 4:– Route Verte & Provincial Park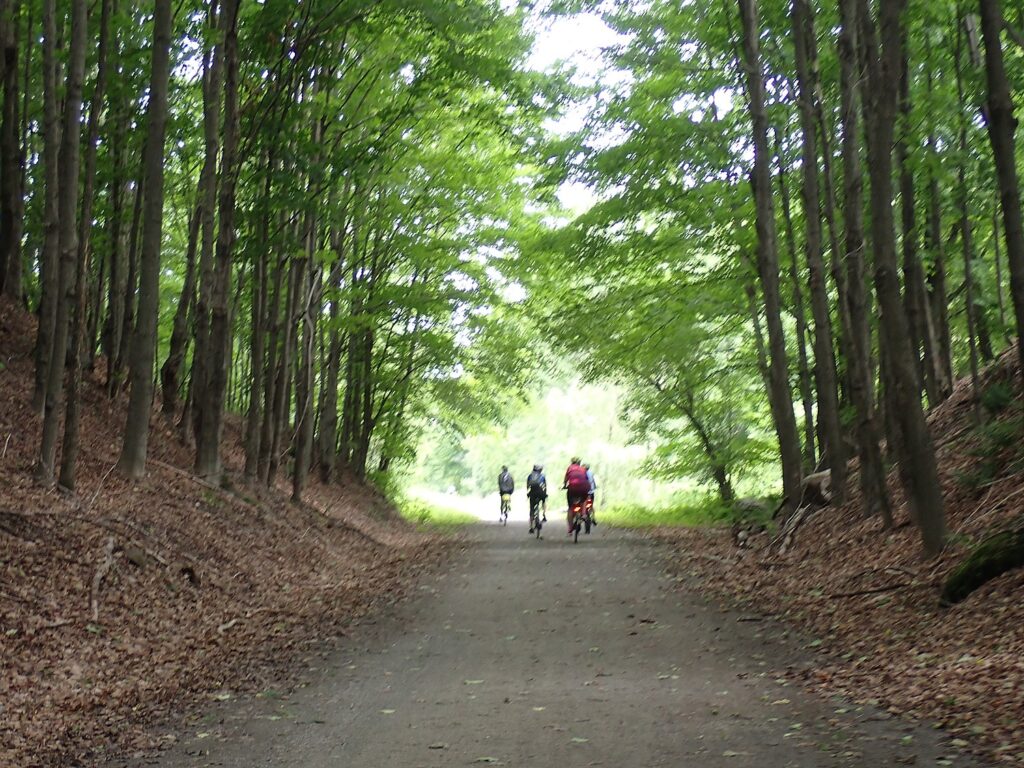 I confess the third day of biking, dubbed "Route Verte & Provincial Park" is my favorite. It is a comparatively easy ride (36.7 miles, with a climb at the beginning but mostly downhill or flat until the very end, a total of 1,136 ft elevation). 35 of the miles is a section of Quebec's Route Verte, a sprawling cycling network deservedly ranked as one of the "10 best cycling routes in the world".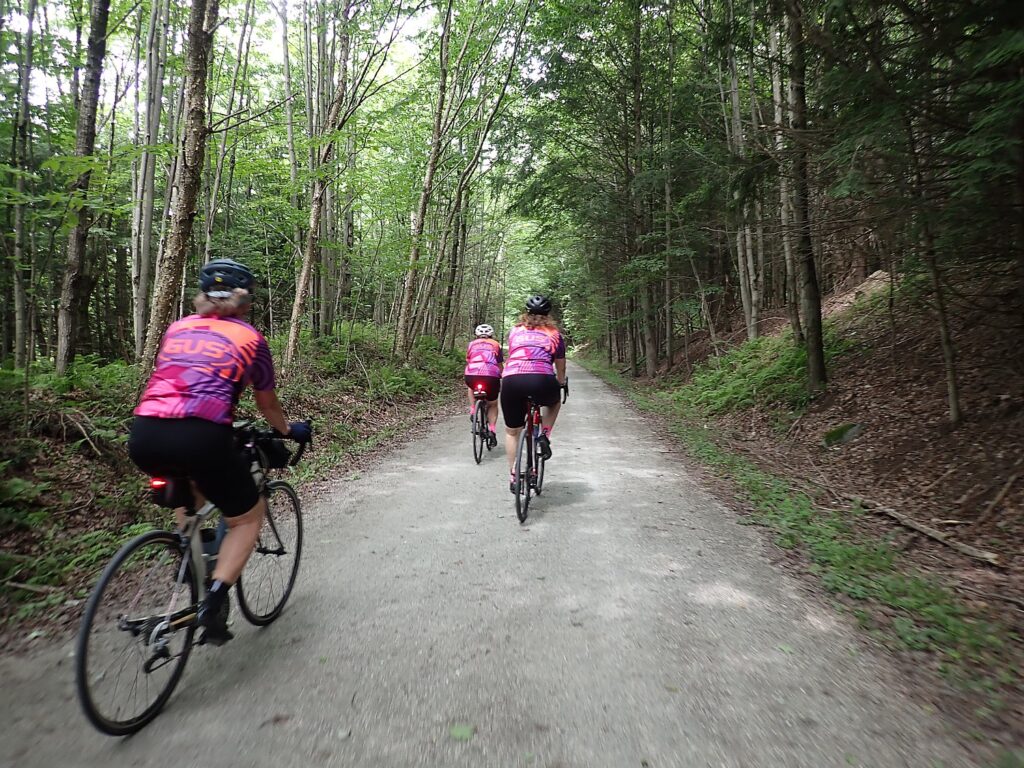 The ride features 25 miles of pristine, paved bike path and 10 miles of hard-packed gravel rail trail, mostly through woods with gorgeous water features – stream, lake – and through the beautiful Yamaska Provincial Park, where lots of families have gathered.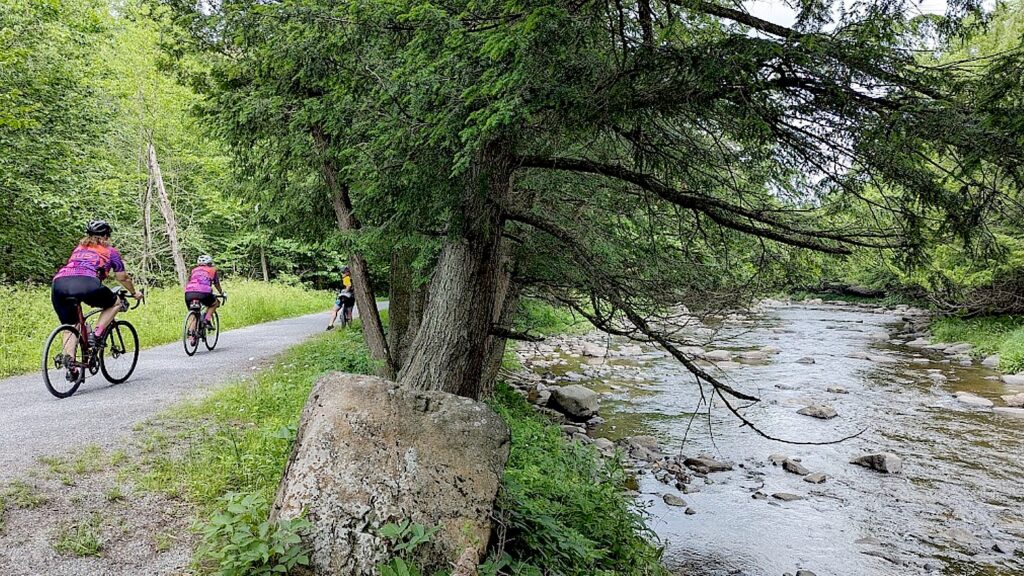 Just before coming into the town of Granby, the path goes on a berm flanked on both sides by water and then over a bridge. There's a lookout tower and M.J. calls to Lindsay and me to stop and enjoy the view. It proves the most stunning scene of the trip.
Lunch is on our own, but we all gather at a café in Granby (while a flat is fixed at the bikeshop nearby).
The last mile, though, is that monster hill that takes us back to the Chateau Bromont (which is at the base of a ski mountain) for our second-night at the hotel. I make it up the hill to enthusiastic cheers of my compatriots.
\We all feel celebratory and Lindsay, who has purchased our cravings at the grocery store that morning, breaks them out: I go for the black olives, peppercorn chocolate (from the Chocolate Museum), nonalcoholic Pale Ale.
Dinner is on our own; our leaders offer to shuttle us back into Bromont where there are a score of restaurants, or take us to the grocery store. Most of us stay back and relax at the hotel. I enjoy paddling around in the indoor pool.
Day 5: Two Wineries & Lake Brome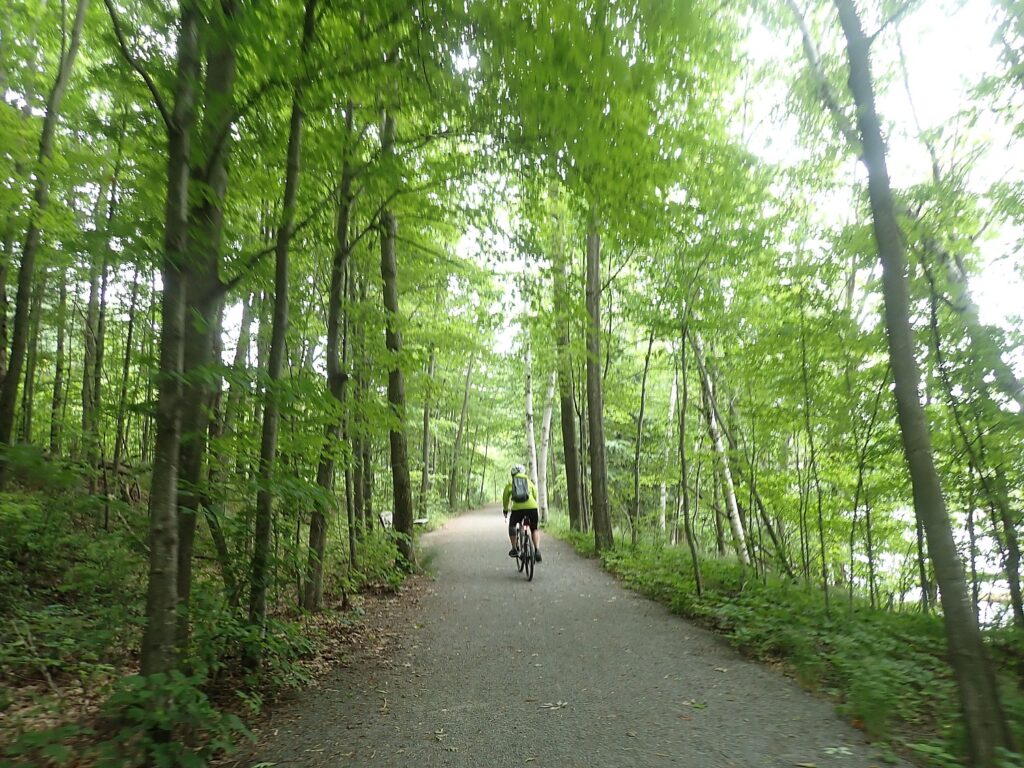 The fourth day's ride (day 5 of the tour) starts out cycling toward Lac Brome, passes the equestrian facilities that were home to the 1976 Olympics, follows the lakeshore road, then goes on a quiet bike path through woods which separates fabulous mansions from the lake (like the way you get to walk the Cliff Walk beside Newport's fabulous Vanderbilt and Whitney "cottages"), a path that is decorated by some fabulous sculpture, before entering the charming Victorian town of Knowlton.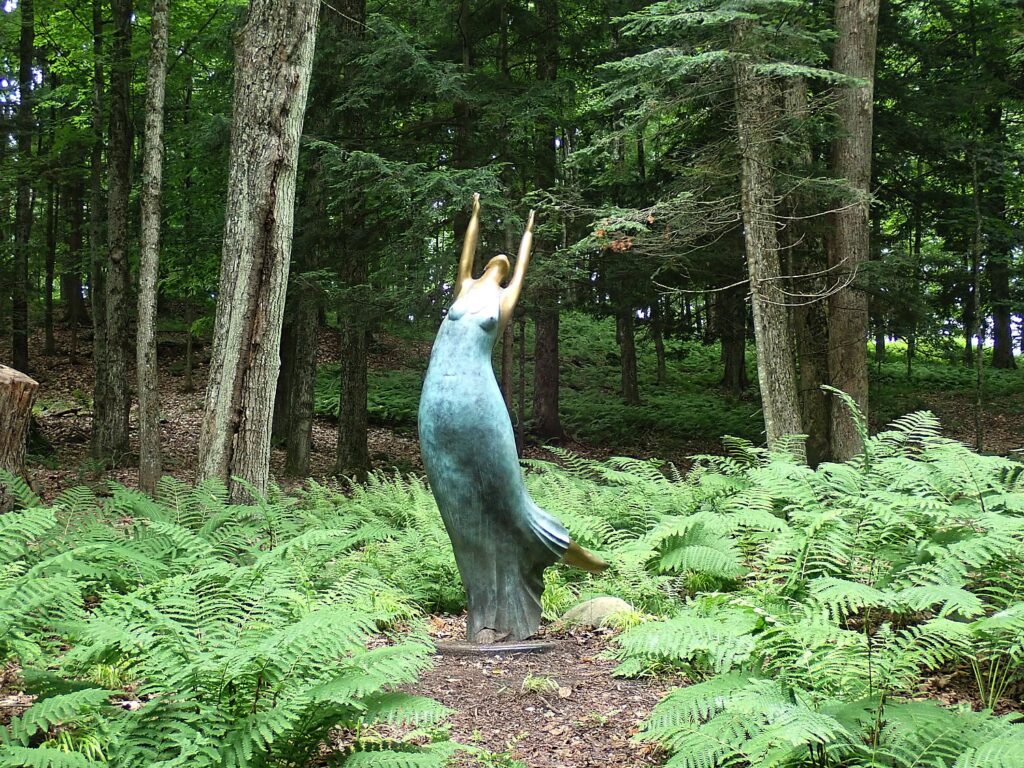 Mystery book buffs would recognize Knowlton as the home of famous detective novelist Louise Penny who has used various locations in Knowlton (and places along our route) to create the fictional "Three Pines" in her books. By coincidence, I had just finished Penny's latest, "A World of Curiosities," so I am really a star-struck fan trying to recreate settings from the book.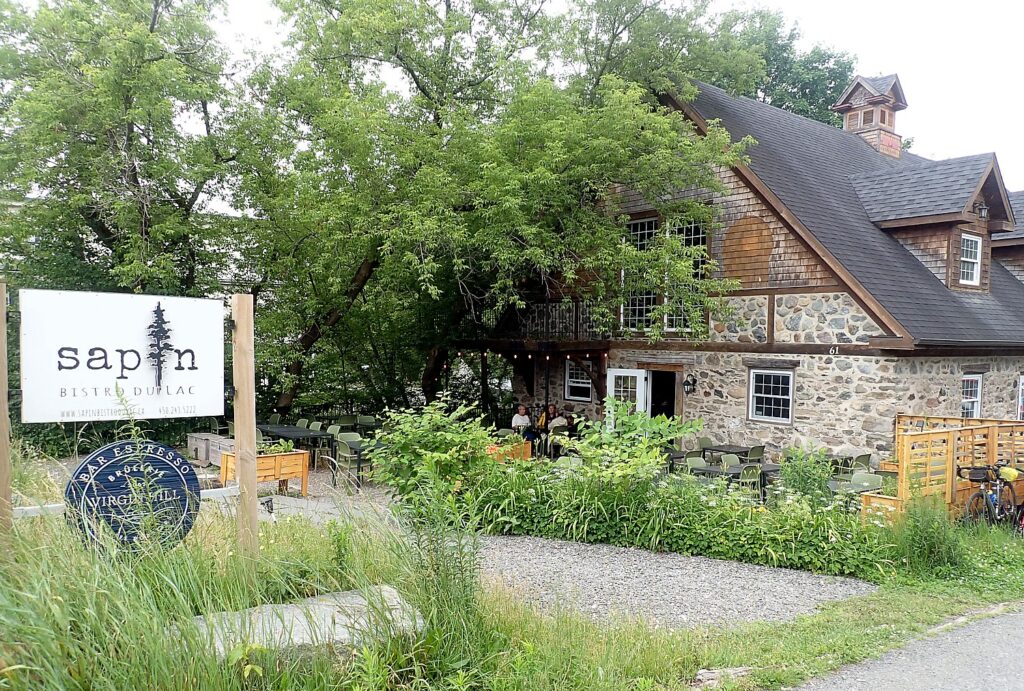 The downtown section of this quaint, historic town has a number of lovely eateries, boutiques, antique shops housed in some fabulous 19th century buildings. It's a rainy day, so instead of us having lunch at the marina, we go into the main area and have lunch in a delightful restaurant housed in a stone-cottage. I go off to visit the town.
Jacques has told us to look for the 56 artful manikins that decorate the streets (Spiderman!). They are on just about every corner, line a small bridge, and many of the buildings, and are absolutely marvelous, fun and get you paying attention, so you stop into a shop, a café, a patisserie. The manikins and the historic markers show off the town's pride.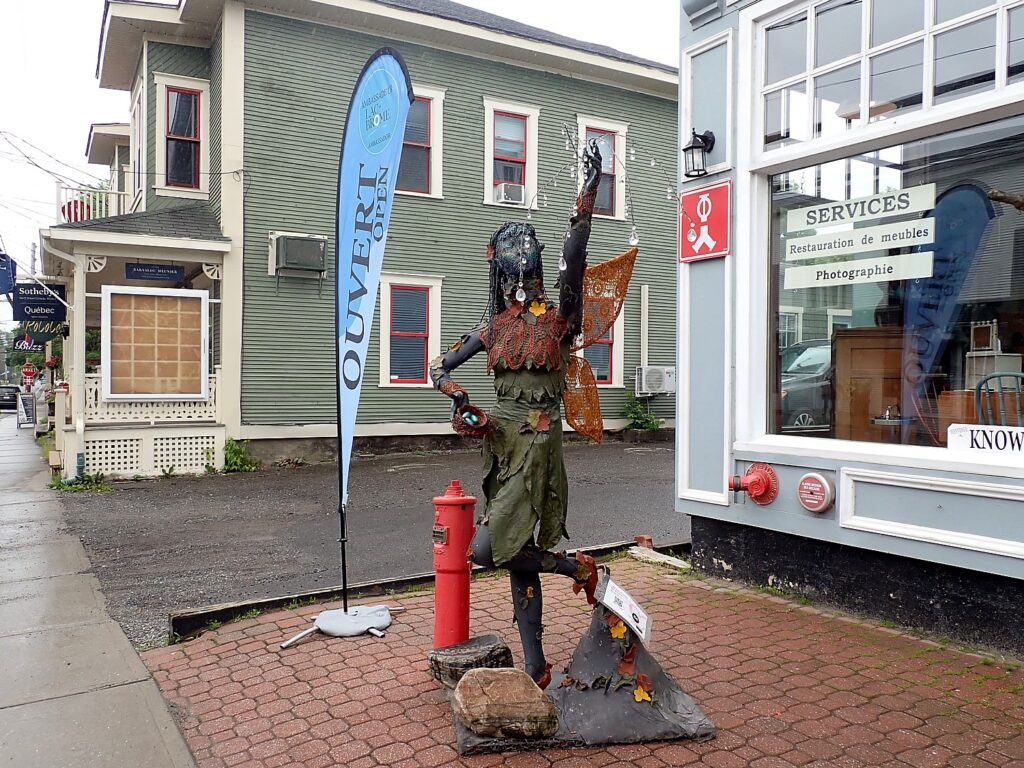 I take note that the main ride's elevation of 1,050 ft. is over 24 miles (two big climbs and two descents), but the optional 12.5 miles has elevation of 1,204 ft – in essence one climb after another (as I double-check the navigation map). And it is on a gravel road. And it is a rainy day. Jacque convinces me I can and should do it, with the lure of "spectacular views" (Note: it is a cloudy, rainy, foggy day.)
Jim winds up being my personal guide (because I am last) and cheerleader.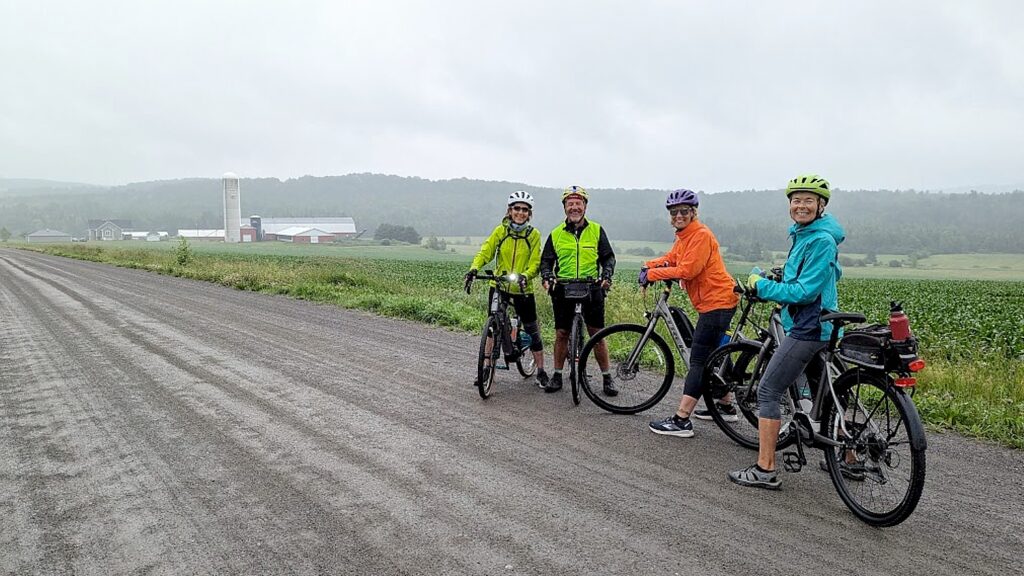 It is a challenging ride. It rains the entire time – fortunately a gentle, warm rain, but I am more concerned about slippery mud – and seems to be more of a constant climb with a few, short downhill breaks. Jacque has said to expect four hills and I mentally try to calculate, "Was that three or four?"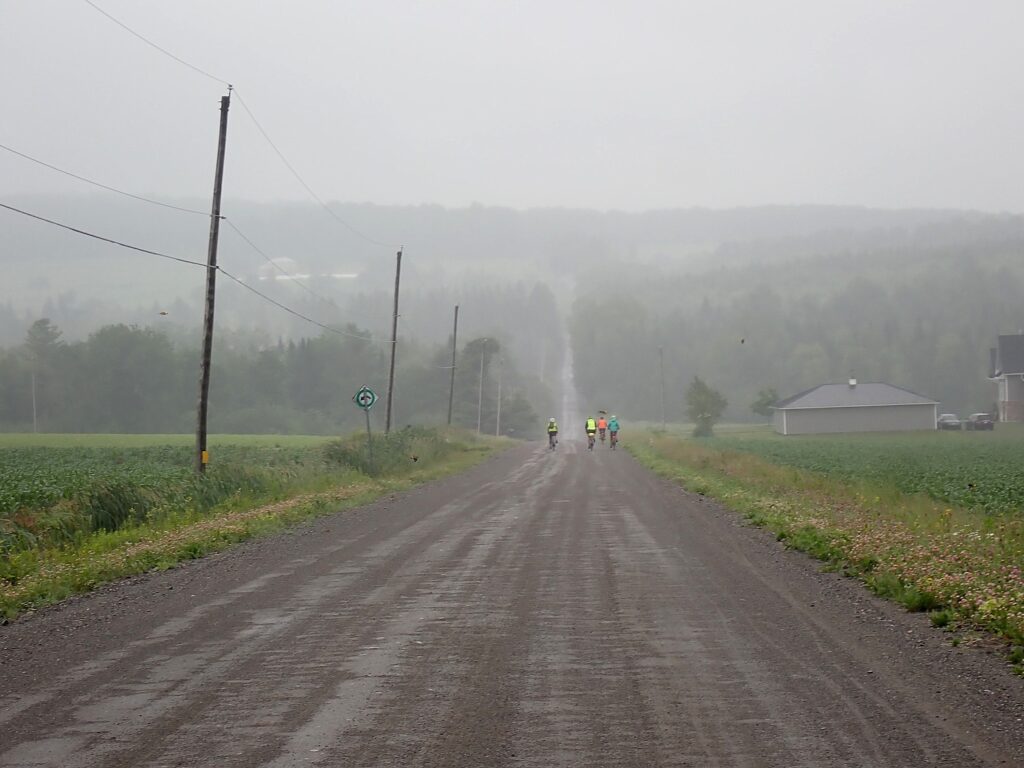 After one particularly steep climb, finally, the road slopes down. I keep expecting one more giant hill and am about to tell Jim I don't think I can do another big climb, when the GPS lady says "End of ride". We have arrived at Le Pleasant Inn in Sutton. I come in mud splattered, soaked through but feeling really, really satisfied to have accomplished the ride. The ladies actually come out to cheer for me.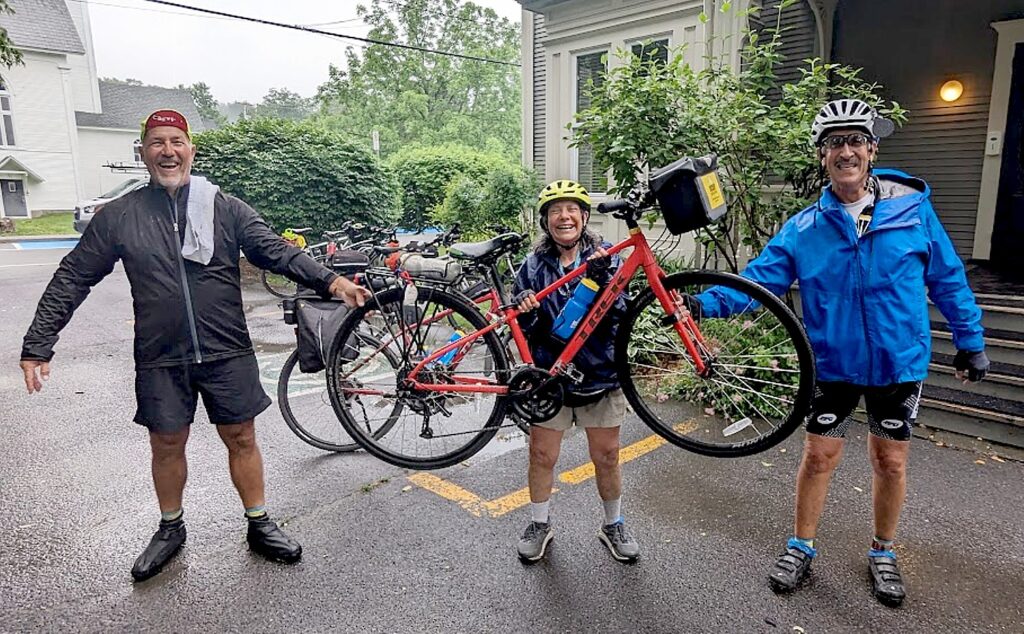 I luxuriate in the hot shower, fold myself into the plush terry robe, brew a cup of coffee, enjoy a chocolate, and really appreciate the stunning ambiance of Le Pleasant Hôtel & Café, a sumptuous 20th century Victorian. A historic marker outside the inn says it was originally the Macdonald House, "a jewel of Sutton's heritage over 100 years old," built by Dr. Macdonald in the 1890s. The stately home was luxurious and richly furnished even for its time, with six hot-and-cold running water taps, a toilet and a bathtub, and five horses, a pony, and two cows in the barn. It was destroyed in the great fire of 1898 but rebuilt to the original plans. Today it offers 10 guest rooms with European-design bathrooms, a lovely lounge, and an absolutely stunning (artistic) café, where we will enjoy breakfast (not your typical selections).
I have time to stroll the charming town, where I find Serge Andre Jones playing music from the 1910s and 1920s on a "public piano". He's playing from his grandmother's music book – she used to provide the musical background at the cinema for the silent movies.
The town of Sutton is an absolute delight, with a vibrant main street of sidewalk cafes, galleries, craft stores, and specialty shops, again with marvelous historic markers that show the town's pride in its heritage. And Sutton clearly loves its cyclists – there is a lovely sculpture that overhangs the main street.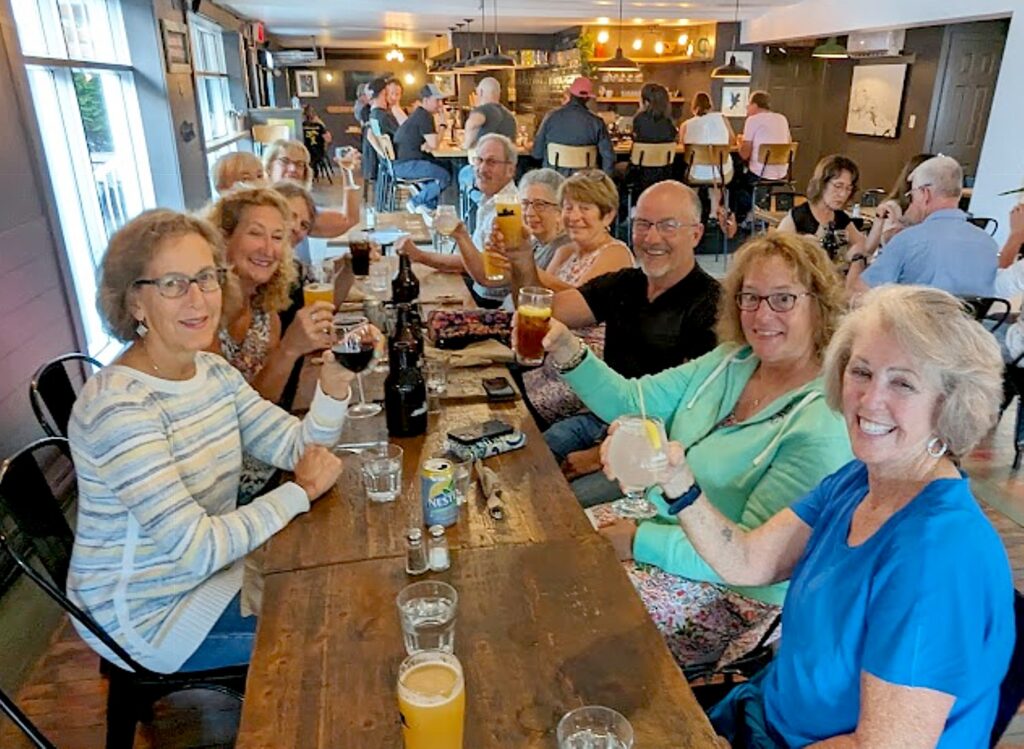 I rejoin the group at the inn, where we all sit around the salon before strolling over to Microbrasserie Auberge Sutton, for a celebratory farewell dinner and a toast (beer!).
Day 6: Back in the U.S.A.
Our last ride takes us south through the tiny mountain community of Abercorn, where, 5.4 miles into the ride we are hyped to indulge at "the great little bakery," Boulangerie Abercorn (alas, they are already sold out of the almond croissants by the time we get there!), before re-entering the United States at Richford.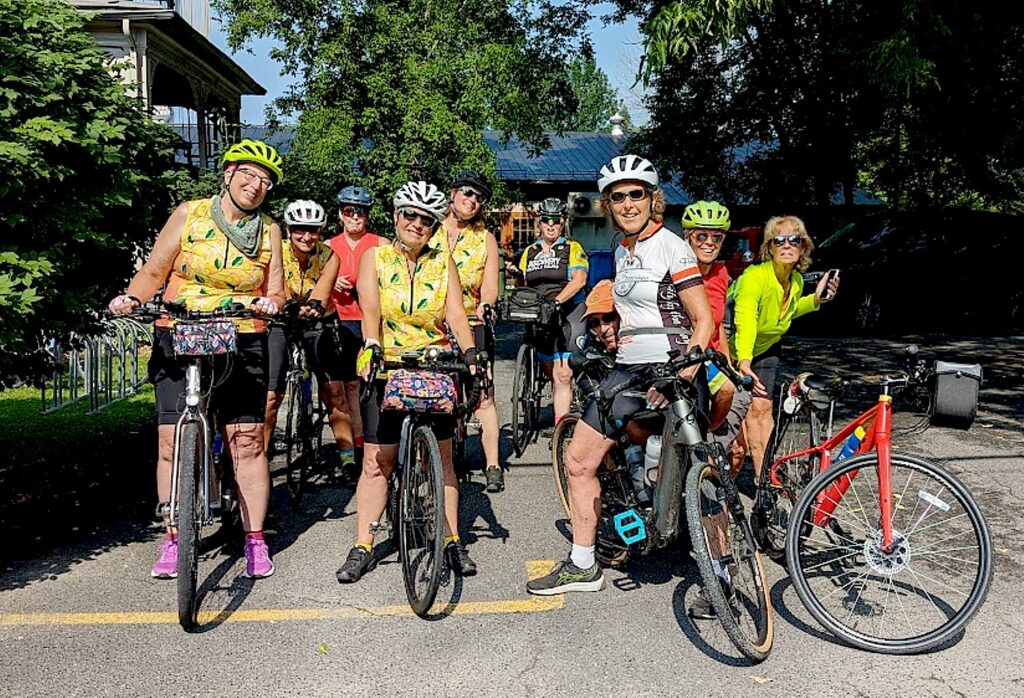 Especially after yesterday's challenging ride, the 21 miles to Montgomery Center, Vermont, is a piece-of-cake, though there is an option to take a challenging roller coaster "short cut". (Not even Amy, who loves tackling hills and has been speeding ahead each day, opts for the short cut.)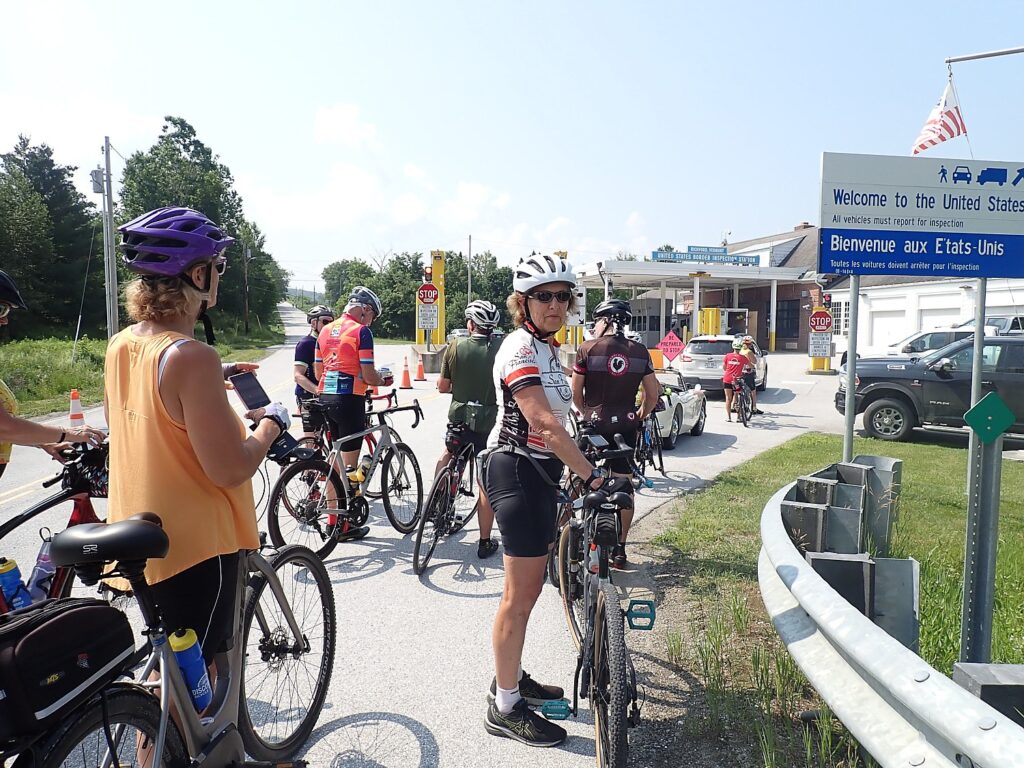 Once we get through the border (a repeat of entering Canada on the first morning, when we were asked to stay as a group), I enjoy taking my time and taking in the scenery.
Just passed the border, we stop at a granite marker for the 45th parallel which is half way between the Equator and the North Pole.
A few miles further and we go onto the Missisquoi Valley Rail Trail, for four miles. Back on the road, coming back into Montgomery, we are greeted with a sign, "Covered Bridges, Open Hearts" and sure enough, there is one covered bridge after another.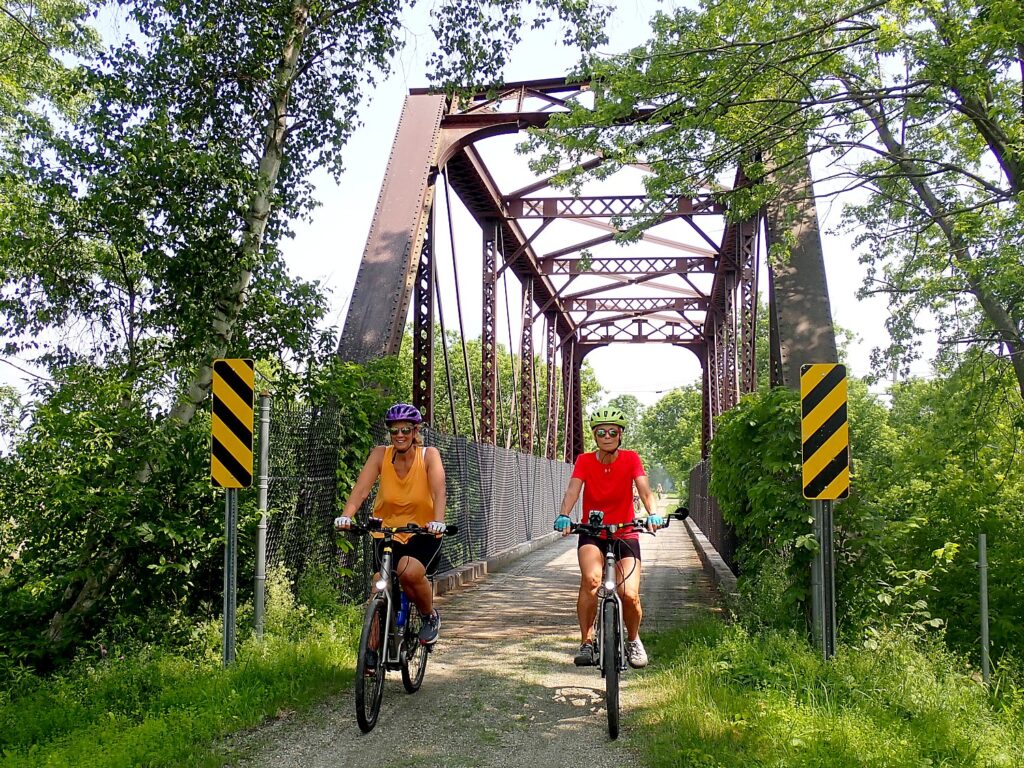 Discovery Bicycle Tours has arranged for us to use the Phineas Swann Inn facilities to freshen up and change before leaving. I head out at 1 pm, routing my trip so that I can stop off to visit Ausable Chasm in the Adirondacks.
"Ride Your Own Ride"
This is my third cycling trip with Discovery Bicycle Tours, which Bob McElwain began in 1977 as Bike Vermont. I actually had my first trip, a Woodstock, Vermont, cycling weekend, with the previous owners, Larry and Dawn Niles, who ran the company for 27 years and changed the name in 2010 to reflect its expanded catalog. Scott and Thistle Cone took over the company in 2018, and have further expanded the company's vistas. Scott is fanatical about planning out the trip – as I discovered on the Quebec Eastern Townships trip with its welcome, meticulous detail in the route notes.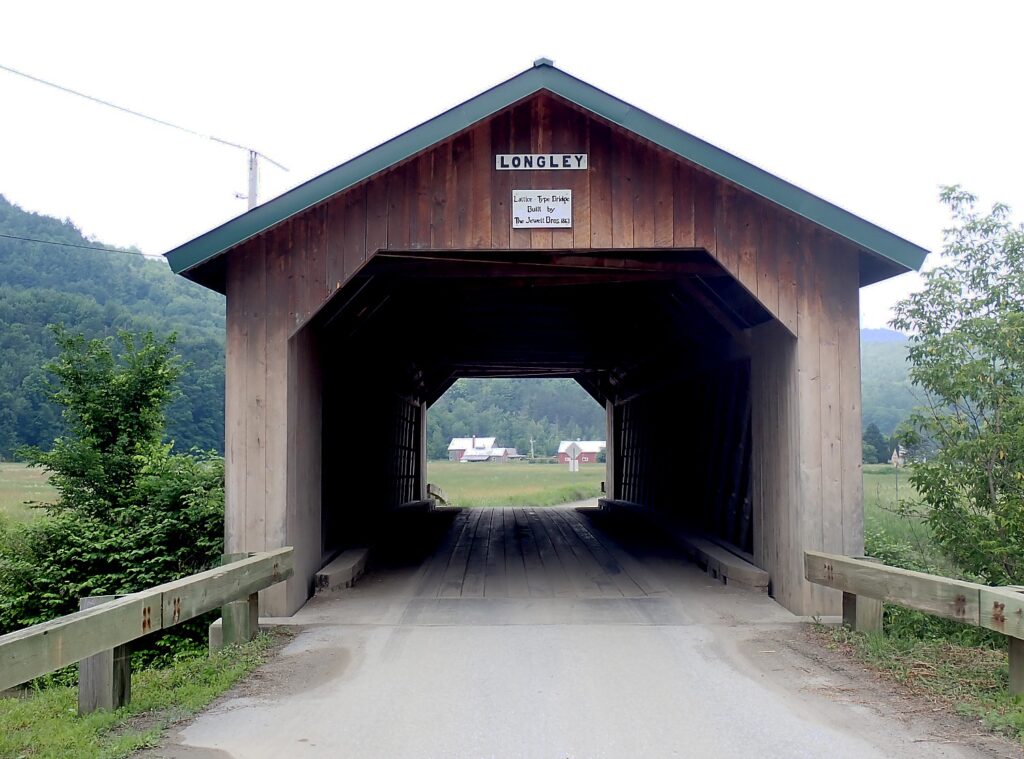 Scott describes himself as an avid cyclist who has over 25 years of experience in marketing for high-tech, travel and retail clients. Thistle, with a background in natural resources and education, editing and copywriting says she enjoys cycling to savor the views, get exercise and justify tasty meals (like me). Both seem to be on a mission to spread the joy of bicycle touring by making the experience accessible.
The quality, personal touch and top-notch service are notable – superb biking, dining and lodging, exceptionally well-crafted, fully-supported trips that yield a marvelous vacation experience with excellent value. (Notably, Discovery does not charge extra for bike rental – hybrid, gravel, or road bike – and on most trips, up to 8 e-bikes are available at no charge on a first-come, first served basis (except in New Zealand and Chile where there is a charge) . Also, there are a whole list of discounts, including for returning guests, referring guests, groups.
Discovery Bicycle Tours, headquartered in Woodstock, Vermont, offers more than 100 trips a year (still some departures this year) in New England and Quebec; Mid-Atlantic states and Florida; Mississippi, Texas and Idaho; Italy, France, Spain and Portugal; Scotland, Ireland and Denmark; Germany, Luxembourg & France; Chile, South America; England, UK; New Zealand; and Vietnam.
The 12-day Vietnam Adventure features an overnight cruise on Bai Tu Long Bay. More than a bike tour, the trip emphasizes culture: This trip starts in bustling Hanoi (a pedicab tour of the Old Quarter); tours caves in Tam Coc by small rowboat; cycles by rice paddies, dramatic limestone hills and pillars of rock; visits historic towns of Hue and Hoi An; ending in Ho Chi Minh City (Saigon). The trip includes 5-star hotels, included domestic flights, and meals. There's also an optional Angkor Wat Add-On to spend 4 days exploring the famed ancient temples in Cambodia. (Jan. 2-13 and Dec. 8-19, 2024).
Discovery Bicycle Tours, 2520 W. Woodstock Rd., Woodstock, VT 05091, 800-257-2226, [email protected], https://discoverybicycletours.com/
See also:
CYCLING QUEBEC'S EASTERN TOWNSHIPS: SO NEAR AND YET FEELING FAR (IN THE BEST WAY)
DISCOVERY BICYCLE'S 6-DAY COAST OF MAINE TOUR DELIGHTS THE SENSES
____________________________
© 2023 Travel Features Syndicate, a division of Workstyles, Inc. All rights reserved. Visit goingplacesfarandnear.com, www.huffingtonpost.com/author/karen-rubin, and travelwritersmagazine.com/TravelFeaturesSyndicate/. Blogging at goingplacesnearandfar.wordpress.com and moralcompasstravel.info. Visit instagram.com/going_places_far_and_near and instagram.com/bigbackpacktraveler/ Send comments or questions to [email protected]. Tweet @TravelFeatures. 'Like' us at facebook.com/KarenBRubin