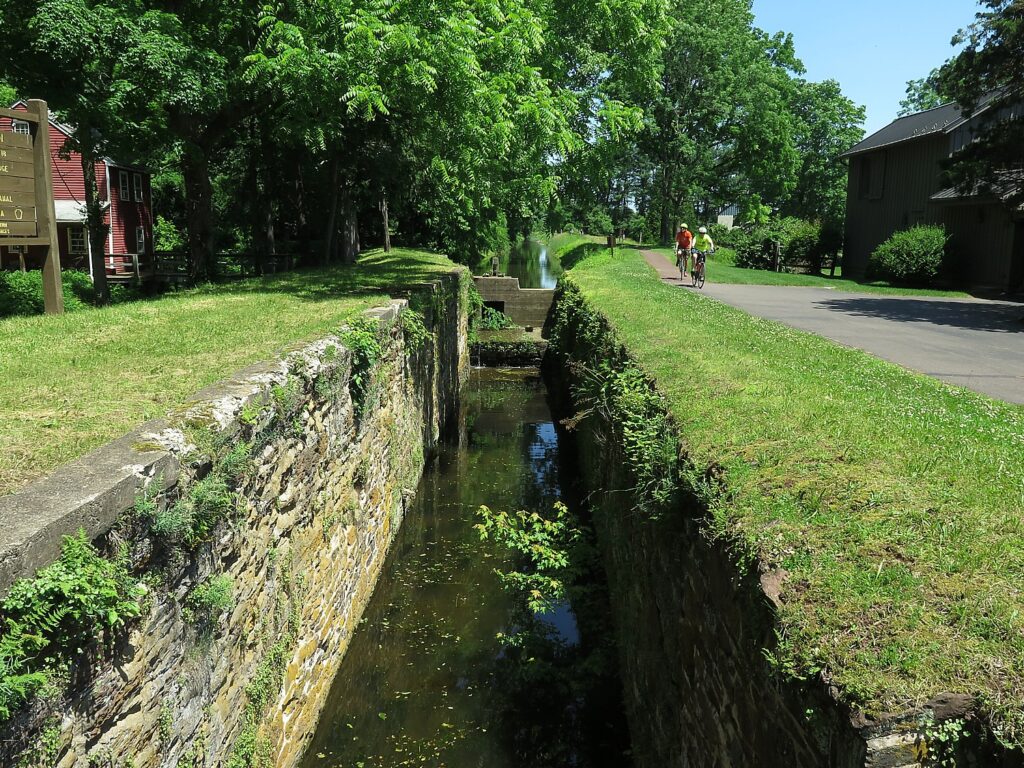 by Karen Rubin
Travel Features Syndicate, goingplacesfarandnear.com
Bike tours offer one of the best vacation alternatives in these times when people want to be outdoors in open spaces, and enjoy stunning landscapes, discover heritage and history and have that opportunity for shared experiences that travel uniquely provide. There is still time this season to take advantage of guided, self-guided and private bike tours from companies including Pocono Biking, Wilderness Voyageurs and Discovery Bicycle Tours.
Pocono Biking has space on departures this season on a supported four-day bike tour that takes you 142 miles of the Delaware & Lehigh rail trail, also known as D&L Trail.
I did this ride, anchored by the charming town of Jim Thorpe and the famous historic landmark at Washington Crossing, on the Rails-to-Trails Conservancy's Sojourn, though with camping instead of inn-to-inn along this scenic and history-rich trail (railstotrails.org). The RTC trip also was operated by Pocono Biking, a powerhouse outdoors- adventure company in the area well known for its rafting adventures on the Lehigh River in the Lehigh Valley.
The trip, traveling through 57,600 acres (90 miles) of state park, is designed so you get to enjoy three of Pennsylvania's award winning quaint small towns: Jim Thorpe, Bethlehem and New Hope. Essentially, we follow the route of Anthracite Coal, from mine to market, which thrust America into the Industrial Revolution. Along the way, we see the geography, the resources, and the technological innovations that made this possible, and how they affected the society, the culture, and the economy of the fledgling nation. The trail, part of the Delaware & Lehigh National Heritage Corridor, is so historically significant that it is a Smithsonian Institution Affiliate.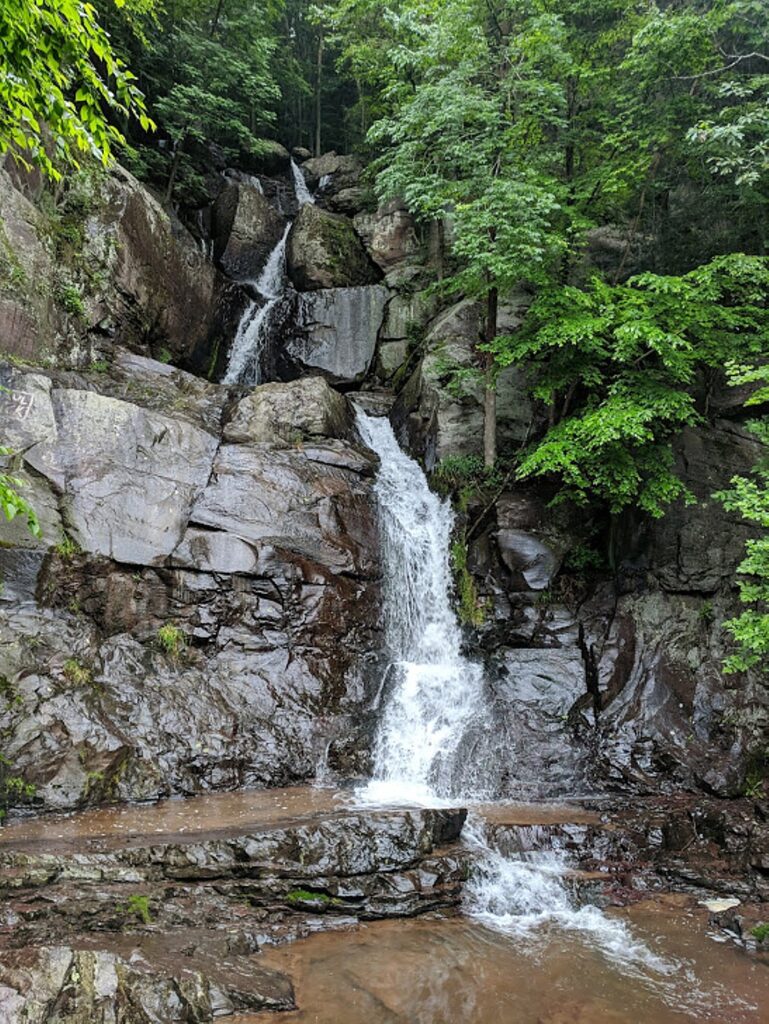 Day 1 – 36 miles: The adventure starts in the wilderness of the Lehigh Gorge State Park, riding passed waterfalls and spotting wildlife (deer!), taking advantage of the newly connected D&L Rail Trail into the charming town of Jim Thorpe. The first night is spent amid mountains in the Inn of Jim Thorpe, circa 1849.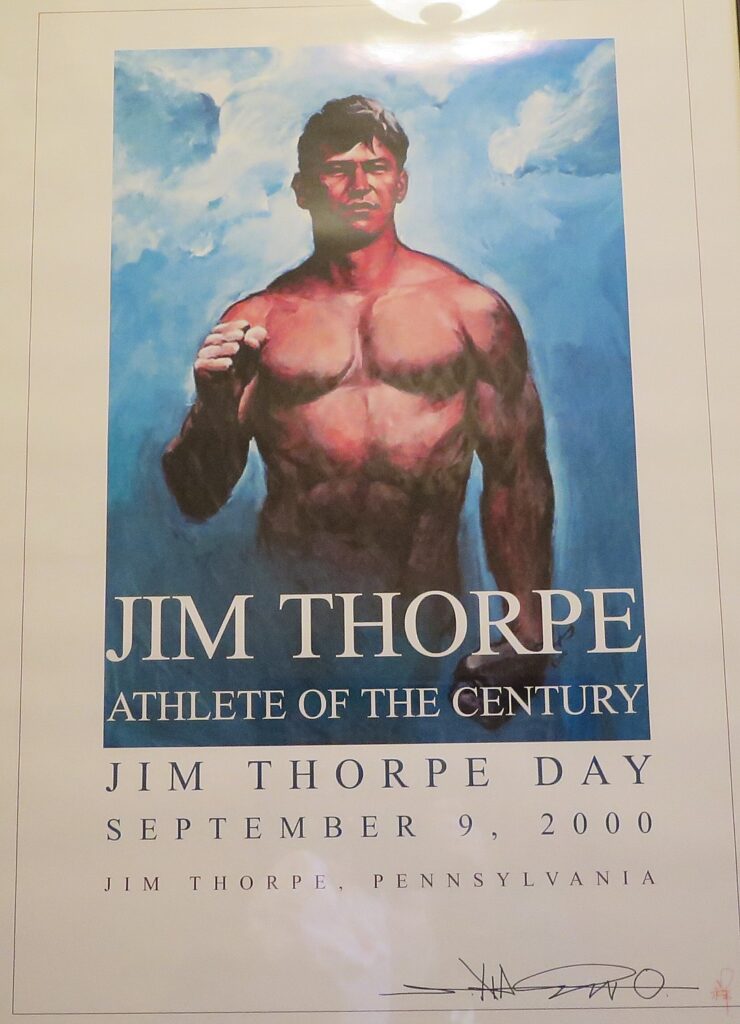 Jim Thorpe – an odd name for a town – was established in 1818 as Mauch Chunk, which means "Mountain of the Sleeping Bear," the name the Lenni Lenape Indians gave to the nearby mountain. But it was later renamed for an Oklahoma-born Native American, the Olympic hero Jim Thorpe, who is buried there. Thorpe was born in Oklahoma in 1888 and raised on the Sac and Fox Reservation and had never set foot in the borough. But Patsy Thorpe, Jim's third wife, cut a deal with two struggling towns in Pennsylvania, that if they would merge, rename themselves Jim Thorpe and build a memorial to honor him, she would present them his remains for burial.
The town played a key role in the emergence of the United States as an Industrial Revolution powerhouse. Here, entrepreneurs led by Josiah White formed the Lehigh Coal & Navigation Company in the 1820s (you can still see the brick building), which shipped tons and tons of anthracite coal and other goods to market via the Lehigh and Delaware Canals which they constructed. The town grew in importance when it was named Carbon County's seat in 1843.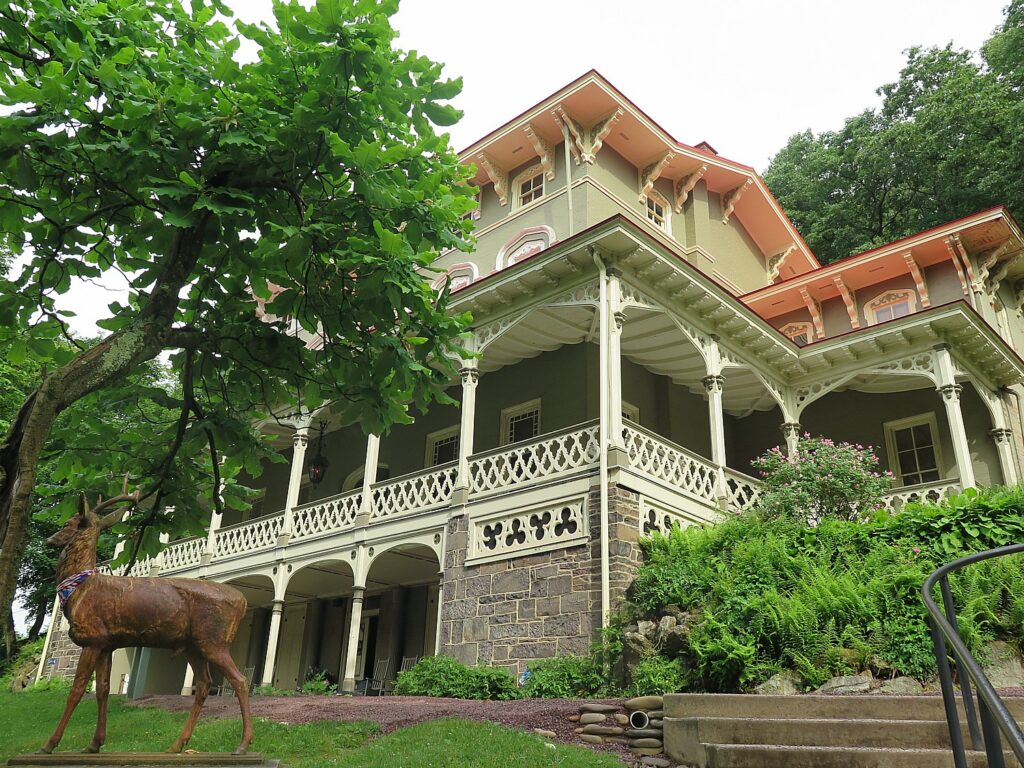 A major attraction here is the Packer Mansion, which I was lucky enough to visit on my trip. Asa Packer's story epitomizes the rags-to-riches-for-those-with-grit-and-a-good-idea American Dream: Born poor in Mystic, Connecticut, Asa Packer (1805-1879) left home when he was 17, setting out on foot to Brooklyn, Pennsylvania where he apprenticed as a carpenter to his cousin, Edward Packer. In 1828, he married Sarah Minerva Blakslee (1807-1882) and the couple tilled a farm they rented from Sarah's father. But after four years, they were just as poor as when they started. So hearing that men were needed to captain coal barges on the Lehigh Canal, Asa traveled to Mauch Chunk, in the winter of 1832. He used his skill as a carpenter to build and repair canal boats. He resettled his family in Mauch Chunk and became the owner of a canal boat that carried coal to Philadelphia, then opened his own firm, A. & R. W. Packer, which built canal boats and locks for the Lehigh Coal & Navigation Company.
He tried to get the company to build a railroad, but was refused. So, in October 1851, risking financial ruin, Packer purchased nearly all the controlling stock and interest for the unfinished Delaware, Lehigh, Schuylkill and Susquehanna Railroad (later known as the Lehigh Valley Railroad). By November, 1852, he expanded the railroad from Mauch Chunk to Easton, Pennsylvania, in exchange for the company's stocks and bonds, and later into New York State.
He became the third richest person in the world and parlayed his business success into political success, serving as a Judge, a state representative, a two-term Congressman (1853-7), and even challenged Ulysses S. Grant for the Democratic presidential nomination in 1868. He narrowly lost election to become Pennsylvania's Governor in 1869.
The Packers settled in their Italianate Villa in Mauch Chunk in 1861 and, to celebrate their 50th wedding anniversary, on January 23, 1878, held a fantastic gala (a newspaper printed in gold described it, and the man who performed their wedding attended). Asa died just 18 months later.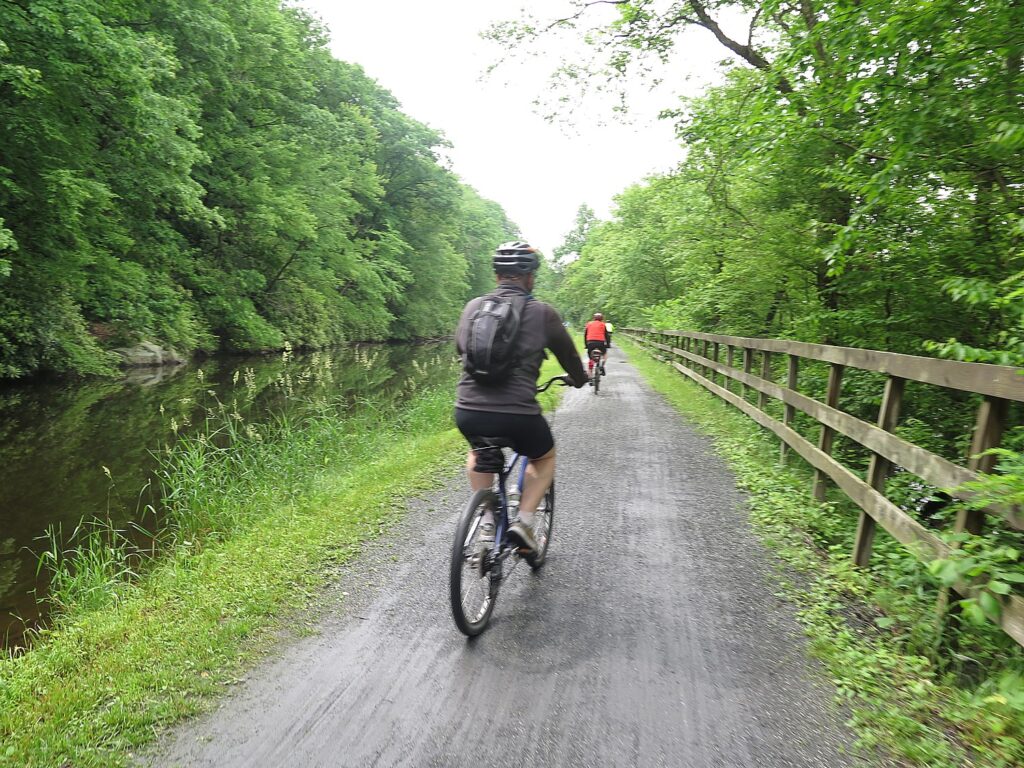 This quaint village is a hub for many marvelous attractions including the Packer Mansion; the Old Jail Museum (the eerie dungeon where the Molly McGuires were jailed; Cell 17 with its mysterious handprint on the wall, under the gallows on which seven of the accused Molly Maguires were put to death); the Lehigh Gorge Scenic Railway, St. Mark's Church, Historic Stone Row, the Mauch Chunk Opera House, Anita Shapolsky Art Center, Mauch Chunk Museum, plus wineries and distilleries (Big Creek Vineyard and Stonekeep Meadery), biking, hiking and rafting.
Jim Thorpe Visitors Center, 2 Lehigh Ave., Jim Thorpe PA 18229, 570-325-3673, jimthorpe.org.
Day 2 – 37 miles: After a night exploring the shops, museums and restaurants in Jim Thorpe and breakfast at the Inn, cycle beside the locks and canals along the Lehigh River to the town of Bethlehem, PA. Along the way you pass the Lehigh Gap Nature Center with its protected land. There are stunning views of the Blue Mountain and Appalachian Trail. Bethlehem, circa 1741, an old Moravian settlement, has cobblestone streets, quaint shops, and history around every bend. Spend the night in the Hotel Bethlehem where Presidents and dignitaries have stayed.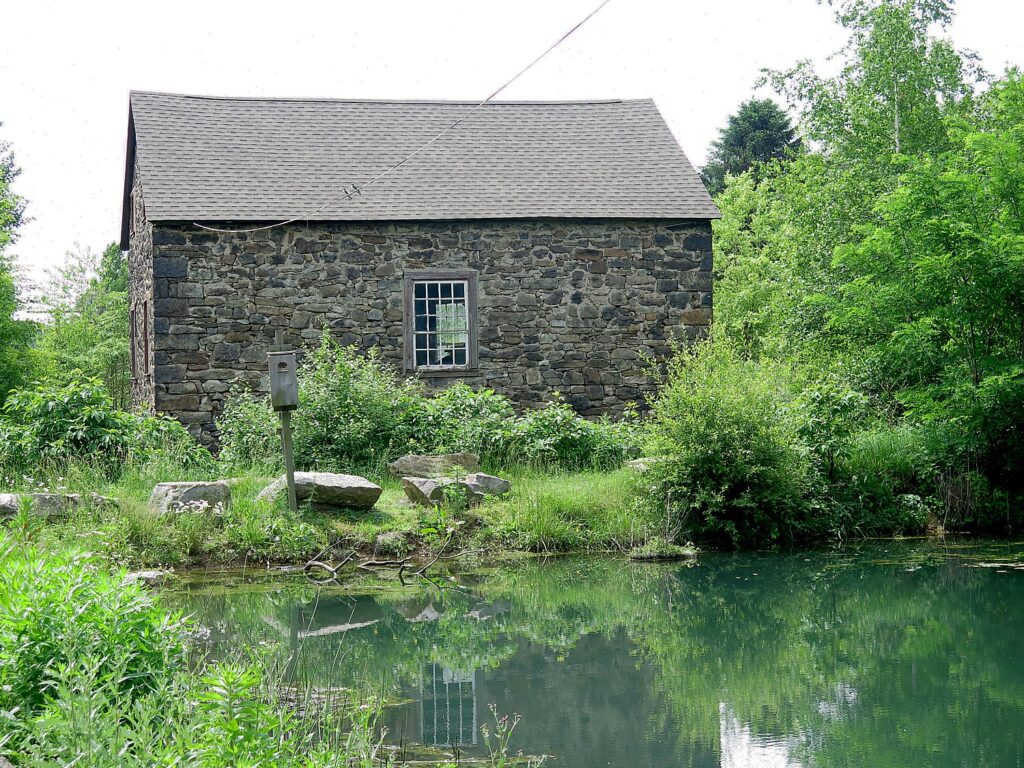 Lehigh Gap Nature Center, a non-profit conservation organization at the foot of the Kittatinny Ridge, is dedicated to preserving wildlife and habitat through conservation programs such as the Lehigh Gap Wildlife Refuge, educational programs such as the Kittatiny Raptor Corridor Project as well as research. I linger in the butterfly garden before setting out again on the trail. (8844 Paint Mill Rd, Slatington, PA 18080, 610-760-8889, http://lgnc.org/)
Along the way, we come upon what is left of the original canal locks – stone walls, wooden gates with metal latches and gears, remnants from the mid-1800s.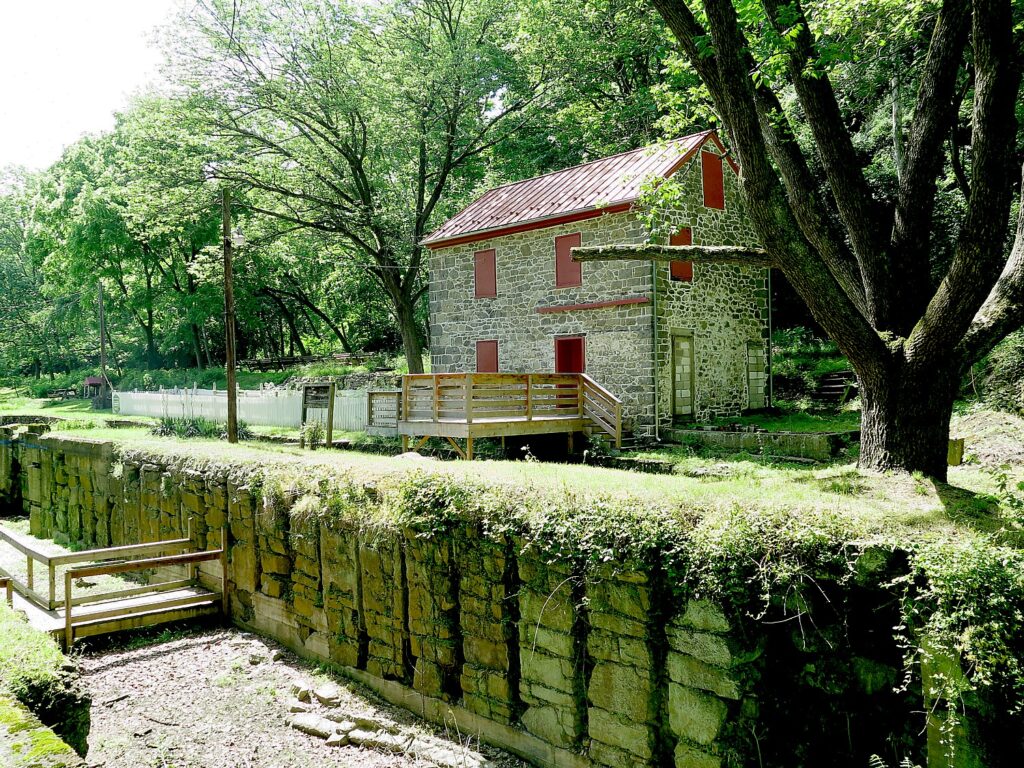 At Freemansburg, we find a lockmasters house, the remains of the locks and a mill, which, when I visited, was manned by interpreters in period dress. I wonder whether the village was settled by freemen and am told that it was named for one of the original settlers, Richard Freeman.
Freemansburg is a classic example of a canal town with houses and structures built up against the waterway that was the village's lifeblood in the 1800s. Members of the Old Freemansburg Association (OFA) reclaimed a 1.5 mile section of the Lehigh Canal the Borough owns from overgrowth and debris and restored the towpath which became the D&L Trail. The OFA spearheaded efforts to protect and restore the 1829 Locktender's House, mule barn, Lock No. 44, gristmill, and coal yard. Volunteers also reconstructed the barn using canal era tools and equipment, a project that took 10 years to complete. The multi-functional building now hosts weddings, educational sessions and interpretative demonstrations. (http://lehighvalleyhistory.com/history-of-the-borough-of-freemansburg)
Riding on, we come to an island that consists of a shuttered steel mill that today stands somewhat surreally like an abstract sculpture.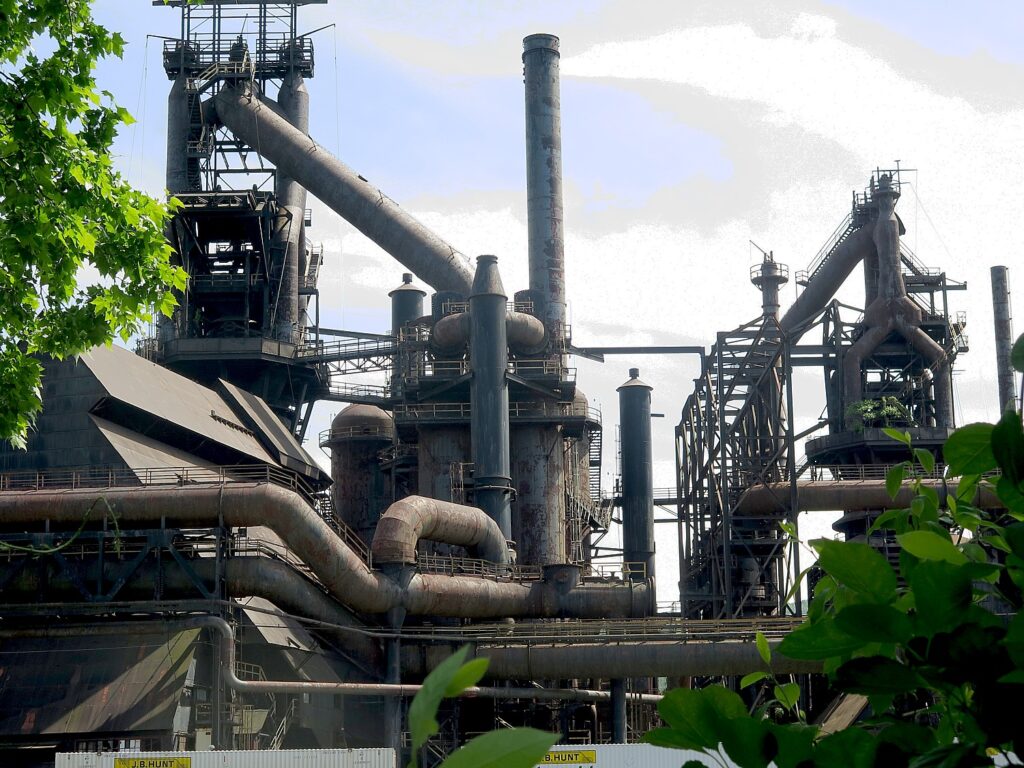 Day 3 – 47 miles: After breakfast, the group departs Bethlehem and cycles south following the path of 19th century aqueducts to the confluence of the Lehigh and Delaware Rivers. Visit the only operating mule drawn canal boat east of the Mississippi. Tour the National Canal Museum and pass through quaint river villages, until arriving in New Hope. New Hope offers bustling nightlife and cultural attractions such as the Bucks County Playhouse.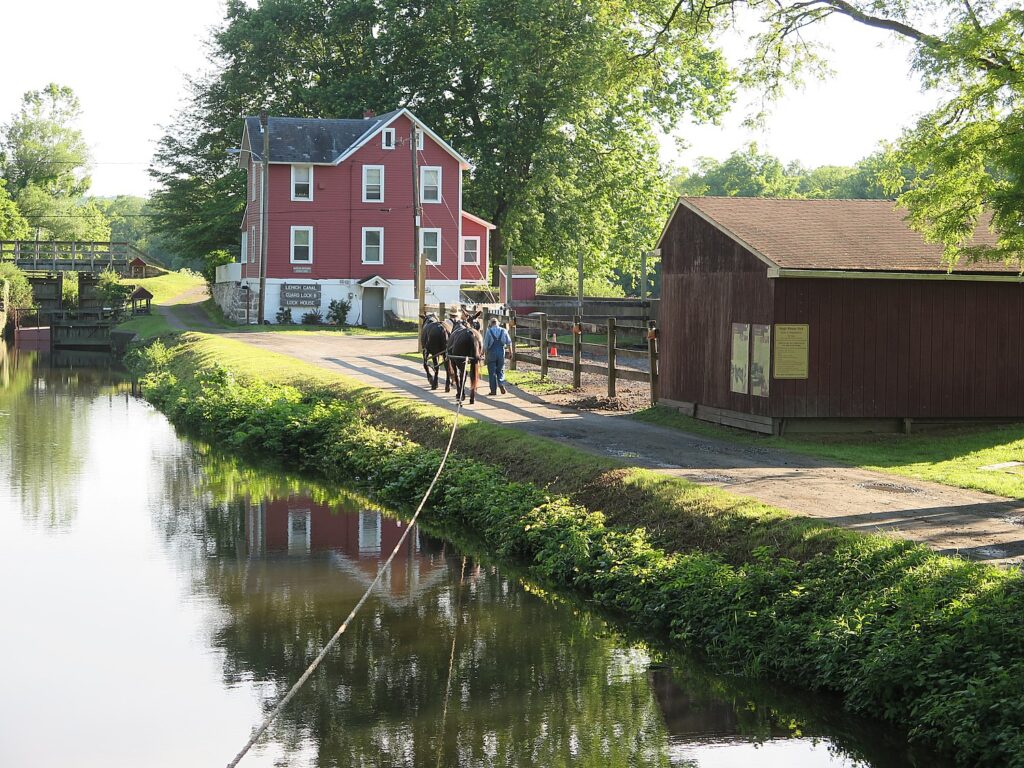 The Delaware & Lehigh National Heritage Corridor interprets this fascinating period of American history in the 520-acre Hugh Moore Park through tours of the National Canal Museum and rides on the 110-passenger Josiah White II canal boat. Here you see remnants of the oldest industrial park in the region, a Locktender's House and one of only three mule-drawn canal boats still operating in America, which plies a two-mile section of the canal that has been restored. The National Canal Museum, with hands-on exhibits highlighting 19th century canal life and technology, normally is open from June until October. (https://canals.org/)
Day 4 – 22 miles: On day four, after breakfast at the Fox and Hound Bed & Breakfast, ride along the canal trail to Washington Crossing where George Washington crossed the Delaware in 1776. You also cross the Delaware to the D&R Canal State Park and head north to Bull's Island where the ride ends with lunch before being shuttled back to your car.
Washington Crossing Historic Park, 1112 River Road, Washington Crossing, PA 18977, 215-493-4076, www.WashingtonCrossingPark.org.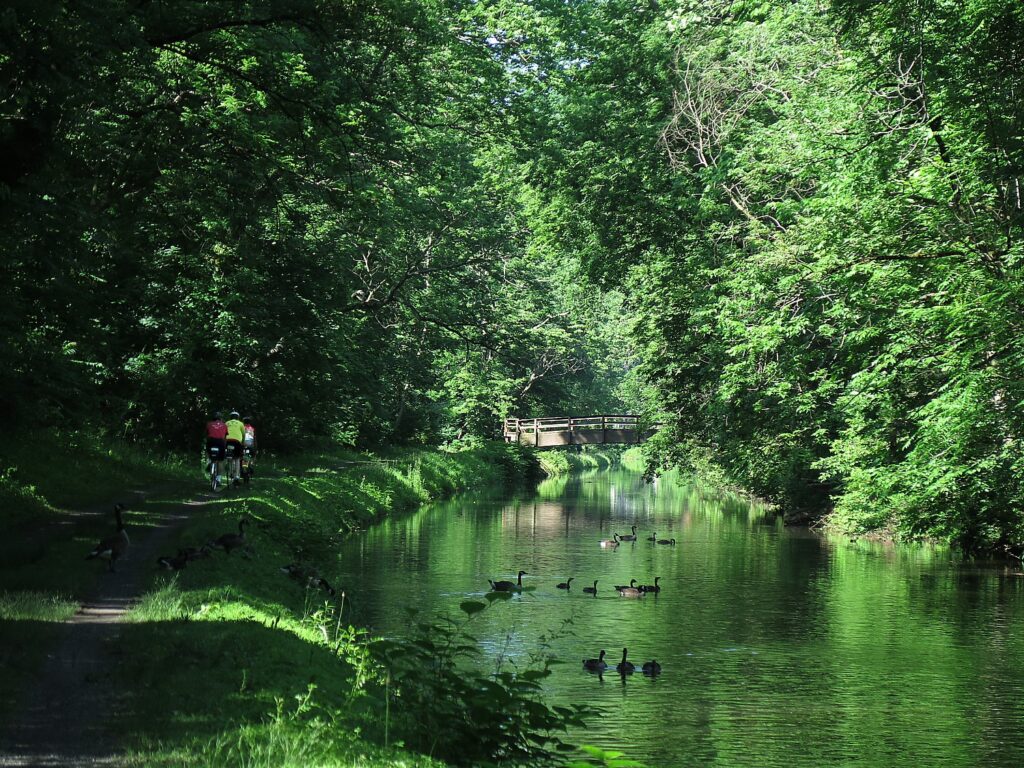 Available dates at this writing include Sept. 14 and Oct. 5 (up to 14 guests per trip, with 2 guides; the minimum age is 13; e-bike rentals are available, but the trail is easy/moderate crushed gravel trail). The cost is $995 ($225 single supplement); $90 to rent a bike, and includes the overnight accommodations, professional bike guides; sag wagon; basic bike repair (replacement bike if needed to complete the ride); rest stops with snacks and water; breakfast on three days; lunch on two days; luggage transportation to each accommodation; morning trail briefings and transportation back to your car by 4pm on the final day.
If you would rather DIY, Pocono Biking also offers daily rates and shuttle service, Big Day Out & Big Night Out (Multisport Adventures), two-day trips, and Pocono Whitewater Rafting on the Lehigh River.
Pocono Biking, 7 Hazard Square, Jim Thorpe, PA, 570-325-8430, PoconoBiking.com.
Other bike tours available this season:
Wilderness Voyageurs, operating out of Ohiopyle, PA, is offering New York Erie Canal Bike Tour (4-days,Sept. 21); Great Allegheny Passage Bike Tour (4-days, Sept. 21, 28, Oct. 5), Easy Rider GAP Bike Tour (3-days, Sept. 9).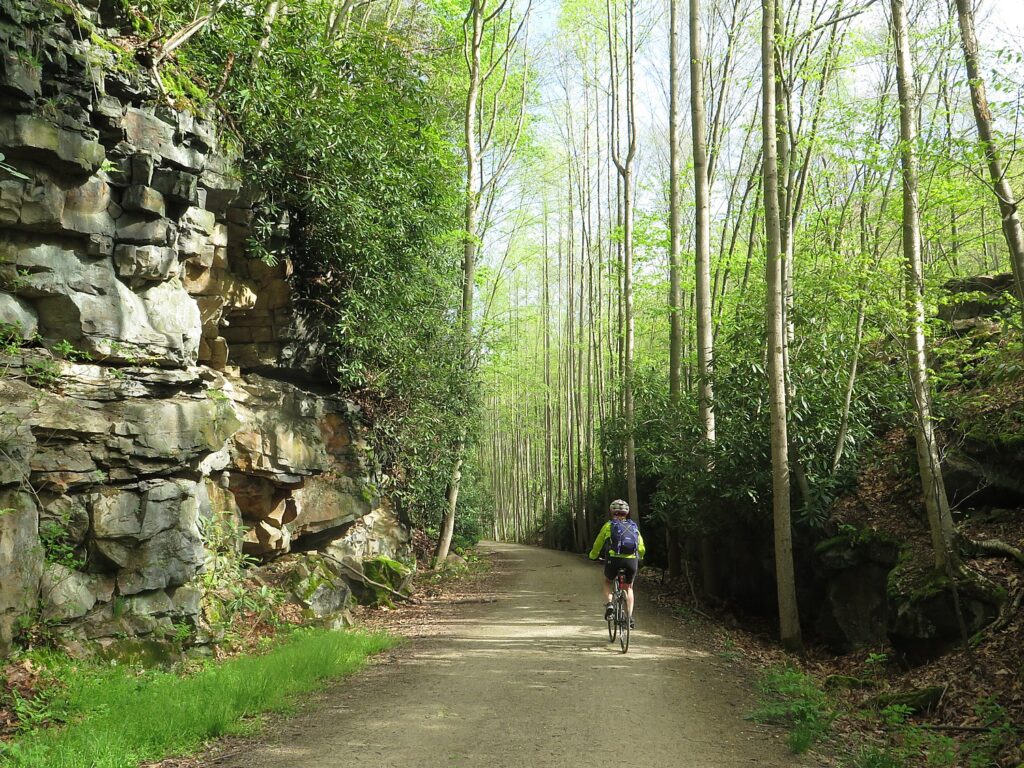 Other upcoming tours: Michigan Islands, Trails & Dunes Bike Tour (8/30); Cycle Colorful Colorado Bike Tour (9/13); Katy Trail Missouri Bike Tour (9/27, 10/18) and
Kentucky Bike & Bourbon Bike Tour (10/19).
"Bike touring lends itself to a vacationing style that uniquely fits these times: small groups and big open spaces! Although we understand that traveling at this moment is not for everyone and is a personal decision, our goal is to minimize the risks where possible and make traveling as comfortable as possible."
Wilderness Voyageurs, 103 Garrett St., Ohiopyle, PA 15470, 800-272-4141, [email protected], Wilderness-Voyageurs.com
Discovery Tours is inviting biking enthusiasts to design their own tour: "Pick any of our U.S. locations — or suggest a new one — and we'll customize an incredible biking vacation just for you."
Groups of 8 or more get one tour free (or spread the savings across the group). Special pricing is available for groups of 4 or fewer.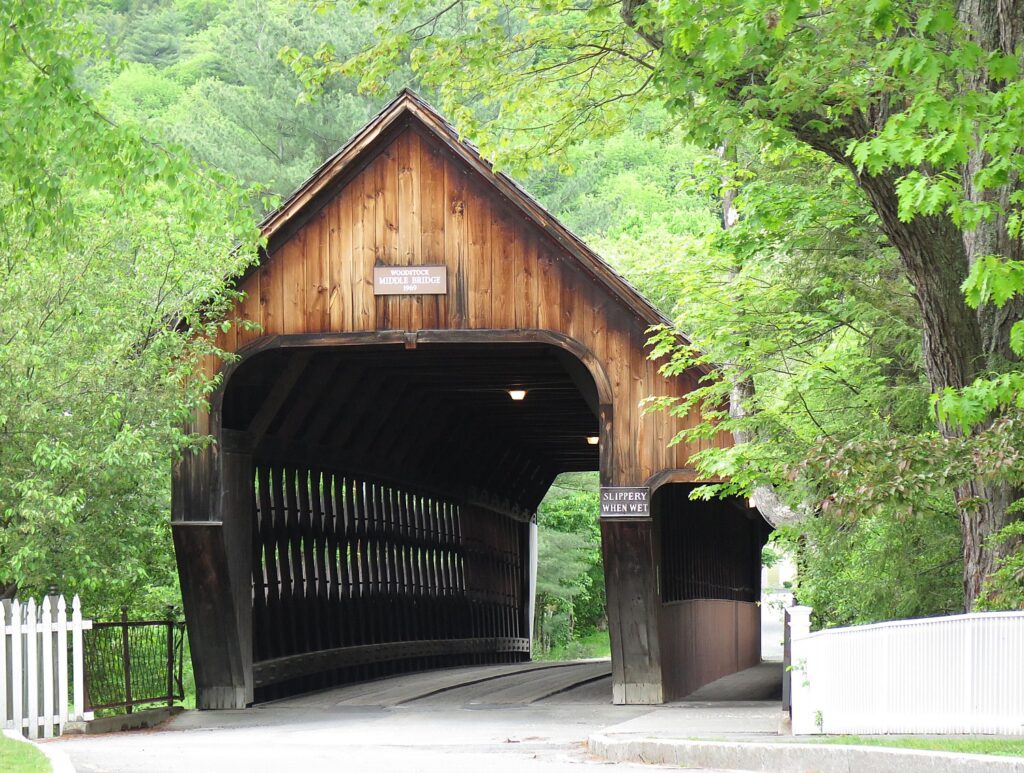 The company, based in Woodstock, Vt., has already run private tours this summer on the Mickelson Trail and Black Hills in South Dakota, in Maine and in New York's Finger Lakes.
For details, contact Scott ([email protected]), [email protected], 800-257-2226, discoverybicycletours.com.
Find more trails through Rails-to-Trails Conservancy, 2121 Ward Court, NW, Washington, DC 20037, 866-202-9788, railstotrails.org, TrailLink.com.
______________________
© 2020 Travel Features Syndicate, a division of Workstyles, Inc. All rights reserved. Visit goingplacesfarandnear.com, www.huffingtonpost.com/author/karen-rubin, and travelwritersmagazine.com/TravelFeaturesSyndicate/. Blogging at goingplacesnearandfar.wordpress.com and moralcompasstravel.info. Send comments or questions to [email protected]. Tweet @TravelFeatures. 'Like' us at facebook.com/NewsPhotoFeatures