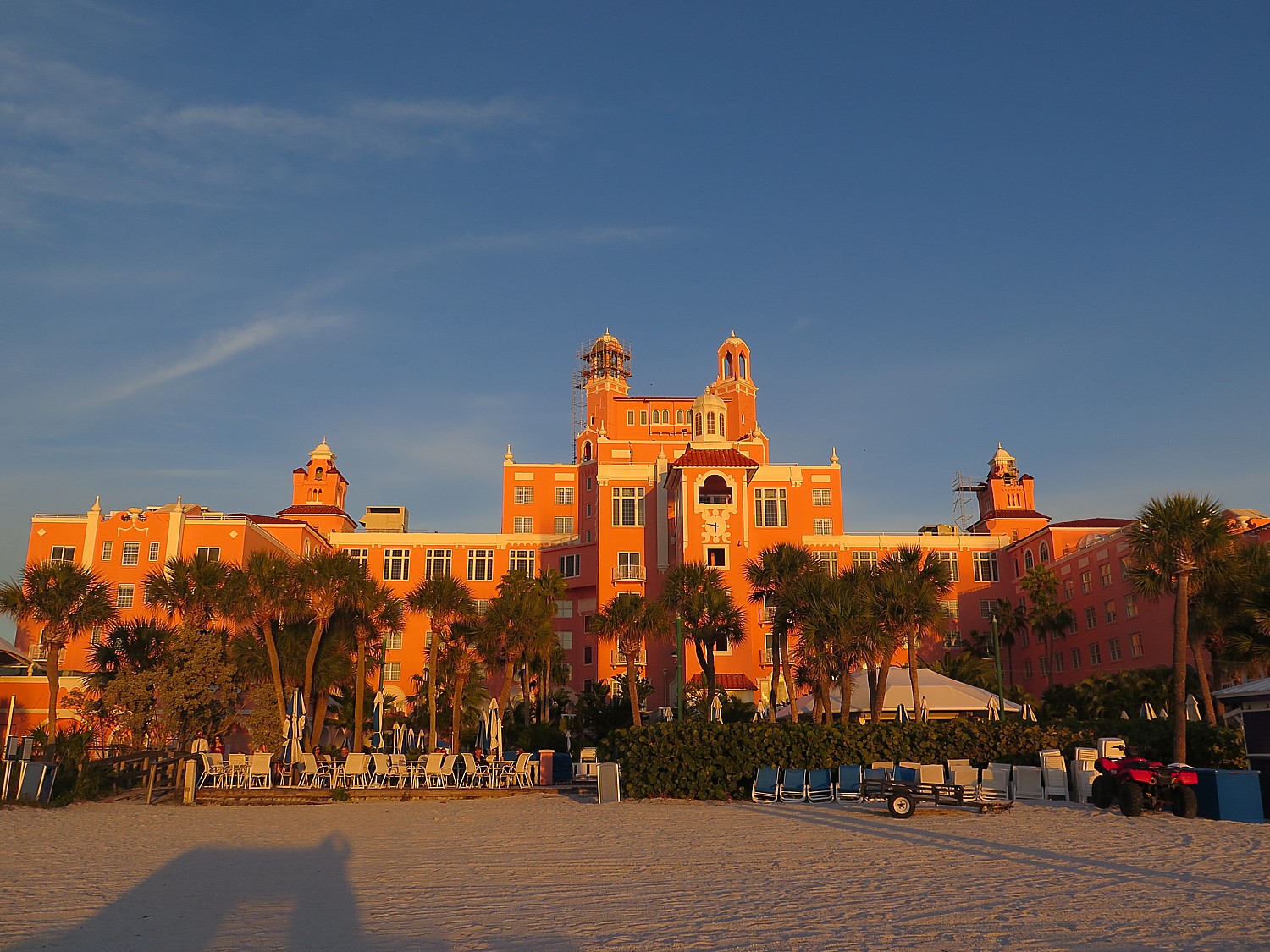 by Karen Rubin
In urgent need of some R&R? Cure it with a two-night/three day stay at Loews Don CeSar, not just a grand historic hotel, but a true beach resort with all the amenities and activities for a luxurious, pampered stay. Better yet, for a complete vacation, plan a seven-day stay and balance out days relaxing on white-powder sand beach and lounging around glorious pools, spa treatments and yoga, with visits to the myriad cultural and scenic attractions close by, in St. Petersburg, Clearwater and Tampa.
From the moment you cross the threshold, walk down the stairs into the lobby, a feeling of peace and tranquility sweeps over you.
The Don Cesar has been welcoming guests since 1927. But as in so many of these grand historic hotels, they are living links to the past, and are in essence timeless.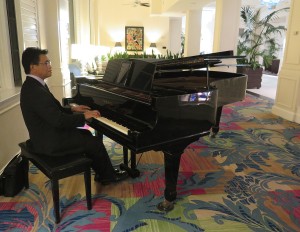 It may seem cliché, but you step through the lobby and you are in the world of those who came before: F. Scott Fitzgerald (remembered with a nightly Fitzgerald Reception at the fine dining restaurant, when you can experience a cocktail and a nibble), Clarence Darrow, Lou Gehrig, even Al Capone.
You feel their presence. But the hotel has a unique personality, a character of its own – you can't help but think of the stories these walls hold.
The Don CeSar exudes casual elegance and Southern Charm – ceiling fans, a beautiful courtyard garden that leads to the pool area and beyond, the white-sand beach and the Gulf of Mexico. Elegant, yet casual (not stuffy or stiff), comfortable, welcoming, and one of the most beautiful hotels anywhere.
Gracious, That's the word to describe the experience.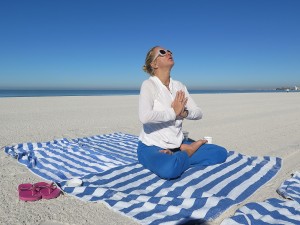 A classic beach resort with activities offered throughout the day. Checking in, I am given an "Activities" schedule with a long list, day by day, of activities, all included in the $25/day resort fee: Yoga on the beach (9am), kayaking and paddleboarding (8-10 am), aqua fitness, sunset yoga, daily history tour of the hotel, Sea Life tour, Kidding Around Yoga, Kidz Kraze, Restorative Yoga, Star Gazers (that's just Monday's Schedule). The activity schedule changes through the week: Body Toning Tuesday, Legs, Bums and Tums; Noodling Around (Kid and Parent Aqua Fitness), Zumba, Beach Yoga Sunset; Drive in Movie on the weekend.
There are activities for the children as well: included in the resort fee is a half-day at Camp CeSar activities program. There are also aqua fitness programs for kids and families, educational talks. Kids Night Out are also available Friday and Saturday nights (6-10 pm).
Some special activities are offered by reservation and for a fee, such as Culinary Kids, Pint Size Picasso, and Waterside Music Makers.
There is a free shuttle service (available 9-5) that takes you into downtown St. Petersburg (here's where you can easily balance the beach with the extraordinary cultural attractions of St. Petersburg).
The concierge can arrange for golf or tennis at the nearby Isla del Sol country club.
Of course, there is the beach with the most beautiful white-powder sand, the texture of talc, and two pools, heated to a perfect temperature.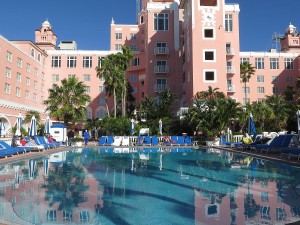 The pool area is gorgeous – with lush tropical gardens, tall palm trees sheltering, opening up to the beach and Gulf beyond.
It is frankly hard to pull yourself away from the pool – two actually, both heated, both large enough for lap swimming. My favorite of the two is set off a little, tends to be quieter, and situated with the most magnificent view (I just get this wonderful feng shui feeling here). It is one of the prettiest pools anywhere, with the Pink Palace as a backdrop on one side, and palm trees and the Gulf on the other side.
There is iced, fruited water available and even magazines at the pool – plush robes in your room to wear to the pool.
This is in every way pampered luxury –you are quite literally fawned over by a genuinely friendly and helpful staff.
There is a game area with billiards, ping pong tables, chess, and other games – under shelter in case of a rain shower, you can still be outside.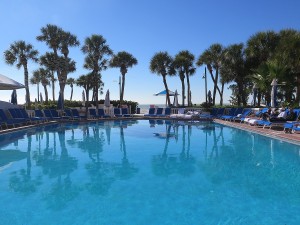 There are a variety of shops to take care of immediate needs – a small general/convenience store, an Ice Cream shop (actually where the original entrance to the hotel was located, which still has the original flooring) where you can also get a bagel, muffin or cereal for breakfast, lovely clothes shops and sports stuff in case you forgot something.
In the evening, there is nightly live music in the lobby lounge/bar, laid out to be extremely comfortable and casual. (We are told that the Don CeSar has a signature drink, Old Smokey: take old cigar box and barrel-aged bourbon that spends two weeks behind the bar; then hose in cherry wood smoke, let it sit so the Bourbon is infused with cherry smoke, then the open box and chill with a snowball ice cube.)
After being awed watching the sunset from the beach, I stroll into the Maritana Grille for the Gatsby Reception. The bartender this evening is serving a Harvey Wallbanger and a nibble (seared pork belly with maple and sherry vinegrette).  The Harvey Walbanger is a classic cocktail consisting of Vodka Galliano, orange juice that goes back to the 1950s; concocted by Donato "Duke" Antone who owned Duke's Backwatch Bar in Hollywood on the Sunset Strip. Duke, who also invented the Rusty Nail and the White Russian, named it after a surfer named Tom Harvey.
The fine-dining restaurant – a beautiful seaside motif with large fish aquarium – has a varied American menu. On this evening, it was featuring  Venison, Long Island Duckling, Snapper, and offered a wine tasting menu ($65, $95 with wine pairing).
A Grand Hotel With History
The Don CeSar was a founding member of Historic Hotels of America in 1989, which began with just 32 members and now has 260 members in 44 states, the District of Columbia, the U.S. Virgin Islands, and Puerto Rico (HistoricHotels.org).
HHA hotels are invariably my favorite places to stay anywhere I go. They tend to manifest the charm and high standard of hospitality (an old fashioned sensibility and refinement) of bygone days, as well as a deep connection and sense of place. Each of the HHA members has its unique personality and character.
The Don CeSar was awarded HHA's "Historic Hotel of the Year" in 2015 in the 201-400 room category
This largely reflects the acquisition and management of the Don since 2003 by Loews Hotels, which owns the Don with Prudential Insurance. The new owners invested millions in renovations and new facilities – opening the stunning 11,000 square foot Spa Oceania in 2008, the only beachfront luxury spa on the Gold Coast of Florida. Multi-million dollar investments included the meeting spaces, the Maritana Grille, its fine-dining restaurant, the Lobby, Lobby Bar and Sea Porch restaurant, and guestroom redesign.
The sense of responsibility to care for these entities is powerful – you can't rest on laurels or prior reputation and the fact of the matter is that age does take its toll, as does the need to cater to new generations of guests. There is the constant push-pull of progress and preservation. As is the protectiveness of patrons. When they renovated the lobby, changing out dark wood colors and carpets and bronze-and-crystal chandeliers for a white wood paneling reminiscent of Southern plantation-style cool elegance, light floors, brighter colors and modern blue-and-clear glass chandeliers people were up in arms that they were disposing of "history" – except that the bronze chandeliers only dated back to the 1986 renovation.
"People were upset because they felt they were discarding history," said Jeffrey Abbaticchio, Director of Public Relations. "We have to give much more attention to preserving the charm and character of hotel."
It exposes the special challenge of caretaking for a historic hotel, especially one that means that much and has been so much a part of a local community.
That is the balance that modern hoteliers have to strike but there is the clear recognition of their responsibility as caretakers and their respect for these unique entities.
"We have to give much more attention to preserving the charm and character of hotel."
Historic hotels like The Don CeSar typically have their tales of survival – dramatic snatches from the wrecking ball (indeed, the Renaissance Vinoy in St. Petersburg, which opened in 1927, also became a VA hospital and has a similar tale of being saved just moments from being demolished, in 1972).
This is the case of the Don CeSar – long known locally as "The Don" and "The Pink Palace." It surprised me to learn how in its 80 year history, it only spent about half of that as a hotel, and from the beginning, struggled to survive – the Great Depression, World War II, economic recessions.
You speak of these kinds of properties as "The" – as in "The Don" – and as if they are people, with their own biography, rather than structures or institutions. They have personality and character. Unique. Authentic. They are closely connected to their community, which in fact, rallied to "Save the Don" from the wrecking ball in the 1970s, after being shuttered and closed for four years, a blight on the neighborhood.
The Don's struggles began not long after coming into being, the fruition of a dream of its founder, Thomas Rowe, I learn from Susan Quinn, a long-time concierge at The Don CeSar who conducts history tours of the hotel.
Born in Boston in 1872 and orphaned at age 4, Rowe was sent to live with grandparents in Ireland, returning to the United States to become a real estate speculator in Florida, during the early boom of the 1920-6 years. Partnering with a local attorney, Walter Fuller, e turned a $21,000 investment into $1,050,000, and then sought to fulfill a longtime dream in building a lavish hotel.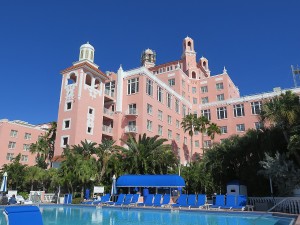 He patterned his "Pink Lady" (as "The Don" continues to be known) after the Royal Hawaiian on Waikiki Beach, styled as a kind of Mediterranean palace. An opera lover, he named the Don CeSar after a character in one of his favorite operas, "Maritana," written by a Scottsman (today, its fine-dining restaurant is named the Maritana Grill). He planned for construction costs to be $450,000, but instead, the hotel cost $1.2 million to build – wiping out his resources, so that he had to mortgage to raise the $250,000 needed to furnish the property so it could open.
He devised an ingenious system though, because he had spent $100,000 to buy 80 acres surrounding the hotel, and turned to developing small Mediterranean-style homes on property just south – you could buy the lot for $5000 and build the house on it for $5000 more.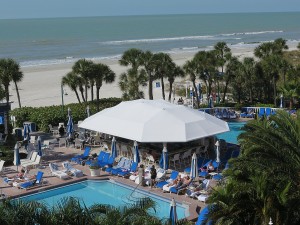 He opened The Don CeSar in 1928, immediately drawing an "A" List of celebrities and important people: F. Scott Fitzgerald and his wife Zelda (today, the Maritana offers a 5:30 pm Fitzgerald Reception, featuring a cocktail and nibble), famed attorney Clarence Darrow, baseball great Lou Gehrig and Al Capone.
When the stock market crashed in 1929, Rowe devised an ingenious method of staying afloat: he offered for the home owners who had taken mortgages from him to cash out at a fraction of the amount owed in order to accumulate the cash he needed to make it through the Depression. And another thing: when the hotel would otherwise be low-occupancy in spring, he leased it out to the New York Yankees for spring training, at $8/day including breakfast.
Rowe, who came to St. Petersburg for his health and to speculate when he was in his 40s, lived in the hotel (his wife, a university-educated woman, stayed in Virginia, because she didn't want to live in a backwater). In May 1940, he suffered a heart attack and insisted on staying in the hotel. Legend has it he intended to will the hotel to his employees, and he wrote a new will, but it was not witnessed, so his wife inherited the property. She appointed her lawyer to take charge of the corporation, who brought in his own management team. Then Pearl Harbor, Dec. 7, 1941, and World War II hit.
Instead of the hotel's 300 rooms being totally occupied for the season, all but 100 room reservations canceled, and the government went after her for taxes stemming from her husband's refinancing scheme. Her attorney sought to negotiate a deal with the Navy to take the Don CeSar for officer's housing, but the Army wanted it for a hospital, and used eminent domain to take it over, purchasing the building for the assessed value of $450,000. The army disposed of everything, even the hotel register with its famous signatures. The property later became an Air Force Convalescent Center (actually becoming a model for dealing with the condition now known as PTSD), and then a Veterans Administration regional office, from 1945 to 1969.
By 1969, the VA abandoned the hotel – set up a chain-link fence around and a guard – and it deteriorated terribly, a blight on the community.
In 1971, local residents and former employees formed a "Save the Don" committee to prevent the hotel from being demolished. June Hurley Young, realizing that locals had never known the Don as a fine hotel, wrote an article that was finally published in a paper under the headline, "Pink Elephant or Sleeping Beauty". It  came to the attention of  William Bowman, a Flying Tiger during war, who was building new hotels in the area. He purchased the decrepit property in 1972, just two weeks before the hotel had a date with the wrecking ball.
"It cost $3.5 million to fix up –he  replaced every window, waterproofed, added air conditioning so the hotel could stay open year round," Owen said.
The Don CeSar reopened on November 24, 1973. The following year, the Pink Palace was admitted to the National Register of Historic American Places.
1973 was the year of the Oil Embargo and a recession. It wasn't long before the Don CeSar was foreclosed but continued to operate. It changed hands several times until in 2000, it was taken over by Prudential Insurance.
Finally, in 2003, the Don CeSar became a Loews Hotel, which owns 15% and manages the luxury property, and brought it up to the standards of today's luxury travelers.
(Both Rowe and Bowman are honored in a display case that has their picture and their history with the hotel. A new eatery, the Rowe Bar, is an indoor/outdoor bar which will serve different Juleps, different nonalcoholic "-ades" (lemonade, etc), communal bowls of cocktails, have fire pits and overlook the sand dune.
Don CeSar has 277 rooms. They may be a tad smaller than we have become accustomed to (because people didn't come to a resort to spend time in their hotel room), but have every amenity imaginable – plus robes, mini-bar, Keurig coffee maker, safe, ironing board, a flashlight, lush mattress and bed linens, flat screen TV and free WiFi, even the shampoo has the perfect scent.
The Don CeSar is pet-friendly and offers pet menus (Bow Wow beef; Chow chow mein),  pet room service and pet massage, in room.
The Don CeSar now has a second property, the Loews Beachhouse Suites, located just about a quarter mile up from the Don CeSar (finishing up a renovation by mid-February), which is also a pink building on the beach. A free shuttle van is offered between the two Loews properties, so Beachhouse guests have the use of the Don CeSar's facilities.
An Idyllic Place for Destination Weddings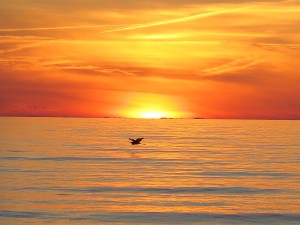 The ambiance, services and facilities at the Don CeSar are so magical, it is no wonder how popular the luxury resort has been for destination weddings. The hotel hosts some 425 wedding-related events a year, and accommodates weddings as large as 300. There are four people on staff just to help coordinate destination weddings, and an event company, Cheers, on call to handle elaborate events.
The planners can organize everything from releasing doves to special transportation.
"What's popular lately are Indian weddings – people arrive by horse, do henna. We just hired an executive chef from India (most recently he was at The Breakers) so we can provide authentic Indian food," Jeff said.
The fifth floor, with its enormous picture windows that look out to St. Petersburg and down the St. Pete Beach coast, and which once was a massive open dining room that could sit 1400 at a time for dinner, has been turned into a series of meeting and function rooms ideal for weddings, conferences and events (38,000 square feet of function space). Indeed, during our stay there were wedding and conferences underway.
A Complete Vacation 
Each morning of my stay, I go down to the beach for 9 am beach yoga with Wendy Hessinger, and then aqua fitness which Wendy also conducts (an interesting routine using noodles). She also conducts sunset yoga on some days.
But there is so much going on in the area to round out your stay: take advantage of the free ride into St. Petersburg (about 20 minutes)  which goes to the Sundial, a centrally located entertainment center with movies, excellent restaurants, and walkable to just about anything you want to get to (or you can hop on the Downtown Looper trolley, to take around the downtown)  and enjoy an enormous selection of cultural attractions  (Dali Museum, Chihuly Gallery, Museum of Fine Arts, St. Petersburg Museum of History, Florida Holocaust Museum, emerging arts districts, among the highlights. They are currently rebuilding the famous Pier, which is due to reopen in 2018.)
Or just hop a delightful trolley-style bus to Passa-Grill, a tiny charming village with a block-long "downtown" at Historic 8th Street " (truly "Old Florida") where the locals go to the beach, fish, look out to see dolphins and manatees, watch the sunset and hang out at waterside watering holes like the Paradise Grill. At Passa-Grill you can go out for deep sea fishing or take a tour boat to Shell Island. Or continue on to Fort de Soto where you can visit a Civil War-era fort.
Another popular activity is taking a sailing cruise to see dolphins or the sunset cruise. The Don CeSar has an arrangement with Dolphin Landings which offers two-hour cruises.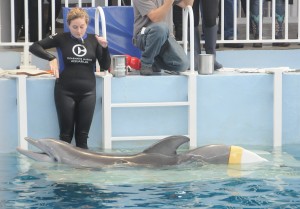 Clearwater Marine Aquarium is just about 30 minutes away to the north, in Clearwater Beach (you can take the trolley bus to get there, switching at 75th Avenue). For shopping, go to John's Pass (150 shops and restaurants in a small area), reached by the trolley bus, midway between St. Pete Beach and Clearwater Beach.
Or plan a day trip to the Ringling Museum and historic mansion in Sarasota nearby.
Busch Gardens Tampa theme park (one of the best zoos with great roller coasters and entertainment) is less than an hour away (The Don CeSar has a partnership with Busch Gardens and offers a package that includes tickets, but you need a car or the hotel can arrange transportation).
Another idea is to split your stay between a beach holiday here at the Don CeSar and a theme park holiday in Orlando, staying at the Loews Portofino at Universal Orlando, another favorite hotel (which manages to create a resort atmosphere in Universal Studios theme park with sensational pool that creates a beach effect).
(For more vacation planning information, Visit St. Petersburg/Clearwater: 8200 Bryan Dairy Road, Suite 200, Largo, FL 33777, 727-464-7200, 877-352-3224 www.visitstpeteclearwater.com.) 
But frankly, it is hard to pull yourself away from the Don CeSar
The St. Pete beach is absolutely magnificent – and one thing I notice is that the buildings are set well back from the beach and are low level for the most part, not blocking – peaceful. One day as I walk, I come upon a beach-volleyball regional tournament.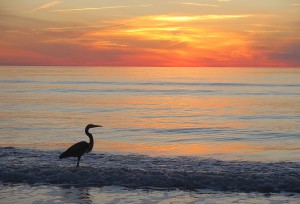 The beach is also the place to go for the sunset – get out there 20 minutes before because you would be amazed at how fast the most brilliant colors come and go as the sun seems to dash to the horizon, seeming to melt into a slot just beyond the water's edge.
The Loews Don CeSar is ideal for couples, gal getaways, destination weddings, honeymoons, family getaways, family reunions, any special occasion, pre-baby getaway, or just about any excuse to have a holiday.
Loews Don CeSar Hotel, 3400 Gulf Boulevard, St. Pete Beach, Florida, 33706, 727-360-1881, reservations, 800-282-1116, www.loewshotels.com/don-CeSar.
__________________
© 2016 Travel Features Syndicate, a division of Workstyles, Inc. All rights reserved. Visit goingplacesfarandnear.com , www.examiner.com/eclectic-travel-in-national/karen-rubin,www.examiner.com/eclectic-traveler-in-long-island/karen-rubin, www.examiner.com/international-travel-in-national/karen-rubin and travelwritersmagazine.com/TravelFeaturesSyndicate/. Blogging at goingplacesnearandfar.wordpress.com and moralcompasstravel.info. Send comments or questions to [email protected]. Tweet @TravelFeatures. 'Like' us at facebook.com/NewsPhotoFeatures