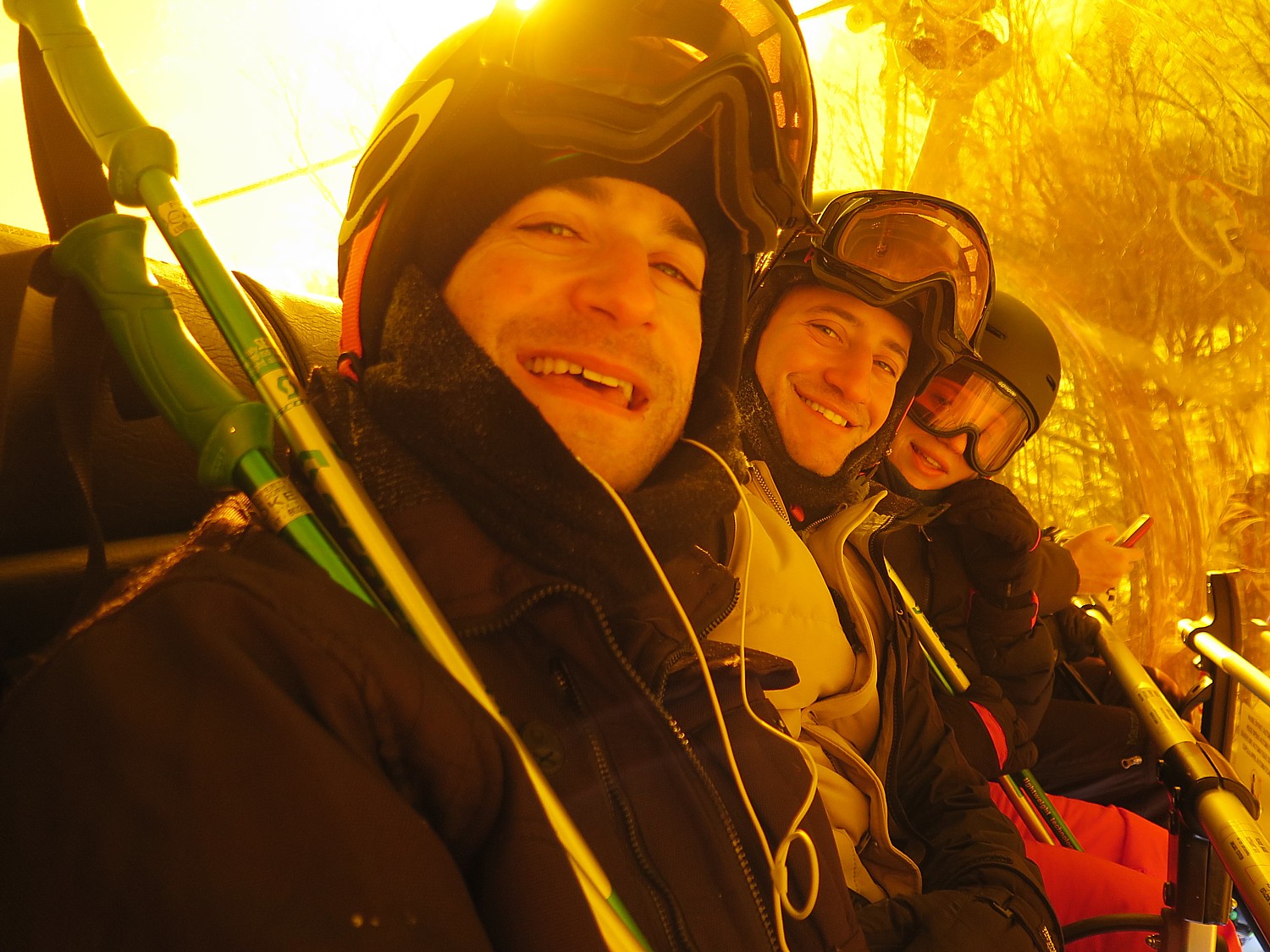 By Karen Rubin, Travel Features Syndicate, goingplacesfarandnear.com
The big news for Northeast skiers is that the behemoths of the ski industry have all taken up residence in Vermont – Vail Resorts with its acquisition of Stowe Mountain, and Aspen Skiing/KSL buying Stratton Mountain. That is on top of Powdr (Killington and Pico as well as Mt. Batchelor) and Peak Resorts (Mount Snow as well as Attitash, NH and Hunter Mountain, NY). These resorts were already world-class, but now they have major branding, and with their system-wide ski passes, adds incentive for Western and Midwestern skiers to venture to Vermont.
"It's an incredible tribute to Vermont and our iconic ski industry, having Vail and Aspen, two of the most well respected, world-class ski resort operator companies, coming to Vermont," said Parker M. Riehle, former president of the Vermont Ski Areas Association. "Those acquisitions enable these resorts to rise to the next level. The enormous marketing can only help elevate entire Ski Vermont brand."
What's more, it gives more of a reason for Northeastern skiers to buy Vail Resorts' Epic Pass (Aspen/KSL is likely to come out with its own by next season), then extend with Rocky Mountain or a Western ski trip, and for Midwestern and Western skiers to come East. Skiers can also follow the snow.
Vail Resorts' acquisition of Stowe Mountain puts it in the stable with Whistler Blackcomb in Canada (the largest ski resort in North America) as well as at Vail, Beaver Creek, Breckenridge, Keystone and Arapahoe Basin in Colorado; Park City in Utah (the largest ski resort in the US); Heavenly, Northstar and Kirkwood in Lake Tahoe; Afton Alps near Minneapolis, Mt. Brighton near Detroit, Wilmot Mountain near Chicago, and the 2018 Perisher season in Australia. Also, Epic Pass holders enjoy limited access to 30 European ski resorts including Verbier and Les 4 Vallées in Switzerland, Les 3 Vallées in France; Arlberg in Austria; and Skirama Dolomiti Adamello Brenta in Italy.
Stratton Mountain Resort, which was part of Intrawest, is now in the group that includes Aspen and Snowmass resorts, Intrawest flagships Steamboat and Winter Park in Colorado (though Winter Park is still owned by the City of Denver); Deer Valley, Utah; Mammoth Mountain, California's busiest ski area, Lake Tahoe's Squaw and Alpine, and Tremblant in Quebec., plus heli operator Canadian Mountain Holidays.
Here are highlights of what skiers and snowboarders can experience at Vermont's mountain resorts:
Bolton Valley
The big news is that the venerable Bolton Valley ski resort, which celebrated its 50th anniversary last year, has been reacquired by a group of local investors headed by the resort's founder, Ralph DesLauriers and his son, Evan, so is very much "locally owned" and family run.
Bolton Valley is upgrading its snowmaking system for the 2017-18 winter season. The pumps at the Timberline pumphouse will be balanced, allowing for more water to be pushed uphill, more quickly. The resort is also expanding its gun and hose inventory. Combined, these two upgrades will allow the resort to blow snow in multiple locations at the same time. The additional guns and hoses will also reduce downtime when the crews need to change locations. The overall benefit will be more snow earlier in the season and more trails getting covered faster than last year.
Bolton Valley is famous for offering over 1200 acres of backcountry. All of the terrain is mapped and easy to access by skinning up from the Nordic Center or taking the Wilderness lift and heading far skier's right. The staff at the Nordic Center is always available to provide maps and suggest routes. The Catamount Trail Association hosts a few days of backcountry clinics to help those new to the sport become comfortable on their skis. When you are ready to test your mettle, check out one of the many events from the weekly uphill Skimo race series to the 24 Hours of Bolton Valley backcountry ski race. You can even arrange to overnight in cabins in the backcountry.
Bolton offers 71 trails along three peaks, the most extensive night skiing in Vermont (trails open until 10 pm for total of 79 hours week)
Bolton is a self-contained destination resort with ski in/out lodging; an indoor recreation center with pool and opening additional dining options including Bailey's, for hot-served breakfast and lunch on weekends and holidays.
Bolton participates in the Freedom Pass program – 13 other independent mountains including Magic Mountain.
Magic Mountain
Magic Mountain's new ownership continues its capital investment in one of Vermont's "throwback" ski areas, proud of its "Old School" retro feel and fixed grip lifts.
After winning Liftopia's award for best ski area in North America, Ski Magic LLC is building on its successful inaugural winter by putting more capital to work expanding the snowmaking system, adding two new lifts (the new green lift accesses beginner, intermediate terrain and a new magic carpet in a new learning area) and enhancing the classic lodge where the Black Line Tavern is recognized as one of the East's most spirited après ski scenes. Key to Ski Magic's efforts is broadening its ski offering to welcome more beginner, novice and intermediate skiers/riders. Magic will now have a new beginner area with a StarLift carpet conveyor lift for its Learning Center. The addition of the new Green Chair Lift servicing base-to-mid mountain intermediate and beginner terrain allows easier access to classic skiing for all ability levels. In combination with expanded snowmaking and grooming capabilities, the new Green Chair area will allow Magic to open earlier than ever by Thanksgiving.
Magic has been a leader in "uphill" traffic (people who shun the lift for the additional exercise) and that vibe continues to be actively supported as Magic has seen a two-fold increase in traffic going up by either skinning or snowshoeing. Magic never charges people getting up the mountain and in fact, provides a free lift ride token at the top for all uphill skiers or split-boarders. Long known for southern Vermont's most extensive and challenging lift served tree-skiing, Magic also has guided backcountry tours this coming season with shuttle van pick-ups all of which must be reserved through the Learning Center. Snowshoeing trails will also be marked this fall so snowshoers can discover trails winding through the woods to the top of the mountain and to Sunshine Corner for great views of southern Vermont.
While located in southern Vermont (near Stratton and Bromley), Magic offers the terrain and ski experience of northern Vermont.
"It's what it's like to not be a KSL or Vail. We take the mountain back to a different era, a different experience that hearkens back to golden age of Vermont skiing," says Geoff Hatheway, CEO.
Magic is part of the Freedom Pass program with 13 other independent mountains (including Bolton Valley, and Plattekill, NY)
Smugglers' Notch Resort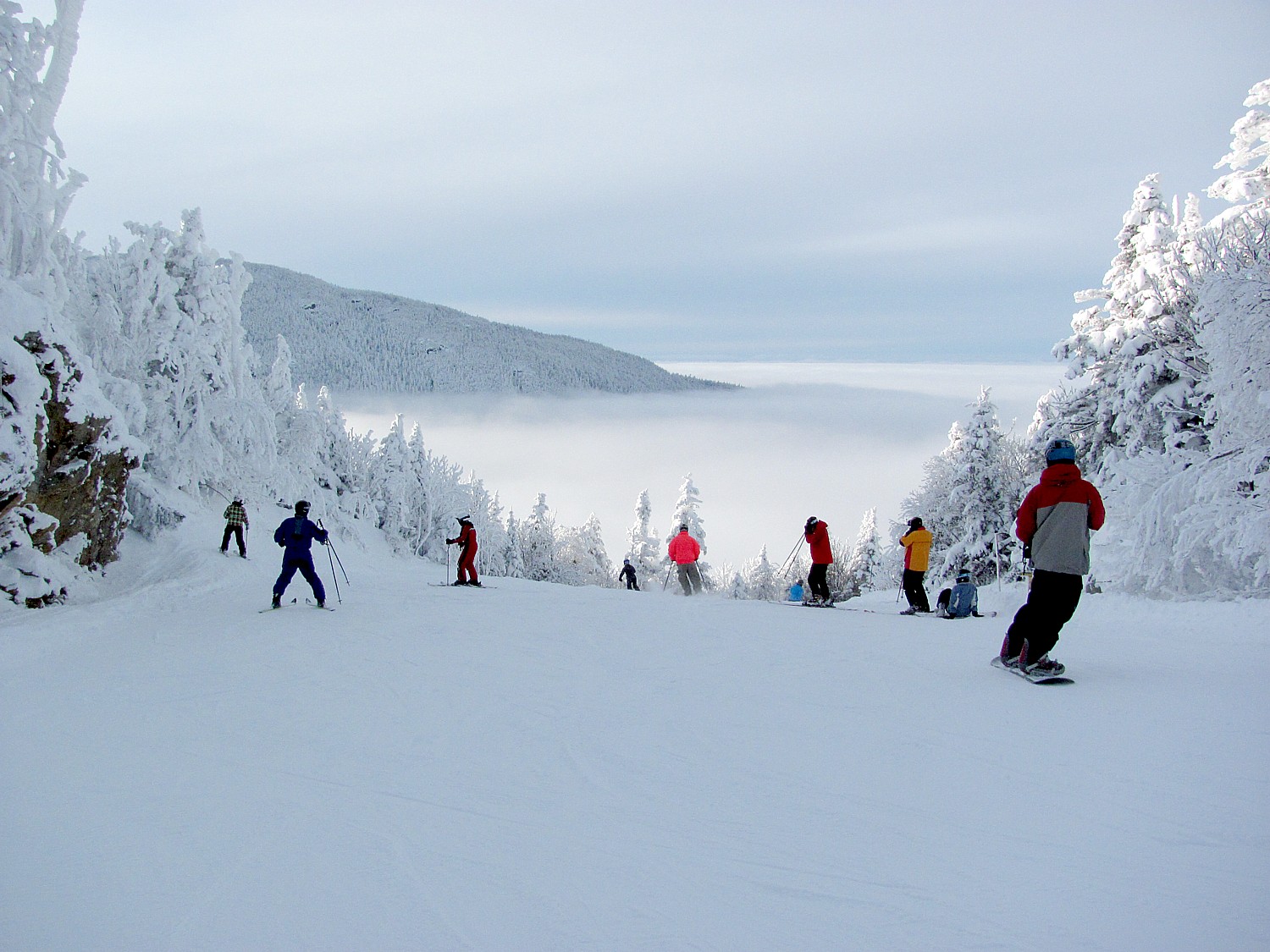 Smugglers' Notch Resort in northern Vermont continues to build on their award-winning programs and amenities which aim to provide an exceptional experience for fun-lovers of all ages. The completion of the FunZone 2.0 hits that mark and then some. With activities like a multi-course Smugglers' Warrior Challenge, massive laser tag arena, Smugglers' themed Mountain Rally Races slot car track, arcade, and transparent climbing tower, everyone in the family is included in the fun. Of course, the elements which made the original FunZone such a hit are still included, in the second floor of the complex, known as the Ozone. Additionally, toddlers can ignite their imaginations in the Littles' Loft toddler play area. With features such as bouncy castle, pirate ship inflatable obstacle course, and Vermont inspired country store, toddlers can let their energy out while playing like the grown-ups they admire.
Families have always enjoyed skiing and riding together on their winter vacations at Smugglers'. Last winter there were more activities in the mix, as the resort responded to requests by families for even more activities to enjoy together. Families chose to vary their vacation days by joining craft sessions, broomball challenges, scavenger hunts, snowcat tours, story times and pool games, which were included in their Smugglers' vacation package. Most popular activities? Oohing and ahhing over the weekly torchlight parade and fireworks, belting out tunes in family karaoke and building a sled to launch from a jump in I-Did-A-Sled – all had approval ratings of more than 95 percent.
Stratton Mountain Resort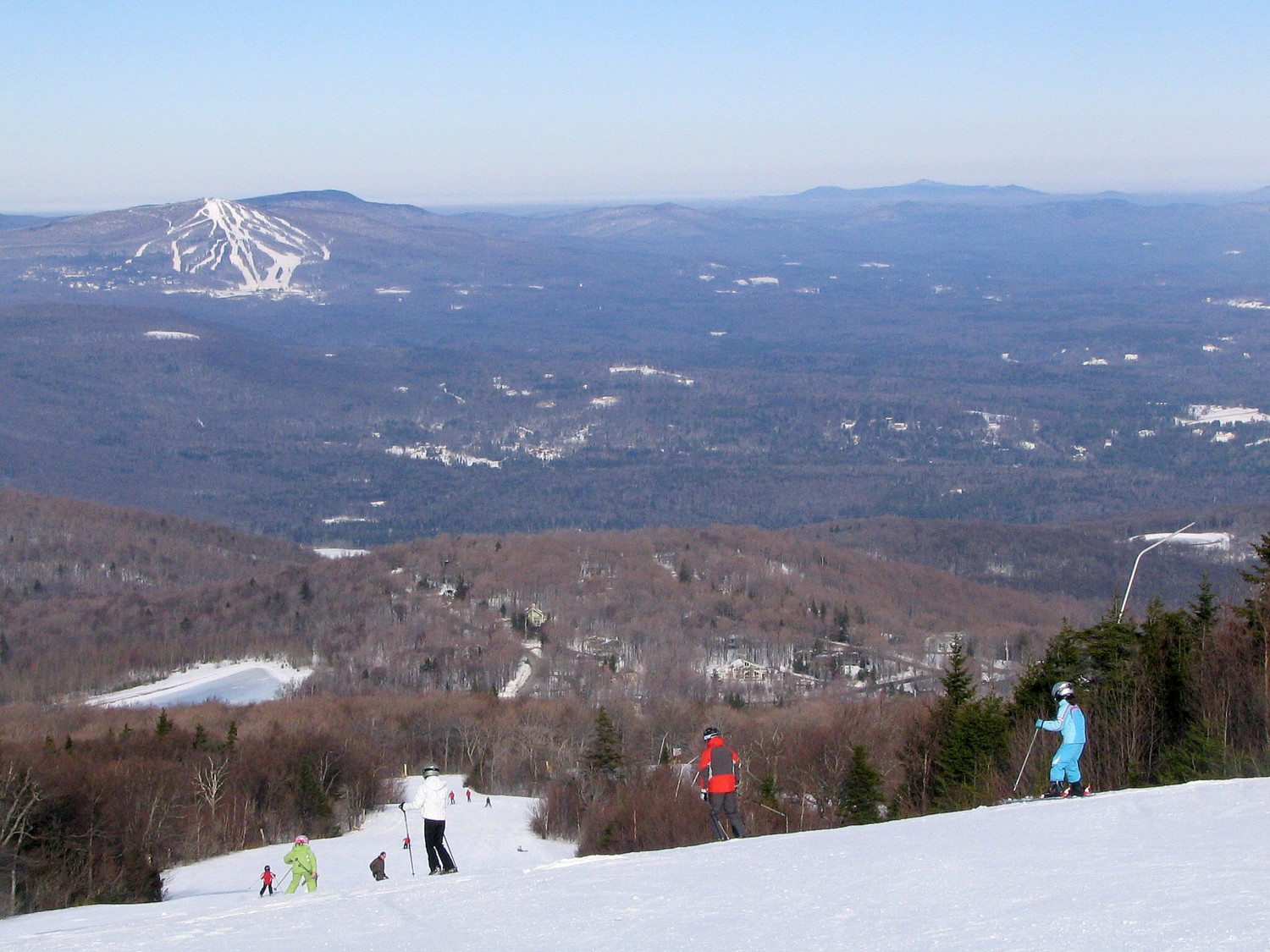 Stratton, which is now part of the Aspen/Snowmass, Intrawest, Mammoth, Squaw, Deer Valley group, has expanded its fleet of 11 groomers includes two new Bison X Prinoth cats which guides the team in crafting seamless corduroy and terrain park features and transports guests to mid-mountain for a starlight gourmet dinner held every Saturday this winter. Combined with more than 1,200 efficient (HKD and fan) guns, Stratton's seasoned operations team creates epic snow with less energy, including a 40% reduction in diesel use with the switch to electric compressors.
Stratton, which was just acquired as part of the mega-merger of Aspen Sking and KSL of Intrawest, has joined the M.A.X Pass family, giving their season pass holders the option to add five days of skiing and riding, with zero blackout days, at each of 42 other resorts across North America for just $329. 
Stowe Mountain Resort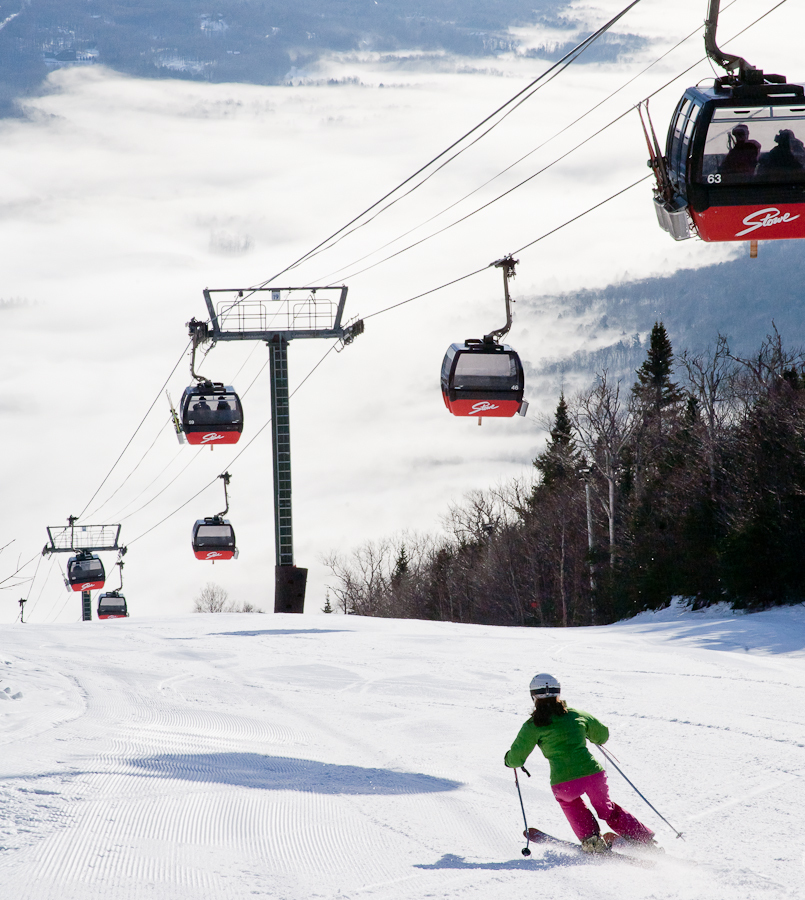 Stowe Mountain Resort, newly acquired by Vail Resorts is now Epic (as in Epic Pass) for the 2017-18 winter season. Starting at only $859, the Epic Pass offers unlimited, unrestricted access to Stowe Mountain Resort and the Epic Local Pass, $639, will offer 10 days of skiing at Stowe. The iconic, East Coast resort is the newest among 45 of the world's most renowned mountain destinations to be offered with the Epic Pass – which includes the best of the West throughout 10 world-class destination resorts.
The new, $30 million Stowe Adventure Center is a state-of-the art facility that sets a new standard in the industry for kids and family amenities. Located at Spruce Peak, Stowe's Adventure Center is home to all the children's programs. From daycare facilities to ski and ride programs for kids 3 and up, the new Adventure Center has significantly advanced and expanded luxurious family amenities and services at the resort. The building also includes new shops, an Indoor Climbing Center (called Stowe Rocks) and family-friendly dining in The Canteen restaurant
Fulfilling the need for family fun off the slopes has been the number one trend at Stowe Mountain Resort over the past several years. That's why Stowe has recently opened several new amenities in the beautiful Spruce Peak Village Center. Here, at the base of Stowe Mountain, families can enjoy free ice skating (11 am to 9 pm daily) on the new rink centrally located at Spruce (rentals available). On one end of the rink is the new Pavilion building that hosts both children's activities such as arts and crafts, along with a wine bar for the adults. Also, adjacent to the outdoor ice rink is the Stowe Rocks indoor climbing center. Suitable for all ages, Stowe Rocks has 6 different program walls and a free-standing 40-foot 'Elephant Head' tower.
Spruce Peak is also home to the relatively new Stowe Mountain Lodge, one of the most awarded new ski-in ski-out luxury hotels & spas in the world.
Sugarbush
Uphill travel at Sugarbush continues to see huge increases in popularity over the last few seasons. The resort offers free uphill travel passes valid for skinning up designated routes at the resort before and after lift-served operating hours. Sugarbush enters its fourth year with such a policy. The resort hosts Tour De Moon several times throughout the season – a guided skin to Walt's at the Glen House at Mt. Ellen and offers an uphill travel option for Allyn's Lodge Fireside Dining.
In addition, the resort is replacing two of its older double lifts, the Village Double and Sunshine Double, with new fixed-grip quads. There are new RFID gates to speed access, new snowmaking.
With the widespread conglomeration of ski resorts, Sugarbush is emphatically proud of being independently owned and operated (the owner can be found skiing some 100 days).
Sugarbush is replacing the old ticket scanning system with RFID gates at all base lifts. Other projects to improve the guest experience include purchasing new SnowLogic guns, replacing the motor for the North Ridge Quad, installing a new snowmaking pipe on Which Way, new air compressor for snowmaking and purchasing two new Pisten Bully groomers (one specifically designed for the terrain park).
New for the 2017-18 season, Sugarbush has joined the Mountain Collective, an international pass with access to 16 premier ski destinations all over the world.
The resort is creating new trails for hiking and mountain biking for spring 2018, and Nordic and snowshoeing and ski biking at its center. Tuesday nights offer snowshoeing and picnic on the mountain.
Killington Resort
Killington, "The Beast of the East," the site of the Audi FIS Ski World Cup over Thanksgiving Weekend, brings new, lower season pass pricing on their Unlimited Season Passes offering unrestricted access to the longest season in the East at an even better value than last season. Killington continues to replace snowmaking infrastructure to ensure their ability to deliver a consistent ski and ride experience.
Killington is committed to providing the highest quality snow surface possible. As part of this commitment, POWDR continues to upgrade the resort's snowmaking system, from pipes and pumps, to snowguns and snowcats. As part of a $1M investment in conjunction with Efficiency Vermont, Killington and Pico will add new low-energy tower-mounted snowguns that use a fraction of the power compared to older models. Additionally, three new state-of-the-art energy efficient snowcats will produce top-notch manicured trails and terrain parks at Killington and Pico.
A Learn to ski and snowboard Discovery" program consists of 4 days lift tickets and rental, then you get to keep a free pair of skis.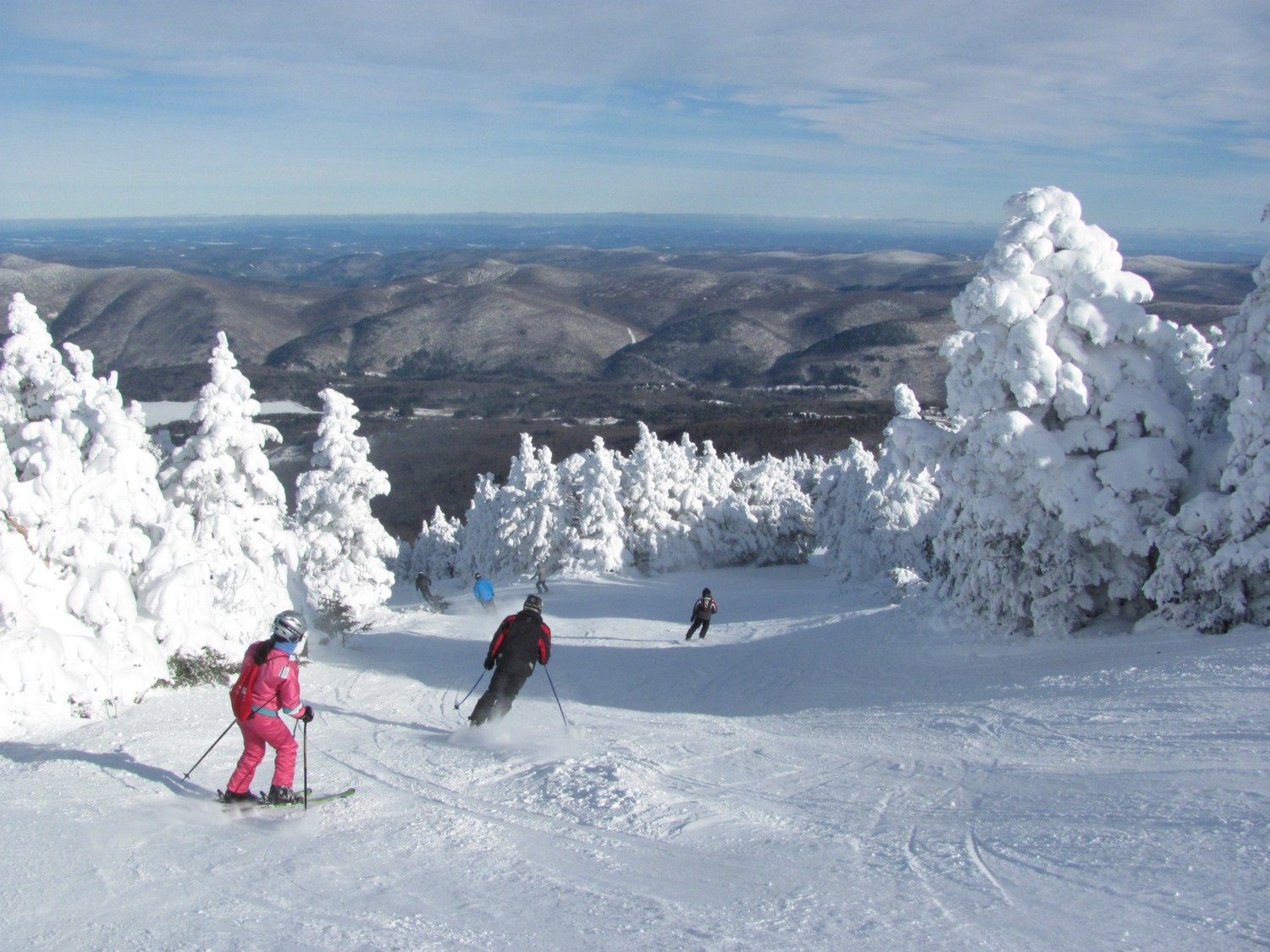 Killington and Pico are catering to increasing popularity of "uphill travel" with guests choosing to reach the peaks of Bear Mountain, Snowdon, Ramshead and Pico via human vs. machine power with designated routes for each mountain area and 24/7 access (when designed routes are open).
(We were delighted to learn that Casey's Caboose, a delightful restaurant near Killington, had been closed for four years, but was acquired by a Brit who loves Killington and has reopened the restaurant.)
Killington and Pico are two of four Vermont resorts to offer the M.A.X Pass add-on for season passholders. The add on at $329, gives purchasers five days of additional skiing and riding at any of the 42 participating resorts nationwide, including Stratton, Okemo, Sunday River, Sugarloaf, Windham (just joined), Whiteface and Gore. 
Mount Snow Resort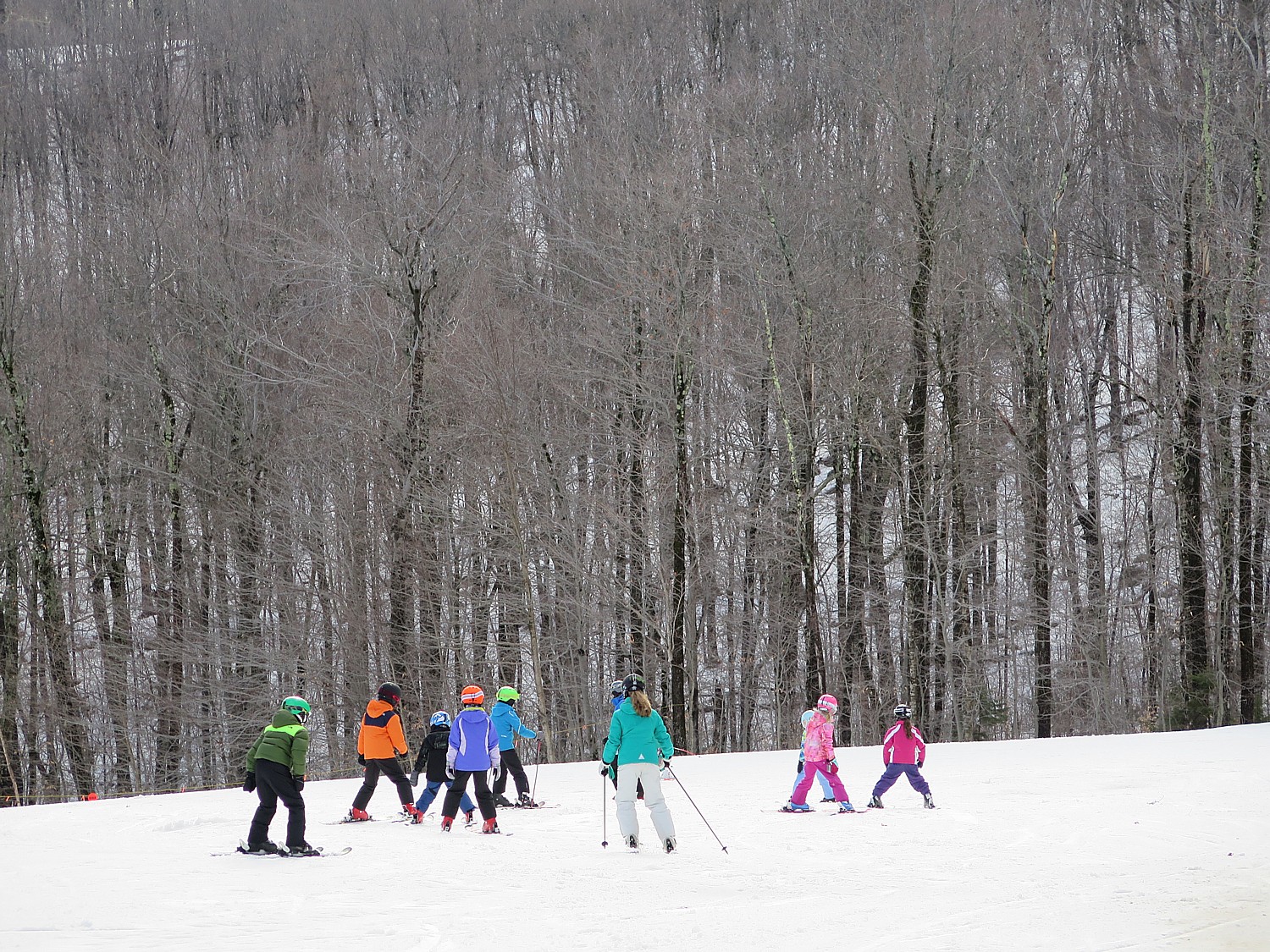 Always a pioneer when it comes to snowmaking, Mount Snow has completed $30 million in snowmaking upgrades for the upcoming season, including doubling their ability to make snow and increasing storage capacity six-fold. These upgrades give Mount Snow one of the most powerful snowmaking systems in the East, meaning more trails opening faster to start the season, and better coverage all winter long.
Mount Snow also recently opened a 30,000 sq. foot base lodge at the terrain park, and is widening a popular trail off the summit.
Packages are available from $101/night.
Part of Peaks Resorts, Mount Snow is included in the Peak Pass family which allows recipients access to seven mountains from New Hampshire down to Pennsylvania, including sister resorts Attitash, NH and Hunter Mountain, NY.
Okemo Mountain Resort

Okemo's dedication to creating a superior snow surface continues with the addition of two new grooming machines to its fleet of Prinoth Beasts. The Prinoth Bison demonstrates excellent maneuverability and climbing ability – even in adverse conditions – and the Bison X is the ultimate park vehicle. Snowmaking upgrades include a new feeder pipe from Okemo's Base Pump to mid-mountain Pump Station, and additional pipe upward. Okemo is also adding HKD SV 10 snowguns, bringing its arsenal of HKD snow guns to 1,300 mountain-wide. Okemo continues its rental equipment replacement program with the purchase of more new skis and snowboards, and, to keep all that equipment in top condition, Okemo is upgrading tuning equipment in the shops at both base areas.
Okemo is a frontrunner with simplified season pass offerings and reduced prices across the board. Skiers and riders can choose from the Ultra Pass, Classic Pass, Midweek Pass and College Pass. And all passes qualify for a M.A.X Pass add-on – five days of skiing and riding, with zero blackout days, at each of 42 other resorts across North America.
Mad River Glen

Mad River Glen's goal is to maintain and preserve the experience rather than overhaul or upgrade it. The ability of Mad River Glen to consistently reinvest in the mountain's infrastructure is a testament to the success of the Cooperative. Both the skier-owners and the management understand that skiers come to Mad River for the unique combination of legendary terrain, sense of community, low skier density and intimate atmosphere. In over 20 years of co-op ownership, Mad River Glen has invested well over $5 million in capital improvements.
Mad River Glen's Naturalist Programs are becoming more popular every year. Ever wondered why there are so many snowshoe hare tracks on the slopes? Or seen the bear bites and scratches on trees and questioned the meaning behind them? Perhaps you have encountered Moose tracks and pondered how they can survive the winters. Valley visitors can learn more about these animals, mountains and forests of Vermont by taking part in one of Mad River Glen's award-winning Naturalist Programs.
Bromley Mountain Resort

Kid's fun is the focus at Bromley. On snow, Bromley has reworked their terrain park to embrace the learning progression for smaller statures, with a progressive flow that keeps kids jumping and spinning safely as they move from beginner to professional jib hunter. Off snow they've kept the après options easy, with a dedicated kid's space in the lodge, complete with Vew-do balance boards, movies, video games and, on some nights, special guest entertainment.
Bromley's cozy base lodge is getting a new roof, the Sun Deck has been resurfaced (all the better to support après firepit hangs), and the rental equipment fleet has a superbly restocked quiver. Don't own your own? Bromley is expanding the high-performance options in the rental shop this season with more new Rossignol Experience 80 skis, plus all new junior boots in the latest comfy model for happy kid feet.
Jay Peak Resort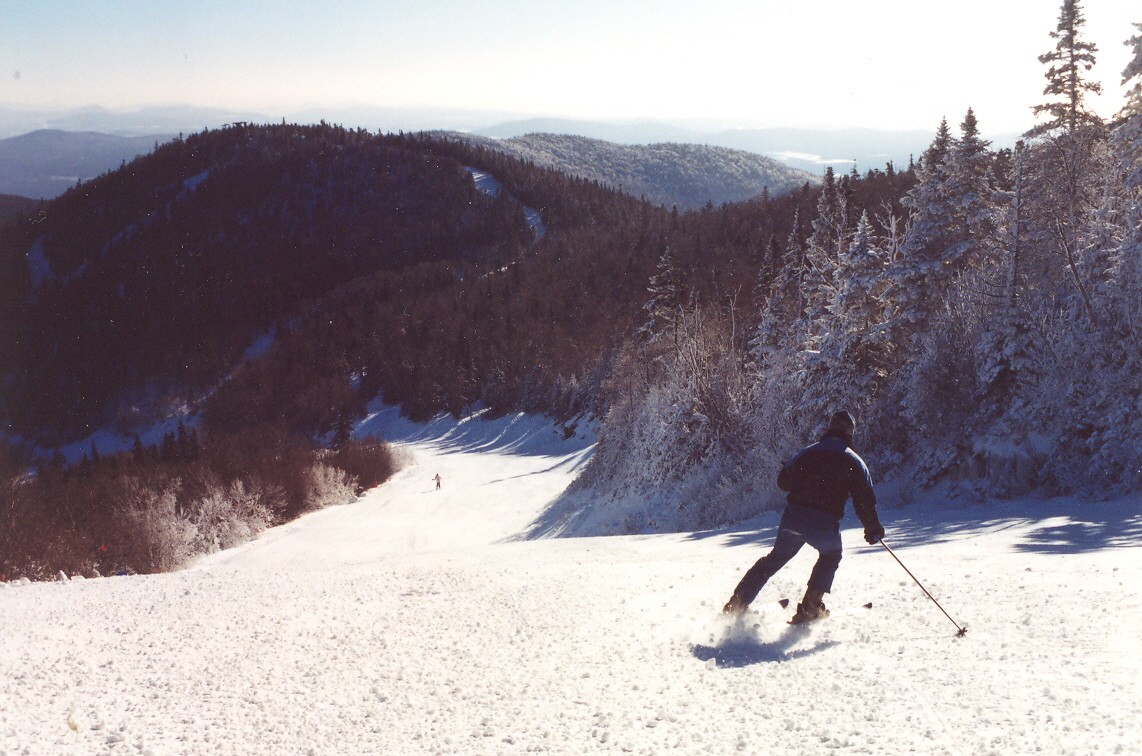 Jay Peak is adding reels and rappelling to its list of activities for the coming winter. The resort is opening a 142-seat movie theater and Clip 'n Climb climbing facility in the 15,000-square foot Clips and Reels recreation center opening at the Stateside area of the resort.
Weather-proofing the New England ski and ride vacation is a trend Jay Peak started when they opened their Ice Haus in 2010. The arena offers public skating times, figure-skating lessons and stick-and-puck pick-up games. Jay Peak expanded the weather-proof menu in 2011 with the 60,000-square foot Pump House, an indoor waterpark that guarantees exhausted children.
Suicide Six

Suicide Six (the ski mountain that is owned by the grand Woodstock Inn) continues to make trail improvements, with widening, stumping and thinning of glades in many areas across the map. Contour and grade changes will allow for faster and better snowmaking coverage, as well as newly constructed load and unload decks at the recently installed summit quad. Snowmaking improvements continue with the addition of new snow producers, as well as pipeline and infrastructure repairs. Look for better coverage and higher quality when you visit this season and expect more to come in the future.
Trapp Family Lodge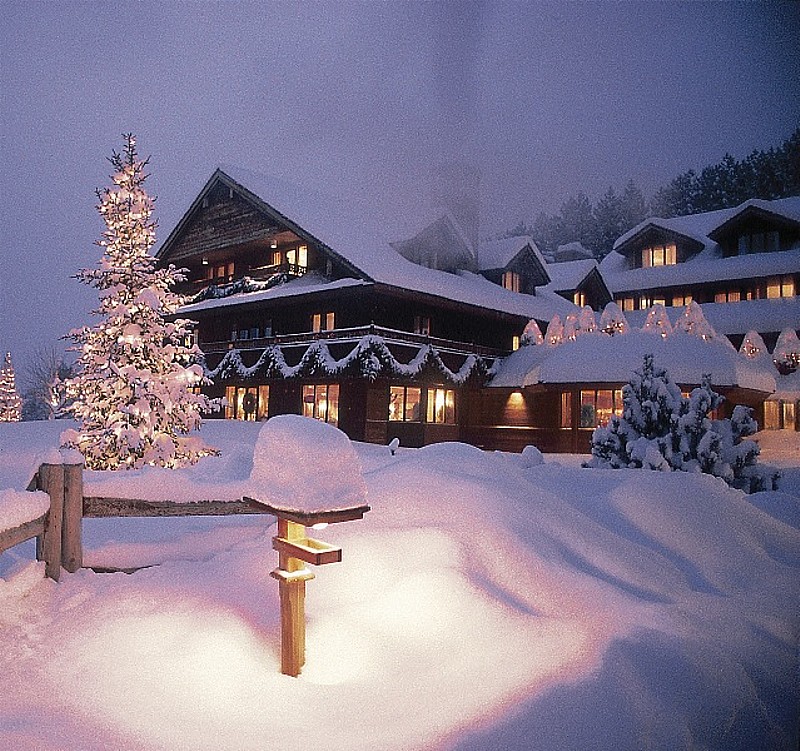 North America's first cross-country skiing center is turning 50! Join Trapp Family Lodge this season in Stowe and join in the celebration from January 20-26 for a week of events including a celebration at the Bierhall, a ski with the von Trapps and a specialty brew by von Trapp Brewing. They'll be celebrating all winter so come ski for the day or get a season's pass and celebrate all winter. 
Mountain Top Inn & Resort

In addition to the abundance of winter activities including 60km of cross country ski (much of it groomed and pet-friendly) and snowshoe trails, Mountain Top Inn & Resort is leading Vermont's rising trend as a premier 4-season wedding destination. Snow covered winter weddings are a rising trend right now and the property beckons couples with one of Vermont's most spectacular views, gorgeous event barn, year-round activities and luxurious accommodations. Offering a magical winter wonderland, many of these weddings involve avid skiers wishing to infuse their favorite past-time into their special day.
The resort is also a short distance away from the alpine slopes of Killington and Pico.
More information from Vermont Ski Areas Association, https://skivermont.com/ where you can use the Resort Finder, find out about lodging, packages, deals, conditions. 
The Woodstock Inn & Resort Offers Ski & Stay Packages for Winter 2018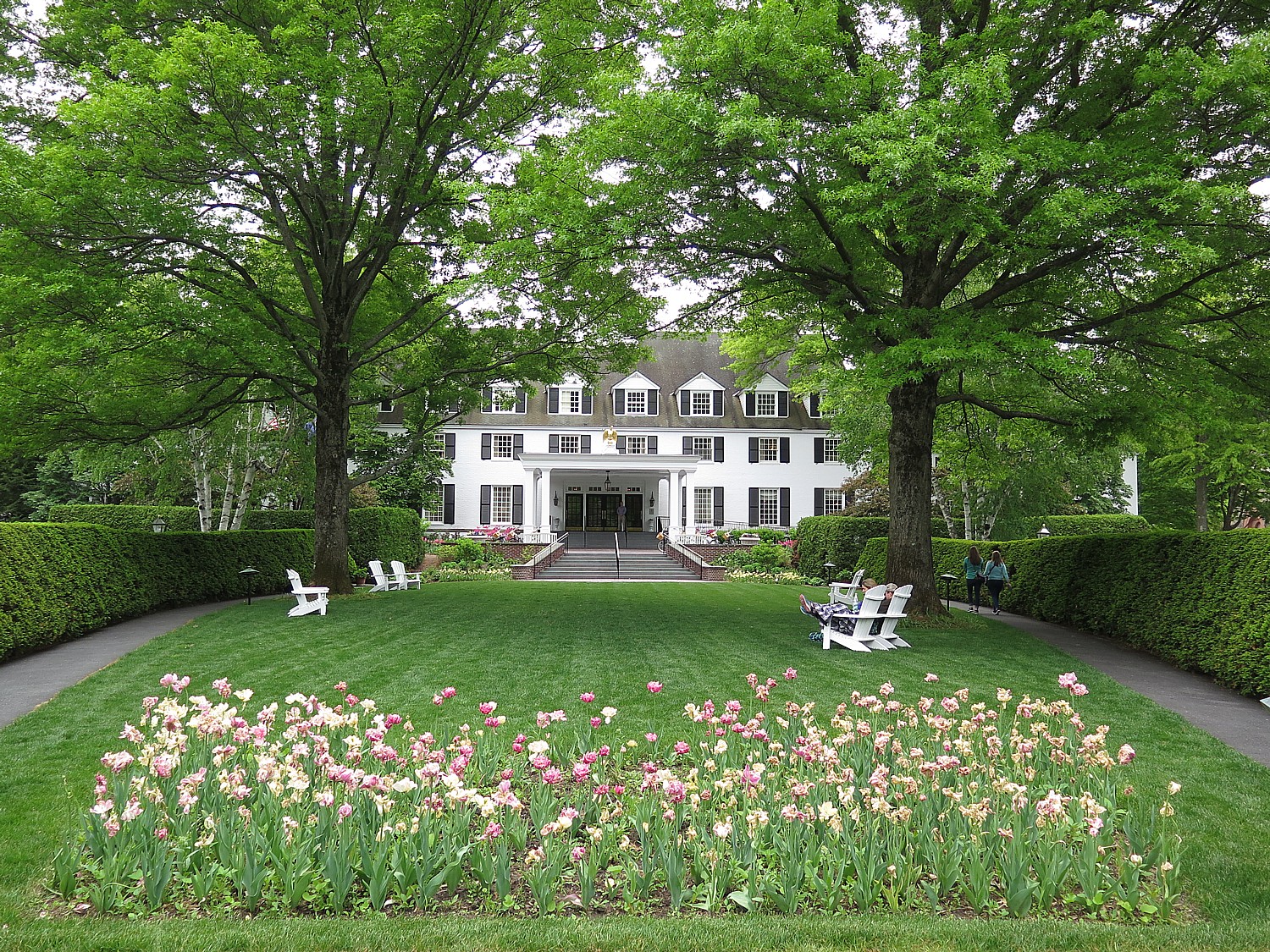 WOODSTOCK, VT– With predictions of a "snowier-than-normal" winter this year by the Farmer's Almanac, the Woodstock Inn & Resort is already gearing up with two ski packages available for guests at its private Suicide Six Ski Area, offering more than 100 acres of skiing and snowboarding on 24 trails and slopes with terrain suitable for all abilities. And, the resort's Tubbs Snowshoes & Nordic Adventure Center provides adventurers with an additional 30 kilometers of trails to explore via Nordic skis, fat tire bikes or snowshoes. Nestled in Vermont's Green Mountains, Suicide Six is one of the oldest ski areas in the country.
Couples are invited to ramp-up winter romance on the slopes with the Teach Your Honey How to Ski package, available from January 1 through March 10, 2018 and includes: luxury accommodations for one night; two hour private lesson for beginners (includes lift ticket); one regular lift ticket for the second person; two après ski cocktails to toast a day on the slopes together; uUse of the Athletic Club's fitness equipment, indoor pool, sauna, steam room, and hot tub (package rate starts at $493 per couple). 
The Suicide Six Ski package is available from January 1 through March 10, 2018 and includes:
luxury accommodations for one night; all-day ski passes for two adults at Suicide Six Ski area;  hearty breakfast for two at the Red Rooster; use of the Athletic Club's fitness equipment, indoor pool, sauna, steam room, and hot tub (package rate starts at $381 per couple; additional people may be added for an added cost, plus tax, gratuitity and $30 per room, per night resort fee; blackout dates apply).
For après ski, Pearly's Pourhouse at Suicide Six has local Vermont beer on tap, hearty winter-fare and a wood-burning fireplace. Guests can also warm up by the Inn's iconic lobby fireplace or retreat to The Spa, a 10,000 square foot facility complete with a relaxation space, Shaker wood stoves, a hot tub, and a Scandinavian sauna. The guest-favorite game room, draped in cozy Vermont flannel, is fully equipped for game night with a giant Scrabble board, foosball table, vintage pinball machines, board games, and more. A choice of culinary options includes the Red Rooster, a fine dining restaurant that emphasizes fresh, local ingredients sourced from the best purveyors in New England, and the comfortable Richardson's Tavern, known for its heartwarming fondue made from nearby Billings Farm cheese.
Recognized as one of the "prettiest small towns in America," Woodstock is steps away from the Woodstock Inn & Resort, where guests will find history brimming with true New England charm. For shopping and strolling, downtown Woodstock's quaint antique shops, art galleries, boutiques, restaurants, specialty food markets and more are just outside the resort's front door. And, also a short walk away are The Billings Farm and Museum and The Marsh-Billings-Rockefeller Mansion, Laurance and Mary Rockefeller's home, which are part of the March-Billings-Rockefeller National Historic Park.
Located in idyllic Woodstock, Vermont, The Woodstock Inn & Resort defines country sophistication in one of New England's most charming and popular year-round vacation destinations.  The 142-room, AAA Four Diamond Resort and a member of the Preferred Hotels & Resorts LVX Collection, offers award-winning dining in two restaurants, ranked among the finest in New England.  The Woodstock Inn & Resort is owned and operated by The Woodstock Foundation, Inc.  Proceeds from Resort operations support The Woodstock Foundation and Billings Farm & Museum education and conservation programs.
For more information about the Woodstock Inn & Resort, visit www.woodstockinn.com. 
See also:
Ski Vacation Specialist SkiCom Assists Skiers, Riders Looking Further Afield for New Mountain Experiences
Big Changes Await at Ski Colorado Destinations This Season
Vail Resorts Unveils Major Improvements at Network of Ski Destinations
_______________________
© 2017 Travel Features Syndicate, a division of Workstyles, Inc. All rights reserved. Visit goingplacesfarandnear.com,  www.huffingtonpost.com/author/karen-rubin , and travelwritersmagazine.com/TravelFeaturesSyndicate/. Blogging at goingplacesnearandfar.wordpress.com and moralcompasstravel.info. Send comments or questions to [email protected]. Tweet @TravelFeatures. 'Like' us at facebook.com/NewsPhotoFeatures