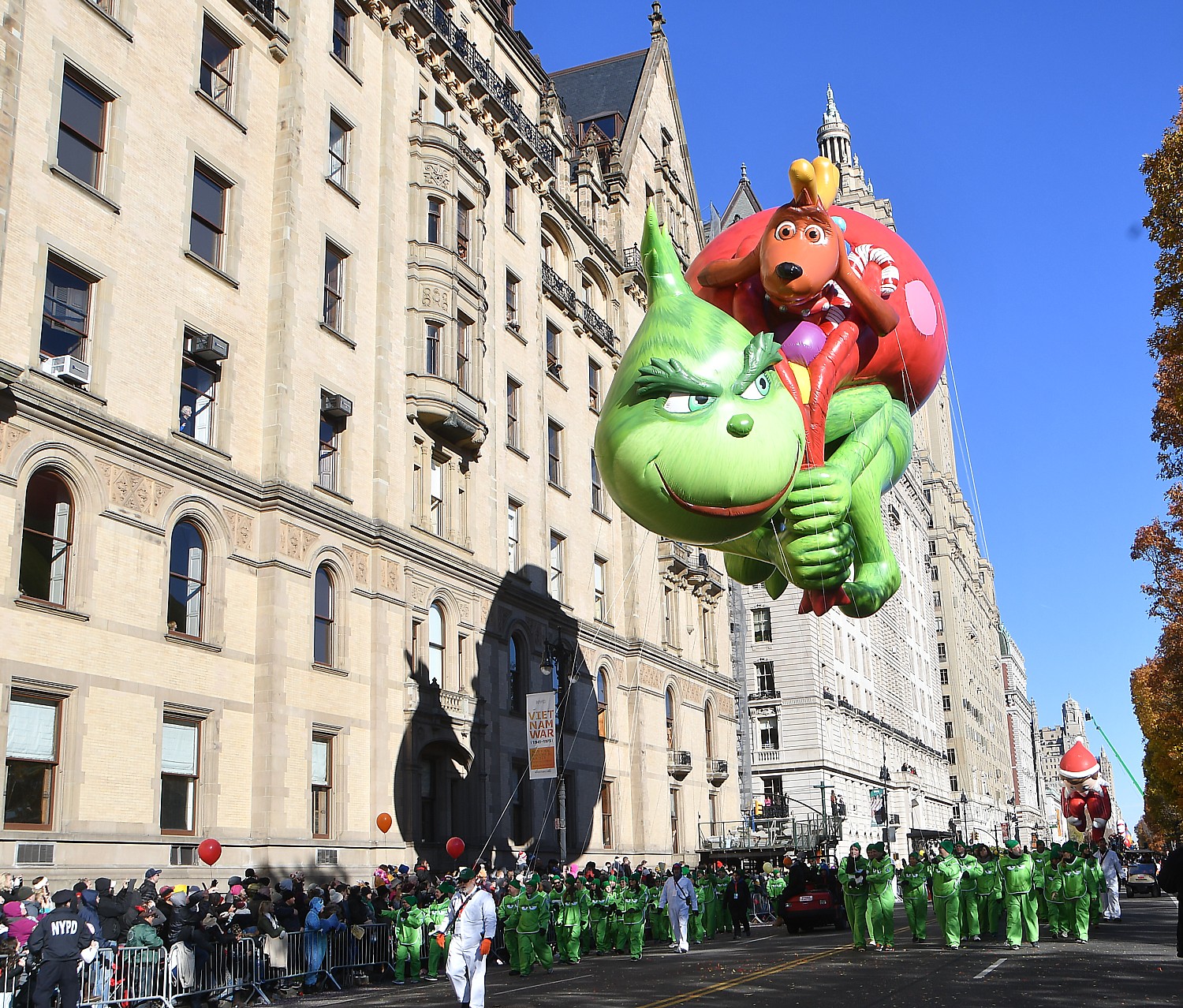 By Karen Rubin, Travel Features Syndicate, goingplacesfarandnear.com
An estimated 3.5 million people were on hand for the 91st Annual Macy's Thanksgiving Parade, amid perfect blue-skies day. Many had staked out their place along the parade route by 4 am, bundling up in the 30-degree temperature, which thankfully warmed up when the parade got going and the sun streamed across Central Park.
Macy's CEO Jeff Gennette along with NBC TV's Al Roker, surrounded by a few of the 1,000 clowns and 10,000 participants, to cut the ribbon.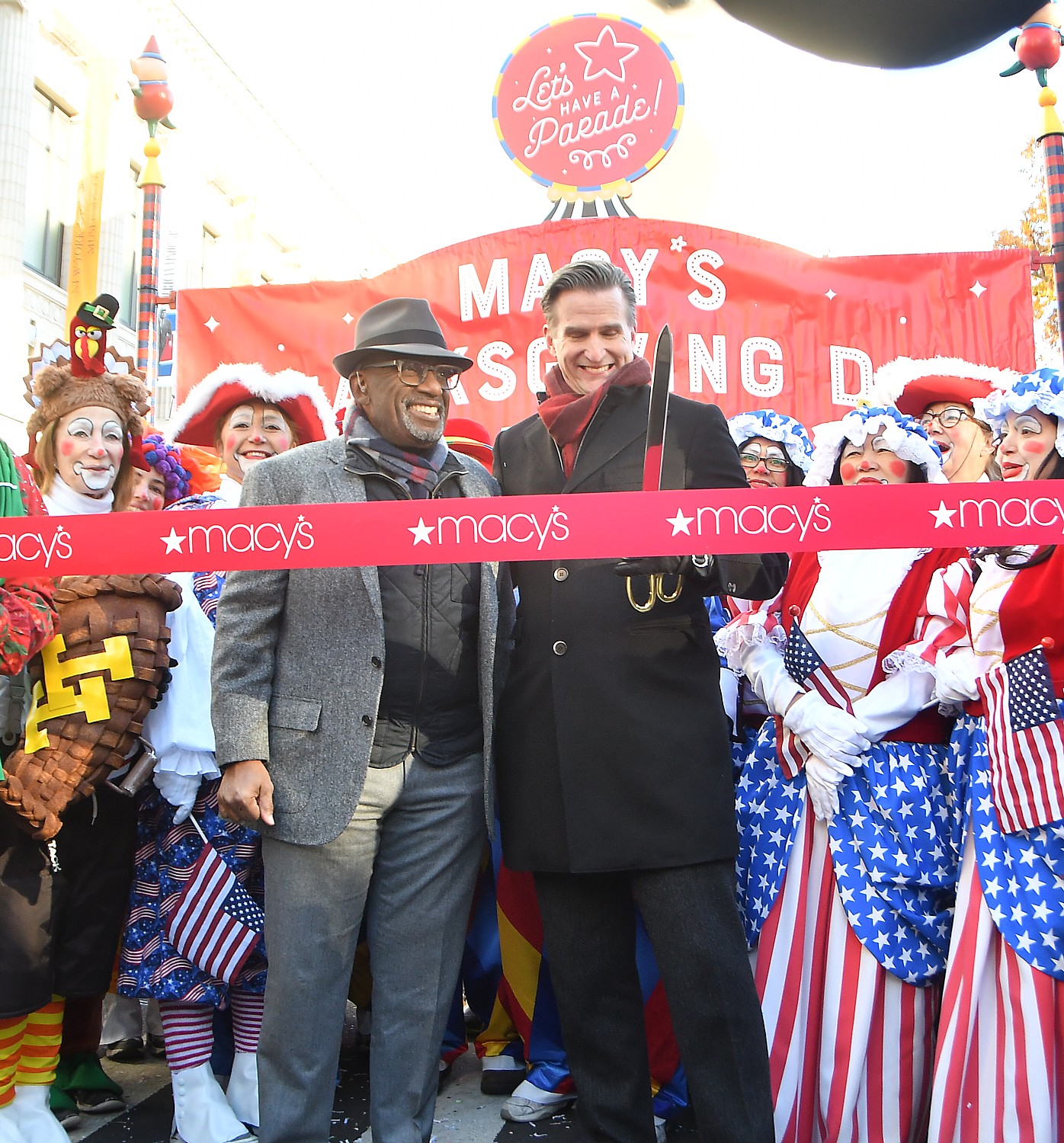 New this year: a Singing Christmas Tree populated with 125 Macy's employees, which Gennette said would become a new tradition for the parade.
Fan favorites include the population of giant character balloons, now expanded to 17 with the addition this year of four giant characters: Olaf from Disney's "Frozen," Illumination presents Dr. Seuss' The Grinch, Jett from Super Wings™ and PAW Patrol, plus 28 legacy balloons, balloonicles, balloonheads and trycaloons.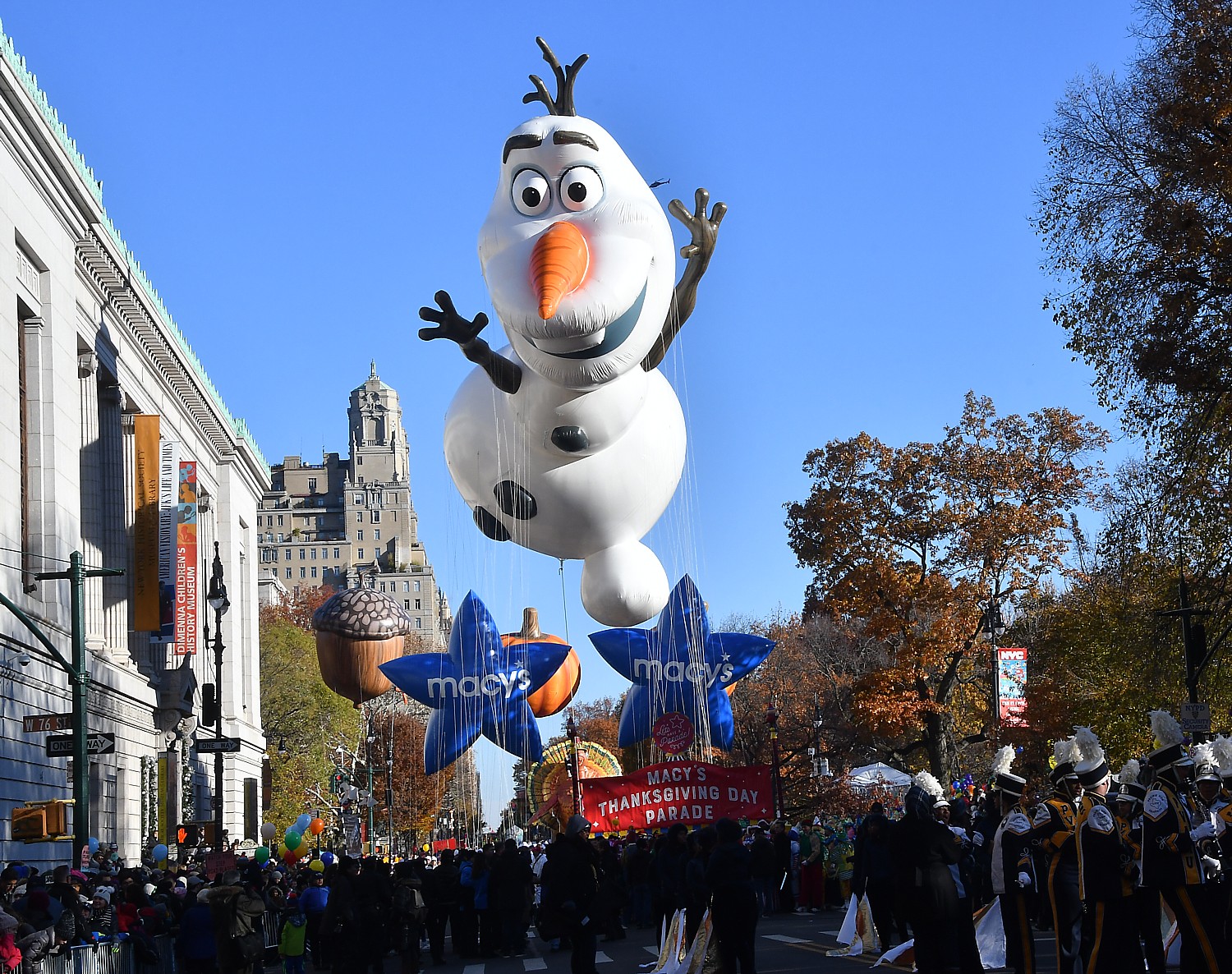 The balloon line-up also featured the return of Harold the Baseball Player, a legacy Macy's character prominently featured in Twentieth Century Fox's iconic holiday film classic "Miracle on 34th Street." In celebration of the film's 70th anniversary, the Harold heritage balloon was for this year's Parade, painted in hues of black, white and grey, to look exactly as it did on-screen during a memorable scene in the 1947 film. In addition to Harold, the famed spokesduck, the Aflac Duck, debuted as an all-new balloonicle (a Macy's Parade innovation of hybrid cold-air balloon and vehicle).
Returning giant balloon characters included Angry Birds' Red; Charlie Brown; Diary of a Wimpy Kid®;  Sinclair's Dino®; the Elf on the Shelf®; Hello Kitty®; Ice Age's Scrat and His Acorn; Pikachu™; Pillsbury Doughboy™; Red Mighty Morphin Power Ranger; Ronald McDonald®; SpongeBob SquarePants; and DreamWorks' Trolls.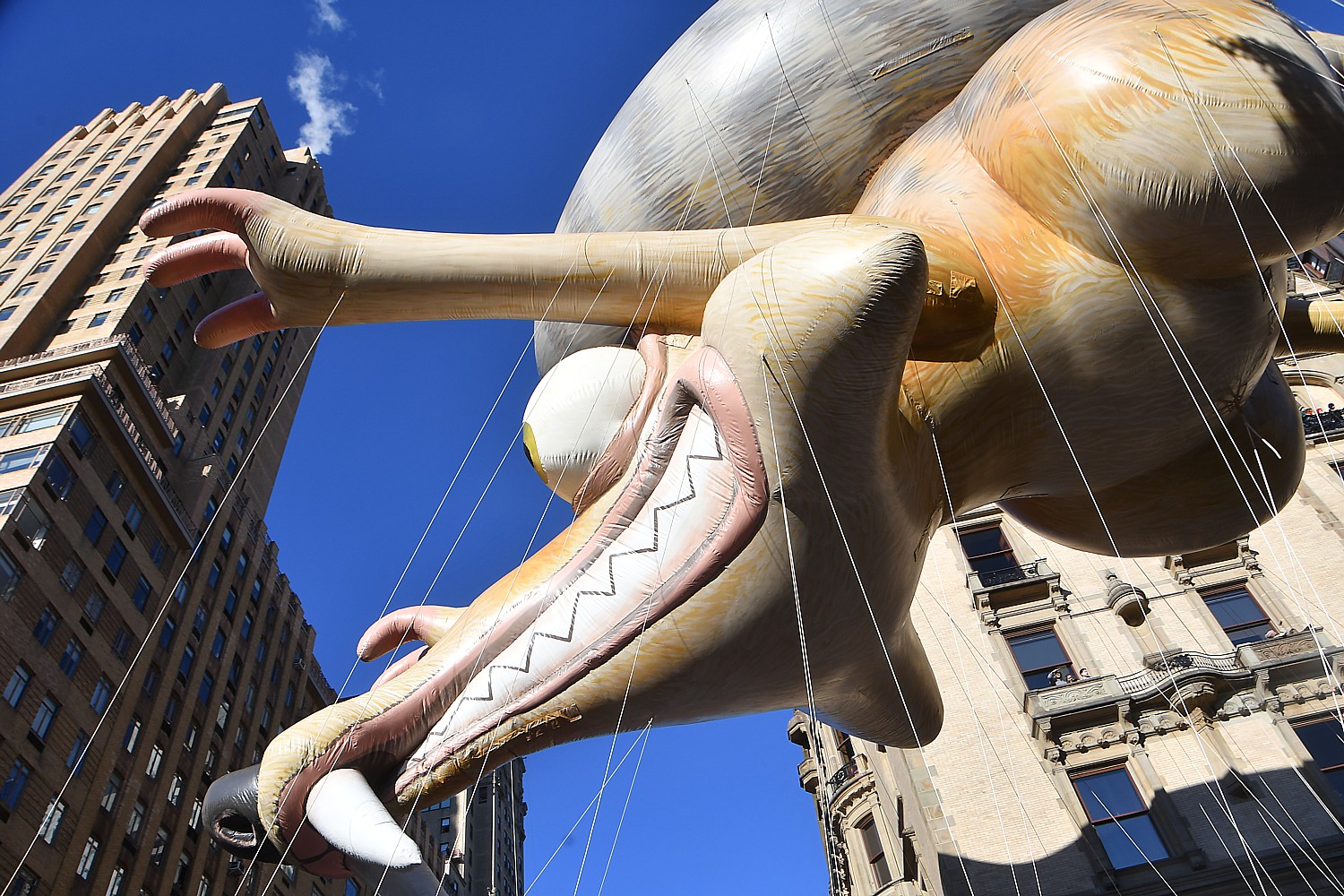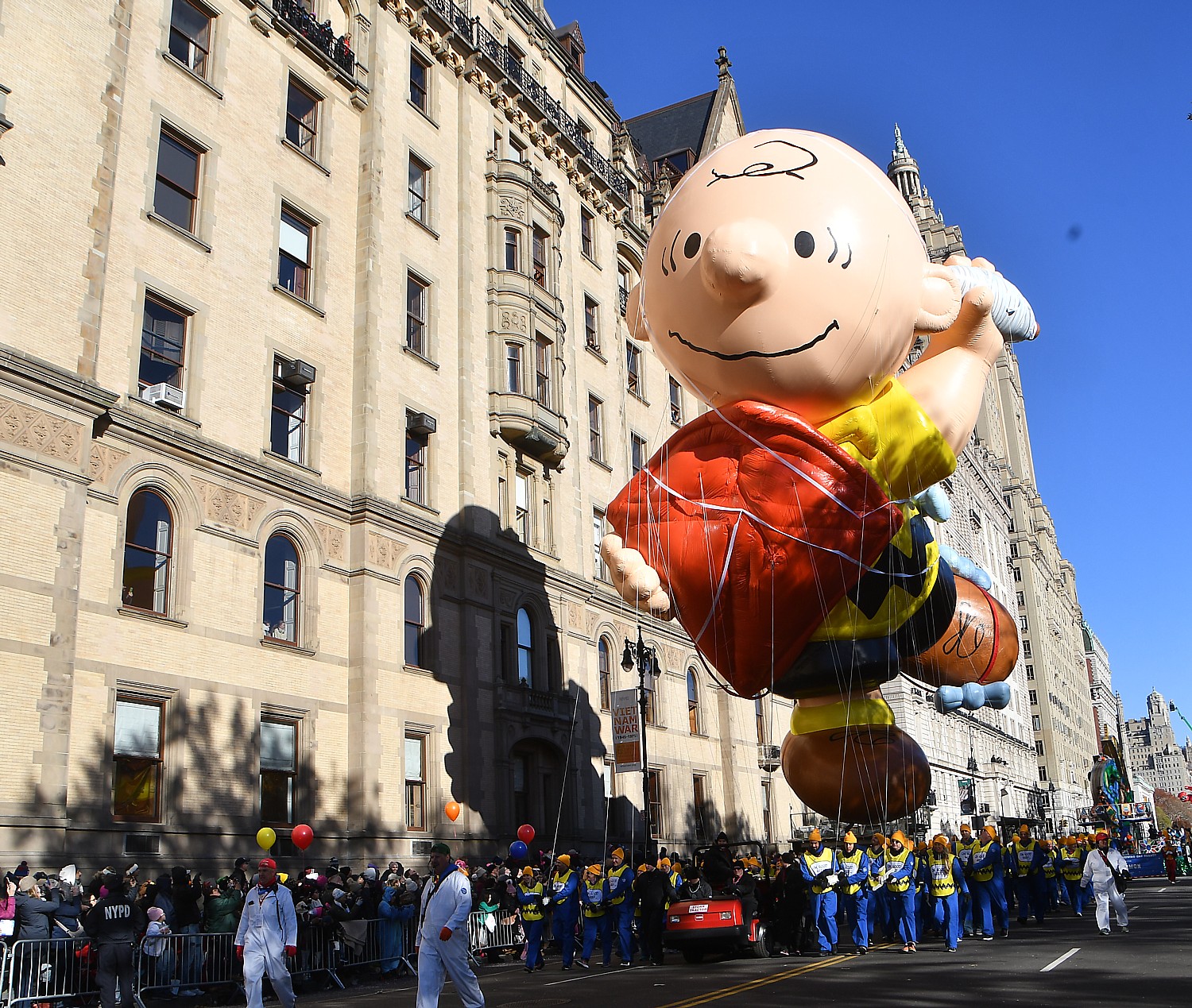 The balloons became a feature of the Macy's parade after just the first three years of the parade, which began in 1924 by some Macy's employees, who brought live animals. But by 1927, the live animals were considered a nuisance and replaced (except for New York City mounted police, followed by a team of sanitation workers who receive as loud a cheer) by the giant balloons, one of the famous unique features of the parade.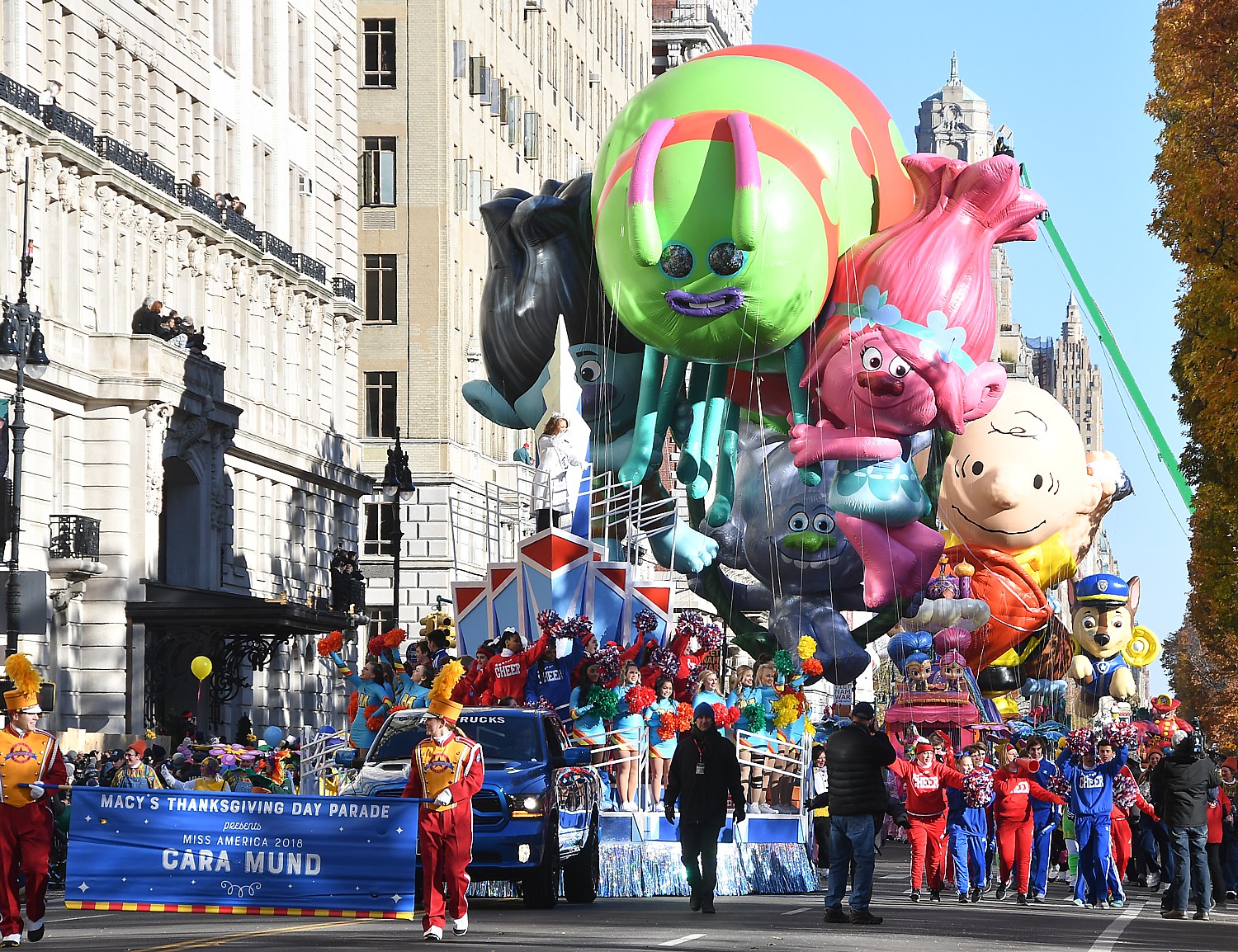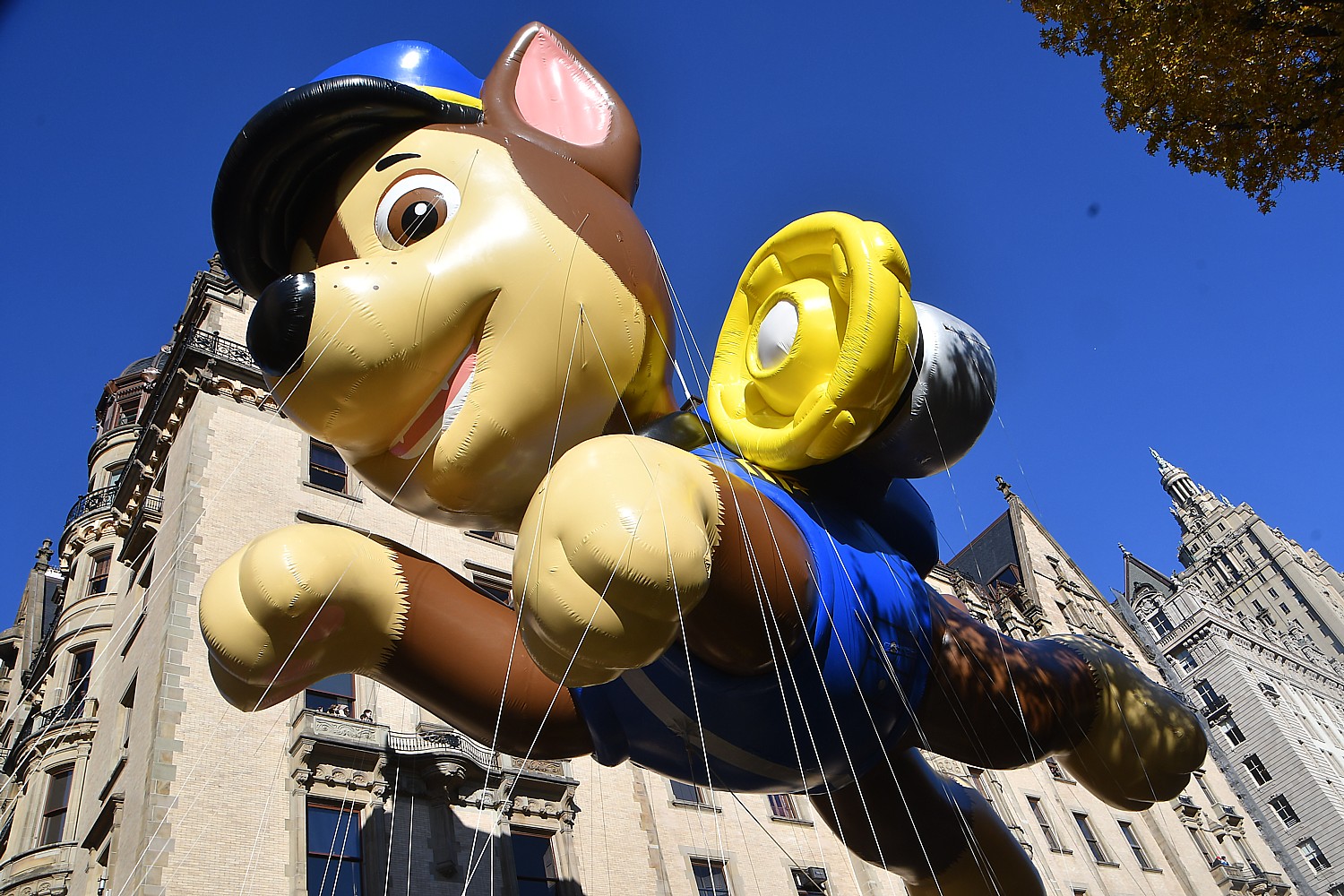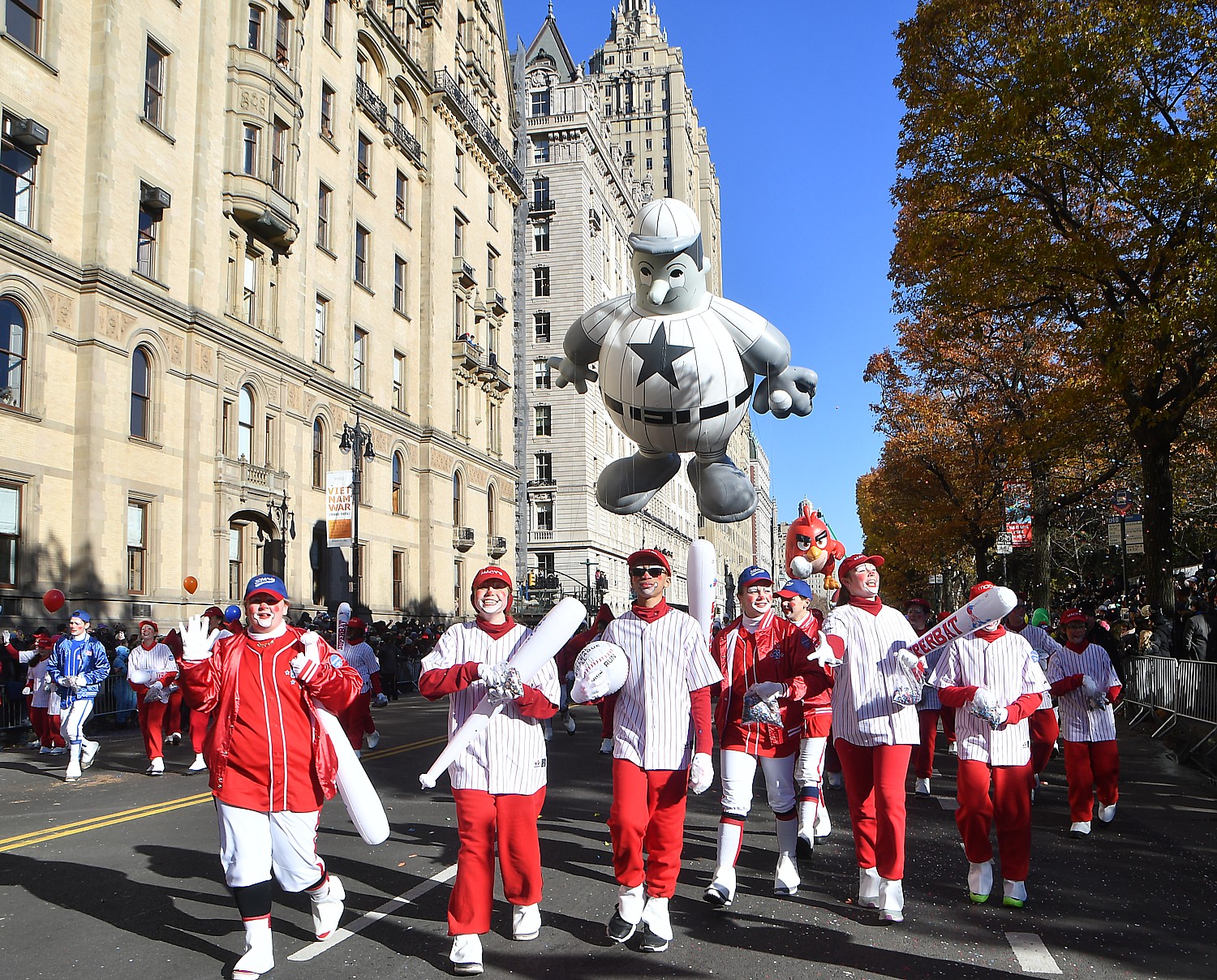 Floats
This year five new floats debuted including Everyone's Favorite Bake Shop by Entenmann's® (Sara Evans), Harvest in the Valley by Green Giant® (Lauren Alaina), Parade Day Mischief by Sour Patch Kids® Candy (Nicky Jam), Shimmer and Shine by Nickelodeon (Jojo Siwa) and Universal Playground by Sprout® (Angelica Hale).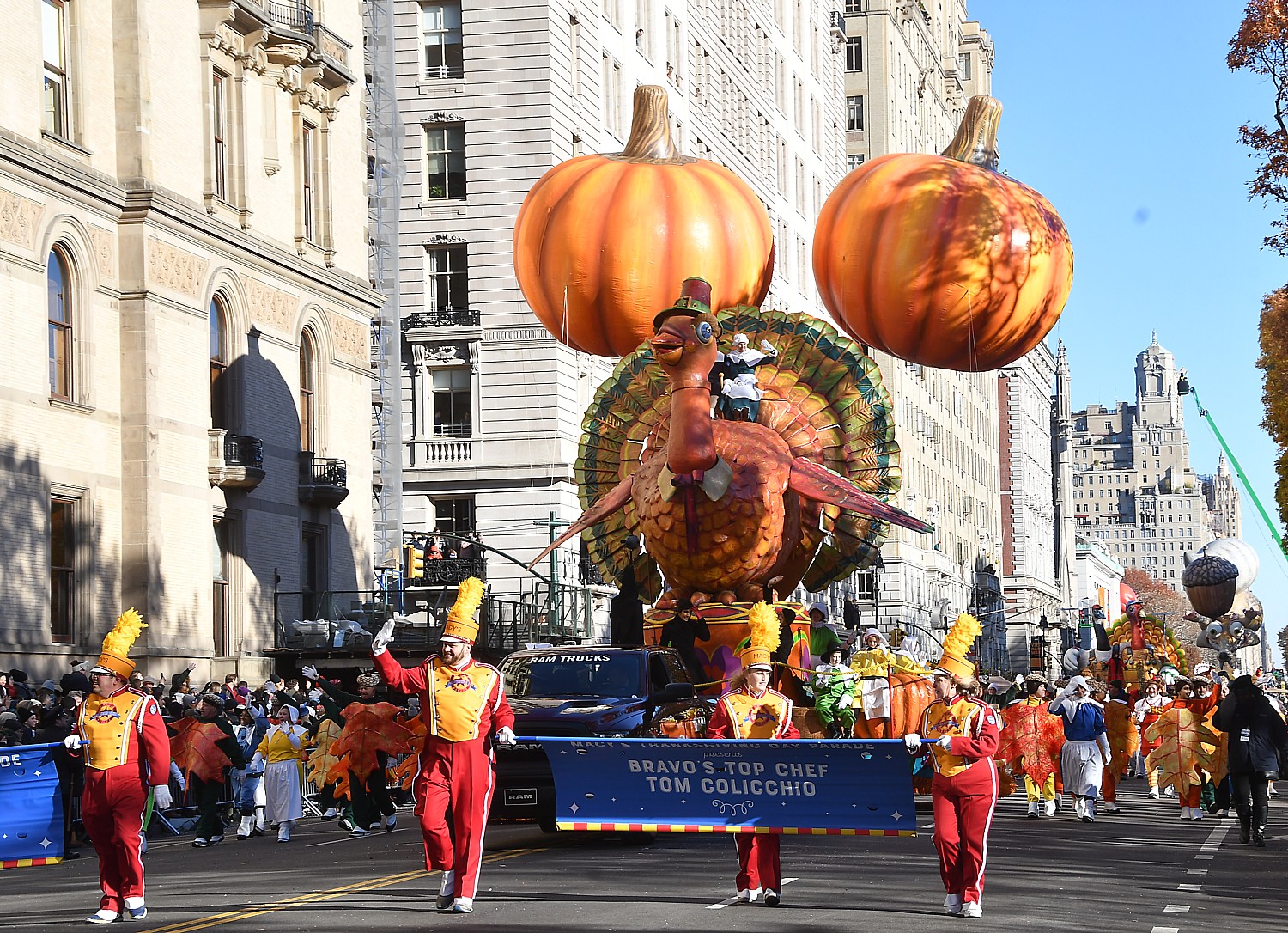 The returning float roster, for a total of 26 floats, which also carry the celebrities and entertainers, included 1-2-3 Sesame Street by Sesame Street (Leslie Odom Jr. and the cast and Muppets of "Sesame Street"); The Aloha Spirit by King's Hawaiian (Goo Goo Dolls), Big Apple by N.Y. Daily News (Bebe Rexha); Big City Cheer! by Spirit of America Productions (Miss America 2018 Cara Mund); Building a Better World by Girl Scouts of the USA (Andra Day and Common); The Colonel's Road Trip to NYC by Kentucky Fried Chicken (Dustin Lynch); The Cranberry Cooperative by Ocean Spray®; Deck the Halls by Balsam Hill® (Olivia Holt); Discover Adventure! by Build-A-Bear (Sabrina Carpenter); Frozen Fall Fun by Discover®/NHL (Wyclef Jean) and NHL Hockey Hall of Famers Ray Bourque & Bryan Trottier); Fun House by Krazy Glue® (Flo Rida); Heartwarming Holiday Countdown by Hallmark Channel (98 Degrees); It's All Rock & Roll by Gibson Brands (Jimmy Fallon & The Roots); Mount Rushmore's American Pride by South Dakota Department of Tourism (Smokey Robinson); On The Roll Again by Homewood Suites by Hilton® (Andy Grammer); Santa's Sleigh; Snoopy's Doghouse by Peanuts Worldwide; Stirrin' Up Sweet Sensations by Domino® Sugar (Cam); Teenage Mutant Ninja Turtles by Nickelodeon (Kat Graham); and Tom Turkey featuring Bravo's Top Chef (Padma Lakshmi, Tom Colicchio).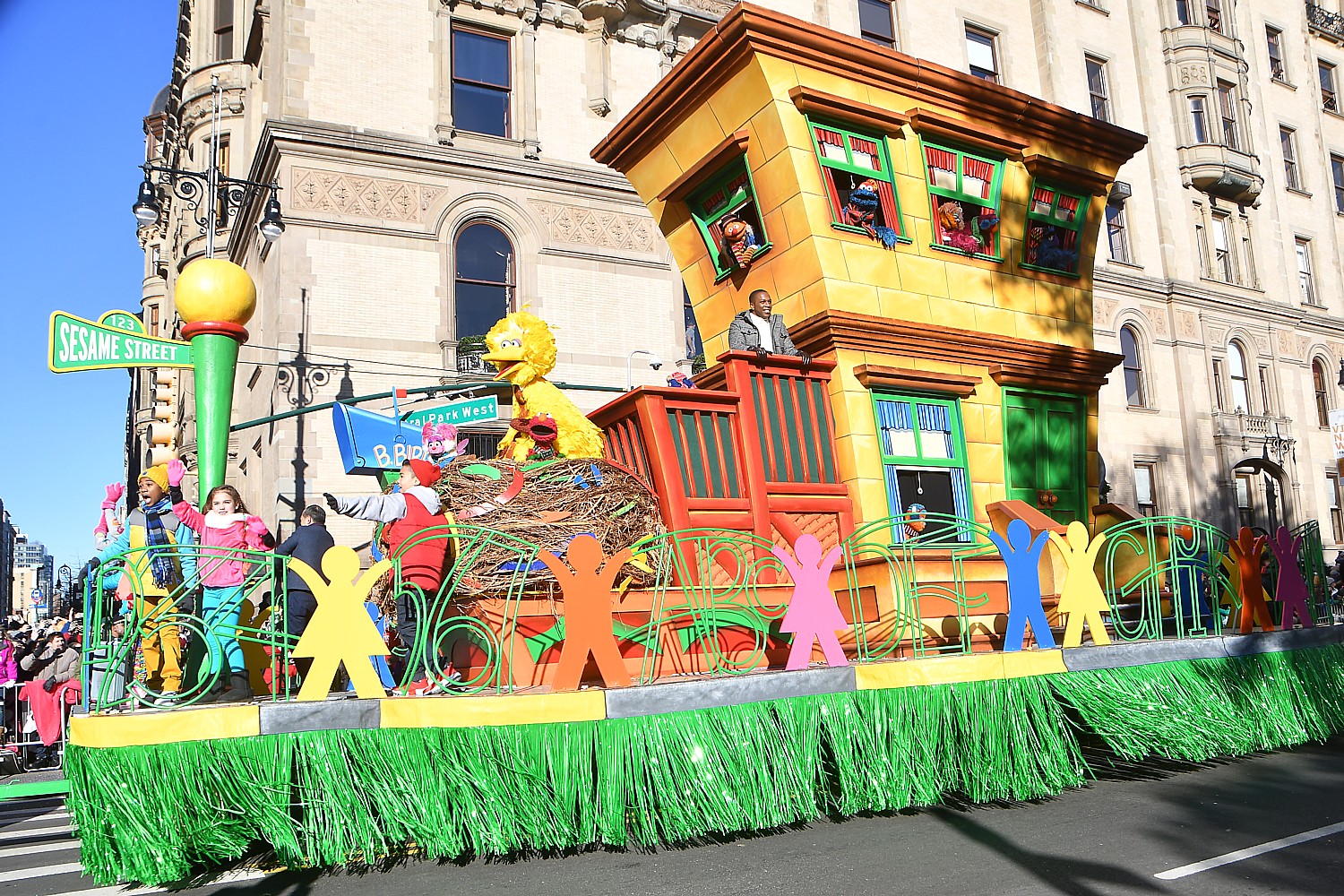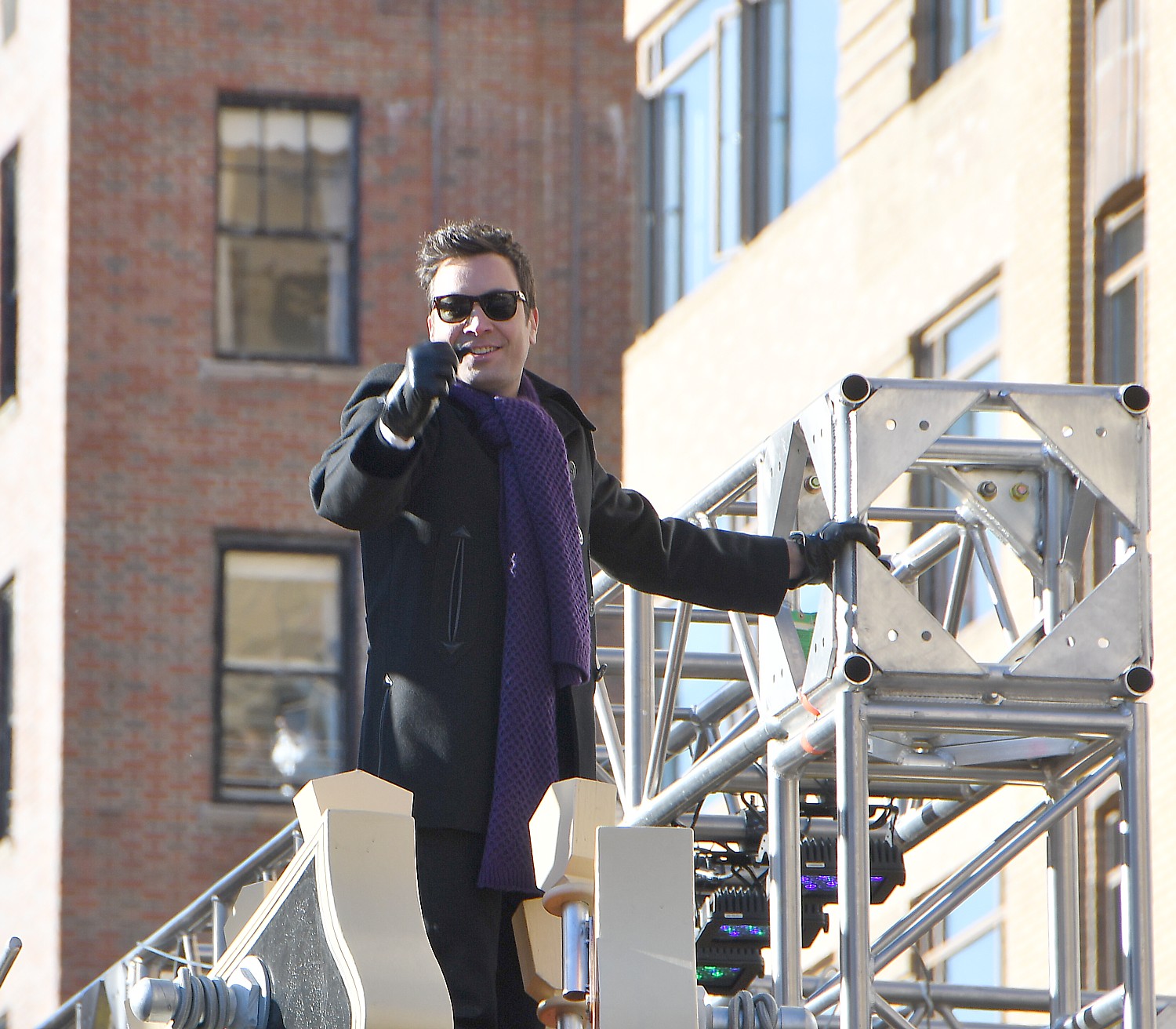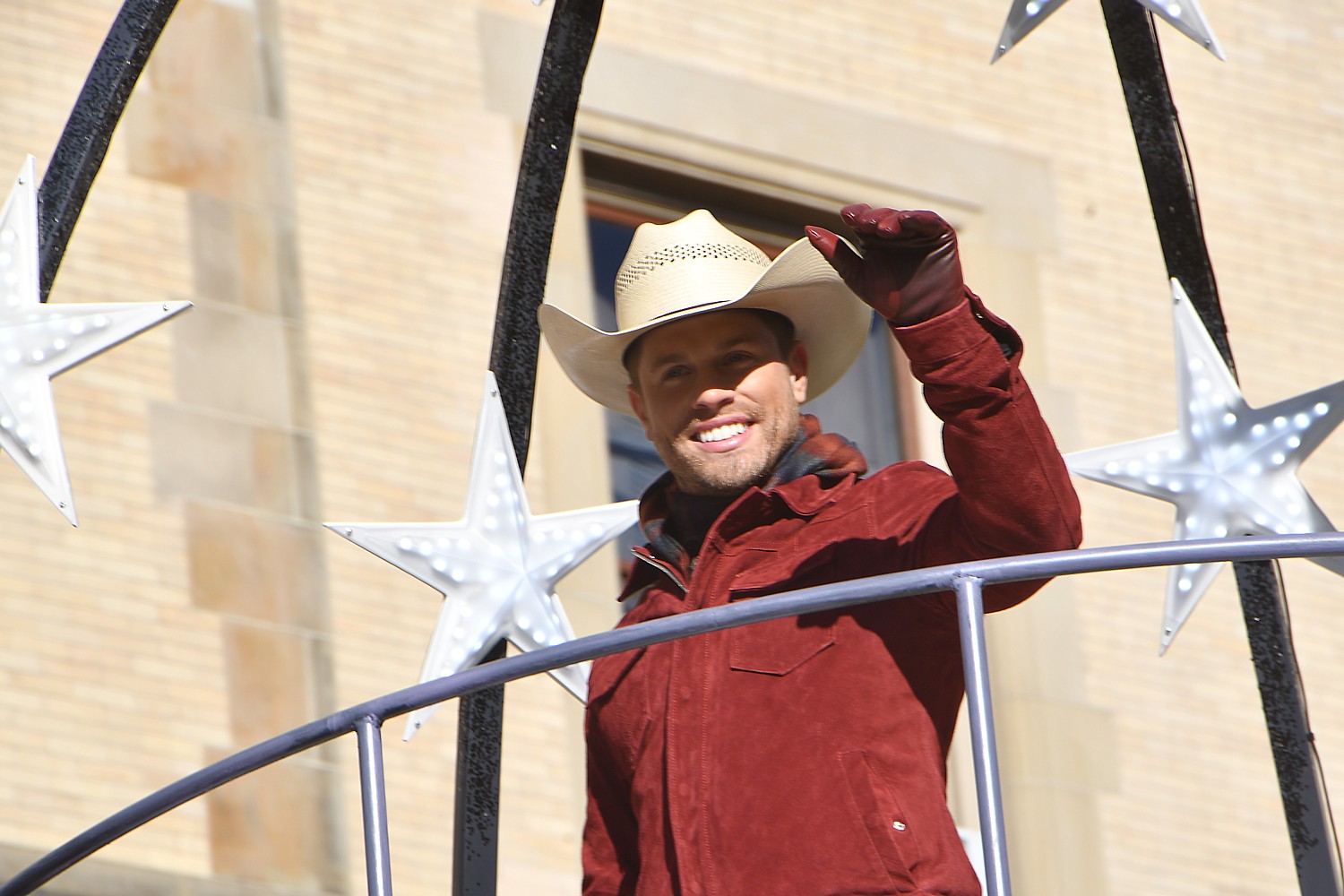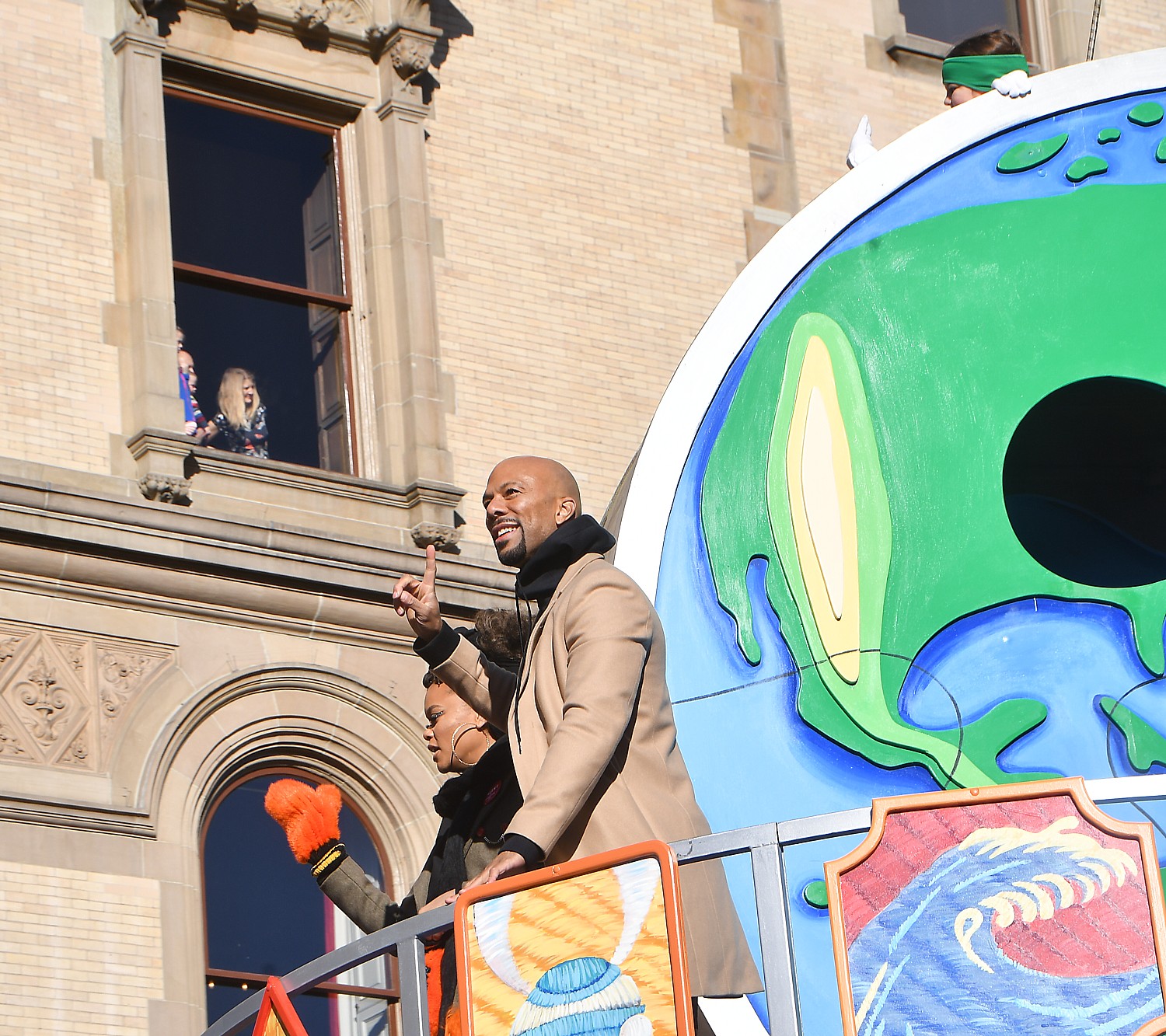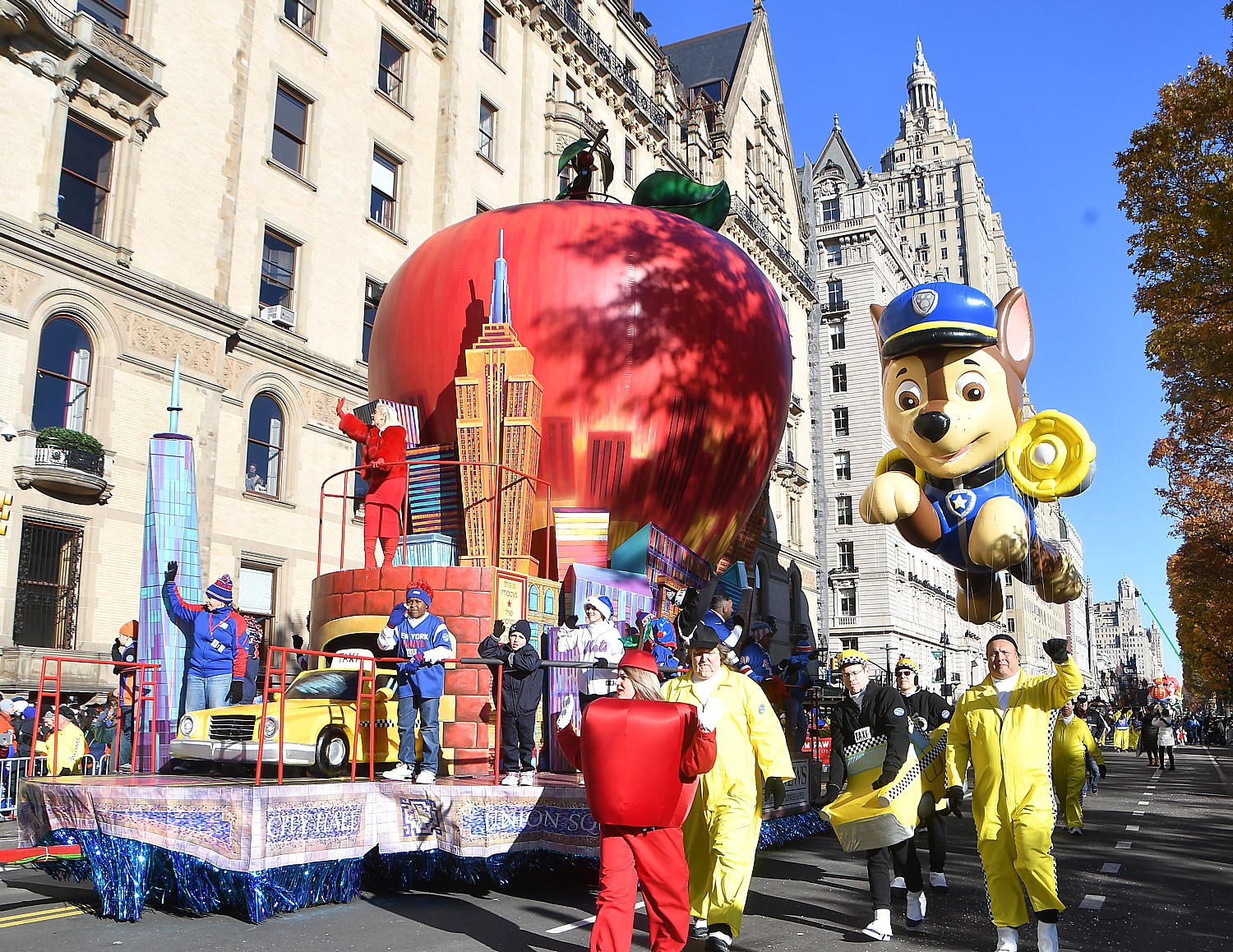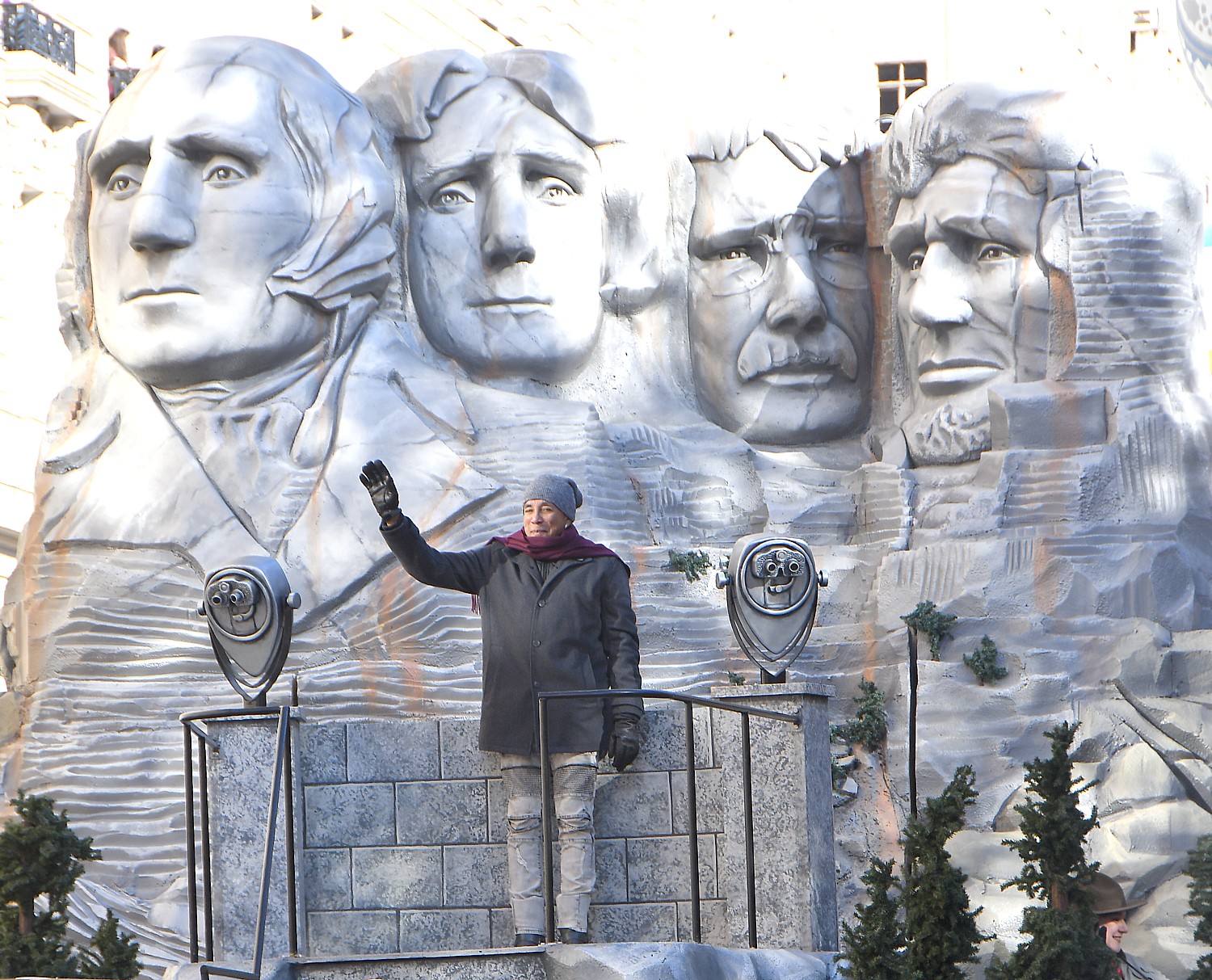 Designed and created by the incredible artists of Macy's Parade Studio, which include carpenters, painters, animators, sculptors, metal fabricators, scenic/costume designers and electricians, this year's line-up of floats sets an unparalleled stage for entertainment. The painstaking process of creating a Macy's Parade float is both a creative and technical endeavor. Macy's Parade floats are often three-stories tall and several lanes of traffic wide, but must collapse to no more than 12½-feet tall and 8-feet wide in order to travel safely from the New Jersey home of the Parade Studio, to the Manhattan starting line via the Lincoln Tunnel each Thanksgiving eve. These creations are not only works of art, but also engineering marvels.
Marching Bands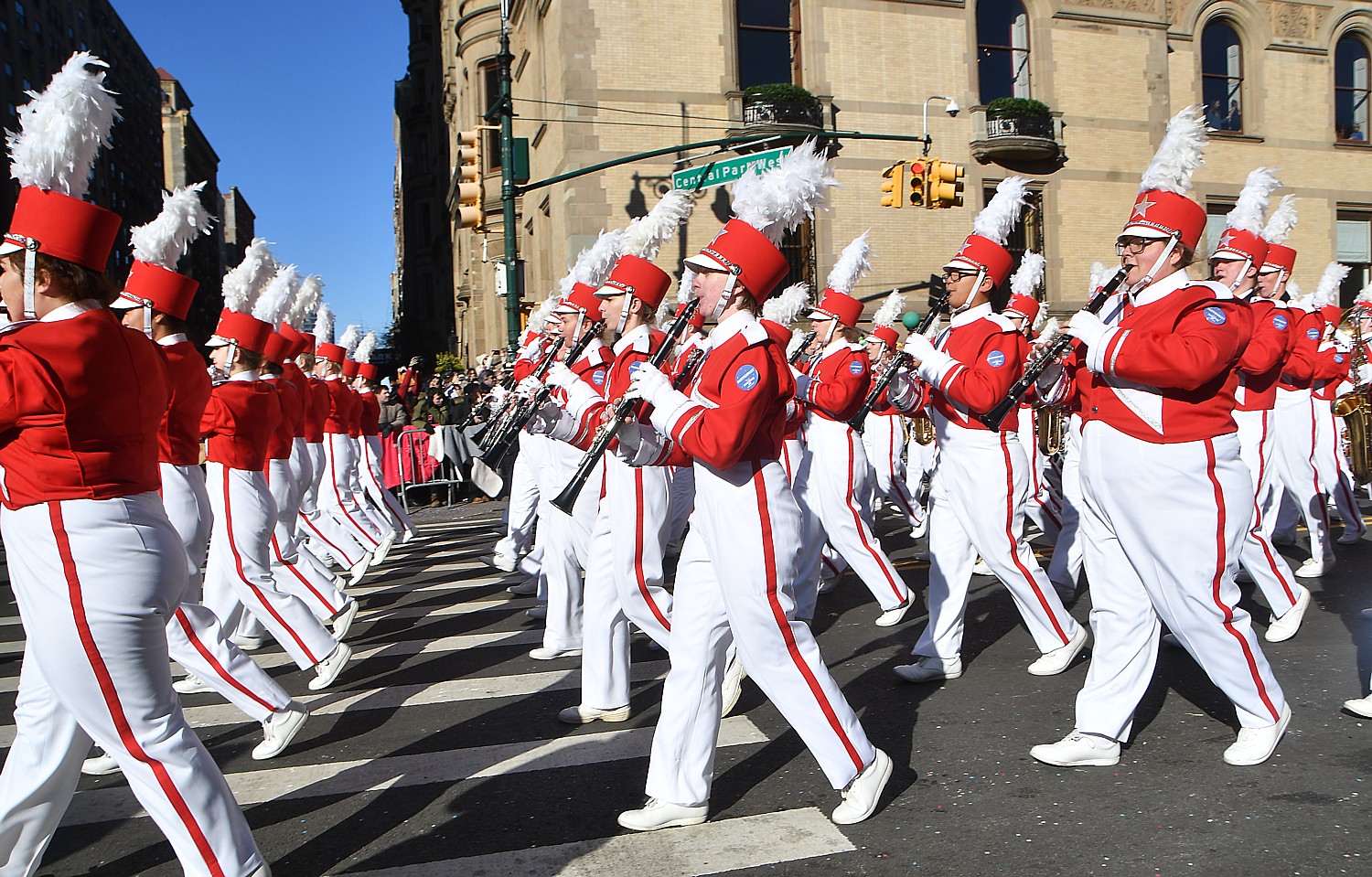 Marching bands bring a national excitement and hometown pride to the streets of the Big Apple, not to mention the musical beat to the holiday revelry. The 12 performance ensembles that marched this year came from as far as Palmer, Alaska (Colony High School), and as near as Trumbull, Conn. (Trumbull High School), and also included Davis High School (Kaysville, Utah), Rosemount High School (Rosemount, Minn.), West Harrison High School (Gulfport, Miss.), Rockford High School (Rockford, Mich.), Ohio University (Athens, Ohio), Nation Ford High School (Fort Mill, S.C.), Prairie View A&M University (Prairie View, Texas), the United States Air Force Band and Honor Guard, Macy's Great American Marching Band (United States) and the NYPD Marching Band (New York, NY).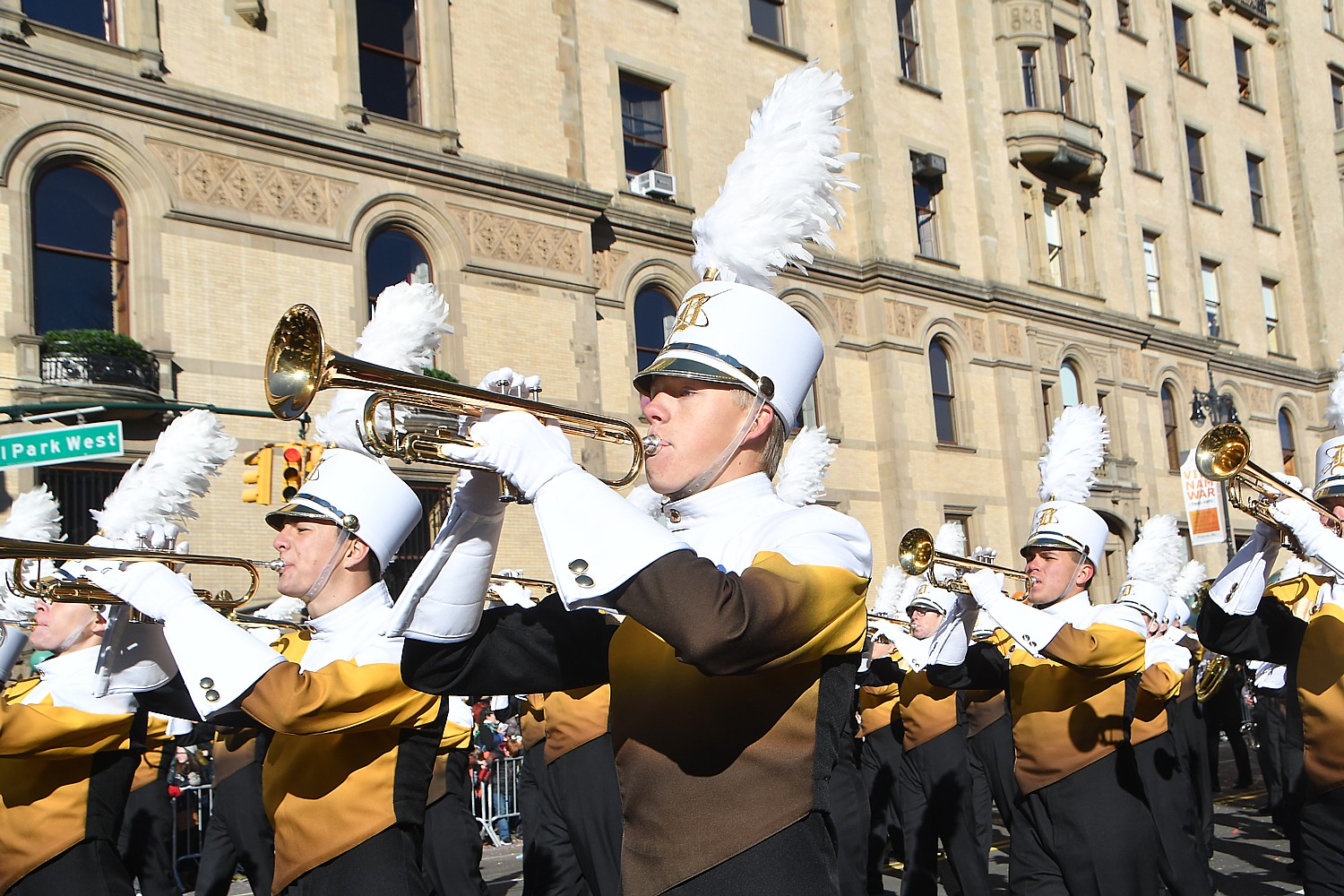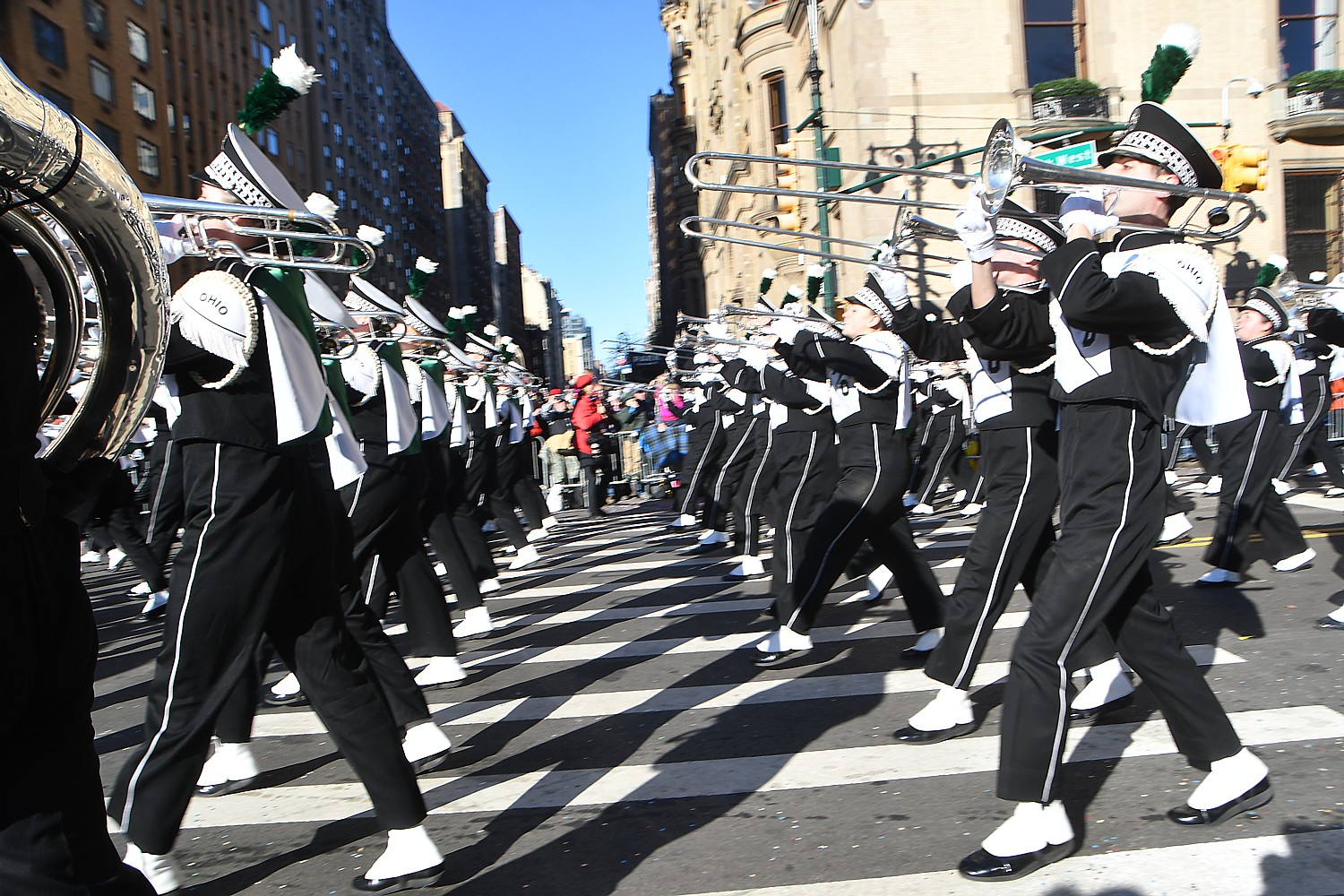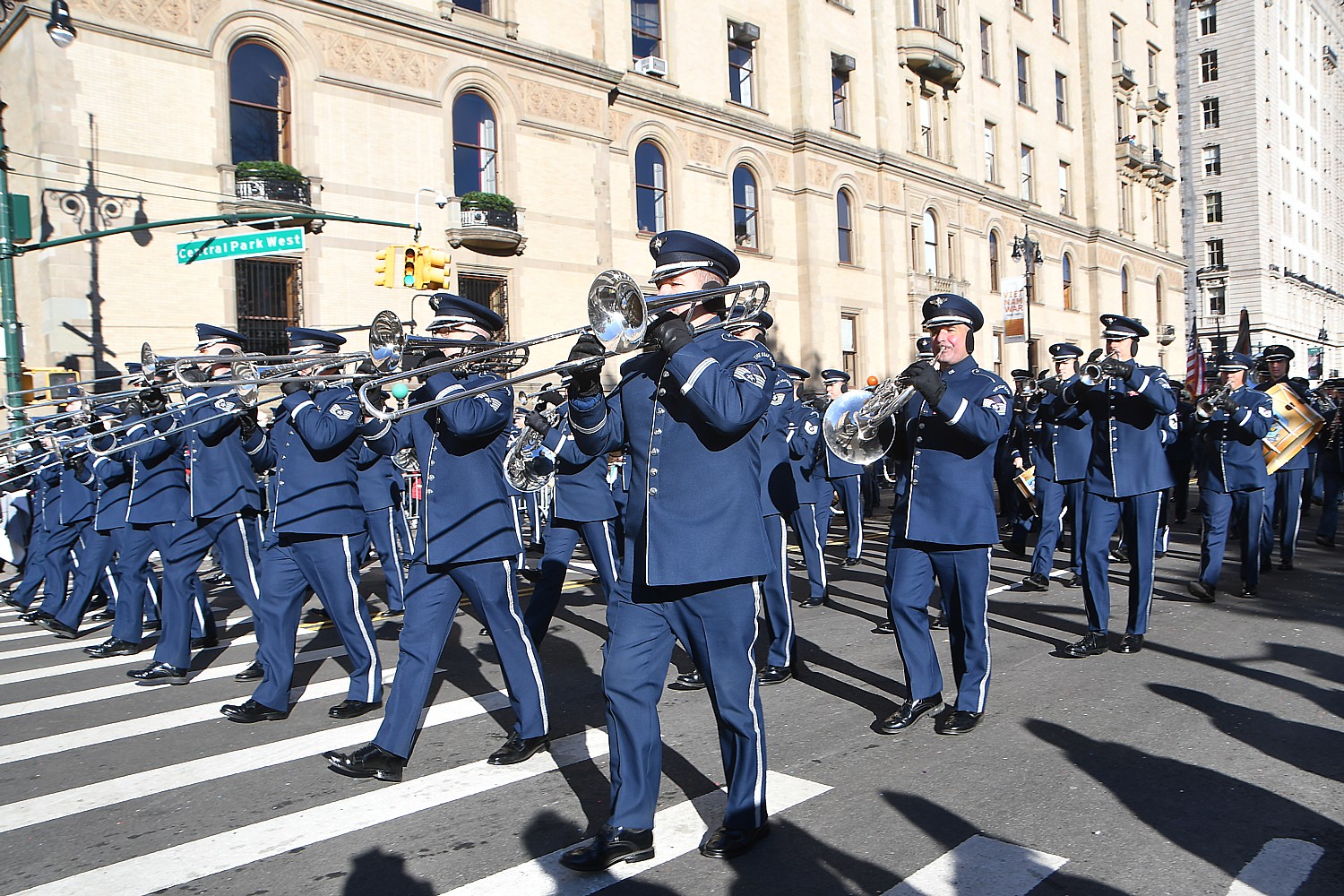 Specialty Parade Entertainment
Specialty Parade entertainment always provides an exciting and sometimes humorous look at the nation's finest performance groups. Returning to the line-up this year are the dancers and cheerleaders of Spirit of America Dance Stars and Spirit of America Cheer. These groups combined feature more than 1,000 of the nation's very best performers recruited from small towns and big cities.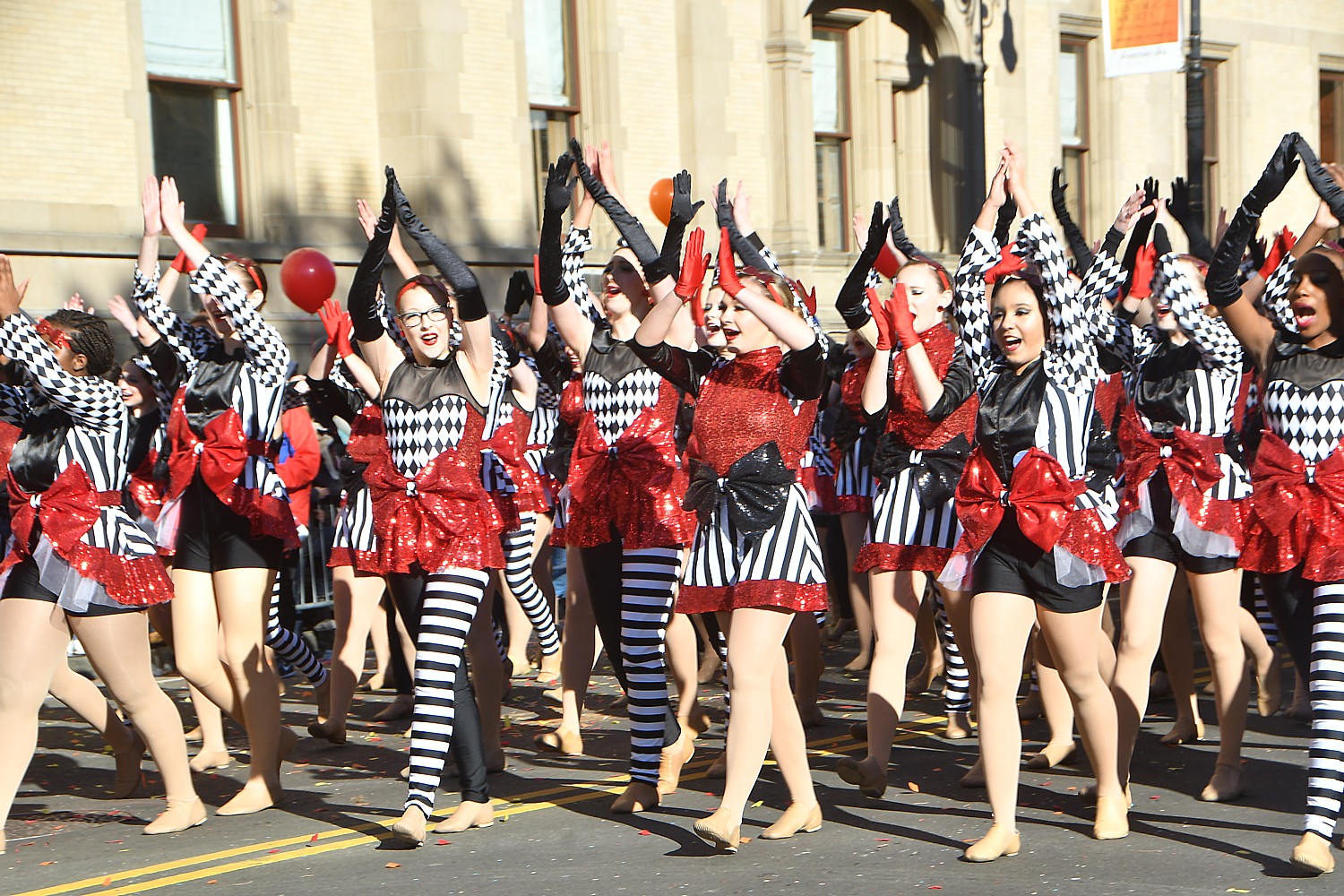 Adding to the dance floor revelry was 34th & Phunk, a special group commissioned and produced by Macy's with organizers from the United States Tournament of Dance. Choreographed by the legendary artist Willdabeast Adams and acclaimed dancer Janelle Ginestra, 34th & Phunk will be a one-of-a-kind hip-hop dance crew featuring performers of all ages and from all walks of life, who have a passion for dance and precision movement. The talented kids of Camp Broadway this year auditioned and were selected dancers/singers from military bases around the nation and paid tribute to America with their performance.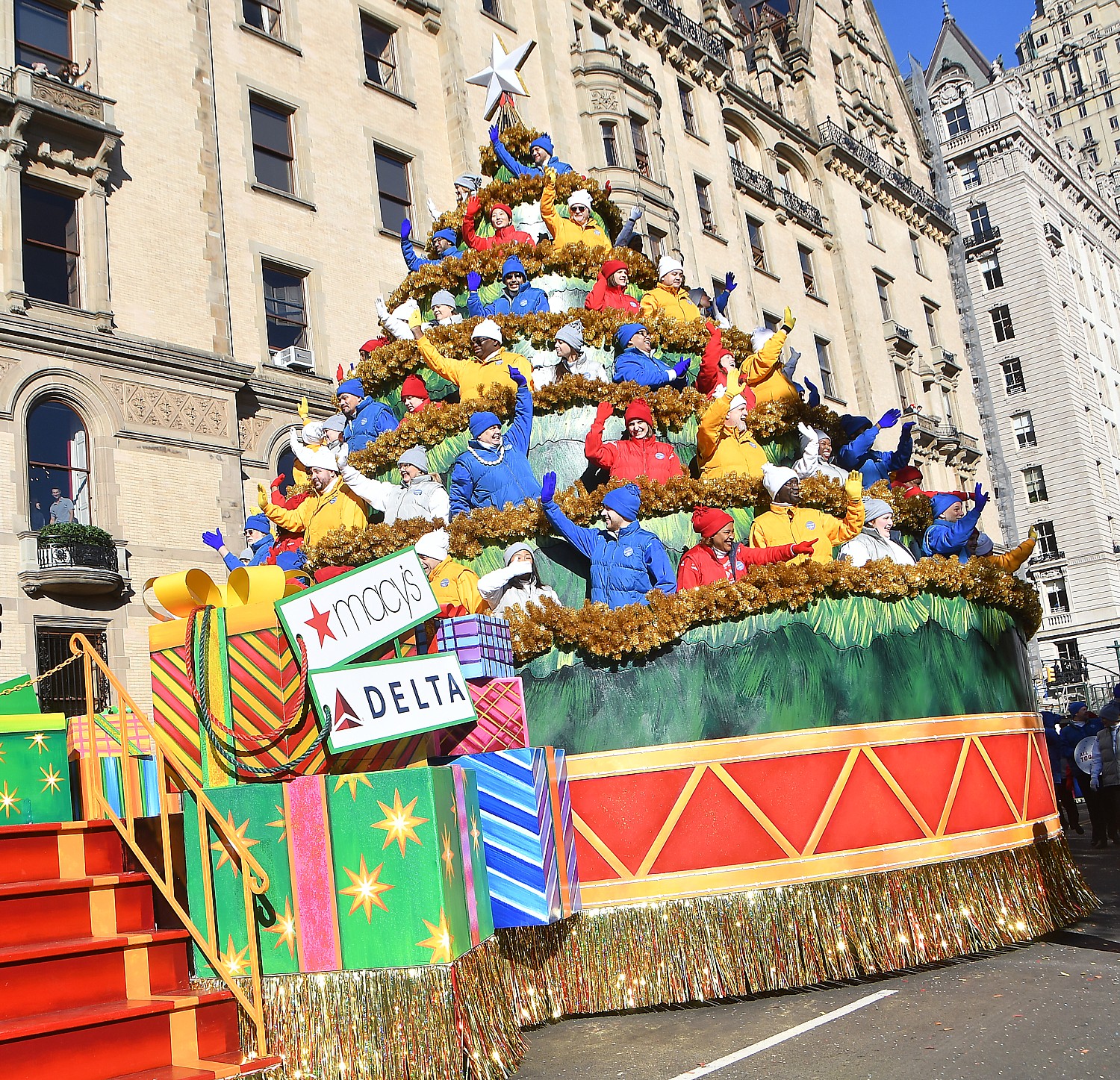 Rounding out the performance group list are the zany Red Hot Mamas (Post Falls, Idaho) who delivered their signature humorous take on the holiday season, along with the whimsical stars of the Big Apple Circus (New York, NY).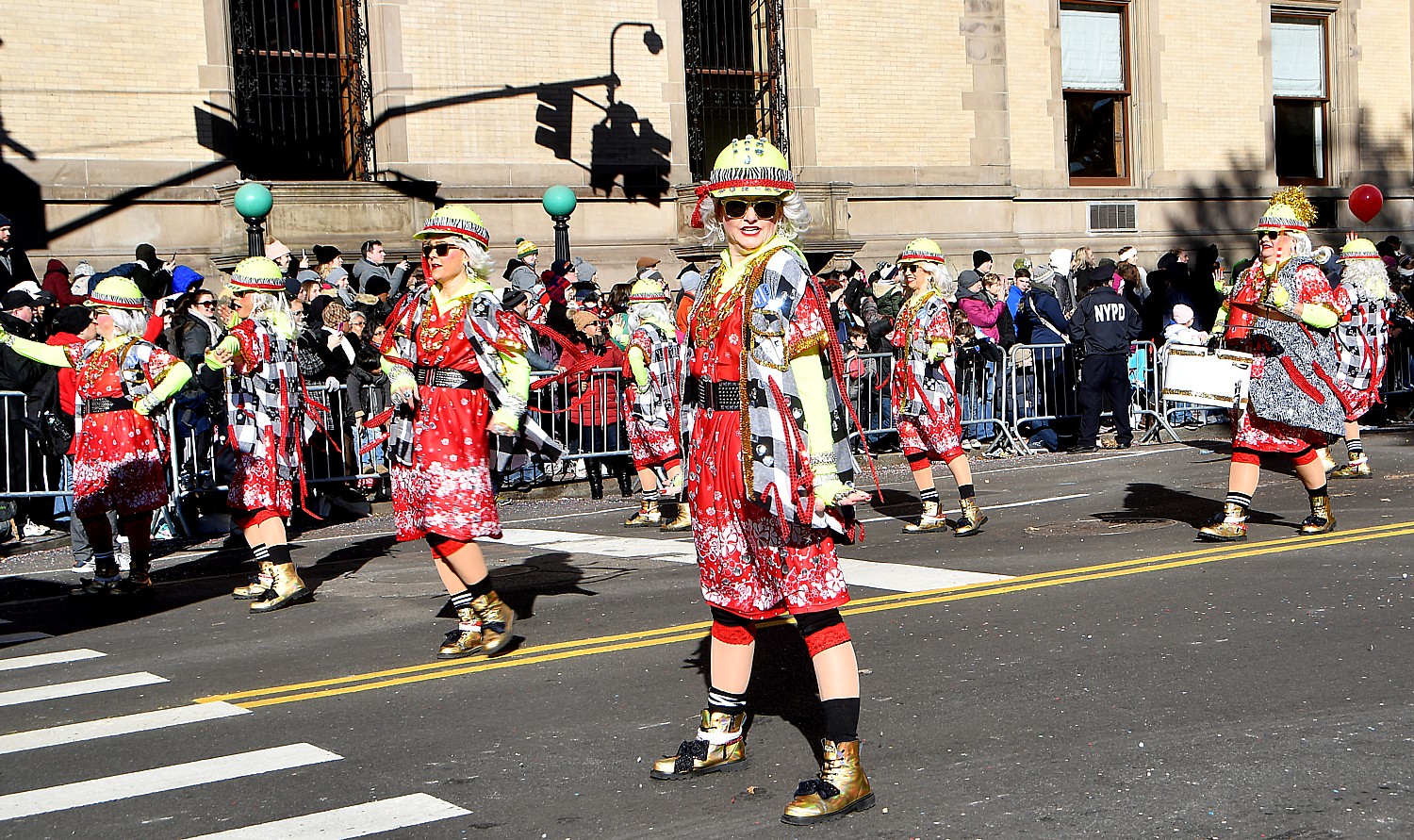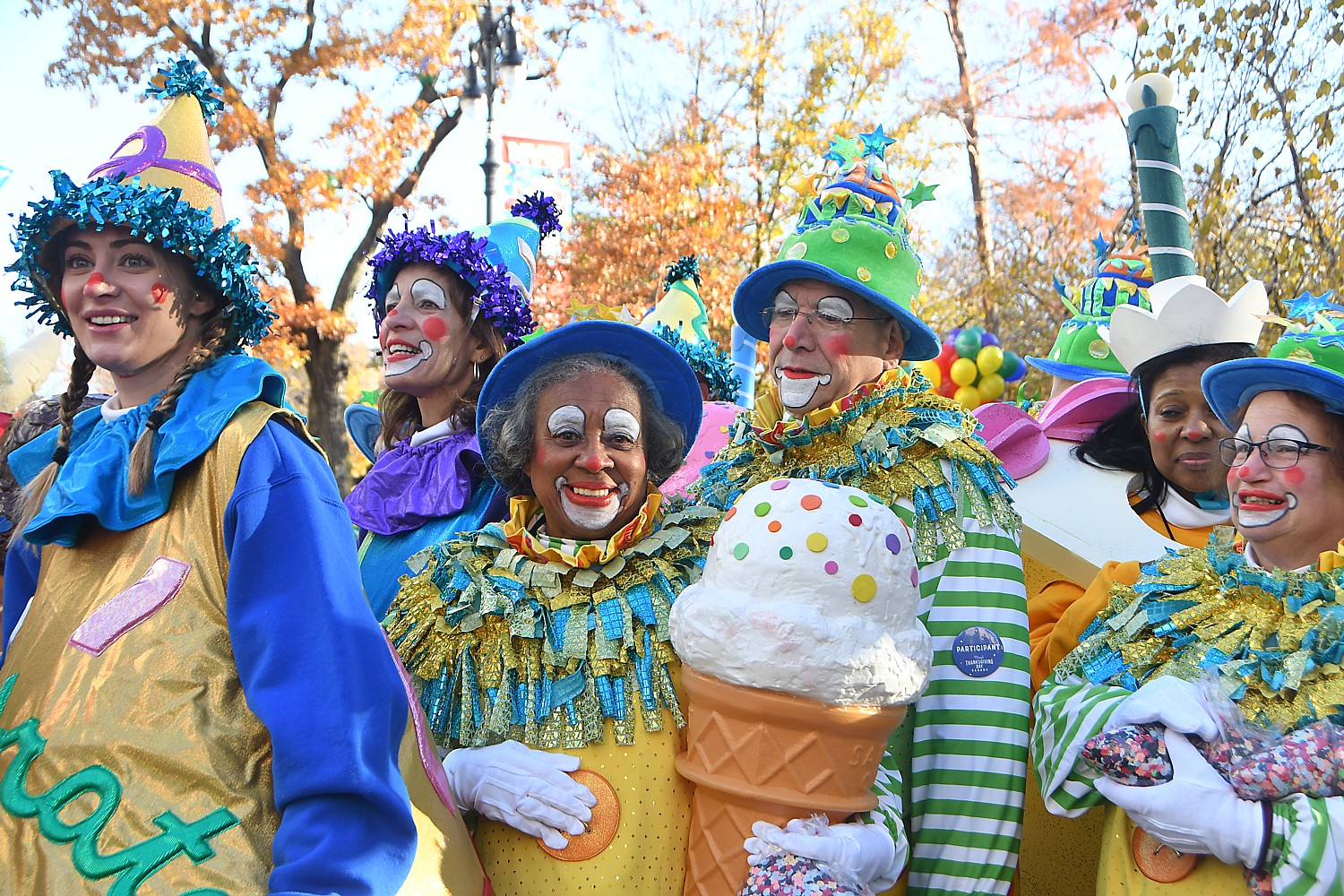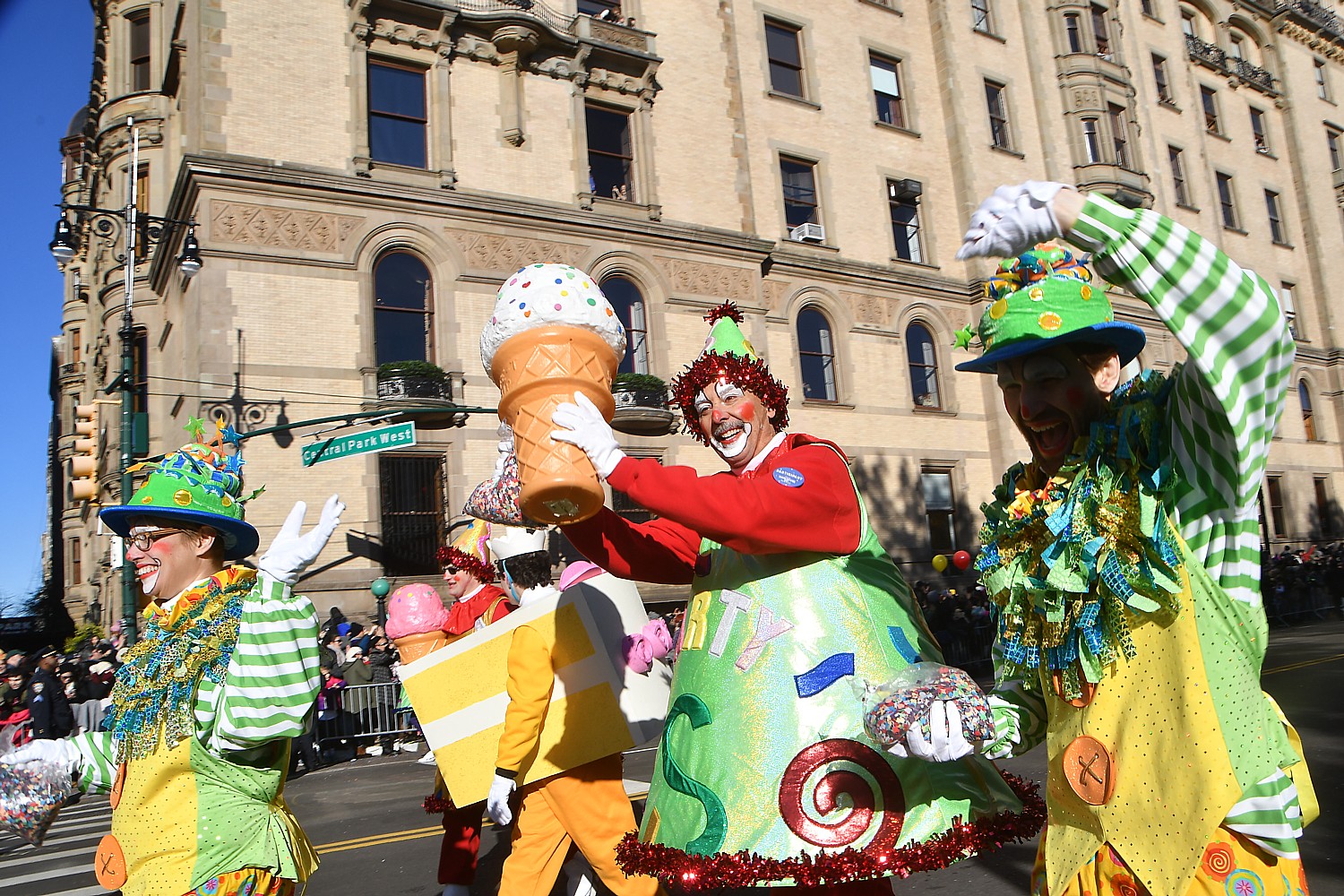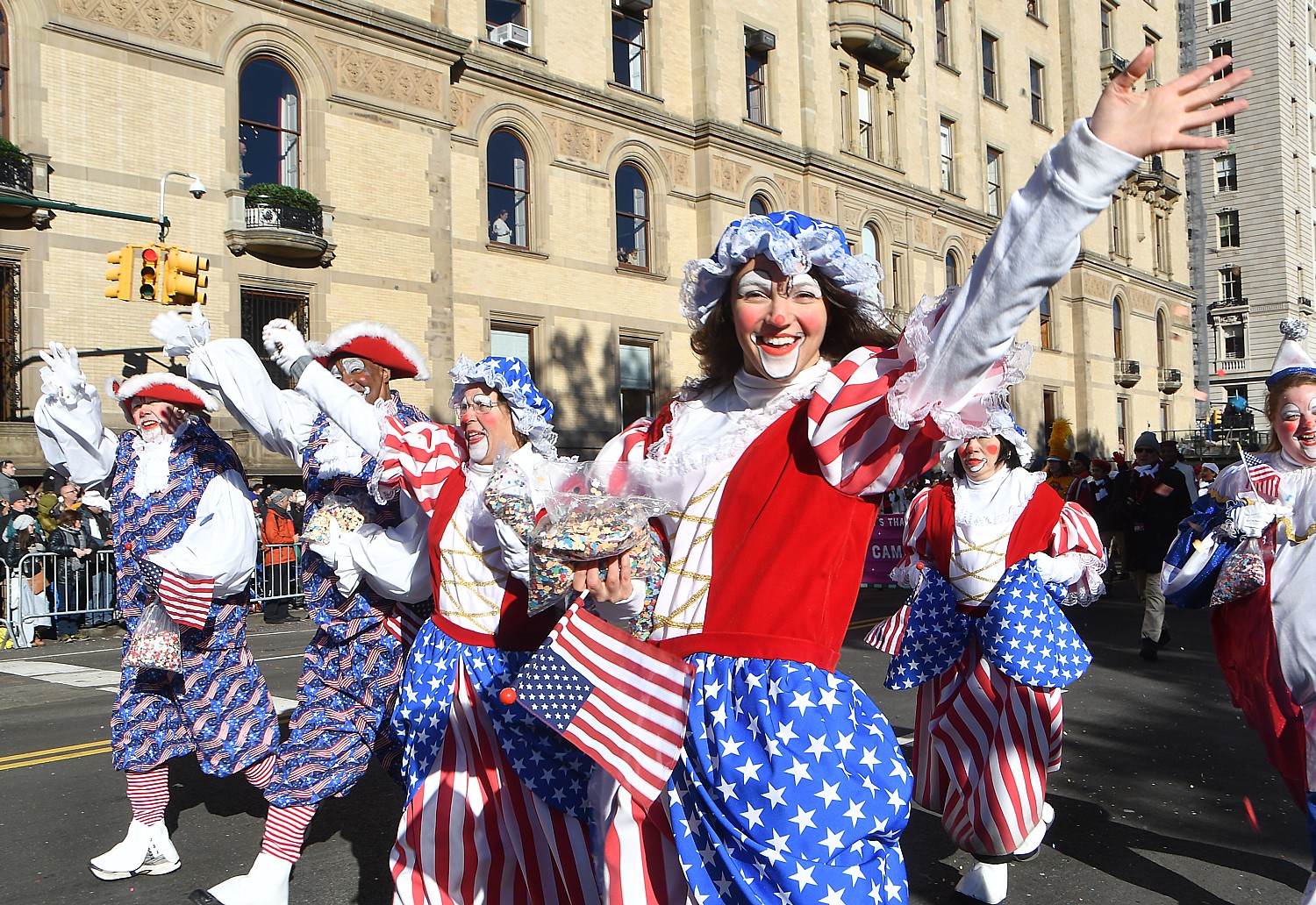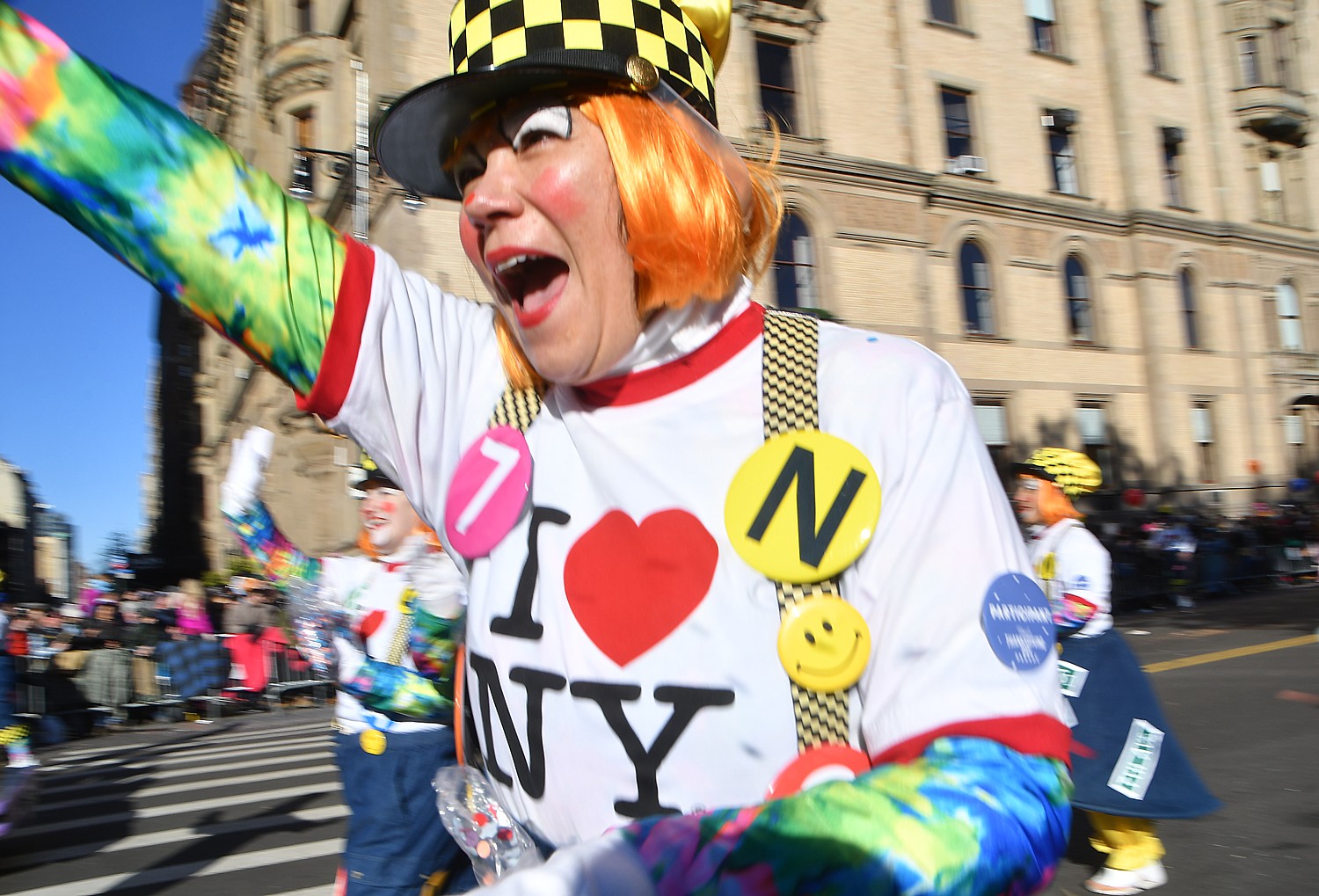 Iconic symbols of thanksgiving – The giant turkey, Pilgrim Man and women lead the parade. Finally, the most stupendous float of all: Santa Claus with his elves and reindeer ushering in Christmas. A shout turns into a rolling cheer, children and parents scream and raise their arms as he passes.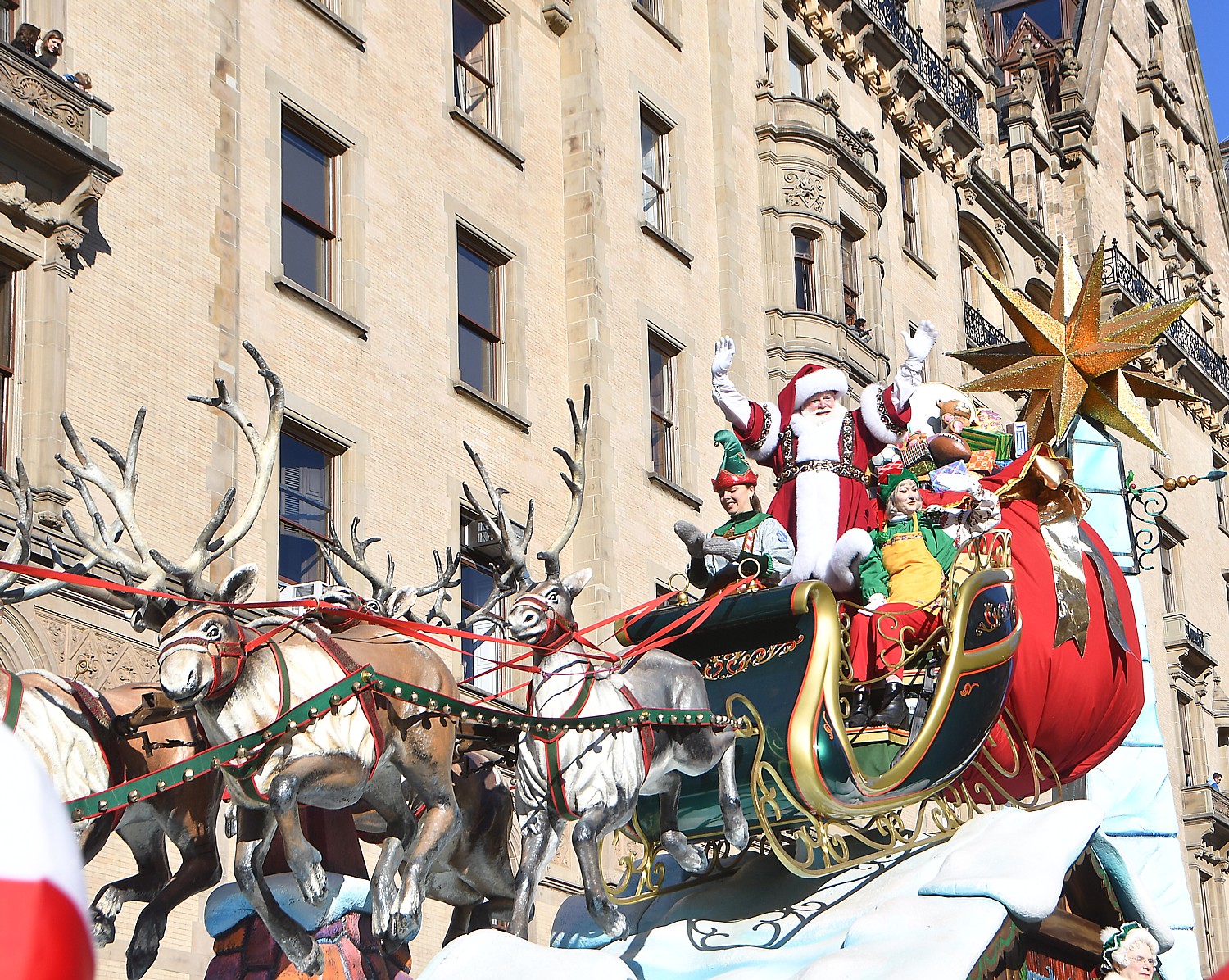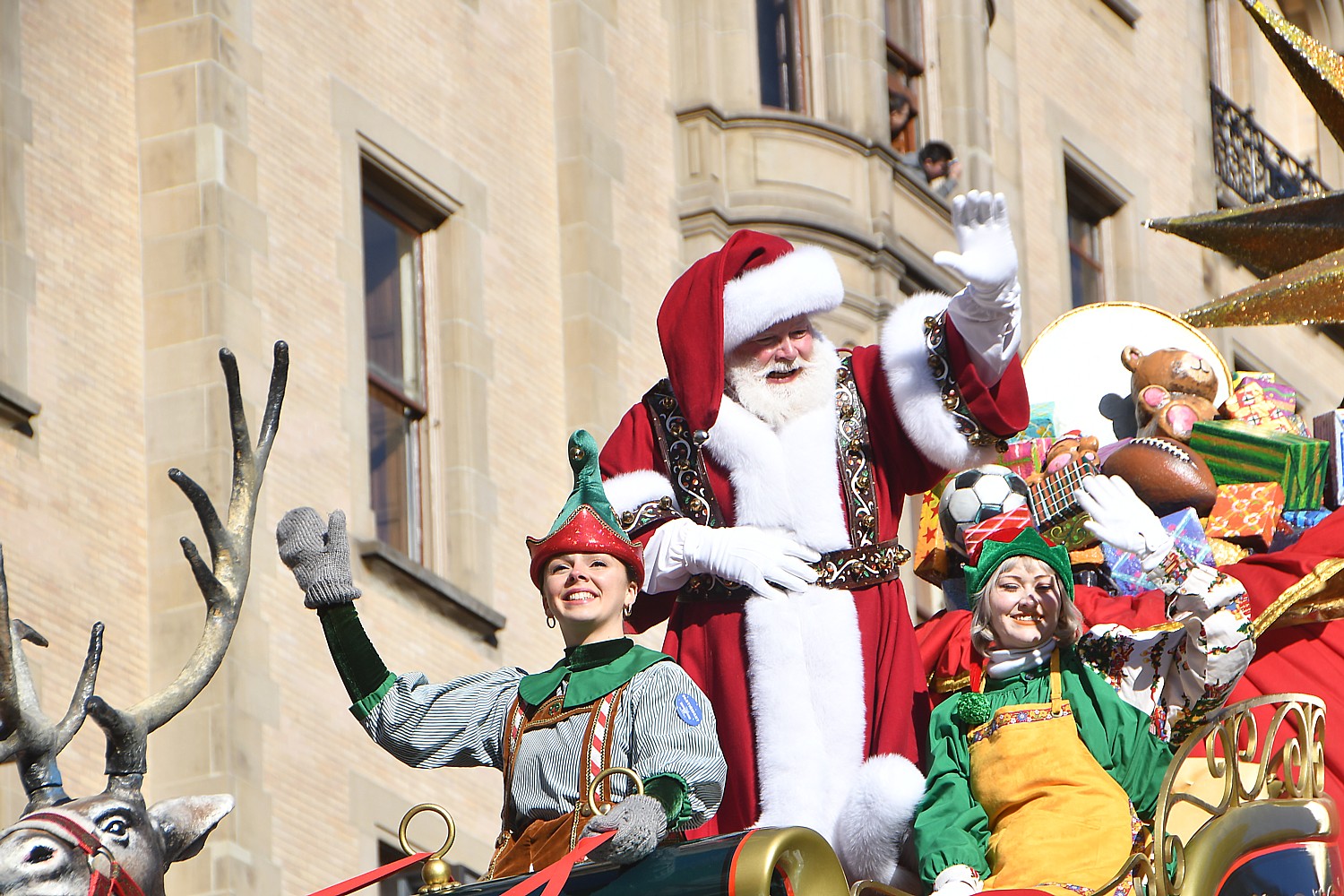 The Macy's Parade has become the launch for the winter holiday season not just for New Yorkers, but for the entire nation. The television broadcast is watched by some 50 million.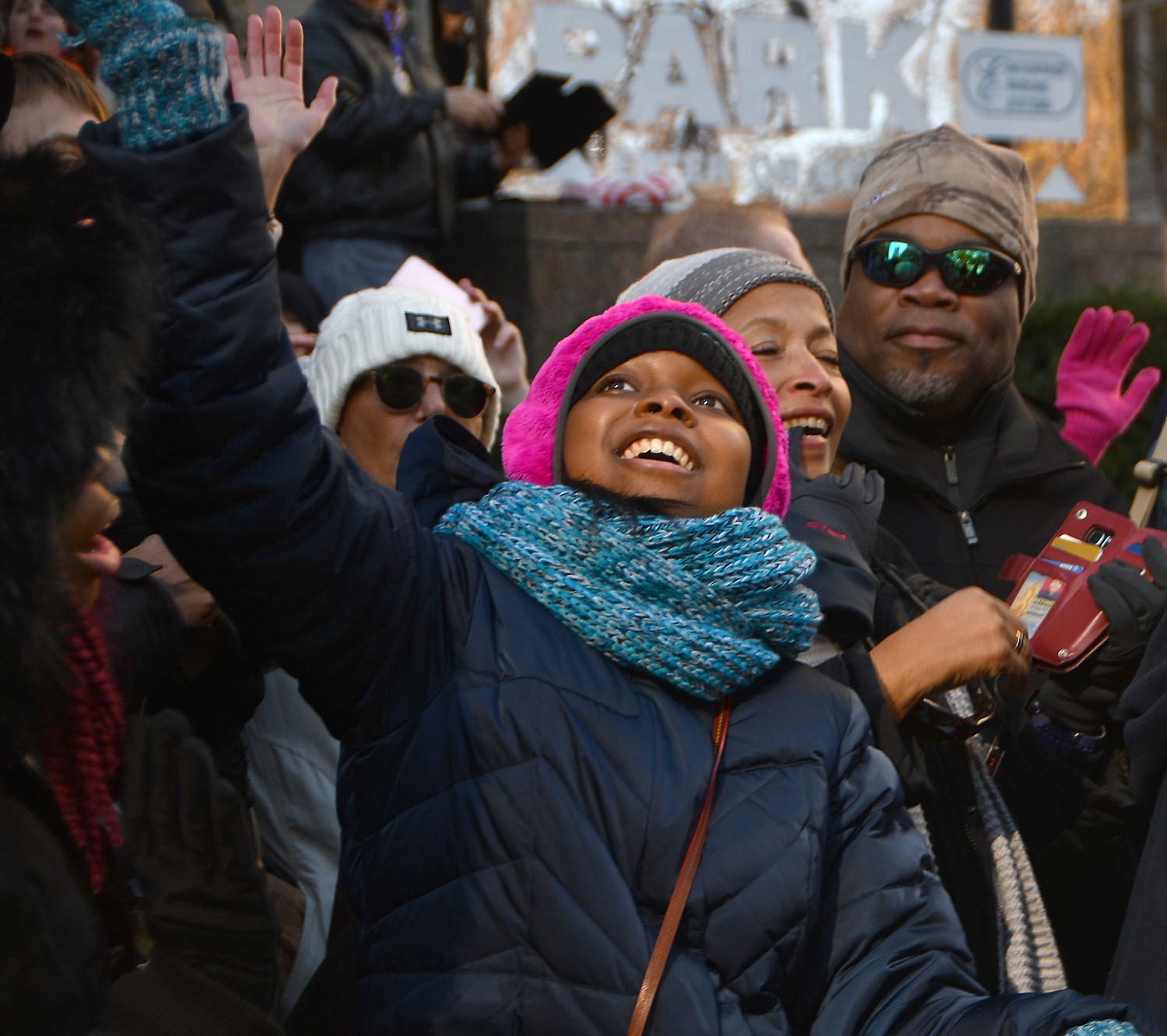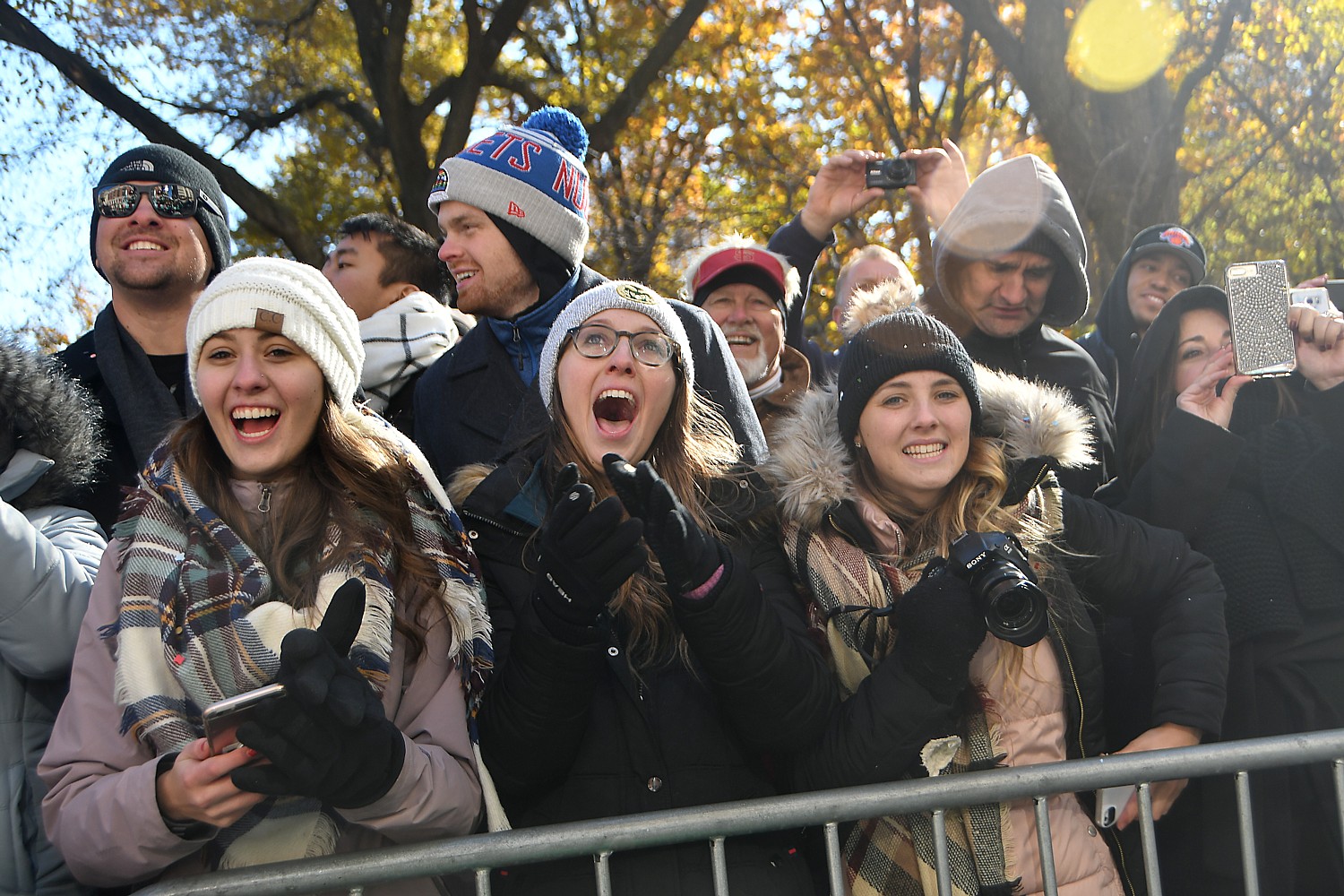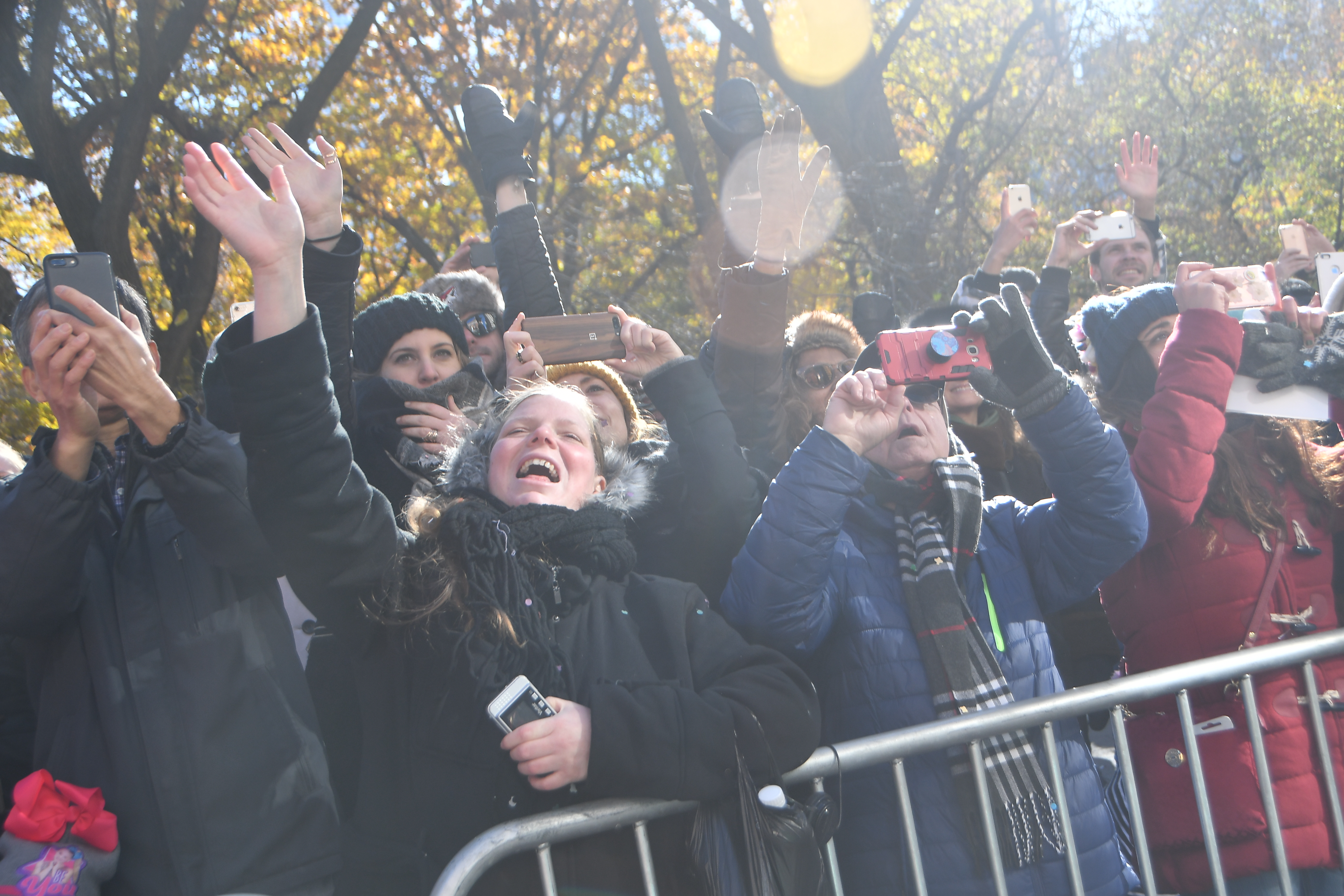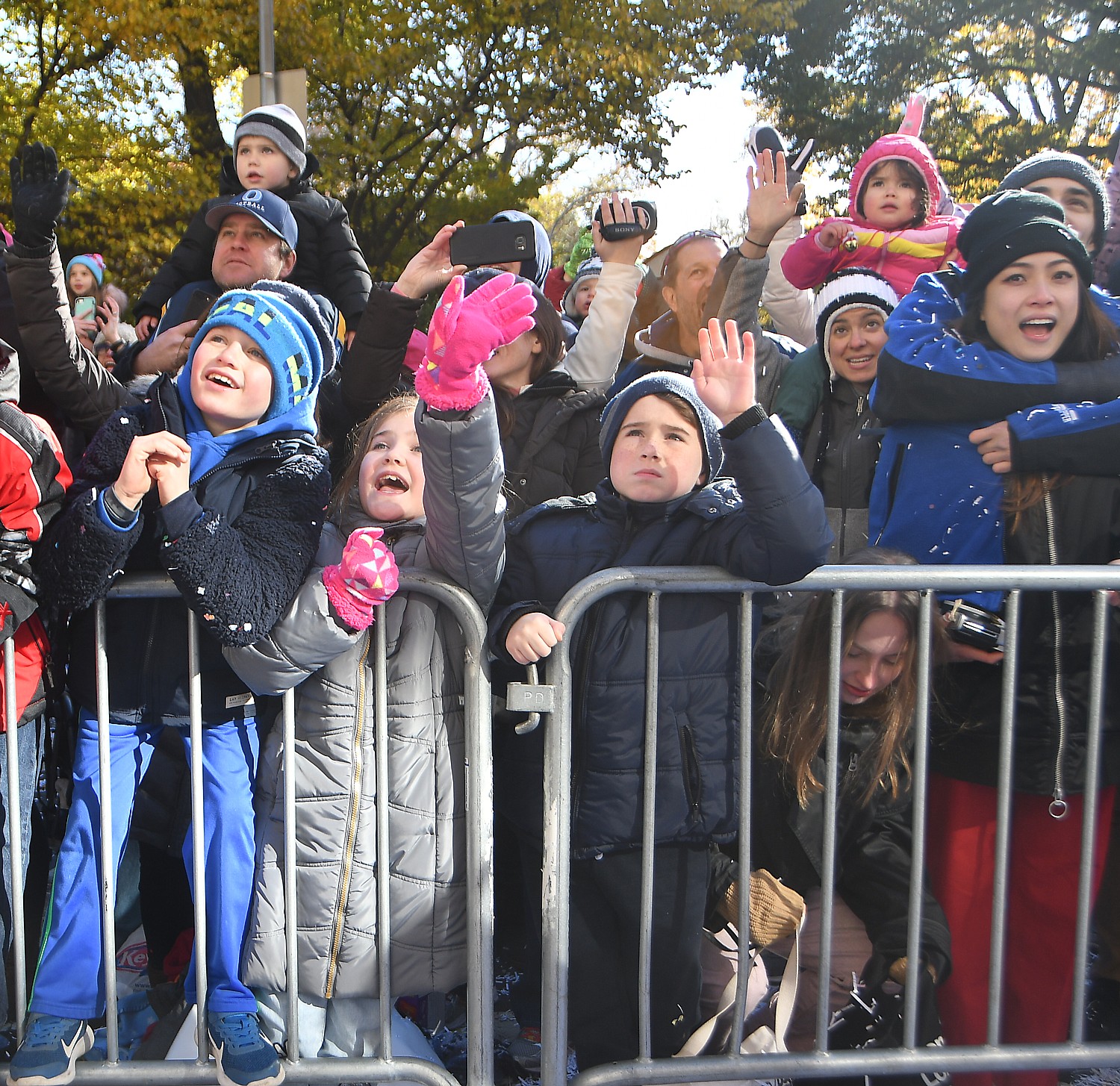 See also:
A Balloon Festival of a Different Sort: Macy's Thanksgiving Parade Balloon Inflation Draws Thousands
_______________________
© 2017 Travel Features Syndicate, a division of Workstyles, Inc. All rights reserved. Visit goingplacesfarandnear.com,  www.huffingtonpost.com/author/karen-rubin , and travelwritersmagazine.com/TravelFeaturesSyndicate/. Blogging at goingplacesnearandfar.wordpress.com and moralcompasstravel.info. Send comments or questions to [email protected]. Tweet @TravelFeatures. 'Like' us at facebook.com/NewsPhotoFeatures