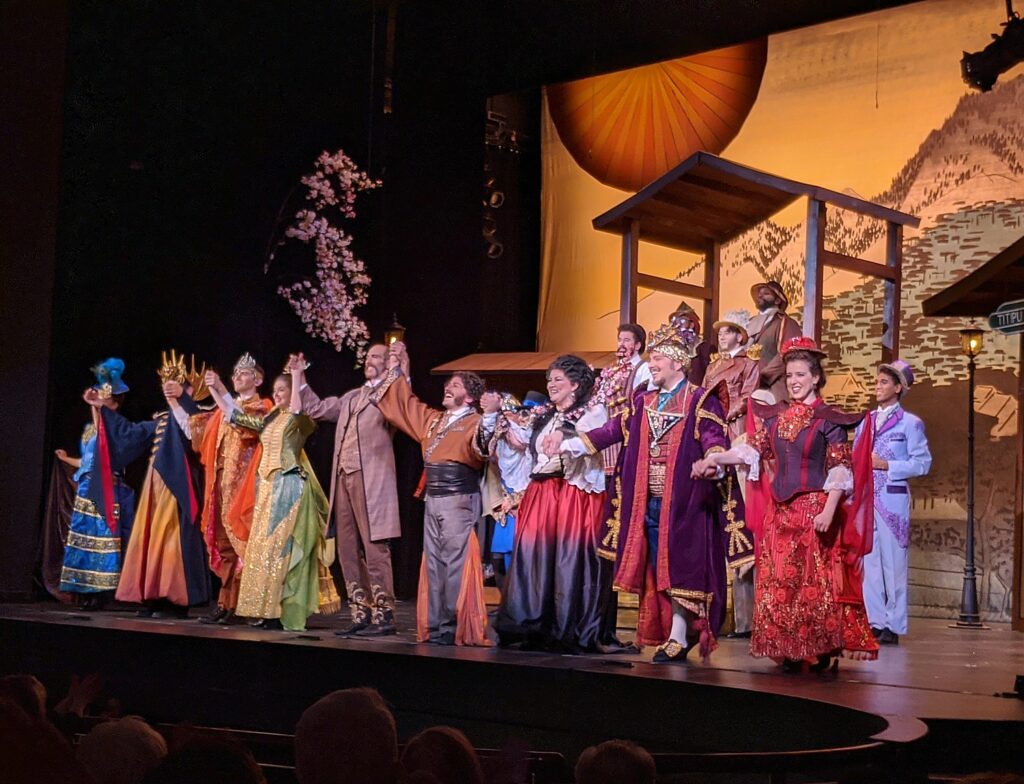 by Karen Rubin, Travel Features Syndicate, goingplacesfarandnear.com
One of my earliest memories of New York theater is of seeing the D'oyly Carte production of "The Mikado," one of Gilbert & Sullivan's most iconic works. So I am jarred when the curtain rises on a very different production –a first scene which I don't recall, in which composer Arthur Sullivan, librettist William S. Gilbert and producer Richard D'Oyly Carte himself appear, reflect on the new exhibit of Japanese art at Knightsbridge, and Gilbert imagines a new opera set in Japan. When the curtain rises on the fictional town of Titipu, instead of elaborate Japanese kimonos, the Gentlemen of Japan look a lot like Englishmen with odd hats and outfits, and so do the ladies when they appeared in their modified flowing dresses.
I soon appreciate the bold innovation including the new opening scene and characters, and costumes that make clear these are Victorian Englishmen pretending to be Japanese – as the new character of Gilbert says "They dress like us," except with bright colors. The device, to address the sensibilities of a modern audience, puts the focus of Mikado properly where it should be: a satire on human nature. And in revising the work in this way, a new generation can be delighted by the magnificent music and ingenious lyrics. If anything makes us laugh, especially at ourselves, that is a gift.
Indeed, Gilbert & Sullivan's comic operas – basically inventing today's musical theater form – are on par with Shakespeare and similarly deserve to be tweaked and reinterpreted, just as "Much Ado About Nothing" was at this year's Public Theater production, and performed generation after generation.
This production, was first introduced in 2016 as a response to an outcry from New York's Asian-American community in 2015 over the political incorrectness and insensitivity of the original, regularly performed with Caucasian actors in yellowish makeup and taped-back eyelids. There is no danger of that: this cast is multi-racial.
"NYGASP listened for a simple reason – it was the right thing to do. One year later we created an imaginative new production which all communities, audiences and artists could embrace," the program notes. The show opened to sold-out crowds and critical acclaim in December 2016; this is its second New York City run. Run to see it before the season concludes, January 5.
The new opening scene and costuming make sure there is no confusion that the Mikado represents Englishmen satirizing Victorian society and politics, capitalizing on British fascination with all things Japanese in the 1880s, to defuse the pointed references that might have gotten Gilbert & Sullivan, who were under censorship of Lord Chamberlain, into trouble. And frankly, the depiction of The Mikado (who doesn't even appear for the first 2 ½ hours of the three-hour show) as a cruel but ridiculous tyrant is reminiscent of how the Red Queen is depicted in "Alice's Adventures in Wonderland" (1865). If anything, that character is more relevant today than in 2015 or even 1885.
Of course British audiences of 1885 could have cared less about "political correctness." The object of Gilbert & Sullivan's satire was British society and human nature and the human condition, and they created their fictional Titipu, Japan, to make their satire more palatable.
We take advantage of seeing the December 30 afternoon "Grandparents" performance, geared to families, which features a before-show talk introducing the plot and music and an after-show backstage tour in the company with the players.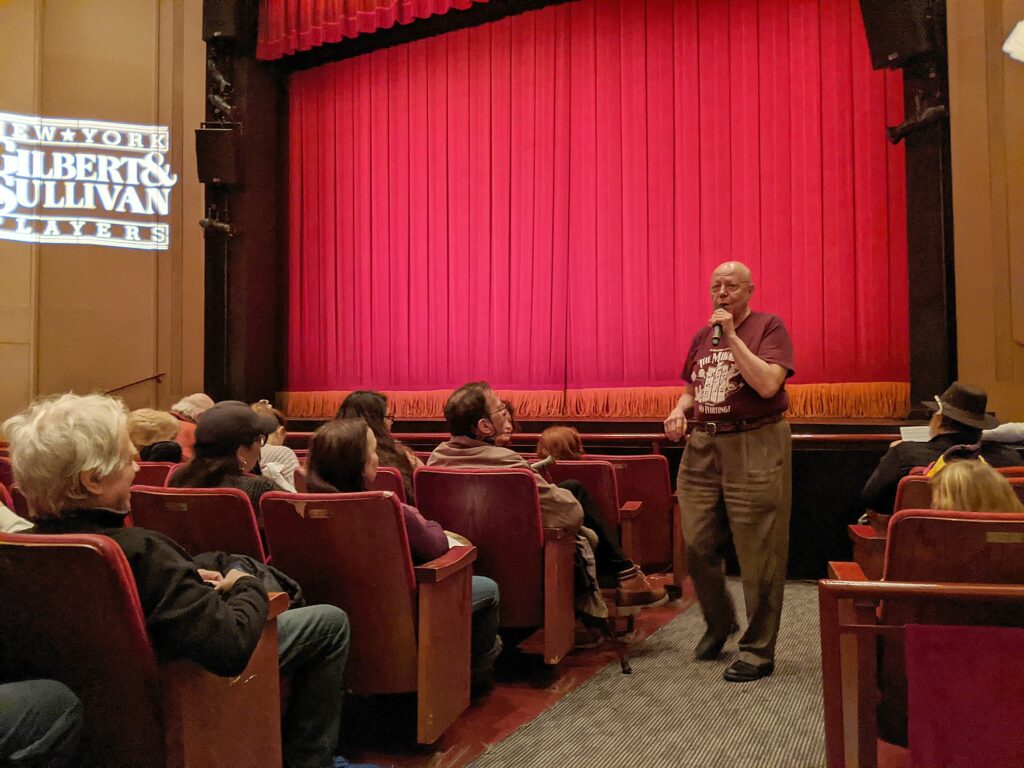 During the talk, by the Conductor and Musical Director Albert Bergeret, who founded the New York Gilbert & Sullivan Players 45 years ago, I learn that my comparison of "Mikado" for Gilbert & Sullivan to "Madame Butterfly" by Puccini is not entirely unfounded. While the music that Sullivan composed runs the gamut of British musical styles (ballad, madrigal, march), he incorporates the Japanese five-note scale and an actual Japanese folk song, Miya-sama (though for this production, new English lyrics are substituted for the Japanese) – music which Puccini also expropriates in "Madame Butterfly."
"We took out what's incomprehensible or inappropriate," Bergeret says, who adds that Sullivan was a brilliant, classically trained musician who was well versed in all genres of music and composers from around the world. In "Mikado" Sullivan demonstrates his virtuosity in writing in many different forms.
Just as Gilbert incorporated contemporaneous digs, so too does this Ko-Ko, a common tailor taken from the county jail (for flirting) and elevated to Lord High Executioner, update his "List" of those who shan't be missed, to be as current has yesterday's tweet, changing it each performance, surprising even the rest of the cast.
Ko-Ko, brilliantly played by David Macaluso, includes "the wealthy narcisscist, he never will be missed" on his list and manages to spell out T-R-U-M-P in the subheads of the long, long list as the scroll unfurls.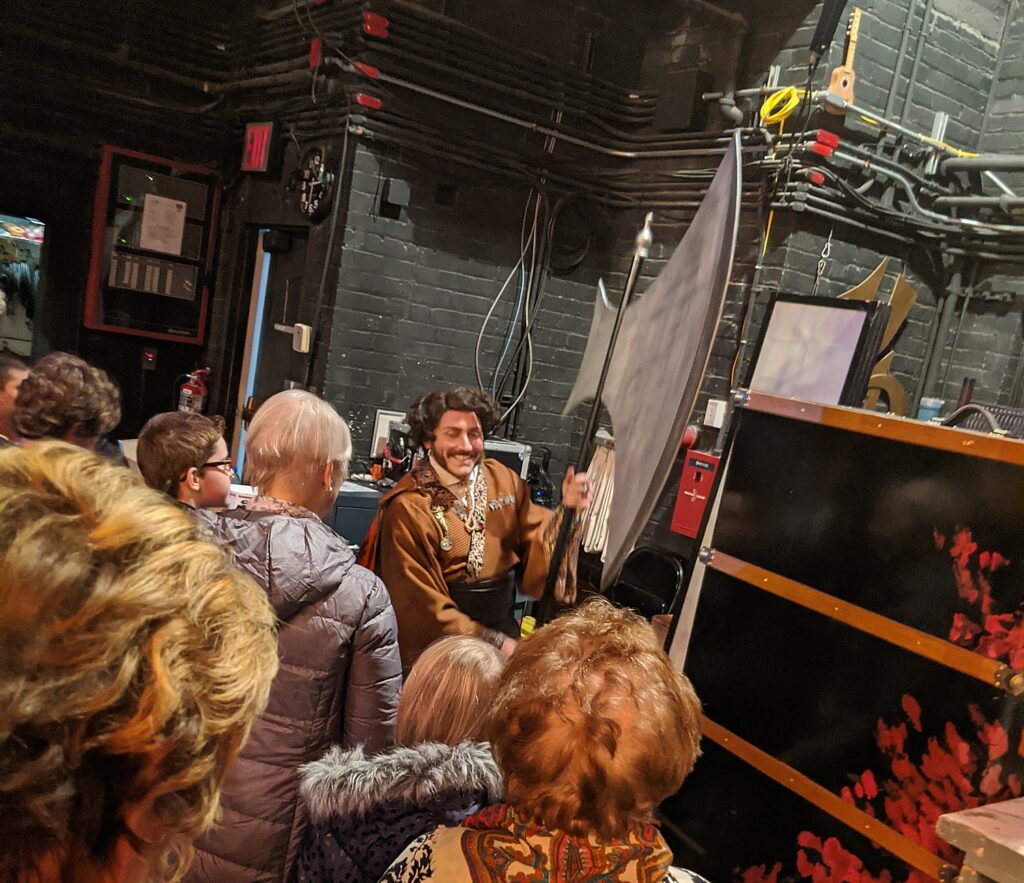 The premise of "The Mikado," is a society under the thumb of an all-powerful sadistic but ridiculous ruler who makes ridiculous but cruel laws on a whim: flirting as a capital offense, then demanding to know why no executions have been carried out.
The Mikado, played by David Wannen, exclaims, "My object all sublime/I shall achieve in time/ to let the punishment fit the crime.. And make each prisoner pent/Unwillingly represent/A source of innocent merriment."
The Mikado's updated list of who to punish and how, includes the instagrammer "made to endure a dungeon cell without not one cellular bar" and "political pundits, who must sail for weeks on a boat full of leaks on a sea of alternative facts." (That gets tremendous laughs.)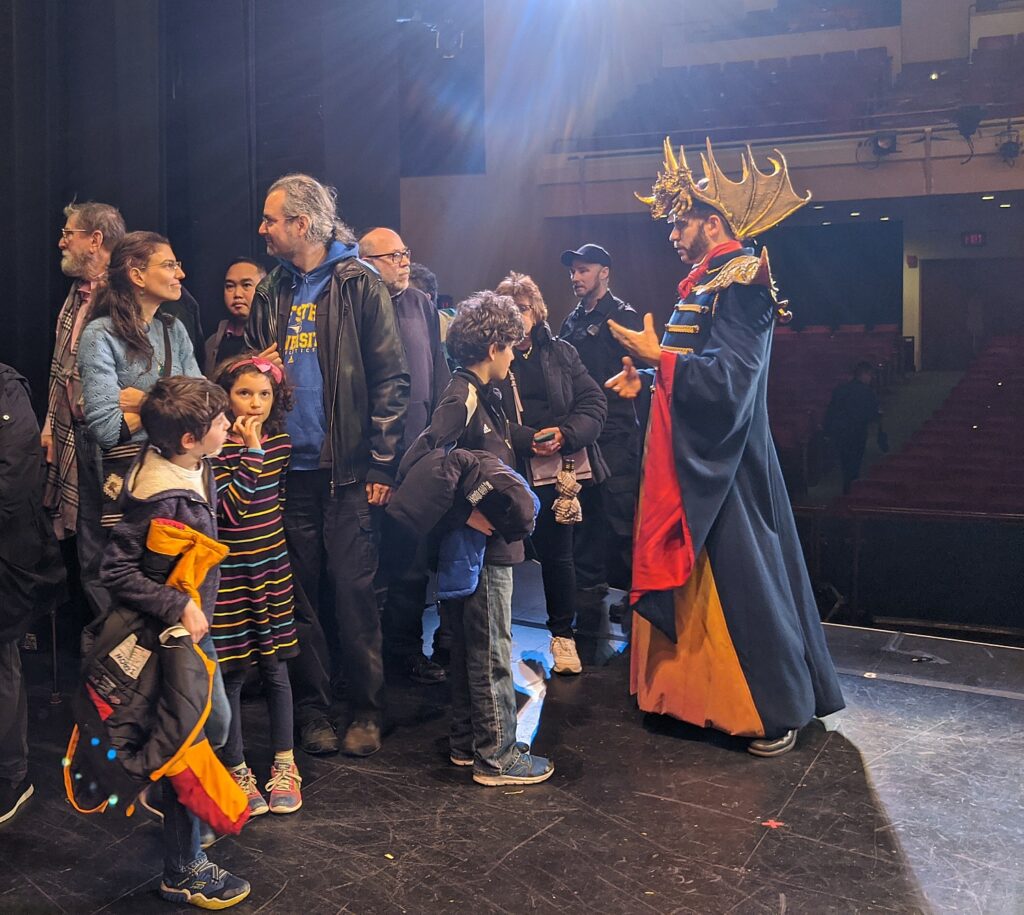 They do manage to slip in a few names, carefully spreading their barbs more or less equally: but one placement in particular is rich – Pooh-Bah, marvelously played by Matthew Wages, signs the execution order with all his official positions, but adds to the list signing of those supposedly witnessed Nanki-Poo's execution Attorney General William Barr and the chair of the Judiciary Committee (balance).
The Mikado then looks to execute Ko-Ko (the Lord High Executioner), Pooh-Bah (the "Lord High Everything") and Pitti-Sing (one of the "three little maids from school" and Ko-Ko's wards, played by Amy Maude Helfer) for carrying out the Mikado's orders to execute somebody but unwittingly executing the heir to the throne. The Mikado appreciates the effort (he only wishes he could have witnessed the execution) but insists they still should be executed for, well, killing the heir and looks for the entertainment value in their lingering death.
The Mikado justifies killing the three because, after all, this is an unfair world where the virtuous suffer and the undeserving succeed. This leads to the song that probably best sums up the moral of Gilbert & Sullivan's "Mikado," in which the three condemned sing, "See how the Fates their gifts allot/For A is happy, B is not/Yet B is worthy, I dare say/Of more prosperity than A…If I were Fortune which I'm not/B should enjoy A's happy lot/And A should die in miserie/That is, assuming I am B."
In the end The Mikado is less a jab at all-powerful monarchal misrule, than a comic contemplation of what human beings do when in that situation. Their focus is on human nature and the human condition. In Mikado, we see self-preservation – even by Yum-Yum who is willing to marry Nanki-Poo who loves her so much he is willing to be executed after just a month, until she realizes that as the wife of an executed man, she would be buried alive.
This production makes another change at the end, stopping the show for a return to the Gilbert & Sullivan characters trying to figure out an ending that would not rely on a magical or fantastical device like the "magic lozenge" they used in their 1877 opera "The Sorcerer" and almost breaks up their collaboration. (Gilbert finally gets to use the device in "The Mountebanks," written with Alfred Cellier in 1892). Instead, Gilbert comes up with an argument that actually makes sense given the circumstance: Any order by the Mikado must be carried out, so having given the order, it must have been carried out (not much more absurd than "He was too stupid to know withholding military aid to a vulnerable ally in exchange for political favor was illegal").
Another part that young people might assume was added as a nod to "Me Too" to make relevant, is Katisha espousing on 'beauty' –her face might not be much (and doesn't cruelty hold some allure?), but she has a shoulder blade, a right elbow, and a heel that admirers come miles to see.
"The Mikado," the ninth of 14 collaborations between Gilbert & Sullivan, was immensely popular when it opened on March 14 1885 in London, running for 672 performances, the second longest run for any musical theater production. By the end of 1885, some 150 companies in Europe and America were performing the operetta. It even was widely performed in Japan (apparently they took no offense).
There were decades when a production of Mikado could be seen somewhere in the English speaking world any day of the year. Performed for the last 135 years, some of its word inventions have entered the lexicon, such as "the grand Poo-Bah" and "Let the punishment fit the crime."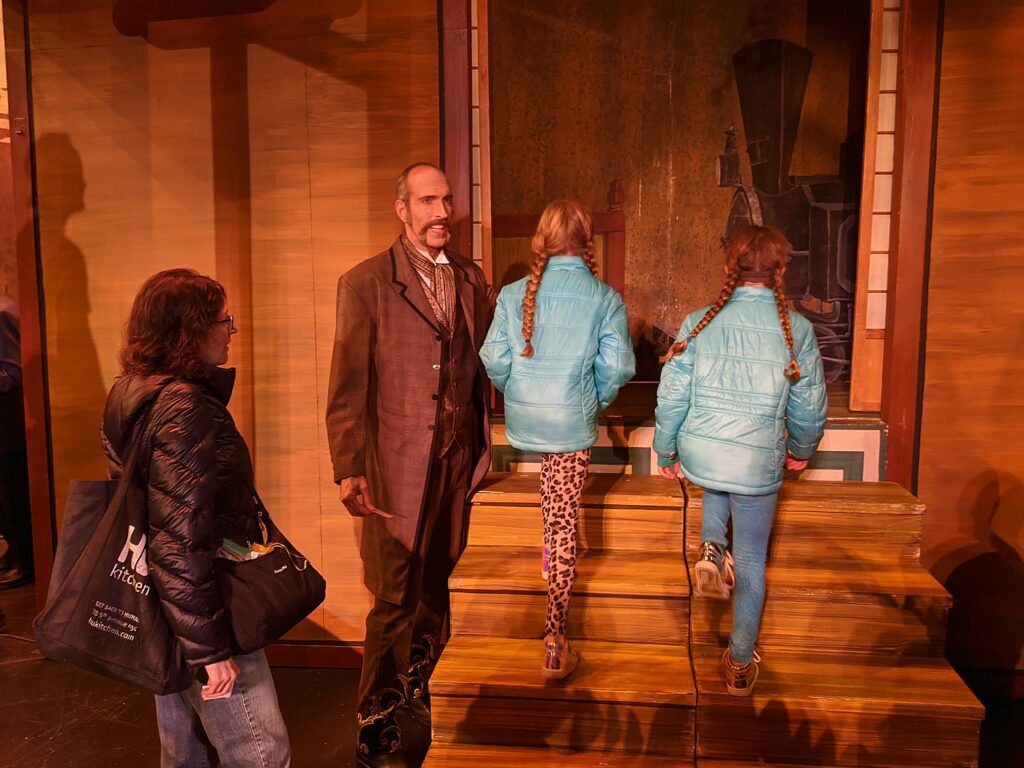 The new Prologue, written by NYGASP Director and Choreographer David Auxier-Loyola (who also plays W.S. Gilbert and Pish-Tush), appears actually a distillation of the actual background (or rather the mythology) to Gilbert & Sullivan creating "The Mikado," especially their references to avoiding a similar plot solution of a magic lozenge. Apparently, the Knightsbridge exhibition of Japanese art came after Mikado opened, though British fascination in Japan had built up from the 1860s and 1870s, after Japan opened to Western trade in 1854. (The 1999 film "Topsy Turvy" is a marvelous film depicting their lives around this time.)
Gilbert & Sullivan actually invented musical theater. At the time Gilbert & Sullivan were writing, there were opera, light opera and music hall theatricals, but nothing like a musical show with story – music that had both class and pop – with real story lines, music advanced the story, Bergeret tells us. This is where musical theater started,. Watching "Mikado" you see a straight line to Rogers & Hammerstein and Stephen Sondheim.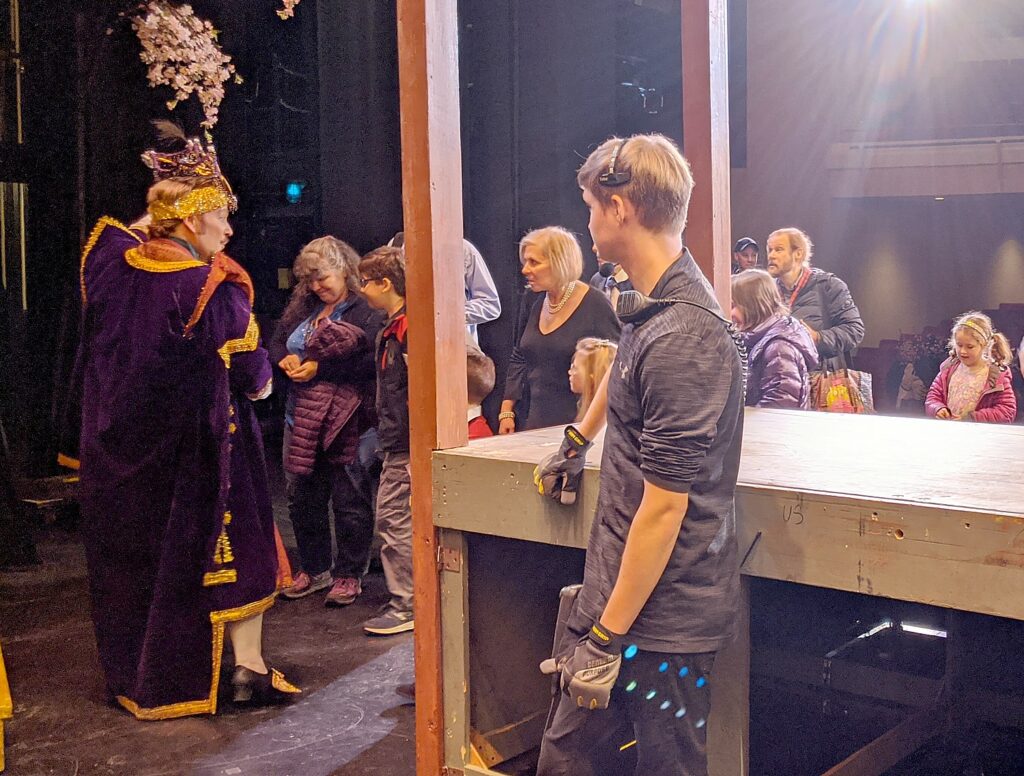 All eight-performances that are being presented this season are family friendly, but some have special events attached. We had the marvelous experience of attending a "Grandparents" performance which featured a before-show talk introducing the show (especially to children), and a most marvelous after-show backstage tour with cast members. (David Auxler, who plays the Gilbert character said they only had five rehearsals) and so enjoyed going backstage with David Macaluso (Ko-Ko), who showed us the various props including his giant executioner's ax.
This not-to-be-missed production of the iconic comic opera is fabulous, featuring original choreography and direction by NYGASP Associate Stage Director David Auxier, who also authored the show's prologue and plays Gilbert and Pish-Tush, and Assistant Direction by Broadway performer/director Kelvin Moon Loh.
The show's sensational cast includes: dynamic bass David Wannen as The Mikado; clever patter man and comic David Macaluso as Sullivan and Ko-Ko; blustering Matthew Wages as Richard D'Oyly Carte and the pompous Pooh-Bah; creative David Auxier as author Gilbert and town leader Pish-Tush; charming tenor John Charles McLaughlin as romantic hero Nanki-Poo; formidable Caitlin Burke as lovelorn and overbearing Katisha; beautiful soprano Sarah Caldwell Smith as self-aware Yum Yum; Rebecca Hargrove as maiden sister Peep-Bo, and mellifluous mezzo Amy Maude Helfer as adventurous Pitti-Sing.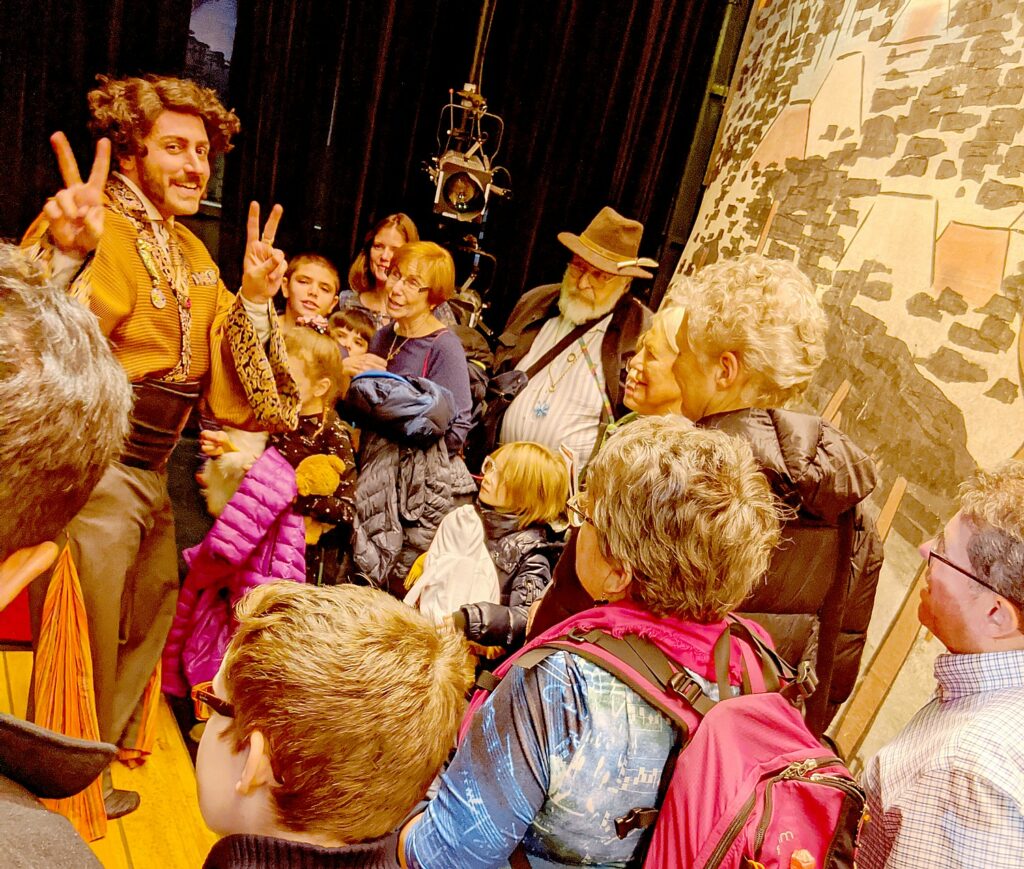 The production showcases magnificent scenery designed by Anshuman Bhatia, costumes by Quinto Ott and lighting by Benjamin Weill. The Mikado is produced by NYGASP Executive Director David Wannen.
Since its founding in 1974, the New York Gilbert & Sullivan Players (NYGASP) has presented more than 2,000 performances of the Gilbert & Sullivan masterpieces throughout the United States, Canada and England, captivating audiences of all ages.
NYGASP has been hailed as "the leading custodian of the G&S classics" by New York Magazine and has created its own special niche in the cultural mosaic of New York City and the nation. According to the Company's Founder/Artistic Director/General Manager Albert Bergeret, NYGASP's mission is "giving vitality to the living legacy of Gilbert & Sullivan."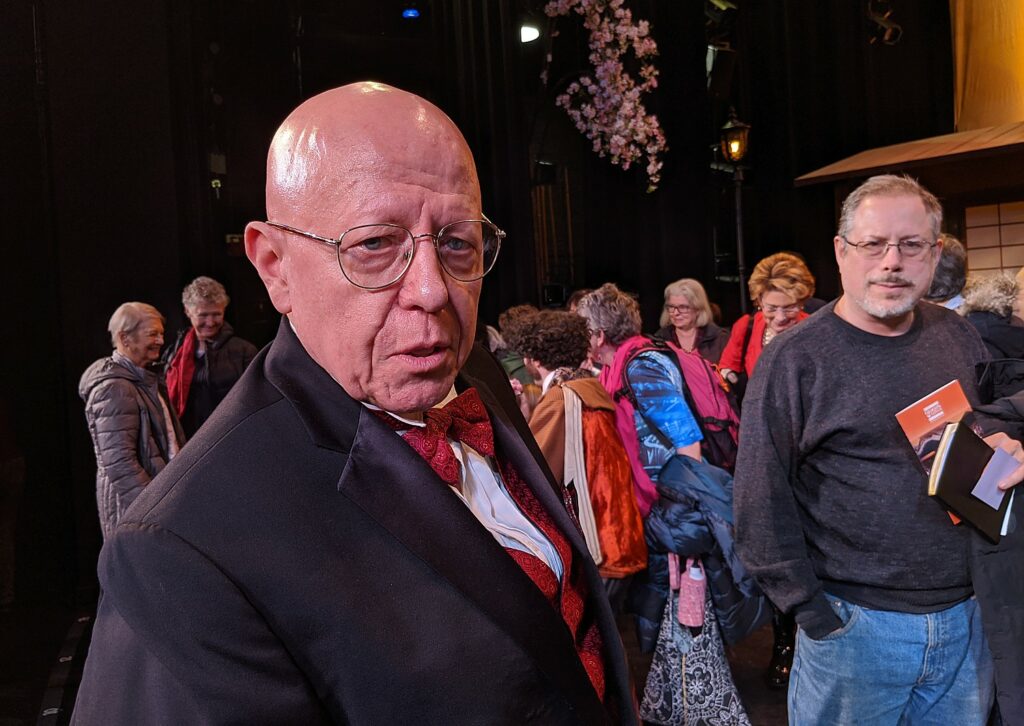 "Everyone loves The Mikado and our new production, with its celebrated premise of imagination, keeps the revered story alive and colorful," he says. "I'm delighted to once more be involved in elevating the humor and musical values of this evolving and very theatrical production, while alternating on the conductor's podium with my colleague, Joseph Rubin, as part of NYGASP's commitment to the future development of the Company".
"The Mikado" is the showpiece of NYGASP's 45th season, presenting eight family friendly performances after Christmas, Dec. 27 through Jan. 5, 2020 at The Kaye Playhouse at Hunter College. An encore Family Overture presentation will take place at 12:45 pm before the Jan. 4 Saturday matinee at 2 pm which features a musical introduction and plot summary made entertaining for the whole family (free to all ticket holders).
Tickets are $95/orchestra, $50/balcony; $25/rear balcony; special discounts:  50% off for children 12 and under accompanied by an adult, 10% off for seniors 65 and older; order by phone:  212-772-4448, order pnline:  www.nygasp.org, or purchase in person at the box office (Monday-Friday, noon-7pm).
The next NYGASP production is Gilbert & Sullivan's "The Gondoliers," April 18-19, 2020.
The Kaye Playhouse, 68th Street between Park and Lexington Avenues.
_________________________
© 2020 Travel Features Syndicate, a division of Workstyles, Inc. All rights reserved. Visit goingplacesfarandnear.com, www.huffingtonpost.com/author/karen-rubin, and travelwritersmagazine.com/TravelFeaturesSyndicate/. Blogging at goingplacesnearandfar.wordpress.com and moralcompasstravel.info. Send comments or questions to [email protected]. Tweet @TravelFeatures. 'Like' us at facebook.com/NewsPhotoFeatures