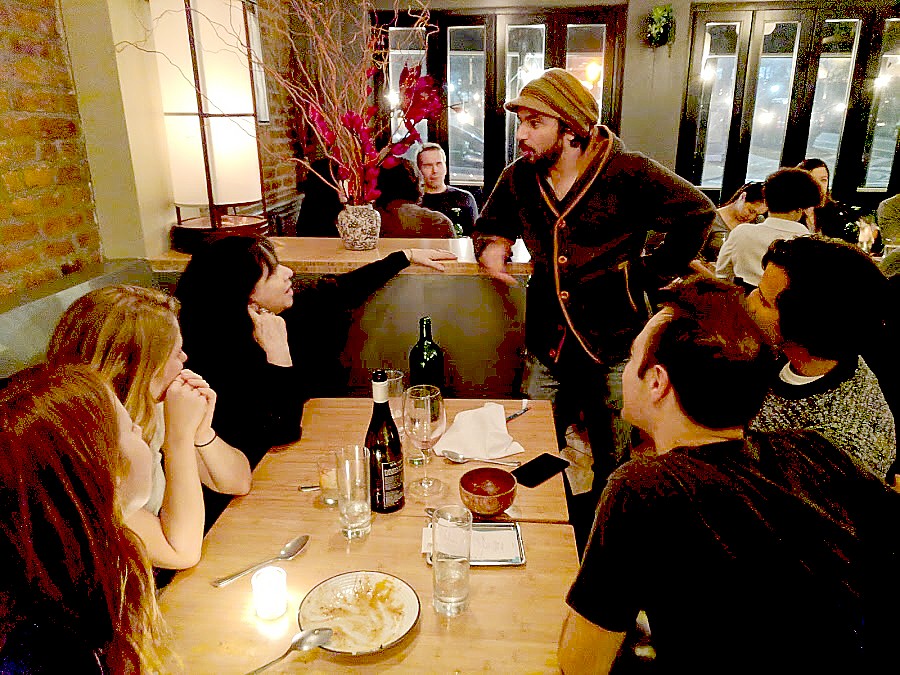 By Karen Rubin, David Leiberman, Eric Leiberman, Laini Nemett & Sarah Falter
Travel Features Syndicate, goingplacesfarandnear.com
"Tradition!"
Two cuisine cultures are ingeniously re-mixed, breaking open the "box" of strong tradition that underpins both: Jewish and Japanese. The end-result of this culinary reimagination is New York on a plate.
Shalom Japan, a quaint restaurant and bar in Williamsburg, Brooklyn, is the ingenious creation of Aaron Israel and his wife, Sawako Okochi; Aaron hails from Great Neck, Long Island (a 2000 graduate of Great Neck North High School), and Sawako is from Hiroshima Japan.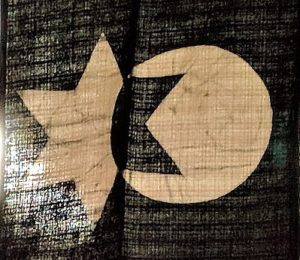 Combining Jewish and Japanese cooking traditions is not just a gimmick. Aaron and Sawako's flavor combinations are astonishing, a sensory surprise. And the food presentations are as artful as his painting. Indeed, Aaron has created the ceramic dishes and saki cups and his paintings decorate the walls.
The couple are respectful of culinary traditions – this is not meant to satirize or stereotype. This isn't just a matter of combining two things – it's really ingenious new creations – you can appreciate the trial-and-error that must have gone into creating these recipes, preparations and presentations.
"With Jewish food and with Japanese food, 'tradition' is a box – it's fun and challenge," Aaron says.
The cultural mash-up is initially disorienting and fun (blows your mind to imagine and makes you smile) – you are simultaneously thrust into something familiar and comforting, and uprooted into some strange new cultural world. It kind of makes you think about what made something familiar in the first place.
But then there is the pure pleasure of the taste and texture and visual presentation.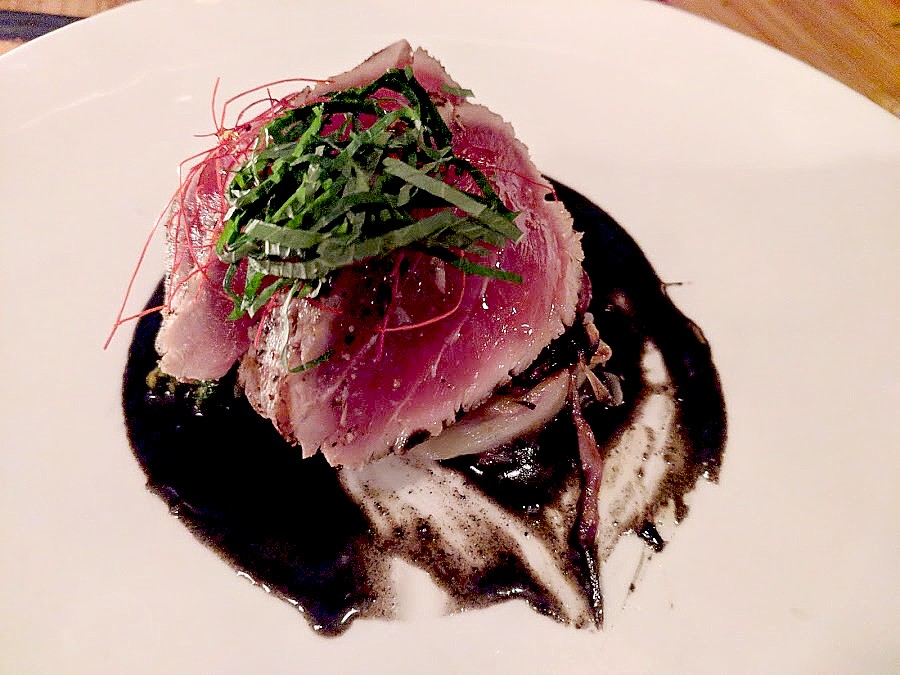 The dishes begin with delectable fresh, seasonal ingredients. This is especially pronounced in the Tuna Tataki with Black Tahini – a luscious tuna belly, prepared to perfection.
You find yourself just suspending all thought – and for those who just want to take a discovery tour, can take advantage of the Chef's tasting menu ($55 or $75 per person), which is served on ceramic dishes that Aaron created.
We visit on a Thursday night (the night before Passover seder, in fact) with family who had come from various parts of the country for the holiday, and with the plates prepared with sharing in mind,  the six of us are able to taste a fair amount of the menu.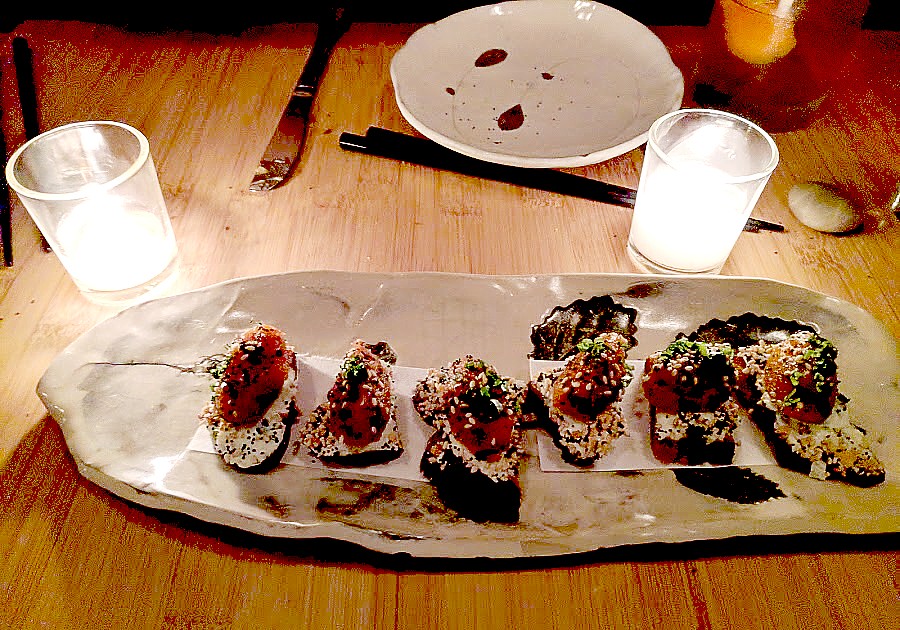 Toro Toasts, Scallion Cream Cheese, Everything Spices –served on homemade challah, sliced to small squares and baked to toast – done with scallion and wasabi cream cheese, sprinkled with everything spices (like an everything bagel).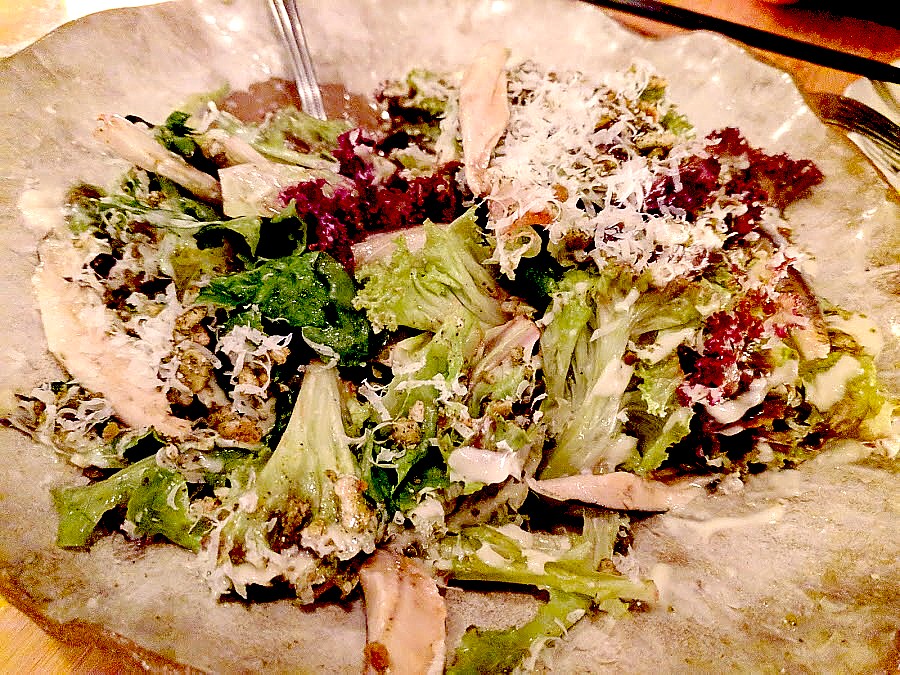 Shalom Japan Caesar prepared with white anchovy, Za'atar pita crumbs and parmesan.
Spring Jew Egg is their take on a Scotch egg which is a hard boiled, wrapped in pork and deep-fried.  Instead, at Shalom Japan this is a soft boiled egg, wrapped in falafel and deep fried; the accoutrement changes with season – in spring, it is prepared with labna, a tangy middle eastern yogurt, peas carrots, and spring greens on top.
Okonomiyaki, Sauerkraut, Pastrami, Bonito is based on a traditional street food popular in Hiroshima: a savory pancake, made with batter, cabbage, beansprouts and fried. "It translates to 'have it your way',  'how you like it' – with different ingredients of choosing. We chose a homage to Jewish deli, New York style– so we chose sauerkraut and pastrami, with bonito – a style of tuna, smoked and thinly shaped."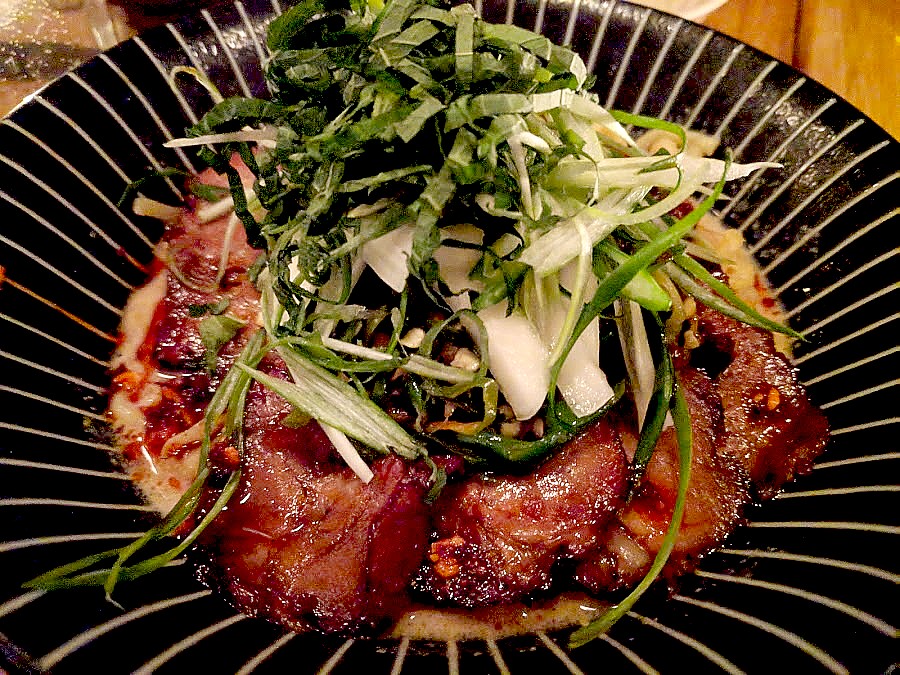 Sesame Temomi Mazemen, Pork Char Siu, Shishito Peppers, Shiso – this is similar to Ramen, but in a sesame sauce (not broth) with the traditional style Japanese noodle. (Shalom Japan is Jewish cooking, not Kosher).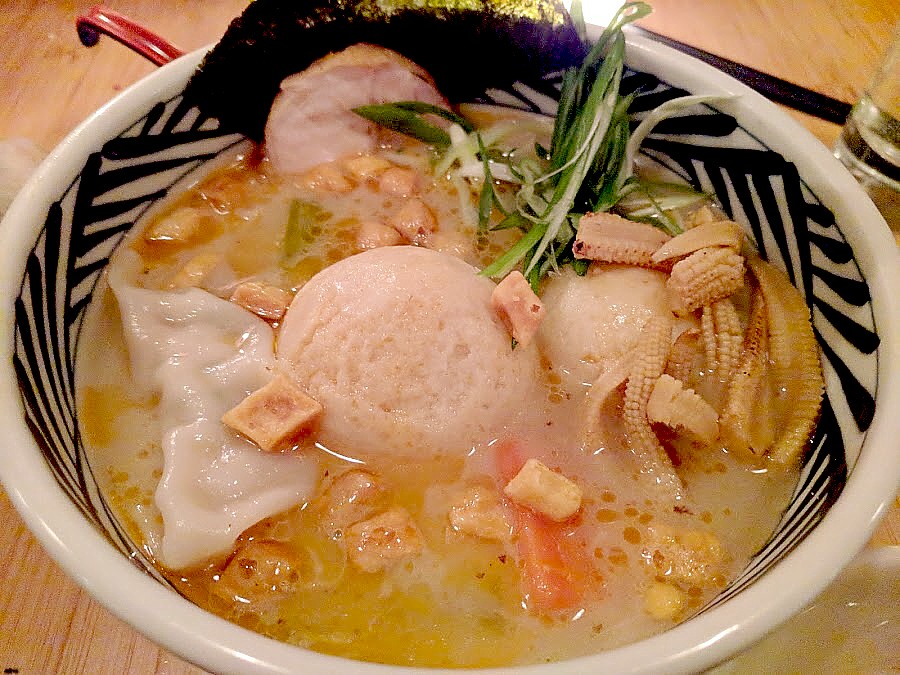 Matzoh Ball Ramen with Foie Gras Dumpling is Aaron's take on matzo ball soup, so it has  many of the ingredients you would expect to find: grandma's style broth,  potato, Aaron's own matzoh ball recipe instead of egg noodles, ramen noodles. Admittedly, the foie gras dumpling added in is a strange touch. The soup can be a meal in itself  and you can add in extra Matzoh ball, dumpling or add egg.
Ricotta & Spinach Blintzes served with black truffle and honey. Inspired.
The wild, weird ride continues with imaginative cocktails concocted by beverage director Ian Morrison (the beverage menu pages outnumber the food selections), such as:
Meshugatini #2: Caraway-infused Vodka, Gin, Cocchi Americano, Pickle Brine, Fresh Dill
Winter Negroni: Hayman's Gin, Contratto Bitter, Cynar, Walnut Liqueur, Burnt Rosemary
Y Tu Mamá También: Agave De Cortes Mezcal, Guajllo Infused Suerte Tequila, Ancho Reyes Chile Liqueur, SweetShine Ginger Liqueur, Lime, Yuzu, Ginger Beer
Konichiwa Brooklyn: Templeton Rye, Dry Plum Wine, Amaro, Maraschino, Brandied Cherry
Sweet and Sawa: Denen Mugi Shochu, Four Roses Bourbon, Yuzu, Honey, Egg White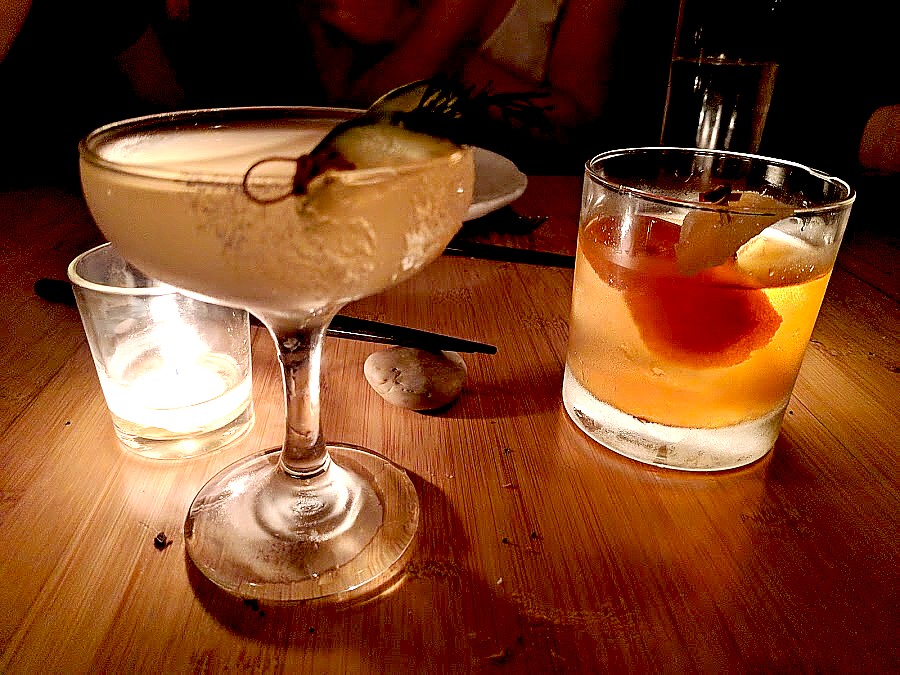 There is a mind-boggling list of sake choices – like Fuku Chitose ("happy owl" described as "rustic, savory, pumpkin"); Tae No Hana ("sublime beauty" which is characterized as "dry, full, frosted flake, hazelnut, malt-ball").
Even the beer selection is ridiculously eclectic, hailing from Japan, Germany, San Francisco, North Carolina, South Carolina, Washington and Michigan.
There are surprising similarities and connections in the food traditions (like Gershwin's melding of classical and jazz): "Both don't use too much dairy; both do put a value on fish," Aaron reflects.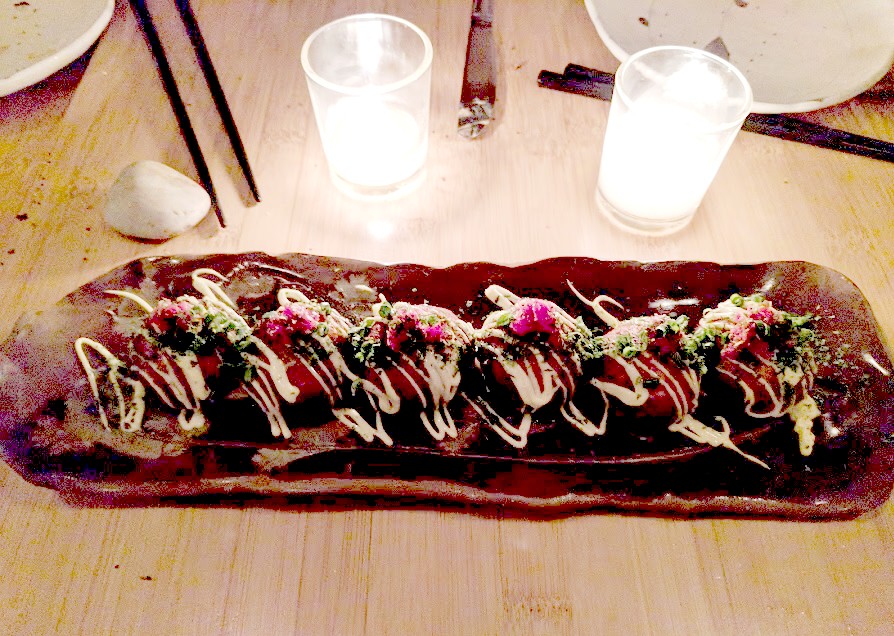 We asked Aaron what the restaurant would be serving for Passover – Aaron makes his own matzoh – and were treated to a variation on gefilte fish that he would be serving: fried fish ball (much tastier than Mother's).
Desserts are amazing, also – I try the Uzu sorbet that has a grapefruit flavor; there is also a scrumptious bread pudding.
Talk about a small world! Laini had known Aaron since 2005 when he was an undergraduate studying painting at the prestigious art academy, Maryland Institute College of Art (MICA) in Baltimore, and was mentored by Laini's father who headed the Painting Department. She has been coming to Shalom Japan since it first opened five years ago; when she brought David the first time, he thought he recognized Aaron and soon realized they had gone to Great Neck North High School together.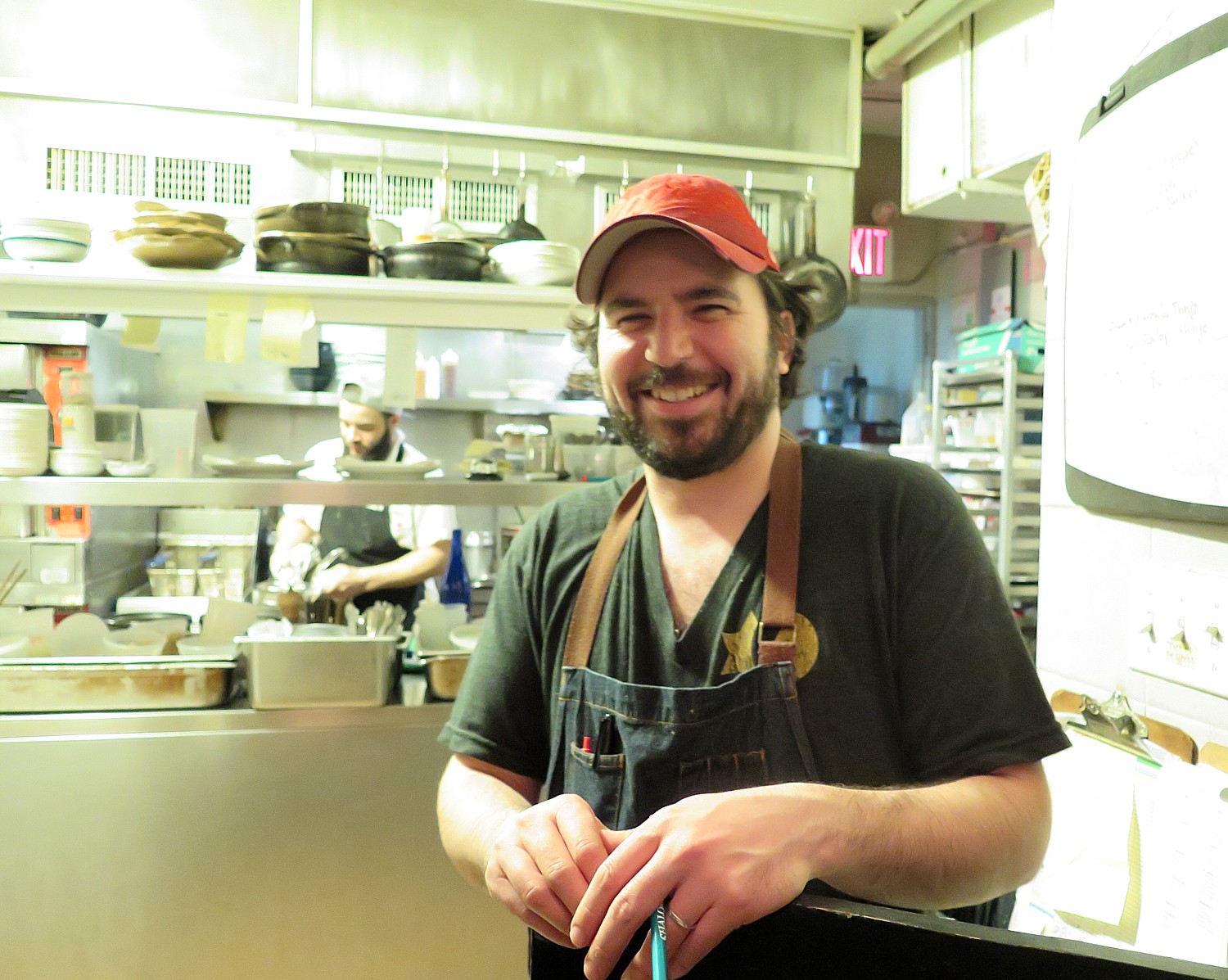 Aaron picks up the story, saying, "by senior year [at MICA], I knew I didn't want to paint." Cooking was his art. He got a job in a kitchen and cooked Italian for seven years. He met his wife, Sawako, cooking.
He has worked under some of the most acclaimed chefs in New York City in numerous fine dining restaurants such as August, under chef Tony Liu, and A Voce, under chef Andrew Carmellini. He was the opening sous chef at Torrisi Italian Specialties for Rich Torrisi and Mario Carbone, helping them to develop and open the restaurant. As chef of Mile End, he launched their acclaimed dinner program. Then, he became a food consultant in London. His work has been recognized by the James Beard Foundation and  by publications including the New York Times, Time Out New York, the Jewish Daily Forward, and the New York Observer.
Sawako Okochi 's culinary background is rooted in her Japanese upbringing in Hiroshima. She moved from Japan to Texas in 1995. In 2000 she relocated to New York City for the culinary program at the New York Restaurant School. After finishing an internship at chef David Waltuck's Chanterelle, she worked for five years with chef Anita Lo at Annisa, rising to sous chef. She spent five years as the chef at the Good Fork and went on to be the executive chef at Lani Kai. She was named by Mother Nature Network to their list of 40 under 40 rising star chefs.
The flavor combinations which I admire so much, "don't fight, like my relationship with my wife," Aaron jokes. The couple have a three-year old son, Kyshu (who has already been to Japan three times) and live above the restaurant.
Shalom Japan brings to mind Helen Mirrin's movie, "The Hundred Foot Journey," about a cultural collaboration between Indian and French culinary traditions.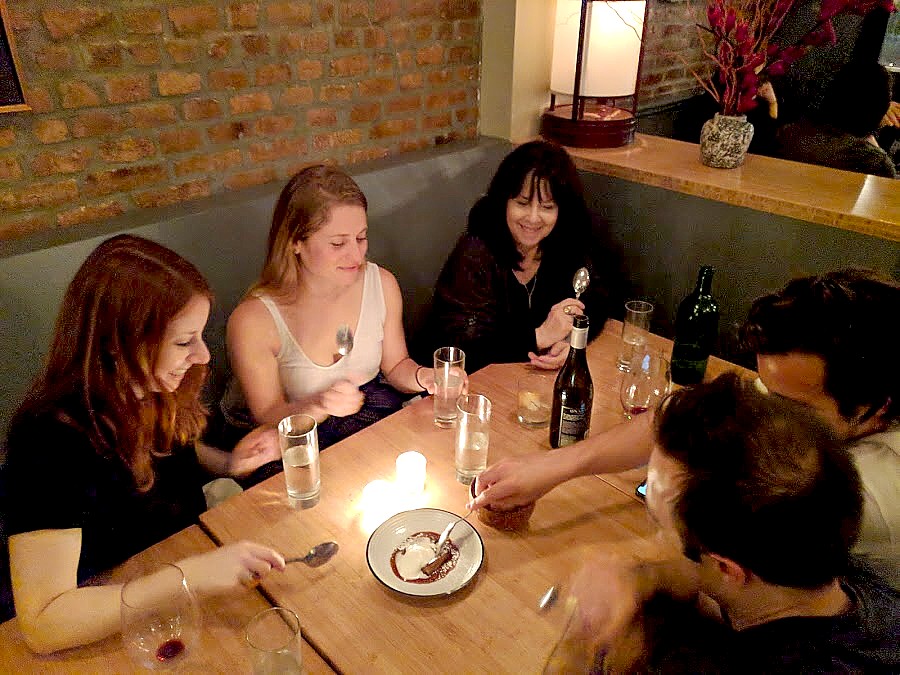 The atmosphere is most pleasant and relaxing – music from the 1930s and 1940s playing in the background – a décor that combines the best of Brooklyn with Japan. On the table, natural elements that evoke Japanese Zen sensibility, like the smooth stones (Jewish culture isn't at all imbued with natural elements).
The room is cozy yet accommodating a surprising number of people, and on this night is packed – interestingly, a wonderful demographic cross-section of diners.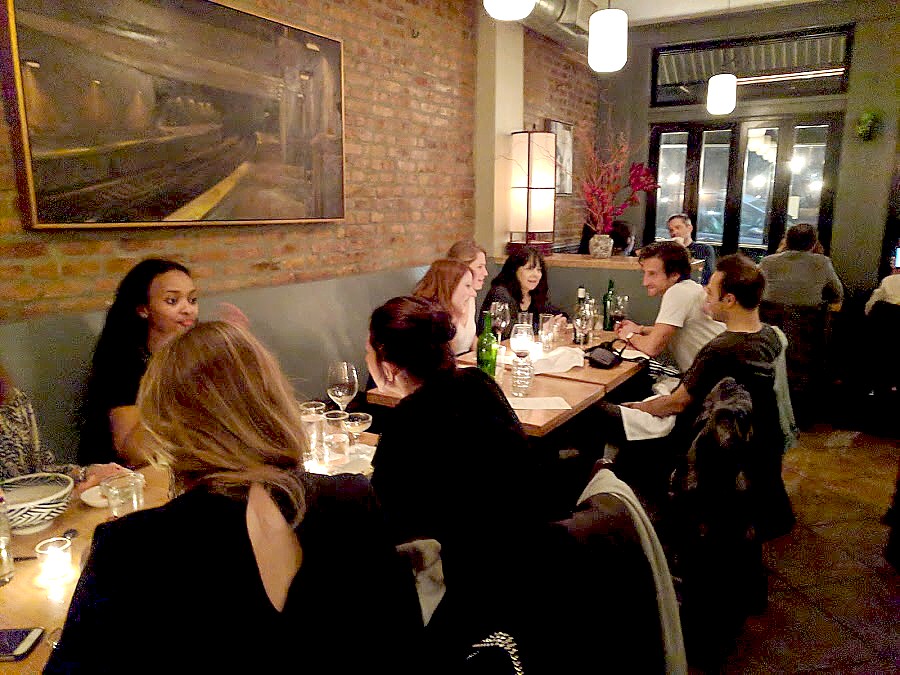 This could be because of "Free Ramen!" Thursdays, from 10 pm to midnight, where you get free ramen with purchase of any alcoholic beverage and half off Mars Iwai whisky, plus a late-night menu. But I must say, we arrived well before 10 pm, and the place pretty much filled up.
Shalom Japan serves brunch. Notable selections:
Okonomi-Latke: pastrami, house sauerkraut, fried egg
Matzoh Ball Ramen prepared with soft boiled egg, chicken, scallions, mandels
Jew Egg Sandwich Platter served with peas, carrots, labneh (a tangy, thick, creamy yogurt cheese), pita
Shalom Japan Burger, prepared with Martin's potato poll, teriyaki bacon jam, grilled onion, lettuce, crack sauce and blue cheese
DIrty Matzoh Brie  prepared with bacon, cheddar, apple compote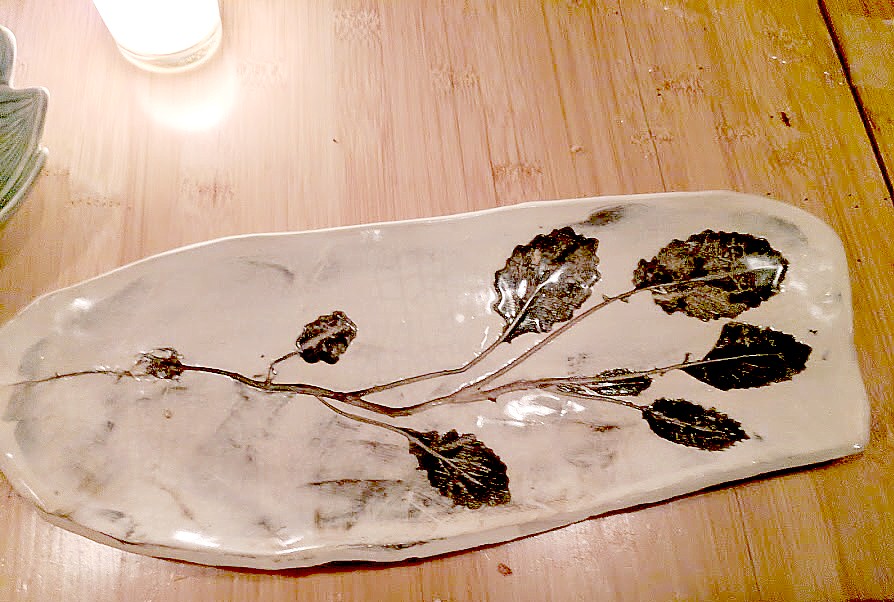 There were many locals and repeat visitors who were clued into the Thursday night happy hour, but Shalom Japan is worthy of a destination restaurant for any long-distance visitors to the city for its unique culinary experience that so expresses New York in a nutshell.
The restaurant is conveniently located just three blocks off the Williamsburg Bridge, a short walk from the J, M, Z, G, and L lines, and across from the Rodney Park Playground in the eclectically vibrant neighborhood of South Williamsburg.
Reservations accepted (you can go online); or just walk in. (Closed Monday).
Shalom Japan, 310 South Fourth St., Brooklyn, NY 11211, 718-388-4012, shalomjapannyc.com; [email protected], @ShalomJapan
_____________________________
© 2018 Travel Features Syndicate, a division of Workstyles, Inc. All rights reserved. Visit goingplacesfarandnear.com,  www.huffingtonpost.com/author/karen-rubin , and travelwritersmagazine.com/TravelFeaturesSyndicate/. Blogging at goingplacesnearandfar.wordpress.com and moralcompasstravel.info. Send comments or questions to [email protected]. Tweet @TravelFeatures. 'Like' us at facebook.com/NewsPhotoFeatures