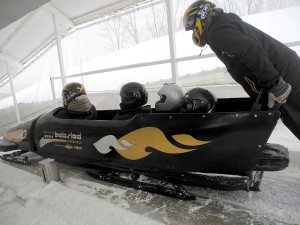 The three of us stuff ourselves into the bobsled behind the driver and take hold of a strap along the inside; the "pusher" takes a running start, pushes us off and jumps in behind me, and we begin our descent.
Heart pounding, I feel the rush as our bobsled picks up speed, and we race around the sequence of curves. David calls out "Right," then "Left" so we lean into the curve to pick up even more speed (he's not the driver and can't even see the track in front of him, but we get that extra thrill).
View slideshow: Skiing, bobsledding at Lake Placid Olympic venues
Even though our Bobsled Experience at the Lake Placid Olympic Sports Complex is only half of the length that is used for international competition (literally a half mile, versus one mile), we reach speeds of 55 mph, hitting the turns at 2Gs of force and come away with much greater appreciation for what the competitors do who reach speeds of 85 mph and register 5 Gs at the turns in the course of a mile.
We can't see the track, we feel it. And we can't hear it, but we know that there is a track announcer announcing our progress as we whip around one turn and another – the turns have names and reputations – all giving us that extra facet of our Olympic experience.
We reach bottom in 47 seconds according to the scoreboard.
This is just one of the many extraordinary experiences of winter in Lake Placid, which has had the distinction of hosting two winter Olympics – 1932 and 1980 (most famous for the "Miracle on Ice" USA hockey defeat of the Soviet Union).
Few places have such a storied tradition .
Later, at the Olympic Museum in the Olympic skating stadium on Main Street, I appreciate so much more seeing the equipment the early Olympians used, and learning the answer to the question that Eric raised as we arrived at Whiteface Mountain, why did the Olympics come here?
Lake Placid was one of America's first resorts, and was America's first winter resort, and as the host of only the third winter Olympics, it developed many facilities – like the bobsled track – that were firsts for North America.
There is no other place in the Northeast to do bobsled, no other place to see a World Cup or international style competition like bobsled, luge, or ski jumping; and because Lake Placid continues to be a major training facility for top athletes, you can watch training exercises.
Olympics are part of the spirit that imbues the community here – kids who grow up here are very likely to pursue some sort of sport.
In fact, Lake Placid is the only community in United States that has sent an athlete to every winter Olympics since the first one in 1924. The very first Olympic medal of the very first winter Olympics in Chamonix was won by a Lake Placid speed skater Charles Jewtraw, for the 500-meter speed skate (which we get to see later at the Olympics Museum on Main Street).
But the thrill is not just that you might see the athletes in training, but that you can ski, cross-country ski, skate, and do such things as bobsled, luge and skeleton, even biathalon on the same Olympic and international competition tracks. This experience gives you a context and an appreciation when you see competitions.
You also appreciate Lake Placid as a destination, with a special allure that brought the earliest visitors.
Today, it is particularly distinctive because it draws so many international visitors – Canadians, to be sure, considering its proximity to our northern neighbor, but also many Europeans who feel quite at home in a village with a Bavarian feel, and the spiking mountain peaks of Whiteface and the Adirondacks, and people from India and other locales around the globe. No doubt drawn by Lake Placid's Olympic fame and its mystique, their very presence perpetuates the Olympic ideal of globalism.
This is all the more remarkable because of Lake Placid, itself – a tiny, dare I say modest, and unpretentious village. where development has been limited by virtue of being contained within the state's Adirondack Preserve, so there is a quaint quality, a tradition and heritage that adds so much to the experience.
And since there are no slopeside lodgings at Whiteface, you come to Lake Placid, and ski Whiteface. This means that Lake Placid is a true destination, offering such variety and interest that skiing or snowboarding is just one of the many pleasures and experiences.
Many of the attractions in the area are oriented around the Olympics. Largely because of its heritage, the Olympic feats that were achieved here will never be matched again. The very proximity of the Olympic sports venues to each other is unusual today: within a 10-mile radius, you have Whiteface, the Olympic Center, the ski jumps, the skating venues – and all offer very special experiences for visitors today.
We all get to be Olympian, or at least have a taste of what it is to compete at that level.
It is especially exciting to know this isn't a tourist track, but the real thing.
That's what you realize at the Bobsled Experience, which is part of the Olympic Sports Complex.
The track we are on is used for international competition, such as the February 2000 Winter Goodwill Games as well as by the world's best athletes for training.
"It is regarded as one of the best – not the fastest, but is demanding and technically challenging. You have to be on your game," says Jon Lundin of the Olympic Regional Development Authority that manages the Olympic venues including Whiteface Mountain.
The upstairs lounge where we waited for our turn and where non-Bobsled guests can watch video of their loved one coming down the track or just watch the event unfold – has a fascinating exhibit about the track and the Olympic bobsled and luge, with some sleds and wonderful historic photos.
This was the first bobsled run constructed in the United States, in advance of the 1932 Olympics. It cost $135,000 to build the track (a small fortune for the tiny village of Lake Placid); and construction began 1930, when the country had already plunged into the Great Depression. The curves of the 1 1/2 mile earthen track, we learn, became world famous: "Whiteface, Shady, Little S, and Zig Zag were respected and feared curves throughout the world." Hometown heroes Curtis and Herbert Stevens won gold in the two-man bobsled (they were the only team to heat their runners between runs), while the four-man gold-medal team included Billy Fiske and Eddie Eagan, a gold medalist in boxing, who was "along for ride," who became one of only a few athletes to win gold in both summer and winter Olympics.
The upper half-mile of the track was incredibly dangerous; as a result, the Whiteface, hairpin curve, was only used for the 1932 Olympics.
We realize that like Eddie Eagan, we are "along for the ride" – essentially ballast for the sled, but thrilled nonetheless. You can pack your group as many as four into a sled with the professional driver and pusher. They do about 300-400 runs a day, if you can believe it.
You can also do Skeleton and Luge at select times.
The Skeleton Experience is where you individually ride what looks like your childhood sled, and lying on your stomach, rocket down the ice chute, reaching speeds of up to 40 mph.
There are two kinds of Luge that you can experience: The Regular Athlete, which is offered only four times a year for the public, and the Rocket Luge, only offered Christmas Day using a modified sled but you start higher on track, covering three-quarters of a mile ($65).
We are told that Luge is often called the fastest sport on ice – a test of nerves you travel feet first solo down the track on a sled. There are only five Luge classic events offered during the year at Lake Placid – most uniquely, the Dec 31 New Year's Eve Party (Riders need to be 13 years old; reservations required at 518-523-4436 or [email protected]).
Our Bobsled Experience is complete when we are handed a copy of the photo they took in front of the sled when we landed at the bottom, a Bobsled Experience pin, and a tee-shirt (all included!), and, after we fill out a survey for Chevy Suburban, the commercial sponsor (and when you get in the SUV for the ride up to the top, you do appreciate the car), we even get a backpack.
There is so much more for visitors to enjoy of the Olympic Experience.
Olympic Ski Jumps, Biathalon, Cross-Country
On the way to our Bobsled Experience from Whiteface Mountain, we emerge from the River Road (this backcountry "shortcut" from Whiteface to Mt. Van Hoevenberg, and get our first look at the imposing 90 and 120-meter Olympic Ski Jump Towers – intimidating even from where we are.
You can ride up a glass look-out elevator to the skydeck of the 120 meter tower (about 26 stories high) for the scenic view of the High Peaks. You approach the elevator via chairlift, which rides up the steep landing hill. Ski jumpers train at the facility year-round. There is access to the breathtaking outside start gate.
This is a year-round activity: Jumping on the 90 meter hill in summertime is possible thanks to a porcelain tile in-run that propels the skiers down the ramp. They land on a synthetic surface that looks like a thatched roof.
Also, there are weekend clinics for beginner ski jumpers of all ages through the New York Ski Educational Foundation (NYSEF). Call 518- 523-1900; (the elevator ride is included in The Olympic Passport,$32).
You can also visit the Freestyle Park where there are the aerial ski launching ramps (known as "kickers") for freestyle skiing athletes to propel themselves as high as 60 feet in the air to complete rotation and twist maneuvers. In the winter, the snow-covered kickers sit atop a steep, snow-packed landing hill.
In the summer and fall, you can watch aerialists train and compete in the state-of- the-art park as they launch themselves off the ramps and land in a 750,000 gallon heated pool with an impact reducing aerating system. Adjacent to the pool, there is trampoline training. The combination of "tramps and ramps" finds athletes perfecting their tricks in the off-season. You can watch competition and training from surrounding bleachers. In July and August, they offer Wet 'n Wild Wednesdays, where world-class aerial skiers perform for visitors. Events are scheduled throughout the year.
There is also snow tubing here at the Olympic Jumping Complex, day and some nights (open until 7 pm on Friday and Saturday; $9/hour) You get to catapult yourself down a 700 foot chute Olympic Jumping Complex
The Olympic Sports Complex also includes the Biathalon Center (the sport that combines cross-country skiing with riflery) – and sure enough, you can take part in that, as well. You get to take a freestyle skiing lesson and then test your marksmanship with a 22-caliber rifle and shoot at the same targets used during the 1998 Olympic Winter Games in Nagano, Japan (or just go onto the shooting range) (the Discovery Biathlon is $55 with lesson, trail pass, rental, biathlon; $36 for range and lesson; in summer, you can just shoot at the rifle range for $15; http://www.whiteface.com/activities/be-biathlete.)
You even can ski the 50 kilometer 1980 Olympic cross-country course, at Mt. Van Hoevenberg. But you shouldn't be intimidated: there are cross-country ski trails for all levels and abilities, www.whiteface.com/activities/cross-country-skiing.
But if you would like to have an Olympic experience, each year, there is a cross-country ski race on the Olympic trails at Mt. Van Hoevenberg, called the Loppett and Kort Loppett, http://www.whiteface.com/events/lake-placid-loppet. You can chose to ski the full 50k in the Loppett event, utilizing all of the trails from the 1980 Olympic Games, or race in the Kort Loppett, a 25k race.
Whiteface Mountain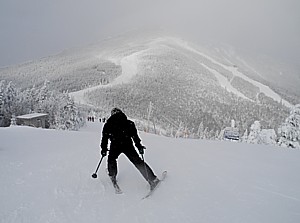 Our Olympic experience began this day on Whiteface Mountain about nine miles outside of Lake Placid village, where we are staying at The Golden Arrow Lakeside Resort, literally on Lake Placid (there is a free shuttle bus we could take that leaves from across the street, but we find it more convenient to take the car; parking is not difficult at all, but there is premium slopeside parking at $15/day).
There are many superlatives that attach to Whiteface Mountain: it has the greatest vertical drop, 3430 ft, East of the Rockies – but what distinguishes Whiteface more than anything is character and tradition.
You can ski and ride the trails of the 1980 Winter games: the Men's Downhill, from Cloudspin to Broadway to Lower Valley; the Women's, from Skyward to East Street to Lower Valley; the Men's Giant Slalom course, Thruway onto Lower Valley and the Women's, down Parkway onto Lower Valley, and the Slalom course on Mountain Run.
At Lower Valley, you see the race finish, the hut where the judges and announcers would have sat, and the race board.
One of the distinctive features that adds to the experience is the number of international visitors that come to Whiteface and Lake Placid- Lake Placid's proximity to Canada is a natural draw but we also met any number of European visitors. No doubt drawn by Lake Placid's Olympic fame and its mystique, their very presence perpetuates the Olympic ideal of globalism.
We breeze through the rental process – they have very fine Rossignol equipment – and are impressed by the services in the base lodge, and soon make our way to the Cloudsplitter Gondola that takes us up to Little Whiteface at 3676 feet. The trails from here are blacks and one blue, Excelsior, which gives a lovely view of the surrounding Adirondack peaks.
New this year is snowmaking on Hoyt's High Trail. Hoyt's High Trail has always relied on Mother Nature to cover its 1,400 feet of vertical. As a result, the 4,700 foot long expert trail, cut in 2008 and named in honor of Whiteface veteran ski patroller Jim Hoyt Sr., has only been open for a handful of days. That has changed now with the installation of snowmaking.
Intermediate and advanced skiers can start on the Gondola to Little Whiteface, at 3676 feet elevation, from which there is only one blue trail (Excelsior) which is not particularly difficult, and multiple black trails.
Ski down to the Summit Quad to get to the highest point that is served by lift, Top Station at 4386 (Whiteface summit is at 4867), from which there are blue and black trails down.
Because we visited so early in the season, the Lookout Mountain lift was not yet open, but I really wanted to do the Wilmington Trail, a blue that meanders 2.2 miles (the longest on the mountain).
The trails, like many of the older ski areas, tend to be narrow especially from the top, and Whiteface is known to get icy (best to ski as early as possible in the day). Whiteface offers a snow guarantee, whereby you can get a refund on your lift ticket within the first hour if conditions not great.
There aren't any green trails from the summits (Excelsior is a relatively easy blue), but there is an entire learning area, Kids Kampus, that is separated from the main mountain area, and reached by a delightful sequence of greens from Facelift lift – a shuttle bus from the main base lodge brings kids to the Kids Kampus, where the learning programs are housed. Bear's Den Nursery is for non-skiers 1-6; Play-n-Ski is for ages 4-6; there is a a new Burton Riglet Park for beginner riders 3-6; Junior Adventure skiing and riding for all ability levels for ages 7-12; and Teen Experience for 13-16 skiers and riders of all ability levels.
During our stay, I was happiest (I must confess) on a sequence of green trails accessed by FaceLift: Easy Street and Boreen, down to the base. On this day, it had the best snow and the best views (which help me zone into my skiing), and I could really just relax and enjoy my skiing.
In all, Whiteface offers 86 trails – over 22 miles of skiing and riding. It claims the greatest vertical drop in the east, at 3,430, from a base of 1220 to The Slides, at 4,650 (the highest lift goes to 4,386).
There are some beautiful eateries at midmountain: Boule's, a bistro serving fine foods and crepes; and the Mid-Station Lodge, serving up traditional resort fare, which also has a magnificent view.
The base has a nice selection as well – Base Camp Market, Cloudspin Lounge, Black Bear Cafe and J Lohr Cafe and Wine Bar.
Other practical considerations: you can check your skis with unlimited access for $5 for 24 hours; and $4 for bin, or you can rent a locker (which can accommodate up to 3 sets) for $15 for a 24-hour period.
There is a premium slopeside parking lot for $15/day on weekends, holidays, $12 for midweek/nonholiday.
With all that the Lake Placid area offers, you need to build in extra time in your visit. The Whiteface lift tickets allow for such flexibility to take a day off to explore, 2 out of 3 days, 3 out of 4, 4 out of 5) – to have this extraordinary experience of getting a taste of what it is to be an Olympian.
Indeed, what makes Whiteface Mountain special is Lake Placid – the history, tradition. This is a real place, not a creation of a ski resort.
For information, www.whiteface.com, where you can prearrange trip, get tickets to special events, track snow conditions, see live webcam, book ski/stay packages.
Whiteface, 5021 Route 86, Wilmington, NY 12997, Phone: (518) 946-2223 / Coca-Cola Snow Phone: 877-SKIFACE, Email: [email protected]
Olympic Sports Complex, 220 Bob Run, Route 73, Lake Placid, NY 12946, Phone: (518) 523-4436,Email: [email protected]
Olympic Center, 2634 Main Street, Lake Placid, NY 12946, Phone: (800) 462-6236 / (518) 523-1655,Email: [email protected]
See next: Lake Placid, New York's Quintessential Winter Resort Destination
____________________
© 2013 Travel Features Syndicate, a division of Workstyles, Inc. All rights reserved. Visit www.examiner.com/eclectic-travel-in-national/karen-rubin, www.examiner.com/eclectic-traveler-in-long-island/karen-rubin, www.examiner.com/international-travel-in-national/karen-rubin and travelwritersmagazine.com/TravelFeaturesSyndicate. Blogging at goingplacesnearandfar.wordpress.com. Send comments or questions to [email protected]. Tweet @TravelFeatures. 'Like' us at facebook.com/NewsPhotoFeatures.