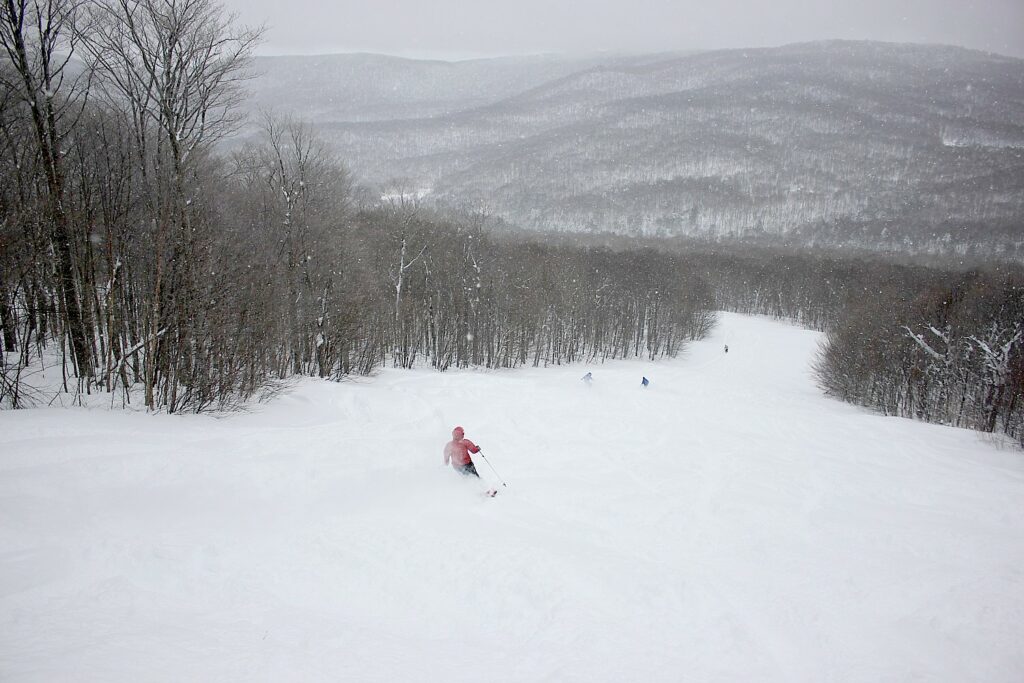 by Karen Rubin, Travel Features Syndicate, goingplacesfarandnear.com

With the "Bigs" mountain resort companies taking over a significant number of New England's major destination resorts, locking in loyalty to their brand, independents are capitalizing on their unique character and culture, their ability to offer value pricing, to be flexible and adaptive, and their appeal to the "noncommitteds" – those who still see the season pass as a barrier. They can offer their own pass, packaging and pricing deals. They also capitalize on their special character and ambiance.
Adam White, the Director of Ski Vermont, sees only positives from the friendly competition between mega-resort companies and independents. "Vermont's resorts have invested more than $51 million, improving snowmaking across the board, every resort, every size. It speaks volumes. It gives Vermont the ability to deliver a consistent product regardless of Mother Nature, from Suicide Six to Mount Snow to Killington. Every one is improving."
As for Bigs versus Indies, "There is reason to go to every area – all are different and have something to offer. A parent with small kids may want a smaller, less chaotic, area where they can have more control."
Magic Mountain: Back to the Future
"Our future is as an independent. For our future, we are looking to our past," says Geoff Hathaway, Magic Mountain's president who acquired the resort four years ago.
How to compete against Vail Resorts' Epic and Anterra Mountain Company's Ikon passes if you are an independent ski resort in Vermont? "We can appeal to the 'uncommitted' market – we have passionate group of committed people, but there is opportunity is to peel off those who don't want to commit to $800 season pass," Hathaway says.
Magic Mountain offers a variety of options on passes: Sundays only, Midweek, 18-29s, a Throwback Card ($99 gets you $29 tickets all season long). "These are crazy affordable but the skier makes some commitment. "We try to be as creative as possible – we even have holiday pass when others are blacked out elsewhere." Skiers can also purchase discounted lift tickets on Liftopia.com.
"We make more opportunity to say "yes' to a little bit of Magic."  
Magic Mountain, which remains fiercely proud in being independent and a throwback to Vermont's ski heritage, continues to make major investments in lifts and snowmaking, this year spending $2 million in improvements to ensure a laid-back, uncrowded, soulful ski experience. In order to handle more customers yet keep its lift line wait to under 10 minutes even during the busy holiday periods, Magic is replacing its Black Double summit lift with a fixed-grip Quad from base-to-summit to complement its Red Lift. The new Black Line Quad is expected to be completed by Christmas for the 2019/20 season. In addition, Magic is repairing snowmaking pipe and re-energizing its Thompsonburg Brook pond to better re-fill and supply water to its snowmaking pond in order to expand snowmaking coverage to over 50% of its trails on both the East Side and famed expert West Side. With the addition of the new summit lift, Magic adds another double-diamond expert summit trail named Pitch Black. There is also a new East Side glade created by our "Friends-of-Magic" work-crew this year.
Magic is a northern Vermont mountain in southern Vermont, more challenging than its neighbors. The mountain installed a mid-mountain chair improving access for intermediate and novice skiers (there is no beginner trail from the summit, but a low-intermediate can take the 1.6 mile trail from the top). Magic offers a 1500-ft vertical, 51 trails of which green are 25%, blue are 30%.
"There's more Magic than ever to enjoy for the new ski and ride season."  (magicmtn.com)
Mad River Glen
Mad River Glen, the only cooperatively owned mountain open to the public, is dedicated to maintaining and preserving the "pure Vermont" ski experience and takes pride in consistently upgrading its infrastructure while maintaining an unchanged exterior.
"We take pride in constantly upgrading while quietly remaining the same. We are still Mad River Glen, just like 1948," said Ry Young, head freeski team coach. Mad River Glen's trails were cut in the 1940s and 1950s, narrower, winding down the mountain following the natural contours.
Mad River Glen has invested more than $5M in capital improvements. Mad River Glen raised $5.5 million through donors to its nonprofit foundation which will be spent next summer on a Basebox and Patrol building renovation.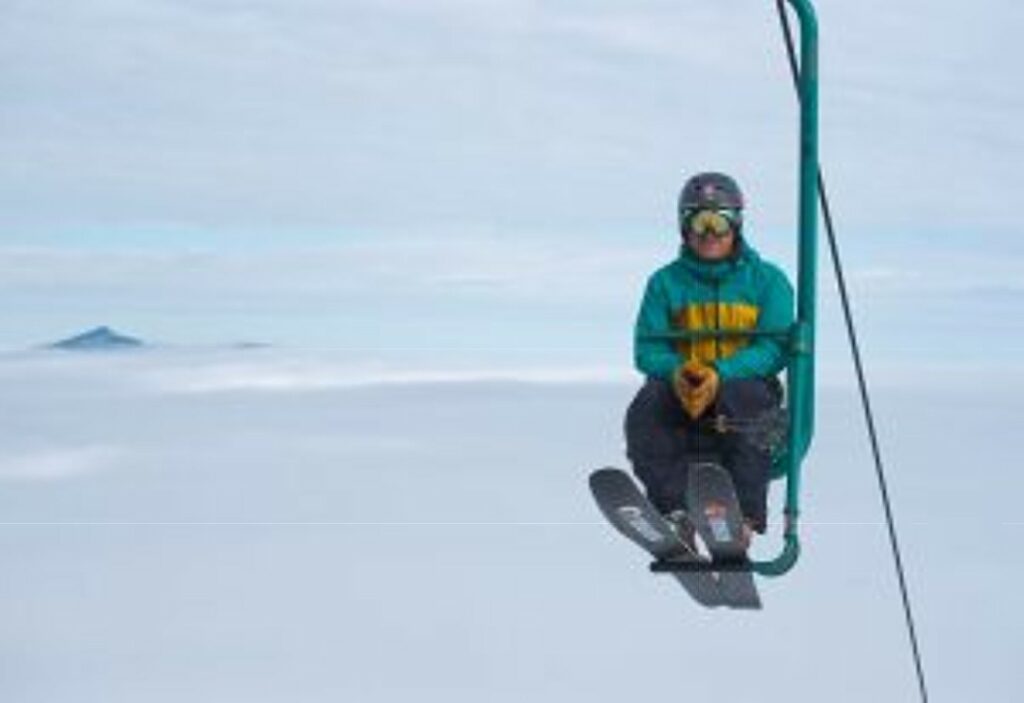 Mad River Glen offers the most challenging and diverse terrain in New England with an uphill capacity that guarantees low skier density on the trails even on the busiest days. It is one of only three areas in North America that still prohibit snowboarding. The trails were cut to follow the mountain's natural contours. Skiers can descend the entire 2,037′ of vertical on true expert terrain with no run-outs, 1000 acres of inbound skiing and 1000 acres of back country skiing; of the 52 trails, 25% are beginner but the majority of terrain is advanced.
There are no high-speed lifts – only fixed grip chairs (3 doubles and the last functioning single in continental US) – which limits uphill capacity.
There is a special camaraderie among the skiing community, with its co-op ownership, non-commercial, family-friendly atmosphere, dedicated staff, and – of course-the Single Chair, America's favorite ski lift.
You can also experience the mountain on snowshoes: join one of MRG's staff Naturalists for a guided snowshoe trek tailored to your interest in the ecology and wildlife of Stark Mountain (Naturalist Programs). There is no on-mountain lodging, but plenty of inns and bnb's in town. (madriverglen.com)
Bolton Valley Resort
Bolton Valley Resort, which was re-acquired by the Des Lauriers family that founded the resort in 1966, is capitalizing on its strengths as it asserts its independence: night skiing until 10 pm and an innovative learn-to-back-country-ski program (the DesLauriers are famous as pioneers in extreme skiing.)
The most visible improvement is the complete replacement and upgrading of the night skiing lighting system (Bolton offers night skiing nightly until 10 pm).
Besides being one of the few places in New England offering night skiing, Bolton opened an in-house backcountry-specific guiding and instructional program, complete with top-of-the-line rental and demo fleets of alpine touring and splitboarding equipment. This program makes Bolton Valley a premiere destination for skiers and riders looking to move beyond lift service, as well as cross country skiers looking to access more aggressive terrain. Explore 1,200 acres of high-mountain wilderness terrain while learning the ins and outs of alpine touring, backcountry safety, and self-reliance.
But Bolton Valley has something that hardly any other mountain resort has: not just back country skiing on 1,200 acres of high-mountain wilderness, but an in-house backcountry-specific guiding and instructional program, complete with top-of-the-line rental and demo fleets of alpine touring and splitboarding equipment, offered every Saturday.
"The gear is different – you have to be able to unhook the heels and put on climbing skins; we rent all the equipment, demo gear and sell gear," says Adam Des Lauriers. The program was launched two years ago. "It's totally unique – more traditional ski areas don't know how to deal with back country and uphill, even though it is the fastest growing segment."
Building on its reputation for having some of the best and most accessible backcountry terrain in the Eastern US, this program makes Bolton Valley a premiere destination for skiers and riders looking to move beyond lift service, as well as cross country skiers looking to access more aggressive terrain. You can explore high-mountain wilderness terrain while learning the ins and outs of alpine touring, backcountry safety, and self-reliance.
How good do you have to be? "At least strong intermediate –we take it slow. People are surprised when they can do it. It is scary to attempt if you do it alone, but a mind-opening experience when you realize you can do it."
Bolton Valley also has back country huts which can be rented through the Green Mountain Club, the organization that runs the Long Trail,but accessed through Bolton. "It's a unique camping experience, just one mile from the base. You wake up to fresh tracks, and get to do winter camping. It's accessible, but feels like being deep in woods."
Bolton Valley sits high in the Green Mountains of Vermont. The high mountain alpine village is surrounded by 5,000 acres of wilderness. Bolton Valley offers 71 trails and glades for Alpine skiing and riding and 100 km of Nordic and backcountry trails. Each year Bolton Valley receives an average of 312 inches of snow.
All the lodging, including hotel rooms, suites and condominiums are either ski in/ski out or within a short walking distance of the lifts. Two restaurants, a cafeteria, deli and general store are located within the village. After a day on the slopes, walk over to the Sports Center, where there is an indoor pool, hot tub and sauna, skateboard bowl and mini ramps, arcade games as well as an open floor for basketball and other games. The Indoor Amusement Center offers bouncy houses for kids who just want to keep moving.
Bolton Valley also offers a large Nordic center, an indoor skate park and indoor pool. The year-round resort, which is the neighborhood ski area for the city of Burlington and generations of Vermont skiers, offers tennis and ropes course, and expanding its mountain bike trail network, for summer. (www.boltonvalley.com)
Bromley Mountain
This year, Bromley resort has made a number of maintenance-related updates on and off the mountain. For those who rent equipment, there is an updated rental fleet to include some of the best equipment on the market for a more comfortable fit and smoother glide. On the mountain, crew continued their trail widening efforts. All-new park features satisfy a variety of rider abilities, green to black. Plus, Bromley is partnering up with Arena Snowparks to build and design parks (for the second year in a row) with the intention to produce one of the best family-friendly progression parks.
For après-ski entertainment, enjoy Bromley's Wild Boar Tavern (located at the base of the mountain) as well as expanded events calendar with more free, family-friendly entertainment for everyone. Top off your ski days with a scenic sleigh ride at beautiful Taylor Farm, take a stroll through the sculpture garden at the Vermont Art Center, treat yourself to a fabulous shopping experience at the Manchester Shopping Outlet center, all within a 10-mile radius. (skivermont.com/bromley-mountain-resort)
Suicide Six Ski Area
Suicide Six Ski Area, which is owned by the historic, grand resort, the Woodstock Inn & Resort, remains independent but partners with 35 other quintessential resorts to create the Indy Pass. For 84 consecutive seasons, Suicide Six has offered its blend of exquisite service and personal touch, including the longest continually operating Ski and Ride School in the country. Here you'll find stellar coaches, progressive terrain, and a warmth and care. The ski area is adding more terrain features and an entirely new park concept, as well as taking its snowmaking production to the next level with a focus on automation, efficiency and sustainability. Suicide Six is investing $250,000 into its snowmaking pump station with more efficient pumps, automation and instrumentation that provide lightning fast responses to changes in weather and conditions. Combine that with previous investments of over $400,000 the ski area has made in new snow guns, and the automation of the Face trail (its world-class racing venue), Suicide Six looks forward to a longer, more productive season with the highest quality snow.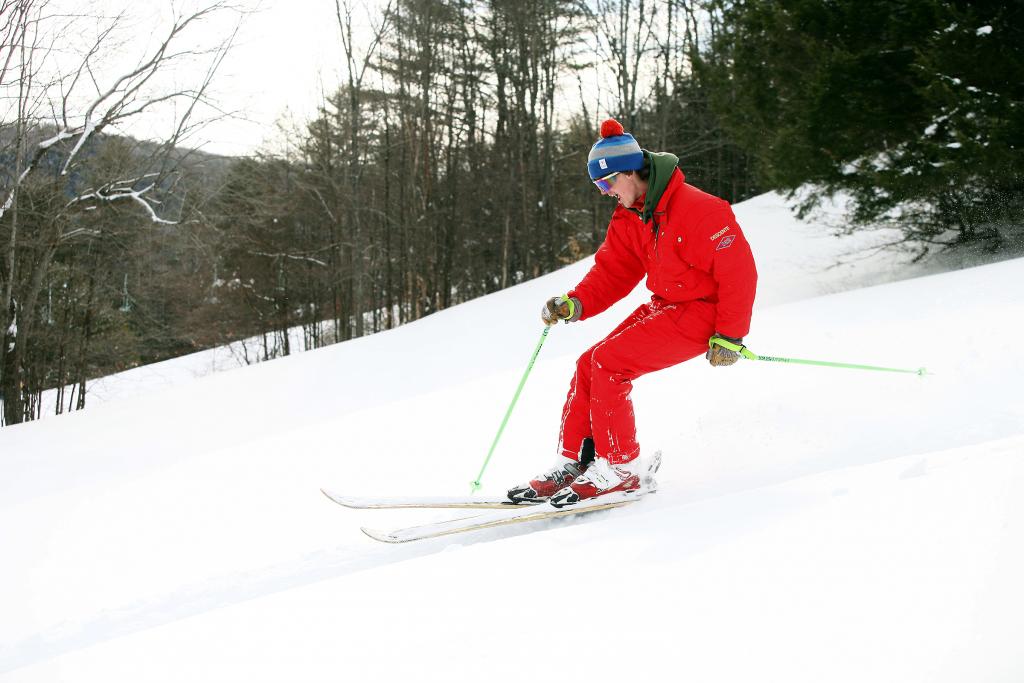 The misnomered Suicide Six (it actually is one of the most family-friendly ski mountains, with 24 trails – 30% beginner, 40% intermediate and 30% advanced), is focusing on family-friendly ski and stay packages, where ski passes are included. The resort also makes it easy to organize a private lesson for the family where the kids learn to ski and parents learn how to continue to teach them.
The downhill ski area is owned by the grand, historic Woodstock Inn which also offers the Woodstock Nordic Adventure Center providing 30 kilometers of trails to explore via cross country skis, fat bikes or snowshoes; a 10,000 sq. ft Spa; and Woodstock Athletic Club, with indoor and outdoor tennis courts, racquetball courts, a 30-by-60-foot heated indoor lap pool, a whirlpool, workout equipment and steam and sauna rooms. Woodstock Inn provides a free shuttle to the mountain (skivermont.com/suicide-six-ski-area)
Trapp Family Lodge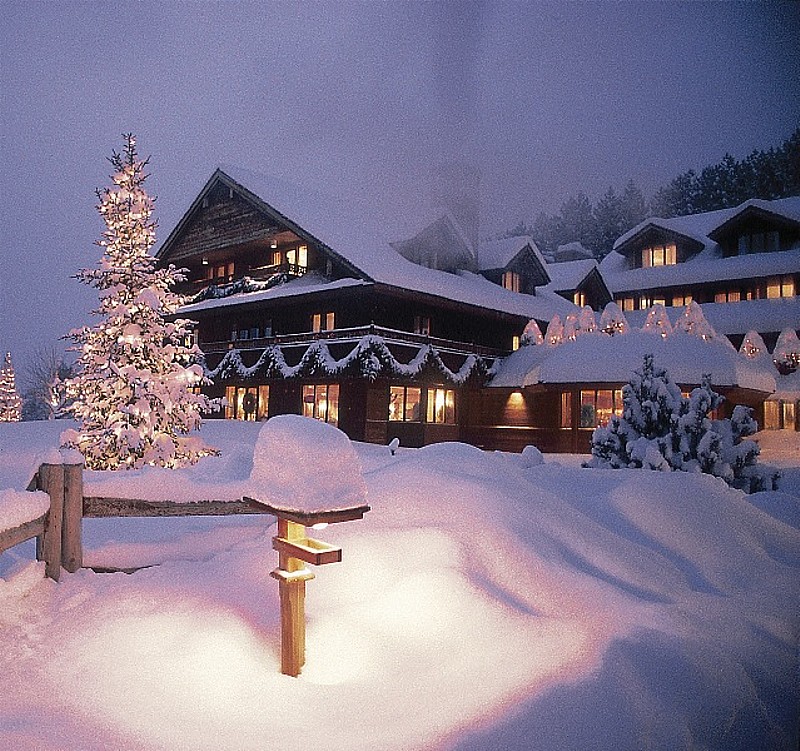 Situated on 2,500 acres in Stowe, Vermont, where it specializes in cross-country skiing on 100 km of groomed trails, Trapp Family Lodge (yes, that Trapp Family of "Sound of Music fame") is a mountain resort that combines Austrian-inspired architecture and European-style accommodations with the best of Vermont. The Lodge offers stunning mountain views, old-world comforts, and impeccable service, along with activities for every season, but it boasts being one of the first American resorts built around cross-country skiing – the cross-country center is more than 50 years old. Snowshoeing is also popular (equipment rentals available). Take a horse-drawn sleigh ride through the meadows with stunning views into the valley. Enjoy any number of tours to learn about the history of the von Trapp family and lodge; how maple sugar is made; tour the von Trapp Brewing's state-of-the-art brewery on site; dine in the Bierhall to sample the lagers and enjoy the authentic Austrian experience and cuisine. There's also ice/rock climbing, spa, pool, hot tub and three restaurants. Cross-country ski three miles up to a cabin and enjoy hot soup. When you get the urge for downhill skiing, shuttles are provided to nearby Stowe. (www.trappfamily.com)
Mountain Top Inn & Resort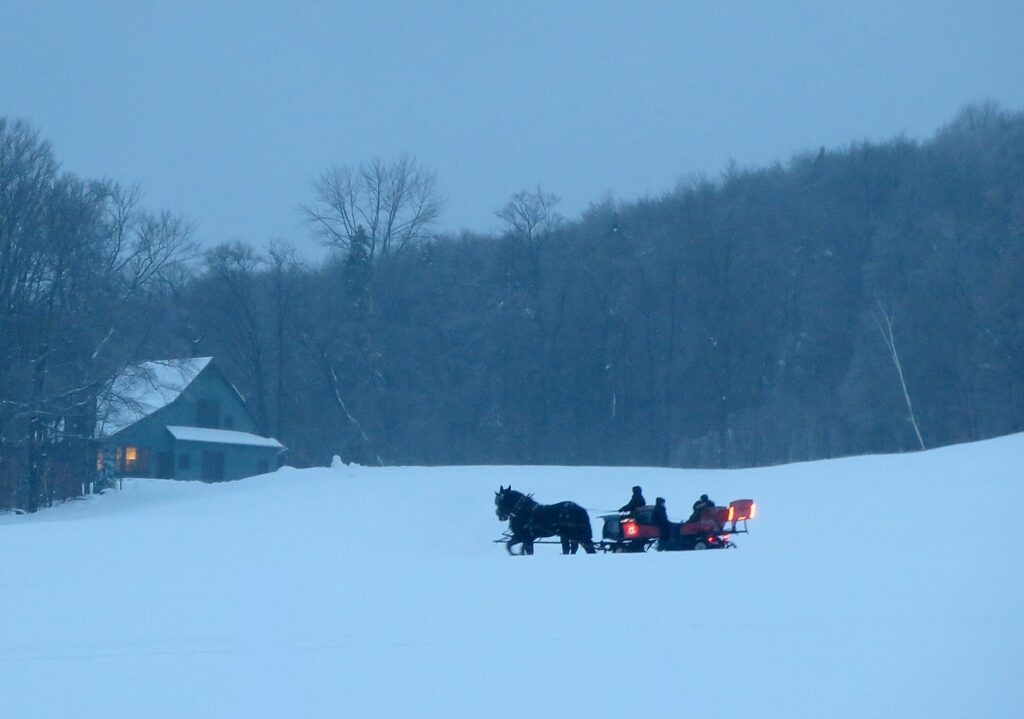 Mountain Top Inn & Resort, set on 350 acres ringed by the Green Mountain National Forest, is breathtakingly enchanting, offers 60 km of groomed cross-country ski trails (snowmaking on a 2 km loop insuring optimal conditions); horse-drawn sleigh rides; a small old-fashioned (natural) skating pond; snowshoeing (twilight tours available); snowmobiling; spa; hot tub; fire pits; and the coziest fireplaces. It's also a 30 minute drive to Killington Mountain for downhill skiing (shuttle transportation available, 8:30 am, returning 4:30 pm; reserve in advance). The most charming of inns offers 32 rooms plus 23 individual guest houses; dining at The Mountain Top Tavern (with 12 Vermont Craft Brews on tap) and fireside dining in the dining room.Downhill skiing at Killington and Pico is a short drive away. www.MountainTopInn.com.
Middlebury Snow Bowl
This season you will see a new Prinoth Groomer, upgrades to the Ticket counter including new transaction windows ad a new Point of Sale System, and a new season pass format.  There is also the new Shared Parent Pass for families with kids that aren't skiing yet (both parents ski on the same pass).  What you won't see, but will certainly experience, is the snowmaking pipe upgrades, summer trail work and lift work. (www.middleburysnowbowl.com)
Jay Peak Resort
Jay Peak is a quirky 800-bedroom, 3,100-bathroom, 217,800,000,000-square foot resort just two miles from the Canadian border offering multiple athletic pursuits across all seasons. Potential upsides include an indoor waterpark, ice arena, climbing center, movie theater, synthetic-turf athletic fields, multiple hotels, 5,000 acres of ski-and-ride terrain, and a staff of 1,500 Tier One professionals. Jay Peak has annual snowfall averaging 349 inches a season, still there is snowmaking on 80% of terrain. Jay Peak offers 385 skiable acres (100 acres of gladed terrain), a vertical drop of 2,153, 50 miles of trails 9 lifts  accessing 81 trails (20% Novice, 40% Intermediate, 40% Advanced), for a total of 50 miles, the longest, Ullr's Dream at 3 miles, and four parks (Rabbit Beginner Park, Family Cross, Jug Handle & Interstate ). (jaypeakresort.com)
To information or help choosing a destination, contact Ski Vermont, 802-223-2439, [email protected], or visit skivermont.com.
See also:
Vermont Ski Areas Open Winter Season With Major Enhancements to Guest Experience
______________________
© 2019 Travel Features Syndicate, a division of Workstyles, Inc. All rights reserved. Visit goingplacesfarandnear.com, www.huffingtonpost.com/author/karen-rubin, and travelwritersmagazine.com/TravelFeaturesSyndicate/. Blogging at goingplacesnearandfar.wordpress.com and moralcompasstravel.info. Send comments or questions to [email protected]. Tweet @TravelFeatures. 'Like' us at facebook.com/NewsPhotoFeatures