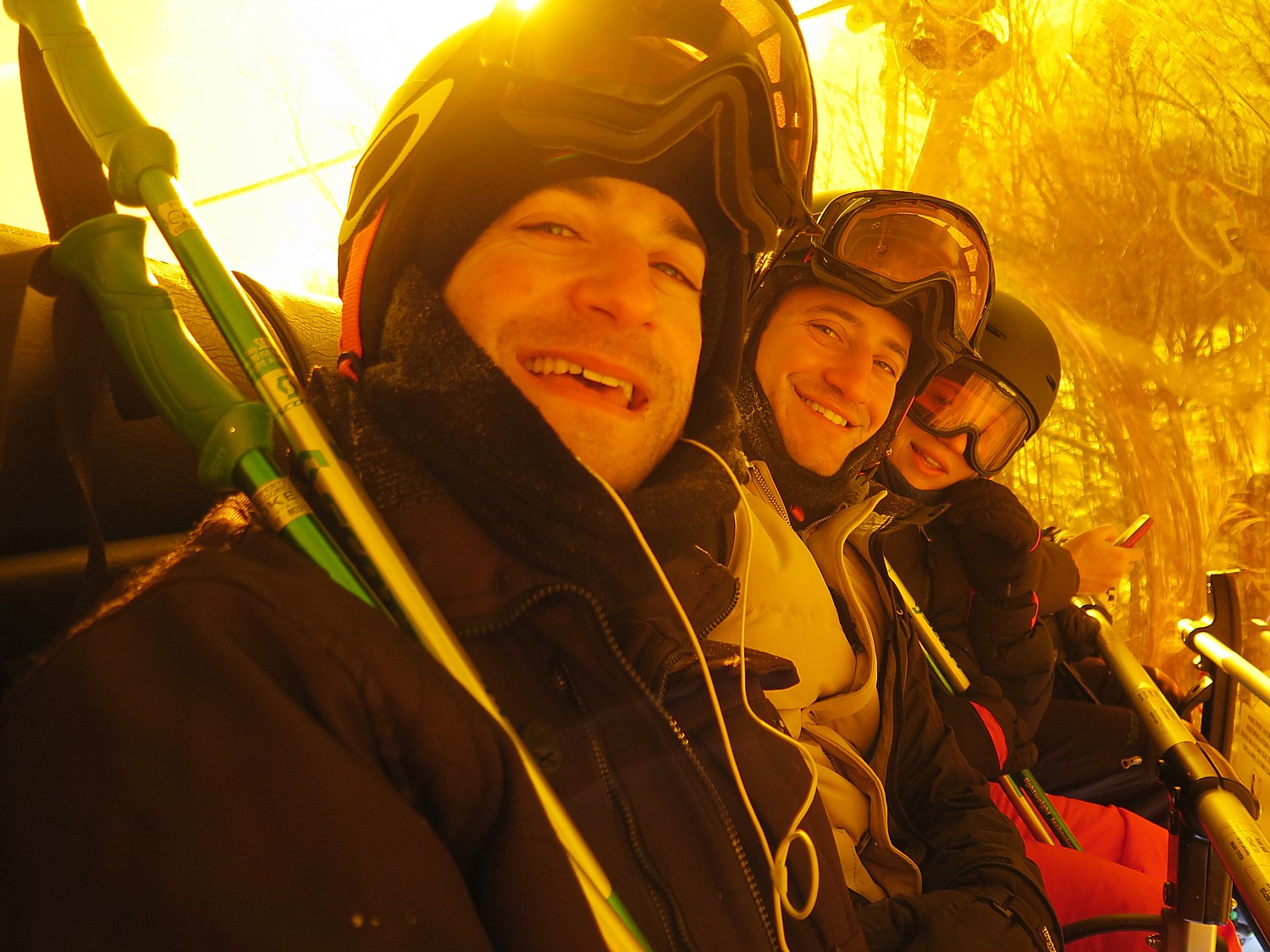 By Karen Rubin, Travel Features Syndicate, goingplacesfarandnear.com
Even as Vermont's major ski resorts add imaginative new experiences on and off the mountain to new heights, high speed six-pax and bubble chairs, other resorts are promoting their "pure Vermont" roots and authentic ski experience, touting old fashioned fixed grip chair lifts, proudly proclaiming themselves "throwbacks" in time.
Vermont, which will take center stage with the first World Cup events to be held here in 25 years, is distinguished not only for the sheer number of mountain resorts, but the differences in their character, personality and features.
This year, the resorts throughout the state have really focused on enhancing snowmaking and  rounding out off-mountain experiences, in light of the mischief Mother Nature can play. But good news! Accuweather is predicting a normal year for snow in the Northeast.
So what is new for the 2016-17 winter season? Quite a lot. Vermont's resorts have had a busy summer full of lodging and restaurant renovations, lift and off-slope amenity improvements, and historic event announcements.  
Killington Resort 
Killington Resort is bringing Alpine World Cup skiing back to the eastern US for the first time in 25 years when the Audi FIS Ski World Cup takes place over Thanksgiving weekend, November 26-27. Giant Slalom and Slalom races will pit the best female technical alpine skiers from 26 countries against one another on Superstar trail, the infamous New England steep that is regularly the Eastern US's last remaining open ski trail through late May or June. The general public is invited to view the women's giant slalom and slalom races in a free general admission area at the base of the trail with a jumbo screen for watching the full race course, plus a weekend loaded with festivities including free live music, multiple movie premieres and additional surprises to be announced.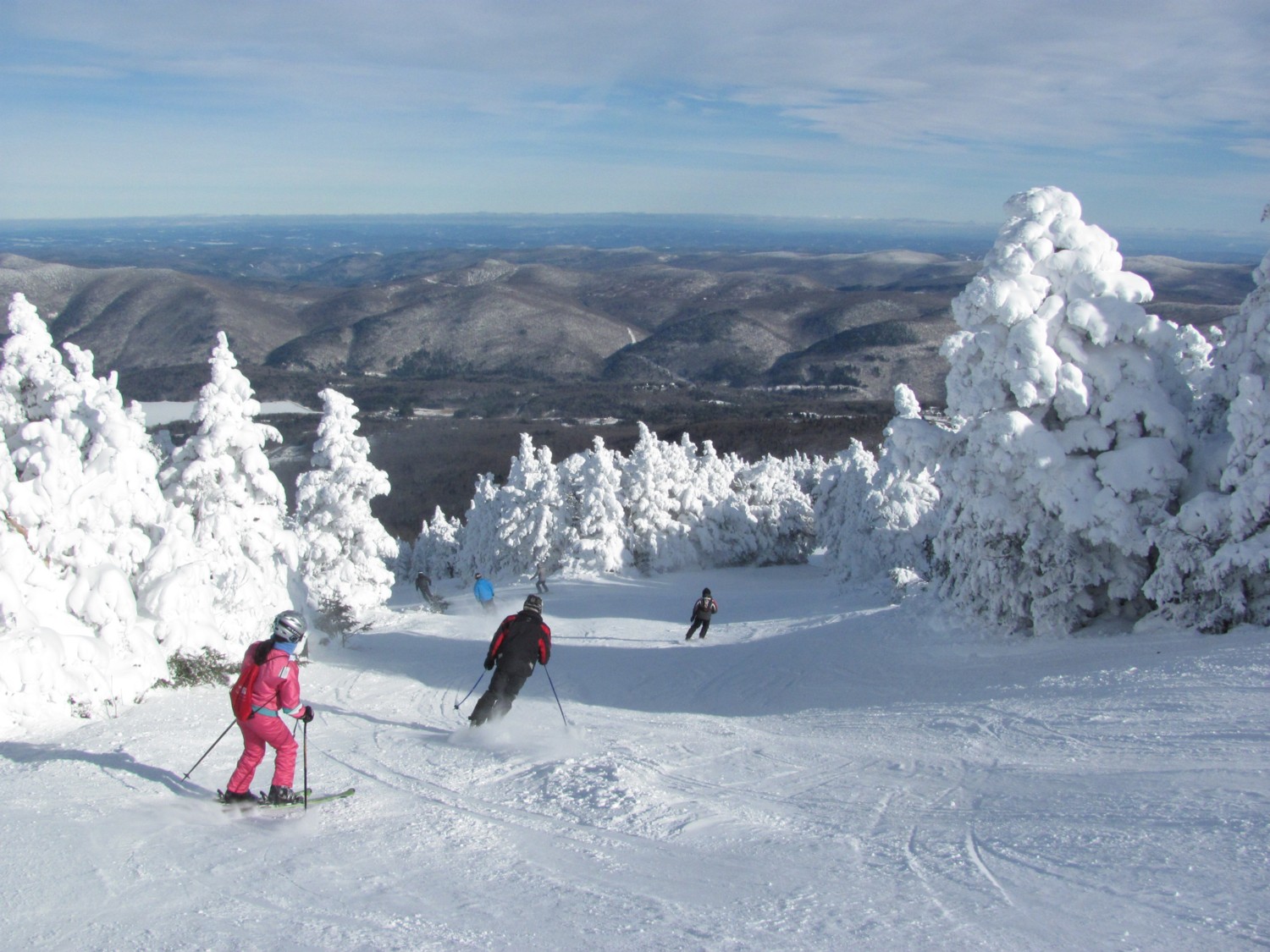 Killington and Pico, with six mountains between them, is the largest ski area in the Northeast and open the longest, from mid-October (you can ski in costume on Halloween) sometimes as late as June. It also offers 15 km of groomed Nordic skiing; two golf courses. Also enjoy ziplines and a mountain coaster year round. (killington.com)
Magic Mountain
Magic is under new ownership in 2016-17 as SKI MAGIC LLC purchased the ski area with an initial 5-year plan to invest capital into lifts and snowmaking. With a robust operating budget and new snow guns, Magic will have more snow in 2016-17, made earlier than ever before to improve the consistency and reliability of skiing on both the easier East Side and more challenging West side trails. For the first time in years, both bottom-to-top summit lifts (1,600' vertical) will be in full operation. There will also be new daycare facility for young parents and some refurbishing to the lodge and Black Line Tavern. It also offers ski school, rentals, tubing park (night), and a base lodge with restaurant and bar. There's no lodging at the mountain, but plenty of quaint places nearby.
Located in Londonderry – south of Okemo, east of Bromley, north of Stratton- Magic Mountain is much like Mad River Glen, with terrain is its most distinguishing feature.
"Magic Mountain is for people whose #1 priority is skiing. It offers 43 trails, all running from top to bottom (the green trail is 1.2 miles from the top; the longest, Wizard, is 1.6 miles).
"Like Mad River Glen, Magic Mountain is a throwback – nothing fancy. We are 'tree-mendous' – lots of glades." With the capital improvements, he says, Magic Mountain will "provide better ski experience – more lifts, snow making, more consistent product – but we're not changing its character," Geoff Hatheway, one of the new owners. In an industry which always changes – follow the leader – we're counter-culture, a throwback, with a pace and style more like 1960s and 1970s. We're old school – fixed grip chairs top and bottom – not high speed (no six-packs or detachable quads). It spreads people out. We have snowmaking on 50%.
"We want to sustain, preserve and enhance the ski experience. What differentiates us is the people, the friendly vibe, friendly. And value? We make skiing affordable – lift prices are lower even at ticket window.
Magic Mountain has joined the Freedom Pass program.
Magic Mountain is 2 hrs from Boston, 3 ½ hours from NYC, 90 minutes from Albany. (magicmtn.com).
Off-slope Activities Appeal to Everyone at Vermont Resorts
Stowe Mountain Resort
Brand new this winter at Stowe Mountain Resort is the opening of an $80 million Adventure Center. This state-of-the art facility sets a new standard in the industry for kids and family amenities, says Jeff Wise, Marketing & Communications Director. Located at Spruce Peak and adjacent to Stowe's new outdoor Ice Skating Rink, Stowe's Adventure Center is home to all Stowe's children's programs (3-12), with ski in/out convenience. From beautiful daycare facilities (largest in Vermont, accommodating 60) to ski and ride programs for kids 3 and up (accommodating 500 children a day), the new Adventure Center has significantly advanced and expanded family amenities and services at the resort.
"It sets a new standard – visionary – we can have 500-600 kids checking in within 30 minutes. It offers a seamless experience for the family," Wise says.
After skiing (4 pm), the Adventure Center turns into a family recreation center, offering an Indoor Climbing Center (called Stowe Rocks), a movie theater, activity center, kids-specific restaurant ,The Canteen (after 4 pm is family friendly), and right outside the door, a new ice skating rink (free skating, but rentals available), lit til 9 pm. Also, an outdoor pool, heated year round (swim in/out of building, (there is also an indoor pool in lodge next door).
The new Adventure Center is the final piece of a 15-year, $500 million building program. "The big news is that it is finally finished."
Part of that plan was the 312-room Stowe Mountain Lodge, built at a cost of $100 million, which opened 2008, offering ski in/out convenience and now recognized as one of Top 10 in the world.
Stowe is open longer than most, Nov 19-April 21 because of $30 million snowmaking system. "New technology can make more snow at higher temps than before (we start making snow on November 1), and in fewer than 20 days, we can get 20% of top to bottom done."
Stowe has trails on Mt. Mansfield, part of Appalachian Trail and the highest point in Vermont, second highest in New England (after Mount Washington, where people ski Tuckerman's Ravine).
Stowe (stowe.com) also offers 75 km of cross-country skiing that connects to the Trapp Family Lodge. (Trapp just opened a beer hall).
Always innovative, Stowe Mountain Lodge, which is managed by Destination Hotels, is celebrating the opening of the new adventure center with a "digital detox for the family" package, incentivizing people to give up their phone for a period of time in exchange for learning a new experience. There are 22 to choose from including "learn to" ski, snowboard, rock climb, fat-tire bike, try the spa (there is a kids spa, too). "We want 'screenteens' to turn back into regular teens," says Leslie Kilgore, Director of Public Relations & Social Media. (www.stowemountainlodge.com)
Smugglers' Notch Resort 
After investing $5 million in snowmaking enhancements over the last four winters, Smugglers' Notch Resort is turning its attention to the resort village's most popular amenity for families, the FunZone. The new 26,000 sq. ft. FunZone replaces a bubble with a multi-story, indoor steel structure opening in March (Smuggs is very much a 4-season resort).
One section of the new FunZone will feature inflatables, games and areas for imaginative play with primary appeal to families with kids ages 2 to 10. A second area will offer features with appeal to older children and adults such as a ninja warrior-type obstacle course, laser tag, a climbing wall, column walk, slot car racing, and arcade and redemption center. The new FunZone, a $4 million investment, is expected to open mid-winter 2016-17.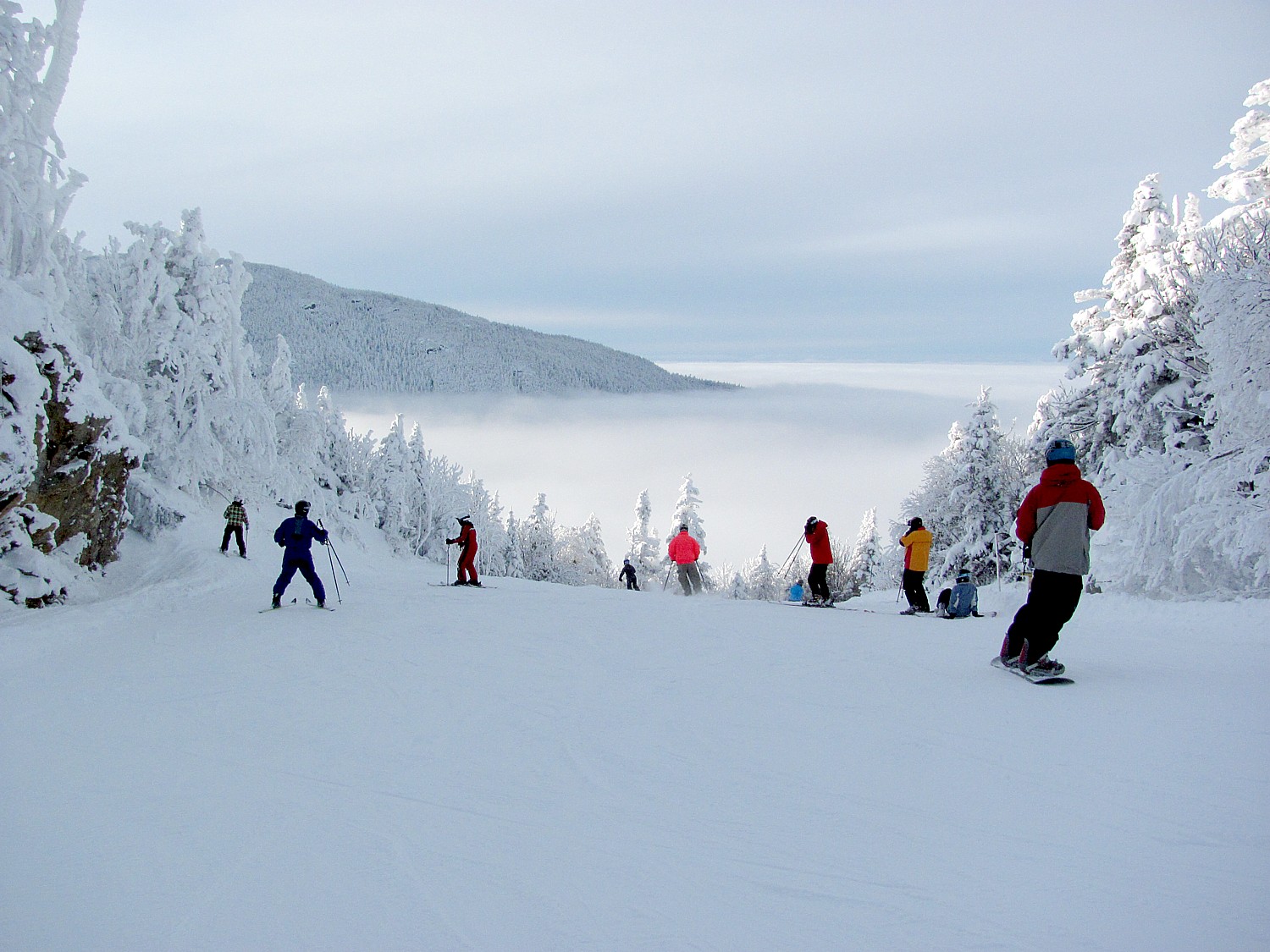 Smugglers Notch, now in its 60th season, has always been the trailblazer in family programs (Ski Magazine for 16th time voted Smuggs the #1 family friendly resort in eastern US), including innovative Mommy & Me, Daddy & Me ski/snowboard lessons where the parent tags along and learns the techniques to continue the child's training.
Now, Smuggs has introduced Riglet Park, a special snowboard area for the smallest kids. "It's hard to learn snowboarding so we build features out of snow and drag them around –they  don't just take up the hill," says Mike Chait, who prior to becoming Public Relations Manager headed the Ski & Ride school. The program was developed by Chait with Burton, and means that youngsters as young as 2 ½ can start learning snowboarding (indoors), and 3 years old (outside). The day-care facility also has its own 20-foot magic carpet which gives a fun introduction to non-skiing kids.
Smuggs also pioneered packages that included programming, and this year, is catering to the shift in how guests vacation – shorter periods, more time (Link: smuggs.com/winterbrochure).
A relatively new Winter Experience is designed for family members or individuals who don't ski, but want to be on the mountain, so they get to pick from a menu of programs, such as snowshoeing, massage.
Smugglers Notch is a true, full-service resort, albeit overwhelmingly with families in mind, so it is like camp for everybody (the information guide is huge booklet, so it is worth your while to plan ahead).
Among the special activities you should pre-arrange: a Nighttime Cat Trax Tour, where you ride a snowcat up steep vertical pitch to the mountain top at night –it feels like riding a space rover – to a heated cabin from which on a clear night, you can see Montreal.
Also a Parents Night Out activity takes you up to the top of the Notch for a Snowshoe Dinner. (This is offered in conjunction with Kids Nite Out, when the kids get pizza, make your own sundae, movies and dance party). Parents ride the chair up to a catered candle-lit dinner catered by Hearth n Candle (Smuggs' signature restaurant) in a heated building  (BYOB). Then, you take a guided snowshoe hike to Sterling Pond, the highest elevation trout pond. (Offered once/week ($75)  (4323 Vermont Rte 108 South, Smugglers' Notch VT 05464, www.smuggs.com).
 Okemo Mountain Resort 
After several years of major snowmaking improvements totaling more than $1 million, Okemo is expanding its snowmaking system again. 18,000 feet of new pipe will introduce snowmaking capabilities on Catnap and Suncatcher in the South Face area. A Prinoth Bison X park cat, equipped with a Caterpillar 400 horsepower, tier 4 engine that meets all federal emission standards, is the newest addition to Okemo's fleet of grooming machines as Okemo enters its third year of partnership with Snowpark Technologies. Rental equipment upgrades include 515 Volkl skis, 153 Burton snowboards and more than 1,000 pairs of boots.
Also, Okemo has joined the M.A.X Pass family of resorts this year. Okemo season passholders can take their pass on the road – up to 30 mountains (including Okemo's sister mountain, Crested Butte in Colorado) with an Add-On upgrade.
Among the many attractions at Okemo (including indoor and outdoor pools at Jackson Gore, the ski in/out lodge), is a year-round mountain coaster.
Okemo is now offering scenic train rides –a shuttle takes you to the Green Mountain Railroad station in Chester, 20 miles south, for its slow ride back to Okemo. It offers a dining car so you can do dinner on the train. It takes one hour each way. Okemo offers the ride twice, four days a week ($25, booked through Okemo). (okemo.com)
Stratton Mountain Resort
Stratton Mountain Resort announces an addition to the vibrant slope-side Village dining fleet– Karma: an Asian fusion experience. A menu inspired by the Asian travels of Karma's chef will debut with traditional ramen bowls and dumplings fresh-made with local ingredients, imaginative entrees and craft cocktails with a twist like vodka filtered through Herkimer diamonds for a side of positive energy.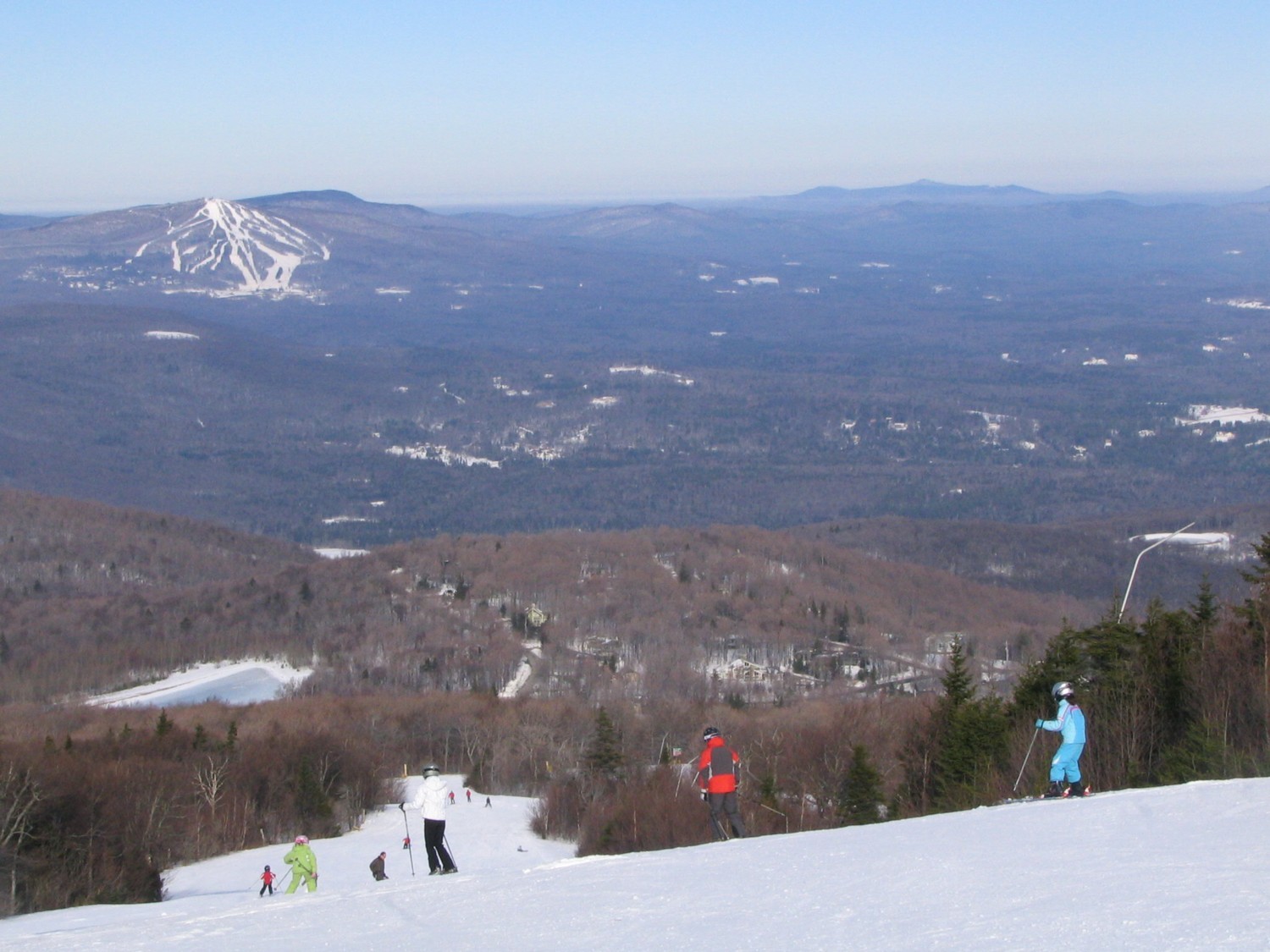 Stratton's snowmaking fleet gets a new computerized control system, allowing snowmakers to record real time energy use for increased snowmaking efficiency.
The Mountain Sports School welcomes Tim Massucco as its new Program Manager for the Stratton Winter Sports Club Freestyle. Massucco's 16 years of coaching experience will enhance the training curriculums critical to the success of weekend and full-time competitive freestyle skiers.
The Stratton Jitney which began last year will again take skiers from Manhattan on Friday, returning Sunday afternoon (beginning December).
And in another incentive for millennials, its Stratitude Pass is now available for 18-32 year olds (instead of 1829) – $349 and no blackout days. (Stratton.com)
Mount Snow Resort
Winter 2016-2017 welcomes Mount Snow's greatest season pass offering yet, the Peak Pass, which features a total of six pass options valid at seven different mountain locations across four states in the Northeast. And Mount Snow extended the period for millennials, 18-29, to purchase its pass for $399 through Dec. 15 (no blackouts).
With the success of the Grommet Jam Series, Mount Snow is increasing the uphill capacity in its beginner terrain park by 50 percent, by replacing our Ski Baba Lift with a 400' SunKid conveyor called Grommet (Lift One).
Lastly, taking advantage of the dry spring this year Mount Snow increased trail and glades work. So far over 1600+ hours have been spent pruning, mowing and clearing new lines through tree skiing areas in preparation for powdery runs this winter.
Mount Snow's terrain park has been voted #1 in the East and #6 in North America. "It's not often an East Coast resort is in the top 10," says Jamie Storrs, Communications Manager. "We are where the X Games started. Our lead pro, Devan Logan, is the most decorated Olympian, winning gold in the last Olympics, and the captain of team. He is the face of our professional team – we have 11 people on team – who are out there training most days." Guests can watch.
Mount Snow is the most southerly of the major Vermont ski resorts. (West Dover, VT 05356, mountsnow.com).
Sugarbush Resort 
Sugarbush has invested $750,000 into capital improvements for the 2016-17 winter season which including lift improvements and improvements to the snowmaking pond, continuing to progress upon the on-slope experience. Skiers and riders don't have to worry about crowded trails thanks to the Valley House Quad Sugarbush installed last season. With the new quad, Sugarbush's uphill capacity is one of the largest in the northeast, while still managing to spread traffic across 16 lifts and two mountains. The resort has also completed Gadd Brook Residences, sixteen ski-in/ski-out condominiums at the base of Lincoln Peak available as two-, three-, and four-bedroom units.
Sugarbush, located in central Vermont, offers 139 trails on two mountains connected by the world's longest detachable quad lift, and 2,000 acres of back-country skiing (there is a shuttle to take you back). (www.sugarbush.com)
Bolton Valley
One of the special features of Bolton Valley, which is celebrating its 50th anniversary this season, is that it offers night skiing, and this year, night skiing hours are being expanded. Night skiing will be offered Tuesday through Saturday until 10 pm – that means you can ski Tuesday through Friday from 10 am to 10 pm, and Saturdays from 9 am to 10 pm (the daily ticket is good for night skiing). "There are amazing sunsets from the mountain, overlooking Lake Champlain in the west," says Josh Arneson, VP of sales and marketing.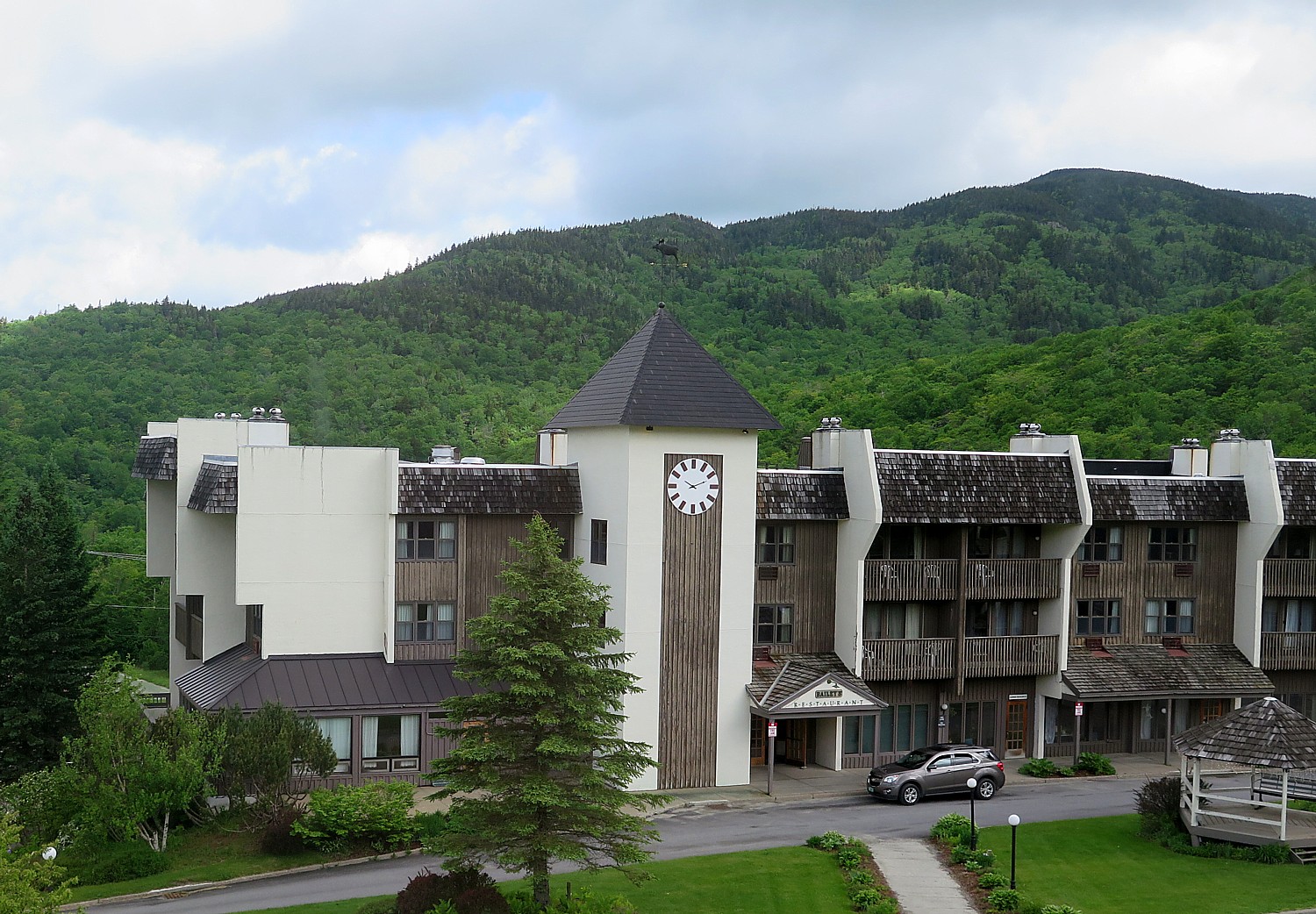 Bolton Valley is also renowned for their extensive 1,200-acre backcountry area, where they have two backcountry cabins– one from 1928 and the other from 1935 – which are available for winter stays (the cabins hadn't been available for two years while they were being renovated by the Green Mountain Club). Rugged and rustic, you get up there with your own supplies (sleeping back, food) – firewoord is provided – and can stay over.
There are also 15 km of groomed x-country trails, but above that is backcountry skiing.
Skiers will enjoy the benefits of more snowmaking, so Bolton Valley can make snow earlier and get to more trails faster.
Bolton Valley's hallmark is its rustic, unpretentious quality – a step up from Magic Mountain and Mad River Glen because it has ski in/out lodging and indoor pool (the cafe and bar have been renovated). But it also has some unique programs: artist Natasha Bogar, who did the art that is in the hotel rooms, offers Paint Nights, where you come to paint and have a beer.
Over the past year most suites and 25 hotel rooms at Bolton Valley have received major upgrades. The units have seen improvements such as new carpet, drapes, furniture, painting, renovated bathrooms, new mattresses and new artwork. The improvements greatly enhance guest comfort in the rooms that had become a bit dated. Indeed, the hotel was one of the first ski in/ski out lodgings in the east when it was built.
Bolton Valley, the popular playground for Burlington, is celebrating its 50th anniversary year. "We're planning to paint the 50th chair on the three original lifts gold – and if you get the golden chair, you might win something," Arneson says.
This year, Bolton Valley has eliminated the $50 upgrade for the Freedom Pass add-on to its seasonal pass, giving unlimited skiing at the home mountain plus three free days at each of the 12 other areas in the program, from Eagle Crest in Alaska to Lost Valley in Maine (www.boltonvalley.com/tickets-passes-rentals/seasons-passes/Freedom-Pass).
Mad River Glen
Mad River Glen's goal is to maintain and preserve the experience rather than overhaul or upgrade it.
"We're the food truck of ski areas – authenticity – only cooperatively owned, nonprofit.
2000 skier-owners are dedicated to keeping Mad River Glen the way it is – a time warp."
"The ability of Mad River Glen to consistently reinvest in the mountain's infrastructure is a testament to the success of the Cooperative. Both the skier-owners and the management understand that skiers come to Mad River for the unique combination of legendary terrain, sense of community, low skier density and intimate atmosphere. In 20 years of co-op ownership, Mad River Glen has invested over $5 million in capital improvements.
Mad River Glen is located five miles from Sugarbush (www.madriverglen.com)
Suicide Six Ski Area
Woodstock Inn & Resort's Suicide Six Ski Area replaces chair #1 with a new quad chairlift that will double capacity, offering a more comfortable and rapid ascent to the summit. Leitner-Poma of America, Inc., installed the lift at an estimated cost of $1.5 million. Funding for the new chairlift is being provided through a grant from the Laurance S. Rockefeller Fund. Recognized as one of the oldest ski areas in the country, Suicide Six has a rich history. Today, Suicide Six is one of Vermont's leading family-friendly ski resorts featuring more than 100 acres of skiing on 24 trails and slopes with terrain suitable for all abilities. (www.woodstockinn.com/ski-area)
Bromley Mountain Resort
Green Team Go! With a focus on both establishing new habits and reinforcing current good ones, Bromley rethinks trash, recycling and composting food waste to implement a "Go Green" initiative this winter season. The intent is to eliminate organic waste and all recyclables from the Bromley dumpsters containing refuse destined for the landfill. Recycling for bottles and cans has always been available around the resort, but not universally across the base area, and composting has never been an option. This season bring change and while Bromley works towards keeping the planet beautiful, they're pleased to announce that base area buildings have also received a makeover. (bromley.com)
Jay Peak Resort
The folks at Jay Peak are still of the mind that the 5,000 acres between their borders represent one massive terrain park, but they understand the need for focus. So this season the resort is increasing the snowmaking capacity to its LZ and Jug Handle parks by 60%, running a new waterline up the Interstate trail and installing 20 new guns along the Interstate. The expansion will not only allow Jay Peak parks to open sooner, but will also  allow the resort to open learning terrain at its Tramside area earlier in the season. (jaypeakresort.com)
The Hermitage Club
The Hermitage Club, in Wilmington, has taken over Haystack Mountain as a private club, investing $125 million in the redevelopment, with $285 million more to go.
At its busiest, there would only be about 1100 people on the mountain at any one time. It offers fine restaurants and inns.
"The Hermitage Club is looking forward to providing one of the fastest and most efficient ski experiences in the northeast. Not only do our members enjoy the absence of lift lines, our high-speed summit lift is the only one of its kind in the U.S. – a six-person heated bubble lift by Doppelmayr, zipping our skiers to the top of the mountain in less than six minutes. And take a break and enjoy the beverages and views at our Mid-Mountain Cabin, which has become a veritable slope side oasis for our members." (hermitageclub.com)
Quechee Club
The Quechee Club ushers in a new experience for its members, visitors and area guests this winter season with the completion of a newly constructed Aquatic Complex and fitness club expansion. The complex includes a new indoor pool area with an aerobics room, in addition to implementing a new retention pond. The indoor complex, approximately 10,000 square feet, is twice the size of its initial pool  and includes four lap lanes and an open concept design with natural post and beam architecture to complement the refined yet understated aesthetics of the Clubhouse.(www.quecheeclub.com)
Mountaintop Inn & Resort
Mountaintop Inn & Resort is a four-season resort that in winter, affords top-notch cross-country skiing on 60 km of trails.
It offers a 32-room lodge plus 4 cabins and 23 guest houses, literally set on the top of a mountain, with a 748-acre lake and spa (known for weddings and particularly winter weddings).
The inn is 15 miles from Killington, and it offers packages that include lift tickets, as well as shuttle service to the mountain. (195 Mountain top Road, Chittenden, VT 05737, www.mountaintopinn.com).
Burke Mountain Resort
The Lodge at Burke Mountain will finally open its doors on September 1st with introductory rates starting from $109/night during its first month of daily service.  The 116 room Hotel is situated mid-mountain and provides a true ski-in ski-out experience.  Suites range from a standard studio to three bedroom with onsite amenities including a pub, restaurant, heated pool & hot tub, fitness center, arcade, retail and repair shop for guests to enjoy.  Striking views of the Willoughby Gap and Burke Mountain can be seen from nearly every window in the Hotel. (skiburke.com, 866-966-4820).
For more information, visit Ski Vermont (Vermont Ski Areas Association), skivermont.com
____________________
© 2016 Travel Features Syndicate, a division of Workstyles, Inc. All rights reserved. Visit goingplacesfarandnear.com and travelwritersmagazine.com/TravelFeaturesSyndicate/. Blogging at goingplacesnearandfar.wordpress.com and moralcompasstravel.info. Send comments or questions to [email protected]. Tweet @TravelFeatures. 'Like' us at facebook.com/NewsPhotoFeatures