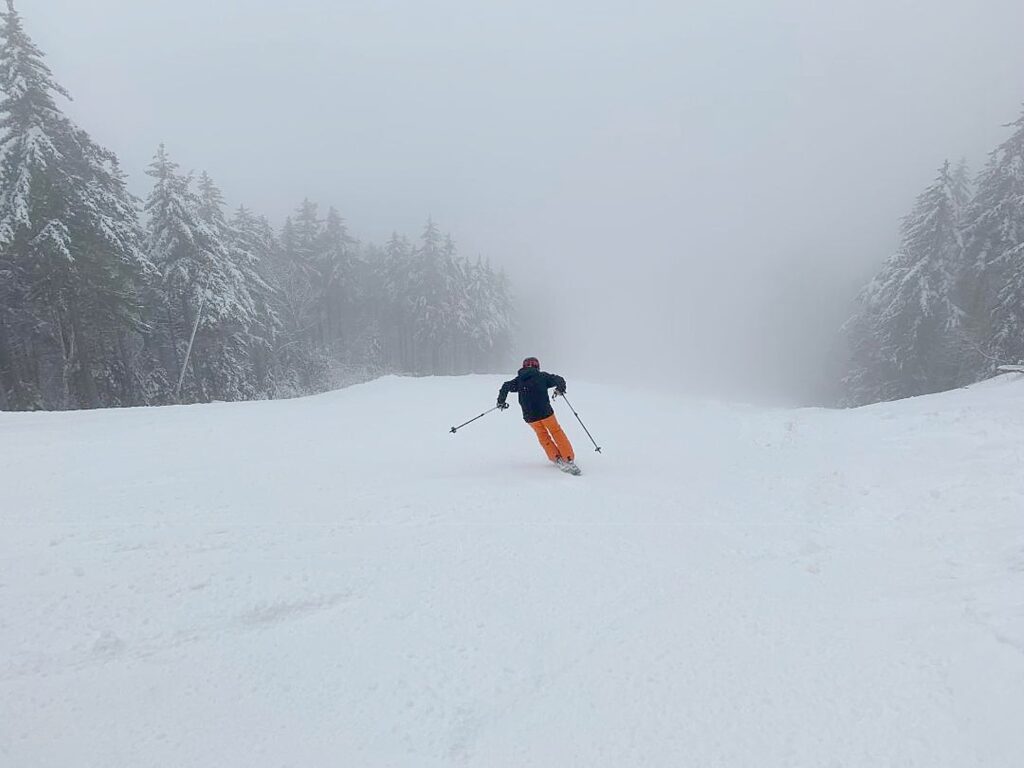 By Dave E. Leiberman and Laini Miranda
Travel Features Syndicate, goingplacesfarandnear.com
There is a special allure at Central Vermont's Magic Mountain. On the one hand, the vibe is retro and frill-less, with two cozy double chairs (that founder Hans Thorner imported from Europe) and some free-spirited bluegrass/groovegrass playing through the speakers at the Black Line Tavern. On the other, it's a quiet, nearly private skiing experience. Considering how rustic and unpretentious Magic Mountain is, this actually feels like the ultimate in luxury.
This past Thursday, we had the pleasure of a Magic day trip. We hit the road from Schenectady at 6:45am, stopped as we approached the mountain area to pick up some delicious breakfast sandwiches at Hapgood's General Store in Peru, and were on the lift with stress-free rental skis by 9:30. You park your car and walk to the lift in a minute flat.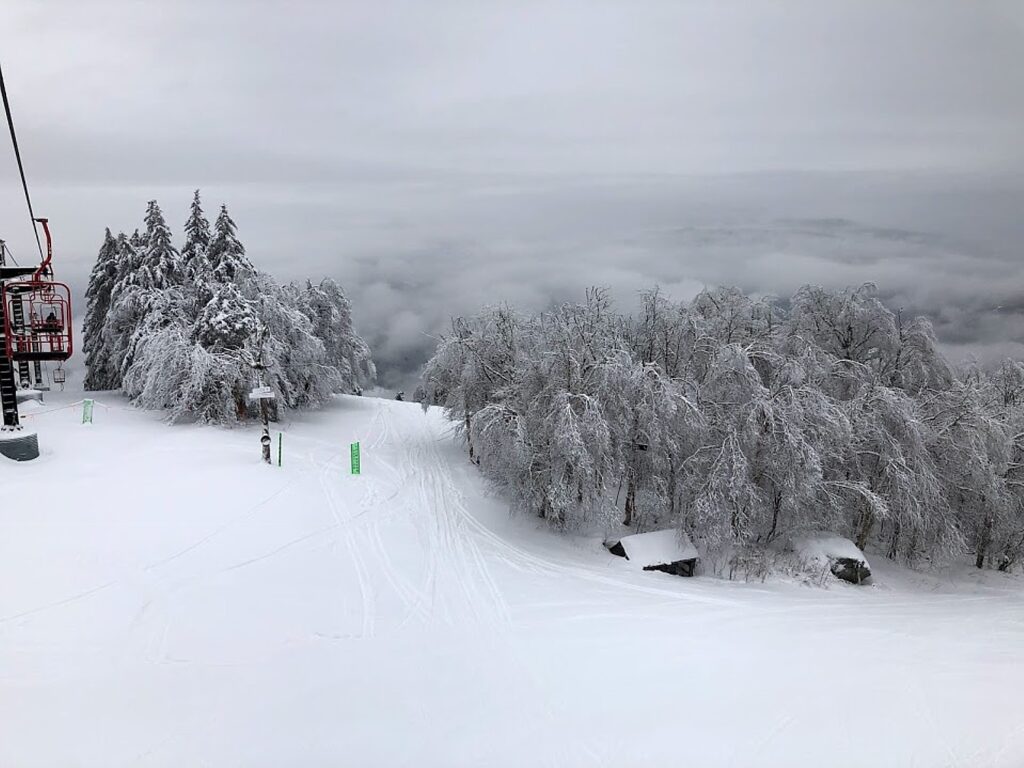 As we explored our first run, one of a handful of long slopes carved 50 years ago to match the contours of Vermont's Green Mountains, we quickly realized that we have this enchanting, snowy gem of a mountain to ourselves. It had just snowed, and because Magic Mountain is only open Thursdays to Sundays, we were reveling in fresh powder, laying down our own tracks.
Thorner was among the first to bring skiing to New England. In the late 1950s, when he discovered Glebe Mountain, he saw ridge lines and steep topography that reminded him of his native Swiss Alps. Our new friend in the rental shop, Peter, who grew up in Londonderry, made this sincere analogy: The major mountain resorts are "the Porsche Cayenne or the Range Rover. Magic is the '61 Jaguar XKE that's been kept hidden away in a barn."
This Thursday (for most of the season, Thursdays have a special price of $29), we were amazed at the quality of the powder we found. The slopes – there are 50 of them on 205 skiable acres, with a vertical drop of 1,500 truly vertical feet – carry across the "Magic" theme with names like Sorcerer, Talisman (a favorite of Magic regulars), Twilight Zone (a great glades trail with lots of snow), Broomstick, and Slide of Hans (a punny tribute to Hans Thorner). Magic offers boundary-to-boundary tree skiing and few distractions.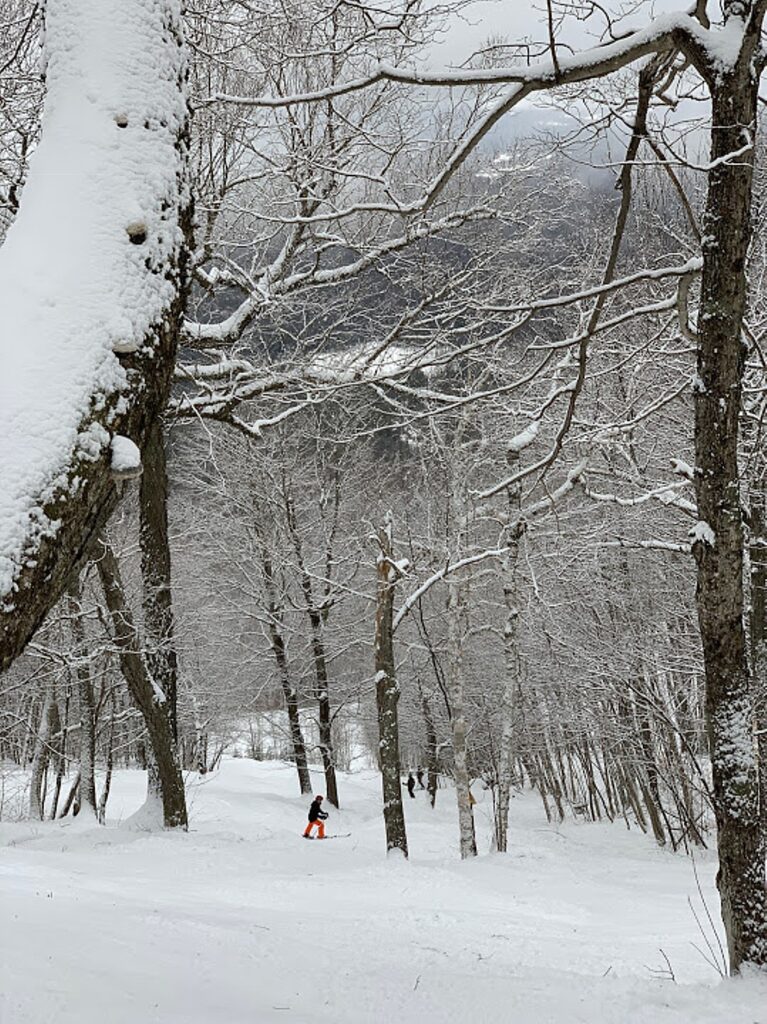 The runs are great, especially for intermediate (13 trails) and advanced skiers (17 trails). There are 11 glade trails, including some that are even welcoming for those who are new to skiing through the trees. There are 13 easy trails, mostly in the center of the mountain, and one terrain park. It's also easy to cross between black to blue to green on one long run if you go with a mixed-level group.
At the base, Black Line Tavern is as laid-back as the rest of the mountain, with a friendly atmosphere that feels like your neighborhood bar/restaurant. A song by Vermont acoustic group Jatoba was playing as we strolled in for lunch. (A poster on the wall listed them as one of the upcoming bands performing at the tavern.) The beef chili was excellent, and the Korean BBQ Pulled Pork sandwich with fries was also delicious.
Magic Mountain, which remains fiercely proud in being independent and a throwback to Vermont's ski heritage, continues to make major investments in lifts and snowmaking, this year spending $2 million in improvements to ensure an uncrowded, soulful ski experience.
"Our future is as an independent," owner Geoff Hatheway said at a recent Ski Vermont event told us. Hatheway purchased Magic four years ago, drawn by the community feel.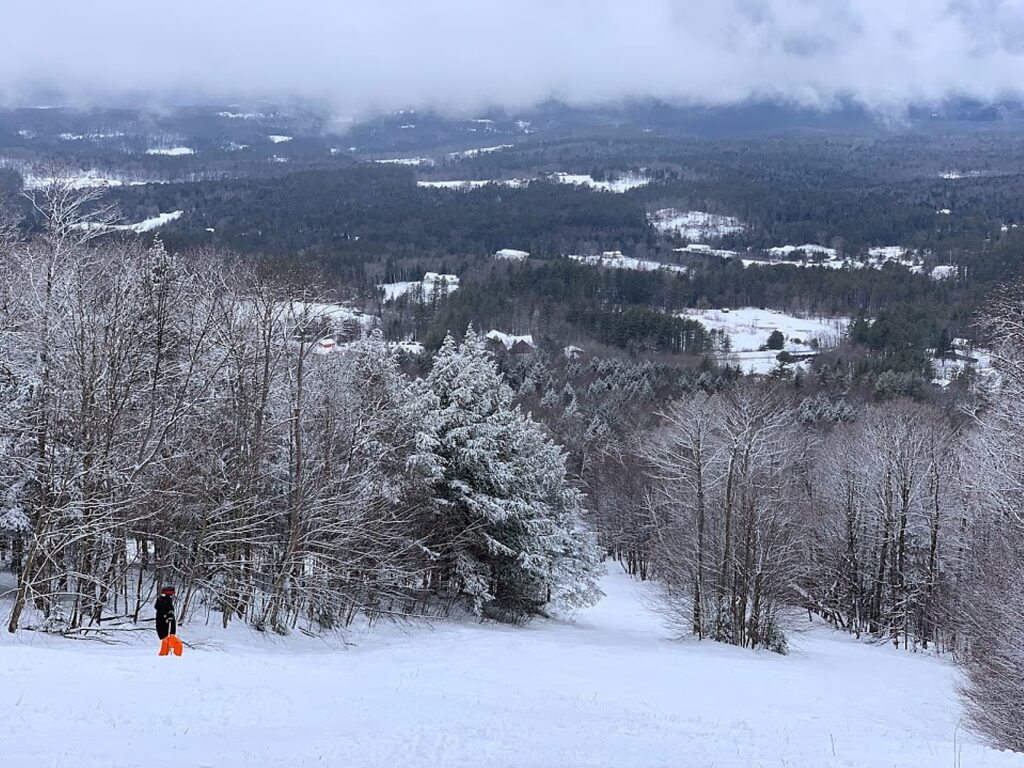 "The major investments we are making in smoothing out some of the prior rough edges here are always balanced by maintaining our unique 'throwback' character," Hatheway said. "We love natural snow here—it just skis better than man-made. So while we continue to make major investments in snowmaking, lift service and grooming equipment, we will let mother-nature do what she does best on our more advanced terrain. Powder days are legend here and it's why we have special openings when a storm hits mid-week. It's why we continue to expand the best tree-skiing in southern Vermont. It's why we've always supported uphill alpine touring. There's truly something for everyone here who is into the original feel and adventure of the sport of skiing."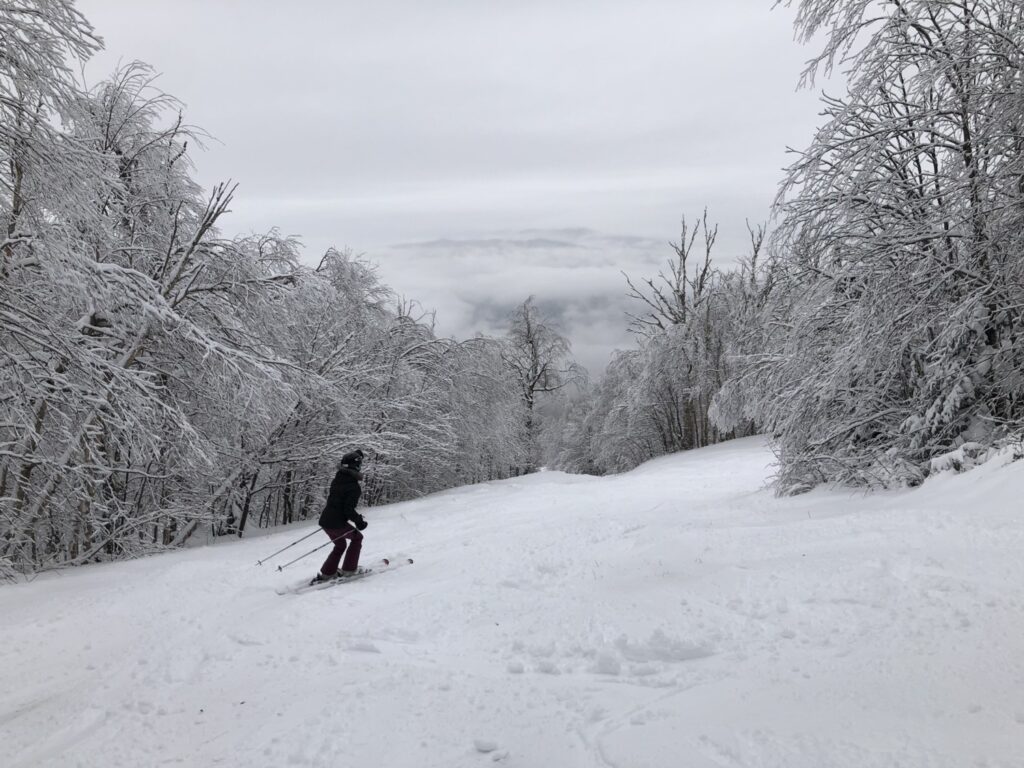 In order to handle more guests yet keep its lift line wait to under 10 minutes even during the busy holiday periods, Magic is replacing its Black Double summit lift with a fixed-grip Quad from base to summit to complement its Red Lift. The new Black Line Quad was hoped to be completed for this season, but more likely will be next season. With the addition of the new summit lift, Magic is adding another double-diamond expert summit trail named Pitch Black. There is also a new East Side glade created by the "Friends-of-Magic" work-crew this year.
In addition, Magic is repairing a snowmaking pipe and re-energizing its Thompsonburg Brook pond to better re-fill and supply water. They plan to expand snowmaking coverage to over 50% of trails on both the East Side and famed expert West Side.
There is also a tubing park that is open weekends.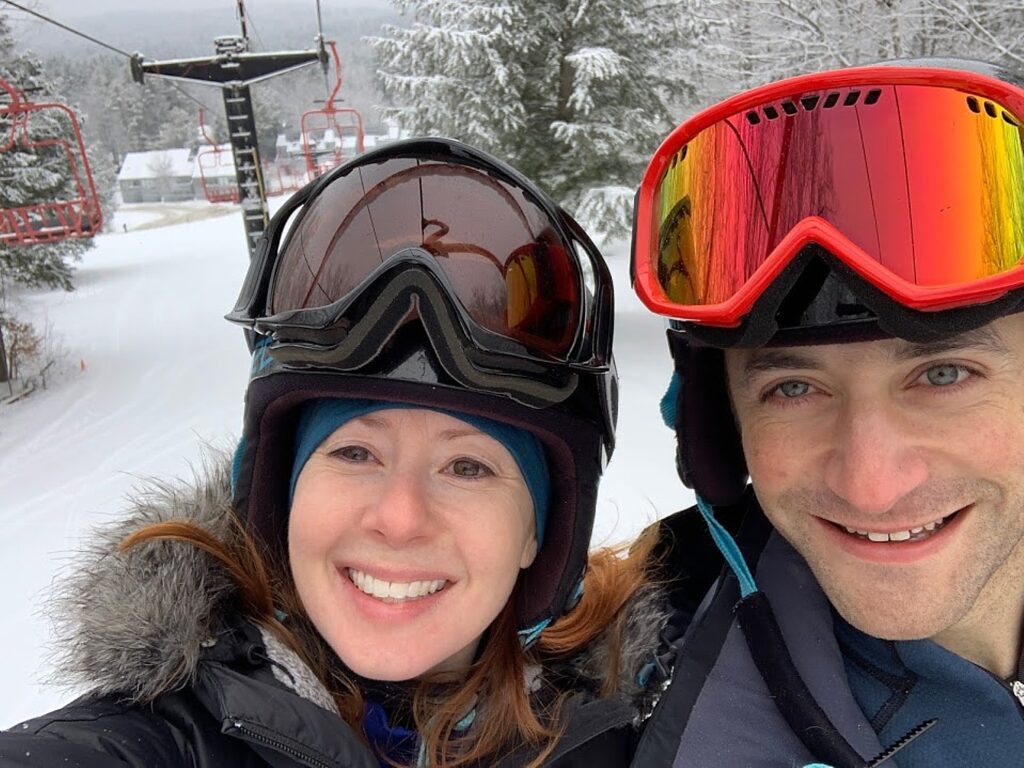 Magic is a northern Vermont mountain in southern Vermont, more challenging than its neighbors. But a new mid-mountain chair improves access for intermediate and novice skiers (there is no beginner trail from the summit, but a low-intermediate can take the 1.6 mile trail from the top).
The plan is to "create a future that harkens back to a golden age of skiing," Hatheway, who brings a background from marketing and advertising Internet and tech startups, said.
Asked how Magic can compete against bigger resorts with bigger marketing budgets and seasonal passes that span the globe, Hatheway pointed out, "We can appeal to the 'uncommitted' market. We have a passionate group of committed people, but there is opportunity to peel off those who don't want to commit to an $800 season pass."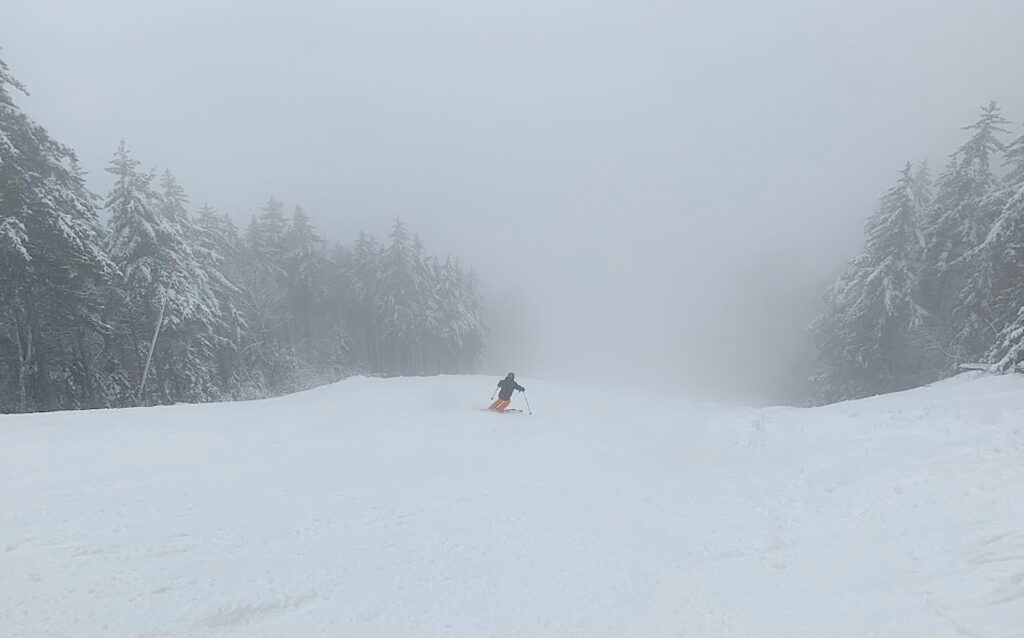 Magic Mountain offers a variety of options on passes: Sundays only, Midweek, 18-29s, a Throwback Card ($149 gets you $29 tickets all season long). "These are crazy affordable but the skier makes some commitment. We try to be as creative as possible – we even have a holiday pass when others are blacked out elsewhere." Skiers can also purchase discounted lift tickets on Liftopia.com.
"We hope you take the road less traveled with us. It will never be perfect. But it will always be authentic and interesting," Hatheway said.
Magic Mountain, 495 Magic Mountain Access, Londonderry, VT 05148, [email protected], 802-824-5645, magicmtn.com.
_________________________
© 2020 Travel Features Syndicate, a division of Workstyles, Inc. All rights reserved. Visitgoingplacesfarandnear.com, www.huffingtonpost.com/author/karen-rubin, and travelwritersmagazine.com/TravelFeaturesSyndicate/. Blogging at goingplacesnearandfar.wordpress.com and moralcompasstravel.info. Send comments or questions to[email protected]. Tweet @TravelFeatures. 'Like' us at facebook.com/NewsPhotoFeatures