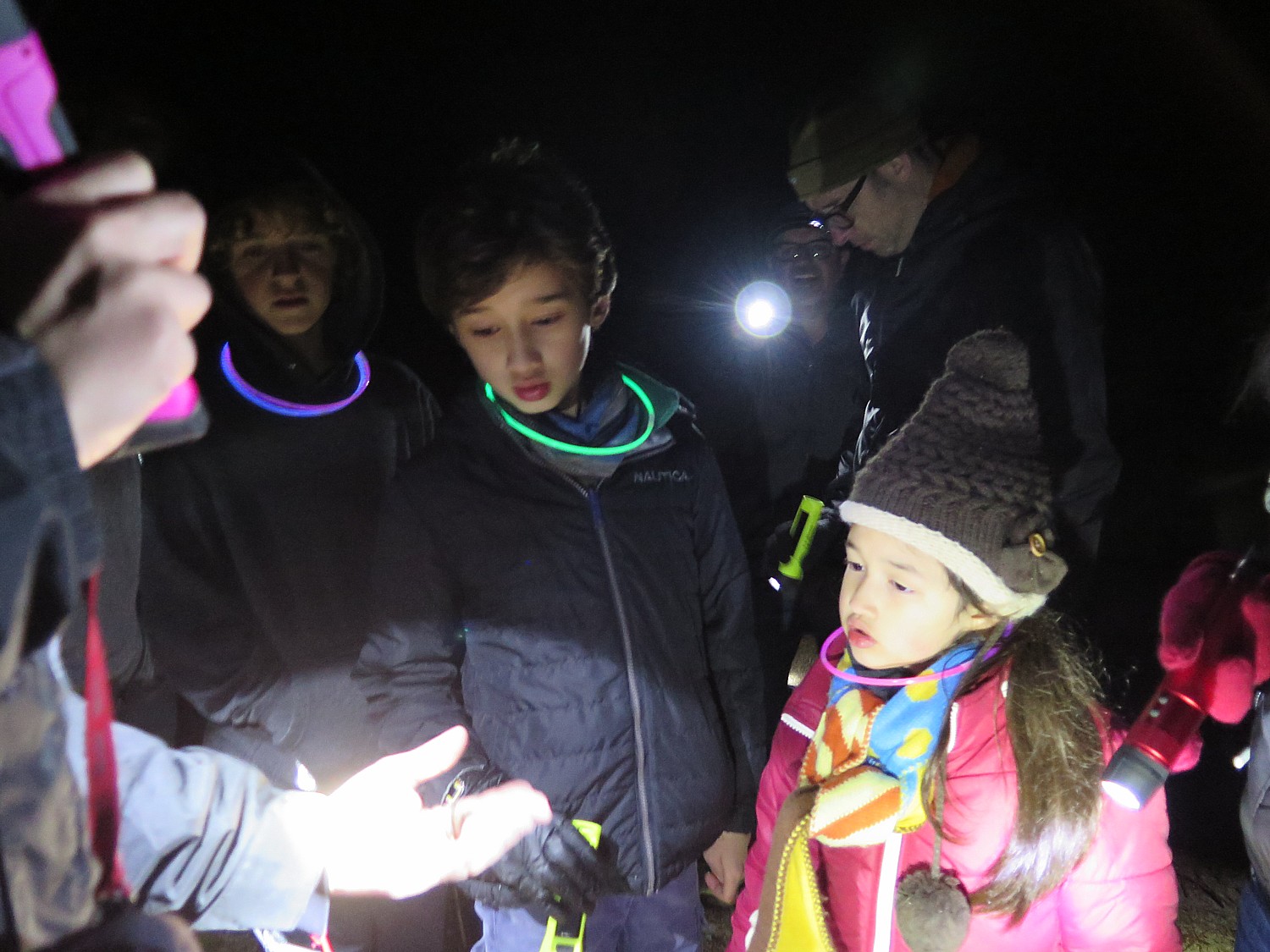 By Karen Rubin, Eric Leiberman & Sarah Falter
Travel Features Syndicate, goingplacesfarandnear.com
The description of the Tenaya Lodge nightly Flashlight Hike sounded very tame. A mile-loop in the woods surrounding the resort. Indeed, it is designed for families. But shortly after starting out from the Lodge, flashlights in hand, as the dusk turned to darkness and any light that would have come from the lodge faded as we walked deeper into the forest, we realize this is really an adventure!
Amanda, our guide, introduces herself as a wilderness kid – she grew up in Yosemite National Park, literally next door to the Tenaya Lodge (the Yosemite South Gate is just 2 miles down the road), where her parents both worked, and she has guided horseback riding trips and skiing. Her commentary is absolutely fascinating.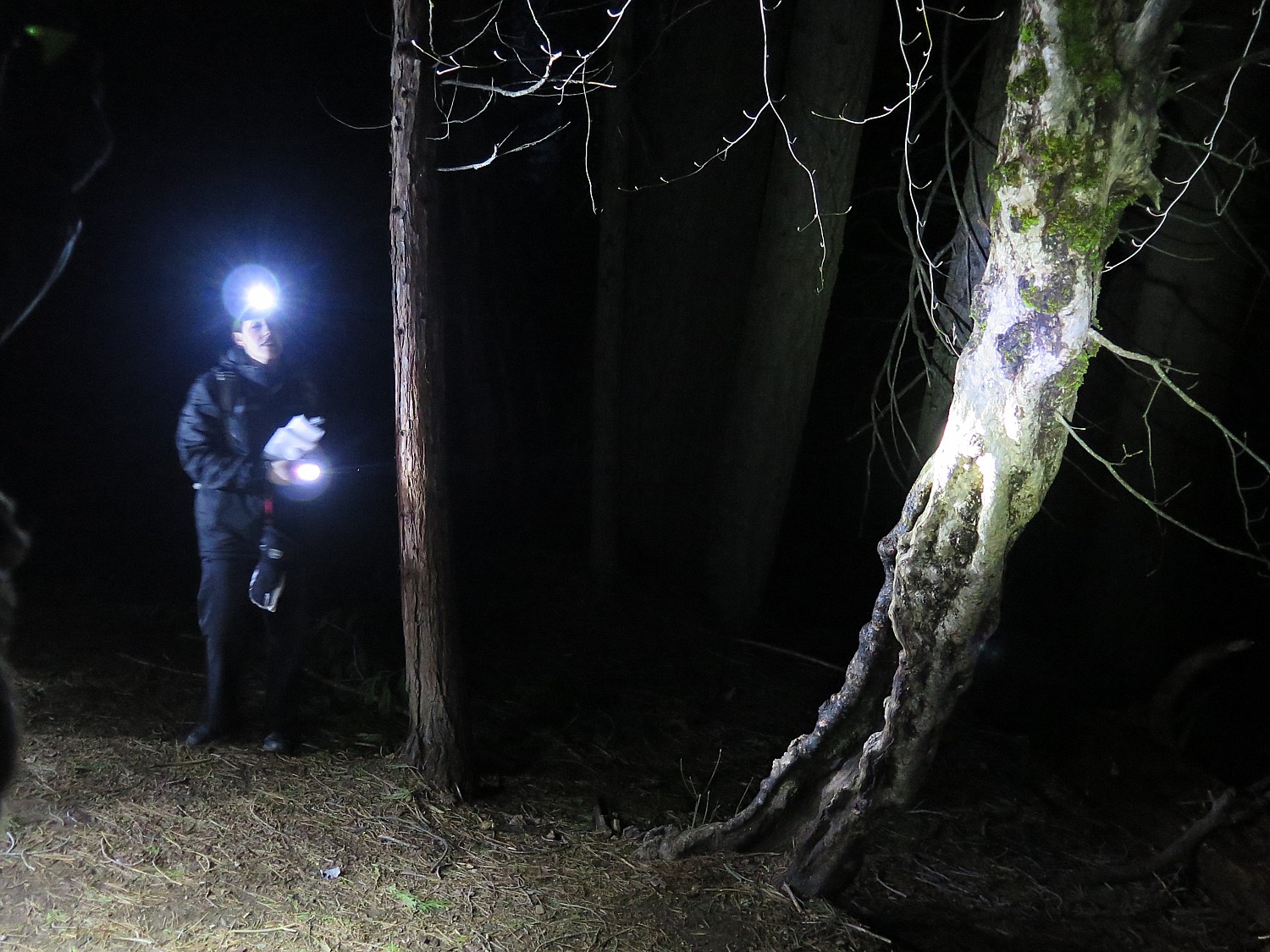 At the start, she introduces us to "widow makers" (no joke: the branches that can break off these tall trees and kill), with the moral to the lesson, "Be aware of your surroundings."
We also learn that trees are like people; that the trees in the forest (Tenaya Lodge is nestled between Yosemite and the Sierra National Forest) have a 600-year life expectancy; that the famous giant sequoias can live 1000 years and as large as they are, they come from a seed the size of a splinter inside a golfball-sized cone that only opens once it has been exposed to fire. The wood is mostly fire resistant and insect repellant and lumbering companies would have cut them down but for pioneering conservationist John Muir who convinced President Theodore Roosevelt to protect Yosemite and turn it into the nation's first national park.
Native peoples used acorns as a source of food, and turned pine needles into a medicinal tea. She shows us a log that has been "damaged" by a bear pulling out insects (it eats 10,000 insects, or about 5 lbs worth).
We shine our flashlights onto a white thorn bush, where, she says, mule deer hide their young to protect from mountain lion; the babies stay until they hear their mother.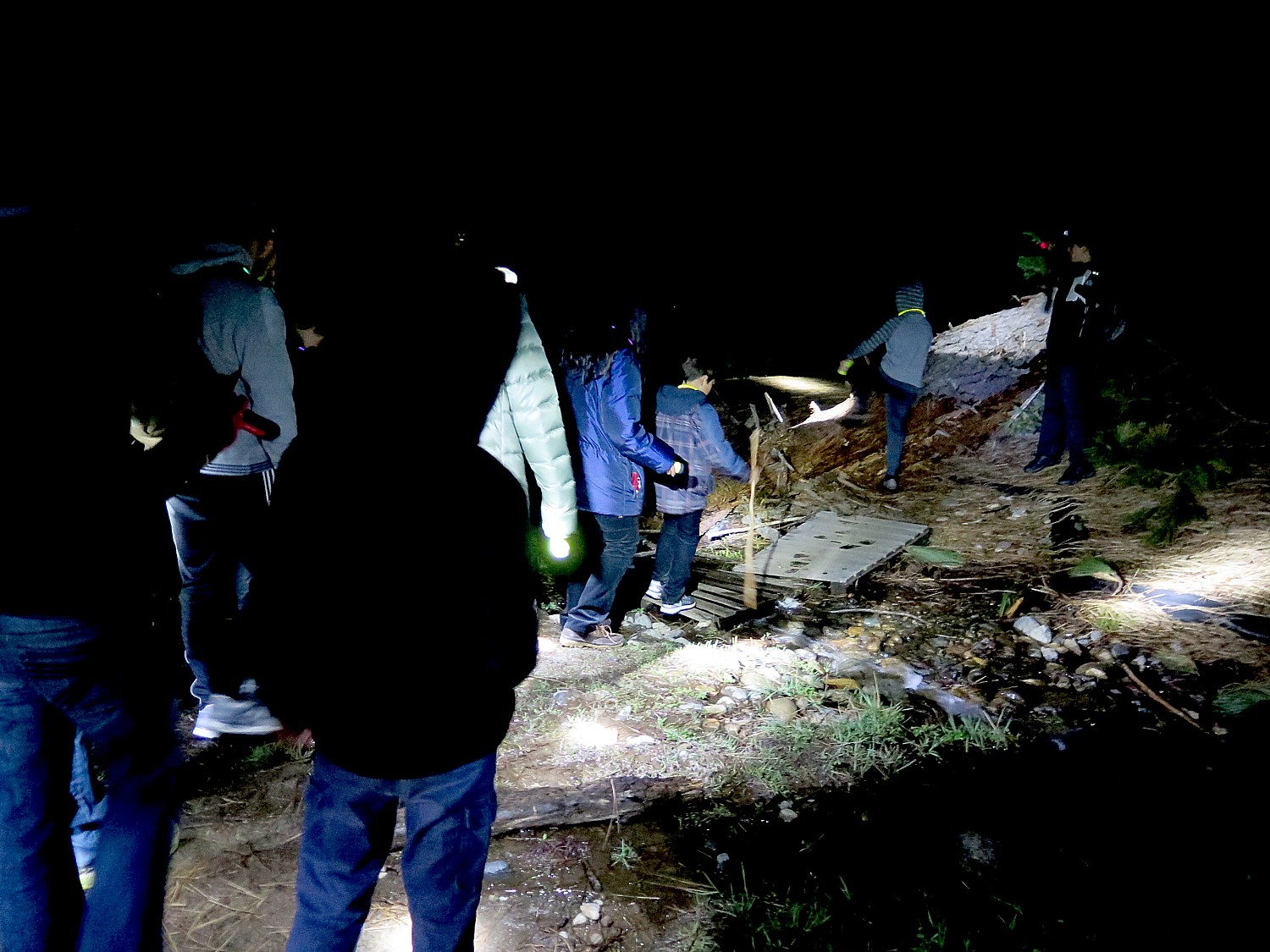 By the light of our flashlights, we cross over a plank over a tiny stream, climb over a fallen tree trunk. At one point Amanda points to a pile of dead wood and warns, "Don't go into it- rattlesnakes like to play there." Rattlesnakes, I think to myself??? She shows us where trees have been destroyed by Bark beetle – the tree stops making sap, dries out, and has no protection. "These are 'one match trees' – very flammable."
And she tells us something that we find very helpful when we are out on our own hiking, "moss only grows on the north side of tree." We feel like we are true outdoorspeople.
Towards the end of the hike, we come to a place where the trees, lifting up to the sky, open up, giving us an expansive view of a billion stars. A boy exclaims, "I've never seen the sky like this."
Amanda says that when we see the stars, we are seeing deep into the past – it takes 1000 years for light to come to earth; sunlight is 8 minutes behind. "The Indians felt that sky was blanket over earth, raven poked holes to see sun… Anytime I am feeling bothered,  I just look up."
This is just one of the activities available at Tenaya Lodge, and I would say it is a must – book in advance because it fills up; in winter, they offer a Snowshoe Flashlight Tour which must be sensational.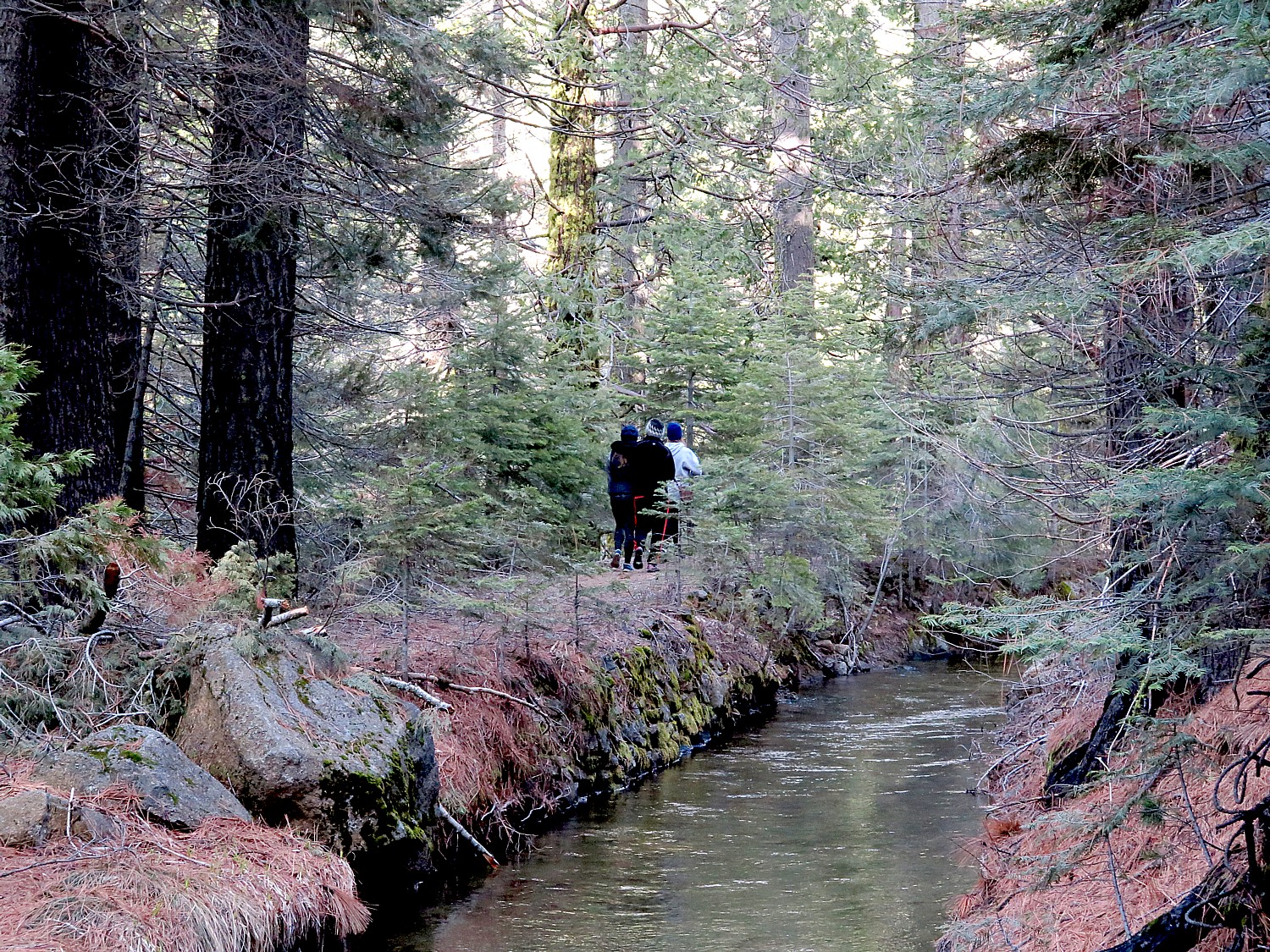 Actually, this was our second hike of the day, since arriving in the afternoon at Tenaya Lodge, which is located in Fish Camp, California, a 3 ½ hour drive (200 miles) from San Francisco.
Shortly after our arrival, we quickly drop off our luggage in our room, get directions from the concierge, and set out for a hike that starts from the resort's entrance, up a logging road, about 2 ½ miles to a waterfall. The hike is perfect to acclimate ourselves to the 5,200 ft. elevation. We immediately fill our lungs with rejuvenating pure air, and recharge with the rhythm of a rushing creek.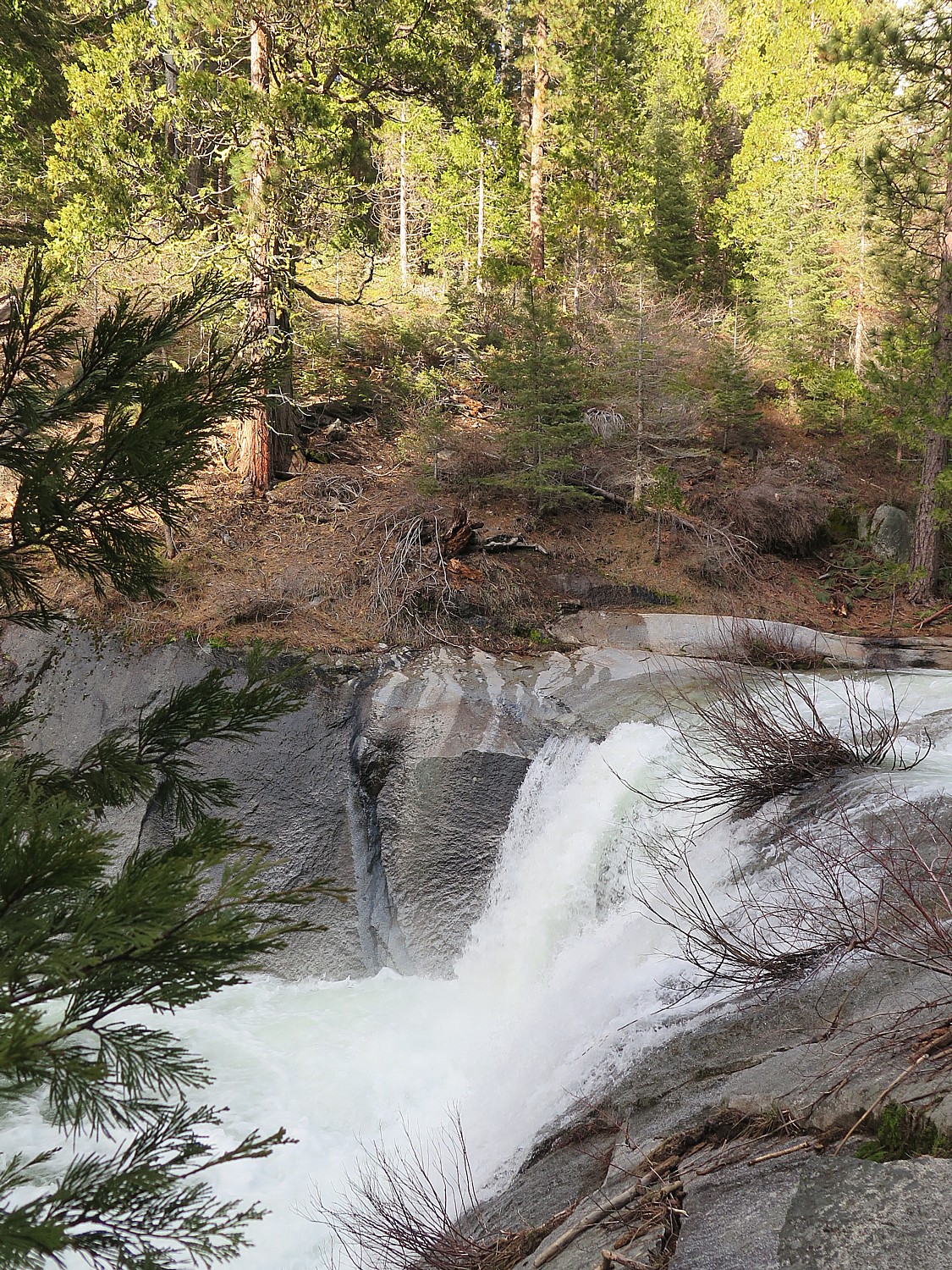 It is so early in the season, there is still snow on sections of the trail, making the rushing creek and waterfall all the more dramatic. We are supposed to turn off at a green building, but actually overshoot (it turns out it isn't a building, but rather a water management shed with solar panels on it). Retracing our steps, and calculating for the time until dusk, we (bravely) go through a fence, walk past a decaying wood cabin and come to where the trail narrows significantly, following along a canal on one side. There are spots where you can hear and see a rushing stream and distant sound of the waterfall. Following along, we come to a wonderful waterfall. By now, the late afternoon sun is like liquid gold spreading over everything. Magical.
We make our way back to the lodge with minutes to spare before joining the 8 pm Flashlight Hike.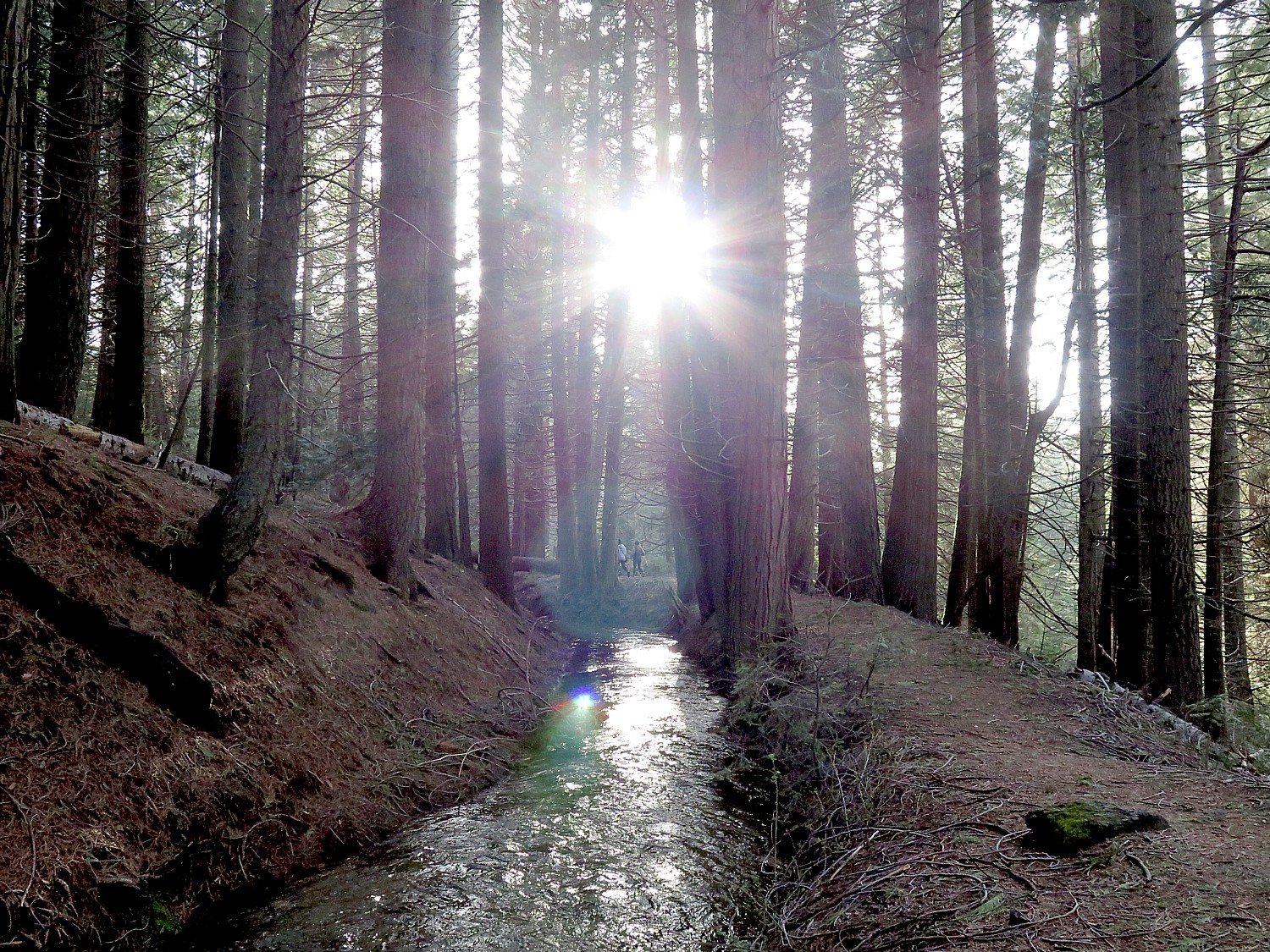 Four Diamond Luxury Faithful to Rustic Environs
The Tenaya Lodge is a four-diamond luxury resort with every manner of amenity that nonetheless manages to be faithful to its rustic environs. It is named for Chief Tenaya, of the Miwok tribe of Indians who lived mostly along the foothills of the Sierras.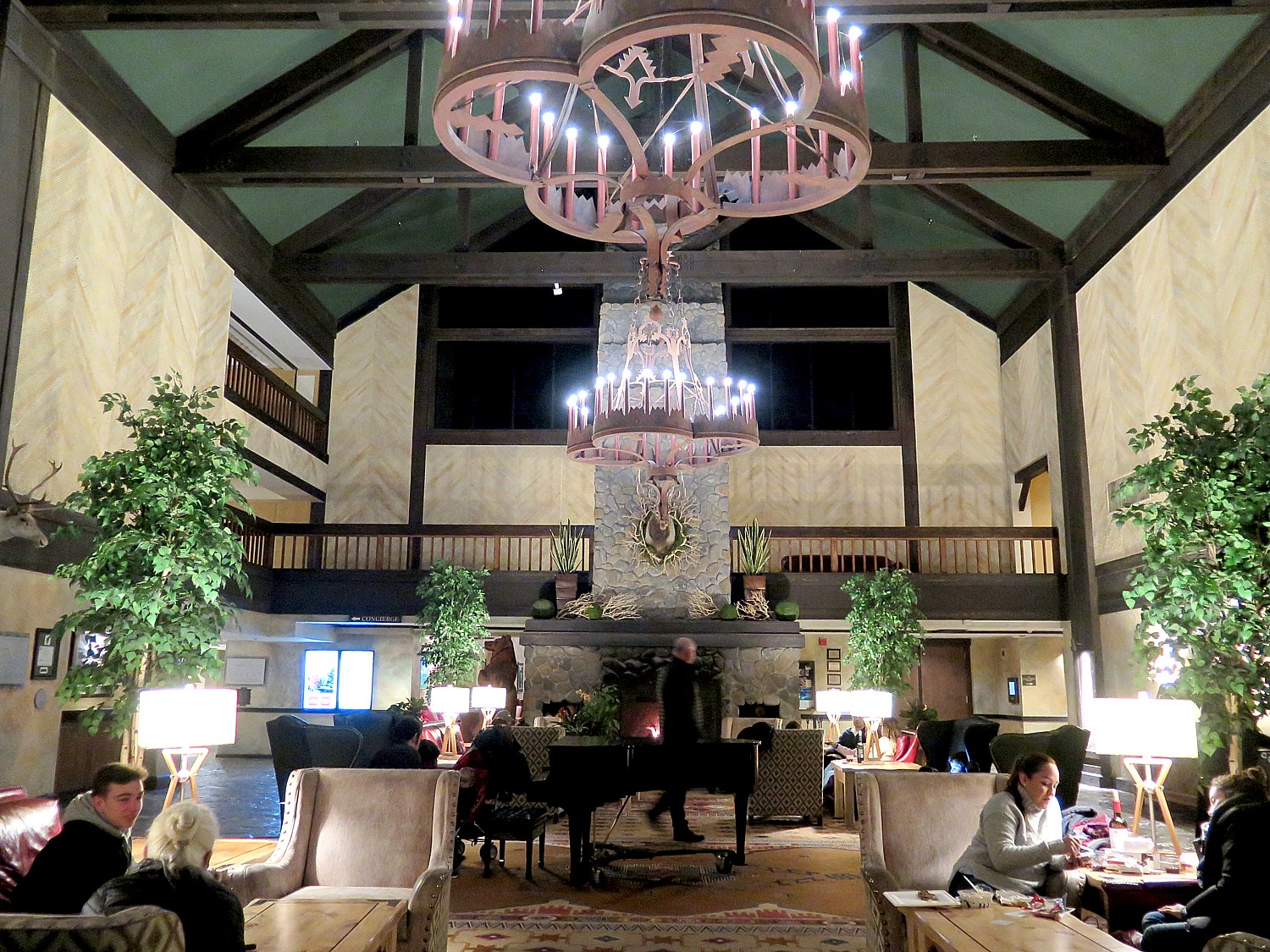 The Lodge is just two miles from the South Gate of Yosemite National Park, the most popular entrance (it provides year-round access to the park). The lodge makes every accommodation for the guests who will almost certainly find their way into Yosemite for hiking (they even have the moleskin package that is a lifesaver when you are getting a blister); the Deli, that is surprisingly well-stocked.
There is where you can pre-order lunch so you can grab it on your way out the door to hike (really a good idea so you don't have to find your way to a restaurant in Yosemite).
Tenaya offers a few different dining options, accommodating late-night dining (which helps when you have been hiking in Yosemite all day).
The Sierra Restaurant where we enjoy fuel up on a lavish buffet breakfast before a day of hiking, is a casual restaurant serving breakfast and dinner, with convenient hours to accommodate guests.
Just next door (and providing overflow space at breakfast) is Jackalopes Bar & Grill serving lunch and dinner (conveniently, until very late)
Embers is an upscale, fine dining restaurant which covets a quiet atmosphere (no children), serving a leisurely two to three-hour meal, where they even make salads in front of you.
There is also a pizzeria in the cottages and in season, there is an appropriately named Summerdale restaurant, that is open seasonally off-site, that serves BBQ.
We settle into the cozy leather sofas in the expansive lobby, complete with stone fireplace and mounted deer head, like a true rustic lodge, and order items from Jackolopes for a very relaxing late-night snack. I love the Native American/western décor, and the exquisite photos of Yosemite Park that decorate the walls all through the hotel.
The four-diamond Tenaya Lodge is one of the most luxurious resort properties in proximity to Yosemite, and offers 297 guestrooms, suites and cottages.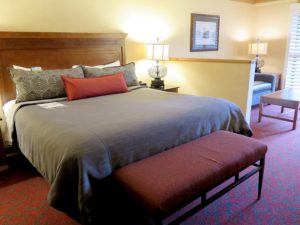 Tenaya Lodge was originally built 1990; but acquired in 2001 by Delaware North, a vast global hospitality company which, among other things, manages lodgings and concessions in several national parks including the Grand Canyon and Yellowstone national parks and manages Kennedy Space Center Visitors Complex. Delaware North invested $5 million in significant renovations which were completed last year.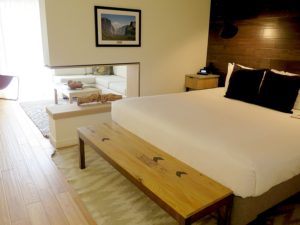 Among the innovations are stunning Garden Suites, designed by Piccini Group, SF with a prevailing white Scandinavian modern design, designed to be quiet (so you can understand why adults-only and no pets, though other rooms are pet-friendly).
Contemporary suites have a native ambiance and new "spa rooms" are lavish.
There are also several stand-alone cottages (that were acquired in 2008) that have up to three bedrooms (refrigerator, no kitchen). The lodge has plans to build two-bedroom cabins.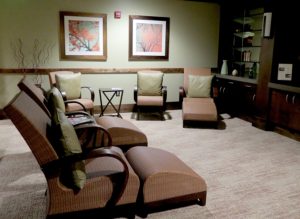 Tenaya Lodge is a true resort with every manner of amenity. Delaware North opened Ascent Spa, 10,000 sq ft, with 12 treatment rooms, a relaxation room (you can order sushi, drinks), a mud bath, group relaxation room, and couples massage room.  (Spring spa specials: Receive a complimentary glass of champagne with any 60 or 90-minute spa treatment; a new spring Parafango Slimming Body Treatment "detoxifies and slims the body.")
There is also a fitness center with sauna, Olympic-size lap swimming indoor pool, an outdoor pool, archery, rock climbing wall, arcade.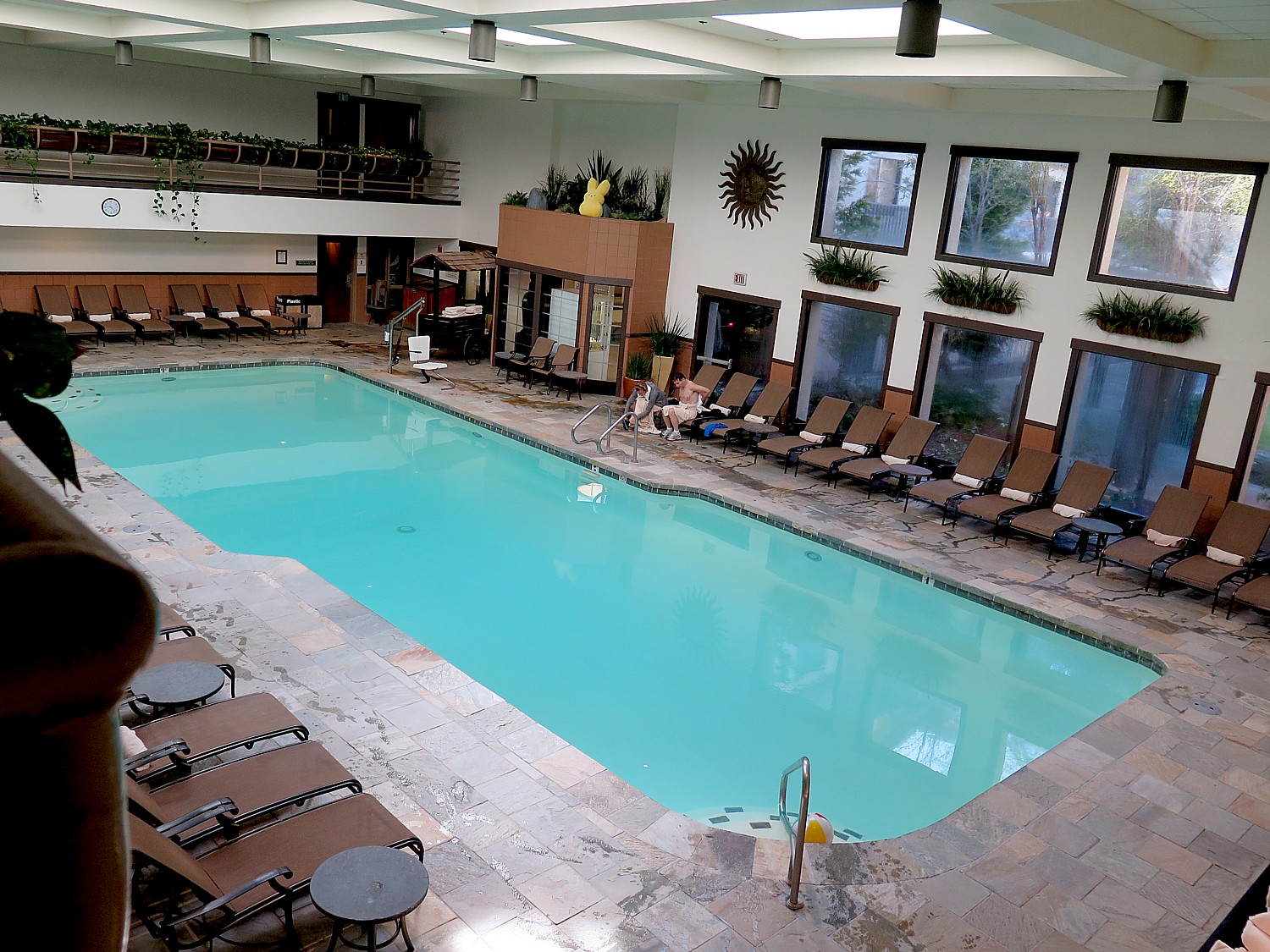 There is a robust schedule of activities like the nighttime Flashlight Hike and Paint & Wine evenings  (Thur. & Sat. 7-9, $55 pp), plus special events and activities, like yoga on the patio overlooking the forest. (A resort fee covers fitness room, sauna, fitness room but everything else is a la carte, though there are package offerings.)
In winter, there is an enchanting 3,000-sq. ft. outdoor covered ice skating pavilion (skate rentals available), which in summer becomes suitable for weddings and events.
There is a fire pit (you can order drinks to come down); s'mores kits; a sledding hill and a kiddie slope.
Winter activities also include kids snowmobiling, horse-drawn sleigh rides, snowshoe nature hike, skiing at Badger Pass, California's original ski resort.
Spring, summer and fall activities include mountain biking, guided hikes, guided rock-climbing excursion, fly-fishing excursion, fishing, Yosemite Valley tours, steam train rides, Summerdale BBQ, gold panning, Bass Lake water sports, golf, horseback riding, white-water rafting. They also offer supervised kids programs, like an adventure camp. (There's a daily activity schedule.)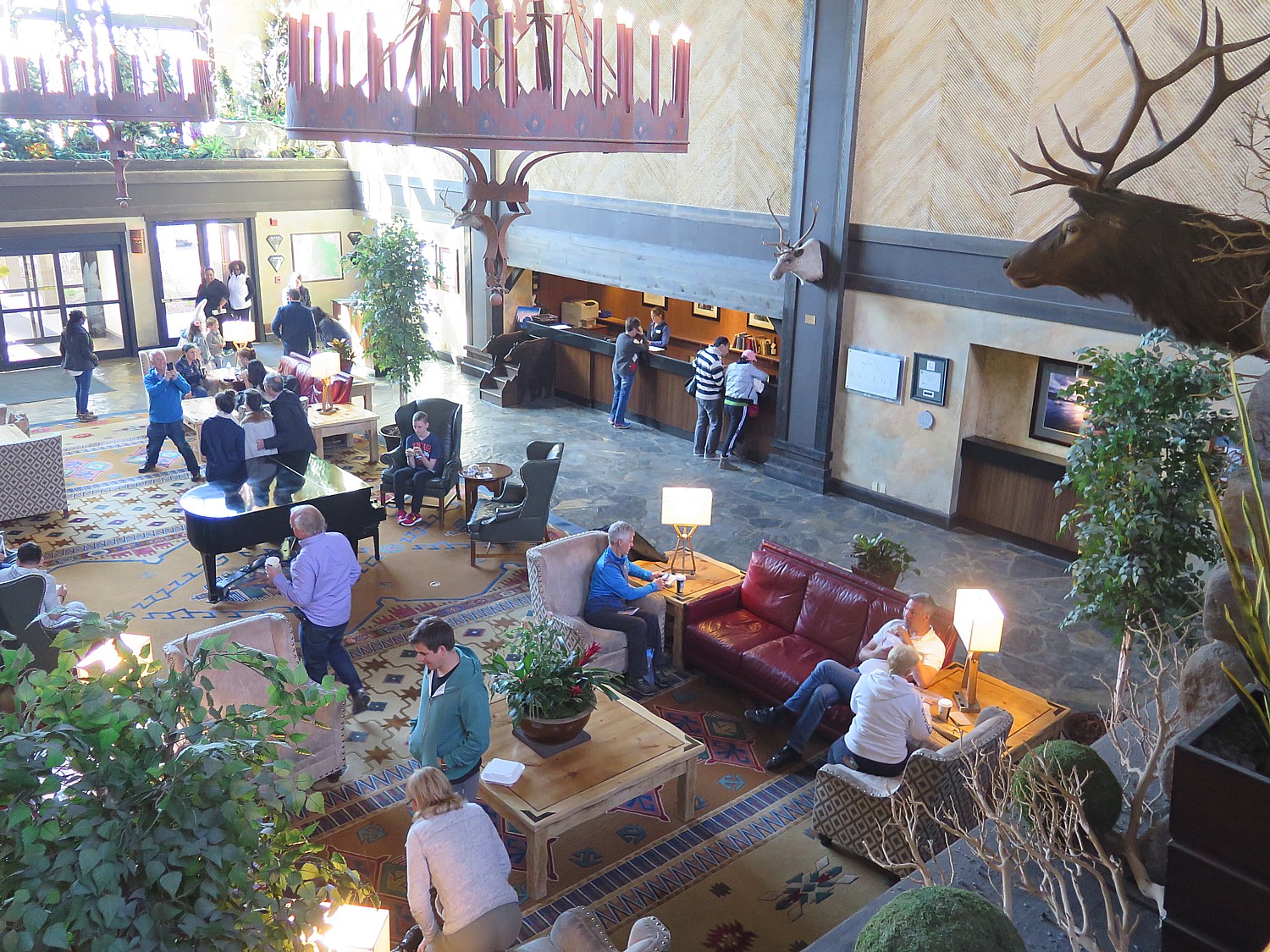 Tenaya Lodge is really family friendly (ideal for multi-generational getaways, family reunions, weddings and family events). When you check in, there is a special place for children to check in (a short staircase to the reception desk); and they go all out for holidays like Christmas and Easter (when we are there); on Easter Sunday, there was a petting zoo and pony rides.
It's also delightful for all the seating areas where families can gather.
Extremely popular for weddings and functions, Tenaya Ledge has a ballroom that can accommodate up to 850 and 12 meeting rooms.
For the same reason it is so well suited for family gatherings, Tenaya Lodge is ideal for meetings and corporate outings (there is a whole list of special activities that can be built in for groups, from rock climbing classes and  whitewater rafting excursions, to culinary classes and competitions, guided fly-fishing trips and group geo-challenges).
Notably, Tenaya Lodge won LEED Silver building certification. (I note that there are 8 Tesla charging stations for electric cars outside). 
Nearby Activities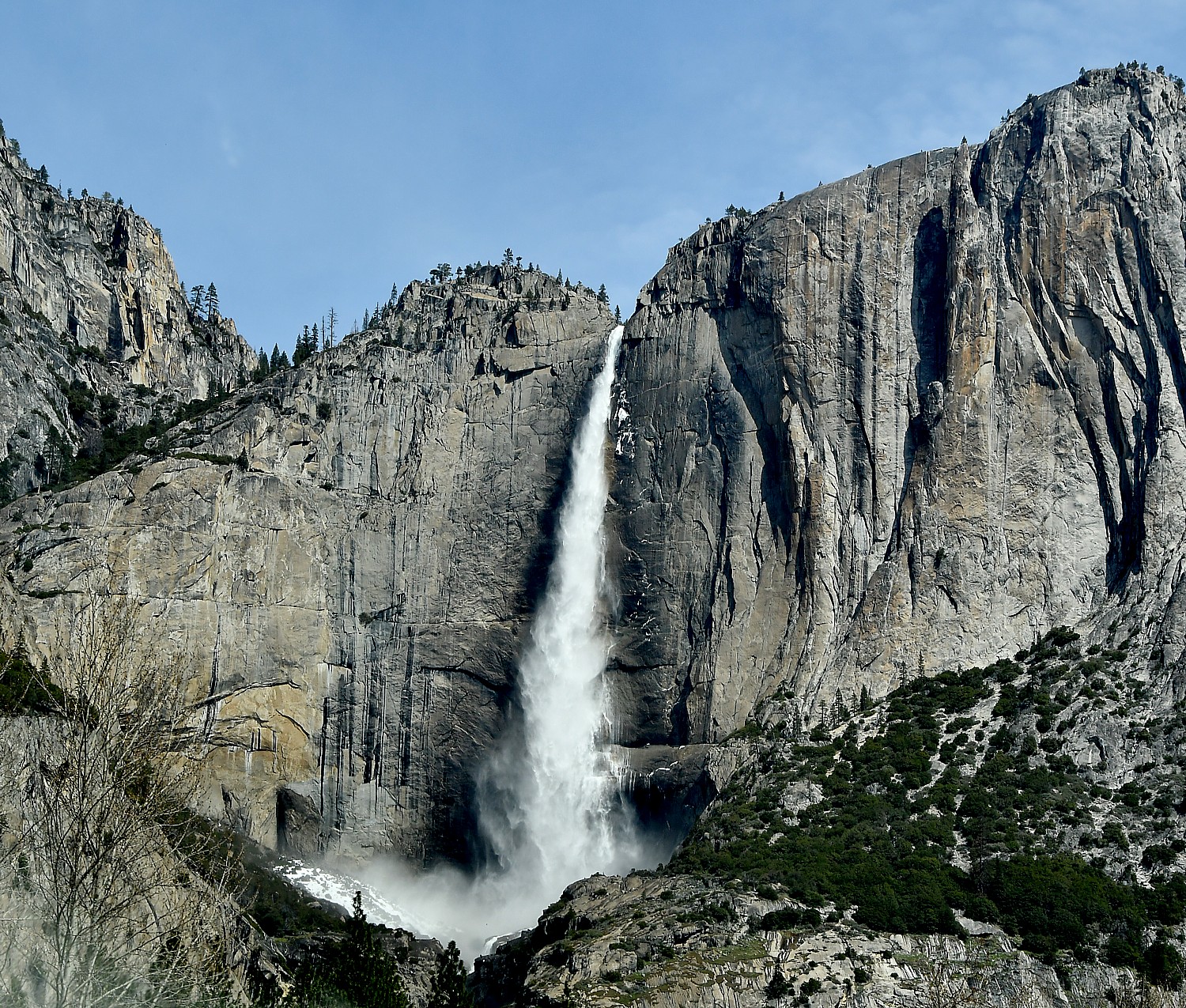 There are any number of activities just beyond the Tenaya Lodge door, which the lodge can pre-arrange:
In winter, the lodge offer snowshoeing; in warm weather they offer mountain biking on its own forest trails, while a short drive away,  the Sierra National Forest offers some of the finest single-track riding anywhere, from easy to technical. (The concierge can provide detailed maps.). Half-day and full-day bike rentals available for adults and kids ready to explore the forest trails.
A short distance down the road is Miller's Landing which has fishing; horseback riding is also nearby.
We came just a little too early in the season to experience the Yosemite Mountain Sugar Pine Railroad. a one-hour, narrated excursion through the Sierra  National Forest on historic narrow gauge Shay locomotives over tracks once used for logging trains at the turn of the century.
The ride travels over four miles on the historic Madera Sugar Pine Railroad. There is a brief stopover in the Lewis Creek Canyon to see the locomotive up close, or explore the outdoors before your return trip to the station.  You travel along the historic right-of-way of the Madera Sugar Pine Railroad where mighty lumberjacks felled the timber and flumes carried the lumber to the town of Madera. The conductor tells of the history of the line, the trees, and the wildlife native to the area.
The line operates two historic geared steam locomotives called Shays. Both locomotives were from the Westside Lumber Company in Tuolumne, California. These two locomotives represent the original shays that worked this line from 1874 to 1931. The original Madera Sugar Pine Shay locomotives burned wood for fuel, while our two Westside Shay locomotives burn oil. Shay #10 was built in 1928 and weighs in at 84 tons, while Shay #15 was built in 1913 and weighs 59 tons. They also demonstrate how to pan for gold (you get to keep it!). And you can visit the Thornberry Museum which illustrates logging camp life at the turn of the century.
There is also a three-hour Moonlight Special, which starts with a BBQ dinner before boarding the logger steam train for a ride to the campfire sing-a-long program hosted by the Sugar Pine Singers. At the conclusion of the evening, you will re-board the train for a memorable trip up the mountain in the night.
Daily rides are available all summer. (The schedule varies seasonally and usually alternates with Jenny car rides. Reservations recommended.)
Yosemite Mountain Sugar Pine Railroad, 56001 Hwy 41 Fish Camp, CA 93623, 559 683 7273, Ymsprr.com; (www.tenayalodge.com/things-to-do/resort/steam-train-rides.
We have come to Tenaya Lodge for the express purpose of hiking in Yosemite National Park, but for non-hikers, non-DIYers, Tenaya Lodge offers a Yosemite Tour Package, via mini-bus, that includes lunch and narration, and guarantees waterfalls and wildlife and seeing the most popular sights of Yosemite. (Offered May 1-Nov. 30; from $575 spring, $685 summer, $555 fall; call 888-514-2167 or Tenaya Reservations directly at 559-692-8916).
Other tours are available as well.
We were so fortunate to arrive as the winter snows were melting. Indeed, after almost five years of drought, the waterfalls are fuller than ever this year. Tenaya Lodge is offering special Waterfall Season Hot Dates, now through June 26. (Go to https://www.tenayalodge.com/packages/hot-date-deals for promo code to get the special rate).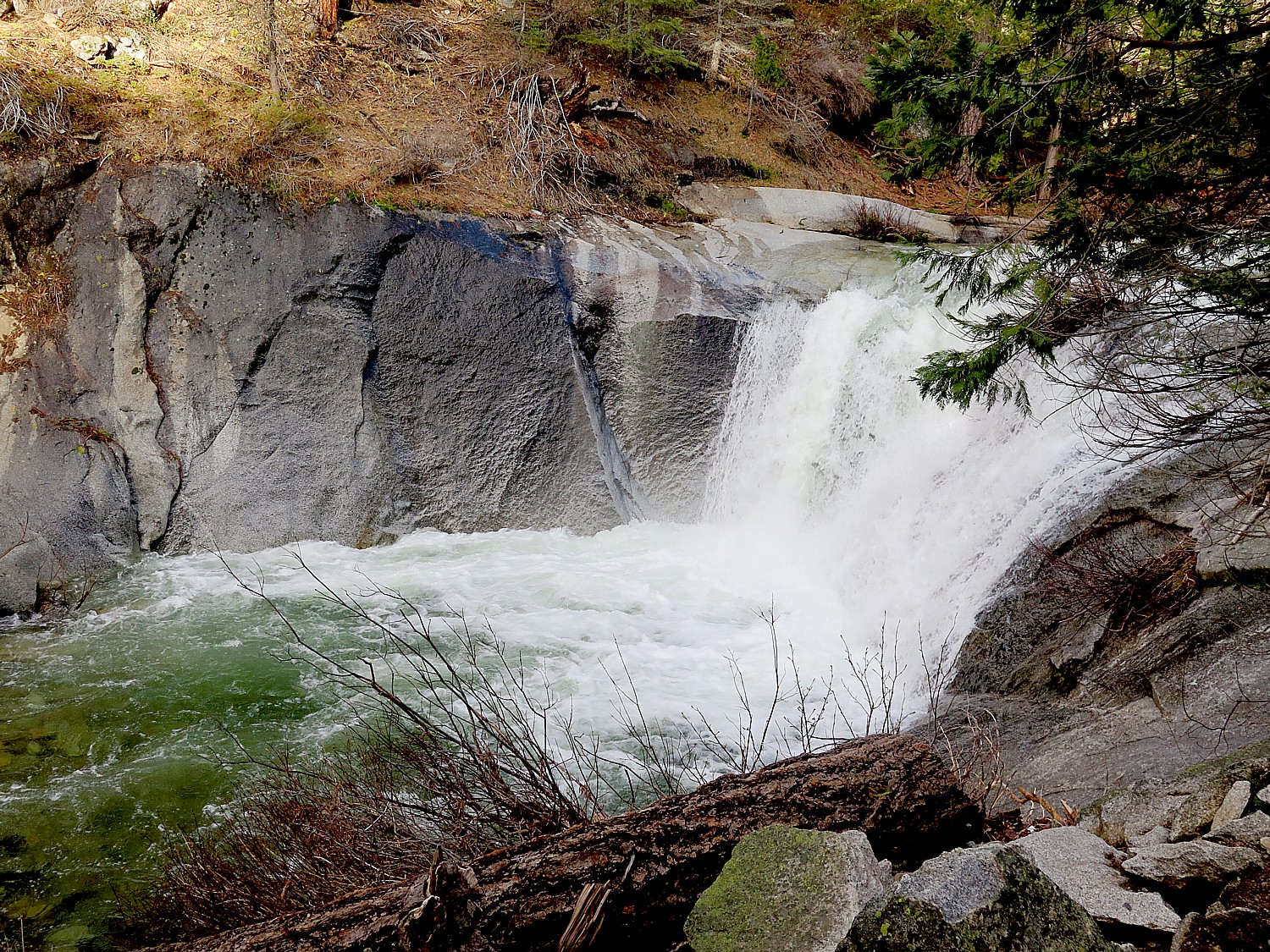 Tenaya Lodge (like Yosemite) is very much a four-season resort (the South Gate, the most popular entrance to Yosemite, is open year-round), 55 miles north of Fresno Yosemite International Airport, 3 ½ hours drive from San Francisco Bay area and 4 ½ hours from the Greater Lost Angeles Area.
Tenaya Lodge, 1122 Highway 41, Fish Camp, CA 93623, 800-722-8584, tenayalodge.com.
Next:  Yosemite National Park: Best Valley Hikes for First Timers 
See also:
Muir Woods is San Francisco's Cathedral to Mother Nature
____________________
© 2017 Travel Features Syndicate, a division of Workstyles, Inc. All rights reserved. Visit goingplacesfarandnear.com,  www.huffingtonpost.com/author/karen-rubin , and travelwritersmagazine.com/TravelFeaturesSyndicate/. Blogging at goingplacesnearandfar.wordpress.com and moralcompasstravel.info. Send comments or questions to [email protected]. Tweet @TravelFeatures. 'Like' us at facebook.com/NewsPhotoFeatures.