by Karen Rubin, Travel Features Syndicate, goingplacesfarandnear.com
The iconic Macy's Thanksgiving Parade is actually two events, which begins the day before with the Macy's Balloon Inflation, from 1 to 8 pm when you can watch the volunteers as they literally breathe life into the iconic giants.
This has become wildly popular, with thousands and thousands of people arriving for a peek as hundreds of volunteers work to inflate the balloons. They start off flat, laid out in precise order on the streets around the American Museum of Natural History.
But the event is so popular, the entrance is at 73rd and Columbus (be prepared for intense security; can't bring backpacks and very long lines), following a route up Central Park West, to 77th Street, Columbus Avenue and back down 81st streets to the exit.
The best time to watch is around 5 pm when you will see the balloons in various stages of completion. (Insider tip: if you visit the Museum of Natural History early in the day, when you leave, you are right in the middle of the action.
This is really an insider's look and it is really thrilling.
Since 1927, when the Parade's character balloons first joined the revelry, the inflatables have become a signature element featuring some of the world's most beloved characters. Over time, the inflatables have morphed from air-filled characters carried on sticks to high-flying giants, balloonheads and even hybrid inflatables with vehicles inside (balloonicles) or tandem tricycles (trycaloons).
New giants joining the line-up this year include Astronaut Snoopy by Peanuts Worldwide, Green Eggs and Ham by Netflix, and SpongeBob SquarePants & Gary by Nickelodeon. In celebration of his 75th birthday, a heritage balloon and fan favorite will return to the Parade as Smokey Bear once again takes to the skies over Manhattan.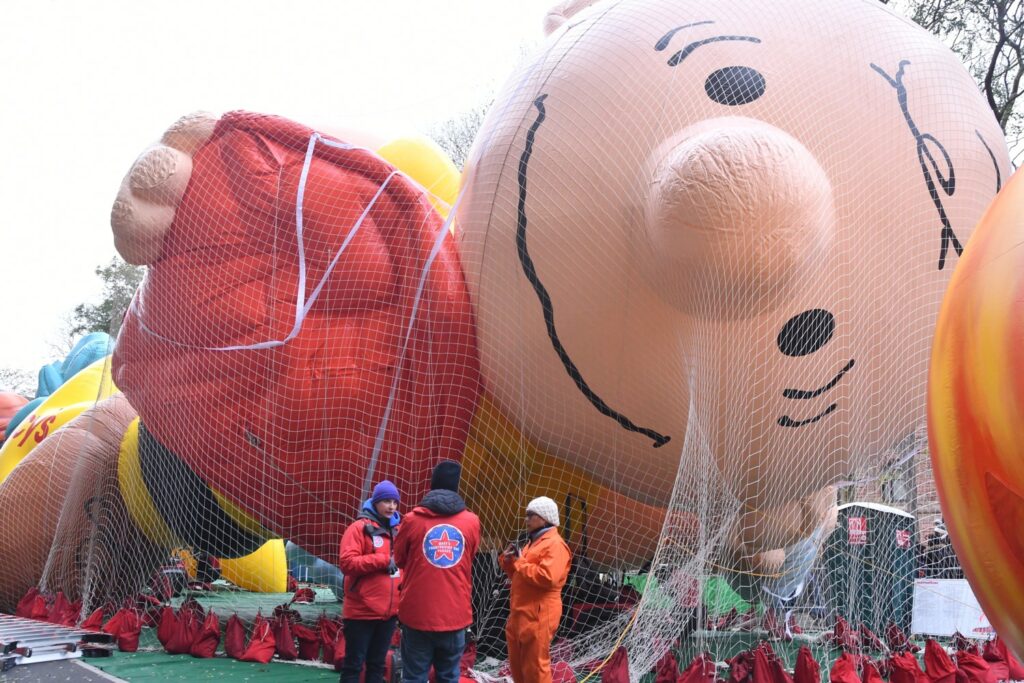 In 2005, the Macy's Parade began to feature what would become a collection of high-flying artwork created in collaboration with renowned contemporary artists. The special series, entitled Macy's Blue Sky Gallery, has featured some of the art world's finest creators. This year, for the eighth edition of the series, the world's most renowned female contemporary artist will take her iconic art to new heights as Yayoi Kusama joins the Macy's Parade with her Love Flies Up to the Sky balloon. The design was developed by the artist from face motifs that appear in her "My Eternal Soul" series of paintings–a body of work that she began in 2009. Vibrant and animated, the paintings embody Kusama's innovative exploration of form and revolve around a tension between abstraction and figuration. The artist's signature dots–which recur throughout her practice—are also featured prominently in the Macy's Parade balloon design. Previous balloons in the Macy's Parade Blue Sky Gallery series have included works from famed artists Tom Otterness, Jeff Koons, Keith Haring, Takashi Murakami, Tim Burton, KAWS, and FriendsWithYou™.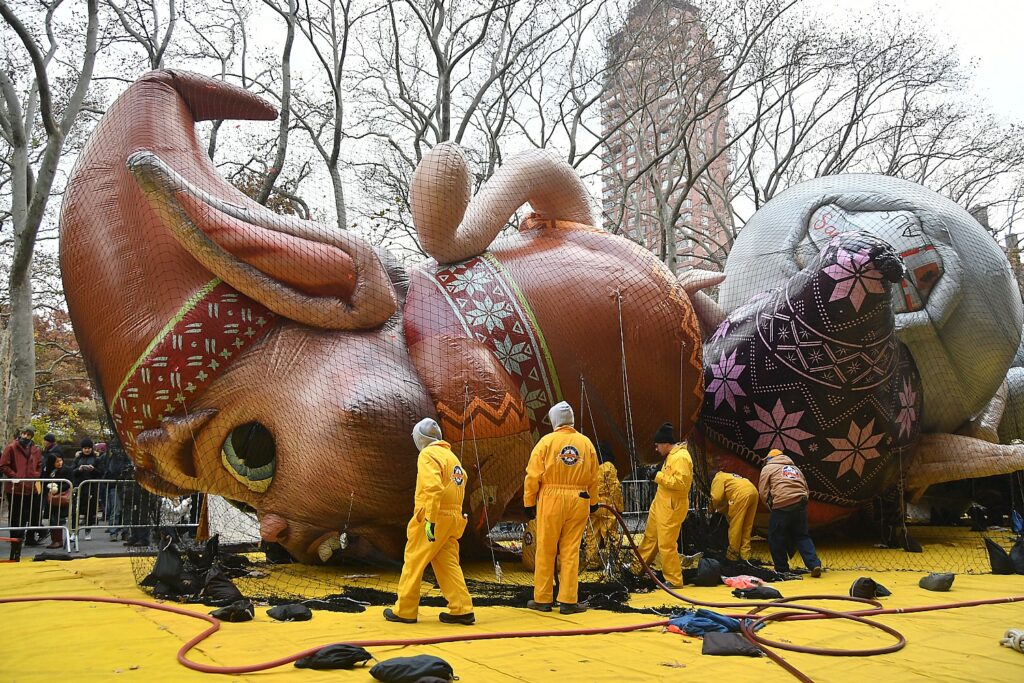 Returning giant balloon characters include Diary of A Wimpy Kid® by Abrams Children's Books; Sinclair Oil's DINO®; The Elf on the Shelf®; Goku; Illumination Presents Dr. Seuss' The Grinch; Jett by Super Wings™; Olaf from Disney's "Frozen 2"; Chase from PAW Patrol®; Pikachu™ by the Pokémon Company International; Pillsbury Doughboy™; Power Rangers Mighty Morphin Red Ranger; Ronald McDonald®; and Trolls. Completing the inflatable lineup is the famed Aflac Duck, Sinclair Oil's Baby DINOs and the Go Bowling balloonicles, as well as Universal Orlando Resort's The Nutcracker.
93rd Edition of Macy's Thanksgiving Parade
Then, the 93rd edition of the Macy's Thanksgiving Parade kicks off at 9 am on Thursday, November 28 when the time honored phrase Let's Have a Parade™ rings from the starting line. With more than 8,000 volunteers dressed as clowns, guiding the flight of larger-than-life character balloons, transporting some 2.5 million spectators who line New York City's streets and 50 million more watching on television to new worlds.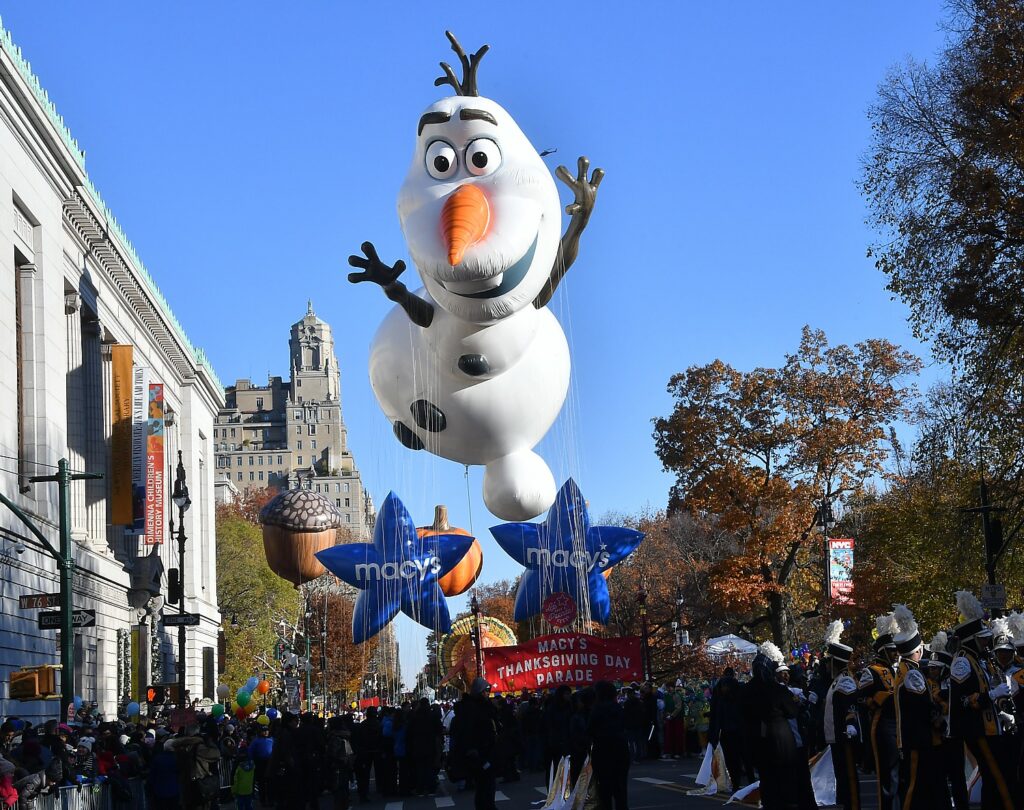 The iconic holiday event ushers in the season with its signature giant character balloons, floats of fantasy, the nation's finest marching bands, whimsical groups, musical performances, and the one-and-only Santa Claus With special performances and appearances by Natasha Bedingfield, Black Eyed Peas, Chicago, Ciara, Josh Dela Cruz, Celine Dion, Jimmy Fallon and The Roots, Debbie Gibson, former NASA Astronauts Kay Hire & Janet Kavandi, Chris Janson, Idina Menzel, Lea Michele, Miss America 2019 Nia Franklin, NHL® Legends Dominic Moore and Eddie Olczyk, the cast & Muppets of Sesame Street, NCT 127, Ozuna, Billy Porter, Kelly Rowland, That Girl Lay Lay, TLC, Tenille Townes, and Chris Young
Here are more fun facts about the Macy's Thanksgiving Parade:
OVERVIEW: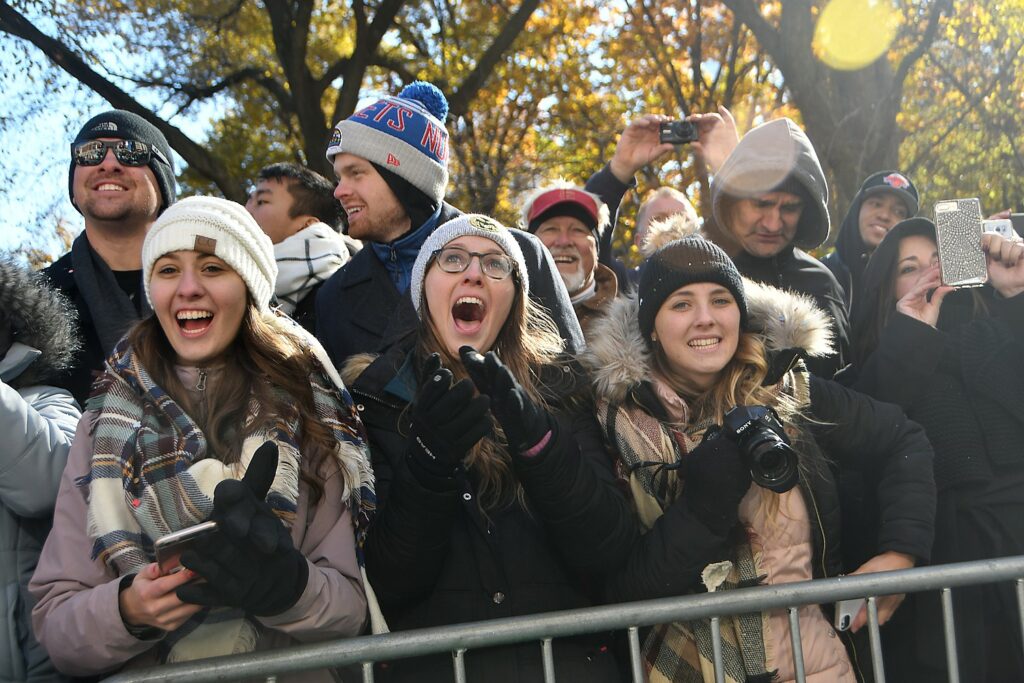 • Years of the Macy's Thanksgiving Day Parade – 93 (est. 1924) o Note: The Parade was canceled in 1942, 1943 and 1944 due to World War II.
• Parade Route Spectators – 3.5 Million
• Parade Route Length – 2.5 miles (77th & Central Park West south to 34th Street-Herald Square)
• Participants – 8,000+ including Macy's colleagues and their friends & families, celebrities, recording artists, athletes, Broadway performers, marching bands, clowns, dancers, cheerleaders and other performance groups
BALLOONS:
• Giant character helium balloons – 16
• 40 novelty, heritage, specialty balloons, balloonicles, balloonheads and trycaloons
• New balloons – Astronaut Snoopy by Peanuts Worldwide, Green Eggs and Ham by Netflix, SpongeBob SquarePants & Gary by Nickelodeon, Smokey Bear by USDA Forest Service, and Love Flies Up to the Sky by Yayoi Kusama
• Height of tallest balloon – 62 feet (Diary of A Wimpy Kid®)
• Length of longest balloon – 77 feet (Power Rangers Mighty Morphin Red Ranger)
• Width of widest balloon – 39 feet (Jett by Super Wings™)
• Balloon handlers – more than 1,600 (90 handlers on average per giant balloon)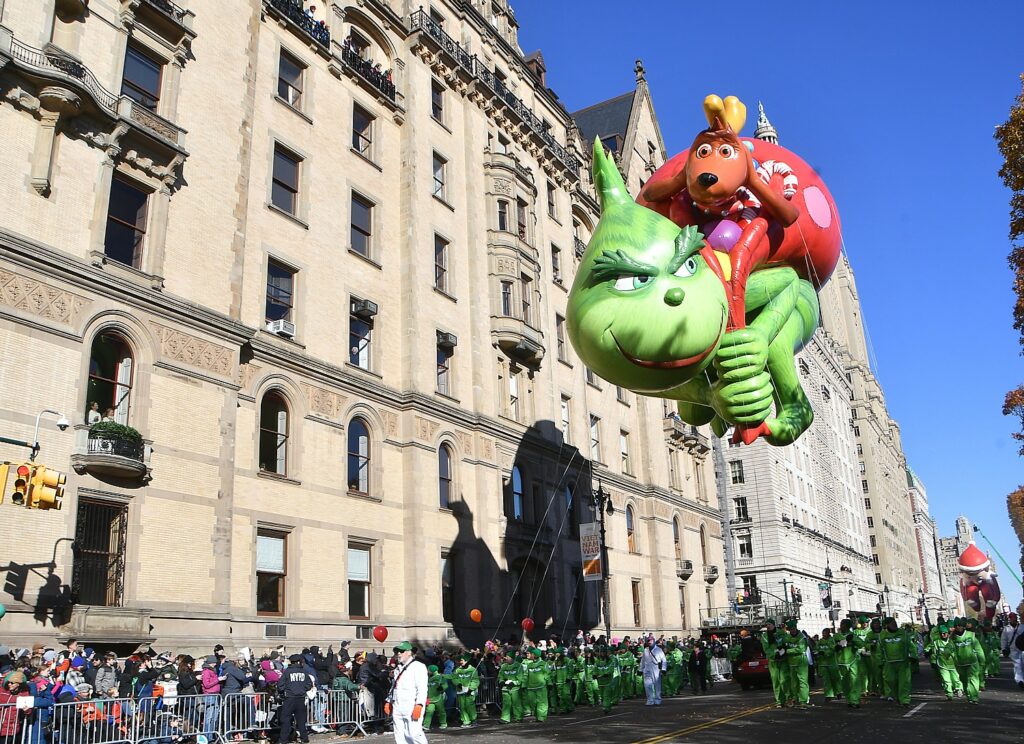 FLOATS:
• Floats – 26, comprised of hundreds of different set pieces and other structural elements
• New floats – Blue's Clues & You! by Nickelodeon, The Brick-Changer by The LEGO Group, Home Sweet Home by Cracker Barrel Old Country Store®, Rexy in the City by COACH®, and Toy House of Marvelous Milestones by New York Life
• Length and height of largest float – 60 feet long and 3.5 stories tall (Santa's Sleigh)
• Float escorts – 400
THE BROADCAST:
• Television Viewers – More than 50 Million, one of the country's most viewed televised events
• Hours of Live Television – 3 (9am-noon, in all time zones), 3 rebroadcast (2pm-5pm, in all time zones)
• Years on NBC, official national broadcast partner – 66 (since 1952)
• NBC TODAY Show anchors as host of the Parade: o 2019 marks Hoda Kotb's 2nd year hosting o 2019 marks Savannah Guthrie's 8th year (since 2012)
• 2019 marks Al Roker's 25th year (since 1995)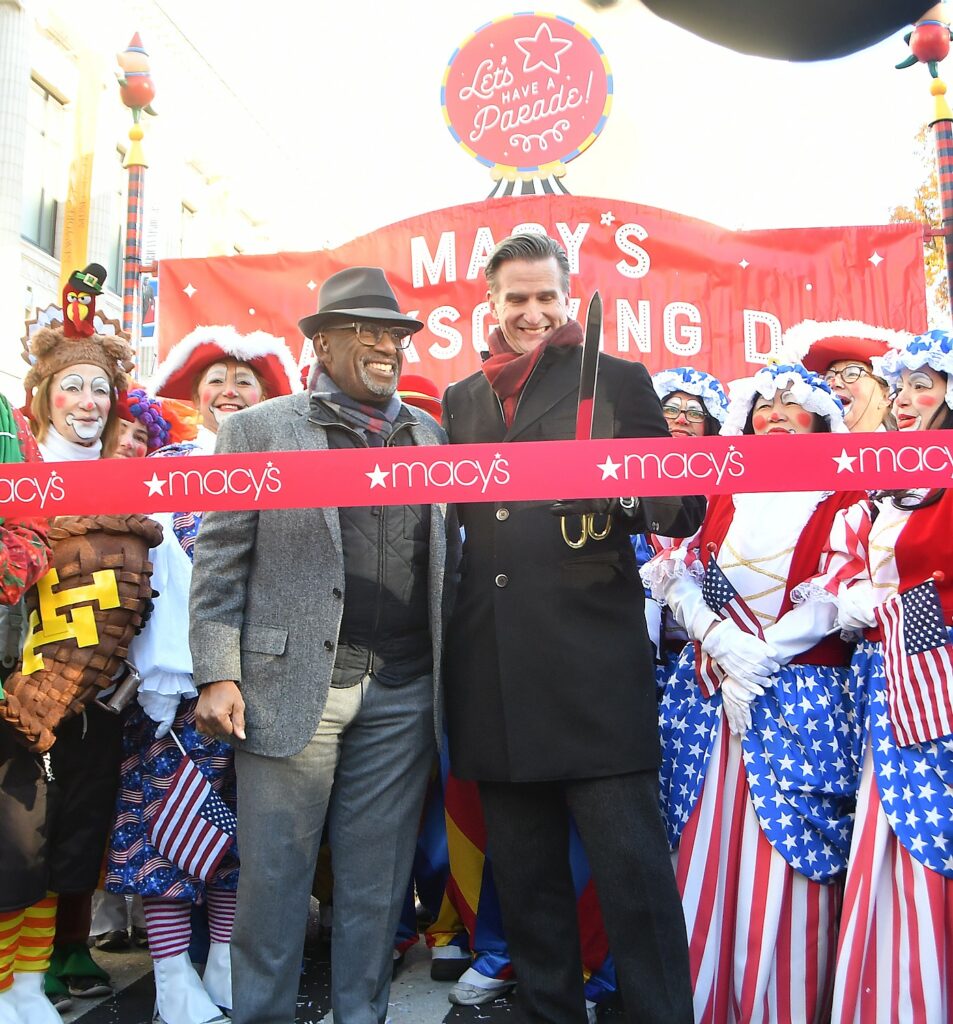 ENTERTAINMENT, PERSONALITIES & PERFORMERS:
• Marching Bands – 11 bands spanning approximately 2,793 members in total
• Performance Groups – 10 groups including 600 cheerleaders and 600 dancers from all over the country
• Radio City Rockettes® – An annual favorite, they first performed in the 1957 Parade
• Broadway musicals – 4, the long-standing relationship with Broadway shows to showcase performances nationally, dating back to 1977
• Choral Singers (Macy's own) – 100
• Clowns – 1,000
• Clown Stilt Walker Units – 22
• Santa Claus – the ONE and ONLY in his famed Parade finale appearance o Santa Claus has closed the Macy's Parade every year with the exception of 1933, the only year in which he led the official Parade march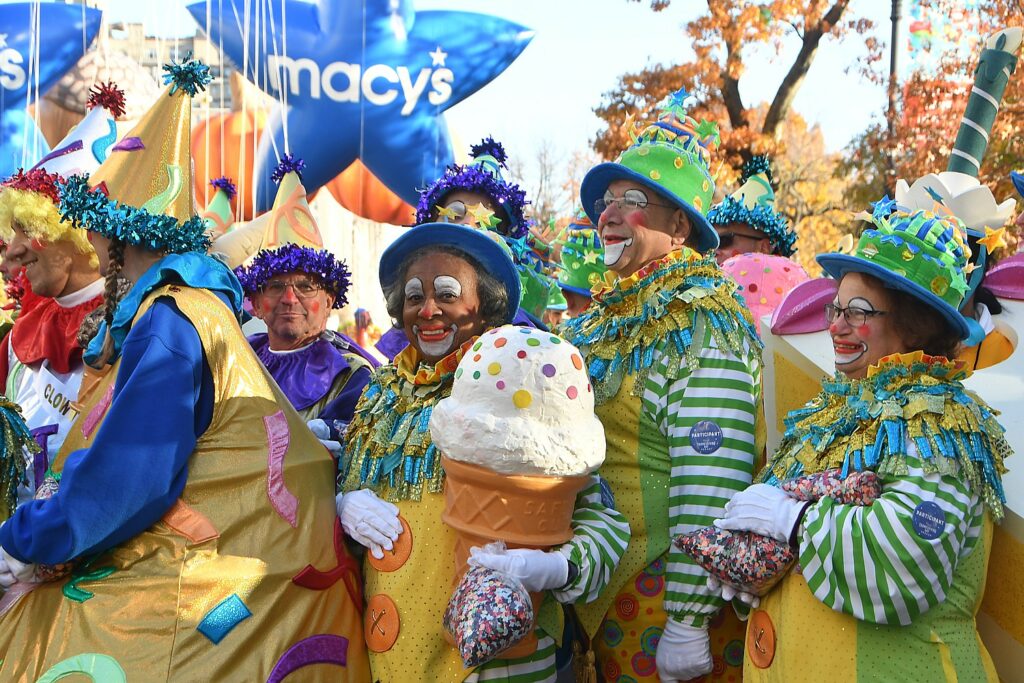 BEHIND-THE-SCENES MAGIC BY THE MACY'S PARADE STUDIO TEAM:
• Hours of labor from the Parade Studio team of approximately 27 painters, carpenters, animators, sculptors, welders, scenic/costume designers, electricians and engineers – 50,000+
• Square Footage of the Parade Studio's Moonachie, NJ headquarters – 72,000
• Length of Tubular Steel – nearly ½ mile for creation of the Macy's Singing Tree, and the most steel ever sourced for a Macy's Parade float
• Pounds of Glitter – 300
• Costumes – 4,200
• Make-Up Artists for Clowns – 90
• Banner Carriers – 95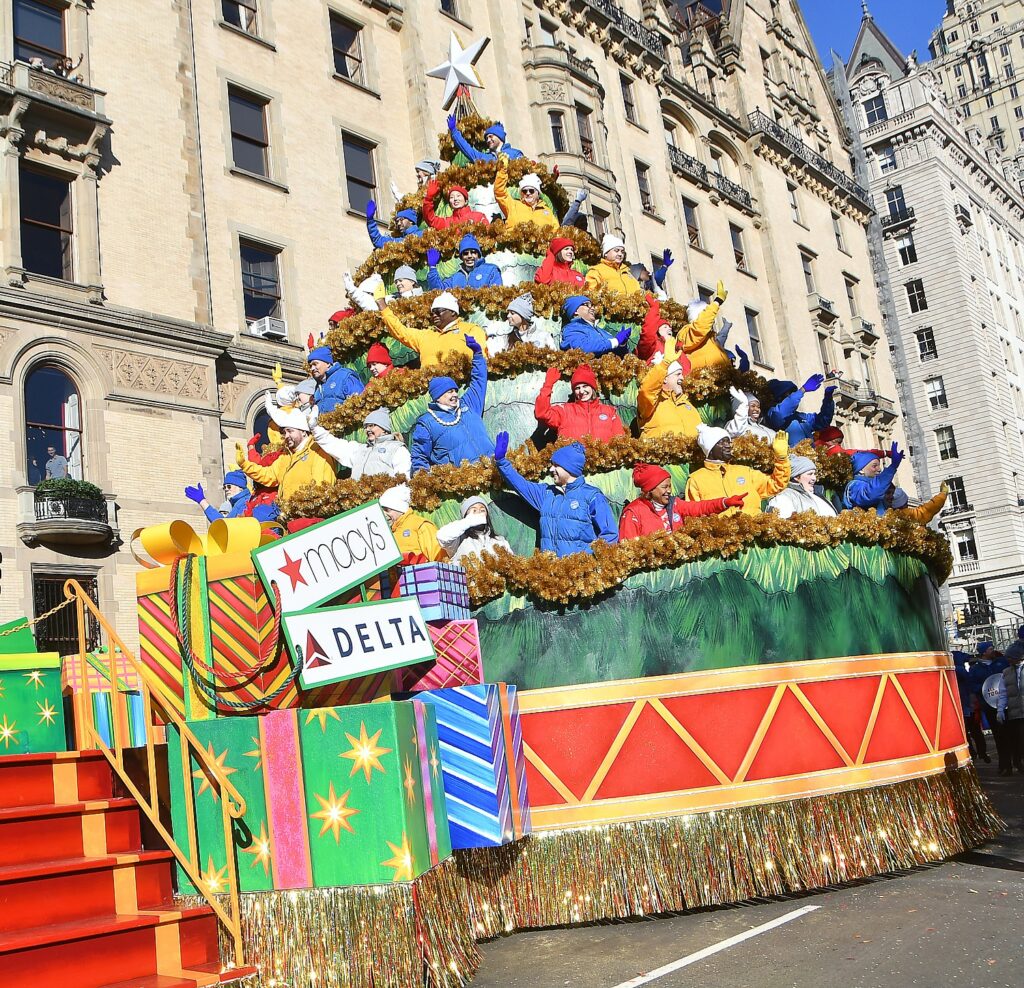 _________________________
© 2019 Travel Features Syndicate, a division of Workstyles, Inc. All rights reserved. Visit goingplacesfarandnear.com, www.huffingtonpost.com/author/karen-rubin, and travelwritersmagazine.com/TravelFeaturesSyndicate/. Blogging at goingplacesnearandfar.wordpress.com and moralcompasstravel.info. Send comments or questions to [email protected]. Tweet @TravelFeatures. 'Like' us at facebook.com/NewsPhotoFeatures