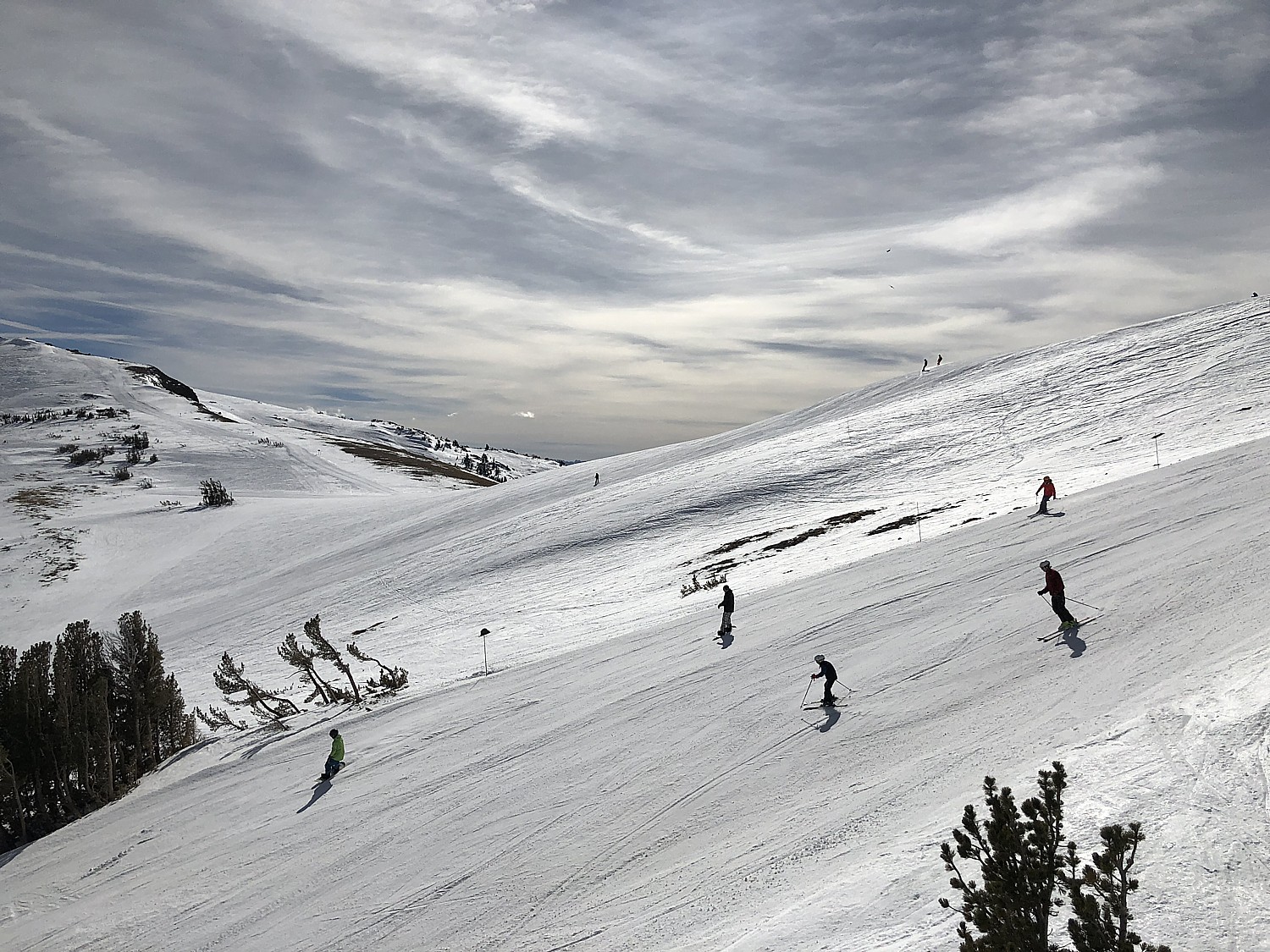 By Eric Leiberman, David Leiberman, Laini Miranda & Sarah Falter
The nearest supermarket is almost an hour away. When the two mountain passes are closed, you're stuck here. But for Kirkwood devotees, these are comforting perks that distinguish this Tahoe, California, ski resort from other ski resorts out west, even from Vail Resorts other two Best of Tahoe resorts: Heavenly and Northstar. The fact is, at the beginning, middle and end of the day, Kirkwood is all about the mountain.
We arrived at Kirkwood – from San Francisco and New York by way of Sacramento airport – Thursday night. The drive to Kirkwood was easy and beautiful along the dark, very straight followed by very windy, starlit Route 88 — through the Eldorado National Forest, past Tragedy Spring, and suddenly, on the side of the road, the unassuming and welcoming Kirkwood sign. Pulling in, we drifted by quiet condos on Kirkwood Meadows Drive and felt like something between exclusive guests and trespassers. We soon discovered that this is apropos for Kirkwood.
We were warmly welcomed with granola bars, a travel-sized Supergoop sunblock for each of us, trail maps, a calm "you'll love it here" vibe, and an explicit "you'll love it here" assertion. The lovely receptionist shared with us a nearby restaurant recommendation along with some intriguing history, in the vein of the many stories we'd soon hear from Kirkwood staff and family, about the old-timey and purportedly haunted Kirkwood Inn. We checked in to the Mountain Club, right at the base, pulled the car into the garage, took the elevator up to our room, and kicked off our cozy stay with a bottle of Rodney Strong Cabernet Sauvignon and the Winter Olympics Opening Ceremonies. We eased into the cozy condo by the warm fireplace and felt our big city pressures melt away.

Friday morning greeted us with blue skies, jagged mountain peaks, and a lift that we could practically jump onto from our terrace! We headed to pick up our gear at the demo shop, where we met soon-to-be familiar faces Carlos and team. Carlos is a young guy who we felt we would have been friends with in school and who, over the course of the next couple days, we would become friends with as he cheerfully helps us try different pairs of boots and skis. He appears to be one of many Kirkwood staffers who simply love being at Kirkwood and ski the mountain every chance they can. (Carlos points out that, in fact, he lives steps away from the gondola at the higher-trafficked Heavenly Mountain up in South Lake Tahoe, but he prefers to wake up before dawn and drive to work and ski at Kirkwood.)
When Dick Reuter and Bill Klein started Kirkwood in 1972, many viewed it as a fool's errand. At the time, there was nothing in Kirkwood – resources and infrastructure were both sparse. But Dick and Bill saw the beautiful mountain's promise and had a vision for building a ski resort in Kirkwood, so they got to cutting trails and installing lifts.
Almost 50 years later, that vision has yielded something spectacular. Kirkwood consistently boasts greater snow accumulation and longer retention of that snow than other Tahoe resorts. The secret is its high base (at 7,800 ft up to a summit at 9,800 ft.), steep terrain, long ridgelines and predominantly Northeast facing mountains. The combination of all these geographical assets and smart trail design (86 trails, a total of 2,300 skiable acres) makes Kirkwood's conditions and terrain rival those of any resort in North America.
What is more, Kirkwood is now part of Vail Resorts, which also owns nearby Heavenly Mountain and Northstar in the Tahoe area, and is part of Vail's Epic Pass. It is a credit to the Vail Resorts company that Kirkwood has retained its own character and personality.
Kirkwood is great for skiing with groups of friends of family. Unlike most resorts that have a series of peaks and different lifts servicing those peaks from various bases, Kirkwood features a long ridgeline with trails mostly funneling to the same base. As a result, it's easy to meet up with the rest of a group, even if members of the group have varying abilities and are skiing terrain of differing difficulty. It's quite hard to get lost at Kirkwood.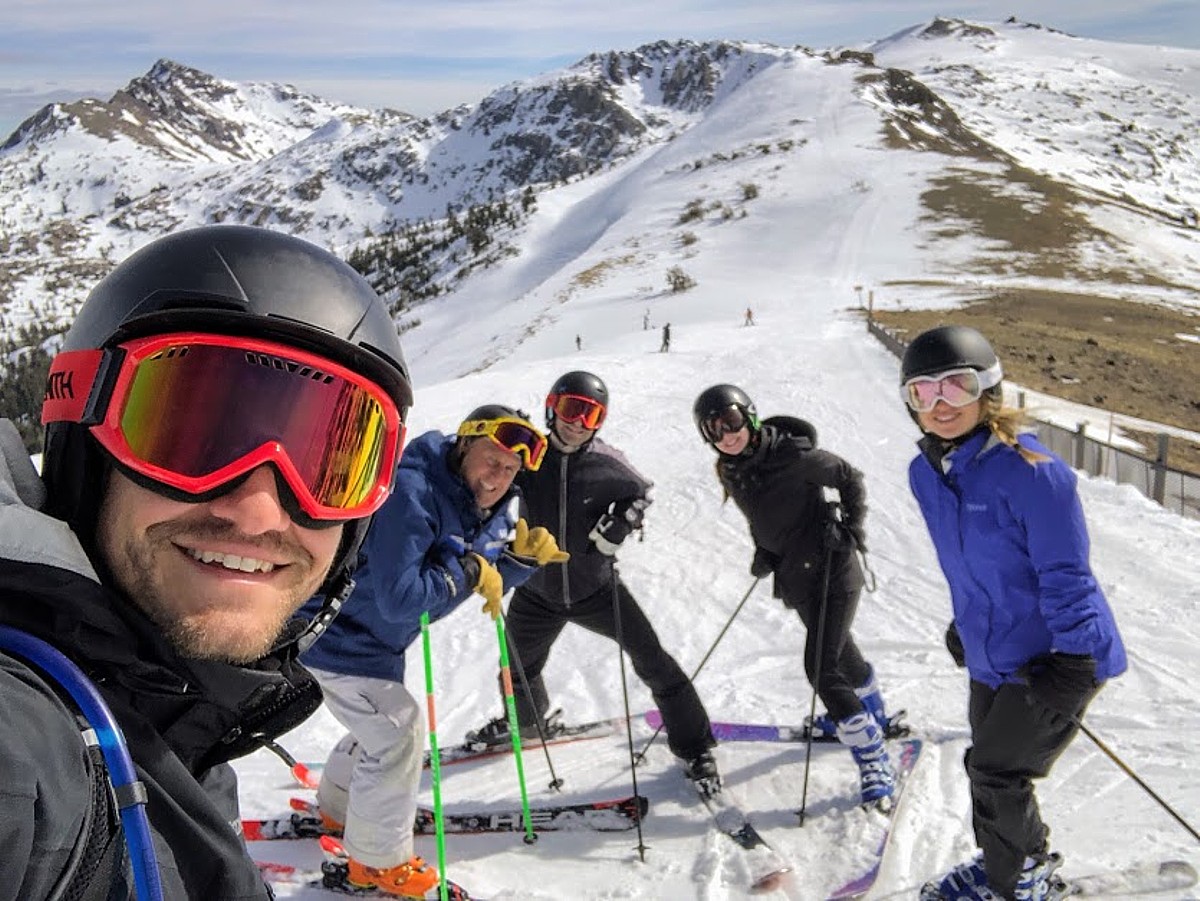 Kirkwood's Timber Creek is one of the best training terrains in the region, with great blue and green runs. The larger Mountain Village, on the other hand, will lead you to a mix of blues and blacks, with just a few short green runs on the Snowkirk lift. For beginner or intermediate skiers, sticking to the groomed trails is the way to go. For advanced skiers, there are endless trails to explore and trees to drop into off the long ridgeline. Pay attention to the signage at the base of the lifts, as certain lifts are specified "Experts Only" and will only serve black diamond runs. (Of its 86 trails, 12% are beginner, 30% are intermediate, 38% are advanced, and 20%  are rated expert; the longest trail is 2.5 miles; out of the 14 lifts, two are high-speed quads.)
For those looking to explore the side and backcountry of Tahoe, Expedition:Kirkwood offers guided excursions, specialty clinics and backcountry awareness training. Kirkwood's terrain provides access to backcountry opportunities within resort boundaries straight from the lifts, and EK guides can help even the most advanced skiers and boarders find terrain that thrills and challenges. (To book, 209.258.7360 or email E[email protected])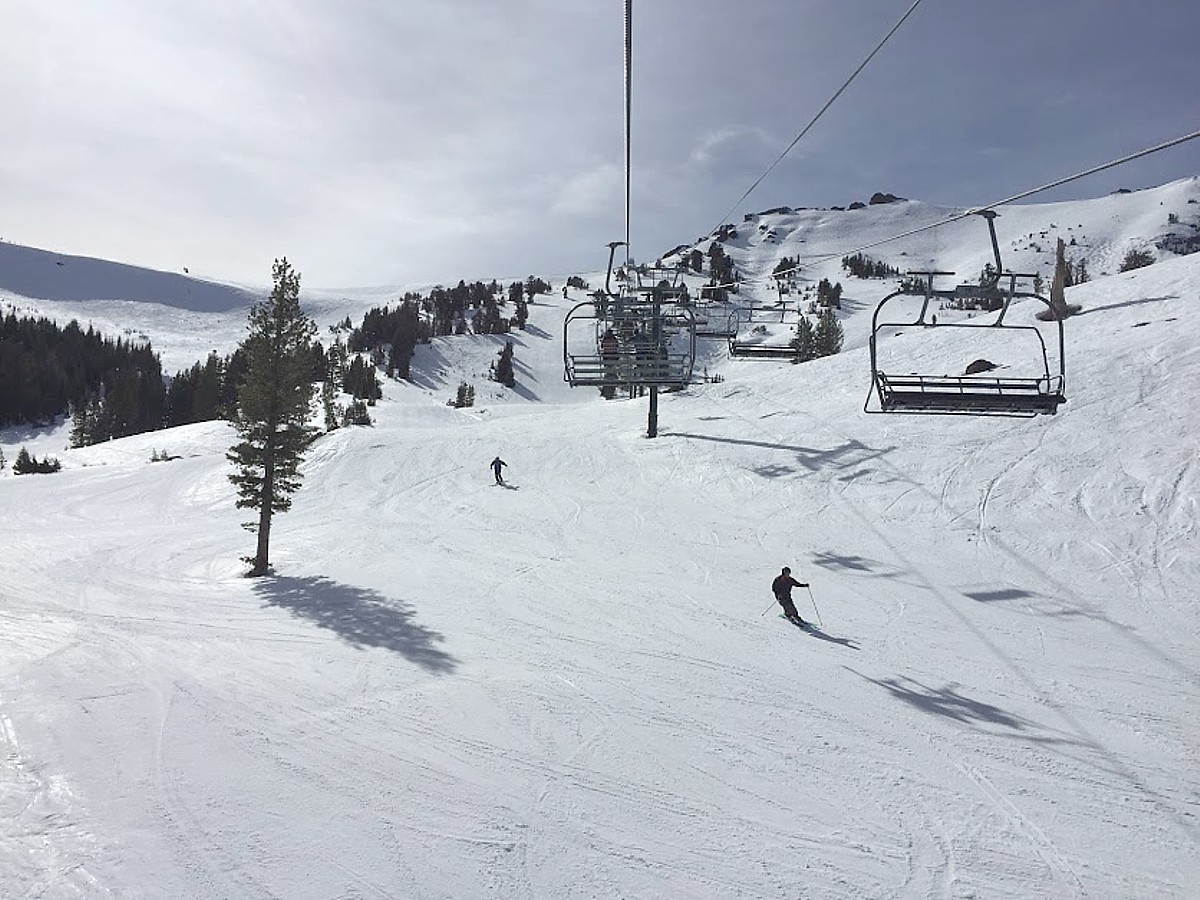 While there wasn't enough snow during our time at Kirkwood to explore the backcountry, we still found great value in the instruction and knowledge of our all-star, veteran ski instructors Tony and Steve. Tony has been teaching at Kirkwood for 20+ years, and Steve for almost 5 years. (Kirkwood employees seem to have genuine loyalty and pride. We learned that one snowcat operator has been working at the mountain for 40 years.)
In a half day, Tony coached a couple of us intermediate skiers how to appropriately shift weight to improve balance on runs of varying difficulty, clean up turns on steeper terrain, and venture down mogul runs for the first time, albeit very slowly and safely.
Steve took the more advanced skiers in our group to Sentinel and Palisades bowls and showed us some of the most insane cliff lines we've ever seen. As Steve put it, "I don't care who you are or how long you've been skiing, there's something inbounds on this mountain to make even the most daredevil skiers scared."
After a long day of skiing and riding, we were ready for a hot tub session and a hearty meal.
There are several dining options and a few aprés bars at the base and on the mountain, but this is not the place you come for party scenes, pampering or gourmet meals. Again, the draw of Kirkwood is the mountain, not the village or resort amenities. So while there are a couple of good dining options, the more "Kirkwood" thing to do would just be to buy a bunch of groceries and cook for yourself in the comfort of your condo.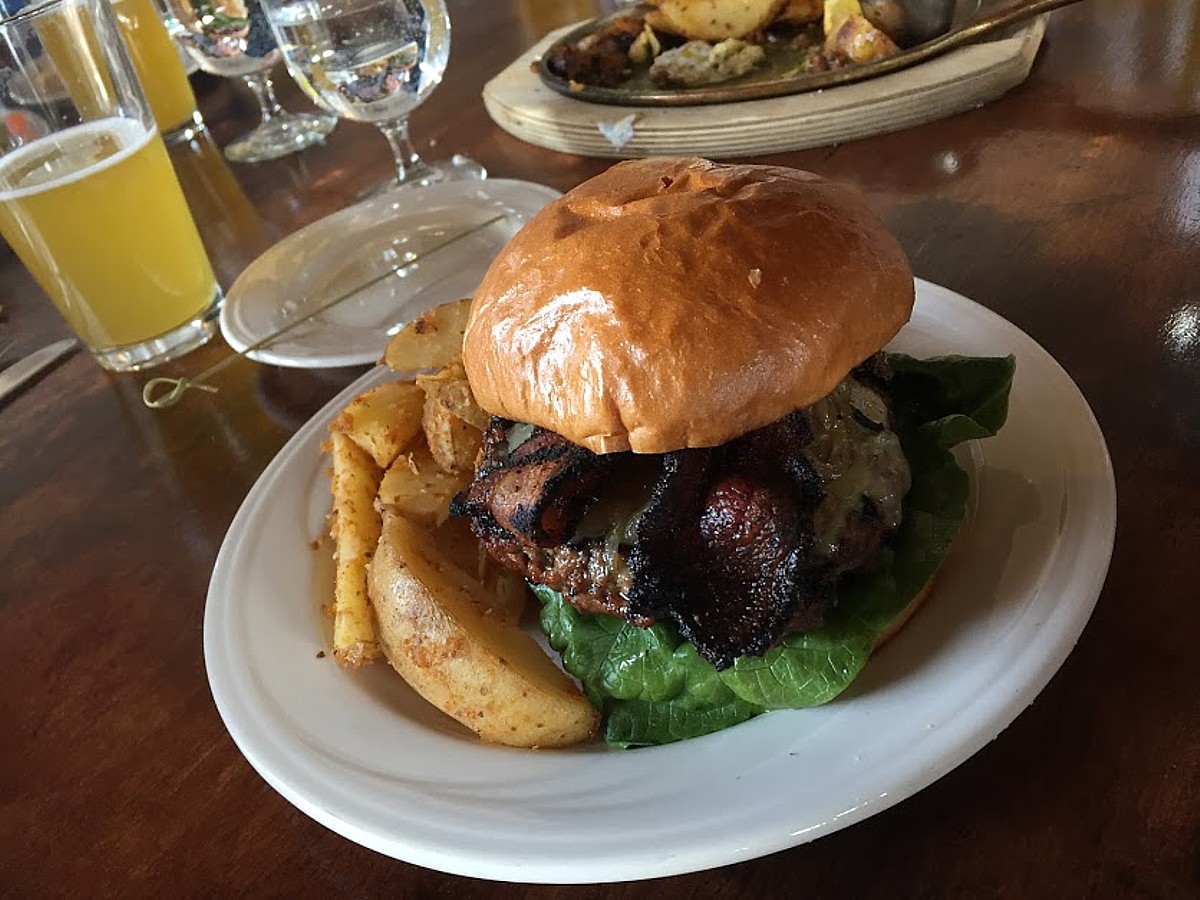 That being said, the on-mountain dining is quite good. We dined at The Wall once for lunch and once for dinner (and enjoyed their $3 Tequila Happy Hour special for a great aprés ski another day). Their food is rich and delicious. The plates are pricey, but most of the portions are huge and share-worthy so we recommend ordering for the table. A great starter is the Spanish Fries of potato wedges with perfectly cooked chorizo bits and cheese. If you're looking for a big meal, get the cheeseburger. You might not rush straight back up the mountain after, but your tastebuds will be happy.
As far as dinner at The Wall is concerned, our favorites are the truffle mac & cheese appetizer, short ribs braised in red wine, and chicken schnitzel with spaetzle. The menu is constantly rotating, but if you find any of these items on the menu, we highly recommend any of them.
The aforementioned Kirkwood Inn, which has been around since 1864, is another dining option near the mountain (5-minute drive). We unfortunately did not get the opportunity to visit, but we heard wonderful things.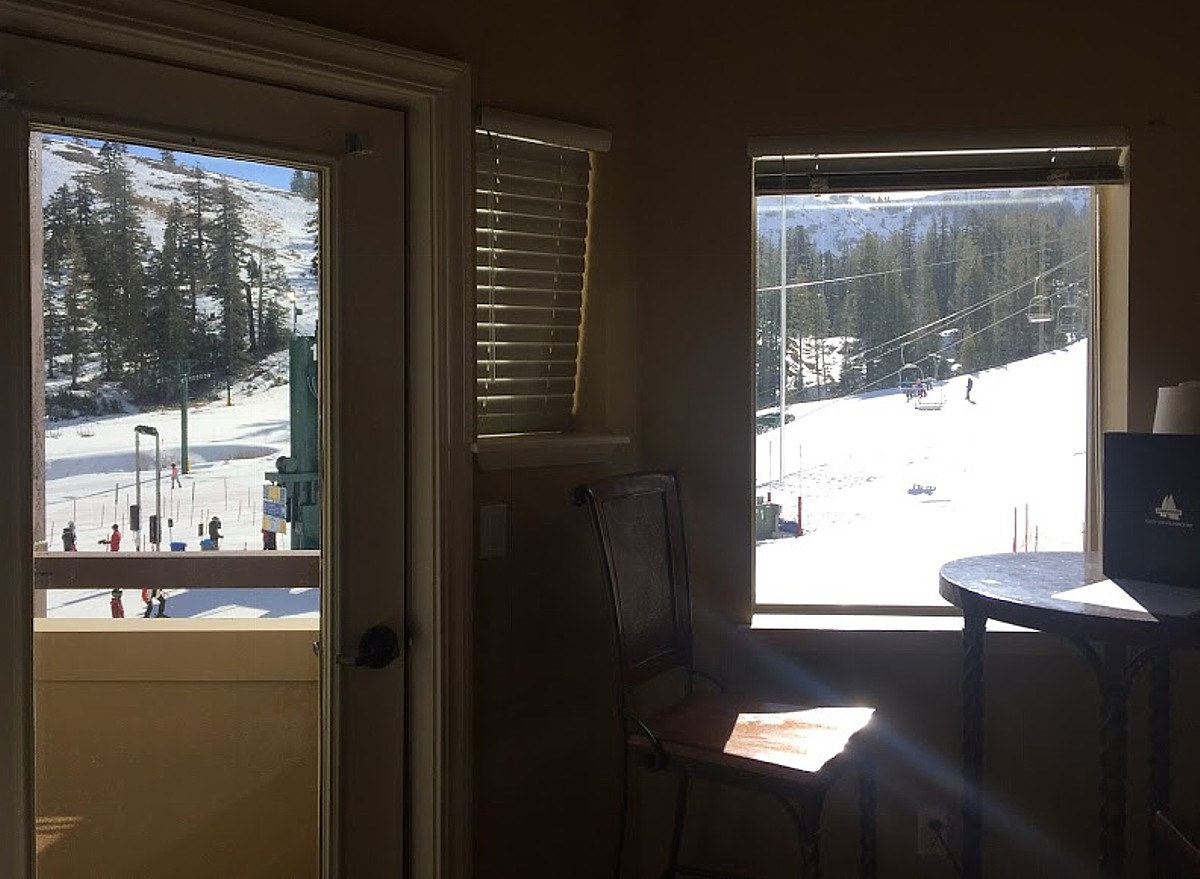 There are multiple lodging options when visiting Kirkwood. The three ski-in/ski-out options are The Mountain Club, The Lodge at Kirkwood, and Snowcrest Lodge. We stayed in a 2-bedroom suite at the Mountain Club and couldn't have asked for more. Our living room looked out onto three chairlifts and each room had sweeping views of the mountain. Beds were very comfortable and the cozy living room felt like we were in our own home. Other highlights of the facilities worth taking advantage of after a long day of skiing included an outdoor hot tub, exercise room, sauna, and steam room all offer a perfect finish to a long day on the slopes.
All in all, we were blown away by Kirkwood's simplicity and purity. We live in a fast-paced world where over-stimulation has become the norm, and ski resorts are increasingly catering to that expectation by doubling down on their resort activities and luxury offerings. But Kirkwood has stayed true to its roots. It is off the beaten path and promotes a simpler lifestyle based around the ideals of world-class skiing, enjoying time with loved ones and connecting with nature.
It also bears noting that skiing Kirkwood is less pricey than most major ski resorts.
So pick up some groceries on your way in and relish in the time away from the noise and action. This is not one of those getaways where you'll need a vacation from your vacation. This is it. At the end of the day, it's all about the mountain at Kirkwood. And we hope that never changes.
Kirkwood is located about 45 minutes south of Lake Tahoe, The closest airport is Reno-Tahoe International Airport, about 1 ½ hour drive away. Jetblue offers nonstop flights from JFK.
Amidst the largest snowpack in 22 years, the Best of Tahoe Resorts, a subsidiary of Vail Resorts, announced an extended ski seasons for Heavenly Mountain Resort daily through April 23, and the weekend of April 28 – 30; Northstar California through April 23. Kirkwood continues with spring skiing through April 16. (See snow.com)
Kirkwood Mountain Resort,1501 Kirkwood Meadows Dr, Kirkwood, CA 95646, 800-967-7500.  209-258-6000, Snow Phone, 877-KIRKWOOD, Road Conditions 800-427-ROAD, www.kirkwood.com.
See also:
Telluride Ski Resort Joins Vail Resorts' Epic Pass
_____________________________
© 2018 Travel Features Syndicate, a division of Workstyles, Inc. All rights reserved. Visit goingplacesfarandnear.com,  www.huffingtonpost.com/author/karen-rubin , and travelwritersmagazine.com/TravelFeaturesSyndicate/. Blogging at goingplacesnearandfar.wordpress.com and moralcompasstravel.info. Send comments or questions to [email protected]. Tweet @TravelFeatures. 'Like' us at facebook.com/NewsPhotoFeatures