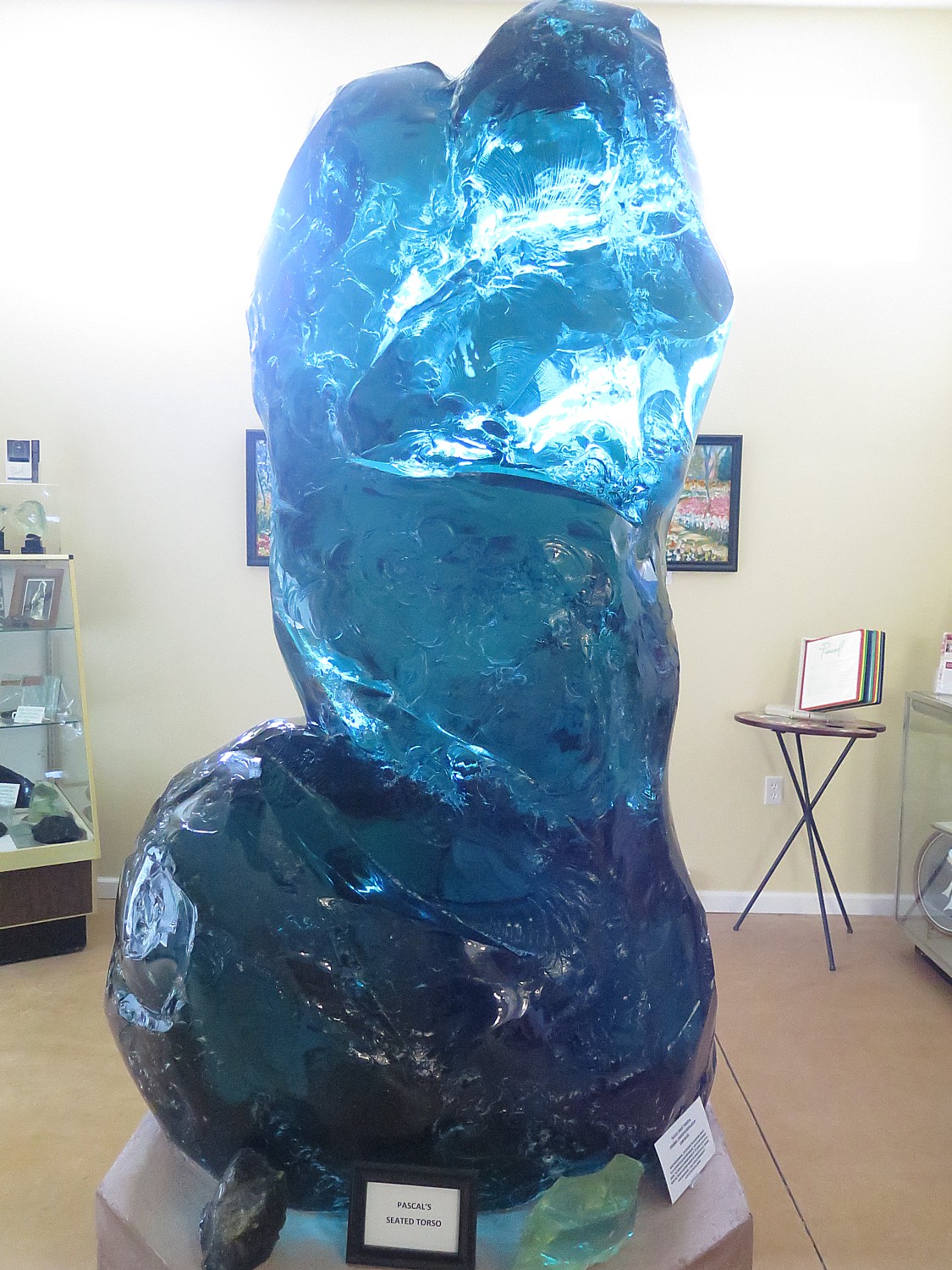 By Karen Rubin, Travel Features Syndicate, goingplacesfarandnear.com
Taking the Sheepskin Trail off the Great Allegheny Trail – a fantastic railtrail that extends 140 miles across Western Pennsylvania, which is the focus of Rails-to-Trails Conservancy's Sojourn biketour – you bike through woods, over the railroad tracks, over a stream, and suddenly, the forest opens up and suddenly, Dunbar appears, like Brigadoon.
It is as if time stopped still. There are no people on the street. Nothing is moving.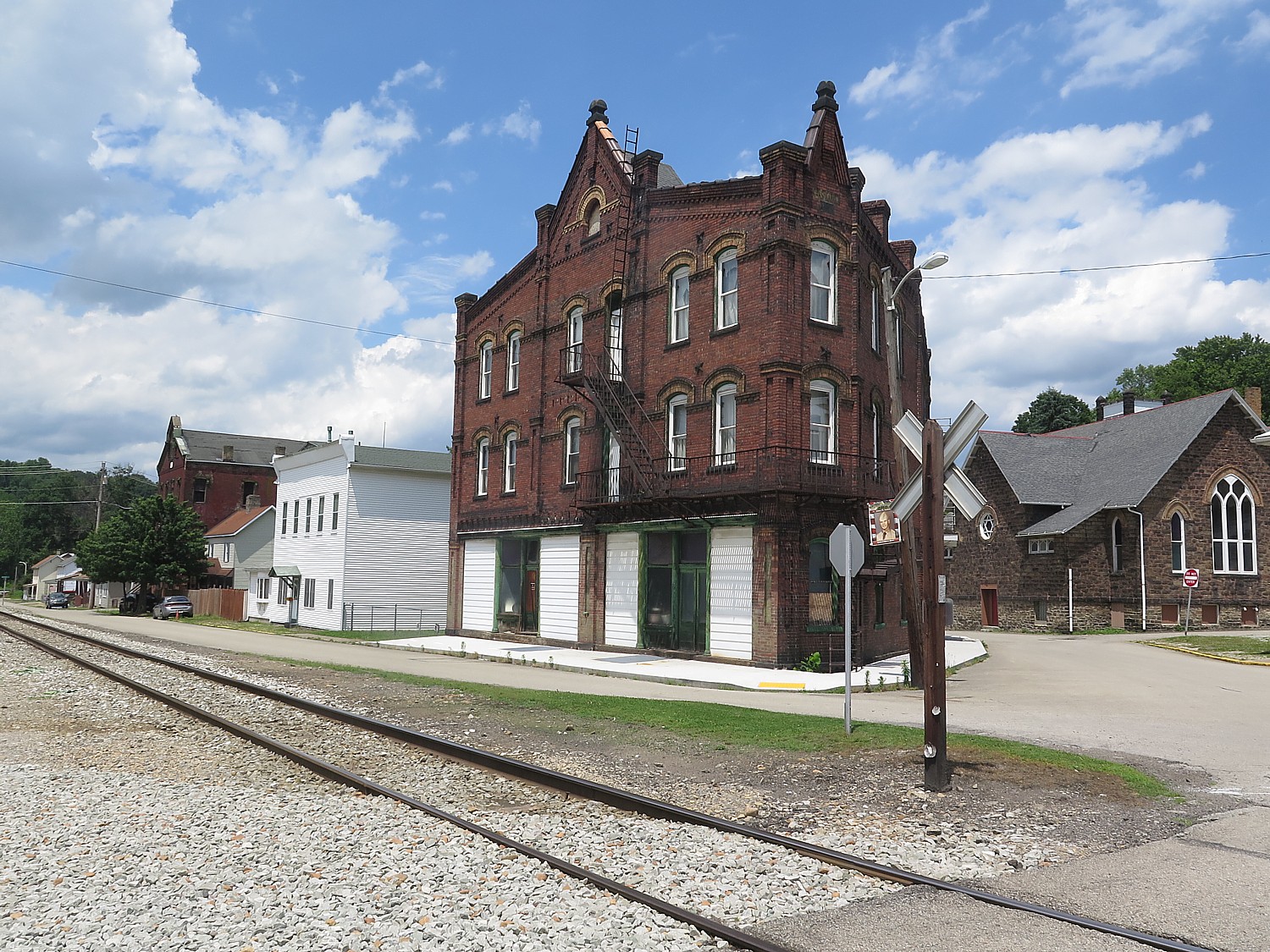 Dunbar once bustled as a manufacturing center for wire corrugated glass – the kind of glass you likely grew up with in schools and government buildings; as a transit center and coke ovens. The buildings, from 1904 and 1906 (a common date we find as we go through these small towns), look vacant now. It reminds me, again, of a movie set. We are greeted here at Dunbar's Historical Society, housed in what used to be the US Post Office building (constructed 1903-1907), which harbors a really wonderful collection of artifacts. But in just the past two years, Dunbar has acquired a world-class piece of art that has put this tiny town back on the map – and not just for the internationally renowned artist, but for how the piece, "Seated Torso" – the largest glass sculpture in the world – came to Dunbar: Donald Trump.
Pat Trimbath a member of the Historical Society's board, tells us the wonderful story of a 60-year odyssey of this piece of glass, which began here as an abandoned two-ton chunk.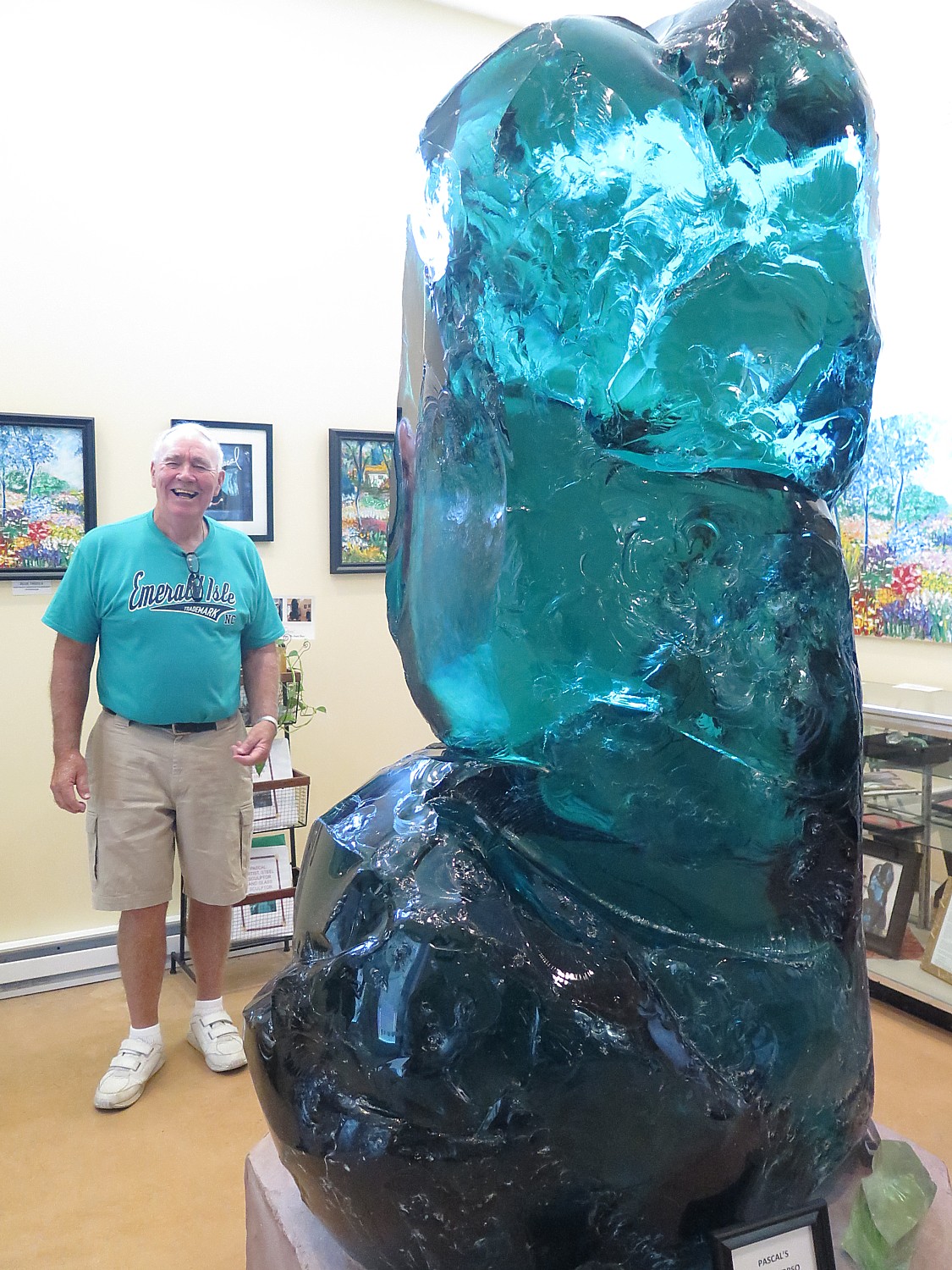 Dunbar used to be a center for glassmaking, and specifically, the manufacture of shatterproof glass reinforced with corrugated wire but when the Pennsylvania Wire Glass Company shut down in 1955, it was full of large chunks of glass, including a two-ton piece of green/blue glass in its furnace.
Artist Suzanne Regan Pascal learned of the treasure trove of glass in Dunbar in 1960 and stayed in Dunbar for an entire year, working on sculpting glass. She bought all the glass and had it moved to her Beverly Hills studio. (There is a marvelous display with photos of Pascal chiseling the "Seated Torso".)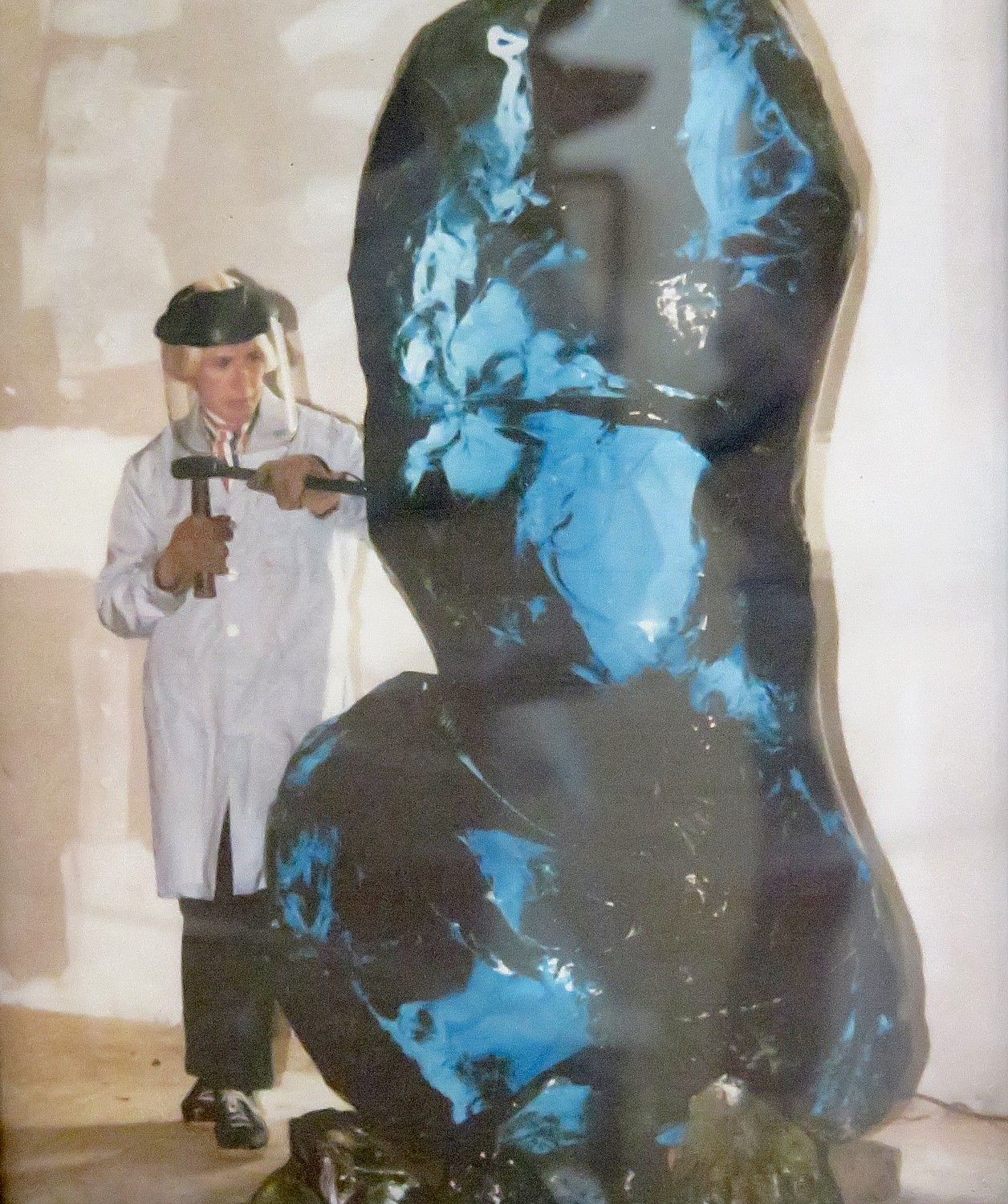 She produced many sculptures from the Dunbar glass between 1961-67, had various gallery shows, and ultimately sold many of them to patrons including President and Nancy Reagan, Frank and Barbara Sinatra, Henry Mancini, and Armand Hammer who presented a sculpted glass necklace to Princess Diana for her wedding.
In 1994, Pascal sold the Seated Torso to billionaire John Kluge for $3 million. He moved it to Charlottesville, Virginia, where it was placed in the center of a fountain in his Morven Carriage House.
After Kluge died in 2010, Donald Trump purchased his estate including the carriage house. About this time, Donna Myers, Dunbar Historical Society secretary, put a question on Askart.com seeking information of the Seated Torso.
In 2013, the head winemaker at what became the Trump Vineyard Winery found the two-year old question and contacted Myers, offering the Seated Torso to the Dunbar Historical Society if the society could raise the funds to move it back to Dunbar – $11,000.
Trimbath tells us that once the association with Trump was known, "donations poured in."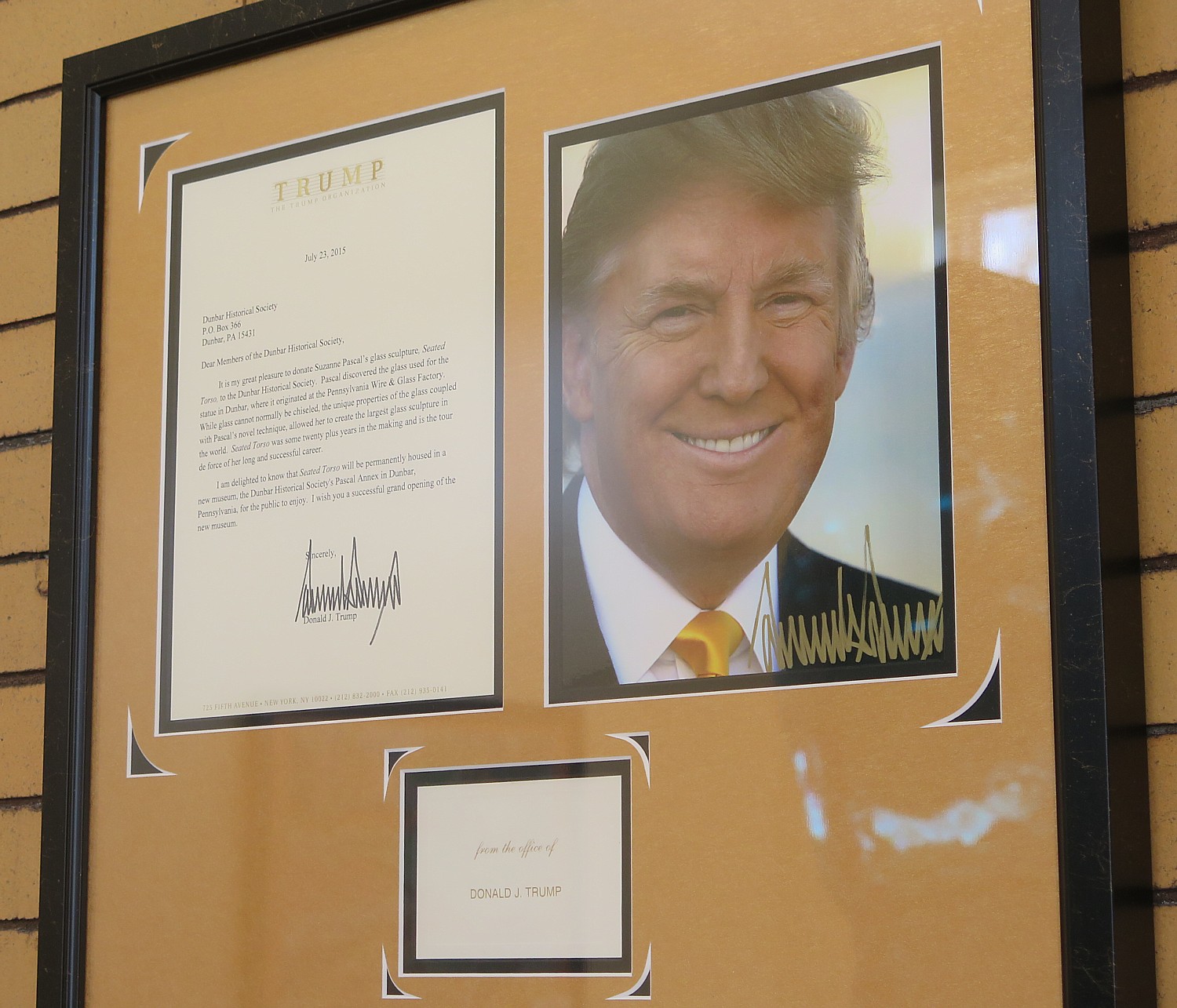 The Dunbar Historical Society built an annex to its building, and the sculpture was officially opened to the public in May 2016 (coinciding with our Sojourn). We noticed a change from last year: the letter and photo from Donald J. Trump was moved to a slightly less prominent corner.
The sculpture and the rest of the historical society is really worth seeing (www.dunbarhistoricalsociety.com).
See also:
Rails-to-Trails Conservancy's BikeTour on Great Allegheny Passage Highlights Benefits of RailTrails
Rails-to-Trails Conservancy's Sojourn Biketour on Great Allegheny Passage Showcases Forgotten Towns
Rails-to-Trails' Great Allegheny Passage Bike Tour Side Trip into Dunbar Brings Surprise Encounter with TrumpWorld
$3.5 Million Glass Sculpture in Dunbar, PA is Clue to Donald Trump's 'Charitable' Donations
______________
© 2017 Travel Features Syndicate, a division of Workstyles, Inc. All rights reserved. Visit goingplacesfarandnear.com,  www.huffingtonpost.com/author/karen-rubin , and travelwritersmagazine.com/TravelFeaturesSyndicate/. Blogging at goingplacesnearandfar.wordpress.com and moralcompasstravel.info. Send comments or questions to [email protected]. Tweet @TravelFeatures. 'Like' us at facebook.com/NewsPhotoFeatures