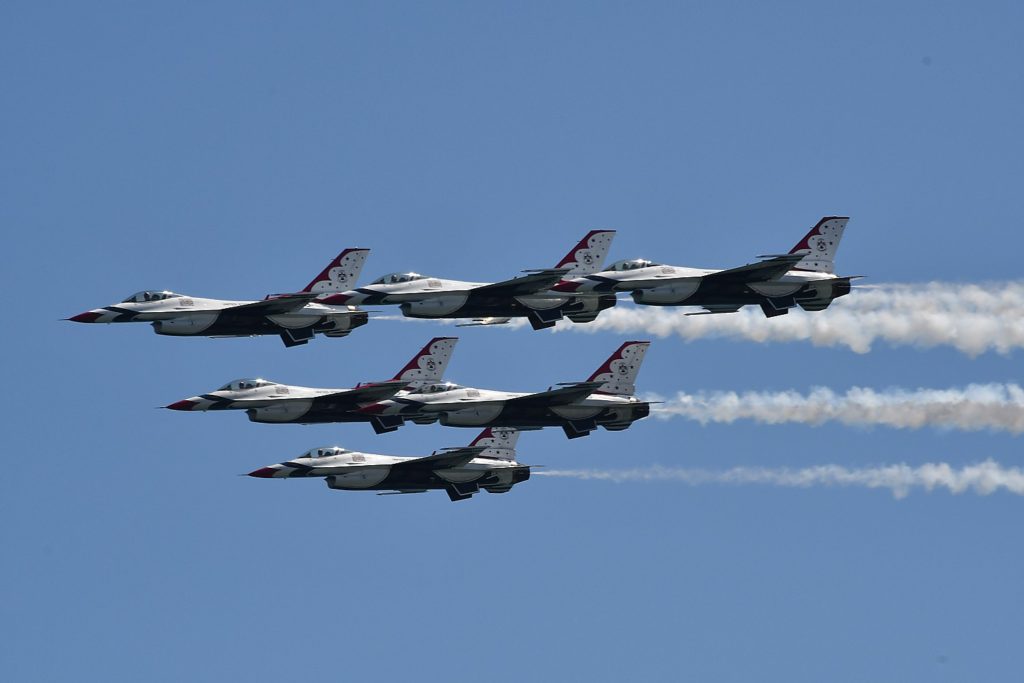 By Karen Rubin, Travel Features Syndicate, goingplacesfarandnear.com
The US Air Force Thunderbirds headlined the 16th Annual Bethpage Air Show at Jones Beach State Park, Long Island, flying the thrilling red, white and blue F-16s. The event over Memorial Day Weekend draws almost 400,000 in the course of three days.
Most thrilling at this year's Memorial Day weekend Bethpage Air Show at Jones Beach, Long Island, were the number of women doing the most daring feats: US Air Force Thunderbirds pilot Michelle Curran, commanding the "Opposing Solo"; Jessy Panzer, the only civilian woman aerobatic pilot in the country, mimicking the astonishing stunts of Sean D. Tucker, a "living legend" of aerobatics; Golden Knights parachutist Maj. Marissa Chierichella and the Red Bull Air Force sky diving team had Amy Chmelecki.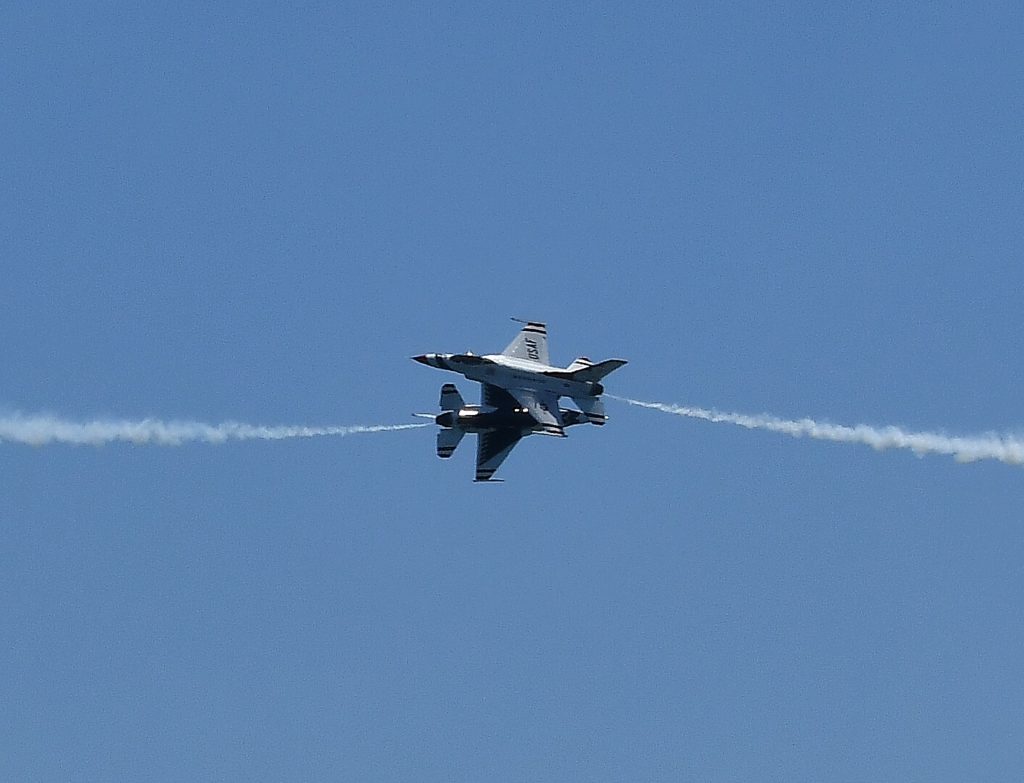 This was the 16th annual Jones Beach air show – I've seen almost all of them – and though many of the performances repeat year after year, or follow a two-year cycle, this show was particularly exciting with the infusion of new energy.
The headliners, the US Air Force Thunderbirds, are a team of six F-16 Fighting Falcons that roar through the skies, to demonstrate the power and dexterity of these fighting crafts. Most thrilling is when the two opposing solos race at each other at combined speed of 1000 mph.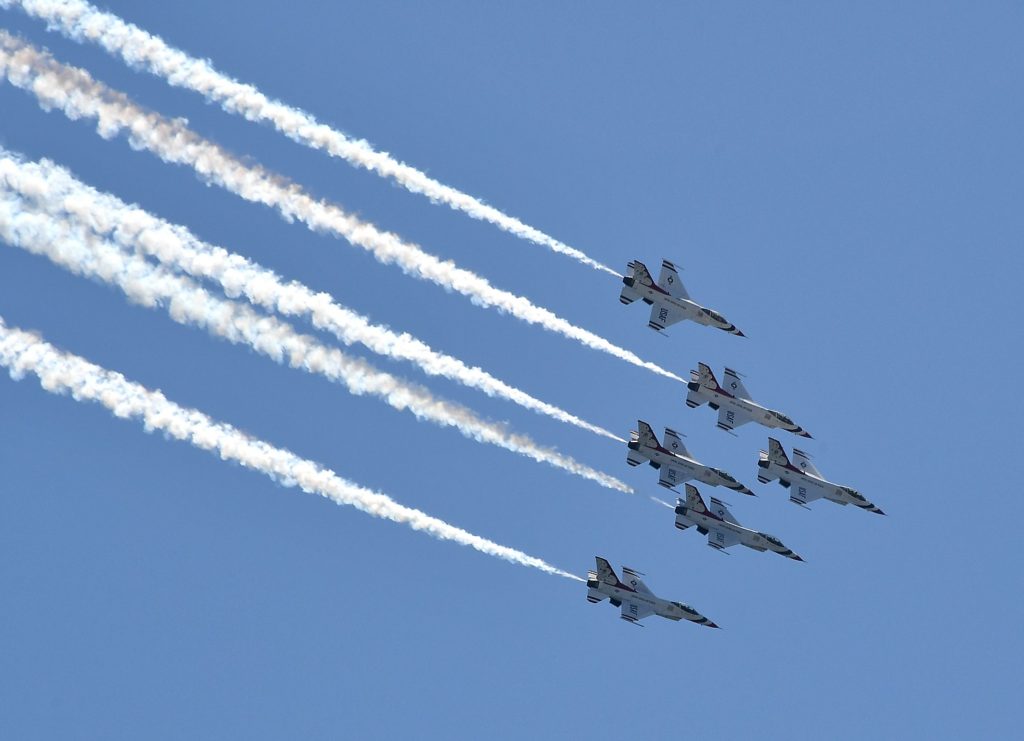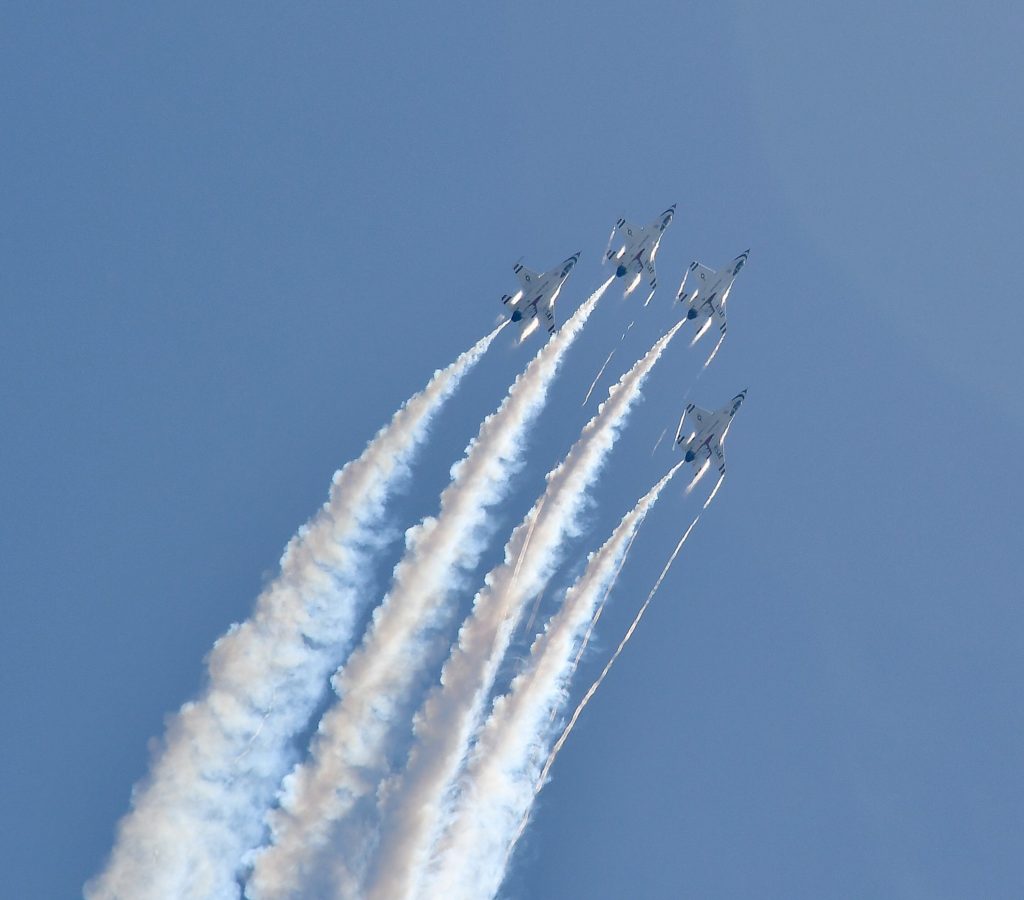 We were treated to the final appearance of Sean D. Tucker's specially-engineered plane that enables him to do feats never before imagined, the Oracle Challenger 3, will be donated to the Smithsonian's National Air & Space Museum in Washington, where it will be part of a new Thomas W. Haas We All Fly gallery, opening in 2021.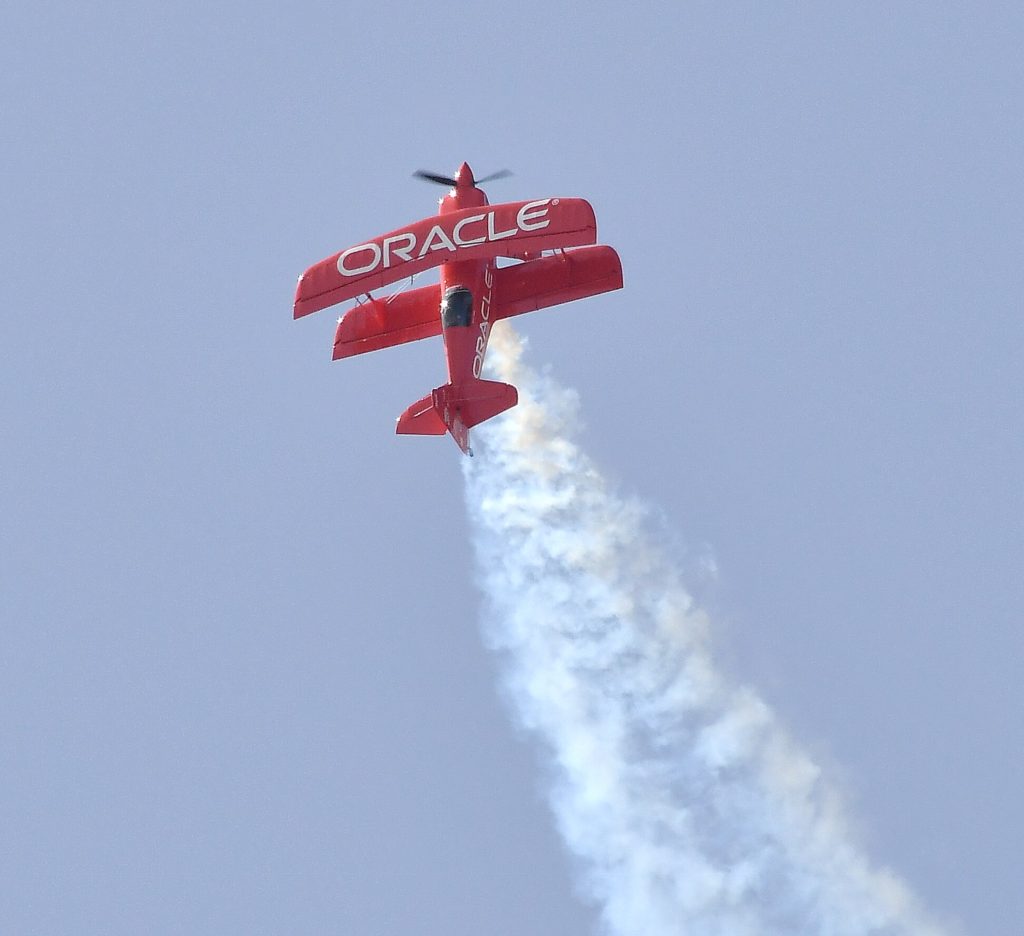 This year, for the first time, Tucker flew in tandem with Jessy Panzer, the only female civilian air show pilot in the USA. Together, Team Oracle performed the most exquisite, thrilling pas de deux in flight, with incredible precision at 200 miles mph, at bone-crushing G-forces, with Panzer magnificently following the smoke trails of Tucker. Her skill is all the more apparent since she is flying a different plane from the Oracle Challenger 3 biplane. And the back-story – that each were afraid of flying initially, he because his father was an aviation lawyer who knew all too well the risks, and she because her father died in an airplane crash.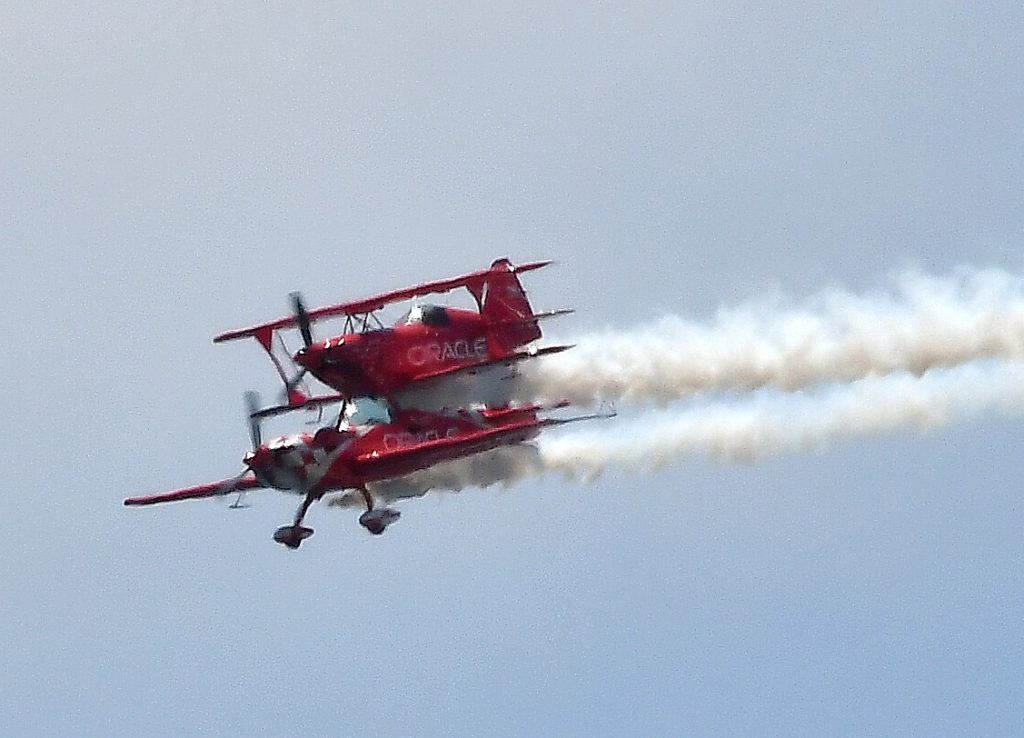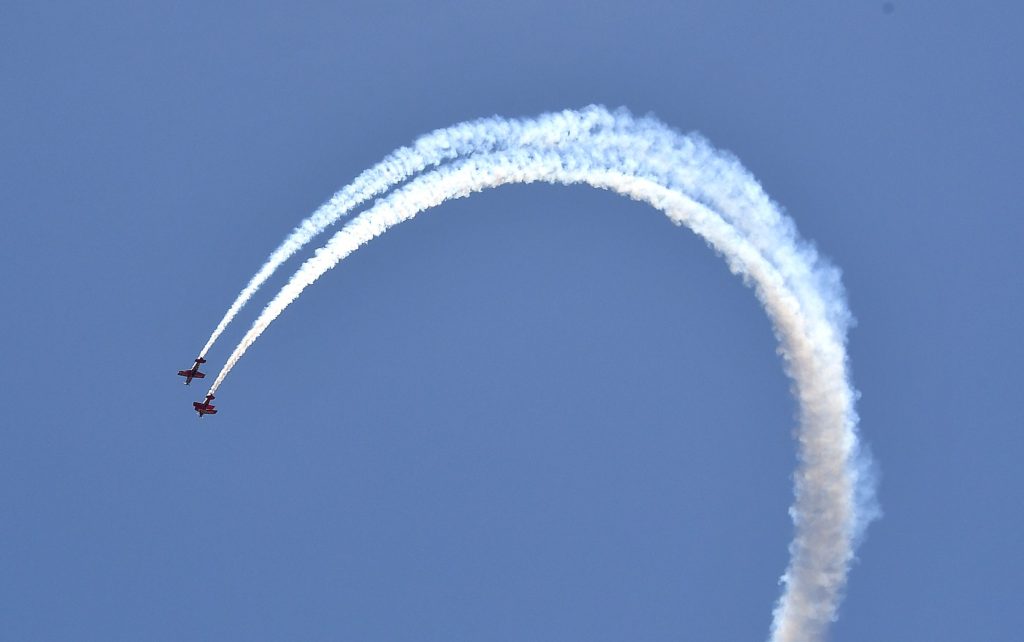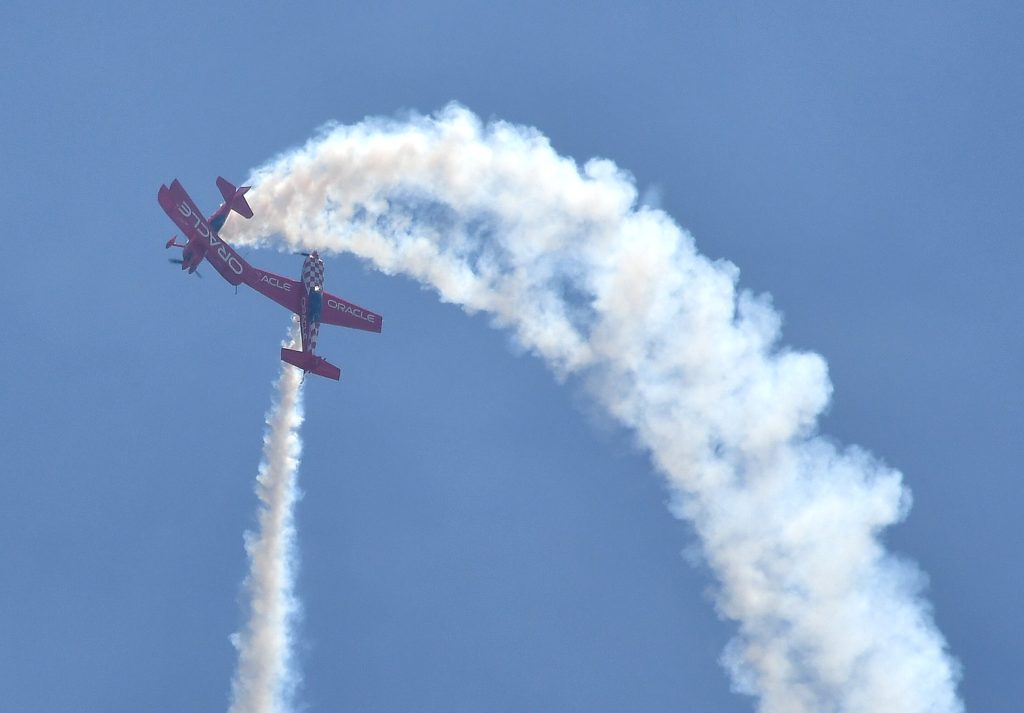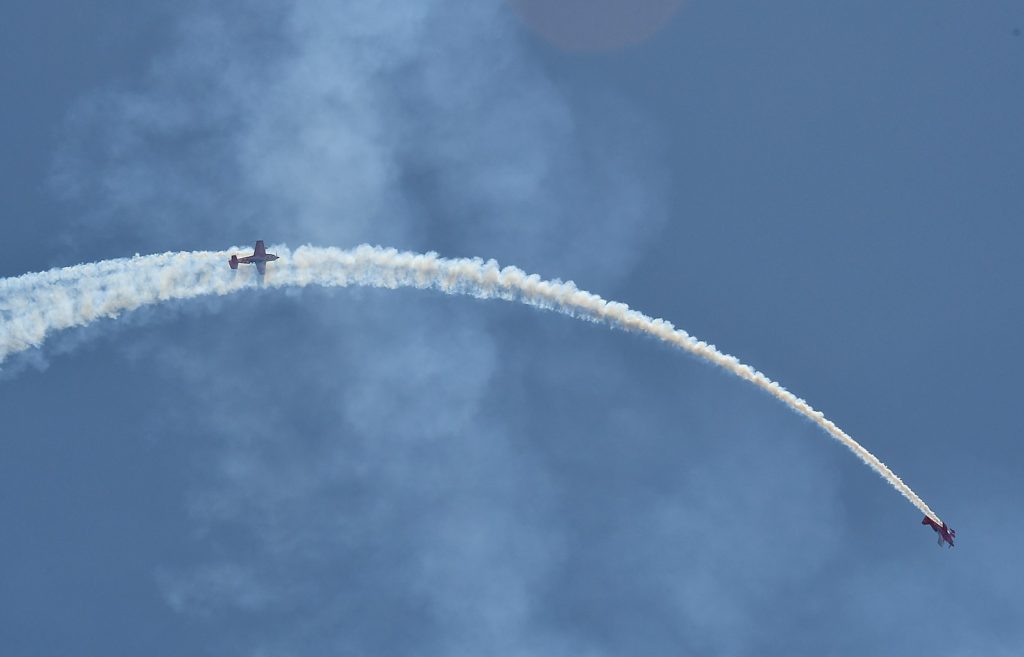 GEICO Skytypers, a team of advanced training aircraft used in World War II, are fascinating because they demonstrate actual fighting techniques – an implosion run where they evade the enemy by actually flying into each other to create confusion, missing each other by mere feet; opposing craft which come at each other at incredible speed.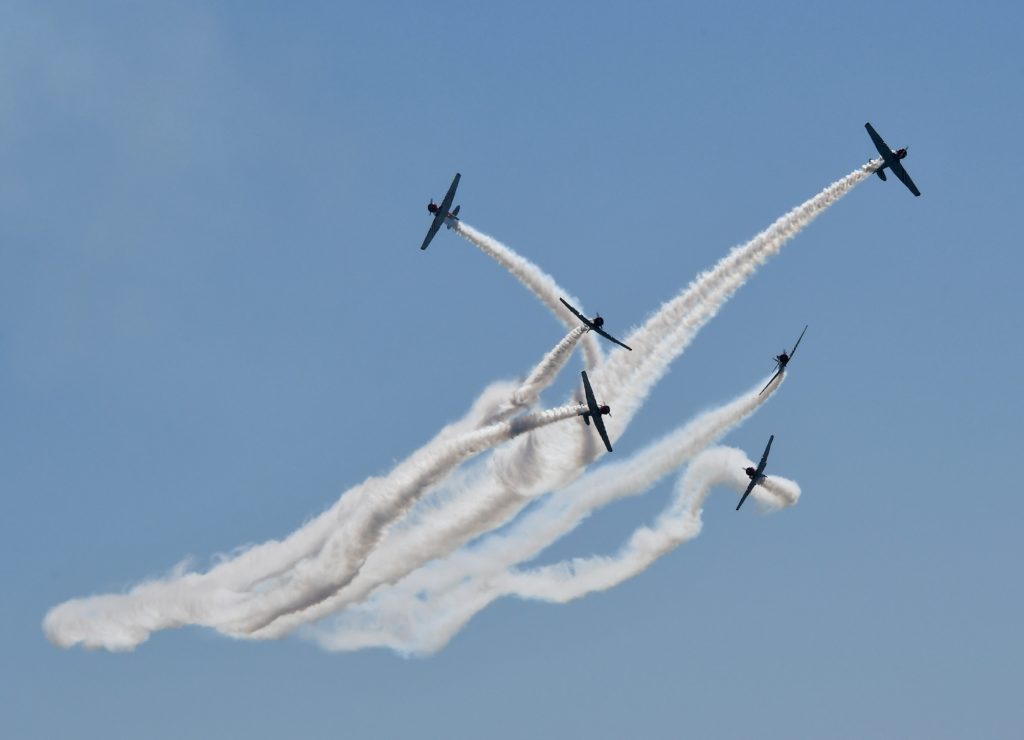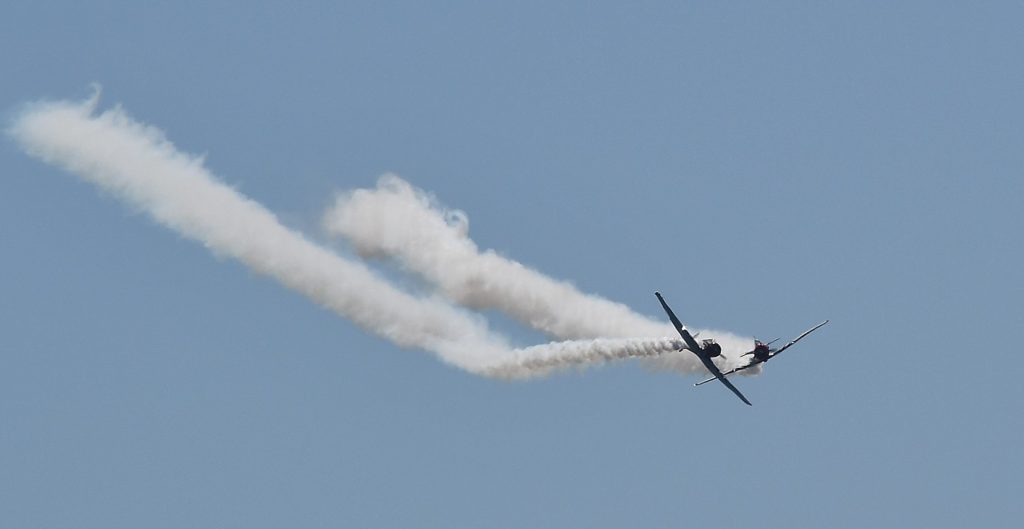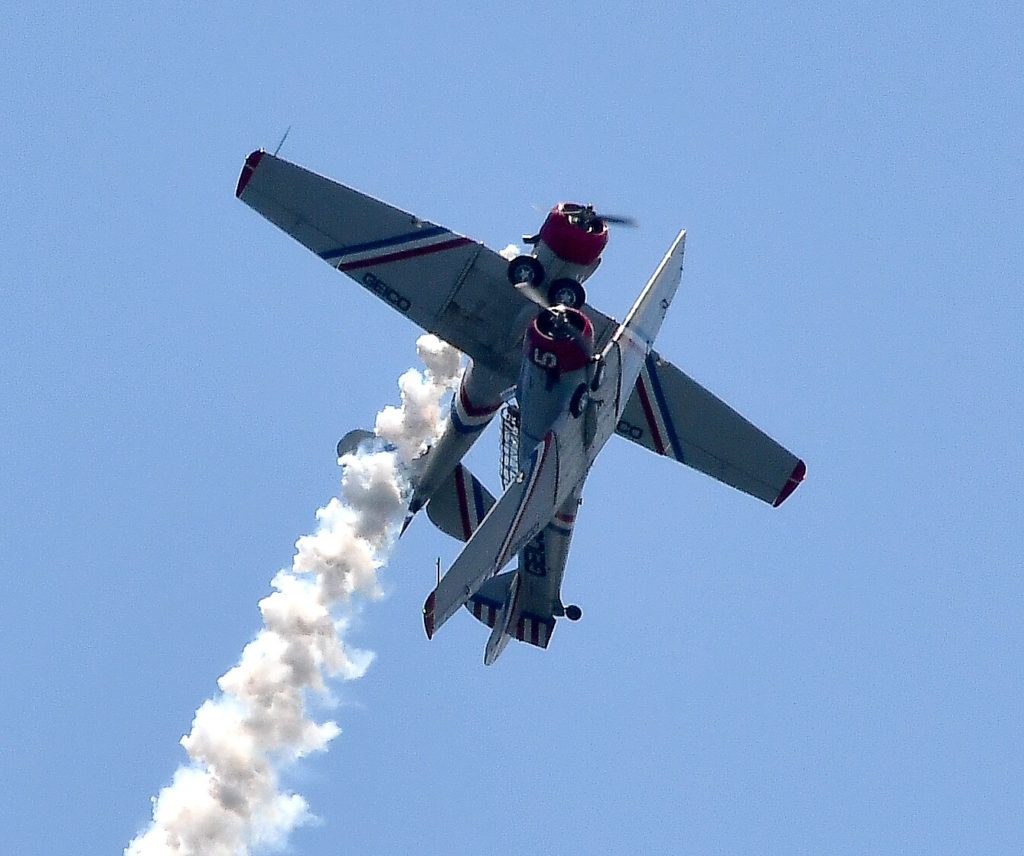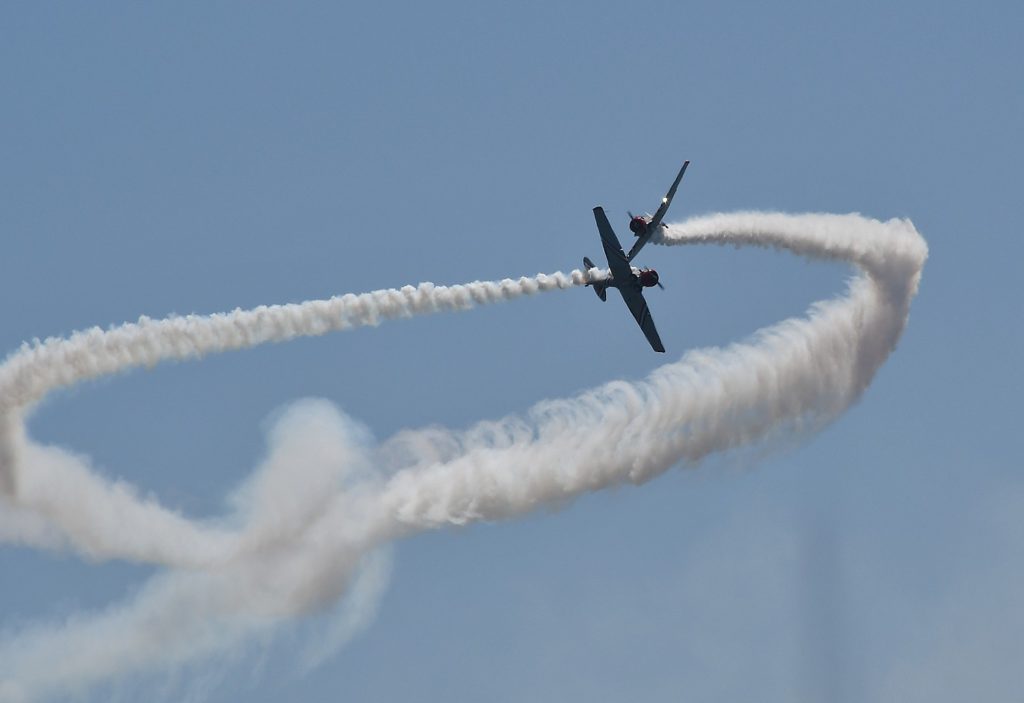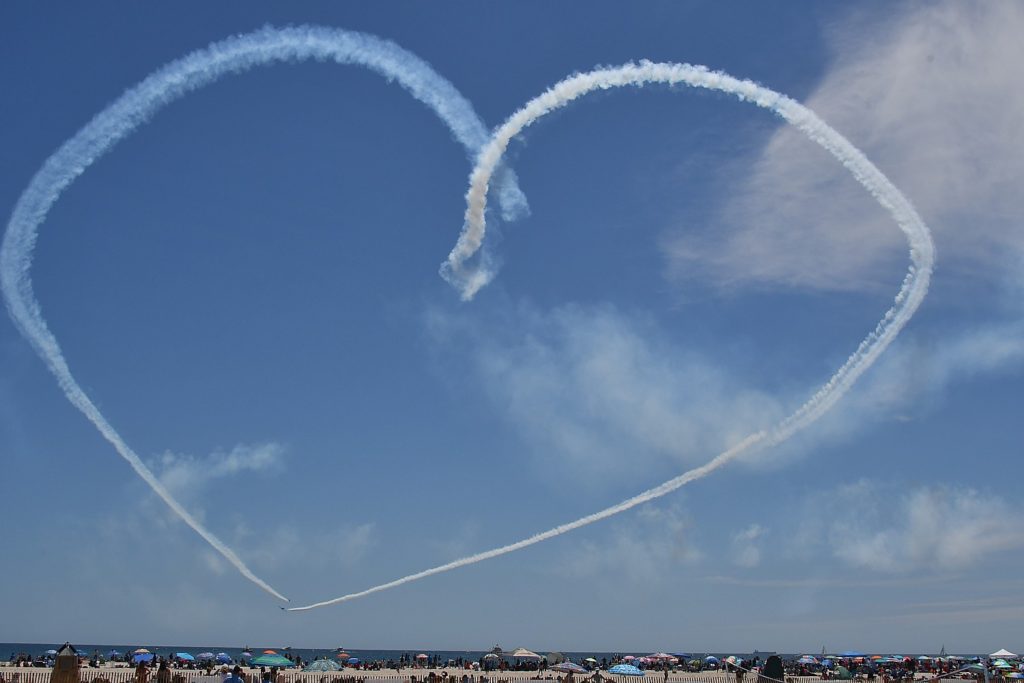 The airshow traditionally kicks off with a ceremonial parachute drop by a representative of the US Army Parachute Team, the Golden Knights, delivering the American flag to a tiny target on Jones Beach. The whole team then returns for a demonstration performance. They barrel out of their plane from an altitude of 12,500 ft, at a speed of 120 mph before pulling the cord to release their parachute; in one demonstration we see what happens when a chute fails at just 5,000 ft. (they have a spare chute). We learn that the parachutes they use, use the same aeronautical techniques as the original Wright Brothers plane in 1903.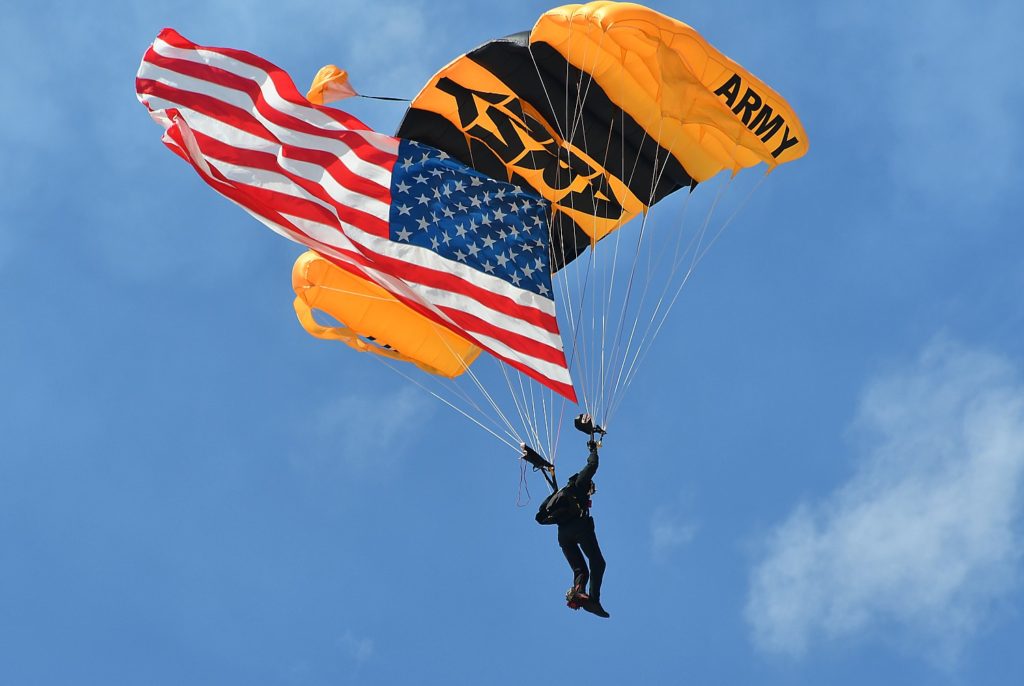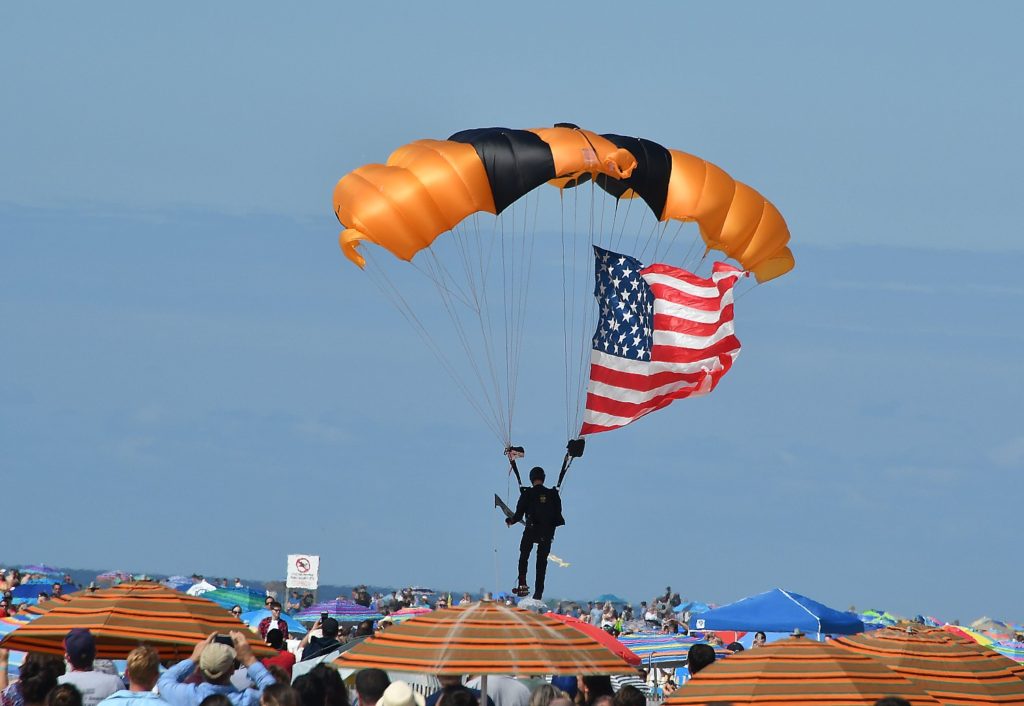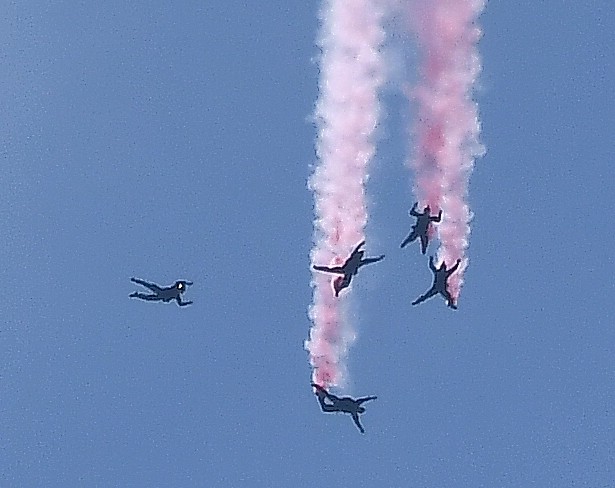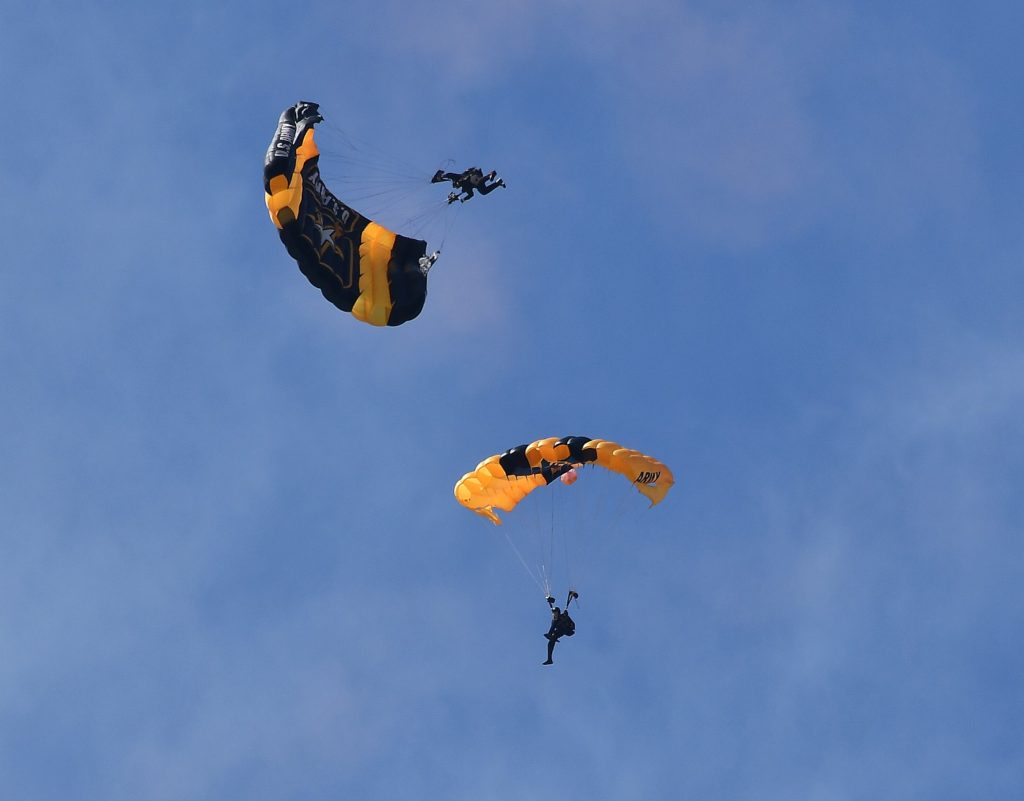 Red Bull Air Force launch out of a plane from 13,000 feet, speeding like a cannon ball at almost 200 mph, crossing in flight, before releasing the parachute, and sailing down at 60 mph to the target. The helicopter is the only aerobatic helicopter in the US.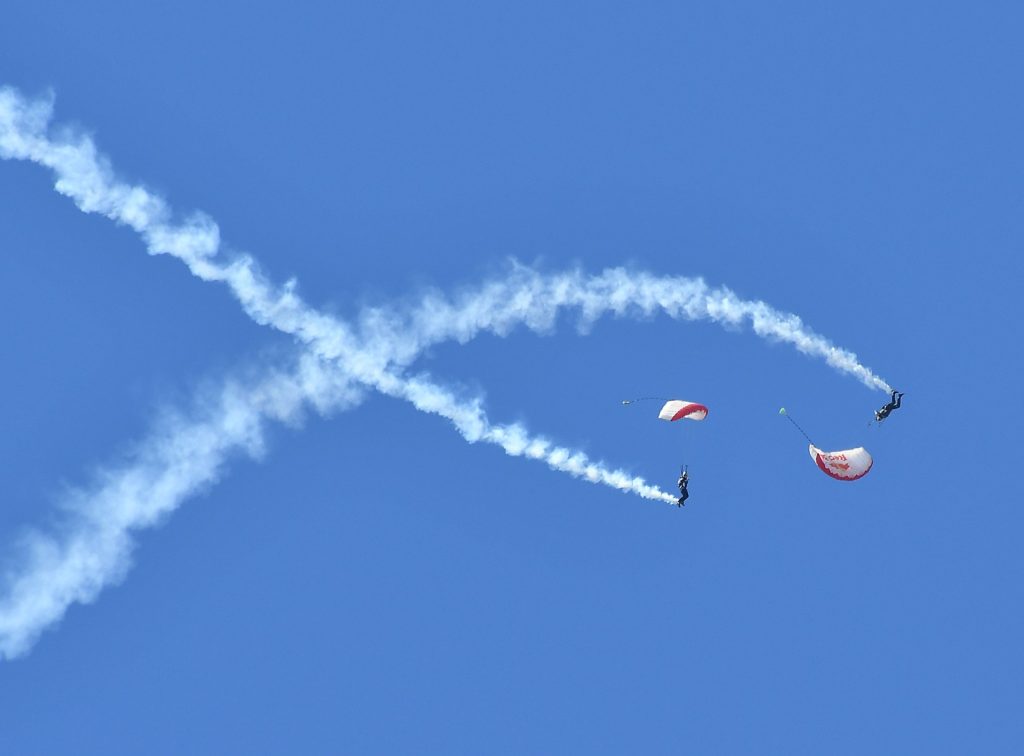 The F-18 Super Hornet, traveling at 700 mph, nearly breaking the sound barrier, where the pilot experiences bone-crushing Gs. The fighter is flown by the United States Navy and Marines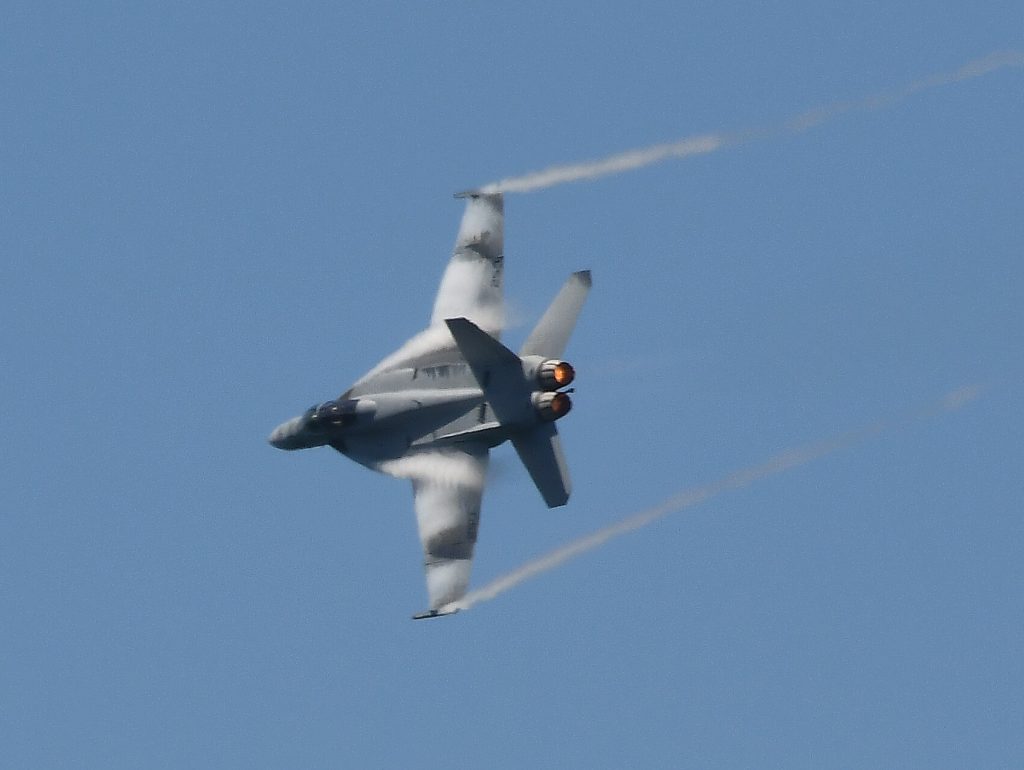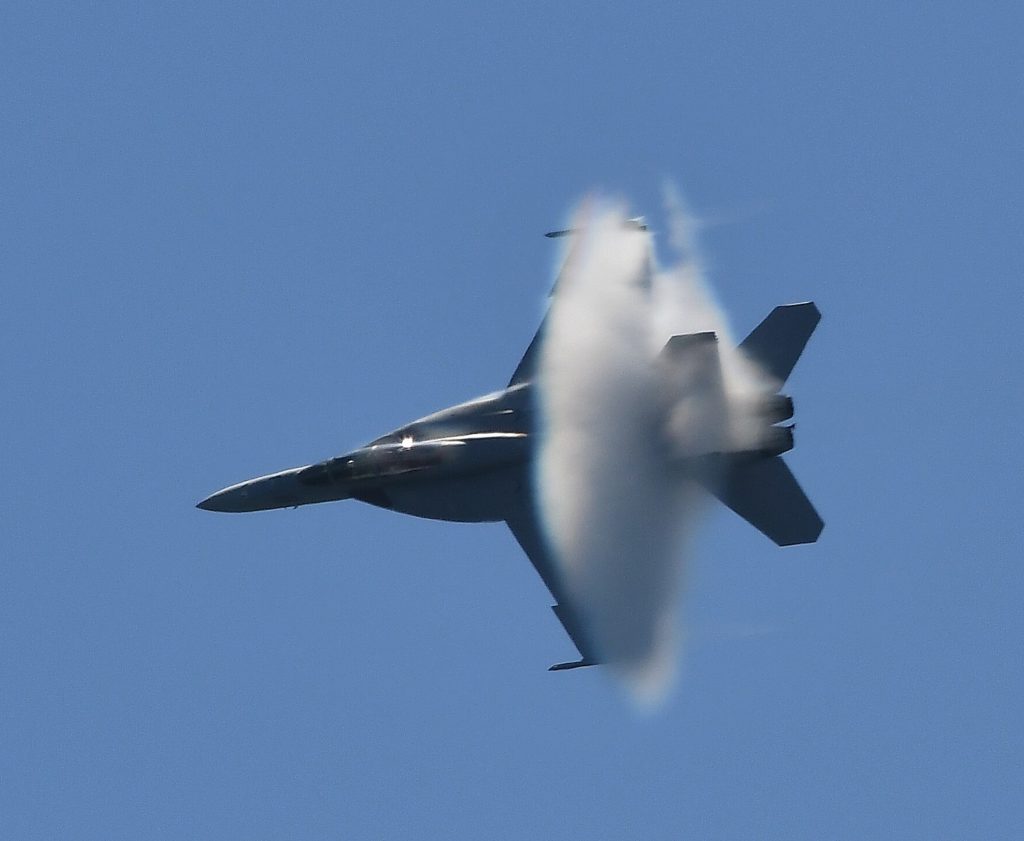 Matt Chapman, flying for Embry Riddle, performs maneuvers in which he experiences as much as 9 positive Gs and 6 negative Gs.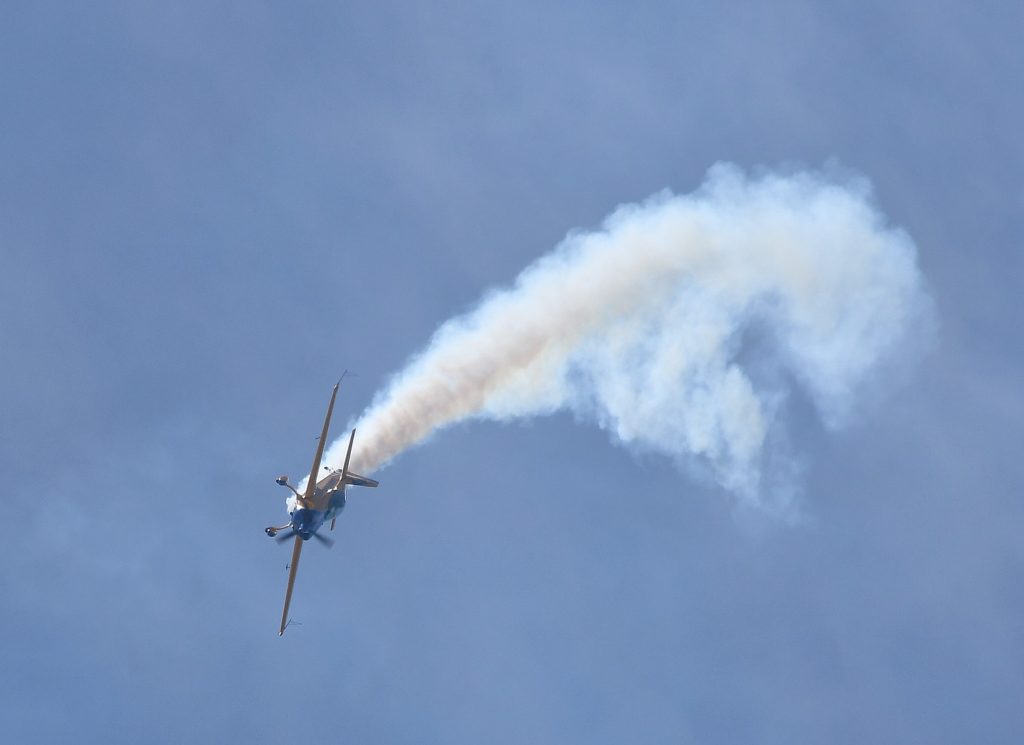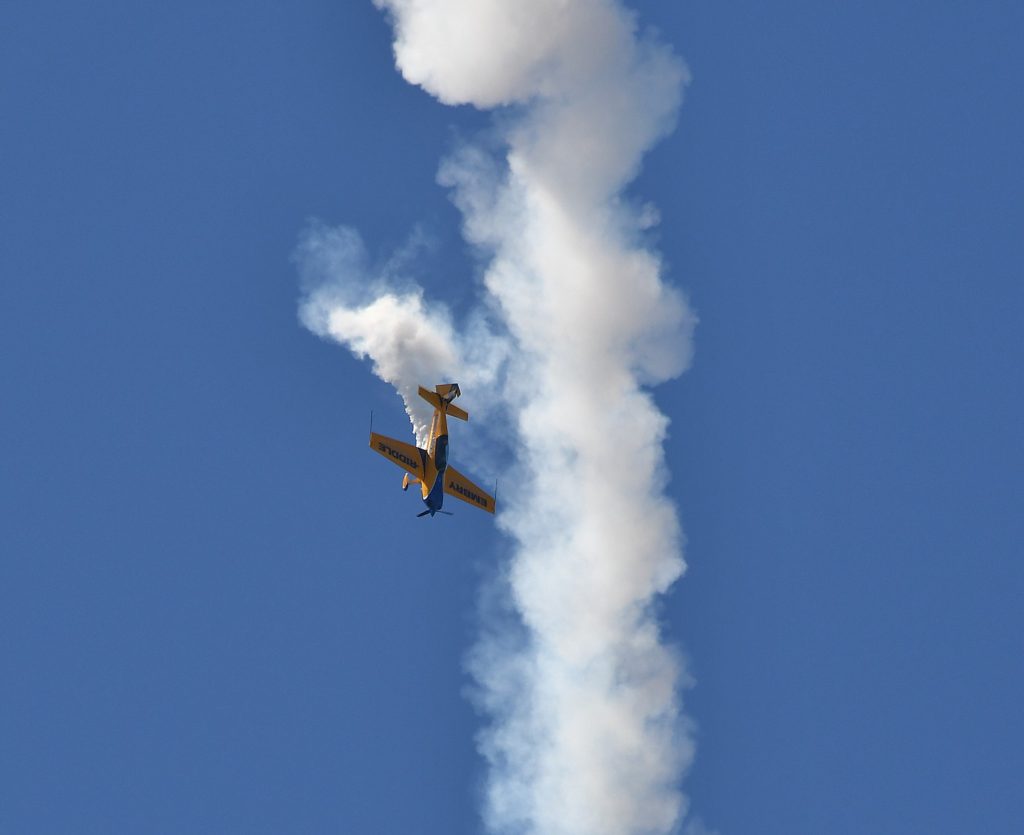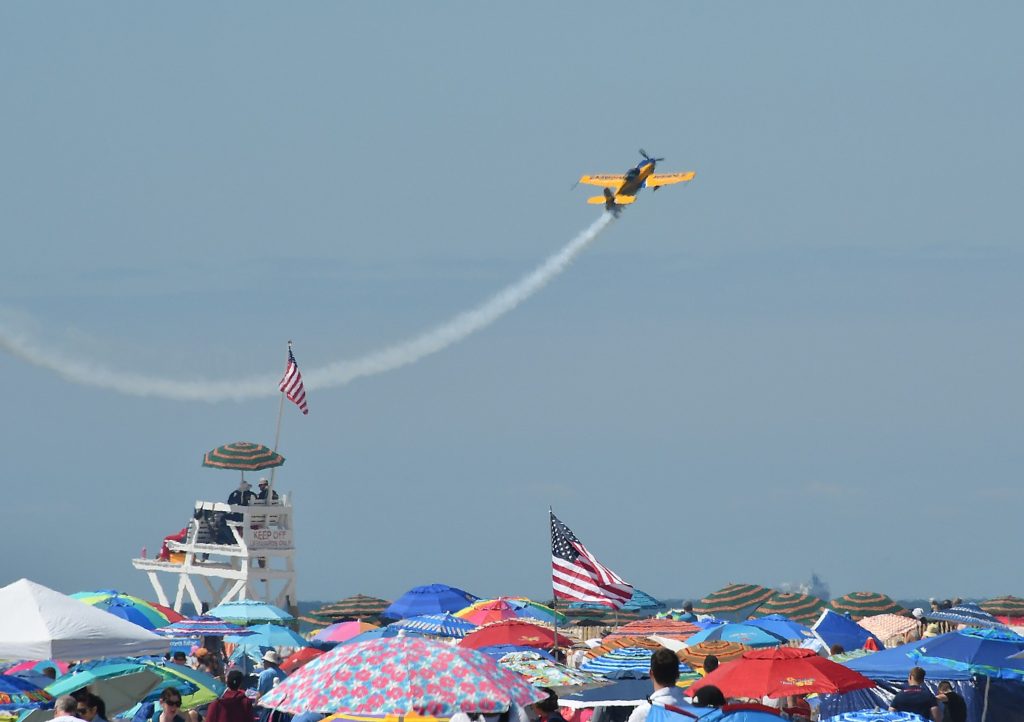 John Klatt Airshows and Jack Link's Beef Jerky teamed up to create a one-of-a-kind plane, the Screamin' Sasquatch, powered by dual powerplants: a Pratt & Whitney 985 Radial Engine and a General Electric CJ610 (J85) Jet Engine with 3,000 lbs of thrust. This system allows the plane to achieve feats other stunt planes are unable to do. During his performance, Ret. USAF Lt Colonel John Klatt experiences forces of plus and minus 4Gs, which means a 200 lb. man would weigh 800 lbs. He travels at 250 mph. Considering the ridiculous aerobatics Klatt performs in the plane, it is astonishing to learn that the plane is a Taperwing Waco made famous by the barnstormers of the 1920s and 1930s, and is based on a 1929 Waco, modified and "beefed up" big time.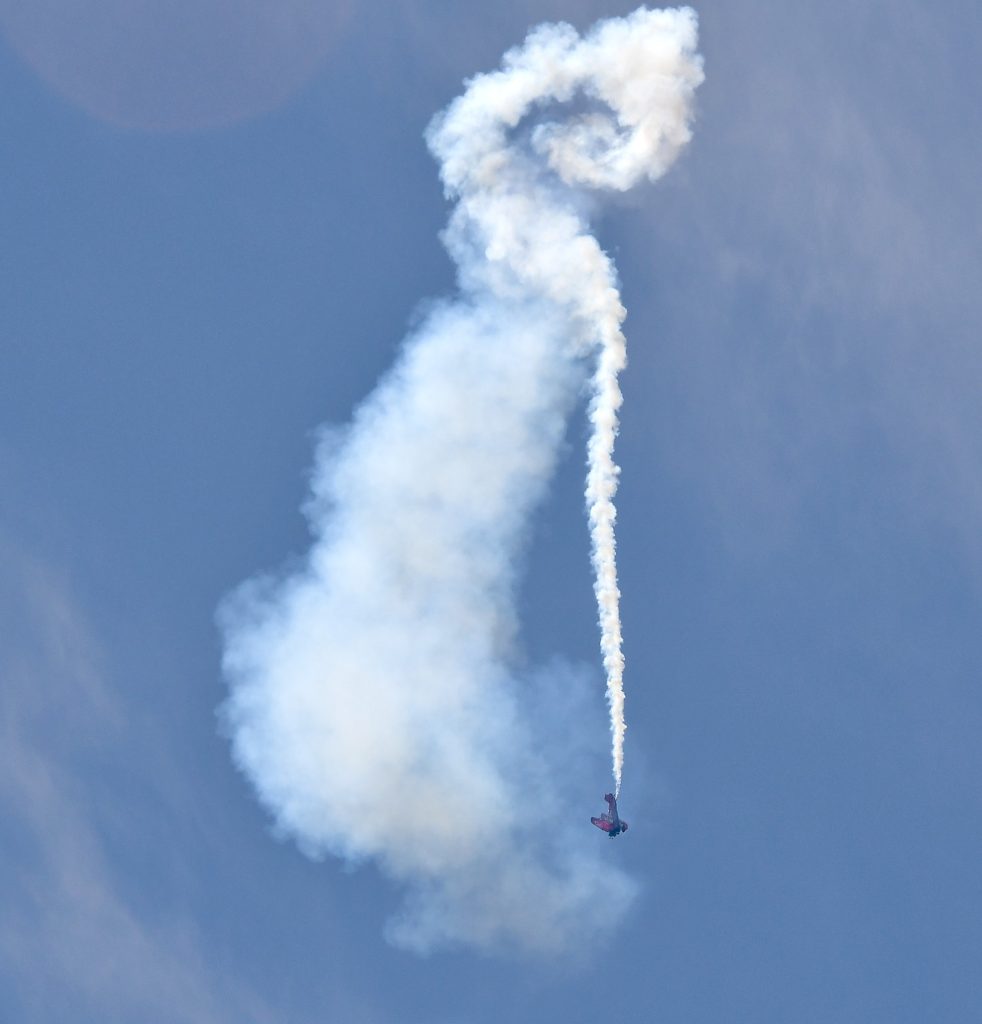 David Windmiller, Long Island's hometown hero (from Melville), thrills spectators in his Zivko Edge 540 aircraft, built especially for aerobatics, with seemingly impossible feats at speeds of up to 220 mph that keep his peers and his fans in awe. Windmiller has been flying since 14 year old, soloed at 16 year old and started aerobatic flying before he got his license and has accumulated 18,000 flight hours, including 8,000 doing aerobatics. He performs snap rolls, inverted flat spin (where the plane falls from the sky), 4 knife edge tumblers, inside-outside octogan loop.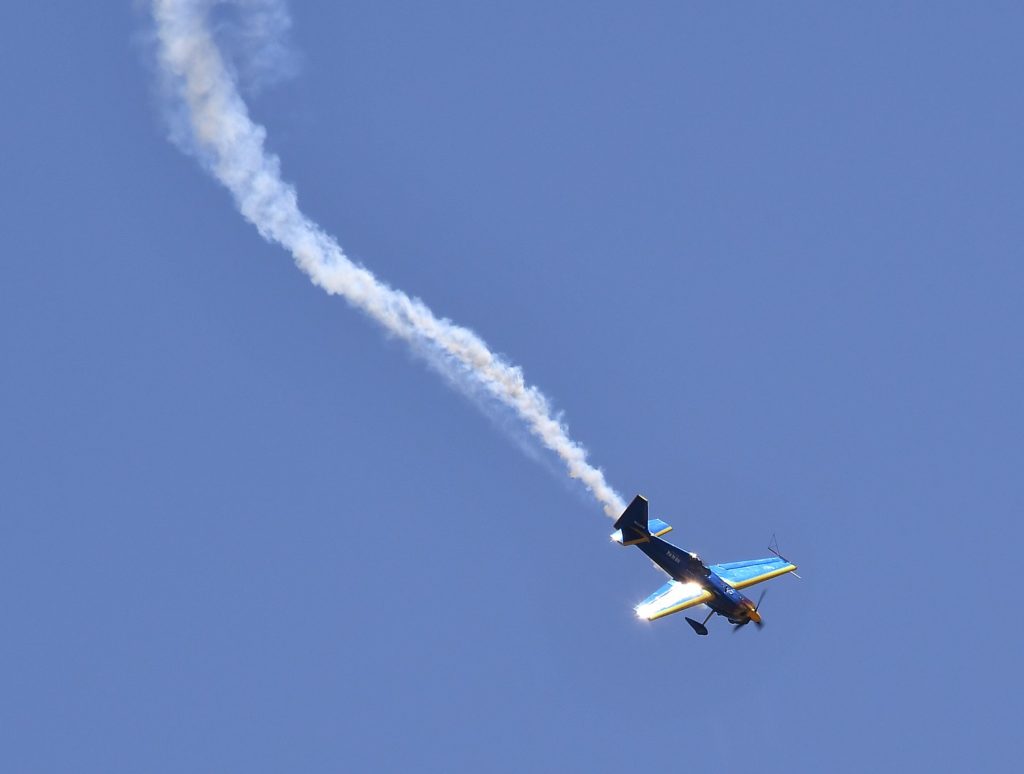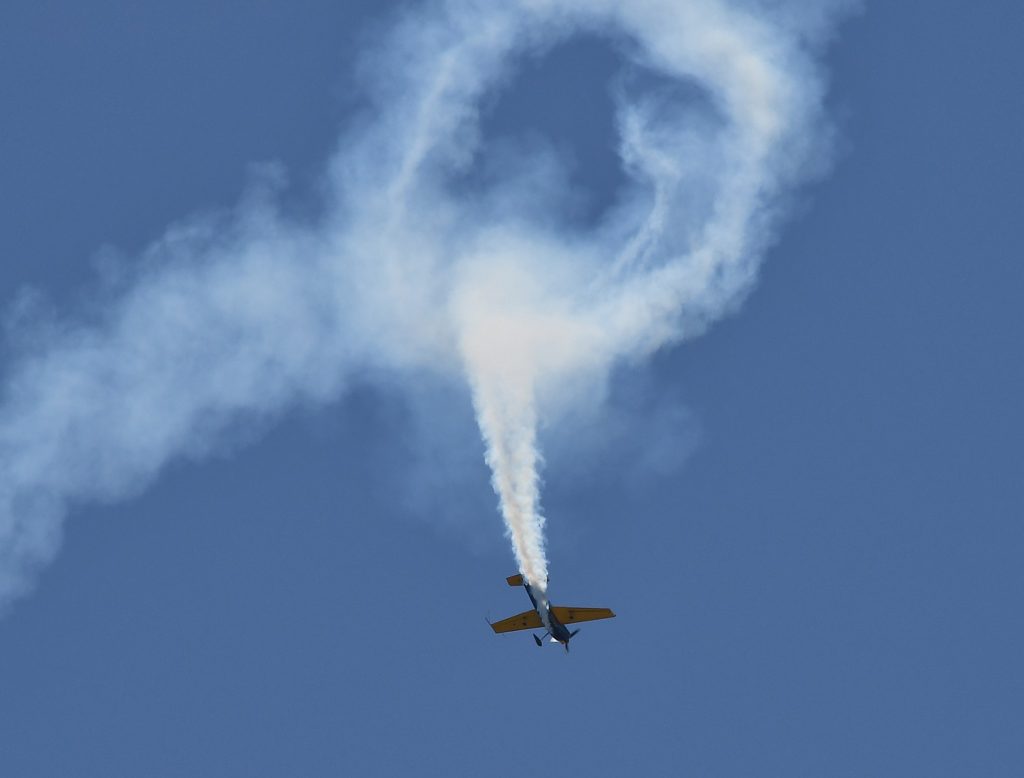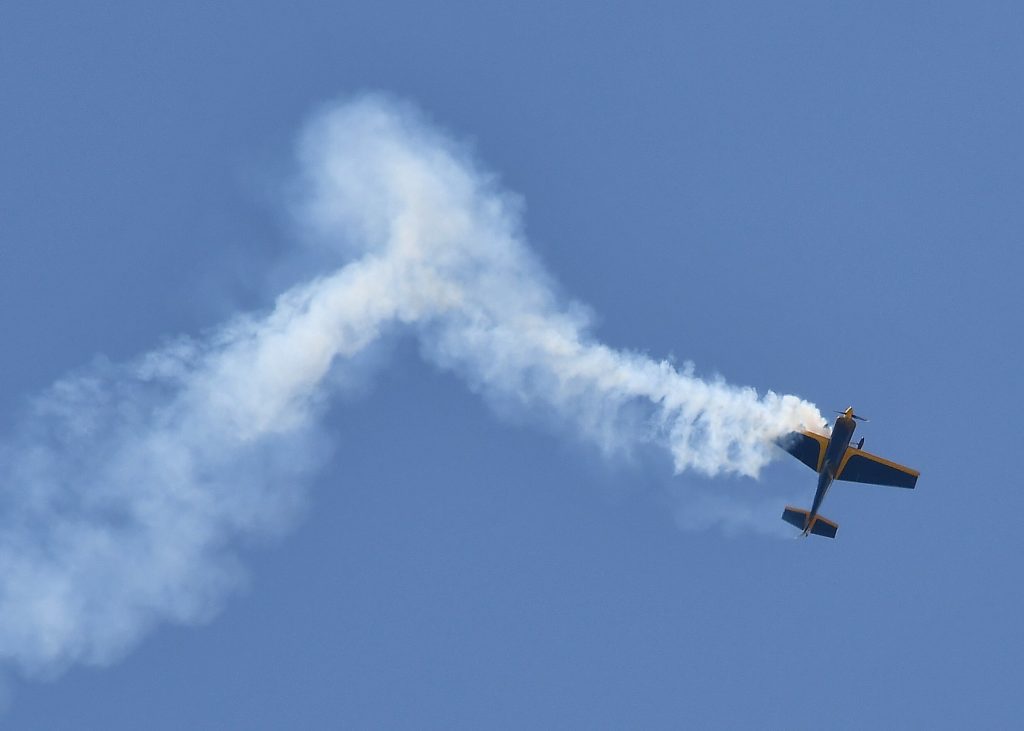 US Coast Guard demonstrated a rescue by helicopter into churning seas – on a typical day, the Coast Guard, with fewer members than can fit in Yankee Stadium, save 15 lives, patrol some 96,000 miles of coastline through the US, as well as South China Seas, Pacific, Persian Gulf and wherever the US has forces.The air show also pays homage to aviation's heritage.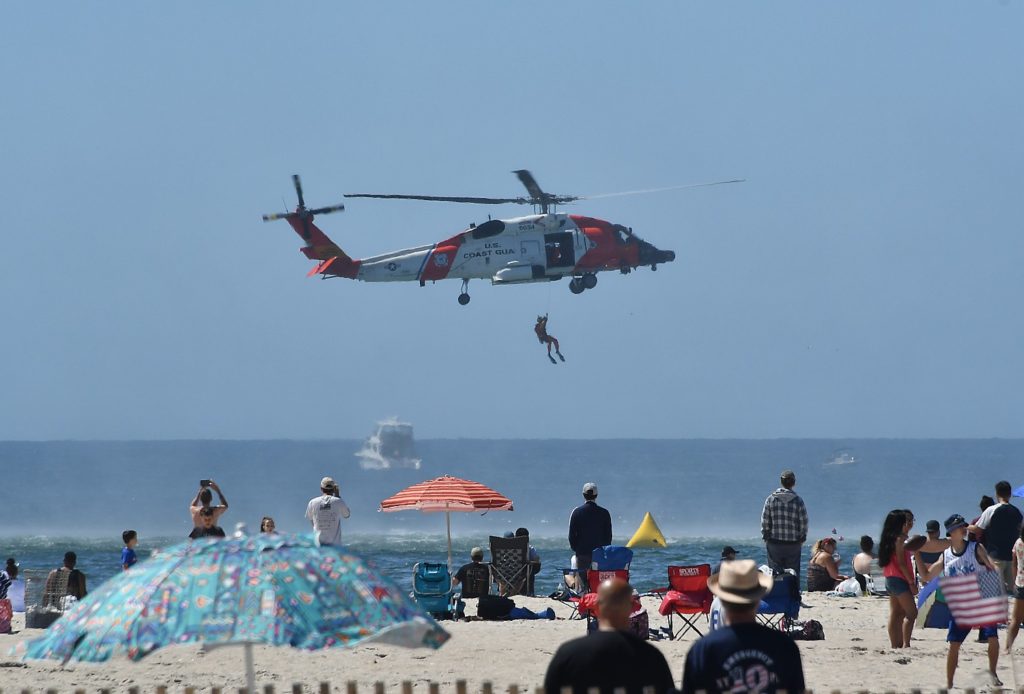 The Bayport Aerodrome Society, formed in 1972 ands composed of aviation professionals, recreational pilots, and people interested in preserving aviation history, flies aircraft from the 1920s. ​As a "living museum" they have a variety of antique aircraft flying on the field including Bi-Planes, Champs, and Cubs. One of their pilots, is 92-year old pilot who served in World War II, who flew with his grandson.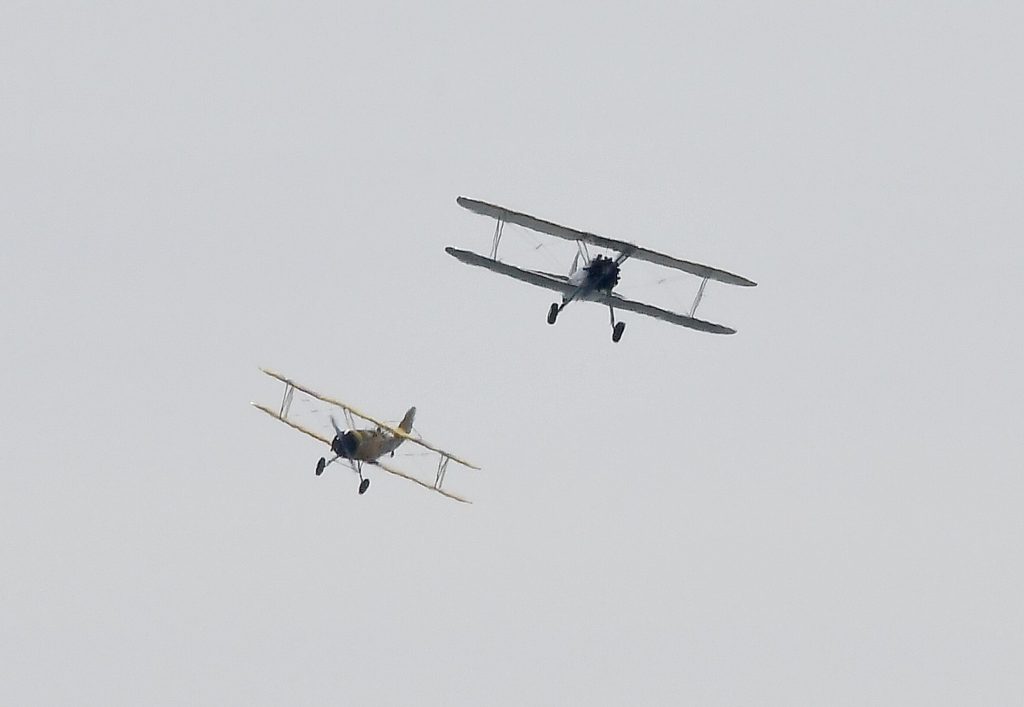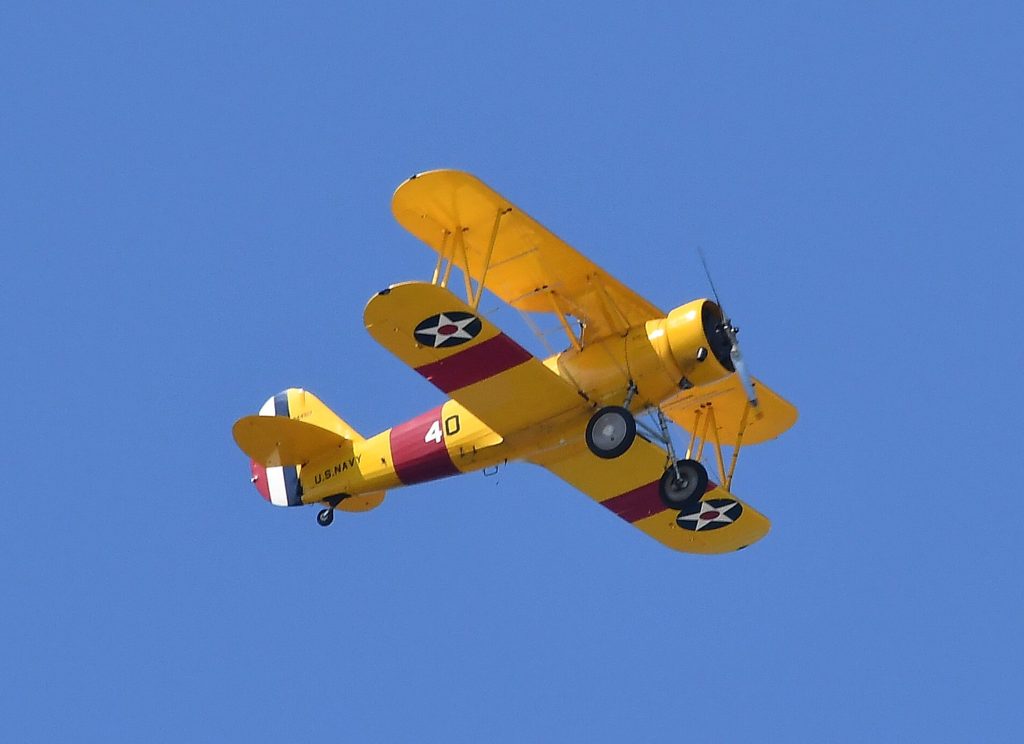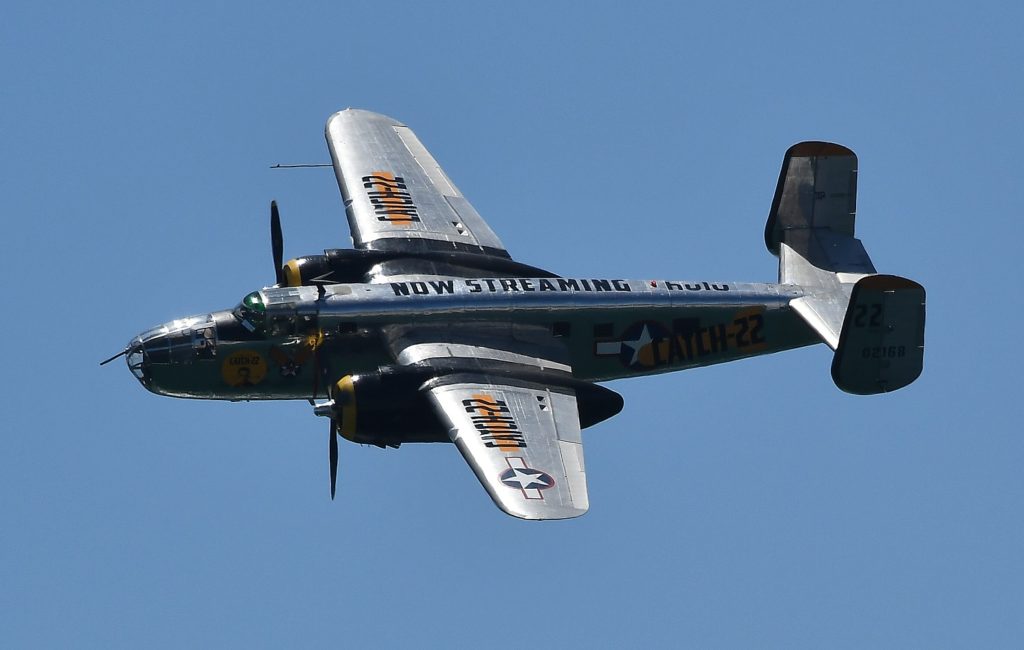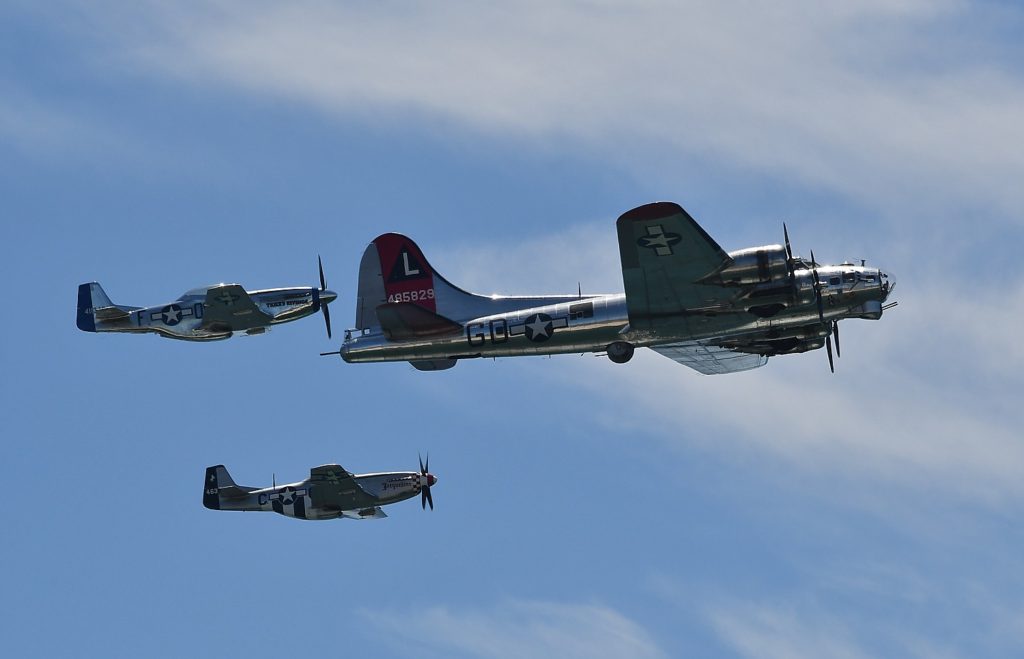 World War II vintage aircraft from the American Air Power Museum, at Republic Airport (flights available over Memorial Day weekend) were flown, including the B-25 Mitchell Bomber used in the "Catch 22" series on Hulu.
_____________________________
© 2019 Travel Features Syndicate, a division of Workstyles, Inc. All rights reserved. Visit goingplacesfarandnear.com, www.huffingtonpost.com/author/karen-rubin, and travelwritersmagazine.com/TravelFeaturesSyndicate/. Blogging at goingplacesnearandfar.wordpress.com and moralcompasstravel.info. Send comments or questions to [email protected]. Tweet @TravelFeatures. 'Like' us at facebook.com/NewsPhotoFeatures