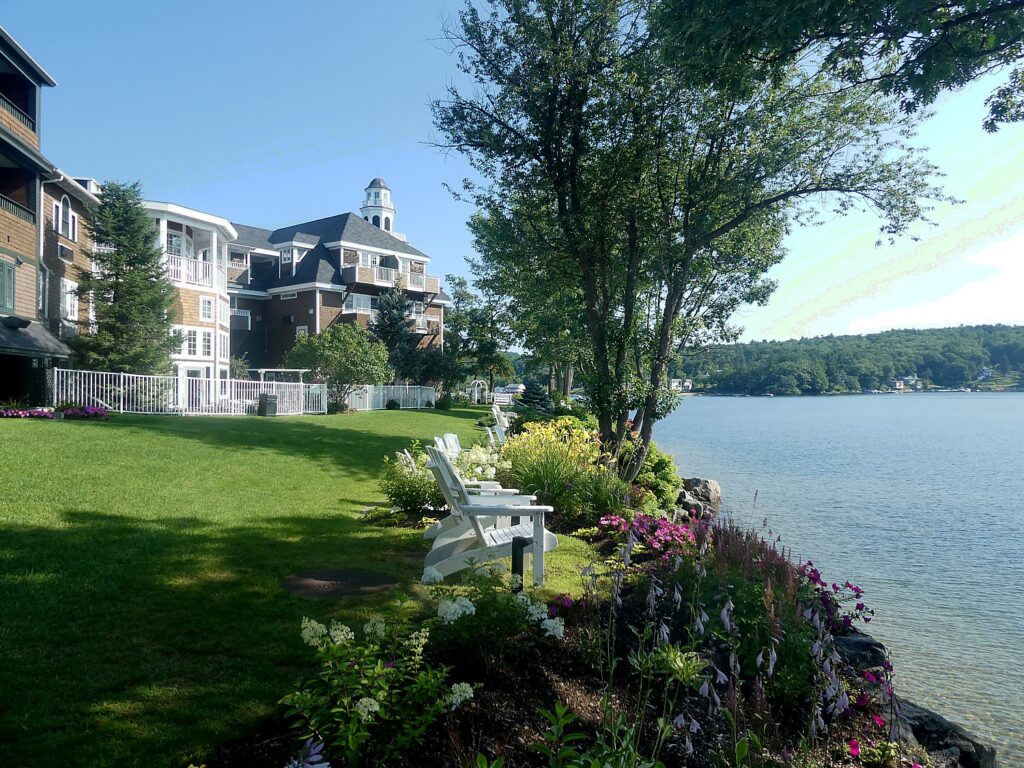 By Karen Rubin
Travel Features Syndicate, goingplacesfarandnear.com
Lake Winnipesaukee, "The Smile of the Great Spirit," gets its name from a charming and romantic legend of the Abenaki Native American tribe who lived in this New Hampshire Lakes region for 11,000 years. The tranquil setting here indeed, immediately brings smiles to generations of visitors.
And Mill Falls at the Lake, in Meredith, proves a fabulous base for immersing yourself in the pleasures of New Hampshire's Lakes Region.
With a most picturesque setting on Lake Winnipesaukee, New Hampshire's largest lake, Mill Falls is a most unusual sort of lakeside resort complex, with four distinct inns – Bay Point and Church Landing on the water, connected by a lakefront boardwalk, and The Inn at Mill Falls and Chase House across a busy boulevard. Mill Falls also offers a full-service Cascade Spa, EKAL Activity Center, five restaurants, 12 shops in a four-story Marketplace housed in the historic mill with a 40-foot waterfall, and a vibrant Main Street community to complete the experience.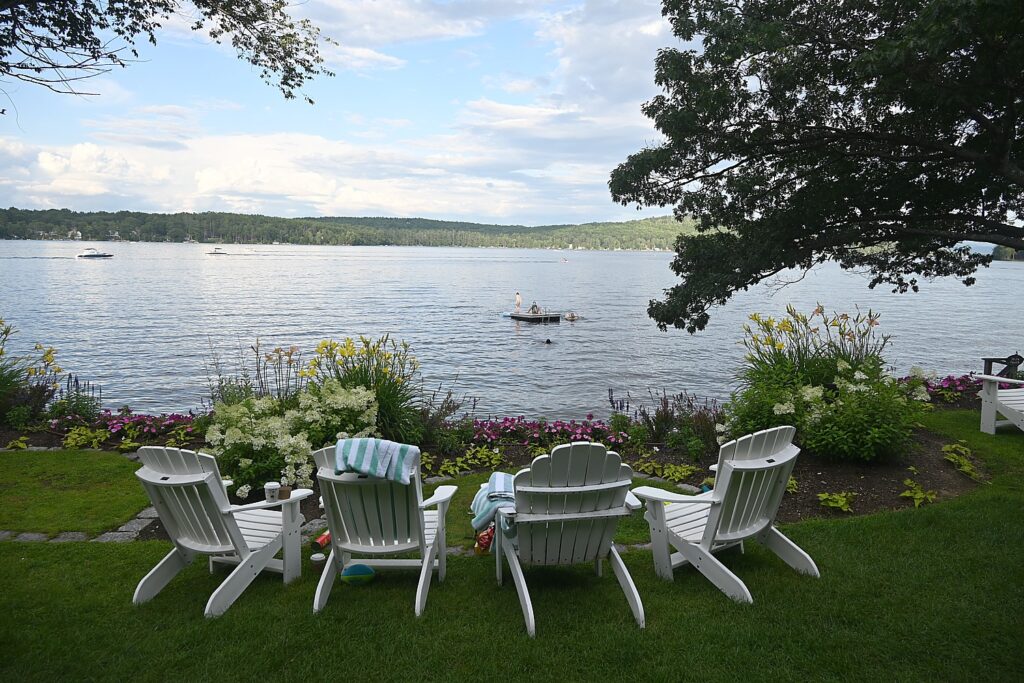 Mill Falls' name pays homage to its heritage – the story told in historic photographs that grace the walls. Meredith started as a mill town powered by the flow of water.
In 1983 Meredith Bay Corporation bought the mill property, raising most of the buildings, but reconstructing the historic old mill into a four-story "Marketplace" shopping experience. Most of the original hand-hewn beams and wide barn boards remain; a half-ton copper cupola acquired from the North Woodstock church tower was hoisted to a new perch on the mill roof. A shopping plaza with three new retail buildings was created and the lovely 54 room Inn with swimming pool was added. The area was beautifully landscaped, incorporating the waterfall.
The opening of the Inn at Mill Falls and the Mill Falls Marketplace was the end of the industrial chapter for Meredith, but the beginning of a new era for the town.
In 1993, the company acquired an office building on the lake, which was reconstructed into the Inn at Bay Point.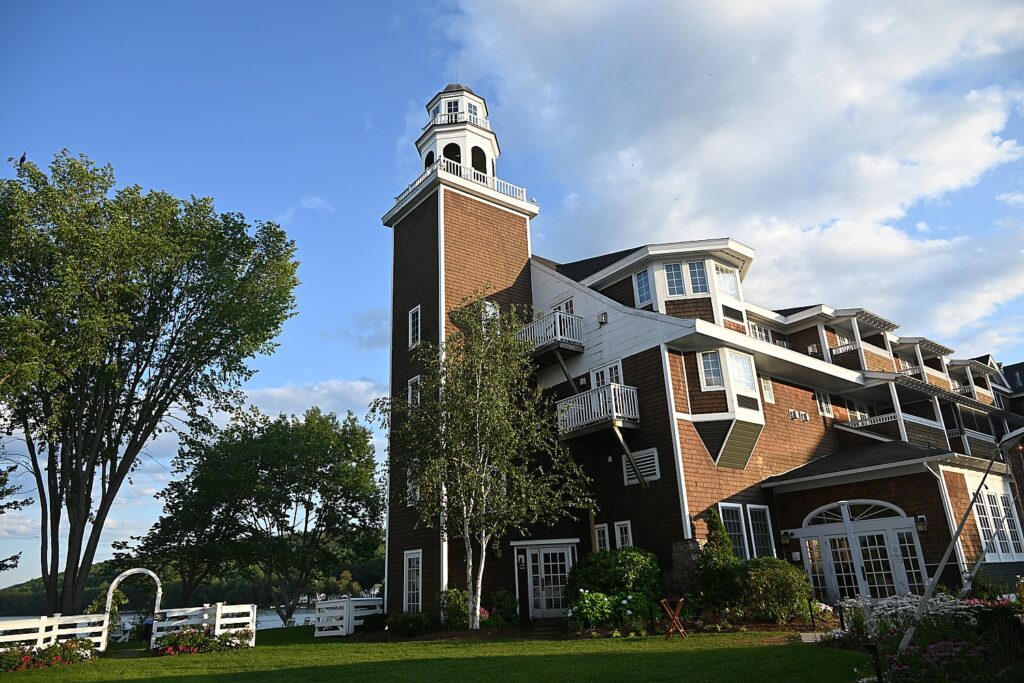 Then, in 2003, after St. Charles parish moved, HHH acquired their old church and waterfront property – a spectacular promontory that juts into Meredith Bay. Rather than raze the church, HHH incorporated the structure into its stunning design in the style of the great shingled camps of the 1880s. Church Landing opened in May 2004.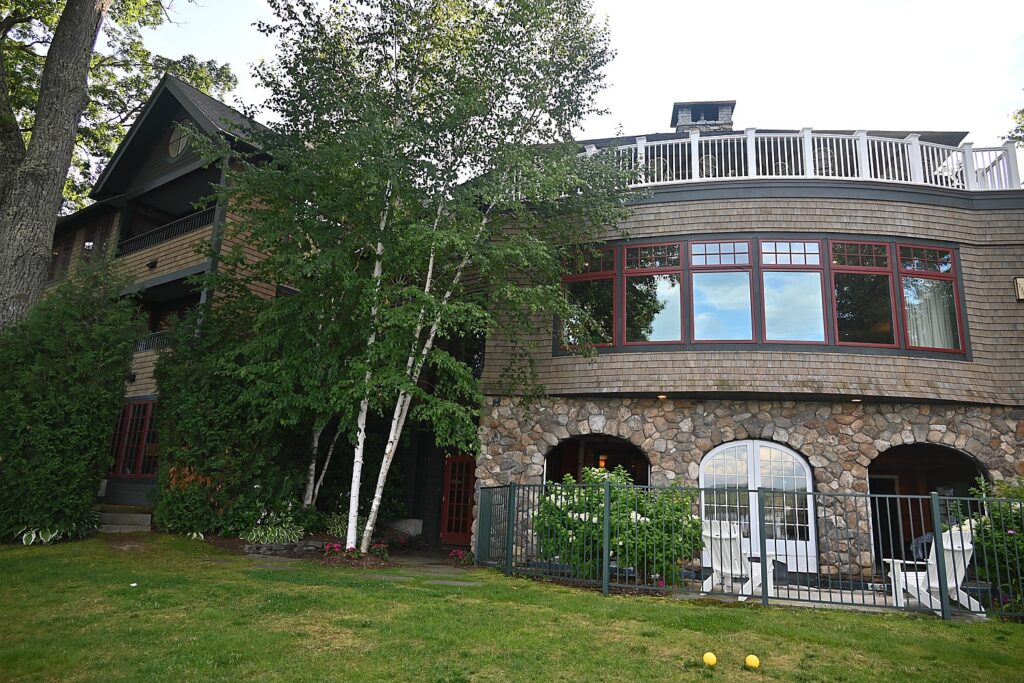 In addition to a spectacular new inn, Church Landing added 1,000 feet of boardwalk to create a three-quarter mile contiguous public walkway along Lake Winnipesaukee's waterfront, connecting Church Landing with The Town Docks Restaurant, The Christmas Loft, two public parks, and the existing walkway system that extends past The Inn at Bay Point. It also includes two 60-foot docks and a public gazebo and pier, which are attached to the existing town docks system. The final and crowning touch to Church Landing is the full-service Cascade Spa.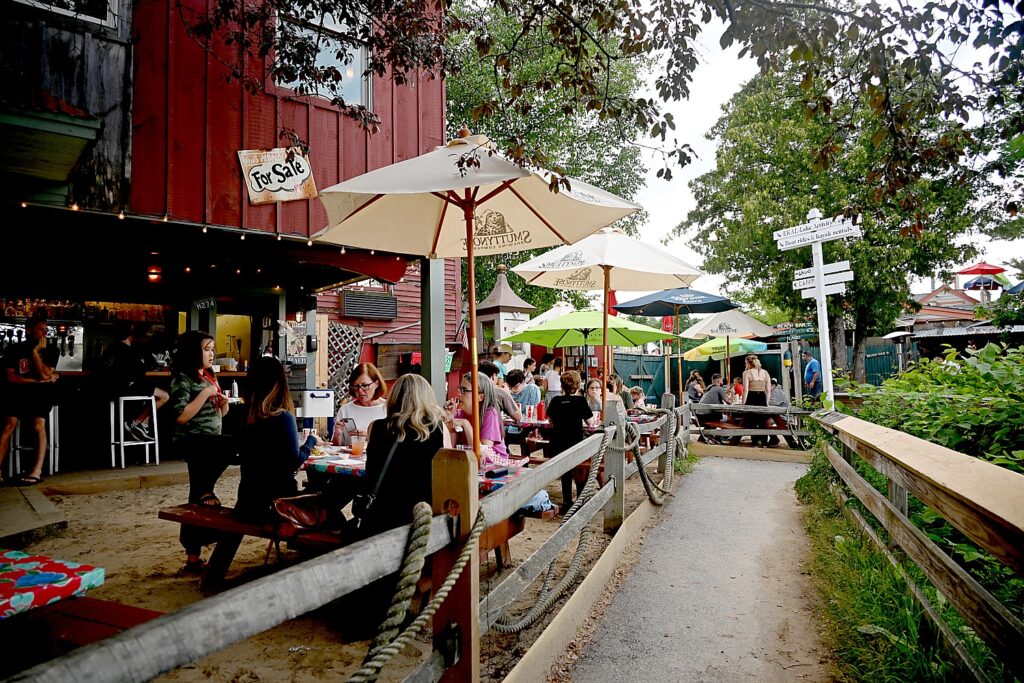 Yet another incarnation has taken place with the acquisition of Mill Falls at the Lake in 2019 by Procaccianti Companies, a New England-based, second generation privately-held real estate investment and hospitality services organization. The property is managed by its hospitality management affiliate, TPG Hotels & Resorts.
The new owners acquired the activities center, EKAL (lake spelled backwards), so has control and access to the rental bikes, kayaks, paddleboards, aquacycles, canoes that are now incorporated into a new daily schedule of programs, including both free activities as well as fee-based ones.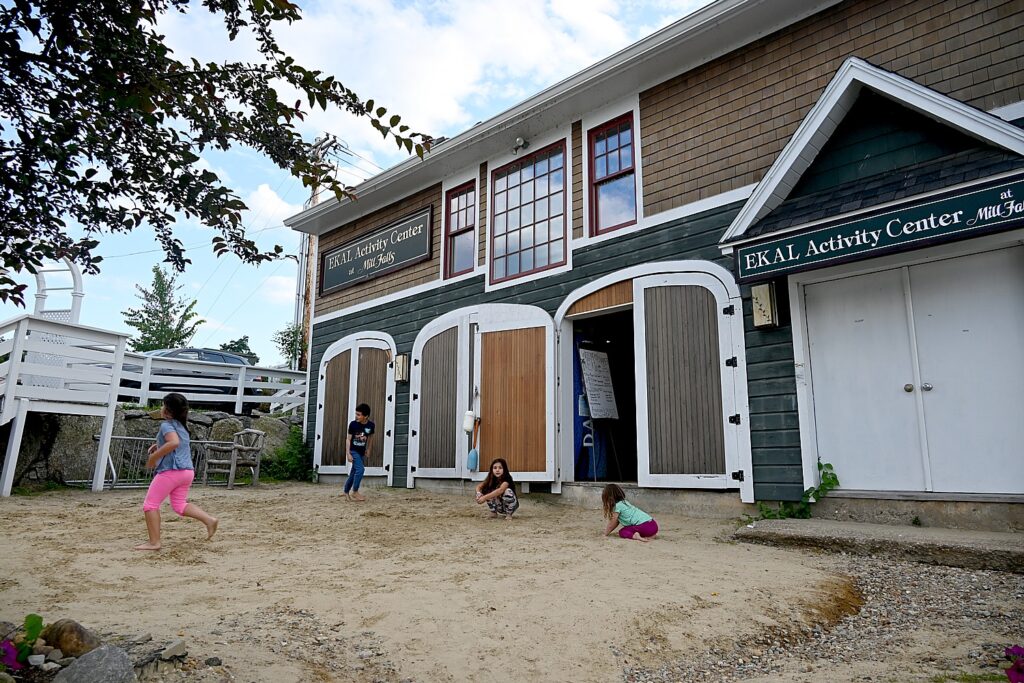 The new General Manager Nick Squire and new activities director, Sharon Wells, are turning this lakeside gem into a full-fledged destination resort, and even a wellness retreat.
"Everything I do is sharing wellness," the aptly named Sharon Wells (her motto, 'Sharing wellness") tells me during the ice cream social she is hosting on the Boathouse patio on a Saturday afternoon.
Sharon, who has spent her entire career in wellness, came to Mill Falls in April to create an activities program. Her idea is to expand it with creative and clever ideas.
She organizes a schedule of daily activities that are provided at no extra charge to guests – like pilates, yoga, cardio kick boxing, or meditation on the boathouse lawn; paddleboard yoga, a fun ice cream social on the boathouse patio, jump rope, water balloon toss on the boathouse lawn, Art at the Lake (paint in plein air), a campfire or a fire spinning demonstration. She invites the Coast Guard to give a talk on reading navigation charts, local fisherman to talk about their life, an herbalist to do a plant walk, wild animal demonstrations by the Squam Lake Science Center, a presentation by the Loon Center (there are 26 loon pairs on the lake).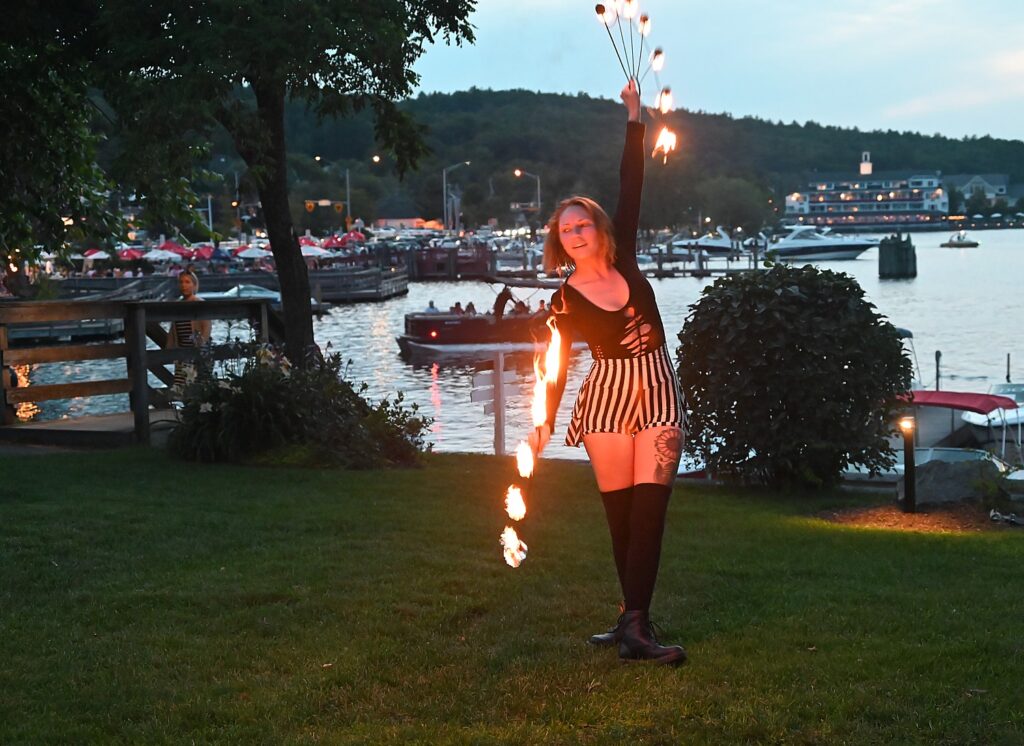 A score of activities are available to guests at extra fee – guided hikes, guided bike rides, guided kayaking trips, a sunset cruise on the Mill Falls' pontoon boat (also available for charter) and in winter, skiing at nearby Gunstock Mountain – that take in the spectacular nearby preserves, mountains and lakes.
Sharon is developing weekend programs organized around wellness, hiking, leaf-peeping and the like, and plans to add Winter Wonderland activities, ice skating for when the lake freezes, snow shoeing, micro-spiking, Nordic skiing, winter hiking (check the website for dates). A group can request customized programs.
"My background is wellness, fitness, health. I came here in a time of need to be healthy. Heart disease, diabetes, cancer, mental illness, obesity, drug addiction, alcoholism – these are top killers in US. The only way to become healthy is to be educated – get outdoors, eat better, meditate, work body-mind-spirit."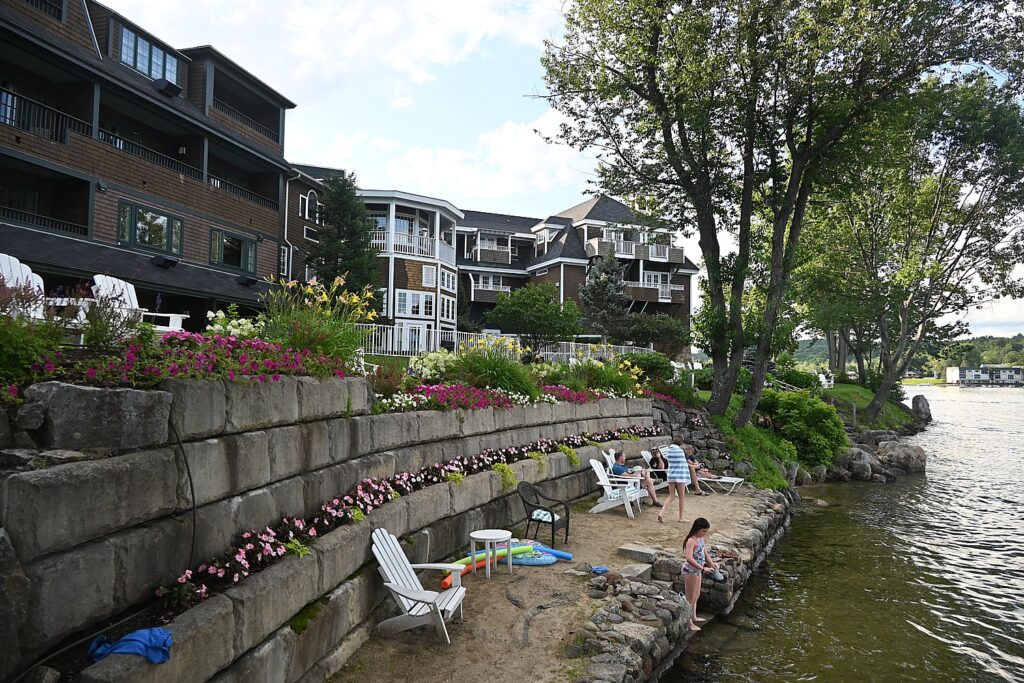 She adds, "'Winnipesaukee' means Smile of the Great Spirit – it's about experience, memory, enjoying one's family, exploring and discovering lakes region. True experience is gained through exploration – nature, beauty. I want people to appreciate the larger world beyond you. Let people feel calm, serenity, peace of wilderness. This place offers Yesteryear Simplicity – a place to de-stress, refresh, eat well, live well. We teach how to live a healthy lifestyle," as she offers returning kayakers her cucumber, ginger and mint smoothie.
After leaving the ice cream social, following Sharon's suggested route, I take my bike for a 10-mile ride following the lakeshore to get a taste of these neighborhoods.
Lake Winnipesaukee is the largest lake in New Hampshire–25 miles long, 15 miles wide at its widest point, it has 72 square miles of surface, 182 miles to circumvent the lake, and contains some 244 islands, some as small as a quarter acre. (Neighboring Shaum Lake was where "On Golden Pond" was filmed).
Lake Winnipesaukee is 45,000 acres – about as big as Lake Tahoe, but because it is not deep (as Lake Tahoe is) and as little as a few feet deep near the shore, the water is in 70s, comfortable for swimming, and there are beaches.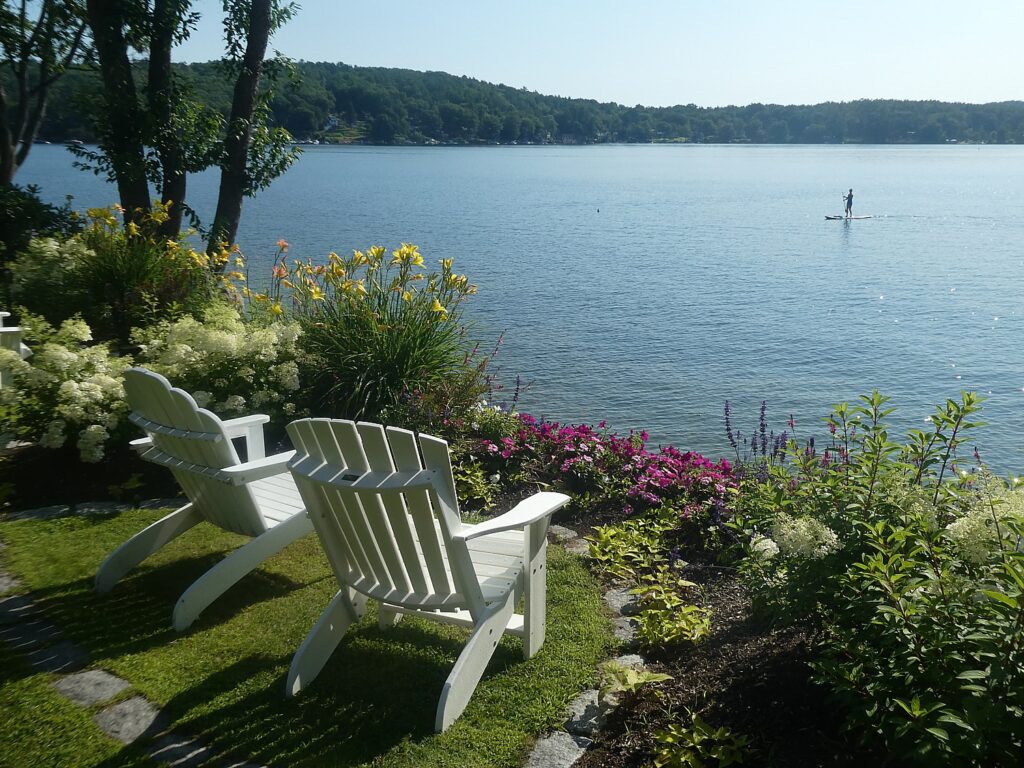 The setting is incomparable: crystal clear waters of the spring-fed Lake Winnipesaukee at the foothills of the White Mountains, surrounded by three mountain ranges and a the wooded shoreline.
It's a haven for boaters – and if you don't have your own, there are many places to rent any manner of boat or watercraft. There are ports all around the lake where you can just tie up and go ashore to enjoy restaurants, go to shops, buy ice cream.
There is much to explore on the shores of Lake Winnipesaukee by boat or by car. Meredith is a restored mill village, where you can browse through antique, art and craft galleries. Weirs Beach has arcades and boardwalks, waterslides, a public beach and an activity center. Wolfeboro is a picture perfect village, right down to its historic Main Street. Center Harbor, Moultonborough, Tuftonboro, Alton, Gilford and Laconia all have their own special flavor. All communities have public parks and docks, and feature varied activities such as fireworks displays and band concerts throughout the year.
Mount Washington Cruises, a New Hampshire tradition since 1872, offers scenic and sunset dinner dance cruises on the 230-ft. M/S Mount Washington and two smaller vessels, the US mail boat, Sophie C., and M/V Doris E.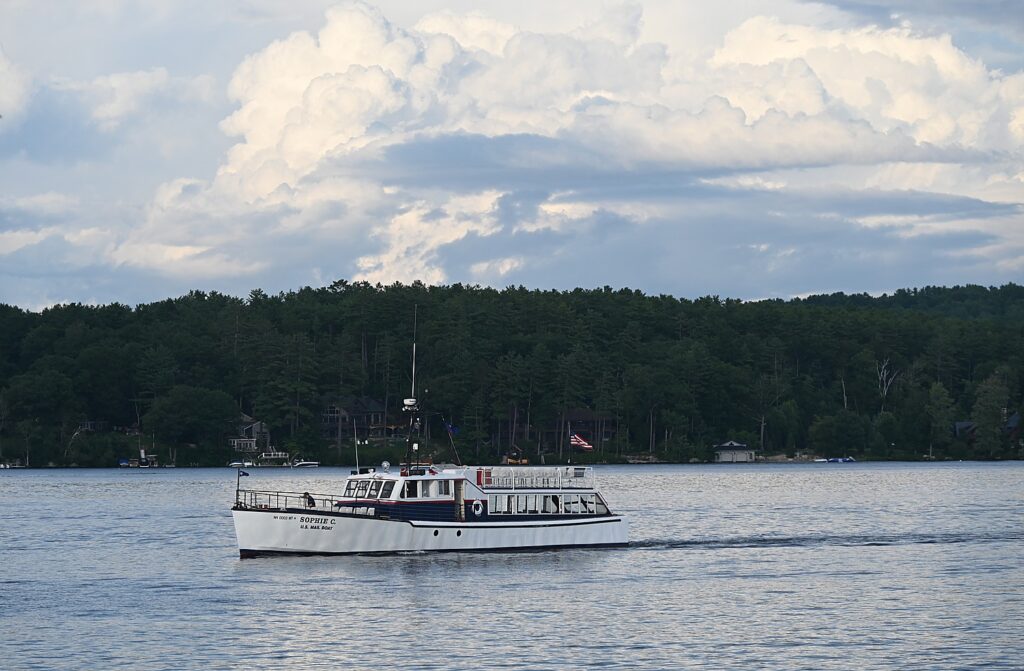 It is a special experience to cruise along on the M/V Sophie C – the oldest and one of only two floating United States Postal Service post offices still operating – as it makes its deliveries to eight of the lake's islands.
Floating post office service was started on Lake Winnipesaukee in 1892. The Sophie C. was built by Boston General Ship & Engine Works in 1945 to temporarily replace the Mount Washington, when the Navy commandeered its engines and boilers during World War II and took over the mail route from the Uncle Sam II in 1969. Sophie C. delivers mail Monday-Saturday, June to September, sells postage, and collects and postmarks outgoing mail. Sophie C. also operates as a sightseeing boat, carrying up to 125 people on her two cruises a day as she delivers mail, and sells ice cream and snacks to residents of the islands she serves.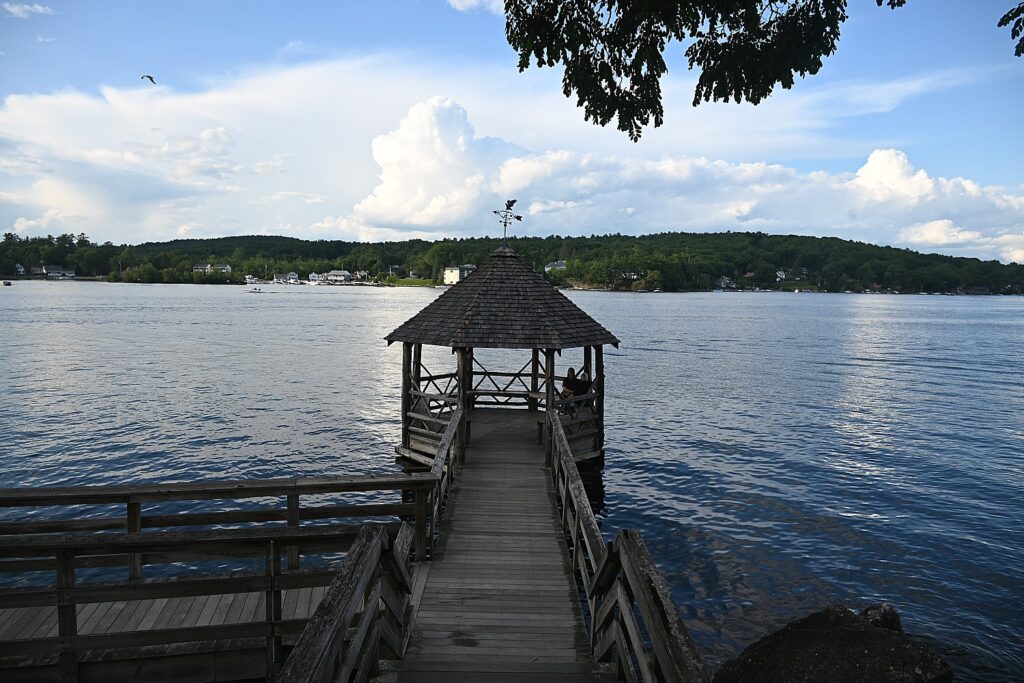 There are any number of places nearby for hiking, biking, mountain biking: Belknap Mountain, Mt. Major, Chamberlain-Reynolds Memorial Forest, West Rattlesnake Mountain, Red Hill, Gunstock Recreation Area, Abenaki Tower, Cotton Valley Trail and Russell C. Chase Bridge Falls Path.
Wakefield, which prides itself on being a bicycle-friendly community, offers six loops ranging from 11 to 52 miles long.
(More information from the New Hampshire Lakes Region Tourism Association including Lake Winnipesaukee, Squam Lake, Ossipee Lake, Lake Opechee, Mirror Lake, Newfound Lake, Lake Winnisquam and the White Mountains, 603-286-8008, lakesregion.org.)
Gunstock Mountain, 15 minutes away from Mill Falls, offers hiking trails, treetop adventures, mountaintop yoga classes, and electric biking; ski lifts, which in winter, access217 acres of skiable mountains, are open year-round.
Hermit Woods Winery offers wine tastings and tours (Food & Wine Magazine included it in its 2017 "500 Best Wineries in America").
The 18-hole Waukewan Golf Club course,designed and opened by Dr. Melvyn Hale in 1958, is a few minutes away from Mill Falls.
Funspot, founded in 1952 by Bob Lawton offers 600 games including 300 classic arcade games, a 20-lane ten-pin and candlepin bowling center, indoor mini-golf, restaurant and tavern (it was named the largest arcade in the world by the Guinness Book of World Records in 2008). Lawton, who reportedly still works at Funspot, is a former representative to the New Hampshire legislature and revived the Weirs Times in 1992.
The timeless all-seasons resort on Lake Winnipesaukee, Mill Falls offers 171 rooms across all four inns, each with its own special ambiance – Church Landing, Bay Point, Chase House, and The Inn at Mill Falls – with all the elements for a family gatherings, destination wedding, corporate event or wellness retreat.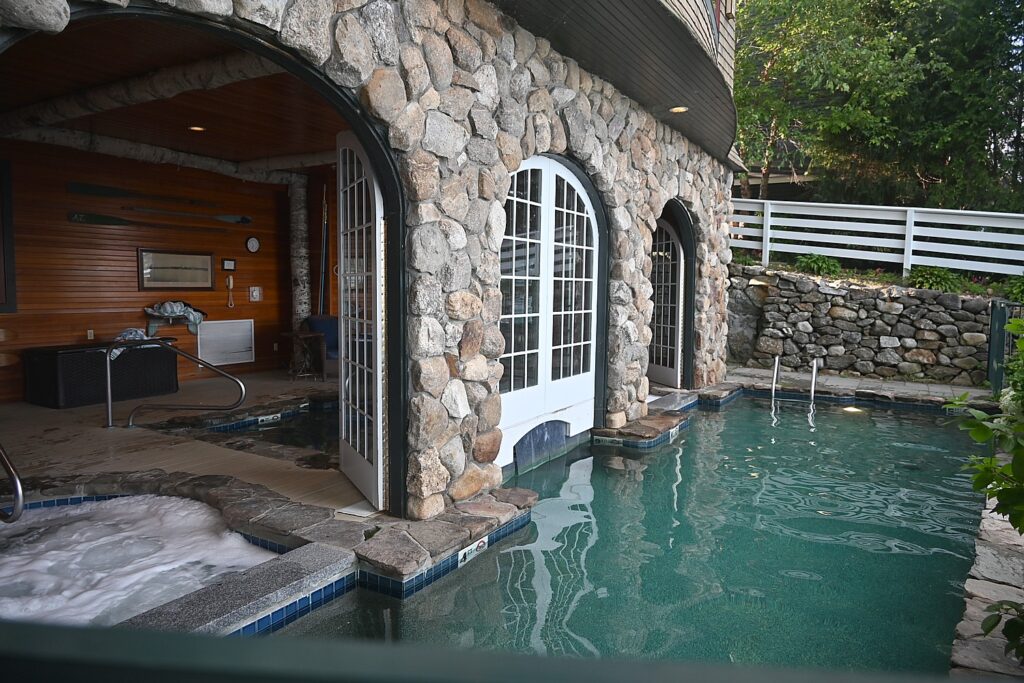 Church Landing (which includes the Boathouse where I stay) is a luxurious lakefront lodge with 70 rooms and is the best choice for a family or resort stay. It has two indoor/outdoor pools, the full-service Cascade Spa and Salon, stunning grounds and landscaping that just invite you to sit with a book or just gaze out to the lake, a small beach from which you can swim to a dock. You wander through Chase Landing, through lovely libraries and sitting areas, the walls covered with bookcases, stone fireplaces, a stunning mural depicting the lakefront, pool room, a patio with a stunning stone fireplace, wicker furniture, old wood beams. There is also the Lakehouse Grill which serves breakfast, lunch and dinner, and has a lovely bar/lounge, with a lovely Adirondack feel and stunning views to the lake. The atmosphere is just wonderful.
My room, a spacious king suite with a balcony overlooking the lake, in the Boathouse, is a charming stone building with gorgeous wood rafters, and an old timey Adirondack-style rustic elegance that instills tranquility.
Bay Point is a 24-room inn perched at the end of Meredith Bay with gorgeous views; completely renovated in 2018, it has a nautical ambiance.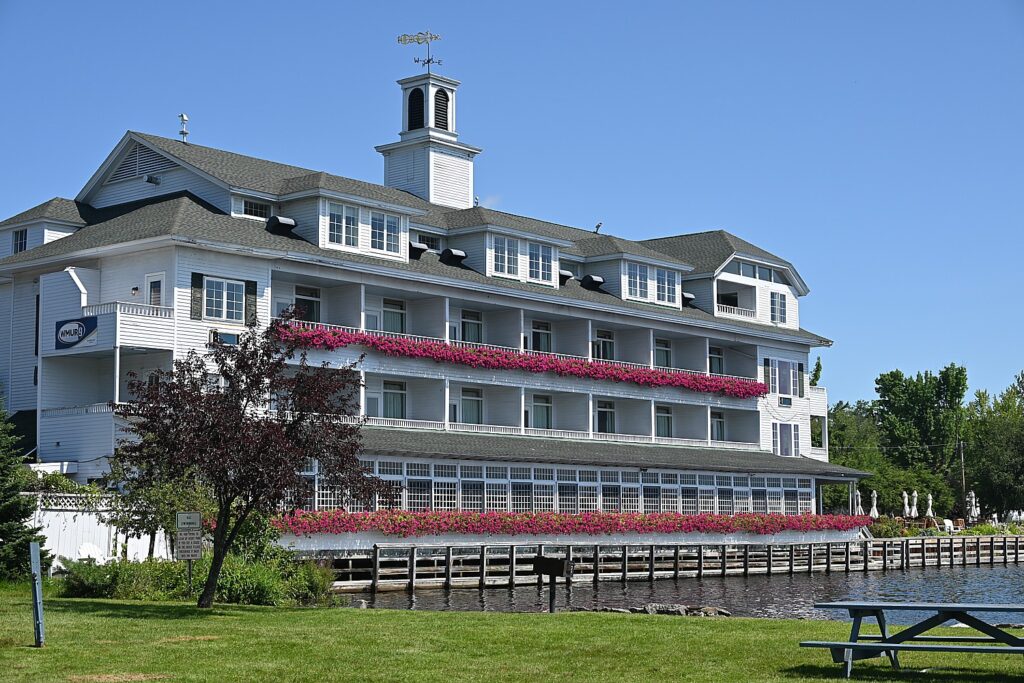 The original Inn at Mill Falls, with 54 rooms and an indoor pool, is set within a restored 19th-century linen mill with a tumbling 40-foot waterfall. It is adjacent to the Marketplace shops, restaurants and main street activities. (Pet friendly rooms are available.)
The newly renovated Chase House, across the street from Meredith Bay, offers 21 guest rooms and the Camp Restaurant with a cabin-style atmosphere, servers embodying camp counselors, and specializes in comfort food. (There is no actual children's activity camp at Mill Falls)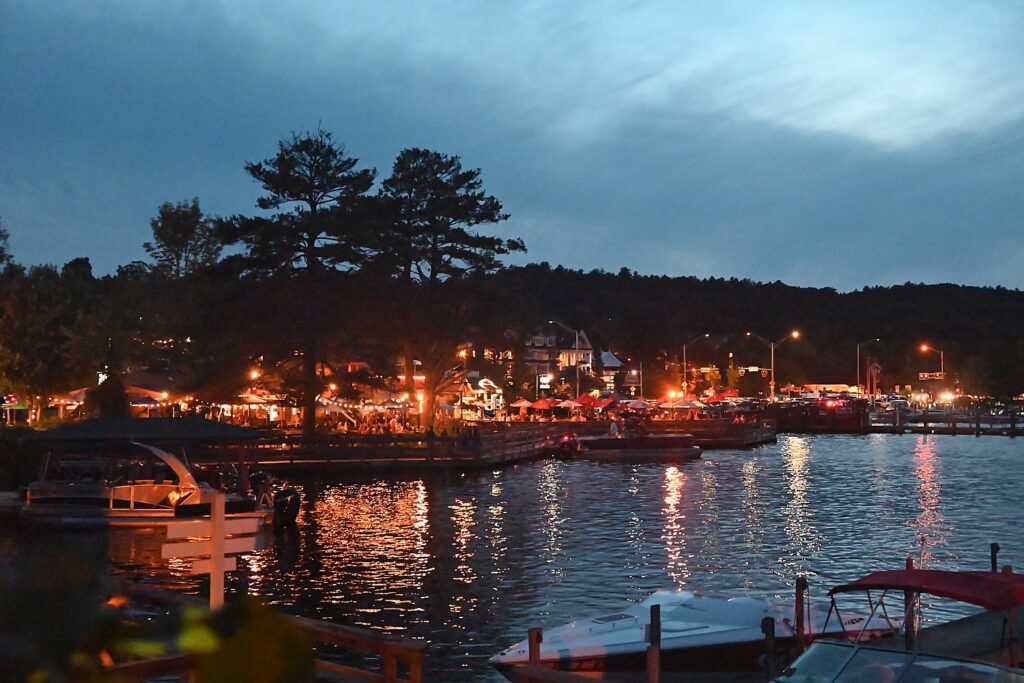 There are delightful restaurants in each of the lodging buildings – Camp, Lago, Lakehouse Grill, Waterfall Café, Giuseppe's Pizzeria and Ristorante – are run by The Common Man company. I thoroughly enjoy breakfast in the charming Lakehouse Grill, in Chase Landing, with a wonderful Adirondack ambiance and views of the lake. There is also the Town Docks restaurant in the midst of the complex– a bustling place each evening, with outdoor lakefront seating.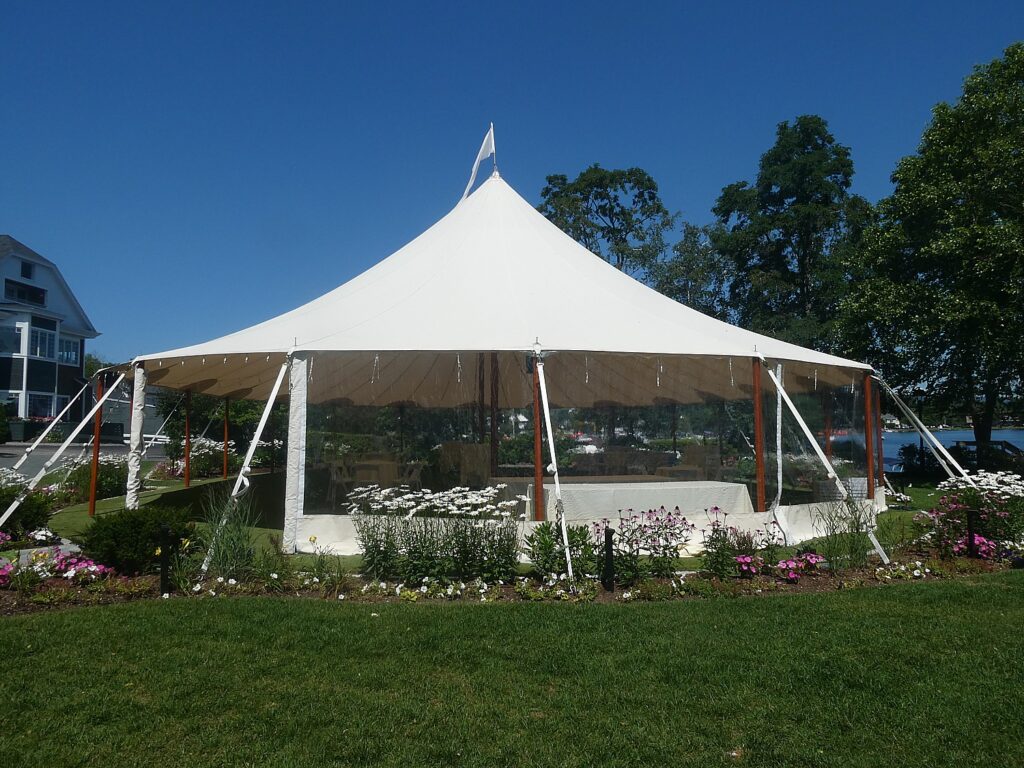 Mill Falls on the Lake is exceptionally well set up for wedding, meetings and conferences with several ballrooms (and now, in summer, a permanent tent on the lawn) and meeting rooms.
Mill Falls is very much a four-seasons resort – I see how marvelous it is in summer, I can only imagine how magnificent fall foliage is here, when the colors turn to crimson and gold, then winter white with the lake frozen enough to skate, and then, the pastel colors of spring's renewal.
Mill Falls at the Lake, 312 Daniel Webster Highway, Meredith, NH 03253, 800-622-6455, 844-745-2931, [email protected], www.millfalls.com.
______________________
© 2021 Travel Features Syndicate, a division of Workstyles, Inc. All rights reserved. Visit goingplacesfarandnear.com, www.huffingtonpost.com/author/karen-rubin, and travelwritersmagazine.com/TravelFeaturesSyndicate/. Blogging at goingplacesnearandfar.wordpress.com and moralcompasstravel.info. Send comments or questions to [email protected] Tweet @TravelFeatures. 'Like' us at facebook.com/NewsPhotoFeatures